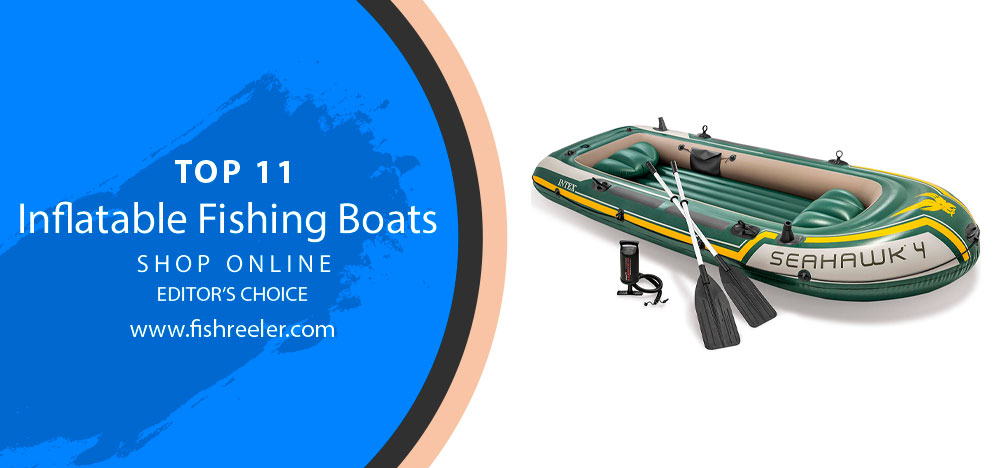 Best Inflatable Fishing Boats on the Market Reviewed
If you are an avid angler or just like fishing from time to time in open water, you will sooner or later think about buying a boat. But regular boats can be too expensive, they require much time and money for maintenance and last but not least — the space to store. So one day you will get an idea to purchase an inflatable one. Why not? Let's go a little deeper into this question.

| Image | Product | Brand | Link |
| --- | --- | --- | --- |
| | BRIS 10.8 ft Inflatable Boat Inflatable Rafting Fishing Dinghy Tender Pontoon Boat | BRIS | |
| | Intex Explorer K2 Kayak, 2-Person Inflatable Kayak Set with Aluminum Oars and High Output Air Pump | Intex | |
| | BRIS 14.1 FT Inflatable Kayak Fishing Tender Inflatable Poonton Boat with Air Floor | BRIS | |
| | Bestway 65046E Hydro Force Caspian Pro 91 Inch Inflatable 2 Person Boat Raft Set with 2 Aluminum Oars and Hand Pump for Lakes and Fishing | Bestway | |
| | Sea Eagle PF7K PackFish Inflatable Boat Deluxe Fishing Package | Sea Eagle | |
| | Intex Seahawk 4, 4-Person Inflatable Boat Set with Aluminum Oars and High Output Air -Pump (Latest Model) | Intex | |
| | Classic Accessories Colorado XTS Pontoon Boat with Swivel Seat | Classic Accessories | |
| | Classic Accessories Colorado XT Pontoon Boat | Classic Accessories | |
| | Classic Accessories Bighorn Inflatable Fishing Float Tube | Classic Accessories | |
| | Intex 68325EP Excursion Inflatable 5 Person Heavy Duty Fishing Boat Raft Set with 2 Aluminum Oars & High Output Air-Pump for Lakes & Mild Rivers, Gray | Intex | |
| | Airhead Angler Bay Inflatable Boat, 6 person | AIRHEAD | |
What Are The Best Inflatable Fishing Boats?
Are Inflatable Boats Good for Fishing? The answer is definitely yes. You may be surprised, but In fact, they can actually be much better than other kinds of boats. Getting an inflatable boat can be far more useful than you can ever imagine. First of all, you can easily take your boat anywhere in the trunk of your car or even in your backpack. That is why there is a real trend of using inflatable boats for fishing. Most manufacturers have even designed a lot of models, especially for fishing. In this short guide, we will touch upon the advantages of using inflatable boats for fishing. And some useful information on the most popular types of them. Let's go!

Why It Is Good to Use Inflatable Boat for Fishing
Here are the undeniable advantages of using inflatable boats:
You can carry your boat with you wherever you go
You will get unlimited access to fishing zones
Inflatable boats are cheaper than other types of boats
Inflatable boats are extremely lightweight and portable
You won't need a rowing experience
You don't need a boat ramp
Sneaking up on fish is easier
Inflatable boats are very easy to carry with you. You can deflate it any time and put it into the trunk of your car. Or just into the backpack. It's an important thing is that they are much cheaper than other boats. If you don't intend to pay much money for your hobby, you can just purchase a plain inflatable boat for fishing. And then you can go fishing anytime without paying time and money for the rent of the boat. Another good piece of news about inflatable boats is that they are extremely compact and lightweight. Among other things, this means that you'll be able to go to the far areas of the river or lake and navigate through narrow river flows. The inflatable boats are very portable. They can easily be carried over fences and deadlocks to avoid crowded regions. Inflatable boats can easily float even in shallow water.

If you deal with inflatable boats there's no need to worry about rowing experience unless you are fishing in difficult waters. They are quite easy to maneuver. They can float in shallow water on their own not bothering you from fishing. Using an inflatable boat you are free of launching hassles and mess. Launching the inflatable boat for fishing is as easy that even a child can manage it. You don't need boat ramps for doing this, unlike the case with other boats. Needless to say that inflatable boats are extremely quiet, and this is a great advantage while fishing. You can discreetly sneak up on the fish. And probably will get the best catch as compared to other boats.
Characteristics of the Best Inflatable Fishing Watercraft
Of course, you can use any type of inflatable boat for fishing, but some of them are specially designed for fishing.
They have some features making it easier to fish:
Raised seating
Ability to stand in the boat
Rod holders
Built-in storage appliances
Ability to mount a motor
Raising the seating makes it easier for you to fish while seated. You will not need to strain your back and you can look at the water while fishing.

Sometimes you need to stand up in the boat to cast your rod or drag out nets. The stable construction of inflatable boats allows you to do it without the risk of the boat capsizing. Of course, you will need a holder for your fishing rod on the boat. It's convenient to put your fishing rod on the holder when you are not using it. When you go out fishing, you always carry various fishing tackles and things with you. The inflatable fishing boats normally come with special pouches allowing you to store any of your gadgets and gear. You may want to mount a motor to your boat. It's often impossible on regular inflatable boats. But fishing inflatable boats allow you to mount trolling or gasoline motor to it.

Types of Inflatable Fishing Boats
There are several types of inflatable fishing boats. All of them are designed for specific uses.
Float tubes
Pontoon Boats
Inflatable fishing kayaks
Inflatable fishing rafts
Inflatable canoes
Inflatable fishing stand up paddles
Float tubes are the most common among inflatable fishing boats. They are portable and lightweight and also inexpensive. An ideal choice for fishing in small water bodies. But they're not so good in river fishing, especially with a strong current. Pontoon boats are made of two connected air bladders. They are also very portable, easy to paddle, and can be used on lakes and rivers.  But most of them are designed for one angler.

Inflatable fishing kayaks are the most universal of all the inflatable boats, they are easy to paddle on flat water and ideal for river fishing. Most of them are equipped with swivel chairs and rod holders. You can also mount a motor onto them. Fishing rafts are known as the most stable of inflatable boats. It is safe to fish while standing in them.  Most kayaks have a large weight capacity and are appropriate for two or more anglers.

Inflatable canoes are designed just like traditional ones, but they're more portable and easier for storage and transportation. Inflatable fishing SUPs are usual paddleboards converted for use in fishing. They are mostly used in lakes and shallow water. They are portable and lightweight and have the option of mounting a motor. They are quite stable, but not suitable for fast rivers with rapids.
Top 11 Best Inflatable Fishing Boats

1# BRIS Inflatable Boat Inflatable Rafting Fishing Dinghy Tender Pontoon Boat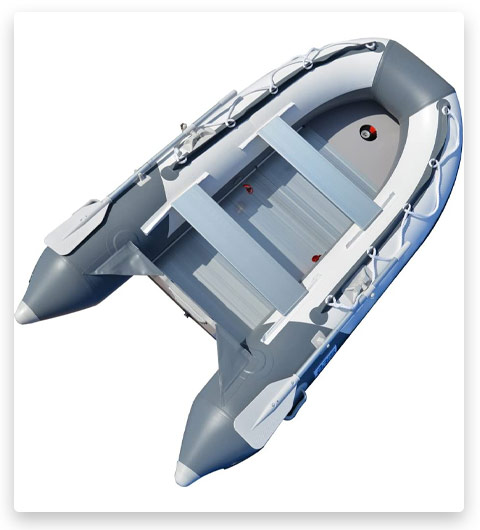 This inflatable fishing boat is made of  PVC fabric with an aluminum floor board and marine plywood transom. It is one of the best-selling fishing models. It can take up a short shaft motor and carry up to 4-5 people comfortably. You can use this model as a lifesaving raft in case of an emergency. It is a good choice for a primary boat for the rivers, lakes and sea bays.
The main tube is made of 1100 denier PVC, a long-lasting and durable material.  The floor is designed with 12.5 mm thickness aluminum, lightweight yet sturdy. Marine plywood transom provides for firmly fixing of an outboard motor.
Three individual chambers ensure extra buoyancy and stability. Stainless steel D-rings provide easy towing in case of necessity and built-in oarlocks make rowing easy and pleasant. This top inflatable boat has everything to really make your fishing trip unforgettable.
2# Intex Explorer K2 Kayak, 2-Person Inflatable Kayak Set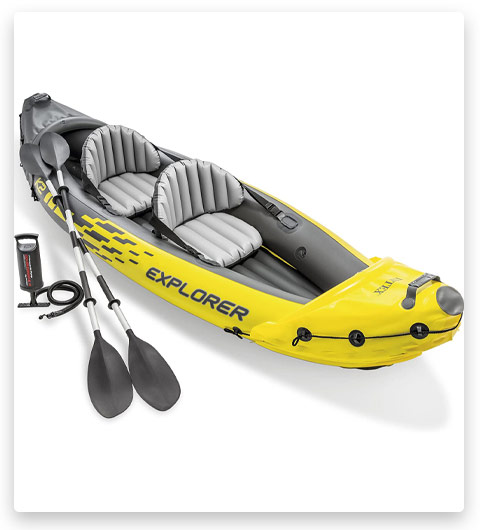 This is a sporty and fun model with a smart streamlined design for easy paddling. The radiant yellow color and vivid graphics make the boat highly visible in the water. Really great for experiencing calm rivers and lakes with family or a friend. This kayak is perfectly accommodating for two adults. Compact and lightweight, this inflating kayak is really easy to assemble.
This model allows you to take all the advantages of kayaking wherever you go for fishing or recreation. Made with rugged vinyl construction, it is sturdy, has an inflatable floor for comfort and rigidity, and two adjustable, inflatable seats with backrests for comfort.
It's easy to inflate or deflate with a Boston valve on each side. It is equipped with a grab line and handles at each end and a repair patch kit. The kayak comes with accessories including two 86" aluminum oars and a high-output pump for easy inflation and deflation.
3# BRIS FT Inflatable Kayak Fishing Tender Inflatable Poonton Boat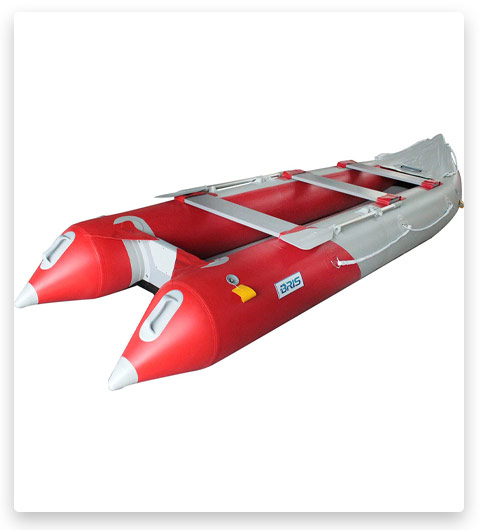 A special inflatable kayak that can be used as a regular boat, just paddling anywhere you want —in the ocean, sea, bay, river, or lake. It works great with an inexpensive electric trolling or gasoline motor. Being extremely portable, this kayak perfectly fits even into a medium size bag. Forget about renting a boat while traveling and fishing, now you can take your inflatable kayak everywhere with you.
An exclusively stable design allows you to stand in it while fishing. You can easily get into those narrow spaces where other boats can't get. So all the best fishing spots are yours!  This boat also is great for using as a dinghy for yachts and sailboats.
4# Bestway 65046E Hydro-Force Caspian Pro Inflatable Boat
Grab a best friend and spend all the summer day long out on the water in this comfortable inflatable boat. It's made of premium marine-grade material that can easily stand the most extreme nautical conditions and even exposure to petroleum products and UV rays. This boat really provides superior strength and durability.
The raft also features a high-pressure inflatable floor, motor mount grommets, and safety-grab rope. The boat is equipped with omnidirectional oarlocks, comfortable inflatable cushions, and a storage bag. Includes one pair of 60″ aluminum oars,  and a 14.5″ air pump. It can easily accommodate 2 adults and 1 child. Perfect choice for a small friendly family or group of friends.
5# Solstice by Swimline Voyager 6-Person Boat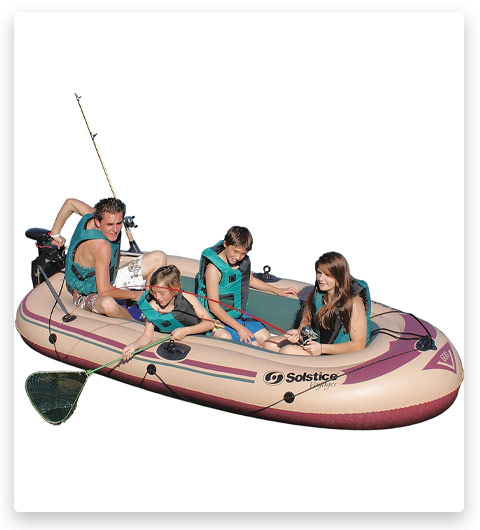 This inflatable boat for six persons is one of the biggest on the market. It is big enough to comfortably accommodate you and five of your friends or family members while still leaving some space to spare. Extremely sturdy, this 4-chamber boat with a double-hull design is made of heavy-duty PVC material that will serve you for years to come. But this boat is not just big and sturdy, but also very comfortable and convenient. This family boat comes with inflatable seatings, swiveling oar locks to make paddling easier, and has a fishing rod holder so you could really relax. Instructions are included. Oars and air pumps are sold separately.
6# Sea Eagle PF7K PackFish Inflatable Boat Deluxe Fishing Package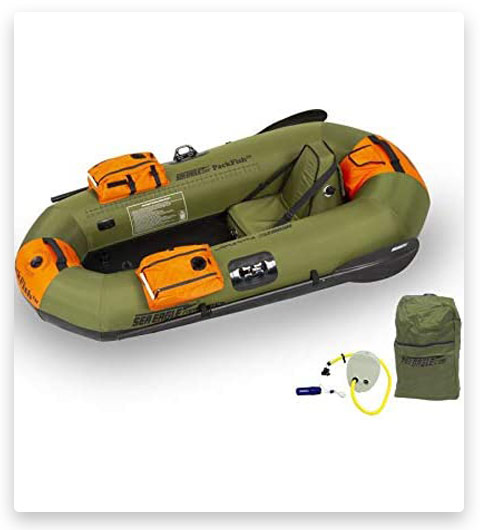 This inflatable fishing boat has two conveniently located 36″ fish rulers. No more worrying about forgetting, dropping, losing, or malfunctioning one of your most important fishing tools. Four tracking strips will assist you when fighting against really big fish, increase stability, and reduce being blown by the wind. Two built-in rod holders are strategically placed to ease use and trolling. Side hook and loop straps serve as additional secure fishing rod holders. And also work great for taking rods out of the way when not in use. Sturdy plastic molded oarlocks keep your oars in place while you fish,  but allows you to row for miles with ease.
7# Intex Seahawk 4-Person Inflatable Boat Set – Latest Model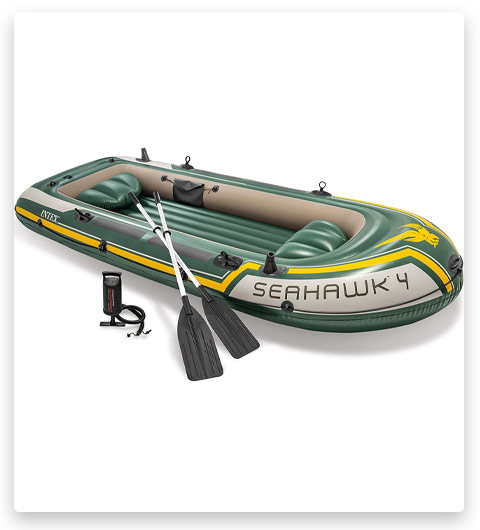 This inflatable boat is ideal for recreational floating or fishing on calm rivers and lakes. The boat set comes with everything you need to get into the water immediately. The boat fits up to four people. It is made of super-durable  PVC vinyl that resists abrasion, impacts, and sunlight, You feel free to float with confidence even near rocks or logs. The PVC material is also resistant to gasoline, oil, or saltwater.
The boat includes two air chambers for safety, an inner chamber, a comfortable and rigid inflatable floor. It comes with welded oarlocks and inflatable cushions. The boat contains two fishing rod holders at the rear end, one on each side.
8# Classic Accessories Colorado XTS Inflatable Fishing Pontoon Boat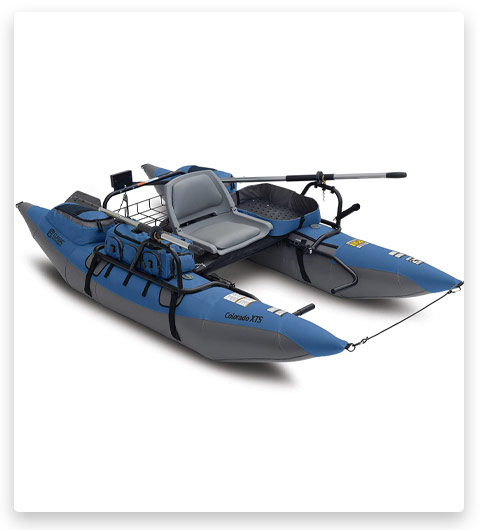 You will really elevate your fishing experience with this 9′ high-capacity pontoon boat. It comes with a padded swivel seat to keep you comfortable and a transport wheel to help you get where you want and to maneuver faster. Heavy-duty pontoons are equipped with abrasion-resistant PVC bottoms and rugged nylon tops for durability. A padded swivel seat provides you with increased mobility while floating and fishing. Removable side pockets can be combined to create a portable gear bag.
9# Classic Accessories Bighorn Inflatable Fishing Float Tube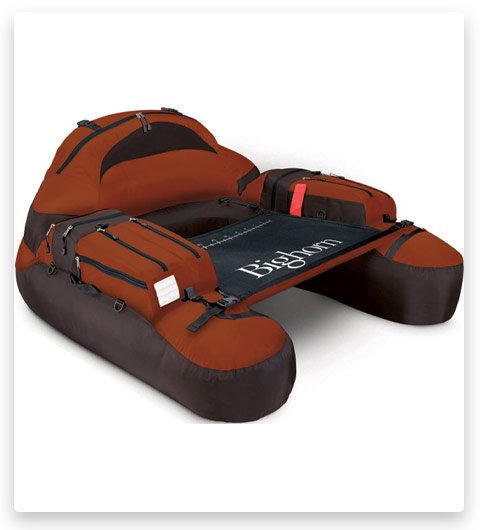 Take an exciting trip to the lake in comfort with this extra-large, front-entry float tube designed for buoyancy on long fishing expeditions. Its hydrodynamic hull shape and unique sculpted design provide improved tracking ability. Spacey armrests have storage pockets for tackles and things, with additional reel pockets, small mesh pockets, and zip pockets all over the float tube. The rear storage pocket and exterior mesh storage pocket give much additional space to keep your gadgets at hand. The float tube includes an apron with a fish ruler so you know exactly how lucky you are.
10# Intex Excursion 5-Person Inflatable Boat Set – Latest Model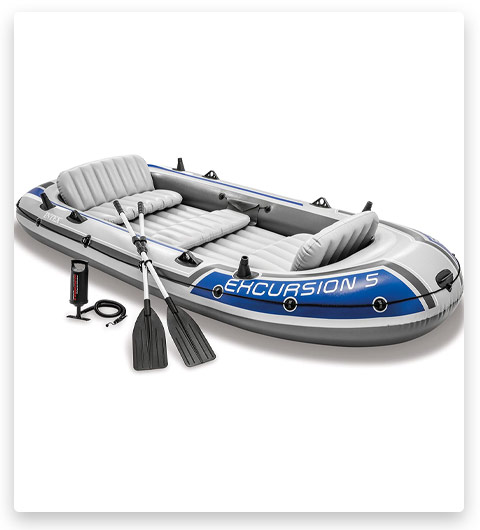 This inflated boat perfectly fits five persons and is great for an ideal day on the river or lake, no matter if you are fishing, camping, or just relaxing and recreating. It is lightweight and compact, snap to assemble, and will be ready for water in no time. Take the most fun boating wherever you go. The set includes boat, pump, and oars. The boat is made of super-durable vinyl construction. Inflatable seats and floors provide the most comfort. The model is US Coast Guard approved.
11# AIRHEAD Angler Bay Inflatable Boat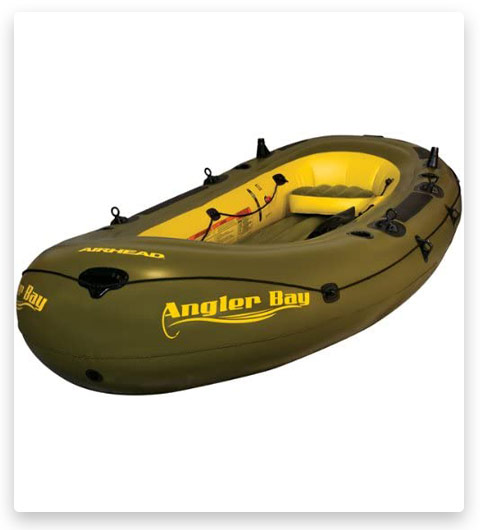 This inflatable boat is designed to give you all the components you need to have a great fishing adventure. It contains two fishing rod holders, multiple molded drink holders, four drain plugs, a battery storage bag, and a ditty bag. The boat is lightweight, portable, and ideal for slow-moving rivers and lakes. Equipped with wrap-around grab lines, swiveling oar locks, and side-mounted oar holders. Made of heavy-duty vinyl with electronically welded seams. The factory tested for quality control. The boat includes an inflatable floor and a movable seat. Also, it's equipped with patented speed safety valves for quick inflating and deflating. Perfectly comfortable for three persons.
FAQ

How do I inflate the boat properly?
Open all the valves and go around, filling each and every chamber, until it takes the needed shape.
Walk around the boat bringing each chamber to pressure.
The tubes are to be filled to a max of 2.5 psi (pounds per square inch).  Inflate the floor until a max of 2.5 psi.
A properly inflated boat should still "yield" just a bit.

How do you deflate and properly store an inflatable boat?
Disassemble and deflate your boat.
Remove the oars. Deflate the air chambers. Push the valves and twist them one-quarter turn. Remove the seats and floor. Fully deflate the boat.
Fold the sides of the boat.
Fold inflatable boat compactly.
Place the folded inflatable boat and accessories into the special storage bag
Have you made your choice? We hope this article was helpful to you. Anyway, whatever boat you choose, we wish you the best water trips and fishing and rich catch!

Tags: #best inflatable fishing boats / #best inflatable boats for fishing / #best inflatable pontoon fishing boats / #best inflatable boat for ocean fishing / #best inflatable boat for lake fishing / #what is the best inflatable boat for fishing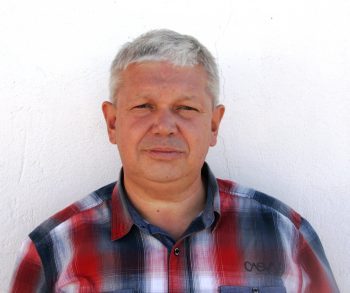 Sergio Smirnoff
Professional fisherman with 40+ years of experience.
Fishing and the ocean is a passion of my life. I am passionate about all kinds of sea fishing: fishing from the shore (spinning, float, baitcasting), from a boat, and spearfishing day and night.
I live in Tenerife (Canary Islands) for the last 10+ years and share my daily fishing experiences on my website. Many years of personal experience as a fisherman and the vast experience of my friends allow me to write professionally on any fishing topics (from choosing a flashlight and equipment to deep-sea fishing).
All of my advice is based on practical real-world experience and will be useful to both novice anglers and professionals.
Read more
about the author.
Affiliate Disclosure: FishReeler.com sometimes gets paid for listings, through sponsors or affiliate programs like Amazon, Ebay, Cabelas, Bass Pro Shop, Shimano, Daiwa, Rapala, Renn, Okuma, KastKing, etс. Clicking a link helps keep FishReeler.com free, at no extra cost to you!
About the author: Each article is verified by the fishing expert Sergio Smirnoff. The articles are written by professional and amateur fishermen with 20+ years of fishing experience.
Note: The views and opinions expressed in this article are those of the authors and do not necessarily reflect the official policy or position of any agency. The articles are for informational purposes only, share your opinions in the comments and join the fishing discussions, let's share our fishing experiences together!