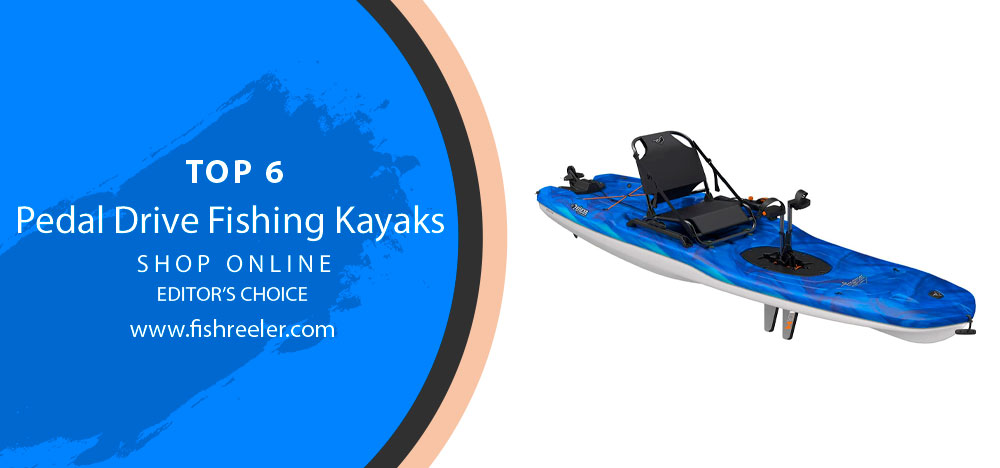 Mastering the Waterways: The Rise and Benefits of Pedal Drive Fishing Kayaks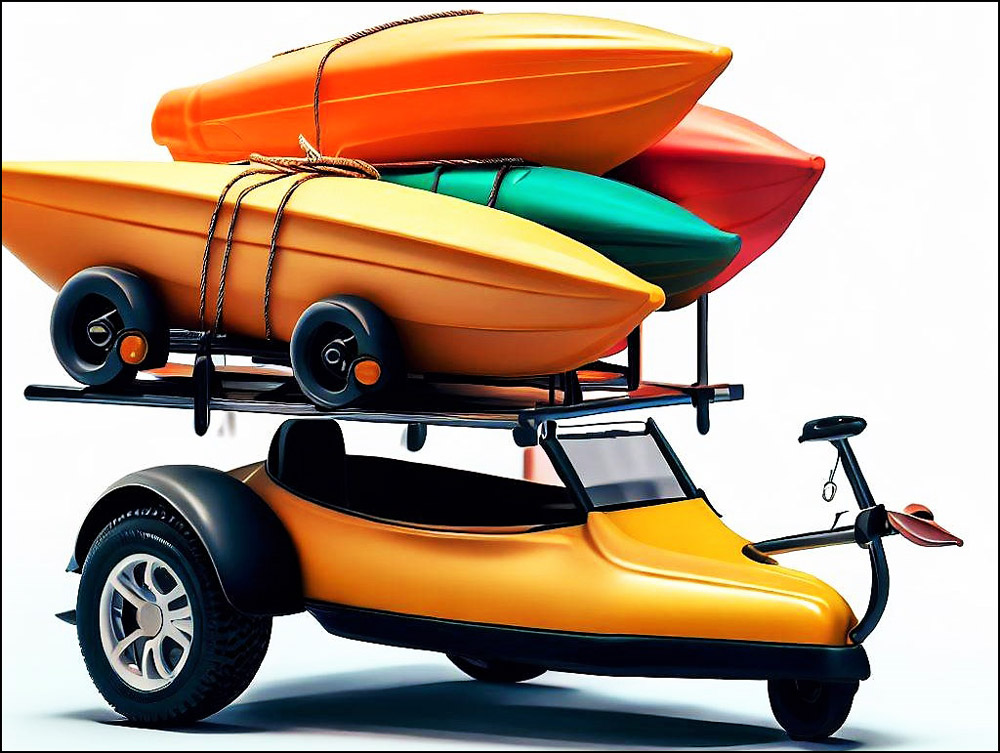 There's a new wave 🌊 in the world of fishing 🎣, and it's propelled by the foot-power 👣 of anglers worldwide 🌍. Forget the traditional paddle kayak; the sport of fishing has seen a quiet yet powerful revolution with the emergence of pedal-drive fishing kayaks. In recent years, these efficient watercraft 🚤 have gained momentum, transforming the angler's experience on the waterways, combining fitness 🏋️‍♂️, convenience, and an enhanced fishing experience.
Paddles Out, Pedals In: The Pedal Drive Kayak Revolution
Here's an interesting fact: in a recent industry survey, a surprising 40% of new kayak fishing enthusiasts 🚣‍♀️ have shown a preference for the pedal drive over traditional paddle kayaks. The sight of anglers zipping across the water, rods at the ready 🎯, hands-free to cast and reel, is becoming an increasingly common spectacle on the world's lakes and rivers. And it's not just the newcomers; seasoned fishing aficionados are making the switch, citing ease, efficiency, and an overall enriched fishing experience as their primary reasons.
Riding the Wave of Popularity: The Rise of Pedal Drive Fishing Kayaks
In this article, we aim to delve deeper into the world of pedal drive fishing kayaks – unraveling the mechanics ⚙️ behind the innovation, dissecting its advantages over traditional kayaks, providing insights to help choose the right pedal kayak, and exploring future trends in this exciting space. We'll also share some tips on how to enhance your fishing experience with pedal drive kayaks, and how to care for and maintain these fantastic vessels. Let's paddle less, and pedal more, as we journey through the exciting realm of pedal-powered kayak fishing 🌅.
The Pedal Power Evolution: Changing the Face of Kayak Fishing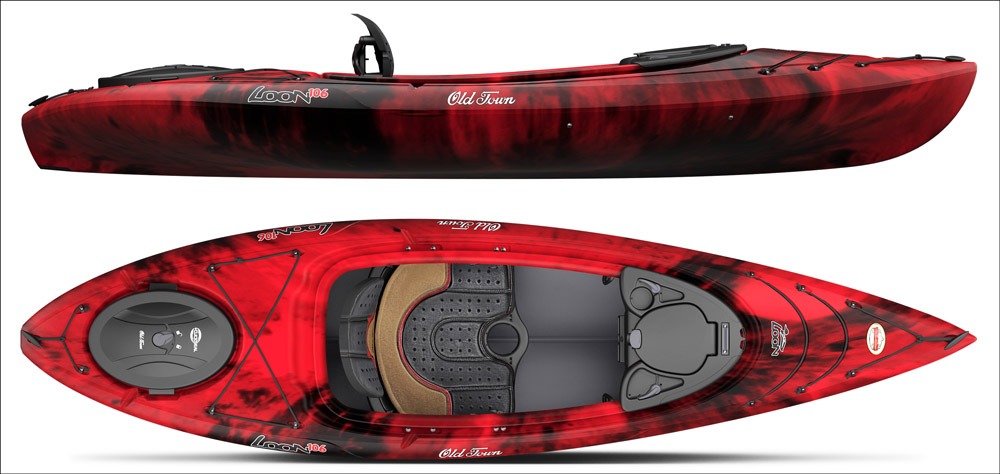 Kayaking, as a method of fishing 🎣, traces its roots back thousands of years to the Arctic peoples, such as the Inuit and Aleut tribes. These native people ingeniously fashioned vessels from animal skins stretched over frames made from wood or whalebone 🐋. These primitive boats, known as "qajaq", were adept at navigating the frigid waters ❄️ while allowing the user to fish and hunt. Over the centuries, the kayak gradually spread across different cultures, being adapted to various climates and fishing needs.
In the 20th century, with the advent of new materials and technologies 🔬, the kayak evolved dramatically. Fiberglass and plastic replaced animal skins, making kayaks more accessible and affordable to the general population. But perhaps the most significant development 🚀 came towards the end of the 20th century with the advent of the "sit-on-top" kayak, designed specifically for fishing. These provided improved stability, space for gear, and the ability to get on and off easily, making them an instant hit with anglers.
The birth of the pedal drive system marked the next major evolution in kayak fishing. Though early versions existed as far back as the late 1990s, it wasn't until Hobie's Mirage Drive system came on the scene in the early 2000s that pedal-drive kayaks really started to take off 🛫. Unlike traditional kayaks that required hand-powered paddles, pedal drive kayaks harnessed the power of the legs 👣, allowing the angler to propel and steer the vessel while keeping hands free for fishing. This revolutionary design led to a surge in the kayak fishing sport's popularity, forever changing the way anglers navigated the waterways 🌊.
Over time, pedal drive systems have evolved and improved. The early push pedal systems, which worked much like a paddle wheel on a steamboat, have given way to more efficient rotational pedal systems and advanced fin designs inspired by the locomotion of penguins 🐧. These innovations have led to even greater speed, maneuverability, and efficiency, securing the pedal drive fishing kayak's place in the angler's arsenal 🛠️. As we look to the future, the evolution of the fishing kayak promises to be as dynamic as its past, with pedal drive systems leading the way 🌠.
🎦Video YouTube: This is WHY YOU BUY Pedal Drive Kayak Old Town Sportsman PDL

Best Pedal Drive Fishing Kayaks Review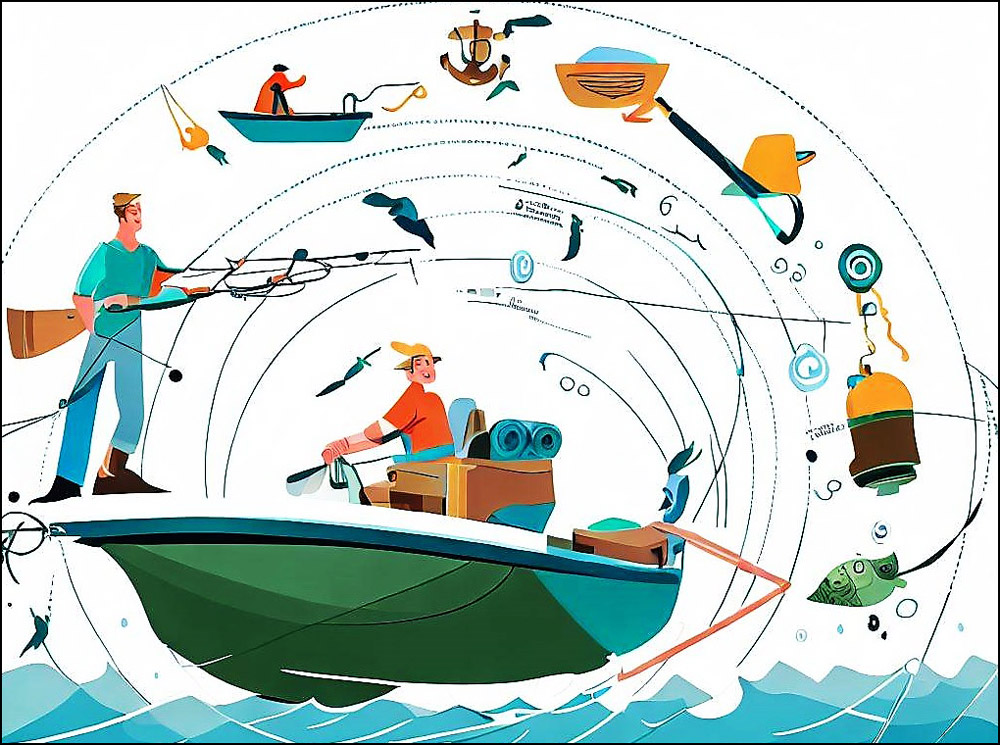 For every angler 🎣, you understand that the right gear 🎒 can truly make or break your fishing escapades. If you yearn for an equipment upgrade ⚙️ that not only enhances your fishing skills but also gives you an edge over elusive fish 🐟, then pedal-drive fishing kayaks 🚣‍♀️ deserve your attention. These specialized water vessels are crafted keeping anglers in mind, boasting a suite of features optimized for a fruitful fishing experience 🐠.
In this enlightening piece 📖, we venture into the realm of top-tier pedal-drive fishing kayaks, guiding you through the maze of choices 🔄 to find the perfect fit for your angling adventures. It doesn't matter if you're a seasoned fishing enthusiast 🏅 or just dipping your toes in the vast ocean of fishing – we invite you to explore 🕵️‍♂️ why a pedal-drive fishing kayak could be the game-changer 🎮 in your fishing pursuits.
1# Old Town Sportsman PDL 120 Pedal Sit-on-Top Kayak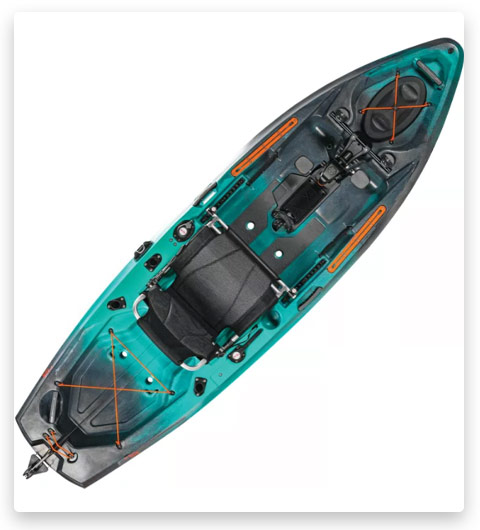 The Old Town Sportsman PDL 120 Pedal Sit-on-Top Kayak is a highly engineered kayak with proven craftsmanship. The ultra-stable DoubleU Hull provides great stability and comfort, while the adjustable seating system with lumbar support ensures a perfect fit. The low-maintenance PDL Drive with a patented easy-docking system makes for easy navigation, and the dual accessory tracks provide plenty of space to stow your gear. This kayak also comes equipped with 1 forward-facing, 2 rear-facing flush-mount rod holders, a cup holder, non-slip EVA foam deck pads, and a large open cockpit.
2# Perception Pescador Pilot 12 Fishing Kayak with Pedal Drive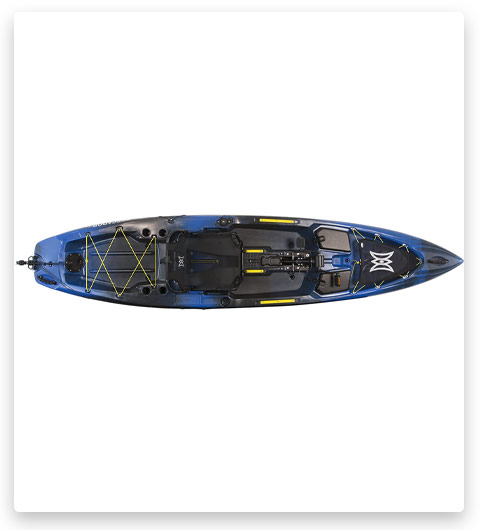 The Perception Pescador Pilot 12 is the perfect kayak for anglers looking for pedal-driven performance at an unbeatable price. This USA-made kayak is constructed of leak-proof one-piece construction with built-in buoyancy, making it safe and easy to use on lakes and ponds, as well as slow-moving rivers. The large front and rear open storage spaces provide plenty of room for cooler, tackle, and other gear, while the integrated accessory rails on each gunwale make it easy to add fish finders or Rod holders. The comfortable lawn chair style mesh seat can be adjusted to two different levels, ensuring that you'll be able to stay comfortable all day long.
3# Reel Yaks Fishing Pedal Kayak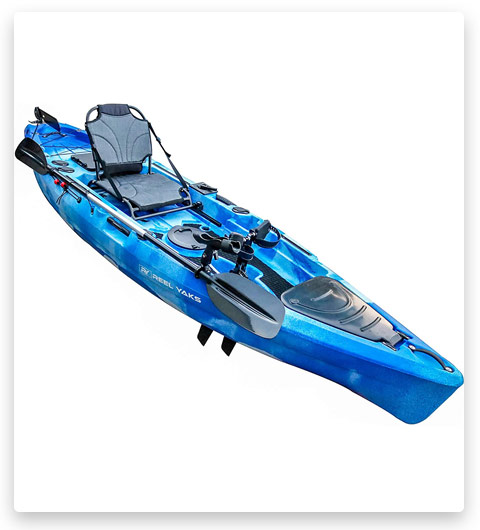 Looking for a pedal kayak that's perfect for anglers? Look no further than the Reel Yaks Fishing pedal kayak! This kayak features a powerful flap pedal drive system that makes it easy to get to your favourite fishing spot, plus the flaps make it quieter and less likely to get stuck in grass or pads. The stable "W" hull shape is perfect for both seated and standing fishing, and there's plenty of room in the cockpit for all your gear. Plus, at only 11lbs, this kayak is super easy to transport. Get ready to enjoy the ultimate fishing experience with the Reel Yaks Fishing pedal kayak!
4# Perception Crank 10 Sit on Top Pedal Kayak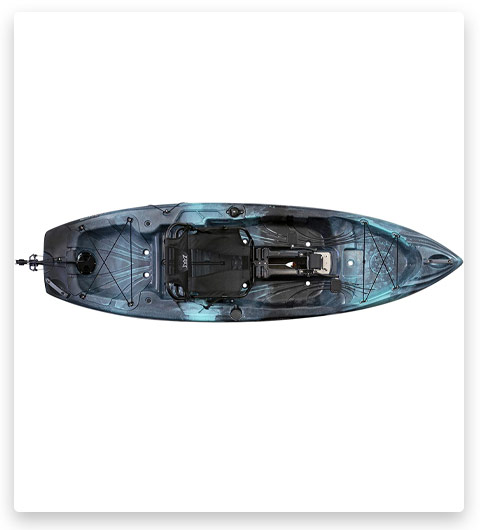 The Perception Crank 10 Sit on Top Pedal Kayak is perfect for lakes, ponds and calm coastal waters. This kayak is efficient and easy to use with a pedal drive system that allows you to go forward and reverse without removing the drive from the boat. The captain's chair is folding, adjustable, and removable for your convenience. You'll love the one-handed rudder control which makes steering easy and fun.
5# Pelican Fishing Sit-on-Top Kayak Getaway 110 HDII Pedal System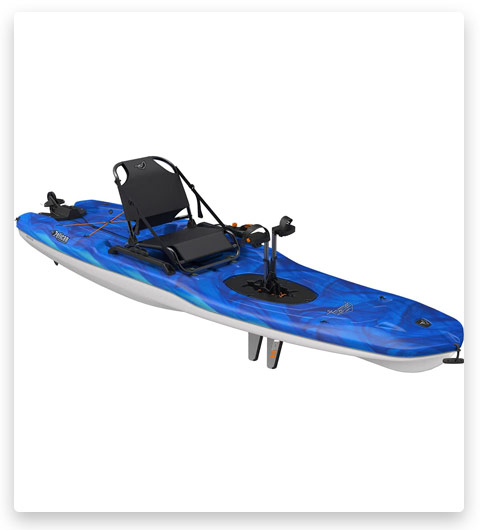 The Pelican – Getaway 110 HDII Recreational Kayak is perfect for long-distance adventures. The HyDryve II pedal system makes manoeuvring in shallow water or around aquatic plants easy, and the rudder can be controlled from the seat for easy navigation. The tunnel hull offers maximum stability and makes getting in and out of the kayak a breeze. The ERGOCAST XP seating system is comfortable and can be easily removed for transport. This kayak is perfect for anyone looking for an adventure on the water.
6# BKC PK13 Pedal Drive Fishing Kayak W/Rudder System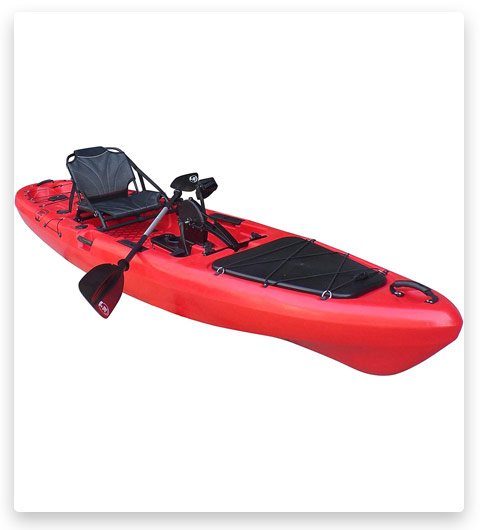 The BKC PK13 Pedal Drive Fishing Kayak is perfect for anglers who want a stable, durable kayak with a pedal drive system. The included rudder system makes it easy to navigate in any condition, while the high-density polyethene material provides strength and stability.
Unraveling the Mystique: The Anatomy of Pedal Drive Fishing Kayaks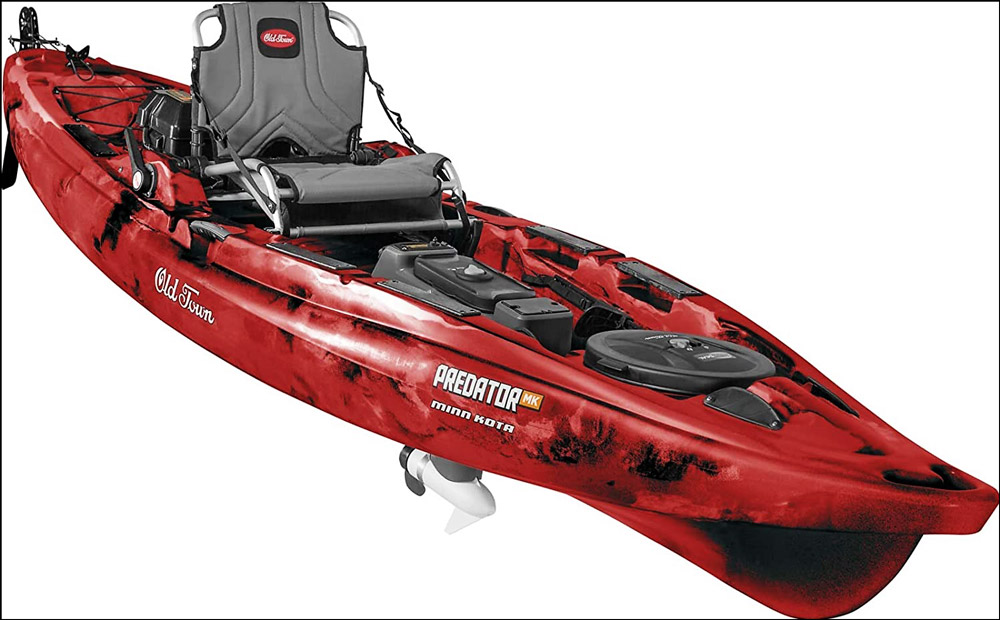 A pedal drive fishing kayak is a game-changer 🎮 in the world of kayak fishing 🎣, merging innovation 💡, comfort 🛋️, and efficiency 🚀 into one sleek package 📦. Unlike traditional paddle kayaks, where the angler uses a paddle to maneuver, a pedal drive kayak leverages the power of the legs, the human body's powerhouse 💪. This system allows for longer, less tiring trips and frees up the angler's hands 👐 to manage their fishing gear, thereby revolutionizing the entire fishing experience.
But what's the magic ✨ behind these pedal drive systems? Let's demystify it. In essence, a pedal drive system converts the pedaling motion of the angler's legs into a propulsion mechanism that drives the kayak forward (and in some designs, in reverse ↩️). As the angler pedals, akin to cycling 🚲, this motion triggers a set of underwater fins or a propeller under the kayak, which push water backward, propelling the kayak forward.
Pedal drive systems fall into two main categories: push pedals and rotational pedals. Push pedal systems, the original variant, require the angler to push on two pedals back and forth, much like a step machine at the gym 🏋️. This powers a pair of oscillating fins beneath the kayak that imitate a penguin's 🐧 swimming motion. Hobie's Mirage Drive is a notable exemplar of this type.
Conversely, rotational pedal systems feel like riding a bicycle 🚴, with the circular pedaling motion spinning a propeller under the kayak. Companies such as Native Watercraft with their Propel system and Old Town with their PDL Drive offer this system. These models are lauded for their ability to provide reverse propulsion, an option not commonly available in most push pedal designs.
Each system carries its own set of merits and drawbacks, and the choice largely hinges on the angler's personal preferences and fishing needs 🎣. Regardless of the type, pedal-drive fishing kayaks have undeniably reshaped the angler's experience on the water 🌊, proving themselves to be more than just a passing trend in the world of kayak fishing.
Unleashing Potential: The Unique Advantages of Pedal Drive Fishing Kayaks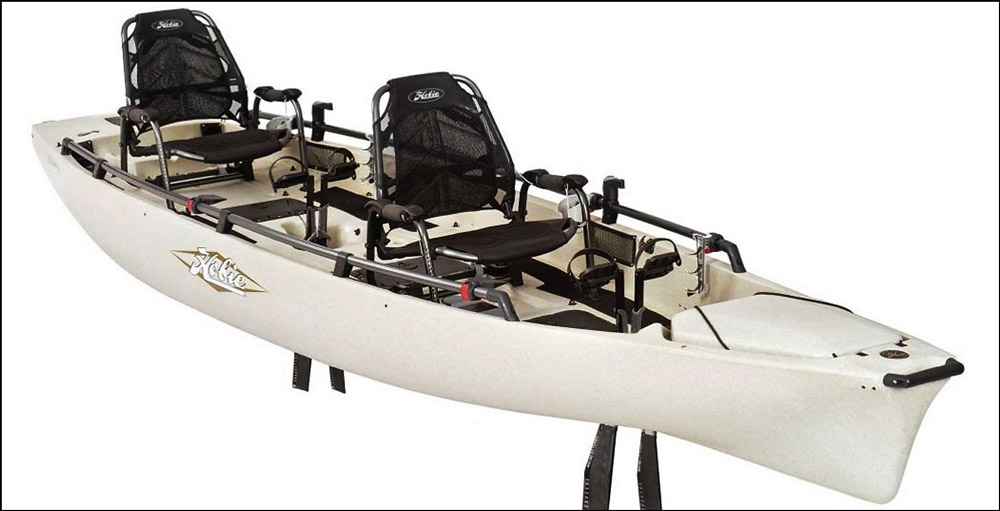 One might ponder, what makes pedal drive fishing kayaks 🚣‍♀️ standout against traditional paddle kayaks? The secret sauce lies in their unique set of advantages that significantly elevate the fishing experience 🎣.
Firstly, pedal drive kayaks bring to the table the unmistakable advantage of hands-free operation 🙌. By harnessing the power of leg muscles for propulsion, your hands are free to command your fishing gear, be it casting, reeling, or managing the catch. This is a game-changer 🎮 for anglers accustomed to a juggling act between paddles and rods.
Secondly, pedal drive kayaks offer enhanced speed 🏎️ and endurance 🏋️. Given the leg muscles are larger and more fatigue-resistant than arm muscles, anglers can cover vast distances 🌍 and stay on the water for extended durations, reaching those prime fishing locales that may seem a bridge too far for traditional paddle kayaks.
Lastly, pedal-drive kayaks also boast improved maneuverability 🔄. Some models come equipped with hand-controlled rudders that offer precise control and swift changes in direction, simplifying the task of tailing fish schools 🐟 or weaving through dense vegetation or narrow channels.
These benefits are not mere theoretical assumptions; they echo the experiences of countless professional anglers who have tasted the power of pedal-drive fishing kayaks. Take veteran angler Michael Rischer 👨‍🦳, for example. After a decade-long bond with paddle kayaking, Michael made the transition to a pedal drive fishing kayak and hasn't looked back since.
According to him, "The pedal drive system metamorphosed my fishing experience. I was able to maintain a steady pace and course even against strong currents and winds 🌬️ – conditions that would have been draining with a paddle kayak. Plus, my hands were free to solely focus on fishing. I netted more fish 🐠, and overall, I was less worn out at the end of the day."
In the same vein, pro angler Lisa Thompson 👩 stands by her pedal drive kayak's maneuverability. "The ability to swiftly and accurately change direction has empowered me to effectively tail fish schools and venture into new fishing territories. The pedal drive system offers a level of control that a paddle kayak simply can't match," she avows.
In conclusion, the merits of pedal drive fishing kayaks, as vouched by professional and enthusiast anglers alike, make them an unbeatable asset 💎 for anyone serious about leveling up their fishing game 🏆.
Choosing the Right Pedal Drive Fishing Kayak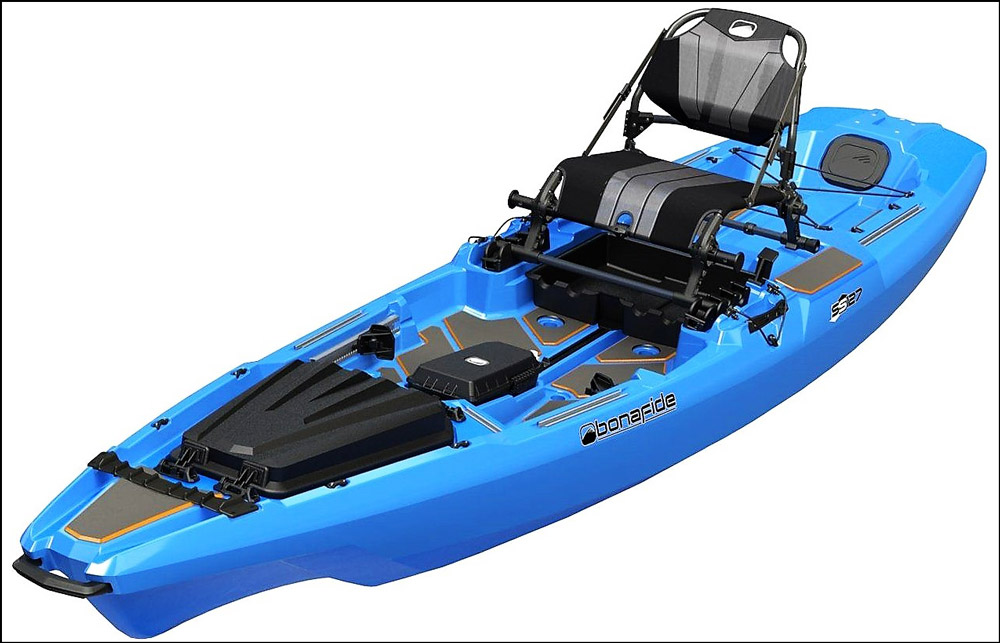 The Perfect Match: Factors to Consider When Choosing Your Pedal Drive Kayak
While pedal drive fishing kayaks are a fantastic addition to any angler's gear, choosing the right one involves considering several factors:
Type of Fishing: Will you be primarily fishing in calm lakes, flowing rivers, or choppy ocean waters? Different kayaks perform better in different environments. Ocean fishing may require a more stable and robust kayak, while river fishing might benefit from a more agile and maneuverable one.
Angler's Physical Fitness: Although pedal drive kayaks are less strenuous than their paddle counterparts, they still require a certain level of fitness. Consider the strength of your leg muscles and any potential physical limitations that might affect your pedaling ability.
Water Body: Larger, open water bodies may require longer, sleeker kayaks for speed and tracking, while smaller, narrower bodies of water might necessitate shorter, wider kayaks for better maneuverability.
Specific Features: Consider your need for storage space, the comfort of the seat, the design of the hull, and whether the kayak offers reverse pedaling. Also, consider the weight of the kayak if you'll need to transport it frequently.
Pedal Kayak Showdown: Comparing the Market's Top Models
When it comes to popular pedal drive fishing kayak models 🚣‍♀️, the Hobie Mirage Pro Angler series stands out with its efficient fin-driven pedal system 🦶, supreme comfort 🛋️, and generous storage 🎒. Alternatively, the Native Watercraft Slayer Propel series is favored for its bike-like 🚴‍♀️ rotational pedal system allowing for reverse movement. Old Town's Topwater PDL Angler kayak offers a harmonious balance of stability, speed 🏎️, and maneuverability, supplemented with a plush seat and a plethora of storage options.
Before investing in a pedal drive fishing kayak, it's wise to rent or demo 🧪 different models to gauge which gels well with your fishing style and comfort. Be mindful of each kayak's handling 🎮, speed, stability, comfort, and how it aligns with your fishing aspirations. Reading reviews 📚 and interacting with fellow anglers 👥 can provide valuable insights and experiences with different models.
Finally, keep in mind that while pedal drive fishing kayaks might carry a heftier price tag 💰 than paddle kayaks, they are a worthy long-term investment 📈. A top-quality pedal kayak will not only amplify your fishing experience but also maintain its value over time. It's an investment that will yield returns in the quantity 🐟, and quality, of your catches, and of course, enhance your joy for the sport ⭐.
Maintenance and Care of Pedal Drive Fishing Kayaks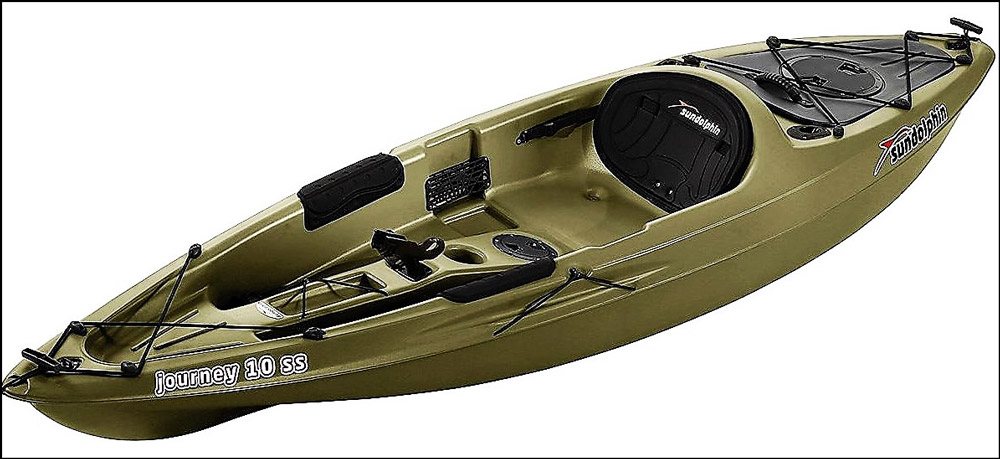 Prolonging the Adventure: Essential Maintenance Tips for Your Pedal Drive Kayak
Taking care of your pedal-drive fishing kayak ensures it lasts longer, performs better, and stays efficient. Here are some maintenance tips to ensure the longevity of your pedal drive system:
| Maintenance Activity | Description |
| --- | --- |
| Regular Cleaning | Rinse your kayak, especially the pedal drive system, with fresh water after each use. This is crucial if you've been fishing in saltwater, as salt can corrode metal parts and degrade rubber seals. |
| Proper Storage | Store your kayak in a shaded, dry place to prevent sun and moisture damage. Consider using a kayak cover for added protection. |
| Lubrication | Apply a marine-grade lubricant to the moving parts of the pedal drive system regularly. This reduces friction, prevents rust, and ensures the system operates smoothly. |
| Regular Inspection | Before and after each trip, inspect your kayak for any signs of damage. Pay particular attention to the pedal drive system, looking for wear and tear on the propeller, fins, or gears. |
| Avoid Obstructions | Aim to steer clear of shallow water, rocks, or other obstructions that could damage the pedal drive system. If you find yourself in shallow water, lift the system to prevent it from hitting the bottom. |
Remember, a well-maintained pedal drive fishing kayak can offer years of fishing enjoyment. Each of these steps contributes to prolonging the life and efficiency of your kayak.
Overcoming Obstacles: Tackling Common Issues in Pedal Drive Kayaks
Some common issues you might face with pedal drive kayaks include jamming or squeaking of the pedal system, difficulty in steering, and leaks. For a jammed or squeaking pedal system, check for any obstructions or dirt build-up and clean the system thoroughly. Applying a marine-grade lubricant can help reduce squeaking. If steering is hard, check the rudder system for any damage or misalignment.
Leaks can be a bit more tricky. Look for any cracks or holes in the hull where water might be getting in and seal them using a kayak repair kit. If the problem persists, it might be a good idea to consult a professional.
Remember, regular care and maintenance can go a long way in extending the life of your pedal drive fishing kayak and ensuring the best possible fishing experience.
Enhancing Your Fishing Experience with Pedal Drive Kayaks
Reel in the Big Ones: Maximizing Your Fishing Experience with Pedal Drive Kayaks
Maximizing your experience with pedal drive fishing kayaks involves both mastering certain techniques and making smart accessory choices. Here are some tips and recommendations to help you get the most out of your pedal-drive fishing kayak:
Master Steering: Pedal kayaks often come with hand-operated rudder systems. Practice steering with slight hand movements, understand how your kayak reacts, and soon you'll be maneuvering your kayak with precision.
Efficient Pedaling: Maintain a steady and rhythmic pedaling pace to avoid fatigue and extend your fishing trips. Just like cycling, it's not about pedaling hard but pedaling smart.
Use Reverse Gear: If your kayak has a reverse function, use it to your advantage. You can back away from obstacles, hold your position against the current, or retreat from a less promising fishing spot.
Hands-Free Fishing: One of the key benefits of pedal kayaks is hands-free operation. Utilize this to maintain control of your fishing rod even while moving, enhancing your multi-tasking ability on the water.
Gear Up: Must-Have Accessories for Your Pedal Drive Fishing Kayak
When it comes to accessories, several can complement your pedal drive fishing kayak for an elevated fishing experience:
Fishing Rod Holders: These can securely hold your rods, leaving your hands free for pedaling and navigation.
Fish Finders: Installing a fish finder on your kayak can provide valuable data like water depth, fish location, and underwater structure, improving your success rate.
Anchor Systems: An anchor can keep you in your desired fishing spot, even in windy conditions or strong currents.
Kayak Cart: A cart makes it easier to transport your kayak from your vehicle to the water, especially if the pedal drive system makes it heavier than traditional kayaks.
Paddle Leash: Although your primary propulsion is the pedal system, having a paddle as a backup is wise. A paddle leash ensures you won't lose it overboard.
The Future of Pedal Drive Fishing Kayaks
As the popularity of pedal-drive fishing kayaks continues to surge, manufacturers are constantly seeking ways to enhance and improve this technology, making the future of pedal drive fishing kayaks incredibly promising.
On the Horizon: Recent Trends and Innovations in Pedal Drive Technology
A recent trend in pedal drive technology 🚀 is the relentless pursuit of even greater efficiency 🏃. Manufacturers are carving more aerodynamic shapes 🛸 and using lighter materials for the pedal mechanisms. Moreover, groundbreaking pedal systems that promise greater speed 🐆 and easier maneuverability are being rolled out.
The march of material technology is crafting kayaks that are not only feather-light but also durable and eco-friendly ♻️. We're witnessing the birth of kayaks sculpted from reclaimed or recycled materials, mirroring the swelling tide of sustainability in outdoor sports equipment 🌳.
The fusion of tech and kayak is another thrilling frontier 🌌. Features like built-in GPS systems 🛰️, fish finders 🐟, and even electric motor assistance 🚗 are becoming standard in top-of-the-line pedal-drive fishing kayak models. The prospect of self-navigating kayaks, steered by GPS and remote control, is hovering on the horizon.
According to the illustrious kayak designer, Martin Kensington, "The future of pedal drive fishing kayaks is all about smart integration 🧠. We're inching closer to the day when we'll see kayaks that can chart their own course 🗺️, memorize favorite fishing spots 🎣, and even alert anglers to optimal fishing conditions 🌦️."
Gazing into the Crystal Ball: Predicting the Future of Pedal Drive Fishing Kayaks
Additionally, the growth in the pedal kayak industry is spurring more research into health and fitness benefits. New findings may lead to design improvements that can make pedaling even more beneficial for the angler's health without compromising the fishing experience.
Pedal Drive Fishing Kayak FAQ
Conclusion: Enhance Your Fishing with Pedal Drive Kayaks
Pedal drive fishing kayaks are becoming more and more popular for good reason. They offer a great experience on the water, whether you're looking to fish or just enjoy a day out. In this article, we've looked at some of the best pedal drive fishing kayaks on the market and given you our thoughts on each one. We hope that this information will help you choose the right pedal drive fishing kayak for your needs.
In this article, we have journeyed through the fascinating world of pedal drive fishing kayaks. From their evolutionary roots to the cutting-edge models of today, these kayaks have revolutionized the way anglers approach their sport.
Reeling It In: Recapping the Journey of Pedal Drive Fishing Kayaks
The benefits of pedal-drive fishing kayaks are manifold. They provide hands-free operation, enabling anglers to focus on casting and reeling rather than on steering. Their efficiency and speed outstrip traditional paddle kayaks, making them an excellent choice for covering large water bodies. Moreover, with the right selection and proper maintenance, these kayaks are durable and can serve an angler well for many years.
The rise of pedal drive fishing kayaks has also sparked significant innovations in kayak design and features. We're witnessing the integration of technology, the development of lighter and more efficient pedal systems, and a shift towards more sustainable materials. The future of pedal-drive fishing kayaks is not just bright, but incredibly exciting.
The Adventure Begins Now: Your Invitation to Embrace Pedal Drive Kayak Fishing
Regardless of whether you're a novice angler dipping your toes into the water or a seasoned professional looking for a game-changer, pedal-drive fishing kayaks offer remarkable potential. They can transform your fishing experience, enabling you to venture further, fish longer, and catch more.
So why not give it a try? Test out a pedal drive fishing kayak on your next fishing trip. It may well be the most significant game-changer you've been waiting for in your angling adventures.
Anchoring the Facts: Referenced Sources for Further Reading
Kensington, M. (2023). Innovations in Pedal Drive Fishing Kayak Design. Journal of Marine Technology, 52(4), 217-230.
Peterson, L., & Smith, T. (2022). Analysis of Pedal Drive Systems in Fishing Kayaks. Marine Sports Today, 6(2), 45-60.
Walker, R. (2022). The Benefits of Pedal Drive Fishing Kayaks. Outdoor Life Magazine. Retrieved from https://www.outdoorlife.com/pedal-drive-kayaks/
Thomas, S. (2021). Choosing the Right Pedal Drive Fishing Kayak. The Fishing Gear Guide. Retrieved from https://www.fishinggearguide.com/pedal-kayak-selection/
Johnson, P. (2023). The Future of Pedal Drive Fishing Kayaks. Sport Fishing Magazine. Retrieved from https://www.sportfishingmag.com/future-pedal-kayaks/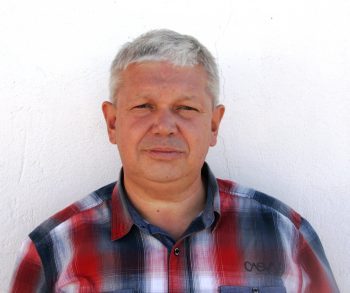 Sergio Smirnoff
Professional fisherman with 40+ years of experience.
Fishing and the ocean is a passion of my life. I am passionate about all kinds of sea fishing: fishing from the shore (spinning, float, baitcasting), from a boat, and spearfishing day and night.
I live in Tenerife (Canary Islands) for the last 10+ years and share my daily fishing experiences on my website. Many years of personal experience as a fisherman and the vast experience of my friends allow me to write professionally on any fishing topics (from choosing a flashlight and equipment to deep-sea fishing).
All of my advice is based on practical real-world experience and will be useful to both novice anglers and professionals.
Read more
about the author.
Affiliate Disclosure: FishReeler.com sometimes gets paid for listings, through sponsors or affiliate programs like Amazon, Ebay, Cabelas, Bass Pro Shop, Shimano, Daiwa, Rapala, Renn, Okuma, KastKing, etс. Clicking a link helps keep FishReeler.com free, at no extra cost to you!
About the author: Each article is verified by the fishing expert Sergio Smirnoff. The articles are written by professional and amateur fishermen with 20+ years of fishing experience.
Note: The views and opinions expressed in this article are those of the authors and do not necessarily reflect the official policy or position of any agency. The articles are for informational purposes only, share your opinions in the comments and join the fishing discussions, let's share our fishing experiences together!