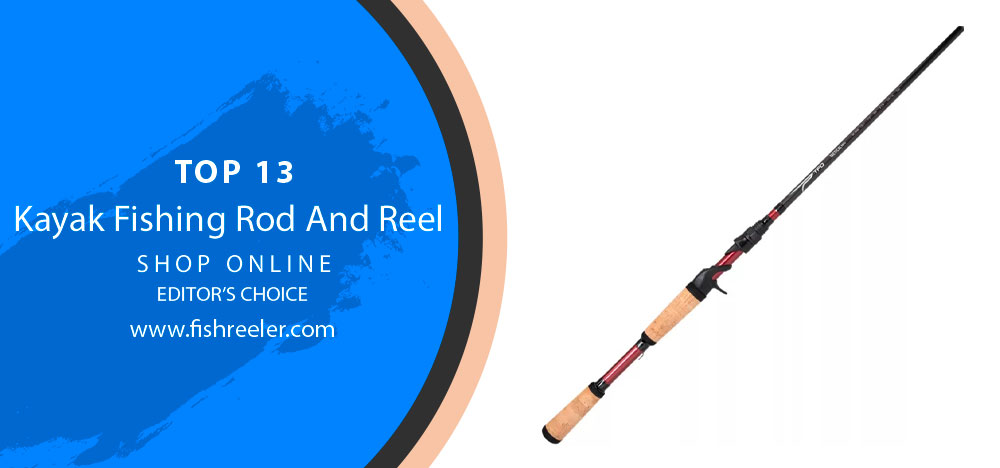 Paddle to Perfection: Unleashing the Best Fishing Rods for Kayak Enthusiasts
Dive into the Thrilling World of Kayak Fishing
Kayak fishing has rapidly gained popularity among anglers and outdoor enthusiasts alike. As a sport and recreational activity, it combines the tranquility of paddling across calm waters with the adrenaline-pumping excitement of catching fish. Kayak fishing allows for greater access to hard-to-reach fishing spots, stealthy approaches to not spook the fish, and an overall more immersive experience with nature. With minimal barriers to entry and the promise of adventure, kayak fishing has attracted a growing number of fans who are eager to explore new waterways and reel in their next big catch.
The Secret to Kayak Fishing Success: The Right Rod
While kayak fishing has many advantages, it also presents unique challenges that require specialized equipment. One of the most crucial components of a successful kayak fishing trip is choosing the right fishing rod. The proper rod can significantly impact your ability to cast, retrieve, and ultimately land your catch. In a kayak, you have limited space, mobility, and sometimes stability, so selecting a rod that is comfortable to use and specifically designed for kayak fishing can greatly enhance your experience and success on the water.
Paddling Our Way to Fishing Rod Perfection
In this article, we will explore the essential factors to consider when selecting a fishing rod for your kayak adventures. We will discuss the different types of rods available, and their ideal uses, and offer recommendations based on performance and value. Our aim is to help you make an informed decision when choosing the perfect fishing rod for your kayak, ensuring a more enjoyable and fruitful experience on your next outing. So, let's dive into the exciting world of kayak fishing and discover how you can paddle your way to the perfect catch.
Catch More than Waves: Top 13 Fishing Rods for Kayak Anglers
If you are going to be kayak fishing, you need to have a quality rod and reel combo. These combos come with everything you need to start fishing from the comfort of your kayak. In this article, we will discuss what makes a good rod and reel combo as well as some tips for those who are beginners at kayak fishing.
The first thing to do is decide whether or not you want a spinning or baitcasting reel. The best rods for kayak fishermen are usually made out of fiberglass, graphite, or carbon fiber (although there are also options with various materials).
For beginners, it is recommended that they purchase a casting reel because these reels can cast further than spinning reels. When you buy gear, it's important to know your needs – sometimes you need a boat, sometimes not. This particular setup is designed specifically for beach camping and the occasional kayak trip.
If you're a fisherman, then you know that the right fishing rod is key to a good day on the water. So, what's the best kayak fishing rod? Check out our top-rated options and find out for yourself! Whether you're looking for a sturdy option that can handle big fish or something more lightweight and easy to transport, we've got you covered. rods are selected based on their quality, features and customer feedback to ensure that you're getting the best possible product.
With so many different types of rods available, it can be tricky to know which one is right for you. That's why we've put together this comprehensive guide to help make your decision easier. Keep reading to learn more about the best kayak fishing rods.
1# G.Loomis E6X Walleye Spinning Rod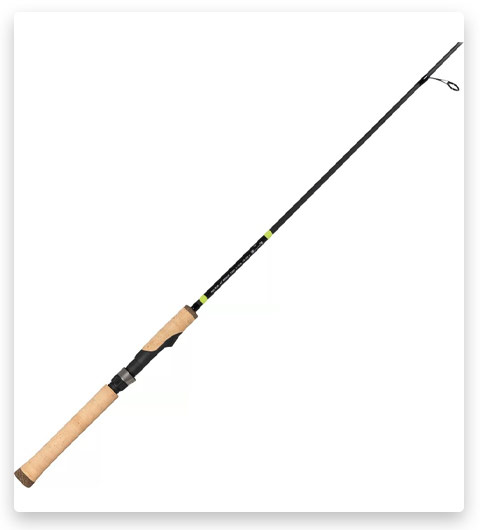 The G.Loomis E6X Walleye Spinning Rod is perfect for serious anglers who demand the very best. With its premium Fuji guides and reel seat, plus full cork grips, this rod provides an extremely light and sensitive experience with excellent balance and backbone. Plus, its proprietary E6X blank material ensures superb sensitivity and bait control.
2# Shimano Terez Conventional Rod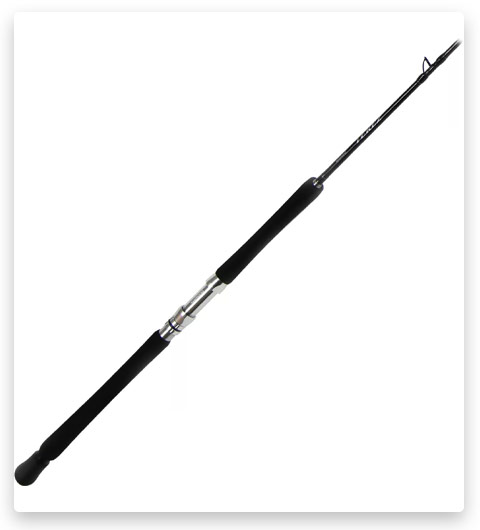 Shimano Terez conventional rods are designed for anglers who demand the very best. These remarkable rods are built with advanced Fuji E-Series Tangle-Free guides, and include lighter models with the Fuji DPS reel seat, while heavier models have the Shimano Custom AL aluminium reel seat.
EVA handles provide a comfortable grip, even when wet. Spiral X/Hi-Power X blank construction makes these rods incredibly strong – up to 25% stronger than previous models – while still being light and sensitive. Whether you're fishing for kingfish or tuna, Shimano Terez conventional rods will help you land your catch every time.
3# St. Croix Triumph Inshore Spinning Rod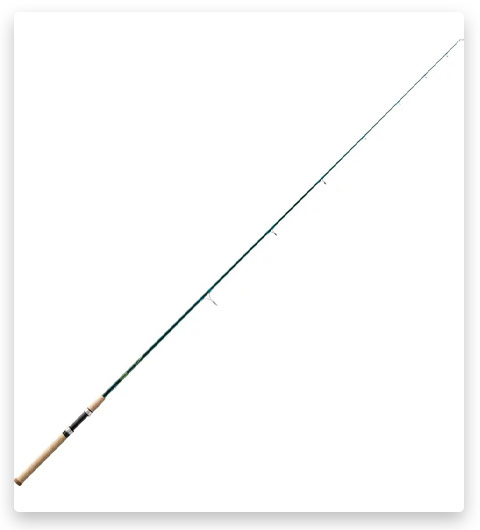 The St. Croix Triumph Inshore Spinning Rod is a top-of-the-line choice for serious anglers. Its premium SCII carbon blank delivers outstanding strength, sensitivity, and hook setting power, while the low-profile Sea Guide Atlas Performance aluminium-oxide guides provide smooth movement of your line. The reel seat is Sea Guide XDPS, and the handle is made from premium cork for a firm, comfortable grip in all weather. This rod comes with a manufacturer's 5-year warranty.
4# Tsunami Slow Pitch Jigging Trigger Rod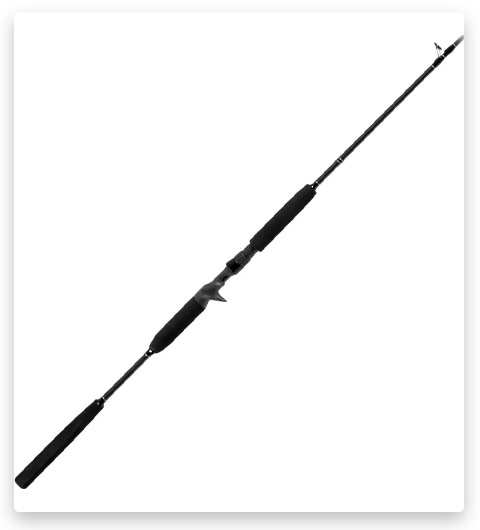 If you're looking for a versatile, high-quality rod for slow pitch jigging, you need to check out the Tsunami Slow Pitch Jigging Trigger Rod. Built with a Fuji graphite reel seat and custom-contoured EVA grips, this rod offers superior sensitivity, power, and flex. Plus, the Fuji Deep Pressed Concept "O" guides provide smooth operation and added durability.
5# Redington Path Fly Rod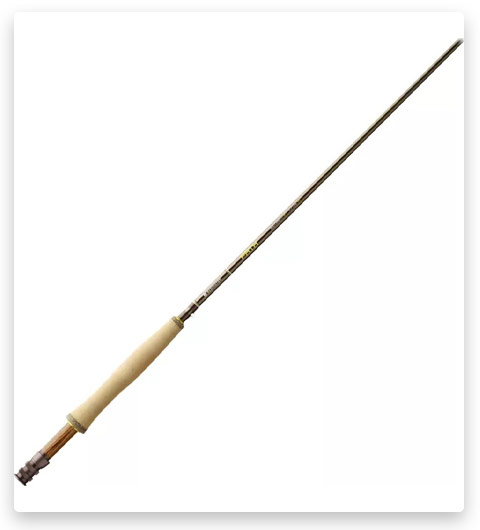 Introducing the Redington Path fly rod! This high-quality rod is perfect for all levels of expertise, with a medium-fast taper that provides a classic feel and action. The alignment dots make setup quick and easy, while the Cordura tube with dividers protects your rod during transport. Plus, the manufacturer's lifetime warranty guarantees years of reliable use.
6# Cashion ICON Casting Rod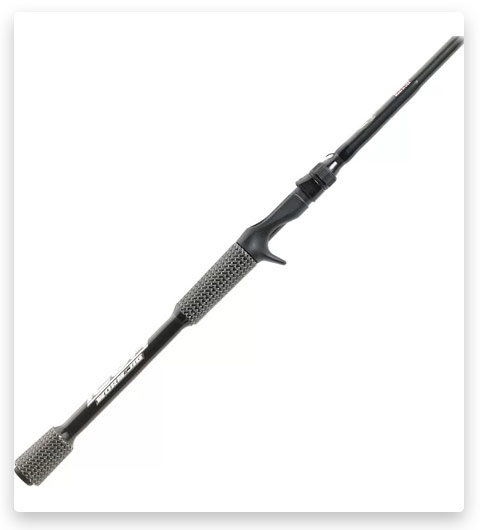 The Cashion ICON Casting Rod is a superior bass rod series designed for technique-specific use. Featuring a non-sanded carbon-fibre blank and premium American Tackle micro-guides, this amazing fishing rod is perfect for serious anglers. The AT graphite reel seat ensures that your reel stays in place during even the most strenuous battles, while the ultra-sensitive woven Kevlar grips give you amazing control over your casts.
7# Ande Boat Jigging Spinning Rod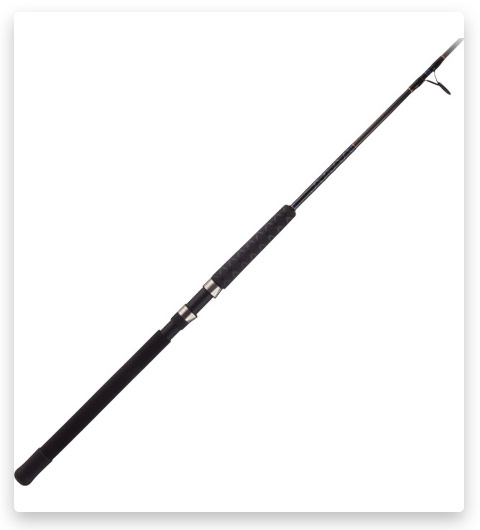 Whether you're chasing heavy loads and big fish with monofilament or super braid lines, our top-quality Ande components are more than a match. The hardloy guides are designed to last the life of the rod, while the cushioned graphite and stainless steel reel seat keep your reel firmly in place – even when things get rough. Plus, with our textured shrink grips, you'll have total control over every inch of this powerful tool. So go ahead and take on the biggest fish out there – with confidence.
8# Temple Fork Outfitters Tactical Bass Casting Rod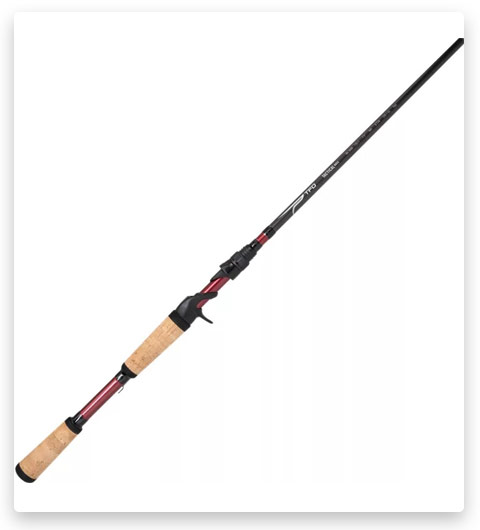 Temple Fork Outfitters' Tactical Bass Casting Rod is ideal for technique-specific bass fishing. This fast-action rod is incredibly sensitive and responsive, making it perfect for topwater fishing and other light lures. It's also incredibly lightweight and durable, thanks to its premier intermediate-modulus carbon fibre blank.
The Pac Bay Minima Stainless Steel SV guide ensures a smooth, responsive experience when casting, while the feel-through skeletal reel seat gives you an edge on the competition. The split cork grips provide a comfortable grip even during long sessions, while the EVA foam butt cap and accent rings add a touch of style. Best of all, Temple Fork Outfitters offers a lifetime warranty on this exceptional rod.
9# Orvis Recon Fly Rod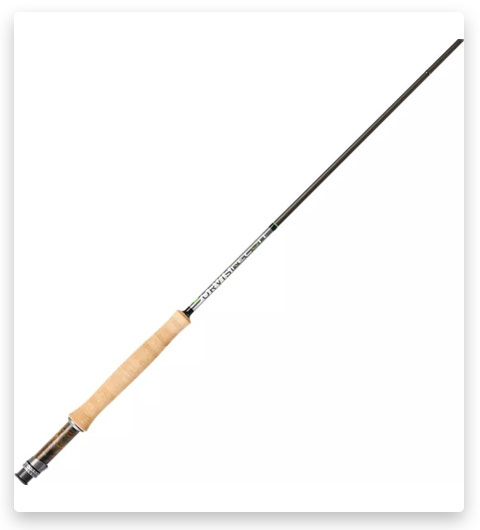 The Orvis Recon fly rod is our latest and greatest creation, designed with top-end construction and features to give you the best possible fishing experience. This rod is engineered for increased hoop strength, better tracking, damping, and accuracy. It's also tougher than ever before, able to handle greater impact without breaking. Our advanced ferrule connections are even more reliable, while the silver snake and stripping guides offer superior performance.
10# Sage Foundation Fly Rod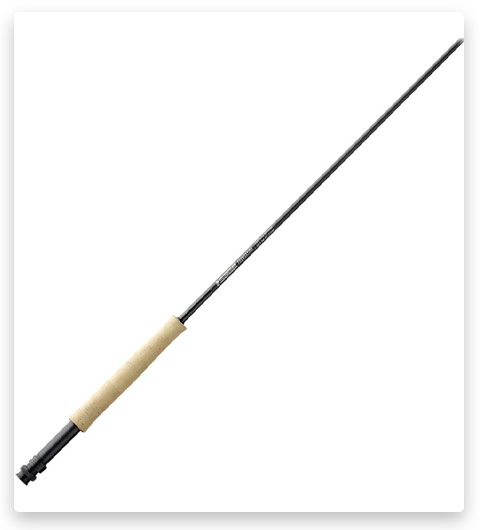 The Sage Foundation Fly Rod is a peak performer at a great price. It's built with superior power, control, and versatility for all waters and presentations, making it perfect for novice anglers or experienced fishers alike. The 4-piece Stealth Black Graphite III blank is tough enough to handle any condition, while the ceramic stripper guides and hard chrome snake guides provide smooth, responsive casting. The black-anodized aluminium up-locking reel seat ensures a solid grip, even on wet hands, while the snub nose cork handle provides hours of comfortable fishing. And saltwater weights are equipped with a fighting butt for an extra measure of power when you need it most.
11# Okuma Kokanee Black Spinning Rod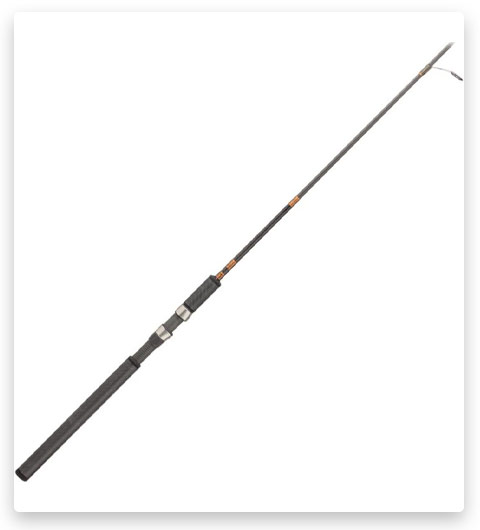 Kokanee is a sought-after game fish, and with this Okuma spinning rod, you'll be able to reel them in with ease. This rod is designed specifically for kokanee fishing and is crafted with premium materials and technology for the best possible experience. It features a thin-walled glass rod blank, SeaGuide stainless steel guide frames, smooth titanium-oxide inserts, Fuji reel seat, and 3K woven carbon fibre handle grips. With its technique-specific design, this rod will have you catching more kokanee in no time!
12# Douglas Sky Fly Rod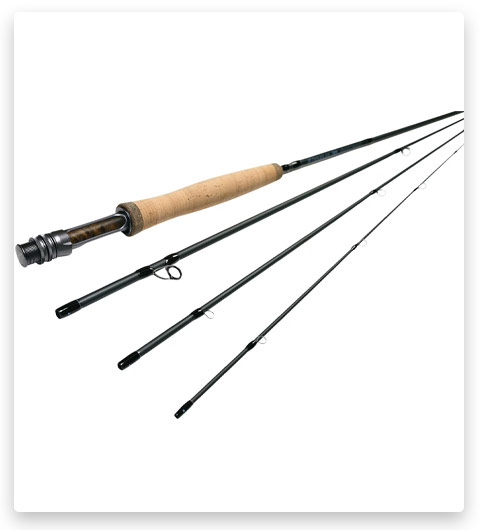 The Douglas Sky Fly Rod is perfect for fishing nymphs. Its next-generation nanocarbon XMatrix construction ensures a lightweight and sensitive rod, while the unique tapers combine a moderate-fast action with fast recovery for effortless casting.
The premium AAAA flor-grade cork grips provide a comfortable and stable grip, while the Fuji Torzite titanium striper guides are virtually unbreakable. Plus, the double up-locking rings and nylon rings keep your line in place, and the burled blackwood reel seat adds a touch of elegance. The aluminium tube and breathable sock make it easy to transport your rod, and the manufacturer's limited lifetime warranty guarantees quality you can trust.
13# Star Rods Stellar Lite Fast Taper Spinning Rod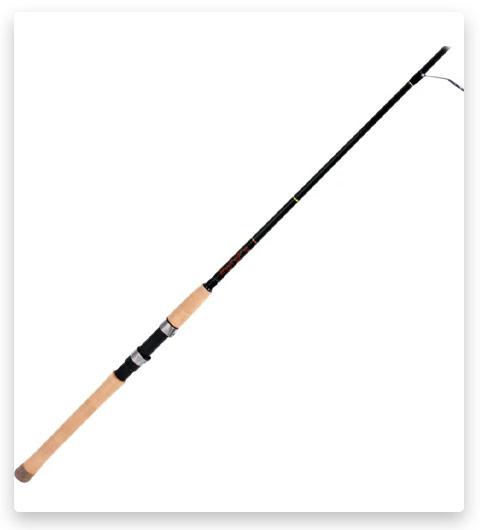 If you're looking for a great rod that will let you cast super-light lures with precision, you need to check out Star Rods Stellar Lite Fast Taper Spinning Rod. Each model is built on a sensitive, durable IM-6 high modulus graphite blank with a fast taper, and comes complete with lightweight Fuji Concept guides and a Fuji reel seat. Plus, the cork handle grip ensures a comfortable fishing experience every time. Manufacturer's limited lifetime warranty included.
Factors to Consider When Choosing a Fishing Rod for Kayaks
Size Matters: Finding the Perfect Fit for Your Kayak
➽Sit-On-Top vs. Sit-Inside Kayaks: A Battle of Styles
When choosing a fishing rod for your kayak, it's essential to consider the type of kayak you have. Sit-on-top kayaks are popular among anglers due to their stability, ease of entry, and accessibility to gear. They often have rod holders and gear tracks to make your fishing experience more comfortable. For sit-on-top kayaks, look for a rod that can easily be stowed away in the rod holders or attached to gear tracks.
Sit-inside kayaks, on the other hand, provide better protection from the elements and often have a lower center of gravity, making them more suitable for rougher waters. However, they offer less space for gear storage and limited access to equipment. For sit-inside kayaks, you'll want a rod that is compact, easy to handle, and can be stored within the limited space available.
➽Kayak Dimensions: Making Room for Your Rod
The size of your kayak also plays a crucial role in determining the right fishing rod. A shorter kayak will have limited space for gear and require a more compact rod that can be easily maneuvered in tight quarters. Longer kayaks offer more room for storage and casting but may require a longer rod for optimal reach and casting distance.
Hook, Line, and Sink Your Fishing Style
➤Freshwater vs. Saltwater Fishing: A Splashy Showdown
The type of fishing you plan on doing – freshwater or saltwater – will influence your rod choice. Saltwater fishing typically requires stronger, more durable rods that can withstand harsh conditions and larger, more powerful fish. Look for rods made from corrosion-resistant materials and with guides designed to handle saltwater fishing lines. Freshwater fishing, by contrast, often requires lighter, more sensitive rods to detect subtle bites from smaller species.
➤Targeting the Catch: Species-Specific Rods Unveiled
Your targeted fish species will also dictate the ideal fishing rod. For smaller fish like panfish or trout, a lightweight, sensitive rod with fast action is recommended. For larger species like bass, pike, or redfish, you'll need a rod with more power and backbone to handle the extra weight and fight.
Lengthwise Choices: Short vs. Long Rods
🎡Shorter Rods: Navigating Compact Kayak Spaces
In general, shorter rods (6-7 feet) are preferable for kayak fishing. They offer several advantages, such as easier handling in confined spaces, improved accuracy when casting, and better leverage when fighting fish. Additionally, shorter rods are more convenient to stow away and transport when not in use.
🎡Going the Distance: When Longer Rods Rule
In some situations, longer rods (7-9 feet) can be advantageous for kayak fishing. They offer greater casting distance, which can be helpful when trying to reach specific structures or cover large areas of water. Additionally, longer rods can help keep the line away from the kayak's hull, reducing the risk of entanglement or abrasion. Longer rods may also be beneficial when targeting species that require longer, more powerful casts or when using specific techniques like fly fishing.
Crafted to Catch: Rod Materials and Construction
🌟Lightweight and Sensitive: Graphite Rods
Graphite rods are lightweight, stiff, and sensitive, making them ideal for detecting subtle bites and setting hooks quickly. They are typically better suited for freshwater fishing and targeting smaller, more finicky fish. However, they can be more brittle and prone to breakage when subjected to extreme pressure or high-impact strikes.
🌟Durable and Forgiving: Fiberglass Rods
Fiberglass rods are more durable and forgiving than graphite rods, making them better suited for handling larger, stronger fish or fishing in rugged conditions. While they are less sensitive than graphite rods, they provide excellent strength and shock absorption, making them ideal for saltwater fishing or targeting species that require a heavier-duty rod. Fiberglass rods tend to be heavier and slower in action compared to graphite rods, which can be a drawback for some anglers.
🌟The Best of Both Worlds: Composite Rods
Composite rods are made from a combination of graphite and fiberglass materials, offering a balance of sensitivity, durability, and strength. These rods are versatile and can handle various fishing styles and conditions. Composite rods are an excellent choice for kayak anglers who fish in both freshwater and saltwater environments or target a diverse range of species. They combine the benefits of both graphite and fiberglass rods, providing a well-rounded option for those seeking the best of both worlds.
In conclusion, selecting the right fishing rod for your kayak fishing adventures involves considering several factors, including the type and size of your kayak, the fishing style and targeted species, the rod length, and the rod material and construction. By understanding these aspects and how they influence your fishing experience, you can make an informed decision and choose the perfect rod for your needs. With the right rod in hand, you can maximize your enjoyment and success on the water, reeling in unforgettable catches and creating cherished memories.
III. Top Fishing Rods for Kayaks: Your Perfect Paddling Partner
Reeling in the Best: Kayak Fishing Rods Reviewed
🔶Model Mastery: Top Fishing Rods Named
Model name: Ugly Stik GX2 Spinning Rod
Features:
Durable graphite and fiberglass construction
Clear Tip design for sensitivity and strength
Ugly Tuff one-piece stainless steel guides
🔶Unmatched Features: What Sets Them Apart
Model name: St. Croix Mojo Inshore Spinning Rod
Features:
Premium-quality SCII graphite blank with Fortified Resin System
Batson Forecast aluminum-oxide guides with double-coated black chrome frames
Split-grip handle with premium-grade cork
🔶Pros and Cons: Weighing Your Options
Model name: Fenwick Eagle Spinning Rod
Features:
Graphite blank with B2 burled cork handle
Stainless steel guides with aluminum oxide inserts
Classic Fenwick Actions for various fishing techniques
Battle of the Rods: Top Choices Compared
🔷Versatility Test: Performance Across Different Waters
The Ugly Stik GX2 performs well in various environments, thanks to its combination of durability and versatility. It can handle both freshwater and saltwater fishing and is suitable for a range of species.
The St. Croix Mojo Inshore is designed specifically for inshore saltwater fishing, providing excellent sensitivity and strength for targeting species like redfish, speckled trout, and snook. However, it might not be the best option for freshwater anglers.
The Fenwick Eagle offers a good balance of performance for both freshwater and saltwater fishing, making it an excellent choice for kayak anglers who fish in diverse environments.
🔷Bang for Your Buck: Price and Value Comparison
The Ugly Stik GX2 offers excellent value for money, providing a durable and versatile rod at an affordable price point. It is a popular choice for anglers on a budget or those looking for a reliable, all-around rod.
The St. Croix Mojo Inshore is more expensive than the other two options, but its high-quality construction and components make it worth the investment for those who are primarily focused on inshore saltwater fishing.
The Fenwick Eagle is moderately priced and offers good value for the price. Its versatility and performance in various fishing environments make it a solid choice for kayak anglers seeking a well-rounded rod that won't break the bank.
Expert Tips for Kayak Fishing Success
Stow and Go: Rod Storage and Handling Tips
Storing and handling your fishing rod properly on a kayak is essential for maintaining its longevity and performance. Here are some tips for effective rod storage and handling:
Use built-in rod holders or attach aftermarket holders to keep your rod secure and easily accessible while paddling or when you need both hands.
Store extra rods horizontally along the sides of the kayak or vertically using rod holder extensions, ensuring they are well-secured to prevent loss or damage.
Be mindful of your rod's position when casting, retrieving, or landing a fish to avoid striking the kayak, surrounding obstacles, or other anglers.
Regularly clean and maintain your rod, especially after saltwater use, to prevent corrosion and keep it in top condition.
Mastering Kayak Fishing Techniques
Kayak fishing may require you to adjust your fishing techniques to accommodate the limited space and mobility. Consider these tips to adapt your fishing methods:
Practice one-handed casting to maintain control of your paddle and minimize the chances of tipping your kayak or dropping your gear.
Use shorter rods for better control, accuracy, and leverage when casting and fighting fish.
Employ stealthy approaches and drift silently into your fishing spots to avoid spooking fish.
When reeling in larger fish, use the kayak's mobility to your advantage by allowing the fish to pull the kayak, reducing the stress on your rod and line.
Safety First: Keeping Your Kayak Fishing Adventures Afloat
Fishing from a kayak can present some unique safety challenges. Keep the following safety tips in mind when on the water:
Always wear a personal flotation device (PFD) while on your kayak, regardless of your swimming abilities.
Attach a whistle or other signaling device to your PFD for easy access in case of an emergency.
Bring a handheld VHF radio or cell phone in a waterproof case to communicate with others if needed.
Monitor the weather conditions and be prepared to adjust your plans or seek shelter if necessary.
Familiarize yourself with local fishing regulations, waterways, and potential hazards before heading out on your trip.
Pack essential safety gear, such as a first aid kit, paddle leash, and a dry bag with extra clothing.
Inform someone onshore of your planned route and expected return time.
By following these tips and choosing the right fishing rod for your kayak, you can maximize your enjoyment, success, and safety while exploring new fishing opportunities and reeling in memorable catches.
FAQ: Unleashing the Best Fishing Rods for Kayak Enthusiasts
Conclusion: Discover Your Ideal Rod for Unforgettable Angling Adventures
The Perfect Cast: Why Your Rod Matters
Selecting the appropriate fishing rod for your kayak is crucial for maximizing your success and enjoyment on the water. The right rod can make all the difference in handling the unique challenges of kayak fishing, from managing space constraints to adapting your techniques. By considering factors such as kayak type and size, fishing style and targeted species, rod length, and material, you can make an informed decision and select the perfect rod for your needs.
Unleash Your Inner Angler: Embarking on the Kayak Fishing Journey
Kayak fishing is an exciting and rewarding way to connect with nature and experience the thrill of the catch. With a suitable rod in hand, you'll be well-equipped to explore new waters, hone your skills, and create lasting memories. If you haven't already, we encourage you to give kayak fishing a try and experience firsthand the unique challenges and rewards it offers.
Share Your Paddling Pursuits: Inviting Readers to Connect
We'd love to hear about your experiences with kayak fishing and the rods you've found most effective. Please feel free to share your stories, tips, and recommendations in the comments below. If you have any questions or need advice on selecting the right rod for your kayak fishing adventures, don't hesitate to ask. Together, we can learn from one another and continue to grow this wonderful community of kayak fishing enthusiasts.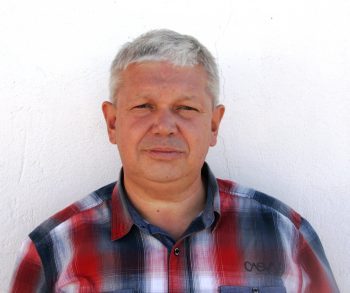 Sergio Smirnoff
Professional fisherman with 40+ years of experience.
Fishing and the ocean is a passion of my life. I am passionate about all kinds of sea fishing: fishing from the shore (spinning, float, baitcasting), from a boat, and spearfishing day and night.
I live in Tenerife (Canary Islands) for the last 10+ years and share my daily fishing experiences on my website. Many years of personal experience as a fisherman and the vast experience of my friends allow me to write professionally on any fishing topics (from choosing a flashlight and equipment to deep-sea fishing).
All of my advice is based on practical real-world experience and will be useful to both novice anglers and professionals.
Read more
about the author.
Affiliate Disclosure: FishReeler.com sometimes gets paid for listings, through sponsors or affiliate programs like Amazon, Ebay, Cabelas, Bass Pro Shop, Shimano, Daiwa, Rapala, Renn, Okuma, KastKing, etс. Clicking a link helps keep FishReeler.com free, at no extra cost to you!
About the author: Each article is verified by the fishing expert Sergio Smirnoff. The articles are written by professional and amateur fishermen with 20+ years of fishing experience.
Note: The views and opinions expressed in this article are those of the authors and do not necessarily reflect the official policy or position of any agency. The articles are for informational purposes only, share your opinions in the comments and join the fishing discussions, let's share our fishing experiences together!