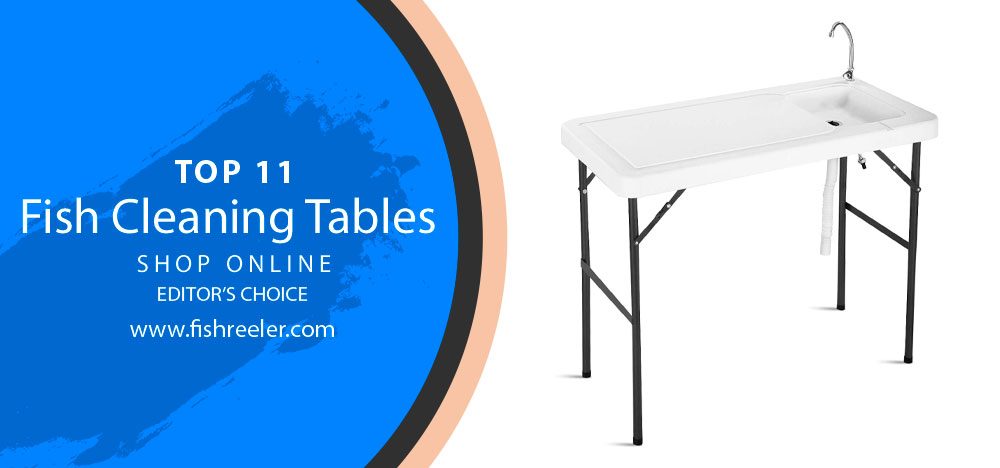 Hooked on Clean: Why Fish Cleaning Tables are an Angler's Best Friend
Quick Summary
✅One tool that can truly transform your post-catch process is a fish cleaning table.
✅Firstly, fish cleaning tables are designed to streamline the often-messy task of preparing your catch. They typically feature a smooth, easy-to-clean surface for filleting, a sink for washing, and often, a waste chute for discarding unwanted parts directly. This setup allows you to clean, fillet, and prep your fish with ease and speed, reducing the mess and the stress often associated with these tasks.
✅But what sets fish cleaning tables apart from your regular kitchen table or counter? Their portability, for starters. These tables are designed to be compact and lightweight, allowing you to take them along on your fishing trips. Set them up wherever you want – on a boat, at the dock, or even at a campsite.
✅Secondly, many fish cleaning tables are designed with the angler in mind. They often have features like built-in rulers for measuring your catch, knife holders for easy access to your tools, and even compartments for storing bait or tackle.
🔶In essence, a fish cleaning table isn't just a table – it's a game-changer for your fishing experience. Investing in one could mean the difference between a frustrating, messy post-catch process, and a smooth, enjoyable journey from catch to cook.

Fish Cleaning Tables: An Angler's Essential Guide to a Seamless Catch-to-Cook Experience

🎣 The Thrill of Fishing and the Art of Cleanliness: An Introduction 🎣
Welcome, angling enthusiasts, to the world of efficient fish cleaning! 🐟 Fishing is not just about the thrill of the chase and the satisfaction of a good catch – it's an activity that carries with it a certain sense of tranquility, a connection with nature, and an opportunity for adventure. Whether you're a weekend hobbyist, a competitive sport angler, or a dedicated professional, one thing is certain: cleaning your catch is a task that demands patience, skill, and above all, efficiency.
And let's face it, the process can be messy. That's why the fish cleaning table enters the scene as an absolute game-changer. 🌟
🐠 The Allure of Fish Cleaning Tables 🐠
Fish cleaning tables – sounds straightforward, doesn't it? But these specialized tables are far more than a flat surface to lay your catch. They are specifically designed to make the task of cleaning fish faster, easier, and tidier. 🧽
With a fish cleaning table, you're not just getting a workspace; you're investing in a multifunctional station that complements every stage of your fishing trip. A high-quality fish cleaning table can offer features like built-in sinks for easy washing, waste chutes for quick clean-up, and even ruler markings for precise measurements. Plus, with their portability, they can accompany you on every fishing expedition. 🚐
🔶Say goodbye to the cumbersome process of filleting on random surfaces and step into the realm of convenience and cleanliness with fish cleaning tables. Your fishing trips will never be the same again. 🚀
🚀 A Game-Changer in Fishing: Why Choose a Fish Cleaning Table? 🚀

In our quest to improve our fishing experience, we often focus on the gear we use to catch fish, forgetting that the task doesn't end at the catch. Once the adrenaline rush of the chase subsides, what awaits us is the crucial task of cleaning and preparing the fish, a task that could be simplified with a fish cleaning table. 🎣
⚖️ Fish Cleaning Tables vs. Traditional Methods ⚖️
Think about your previous fish cleaning experiences. You've likely used a standard table, maybe even the ground, right? Sure, they serve the purpose, but are they efficient? The process can be cumbersome, messy, and time-consuming. Moreover, it often leaves a lingering smell that can be hard to get rid of. 🤔
Enter the fish cleaning table. With its easy-to-clean surface and practical design, it speeds up your cleaning process and ensures a mess-free environment. Moreover, many models come with helpful extras like integrated sinks, storage compartments, and even built-in rulers for precise filleting. And the best part? Their portability means you can set up your cleaning station right where you need it. 🏞️
📣 Word from the Wise: An Angler's Anecdote 📣
To further underline the importance of fish cleaning tables, let's turn to the personal experiences of seasoned angler, Jack Roberts.
"I remember my early days of fishing," Jack recounts, "spending hours hunched over a rough table or rock, struggling with the slippery fish and dealing with a messy cleanup afterward. It all changed when I discovered fish cleaning tables. With their specialized design and convenience, I cut down my cleaning time by half, not to mention the drastic reduction in post-cleaning mess. Now, I couldn't imagine a fishing trip without my trusty table." 🏆
🔶So, whether you're a professional like Jack or an occasional angler, a fish cleaning table is an investment that can significantly enhance your fishing experience. They say 'A bad day of fishing is better than a good day at work,' but with a fish cleaning table, we could argue there's no such thing as a bad day of fishing! 🎉
Top 11 Best Fish Cleaning Tables Review
Imagine this picture. You've spent all day long on your boat or the shore battling the tackles and fish. Now you're returning back home with the catch, tired but satisfied and anticipating your upcoming fish dinner. But first, you need to gut and clean the fish. Sure you can use a plain cutting board or a regular table. But it's not that convenient. You need a sturdy and easy-to-clean surface. Also, you need a place to store garbage and waste. So it's high time that you think about a good fish cleaning table.
| Image | Product | Brand | Link |
| --- | --- | --- | --- |
| | SEEK SKFT-48S Deluxe Cleaning Table, Large, White | SEEK | |
| | Guide Gear Portable Folding Fish/Game Cleaning Camp Table with Sink and Faucet, Outdoor Fishing Washing Station for Boat, Dock | Guide Gear | |
| | Best Choice Products Portable Cutting Cleaning Table for Fish, Game Hunting w/ Sink, Faucet - Gray | Best Choice Products | |
| | Outsunny Folding Camping Table with Faucet and Dual Water Basins, Outdoor Fish Table Sink Station, for Picnic, Fishing, 40'' | Outsunny | |
| | Lifetime 280560 4 Foot Folding Fish Fillet Cleaning Table with Sink for Camping, Picnic, Garden, Outdoors | Lifetime | |
| | Old Cedar Outfitters Deluxe Fish Fillet Table, or Portable Folding Camping Kitchen with Cutting Board, Bowls, Knife, Odor Bar, Sink, Drain and More! 49.8" x 25.6" x 37.2", White,Camp | Old Cedar Outfitters | |
| | Goplus Portable Fish Cleaning Table with Sink, Folding Outdoor Camping Sink Station with Hose Hook Up, Heavy Duty Fillet Table with Faucet for Dock Beach Patio Picnic | Goplus | |
| | GYMAX Fish Cleaning Table with Sink, Folding Fish Cleaning Station with Adjustable Extending Spray Cleaner, Foldable & Rotatable Faucet, Portable Fillet Table for Outdoor Camping, Fishing, Picnic | GYMAX | |
| | VINGLI Outdoor Folding Fish and Game Cleaning Table w/Sink| Portable & Durable, Standard Garden Connection, Upgraded Drainage Hose, Stainless Steel Faucet (Classic) | VINGLI | |
| | Flash Furniture Wesley 4-Foot Portable Fish Cleaning Table / Outdoor Camping Table and Sink Granite White | Flash Furniture | |
| | Outdoor Fish and Game Cleaning Portable Folding Camp Table and Washing Station with Flexible Faucet | Teezira | |
1# SEEK SKFT 48S Deluxe Cleaning Table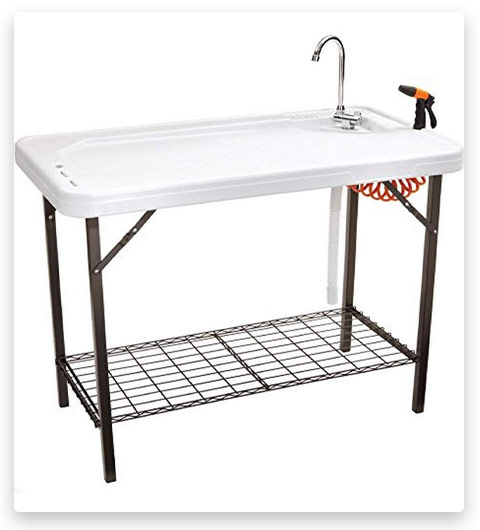 This fish cleaning table is a portable, sturdy, and efficient construction. The large work area is appropriate for all your outdoor activities. A fast-connect faucet with an extending sprayer is perfect for keeping the surface clean after work. The faucet can be easily connected to a garden hose. The table is equipped with an integrated sink with a drain. Tilted surfaces and bumpers help to keep the working area clean. The table comes with an integrated drawer and wire-mesh shelf for tools and supplies. Legs can be easily folded for storage and transportation.
2# Guide Gear Folding Fish Game Cleaning Table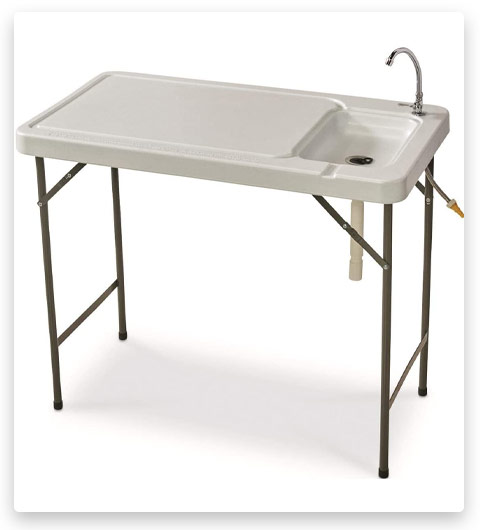 This portable and sturdy table is just an angler's dream! It has a perfect working height and surface, built specifically for cleaning and filleting fish on the fly. Just set up this portable model in the backyard,  at home, or on the road.  Folding legs and a flat, smooth top surface make an ideal workstation. You always avoid mess and waste thanks to the integrated stainless steel faucet easily connected with a garden hose. A built-in drain tube leads into a five-gallon bucket. The table comes fully assembled for immediate use. Sturdy joints lock legs into the proper position for extra stability. Containment edge grooves keep fish from slipping out of the top.
3# Best Choice Products Portable Cutting Cleaning Table for Fish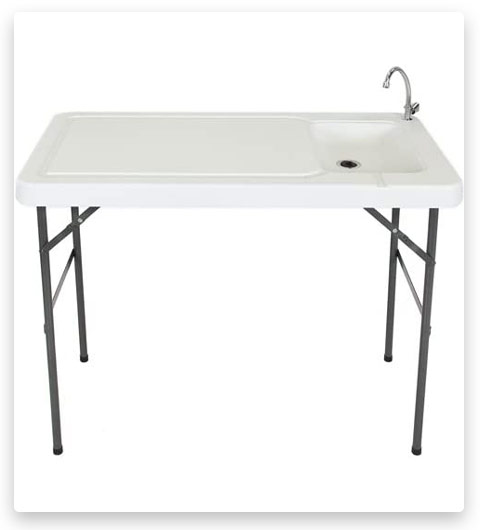 This table is perfect for picnics,  fishing, camping, cleaning meats, fruits, vegetables, and other kinds of outdoor activities with family and friends. It can be easily folded for storage and transportation. The tabletop is made of extremely durable plastic. Also, you can use it for food preparation and cooking, barbeque preparation, and more. The lightweight unit has folding legs for easy storage and moving. The stainless steel faucet is easily connected to the garden hose.
4# Outsunny Portable Folding Camping Table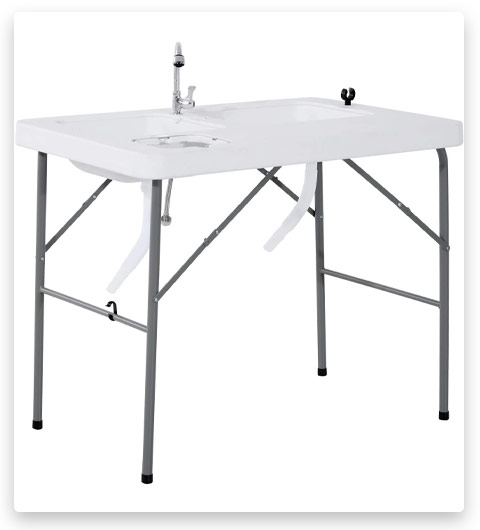 This convenient fold-out washable table makes the fish cleaning process quick and easy. It is built of sturdy HDPE,  equipped with a fast-connect faucet that can be connected with a hose. The fish cleaning table is easy to assemble, set up, and transportation.  The perfect accessory foк fishing, hunting, traveling, or camping. Two separate water tanks make cleaning fast and easy. It contains a slot for a garbage bag and a clamp holding a fishing rod or hose.
5# Lifetime 280560 4 Foot Folding Fish Fillet Cleaning Table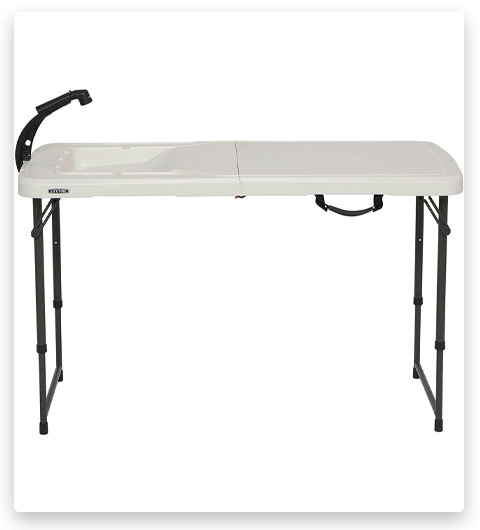 This fish cleaning tabletop is made of high-density polyethylene.  The powder-coated steel folding frame has 3 adjustable height settings. It is perfect for fishing, traveling, camping, or home backyard works. A pull-out spray handle hooks to the garden hose and has two spray settings. The table includes storage for the drain hose, spray handle, and a rubber drain stopper. The surface is stain-resistant, easy to clean, and sunlight-protected. The durable powder-coated steel frame protects against weather, corrosion aтв rust. The table is folding, has a handle for easy transportation and storage. You can adjust three height settings.
6# Old Cedar Outfitters Deluxe Fish Fillet Table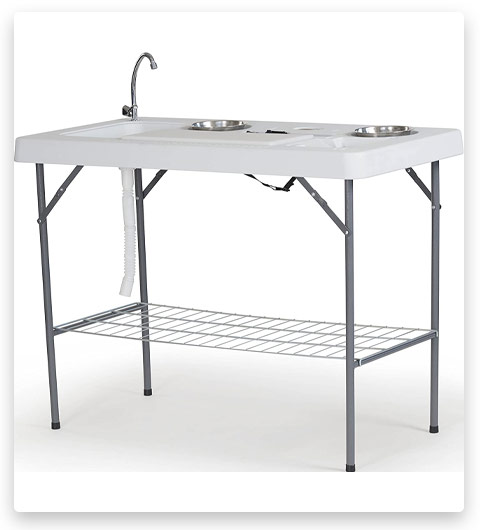 An ultimate fish cleaning table. Durable plastic surface for easy cutting and cleaning. Steel legs are powder coated to prevent corrosion and rust. You will need no tools for assembly. Just lock hinges in place. The set includes extra bowls, a cutting board, and a fillet knife. The hole on the surface allows dispensing waste. It also includes a faucet, sink, and a shelf for accessories and trash buckets.
7# Goplus Portable Folding Table Fish Fillet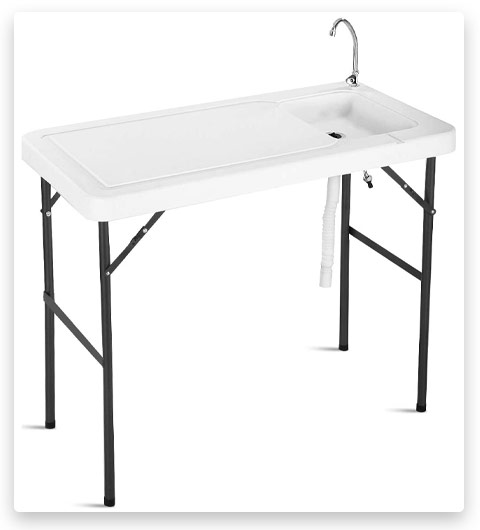 This folding table is ideal for fishing, camping, fishing, and picnics. Durable metal table legs can be folded easily for moving and storage. A high-density plastic tabletop is combined with a sink and a faucet for washing fish. The table has a 200-lb weight capacity. An extendable drain hose and a sink stopper are included. The drainage hose length can be adjusted from 8.7′ to 28.3′. A sink drain contains 6 holes. No need to worry whether waste will slip into the drain. A stopper is also included.
8# Gymax Portable Folding Fish Table Fish Fillet Cleaning Cutting Table
This folding fishing table makes cleaning fish and fowl quite easy. It also can be used for cutting meats, fruits, and vegetables for your family BBQ or picnic. The table is fold-up and lightweight. You can take it on fishing trips, picnics, or any kind of travel. The table needs some simple assembly. All the necessary accessories are included.
9# VINGLI Outdoor Folding Fish and Game Cleaning Table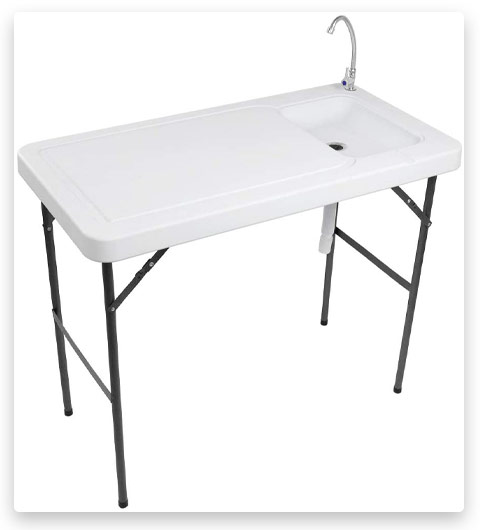 This portable fish and game cleaning table is perfect for camping and fishing. With its comfortable sink, ideal height, and large operation surface, you will easily clean and cut fish, meat, fowl, and food outdoors. It is durable and sturdy, made of special food-safe plastic. The sink and faucet are made of stainless steel, corrosion-resistant. Each package contains an adapter for a standard garden hose. You can easily carry and transport the table by yourself thanks to its compact size and folding design.
10# Flash Furniture Granite White Plastic Folding Table With Sink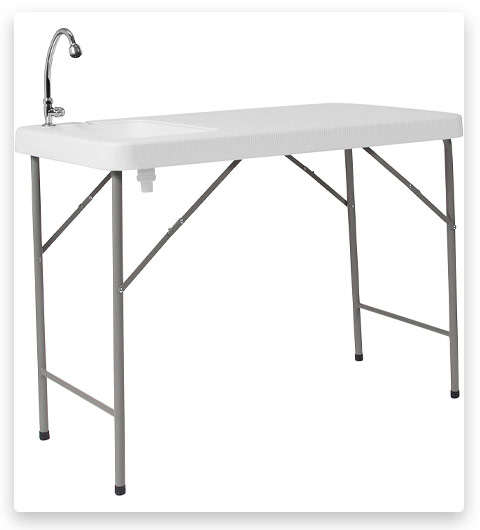 This multi-purpose folding fish cleaning table comes with a faucet attachment and hose extension.T. It has a built-in sink and comes with a drain stopper. Take this model whenever you go fishing, hunting, or camping, where you'd like to clean up before returning home. The table legs can fold under the table for better portability and storage. The table set includes faucet attachments. This table is an excellent preparation and cleaning unit whether at home or outdoors.
11# Kotulas Fish Cleaning Camp Table with Flexible Faucet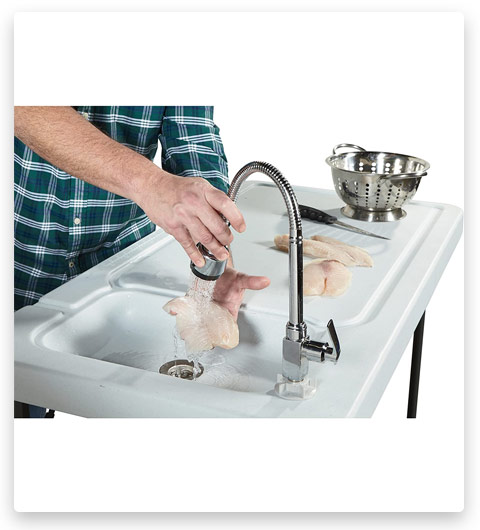 This portable classic fish cleaning table with a flexible faucet lets you clean the catch easily and without hassle and mess. This table is portable, easy to move, and set up. It is equipped with a stainless steel faucet with a flexible sprayer that can be connected to a standard garden hose. A special groove in the table directs water right into the sink. A flexible drain hose allows you empty the contains into a bucket or drain to make cleanup easy. The legs lock in both folded and unfolded positions.
🔶We tried to do our best to show you the best choice of fish cleaning tables. Hope this short guide will help you to pick the right one.
🗝️ Key Features of a Good Fish Cleaning Table: A Buyer's Guide 🗝️

A fish cleaning table is more than just a surface to clean your catch. It's a tool that can significantly elevate your post-catch experience. But what should you look for in a good fish cleaning table? Here are some key features to consider. 🧐
1️⃣ Material: Durability Meets Functionality 1️⃣
When it comes to material, think durable and easy-to-clean. Stainless steel and high-density polyethylene are popular choices. Stainless steel is corrosion-resistant, perfect for withstanding harsh marine environments, while polyethylene offers durability with a non-absorbent surface for easy cleaning. 🦾
2️⃣ Size: A Matter of Convenience 2️⃣
The size of your table should correlate with your needs and the space available. If you frequently catch larger fish or have ample space, a bigger table might be beneficial. On the other hand, a compact table can be a lifesaver for smaller boats or limited spaces. Remember, the aim is to optimize your workspace without compromising comfort. 📏
3️⃣ Durability: Built to Last 3️⃣
Durability is key. A sturdy frame is essential to support the weight of your catch and your vigorous cleaning activities. Also, check if the table is weather-resistant and easy to maintain. A good fish cleaning table should withstand the test of time… and fish! ⏳
4️⃣ Additional Features: The More, The Merrier 4️⃣
Look for additional features that enhance convenience. A built-in sink or water hookup can be handy for washing your catch. Drain channels and waste chutes can make cleanup a breeze. Foldability can improve portability and storage. Other helpful features might include onboard rulers, knife holders, or storage compartments. These extras, while not always necessary, can greatly enhance your fish cleaning experience. 🛠️
🔶Every angler's needs are unique, so choose a table that suits your fishing lifestyle best. Remember, a good fish cleaning table isn't an expense; it's an investment in a cleaner, quicker, and more enjoyable fishing experience. 🛍️
🌟 The Catch of the Day: Top Fish Cleaning Tables 🌟

As fishing enthusiasts, we appreciate the value of top-notch equipment that enhances our angling experience. To help you make the best choice, we've cast our net wide and rounded up the best fish cleaning tables available. We'll delve into their unique features, pros, cons, and suitable fishing environments. 🎣
1️⃣ Angler's Oasis Stainless Steel Table 1️⃣
Pros: High-quality stainless steel material, robust construction, onboard ruler, waste chute, and a sink with a flexible faucet.
Cons: Higher price point and less portable due to its size.
Best for: Deep-sea fishing trips and anglers with ample space who don't mind splurging for top quality.
2️⃣ RiverEdge Compact Cleaning Table 2️⃣
Pros: Compact design, foldable legs for easy storage, polyethylene tabletop for easy cleaning, and drain channels.
Cons: Lacks additional features like a built-in sink or waste chute.
Best for: Anglers with limited space or who engage in river or lake fishing where portability is crucial.
3️⃣ LakeLover Deluxe Fish Cleaning Table 3️⃣
Pros: Polyethylene surface, integrated sink, onboard ruler, storage compartments, and foldable design for easy transport.
Cons: Not as sturdy as some stainless steel options.
Best for: Weekend fishing enthusiasts who value a balance of function and portability.
4️⃣ DeepBlue Professional Angler's Table 4️⃣
Pros: High-grade stainless steel construction, built-in sink with a water hookup, waste chute, knife holder, and an onboard ruler.
Cons: Heavier and less portable, higher price point.
Best for: Professional anglers who need a durable, feature-rich table for regular use in diverse environments.
🔶These tables all offer great features, but the best fish cleaning table is the one that fits your specific needs and fishing style. So, assess your requirements, pick your favorite, and step up your fish cleaning game! 🚀
💡Master the Art of Fish Cleaning: A Step-by-Step Guide 💡

Equipped with your ideal fish cleaning table, you're ready to take on the world of efficient fish cleaning. But, how exactly do you maximize the use of this fantastic tool? Here's a step-by-step guide on how to properly use a fish cleaning table for different kinds of fish, along with some pro tips for maintaining speed and cleanliness. 🧹
1️⃣ Set Up Your Table 1️⃣
Position your fish cleaning table in a convenient location that has good lighting and access to water. Ensure it's stable before you start working. If your table has a built-in sink, hook it up to a water source. 🚰
2️⃣ Prepare Your Tools 2️⃣
Gather all the necessary tools: sharp fillet knives, pliers, gloves, and waste containers. If your table has a knife holder or storage compartments, make use of them to keep your tools within reach. 🔪
3️⃣ Start the Cleaning Process 3️⃣
Place the fish on the table. Use the onboard ruler (if available) to measure your catch. Begin the cleaning process based on the type of fish. For most, this involves scaling, gutting, and filleting. Make use of waste chutes or drain channels to dispose of waste efficiently. 🐠
4️⃣ Clean as You Go 4️⃣
To maintain speed and cleanliness, clean as you go. Rinse the fish and the table periodically to prevent the build-up of scales and debris. This habit not only keeps your workspace tidy but also reduces the cleaning effort afterward. 🧼
5️⃣ Final Cleanup 5️⃣
Once you're done cleaning all your fish, give the table a thorough wash. If your table has a water hookup, use it to spray down the surface. Ensure that all waste is disposed of properly. Finally, dry the table to prevent any water spots or potential rust on metal parts. ☀️
🏆 Pro Tips from a Professional Angler 🏆
To keep things efficient, professional angler Jack Roberts recommends organizing your tools well: "Keeping your knives sharp and tools organized saves time. Also, having a dedicated waste container nearby makes disposal more efficient, keeping your table clean."
Jack also advises to always prioritize safety: "Always cut away from yourself and keep your fingers clear of the knife. A slip could lead to an injury, and that's something we definitely don't want!"
Armed with these tips and tricks, you're now ready to make the most of your fish cleaning table. 🎉
💪 Keeping Your Table Shipshape: Tips for Maintaining Your Fish Cleaning Table 💪

A fish cleaning table is a significant investment in your fishing hobby or profession. Like any investment, it pays to take care of it. Proper maintenance not only ensures longevity but also ensures a seamless catch-to-cook experience every time. Here are some best practices for cleaning and maintaining your fish cleaning table, along with common issues and troubleshooting tips. 🛠️
1️⃣ Cleaning 101: After Every Use 1️⃣
Clean your table after each use to avoid the buildup of scales, fish blood, and other debris that can damage the table surface. Use warm soapy water and a soft scrub brush to clean the table, rinse it thoroughly, and allow it to air dry before storing. This simple routine can significantly extend the life of your table. 🧽
2️⃣ Regular Inspection 2️⃣
Take time to regularly inspect your table for signs of wear and tear, particularly if it's frequently exposed to harsh marine environments. Check the stability of the table, the condition of the surface, and any moving parts like folding legs or faucets. Prompt attention to any issues can prevent further damage. 🔍
3️⃣ Long-Term Storage 3️⃣
If you won't be using your fish cleaning table for a while, store it in a cool, dry place to prevent damage from the elements. For foldable tables, make sure they're securely folded and locked to avoid accidental unfolding. ⚠️
🚧 Troubleshooting Common Issues 🚧
Issue: Rust on stainless steel components
☑️Solution: Clean the rusted area with a mild abrasive like baking soda mixed with water. Rinse thoroughly and dry. Consider applying a thin layer of mineral oil for added protection. 🛡️
Issue: Stains on the table surface
☑️Solution: Use a mild bleach solution (one part bleach to nine parts water) to clean the stained area. Rinase thoroughly and dry. Always test a small area first to ensure it doesn't discolor the table. 🧴
Issue: Loose or wobbly table
☑️Solution: Tighten all screws and joints. If the issue persists, it may be a sign of a worn-out part that needs replacement. 🔧
🔶Remember, an ounce of prevention is worth a pound of cure. By following these maintenance tips, you can enjoy a top-notch fish cleaning experience for years to come. 👍
🎯 Beyond Cleaning: Maximizing the Use of Your Fish Cleaning Table 🎯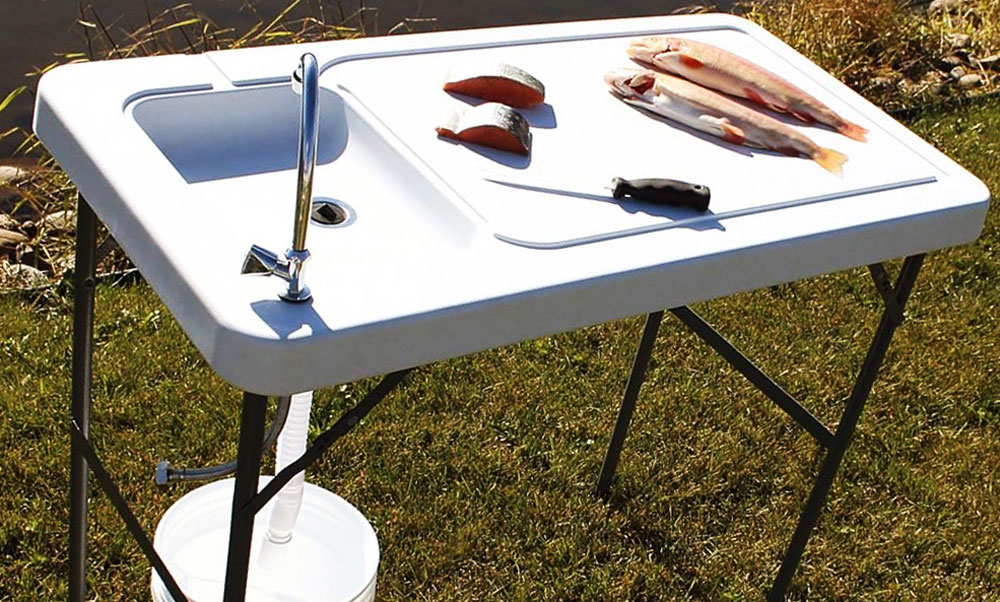 A fish cleaning table isn't just a place to clean your catch—it's a versatile tool that can enhance your overall fishing experience. 🎣 Here are some creative ways to maximize the use of your fish cleaning table and integrate it into your fishing strategy for maximum efficiency.
1️⃣ Prep Station Extravaganza 1️⃣
Your fish cleaning table is an excellent prep station. Use it to prepare bait, set up fishing lines, or even assemble your fishing rods. With all your tools and materials at hand, you can streamline your prep process and get to fishing faster. 🚀
2️⃣ Bait Station Bonanza 2️⃣
Turn your cleaning table into a bait station. With its flat, spacious surface, it's perfect for cutting and preparing bait. And if you've got a table with storage compartments or a built-in sink, you can easily clean up afterward. 🐛
3️⃣ Portable Kitchen Magic 3️⃣
Are you a fan of cooking your catch right on the spot? Your fish cleaning table can serve as an excellent makeshift kitchen counter. Just ensure it's thoroughly cleaned before and after cooking. With your table at the ready, you can turn fresh fish into a delicious meal in no time! 🍽️
4️⃣ Tackle Organization Zen 4️⃣
Organize your tackle on your cleaning table. Having a dedicated space to sort out your lines, hooks, and other tackle can help you keep everything in order and make your fishing trip more enjoyable. 🧘‍♂️
📈 Elevate Your Fishing Strategy 📈
By integrating your fish cleaning table into your fishing strategy, you can enhance efficiency and productivity. It becomes a central station where various activities—preparation, baiting, cleaning, and even cooking—happen. This means less time running around and more time doing what you love: fishing! 🏆
🔶So, take full advantage of your fish cleaning table. After all, it's more than just a cleaning spot—it's your ultimate fishing companion. 🤝
🎣 Reeling it All In: Final Thoughts on Fish Cleaning Tables 🎣
So there we have it, a comprehensive dive into the world of fish cleaning tables. These incredible tools, as we've discovered, offer much more than a place to clean your catch. They serve as a focal point for your fishing activities, a hub for efficiency, cleanliness, and practicality.
From the choice of material to size, from maintenance to maximizing its use, every aspect of a fish cleaning table has a role to play in enhancing your overall fishing experience. 🌟
In the era of modern fishing, a fish cleaning table is not just a convenience—it's a game-changer. Whether you're a seasoned angler or a casual hobbyist, investing in a fish cleaning table can revolutionize your fishing game. The potential for cleaner, quicker, and more organized preparation and cleaning processes is worth every penny spent. 💰
In conclusion, we encourage you to consider this investment seriously. Think about the time saved, the increase in efficiency, and the overall improvement in your fishing experience. Not to mention, it could just be the missing puzzle piece that brings your fishing escapades to new heights. 🚀
🔶So why wait? Dive into the world of fish cleaning tables and discover the impact it can have on your fishing journey. The sea is calling, and your perfect catch awaits! 🐟🌊
❓ Frequently Asked Questions (FAQs) About Fish Cleaning Tables ❓
🔶If you have any more questions, feel free to ask! We're here to help enhance your fishing experience. 🎣
📚 Dive Deeper: References & Further Reading 📚
If you're eager to learn more about fish cleaning tables and related topics, here are some excellent resources that we highly recommend. Dive deeper into the sea of knowledge and expand your fishing horizons! 🌊🎣
1️⃣ Best Fish Cleaning Tables for Anglers 1️⃣ Explore a wide range of fish cleaning tables and find out which one suits you best. This comprehensive guide provides detailed reviews and buying tips.
2️⃣ Fish Cleaning Techniques 2️⃣ This resource is all about mastering the art of fish cleaning. It offers step-by-step guides for various fish species.
3️⃣ Guide to Maintaining Your Fish Cleaning Table 3️⃣ A great resource for tips on cleaning and maintaining your fish cleaning table to ensure its longevity.
4️⃣ Maximizing the Use of Your Fish Cleaning Table 4️⃣ Dive deeper into the many ways to use your fish cleaning table beyond cleaning your catch.
5️⃣ Comprehensive Guide to Fishing 5️⃣ A complete guide for beginners and experienced anglers alike. This resource offers tips on everything from choosing the right gear to cooking your catch.
🔶These resources are full of insights and tips that can take your fishing experience to the next level. So why wait? Dive in and learn more today! 🌟
Tags: #fish cleaning table / #fish cleaning table with sink / #portable fish cleaning table / #homemade fish cleaning table / #best fish cleaning table hose / #best wooden fish cleaning table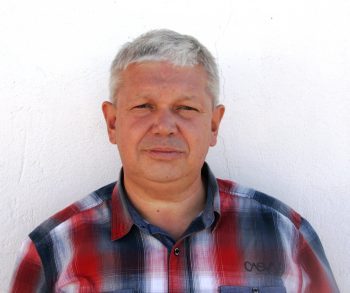 Sergio Smirnoff
Professional fisherman with 40+ years of experience.
Fishing and the ocean is a passion of my life. I am passionate about all kinds of sea fishing: fishing from the shore (spinning, float, baitcasting), from a boat, and spearfishing day and night.
I live in Tenerife (Canary Islands) for the last 10+ years and share my daily fishing experiences on my website. Many years of personal experience as a fisherman and the vast experience of my friends allow me to write professionally on any fishing topics (from choosing a flashlight and equipment to deep-sea fishing).
All of my advice is based on practical real-world experience and will be useful to both novice anglers and professionals.
Read more
about the author.
Affiliate Disclosure: FishReeler.com sometimes gets paid for listings, through sponsors or affiliate programs like Amazon, Ebay, Cabelas, Bass Pro Shop, Shimano, Daiwa, Rapala, Renn, Okuma, KastKing, etс. Clicking a link helps keep FishReeler.com free, at no extra cost to you!
About the author: Each article is verified by the fishing expert Sergio Smirnoff. The articles are written by professional and amateur fishermen with 20+ years of fishing experience.
Note: The views and opinions expressed in this article are those of the authors and do not necessarily reflect the official policy or position of any agency. The articles are for informational purposes only, share your opinions in the comments and join the fishing discussions, let's share our fishing experiences together!