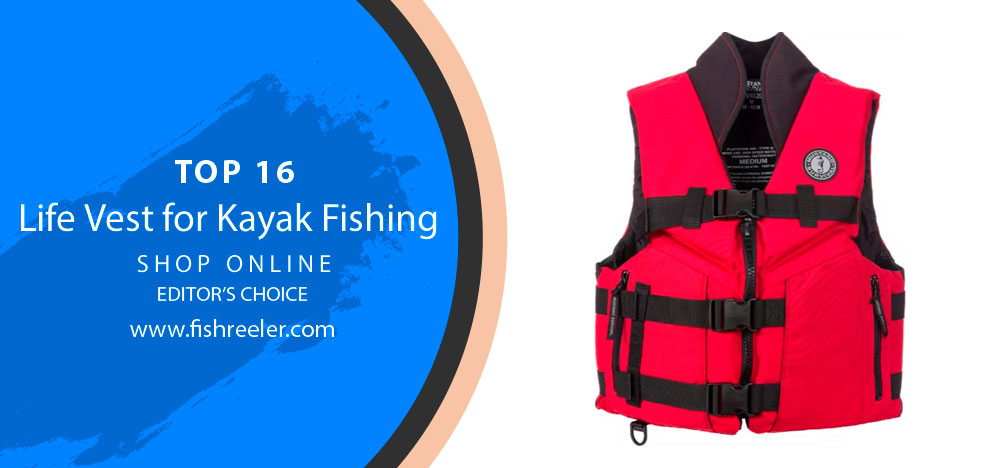 Unsinkable: Your Ultimate Guide to Life Vests for Kayak Fishing
Getting Personal: My Kayak Fishing Tale
There's a saying among us kayak anglers that the water may be where we find peace, but it can also be a place of potential peril. Allow me to share a personal experience. Several years ago, I was fishing off the coast, enjoying the serenity of the sea and the thrill of the chase. Suddenly, a rogue wave, one that we sometimes refer to as a 'sneaker wave', took me by surprise. In an instant, my kayak tipped over, and I found myself battling the powerful currents. It was terrifying, to say the least. But what saved me that day was my life vest, a simple piece of gear that I had almost considered skipping. It kept me afloat, conserved my energy, and ultimately, made it possible for me to get back to my capsized kayak, right it, and paddle back to shore.
Navigating the Waters: What's Ahead in This Guide
That day on the water gave me a newfound respect for life vests and the crucial role they play in kayak fishing. In this article, I aim to pass on that respect and understanding to you. We'll delve deep into the world of life vests, starting with why they're not just a necessary tool for safety, but a vital component of any successful and enjoyable kayak fishing trip. We'll walk through the key features you should consider when buying a life vest, demystifying terms like 'buoyancy', 'fit', and 'visibility'.
Then we'll take a look at some of the top life vests available on the market today, evaluating their pros and cons to help you find the one that's right for you. We'll also cover how to wear and maintain your life vest properly because even the best gear can fail if not used correctly. And finally, we'll address some frequently asked questions, to ensure you're fully equipped with all the knowledge you need before hitting the water. So buckle up, or should I say, 'clip in your life vest', and let's dive in.
The Importance of Life Vests in Kayak Fishing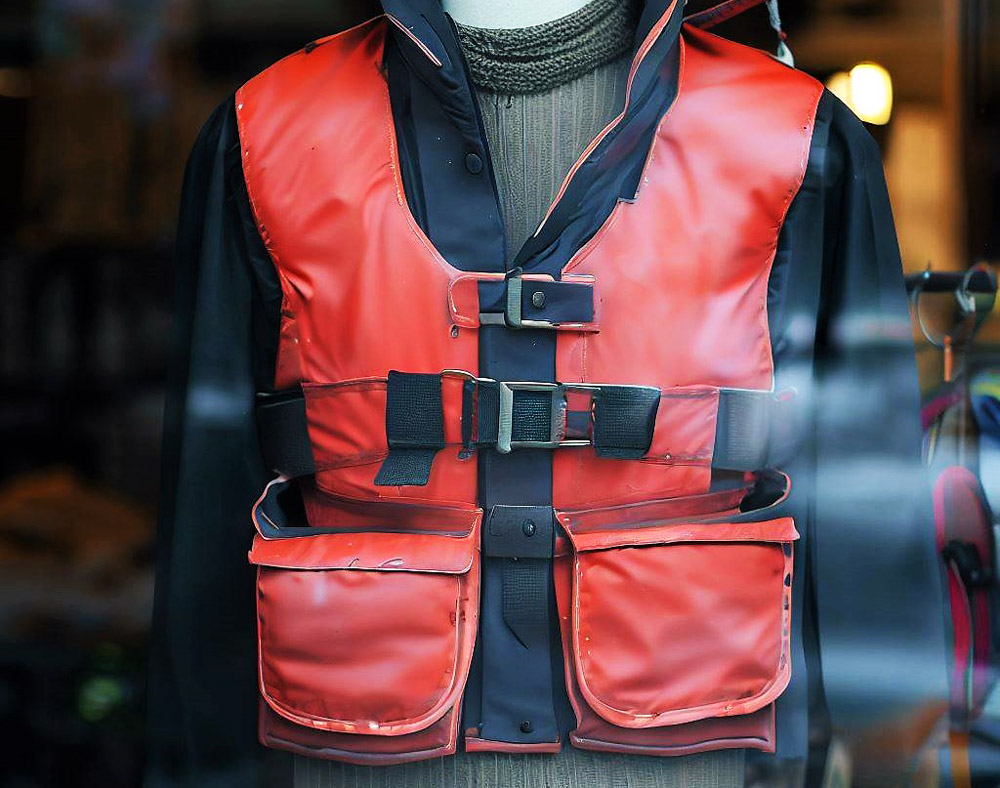 Float Your Boat: Why Life Vests Matter
Life vests, also known as personal flotation devices (PFDs), are much more than just a piece of safety gear. They are a crucial piece of equipment that, as I experienced first-hand, can make the difference between a close call and a tragedy.
Here's why: When you're in the water, particularly after an unexpected capsize, staying afloat is everything. It conserves energy, helps prevent hypothermia, and makes it easier for you to signal for help or take steps to self-rescue. Life vests provide that buoyancy effortlessly, leaving you free to focus on what you need to do to get back to safety.
In addition to buoyancy, life vests often come with added features designed specifically for kayak anglers. Pockets and loops can hold essential gear within easy reach. High-visibility colors can increase your chances of being spotted by other boaters in low-visibility conditions. In a nutshell, a good life vest is a multipurpose tool that supports both your safety and your fishing activity.
Numbers Don't Lie: Life Vests Save Lives
The United States Coast Guard reported in their 2019 Recreational Boating Statistics that 86% of drowning victims in recreational boating accidents were not wearing a life jacket. This statistic, while grim, underscores the significant role life vests play in ensuring safety on the water.
Moreover, in the world of kayak fishing, there are countless stories that underline the importance of wearing a life vest. Take the story of John, a seasoned angler from Florida. While fishing in his kayak off the Gulf Coast, a sudden and unexpected weather change resulted in choppy waters and strong winds. John's kayak flipped, throwing him into the turbulent water. His life vest kept him afloat until he was rescued, saving his life.
Law and Order on the Water: Life Vest Regulations
While the fundamental reason to wear a life vest is to protect your life, there's also a legal aspect to consider. In many countries, including the United States, it's a legal requirement to have a life vest on board for each person when you're out in a kayak or similar small craft. In some places, children and even adults are required by law to wear them at all times on the water.
However, laws can vary by country, state, or even local jurisdiction, so it's crucial to check the regulations in your area. In most cases, the life vest must also meet specific safety standards, typically certified by national maritime or transport authorities.
By understanding and adhering to these laws, you are not just protecting yourself legally, but also reinforcing a culture of safety within the kayak fishing community.
Features to Look for in a Kayak Fishing Life Vest
Your Safety Checklist: Key Life Vest Features
When selecting a life vest for kayak fishing, you'll want to consider several key features that ensure safety, convenience, and comfort.
✅Buoyancy: The Floating Factor
Buoyancy is the force that keeps you afloat in the water. The more buoyant your vest, the better it can help you stay on the water's surface. Most adult life vests provide between 15.5 and 22 pounds of buoyancy, which is generally enough to keep a conscious person's head above water. Make sure the vest you choose is rated for your weight and the water conditions you'll be fishing in.
✅Size and Fit: The Perfect Match
A life vest should fit well for it to function effectively. It should be snug but not too tight, allowing for a full range of motion. Many life vests come in various sizes, so it's important to check the manufacturer's sizing chart before purchasing. Remember, a poorly fitted vest can ride up or even come off completely in the water, compromising your safety.
✅Visibility: Stand Out for Safety
A life vest with high-visibility colors (like bright yellows, oranges, or greens) can make you more visible to other water users, especially in low-light conditions or if you capsize. Reflective patches or strips are a plus as they can catch light and alert others to your presence.
✅Durability and Material: The Strength Within
Durability is crucial in a life vest, as it will be exposed to harsh elements like saltwater, sun, and potentially abrasive fishing gear. Look for materials that are both durable and resistant to fade. Nylon and neoprene are popular choices due to their strength and longevity. Also, check for strong stitching and secure fastenings.
✅Pockets and Accessory Loops: Where Convenience Meets Safety
While primarily for convenience, pockets, and loops on a life vest can contribute to your safety by keeping essential gear (like a whistle, knife, or light) within immediate reach. Check for ample storage space that's easily accessible.
Fishing with Ease: Special Features for Kayak Fishing
Some life vests come with added features designed specifically for kayak fishing. One of these is a rod holder, which allows you to keep your fishing rod secure and leaves your hands free when you're navigating or rigging up. Gear loops or attachment points are another handy features. They allow you to clip or secure additional equipment, like a fishing net, pliers, or even a personal locator beacon.
Another feature to consider is a ventilated back or a high-back design, which increases comfort when seated against the kayak's seat for extended periods. A life vest that's well-suited for kayak fishing enhances not just your safety, but also your overall fishing experience.
Ride the Wave: How to Find the Perfect Life Vest for Kayak Fishing
Kayak fishing is a great way to get out on the water and enjoy some peace and quiet. But it's important to stay safe while you're out there, which is why you need a life vest that will keep you protected. If you're like me, you take your fishing seriously. And part of that seriousness includes making sure you're as safe as possible while fishing. That's why finding the best life vest for kayak fishing is so important.
In this blog post, we'll take a look at some of the top-rated life vests for kayak fishing and see what makes them stand out from the competition. So whether you're just starting out with kayak fishing or are looking to upgrade your current life vest, read on for some tips and recommendations!
1# Mustang Survival Competition Inflatable Life Vest with HIT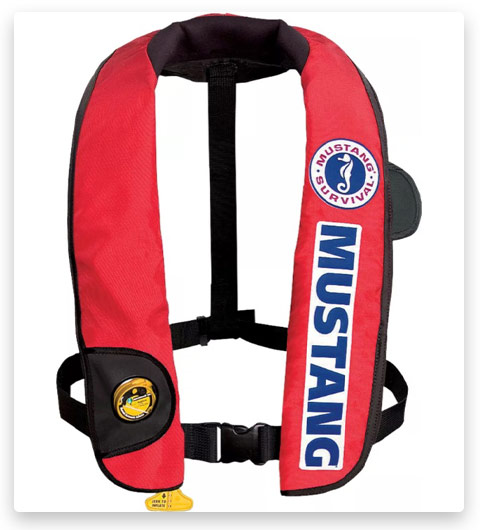 The new Mustang Survival Competition Inflatable Life Vest is perfect for anyone who wants a vest that can withstand rigorous activity. The SecureZIP closure won't come undone, and the life vest is made of heavy-duty coated nylon for increased durability. It's also lightweight, comfortable, and compact, making it perfect for any adventurer. Plus, with Hydrostatic Inflator Technology (HIT), you know your life vest will inflate only under hydrostatic pressure-not prematurely due to rain, humidity, or splash.
2# Mustang Survival Elite Inflatable Life Vest with HIT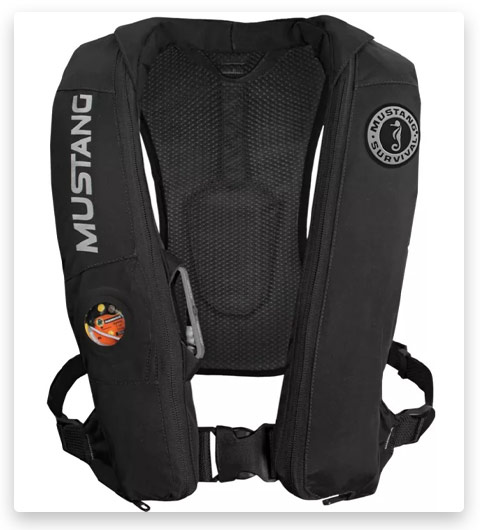 The Mustang Survival Elite Inflatable Life Vest is good for people who need a lightweight and comfortable life vest. With its slim profile, the vest reduces drag and improves aerodynamics, making it easy to wear while you're paddling, boating, or fishing. Plus, the Hi-Vis ANSI inflation cell ensures that you'll be seen in low-light conditions. And if you find yourself in danger, the backup inflation handle will quickly inflate the life vest.
3# Bass Pro Shops AM24 Auto/Manual Inflatable Life Vest
The Bass Pro Shops AM24 Auto/Manual Inflatable Life Vest is a top-of-the-line safety device that will keep you afloat in the event of an emergency. The vest is made from high-quality 200-denier nylon ripstop fabric and features auto-inflation technology that will automatically activate when the vest is immersed in water. Additionally, the vest can be manually inflated using the backup handle and comes with a 24-gram CO2 cylinder for added peace of mind. The soft neoprene neckline provides added comfort, and the vest is compatible with the AM24 Rearming Kit (sold separately).
4# Bass Pro Shops AM33 All-Clear Auto/Manual-Inflatable Life Vest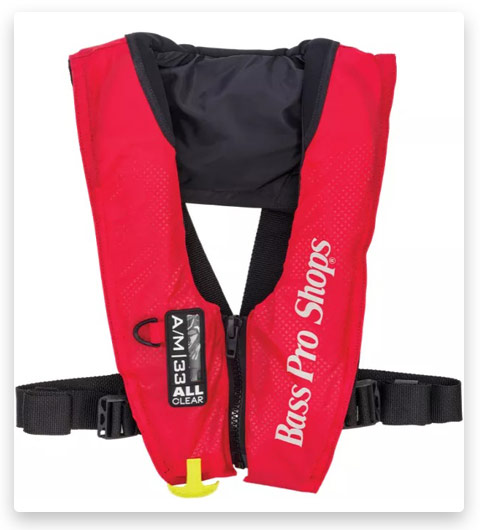 The Bass Pro Shops AM33 All-Clear Auto/Manual-Inflatable Life Vest is a convenient and safe option for boaters and fishermen alike. The life vest features a wide neoprene neckline for comfort, a green/red cylinder readiness indicator, and a high-visibility inflation chamber. The life vest can also be converted to manual-only mode and includes a 33-gram CO2 cylinder. The minimum buoyancy of the life vest is 35 pounds, and it is compatible with the AM33 Rearming Kit.
5# Bass Pro Shops AM33 All-Clear Auto/Manual Deluxe Inflatable Life Vest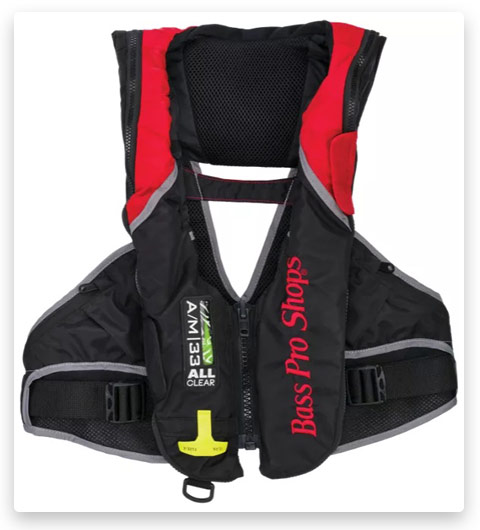 The Bass Pro Shops AM33 All-Clear Auto/Manual Deluxe Inflatable Life Vest gives you peace of mind whether you're on the boat or on dry land. The upgraded design features a YKK burst zipper for protection and easy access to the inflation chamber, as well as a viewing window so you can see when it's time to rearm. Stay safe on the water with the Bass Pro Shops AM33 All-Clear Auto/Manual Deluxe Inflatable Life Vest.
6# Kent Type I Life Vest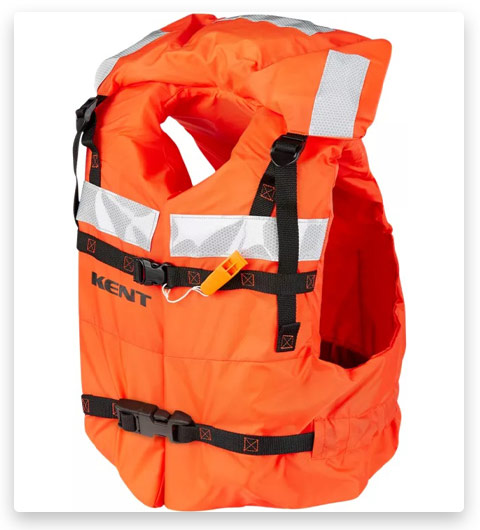 If you're looking for an edge in the water, Kent's Type I Life Vest can give you that extra boost of buoyancy and visibility to keep you safe. With SOLAS-grade reflective material and a hi-vis orange fabric, this life vest is designed to turn an unconscious person "face-up" and increase your chances of survival. It's also adjustable to ensure a snug fit, making it ideal for people of all weights.
7# XPS Platinum Series Fishing Life Jacket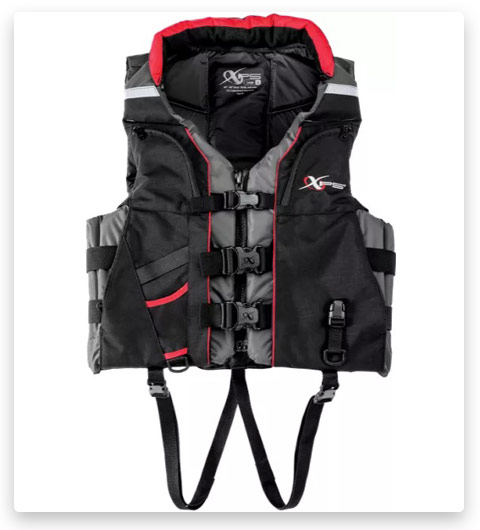 The XPS Platinum Series Fishing Life Jacket is a top-of-the-line life jacket that is USCG-approved and perfect for any fishing enthusiast. It features dual D-ring attachment points, so you can keep your accessories close at hand, as well as a fleece-lined collar and reflective tape on the shoulders for added safety. With 6 large pockets, including hand warmers and a tool holder, this life jacket has plenty of room to store all your gear. For added comfort, it also features a side adjustment system and an integrated pouch for storing crotch straps. Whether you're an experienced angler or just getting started, the XPS Platinum Series Fishing Life Jacket is the perfect choice for you.
8# Ascend Paddling Fishing Life Jacket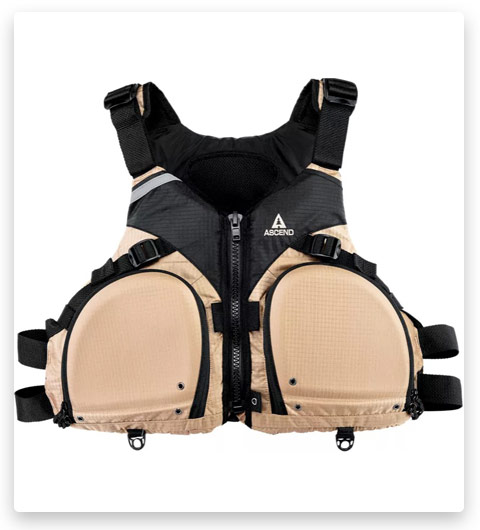 Looking for a life jacket that can handle anything you throw at it? Look no further than the Ascend Paddling Fishing Life Jacket. This jacket is made from durable ripstop fabric and features reflective material for safety. It also comes with drawbridge-style pockets, making it perfect for fold-down workstations. And if ventilation is what you need, don't worry – the shoulder and back pads are ventilated.
9# Bass Pro Shops 40AUTO Auto-Inflatable Life Vest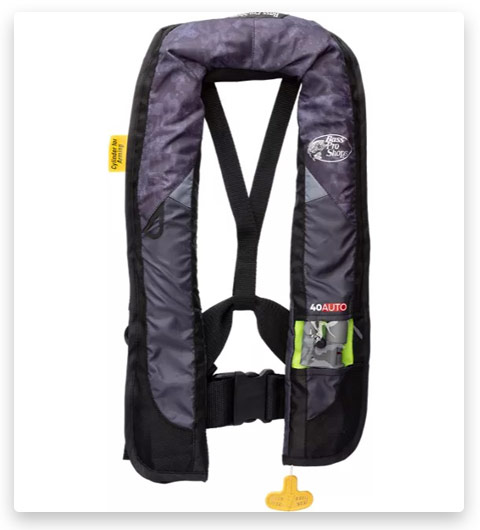 The Bass Pro Shops 40AUTO Auto-Inflatable Life Vest is the perfect choice for anyone who wants peace of mind while out on the water. With a high-capacity design and 40 lbs. of buoyancy, this life vest will keep you safe and comfortable whether you're fishing, boating, or swimming. The Wide Angle View quick-glance status indicator window ensures that you always know how much air is left in your life vest, while the 2″ belts with quick-release buckles make it easy to get in and out of this lifesaving device.
10# XPS Deluxe Fishing Life Vest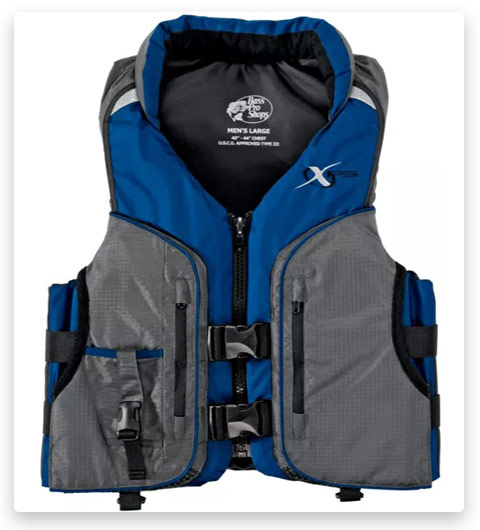 This vest is perfect for those long days out on the water, with its body-hugging soft foam contours and large armholes for easy-moving comfort. The fleece-lined fiberfill collar will keep you warm on those chilly mornings, and the side-entry handwarmer pockets are great for storing your essentials. You'll also find 2 zip pockets with mesh bottoms, a pocket for pliers or hand tools, and reflective tape and piping for better visibility. Plus, the 2 D-rings are perfect for attaching gear. And of course, this vest is USCG-approved Type III.
11# Mustang Survival ACCEL100 Fishing Life Vest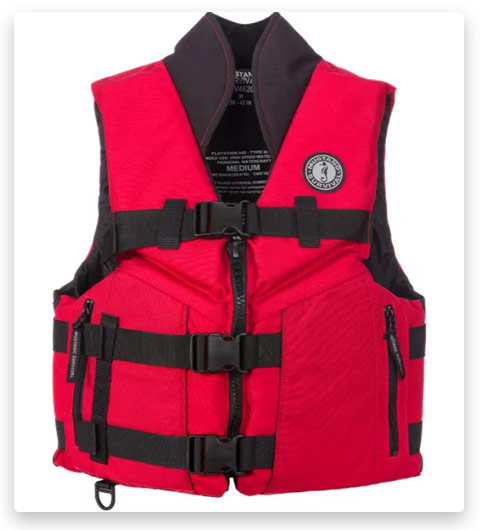 The Mustang Survival ACCEL100 Fishing Life Vest is the perfect choice for anyone looking for a high-speed life vest. With its 100-mph dynamic strength-tested construction, this PFD is designed to keep you safe while you're out on the water. The AirSoft segmented foam provides ultimate comfort and ease of movement, making it easy to stay active while wearing your life vest.
12# Eyson Inflatable Life Jacket Life Vest Basic Automatic/Manual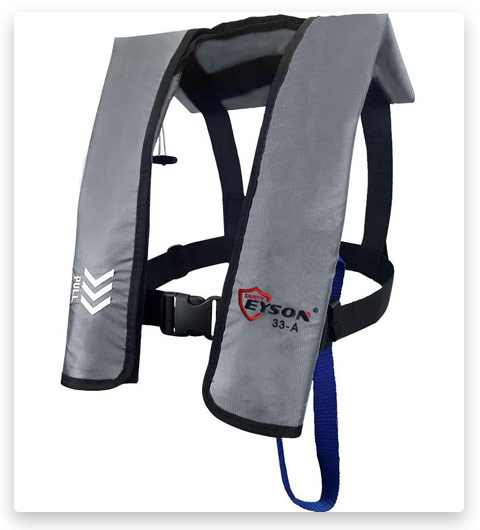 If you're looking for a reliable and CE certified inflatable life jacket, the Eyson Inflatable Life Jacket Life Vest is a great choice. It's made from durable and lightweight fabric and features adjustable belts to ensure a comfortable fit for both adults and youth. The 3M reflectors help ensure you're visible in low light conditions, while the 150N buoyancy gives you plenty of flotation support. Plus, it's easy to care for – simply wash it by hand or machine, and air dries it.
13# SafeMax Top Safety Adult Life Jacket with Whistle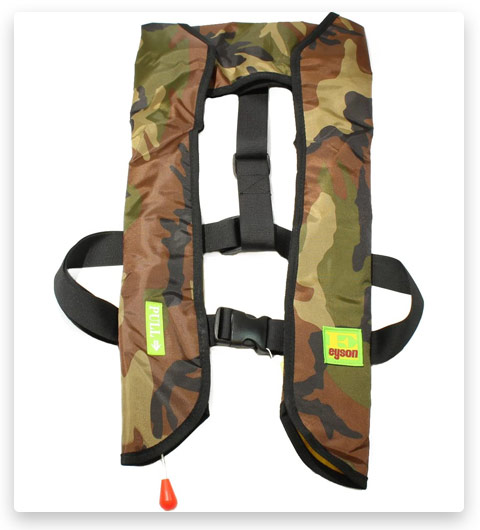 With a sleek, low-profile design, our Top Safety Adult Life Jacket will keep you looking stylish while you stay safe. Inflates quickly and easily in just three to five seconds, so you can spend more time enjoying your experience and less time worrying about your safety. Made from the highest quality materials for a long-lasting product that is comfortable to wear all day long.
14# Eyson Slim Inflatable Life Jacket Life Vest Automatic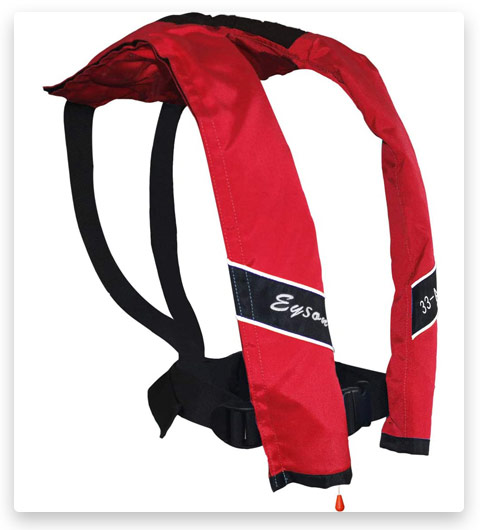 The Eyson Slim Inflatable Life Jacket is the perfect choice for the sportsman or recreational boater. It features a neoprene neckline for comfort, safety and peace of mind, and a durable waterproof polyester Oxford cover that resists tears. The life jacket is easily adjustable with a quick-release buckle and features two reflective strips and high-class stitchwork for increased visibility in darkness. The extra D-ring is perfect for hanging small items.
15# ABSOLUTE OUTDOOR Onyx A/M-24 Automatic/Manual Inflatable Life Jacket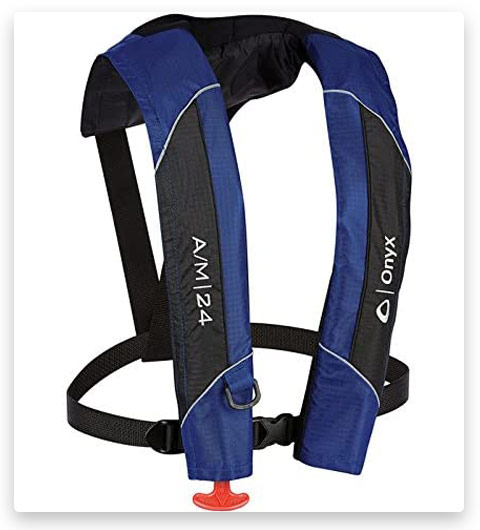 If you're looking for a top-quality, U.S. Coast Guard Approved life jacket, look no further than the Full Throttle Onyx CO2 Automatic/Manual Inflatable Life Jacket! This incredibly well-made vest is designed to provide a wide range of motion and movement with minimal bulk – perfect for those long days out on the water. The soft neoprene neckline means you can comfortably wear it all day without having to worry about chafing or irritation, and the durable ripstop nylon construction ensures that this life jacket will last you for many years to come.
16# ONYX A/M-24 Automatic/Manual Inflatable Life Jacket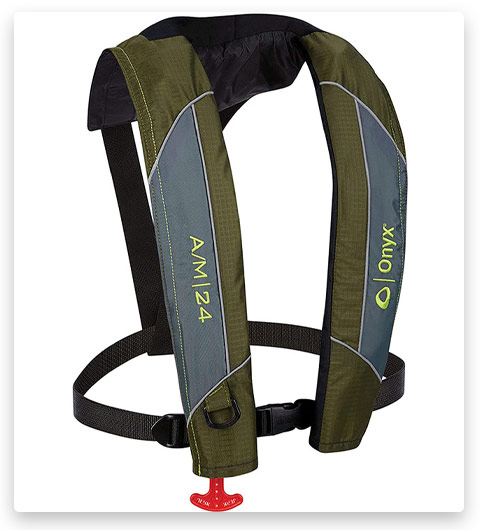 This life jacket is ideal for those who want the security of an automatic inflating vest with the option to manually inflate it if needed. The green colour is perfect for blending in with your surroundings, making you less visible to boaters and other watercraft. The adult universal size fits most adults.
Top Life Vests for Kayak Fishing on the Market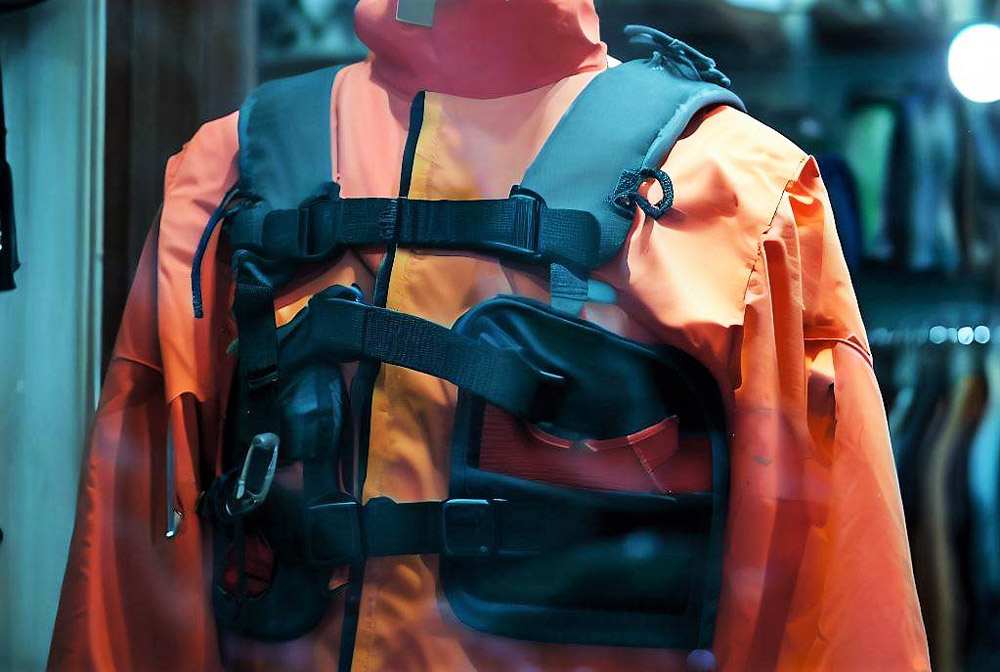 NRS Chinook Fishing PFD
This life vest is designed specifically for anglers, offering a comfortable fit and ample storage. With seven front pockets, you can keep your gear organized and close at hand. It has a ventilated back for comfort and high-visibility color options for safety.
Note: User reviews often mention the vest's comfort and practicality for long fishing trips.
Stohlquist Fisherman PFD
This high-back life vest is designed with the sit-on-top kayak angler in mind. It features multiple pockets, including one with a workspace-like surface for rigging your gear.
Note: Users appreciate the clever design of the 'workspace' pocket.
Onyx MoveVent Dynamic Paddle Sports Life Vest
This is a more budget-friendly option with a sculpted and flexible design that contours your body and maximizes mobility.
Note: It's often praised for its value for money and comfort during paddle sports.
Tailored for You: Life Vests for Every Condition
Each of these life vests has unique features that make them suited to different needs and conditions. The NRS Chinook is a great choice if you need a lot of storage and are willing to pay a bit more for quality and comfort. The Stohlquist Fisherman stands out for its high-back design that's comfortable for sit-on-top kayaking, and the unique 'workspace' pocket is a big plus for dedicated anglers. The Onyx MoveVent is an excellent choice if you're on a budget and prioritize mobility, although it doesn't offer as much specialized storage for fishing gear.
Remember, the best life vest for you is the one that fits well, suits your specific needs, and that you'll wear every time you're on the water.
How to Properly Wear and Maintain Your Life Vest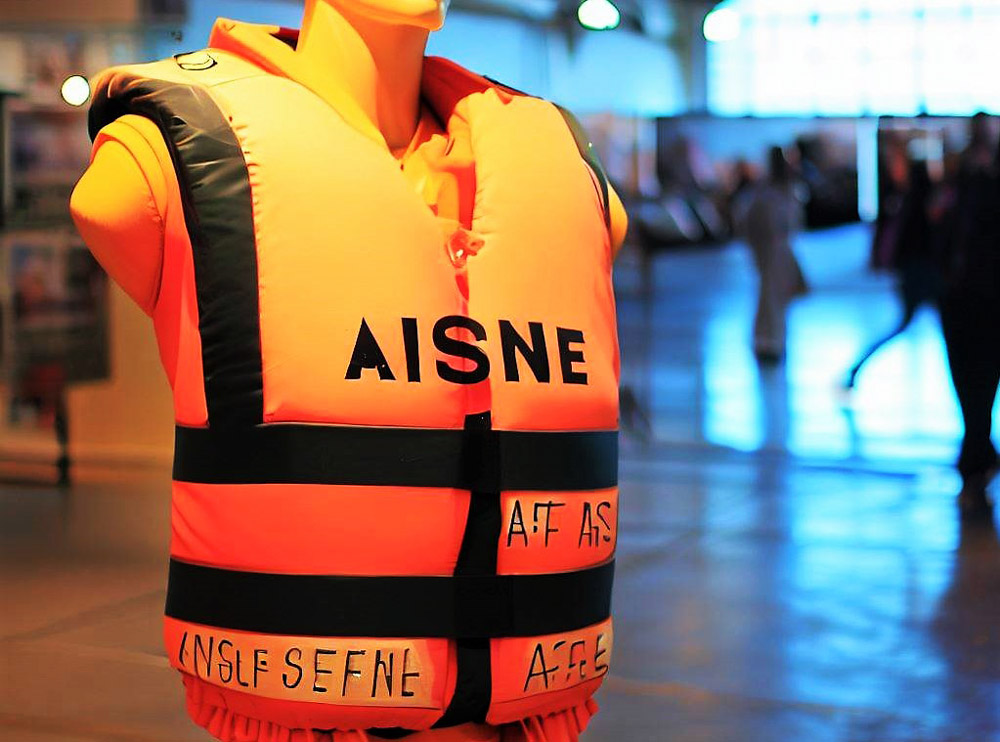 Dress for Success: Wearing Your Life Vest Right
Wearing a life vest properly is crucial to its effectiveness. Here are the general steps you should follow:
Open all the clips and loosen all the straps on the vest.
Put on the vest like a jacket, ensuring it covers your torso.
Start by fastening the clips, usually one at the waist and one at the chest.
Gradually tighten all the straps until the vest is snug but not overly tight. Start with the waist strap and work upwards. Remember, you need to be able to breathe comfortably.
Once it's tightened, test the fit by having someone pull up on the shoulders of the vest. If it moves significantly or goes over your head, it's too loose and needs further adjustment.
Always check the vest's fit while sitting in your kayak as well to ensure it doesn't ride up or interfere with your paddling.
Longevity Guaranteed: Life Vest Care 101
To ensure the longevity of your life vest, you'll want to follow these maintenance, cleaning, and storage tips:
Clean the vest after each use. Rinse it thoroughly with fresh water to remove salt, dirt, or sweat, which could degrade the materials over time.
If it's particularly dirty, you can gently clean it with mild soap and a soft brush, then rinse thoroughly. Avoid strong detergents or solvents, which can damage the fabric and reduce buoyancy.
Allow the vest to air dry away from direct sunlight, as UV light can also degrade the materials. Never machine dry or use a heater to dry it.
Store the vest in a well-ventilated area that's free from direct sunlight and extreme temperatures. Do not store heavy items on top of it, as this could compress the foam and reduce its buoyancy.
Inspect your vest regularly for any signs of wear and tear, such as fraying straps, torn fabric, or broken fastenings. If you notice any such damage, replace the vest immediately.
Remember, a well-maintained life vest not only lasts longer but also performs better, providing you with reliable safety each time you're out on the water.
Inquiring Minds Want to Know: Life Vest FAQs
Addressing common concerns and queries about life vests for kayak fishing is important in ensuring that readers have all the necessary information to make a safe and informed decision. Here are some commonly asked questions:
Conclusion: Secure Your Safety
Kayak fishing can be a lot of fun, but it's important to stay safe out there. That's why choosing the best life vest for kayak fishing is so essential. In this post, we've highlighted some top-rated products that are perfect for anyone who spends time on the water or wants an upgrade from their current life vest.
Remember the Vest: The Key Takeaways
Choosing the right life vest for kayak fishing is crucial for both safety and comfort. From understanding the essential features such as buoyancy, fit, visibility, durability, and special provisions for gear, to selecting a vest that is tailored to your specific needs and conditions, every step is vital in ensuring a safe and enjoyable kayak fishing experience.
Safety First: The Final Word for Kayak Fishers
As we wrap up this guide, we want to emphasize once again the importance of safety in all your kayak fishing adventures. A well-fitted, high-quality life vest is not just a piece of equipment – it's an investment in your safety. Whether you're a seasoned angler or a novice, never underestimate the power of the right gear and the right safety precautions.
Join the Conversation: We Want to Hear from You
We'd love to hear about your experiences in kayak fishing and your personal preferences when it comes to choosing a life vest. Have you discovered a life vest that enhances your kayak fishing adventure? Do you have any safety tips or tricks to share with the community? Don't hesitate to share your insights and experiences in the comments below. Your wisdom could be invaluable to a fellow kayak fishing enthusiast. Happy and safe fishing to all!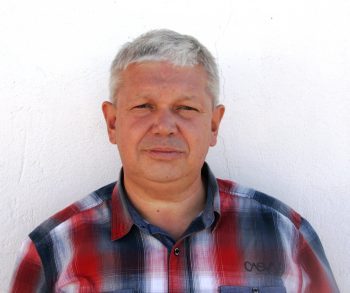 Sergio Smirnoff
Professional fisherman with 40+ years of experience.
Fishing and the ocean is a passion of my life. I am passionate about all kinds of sea fishing: fishing from the shore (spinning, float, baitcasting), from a boat, and spearfishing day and night.
I live in Tenerife (Canary Islands) for the last 10+ years and share my daily fishing experiences on my website. Many years of personal experience as a fisherman and the vast experience of my friends allow me to write professionally on any fishing topics (from choosing a flashlight and equipment to deep-sea fishing).
All of my advice is based on practical real-world experience and will be useful to both novice anglers and professionals.
Read more
about the author.
Affiliate Disclosure: FishReeler.com sometimes gets paid for listings, through sponsors or affiliate programs like Amazon, Ebay, Cabelas, Bass Pro Shop, Shimano, Daiwa, Rapala, Renn, Okuma, KastKing, etс. Clicking a link helps keep FishReeler.com free, at no extra cost to you!
About the author: Each article is verified by the fishing expert Sergio Smirnoff. The articles are written by professional and amateur fishermen with 20+ years of fishing experience.
Note: The views and opinions expressed in this article are those of the authors and do not necessarily reflect the official policy or position of any agency. The articles are for informational purposes only, share your opinions in the comments and join the fishing discussions, let's share our fishing experiences together!