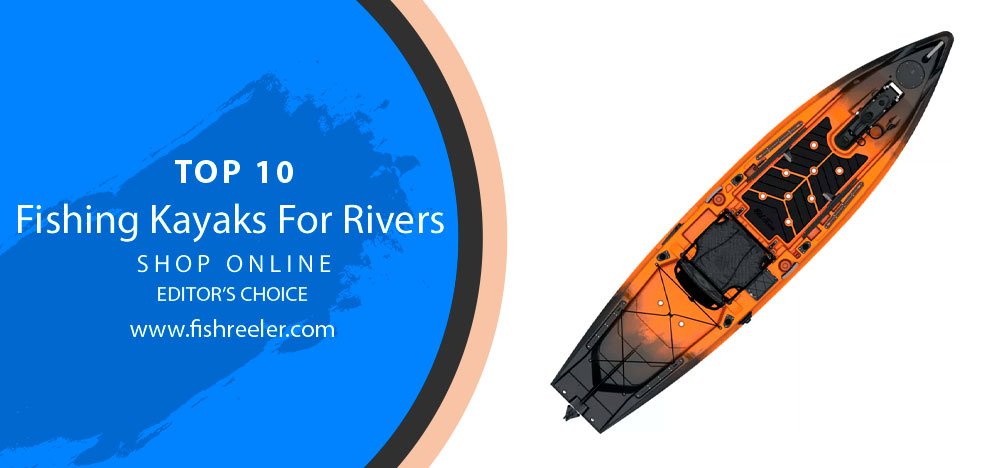 Master the Current: Selecting the Perfect Kayak for River Fishing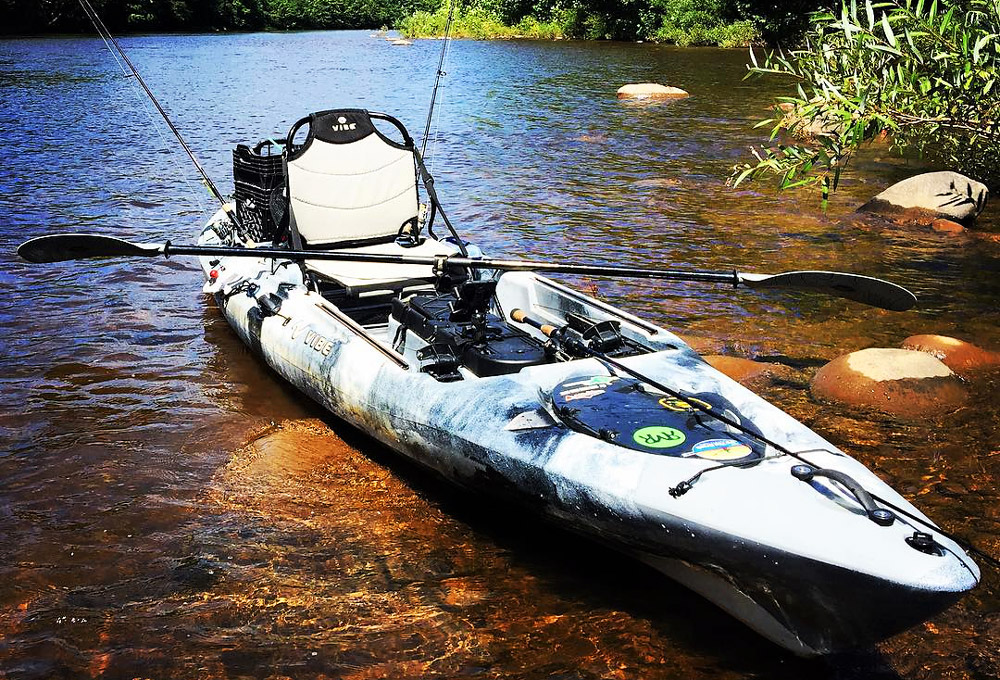 Welcome to the captivating world of river fishing 🎣, a beloved pastime that combines the tranquility of nature 🌳 with the exhilarating thrill of the catch 🐟. More than just a hobby, river fishing is a testament to patience, strategy, and the art of the angler. In recent years, this form of fishing has seen a significant surge in popularity 📈, enticing a diverse crowd of enthusiasts, from weekend hobbyists to seasoned professionals.
This rise in popularity is owed in part to the unique challenges and rewards that river fishing presents. Unlike still-water fishing, rivers offer dynamic environments 🌊, with varying water speeds, depths, and habitats. These unique aspects mean a different set of skills and equipment is required – and that's where the art of kayak fishing 🚣‍♀️ comes into play.
Kayak fishing offers an opportunity to get closer to the action, navigating the twists and turns of the river while pursuing the perfect catch. However, not just any kayak will suffice. Choosing the right kayak for river fishing can significantly impact your experience, influencing everything from the ease of maneuvering to the size of the catch you're able to reel in.
In this article, we'll delve deep into the world of river fishing kayaks. We'll discuss why kayak fishing is gaining traction, examine the different types of kayaks suitable for river fishing, identify key features to consider when choosing a kayak, and share some of our top picks for river fishing kayaks on the market. We'll also share some essential tips and strategies for river kayak fishing and provide personal recommendations based on varying criteria such as budget 💰, skill level, and fishing goals 🎯.
So whether you're a seasoned angler looking to diversify your fishing experiences, or a beginner seeking a new outdoor hobby, this article will equip you with the knowledge and insights to navigate the currents with confidence 🌟. Let's embark on this exciting journey together! 🚀
🎦Video YouTube: Best Fishing Kayaks – Don't Buy One Before Watching This
Paddle Power: The Surging Popularity of Kayak Fishing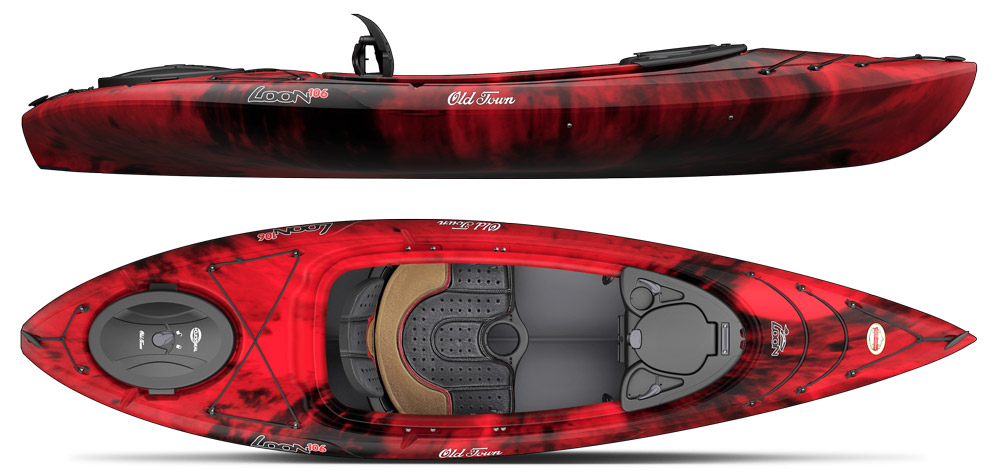 Over the past few years, the sport of fishing 🎣 has seen an exciting shift as more anglers ditch the shoreline and motor boats 🚤 for the freedom and flexibility of a kayak 🛶. Kayak fishing has rapidly grown in popularity ⬆️, thanks to a host of benefits and a broad appeal to a wide range of anglers, both amateur and professional.
A primary factor contributing to this rise is the accessibility that kayak fishing offers. Unlike larger fishing vessels, kayaks are significantly more affordable 💵, making them a viable option for a larger pool of enthusiasts. Additionally, they require less maintenance 🛠️ and can be launched from virtually any shoreline 🌊, significantly increasing the number of potential fishing spots.
Furthermore, kayak fishing introduces a new level of stealth in approach 🐾, giving anglers a distinct advantage. The quiet, low-profile design of a kayak allows for closer proximity to fish 🐠 without startling them, often resulting in more successful catches. Plus, being in a kayak also offers a closer connection to nature 🌿, an aspect many outdoor enthusiasts deeply appreciate.
Kayak fishing isn't just a leisurely activity—it's also a fantastic workout 🏋️‍♀️. The physical demands of paddling provide an excellent form of exercise, making it a hobby that promotes overall health and well-being.
To illustrate the impact of kayak fishing, I'll share a personal anecdote 💬. As a lifelong fishing enthusiast, my fishing methods had always been traditional—I'd fish from the shore or a motorboat. When I was introduced to kayak fishing, it revolutionized my experience. The freedom to navigate narrower, less accessible parts of the river allowed me to discover untouched fishing spots teeming with fish 🐟. The excitement of landing a large fish from a kayak, and dealing with the thrill and the challenge, added a whole new dimension to the sport for me.
Indeed, the evolution of kayak fishing has transformed the traditional sport into a more adventurous and dynamic experience 🌟, appealing to those seeking a mix of tranquility, excitement, and the rawness of nature 🍃. The rise of kayak fishing symbolizes a shift towards more intimate, eco-friendly 🌍, and fitness-oriented fishing practices—a trend that only seems set to grow in the coming years 📈.
Streamlined Success: Top 10 River Fishing Kayaks to Boost Your Catch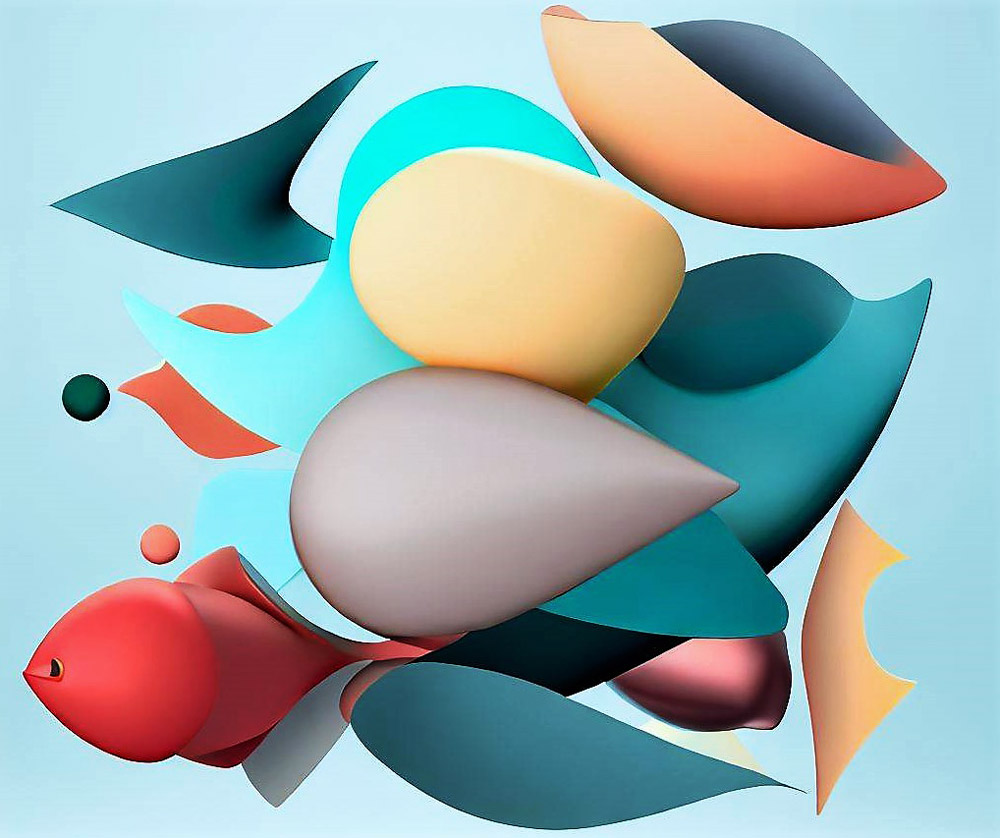 Do you enjoy fishing in rivers? There is no feeling quite like being in the middle of a river, casting your line and watching the water ripple as you wait for a fish to bite. So you need to make sure you have the right kayak for the job. If you're looking for the best kayaks for fishing rivers, look no further! In this blog post, we will share our top-rated fishing kayaks for rivers, perfect for anyone from beginner to experienced anglers. Whether you're looking for a fast-moving river or a quieter stream, we have the perfect kayak recommendation for you. So let's get started!
1# Ascend D10 Red Sit-In Kayak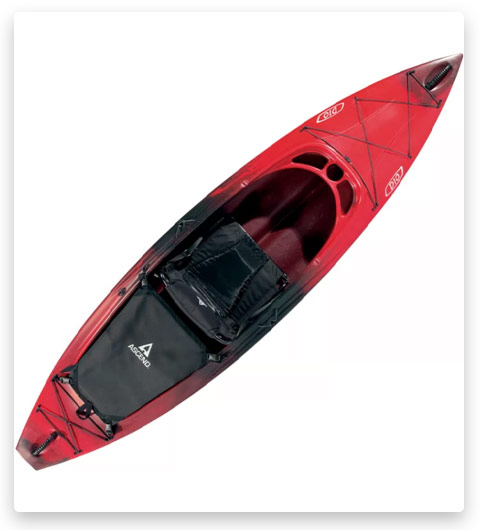 Introducing the Ascend D10 Red Sit-In Kayak 🛶 – the ideal companion for your river fishing adventures 🎣. Beautifully designed and equipped with a host of features, this kayak is crafted to cater to all your fishing needs, providing a blend of comfort 😌, stability, and performance 🏅.
The Ascend D10 Sit-In Kayak is a rugged kayak, built with durable and UV-resistant high-density polyethylene ☀️. With its bold red color, it stands out on the water, ensuring you are visible to other water users for added safety 👀.
Measuring 10 feet in length and weighing just 50 lbs, the Ascend D10 is easy to handle both in and out of the water 💪. Its compact size doesn't compromise on space, featuring a large open cockpit for easy entry and exit and ample space for movement 🔄.
Comfort is a priority in the Ascend D10 design. The kayak features an adjustable padded backrest and seat, designed to provide maximum comfort during long hours on the water ⏳. The seat is removable, which allows for even more storage space if needed 🎒.
Performance and stability are crucial in any kayak, and the Ascend D10 does not disappoint. Its advanced hull design ensures excellent tracking and stability, allowing for smooth, easy paddling and fishing, even in rougher waters 🌊.
Storage hasn't been overlooked in the Ascend D10. It features a multipurpose stern well that's large enough to fit a five-gallon bucket, along with an adjustable bungee cover to keep your gear secure 🔒. The bow also includes a covered storage area, ensuring you have plenty of room to store all your fishing gear.
Additionally, the Ascend D10 comes equipped with a set of built-in carrying handles for easy transport, and a cup holder to keep your drink secure while you focus on reeling in the catch of the day 🥤.
The Ascend D10 Red Sit-In Kayak is the perfect choice for any water adventure. Its custom-crafted tunnel hull design and comfortable padded steel-frame seat provide ultimate stability and comfort, while the deluxe, removable seating system and large, open cockpit offer easy maneuverability 🏞️. The covered stairwell with cooler capacity and bow and stern bungee storage make it easy to keep your belongings safe and dry, while the hands-free, adjustable foot braces, and dual-position paddle holders provide optimum control 🎮. The 2 large catch-all utility trays and deep-molded cup holders are perfect for storing snacks and drinks, and the 2 molded-over rubber grip carries handles make it easy to transport 🚚.
2# Ascend H10 Sit-In Hybrid Kayak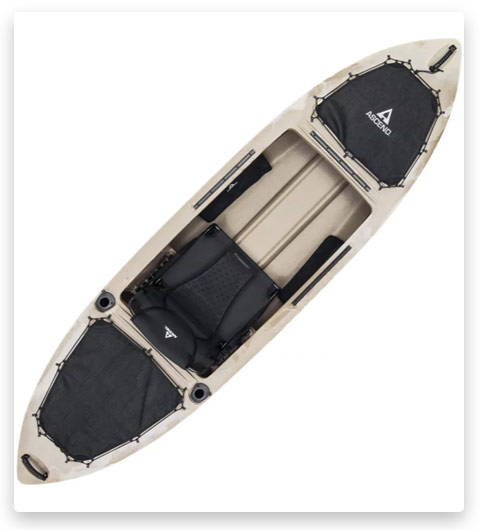 The Ascend H10 Desert Storm Sit-In Hybrid Kayak is the perfect choice for those who want a versatile and efficient kayak that can tackle any type of water. Its hybrid tunnel-style advanced hull design provides incredible manoeuvrability, while the multipurpose open-deck design makes it perfect for both fishing and recreational use. The adjustable foot braces and bow hard hatch provide added comfort and convenience, while the bow bungee hold-downs keep your gear safe and secure. And with its threaded, sealed drain plug, you'll never have to worry about flooding.
3# Ascend 133X Tournament Sit-on-Top Kayak with Yak-Power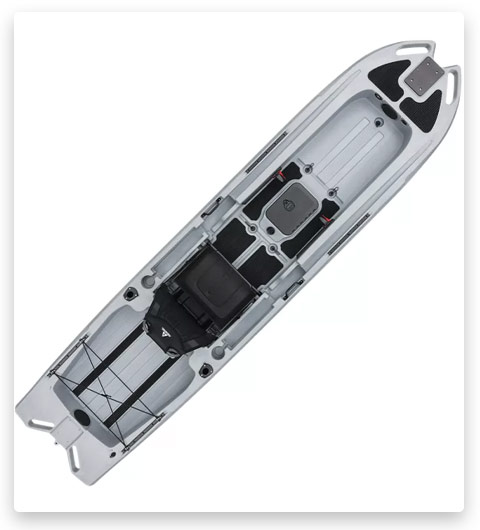 The Ascend 133X Tournament Sit-On-Top Kayak with Yak-Power is the perfect vessel for amazing stability, tracking, and fishing. Its catamaran-style hull and 1-piece, rotomolded construction provide unmatched durability, while the deluxe, adjustable high-back seat system ensures a comfortable ride. The open bow and stern storage areas are perfect for storing gear, and the dry-storage hatch keeps your belongings safe and dry. The four 16″ accessory rails provide ample space for attaching accessories, and the two flush-mount rod holders keep your rods close at hand. The adjustable foot braces allow you to customize your fit, while the nonskid cushioned flooring ensures a safe and comfortable ride.
4# Ascend FS10 Sit-In Angling Kayak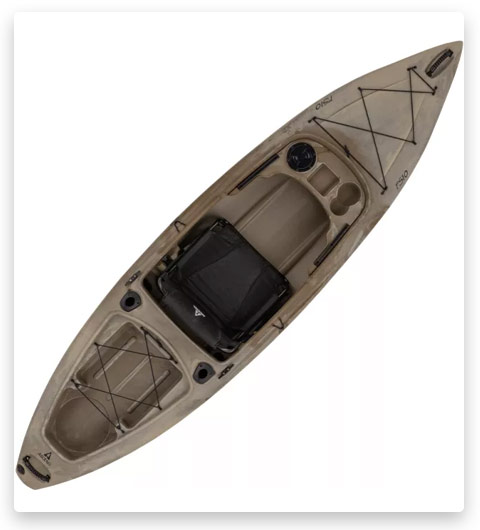 This kayak is perfect for fishing enthusiasts who demand advanced performance and features. Its high-density linear polyethene construction ensures durability, while the "V"-style hull provides a smooth, stable ride. The large open cockpit makes it easy to get in and out of the kayak, and the hands-free adjustable foot braces ensure comfortable paddling. Additional features include accessory rails, dual paddle holders, deep moulded dual-sized cup holders, and weathertight deck-plate storage.
5# Ascend H12 Sit-In Hybrid Kayak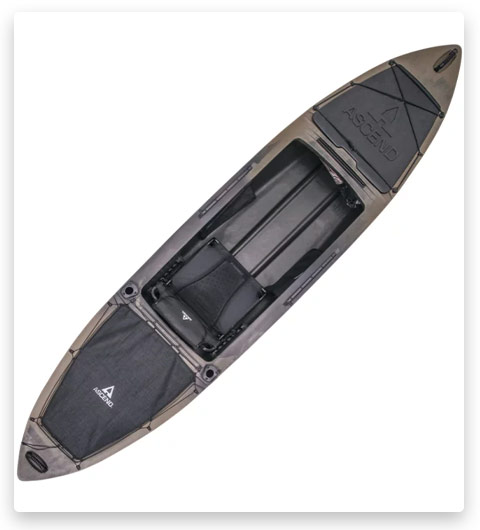 Looking for a kayak that's both advanced and versatile? Look no further than the Ascend H12 Sit-In Hybrid Kayak. Its unique tunnel-style hull design offers unmatched stability and speed, while the soft-storage seat backpack provides comfortable seating for short or long trips. The multipurpose open-deck design also makes it easy to store gear, and the extra-large cockpit gives you plenty of room to move around. adjustable foot braces let you find the perfect fit, while the bow hard hatch and bow bungee hold-downs keep your gear safe and secure. And with threaded, sealed drain plugs, you'll never have to worry about getting wet.
6# Ascend 9R Sport Sit-On-Top Kayak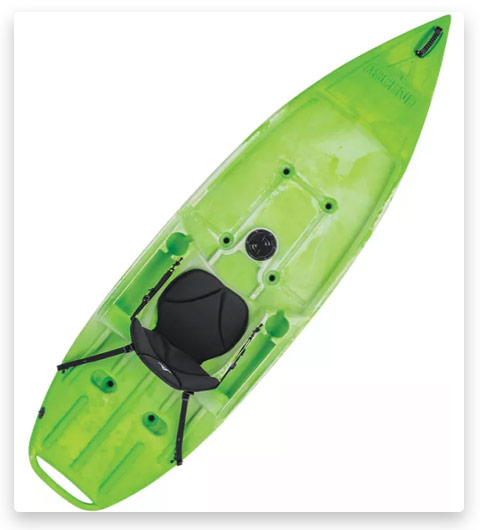 The Ascend 9R Sport Sit-On-Top Kayak is an expert-crafted kayak with exceptional value. It features a rotomolded tunnel-style hull and 1-piece hull construction for optimum durability and performance. The open floor plan and 4-point, adjustable seating system provide superior comfort and manoeuvrability. Additionally, the moulded-in storage trays and drink holders keep your essential gear within reach. The fore, midship, and aft self-draining scupper drain to ensure that the kayak remains seaworthy in all conditions. The quick-rest moulded parallel channel provides a temporary paddle holder when needed. Finally, the weathertight deck-plate storage keeps your belongings safe and dry while on the water.
7# Ascend 12R Sport Sit-On-Top Kayak
The Ascend 12R is a well-crafted sit-on-top kayak that's perfect for fishermen. It tracks straight and is easy to manoeuvre, making it great for both beginners and experienced kayakers alike. The adjustable seating system and moulded foot braces provide customizable comfort, while the moulded-in storage trays and drink holders keep your essentials close at hand. And thanks to the weathertight deck-plate storage, you can take your gear with you wherever you go. Plus, the large stern tank well provides plenty of room for your belongings, while the 6 scupper drains ensure quick drainage in any situation.
8# Old Town Sportsman AutoPilot 120 Sit-on-Top Kayak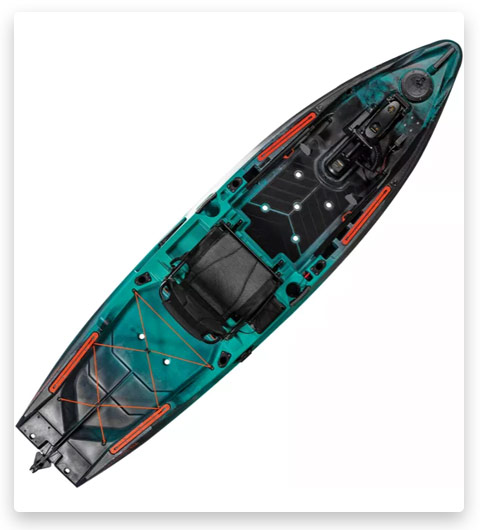 Looking for an innovative performance kayak? Look no further than the Old Town Sportsman AutoPilot 120 sit-on-top kayak. This kayak is equipped with a trolling motor, Minn Kota Spot-Lock, AutoPilot, and i-Pilot remote, making it easy to navigate your way through any body of water. The comfortable, adjustable seating system with high and low positioning and great lumbar support ensures a relaxing experience out on the water, while the four 18″ accessory tracks and 2 forward-facing, and 2 rear-facing flush-mount rods holders provide ample storage for all your gear.
9# Old Town Sportsman AutoPilot 136 Sit-on-Top Kayak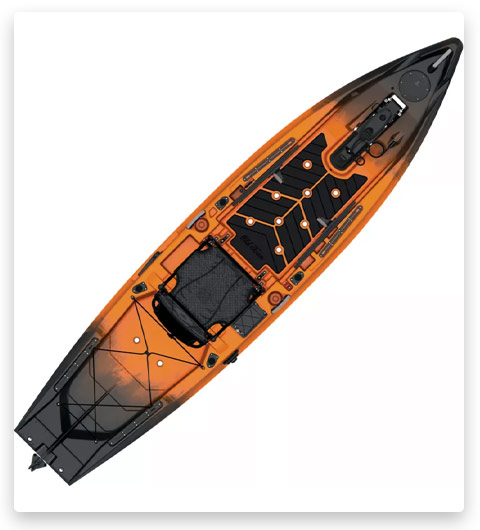 The Old Town Sportsman 136 Sit-on-Top Kayak is perfect for anglers who want innovative performance and features. The kayak comes with a Minn Kota Spot-Lock, AutoPilot, and i-Pilot remote that offers an impressive degree of control when fishing. There's also a comfortable, adjustable seating system with high and low positioning and great lumbar support so you can paddle in comfort all day long. Plus, there are four 18″ accessory tracks to easily mount accessories, two forward-facing, 2 rear-facing flush-mount rod holders for all your gear, and non-slip EVA foam deck pads to keep you stable on the water, under-seat storage including a custom tackle box (essential for any fisherman).
10# Ascend 128X Sit-on-Top Kayak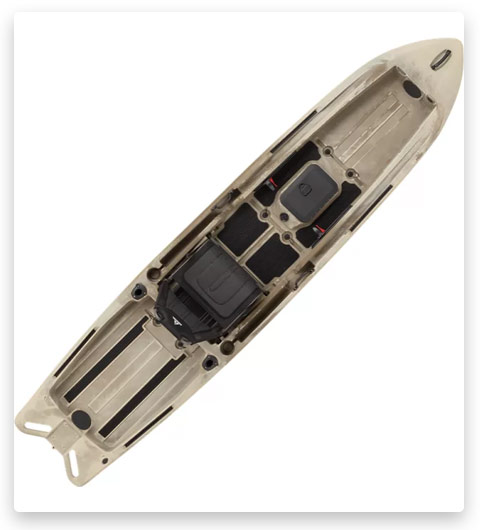 The Ascend 128X Sit-on-Top Kayak with Yak-Power is perfect for anglers who want a durable and reliable kayak that can handle a variety of fishing conditions. The Yak-Power system provides three 12V power plugs, so you can easily run your fish finder, GPS unit, or any other devices you need on the water. The moulded landing area provides a secure place to mount your fishfinder or other accessories, while the adjustable foot braces and deluxe adjustable seating system ensure a comfortable and customized fit. The kayak also features eight self-draining scupper drains with eight plugs, ensuring quick and easy drainage when you're done fishing.
A Boat for Every Angler: Deciphering the Types of River Fishing Kayaks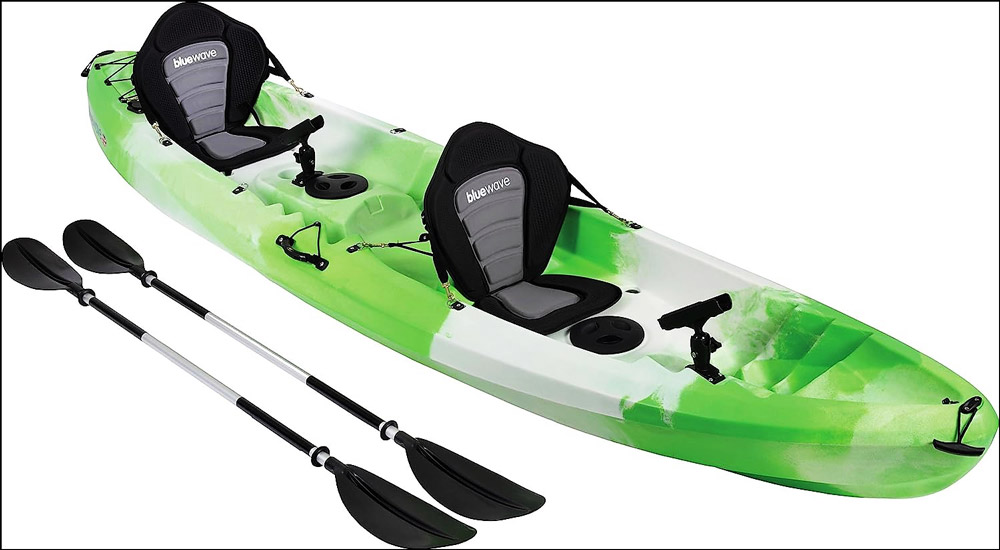 When it comes to river fishing, choosing the right type of kayak can make a significant difference in your angling experience. Various types of kayaks are suited to different styles of fishing and river conditions. Here, we'll discuss three primary types of kayaks used for river fishing: sit-on-top kayaks, inflatable kayaks, and tandem kayaks, each with its distinct advantages and potential drawbacks.
Sit-On-Top Kayaks
Sit-on-top kayaks are a popular choice among anglers due to their stability and ease of use. These kayaks have a sealed hull and a molded top with depressions for sitting and standing. They often come with features beneficial to anglers such as rod holders, gear tracks, and storage areas.
Inflatable Kayaks
Inflatable kayaks, as the name suggests, are filled with air. They are typically made from durable, puncture-resistant materials and are designed to be lightweight and portable.
Tandem Kayaks
Tandem kayaks are designed for two paddlers. They can be either sit-on-top or sit-inside and come in both inflatable and hard-shell varieties.
In conclusion, the best type of kayak for river fishing depends on your specific needs, budget, and personal preferences. Understanding the pros and cons of each type will help you make an informed decision and ultimately enhance your river fishing experience.
Cutting Through the Current: Key Features to Look for in a River Fishing Kayak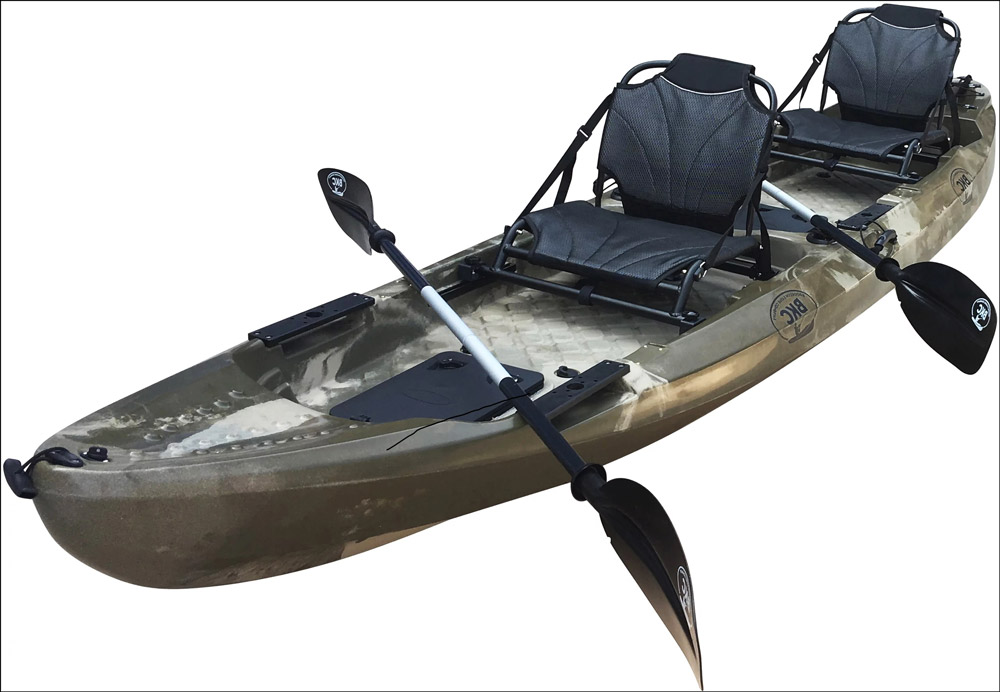 Choosing a kayak for river fishing isn't solely about picking the right type; it's also crucial to consider specific features that can drastically impact your performance, safety, and overall fishing experience. Here are some key features to consider:
Hull Design
The hull is the bottom part of a kayak, and its design significantly affects the kayak's performance. There are primarily two types of hull designs – flat and v-shaped. Flat hulls provide excellent stability, making them perfect for calm waters and beginners. On the other hand, v-shaped hulls are designed for speed and tracking (the kayak's ability to stay straight). They perform better in rough waters but might require more skill to control.
Size and Weight
The kayak's size and weight can impact its speed, stability, and maneuverability. Generally, longer and narrower kayaks are faster but less stable, suitable for open water and long distances. On the other hand, shorter and wider kayaks offer more stability and are easier to maneuver, making them excellent for fishing in rivers with tight bends and narrow channels.
Seat Design
Comfort is key for long hours on the water. Look for a kayak with an adjustable padded seat that offers good back support. Some higher-end models even offer seats with custom height adjustments and extra cushioning for supreme comfort.
Storage Capacity
For a successful fishing trip, you'll need space to store your gear, bait, catch, and personal items. Look for kayaks with ample storage options, such as built-in hatches, bungee-corded wells, and side pockets.
Maneuverability
Maneuverability is crucial when fishing in rivers, as you'll often need to navigate around obstacles or through tight spaces. A good fishing kayak should turn easily and respond well to paddle strokes.
Stability
Stability is vital, especially if you plan to stand while casting or reeling in fish. A wider kayak usually offers better stability, but it can compromise on speed. Some kayaks have additional stability features like pontoon-like hulls or outriggers.
Each of these features plays a role in how well your kayak meets your fishing needs. By understanding these elements, you can find a kayak that's not only equipped for a successful fishing journey but also tailored to your personal comfort and style.
Champions of the Stream: The Best River Fishing Kayaks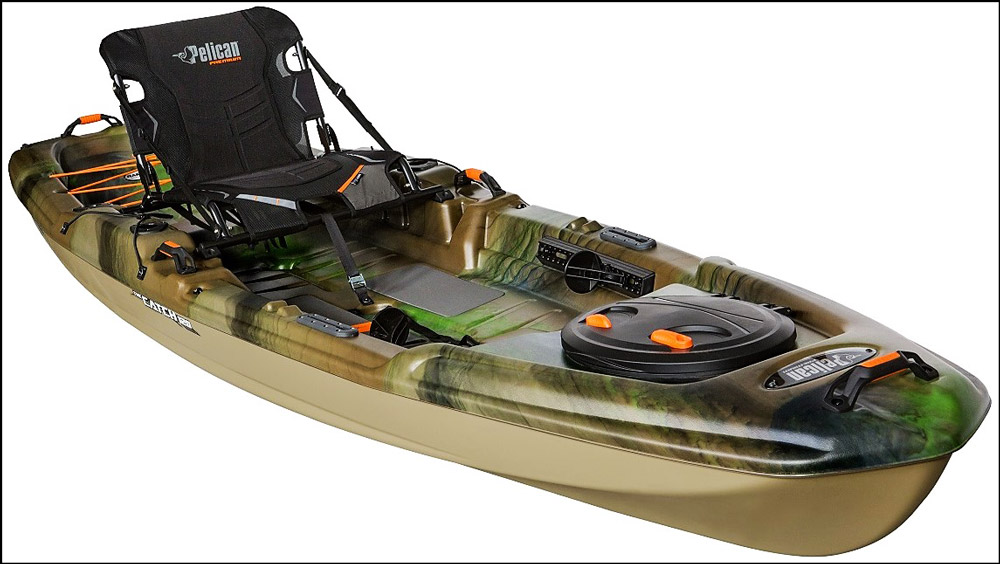 As the demand for kayak fishing has grown, so has the market, with numerous models catering to various needs. Here, we've rounded up some of the top river fishing kayaks currently available, evaluated based on performance, comfort, durability, additional features, and value for money.
Old Town Canoe Sportsman PDL 120
This sit-on-top fishing kayak offers exceptional stability and performance. Powered by the most reliable forward/reverse pedal drive on the market, it allows for hands-free fishing. The boat includes a comfortable and adjustable seat, two flush-mount rod holders, and an oversized tank well for plenty of storage. The Old Town Canoe Sportsman PDL 120 offers an excellent balance of comfort, performance, and additional features, making it a great value for the money. It's particularly suited for anglers who want a stable, pedal-driven kayak for long fishing trips.
Intex Excursion Pro Kayak
For those seeking a budget-friendly, highly portable option, the Intex Excursion Pro Kayak, an inflatable model, is an excellent choice. Despite its lower price point, it doesn't skimp on features, offering adjustable footrests, fishing rod holders, and ample storage space. Made from super-tough laminate PVC with a polyester core, this kayak is highly resistant to damage from impact and sunlight. However, as an inflatable kayak, it may not offer the same level of performance and durability as a hard-shell model.
Wilderness Systems ATAK 120
This sit-on-top fishing kayak is known for its customizable platform and excellent stability. The ATAK 120 offers a wind-shedding deck, high and low seating positions, and numerous storage and mount options, making it one of the most versatile fishing kayaks on the market. The Wilderness Systems ATAK 120 is a high-end model, and while it comes with a steeper price tag, its superior performance and the ability to customize make it worth the investment for serious anglers.
Perception Pescador Pro 10
The Perception Pescador Pro 10 is a versatile, compact, and affordable sit-on-top fishing kayak. It features a removable and adjustable camp chair-style seat, plenty of storage options, and a shorter length for easy maneuverability. This kayak is durable and offers a good level of performance, especially for its price range. It's a fantastic option for beginners and those who prefer shorter, more casual fishing trips.
Remember, the best kayak for you depends on your personal needs, preferences, and budget. Consider the features that are most important to you, and don't be afraid to test out a few different models before making your decision.
Steer, Cast, Reel: Mastering the Art of River Kayak Fishing
Kayak fishing is as much an art as it is a science. The strategies employed and the precautions taken can greatly influence your experience and outcomes. Here are some insights into river fishing techniques, safety tips, and advice for handling various river conditions and wildlife encounters.
Fishing Techniques and Strategies:
Casting Distance: Learn to cast with both hands. It can come in handy when your kayak drifts or when you want to keep your line away from the boat.
Anchoring: River currents can be a challenge when trying to stay in one place. Consider using an anchor, stake-out pole, or even a drift chute to help control your positioning. Be mindful of the water depth and the river bottom when deciding which method to use.
Cover More Water: One advantage of kayak fishing is the ability to quietly access areas that are off-limits to larger boats. Make sure to use this to your advantage by covering more water and exploring these "hidden" fishing spots.
Safety Tips:
Wear a Lifejacket: Wearing a personal flotation device (PFD) is not just a good idea, it's essential. Even if you're a great swimmer, river currents can be unpredictable.
Check the Weather: Always check the weather forecast before you go out. Wind, rain, and storms can make kayaking unsafe, especially for inexperienced paddlers.
Carry a Safety Whistle: In case of an emergency, it's crucial to have a way to signal for help. A loud safety whistle is a simple but effective tool.
Handling Different River Conditions and Wildlife Encounters:
Understanding Currents: Learn how to read river currents and anticipate their impact on your kayak. Things to look out for include faster currents in the middle of the river and slower water near the edges, as well as how obstacles like rocks or fallen trees affect the water flow.
Dealing with Wildlife: When fishing, you're sharing the river with wildlife. Maintain a respectful distance from any animals you encounter, and never feed them. In the rare case, you encounter a potentially dangerous animal, like a bear or alligator, retreat calmly and avoid sudden movements.
Carrying a First Aid Kit: Always have a first aid kit in your kayak. You never know when you might need it, whether it's for a minor injury like a hook puncture or something more serious.
Whether you're a seasoned pro or a beginner, these tips can help enhance your river kayak fishing experience, ensuring not only a successful catch but also a safe and enjoyable time on the water.
From Angler to You: Personal Insights and Recommendations for River Kayak Fishing
Over the years, I've had the privilege to paddle and fish from numerous river fishing kayaks. My experiences have been filled with discoveries, challenges, triumphs, and a lot of learning. Here, I'll share some of those experiences, as well as my personal recommendations based on different criteria like budget, skill level, and specific fishing goals.
Personal Experiences
One of my most memorable experiences was navigating the Colorado River's swift currents with the Old Town Canoe Sportsman PDL 120. The kayak's pedal drive system freed my hands, allowing me to focus more on casting and reeling. The boat's stability, even amidst the fast-moving water, was impressive.
I've also had the chance to test the Intex Excursion Pro Kayak on a multi-day fishing expedition. An inflatable kayak, it surpassed my expectations with its robustness and comfort. The portability was particularly handy when we encountered difficult-to-navigate terrain.
Recommendations
For beginners and those on a tighter budget, I would recommend the Perception Pescador Pro 10. It's an affordable, user-friendly model that doesn't compromise much on comfort or storage. It's compact and highly maneuverable, making it perfect for those new to river fishing.
For seasoned anglers or those planning on frequent or longer fishing trips, investing in a kayak like the Old Town Canoe Sportsman PDL 120 or the Wilderness Systems ATAK 120 might be beneficial. These kayaks offer superior performance, customizable features, and excellent comfort, all of which will enhance your fishing experience.
For anglers seeking a highly portable kayak or those who might not have much storage space, an inflatable model like the Intex Excursion Pro Kayak could be an excellent choice. Just remember that while modern inflatable kayaks are quite durable, they might not have the same longevity or performance as hard-shell models.
Lastly, regardless of the kayak you choose, always prioritize safety. Ensure your kayak has the necessary safety features and that you're equipped with a personal flotation device, safety whistle, and first-aid kit.
In the end, the best river fishing kayak is the one that meets your personal needs and enhances your fishing experience.
FAQ: Exploring River Fishing from a New Angle
Remember, always prioritize safety and ensure your kayak is suitable for the conditions you'll be fishing in
Casting Off: The Final Thoughts on River Kayak Fishing
Kayaks have come a long way in the past few years 📅, and today's best fishing kayaks 🛶 are designed specifically for rivers 🏞️. If you're looking for a great boat to take on your next fishing trip 🎣, then one of these top-rated kayaks is sure to fit the bill. We've included both inflatable and hardshell kayaks in this buyer's guide 📚, so there's something for everyone. Be sure to read our reviews before making your final decision 🧐. With so many great options available, you're sure to find the perfect kayak for your needs!
As we come to the end of our journey 🚀 through the world of river kayak fishing, it's clear that selecting the right kayak is paramount for a rewarding and enjoyable experience 🏆. From the type of kayak you choose – whether sit-on-top, inflatable, or tandem – to its essential features such as hull design, weight, and stability, every element plays a crucial role in your success and safety on the river 🚣‍♀️.
The rise in popularity of kayak fishing is undeniable, and it's easy to see why. This sport offers a unique way to connect with nature 🍃, explore less-accessible fishing spots, and enjoy the thrill of the catch 🐟, all while adding the benefit of exercise 💪. It appeals to amateur and professional anglers alike, bringing a fresh perspective to the traditional fishing experience 🌅.
For those who haven't tried river kayak fishing, I wholeheartedly encourage you to give it a go 👍. Remember, the key to success is knowledge and preparation 📝. Use the tips and techniques shared here to ensure a safe and enjoyable experience. Consider the kayaks reviewed based on your budget 💰, skill level, and fishing goals 🎯. With the right kayak and a respectful approach to the river and its inhabitants, you'll be set for an adventure that could very well turn into a lifelong passion ❤️.
Ultimately, river kayak fishing is not just about the fish you catch but also about the memories you make 👫, the skills you learn 🧠, and the peace you find out on the water 🕊️. It's a rewarding pursuit that invites you to discover, explore, and grow 🌱.
Tight lines and calm waters to you all 🌊, and here's to the exciting angling adventures that await you 🎉!
Cast a Wider Net: Resources and Recommended Reads
The insights shared in this article draw upon a wealth of resources, both personal and from leading authorities in the world of kayak fishing. Here are the references that have guided the creation of this article and some additional readings for those eager to dive deeper into the world of river fishing kayaks.
References:
Old Town Canoe. (2023). Sportsman PDL 120 Product Specifications. Old Town Canoe official website.
Intex. (2023). Excursion Pro Kayak Product Description. Intex official website.
Wilderness Systems. (2023). ATAK 120 Product Details. Wilderness Systems official website.
Perception Kayaks. (2023). Pescador Pro 10 Specifications. Perception Kayaks official website.
Further Reading:
Sampson, R. (2022). "The Complete Kayak Fisherman." This book offers a comprehensive guide on kayak fishing, including choosing the right kayak, gear essentials, and detailed fishing techniques.
Johnson, C. (2021). "River Fishing: A Complete Guide." While not kayak-specific, this guide offers a wealth of knowledge on river fishing which can be applied to fishing from a kayak.
"Paddler Magazine." This publication regularly features articles on kayak fishing, gear reviews, and safety tips.
Numerous online communities exist for kayak fishing enthusiasts. Forums on websites like Kayak Angler and Paddle World offer a wealth of information from experienced kayak anglers.
Remember, the more you learn, the more rewarding and enjoyable your river kayak fishing experience will be. These resources are excellent starting points, but never stop exploring, asking questions, and seeking new sources of knowledge.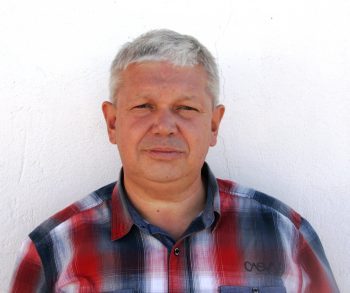 Sergio Smirnoff
Professional fisherman with 40+ years of experience.
Fishing and the ocean is a passion of my life. I am passionate about all kinds of sea fishing: fishing from the shore (spinning, float, baitcasting), from a boat, and spearfishing day and night.
I live in Tenerife (Canary Islands) for the last 10+ years and share my daily fishing experiences on my website. Many years of personal experience as a fisherman and the vast experience of my friends allow me to write professionally on any fishing topics (from choosing a flashlight and equipment to deep-sea fishing).
All of my advice is based on practical real-world experience and will be useful to both novice anglers and professionals.
Read more
about the author.
Affiliate Disclosure: FishReeler.com sometimes gets paid for listings, through sponsors or affiliate programs like Amazon, Ebay, Cabelas, Bass Pro Shop, Shimano, Daiwa, Rapala, Renn, Okuma, KastKing, etс. Clicking a link helps keep FishReeler.com free, at no extra cost to you!
About the author: Each article is verified by the fishing expert Sergio Smirnoff. The articles are written by professional and amateur fishermen with 20+ years of fishing experience.
Note: The views and opinions expressed in this article are those of the authors and do not necessarily reflect the official policy or position of any agency. The articles are for informational purposes only, share your opinions in the comments and join the fishing discussions, let's share our fishing experiences together!