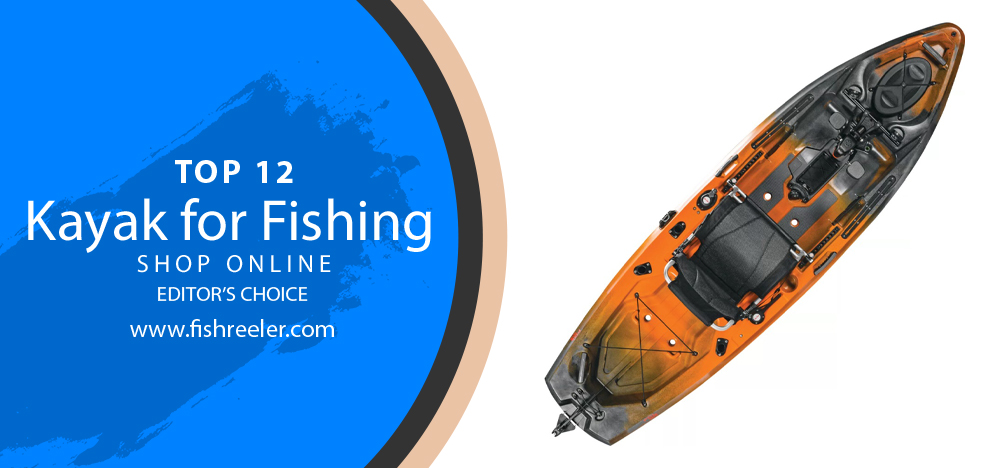 Fishing in the sea or lake by boat is a luxury that few can afford. However, with the arrival of fishing kayaks, everyone can enjoy a pleasant morning fishing trip to places they could not reach before. Are you sure you want to go fishing and the idea of ​​kayaking attracts you because it is affordable and convenient? But what is the best kayak for fishing? What are the best brands of fishing kayaks? In this article, I will try to answer in detail all your questions regarding kayak for fishing From Bass Pro Shops.
Kayaking is done both in freshwater and at the sea and always goes hand in hand with the sports anglers. This engages many people from the first moment in their life due to the large amount of experience that every fisherman can get from kayaking fishing. I never forget my first kayak fishing trip. It was amazing. Since then I have been kayaking very often.
The 12 Best Kayak & Canoes for Fishing from Bass Pro Shops
To start, I suggest you check out the 12 best kayaks for fishing From Bass Pro Shops. I compared the most interesting kayak models that all anglers will love.
1# Ascend 10T Sit-On-Top Kayak With Enhanced Seating System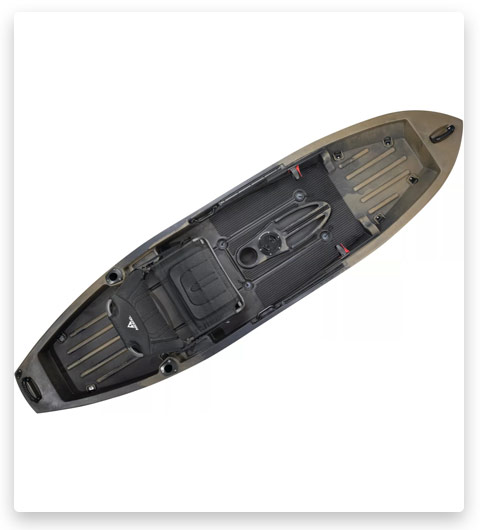 Ascend provides us with a high-quality kayak with versatile features and improved seating. The kayak has an incredibly stable structure, which is so necessary when fishing. A lightweight and portable kayak allows you to easily store it and put it on the water. It has an Enhanced Seating System.
The seat is removable so you can use it on the bank. It is a high-capacity piece of equipment that allows you to easily store all your fishing gear. It has waterproof storage and quick release D-rings. The kayak can withstand up to 325 pounds. The model also features adjustable leg rests for your convenience. Combining space and convenience, it's no surprise that this kayak is in such high demand among anglers who love to fish in secluded lakes and rivers.
2# Ascend 12T Sit-On-Top Kayak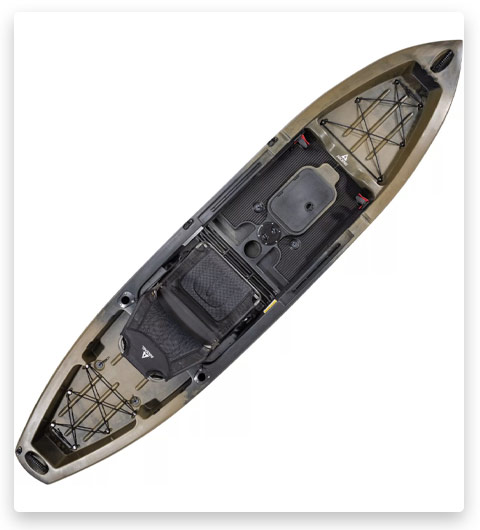 If you are new to kayaking fishing, the 12ft Ascend Kayak is a great way to get started, as well as the best option for different skills and prices. Weighing 77 pounds, the Sit-On-Top kayak is a fairly lightweight option on the market, making it easy to load the accessory on the water. The lifting capacity is 350 lbs. It is a stable model due to its construction.
Tunnel design with a wide transom and flared bow sections allows the kayak to remain stable no matter the conditions. Even when you stand it remains stable. Thanks to the non-skid foam deck mat, you will feel comfortable standing. It has waterproof storage compartments for your tackle. It also has accessory-mounting rails and a recessed bow storage area. I can say that the kayak is extremely durable and of excellent quality at a low price.
3# Ascend D10 Sit-In Red Kayak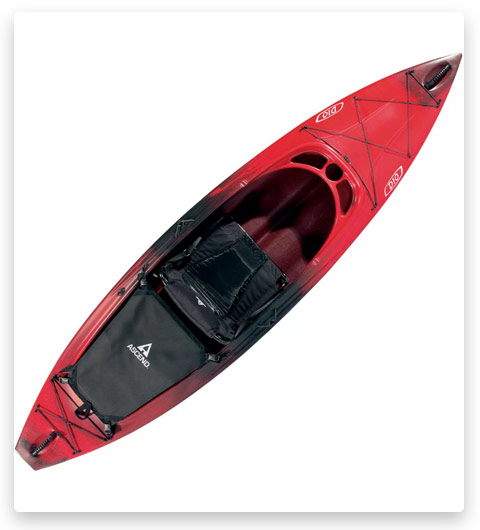 This kayak attracts anglers with its bright red design. It looks stylish and mesmerizing. The accessory is available at a fairly low price given its high performance. It has an advanced tunnel hull design that allows the kayak to be stable and lightweight while rowing. It is equipped with a comfortable seat that you can also use on the bank thanks to its removable design. Get ashore easily with the large open cockpit. It also provides excellent maneuverability. The kayak weighs 50 lbs. It is small compared to many models. You will have no problem putting the kayak on the water or transferring it to another place.
4# Ascend H10 Sit-In Hybrid Kayak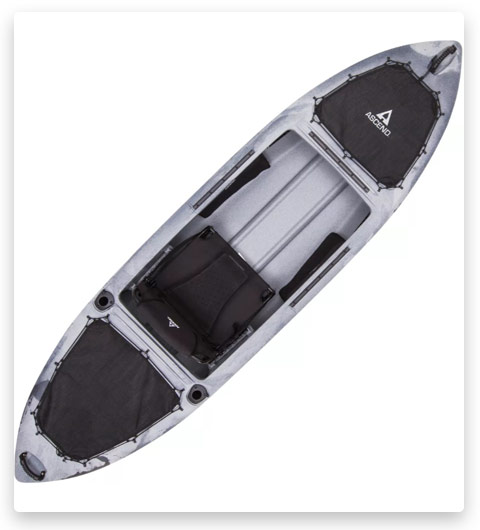 If you want to try kayaking but don't want to invest too much money in it, the Ascend H10 Sit-In Hybrid Kayak is a great way to get started. The 10ft kayak has an advanced Hybrid Tunnel-style hull and is equipped with two handles for easy transport. The seat has a padded backrest. The kayak handles well in the water and has high-quality accessory rails. The model can withstand up to 400 pounds.
5# Ascend H10 Desert Storm Sit-In Hybrid Kayak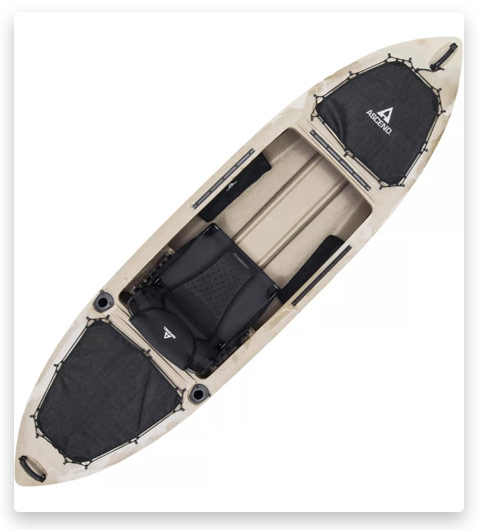 This is a kayak that is well suited for one person. The kayak has a removable seat, so the rower can easily use it ashore. This model has a balanced design that is great for both day and night fishing. It has soft-storage saddlebags that will hold all your tackle. It holds up to 400 pounds and is 10 feet long. You can easily carry your kayak with 2 molded-over rubber-grip carry handles.
6# Old Town Sportsman PDL 106 Pedal Sit-On-Top Kayak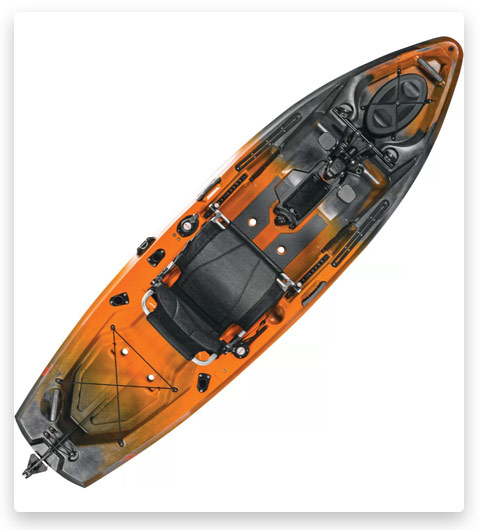 The OLD TOWN brand is the most famous global manufacturer, the market leader in its segment. I would advise those who are familiar with kayaking fishing to purchase this model. This is a fairly expensive model that will allow you to feel this kind of fishing in a different way. It is one of the most reliable pedal drives on the market. It glides well in the water but still allows you to fish while standing. It has a comfortable seat. It supports your lower back and can be adjusted to the length of your legs.
7# Old Town Sportsman PDL 120 Pedal Sit-On-Top Kayak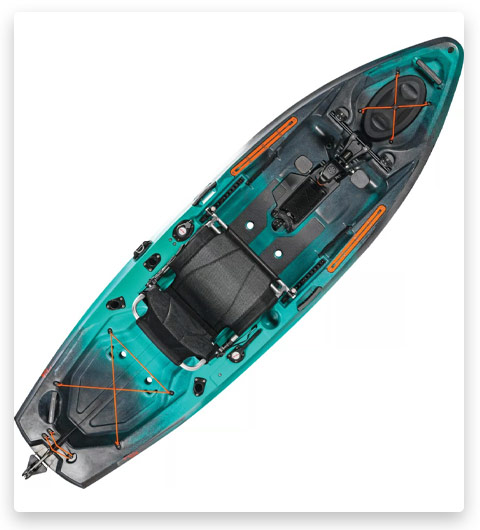 For those planning to take a lot of tackle with them, you should consider this model. If you are a beginner, then I advise you to choose the cheaper model. This kayak is ideal for those who consider themselves avid fishermen. A versatile one-person kayak that is 12 feet long and weighs 87 pounds. It has a large, open cockpit and oversized tank well that provide storage for your belongings. You will also find a box under the seat for storing your tackle. It also has dry storage where you can store important things.
8# Old Town Sportsman AutoPilot 136 Sit-On-Top Kayak With Minn Kota Trolling Motor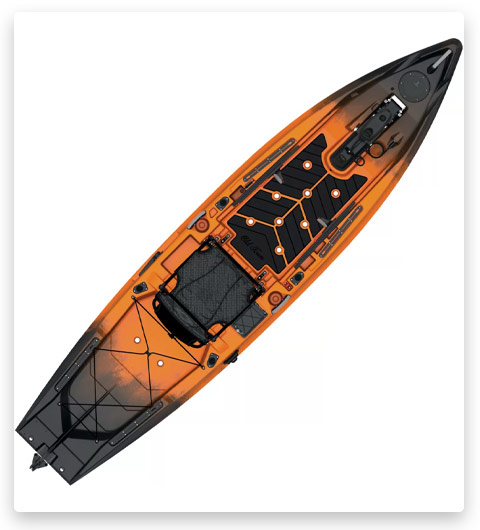 If you are looking for a budget option then this model is not for you. This kayak is made for those who value high quality, durability, and stylish design. You can easily control it thanks to Minn Kota trolling motor with AutoPilot navigation. You can control it with the touch of your finger on the i-Pilot remote. You will not have back pain thanks to the soft seat with lumbar support function. It has 2-rod holders. You will find a special box for storing your tackle. It is an innovative kayak that makes fishing easy and enjoyable.
9# Ascend 133X Recreational Kayak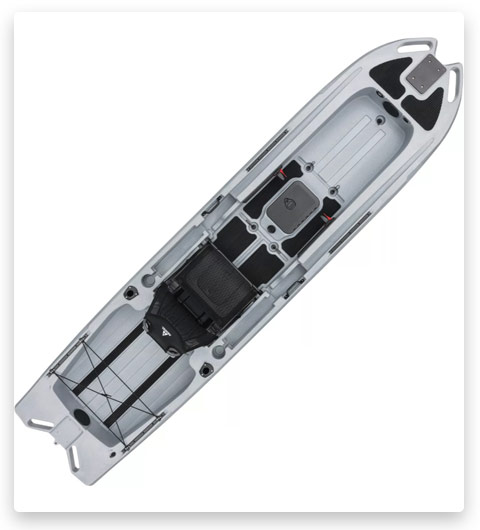 This kayak will give you incredible emotions while fishing. It has plenty of storage space and offers high comfort and reliability. It has an adjustable seat. Your back and legs will not get tired all day long fishing. It has storage compartments as well as a dry-storage hatch for storing important items. It holds up to 550 pounds. Carrying handles make it easy to transport the kayak.
10# Ascend D10 Sit-In Purple Kayak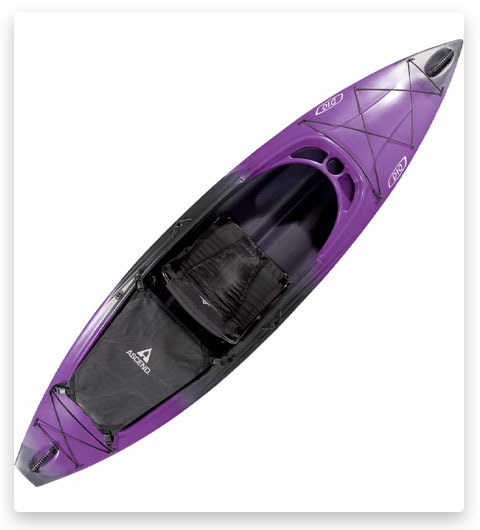 This model has a nice purple color scheme. This color soothes and allows you to enjoy all the delights of fishing. It has an advanced tunnel hull design that provides high stability, strength, and ease of rowing. It is equipped with a cooler hold-down system. The model with a seat weighs 50 pounds. You can easily remove the seat and thus reduce the weight of the kayak to 45 pounds. I like this model for its hands-free adjustable foot braces. This allows you to feel comfortable while fishing.
11# Ascend 128T Sit-On-Top Desert Storm Kayak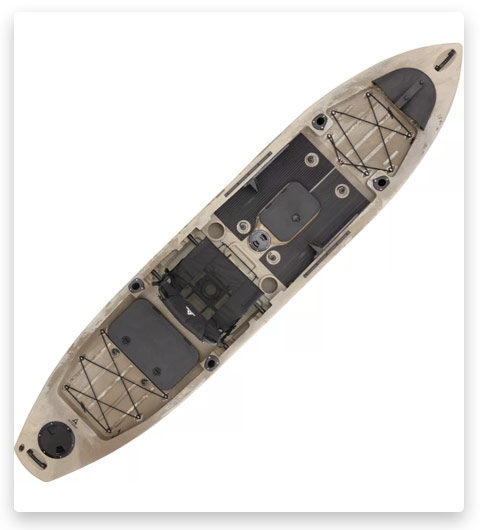 This model will appeal to those who are seriously interested in kayak fishing. It is not a cheap model that is distinguished by its robust design and high performance. You can fish both sitting and standing without fear for the stability of the kayak. It has a non-skid foam mat that keeps you safe when you are standing. It has a high lifting capacity of 350 lbs.
12# Ascend 9R Sport Sit-On-Top Kayak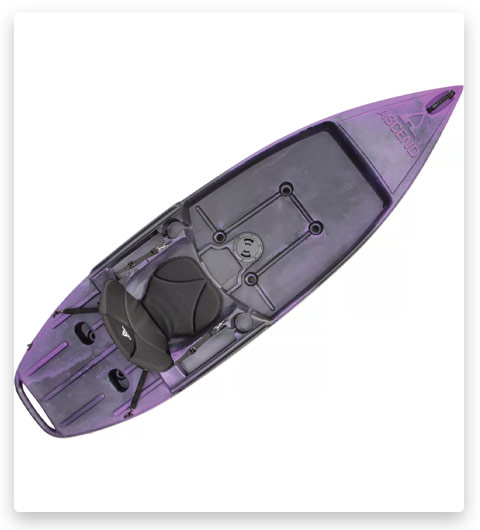 This is a high-quality kayak that is not too long and well-controlled. This is a great option for those who purchase such a device for the first time. It is available at a lower cost than most kayaks. This model is equipped with an excellent storage system. It is located around the seat. You will have quick access to all your tackle. It has bow and stern handles. They allow you to easily carry the accessory.
How to Buy the Best Fishing Kayaks?
If you are looking to buy the best fishing kayak for the money, then you should consider the characteristics below. They will help you find the best product for you that works great.
Space
The first thing to consider when buying a kayak is its capacity. You must consider both your body size and the carrying capacity of the kayak. Consider your size. If the kayak is too small, it can be awkward to navigate, especially if you need more legroom or are planning trips for two. In this case, a single-seater kayak will not come in handy, you will have to look at two-seater models and take into account the maximum weight that it can support.
Storage
Likewise, storage is one of the most important factors when choosing a kayak. When we go fishing, it is logical that in addition to fishing rods, we carry various accessories or equipment with us, so it is useful to have a place to store all the gear. Lure, hooks, drinking water, and emergency kits are some of the must-haves with you on your kayak. But you must consider the maximum weight it can carry. Therefore, it is always best to choose a model that has enough space to accommodate everything.
Comfort
Comfort is also very important when it comes to kayaking. When you are in the water, you cannot afford to sit in one position for long. This can result in you not enjoying the experience. You will end up comfortable spending too many hours kayaking. This is why it is important to purchase a fishing kayak with a padded seat, ergonomic design that adapts to the shape of the body and provides support at key points in the back.
Width
The width of the kayak determines the size and space you will have inside, so you need to look at its dimensions and compare them with your height. The wider kayak makes it more stable as it has a larger hull.
Performance
Well, performance is something to consider when shopping for anything, be it a kayak, fishing rod, or reel. But when we talk about these boats, performance is one of the most important factors. When you are in the water, you cannot compromise on anything. If the kayak you ride doesn't work well, you won't be able to fish. But if the characteristics of your kayak are up to the task, it will be much easier for you to fish in the water. Therefore, it is imperative to find a model that offers the best performance and greater durability.
Assembly Quality
And speaking of durability, this is something that goes hand in hand with its materials of construction, which must be of high class. This will ensure long-term use without punctures, dents, impact resistance, and optimal stability. If the material of the kayak is bad or questionable, you run the risk of an accident or damage in the middle of your fishing adventure. Therefore, before investing in a kayak, take this factor into account. Then your purchase will be more profitable in terms of money and you will also invest in your safety.
Stability and Security
You must always remember your safety. Especially when you are in the water. This is one of the most important factors to consider when buying a kayak. You must make sure that the kayak you choose is stable and does not pose a threat to your safety. It must have a sturdy hull that provides the best balance on the water, avoiding rollover or crashes.
Benefits of Using a Kayak for Fishing
Less Noise
This accessory comes without a motor. The kayak is very quiet. You just paddle and listen to the sounds of the water.
Convenience
The kayak will be much more comfortable if you like to fish. The kayak is much easier to store than larger boats. In addition, kayaks are much easier to carry from one place to another. Kayaks are easier to put on the water. But in the case of a heavy fishing boat, you will need much more effort to put it on the water. When it comes to fishing, kayaks are the best option over motorboats.
Saving
When it comes to fishing, one of the most important advantages of kayaks over other boats is that they are available in the market for a relatively lower price. You can get a very good model for a lower price than a motorboat.
Speed
Kayaks are designed to move faster. Here they turn out to be a better option than other boats. You can cover more distance in less time.
Types of Kayaks
Most fishing kayaks are rigid because they are more stable and easier to handle than inflatable ones. However, there are inflatable models that are suitable for fishing. They are usually cheaper. If you are just starting out, they may be the best option for you.
Hard Kayak
As I said above, this kayak is the most common type for fishing in terms of stability. It does not inflate, but is solid, which makes transportation and storage difficult. But, in turn, it gives us greater stability in the water.
Inflatable Kayaks for Sale
A kayak that is becoming fashionable due to its good strength and ease of transportation and storage at home. Inflatable kayaks inflate in a few minutes and are a good alternative to rigid ones. In addition, this type of kayak is cheaper than the others.
Sit on Top Kayaks
These kayaks have a seat on top. This makes us feel much more comfortable. The seats are removable and adjustable so that the user can easily adapt. This type of kayak allows us to maneuver better with other accessories as you are not locked in the cabin and you have more space.
Kayaks for Two People
Double kayaks are longer and wider than single kayaks, often exceeding 4 meters in length. Fishing kayaks are usually designed for one person. For two-seater models, you will have to switch to inflatable kayaks to try to save money. However, there are two-seater hard kayaks that will definitely come in handy for fishing, but they are quite expensive.
Best Life Jacket for Kayak Fishing
As noted many times before, kayaking is a very interesting and rewarding sport, but it can also be disastrous for you if you ignore basic safety rules. When kayaking fishing, safety always comes first, and everything else comes after. Your life and health are above all!
One of the most important safety requirements in kayaking is the presence of a life jacket. In the United States and many other countries, the use of life jackets is mandatory while on the water, and non-compliance with this requirement entails the imposition of rather large fines. Check out our full review and get more details in this Best Inflatable Life Vest for Fishing article.
Best Kayak Paddle for Fishing
The paddle is one of the most important things in kayak fishing gear. After all, without this equipment, you will not succeed. They vary in shape. The choice depends on the area in which you will fish.
The shape is determined by the purpose of the paddle and the user's physical data. All kayak paddle blades are now asymmetrical. The lower part is slightly smaller than the upper one. It is best to choose paddles for smooth water (rafting on lakes). The shoulder blades are made longer and narrower. With such, it is easier to gain speed forward, and for quick and sharp maneuvers on smooth water, this width is quite enough.
Conclusion
Kayaking is a relaxing and enjoyable way to spend time on the water without headaches. Fishing kayaks are easier to store, require little maintenance, and are easy to transport. Moreover, it is much more affordable than motorboat fishing. If you are looking to buy a fishing kayak, you must determine what you really want: a single or two-seater kayak. Also pay attention to the model, brand, color, size, and other characteristics. I advise you to pay special attention to the 1# Ascend 10T Sit-On-Top Kayak.
Tags: #best fishing kayak / #best fishing kayak under 1000 / #best fishing kayak for the money / #best kayak for fishing / #best kayak paddle for fishing / #bass pro shops / #best life jacket for kayak fishing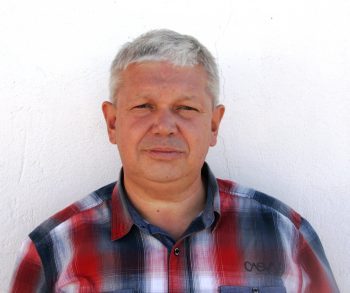 Sergio Smirnoff
Professional fisherman with 40+ years of experience.
Fishing and the ocean is a passion of my life. I am passionate about all kinds of sea fishing: fishing from the shore (spinning, float, baitcasting), from a boat, and spearfishing day and night.
I live in Tenerife (Canary Islands) for the last 10+ years and share my daily fishing experiences on my website. Many years of personal experience as a fisherman and the vast experience of my friends allow me to write professionally on any fishing topics (from choosing a flashlight and equipment to deep-sea fishing).
All of my advice is based on practical real-world experience and will be useful to both novice anglers and professionals.
Read more
about the author.
Affiliate Disclosure: FishReeler.com sometimes gets paid for listings, through sponsors or affiliate programs like Amazon, Ebay, Cabelas, Bass Pro Shop, Shimano, Daiwa, Rapala, Renn, Okuma, KastKing, etс. Clicking a link helps keep FishReeler.com free, at no extra cost to you!
About the author: Each article is verified by the fishing expert Sergio Smirnoff. The articles are written by professional and amateur fishermen with 20+ years of fishing experience.
Note: The views and opinions expressed in this article are those of the authors and do not necessarily reflect the official policy or position of any agency. The articles are for informational purposes only, share your opinions in the comments and join the fishing discussions, let's share our fishing experiences together!