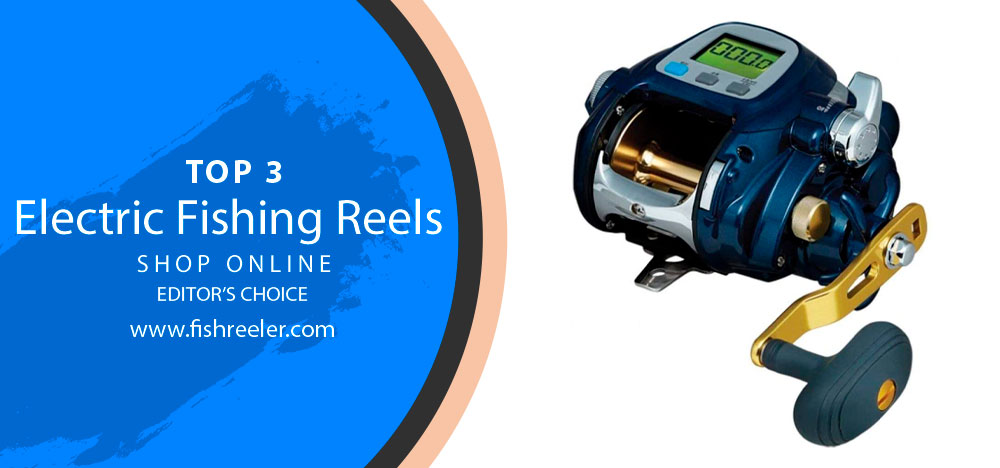 Picture this: you're out on the water, feeling the sun on your face and the wind in your hair as you cast your line out into the deep blue. You wait patiently, feeling the tension of the line as you anticipate a bite. Suddenly, you feel a tug, and the adrenaline starts to pump through your veins as you begin to reel in your catch. But instead of the usual struggle, you effortlessly retrieve your line with the push of a button. This is the world of electric fishing reels.
Electric Reels: The Future of Fishing or a Passing Fad?
Electric fishing reels have been around for decades, but they are often overlooked by traditional anglers who prefer the more "hands-on" approach of manual reels. However, with advances in technology, electric reels have become more sophisticated and user-friendly, making them a viable option for anglers of all levels. In this blog post, we'll dive into the world of electric fishing reels, exploring their benefits, drawbacks, and everything in between.
Any lover of deep-sea fishing knows that getting fish at great depths is a rather difficult and long process that can break at any moment. Electric reels are designed to facilitate this process, reduce the load on the fisherman, and generally make fishing more enjoyable. Electric fishing reels have a lot of sensors, detectors, and indicators that with great accuracy will monitor your line and fish. In this article, we'll talk about the differences between fishing reels and the rest and consider some of the best units. Let's get down to business.
Quick Product Selection
Shimano BM9000 Beast Master –

Shimano 9000 Electric Fishing Reel

Daiwa Seaborg 1000MT –

Daiwa Seaborg Big Game Electric Fishing Reel

Banax Electric Fishing Reel –

Banax Kaigen 7000CP Electric Reel Big Game Jigging
From Tuna to Trout: Electric Reels for Every Fishing Adventure?

Electric fishing reels, also known as electric-powered reels, are a type of fishing reel that uses a motor or electric power to retrieve the fishing line. They are designed to make fishing easier, especially for catching larger and stronger fish. These reels come in different styles and sizes, ranging from small hand-held models to larger, more powerful versions that are mounted on fishing boats.
Electric fishing reels are popular among anglers for several reasons. First and foremost, they make fishing much easier by eliminating the need to manually crank the reel. This means that anglers can fish for longer periods without experiencing fatigue, making it an ideal option for older or disabled anglers. Additionally, electric reels provide greater control over the fishing line, allowing anglers to easily adjust the speed and direction of the reel. This can be especially useful when reeling in larger, stronger fish that require more finesse to land.
There are different types of electric fishing reels, including the electric spinning reel, electric trolling reel, and electric jigging reel. Each of these types has its own specific use, with the electric trolling reel being the most popular for deep-sea fishing. Electric reels also come in different power ratings, with larger models capable of reeling in heavier fish at greater depths.
First, let's figure out what an electric reel is. Outwardly, it practically doesn't differ from the baitcasting reels. It also has a spool, handle, bearings, and other components. But the electric reel has an electronic display on the outside that displays line data. Also, the electric reel has various buttons with different functions. Their purpose varies depending on the specific model.
If conventional spinning reels have about 30 pounds of maximum drag, then the power of the electric reel drag reaches 90 pounds of drag! You can pull the heaviest fish on board, with minimal effort. They can be powered by your boat or by a 12 or 24-volt battery. Despite the external complexity of their device, they are quite easy to manage for both beginners and professionals. There are not many manufacturers on the market that manufacture electric reels. And even fewer who make really high-quality reels. The largest manufacturers are Daiwa and Shimano. But their reels are one of the most expensive on the market. Therefore, on the list, you'll find more budget options.
Power Up Your Fishing Game: The 3 Best Electric Fishing Reelss

Are you tired of manually cranking your fishing reel and feeling the burn in your arms after a long day of fishing? Or maybe you're looking to up your fishing game and catch bigger, stronger fish without the physical strain? Whatever your reason may be, electric fishing reels are a game-changer in the world of fishing.
Electric reels have revolutionized the way anglers fish, providing effortless reeling and allowing fishermen to catch bigger and stronger fish than ever before.
Not many manufacturers make electric reels. You may have trouble locating some brands, makes, and models. Those chosen below have been selected for their reputation, reliability, and access. Others on the market may do as well but are much harder to get your hands on.
| Image | Product | Brand | Link |
| --- | --- | --- | --- |
| | Shimano Beast Master 9000 | SHIMANO | |
| | Daiwa TANACOM1000 Dendoh Fishing Reel, 30-40 lb, Black | Daiwa | |
| | Banax Kaigen 7000CP Electric Reel Big Game Jigging Fishing Reels EZ Dial -Korean Version- | Banax | |
1#
Shimano BM9000 Beast Master Electric Fishing Reel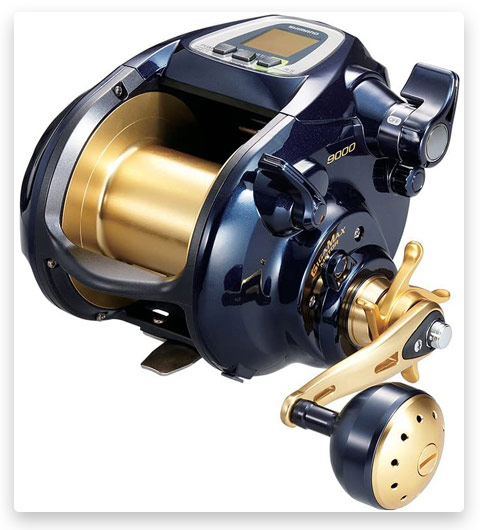 The BM9000 features Shimano's brushless GigaMax motor which provides a smooth and powerful retrieve, even when under heavy load. The motor is also designed to conserve battery life, allowing you to spend more time fishing and less time charging.
This reel has a maximum drag of 121 pounds, making it one of the strongest electric reels on the market. It also has a line capacity of up to 1,200 yards of 150-pound test braided line, allowing you to go after some of the biggest fish in the sea.
The BM9000 also features Shimano's Heat-Free System II, which helps to prevent overheating during extended fights with large fish. This system utilizes a heat-dissipating plate and high-performance bearings to keep the reel cool, allowing you to fish with confidence even in the toughest conditions.
The Shimano Beast Master 9000 is an example of how a good electric reel should look. In total, Shimano offers two models of electric reels and this is the most used of them. The drag is smooth and even, reaching up to 55 pounds. Even the strongest species of fish get tired of this reel. The reel was just made for such "beasts." With a gear ratio of 3:1 and a maximum winding force of 250 pounds, it easily copes with them. The capacitance holds nearly 940 yards of line with a 100-pound braid. This is enough for any fishing you choose.
You can increase the throughput by reducing the line braid. Of course, this reel is equipped with an LCD display that transmits information from the depths and buttons with different functions. The reel is powered by a 12-volt battery (not included in the kit) or using a secondary power cord. Shimano made sure that the outlet is safe and waterproof. The only inconvenience is that the instructions in the box and the screen controls are written in Japanese. If you have problems with this language, then you'll need the help of a Google translator or dictionary to understand the work.
2#
Daiwa Seaborg 1000MT Big Game Electric Fishing Reel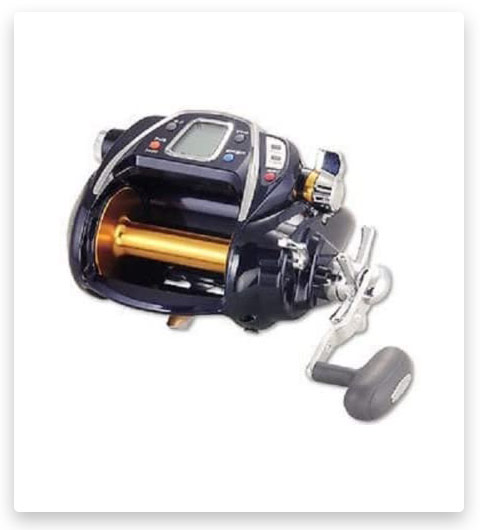 The Daiwa Seaborg 1000MT is a top-of-the-line electric fishing reel designed for big game fishing. With a maximum drag capacity of 55 pounds, it's capable of reeling in the biggest fish in the ocean with ease. The reel is powered by a 12-volt DC motor that delivers smooth and powerful performance. It's also equipped with a programmable auto-stop feature that helps prevent over-winding and prolongs the life of the reel.
The Seaborg 1000MT features an ergonomic design with a large LCD display and easy-to-use buttons, making it simple to adjust the settings and monitor the performance of the reel. The reel is constructed with high-quality materials, including a machined aluminum frame and side plates, and stainless steel gears and bearings, ensuring durability and longevity.
This is an instance that can compare with the previous Shimano reel. Judging by the number of reviews, Daiwa is one of the most used electric reels in the world. It has the excellent quality, lightweight, and high energy intensity. It's especially fond of lake fishermen who fish on the copper line. The maximum drag power of the reel is 44 pounds, less than that of Shimano, but it anyway can handle large and large fish. A 2.4:1 gear ratio will provide you with good torque and retrieve speed.
At any time, you can adjust one of two speeds for maximum control of the fish. The reel has a gear shift button. In total, you can retrieve 656 feet of line per minute, followed by an installed meter. Also, the reel is equipped with an outstanding function.
The reel will withstand 480 or 880 yards of line, depending on whether there is a braid on it. This is a fairly large indicator. The manufacturer completely modernized the engine in the reel and removed the shortcomings of previous versions. Now it's more durable and powerful. The LCD display shows the amount line, which is needed to estimate the depth. I note a couple of useful functions that are on this reel. As soon as the lever reaches the surface, the automatic shut-off function is activated. Also, if you run out of batteries, you can switch to manual winding without interrupting fishing.
But there were some cons. The instructions in the box are not detailed enough for you to simply install and run this reel. Watch instructions and videos online, ask other users for advice. So you can master the reel much faster. Moreover, the kit doesn't include a protective case that would protect the reel from environmental influences. But despite this, many fishermen whom I know on charter vessels use this electric reel because of its durability, reliability, and quality.
3#
Banax Kaigen 7000CP Electric Fishing Reel Big Game Jigging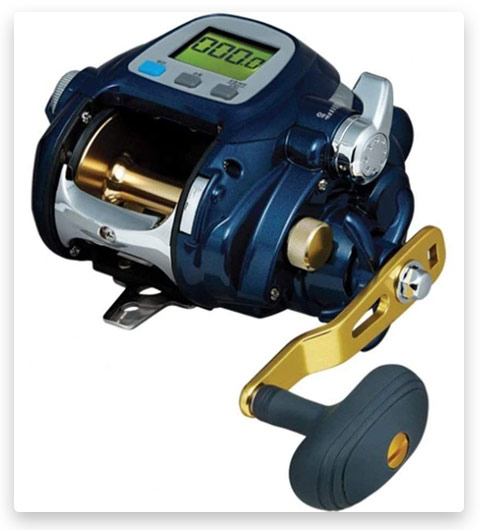 The Banax Kaigen 7000CP Electric Fishing Reel is a powerful and versatile reel designed for big-game jigging. With its 12V DC motor, this reel can easily handle large fish and deep depths. It features a sturdy aluminum frame and side plates, which help to keep the reel lightweight while still being durable enough to withstand the rigors of heavy use.
One of the standout features of the Banax Kaigen 7000CP is its impressive line capacity, which can hold up to 800 meters of 80lb braided line. This means you can fish at great depths and have the ability to bring in even the biggest fish. The reel also boasts a strong drag system, capable of exerting up to 66 lbs of drag pressure, allowing you to take on some of the toughest game fish.
The Banax Kaigen 7000CP Electric Fishing Reel also includes advanced features such as a programmable auto-stop function, which can stop the reel automatically at a set depth or when a fish is hooked. It also has a digital readout that displays the current depth, line speed, and battery level, making it easy to keep track of your fishing activity.
This electric reel is made in Korea and doesn't have as much popularity as the previous two. But this doesn't prevent it from being high-quality. It's the cheapest reel on this list. Kaigen reaches drag to 65 pounds, which will help you get the heaviest fish from the bottom. This reel has a single speed of 12 feet per second, but it has a grip that allows you to fully monitor what your reel does.
The gear ratio is quite standard – 3.5: 1. It works pretty well at high speeds, but don't expect a miracle from it. The reel is more focused on small fish and a couple of large species. This reel has a polished motor, which means you'll have less cost, but also a shorter engine life. The engine is quite powerful, despite its very lightweight cast aluminum body.
The maximum line load is not so big – 80 pounds and 320 yards of braided line. Lower your weight to 60 feet and get 425 yards. Also, the reel has a jigging function, which is rarely seen in budget reels. For such a price, I can specify only 1 minus here – there's no battery in the package, you need to buy it separately from the reel. In general, if you want to try an electric reel, but don't want to spend a fortune on it, then you should try this option
Power Up Your Fishing Game: The Advantages of Electric Reels

🐟Electric fishing reels offer several benefits to anglers, making their fishing experience easier and more efficient:
Less physical strain: With an electric reel, you can avoid the physical strain and fatigue that comes with manually cranking in a heavy catch, making it easier for anglers to fish for extended periods of time.
Increased efficiency: Electric reels offer faster and more consistent retrieves, making it easier to catch larger and stronger fish. They also allow anglers to drop and retrieve their lines quickly and effortlessly, giving them more time to focus on fishing techniques.
Versatility: Electric reels can be used for a variety of fishing styles, including deep-sea fishing, trolling, and jigging. They also offer the ability to adjust the speed and power of the retrieve, making them suitable for different types of fish and conditions.
Accessibility: Electric reels can be especially useful for anglers with physical limitations or disabilities, allowing them to participate in the sport of fishing with greater ease and enjoyment.
Safety: Electric reels can reduce the risk of accidents and injuries that can occur when manually handling heavy fishing gear. This is particularly important when fishing in rough or unpredictable waters.
Use Cases For Electric Reels
Electric fishing reels have a ton of possibilities to use. It can be at a depth of 300 feet or 3,000 depending on your location. Electric reels are unique in that you can use them to catch deep-sea species that are no longer found anywhere in the world. You can use them for a drop, trolling, and other methods of casting.
Deep Drop
As I said, electric fishing reels allow you to catch deep-sea fish in the most remote places. With the help of a conventional reel, the fight even with a conventional grouper can last a very long time. Electric reels greatly accelerate this process. You can leave the fishing rod in the holder and wait for the reel to do its job. Of course, you'll need to fight with especially large fish, but you'll save a lot more effort.
Trolling
In some places, electric reels are used for trolling. Sailboat and swordfish are very strong and fast runners, they can drain even the strongest fisherman with a regular reel in his hands. Electric reels hold these fish much stronger. You'll still have a fight with them, but with less effort, you can even get distracted for a couple of moments.
What To Consider When Choosing An Electric Reel?
As with spinning, baitcasting, fly, and other reels, there are many factors in electric reels that influence the customer's choice. The main feature that we'll be guided by is a deep drop. This is one of the main challenges facing electric reels. If the reel copes well enough with a deep dropping, then it'll do the rest too.
Retrieval Speed
This factor means the rate at which the line is received by the reel. Most of them are very fast, at least, faster than any manual reel.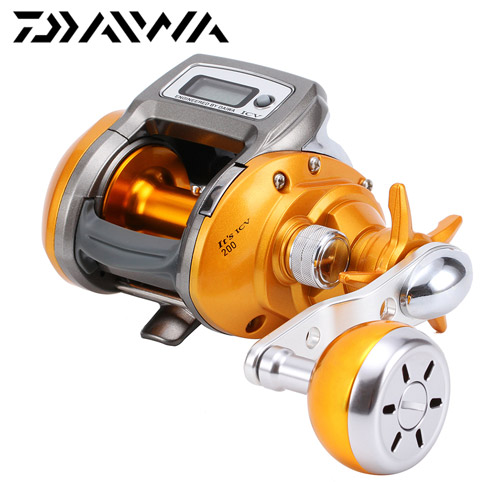 There are times when you need to quickly get a line, just to change the bait or retrieve the kite. In such cases, the greater the speed, the better.
But it's much more important to have a lot of torque than retrieve speed. This is especially true when you are struggling with heavy "beasts." Most of the fight will take place on a fishing rod, but any effort that you can remove from the reel will facilitate this process.
In addition, many fishermen use fairly heavy equipment. And without the torque that can draw a line from a depth of 750 feet, you have to turn the handle to get started.
So, always pay attention to the maximum power and speed of extraction of the reel.
Line Capacity
Most often, for a deep drop, fishermen take a braided line. And you will need it a lot. Whatever reel you choose, you'll need a large number of the line for the cast.
The heaviest braided line weighs 200 pounds. But the weight and length of the line depending on what you catch and where you catch. The minimum length you'll need is a 900-foot braid weighing 80-100 pounds. Relate the weight and length of the line to your needs and you'll have no problems.
Drag Power
Maximum drag is equally important. Proper drag adjustment is one of the most important parameters in a deep drop. If you drag too tight, you'll lose fish. With too weak too. You must carefully adjust the drag settings and set average comfortable values. Set between 40 and 80 pounds of drag, depending on your preference.
Gearing
Budget reels rarely have more than one gear and retrieve speed. To get better control, you need more reel speeds. High and low gear reels are what you need. Please remember that a separate speed adjustment is not the same as a gear. Speed adjustment is convenient when you need a way to apply more torque. But only low and high gear models are capable of this.
Line Counter
Of course, monitoring the depth is much easier when fishing on rivers and lakes. But when you reach 500-600 feet down or more, it's almost impossible to determine the depth of the eye. For this, you need a good line counter. It's also useful to find out how much distance is left to pull the fish to the surface. When you are tired but see that a couple of meters are left to the surface, this often motivates you to continue to fight the predator. A nice addition to the counter is the depth memory. This function allows you to pull the line to where it was last time. Some reels have jigging modes that move the bait for you. I've never been a fan of them because it's not very easy to move the bait deeper than 500 feet. But you can try this function if you have it on your electric reel.
Engine Power And Power Supply
Most electric reels are powered by a 12-volt battery. Less often from a 24-volt. Also, they have the ability to connect to an alternative power source (boat motor, battery, etc.) Many fishermen take a second battery with them in addition to the boat's power source, using clamps for fastening. In any case, make sure that you can provide power to the reel before taking it with you for fishing.
Mastering the Electric Reel: Tips and Tricks for Success
🐟Here are some instructions and tips for using electric fishing reels:
Familiarize yourself with the reel: Before using an electric fishing reel, it is important to read the manufacturer's instructions and become familiar with the various features of the reel. This will help you use the reel more effectively and avoid any potential damage.
Use the right line: When using an electric fishing reel, it is important to use the right type of fishing line. A braided line is a good option as it is stronger and thinner than a traditional monofilament line. This will allow the reel to operate more efficiently and reduce the risk of line tangles or breakage.
Pay attention to the battery: Most electric fishing reels run on batteries, so it is important to make sure the battery is fully charged before heading out on a fishing trip. You should also bring a spare battery or charger with you, just in case.
Practice with the reel: If you are new to using an electric fishing reel, it is a good idea to practice casting and reeling in with the reel before using it on a fishing trip. This will help you get a feel for the reel's operation and ensure that you are comfortable with it.
Adjust the drag: Electric fishing reels often have powerful motors, so it is important to adjust the drag to prevent the line from snapping. Start with a low drag setting and gradually increase it as needed.
Use the right speed: Electric fishing reels often have multiple speed settings, so it is important to use the right speed for the type of fishing you are doing. For example, you may want to use a slower speed when fishing in deeper water, while a faster speed may be more effective for trolling.
Practice safety: As with any type of fishing, it is important to practice safety when using an electric fishing reel. Always wear a life jacket, be aware of your surroundings, and never use the reel in water that is deeper than you can swim.
Electric vs. Manual Reel Debate: Which is Right for You?
When it comes to fishing reels, there is an ongoing debate between electric and manual reels. While both have their advantages and disadvantages, the choice ultimately depends on the individual's fishing needs and preferences. In this article, we will delve into the pros and cons of electric and manual reels, helping you make an informed decision about which type of reel is right for you.
Manual reels, also known as conventional reels, are operated by hand-cranking the spool to retrieve the fishing line. These reels are simple, easy to use, and require minimal maintenance. They are ideal for beginner anglers and those who prefer a traditional fishing experience. Manual reels also provide more control over the retrieval speed and allow for a more hands-on fishing experience.
On the other hand, electric reels are designed to make fishing easier and more efficient. These reels are powered by a motor that takes care of the spooling and line retrieval process, allowing anglers to focus on hooking and fighting the fish. Electric reels are ideal for those who target large and powerful fish species that require a lot of effort to reel in. They are also great for anglers with physical limitations, as the motorized operation of the reel reduces the strain on the hands and arms. However, electric reels are more expensive, require more maintenance, and may take away from the traditional fishing experience.
FAQ: Electric Reels for Every Angler
Conclusion: Unleash Your Fishing Potential

In conclusion, electric fishing reels can be a game-changer for anglers of all levels. They provide numerous benefits such as increased power, ease of use, and versatility. However, it's important to consider your own fishing style and needs before making a decision on whether an electric or manual reel is right for you. Both options have their own set of advantages and disadvantages.
Ultimately, whether you choose an electric or manual reel will depend on your personal preferences and budget. For those who prioritize convenience and power, electric reels may be the better choice. But for those who enjoy the traditional feel and hands-on experience of manual reels, sticking with them may be the way to go. Whatever your choice, always make sure to practice safe and responsible fishing practices.
If you are thinking about purchasing a fishing reel, I highly recommend looking at the electric ones. A good spinning reel costs about the same as an electric one. It's not necessary to fill all of your fishing equipment with electric reels, but it'll be useful to have one or two at hand. They can perform the same functions as conventional reels. If you can't provide it with food, then you can always use it manually.
But I don't think that you will argue that for deep-sea fishing an electric reel fits very well. A quality electric reel will last a very long time and does not require special care. Try to take one more or less budgetary electric reel first, and then think about whether you need this kind. And yes, don't forget about the features that you need to pay attention to. If this article helped you, then share it on social networks.
Tags: #electric fishing reels / #electric fishing reels reviews / #electric fishing reels for sale / #daiwa electric fishing reels / #electric fishing reels ebay /#best electric reels for bottom fishing / #best buy electric fishing reels used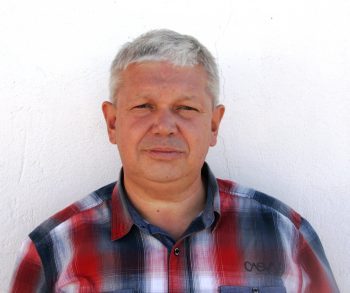 Sergio Smirnoff
Professional fisherman with 40+ years of experience.
Fishing and the ocean is a passion of my life. I am passionate about all kinds of sea fishing: fishing from the shore (spinning, float, baitcasting), from a boat, and spearfishing day and night.
I live in Tenerife (Canary Islands) for the last 10+ years and share my daily fishing experiences on my website. Many years of personal experience as a fisherman and the vast experience of my friends allow me to write professionally on any fishing topics (from choosing a flashlight and equipment to deep-sea fishing).
All of my advice is based on practical real-world experience and will be useful to both novice anglers and professionals.
Read more
about the author.
Affiliate Disclosure: FishReeler.com sometimes gets paid for listings, through sponsors or affiliate programs like Amazon, Ebay, Cabelas, Bass Pro Shop, Shimano, Daiwa, Rapala, Renn, Okuma, KastKing, etс. Clicking a link helps keep FishReeler.com free, at no extra cost to you!
About the author: Each article is verified by the fishing expert Sergio Smirnoff. The articles are written by professional and amateur fishermen with 20+ years of fishing experience.
Note: The views and opinions expressed in this article are those of the authors and do not necessarily reflect the official policy or position of any agency. The articles are for informational purposes only, share your opinions in the comments and join the fishing discussions, let's share our fishing experiences together!