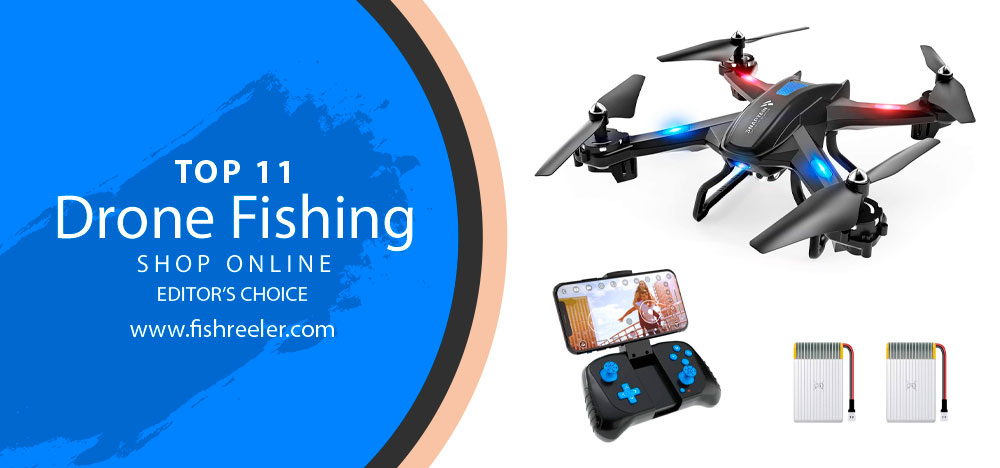 Drone Fishing – Top 11 Drones For Fishing Review & Buyer's Guide
The use of drones in fishing greatly simplifies the process of finding a place with a lot of fish. In this article, we've put together a complete guide to drone fishing for you, including a list of the 11 best drones for anglers.
We've personally tested and launched each model to provide you with an honest and balanced view of each unit. Of course, among them, we chose the best drone that we'll always take with us on fishing now – the Swell Pro Splash Drone 3+, which was specially created for professional fishing, unlike most drones that are afraid of water.
Here Our Top List 11 Best Fishing Drones – Beginners Guide to Drone Fishing – Editor's Choice
| Image | Product | Brand | Link |
| --- | --- | --- | --- |
| | DJI Mavic Air 2 - Drone Quadcopter UAV with 48MP Camera 4K Video 8K Hyperlapse 1/2" CMOS Sensor 3-Axis Gimbal 34min Flight Time ActiveTrack 3.0 Ocusync 2.0, Gray | DJI | |
| | DJI Mavic Mini - Drone FlyCam Quadcopter UAV with 2.7K Camera 3-Axis Gimbal GPS 30min Flight Time, less than 0.55lbs, Gray | DJI | |
| | Swellpro Splash Drone 3 Plus Waterproof Drone with Payload Release (to Drop Fishing Bait or Life Jacket): PL3 | SwellPRO | |
| | Holy Stone HS110D FPV RC Drone with 1080P HD Camera Live Video 120°Wide-Angle WiFi Quadcopter with Gravity Sensor, Voice Control, Gesture Control, Altitude Hold, Headless Mode, 3D Flip RTF 2 Batteries | Holy Stone | |
| | Ruko F11 Pro Drones with Camera for Adults 4K UHD Camera 60 Mins Flight Time with GPS Auto Return Home Brushless Motor-Black(with Carrying Case) | Ruko | |
| | 4DM1 GPS RC Drone with 4K Camera for adults ,FHD FPV Live Video Camera Quadcopter with Brushless Motor, Auto Return Home, Follow Me, 30 Minutes Flight Time, Waypoints,Circle Fly, with Carrycase | DRONEEYE | |
| | PowerEgg X Wizard 4K/60FPS Multi-Purpose Waterproof Drone for Flying and Landing in Inclement Weather & Water Sports Photography | PowerVision | |
| | Potensic T25 GPS Drone , FPV RC Drone with Camera 1080P HD WiFi Live Video, Dual GPS Return Home, Quadcopter with Adjustable Wide-Angle Camera- Follow Me, Altitude Hold, Long Control Range, White | Potensic | |
| | | | |
| | SANROCK U61W Drones with Camera for Kids Adult Beginner 720P HD & 2 Batteries, Mini Drone Toy Gift for Boy Girl WiFi FPV RC Quadcopter, Waypoints Fly, Headless Mode, Altitude Hold, Emergency Stop, RED | SANROCK | |
| | SIMREX X300C Mini Drone RC Quadcopter Foldable Altitude Hold Headless RTF 360 Degree FPV Video WiFi 720P HD Camera 6-Axis Gyro 4CH 2.4Ghz Remote Control Super Easy Fly for Training(White) | SIMREX | |
| | Cannon Offshore Line Release | Cannon | |
| | Scotty #1181 Mini Power Grip Plus Line Release, 18-Inch Leader w/ Cannonball Snap,Black,Small | Scotty | |
Let's get straight to the point and take a look at the 11 best drones for fishing. If you're a beginner and you don't understand how drones work in fishing – head down to the bottom of the article, there we have written a detailed guide for you!
1# DJI Mavic Air 2 Fishing Drone – Best Value For Money
Highlighted features:
4K 48MP Camera
3-Axis Gimbal
Flight Time 34 min
Foldable
Camera hold on the object function
Distance up to 6 miles
Drones aren't cheap devices, so if you don't want to spend a lot of money, but you want a drone with all the necessary features that won't break in a month or two, then the DJI Mavic Air 2 is the one for you. The drone has a fairly powerful camera capable of shooting in 4K resolution, so even at high altitudes, it's able to maintain a high-quality image. But stabilization is not the best here – often the image on your screen will shake.
The best part about this drone is that almost all smartphones, even the oldest ones, support it. The drone comes complete with spare wires, blades, and a charger. Actually, the drone comes with a rich package. The drone folds easily and when folded can easily fit into a small backpack or bag. The plastic from which the drone is made is hardened, so even if it falls from a great height, most likely it'll be able to continue working and important components won't be damaged. By the way, the average flight time for this model is about half an hour. This is a pretty high figure.
Overall, the DJI Mavic Air 2 is a mid-priced drone with a great camera, great flight times, and flexibility in supported devices.
2# DJI Mavic Mini Drone FlyCam – Best Compact Drone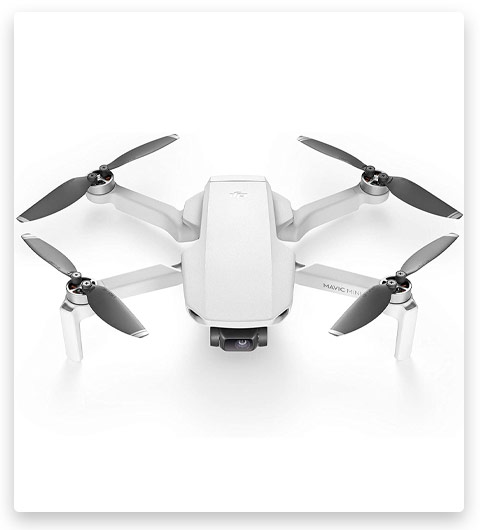 Highlighted features:
12 MP 2.7K Camera
Foldable
30 Min Flight Time
Weight 0.55 lbs
3-Axis Gimbal
For many anglers, the compactness of the drone is very important. This model is the most compact and lightest on the market. However, the DJI Mavic Mini has nearly the same specs as its big brother, the DJI Mavic Air 2. When folded, this drone will be the size of a brick and weigh just 0.55 pounds. The best part is that regardless of the laws of your state, you can fly this drone anywhere without a license because this drone is too small to be registered.
The drone has a good 12 MP camera and can shoot HD video at 2.7K resolution. Not 4K, but the picture is still pretty good. The flight time remained the same – half an hour, which is quite a lot in comparison with similar drones. And the supported devices haven't changed either, the drone app is suitable for almost any smartphone.
A very compact drone for a small price with a good camera and long flight time.
3# Swellpro Splash Drone 3+ – Best Drone Overall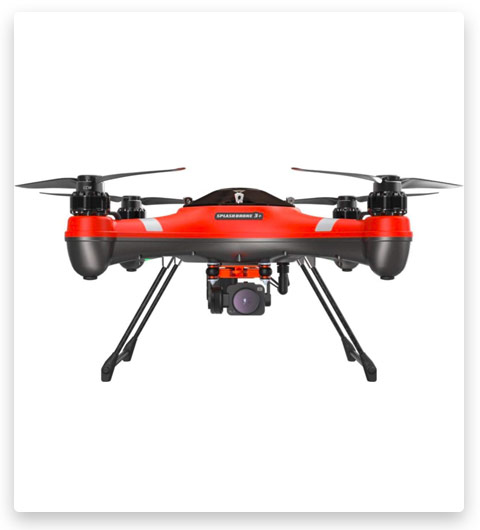 Highlighted features:
GPS Sensor
20 Min Flight Time
4K 60FPS Camera
5000 Ft Range
The Swellpro Splash is a drone specially designed for fishermen. The case is made of durable waterproof plastic. The entire structure of the drone is sealed, so you can don't be afraid that the drone will fly too close to the water or fall into it. Even saltwater isn't scary because the drone is corrosion-resistant.
The drone's camera can transmit 60 fps 4K video. Besides, for more accurate positioning, the drone is equipped with a GPS navigator with support for 24 satellites. Not many drones have this function. Unlike many other models, the image on your smartphone screen won't shake thanks to the excellent camera stabilization. The drone has quite powerful propellers, so they eat up the charge pretty quickly. However, the drone is capable of flying up to 20 minutes, which is a good indicator.
4# Holy Stone HS 110D Wide-Angle Drone – Best Budget Drone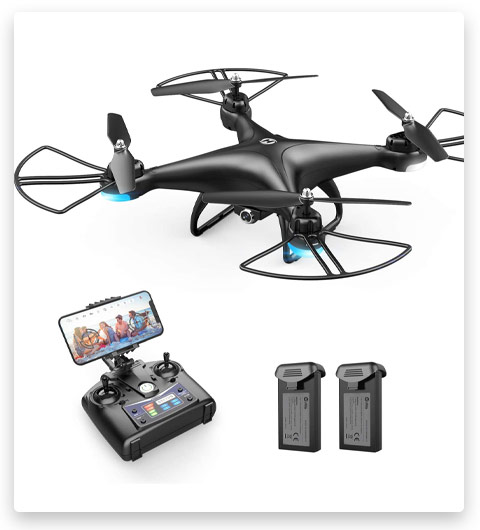 Highlighted features:
120° Camera Angle
1080P HD Camera
2 Batteries
Altitude Hold
Despite the very affordable price, the drone boasts not only a stylish design but also has several useful functions for fishing outings. You can control the device by phone app or even by your gestures. Even when you take your hands away from a joystick drone maintains in the air thanks to altitude hold. Such a model expands the reach of your cast and can drop the bait as well.
As it's quick and you can draw a route on the app, the drone will reach the best fishing spots in a few minutes. The limit for cast with this model is only the length of the line. With a high-resolution camera, you can capture fish points without losing quality. The drone is equipped with special guards, which protect it from accidents. The great benefit is that 2 batteries come in a set. Each of them can support a 20-minute flight. The charging time is two hours. Overall, the Holy Stone drone is perfect for fishing.
5# Ruko F11 Pro Drone GPS 4K Drone – Best Flight Time Drone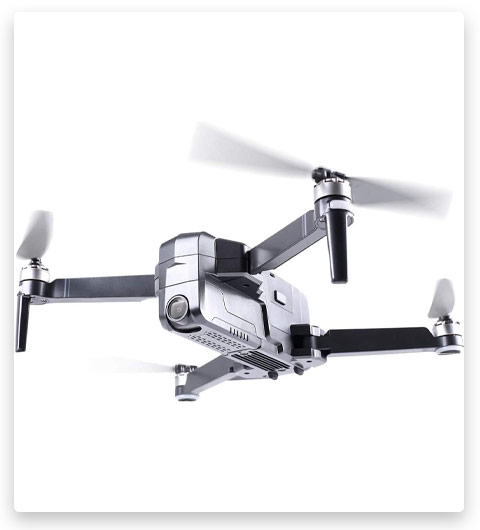 Highlighted features:
4K Ultra HD Camera
GPS Sensor
2 Batteries
Tap Fly
With this drone, you can enjoy advanced fishing. It's fast and can shoot videos and take photos with 500 meters of transmission. It's not afraid of wind and bad weather, due to a high level of resistance. And even if something unexpected happens, then in the app you'll see exactly where your drone is. So you can go fishing with a drone even when it's windy. The flight time is 30 min, but can be up to an hour since there are two batteries. It takes 3,5 hours to fully charge the battery. The drone's camera rotates at 90 degrees, so the entire water surface is visible at a glance. The drone comes with a neat compact case where all the accessories are stored, so it's very convenient to transport it.
6# 4DRC M1 GPS Foldable 5G Transmission Drone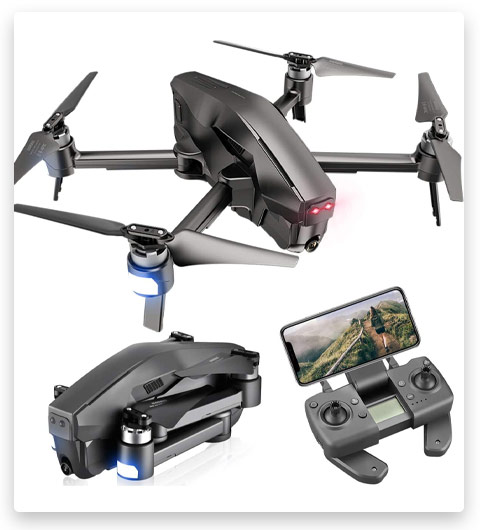 This miniature foldable drone can greatly improve the quality of your fishing. It can fly 1600m in length and fly up in height to 200 meters. Choose any route in the phone app and send the drone to a place where you think there can be a lot of fish. You can send it in front of the boat or wait for it on the shore. In any case, as soon as the battery charge is low or the signal disappears the drone will automatically return to you.
It's also convenient that you can go fishing with it even at night since it has backlighting and the high quality of video and photos will be remaining. It takes 7.5 hours to charge the battery fully and after you can use it for half an hour. Such a drone is perfect for beginners as it is easy to control and adjust it.
7# PowerVision SyncVoice Waterproof Drone With Water-Landing Floats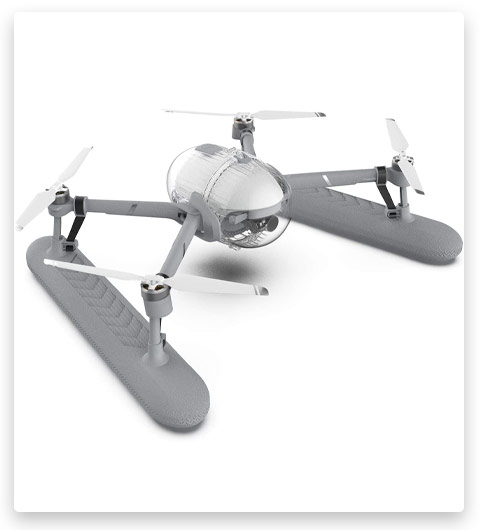 In all honesty, this drone can be used for fishing even in heavy rain or snow, because of a special waterproof coating. Plus, it has special water-landing floats thanks to which it's capable of standing on the water. The quality of video and photos is very professional, and if you shoot a video from a distance, you can add sounds from your phone at the same time. This option is very convenient for anglers who have their own blog about fishing and want to make cool live videos. This drone is a multi-functional device, that can also be used as an autonomous personal camera. It comes with: light case, charger, 2 batteries and 3 spare pairs of propellers.
8# Potensic T25 GPS Drone With Adjustable Camera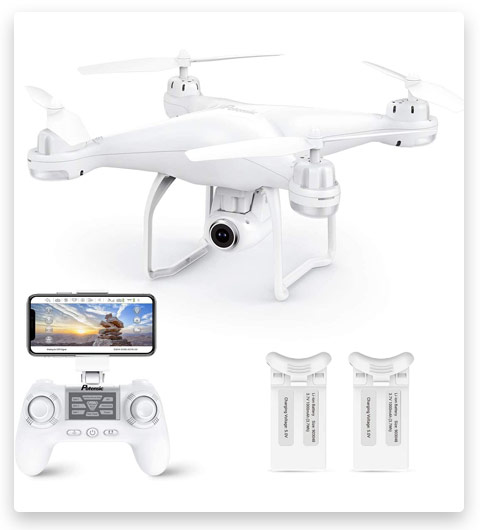 This is a great option for those who are just getting started with drone fishing. It's very easy to operate. This drone can fly high enough up to 300 m. It has fall protection and Follow Me, Altitude Hold, and Return home modes so you don't have to worry about getting it lost or constantly control where it is. The camera is good enough your pictures and videos will have high resolution and transmitting real-time Wi-Fi. It should be noted that this drone takes a long time to charge and may not be suitable for those who plan to use it extensively for a long time.
9# Snaptain S5C Wi-Fi FPV Drone With Altitude Hold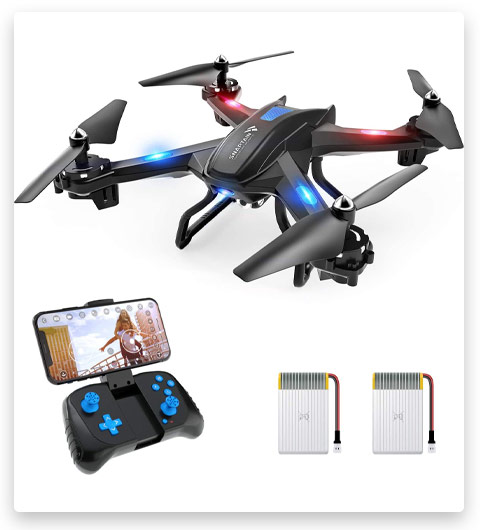 This drone is reliable, has a long flight time, a good camera, and a fancy look. The corners of the propellers are protected by special guards, so even if collisions occur, they won't damage hardly this drone. One more key feature of the drone is altitude control. So without any risk drone will locate the best spots to catch fish. If you turn the phone horizontally or vertically the position of the drone changes too. High-quality videos are saved automatically to the micro SD card. Moreover, it's also easy and convenient to transfer settings to other gadgets or display in social media. To take off or to land it you need just to press one button. The drone is easy to use and has an Altitude hold, smart voice, and gesture control.
10# Sanrock U61W Drone 720P FPV Camera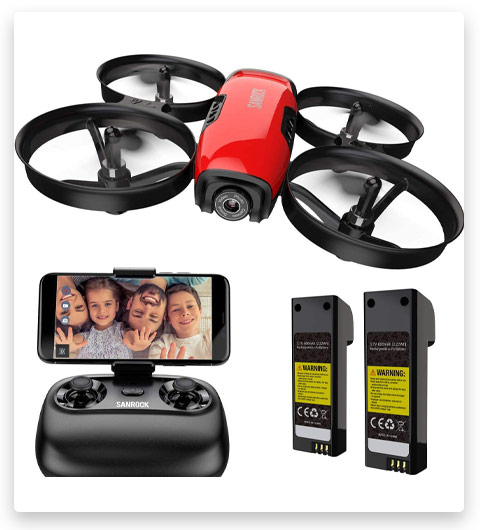 For a very affordable price, you can purchase a drone that has all modern modes. With it, your fishing can turn into an exciting adventure. You'll not only return with a catch but also enjoy the views that were unattainable without a drone.
The drone has an average flight time – 12 minutes, it comes with a special fast charger. If the signal weakens, you'll hear sounds letting you know that it's time to get down the drone. There's also an emergency landing function. The drone also has propellers with enhanced protection, which increases its practicality. It's cool that the camera rotates 90 degrees, which allows you to inspect the area around without making difficult maneuvers.
11# Simrex X300C Mini 360° Foldable Drone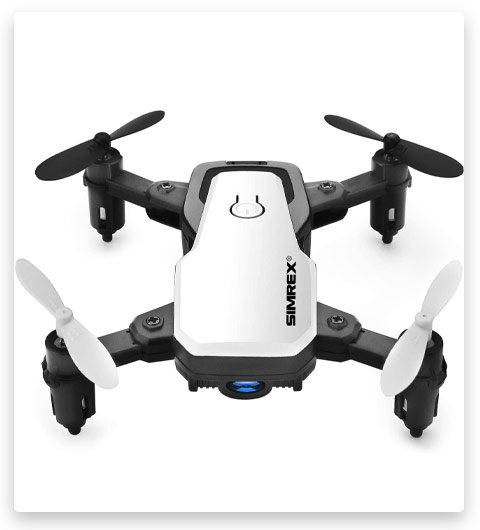 Super practical mini drone, which after using folds up and can be stored in a small compartment of a bag. The most important advantage over other drones is very fast charging within an hour. You can take a power bank with you, fly the drone, find a good place with fish, and put it on the charge. As long as you sail and fish, the drone will be ready to launch again.
The flight time is up to 10 minutes at a maximum distance of up to 45 meters. It can be controlled both from the phone and from the control panel. The drone has three different speed modes, which makes it more convenient to operate. The model comes with a phone holder, 4 propellers, and 4 protective frames for them, a control panel, and USB charging. And last but not least is that the camera rotates on 110 degrees, this feature extremely expands your skills.
What Additional Tools Do I Need For Drone Fishing?
If you're going to use the drone not only for scouting and finding the best fishing spots but also for casting the line further than your fishing rod allows, then you may need another attachment – a release clip for a drone.
#1 Cannon Offshore Line Release Clip For Drones
A great and cheap model that comes straight with a clip and metal bracket for attaching the line to the drone. The clothespin is not just made of plastic but has a spring inside. This allows you to grip the line firmly enough to be sure the drone will fly with the bait to the cast position. The pads of the clothespin are made of non-slip rubber-like material to keep the line from slipping. We can't say anything special about the metal mounts for the drone. This is just a regular aluminum mount that attaches to the drone.
#2 Scotty Mini Power Release Clip For Drones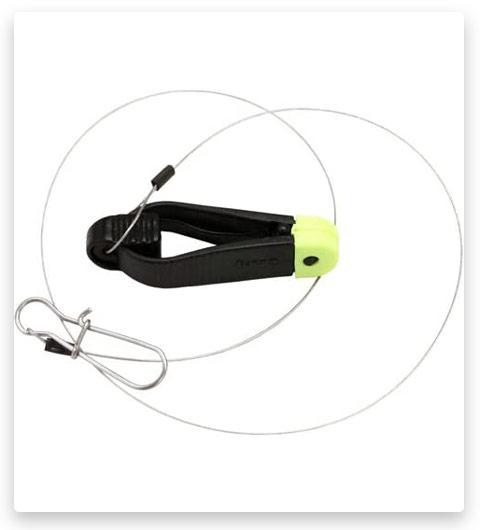 In this model, the drone mount is already slightly stronger. It looks like the same aluminum wire, here it is a little stronger and almost does not bend. Although the clip doesn't have a spring, it provides a strong grip on the fishing line, which is why it is still another great option to rig your drone.
How To Rig A Drone For Fishing
It is important to properly attach the line to the drone in order to cast it as far as you want. Otherwise, your line will simply not reach the right place, or even worse if you lose the bait.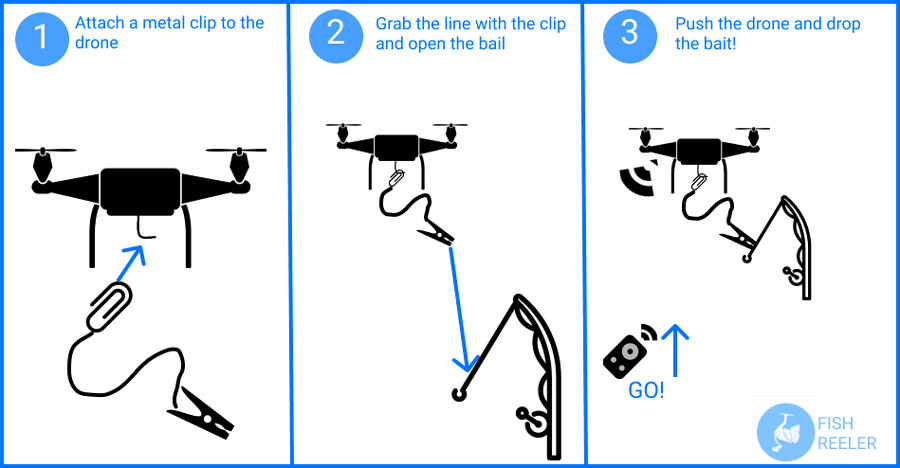 All you need to do is attach the metal holder connected to the clip to the hook on the drone, and with the clothespin grab your bait line. After grabbing the line with the bait, open the bail on the rod and launch the drone where you want to throw the bait. As soon as the drone reaches the needed location, you need to drop the line, and here, the methods may be different, depending on which trigger is installed on your drone.
Drone Release Devices:
Homemade release. Usually, fishermen don't bother if the drone doesn't have a line attachment and just attach a hook or similar curved structure to it. Usually, such a device is placed on the chassis or drone legs approximately in the middle so that there are no problems with weight distribution. Never install the release on the drone camera or screws, it may cause breakage. To drop the line in this device, you just need to turn the drone 180° and the line itself will fall into the water.
Improved homemade tension release. This device takes a little more skill and drops the line as soon as you lock the bracket on your rod.
Remote release. These are devices that connect to the drone and release the line when a function is activated on the controller. For example, Going Home or Turning Out the Lights.
Tension release. These devices are mostly made by third parties and throw the line as soon as you lock the bracket on your rod.
Here's a helpful drone fishing video on how to rig your drone properly for fishing:
Best Fishing Drones – A Beginners Guide To Drone Fishing
In this section, we'll explain what drone fishing is, how to get the most out of your drone, what to look for when choosing a drone, and answer your most frequently asked questions. Stay tuned and after reading this section, you'll become an expert in drone fishing.
What's Drone Fishing?
Drone fishing has only recently gained popularity. As soon as various drones and quadcopters became available to ordinary fishermen and the use of drones became widespread. In fishing, drones with cameras and remote control are used to find places rich in fish faster. Besides, it can throw bait in a place where there's a lot of fish so that it stays until you get there. The second way to use drones in fishing is by dropping the line. The drone can drop your line much further than any of your rods can.
Why Are Drones So Effective?
How often did it happen that you were planning a fishing trip to someplace in the sea all day, and the fish ended up in a completely different place and you wasted a lot of time?
So, drones give you the opportunity to explore the entire surface of the water in a short time and find the best places full of fish. Also, it can lower the bait into the water and hold the fish for you so that it doesn't definitely run away to another place. A drone with a good camera and navigation maximizes your chances of successful fishing.
We also recommend that you check the weather and ebb/flow before fishing. That'll shorten the search time even further. Drones also drop line much more efficiently than any rod. Plus, they're less noticeable than the boat and the fish doesn't swim away when the drone approaches.
Is the Use of Drones Legal?
Since drones are a relatively new technology, laws regarding drones vary greatly from region to region. Therefore, we recommend that you check the laws of your state before equipping your drone for fishing:
But in most states, drone fishing is legal. IGFA (International Game Fish Association) considers the drone to be just a means of scouting, so its use is legal. An important feature is that as long as you attach the line to the drone with a release clip, it's considered legal. If you were fishing with a drone and pulling fish out of the water, this is already considered illegal, since you get an unfair advantage.
But there are some places in the US and Canada where the use of drones is considered illegal on land, in rivers, and lakes. For example, Texas. Although these laws apply to drone use in general, not just fishing.
But there's an option in which you can fish even despite the laws. This is if you buy a drone, which, due to its too small size, isn't officially recognized by law as a flying device. So you don't even need a license for it. For example, one of these drones is the DJI Mavic Mini, which has become popular because it can be used in any state without consequences.
Preparing Drones For Fishing
You can use drones in fishing in very different ways. This is the same as choosing which style to play on regular fishing. Personally, we use drones to find good spots and keep fish until we get there ourselves. You can use them in a completely different way, for example, as casting assistants.
What To Look In The Good Drone For Fishing?
It's important to pay attention to several parameters when choosing a drone. Fortunately, there are not many of them, so you can easily remember them:
The very first thing to look for when choosing a drone is the camera. It'll be useful to you regardless of how you fish with it. It'll always be helpful to get a good image on your smartphone. The camera on a quadcopter has basically two parameters – image resolution and frames per second. Moreover, the parameters may be different for photography and video filming, it's better to pay attention to the video.
Between a higher resolution and a higher number of frames per second, it's better to choose a higher resolution. Because in drone fishing, image smoothness is not as important as image quality. And a drone with 4K/24FPS parameters will outperform a drone with 1080P/120FPS parameters when fishing.
You won't have such a smooth picture, but it'll be of very high quality. You'll always have a good view of how you cast the line and the water surface will be better displayed from a great height.
Battery capacity. The battery capacity determines how long your drone can fly. Medium batteries allow the drone to operate for 15-20 minutes. Weak – about 10-12 minutes. More than 20 minutes of flight are drones with powerful batteries.
Keep in mind that the drone may come with two batteries, which double its operating time. Pay attention to the time it takes for the battery to recharge. Average rates are 3-4 hours, 7 or 8 hours is already a long time.
Carrying capacity. This is an important parameter if you want to dump the line with your drone. Cheap drones with a small payload are unlikely to throw a heavy jig. Therefore, always choose a drone with a payload that'll easily carry and drop your bait wherever you need it.
Transmission distance. This parameter determines how far you can actually launch the drone. If the drone launch distance is 1000-1500 feet, then you are unlikely to be able to scout the reservoir well or throw far enough. Drones with a working range of 3-4 thousand feet are good workhorses, but the best models can fly 5-6 thousand feet.
FAQ About Drones – Drone Fishing FAQ
In this section, we'll close the last gaps in drone fishing and answer all your questions about drone fishing. If you didn't find your question here, feel free to ask it in the comments.
Final Words
It's time to take stock and choose the best drone for fishing. It may not be the best drone on the market, but it's definitely good at fishing. For the fisherman, it'll be a great helper, and compared to similar drones, this one really sits at the top of the list. So, the best drone is Swellpro Splash Drone 3+. Why this particular model? This drone can handle almost anything.
It didn't break when the water hit it, it didn't have to be turned back in wind or rain, unlike other drones. We could fly as close to the water as possible and shoot what is in the depths. We weren't worried about it sinking or losing signal thanks to its huge transmission distance and low-charge return-to-home function.
This drone guarantees you peace of mind, you don't have to worry about the fact that the thing on which you spent so much money accidentally breaks or drowns. It's very difficult to find a drone with a good camera and batteries and that is waterproof. Fortunately, the Swellpro Splash Drone 3+ meets all of these criteria.
But apart from this model, we have included quite a few drones on our list that aren't inferior to our winner. And in some ways even better than him. Therefore, every fisherman will be able to choose a drone for himself. We hope you found our article and guide helpful. Tell your friends about drone fishing and share our material with them! Have a nice fishing!
Tags: #best drone for fishing / #best drone for offshore fishing / #best fishing drone / #best drone for capturing fishing videos / #best drone for kayak fishing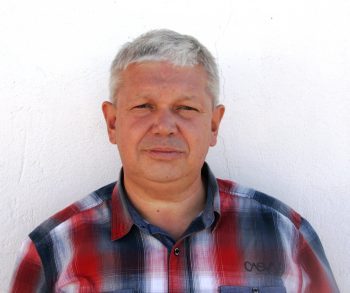 Sergio Smirnoff
Professional fisherman with 40+ years of experience.
Fishing and the ocean is a passion of my life. I am passionate about all kinds of sea fishing: fishing from the shore (spinning, float, baitcasting), from a boat, and spearfishing day and night.
I live in Tenerife (Canary Islands) for the last 10+ years and share my daily fishing experiences on my website. Many years of personal experience as a fisherman and the vast experience of my friends allow me to write professionally on any fishing topics (from choosing a flashlight and equipment to deep-sea fishing).
All of my advice is based on practical real-world experience and will be useful to both novice anglers and professionals.
Read more
about the author.
Affiliate Disclosure: FishReeler.com sometimes gets paid for listings, through sponsors or affiliate programs like Amazon, Ebay, Cabelas, Bass Pro Shop, Shimano, Daiwa, Rapala, Renn, Okuma, KastKing, etс. Clicking a link helps keep FishReeler.com free, at no extra cost to you!
About the author: Each article is verified by the fishing expert Sergio Smirnoff. The articles are written by professional and amateur fishermen with 20+ years of fishing experience.
Note: The views and opinions expressed in this article are those of the authors and do not necessarily reflect the official policy or position of any agency. The articles are for informational purposes only, share your opinions in the comments and join the fishing discussions, let's share our fishing experiences together!