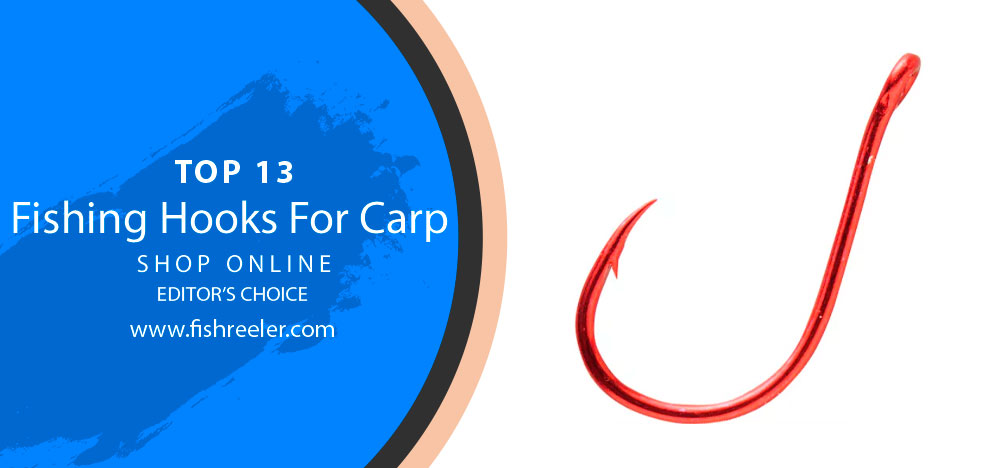 Mastering Carp Fishing: Unveiling the Best Hooks for Success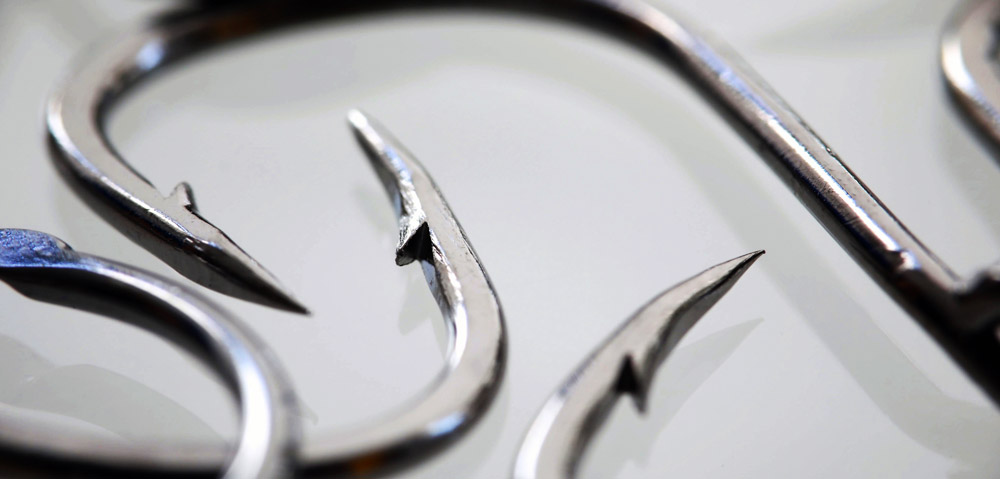 🎣 Welcome to the Exciting World of Carp Fishing! 🐟
Carp fishing has taken the angling world by storm, growing rapidly in popularity. First of all, it is necessary to have a special rod and a suitable reel for fishing carp. As one of the most challenging yet rewarding forms of fishing, it captivates beginners and seasoned anglers alike. It's not just the thrill of the catch that draws in enthusiasts; carp fishing offers an immersive experience connecting people with the calm of nature, the strategic game of patient waiting, and the explosive excitement when the rod finally bends.
🔑 The Unsung Hero: Choosing the Right Fishing Hook 🎣
At the heart of this captivating activity lies a vital, yet often overlooked tool – the humble fishing hook. An angler's choice of hook can mean the difference between a day full of thrilling catches or a frustrating session of missed opportunities. It's about more than just securing the fish; the right hook contributes to ethical fishing practices, ensuring the carp's safety and survival after catch and release.
Choosing the right fishing hook is a science in itself, involving the careful consideration of factors like hook size, type, and the bait being used. This might seem daunting at first, but don't worry! We're here to guide you through this essential aspect of your carp fishing journey. Whether you're just starting out or looking to refine your approach, understanding the significance of the fishing hook will put you on the path to becoming a true carp fishing master. 🎣🐟🏆
🔎 Carp Characteristics: Understanding Our Aquatic Adversary 🐟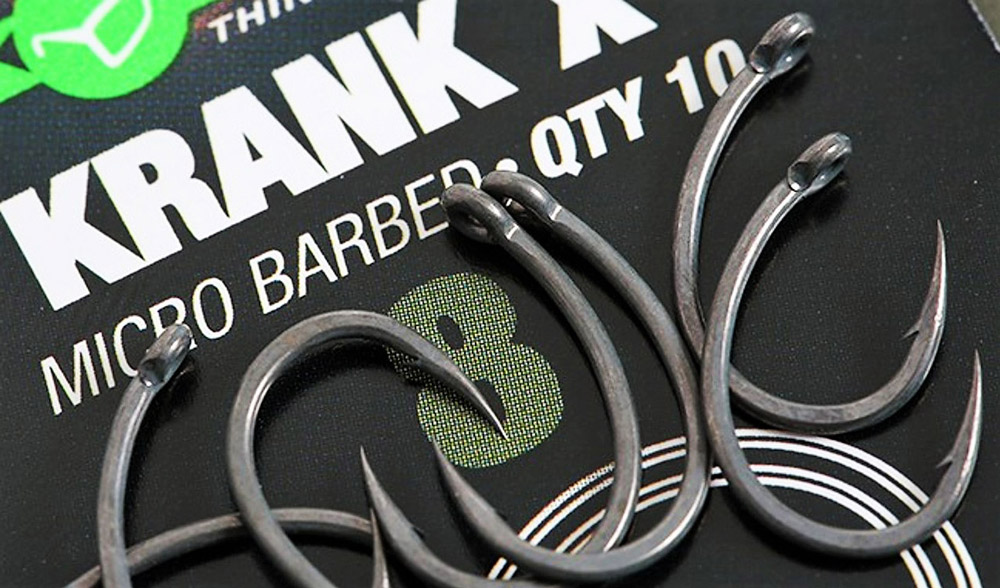 Carp, the common name for fish in the Cyprinidae family, are renowned for their resilience, adaptability, and strength. These freshwater dwellers are found in waters across the globe, displaying an incredible range of sizes and behaviors depending on their specific species and habitat.
Let's look at some distinct carp characteristics:
Size and Weight: Carp can grow quite large, with some specimens reaching up to 40 inches in length and weighing over 60 pounds. The size of your adversary is a key factor in hook selection.
Feeding Habits: Carps are omnivorous bottom-feeders. They use their barbels (whisker-like sensory organs near the mouth) to sift through sediment for food, which can include plants, insects, and small aquatic creatures.
Strength and Stamina: Known for their spirited fight when hooked, carp have strong, muscular bodies that can test the limits of your fishing gear.
Intelligence: Carp are surprisingly intelligent. They can associate danger with certain types of bait and hooks, making them increasingly difficult to catch over time.
🚧 The Challenges in Carp Fishing: Hooking the Big One 🎣
The unique characteristics of carp pose a thrilling challenge for anglers. Their size and strength demand sturdy and reliable equipment, while their feeding habits and intelligence require strategic bait and hook selection.
The role of the fishing hook cannot be overstated in this game of cunning and patience. An inappropriate hook can make your bait look less tempting, be easily detected, or worse, harm the fish during catch and release. The wrong size or shape can even cost you the fight, leading to lost catches.
Understanding the different types of hooks, their designs, and appropriate use cases are essential for overcoming the challenges of carp fishing. With the right hook, you can increase your chances of success and experience the satisfaction of a well-earned catch, all while maintaining ethical angling practices. 🐟🏆🎣
In the next section, we'll dive into the fascinating world of fishing hooks to help you master the art of carp angling.
🎦Video YouTube: 5 Carp Hook MYTHS Debunked 💯
Best Fishing Hooks For Carp Review
Whether you're a beginner or an experienced fisherman, finding the best fishing hooks for carp can be a daunting task. With all of the different types and brands available, it's hard to know which ones will work best for you. In this blog post, we'll share our top-rated fishing hooks for carp, as well as some tips on how to use them. We'll also provide a few recommendations for where to buy them. So, whether you're looking to catch your next big one or just want to improve your skills, read on!
1# Gamakatsu G Carp Specialist R Hooks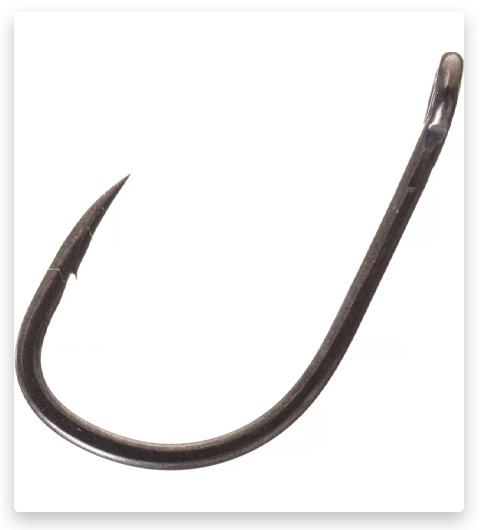 Looking for a hook that can stand up to hard-fighting carp? Look no further than Gamakatsu G Carp Specialist R Hooks. These hooks are made from flat-forged standard wire and feature Nano Smooth Coat technology for quick penetration and better hookups. The unique curved shanks and 15Á eye turn provide maximum holding power during the fight, by keeping the micro barbed hook point angled just enough to take away the fish's leverage. So next time you're targeting carp, make sure you're using Gamakatsu G Carp Specialist R Hooks for the best results.
2# Eagle Claw Lazer Sharp Kahle Up Eye Hooks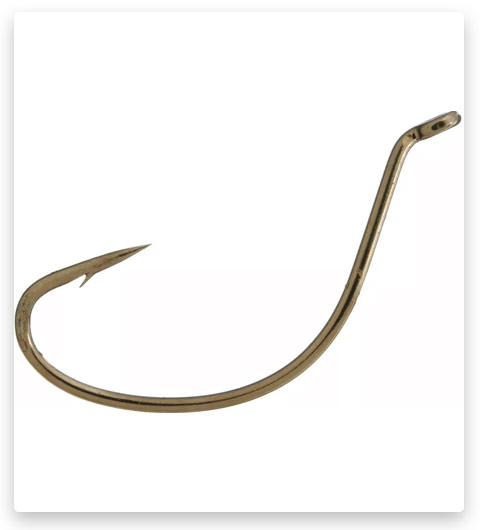 The Eagle Claw Lazer Sharp Kahle Up Eye Hooks are perfect for rigging live bait in both freshwater and saltwater application. The offset point and Lazer Sharp needlepoint make the hooks very effective, while the plain shank with an up eye ensures easy rigging. These hooks are sure to help you land a big one!
3# VMC TechSet Siwash Open-Eye Hook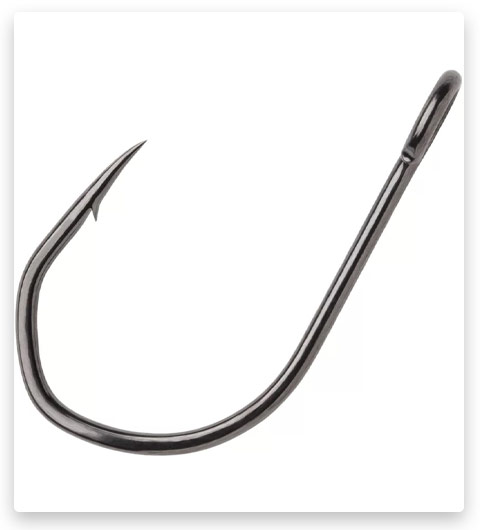 The VMC TechSet Siwash Open-Eye Hook provides optimal hook penetration and fish security when fighting big bass. The Technical Locking Curve design locks the fish in place, while the forged high-carbon steel construction ensures a durable and long-lasting product. With its large open eye, this hook is perfect for spoons and crankbaits without split rings.
4# VMC Octopus Hooks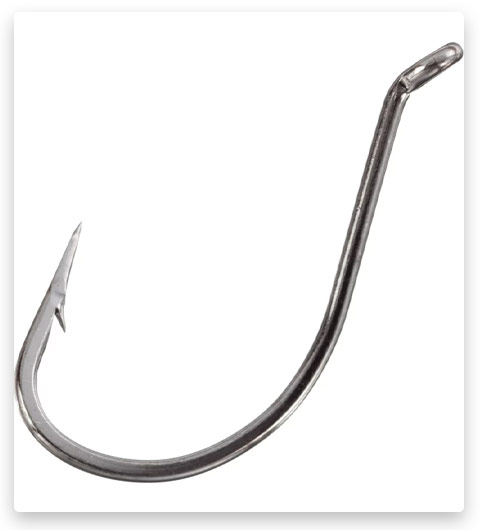 VMC Octopus Hooks are professional-grade hooks that are incredibly strong and resistant to opening. Their forged Hi Carbon steel construction makes them durable, while the Cut Point ensures a super-sharp hook.
5# Bass Pro Shops XPS Dropshot Hooks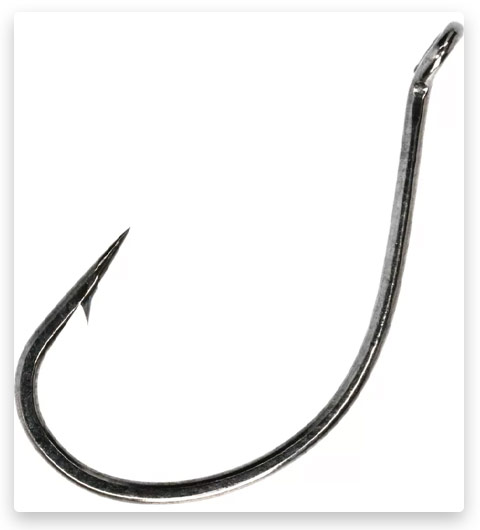 Rig up a suspended drop shot presentation with the Bass Pro Shops XPS Dropshot Hooks. These hooks are made with top-quality high-carbon steel and deliver incredible strength, while the chemically sharpened needle point easily slices through lips.
6# Berkley Fusion19 Drop Shot Hooks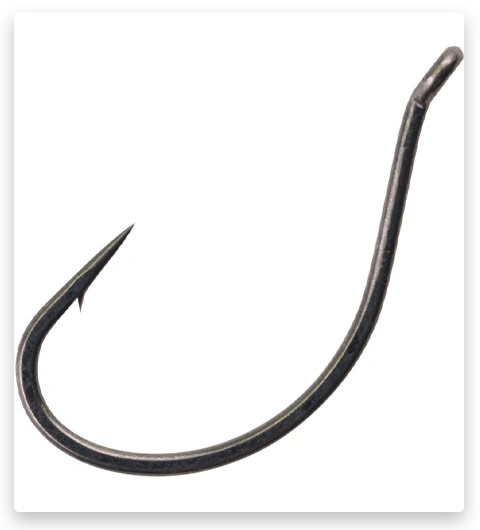 When you need to make a precision presentation with your drop shot rig, reach for a set of Berkley Fusion19 Drop Shot Hooks. Featuring a slickest coating and needlepoint, these hooks make it easy to penetrate the fish's mouth, while the stamped bend ensures that the hook will hold up under pressure. With their versatile design, these hooks can be used in a variety of situations, making them ideal for targeting all sorts of gamefish.
7# Team Catfish JACKHAMMER Bait Hooks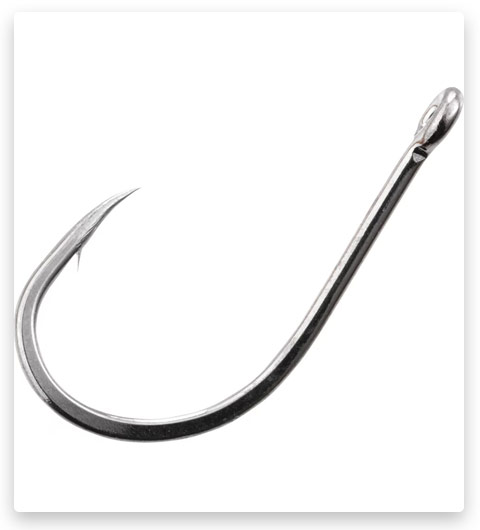 Looking for a versatile bait hook that can do it all? Look no further than the Team Catfish® JACKHAMMER Bait Hook! This hook is specially designed to let you set the bait in any way you want, making it perfect for both live and cut bait. Plus, its forged construction ensures maximum durability and long life. finished with black nickel, this hook looks great too!
8# Owner Mosquito Hooks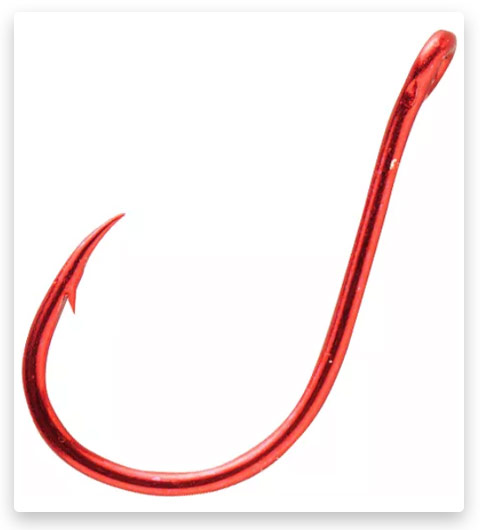 When it comes to fishing, there's nothing more annoying than being bitten by mosquitoes. But with Owner Mosquito Hooks, you can rest easy knowing that you won't have to worry about those pesky insects anymore. These hooks are perfect for rigging small live baits, nose-hooking soft plastics, and wacky wormin', and they're fast becoming a favourite for anglers using down shot techniques for bass, walleye, and panfish. The self-setting Mosquito Hooks also excel in windy conditions and turbulent water where it's difficult to keep a tight line. Featuring a black chrome finish and fine-wire forged shank with offset Super needlepoint, these hooks are sure to make your next fishing great!
9# Gamakatsu Circle Octopus Hooks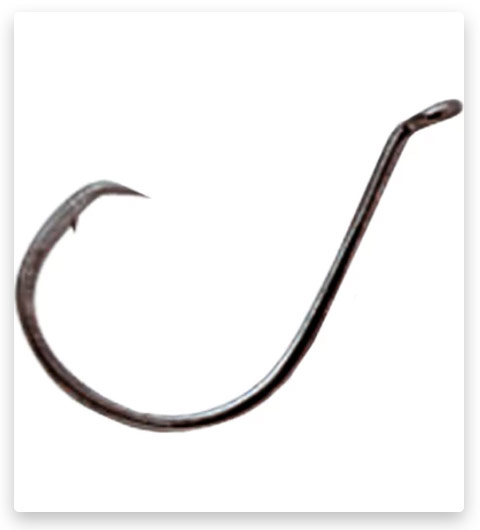 Gamakatsu Circle Octopus Hooks are the perfect choice for live bait fishing. They're forged from high carbon steel and tempered to create a hook of superior strength, durability, and quality. Conically honed needle points are unbelievably sharp right out of the package and stay sharp for a very, very long time.
10# VMC Ike Wacky Hook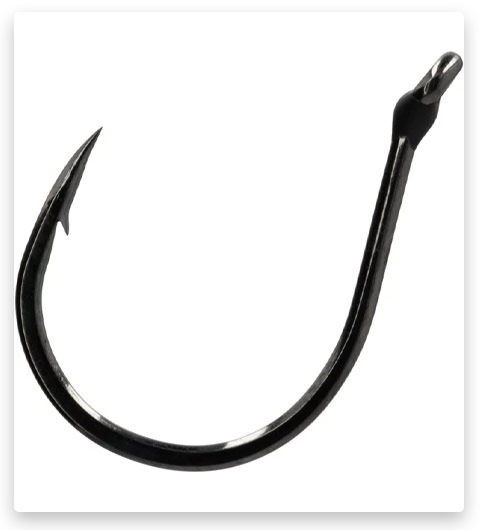 Deliver the perfect presentation every time with VMC's Ike Wacky Hook. Designed in conjunction with fishing legend Mike "Ike" Iaconelli, this hook is perfect for finesse fishing techniques. Its super-strong, thin design allows for a slow, natural descent of soft baits, while its wide gap and 3° offset ensure positive hookups.
11# Gamakatsu Inline Octopus Circle Hooks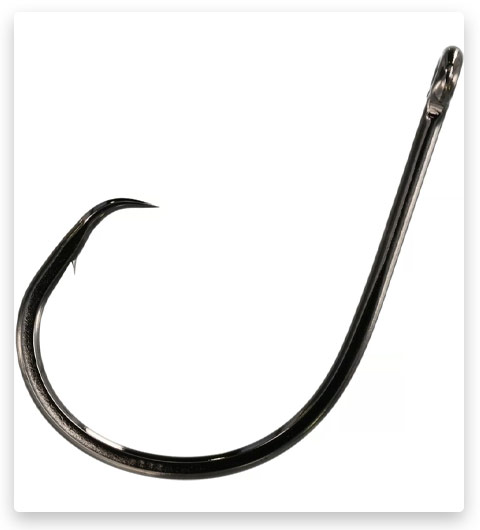 Gamakatsu® Inline Circle Octopus Hooks are the perfect choice for live bait fishing in both fresh- and saltwater. These hooks are forged from high-carbon steel and tempered to create a hook of superior strength, durability, and quality. Conically honed needle points are unbelievably sharp right out of the package and stay sharp for a long time.
12# Gamakatsu Finesse Wide Gap Hooks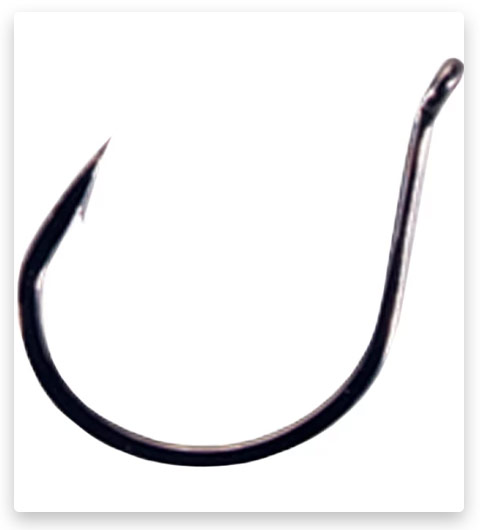 Gamakatsu Finesse Wide Gap Hooks are perfect for many styles of bass finesse rigs, as well as free drifting for salmon and steelhead. Featuring strong high-carbon steel construction and a corrosion-resistant finish, these hooks are built to handle whatever you can throw at them.
13# Eagle Claw 080F Plain Shank Baitholder Hooks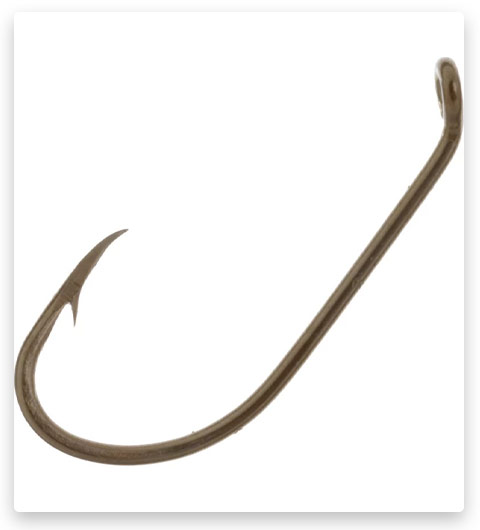 The Eagle Claw 080F Plain Shank Baitholder Hooks are perfect for anglers who demand the best in terms of strength, design, and performance. These hooks are made with ultra-sharp points and consistent construction, making them ideal for a wide variety of fishing applications. The plain shank, down-eye design, and offset construction make these hooks incredibly versatile, while the bronze finish gives them an added touch of style. Whether you're targeting bass, trout, or any other fish species, the Eagle Claw 080F Plain Shank Baitholder Hooks are sure to help you land more fish.
🔍 Hooked on Hooks: Decoding the Basics 🎣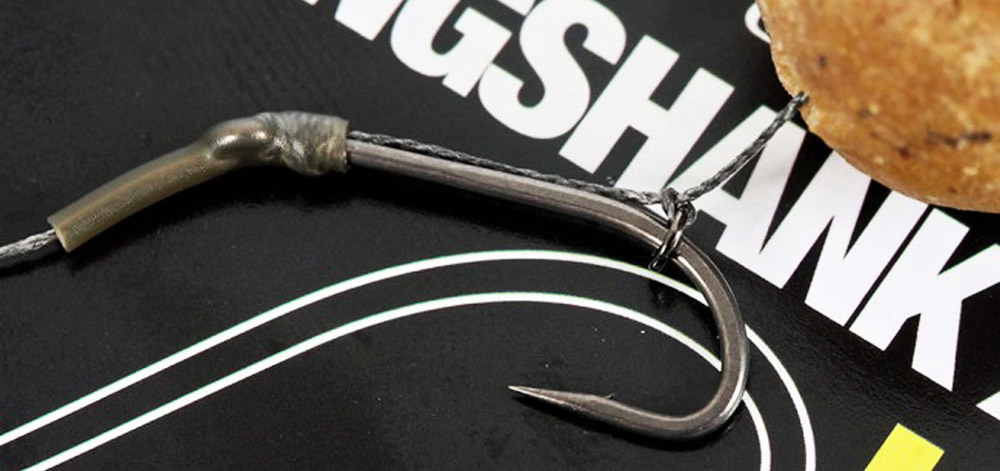 Fishing hooks may appear simple at a glance, but they embody a range of designs tailored to different fishing situations. With an array of types, sizes, and shapes, finding the perfect hook might feel overwhelming. Don't worry, let's break it down:
J-Hooks: Named for their shape, J-hooks are the most traditional type. They're versatile, but careful hook-setting is needed to ensure a secure catch.
Circle Hooks: With a design that circles back towards the shank, these hooks are ideal for catch and release since they usually hook fish in the corner of the mouth, reducing injury.
Treble Hooks: Comprising three J-hooks branching from a single shank, these are often used with lures but are not typically used in carp fishing due to potential harm to the fish.
Carp-Specific Hooks: Many brands now design hooks specifically for carp fishing, considering their feeding habits and mouth structure. Examples include the wide gap, curve shank, and chod hooks.
⚙️ Understanding Hook Function: More Than Meets the Eye 🐟
Now, let's delve into the function of fishing hooks. The purpose of a fishing hook extends beyond simply catching a fish. It also plays a key role in presenting your bait naturally and ensuring the fish stays hooked during the fight. Here's how:
Hooking the Fish: The point and barb of the hook are designed to penetrate the fish's mouth and prevent it from detaching. This requires the angler to "set the hook" by swiftly pulling when a bite is detected.
Bait Presentation: The shape and size of the hook can significantly affect how your bait appears to the carp. A properly chosen hook will make your bait appear natural and enticing.
Keeping the Fish On: Once a fish is hooked, the hook's shape and strength, combined with the angler's skill, help ensure the fish doesn't escape during the ensuing struggle.
Remember, the art of angling isn't just about casting and waiting; it's a strategic game that starts with understanding and choosing your tools wisely. As we explore further, you'll learn how the right hook can be your secret weapon for success in carp fishing. 🎣🐟🥇
🏆 Hooked on Success: The Impact of Your Hook Choice 🎣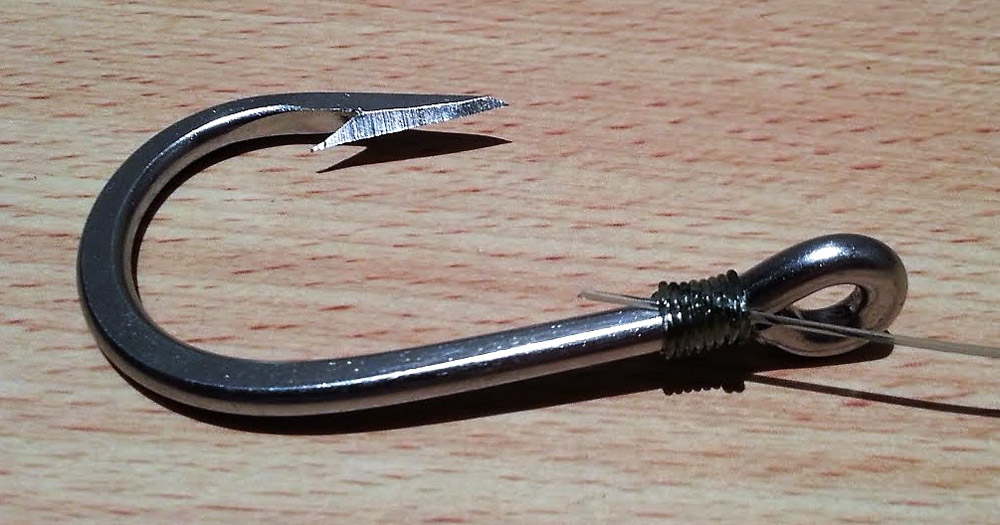 Your hook is not just a tool, it's the linchpin of your carp fishing strategy. The right hook can dramatically improve your success rate by influencing the carp's perception of your bait and your ability to secure the fish once it bites. Here's how:
Bait Presentation: The size, shape, and color of your hook all affect how natural and tempting your bait appears to carp. A less visible and appropriately sized hook can make your bait more appealing.
Hooking the Fish: Different hooks are designed to catch in specific ways. For instance, circle hooks are designed to hook in the corner of the fish's mouth, reducing the chance of gut hooking.
Retaining the Fish: A strong, well-designed hook can better withstand a carp's powerful fight, reducing the chance of the hook bending or the fish unhooking.
🌎 Hooking Right: The Balance Between Angling and Conservation 🐟
While fishing is a cherished pastime for many, it's vital that we enjoy it responsibly. The wrong hook can harm fish and affect conservation efforts in several ways:
Injury to Fish: Some hooks can cause severe injuries to fish, especially if swallowed deeply or if they are too large for the fish's mouth.
Mortality Rates: Incorrectly hooked fish have higher post-release mortality rates. Certain hook designs, such as circle hooks, can reduce this risk by encouraging corner-of-the-mouth hooking.
Long-term Impact: Repeated injury and stress can affect a fish's ability to feed and reproduce, impacting overall population health.
Choosing the right hook is, therefore, a critical part of ethical angling. Not only does it increase your chances of a successful catch, but it also helps preserve the joy of carp fishing for future generations. Together, we can ensure a sustainable and enjoyable fishing experience for all! 🌳🎣🐟
🔍 Exploring Carp Hooks: The Right Fit for Every Situation 🎣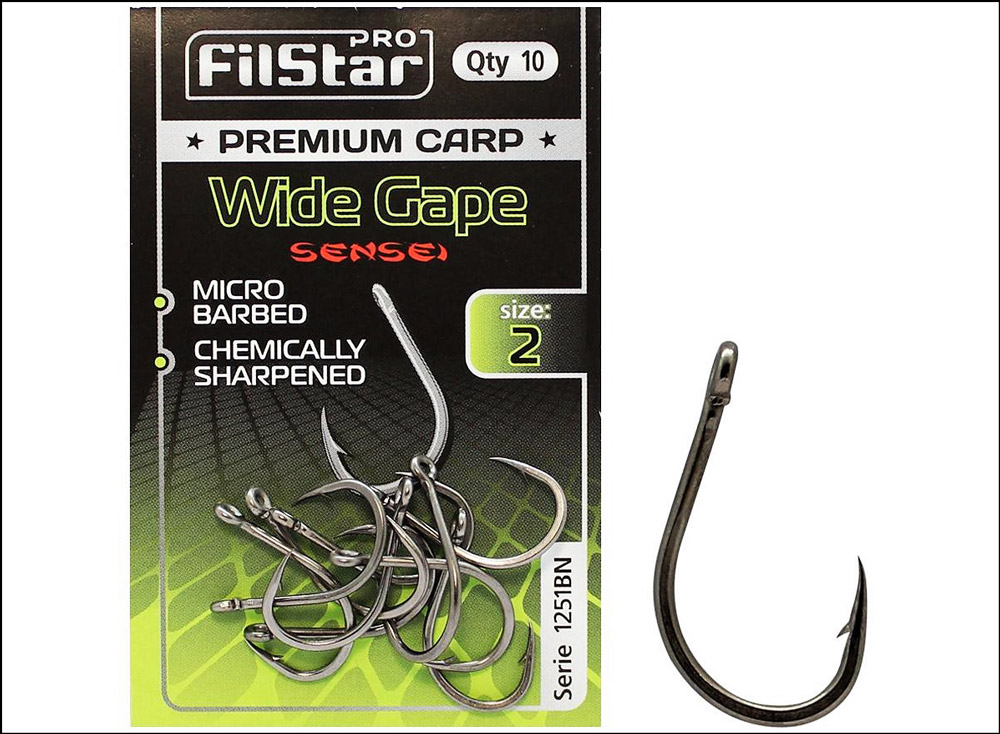 Carp fishing has given rise to a variety of specialized hooks designed to optimize success. Let's dive into some of the most popular types of carp hooks and their unique benefits:
Curve Shank Hooks: Characterized by a curved shank and inward-facing point, these hooks are known for their strong hook holds. They're excellent for bottom bait presentations and work well with a range of rigs, including the popular blowback rig.
Wide Gape Hooks: As the name suggests, these hooks have a wide gape (the gap between the shank and point) and a slightly inward-facing point. This design makes them ideal for larger baits and presentations such as the KD rig.
Chod Hooks: Specifically designed for the chod rig, these hooks are perfect for fishing over soft or weedy bottoms. Their out-turned eye and straight point facilitate superior hooking efficiency.
📚 When and Why: The Art of Choosing Your Hook 🐟
Each hook offers its own advantages depending on the situation and your preferred rig setup:
Curve Shank Hooks: If you're fishing over clean, hard bottoms and using bottom bait or a pop-up rig, these hooks can increase your hooking efficiency due to their shape and hold.
Wide Gape Hooks: When your bait is larger or you're using buoyant bait, a wide gape hook provides the necessary space for the bait while ensuring optimal hooking.
Chod Hooks: Fishing in tricky conditions? If your swim has a lot of weed or silt, a chod rig with a chod hook can present your bait effectively above the debris, without compromising on hooking potential.
Remember, there is no one-size-fits-all when it comes to choosing your carp hook. Understanding the benefits and best uses of each hook type is the key to adapting your approach for success. Stay tuned as we further delve into how to select the right hook size for your next carp adventure! 🏆🎣🐟
📏 Size Matters: Selecting the Right Hook Size 🎣
When it comes to carp fishing, the size of your hook plays a pivotal role. A well-chosen hook size can significantly enhance your bait presentation and hooking potential. So, how do you select the right size for different types of carp?
The rule of thumb is to match the hook size to the size of the carp you're aiming to catch. For small to medium-sized carp (up to 20 pounds), a hook size between 6 and 10 can be effective. If you're targeting larger carp, sizes 4 to 6 could provide the strength and holding power you need. Remember, these are just guidelines; the ideal hook size can vary depending on several factors.
🔍 Key Factors in Selecting the Right Hook Size 🐟
Choosing the perfect hook size isn't only about the size of the carp; it's a careful balance of various factors:
Bait Size: Larger baits generally require larger hooks to ensure the hook point isn't masked. For example, if you're using a 20mm boilie, a size 4 or 6 hooks could be suitable.
Fishing Conditions: If you're fishing in areas with heavy weeds or snags, a larger hook may provide better control during the fight.
Fishing Pressure: In heavily fished waters where carp have seen it all, a smaller hook may be less detectable and more successful.
Ethical Considerations: Smaller hooks can be less damaging to the carp's mouth. However, they need to be strong enough to handle the fish without bending or breaking.
Remember, the ultimate goal is an effective, safe, and ethical catch. While it might take some trial and error to find your ideal hook size, the journey will make you a more versatile and successful carp angler. Let's reel in the big ones together! 🎣🐟🏆
🎣 Carp Fishing Techniques: When the Right Hook Makes All the Difference 💡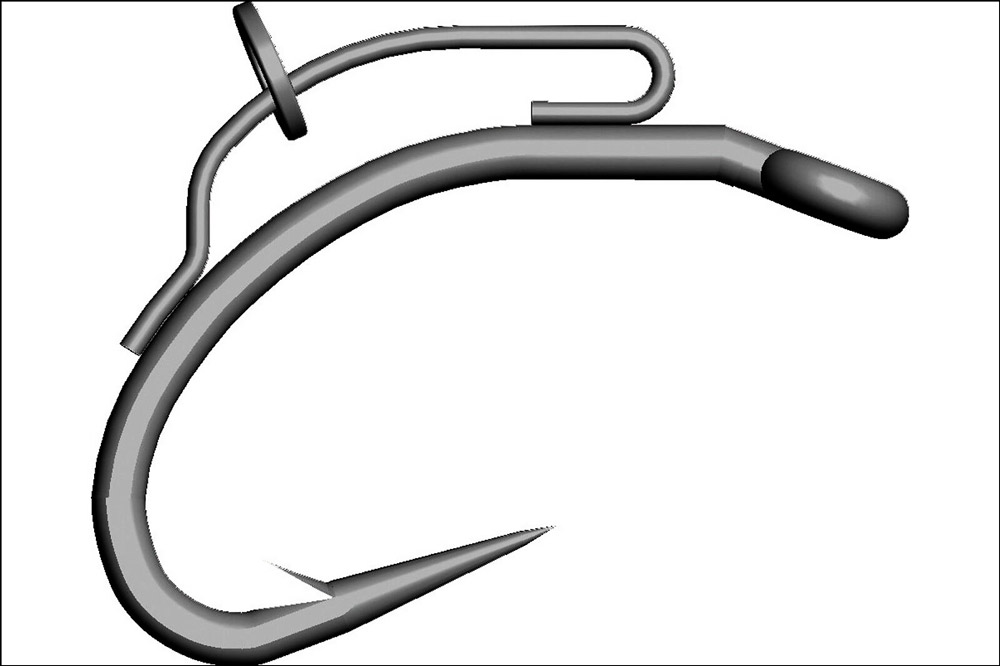 Carp fishing isn't a one-trick show – it's a diverse arena where various techniques come into play. The right hook can enhance these techniques, making your time on the bank more productive:
Surface Fishing: Using a smaller, lighter hook (like a size 8 or 10) can improve bait presentation and make it look more natural when surface fishing for carp.
Legering: This technique involves a weight or 'ledger' that sits on the bottom with your bait. A wide gape or curve shank hook can work well here, improving hook hold due to its design.
Float Fishing: Ideal for shallower waters, float fishing can be enhanced using smaller hooks that don't weigh down your float and offer a subtle presentation.
🧑‍🍳 Baiting and Setting a Carp Hook: Do It Like a Pro 🏆
The way you bait and set your hook can make a significant difference to your catch rate:
Baiting: To bait your hook, ensure that the hook point is not masked and that the bait is securely fastened. If you're using a boilie, a baiting needle and hair rig can be used to position the bait effectively.
Setting the Hook: Once a carp takes your bait, wait until you're sure it has the bait in its mouth before gently but firmly lifting the rod to set the hook. This is crucial to ensure a secure hook hold and a successful catch.
Remember, every fishing trip is a learning experience. Each cast can bring you one step closer to mastering the art of carp fishing. So, arm yourself with knowledge, pack your tackle box with the right hooks, and enjoy the journey! 🎣🐟🌅
🌎 Conservation and Ethical Angling: Preserving our Waterways 🌳🎣
Carp fishing is more than just a hobby; it's a practice deeply entwined with nature and conservation. One of the cornerstones of responsible carp fishing is catch and release. By releasing carp back into the water after catching them, we help to preserve fish populations and the health of our waterways. But catch and release should be more than just letting the fish go – it should be done correctly to ensure the fish's survival and well-being.
Proper handling of the fish, using a landing net and unhooking mat, wetting your hands before touching the fish, and minimizing out-of-water time are all critical aspects of safe catch and release. 🐟💦
🎣 Hooking Ethically: The Role of the Right Hook 👍
Selecting the right hook is an integral part of ethical angling. Here's how it can make a difference:
Less Damage: Using a hook size and type that reduces the risk of deep hooking can help prevent severe damage to the fish's mouth or internal organs.
Higher Survival Rates: Certain hook types, such as circle hooks, can increase post-release survival rates by encouraging lip or corner-of-the-mouth hooking.
Conservation Impact: Overall, the use of appropriate hooks contributes to healthier fish populations, improving the sustainability of our fishing practices.
In carp fishing, the thrill of the catch should always be balanced with respect for our aquatic environment. By using the right hooks and techniques, we can ensure that our beloved sport remains sustainable and enjoyable for generations to come. Happy fishing, and remember, we are the guardians of our waterways! 🏞️🎣🐟💚
FAQ: Your Key to Successful Carp Fishing 🎣🐟
Conclusion: Unlock Your Full Carp Fishing Potential
Carp are a notoriously finicky fish, and they can be difficult to catch. A good carp hook will have a pointed end and a curved shank that helps keep the bait in place. If you're looking to increase your chances of success when fishing for carp, it's important to use the right type of hook. In this blog post, we've shared our top-rated hooks for carp, as well as some tips on how to use them. So, whether you're a beginner or an experienced fisherman, read on!
🔚 Wrapping Up: The Journey of Carp Fishing 🎣🏆
As we bring our dive into the world of carp fishing and the importance of choosing the right hooks to a close, let's revisit the key points:
Carp Characteristics & Fishing: Carp's unique characteristics make them both a challenging and rewarding catch. The right hook can play a significant role in overcoming these challenges.
Understanding Hooks: From curve shanks to wide gaps and chods, different hook types come with their unique benefits and best uses. The better we understand them, the more effectively we can use them.
The Right Size Matters: Selecting the right hook size is essential for both successful and ethical fishing. It's not just about the size of the carp, but also about the bait size, fishing conditions, and more.
Techniques & Conservation: From surface fishing to legering and float fishing, your hook choice can enhance your fishing techniques. Moreover, selecting the right hook supports ethical angling and conservation.
Carp fishing is a journey, not just a destination. And every journey begins with a single step. Take the knowledge you've gathered here and apply it to your own fishing experience. As you feel the thrill of the catch and the peace of being one with nature, remember that every cast, every catch, and every release is a part of the learning experience. Here's to many successful and enriching fishing trips ahead! 🎣🌅🐟🍃
In the next section, we'll provide some valuable resources to further enhance your carp fishing adventures. Stay hooked! 📚🏞️💡
📚 Resources: Fueling Your Carp Fishing Journey 🎣🔍
To further enhance your carp fishing experience, here are some top-notch resources that you can explore:
🏅 Recommended Carp Fishing Hooks 🎣
Korda Wide Gape: Perfect for bottom bait or wafter presentations.
Gardner Tackle Curv Shank: Ideal for pop-up bait presentations.
FOX Arma Point SSC: Great for big carp in weedy or snaggy conditions.
Drennan Continental Boilie Hooks: Suitable for larger baits and big carp.
Nash Pinpoint Twister Long Shank: Perfect for bottom baits and critically balanced presentations.
Remember, the best hook depends on your fishing situation and personal preference, so feel free to try different types and brands.
📘 In-depth Guides and Tutorials 📖
"The Complete Carp Angler" by Andy Little: A comprehensive guide that covers all aspects of carp fishing.
"Carp Fishing Advanced Tactics" by Julian Cundiff: Offers advanced techniques for experienced anglers.
Korda's Masterclass Series on YouTube: Free video tutorials covering a variety of carp fishing techniques.
The Carp Cast: A popular podcast discussing the latest trends and tips in carp fishing.
Feel free to dive into these resources and broaden your carp fishing knowledge. The learning never ends in this exciting journey. Tight lines, and may your fishing adventures be filled with amazing catches and great memories! 🎣🐟🌄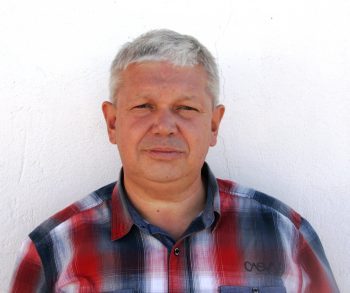 Sergio Smirnoff
Professional fisherman with 40+ years of experience.
Fishing and the ocean is a passion of my life. I am passionate about all kinds of sea fishing: fishing from the shore (spinning, float, baitcasting), from a boat, and spearfishing day and night.
I live in Tenerife (Canary Islands) for the last 10+ years and share my daily fishing experiences on my website. Many years of personal experience as a fisherman and the vast experience of my friends allow me to write professionally on any fishing topics (from choosing a flashlight and equipment to deep-sea fishing).
All of my advice is based on practical real-world experience and will be useful to both novice anglers and professionals.
Read more
about the author.
Affiliate Disclosure: FishReeler.com sometimes gets paid for listings, through sponsors or affiliate programs like Amazon, Ebay, Cabelas, Bass Pro Shop, Shimano, Daiwa, Rapala, Renn, Okuma, KastKing, etс. Clicking a link helps keep FishReeler.com free, at no extra cost to you!
About the author: Each article is verified by the fishing expert Sergio Smirnoff. The articles are written by professional and amateur fishermen with 20+ years of fishing experience.
Note: The views and opinions expressed in this article are those of the authors and do not necessarily reflect the official policy or position of any agency. The articles are for informational purposes only, share your opinions in the comments and join the fishing discussions, let's share our fishing experiences together!