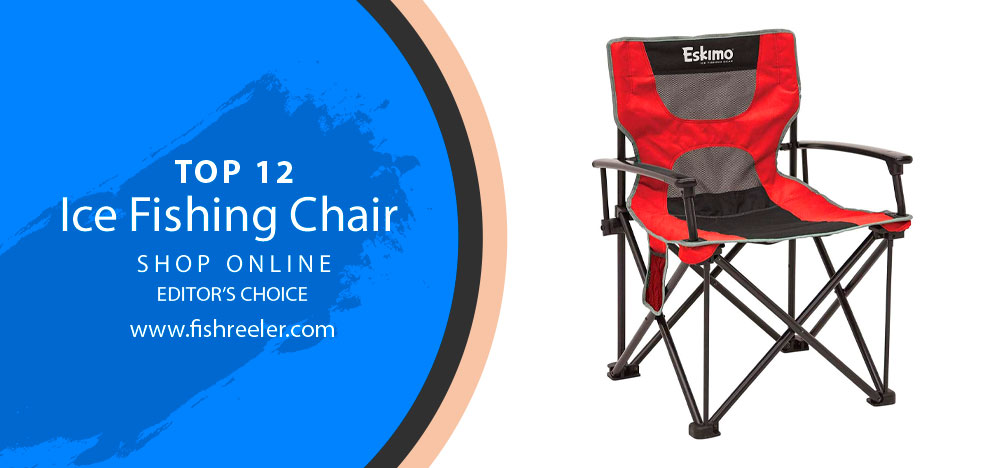 Frozen Comfort: A Fishing Pro's Guide to the Perfect Ice Fishing Chair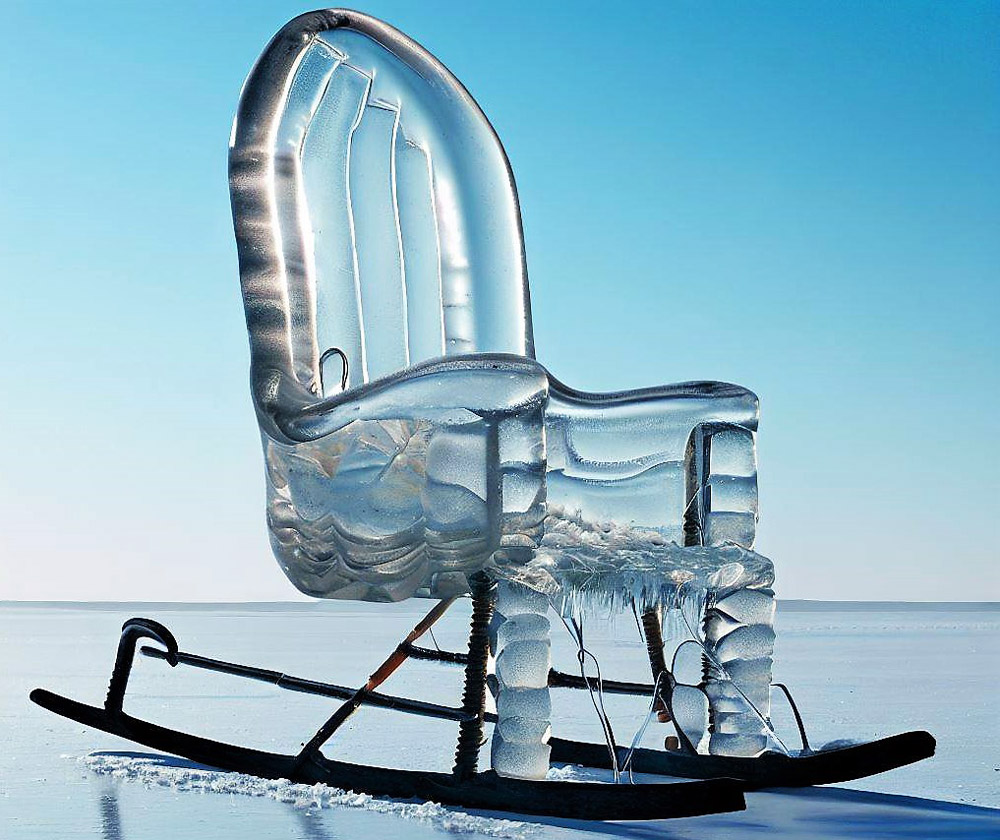 Ice Fishing: A Chilly Adventure with the Right Gear
Every winter, as the days grow shorter and the temperatures drop, thousands of anglers eagerly await the arrival of the ice fishing season. This popular winter sport, which has its roots in ancient traditions, has evolved into a modern pastime enjoyed by people of all ages and skill levels. From remote frozen lakes to bustling ice fishing tournaments, ice fishing enthusiasts brave the cold to reel in their catch, one hole at a time.
Why Comfort Matters: Aiming for the Perfect Ice Fishing Experience
Spending long hours on the ice requires more than just warm clothing and the right fishing gear. To truly enjoy this chilly pastime, anglers need a comfortable and functional place to sit and wait for that all-important bite. This is where the ice fishing chair comes in, offering much-needed support and a place to rest as you patiently scan the icy expanse for signs of fish.
A well-designed ice fishing chair not only provides a comfortable place to sit but also contributes to a more efficient and enjoyable fishing experience. With the right chair, you can remain comfortable during extended periods on the ice, helping you stay focused on the task at hand and increase your chances of landing a prized catch.
The Quest for the Perfect Chair: Our Mission
In this article, we aim to help our fellow ice fishing enthusiasts find the perfect ice fishing chair to suit their needs. We'll discuss the key features to look for in an ice fishing chair, from durability and materials to stability and storage options. We'll also share our top picks for the best ice fishing chairs on the market, complete with in-depth reviews and recommendations. So grab a warm beverage, sit back, and let us guide you on your journey to finding the ultimate ice fishing chair for your winter adventures.
Frozen Throne: Discover the 12 Best Ice Fishing Chairs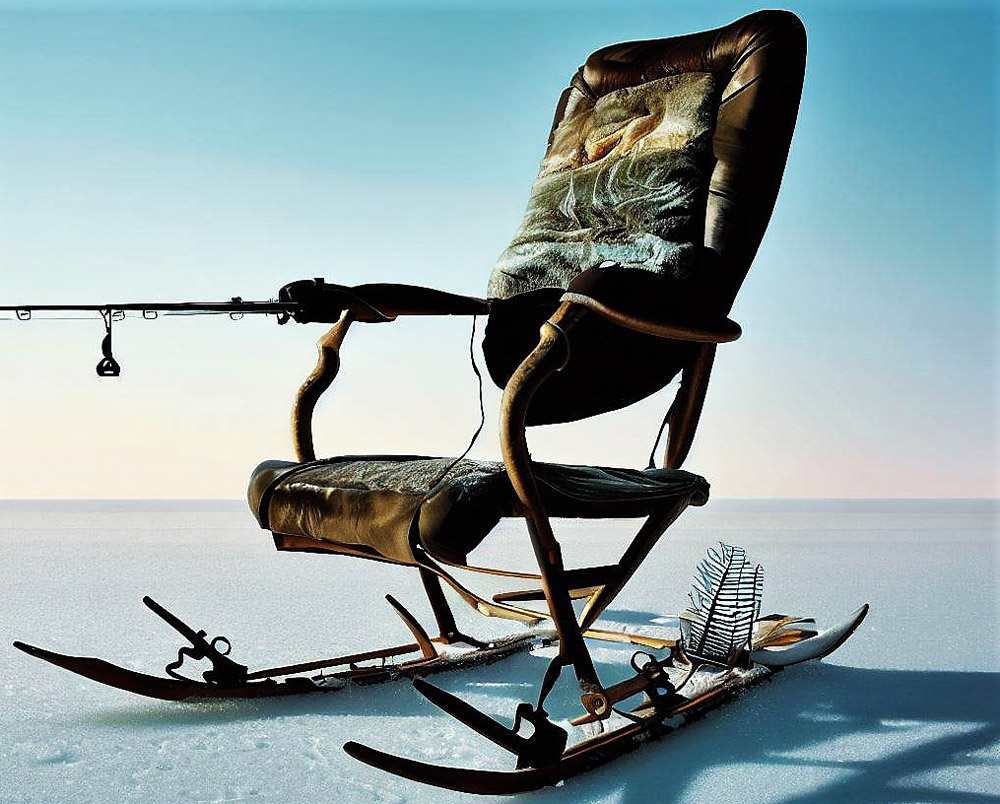 If you're like me, you probably enjoy spending a day out on the ice fishing. It's a great way to relax and forget about all of your troubles. But, if you're not comfortable, that enjoyment quickly goes away. That's why it's important to have a good ice fishing chair.
So we've compiled a list of the top-rated chairs to help make your decision easier. From portable options to those that are more permanent, we've got you covered. So, what are you waiting for? Get ready to fish in style!
1# Eskimo XL Folding Ice Chair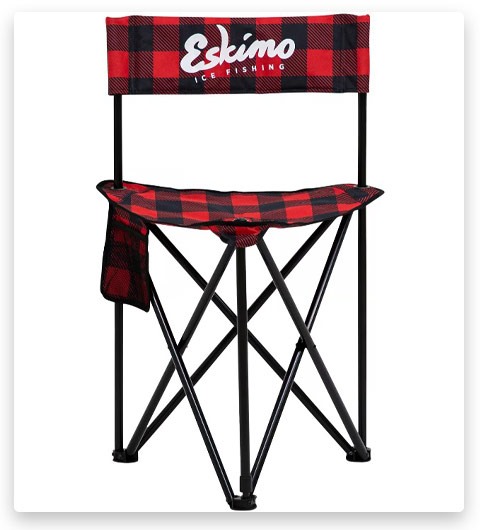 The Eskimo XL Folding Ice Chair is the perfect choice for ice fishermen who want the convenience of an easy-to-transport chair. The ergonomic design enhances comfort, and the generous height and width provide maximum mobility. The triangular seat is also a handy right-side mesh storage pouch, and the 19mm steel triangular folding frame provides an a600-denier fabric seat and back panel. The chair opens and folds in seconds, making it the perfect choice for ice fishing enthusiasts.
2# Otter XL Padded Tripod Chair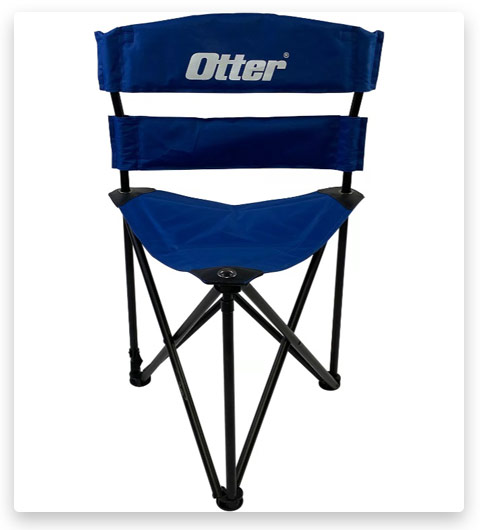 Looking for a chair that's comfortable, stable, and well-cushioned? Look no further than the Otter XL Padded Tripod Chair! This portable ice fishing chair comes with adjustable lumbar support, a padded seat and backrest, and oversized footpads that won't punch through shelter floors. Plus, it includes a carry bag for easy transport. Whether you're at the campsite or on your ground blind, this chair is sure to make your time outdoors more enjoyable.
3# Clam Outdoors Ice Chair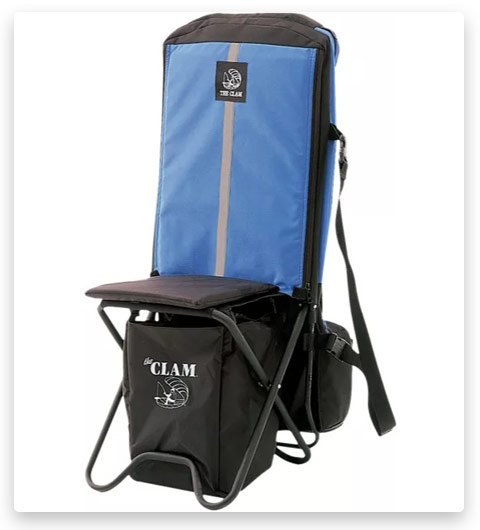 The Clam Outdoors Ice Chair is the perfect all-in-one ice fishing chair and gear storage system. It is lightweight and easy to carry, with a folding, padded seat and numerous storage compartments. The chair holds up to 6 ice combos, plus tackle boxes, and features 2 compartments for your tip-ups, 2 medium accessory compartments, an exterior mesh pouch, and a built-in fish bag. The 4-point stability and reflective safety strips on both sides make it safe and easy to use.
4# Cabela's Magnum Folding Ice Fishing Chair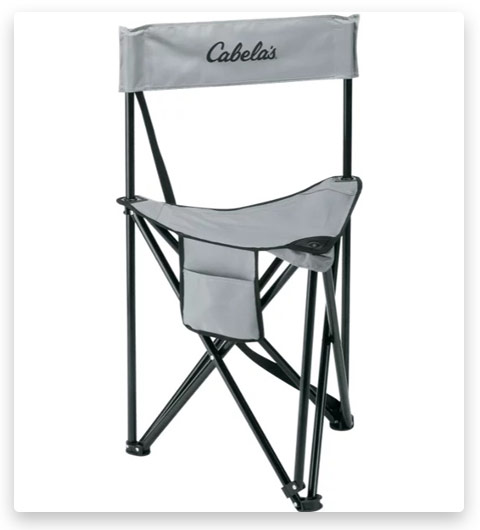 When you're out on the ice, waiting for the fish to bite, make sure you're doing it in comfort with our Cabela's Magnum Folding Ice Fishing Chair. Its sturdy steel frame and rugged polyester fabric will last season after season, while its PVC coating helps protect against the elements. And at just 2.9 lbs., it's easy to transport from spot to spot.
5# Cabela's 4-Legged Ice Fishing Chair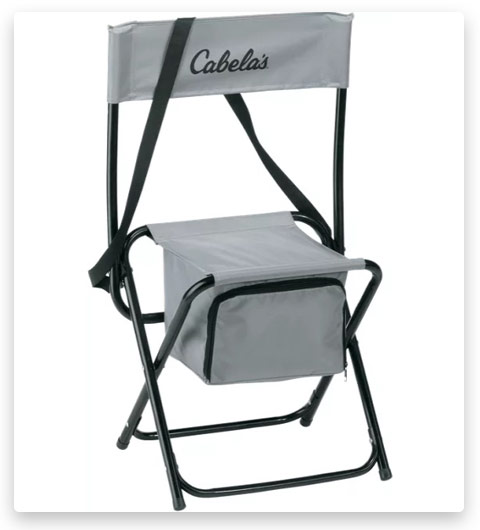 Whether you're just getting started in the sport of ice fishing or you're a seasoned pro, you'll appreciate the comfort and convenience of our Cabela's 4-Legged Ice Fishing Chair. The powder-coated steel frame is designed for durability and stability, while the 600-denier polyester fabric with PVC coating is built to withstand the elements. A handy zip storage compartment under the seat keeps your essential gear within easy reach, and the chair folds up for easy transport. Includes a shoulder strap for hands-free carrying.
6# Clam Folding Cooler Chair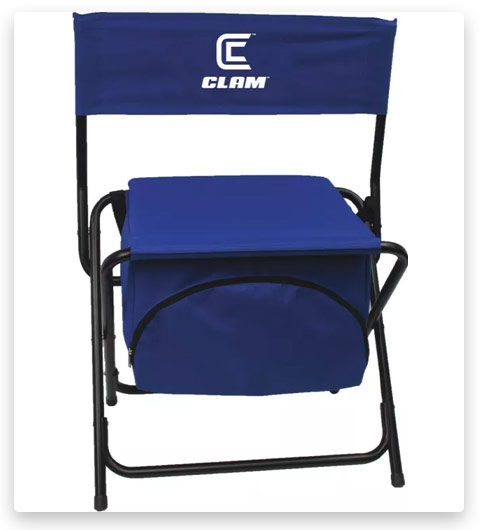 If you love to fish, then you know there's nothing quite like being out on the water, surrounded by nature. But after a while, even the most dedicated angler can start to feel a little uncomfortable. Enter the Clam Folding Cooler Chair. This innovative chair allows you to fish in comfort, no matter where you are. Whether you're inside your ice shelter or out in the open, this chair will keep you comfortable for hours on end. Plus, the built-in cooler/storage compartment is perfect for keeping your lunch and beverages within easy reach. When you're done fishing for the day, the handy fold-up design makes transport easy.
7# Cabela's Folding Ice Fishing Chair D1450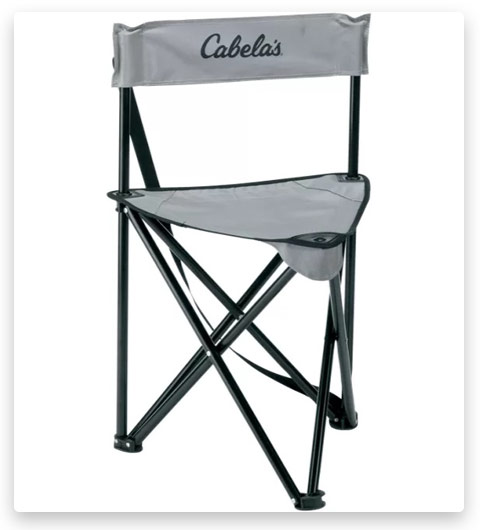 Take a seat and get comfortable while you wait for the fish to bite with our Cabela's® Folding Ice Fishing Chair. This chair is made with a powder-coated steel tubing frame and rugged 600-denier polyester fabric, ensuring that it will last season after season. It's also PVC-coated for weather resistance, so you can stay comfortable even in inclement weather. Our ice fishing chair also features a silk printed logo and weighs just 2.45 lbs., making it easy to transport. Max Wt. Cap.: 250 lbs.
8# Eskimo 30619 Portable Folding Quad Ice Fishing Gear Seat Chair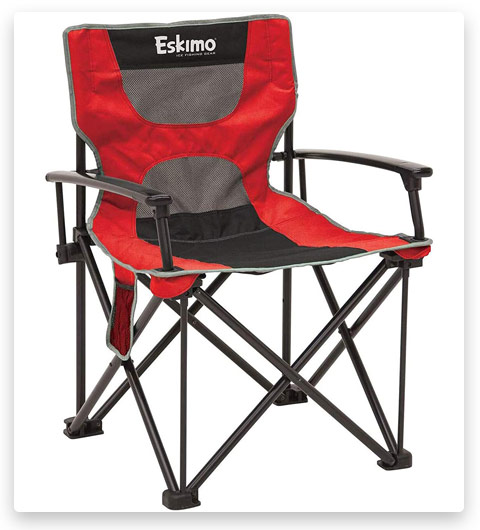 Looking for a comfortable, yet sturdy ice fishing chair? Look no further than the Eskimo 30619 Extra Large Portable Folding Quad Ice Fishing Gear Seat Chair! This chair features a tough 22mm tubular frame that can hold up to 300 pounds of person and gear, making it perfect for ice fishing or any other outdoor activity where you might want to sit. The seat is 3 inches higher than standard, making it easier to get in and out of, and the larger seat area provides better comfort and weight displacement. Whether you're an experienced ice fisherman or just getting started, this chair is a great option for anyone looking for a reliable and comfortable seat.
9# Coleman Camping Chair with Built-in 4 Can Cooler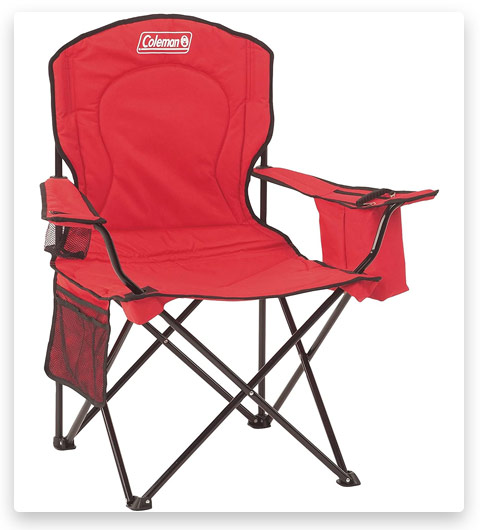 This camping chair is a must-have for any outdoorsman. The cozy design and armrest cooler make it perfect for enjoying a cold drink while you relax. The built-in 4 can cooler pouch keeps your drinks within reach, and the mesh cup holder and side pocket offer quick access to your personal belongings. The collapsible, folding design makes it easy to store and transport, and the carry bag included ensures that you can take it with you wherever you go.
10# Eskimo Plaid Folding Ice Fishing Chair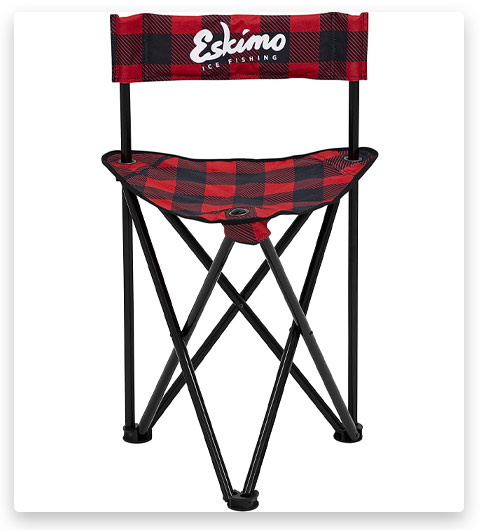 The Eskimo Plaid Folding Ice Fishing Chair features 600 Denier Fabric and is imported for the best quality. With its stylish Eskimo Plaid design, this chair is perfect for any ice fisherman. Additionally, it is compact and versatile, making it easy to transport and store. The 19mm steel construction is durable and can hold up to 200 lbs. The included carry bag makes it easy to take this chair with you wherever you go. Don't miss out on this essential ice fishing accessory – order your Eskimo Plaid Folding Ice Fishing Chair today!
11# Clam Chair CLAM0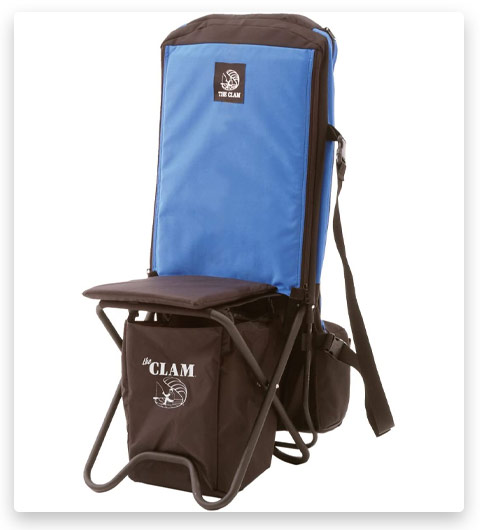 The Clam Chair Clamo is the perfect product for those who love to fish. Weighing only 12 pounds, it is easy to transport and can be set up in seconds. The chair also includes a built-in rod holder and fish bag, making it the perfect all-in-one solution for any fishing excursion.
12# Eskimo 27613 Folding XL Folding Ice Fishing Chair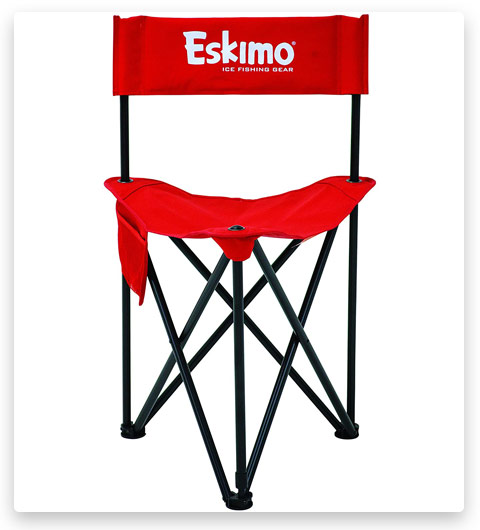 The Eskimo 27613 Folding XL Folding Ice Fishing Chair is the perfect choice for anglers who want a comfortable, durable chair that can handle any conditions. The chair is 4″ taller than standard chairs and features a larger seat panel for more displacement. The tripod framework is constructed from 19mm steel tubing for durability, and the fabric is a tough 600D material. A mesh side pocket provides storage for your gear, and a carry bag is included for easy transport.
Key Features to Look for in an Ice Fishing Chair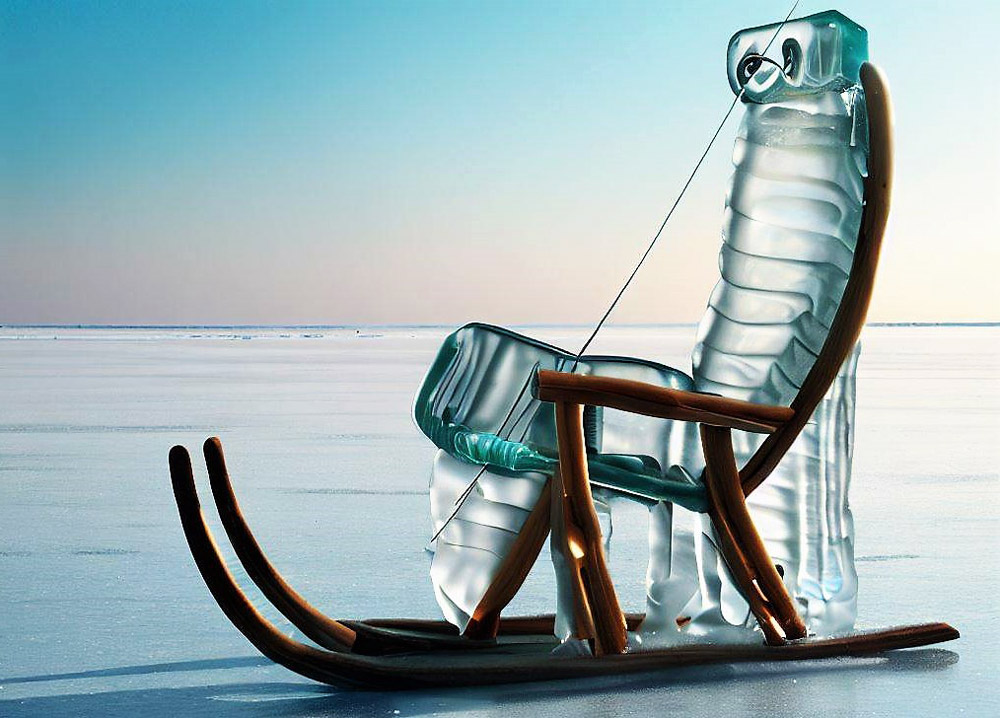 Built to Last: Durability and Materials for Your Ice Fishing Chair
When it comes to choosing the perfect ice fishing chair, durability and materials play a critical role. The ideal chair should be made from high-quality, weather-resistant materials capable of withstanding the harsh conditions of ice fishing. Look for chairs constructed from heavy-duty fabrics, such as polyester or nylon, that can resist wear and tear. Sturdy metal frames made of steel or aluminum offer excellent support and longevity, while also being resistant to rust and corrosion. By investing in a chair made with durable materials, you can ensure it will serve you well for many ice fishing seasons to come.
Safe and Steady: Ensuring Stability on the Slippery Ice
Safety and stability are of paramount importance when selecting an ice fishing chair, as accidents on the ice can lead to serious injuries. A chair with a sturdy base and non-slip features will help prevent any unwanted slips or falls. Wide, stable legs or a tripod design can provide added support, while rubber or non-slip feet can help keep the chair firmly in place on the ice. When choosing your chair, prioritize stability and safety features to enjoy a worry-free ice fishing experience.
Ultimate Comfort: The Secrets of a Well-Designed Ice Fishing Chair
Spending hours on the ice can take a toll on your body, which is why comfort is a key consideration when selecting an ice fishing chair. Padded seats and adjustable backrests can provide much-needed support, ensuring you remain comfortable throughout your fishing trip. Ergonomic designs that contour your body can further enhance comfort levels, reducing the risk of aches and pains. Look for chairs with adjustable features that can be customized to suit your preferences, as well as ample cushioning to keep you cozy during those long waits for a bite.
On-the-Go Ease: The Importance of Portability in Ice Fishing Chairs
As ice fishing often requires navigating uneven terrain and carrying equipment over long distances, portability is another essential feature to look for in a chair. Lightweight chairs made from materials such as aluminum or plastic are easier to carry and transport, making your ice-fishing adventures less cumbersome. Foldable or collapsible designs can further enhance portability, allowing you to pack your chair away compactly when not in use. When choosing a chair, consider its weight and ease of transportation to ensure it won't weigh you down on your icy outings.
Keep It Organized: Storage Options for Your Ice Fishing Gear
A well-organized ice fishing setup can make all the difference in your overall experience. Chairs with built-in storage options, such as pockets, rod holders, and cup holders, can help keep your gear organized and easily accessible. Pockets can hold essentials like tackle, snacks, and extra layers, while rod holders and cup holders free up your hands for other tasks. By selecting a chair with convenient storage options, you can streamline your ice fishing setup and focus on reeling in those prized catches.
Top Ice Fishing Chair Models and Reviews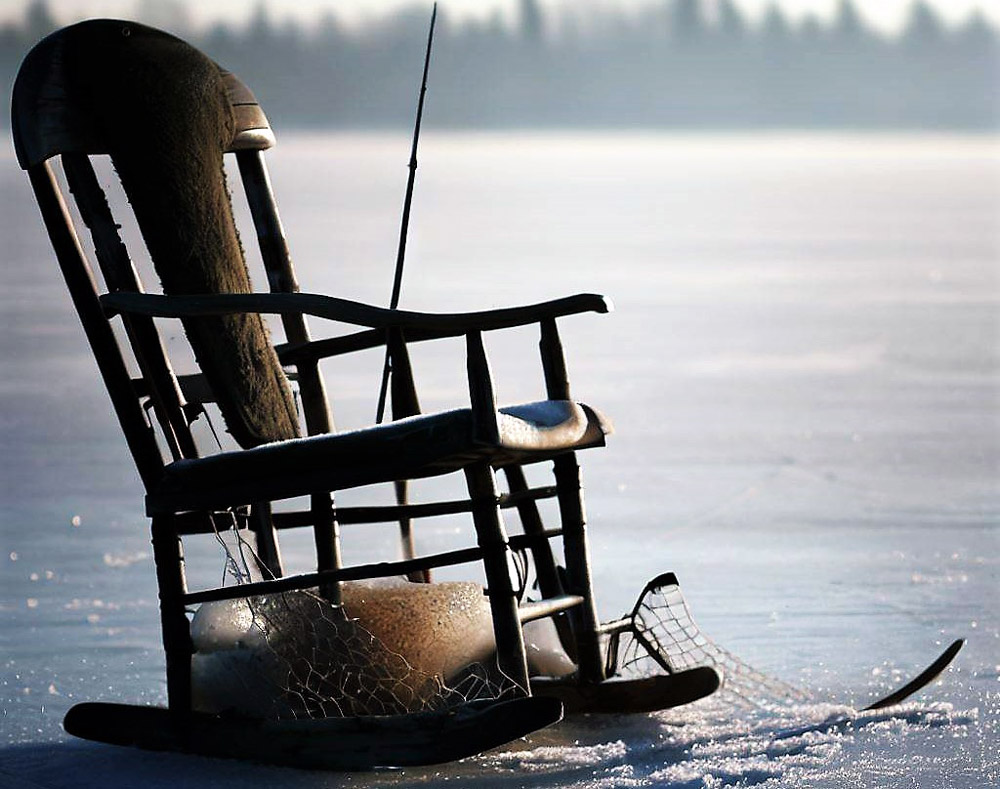 The Best of the Best: Our Top Picks for Ice Fishing Chairs
After extensive research and consideration, we've compiled a curated list of the top ice fishing chair models on the market. These chairs have been chosen for their durability, comfort, portability, and overall value. Let's dive into the reviews and find the perfect chair for your ice fishing adventures.
A Closer Look: In-Depth Reviews of the Top Ice Fishing Chairs
🌊The Frosty Throne Deluxe Ice Fishing Chair
Weather-resistant fabric, padded seat and backrest, adjustable height, foldable design, built-in storage pockets, and rod holders
💲Price range: $$$
🌐Where to purchase: Major outdoor retailers, online marketplaces, or the manufacturer's website
🐬The Ice Angler's Dream Lightweight Chair
Lightweight aluminum frame, compact folding design, ergonomic seat, non-slip feet, built-in cup holder
💲Price range: $$
🌐Where to purchase: Outdoor specialty stores, online marketplaces, or the manufacturer's website
🐟The Sub-Zero Swivel Ice Fishing Chair
360-degree swivel seat, adjustable backrest, weather-resistant materials, sturdy steel frame, built-in pockets, and rod holder
💲Price range: $$$
🌐Where to purchase: Outdoor retail stores, online marketplaces, or the manufacturer's website
🐳The Polar Comfort Ultra Padded Chair
Extra-thick padding, adjustable armrests, high backrest, durable fabric, foldable design, multiple storage pockets
💲Price range: $$$
🌐Where to purchase: Major outdoor retailers, online marketplaces, or the manufacturer's website
🐋The Glacier Go-Getter Backpack Chair
Converts into a backpack, lightweight design, weather-resistant materials, built-in storage pockets, rod holders, and cup holder
💲Price range: $$
🌐Where to purchase: Outdoor specialty stores, online marketplaces, or the manufacturer's website
Tips for Using and Maintaining Your Ice Fishing Chair
Setup for Success: Getting Your Ice Fishing Chair Ready for Action
Setting up your ice fishing chair properly is crucial for both safety and comfort. Follow these tips to ensure a safe and effective setup on the ice:
Choose a flat, stable surface: Make sure to set up your chair on a level area free of cracks or uneven ice, which could compromise the chair's stability.
Clear away snow: Brush off any snow or slush from the area where you'll be setting up your chair, as this can lead to slipping or instability.
Ensure a secure footing: If your chair has non-slip feet or rubber tips, double-check that they're in full contact with the ice to prevent sliding.
Adjust for comfort: Make any necessary adjustments to the chair's height, backrest, and armrests to achieve your desired level of comfort.
Care and Maintenance: Keeping Your Ice Fishing Chair in Top Shape
Proper care and maintenance can significantly extend the lifespan of your ice fishing chair. Follow these guidelines to keep your chair in excellent condition:
Clean regularly: Wipe down your chair with a damp cloth after each use to remove dirt, ice, and salt residue. For more thorough cleaning, use mild soap and water, and rinse thoroughly.
Dry completely: Ensure that your chair is fully dry before storing it away, as moisture can lead to rust, mold, and mildew growth.
Inspect for damage: Regularly inspect your chair for signs of wear and tear, such as frayed fabric or loose bolts. Address any issues promptly to prevent further damage.
Store properly: Store your chair in a cool, dry place, away from direct sunlight or sources of heat, which can damage the materials.
Accessorize Your Experience: Gadgets and Gear to Enhance Your Ice Fishing Adventure
While a high-quality ice fishing chair is essential for a comfortable experience, additional accessories can further improve your time on the ice. Consider the following add-ons for a more enjoyable outing:
Seat warmer: A portable seat warmer can add an extra layer of warmth and comfort during frigid ice fishing trips. These can be easily placed on your chair's seat or inserted into a chair cover.
Attachable umbrella: An attachable umbrella can provide shade and protection from snow or light rain, ensuring you stay dry and comfortable throughout your fishing session.
Chair cover: A weather-resistant chair cover can shield your chair from the elements, helping to keep it clean and dry while you're not using it.
Cushioned seat pad: If your chair has limited padding, consider adding a cushioned seat pad for additional comfort and support.
By following these tips for using and maintaining your ice fishing chair, as well as incorporating helpful accessories, you can ensure a comfortable and enjoyable ice fishing experience that lasts for years to come.
Ice Fishing Chair FAQs: Your Burning Questions Answered
To further enhance your understanding of ice fishing chairs and provide valuable advice, we've compiled a list of frequently asked questions and sought insights from a professional ice angler. Their expertise can help you make an informed decision when selecting the perfect chair for your needs.
Insider Insights: A Chat with a Professional Ice Angler
Interview with a Professional Ice Angler
To provide even more insights, we spoke with professional ice angler John "Frostbite" Smith, who shared his thoughts on ice fishing chairs and offered some valuable advice.
By incorporating these expert insights and advice, you can make a well-informed decision when selecting your ideal ice fishing chair and ensure a more comfortable, enjoyable experience on the ice.
Conclusion: Finding Your Perfect Frozen Throne
The Quest for the Perfect Ice Fishing Chair: A Recap
As we've explored throughout this article, selecting the right ice fishing chair is crucial for a comfortable and enjoyable experience on the ice. A well-designed chair not only provides support and relaxation during long hours of fishing but also contributes to a more efficient and organized setup. The perfect chair should strike a balance between durability, comfort, portability, and storage options, ensuring that you can focus on the thrill of the catch rather than any aches or discomfort.
Choosing the Right Chair: Trusting Your Instincts and Preferences
When choosing your ice fishing chair, remember to consider your personal needs and preferences. Factors such as how often you fish, the type of terrain you encounter, and the specific features that matter most to you will play a significant role in your decision-making process. By carefully evaluating the options available and reflecting on your requirements, you're more likely to find a chair that will become an indispensable part of your ice fishing gear.
Join the Conversation: Share Your Ice Fishing Chair Stories and Tips
Finally, we invite you to share your own experiences and recommendations in the comments section below. Have you tried any of the chairs mentioned in our reviews? Or do you have a favorite chair that wasn't included in our list? Your insights can help fellow ice anglers make informed decisions and, ultimately, contribute to a more enjoyable and successful ice fishing experience for all. With the right ice fishing chair in hand, you'll be well-equipped to brave the frosty elements and create lasting memories out on the ice.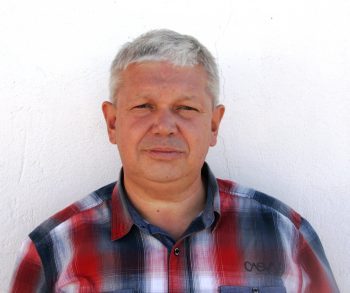 Sergio Smirnoff
Professional fisherman with 40+ years of experience.
Fishing and the ocean is a passion of my life. I am passionate about all kinds of sea fishing: fishing from the shore (spinning, float, baitcasting), from a boat, and spearfishing day and night.
I live in Tenerife (Canary Islands) for the last 10+ years and share my daily fishing experiences on my website. Many years of personal experience as a fisherman and the vast experience of my friends allow me to write professionally on any fishing topics (from choosing a flashlight and equipment to deep-sea fishing).
All of my advice is based on practical real-world experience and will be useful to both novice anglers and professionals.
Read more
about the author.
Affiliate Disclosure: FishReeler.com sometimes gets paid for listings, through sponsors or affiliate programs like Amazon, Ebay, Cabelas, Bass Pro Shop, Shimano, Daiwa, Rapala, Renn, Okuma, KastKing, etс. Clicking a link helps keep FishReeler.com free, at no extra cost to you!
About the author: Each article is verified by the fishing expert Sergio Smirnoff. The articles are written by professional and amateur fishermen with 20+ years of fishing experience.
Note: The views and opinions expressed in this article are those of the authors and do not necessarily reflect the official policy or position of any agency. The articles are for informational purposes only, share your opinions in the comments and join the fishing discussions, let's share our fishing experiences together!