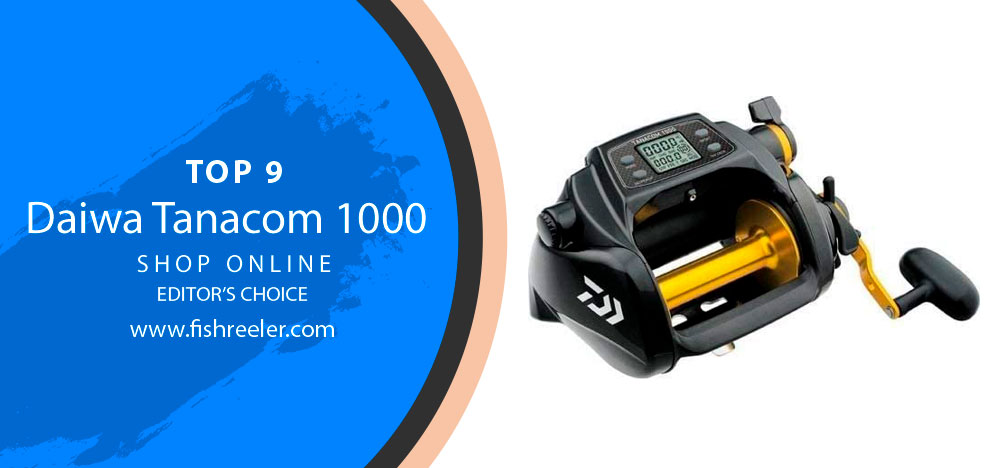 Daiwa Tanacom 1000 Deep Drop Combo Power Assist Electric Reel For Big Fishing
If you have found this article, then most likely you are a fisherman or want to start fishing. I have been fishing for many years and this is one of my favorite pastimes. I think you understand me. If I have free time, I always go fishing. And it rarely happens that I go home without fish. But this used to happen more often. I didn't realize that the success of fishing is not only in the chosen place, time, and skills but also in the equipment.
When I started to learn what kind of fishing rod, reel, and so on is better, everything in fishing became better. And I wrote this article for a reason. In it, I want to talk about the electric reels. If you like me before you don't know why it is needed and which one to choose, then this article will be useful to you.

Electric Reels And Their Application
Electric reels are essentially a type of multiplier device that is additionally equipped with an electric drive. They are used mainly for sea fishing. This is my favorite type of fishing. I fished in different seas and depths. Therefore, I know how important it is to choose the right electric coil and I can give you advice. During sea fishing, electric reels are used in situations where fishing is carried out in super-deep water. As well as the need to survive certain types of prey, such as catfish, halibut, red perch, or cod. The main positive advantage of electric models is the rapid ascent from any depth and maximum power.
My Electric Reel
I tried using reels from different manufacturers, but my favorite is Daiwa. This is a company that knows its business. Next, I will tell you about it and you will understand that I am right. I will also tell you about my favorite electric reel, which I now use. And I also selected for you 9 worthy electric reels from this brand, which serve my friends perfectly. And you will be able to choose your electric reel based on my article and fish with pleasure!

About Daiwa
Daiwa is a giant corporation that reaches millions of fishing fans around the world. Daiwa is a world leader in innovation and technology used in the production of fishing gear. The parent company and main factory are located in Japan.
Outside of Japan, there are authorized branches and manufacturing plants in the United States, Australia, Taiwan, France, Thailand, and Germany. In 1977 Daiwa began producing high-quality products in Wishaw, Scotland. A British factory is a special place because it is one of the few bastions of European traditions in the production of fishing gear.
DAIWA recognizes and encourages the growing need for environmental care and a healthy lifestyle. She recommends that we engage with nature in a sustainable way so that our children can experience all that we have today. Therefore, many of us have unforgettable memories of wonderful fishing, and it is very important to make sure that the next generations will have the same opportunities to get joy and inspiration from this amazing sport with respect for the environment.
Daiwa Saltwater Electric Power-Assist Reels
Next, I will tell you about other electric reels that you can also consider during the purchase.
1# Daiwa Tanacom Power Assist Reels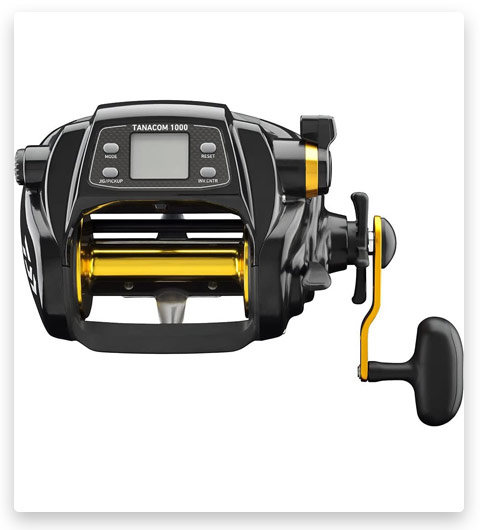 This is the same electric reel as mine. It has the same characteristics. Only it's less powerful. I will also add that it is easy to wash as well as mine. It has a cleaning case. This makes it easy to wash. And the working parts are protected from water, so you won't ruin the electric coil.
2# Daiwa Seaborg SB1200MJ Fishing Reel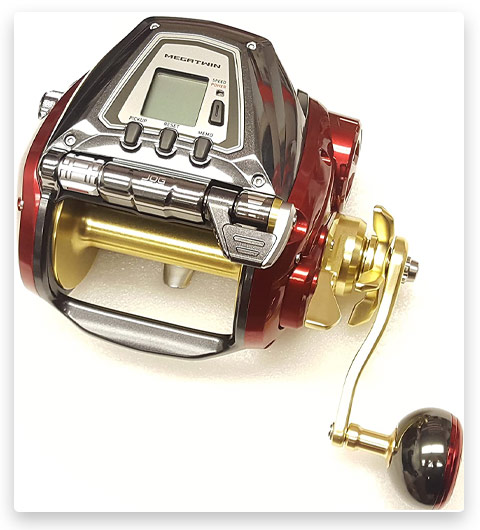 If you are looking for a very powerful electric reel, this is what you need. It has an aluminum body. It is able to generate heat as well as cool the engine. This means that your engine will always be available. The electric reel has a ball bearing. It reduces corrosion and prevents water and dust from getting inside. Easy-to-read display. Large letters and numbers. Thanks to the dot LCD screen, you will be able to see everything clearly. There is an ATD drag and drop system.
3# DAIWA TANACOM 1000 Electrically Operated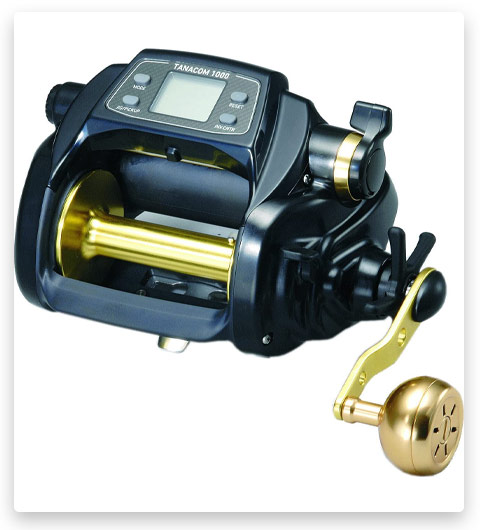 This electric reel has a maximum resistance of 70kg and is easy to wash thanks to its washable body. The coil is also waterproof. It has a 12 V battery. You can control the speed and power of the winding using the power lever. The digital indicator shows the line that you are releasing and you always know how deep you have dropped.
4# Daiwa SEABORG 1000MT Big Game Electric Reel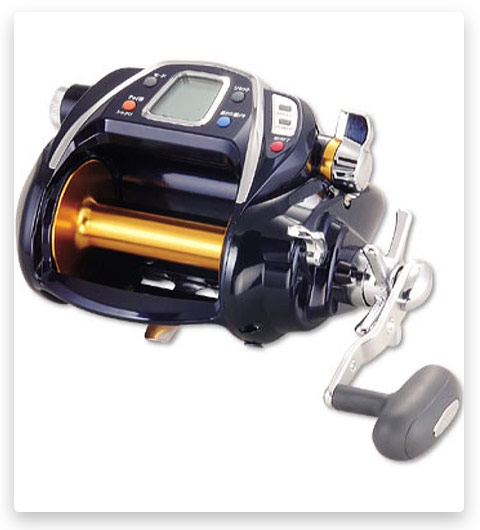 On the drum of this electric reel, there is a button. There are two speeds for controlling the fish. The engine is very powerful and durable. The LCD is well lit and you can see the depth to which it is submerged. There is an automatic shut-off function as soon as the lever touches the water.  A gear ratio of 2.4:1. My friend who uses this coil is delighted with it.
5# Daiwa Tanacom 1000 Big Game Electric Fishing Reel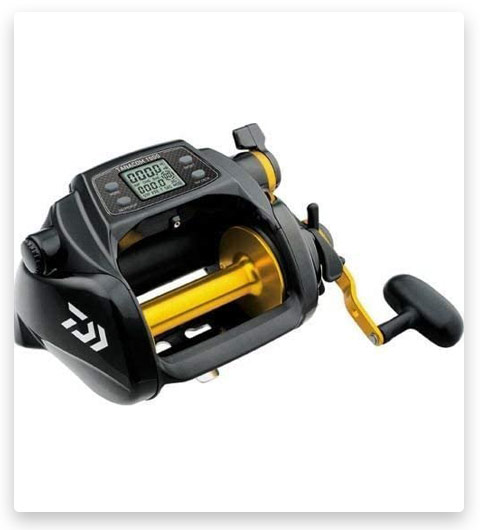 The perfect solution for an affordable price. With this electric reel, your sea fishing will bring you even more pleasure. You can start it manually instead of automatically.  The LCD display in English. Everything is clearly visible on the screen. You can find out the depth, there is a row counter. The electric reel has a sealed brake system. It has 4 bearings. The washable design allows you to wash the electric coil without difficulty.
6# Daiwa Dendoh Tanacom Bull Reels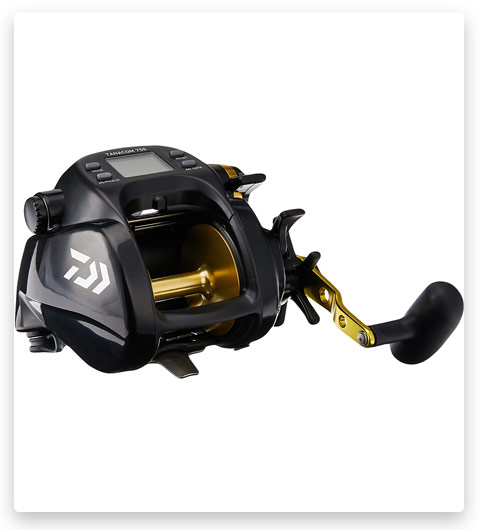 This option is not cheap. But I can say that it is worth the money. The electric reel controls all processes itself. It controls the lowering of the line and then reeling it back in. It can extract up to 130 m of line per minute. The battery allows the coil to operate for up to 8 hours. On the display, you will see the depth and released line. The line will automatically stop when the bait is on the surface.
7# DAIWA TANACOM 750 Electrically Operated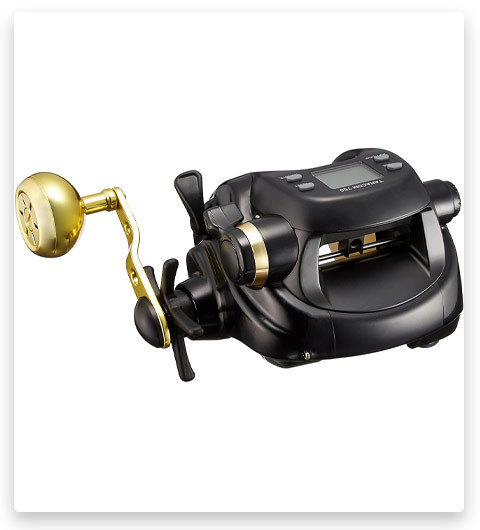 This reel is able to accommodate a large amount of braid. This means that you can fish very deep. You can wind speed and power very quickly thanks to the power lever. The coil is not particularly heavy; its weight is slightly more than a kilogram. A number of bearings 4. It has a line counter and remembers the depth. You can manage it manually if you want to. Gear Ratio: 2.3:1.
8# Daiwa Lille Leo Blitz S500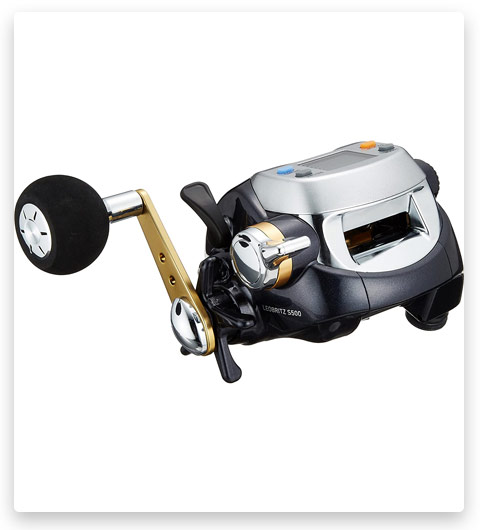 Excellent electric reel for fishing in saltwater at great depth. Even if you have never used an electric reel, you will understand how to handle it. It is easy to use. The coil itself weighs 3.12 pounds. You can manage settings, reset, and pick up using the screen. It is possible to place a large amount of fishing line. Up to 300 meters.
9# Daiwa Tanacom 500 Compact Electric Fishing Reel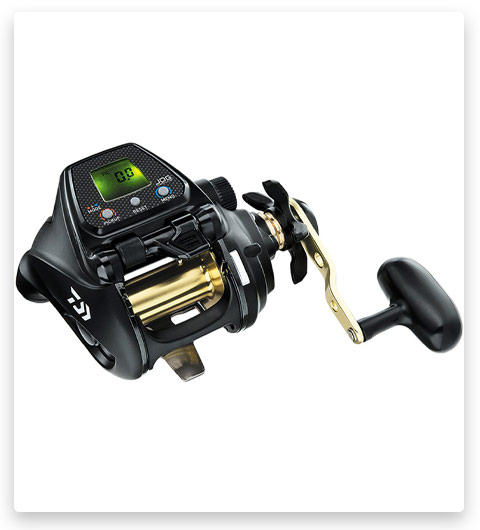 An electric reel that is easy to use. It is light, so it is not difficult to hold in your hand. The weight of the coil is 3.3 pounds. The material from which it is made is aluminum. You will be able to control the speed. The numbers are clearly visible on the display. My friends catch big fish species with this electric reel!
History of Daiwa
The famous Japanese company Daiwa Seiko Inc was registered in Tokyo on December 26, 1945. In 1955 Daiwa began to develop spinning reels for mass production, focusing not only on the Japanese market but also on a wide range of exports. Already in 1962 Daiwa reels became a globally recognized quality standard and the company occupied a leading position in both the Domestic-Japanese and global markets for their production and sale. In 1964 the production of fishing rods was launched.

In 1971 a subsidiary in Taiwan, Taiwan Daiwa Ltd was established specializing in the production of top-class fishing rods for the Japanese and American markets. Since 1974, Daiwa has been the absolute leader in fishing equipment sales gear on the Japanese market.
Developing a range aimed at European anglers Daiwa in 1977 opened a subsidiary company Daiwa Sport U.K. in Scotland. In its design office, leading English experts are engaged in the development and design of gear. In 1984 a commercial branch was opened in France. In 1990 the company established the Daiwa Cogmap in Germany.
In 1994 Daiwa created the world's best series of inertialess reels, Tournament-Z. at this stage, combining the development of leading experts, the most powerful design technology bureaus, unique technologies, and materials. Daiwa becomes a global trendsetter in the sports and Amateur fishing industry.
Throughout its history, Daiwa Seico has sought primarily to create gear that allows the angler to maximize the emotions and impressions that can give him the great mystery of fishing and communication with nature. In this way, not only commercial but also aesthetic, moral, and ethical problems were solved. This Daiwa strategy can be seen in its mottos, each of which has become a law for the company. Here are just a few of them: "Total Quality", "Next Quality", "Think Clean".

Daiwa's unique developments are known all over the world today. A number of companies use Daiwa patents in their products. Among them: skirt spools of inertia-free coils, the use of graphite-filled materials for the manufacture of body parts of light coil models, magnetic brake multipliers, instant stop reverse – Infinite Anti-Revers in inertia-free coils, gyro Spin coil balancing system, Twist Buster system, and many other innovative solutions.
In 1997 Daiwa launched the Tournament Renessanse program, which combines many years of global experience in producing the best fishing gear.
In 2002 the unique Digigar technology for precision manufacturing of gear pairs with the highest accuracy was introduced. Which increases efficiency, resource, and the sensitivity of the coils. A completely new Air-Metall alloy is created that allows you to reduce the weight of the coils by almost 30% while ensuring absolutely rigid fastening of all the components of the mechanism and the highest sensitivity.
Implementing the Hardbodyz Concept, Daiwa develops and applies new aluminum alloys of relatively low cost in the production of coil housings. As a result, it is possible to create a whole range of inexpensive reels of the highest quality and reliability.

Using solid Power Slim, Tubular Power Slim, and Magnum Taper design Daiwa creates a wide range of rods of the highest quality in a variety of price ranges.
In the production of rods, unique brands of high-density graphite HVF and super-high-density SVF, similar in structure to graphite ceramics, are used. As a result, the rods lose weight dramatically, gaining tremendous strength, the highest sensitivity, and optimal structure. Today, Daiwa has more than 15 plants located in different countries of the world, in Japan, China, Korea, Thailand, and Scotland.
At the same time, the Daiwa range is updated annually by at least 50%! A wide range of products, the author's development of leading experts, revolutionary concepts and technologies, and the amazing quality of Daiwa gear in every element, allowed Daiwa Sieco to earn well-deserved fame and awaken true love in the hearts of millions of anglers.
Now I am using Daiwa Tanacom Power Assist Reel. I'm very happy with it. This is the most powerful electro reel. This is a great value for money. The reel has a composite housing that allows you to get the maximum power.  I don't like to take a long time to figure out how the technique works. This electric coil is easy to use. It is automatically programmed.
This is done using its measuring line. When the bait comes to the surface, the reel stops automatically. It has a display that is well lit. No need to look closely and try to understand what is written there. What I really love about this electric reel is the manual winding mode. It often happens that my friends and I go fishing for a long time. The batteries may run out. Then I can switch to manual control.

The coil itself is made of brass and aluminum bronze. It has 4 bearings. They are quite heavy. I can say that they serve well. They don't wear out quickly. I am sure that they will be in excellent condition for many years. They are made of stainless steel. The maximum resistance is 48 pounds. For me, this is the perfect device for deep-sea fishing. I connect the reel to the accumulator of my boat and it works perfectly. I just hold on to the electric reel and it extracts a big catch from the depth itself. Its forward number is 2.3:1. Its line capacity is 60 pounds for every 1,100 yards. The reel has a waterproof case.
Of course, it has its drawbacks. I'll tell you about them. But for me personally, these are superficial disadvantages. These are not the moments that would make me refuse to buy this reel. It's heavy enough. The weight of the electric coil is 1.5 kilograms. You have to think for yourself, but I'm good with it. The instructions are poorly explained how to use it, but I personally immediately understood what was going on.
If you are a beginner, just watch a video on the Internet. Instruction is not a decisive factor when choosing an electric reel. Also, the electric reel goes without a storage bag. This is not very convenient. In general, I have told you all about this reel. And I repeat that I use it myself and there are no problems.
Conclusion
If you want to start deep-sea fishing, then you definitely need an electric reel. I know what I'm talking about. From my experience, I realized that DAIWA is the best manufacturer of electric reels. If you buy an electric coil from this manufacturer, you get quality, strength, and durability. You will not have any problems while fishing. I told you in detail about my Tanacom Power Assist Reel. I can advise you on this device, as it has never failed me. It works perfectly. And I've been fishing for years. I have many friends who are fishermen. All of them use different electric reels. Based on their feedback, I have selected another 9 electric coils that you can choose from. I really want this article to help you in choosing and you can use a good electric reel!
Tags: #daiwa tanacom 1000 / #daiwa tanacom bull 1000 / #daiwa tanacom 1000 reviews / #daiwa tanacom 1000 power assist reel / #daiwa tanacom 1000 review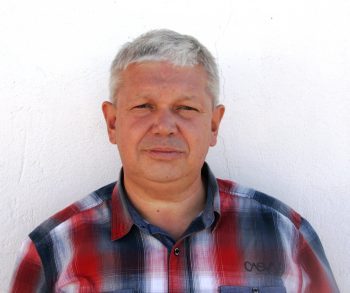 Sergio Smirnoff
Professional fisherman with 40+ years of experience.
Fishing and the ocean is a passion of my life. I am passionate about all kinds of sea fishing: fishing from the shore (spinning, float, baitcasting), from a boat, and spearfishing day and night.
I live in Tenerife (Canary Islands) for the last 10+ years and share my daily fishing experiences on my website. Many years of personal experience as a fisherman and the vast experience of my friends allow me to write professionally on any fishing topics (from choosing a flashlight and equipment to deep-sea fishing).
All of my advice is based on practical real-world experience and will be useful to both novice anglers and professionals.
Read more
about the author.
Affiliate Disclosure: FishReeler.com sometimes gets paid for listings, through sponsors or affiliate programs like Amazon, Ebay, Cabelas, Bass Pro Shop, Shimano, Daiwa, Rapala, Renn, Okuma, KastKing, etс. Clicking a link helps keep FishReeler.com free, at no extra cost to you!
About the author: Each article is verified by the fishing expert Sergio Smirnoff. The articles are written by professional and amateur fishermen with 20+ years of fishing experience.
Note: The views and opinions expressed in this article are those of the authors and do not necessarily reflect the official policy or position of any agency. The articles are for informational purposes only, share your opinions in the comments and join the fishing discussions, let's share our fishing experiences together!