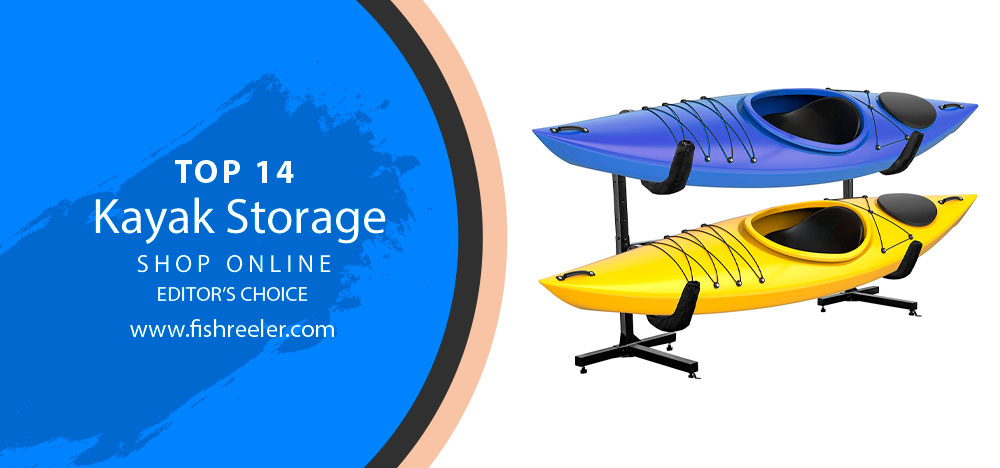 Securing Your Pride and Joy: A Professional's Guide to Kayak Storage Racks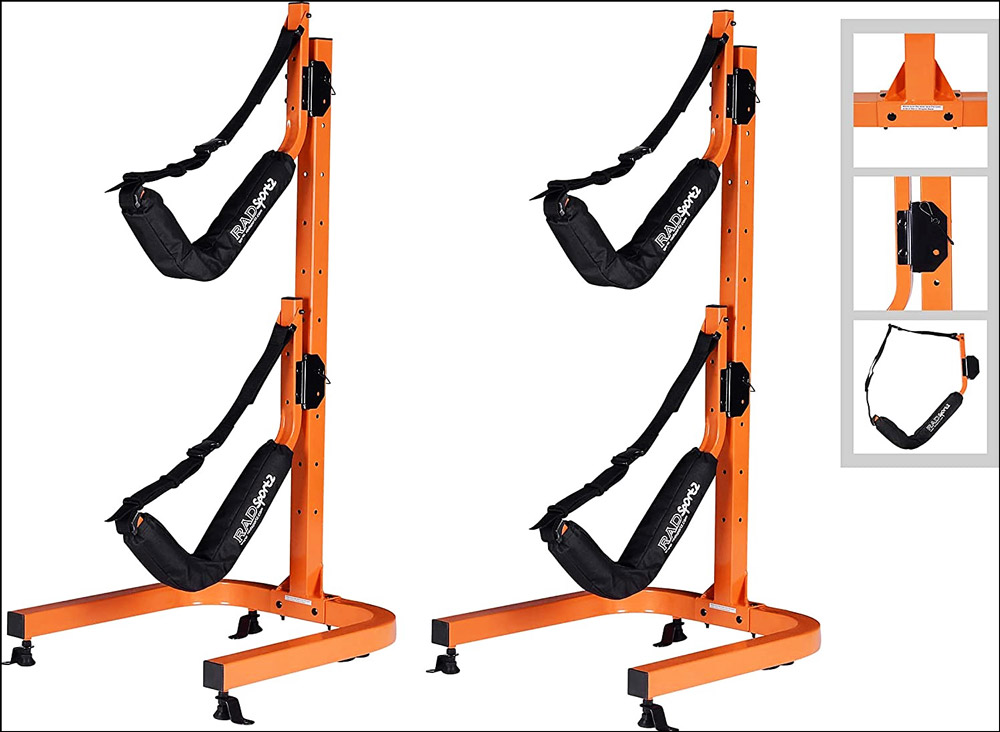 My Journey: The Realization of Kayak Storage Essentials
As a passionate angler and kayak enthusiast 🎣🚣‍♂️, I've witnessed firsthand the repercussions of improper kayak storage. A cherished, hardly used kayak was once reduced to an unsightly, warped version of its former self under my ownership. It wasn't due to a grueling fishing expedition 🎏 or a careless accident 🙈, but something seemingly benign – improper storage. My negligence led to irreversible damage 🔨, turning a treasured possession into a stark reminder of the necessity of proper kayak storage 🚤🗄️.
Introducing the Unsung Hero: Kayak Storage Racks 🏆🎉
For many kayak owners, a kayak is more than just a vessel; it's an investment 💰, an embodiment of their passion for water sports or fishing 🎣. Yet, so often, the crucial aspect of protecting this investment is overlooked – the proper storage of a kayak. The solution? Kayak storage racks. These handy devices 🛠️, though humble in appearance, work tirelessly to preserve your kayak's lifespan ⏳, all while making your storage needs hassle-free 🎈. Whether you're a seasoned pro or a novice just getting your feet wet 🌊, understanding and choosing the right storage rack is a game-changer 🔄🎯. So, let's dive in and discover the world of kayak storage racks together 🌐🤝.
The Importance of Proper Kayak Storage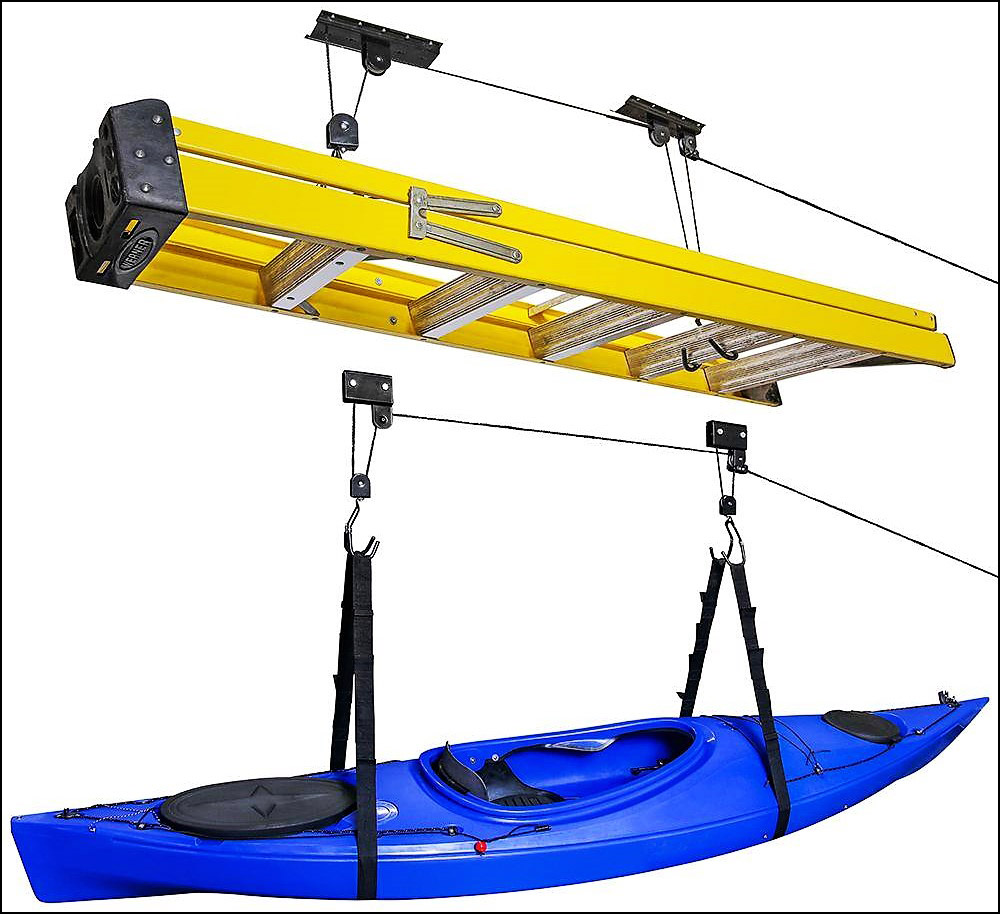 The Secret to a Long-Lasting Kayak: Adequate Storage 🗝️🛶
A good kayak doesn't come cheap 💸, and for many, it's an investment that evokes passion and commitment ❤️💪. But did you know that the way you store your kayak can significantly affect its lifespan⏳? Proper kayak storage is instrumental in preserving the structure and aesthetics 🎨 of your vessel. By using a well-designed kayak storage rack, you can prevent the hull from deforming under its weight – a common issue when kayaks are stored incorrectly over prolonged periods. Furthermore, storage racks help keep your kayak safe from scratches or dents that might occur when they're left lying around 🔄. So, if you want to enjoy your kayak for years to come, investing in a suitable storage solution should be a priority 🌟.
Surviving the Elements: Weather Impact on Your Kayak 🌦️💨
Nature can be a double-edged sword 🌸⚔️. While it offers us the joys of kayaking 🌊🚣, it also presents environmental factors that can be detrimental to our beloved vessels. Exposure to excessive sunlight ☀️ can cause the color of your kayak to fade and can lead to the material becoming brittle over time. Wind can knock your kayak over, causing unnecessary dents and damage 🌬️, while moisture 💧, especially in colder climates ❄️, can lead to a build-up of mildew and mold. Quality kayak storage racks can help minimize these risks by keeping your kayak secure and protected from these harsh elements.
The Hidden Consequences of Improper Kayak Storage 👀💥
More than just cosmetic damage, improper storage can significantly impact your kayak's performance 🚣‍♂️📉. When a kayak is stored on its hull or side without proper support, it can lead to warping, which alters its shape and consequently, its movement in the water. Hull damage can cause your kayak to track poorly, making paddling harder and less efficient 🔄💢. Similarly, scratches and dents may seem like minor inconveniences, but they can create drag, slowing your kayak down. By using a dedicated kayak storage rack, you ensure your vessel retains its shape and performance characteristics, allowing you to enjoy a smooth and rewarding kayaking experience every time 🎖️🎉.
Explore the Best Ways to Store Your Kayak: Top 14 Storage Racks Reviewed
The kayaks are made of thin material for optimal performance on the water. Since the material is very thin, it can deform during storage. Proper storage of the kayak and proper care of it will allow you to preserve the original parameters of the material and design as much as possible so that you will be happy to ride on your favorite boat for more than one season! Best kayak storage will help you with proper storage. In this section, you will find the best products to help you store your kayak.
| Image | Product | Brand | Link |
| --- | --- | --- | --- |
| | RAD Sportz Wall Hanger Pro Kayak and Stand Up Paddle Board Foam Padded SUP Rack | RAD Sportz | |
| | Goplus Kayak Storage Rack, Garage Kayak Hanger for 2 Kayaks, Canoe, SUP &Paddle Board, Heavy Duty Kayak Holder Strand with Height Adjustable Rack, 175 LBS MAX Load, Kayak Racks for Outdoor Storage | Goplus | |
| | RAD Sportz Indoor Outdoor Freestanding Heavy Duty Two Kayak Storage Kayak or Paddle Board Storage Rack System | RAD Sportz | |
| | StoreYourBoard 4 Kayak Storage Rack, Adjustable Kayak Rack for Garage, Heavy Duty Wall Mount Holds up to 400 lbs, Solid Steel, Protective Padding, Boat Organizer | StoreYourBoard | |
| | StoreYourBoard Kayak Ceiling Storage Hoist, Hi Lift Home and Garage Hanging Organizer Pulley Rack, Pro | StoreYourBoard | |
| | RAD Sportz Kayak Hoist 2-Pack Quality Garage Storage Canoe Lift with 125 lb Capacity Even Works as Ladder Lift Premium Quality Pulley System | RAD Sportz | |
| | RaxGo Freestanding Kayak Storage Rack, Heavy Duty Storage for Two-Kayak, SUP, Canoe & Paddleboard for Indoor, Outdoor, Garage, Shed, or Dock, Adjustable Height | RaxGo | |
| | SPECSTAR Kayak Stand 2 Pack Canoe Standing Rack Folding Freestanding Canoe Storage Stands with TPE Padding for Indoor and Outdoor 110 Lbs | SPECSTAR | |
| | RAD Sportz Kayak Storage Rack - Freestanding Kayak Stands with Padded Arms and Straps - Holds 2 Canoes, SUP, Paddleboards | RAD Sportz | |
| | VIVOHOME Kayak Hoist Lift Pulley System for Overhead Garage Storage Canoe Bicycle Ceiling Hoist Hanging System 125lbs Pack of 2 | VIVOHOME | |
| | GREAT WORKING TOOLS Kayak Rack - Double Kayak Stand, Heavy Duty Paddleboard and Kayak Accessories, Freestanding or Floor Mount Kayak Storage, Holds 175 lbs. | GREAT WORKING TOOLS | |
| | Best Marine Kayak Storage Racks - 2 Premium Wall Mounts for Kayaks & SUP Paddle Boards - 125lb Weight Capacity | Best Marine and Outdoors | |
| | Extreme Max 3004.0204 Kayak/Canoe/Bike/Ladder Hoist & Lift for Storage in Shop or Garage - 120 lb. Capacity,Black | Extreme Max | |
| | 7.8-18ft Waterproof Kayak Canoe Cover-Storage Dust Cover UV Protection Sunblock Shield for Fishing Boat /Kayak / Canoe 7 Sizes [Choose Color] (Dark Blue(Upgraded), Suitable for 12.3-13.5ft Kayak) | GYMTOP | |
1# Rad Sportz Kayak Storage Hooks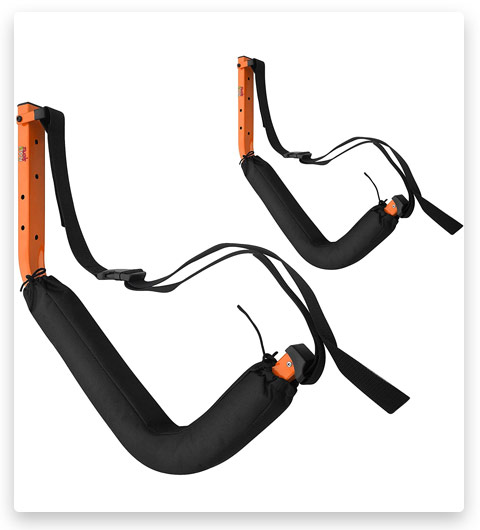 If you have a garage or shed, then you can hang your kayak on the wall or ceiling. This will save a lot of space. With these hangers, you can hang your kayak on the wall without any problem. They are made of durable powder-coated steel that resists corrosion and rust. They are capable of supporting up to 125 pounds. Overhead garage storage kayak accessory hook won't damage your kayak thanks to the foam padding.
2# Goplus Freestanding Kayak Rack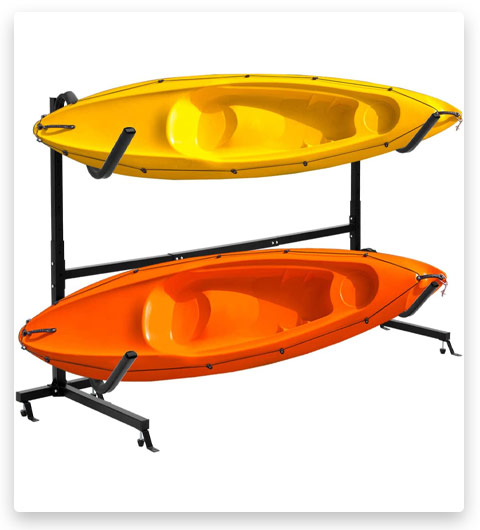 This best kayak storage rack is suitable for storing two kayaks. If you love kayaking with the whole family, then this rack is what you need to store them. This stand is equipped with two hooks that can be adjusted in height. This high-quality kayak storage rack is freestanding thanks to its material. It is made of durable steel and has a powder-coated finish that protects against corrosion and rust. This rack can hold up to 175 pounds.
3# Rad Sportz Kayak Storage Rack – Amazon's Choice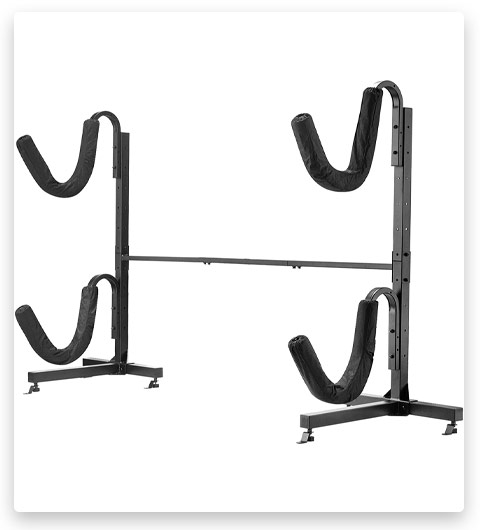 This outdoor kayak storage rack can store up to two kayaks. This is a compact stand that doesn't take up much space in your garage. It is a durable accessory as it is powder-coated, which is not only resistant to corrosion, but also to UV light. This model can carry up to 175 pounds.
4# StoreYourBoard Kayak Storage Rack – Amazon's Choice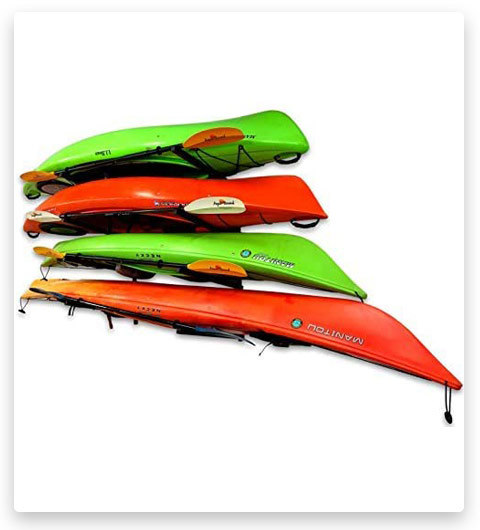 If everyone in your family is fond of kayaking, then you probably need this kayak storage rack. She is capable of storing four kayaks at a time. This rack is suitable for various types of kayaks thanks to the adjustable levels. Each level has a lifting capacity of 100 pounds. All in all, this rack can hold up to 400 pounds. Your kayaks will always be in place without damage thanks to the felt padding.
5# StoreYourBoard Kayak Ceiling Storage Hoist – Amazon's Choice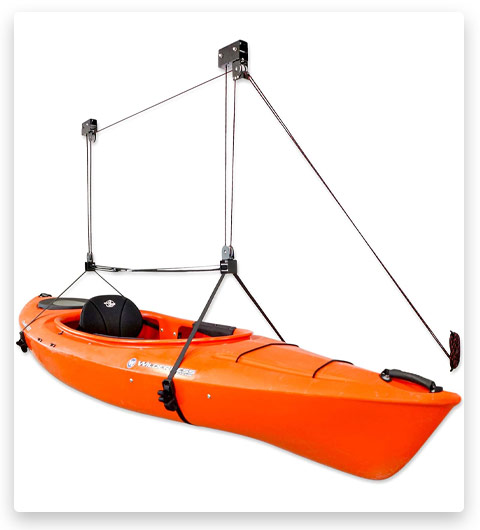 With this mount, you can mount your kayak either on the wall or on the ceiling. Thanks to the adjustable straps, everyone can place their kayak. You can adjust them to suit the width and length of your kayak. You can easily assemble and install this rack using the included instructions and mounting hardware.
6# Rad Sportz Kayak Hoist Set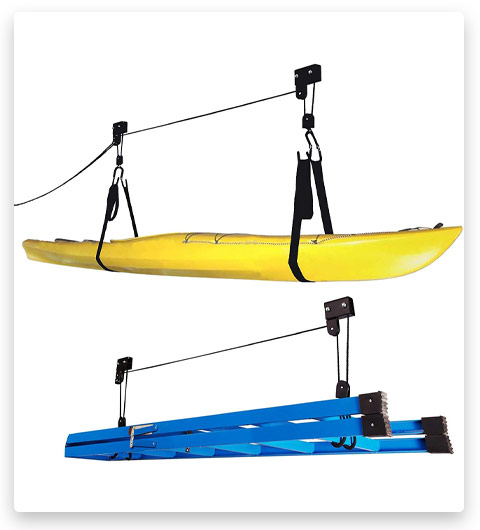 If you are short on garage space but need to store your kayak somewhere, then Rad Sportz has a solution for you. This storage hoist is perfect for storing your kayak on the ceiling. It's convenient, safe and you save a lot of space in your garage or shed. This system can handle up to 125 pounds and is therefore suitable for almost any kayak. The hooks are rubber-coated to prevent damage to your equipment.
This set is suitable for hanging two kayaks from the ceiling. However, you can hang not only the kayak but also kayaks, bicycles, or canoes. This accessory uses a pulley system with a safety locking mechanism. This allows you to easily lift your equipment and store it without damage.
7# RaxGo Freestanding Kayak Rack – Amazon's Choice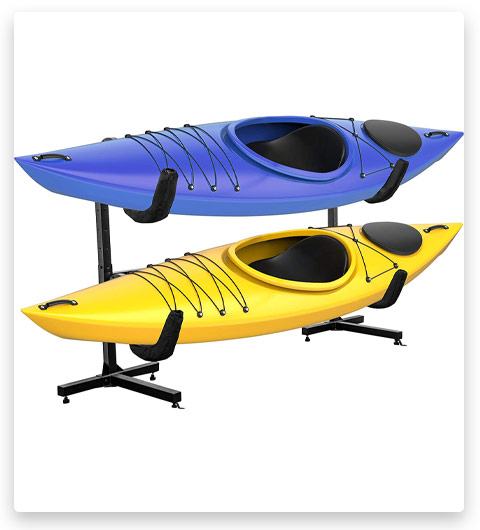 This freestanding rack is perfect for storing your kayak. You don't have to hang your equipment from a wall or ceiling. This rack can hold up to 175 pounds. It is made of stainless steel and has a powder coating that resists corrosion. For added security, the base of the stand can be attached to the floor for greater stability.
8# SPECSTAR Folding Freestanding Kayak Rack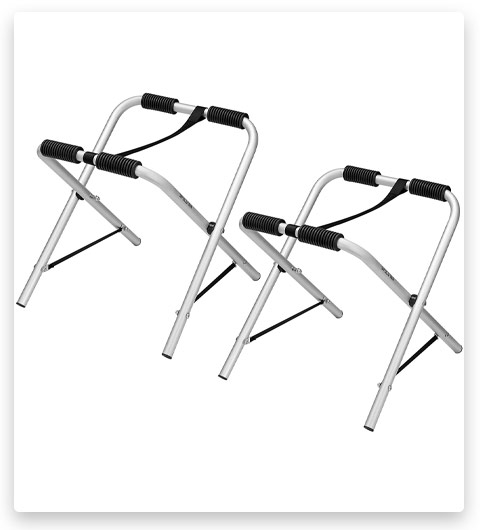 The best kayak storage rack is designed for horizontal storage. This model is made of aluminum, polyester, and flexible TPE plastic. These materials are distinguished by their high quality, wear resistance, and also durable. The strap can handle up to 100 pounds. The stands hold up to 220 pounds. These stands are also suitable for placement on the beach. They weigh only 5.3 pounds so they are easy to carry.
9# RAD Sportz Double Kayak Storage Rack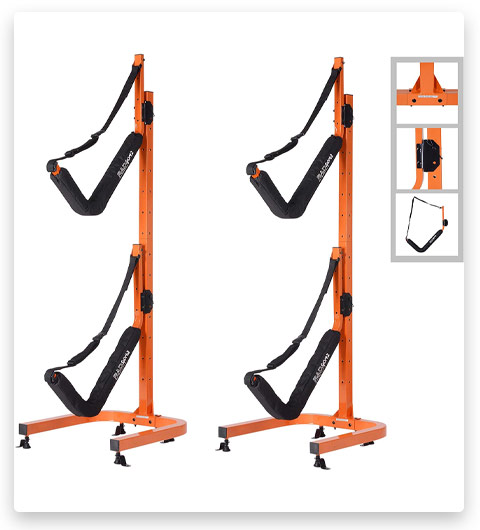 This free-standing kayak storage rack plan lets you store two kayaks upright. This saves space. Due to its high strength, the rack can be used both indoors and outdoors. The maximum lifting capacity is 200 lbs.
10# VIVOHOME Heavy Duty Ceiling Mount Kayak Canoe Garage Storage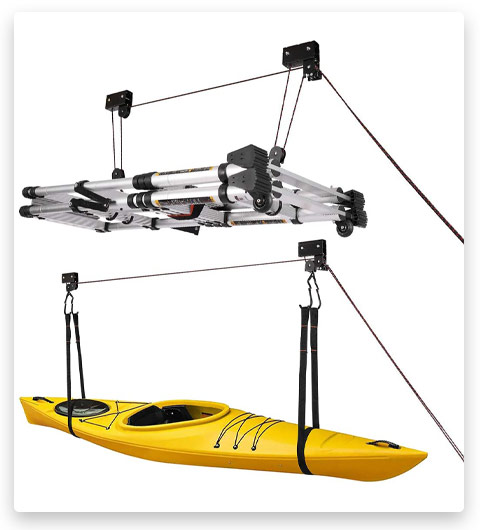 This system has hooks that are made of heavy-duty rubber-coated iron. This ensures safety for your equipment. It will not be scratched or otherwise damaged in any way. You don't have to worry about your kayak falling from the ceiling. This system has nylon ropes that are tear-resistant. You can easily hang your equipment thanks to the innovative pulley system.
11# Great Working Tools Kayak Rack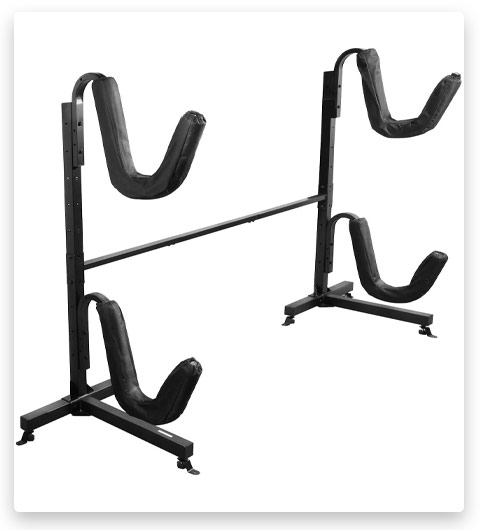 This j hook kayak storage is suitable for storing two kayaks at the same time. This stand can hold up to 175 pounds and is designed for long-lasting use. This metal stand is powder-coated to resist rust and corrosion. This model is suitable for a variety of equipment thanks to the adjustable stand. It is adjustable from four to six feet.
12# Best Marine Kayak Storage Racks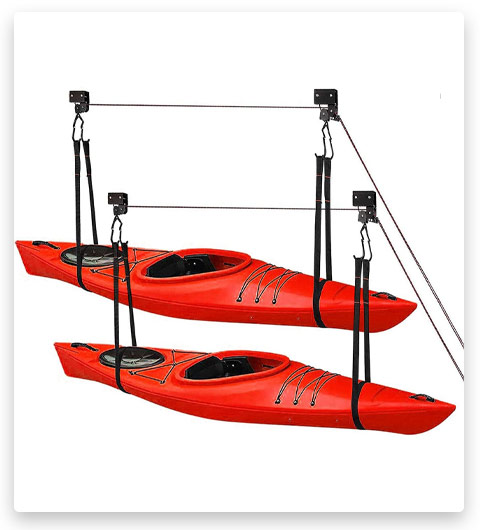 This Pulley System is designed to hold two kayaks. It allows you to store your equipment safely on the ceiling. You will be able to raise and lower your kayaks without any problems thanks to this system. You don't need to call anyone for help to do this. The system is so easy to use that one person can handle it.
13# Extreme Max Kayak/Canoe/Bike/Ladder Hoist & Lift for Storage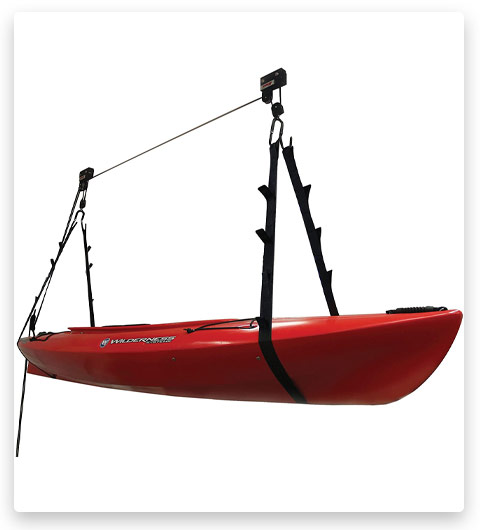 Hang your kayak with this hoist system. This will save space in your garage. Store bicycles, kayaks, canoes, etc., are best stored on the ceiling. One person can handle raising or lowering the kayak using this system.
14# GYMTOP Waterproof Kayak Canoe Cover-Storage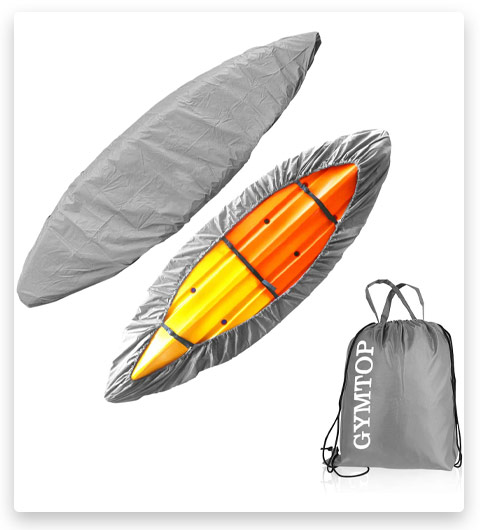 To store the kayak, it is not necessary to hang it from the ceiling or install it on the wall. You can also place it in a special protective case. This model is made of waterproof polyester. This material is highly durable, and also reflects the sun's rays, so you can store the kayak even outdoors. This cover will protect your kayak from damage caused by wind, sun, dust, etc.
Different Types of Kayak Storage Racks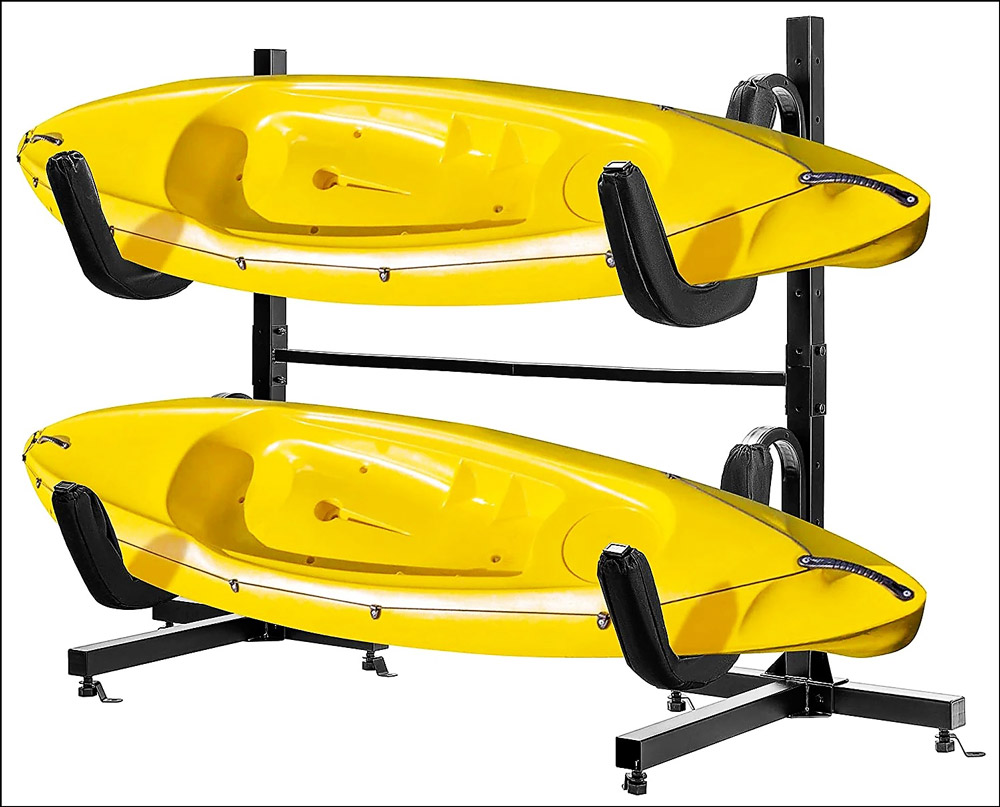 Exploring Your Options: Types of Kayak Storage Racks
Not all kayak storage racks are created equal, and the best one for you depends on your specific needs and available space. There are primarily three types to consider:
Wall-Mounted Racks: As the name suggests, these racks are attached to the wall. They're ideal for limited floor spaces and can be installed at any height to accommodate your kayak.
Freestanding Racks: These racks stand on their own and typically hold multiple kayaks. They're versatile and can be placed anywhere, indoors or outdoors.
Ceiling-Mounted Racks: Designed for those with minimal space, these racks suspend your kayak from the ceiling, saving valuable floor and wall space.
Weighing the Pros and Cons: Which Rack Type is Right for You? 🤔⚖️
Each storage rack type comes with its own advantages and disadvantages:
Wall-Mounted Racks 🧱 are space-efficient and affordable 💵. However, they require a sturdy wall for installation and might not be suitable for heavier kayaks ⚓.
Freestanding Racks 🆓 offer the flexibility of location and can accommodate multiple kayaks 🚣‍♀️🚣‍♂️. However, they take up more floor space and might not be suitable for small areas 🏡.
Ceiling-Mounted Racks ☁️ maximize space usage by utilizing ceiling space. However, the height can make storing and retrieving the kayak more challenging, and they may not be suitable for those with high ceilings or heavy kayaks 🏗️🆙.
Tailored to You: Choosing the Perfect Rack for Your Space and Needs 🎯💡
Choosing the right rack for your kayak involves considering the space you have available 🏞️, the size and weight of your kayak ⚖️, and how frequently you use it ⏰. Wall-mounted racks are perfect for those with limited space who regularly use their kayak 🌆🏊‍♀️. Freestanding racks are a great choice for households with multiple kayaks or outdoor spaces 🏘️🌳. Ceiling-mounted racks, meanwhile, are ideal for long-term storage or small spaces 🗄️🔝. Take time to assess your needs and surroundings before making your decision to ensure you find a storage solution that is both practical and effective 🔄🔍.
Top Kayak Storage Racks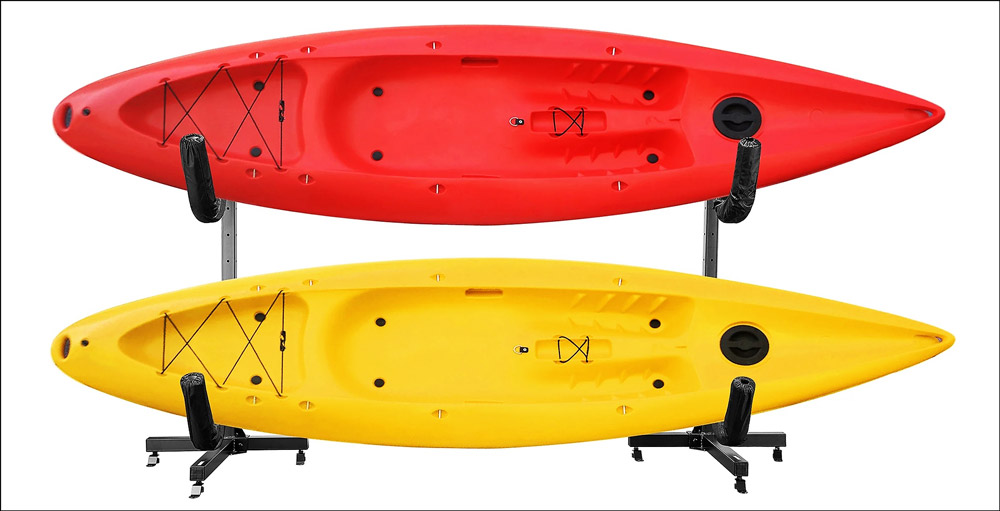 The Cream of the Crop: Reviewing Best Kayak Storage Racks
Several standout models have emerged as the preferred kayak storage racks among enthusiasts. The top contenders include the ExtremeMax 3005.3474 Kayak Wall Cradle, the SpareHand Freestanding Dual Storage Rack, and the RAD Sportz Ceiling Rack.
ExtremeMax 3005.3474 Kayak Wall Cradle: Known for its sturdy construction and ease of installation, this wall-mounted rack comes with padded arms to protect your kayak's finish.
SpareHand Freestanding Dual Storage Rack: Ideal for multiple kayak owners, this freestanding rack offers ample space, adjustable height, and sturdy steel construction.
RAD Sportz Ceiling Rack: Perfect for those with limited space, this ceiling-mounted rack has a high load capacity and comes with adjustable straps for secure storage.
The Devil's in the Details: Key Features of Top Storage Racks
ExtremeMax 3005.3474 Kayak Wall Cradle
Key Features: Padded arms, heavy-duty steel construction, easy installation.
Pros: Sturdy, protective, compact design.
Cons: Limited to wall mounting, not ideal for very heavy kayaks.
SpareHand Freestanding Dual Storage Rack
Key Features: Adjustable height, sturdy steel construction, high load capacity.
Pros: Can store multiple kayaks, doesn't require wall or ceiling mounting.
Cons: Requires more floor space, not ideal for small areas.
RAD Sportz Ceiling Rack
Key Features: High load capacity, adjustable straps, and hooks for additional storage.
Pros: Excellent space saver, secure storage.
Cons: May be challenging to store and retrieve kayaks, not ideal for high ceilings or heavy kayaks.
My Two Cents: Personal Experiences with Top-Rated Models
From personal experience, the ExtremeMax wall cradle is a solid choice for everyday use. It's sturdy and protective, and even after months of use, it's held up exceptionally well. I've also had the opportunity to use the SpareHand rack at a friend's place. It's robust, and its ability to hold multiple kayaks is a definite plus for households with more than one kayak.
Key Considerations When Choosing a Kayak Storage Rack

A Checklist for Buyers: Key Factors to Consider
Selecting the perfect storage rack is more than just buying the first one you see online. Here are some key considerations that will help guide your purchase:
Material: Storage racks are usually made from metal, plastic, or wood. Metal racks, particularly those made from steel, are sturdy and durable. Plastic racks, on the other hand, are lighter and resist rust and corrosion better. Wood racks can blend well with home decor but may require more maintenance.
Weight Capacity: Make sure the rack can handle your kayak's weight. Overloading a rack can lead to failure and potential damage to your kayak.
Size: The rack should fit your kayak properly. Too small, and your kayak might not fit; too large, and it might not hold your kayak securely.
Ease of Assembly: Some racks can be quite complex to assemble. Check whether the product comes with clear assembly instructions and whether any special tools are needed.
Price: While it might be tempting to go for the cheapest option, remember that price often correlates with quality. Consider it an investment in the longevity of your kayak.
The Great Indoors vs Outdoors Debate: Storage Environment Considerations
Whether you'll be storing your kayak indoors or outdoors can significantly impact the type of rack you choose. Indoor storage generally allows for more material options as the rack won't be exposed to harsh weather. Outdoor racks, however, need to be more robust and weather-resistant. Furthermore, consider the space available in your storage area. A freestanding rack might be unsuitable for a cramped garage, but perfect for a spacious backyard.
🔶By taking into account all these factors, you'll be well-equipped to select a kayak storage rack that is durable, reliable, and perfectly suited to your needs.
How to Store Your Kayak?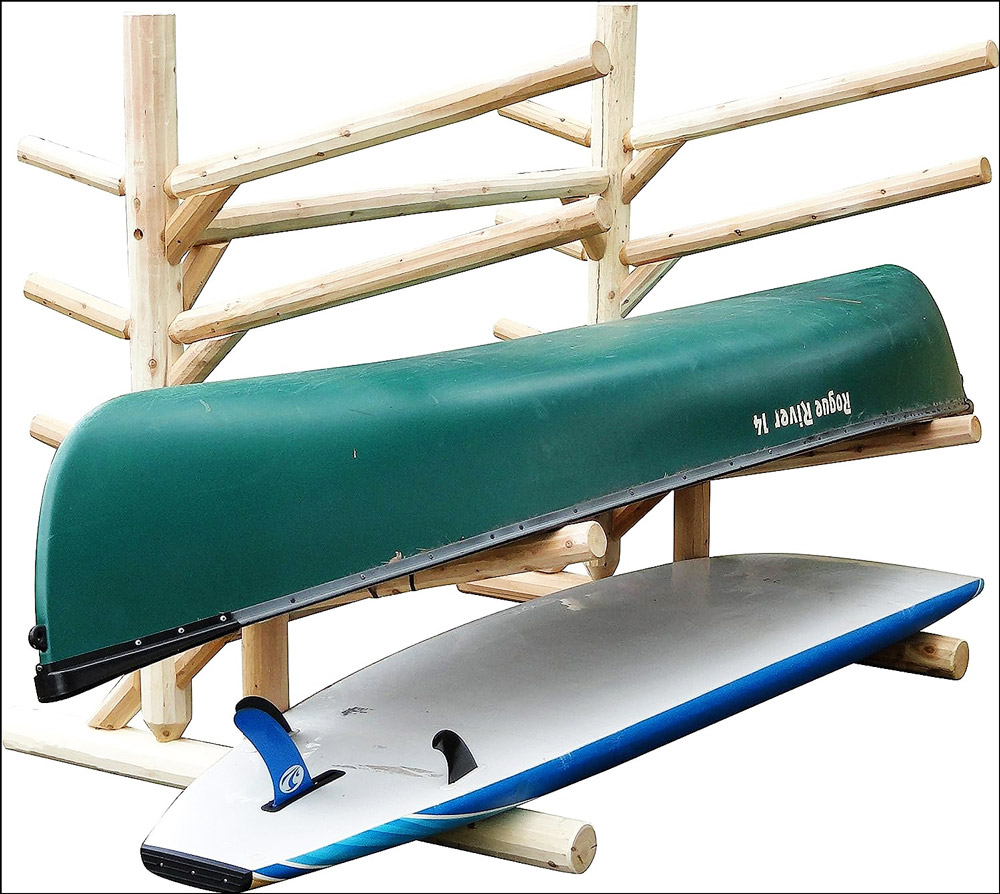 End of Season Storage: Considerations for your Kayak 🛶🗓️
At the end of the season or with a planned long break, it would be best to place the kayak in a closed, dry room with an average, stable temperature, for example, in a garage, hangar or attic, etc. 🏠🚪 If no other place is available, your city apartment is also suitable 🏙️👌. Particular importance should be attached to the storage system of the vessel.
Avoid These Common Mistakes 🚫❌:
Suspending the boat for a long time by the transport loops to avoid bending the hull ⏰💔.
Storing the kayak on its side. This can deform one side of the case 🚣‍♀️➡️.
Kayaks with a pronounced keel should not be stored with an emphasis on the bottom, as it may flatten 🚣‍♀️⬇️.
Do not leave the boat in an upright position for a long time 🚣‍♀️⬆️.
How to Store Your Kayaks Competently and Ergonomically 💡📚:
Storage horizontally on a special stand. This design ensures proper balance of pressure on the body 🛶🔛🛠️.
An option for limited space is hanging from the ceiling with several wide straps that wrap the kayak under the bottom, at an equal distance 🛶⬆️. The more straps, the more evenly the load is distributed 👍👌.
Preparing To Store Your Kayak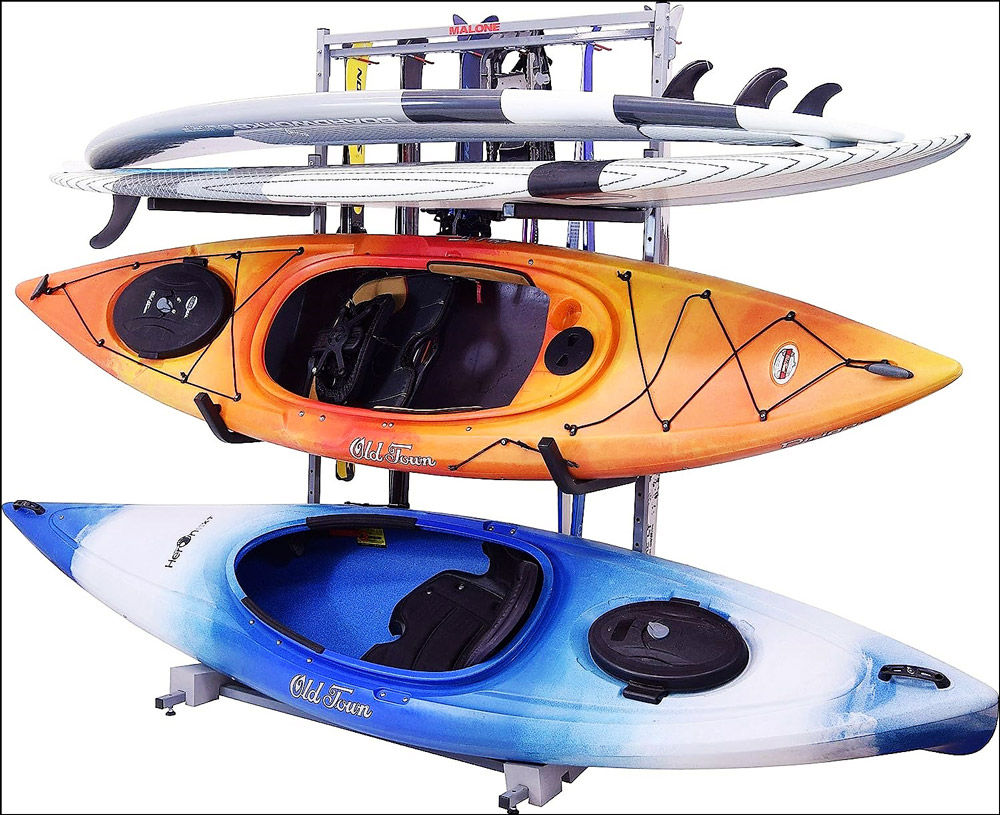 Decide Where to Store Your Kayak 📍📏
You need a spot that has enough room for your kayak. Measure your kayak and storage space ahead of time to make sure your kayak will fit 🚣‍♂️✅. Kayaks take up a lot of space and should not come into contact with other items during storage. It is best to store it indoors 🏠 to keep it protected. You can store it in your garage, basement, shed, or any other enclosed space. Store it outdoors 🌳 only as a last resort. If you will be storing your kayak for a long time and you have little space in your home, you can store your kayak professionally 🏢. Many kayak schools, kayak rentals, marinas, rowing clubs, or state beaches have kayak storage available.
Control the Temperature in the Storage Space 🌡️
Make sure your kayak is not exposed to extreme heat or cold. Avoid temperatures below freezing ❄️ or above 100 degrees Fahrenheit (37.7 degrees Celsius) 🔥. Your kayak mustn't become brittle or damaged. The worst option is to store the kayak in direct sunlight ☀️. Heat will deform the plastic and discolor the surface. If you store your kayak in the garage, make sure it is in a dark place 🌑. Make sure you don't store your kayak near a direct heat source 🚫🔥.
Wash Your Kayak 🧽🚿
Use a mild all-purpose cleaner (such as diluted Castile soap) and a sponge to wipe down the kayak. Be sure to clean the inside and outside. There should be no dirt residue or residue. After cleaning with soap, rinse thoroughly with water 💦 so that no soap remains on the kayak.
Dry Your Kayak 🌬️👍
Although kayaks are designed to be used in the water, they are not designed to get wet all the time. The water will begin to erode the surface of the kayak. If you cover it and there is moisture inside, mold will grow on it. To dry the kayak, wipe it with a towel 🧺 and drain the water from the hatch or drain plug.
Remove Soft Materials if Stored Outdoors 🏞️💺
Any fabric or soft material from the kayak, such as the seat, should be removed for storage. This is especially important for outdoor storage. Store soft materials in a dry and not too cold place, such as a closet.
Cover Your Kayak 🎪🛡️
Whether you are storing your kayak outside or inside, it is recommended that you use a carrying case. This will protect your kayak from external factors, dust and garage creatures. You can buy a special kayak cover, use a cockpit cover, or use a simple tarp and throw it over the kayak for extra protection. When using a tarp, it is best to create a space between the tarp and the kayak so that water or snow does not accumulate on the surface of the kayak (if it is outside) and so that any remaining moisture is not blocked inside the kayak.
How to Properly Store Your Kayak on a Rack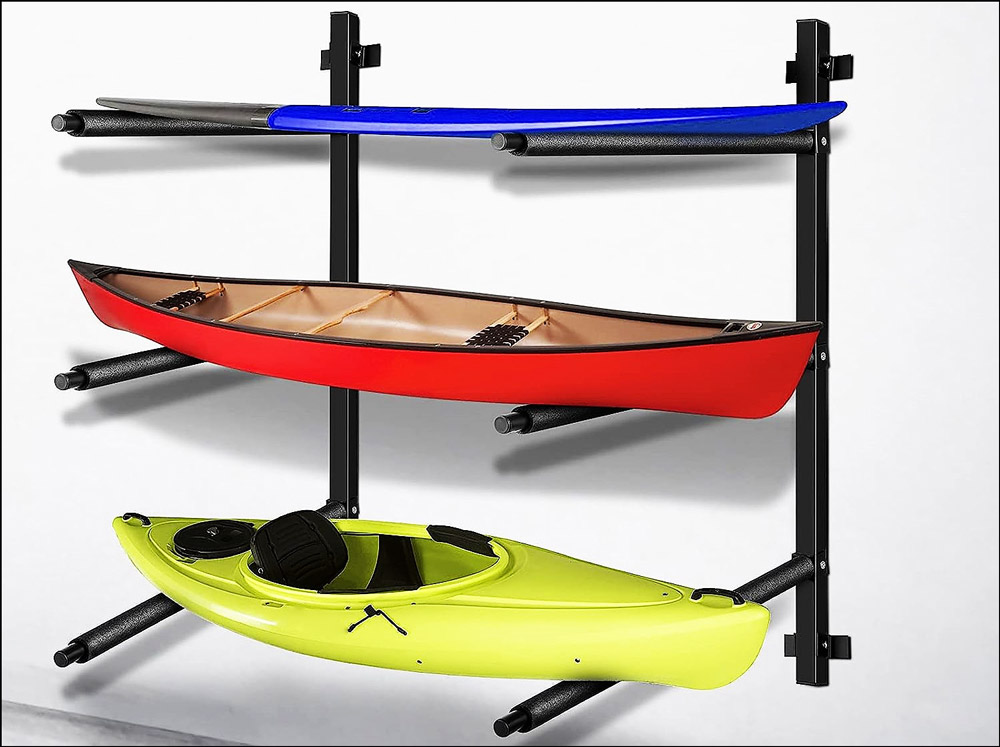 Securing Your Kayak 101: A Step-by-Step Guide
Storing your kayak properly is critical to ensure its longevity. Here's a step-by-step guide to help you do just that:
Clean Your Kayak: Before storage, clean your kayak thoroughly to remove any dirt, salt, or debris that might cause damage over time.
Position Your Rack: If it's not fixed, ensure your rack is positioned in a safe and stable location.
Lift Your Kayak: With the help of a friend if necessary, lift your kayak onto the rack, positioning it hull-side down to avoid warping.
Center Your Kayak: Adjust the kayak so it's centered on the rack. This prevents any undue stress on one part of the kayak.
Secure Your Kayak: Using straps or ropes, secure your kayak to the rack. Don't over-tighten as this can cause damage.
Maintenance Magic: Tips for Long-Term Kayak and Rack Care
While your kayak is stored, regular maintenance can keep both the kayak and rack in prime condition:
Cover Your Kayak: Use a kayak cover to protect it from dust, UV rays, and other environmental factors. If outdoors, make sure it's also waterproof.
Inspect Regularly: Regularly check your kayak and rack for any signs of damage or wear and tear.
Avoid Extreme Conditions: If possible, avoid storing your kayak in areas with extreme temperatures, which can cause damage.
Lubricate Moving Parts: If your rack has any moving parts, keep them lubricated to prevent rust and ensure smooth operation.
Clean Before Use: Before taking your kayak out, give it a quick clean to remove any dust or debris accumulated during storage.
🔶By following these tips, you'll ensure your kayak and rack stay in top condition, ready for your next adventure.
🎦Video YouTube: DIY Building a Kayak Rack
FAQ: Transform Your Space with Kayak Storage Racks
Conclusion: Keep Your Kayak Safe and Sound
In order for your kayak not to be damaged and to serve you for many more years, you need to store it properly. The best kayak storage systems will help you with this. In this review, I have shown you a large number of kayak storage hooks. I advise you to pay special attention to these models: 1# Rad Sportz Kayak Storage Hooks, 2# Goplus Freestanding Kayak Rack, and 3# Rad Sportz Kayak Storage Rack – Amazon's Choice.
Wrapping Up: Why Your Kayak's Rack Matters
Over the course of this article, we've explored the essential role that the right storage rack plays in preserving your kayak. From protecting your kayak against harmful environmental elements to maintaining its shape and performance over time, a high-quality rack is truly a game-changer. It's not just about storing your kayak, but ensuring it's ready for your next outing, whether that's fishing, exploring waterways, or simply enjoying the serene beauty of the water.
An Investment Worth Making: The Last Word on Kayak Storage
As a fellow kayak enthusiast, I cannot stress enough the importance of investing in proper storage. It might seem like a significant outlay now, but consider it an investment into your kayak's lifespan and performance. A high-quality rack pays for itself by keeping your kayak in peak condition for years to come. So take your time, consider your options, and make the choice that will give your kayak the care it deserves. Because ultimately, the joy you derive from your kayak adventures is priceless.
Continuing the Conversation: Useful Resources and Reviews
In the creation of this comprehensive guide on kayak storage racks, various resources have been consulted to provide accurate, up-to-date, and useful information. The following are key sources referenced:
"Choosing a Kayak Storage Rack", Outdoorplay – https://www.outdoorplay.com/collections/kayak-storage-racks
"The Impact of Environmental Factors on Kayaks", Yakima – https://yakima.com/collections/kayak-racks
"Proper Storage for Kayaks: An Expert Guide", REI Co-op – https://www.rei.com/learn/expert-advice/kayak-storage.html
"Top Kayak Racks in 2023", Paddling.com – https://paddling.com/gear/transport/kayak-transport/kayak-racks
"How to Store a Kayak: Tips and Tricks", Kayak Guru – https://kayakguru.com/how-to-store-a-kayak/
Tags: #best kayak storage / #kayak storage rack / #best kayak storage rack / #best kayak storage rack accessories / #best kayak storage systems / #kayak storage hook / #kayak storage rack freestanding / #outdoor kayak storage rack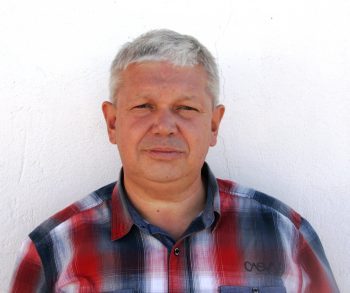 Sergio Smirnoff
Professional fisherman with 40+ years of experience.
Fishing and the ocean is a passion of my life. I am passionate about all kinds of sea fishing: fishing from the shore (spinning, float, baitcasting), from a boat, and spearfishing day and night.
I live in Tenerife (Canary Islands) for the last 10+ years and share my daily fishing experiences on my website. Many years of personal experience as a fisherman and the vast experience of my friends allow me to write professionally on any fishing topics (from choosing a flashlight and equipment to deep-sea fishing).
All of my advice is based on practical real-world experience and will be useful to both novice anglers and professionals.
Read more
about the author.
Affiliate Disclosure: FishReeler.com sometimes gets paid for listings, through sponsors or affiliate programs like Amazon, Ebay, Cabelas, Bass Pro Shop, Shimano, Daiwa, Rapala, Renn, Okuma, KastKing, etс. Clicking a link helps keep FishReeler.com free, at no extra cost to you!
About the author: Each article is verified by the fishing expert Sergio Smirnoff. The articles are written by professional and amateur fishermen with 20+ years of fishing experience.
Note: The views and opinions expressed in this article are those of the authors and do not necessarily reflect the official policy or position of any agency. The articles are for informational purposes only, share your opinions in the comments and join the fishing discussions, let's share our fishing experiences together!