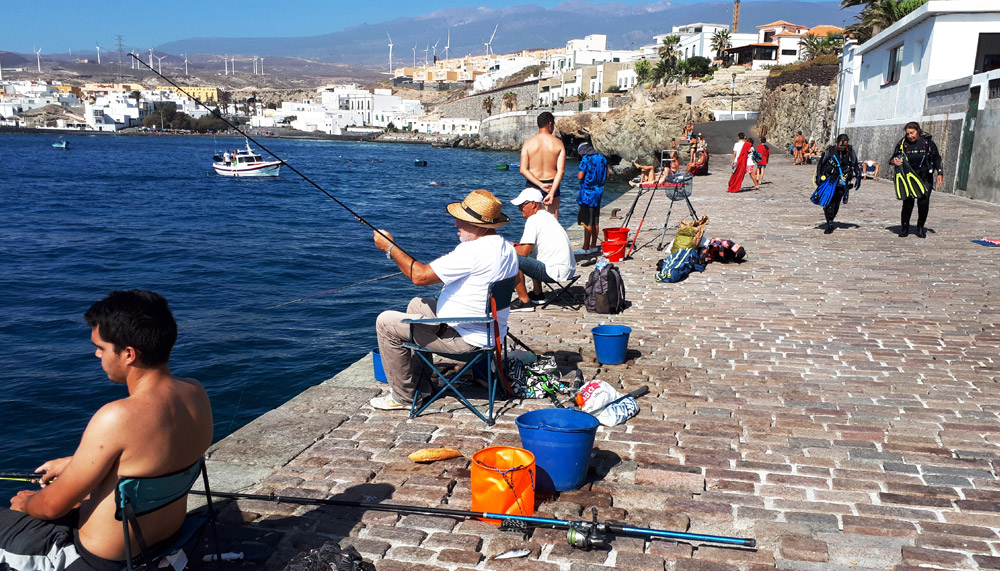 It is very important to know! I want to present you my post to show you the minimum set of fishing gear that a fisherman needs. There is no one-size-fits-all gear. Every time you put together a new tackle.
Introduction
I have been into fishing for over 40 years. It is my main hobby. During this time, the evolution of fishing equipment has passed before my eyes. My preferences in choosing equipment are ease of use, quality, and reliability for many years, beautiful design, ease of maintenance, affordable price, ability to store and transport.
During this period, I have accumulated a lot of equipment, gear, and accessories. From the first Japanese reel I bought 35 years ago, it still functions fine today. Its drawbacks: small gear ratio and small line capacity. I bought it for kayak and canoe trips for fishing in quiet lakes and small rivers. Before ultra-modern fishing reels.
On my website, I will publish articles, show the most valuable and important in my opinion. I want to share my experiences and hope other anglers will benefit. I want to be objective in my reviews and not advertise products.
You will see my unique photos, what I go hunting with, and what I write my reviews based on and draw conclusions. I will try to do a lot of explanations, infographics, give facts and confirm stated prices.
If my articles are of interest to anyone, I will be happy. Many of my tackle and gear have been tested in harsh weather conditions on sandy beaches, fishing among basalt rocks, and from a boat in deep water in the Atlantic Ocean. The seawater, waves, and wind created additional stress. I also fished a lot with spinning sea bass, which required constant casting of the bait for hours at a distance of 10 to 50 meters from the shore.
Fishing Tackle With A Fishing Rod
I want to disprove the theory that the more expensive the product, the better it is. To do this, I independently try test in practice, buy in different places and from different manufacturers, sometimes directly from the brands-manufacturers. I fix the time of delivery, packaging, and more. I analyze. I test. I also try to buy products made in America or Japan. I live on the island of Tenerife Canary Islands and so I always have shipping restrictions. For example, the AB Biller 42 Special speargun I was only able to order on eBay.
Here are two typical examples:
For many years, I bought expensive braided fishing lines from well-known manufacturers at a price of 80 euros for a reel of 300 meters. That is until I ordered KastKing on Aliexpress. I wound the braided line on the reel. I started fishing on a plastic wobbler. And immediately good impressions: easy to slide, does not twist, no memory of knots and kinks, durable (I caught a stingray of 12 kg with a thread thickness of 0.28 mm), and the price is several times cheaper than standard lines. I have become a fan and a follower of this brand KastKingUSA.
Piscifun Reel. If a fisherman has a good budget, competing with a reel like the Shimano Stradic Ci4 Reel is useless. It's a super option at $400 USD. As a counterbalance to it, I recommend a beginning fisherman to buy a Piscifun Flame Spinning Reel. It's cheap and works as it should. Beautiful, comfortable, functional, decent in every way. Feel free to buy it and start catching fish.
Sample Spanish Licenses Fishing and Spearfishing
Important: The most important thing before fishing is to buy a license and other appropriate permits. At any stage, it is necessary to comply with local State Laws.
My Rods
In this list, I present rods that are suitable for beginners and fairly experienced anglers. Not only does it save your budget, but it also allows you to successfully hunt most species of fish in a variety of water bodies.
1# Shakespeare Cape York Boat Rod 1 Pieces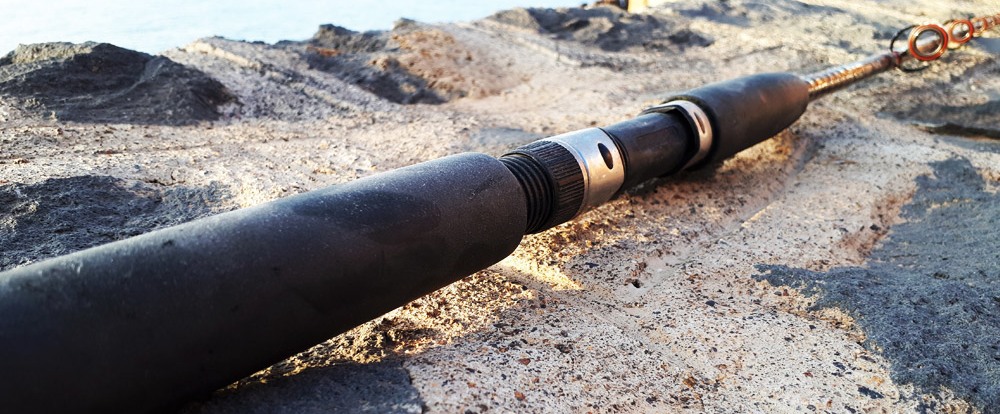 My first rod was bought in Tenerife 15 years ago for fishing from a boat. It is still in good condition and my son loves to fish with this particular rod. The Shakespeare Fishing brand surprised me with its reliable rod design. It is sensitive to bite, all rings on it are still native and original.
2# Goture Xceed 1004 M-S 4 Sections Travel Fishing Rod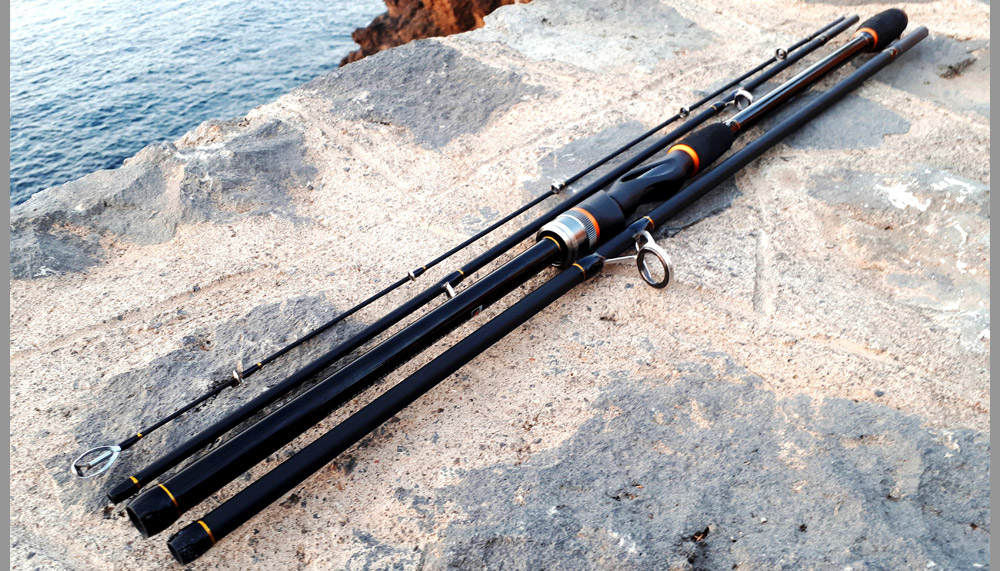 Goture Travel Fishing Rod is four knee spinning rod. Comes in a special protective case. All parts of the rod are in a special case inside. This package gives full safety for carrying and traveling. It is light, comfortable, strong, super rings. Many fishermen say that 4 pieces are bad. This rod has unique knee joints. When assembled it becomes molded like it has no joints. The guide is stainless steel and ceramic inserts. Split grip EVA. My favorite rod.
3# Kali Kunnan Genesis 3000 Carbon MN Action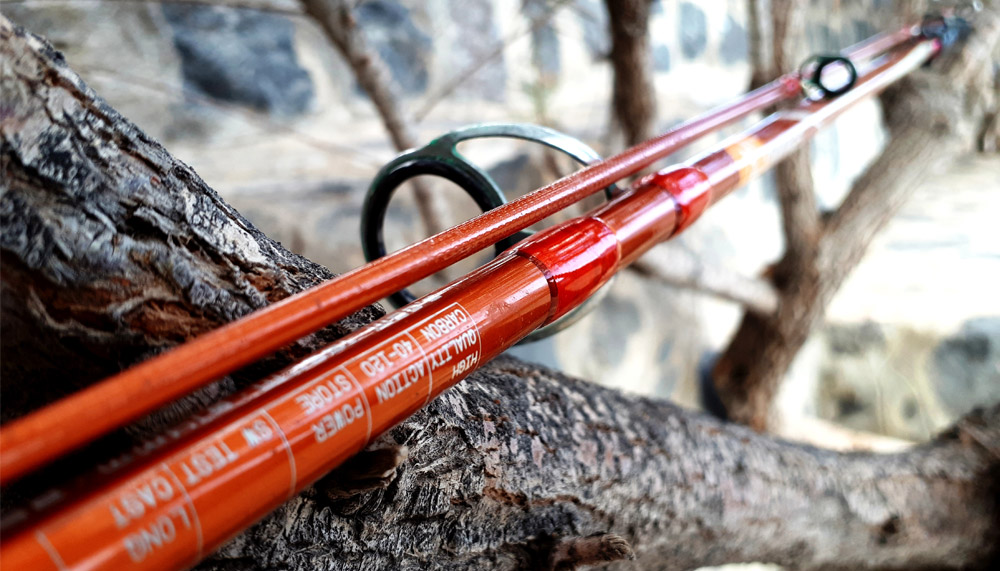 Spanish brand. It is decently priced, powerful, and very durable. It is made of such high quality that it has not been damaged over the years and has retained all of its qualities. It is designed for heavy bait and lures. It will never break or let you down. I recommend it.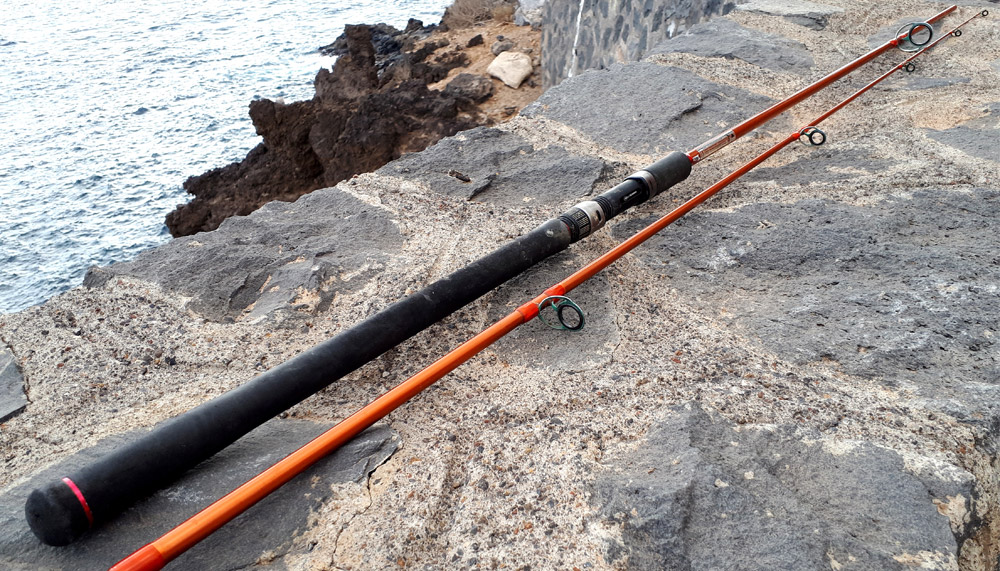 4# Caperlan 300 50 lb Game Trolling Rod Double Leg Reinforced Guides Combo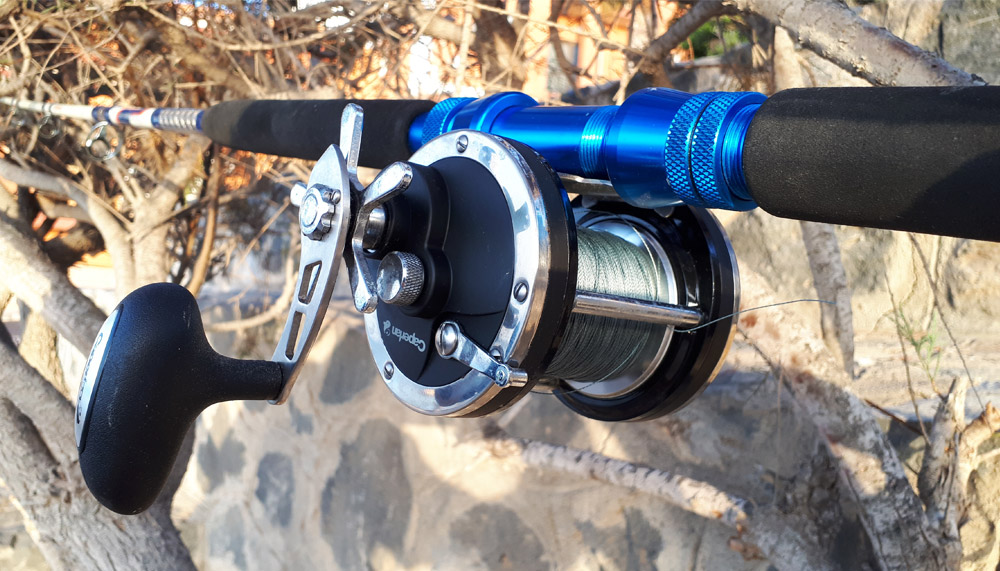 It's for fishing in the ocean for trophy specimens and deeper depths. The Decathlon store partners with this brand. The price is cheap for this model, the quality is top-notch. Tested and time tested. Great roller on the end of the rod, baitcasting reel has never failed. Started to fish from the boat with these rods. Please note. When you are fishing for heavy games, the Caperlan 300 is the perfect tool.
5# Shimano Forcemaster BX 33H NH-SP-SFMBX33H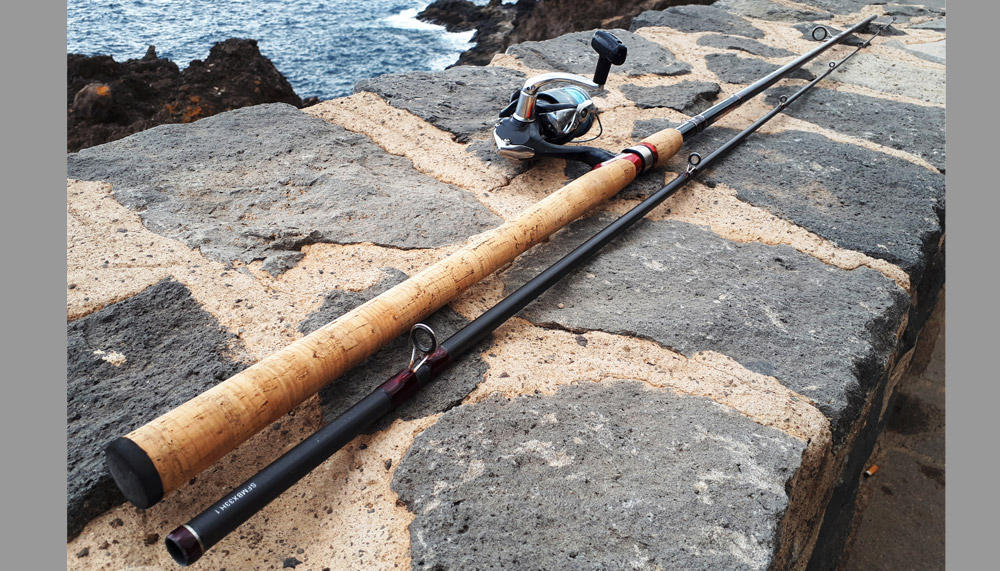 It is for those who want to throw a very far sinker, know how to hunt in the depths of the ocean. Long – 3.3 meters, beautiful line, especially durable from the greatest brand. Even a professional fisherman will appreciate it. Lightweight, 2 sections. All rods of this series are equipped with guides and high-quality Fuji rings, which improve casting performance. The ergonomic cork handle is equipped with a modern reel holder.
6# Sougayilang Lightweight Ultra-Portable Fly Fishing 4-Piece Graphite Rod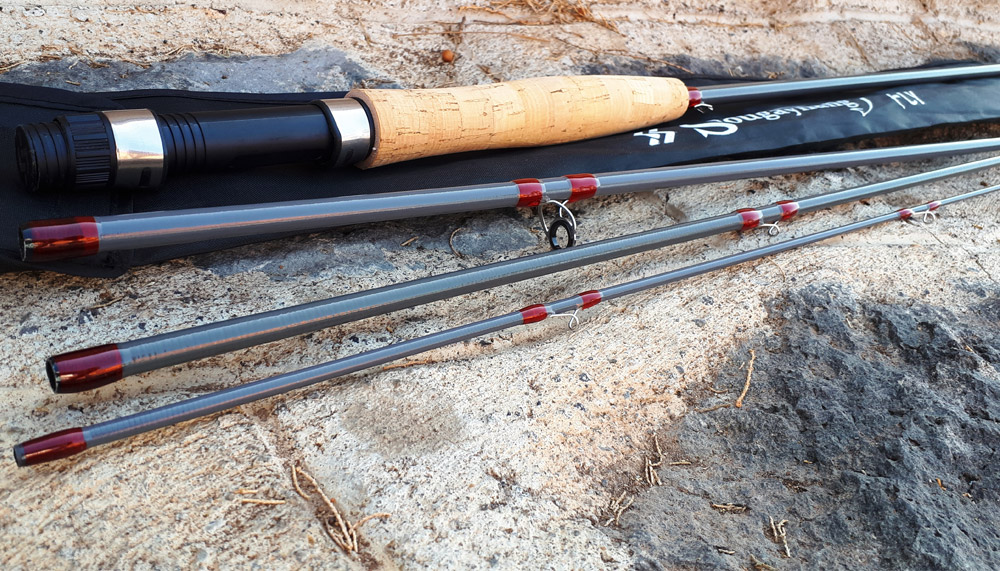 Who wants to fish the mountain rivers is a budget option. Assembles four sections with a lightweight carbon fiber body. Convenient for travel. Rubber handle with an ergonomic design that optimizes your fishing. Reel holder made of machined aluminum with double locking rings to securely hold the reel. It is made of ultralight carbon fiber, the best choice for fishing for small trout, sunfish, bass, carp, salmon. Stable casting, suitable for different fishing locations.
7# Sougayilang Telescopic Fishing Rod and Reel Combos Long Quan YU JU CXY 360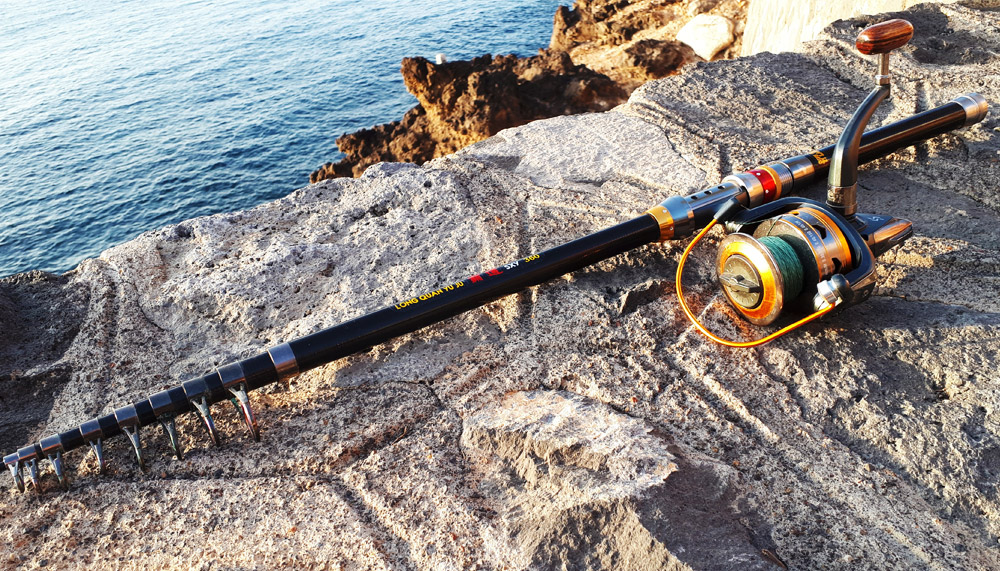 This rod is telescopic. Pros are compact, 3.6 meters long, which allows you to fish off rocks, on a rocky shore and make distant casts. Sensitive and flexible. You can cast a variety of weight bait from light to heavy. The defect – has weak rings, which also rust over time. A good brand, but does not produce all good quality products, these little things spoil its reputation. Such a rod is needed for travel and long trips. I fix it up a bit from time to time and enjoy putting it in the trunk of the car for test fishing in new places.
8# Pocket Fishing Rod – Premium Pen Mini Pocket Collapsible Fishing Pole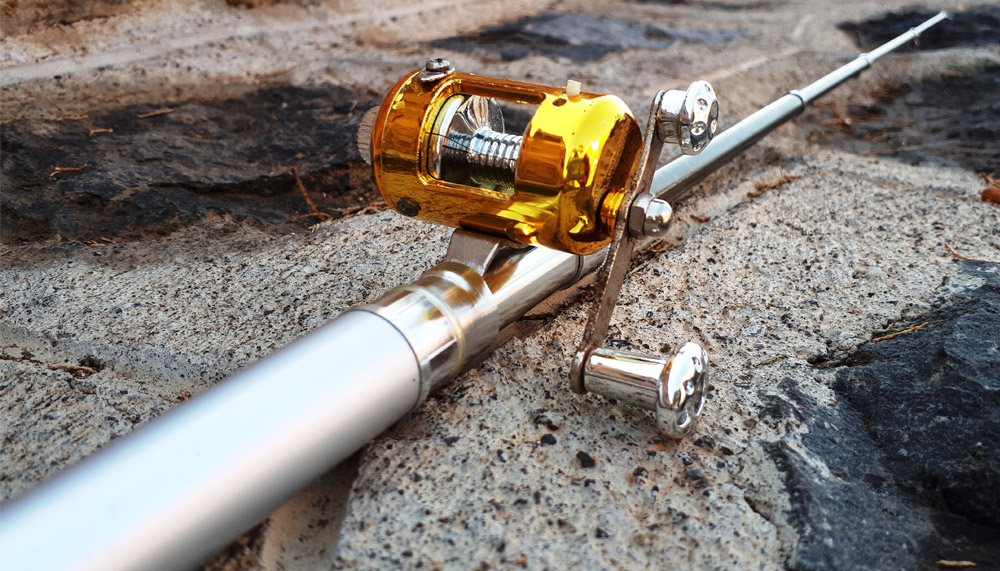 I bought this for my grandson to catch small fish in the harbor, teach my grandson and have fun. The requirements were minimal – fit in a pocket and the ability to cast. Realistically this Pen Fishing Rod Combo Set is more suitable as a keepsake and wall gift.
My Fishing Reels
I list the reels from the first, my favorite, to the usual in descending order.
10# Piscifun Flame 4000 Light Weight Ultra Smooth Spinning Reel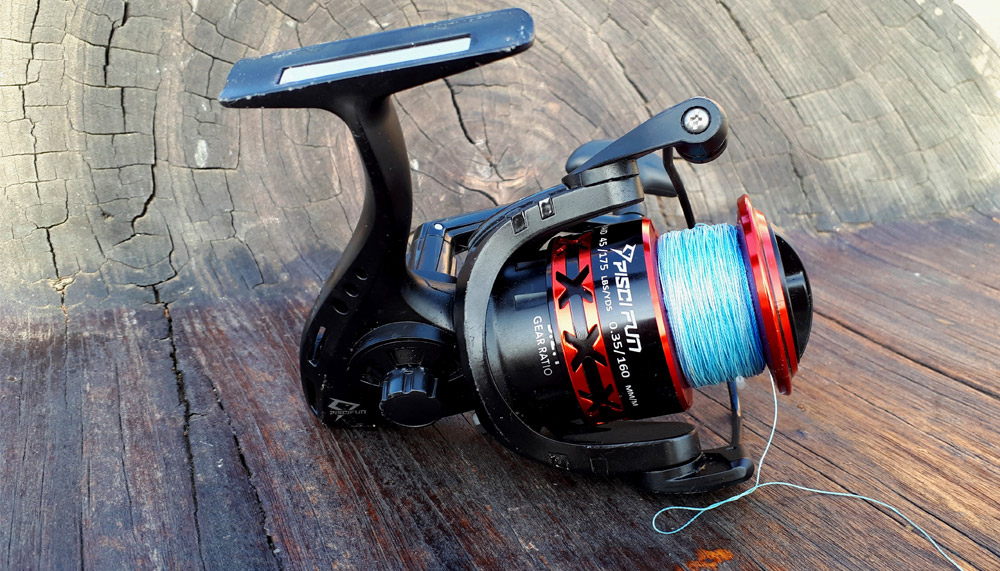 The exquisite look, matte black body combined with the red aluminum spool fits the Flame name perfectly. The unique hollow-body and personalized handle. Lightweight – thanks to the relatively narrow hollow graphite body. Incredible smoothness with 9 ball bearings plus one roller bearing paired with precision gear gearing.
If you like freshwater fishing, you're better off with the 2000 and 3000 series reels. If you're chasing big fish or saltwater species, the 4000 and 5000 would be a better fit. Piscifun Flame fishing reels have incredible drag up to 19.8 pounds. This spinning reel has a lot of great features: a reinforced metal main shaft, high-quality drive gear, precision machined brass drive gear and triple washers make it easy to fight giants.
11# Shimano Sienna 4000 FG Spinning Fishing Reel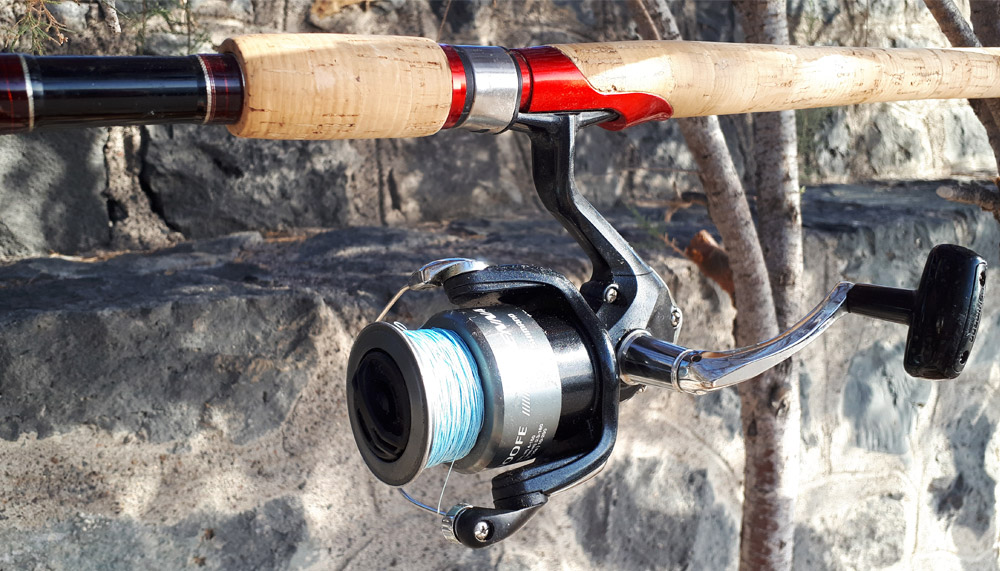 The Shimano Sienna is a well-balanced, quality, high-performance reel at a surprisingly affordable price. This reel includes Propulsion Line Management for longer casts and reduced wind knots. Super Stopper II for instant anti-reverse with no backlash. The Sienna is ideal for inshore fishing. Propeller reel crest design provides longer casting distances. Well-balanced reel with high performance.
12# YUMOSHI XF4000 Spinning Series 13 + 1BB Gear Ratio 5.5:1 Fishing Reel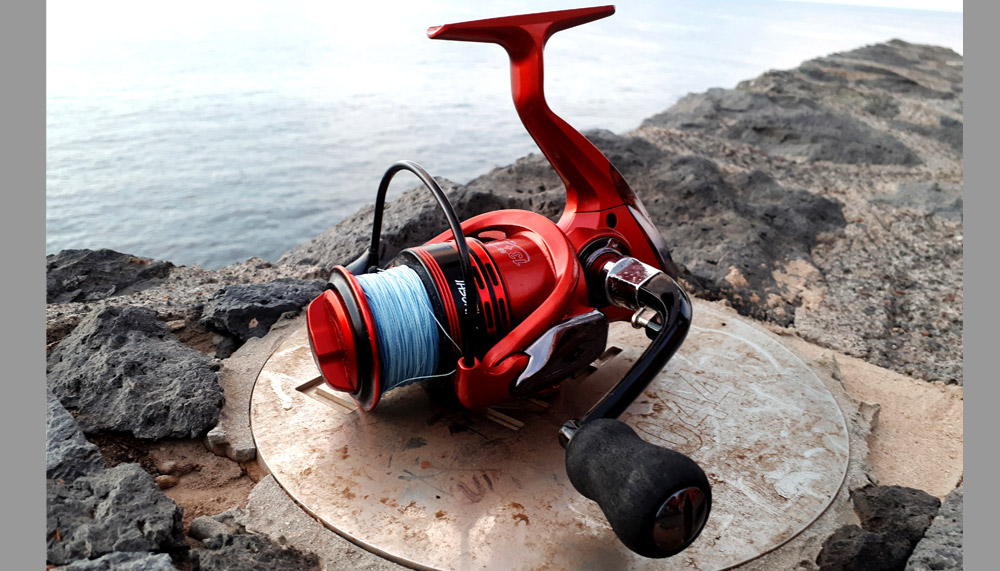 A very sleek and lightweight reel, with a metal coring head and metal bobbin, this is a good reel for the price. 14 bearings! Equipped with a reverse switch, high hardness zinc alloy drive gear. Budget and reliability.
13# Daiwa Procaster 4000x 5.3:1 10 Ball Spinning Fishing Reels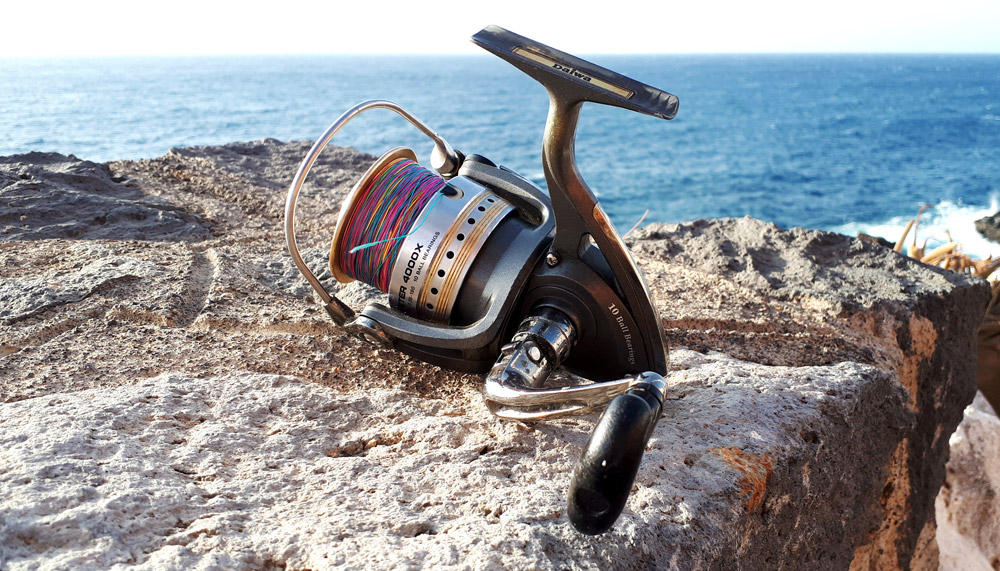 The new Procaster X range an overall higher level of performance and value. With the perfect balance of reel diameter and ratio, each pro caster delivers high smooth reeling power and remarkable final speed. The 4000 is ideal for big baits. Useful in deep-sea fishing.
14# Shimano Exage 10000 FC Reel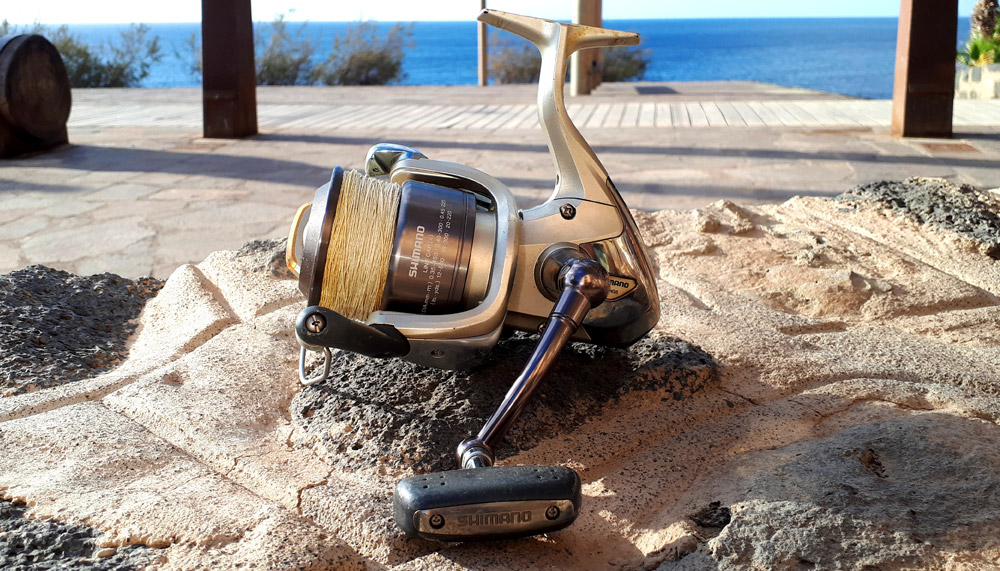 A cold-forged aluminum reel that features AR-C linear control and Varispeed linear padding. It features 4 shielded stainless steel ball bearings and a roller bearing, and a multi-disc front friction system for the smooth, progressive operation that inspires confidence when catching tough trophy fish. The design allows the line to leave the reel with less friction, resulting in longer, more accurate casts. Perfect parallel line laying. Model 10,000 is the perfect size for heavy-duty spinning, trolling, and bottom fishing in depths up to 500 meters.
15# Yumoshi Fishing XF1000 Reel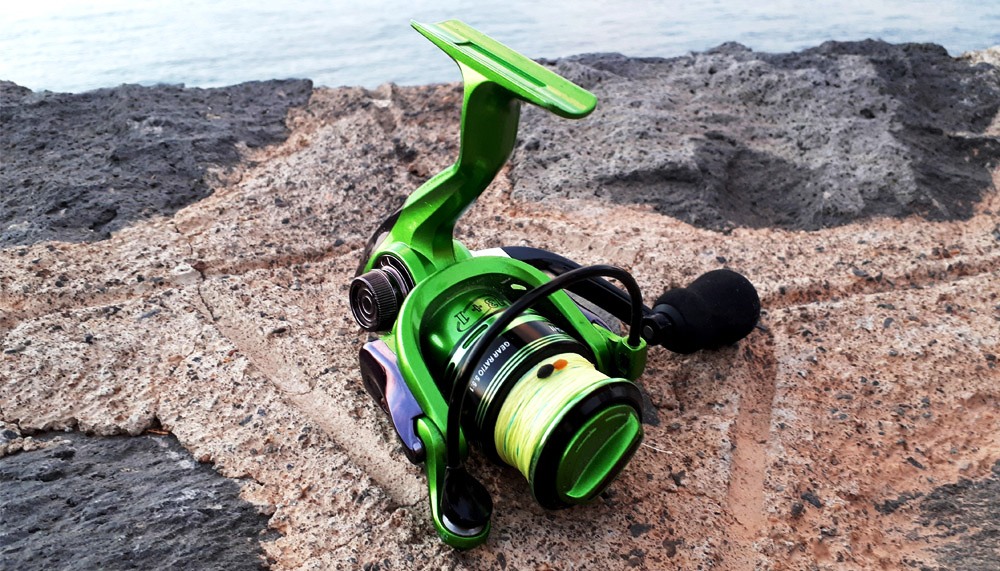 If you have kids or grandkids, this is the reel for you. 14 bearings, smooth running, no tangles, easy to use. What more do you need for your little ones. You can pull fish up to 8 kg with this baby. The only disadvantage is the small capacity of the line and the short throwing of the bait.
Artificial Baits and Lures
A wobbler is a volumetric, made of wood or plastic, bait, which is used for fishing by spinning or trolling. In translation from English wobbler means to swing, move, rollover. Indeed wobbler its game imitates the wounded, fleeing fish, which rolls over from side to side, wobbling, and rocking, thereby attracting the predator.
Wobbler by design and appearance imitates the objects of hunting various predatory fish: fish, frogs, or insects and must provoke the predator to attack. I advise buying lures, baits, known brands, time-tested, good quality, such as Rapala, Shimano, Salmo, YO-ZURI, Lucky, Berkley. They use unique colors and colors, a lot of know-how in design, perfectly imitate live bait. The price for such products is from 15 to 200 euros per piece. There were times when I was fishing Lubina, stingrays came up and I lost 5 expensive wobblers in one evening. It happens too. This is the happiness and life of a fisherman.
For beginner anglers, I present products from China at a low price, you get wobblers for every taste, you will not be afraid to catch them and lose them. They are not durable, after 5-10 fishing trips paint will peel off and chipping on the rocks their body.
Plastic Wobbler Fishing Lures – Hard Baits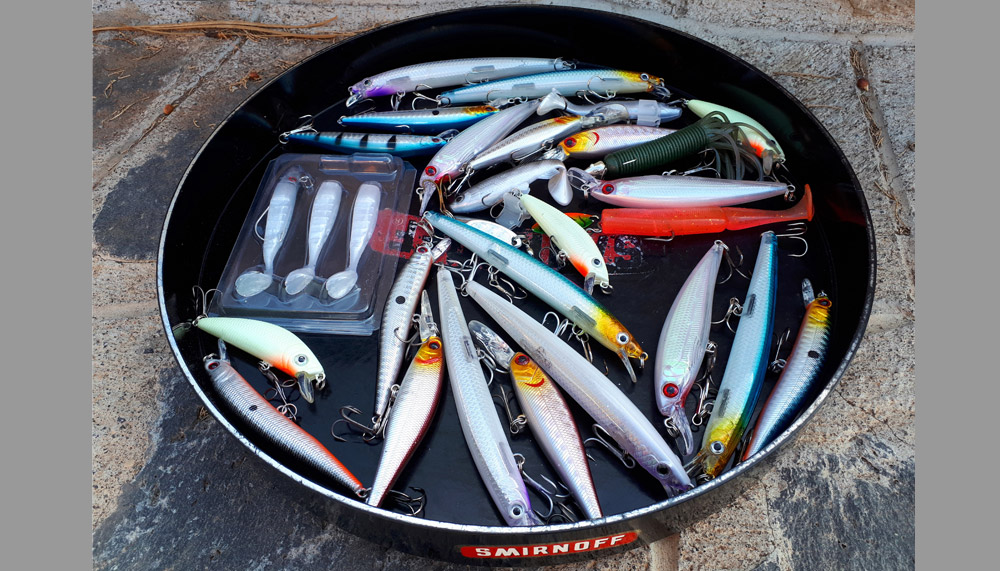 Plastic Wobbler Hard Bait is a kind of fishing lure to catch fish. It can be used for fresh water and saltwater fishing. The wobbler hard bait has 3D eyes, fishes moved by winding the line, which makes it very similar to the life form of the fish. And therefore, this type of bait has become one of the most popular types which are widely used in freshwater and seawater fisheries. As plastic material contains less metal content than traditional metal hard baits, so it will not be corroded by seawater during long time use at sea! This transparent material also allows anglers to observe their line more easily. Because its shape is unique, even an unskilled angler could easily recognize where and how to use it.
People like fishing with plastic wobbler bait because it's lower cost, easy to use, and can be made into many forms such as floating or sinking. However, it's not the right choice for anglers who want to try different types of hard baits. Because plastic lures are light-weighted so that you cannot cast far away from the platform while spinning the reel. If you are new in this field of fishing then I suggest you should buy some small-sized soft lures first rather than buying large sizes of wobbler lures which cost a higher price!
Silicon Lures & Baits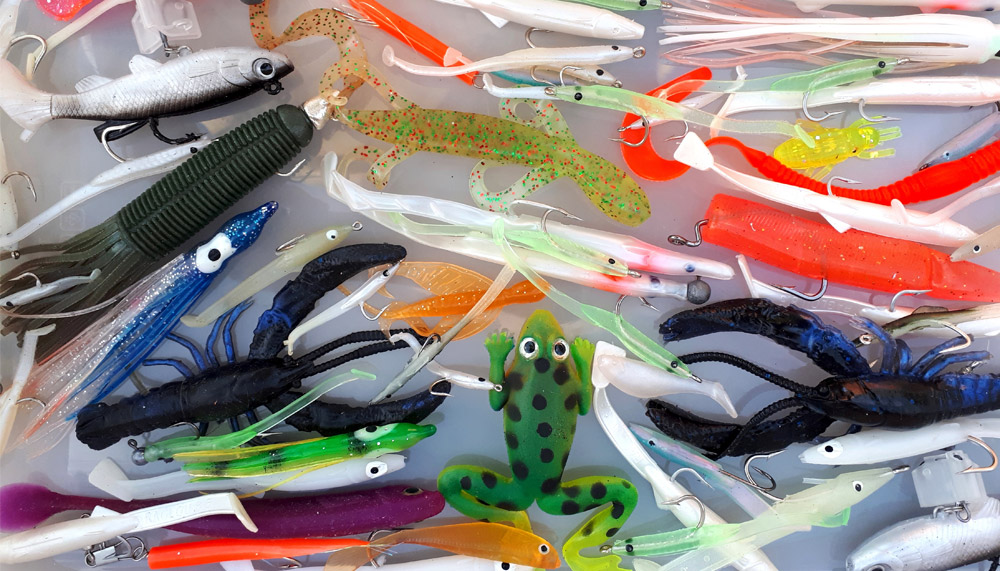 What is fishing silicon bait? Fishing silicon bait is one type of fishing lure that can be used. This kind of fishing tool is often considered as an alternative for live bait and soft lures, but it has some significant differences between them. The main difference is in the material from which it is made: generally, this lure is made from a combination of saltwater and other secret ingredients and materials (silicon or others) to make it more durable and keep its shape longer than any other alternative baits.
Soft Baits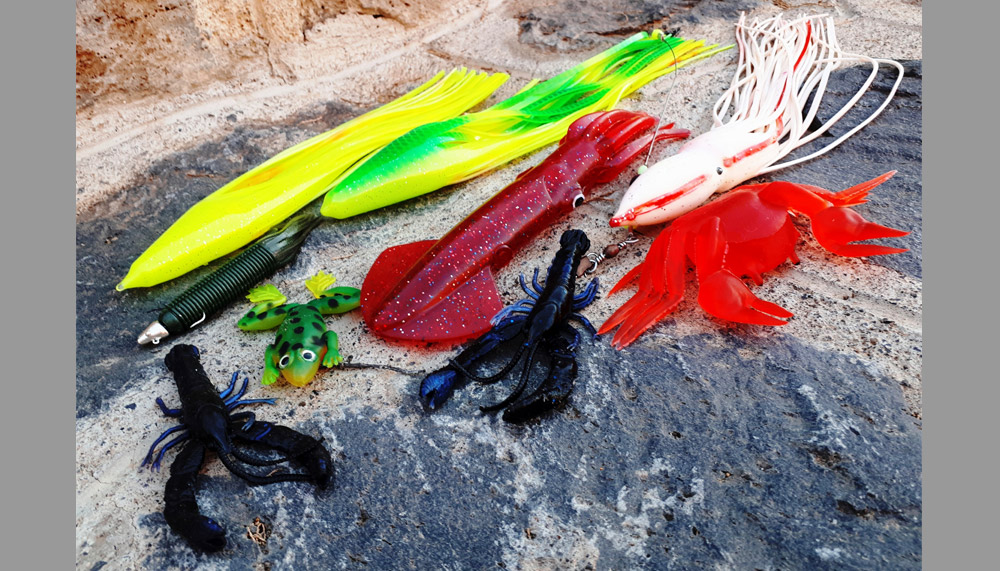 What is fishing soft bait? Fishing soft baits are made from a silicone material that is soft and very flexible. An angler will use this to imitate any different kinds of baitfish, prawns, crabs, and other crustaceans. For example, the best seller in the fishing soft bait category is "Daiwa Soft Shrimp". Most often such baits are used to catch large fish and are equipped with special custom hooks from one to three pieces. Silicone completely repeats the shape and movement of live bait, sometimes having a smell that attracts fish. Such silicone baits are not durable.
Fishing Lures – Metal Spoons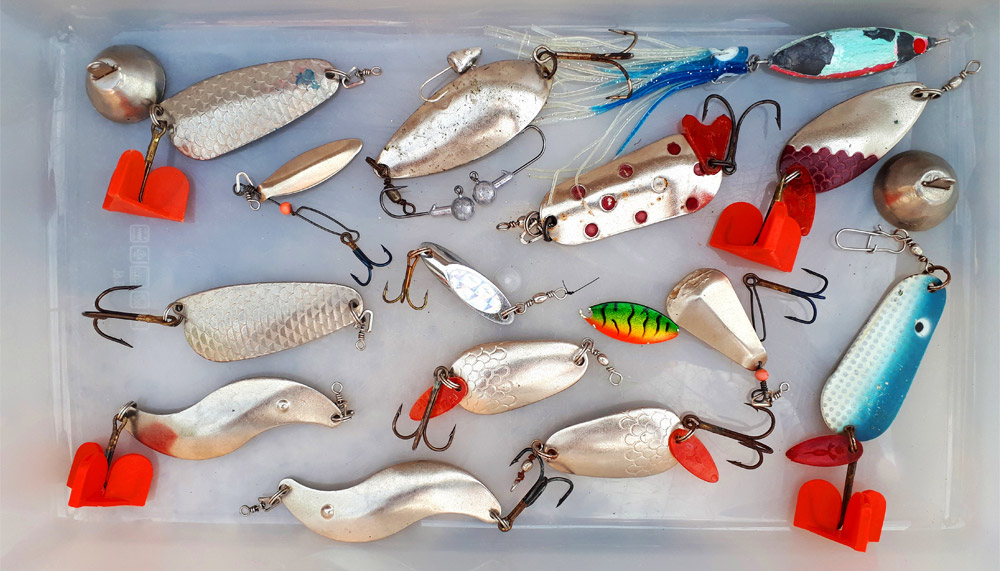 The Blesna (metal spoon) – is an artificial metal bait for catching predatory fish. Structurally, a spinner is made of a metal plate, equipped with one or more fishing hooks, has a hole for attaching to the line. Often the hook is additionally masked by feathers or a plastic plate. Usually, the troll imitates a fish, less often – another living creature (insect, leech, frog, mouse, and so on).
Why the fishing spoon is so popular? Fishing spoons are very common artificial baits that have been used since many years ago. They are usually made of metal or plastic, designed with various shapes and sizes, also painted with attractive colors like bright green, orange, which makes them perfect for catching not only bass but also other freshwater fish like salmon and trout. Because they imitate helpless baitfish or shrimps on the surface of water naturally mimic life form that predators readily respond to.
Fishing Float Sets for Beginners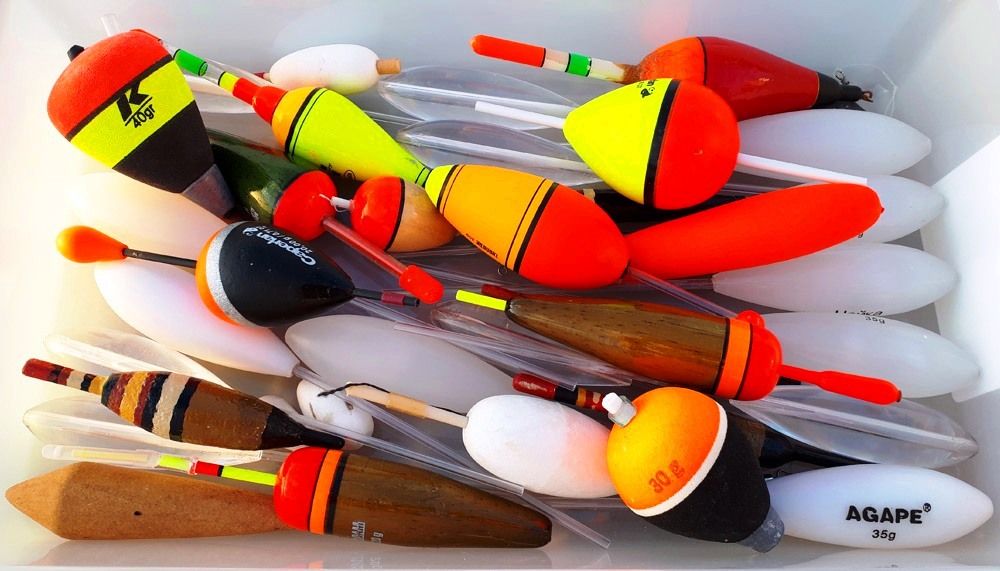 Float – fishing device on the fishing line, which allows delivering the bait at a certain distance from the fisherman, keeping it at the desired depth, and acting as an indicator that signals about a fish bite. The weight capacity and design of this element are selected according to specific fishing conditions. There are many attachments of the fishing float to the line and its height adjustment, every fisherman has his own preferences. Also important is the design of the float for night fishing. On such float, instead of the antenna, a special luminous tip is inserted.
Fishing Weights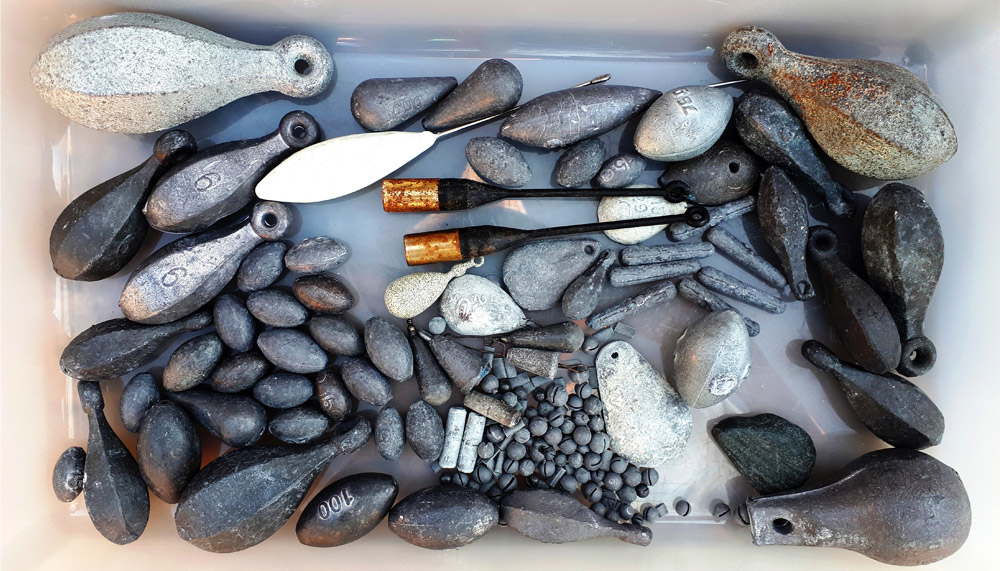 A sinker (a piece of metal) weighs down the working end of the line, makes it easier to cast, makes the bait sink faster, and increases the sensitivity of the float. The sinker is an integral part of almost every fishing tackle. The product allows you to place the rod in the planned location of the river and holds the float horizontally. Dimensions and configuration of lead fishing sinkers are chosen according to the method of fishing, depth of water, speed of the river.
For example, to fish from a boat in the ocean at a depth of 100 meters you need weights of 300 to 1000 grams. Only at this weight will your bait sink vertically down, not float behind the boat. To fish with a standard float, it is enough to have a weight of 3 to 30 grams, depending on the buoyancy of the float. When fishing near the bottom from the shore, not only the weight of the sinker is important, but also its special shape to cling to the ground and allow the fisherman to make the tension of the line.
Different Types Freshwater & Saltwater FishHooks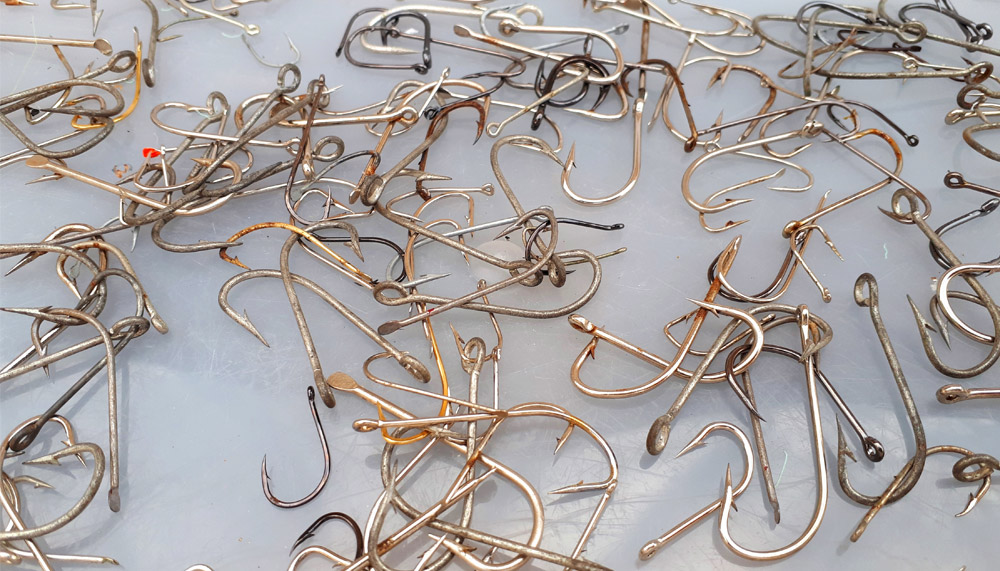 Hook – a metal fishing accessory, which is one of the elements of the equipment of various types of tackle, carrying the bait, making the hook prey, holding the catch, and delivering it into the hands of the fisherman. A fishing hook is the most important accessory of a fisherman. It is very important to choose the right size and shape. Even my rusty hooks serve me well and do not let me down, many of them are about 15 years old. I advise you to buy such products from well-known manufacturers and brands. This is the key to success.
Types of Fishing Lines
Monofilament & Copolymer & Fluorocarbon Lines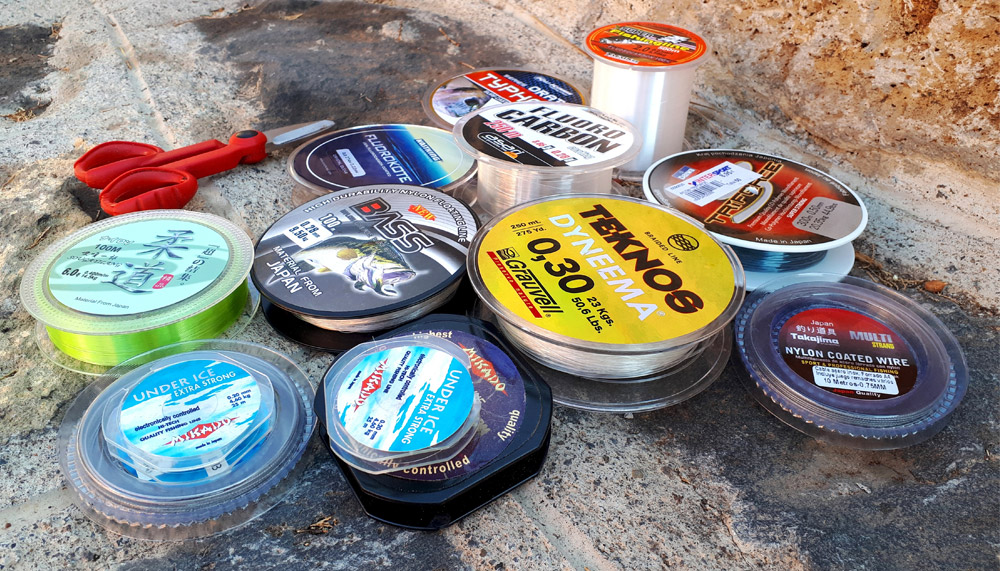 Monofilament lines are a type of fishing line that is usually made from nylon, polyester, or fluorocarbon. Monofilament line has been the standard for fishing lines because it offers many benefits over other types of fishing line. Monofilament lines are one of the most common types of fishing lines used today. Monofilaments come in different sizes and strengths so you should get the one that will work best for your needs. The monofilament line is also produced in different colors: clear, white, green, blue, red, and fluorescent.
Braided Fishing Lines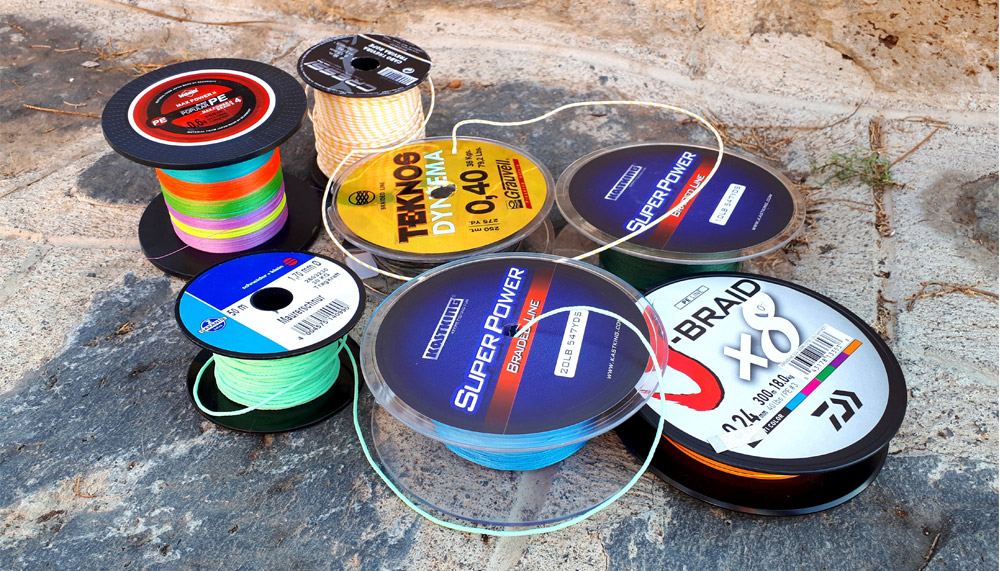 Braided fishing lines are a different type of fishing line that is made by braiding together multiple strands of monofilament polyamide, or nylon. The name of this fishing line comes from the process of its manufacture – the weaving of the fibers into a single common cord. They are a type of fishing line that has become increasingly popular in recent years.
Braided lines are easier to cast, they offer better sensitivity, and can be used at greater depths than monofilament fishing line. Braided lines also last longer than monofilament because they do not fray as easily, and can be used in both freshwater and saltwater environments.
Portable Sea Telescopic Gaff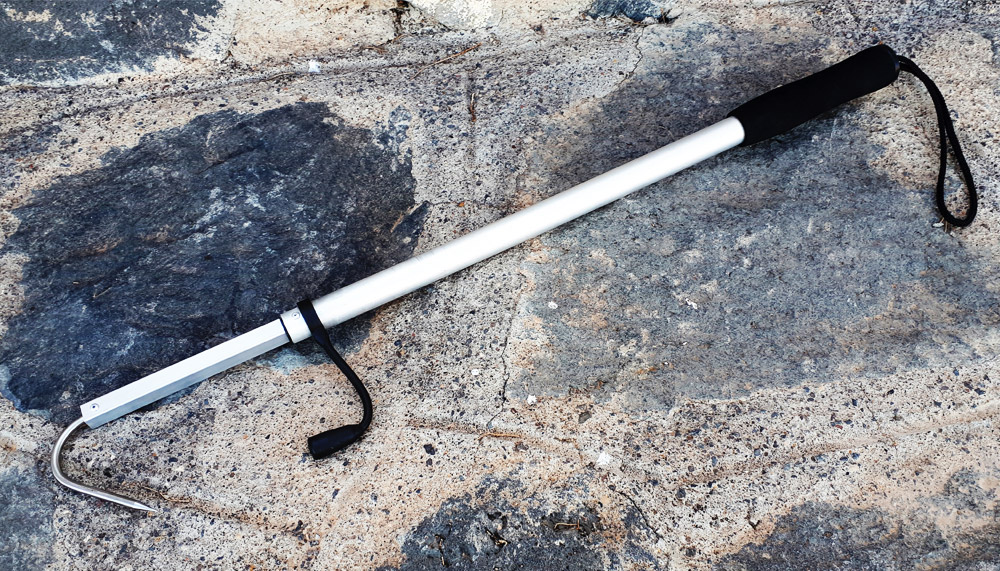 That device is used to retrieve caught fish from the water, both when fishing on open water and from the ice. There are quite a few different designs. The telescopic gaff is quickly and easily put into a working position and is also quickly put back together. I keep one of these in my fishing gear because they are so useful. Portable Sea Telescopic Gaff Features:
This telescopic gaff is made of high-quality material, which makes it very durable for many years to use. It has a rubber grip handle to reduce the impact it may have on your hand when using it. The blade can be locked in place while you are not using it then conveniently slides back into the tube when it's time to be used again.
There are convenient holes along the side of the tube that are ideal for attaching cordage allowing easy transportation. The tubes telescope out and collapse easily by pulling one end while pushing on the other end making storage simple & quick! This lightweight portable gaff measures 21 inches when collapsed and extends to a full 57 inches. It's ideal for saltwater & freshwater fishing.
Fishing Compact Scales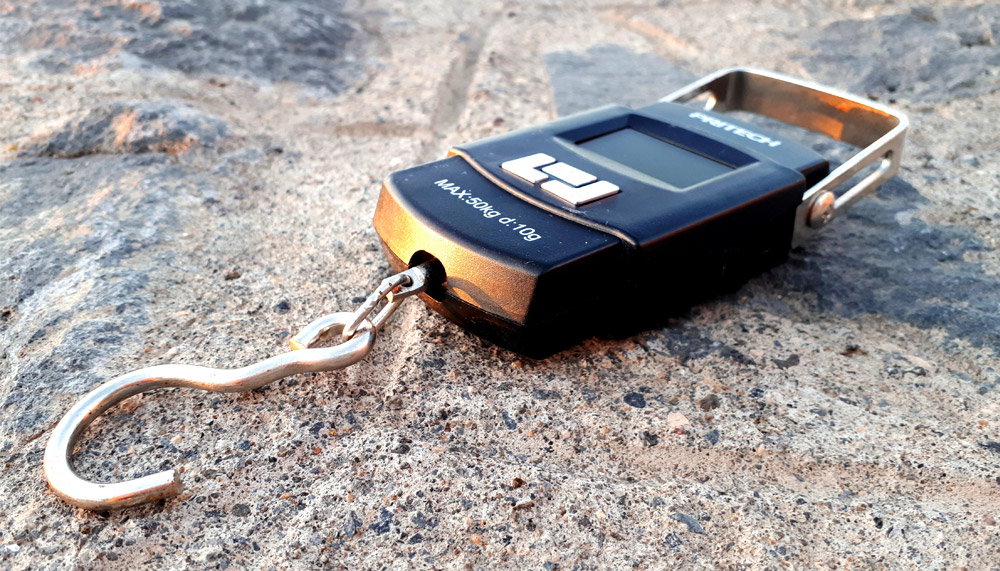 Fishing scales are designed to weigh fish up to 50lbs. These compact fishing scales include a digital display, tare function, and hold function. Type III anodized aluminum construction will not rust or corrode. The compact fishing scale is small enough for you to carry around in your tackle box or vest so that you can always know how much your catch weighs. Lighter than most other outdoor digital scales available. They have compact dimensions and low weight and excellent accuracy. Such weighing devices are used during various competitions. Such feature as water resistance is very important for such scales.
Fish Scalers to Clean Your Catch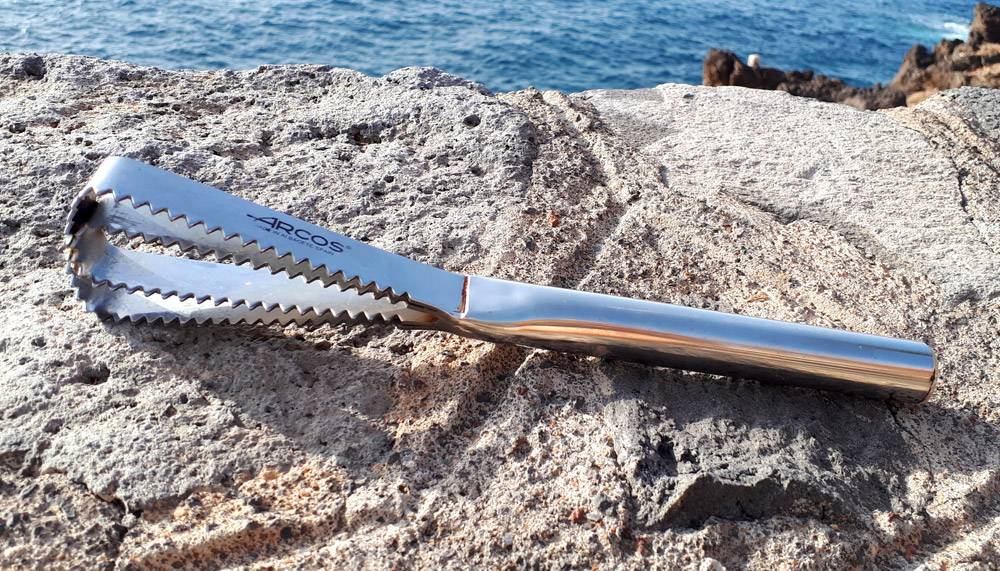 One tool that is very helpful when scaling fish is the fish scaler. This tool has a metal or rubber blade on one end and a concave dish on the other. The blade is used for scraping and pulling off scales, and the dish collects them. A fish scaler is a tool used in fishing to remove the scales from a fish. A sharp blade, usually made of stainless steel, is used to scrape the scales off the skin of the fish in order to maintain its quality for human consumption. A sharp tip at one end allows alighting on the fish while a cutting edge at the other end scrapes off the scales. Similar teeth and are the main working part of this tool. With this tool, it is possible to clean fish of any size.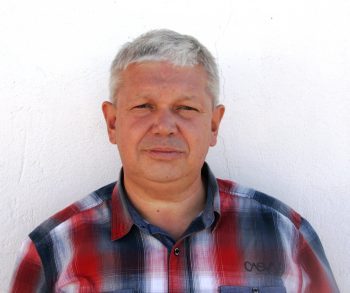 Sergio Smirnoff
Professional fisherman with 40+ years of experience.
Fishing and the ocean is a passion of my life. I am passionate about all kinds of sea fishing: fishing from the shore (spinning, float, baitcasting), from a boat, and spearfishing day and night.
I live in Tenerife (Canary Islands) for the last 10+ years and share my daily fishing experiences on my website. Many years of personal experience as a fisherman and the vast experience of my friends allow me to write professionally on any fishing topics (from choosing a flashlight and equipment to deep-sea fishing).
All of my advice is based on practical real-world experience and will be useful to both novice anglers and professionals.
Read more
about the author.
Affiliate Disclosure: FishReeler.com sometimes gets paid for listings, through sponsors or affiliate programs like Amazon, Ebay, Cabelas, Bass Pro Shop, Shimano, Daiwa, Rapala, Renn, Okuma, KastKing, etс. Clicking a link helps keep FishReeler.com free, at no extra cost to you!
About the author: Each article is verified by the fishing expert Sergio Smirnoff. The articles are written by professional and amateur fishermen with 20+ years of fishing experience.
Note: The views and opinions expressed in this article are those of the authors and do not necessarily reflect the official policy or position of any agency. The articles are for informational purposes only, share your opinions in the comments and join the fishing discussions, let's share our fishing experiences together!