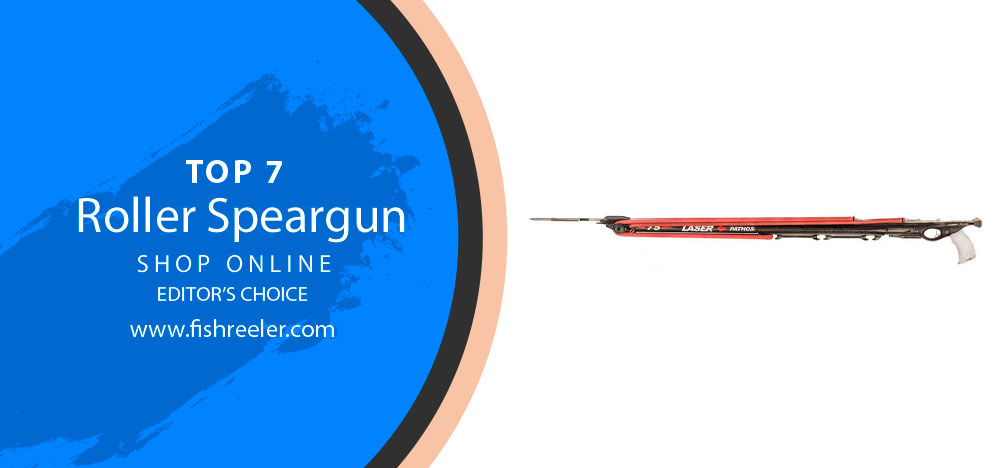 Best Roller Speargun – Gear for Professional Spearos
Recently I did a review for you on a rubber speargun from AB Biller. In this article, I decided to review the 7 best roller spearguns for you. These are more powerful guns, but more difficult to load.
Top 7 Best Roller Spearguns Reviews
| Image | Product | Brand | Link |
| --- | --- | --- | --- |
| | Pathos Sniper Roller Speargun - 105cm | Pathos | |
| | Pathos Sniper Roller Speargun | Pathos | |
| | Pathos Laser Carbon Roller Speargun (110cm) | Pathos | |
| | Koah Euro Roller Series Speargun - 110Cm | Koah | |
| | Koah Twin Roller Series Speargun - Mid Plus 62" | Unknown | |
| | House of Scuba Load Assist Used to Help Load Difficult Bands on Large Speargun | HOS | |
In this post, we'll take a look at which divers are best suited for such a gun and talk about the 7 best roller spearguns for a successful hunt.
1# Pathos Sniper Roller Speargun – Best Pick Overall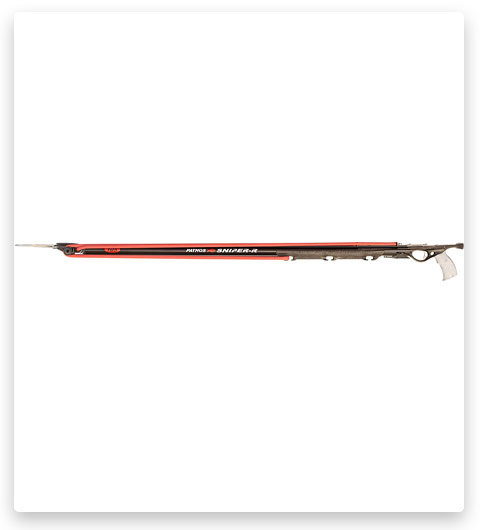 Let's start with the speargun from Pathos. This is one of the best roller spearguns in its price range. It has an aluminum body, not carbon or wood as we are used to seeing in many spearguns. Yes, it adds weight to it, but it will work even if there is a dent in it. The speargun is available in several sizes, but I chose the 95cm as it is the most versatile and comfortable for most fish species.
Pathos does not have very high recoil and it comes with a kicker. It is also an incredibly accurate speargun. It hits exactly where you aim. Even in closed areas where it is not very easy to bend the barrel. If you practice a few times, then the underwater gun is quite easy to load. I can do this even without using the load assist band.
2# Pathos Sniper Roller Speargun Black – Best Aluminum Pick
Another version of the Pathos Sniper model, but in a different design. This speargun has the same characteristics as the previous Sniper. It is very precise, strong, and durable.
3# Pathos Laser Carbon Roller Speargun – Best Value For Money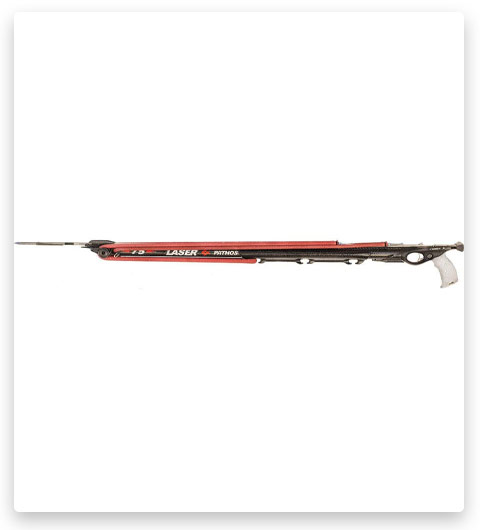 At first glance, it may seem that this model is slightly different from the Pathos Sniper, but let me clarify the differences between these two models. Unlike the Sniper, the Laser has a different handle. There is a nylon and fiberglass handle with a stainless steel mechanism with a maximum load of 400 kg. Despite this, the trigger is very smooth.
The Sniper has an enclosed track, and the Laser has an integral shaft track. By the way, the laser track is also made of carbon. From the Sniper, this model took an excellent muzzle. It has retained all the basic features in its design, such as the slot and deep grooves that allow the line to run smoothly and neatly. By the way, the speargun does not come with a built-in reel, so make sure to purchase it in advance.
And finally, due to the absence of an enclosed track, the manufacturer installed small triangular protrusions in this model, which allow the hunter to install a monofilament bridge here, which fixes the shaft.
The roller speargun is incredibly smooth and easy to lower and feels very easy in the water. The slot blocking the muzzle slot and locking the barb to the shaft works incredibly well. You can even avoid installing a monoline bridge over the shaft. The only thing I didn't like here was the cord wishbones. The eyelets are very small and it is impossible to notice the wishbone either in water or on land.
4# Koah Euro Series Roller Speargun – Best Pick for Professionals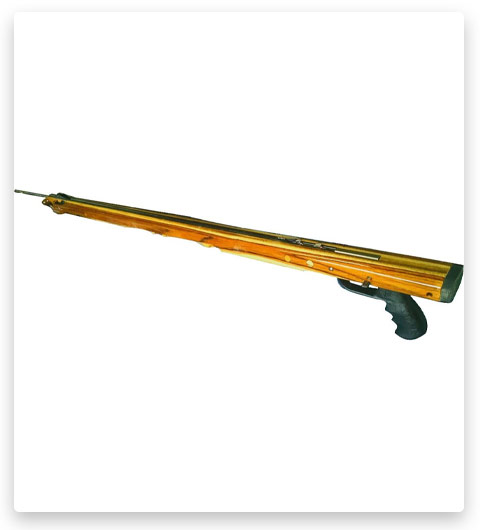 I decided to add one of the most non-standard spearguns from Koah to the list. This shotgun is made of teak and covered with a special transparent glass-filled material. I have no complaints about the quality of the material, but the coating is not particularly pleasing to me. Sawdust, white dots, or pits are visible in many areas of the speargun. I don't know how long this varnish will last, but I prefer natural oiled finishes more, although they are less transparent. But the light brown teak interlayers make this speargun unique in design.
With one strap, this is a fairly lightweight and good speargun for shallow water and holes. With two straps, this is an incredibly powerful hunting machine. It is a little heavy compared to other rollers, but I have no problem keeping this speargun straight. Overall, this is an excellent speargun with excellent woodworking and construction. If not for the coating, I would definitely put this speargun in the top 3 of my list.
5# Koah Twin Series Roller Speargun – Best Powerful Pick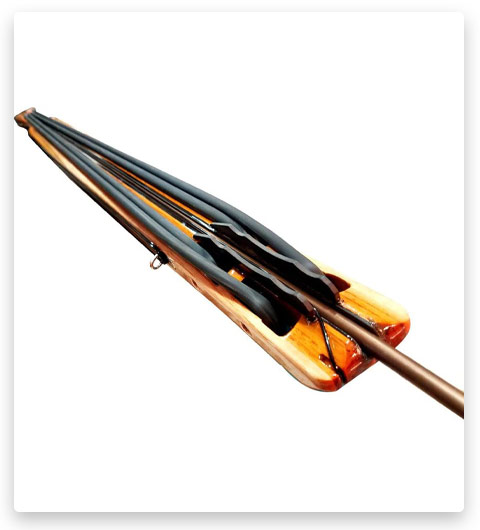 This speargun offers you an incredibly powerful shot with almost zero recoils. This is achieved thanks to two roller belts, a five-part ported enclosed track, a full teak stock, and a reinforced shaft with a 34mm diameter.
Besides, the variable ballast system allows you to remove one or more lead discs to balance the speargun. Well, that's if you want to add extra accessories here. As with the previous model, this speargun has a perfectly matched and processed material, but the coverage still leaves a lot to be desired.
6# Omer Roller Muzzle System For Speargun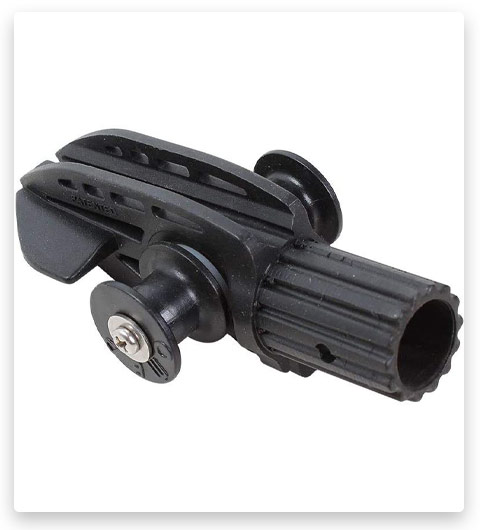 This accessory from Omer allows you to adapt the roller-style muzzle to your speargun. It is designed for barrels with a diameter of 25 mm. The muzzle covers the slit behind the shaft and allows the nylon to take a special place without tangling the line during the shot.
7# House of Scuba Load Assist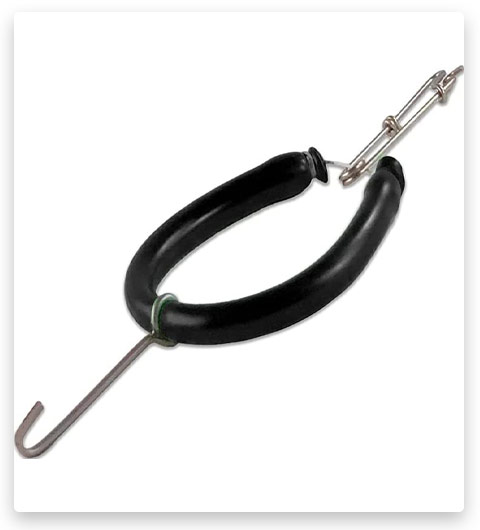 Load assist is very useful for roller spear gun owners. It greatly simplifies the process of charging the speargun. Of course, you can do this without a load assist, but this accessory will make life much easier for you and your shoulder. The House of Scuba model is very sturdy and durable, so you can easily load your roller speargun with it.
What Is A Roller Speargun?
Now let's take a look at what a roller speargun is and why it is more powerful and more complex than rubber spearguns. The roller speargun is primarily distinguished by its muzzle. This is the main and biggest difference between roller and rubber spearguns.
The roller speargun has a barrel with two rotating rollers. One roller on each side of the rubber is attached to the grip or lever point of the speargun. The elastic bands are connected on the bridle, passing first parallel to the trunk under it, then up and over the rollers.
This compresses the rubber down to the muzzle. And if in a classic rubber speargun the rubber sags over the last 30-40 cm of the barrel, in a roller speargun the rubber occupies almost the entire length and transfers power along the entire length of the barrel. This way you get more power with the same barrel length.
Pros & Cons of Barrel Spearguns
Despite the great power, roller spearguns have their pros and cons and may not be suitable for you. So let's take a look at what is good and what is bad roller spearguns.
Pros
Same barrel length but more power.
Increased maneuverability due to shorter barrels.
The thicker shaft can be selected due to increased power.
Cons
More difficult to load, the process is simplified only thanks to the load assist.
Much more expensive than rubber spearguns.
Very fast rubber wear – I recommend you remove the rubber when you are not using it.
What Speargun Length Should I Choose?
I am very often asked questions about what is the best speargun length. So I decided to put together a one-stop guide for you to help you find the length of your roller speargun for you.
For Beginners
If you are a beginner and are just going to take your first roller speargun, then choose a gun with a length of about 75-80 cm. This will give you the ability to shoot any fish in shallow water and pits and move on to medium fish over time. With short spearguns, it is very easy to maneuver and move in the water. Short roller spearguns are much easier to load and can be done even without a load assist if you practice. Simply grab a stainless steel or fiberglass trigger and you have a great beginner short speargun that will last for years.
For Amateurs
If this is not the first time you use a roller speargun, then take a speargun approximately 100 cm long with two straps. The rollers can of course be shorter or the same size if you are looking for more power. You will need two straps so that you have the flexibility and you can use one or two at once depending on the conditions where you are hunting. With this set, you can hunt fish of any size, except the largest, such as tuna.
For Pros
If you are confident in your spearfishing skills and are looking for something really powerful, then you will definitely like spearguns over 100 cm and most likely wooden. The great thing about wooden roller spearguns is that they are heavy enough to hold whatever straps you load. Besides, they provide a very accurate shot even at very long distances.
FAQ About Roller Spearguns
Now I will answer all of your frequently asked questions that have flown to my blog regarding roller spearguns.
Final Words
If you are looking for the best roller speargun, then you can choose any from my list. I have carefully studied each of them, read the customer reviews, and I can confidently say that they are worth every cent. I have specially collected roller spearguns of different materials, sizes, and prices so that every underwater fisherman can find something for himself.
You don't need to waste time gathering information and reading reviews on the Internet, because I did this job for you. You can be sure that any shotgun you buy on my list will hit the water with confidence. Have nice spearfishing!
Tags: #best roller speargun / #roller speargun / #inverted roller speargun / #roller speargun for sale / #roller speargun kit / #best speargun roller head / #best bands for roller speargun / #best band type for roller speargun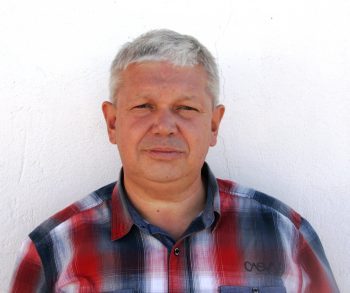 Sergio Smirnoff
Professional fisherman with 40+ years of experience.
Fishing and the ocean is a passion of my life. I am passionate about all kinds of sea fishing: fishing from the shore (spinning, float, baitcasting), from a boat, and spearfishing day and night.
I live in Tenerife (Canary Islands) for the last 10+ years and share my daily fishing experiences on my website. Many years of personal experience as a fisherman and the vast experience of my friends allow me to write professionally on any fishing topics (from choosing a flashlight and equipment to deep-sea fishing).
All of my advice is based on practical real-world experience and will be useful to both novice anglers and professionals.
Read more
about the author.
Affiliate Disclosure: FishReeler.com sometimes gets paid for listings, through sponsors or affiliate programs like Amazon, Ebay, Cabelas, Bass Pro Shop, Shimano, Daiwa, Rapala, Renn, Okuma, KastKing, etс. Clicking a link helps keep FishReeler.com free, at no extra cost to you!
About the author: Each article is verified by the fishing expert Sergio Smirnoff. The articles are written by professional and amateur fishermen with 20+ years of fishing experience.
Note: The views and opinions expressed in this article are those of the authors and do not necessarily reflect the official policy or position of any agency. The articles are for informational purposes only, share your opinions in the comments and join the fishing discussions, let's share our fishing experiences together!