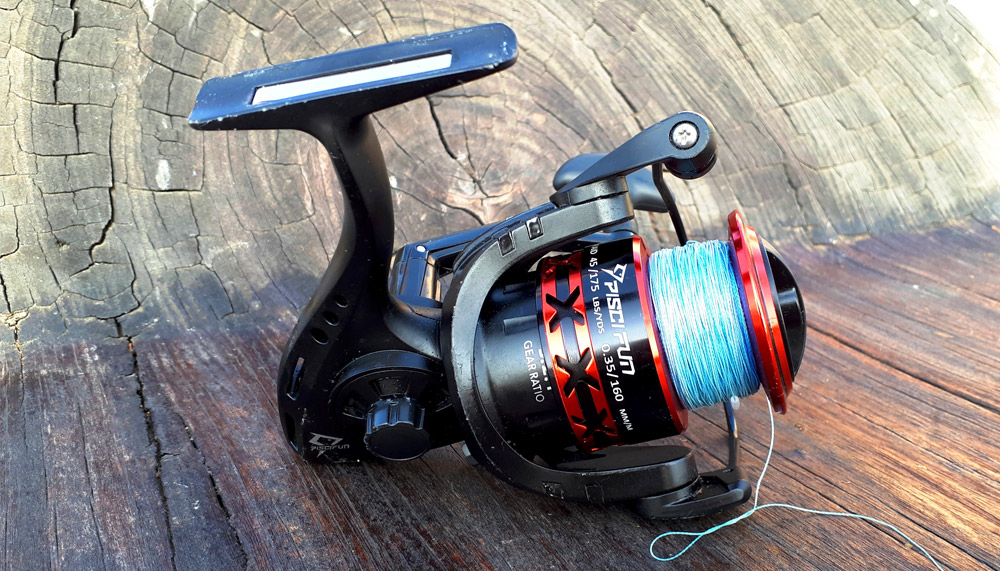 🎣 A New Era of Angling with the Piscifun Flame Spinning Reel
Fishing is more than just a hobby – it's a passion, a lifestyle, and a silent conversation between the angler and the waters. And every conversation becomes even more interesting when you have the right gear to express yourself. 🌊
Enter the Piscifun Flame Spinning Reel, a piece of fishing equipment that's been causing quite a stir in the angling community. This isn't just another reel; it's a commitment to redefining your fishing experience, one cast at a time. 🎯
Whether you're an avid angler with years of fishing tales under your belt, or a novice just getting a feel for the sport, the Piscifun Flame Spinning Reel is worth your attention. Why, you ask? Well, let's dive in to find out. 🚀👇
Stay tuned for a thrilling journey that'll change how you look at fishing reels forever. Gear up to ignite your angling game with the Piscifun Flame Spinning Reel! 🔥🎣
Please note: This isn't just about understanding a product – it's about embracing a new era of fishing with improved technology, and the Piscifun Flame Spinning Reel is leading the charge. So, grab your fishing hat, and let's embark on this exciting journey together! 🚣‍♂️⚡
🌟 Igniting Passion: An Overview of the Piscifun Flame Spinning Reel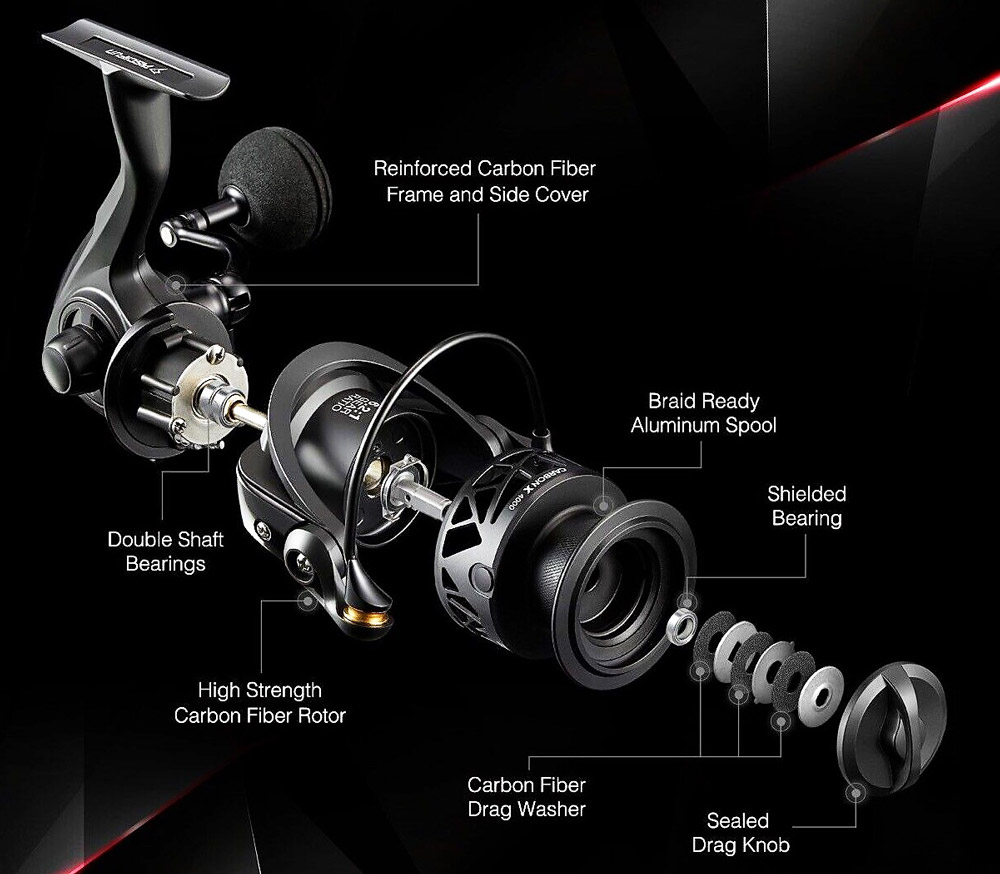 When we talk about fishing reels, the name that's been igniting the scene recently is the Piscifun Flame Spinning Reel. 🔥 This powerful tool embodies quality, versatility, and affordability like none other, catering to anglers of all skill levels.
So, what makes the Piscifun Flame Spinning Reel a hot favorite among anglers? 🤔 Let's take a closer look:
🛠️ Innovative Design
The reel boasts a sleek, compact design, reinforced by high-quality materials for maximum durability. The red and black color scheme is not only aesthetically pleasing but also symbolizes the fiery spirit of this reel.
💪 Superior Performance
The Piscifun Flame offers an exceptional drag system and a buttery smooth bearing system, making sure every cast and retrieve is a memorable experience.
💰 Affordable
Despite its high-end features, the Piscifun Flame is priced reasonably, ensuring every angler can experience the thrill of a professional-grade reel without breaking the bank.
🎦Video YouTube official channel: Piscifun Flame Spinning Reel under $30
Who benefits the most from this marvel of engineering? 🎯
Novices: The Piscifun Flame Spinning Reel is user-friendly, making it an excellent choice for those just starting their fishing journey. It offers a perfect blend of performance and simplicity, allowing beginners to get the hang of fishing techniques quickly.
Professional Anglers: Professionals will appreciate the top-notch features and high performance the Piscifun Flame provides. It's a reel that can withstand long fishing sessions, ensuring durability and reliability even in the toughest conditions.
Budget-Conscious Anglers: The affordability of the Piscifun Flame makes it a gem for budget-conscious anglers. It proves that you don't need to spend a fortune to get a high-performing, durable spinning reel.
🔶So, whether you're an amateur embarking on your angling journey or a seasoned professional looking for a reliable companion for your fishing trips, the Piscifun Flame Spinning Reel is ready to accompany you. Let's set the waters on fire! 🔥
🎯 Flaming Features: Unpacking the Stellar Attributes of the Piscifun Flame Spinning Reel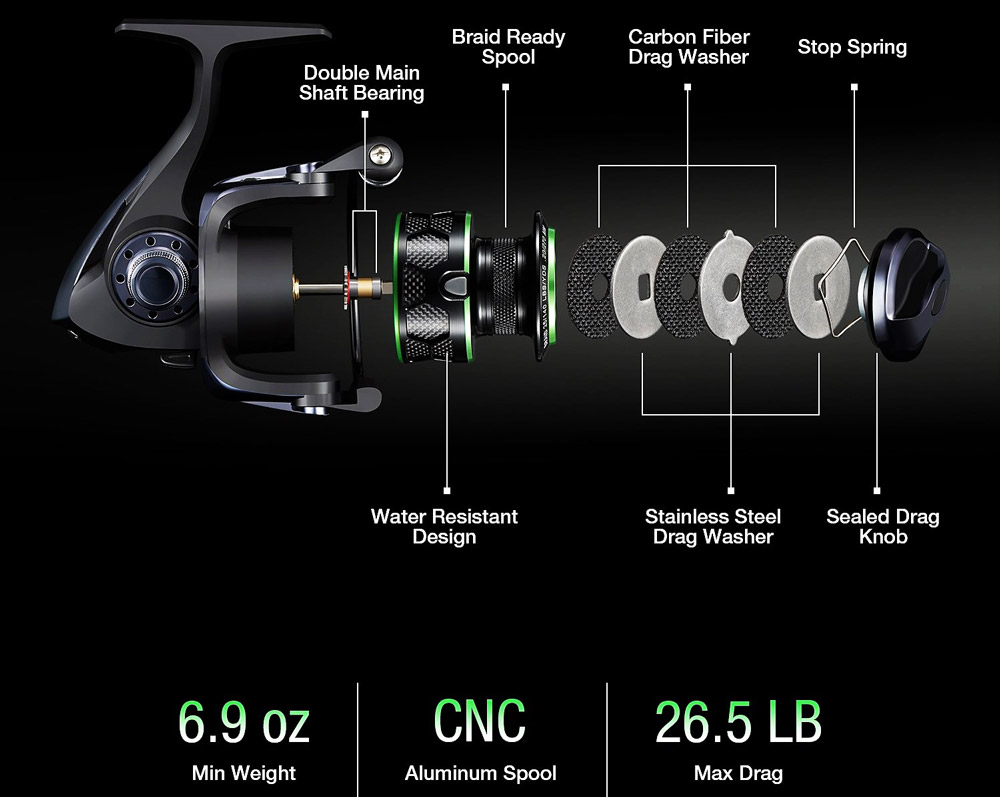 The Piscifun Flame Spinning Reel is more than just a sleek, aesthetically pleasing piece of equipment. It comes packed with an array of features that make it a powerhouse on the water. Let's delve into these key features and understand why they are crucial in enhancing your fishing experience:
1️⃣ Superior Bearing System
The Piscifun Flame Spinning Reel is equipped with a precision nine-bearing system. These include 9+1 high-quality, corrosion-resistant ball bearings that ensure smooth and effortless operation. Whether it's casting or reeling in your catch, the superior bearing system provides a level of smoothness that stands out in its class. 🌊
2️⃣ Optimal Gear Ratio
With a 5.2:1 gear ratio, the Piscifun Flame strikes an ideal balance between speed and torque. This ratio ensures a quick retrieve while still providing enough power to pull in those stubborn, hard-fighting fish. It's a perfect fit for anglers who want versatility in their fishing excursions. 🚀
3️⃣ Impressive Drag System
The Piscifun Flame boasts a powerful drag system, with a maximum drag of up to 19.8 lbs. The triple drag washers provide a smooth, consistent drag pressure across the entire drag setting. This helps you fight bigger fish with confidence, knowing the reel can withstand the pull. 💪
4️⃣ Ergonomic Reel Handle
Comfort is key in long fishing sessions. The Piscifun Flame comes with an ergonomic reel handle that provides a comfortable grip, reducing fatigue and ensuring you enjoy your fishing expedition from start to finish. 👍
5️⃣ Durable Body Material
The body of the Piscifun Flame Spinning Reel is made from high-strength graphite, making it lightweight yet incredibly durable. The robust construction ensures it withstands the rigors of regular use and extreme fishing conditions. 🌟
6️⃣ Computer Balanced Rotor
The Piscifun Flame Spinning Reel's rotor is computer-balanced, ensuring excellent stability and reducing wobbling during high-speed retrieves. This leads to better line lay and ultimately, more precise casting. 🎣
🔶Each of these features plays a vital role in making the Piscifun Flame a stand-out performer in the world of spinning reels. Whether you're chasing that elusive big catch or enjoying a leisurely day on the water, the Piscifun Flame is designed to enhance every moment of your fishing adventure.
🚀 The Heat of Performance: An Intensive Look at the Piscifun Flame Spinning Reel in Action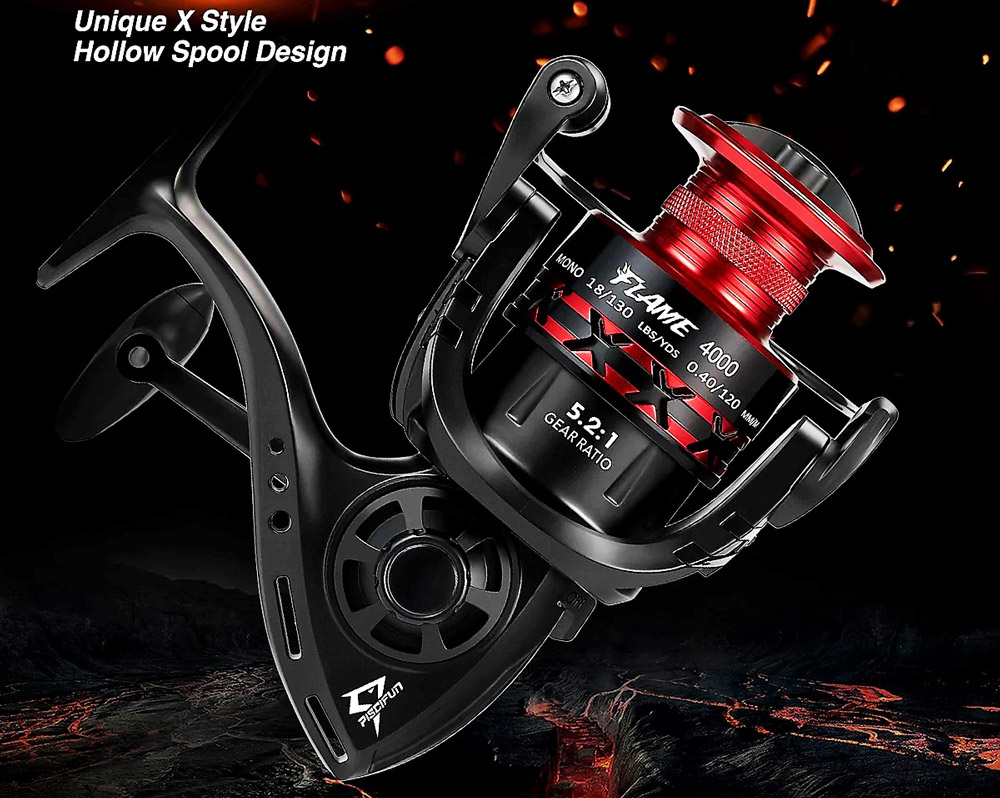 Fishing gear might look impressive on paper, but it's in the real world where it proves its worth. Let's dive into the performance of the Piscifun Flame Spinning Reel based on various user experiences and see how it stands up to different environments:
💪 Unmatched Smoothness
One feature that consistently stands out in user reviews is the Piscifun Flame's smoothness. Thanks to its precision nine-bearing system, users report seamless casts and retrieves, regardless of the conditions. It's not just about functionality but also the joy of a smooth operating reel – something that the Piscifun Flame delivers in spades! 🎣
🌊 Versatility in Various Waters
The Piscifun Flame shines equally in both freshwater and saltwater environments. Its corrosion-resistant ball bearings and high-strength graphite body ensure durability, even in salty conditions. Whether you're battling a fierce salmon in a rushing river or chasing marlin in the deep sea, the Piscifun Flame stands up to the challenge. 💦🌊
🔥 Handling the Heat of the Battle
The Piscifun Flame's drag system is lauded by users for its ability to handle hard-fighting fish. From feisty bass to tenacious trout, this reel's impressive drag system can comfortably manage significant fights, making your angling stories even more exciting! 🏆
🎯 Precision Casting
Anglers appreciate the Piscifun Flame for its casting accuracy. Its balanced rotor system and superior line lay have contributed to more precise casts, improving users' overall fishing experience.
⚙️ Long-lasting Performance
The Piscifun Flame's robust construction has garnered positive remarks for its long-term performance. Users have reported consistent performance even after several uses, cementing its reputation as a reliable fishing companion. 🛠️
👍 User-Friendly
Finally, the Piscifun Flame is praised for its ease of use. Its user-friendly design, coupled with top-notch features, makes it suitable for both beginners exploring the fishing world and seasoned pros seeking a reliable reel. 🌟
🔶When it comes to performance, the Piscifun Flame Spinning Reel proves that it's not just a flash in the pan. Its combination of smooth operation, versatility, and reliability ensures an enjoyable fishing experience, making every cast count. Now, that's a reel worth investing in!
🌍 The Piscifun Flame Versus The World: A Comparative Look at Spinning Reels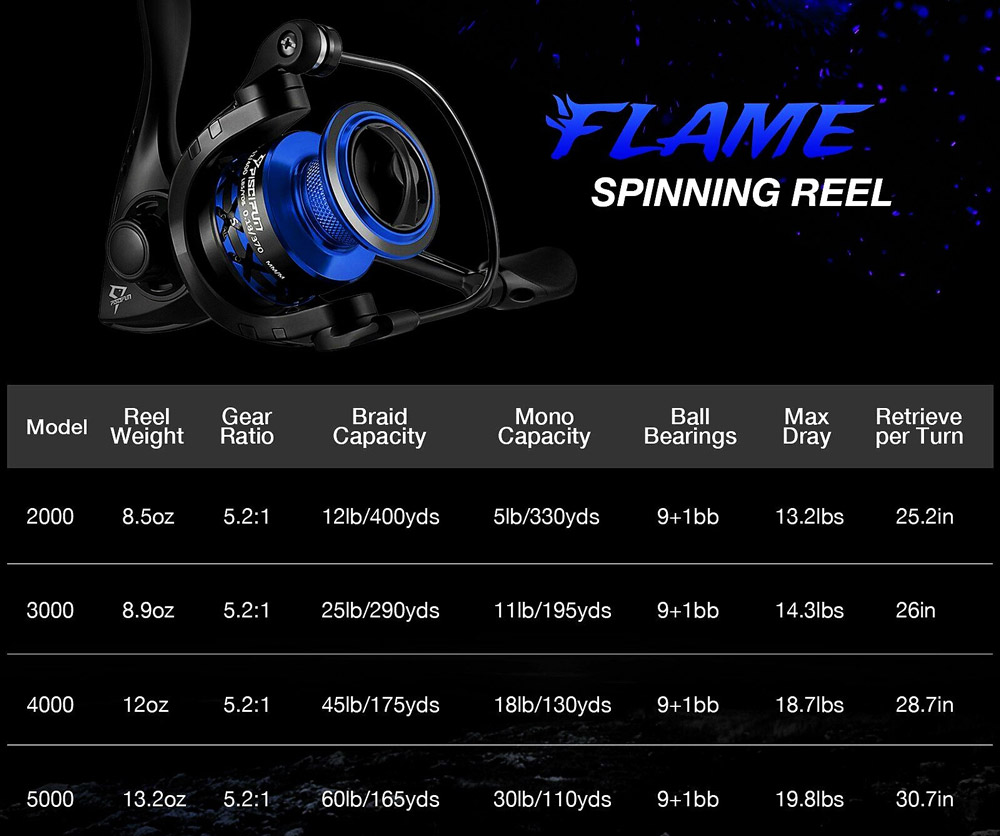 In a sea of fishing reels, how does the Piscifun Flame Spinning Reel stack up? Let's take a comparative dive into the fishing gear market and see where this fiery reel stands:
🔥 Piscifun Flame vs. Typical Spinning Reels:
1️⃣ Bearing System: Most spinning reels in the market sport a 6+1 or 7+1 bearing system. The Piscifun Flame, however, outshines many with its superior 9+1 bearing system, offering an even smoother, more efficient operation. 🎣
2️⃣ Gear Ratio: While a 5.2:1 gear ratio is standard among many reels, it's the integration with the other features of the Piscifun Flame that brings out its true potential. This synergy enables both faster retrieves and sufficient power, making it an optimal choice for versatile anglers. 🚀
3️⃣ Drag System: The Piscifun Flame features a powerful drag system that can deliver up to 19.8 lbs of drag. This capacity is often only found in more expensive models, making the Flame stand out in its price range. 💪
4️⃣ Durability: High-strength graphite is a choice material for many fishing reels, but the Piscifun Flame takes it up a notch with its durability and corrosion resistance, making it a reliable choice for both saltwater and freshwater fishing. 🌊
5️⃣ Price: The Piscifun Flame outshines many reels in terms of value for money. It brings a host of high-end features typically found in more expensive reels, to an affordable price point, thereby redefining value in the spinning reel market. 💰
🔶In a market teeming with fishing reels, the Piscifun Flame holds its own, offering exceptional value without compromising on performance. So, if you're looking for a spinning reel that gives you a bang for your buck while not skimping on quality, the Piscifun Flame Spinning Reel is a hot contender! 🔥
🧰 Harness the Flame: Practical Applications and Tips for the Piscifun Flame Spinning Reel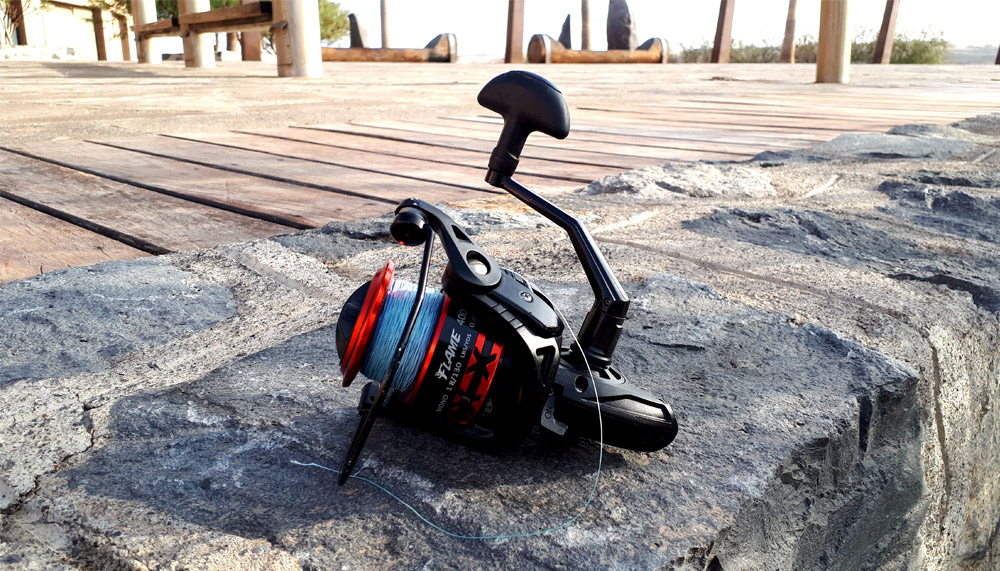 Mastering the Piscifun Flame Spinning Reel can elevate your angling experience to new heights. Let's discover some practical tips and fishing techniques where this reel truly shines:
1️⃣ Maximizing the Bearing System: The 9+1 bearing system in the Piscifun Flame provides incredibly smooth operation. Regular cleaning and occasional lubrication can help maintain this smoothness and prolong the life of the reel.
2️⃣ Leveraging the Drag System: The powerful drag system is one of the Piscifun Flame's strongest suits. Remember, adjust the drag setting based on the size and strength of the fish species you're targeting. Be cautious not to set the drag too tight, as this can risk breaking the line. 💪
3️⃣ Playing with the Gear Ratio: With a 5.2:1 gear ratio, the Piscifun Flame excels at medium-speed retrieves. This makes it an excellent choice for a variety of lures such as crankbaits, spinners, and swimbaits.
Fishing Techniques
1️⃣ Bass Fishing: The Piscifun Flame's smooth casting and retrieving system make it great for bass fishing. Whether you're using spinnerbaits, crankbaits, or plastic worms, this reel can handle them with ease. 🎣
2️⃣ Saltwater Shore Fishing: Thanks to its corrosion-resistant materials, the Piscifun Flame is a reliable companion for saltwater shore fishing. It's robust enough to handle the challenges of surf fishing and versatile enough to catch a variety of saltwater species. 🌊
3️⃣ Trout Fishing: The Flame's an excellent line management system and drags make it suitable for handling quick, strong fighters like trout. Whether you're on a river or a lake, this reel can be a game-changer for trout anglers. 🐟
4️⃣ Ice Fishing: With its compact design and reliable drag system, the Piscifun Flame can be an ice angler's best friend. Its performance in colder conditions and under stress matches those of specialized ice fishing reels. ❄️
🔶By utilizing these tips and understanding where the Piscifun Flame Spinning Reel performs best, you can maximize its potential and elevate your fishing adventures. So go ahead, harness the flame, and let your fishing stories ignite!
💰 Price Tag Meets Value: The Piscifun Flame Spinning Reel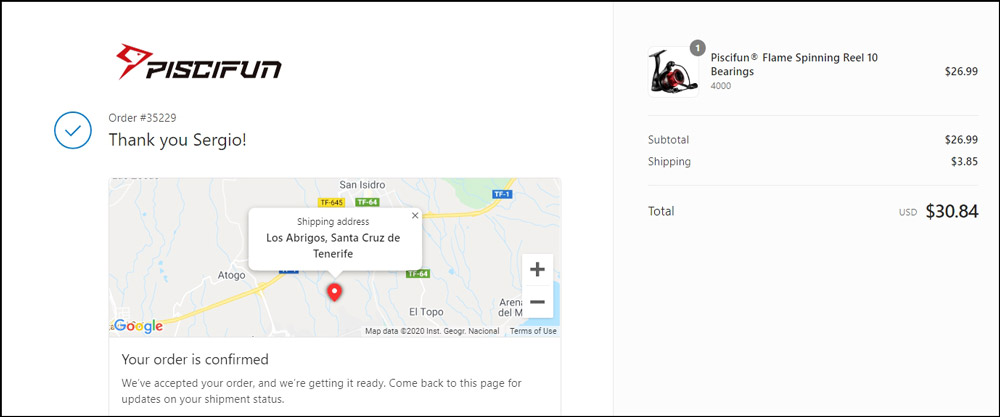 When it comes to investing in fishing gear, the price-quality balance is critical. Let's explore why the Piscifun Flame Spinning Reel offers unbeatable value for your hard-earned money:
🔥 A Real Deal: Priced competitively, the Piscifun Flame brings a suite of high-end features to a very accessible price point. With a 9+1 bearing system, impressive drag, and corrosion-resistant body, it competes with more expensive reels in terms of performance, durability, and versatility. 🚀
🏆 Outstanding Value for Money: The Piscifun Flame redefines 'bang for your buck'. It's a reel that offers the performance, build quality, and functionality that you'd usually find in a reel twice its price. It's an investment that delivers excellent returns in the form of countless successful fishing adventures. 💪
🎁 Discounts and Deals: For those who love a good bargain, keep an eye on Piscifun's official website and other major online retailers. They occasionally offer discounts and deals, especially during the holiday season, making the Flame an even more tempting option. Also, joining Piscifun's mailing list can keep you updated with exclusive offers and promotions. 💸
🛒 Where to Buy: You can purchase the Piscifun Flame Spinning Reel from a variety of online platforms, including the official Piscifun website, Amazon, and other popular fishing gear websites. Be sure to compare prices across platforms to get the best deal.
🔶The Piscifun Flame Spinning Reel brings together performance, quality, and affordability, offering tremendous value for money. It's not just a purchase; it's an investment into enhancing your fishing experience without burning a hole in your pocket. Truly, a catch worth reeling in! 🔥
❓ FAQ: Unveiling the Piscifun Flame Spinning Reel ❓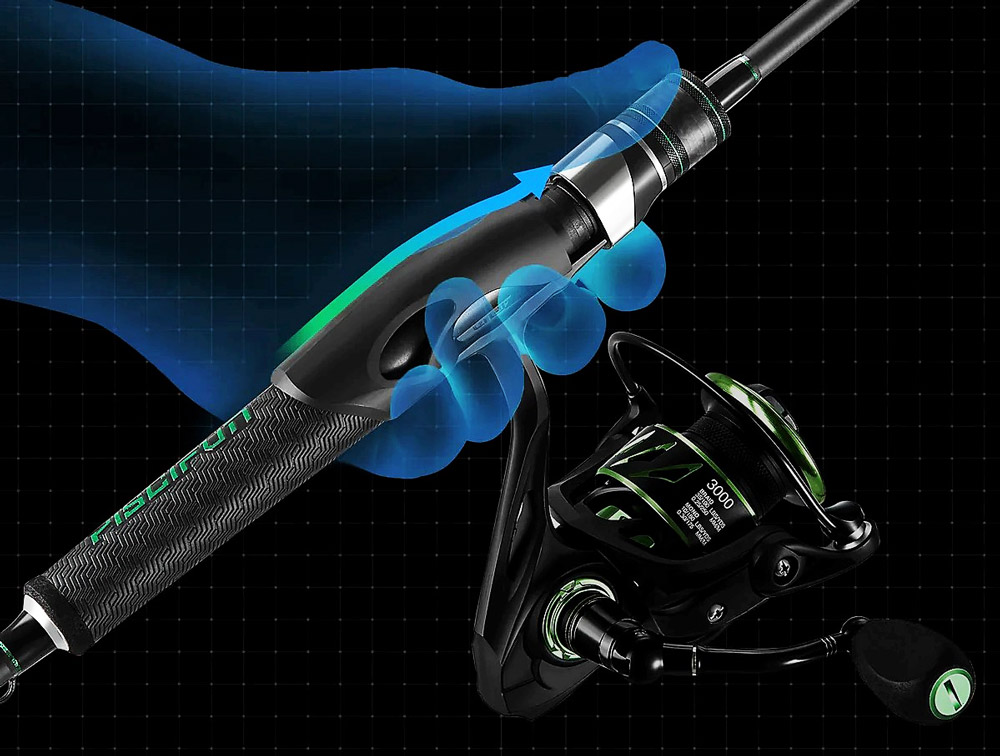 🎬 Wrapping Up: The Piscifun Flame Spinning Reel Verdict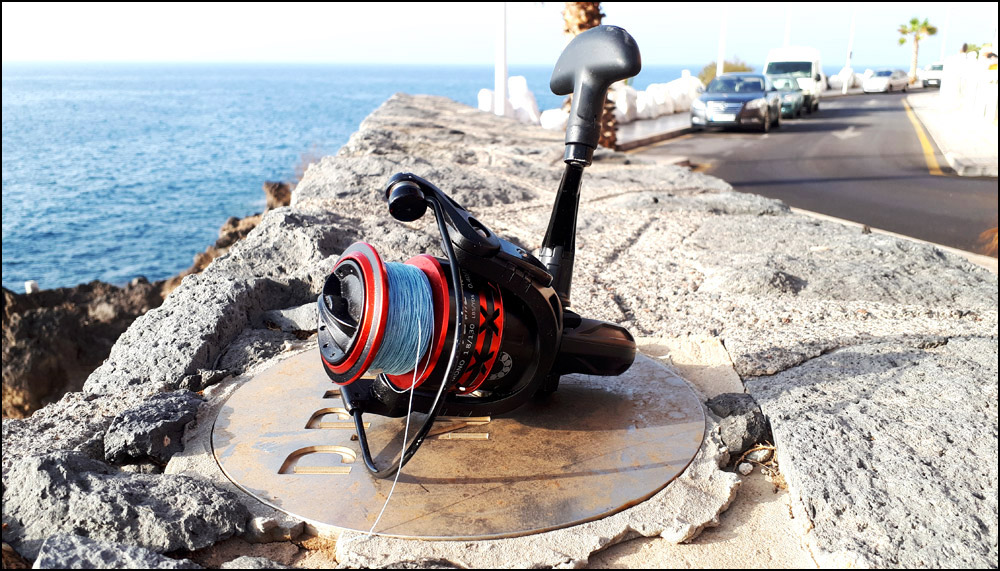 I've been using this reel model for years when I've been fishing. I move it to different rods and equip it with different lines. Works great and does not break, looks great, is quite comfortable, and is easy to use. For this price, I do not know a better option for the fisherman.
The Piscifun Flame Spinning Reel is a great product for anyone who wants to fish. With its lightweight and durable design, it makes fishing even more enjoyable with its superb features. There are many things that make this reel one of the best on the market but what's most important is whether or not you will enjoy using it on your next trip! If you have any questions about this article please leave them in the comment section below!
It's time to reel in our exploration of the Piscifun Flame Spinning Reel. After a deep dive into its features, performance, practical applications, and value for money, what's the final verdict?
The Piscifun Flame undoubtedly stands out in the crowded spinning reel market. Its 9+1 bearing system provides a smooth and efficient operation. With a gear ratio of 5.2:1, it delivers both speedy retrieves and substantial power, catering to a range of fishing techniques. 🎣
The reel's versatility doesn't end there. Its corrosion-resistant body makes it equally at home in both fresh and saltwater environments. Its impressive drag system, offering up to 19.8 lbs of drag, means it's equipped to handle battles with tough fighters.
The Piscifun Flame is also a reel of practicality. Whether you're ice fishing or casting from the shore, it adapts to the situation. Moreover, it combines performance with affordability, making it an excellent value proposition for all anglers, regardless of their experience level. 💪
Finally, it's Flame's ability to deliver top-tier features without the top-tier price tag that truly sets it apart. It's an exceptional blend of quality, performance, and cost-effectiveness – making it an excellent choice for those wanting to upgrade their fishing gear without breaking the bank. 💰
🔶In conclusion, the Piscifun Flame Spinning Reel is more than a piece of fishing gear; it's a trusted companion that stands by you in various fishing scenarios, enhancing your overall angling experience. I highly recommend the Piscifun Flame to anyone looking for a reel that punches above its weight in performance and value. It truly lives up to its fiery name! 🔥
📣 Ignite Your Fishing Adventures with the Piscifun Flame!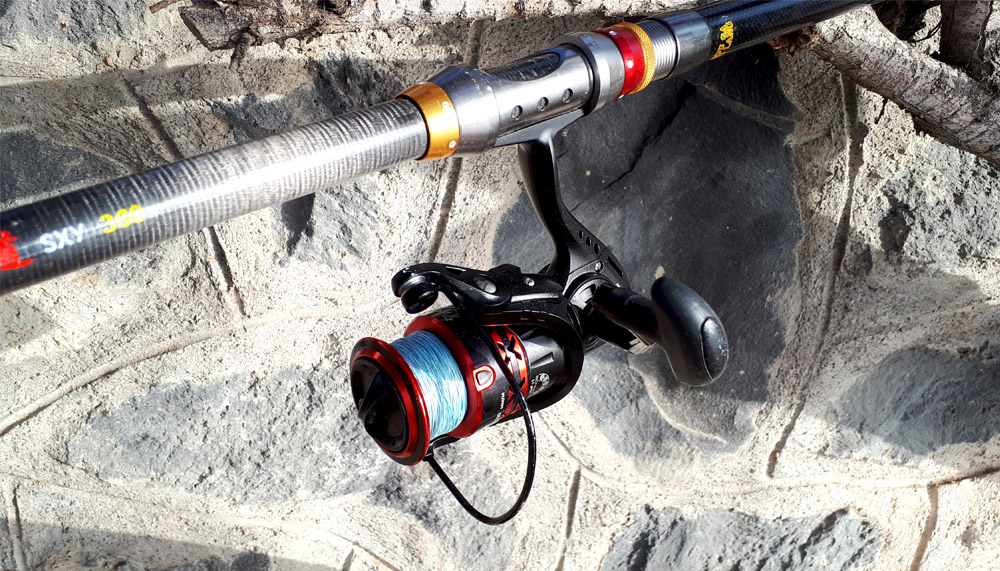 Are you ready to light up your fishing experience with the Piscifun Flame Spinning Reel? Its top-tier features and unbeatable value are just a click away! 🎣💻
There's no better way to truly appreciate the Piscifun Flame's quality and performance than to experience it firsthand. So, why wait? Take your fishing game to the next level and see how the Flame can enhance your angling adventures. 🔥🚀
For more information about the Piscifun Flame, head over to the official Piscifun website. You can also purchase this fiery reel directly from their site or from trusted online retailers such as Amazon. Be sure to check out customer reviews and ratings to see how other anglers are enjoying their Piscifun Flame Spinning Reels. 📝
🔶Remember, great fishing adventures begin with great gear. Let the Piscifun Flame Spinning Reel be the spark that ignites your next big catch. Get your Piscifun Flame today and let your fishing stories shine! 🔥🎣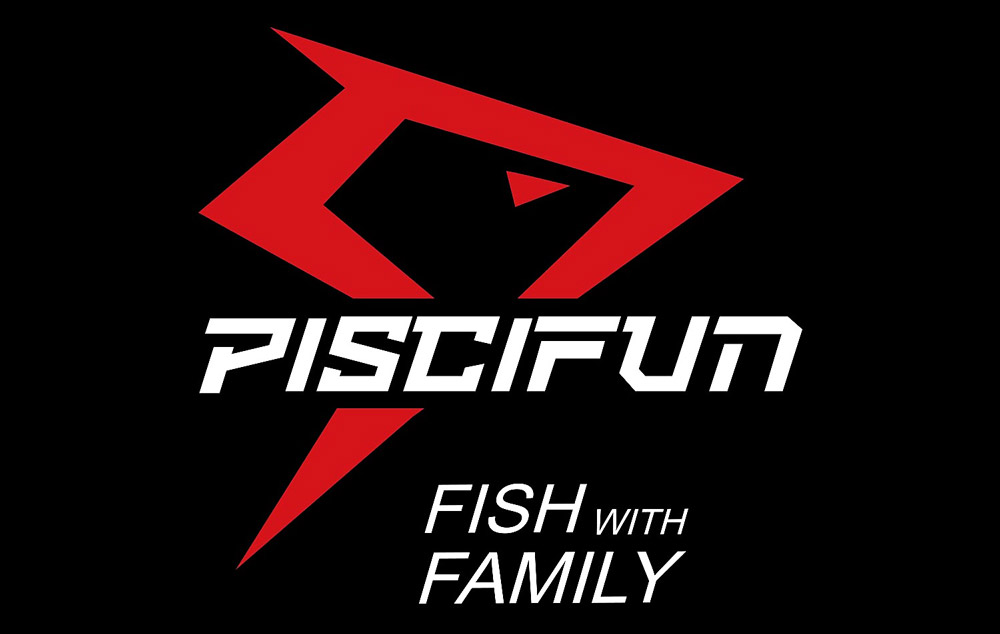 Tags: #piscifun reel / #piscifun reel review / #piscifun spinning reel / #piscifun flame spinning reel review / #piscifun flame spinning reel 10 bearings 4000 / #piscifun flame spinning reel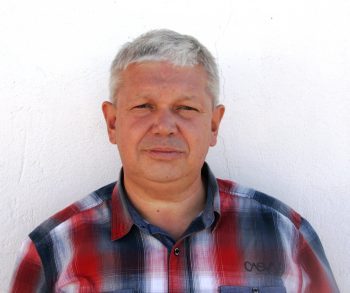 Sergio Smirnoff
Professional fisherman with 40+ years of experience.
Fishing and the ocean is a passion of my life. I am passionate about all kinds of sea fishing: fishing from the shore (spinning, float, baitcasting), from a boat, and spearfishing day and night.
I live in Tenerife (Canary Islands) for the last 10+ years and share my daily fishing experiences on my website. Many years of personal experience as a fisherman and the vast experience of my friends allow me to write professionally on any fishing topics (from choosing a flashlight and equipment to deep-sea fishing).
All of my advice is based on practical real-world experience and will be useful to both novice anglers and professionals.
Read more
about the author.
Affiliate Disclosure: FishReeler.com sometimes gets paid for listings, through sponsors or affiliate programs like Amazon, Ebay, Cabelas, Bass Pro Shop, Shimano, Daiwa, Rapala, Renn, Okuma, KastKing, etс. Clicking a link helps keep FishReeler.com free, at no extra cost to you!
About the author: Each article is verified by the fishing expert Sergio Smirnoff. The articles are written by professional and amateur fishermen with 20+ years of fishing experience.
Note: The views and opinions expressed in this article are those of the authors and do not necessarily reflect the official policy or position of any agency. The articles are for informational purposes only, share your opinions in the comments and join the fishing discussions, let's share our fishing experiences together!