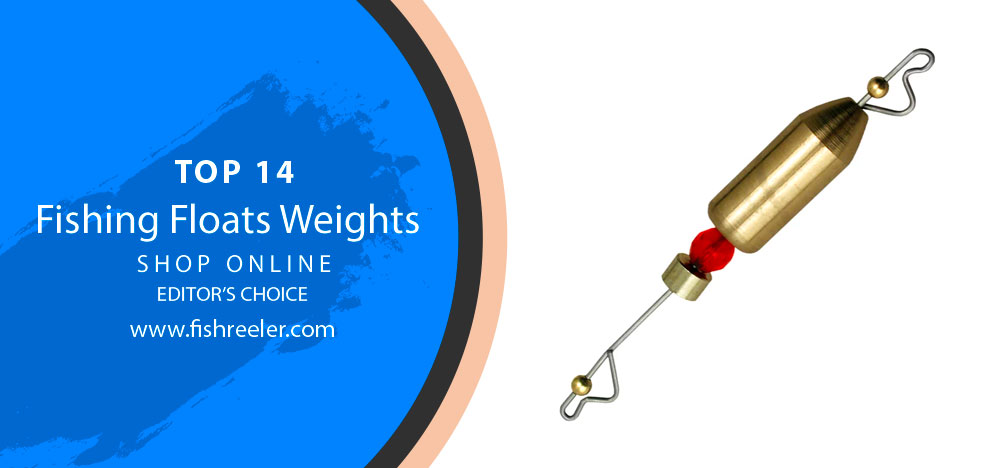 It's no secret that fishing floats and weights are critical pieces of gear for any fisherman. Whether you're targeting trout in a stream or bass in a lake, using the right float and weight can make all the difference.
Best Fishing Floats Weights Review
 In this blog post, we'll take a look at some of the best fishing floats and weights on the market today. We'll also provide tips on how to select the right float and weight for your next fishing trip. So, whether you're a beginner or an experienced angler, read on for information that will help you catch more fish!​
1# Bass Pro Shops Rubber Grip Lead Sinkers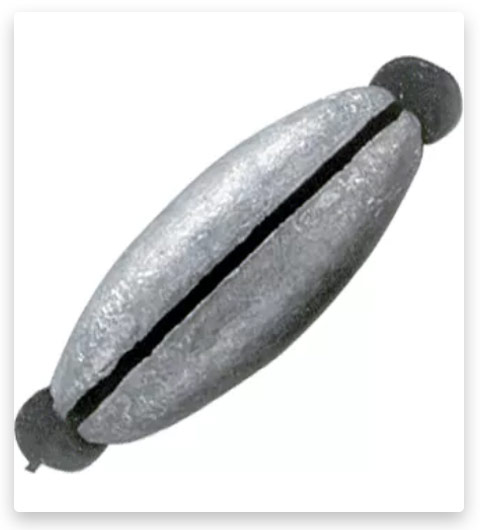 Bass Pro Shops Rubber Grip Lead Sinkers are the perfect way to keep your fishing line in place. These football-shaped sinkers have a rubber core and two tabs on each end, making it easy to twist the line around the sinker and keep it in place. When you're ready to release the line, simply twist the tabs in reverse and the line will be released. With no need to worry about nicking or damaging your fishing line, Bass Pro Shops Rubber Grip Lead Sinkers are a must-have for any serious angler.
2# Bass Pro Shops XPS Hook Weights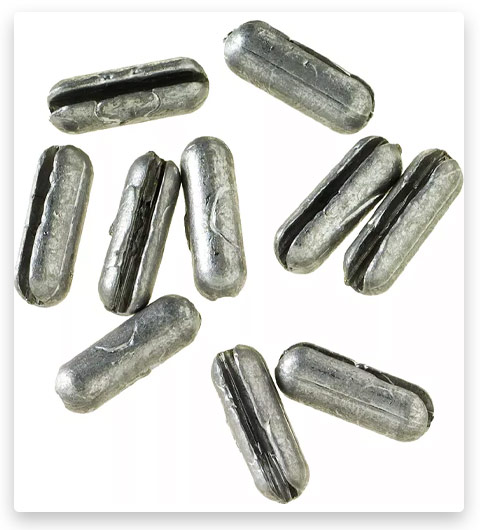 Looking for a way to customize the weight of your favourite fishing hooks? Check out Bass Pro Shops XPS Hook Weights – designed to be crimped onto the hook shaft, these weights allow you to quickly adjust and fine-tune the weight of your hooks. A weighted hook provides more balance and produces a more natural swimming action – which is why weighted hooks have become the preferred choice for many swimbait anglers. So if you're looking to add a little extra weight (and effectiveness) to your hooks, pick up some Bass Pro Shops XPS Hook Weights today.
3# Top Brass Carolina Ready Rigs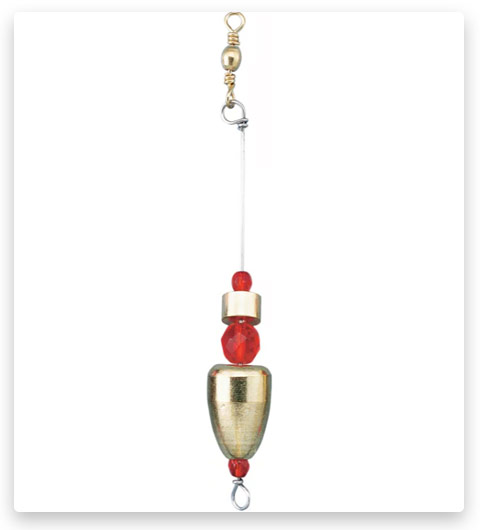 The Top Brass Carolina Ready Rigs are the perfect way to get started using a Carolina rig. This easy-to-use fishing rig uses brass weights, glass beads, and Pro-Tickers to create a loud, fish-enticing sound that is sure to attract attention. With this rig, you'll be able to start fishing right away – no need to tie on any extra weights or add anything else. Just grab your favourite lure and you're ready to go!
4# Bass Pro Shops Trolling Weights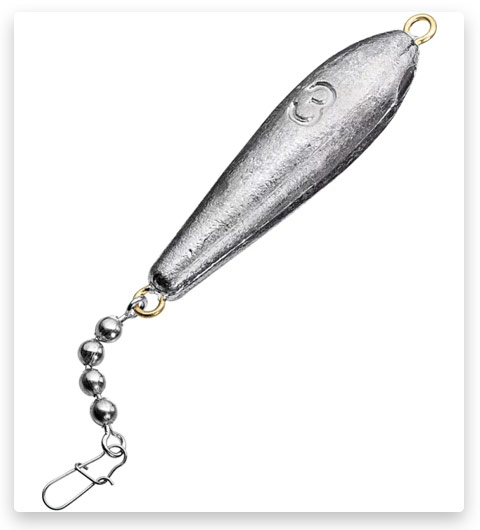 You certainly need Bass Pro Shops Trolling Weights. These weights are specifically designed to get your bait rigs down to the deepest feeding zones, so you can snag the big one. And with the bead chain for increased stability, you can rest assured your bait will stay right where you want it. So don't miss out on your chance to up your game. Pick up a set of Bass Pro Shops Trolling Weights today.
5# Bass Pro Shops Round Split Shot Weights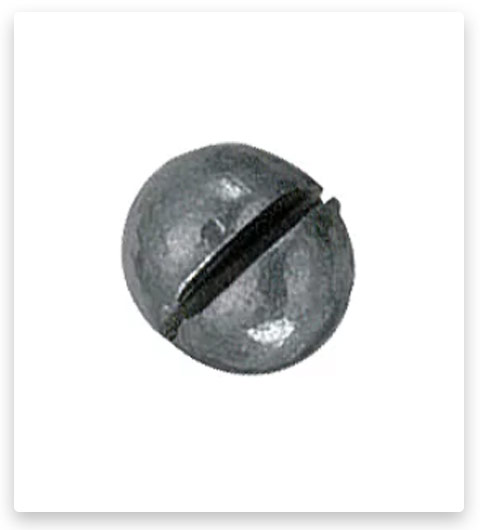 Bass Pro Shops Round Split Shot Weights are perfect for a clean and uniform way to weigh your line! These weights are 100% lead, so you can be confident in their quality and performance. Whether you're fishing for bass, trout, or any other fish, these weights will help you get the results you're after. And because they're split shot weights, they're easy to use and adjust. So don't wait any longer, get your Bass Pro Shops Round Split Shot Weights today and see the results for yourself!
6# Water Gremlin Removable Split Shot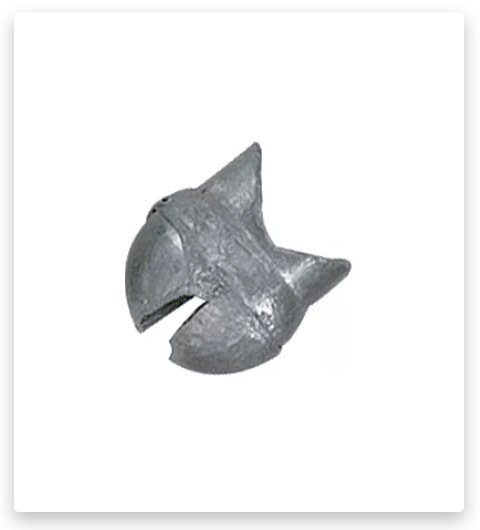 Are you tired of dealing with those pesky little split shot weights that are a pain to put on and take off? Well, your search is over! The Water Gremlin Removable Split Shot is exactly what you need. These little weights can be pinched onto your line with just finger pressure and removed just as easily by squeezing the pre-formed "ears" behind the slot. They're made of extra-soft lead for a smooth, snag-free experience and feature a hinged design that won't damage your line. Plus, they come in a handy little reusable storage pouch so you can take them with you wherever you go. So make your life a little easier and pick up some Water Gremlin Removable Split Shot weights today!
7# Bass Pro Shops Carolina Shortcut Rig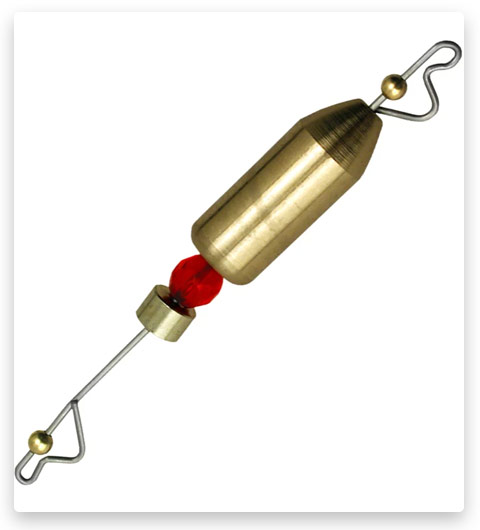 The Carolina Shortcut Rig is great for fishing in a variety of conditions. The weight ensures your bait stays in the strike zone, while the bead adds noise and flash to attract fish. And the ticker keeps your bait right where you want it, making sure those fish can't resist taking a bite!
8# Bass Pro Shops Egg Sinkers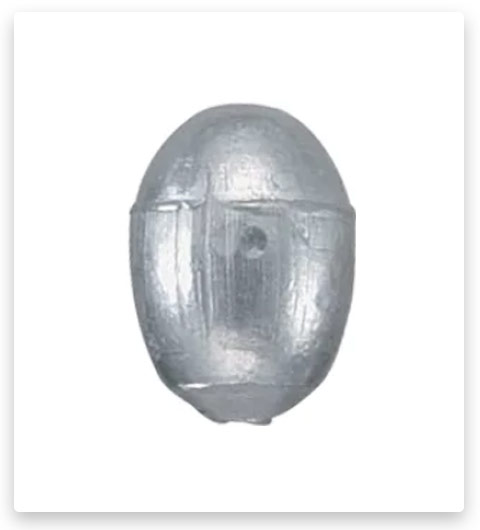 If you're looking for a way to get your bait deep where the big fish are hiding, our Bass Pro Shops Egg Sinkers are just what you need. These oval, egg-shaped lead sinkers will glide through weeds and rocks snag-free, making them ideal for catfish and Carolina-rigging. Plus, the slip-style weights allow fish to feel the bait, not the weight, giving you a better chance of landing that lunker!
9# Bass Pro Shops XPS Clam Shot Weights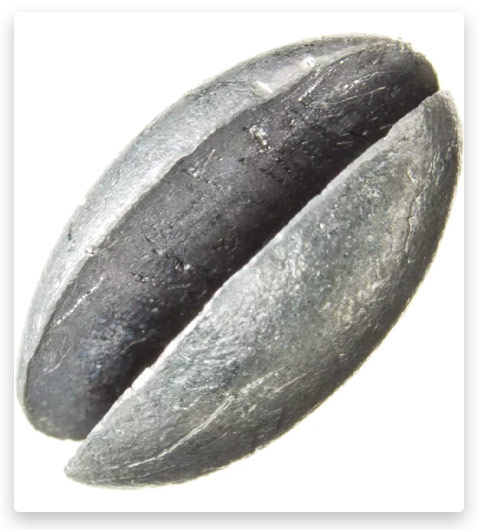 These clam-shaped weights are easy to adjust and remove, making them a practical choice for any angler. Their shape also makes them less likely to snag on underwater obstacles, so you can focus on landing that big one! Plus, they won't inhibit presentation or casting, making them a great option for both novice and experienced anglers alike. So next time you're headed out on the water, be sure to pick up a pack of XPS Clam Shot Weights – your fish will thank you!
10# Offshore Angler Trolling Sinkers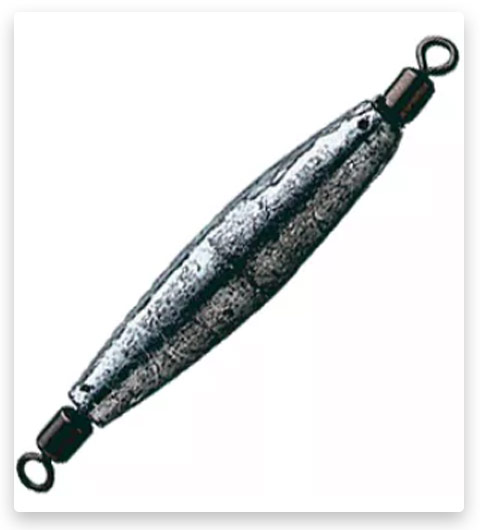 Our Offshore Angler Trolling Sinker is just what you need. This sleek and effective design eliminates water drag, while the integral crane swivels help reduce line twists. Simply connect the swivelled ends between your snap swivel and leader, and you're good to go! Whether you're fishing with traditional lines or wire lines, this sinker is sure to help you get the most out of your next fishing trip.
11# ECOFT Lead Free Fishing Sinkers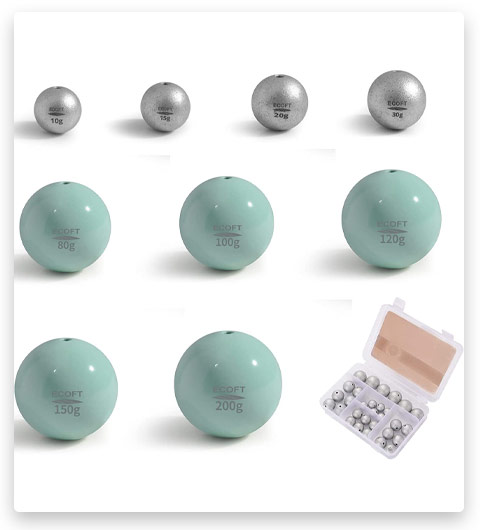 The ECOFT Lead Free Fishing Sinkers and Weights Coated Egg Sinkers are made with multiple degradable metals, without any heavy metals, to keep them dense and durable. They've passed the California Proposition 65 certification at TUV, so you can be sure they're friendly to the water environment. The smooth centre hole minimizes damage to the fishing line and makes it easy to change lures and rigs. And because they're made with degradable materials, you can feel good about using them knowing that they won't harm the environment.
12# Swpeet Fishing Weights Sinker Rolling Swivel with Interlock Snap Connector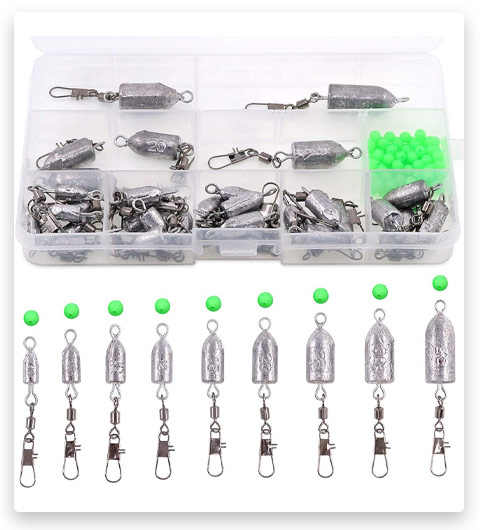 Looking for an affordable and comprehensive fishing weights kit? Look no further than the Swpeet 86 Pieces 9 Sizes 5g-35g Fishing Weights Sinker set! This great value kit comes with 36 sinkers and 50 fishing beads, providing everything you need for a variety of different fishing applications. The sinkers are easy to rig and change, and the included mini box makes it easy to keep everything organized and travel-friendly. Whether you're a beginner or a seasoned pro, this fishing weights set is a must-have for your tackle box.
13# Piedrunner Fishing Weights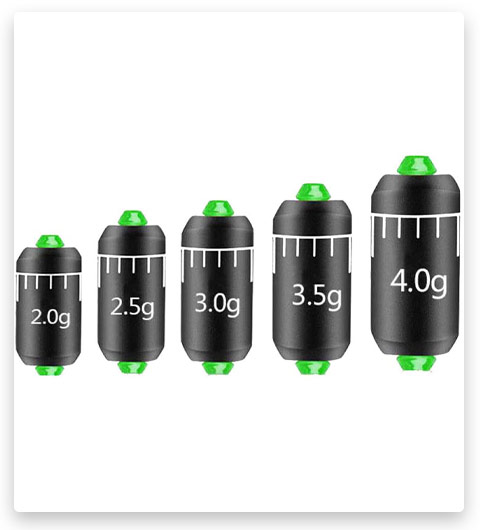 Check out the Piedrunner Fishing Heavy Weights! Made of high-grade metal material, this pack includes 5 different weights (2.0g-20pcs, 2.5g-20pcs, 3.0g-20pcs, 3.5g-20pcs, and 4.0g-20pcs) with scale marks for easy trimming and cutting. The soft core is made of grade plastic for superior elasticity and durability, while the clear plastic box helps you keep everything organized and easily portable. Get your Piedrunner Fishing Heavy Weights today and enjoy a hassle-free fishing experience!
14# iLure Cannonball Weights Fishing Sinkers Accessories Kit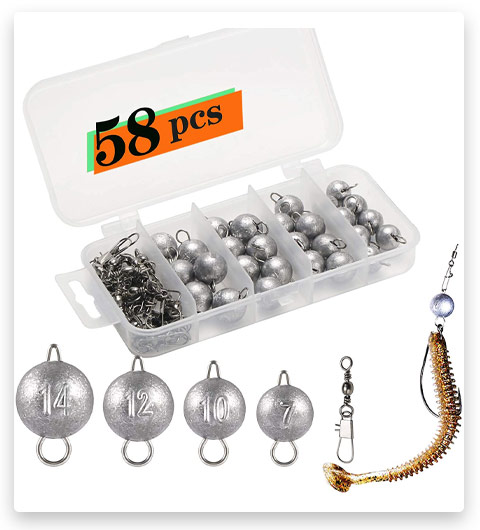 These high-quality weights are perfect for use with jigs and feature a smooth swivel action that prevents tangling. They're also great for trolling, texas rigs, drop shot rigs, and drift rigs. Plus, the included catfish rig and deepwater fishing accessories make this kit perfect for any type of fishing. Order yours today and be ready for your next fishing adventure!
FAQ
Conclusion
Fishing floats weights are an important part of a fisherman's tackle box. Choosing the right weight for your fishing float is critical to success on the water. In this article, we have reviewed some of the best fishing float weights on the market today and shared some tips on how to choose the right one for you. We hope that you find this information helpful and that it will lead you to a successful day of fishing!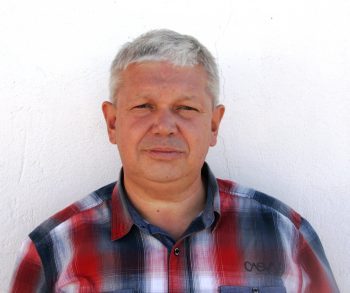 Sergio Smirnoff
Professional fisherman with 40+ years of experience.
Fishing and the ocean is a passion of my life. I am passionate about all kinds of sea fishing: fishing from the shore (spinning, float, baitcasting), from a boat, and spearfishing day and night.
I live in Tenerife (Canary Islands) for the last 10+ years and share my daily fishing experiences on my website. Many years of personal experience as a fisherman and the vast experience of my friends allow me to write professionally on any fishing topics (from choosing a flashlight and equipment to deep-sea fishing).
All of my advice is based on practical real-world experience and will be useful to both novice anglers and professionals.
Read more
about the author.
Affiliate Disclosure: FishReeler.com sometimes gets paid for listings, through sponsors or affiliate programs like Amazon, Ebay, Cabelas, Bass Pro Shop, Shimano, Daiwa, Rapala, Renn, Okuma, KastKing, etс. Clicking a link helps keep FishReeler.com free, at no extra cost to you!
About the author: Each article is verified by the fishing expert Sergio Smirnoff. The articles are written by professional and amateur fishermen with 20+ years of fishing experience.
Note: The views and opinions expressed in this article are those of the authors and do not necessarily reflect the official policy or position of any agency. The articles are for informational purposes only, share your opinions in the comments and join the fishing discussions, let's share our fishing experiences together!