A fish scale isn't a mandatory item that a fisher should carry with him on the water, but it is a useful accessory for every fishing suitcase. If you keep a record of your catches: whether for your own documentation, for inspection by authorities, or for your record, then fish scales are an indispensable fishing tool for you.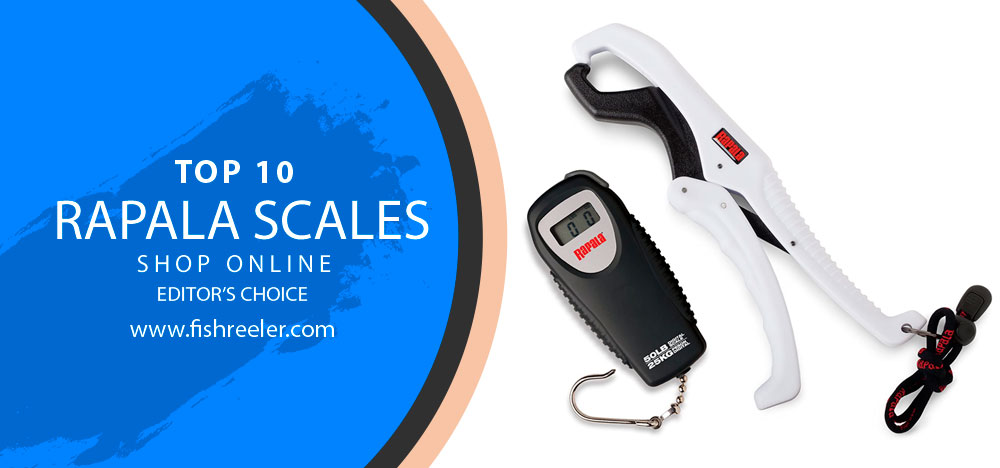 Depending on the size of the fish you want to weigh, there are different fish scales. One of the best manufacturers of fishing scales is the Rapala brand. In this article, you will get to know this company better and you can choose a fish scale for yourself right now!
Top 11 Best Rapala Fishing Scales – Editor's Choice
There are a lot of fish scales on the market. I decided to talk about one of the most high-quality and accurate scales of Rapala. I selected 11 models that have already been able to express themselves on the market. Keep reading to find out their advantages and disadvantages and choose the one that suits you!
| Image | Product | Brand | Link |
| --- | --- | --- | --- |
| | Rapala RHCDS50 High Contrast Digital Scale ,Black, 50 lbs. | Rapala | |
| | Rapala Compact Touch Screen Fishing scale | Rapala | |
| | Rapala Digital Scale 50 lb | Rapala | |
| | Rapala 50lb Digital Scale Grey ,One Size | Rapala | |
| | Rapala Tube Scale 50lb | Rapala | |
| | Rapala Touch Screen 15 pound Tourney Scale | Rapala | |
| | Rapala Tube Scale 25lb | Rapala | |
1# Rapala Mini 25 lb. Digital Fish Scale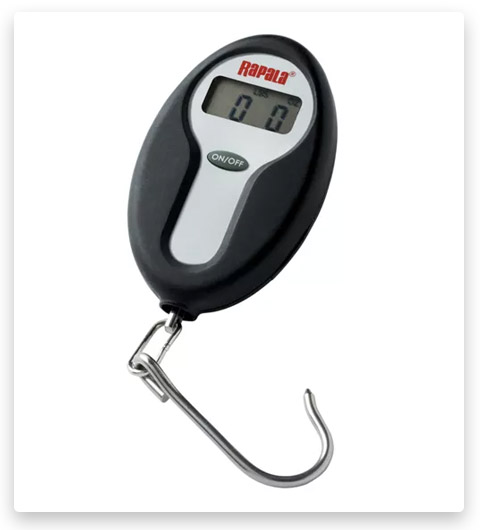 This is one of the most popular fish scale models from Rapala. Digital scales allow you to accurately weigh fish up to 12kg. Automatic shutdown after 4 minutes provides a long battery life, but the battery isn't included. It is convenient to keep these scales p in a box with accessories or in a pocket. They don't take up much space and at the same time ensure measurement accuracy.
2# Rapala 50 lb. High Contrast Digital Fish Scale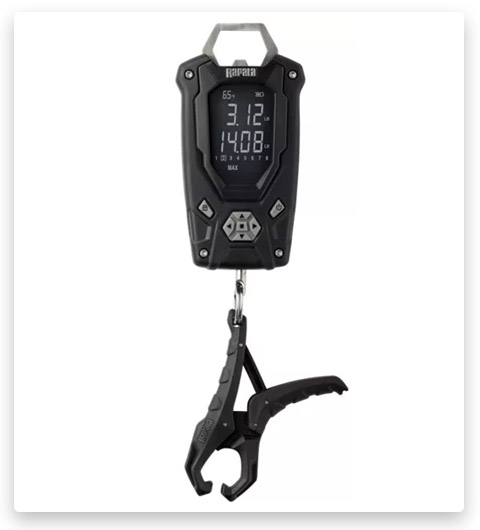 These scales are what you need for avid anglers. They are capable of weighing up to 50 pounds and they show weight with minimal error. Due to the ease of use, anyone can understand the principle of their work. The bright LCD allows you to see the values ​​at any time of the day without straining your eyes.
They come with a grip that is made of plastic. This design provides you comfort and safety. If you come across aggressive fish, you will not suffer. And also, if you intend to release the fish back into the water, then thanks to the gripper you will not harm it.
3# Rapala Mechanical Scale and Fish Gripper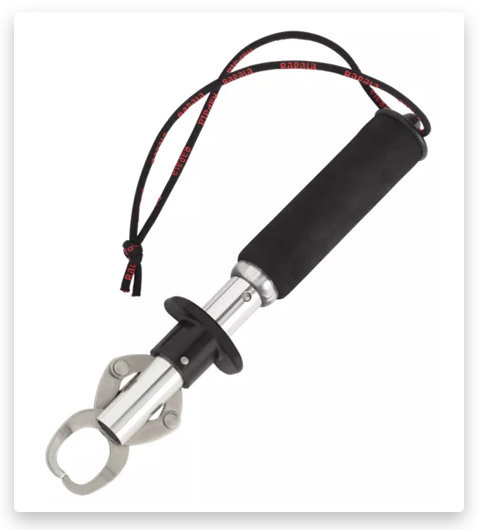 If for you fishing is an improvement in your records, then I advise you to look at this model of mechanical fish scales. They come with a grip for overall security. You can immediately weigh the fish, take a photo and then let it go without damaging it.
The scales are equipped with a quick-release mechanism. This suggests that you will not harm your catch. The scales are made of aluminum and operate without batteries.
4# Rapala Digital Scale and Fish Gripper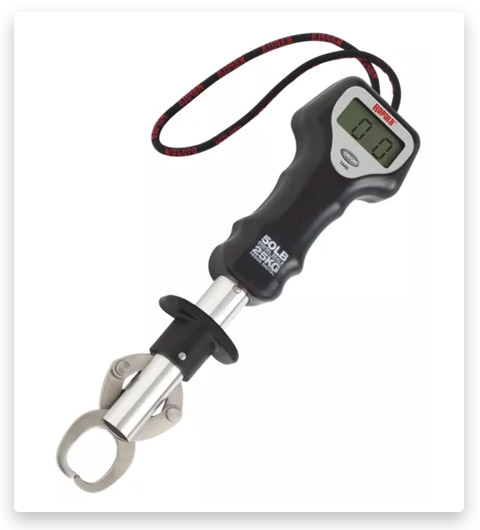 If you liked the previous model, but want to get a digital scale, then this is what you need. They are also equipped with a gripper which is made of stainless steel. Such material feels great in water, doesn't rust. Thanks to the gripper, you can weigh the fish with one hand and not worry about your safety. In order not to drop the device into the water, hang it on your wrist using a convenient strap.
5# Rapala Mini Digital Scale Fish Gripper Kit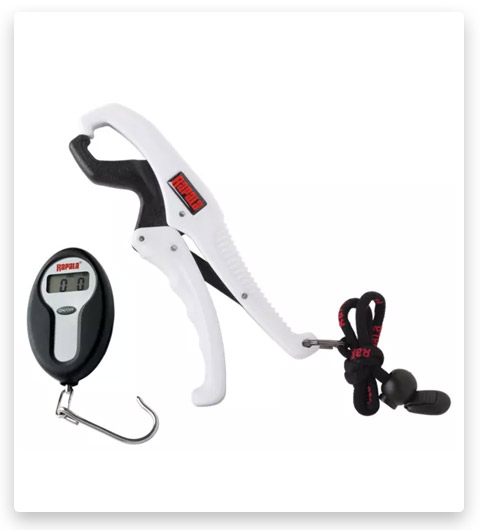 This is a universal kit for any fisherman. Grab the fish so that it doesn't get harm, weigh it, and release it back into the water. The set consists of 2 devices that can help you know the weight of the fish. Digital scales can weigh up to 25 pounds and has a bright screen. The gripper is able to fix the fish gently, but reliably. This allows you to work with one hand.
6# Rapala Compact Touch Screen Fishing Scale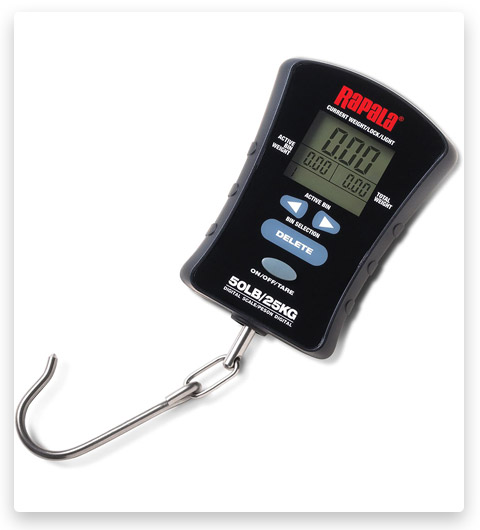 Stylish black scales to weigh your catch. For a great price, you get a digital scale that displays the weight in different units. Find out the weight in kg, pounds, ounces, and even decimal pounds. They are suitable for night fishing thanks to the backlight display.
7# Rapala Digital Scale 50 lb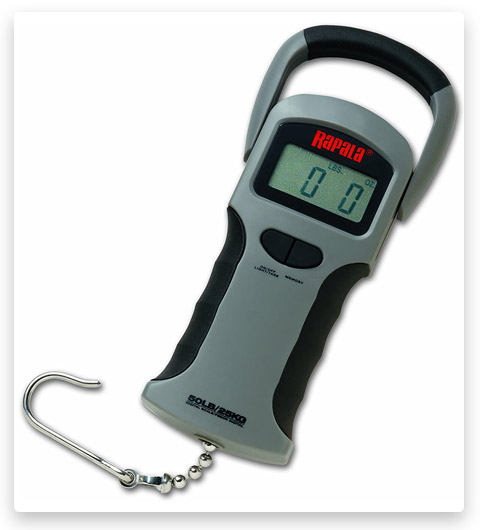 These scales are a great size to put in your pocket. They are equipped with a handle for which you can hold them during weighing. The scales are equipped with two buttons: one is responsible for switching on / off, tars and light, and the second for memory. Management is simple. You can figure it out in 5 minutes.
8# Rapala 50lb Digital Scale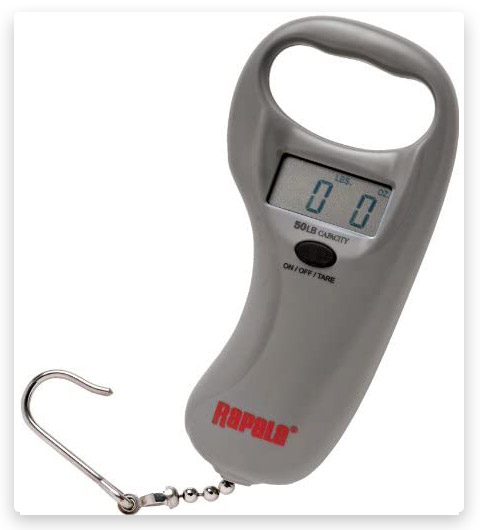 If you want a durable product, then this is exactly what you need! These fish scales will last you a decade without any problems at work. Find out the weight in your catch in kilograms or pounds. It shows a weight of up to 50 pounds.
9# Rapala Tube Scale 50lb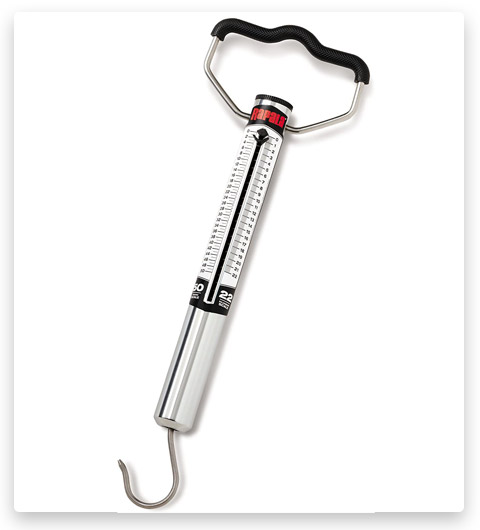 This simple fish scale design is made for quick weighing and convenience. Just hang the fish on a hook and find out the weight in seconds. Pounds and kilograms are available for you. The hook is made of stainless steel. This suggests that you can use the scale in any water and not be afraid of corrosion.
10# Rapala Touch Screen Scale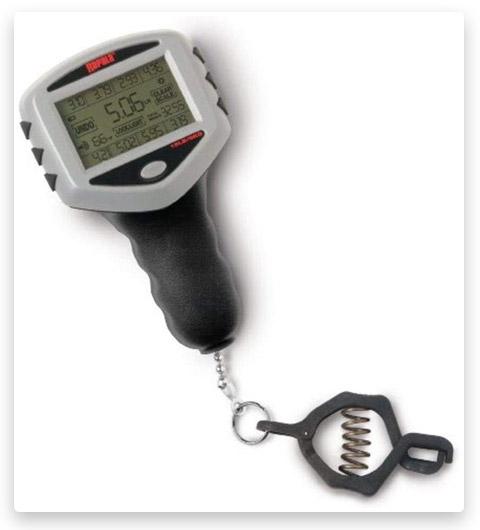 If you need high-quality scales to weigh caught fish, then this is not a problem. Take a look at this Rapala scales model which allows you to know the exact weight of your trophy. Perhaps they will help to find out your personal record. They are equipped with a large LCD screen which has various functions. Scales are waterproof and can be used in any water.
11# Rapala Tube Scale 25lb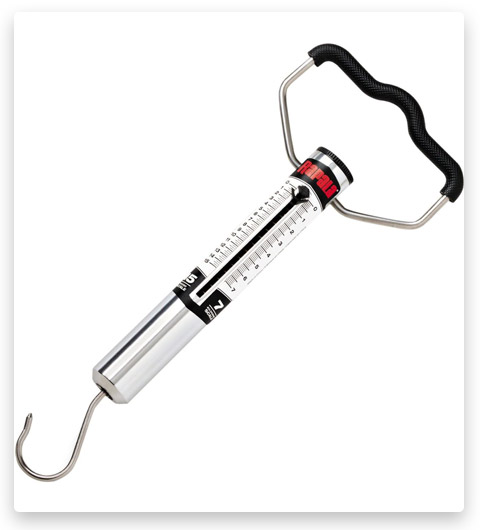 An easy-to-read mark and a stainless hook allow you to quickly and easily weigh your catch for your high scores. These scales are immediately ready for use and can withstand up to 25 pounds. The robust design speaks of the durability and high quality of the device.
What is a Fishing Scale?
Fishing is a great way to relax from the hustle and bustle of everyday life. It is so nice to sit with a fishing rod on the riverbank in silence and harmony with nature. However, in addition to rest, for the fisherman, it is also the excitement of a sport. It is important not only to catch a lot of fish but also we want it to be big. But the weight of the catch caught is quite difficult to determine by eye.
The way out of this situation is scaling. Together with photographs, they are excellent proof of an impressive catch. Ordinary weighing devices are not suitable for fishermen, because they are large and heavy. Therefore, for such purposes, Rapala produces special measuring devices. They are small in size and don't take up much space in the backpack.
They also have excellent accuracy. This is a very important indicator because a successful fisherman needs to brag to his friends and colleagues about his catch. In addition, they are used in various fishing tournaments, where weight is the determining quality for victory. They are waterproof, as they will often come in contact with water.
What are the Functions of the Rapala Fishing Scale?
Measuring devices are an important item in the arsenal of every fisherman when going fishing. They are especially suitable for fishermen who engage in sport fishing because with this form, the caught catch is released back into the reservoir. And, any fisherman can describe the size of the catch in words, but few will tell the real weight.
Photos also don't show their true weight. Fish scales will be an excellent gauge for this. The principle of operation of the balance is to weigh using a graduated spring. Thanks to it, maximum accuracy is ensured, several times higher than the readings of steelyards. The main functions of the scales are to weigh the caught fish for yourself, or in order to later show off the result to incredulous friends.
IMPORTANT! If the catch is released back into the reservoir, it is strictly forbidden to determine the weight of the caught fish by hanging it by the gills or mouth. This method can severely injure fish.
Types of Rapala Fish Scales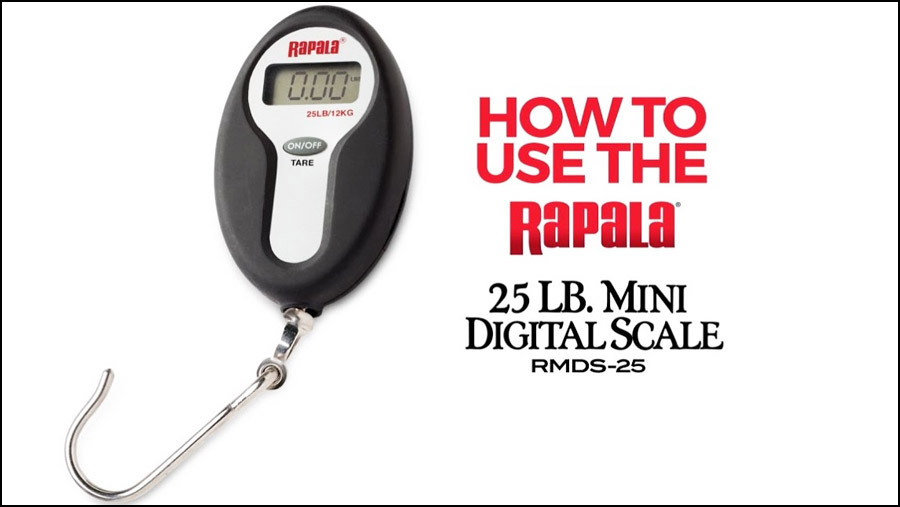 Rapala Mechanical Fish Scales
The simplest and most original fish scale is mechanical. On the back of the balance, there is a spring with a bolt in the middle. It is attached to the spring from above and protrudes downward from the spring. The end of the bolt has the shape of a hook on which the fish is hung. If the spring balance now rises until the fish hangs freely in the air, the spring is compressed by a bolt.
A pointer connected to the spring now shows the weight on the front scale. Since the spring scale operates independently of electricity or battery operation, it is more stable and less sensitive to external influences than digital fish scales. They are usually waterproof. They are easy to use and can be used in rivers and saltwater. But they have small flaws. They don't save your weighings, so you need to memorize them or write them down somewhere.
Rapala Digital Fishing Scale
The weighing process and technology work in digital fishing scales, similar to conventional scales. A hook is attached to the plastic case, in which the measuring electronics and the battery are located, to which the caught fish is attached, and then the scales are lifted. The exact weight of the fish is then digitally displayed on a clearly readable display in front of the hull.
Unlike mechanical scales, depending on the quality of the scales, the weight can be read with an accuracy of 10 grams on the display. Thus, digital fishing scales are very accurate and more suitable for accurate measurements than mechanical ones. However, thanks to the integrated electronics, the digital model is more sensitive to external influences and has a battery, which, however, usually needs to be replaced only after a few years.
Rapala Fish Gripper Scale
This type of scale also works as a mechanical one, but it also has a grip on the lips of the fish. Thus, caught fish will not wriggle and you can easily weigh it. You should especially buy such scales if you catch big and dangerous fish.
Conclusion
For this, there is fishing in order to enjoy the process itself and get a worthy trophy. But in order to appreciate the size of the catch, I had to wait for my arrival home. Only there it was possible to weigh the caught fish with accuracy. But progress is moving forward, and compact fish scales have appeared in the arsenal of athletes and amateurs. Now they allow you to very accurately weigh the catch or a separate large fish on the shore. I have introduced you to the Rapala brand, which knows a lot about fishing equipment and scales are no exception. Choose their fish scales and you will not regret it!
Tags: #rapala fish scale / #rapala digital fish scale / #rapala fish gripper scale / #rapala fish scale kg to lbs / #rapala digital scale and fish gripper / #how to calibrate a rapala fish scale / #how to change rapala fish scale from kg to lbs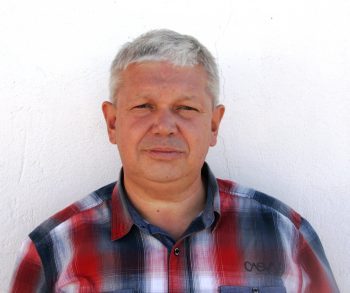 Sergio Smirnoff
Professional fisherman with 40+ years of experience.
Fishing and the ocean is a passion of my life. I am passionate about all kinds of sea fishing: fishing from the shore (spinning, float, baitcasting), from a boat, and spearfishing day and night.
I live in Tenerife (Canary Islands) for the last 10+ years and share my daily fishing experiences on my website. Many years of personal experience as a fisherman and the vast experience of my friends allow me to write professionally on any fishing topics (from choosing a flashlight and equipment to deep-sea fishing).
All of my advice is based on practical real-world experience and will be useful to both novice anglers and professionals.
Read more
about the author.
Affiliate Disclosure: FishReeler.com sometimes gets paid for listings, through sponsors or affiliate programs like Amazon, Ebay, Cabelas, Bass Pro Shop, Shimano, Daiwa, Rapala, Renn, Okuma, KastKing, etс. Clicking a link helps keep FishReeler.com free, at no extra cost to you!
About the author: Each article is verified by the fishing expert Sergio Smirnoff. The articles are written by professional and amateur fishermen with 20+ years of fishing experience.
Note: The views and opinions expressed in this article are those of the authors and do not necessarily reflect the official policy or position of any agency. The articles are for informational purposes only, share your opinions in the comments and join the fishing discussions, let's share our fishing experiences together!