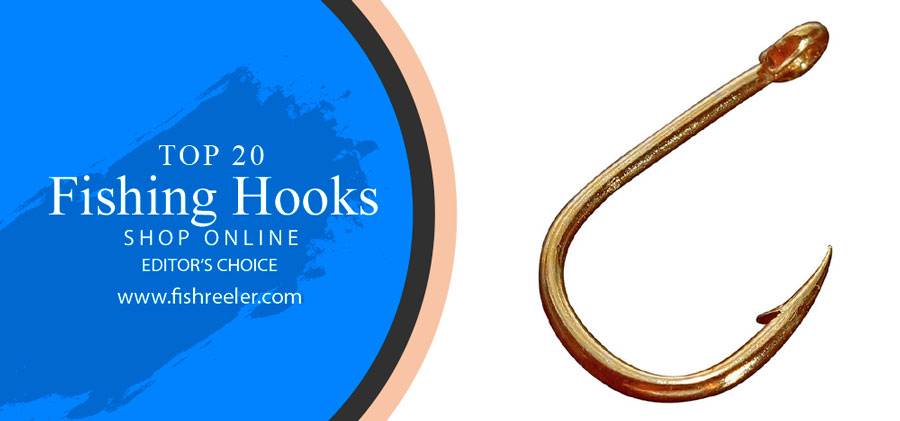 Fishing Hooks: Device, Structure, Drawings, Parts, Types of Sizes, Use
I want to present to you the most complete guide, reviews, and an idea of ​​fishing hooks. For many, this topic at first glance seems complicated. Just read this material and much will become clear. There is one part of your whole fishing setup that you must set up correctly, this is a hook. They may seem simple, but there are as many kinds of fishing hooks as there are fish to catch. Theoretically, fishing hooks are the easiest part of your setup. They can be made from high-tech carbon fiber and must be invisible underwater. This is not an easy curved piece of metal with a pointed tip at one end.

However, the hooks have been honed and refined. Each part of the hook has its own specific purpose. Each style and form has its own place. Knowing how to use them is always a sure way to improve your game and improve your catch.
Fishing hooks are the most important tool in your box. Whether you are new to fishing or an experienced fishing enthusiast, investing in quality fishing hooks will help you catch valuable fish. Successful fishing expeditions require strong, sharp, durable, and reliable fishing hooks. Get to know the most popular types of hooks and how you should use them when fishing. By the end of this article, you will be ready to improve your game and improve your success on the water.
How the Fishing Hook Works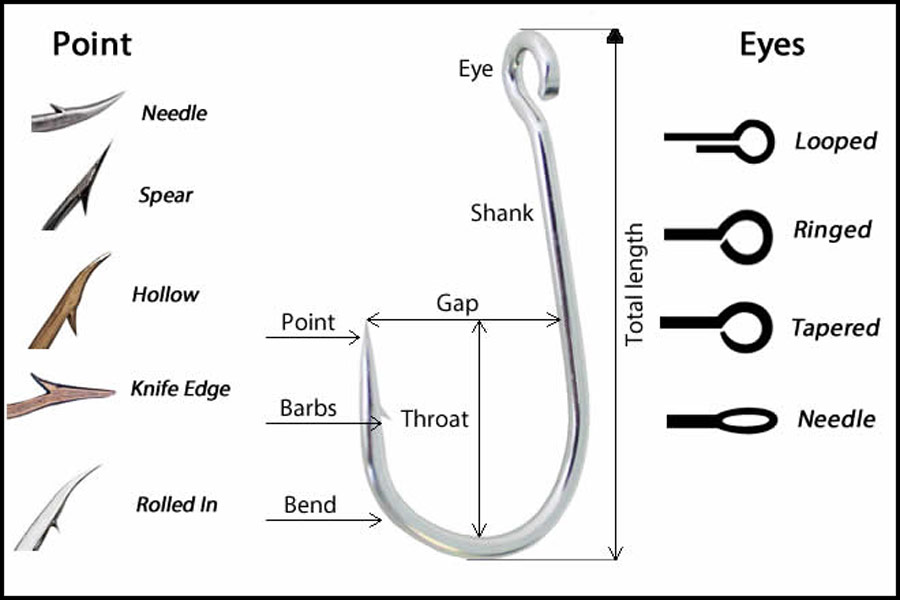 Hooks are an important part of your fishing arsenal. This manual describes the general terms used to describe fishing hooks and their meanings. This is important information you need to know so that you can make informed purchases when it's time to stock up on hooks.
All hooks have an eye, a shank, a gap, a tip, and notches, but variations of these characteristics lead to dozens of types of hooks.
Eye: A ring that attaches a hook to a bait or fishing line. The eye is the point of connection with the fishing line or body of the bait. Ringed eyes are the most common. The metal is bent in a uniform loop, and the end sits flush with the shank.
Shank: The same as the throat, but on the blunt end. This is the length from the eye to the point where the bend begins. Shanks are short, medium, or long and have a big impact on how the hook is used. Short shanks are often used for professional fishing when a compact hook and minimum weight are critical. Middle shanks are the most common and are used in many fishing situations. Longshanks is used to match the long profile of the artificial bait.
Gap/Clearance: The distance between the throat and the shank. The gap is the size of the bend in the hook from the shank to its point. A medium-sized gap is suitable in most situations, but sometimes a large gap is required. A wide gap is used to equip bait with a thick body to ensure that the point of the hook is open on the set of hooks, and not limited by the volume of the bait.
Point: The sharp bit that pierces the fish's mouth. This is the conical end of the hook and the sharp point penetrating the mouth of the fish. Forms can be different – a needle, a knife tip, a spear, or a roll. Quality hooks are packed extremely sharp and will hold the point longer than cheaper ones.
Throat: The part of the hook going down from the point.
Bend/Bending: where the hook bends back onto itself.
Barb/Thorn: spike facing back, preventing hook loosening. Prong – designed to hold the hook in place when it penetrates the fish's mouth. The larger the beard, the more difficult it is for the fish to free the hook.
Anatomy of a Fish Hook

Each hook component plays an important role in fishing. Understanding shank length, clearance, bending, etc. will help you choose the best hook. It will also help you properly assemble your fishing tackle for your particular fishing trip (pond, fish species, season, etc.) so that you can catch more fish.
Fishing Hook Sizes
Understanding the size of fishing hooks can be confusing. The easiest way to remember how the sizes of fishing hooks work is to remember that small fishing hooks are numbered from 1 to 32, with 32 being the smallest size. Medium and large fishing hooks are indicated by sign 0, which appears before the number, such as 1/0, 2/0 … to 20/0, which is the largest size of the hook.
To find the correct hook size, you simply look at the standard table of hook sizes and find the one that is suitable for the species you choose. To make your choice, I present the most important characteristics of them and explain what they mean.
Fishing Hook Sizes Guide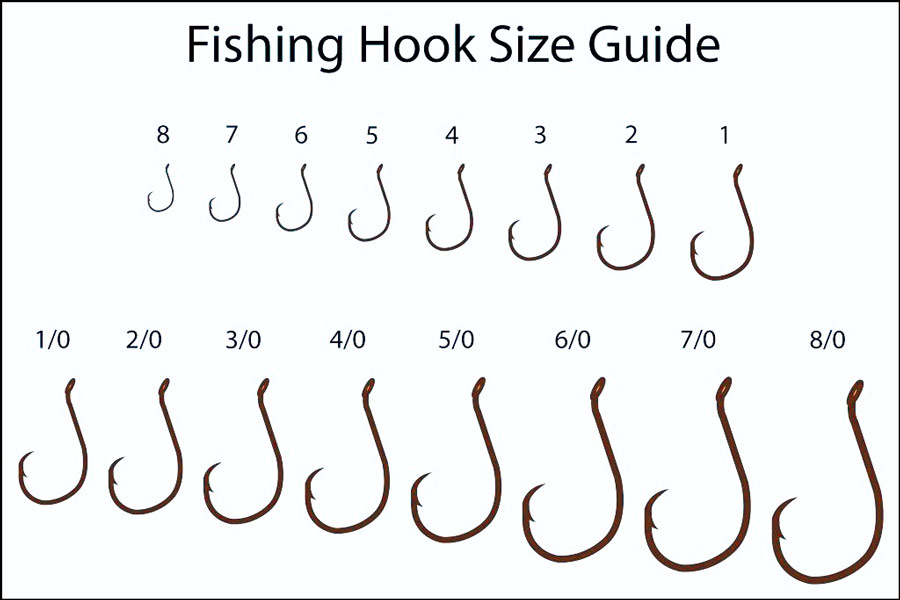 On the left, you have sizes. On the right, you have "aughts". The smallest hooks out there begin at around a size 30. The second-smallest is size 29, then 28, 27, and so on, running "Up" to size 1. After size 1, it switches to size 1/0 then 2/0, 3/0, all the way to 27/0, which we assume people use to catch literal sea monsters.
Fishing Hook Sizing Chart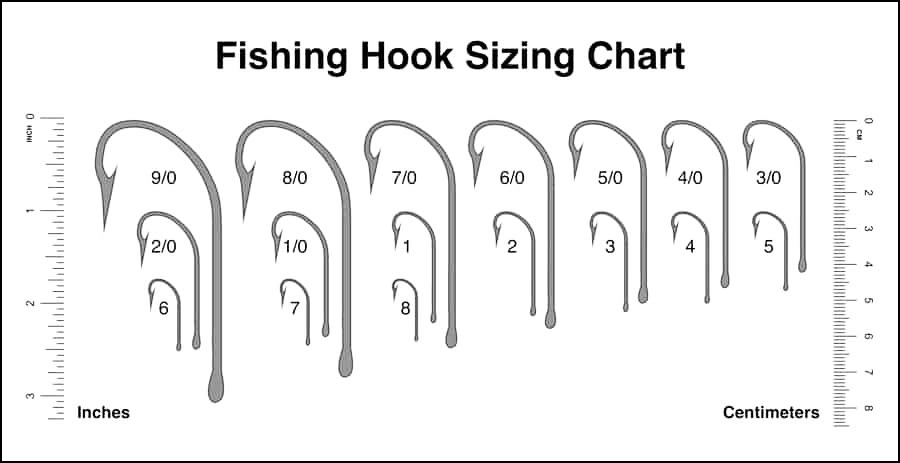 Material

Modern fishing hooks should be made of strong and durable materials, such as high-carbon steel, alloyed with vanadium or stainless steel, depending on the application. Most high-quality fishing hooks have an anti-corrosion surface finish. Regardless of whether the hooks are made of steel or nickel, or they have a special coating or chrome finish, the main thing is that they are strong and reliable.
Corrosion resistance is necessary not only when using fishing hooks, especially in saltwater, but also during storage. In addition, coatings are applied to color or provide aesthetic value to the hook. Here are some additional solutions from hook manufacturers. Some manufacturers, such as the Norwegian company Mustad, use the unique Durasteel coating, which not only makes their fishing hooks heavy-duty but also gives the hooks a reflective sheen that is very effective in attracting fish.

Red fishing hooks, such as the Eagle Claw Fishing Hooks, are also a great choice, as the red color looks like a wounded bait, which is very effective in attracting the attention of neighboring fish. Freshwater fishing hooks are often coated with a clear coat. Also, such hooks can even be coated with Gold, Nickel, Teflon, Tin, and other various paints.
Simple Guide to the Most Popular Fish Hook Styles
While there is a huge variety of special fishing hooks, the main groups of hooks form the basis for widespread use by experienced fishermen. However, there are several types of fishing hooks that every self-respecting angler should have in his box. Here is our selected shortlist of basic hooks. These are such fishing products: bait, circle, treble, and worm hooks.

Popular Fishing Hook Categories
Let's take a closer look at the base and extended hooks that you can add to your box.
1# Bait Holder Hooks – Most Used by Fishermen
View on BassPro View on Amazon
They ensure that your bait does not slip off the hook. They have tines on the shank to hold the bait in place, and a prickly point to catch on any fish that bites it. Lure holders are extremely effective, but their barbs can do a lot of damage to the fish when it is released. They are not the best choice if you plan to release your fish back into the ocean.
I repeat. Since lures come in different sizes and lengths, there are also many different styles of bait hooks. Bait hooks often have additional notches on the shank of the hook, as well as in the bend area. These extra tines help keep the bait hook. Bait hooks come in many styles. Most of them have teeth on the rod to hold the bait in place.
2# Circle Hooks – Maximum Safe for Fish
View on BassPro View on Amazon
Sharp-tip circular fishing hooks are also very popular with many fishing experts. Its shape often ensures that the point of the hook only snags onto the open surface, which is usually located in the corner of the fish's mouth. This type of fishing hook is designed to hook into the corner of the fish's mouth. This provides a more humane way of catching fish, especially if you want to release the fish safe and sound. Hooks for circular fishing have a more pronounced bend in the shank, without notches, which makes it easier to remove the fishing hook from the mouth of the fish.
His point leans towards the shank, which prevents them from entering deep into the throat of the fish. Instead, they engage on the tip of the mouth. Circular hooks require some fishing experience. You need to wait a bit until the fish swallows the bait firmly before you hook it, or you pull it out of the mouth of the fish. The term circular hook refers to the special design of fishing hooks, due to which they look round. Used mainly for catching live bait, these hooks increase the percentage of the catch. When a strike occurs, the hook slides out of the throat of the fish. At this point, the hook point is rotated and set to a safe and reliable grip. Thorn does not penetrate deeply.
3# Double Hooks – Bait Holds Well
View on BassPro View on Amazon
This hook design looks like a triple but has only two points. Double hooks are great for use with thick soft plastic lures such as floating artificial frogs. This design makes it difficult for the bait to go without engagement.
4# Treble Hooks – Sweep Reliability
View on BassPro View on Amazon
Any angler will need triple hooks, which give triple chances of a hook since one of them will always be directed in the right direction. They do not tend to penetrate very deep into the intestines of fish. But they are difficult to use in the process without accidentally engaging on various objects. Such fishing hooks consist of three hooks that extend from one shank. These types of fishing hooks are mainly used with artificial lures. Since in many states of America it is forbidden to use a triple hook with an attached live bait.

These 3 hooks provide excellent bite coverage for fishing with artificial lures such as wobblers, jerk baits or topwater. The hook is very dynamic and effective for holding fish, as often there can be more than one hook in the fish's mouth.
5# Siwash Hooks – Has a Straight Eye
View on BassPro View on Amazon
Siwash fishing hooks have a long shank and a straight eye so they sit properly on baits. Siwash hooks are often used on single-hook lures. These hooks are convenient for replacing triple hooks on hard baits when fishing, limiting the number of hooks on the bait.
6# Aberdeen Hooks – Does Not Damage Bait
View on BassPro View on Amazon
Aberdeen fishing hooks are made of a lighter wire than Siwash hooks and are often used for bait fishing. The thin metal easily hooks the bait with minimal damage, so it remains alive. When hooked, you can sometimes bend the hook. Aberdeen hooks were popular as long as fishing was a sport. Their light wire and long shank allow you to securely fasten small live baits without damaging them. This allows them to live as long as possible.
7# Octopus Hooks – Has a Bent Eye
View on BassPro View on Amazon
This is one of my favorite hooks; they have a short shank with a slightly lower cross-section than the middle bait hook. The eye is directed away from the point of the hook, making it ideal for tying the knots of the egg loop, which are great for holding the bait. I use these hooks for various species, usually with smaller mouths, such as salmon, sea bass, trout. I would not recommend these fish hooks with largemouths.
The one who came up with the octopus hooks had one thing in mind: the natural presentation of small baits. Their short, rounded shank reduces size and weight while leaving enough slots to catch large fish. The point bends slightly on the hook of an octopus. Octopus fishing hooks look like round fishing hooks. They come in both traditional and circular styles. The difference between a circular hook and an octopus circular hook is that the end of the eye deviates back and the hook has a more cone-shaped point.
They are specially designed for live bait and work well with small bait, such as worms or small minnows. Octopus hooks are often used for bait fishing when the minimum weight and size of the hook are necessary for a natural view.
8# Worm Hooks – Wide Gap and Bend
View on BassPro View on Amazon
If you like to fish using plastic worms. A bend near the eye holds the head of the worm in place. A point pierces the body, waiting to capture an unsuspecting fish. The rest of the bait hangs loose. This allows him to move freely and naturally.
There are many characteristics when it comes to worm hooks: weighted, very wide gap, different eyes, etc. I use them most often when catching large types of mouth, such as sea bass, and for plastic lures. Worm hooks usually have a wider gap that provides a gap between the eye and the hook point, so that it can hold these large plastic worms, tubes, living things, etc.
It should be noted that the worm hooks have a slight bend just below the eye for Texas rigging. Most worm hooks have wide gaps to provide sufficient clearance for the point of entry into the fish. These hooks are quite durable and have a good penetrating ability to fish.
9# Jig Hooks Fishing – Right Angle to the Shank
View on BassPro View on Amazon
These hooks are as simple as effective. The eye is set at right angles to the shank to increase the movement of the bait in the water. Jig fishing hooks are the most common types of fishing hooks. They are highly valued for their durability and sharpness, as well as their design for continuous connectivity.
The jig hook has a standard 90-degree bend, around the offset eye, and a razor-sharp notched edge. Fasteners are also available in a variety of styles, such as wide-gap clamping devices, weed-free clamping devices, removable clamping devices, thick wire, and light-wire clamping devices. A jig hook is a basis for many lure options. Jig fishing hooks are made in special molds. The main thing is that they have a bend just below the eye, the most common is an angle of 90 degrees.
Guide to Special Fishing Hooks and Their Use
Fishing tactics are becoming more diverse and complex. Unsurprisingly, hooks are becoming more sophisticated to keep up with these innovative processes. The following is a selection of popular unique fishing hooks.
10# Drop-Shot Hooks – Special Mount
View on BassPro View on Amazon
Straight-line hooks are designed to snap to a line using the Palomar assembly. They sit at an angle of 90 degrees from the line, which is below the sinker below the line and is equipped with elegant plastic.
11# Weedless Hooks – Have a Protective Cover
View on BassPro View on Amazon
Weed-free hooks are a favorite of Bass anglers around the world. They are used in lakes and ponds where you fish among dense vegetation. They have a thin shield that attaches to the point. This gives you the opportunity to not cling to obstacles in the path of movement of the bait. At the same time, it is fixed easily enough so that it comes off as soon as the fish accepts your bait. Weed-free hooks are equipped with a plastic or wire guard that protrudes in front of the hook. They help prevent weed clogging, making it much easier for you to fish.
12# Trailer Hooks for Spinnerbaits – Has a Protective Tube
View on BassPro View on Amazon
The Spinnerbait Hitch feature is an oversized eye with a protective tube that slides over the hook to increase the impact and accuracy of the fish hook.
13# Keeper Hooks for Fishing – Has an Extra Shoot
View on BassPro View on Amazon
Keeper hooks have a small serrated hand that connects to the hook eye. The tooth is inserted into the nose from a soft plastic bait. The hook point is stuck below in a plastic case. This allows a direct presentation. These hooks are extremely popular for equipping floating lures.
14# Dressed Treble Hooks – Has Extra Feathers
View on BassPro View on Amazon
Dressed with a triple, just triple hooks with feathers and tinsel tied on their cuttings. They can be used to replace the rear hook with hard baits such as jerk baits and spoons. Feathers play in the water, a bright color increases the attractiveness of the bait, pulsating and flashing when manipulating the bait.
How to Set the Hook
A good rule is not to rush. When the fish starts to peck and pull the bait, you need to wait a few seconds and feel the weight of the fish before finally hooking it. If the fish is careful and just taps on your fishing line and bites slightly without biting the bait, it is better to wait. Let the fish take the bait, and then set the hook after you feel its weight. For the best results, be sure to use the correct fishing hook setting. To help you better understand how to install the hook, pay attention to the common signs by which a fish bites. For example, when your float is completely submerged in water, you feel that jerks or fishing line begin to move on the line.

Another rule – constantly remove the sagging fishing line and keep it at an angle of 45 degrees above the bait in tension. This helps increase sensitivity, allowing you to feel the bite of the fish and be in a better position to set the hook. When installing the hook, you must briefly and sharply make the rod move upward, using sufficient force to let the tooth pass through the mouth of the fish.
It is important to feel and determine the bite of the fish. It is necessary to be able to distinguish jerking fishing lines from the flow of water or waves. The more you know about the types of fish that you need, and the more time you spend in water classes, the better you get the result. Fish with hard mouths needs a rigid set of hooks, while fish with soft mouths do not need a rigid set of hooks. If you pull the fishing line and set the hook too tightly, it can break out of the fish's mouth.
What is Important to Look for in Quality Hooks
High-quality and matte pointed tip: this can eliminate the need for frequent sharpening.
Strong but flexible: give the hook enough to not break or pry out the fish's mouth.
Prices may vary greatly. Cheap hooks are rarely good. The criterion is a reliable and well-known brand.
Take an inventory of your equipment and accessories. Buy what you like and not enough to fish. The success and enjoyment of fishing depend on such a small detail.
To conclude this review, I'm giving you a complete list of types of fishing hooks that you may need:
1-Bait Hook
2-Narrow Bait Hook
3-Jig Hook
4-Wide Gap Hook
5-Weedless Wide Gap Hook
6-WeedLess Hook
7-J Hook
8-Aberdeen Hook
9-Siwash Hook
10-Keel Fly Hook
11-Circle Hook
12-Weighted Worm Hook
13-Worm Hook
14-Octopus Hook
15-Sickle Hook
16-Round JigHead
17-WeedLess Round JigHead
18-Twist Shaky JigHead
19-Weighted Offset Joint Hook
20-Treble Hook
21-Weighted Treble Hook
22-Double Hook
23-Bullet JigHead
24-Umbrella JigHead
25-Shaky Worm JigHead
26-JigHead Hook
---
Tags: #fishing hook / #how to tie a fishing hook / #fishing hook sizes / #fishing hook knots / #best fishing hooks / #fishing knots for hooks / #how to tie two fishing hooks on one line / #types of fishing hooks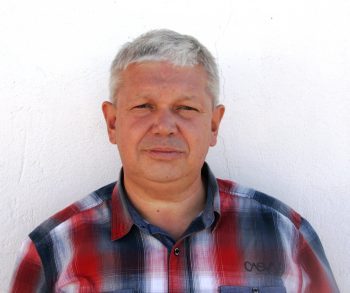 Sergio Smirnoff
Professional fisherman with 40+ years of experience.
Fishing and the ocean is a passion of my life. I am passionate about all kinds of sea fishing: fishing from the shore (spinning, float, baitcasting), from a boat, and spearfishing day and night.
I live in Tenerife (Canary Islands) for the last 10+ years and share my daily fishing experiences on my website. Many years of personal experience as a fisherman and the vast experience of my friends allow me to write professionally on any fishing topics (from choosing a flashlight and equipment to deep-sea fishing).
All of my advice is based on practical real-world experience and will be useful to both novice anglers and professionals.
Read more
about the author.
Affiliate Disclosure: FishReeler.com sometimes gets paid for listings, through sponsors or affiliate programs like Amazon, Ebay, Cabelas, Bass Pro Shop, Shimano, Daiwa, Rapala, Renn, Okuma, KastKing, etс. Clicking a link helps keep FishReeler.com free, at no extra cost to you!
About the author: Each article is verified by the fishing expert Sergio Smirnoff. The articles are written by professional and amateur fishermen with 20+ years of fishing experience.
Note: The views and opinions expressed in this article are those of the authors and do not necessarily reflect the official policy or position of any agency. The articles are for informational purposes only, share your opinions in the comments and join the fishing discussions, let's share our fishing experiences together!