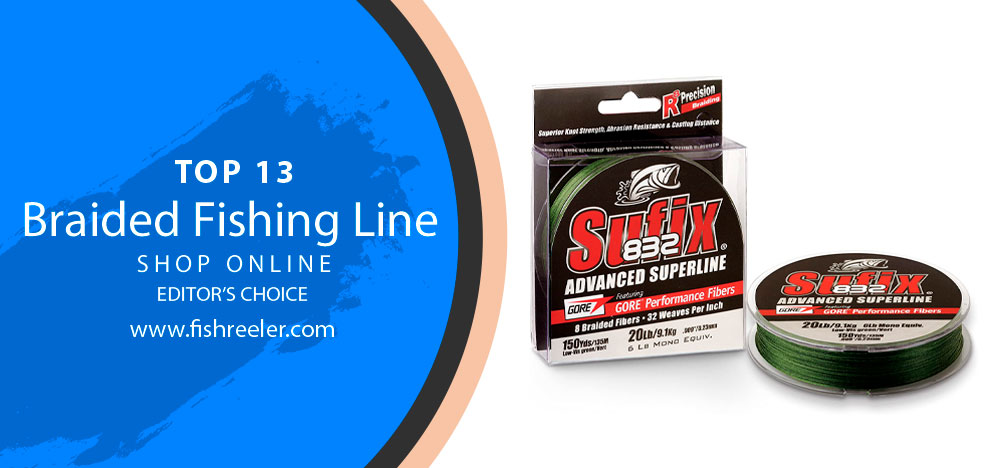 The Unseen Champion of Angling: Braided Fishing Line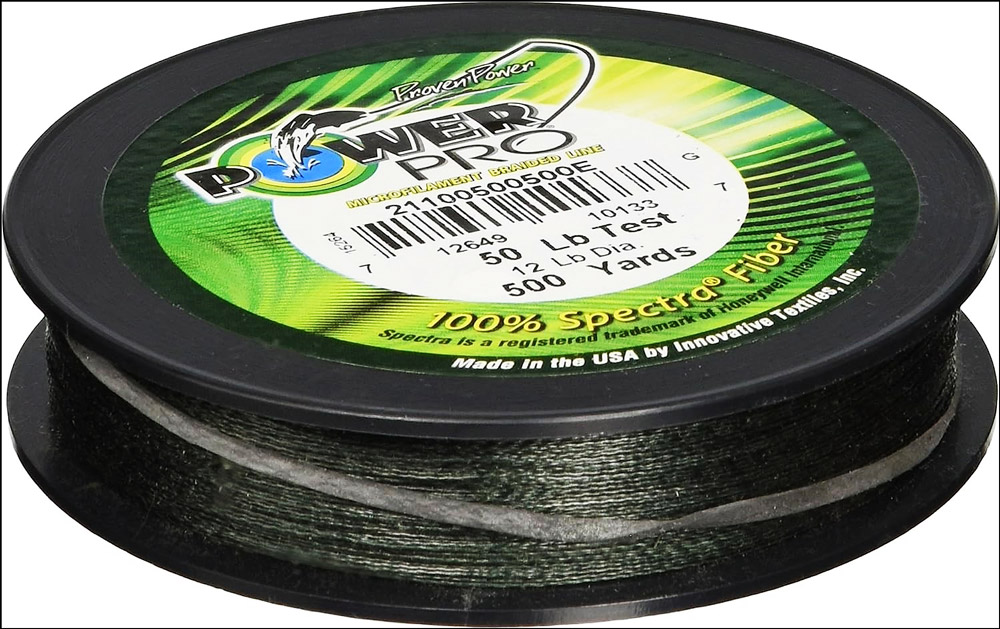 🎣 Hook, Line, and Memory: A Tale of One Braided Line
It was a crisp, clear morning as the sun began to paint the sky with shades of orange and pink. I stood at the edge of the emerald lake, rod in hand, the chill of the morning air making my breath visible. Today wasn't just another day of fishing; it was the day I decided to test a new companion in my angling arsenal – the braided fishing line. 🌅
My usual go-to was the dependable monofilament, but I'd heard whispers in the angling community about the strength and sensitivity of the braided line. So, there I was, ready to dive into the unknown. The bait was set, and the line cast. As hours rolled by, my line jolted to life, signaling a hefty catch. As I reeled in, I realized just how much of a game-changer the braided line was. My line held firm, even with a 15-pound bass on the other end, bringing me face-to-face with my largest catch yet! 🐟
So, what was the silent hero behind this memorable fishing feat? Enter the world of braided fishing lines.
Braided fishing lines, often overlooked, are a powerful tool for anglers seeking more strength, greater line capacity, and increased sensitivity. The unique construction of these lines – multiple strands woven together – results in a line that is tough yet flexible, opening up a new world of fishing possibilities. 🌐
Whether you're a casual weekend angler, or a seasoned professional spending more time on the water than on land, understanding and using a braided fishing line could very well revolutionize your fishing experience. Are you ready to reel in the big one? 🎯
🕰️ The Evolution of Fishing Lines: From Twine to Shine
Long before the invention of rods and reels, the very essence of fishing was shaped by the simple, yet effective fishing line. The transformation of fishing lines has mirrored our advancements as a society – from using vines and plant stalks in prehistoric times to the high-tech lines we cast today.
🌱 Natural Fibers: Early anglers relied on available resources. They used raw materials like silk, horsehair, or plant fibers to fashion fishing lines, highlighting their innovation and survival instincts.
🧵 Linen & Cotton: As civilizations advanced, so did their fishing gear. Materials like linen and cotton were twisted into lines, offering improved strength and durability.
🔬 Synthetic Age: The 20th century ushered in a new era of synthetic lines. Nylon monofilament lines became the gold standard, prized for their flexibility, knot strength, and transparency.
🩺Braided Fishing Lines: The Dawn of a New Fishing Era 🌅
With advancements in technology, the humble fishing line saw a groundbreaking innovation – the braided fishing line. Unlike the single-strand monofilament, braided lines intertwine multiple strands, leading to a sturdier and more resilient fishing line.
🔍 But Why Braided Lines?
Braided lines took center stage for several reasons:
🏋️ Strength: They have a high strength-to-diameter ratio, meaning they're stronger than monofilament or fluorocarbon lines of the same diameter.
👌 Sensitivity: They lack stretch, making them extremely sensitive to bites.
🌊 Durability: They have higher resistance to abrasion, making them ideal for fishing in heavy cover or murky water.
🔶Braided fishing lines have indeed been a significant leap forward in the world of angling. They continue to evolve, offering more color options and improved materials, adding a new dimension to the time-honored tradition of fishing. 🎣
Reel in Success: Top 13 Braided Fishing Lines Dominating the Market
As every seasoned angler knows, a perfect cast isn't just about skill; it's also about having the right gear. And when it comes to fishing, few elements are as crucial yet often overlooked as the fishing line. In particular, braided fishing lines have made quite a splash in the angling world, becoming a staple for those seeking strength, sensitivity, and overall superior performance. If you're ready to take your fishing game up a notch, you're in the right place.
In this blog post, we're diving deep into the world of braided fishing lines. We've cast our net far and wide to bring you a comprehensive list of the top 13 braided fishing lines that are dominating the market. Whether you're a weekend hobbyist looking to level up or a professional angler in need of a reliable line, our guide will help you reel in the big one!
| Image | Product | Brand | Link |
| --- | --- | --- | --- |
| | KastKing Superpower Braided Fishing Line,Low-Vis Gray,20 LB,327 Yds | KastKing | |
| | Power Pro Spectra Fiber Braided Fishing Line, Moss Green, 300YD/30LB | Power Pro | |
| | SpiderWire Stealth® Superline, Moss Green, 30lb | 13.6kg, 125yd | 114m Braided Fishing Line, Suitable for Freshwater and Saltwater Environments | Spiderwire | |
| | Berkley NanoFil Uni-filament Fishing Line, 12 Pound Test-150 Yard, Clear Mist | Berkley | |
| | POWER PRO 20 X 1500 Yd Green - 21100201500E | POWER PRO | |
| | Piscifun Onyx Braided Fishing Line Advanced Superline Braid Lines 150Yd 6lb Black | Piscifun | |
| | Berkley Fused Crystal Fireline, 6/2 Lb, 125 Yd , Crystal | Berkley | |
| | Suffix 832 Braid 6 lb Low-Vis Green 150 yards | Sufix | |
| | Daiwa J-BRAIDX8, Filler Spool, White, Mono Dia.= 10lb. | Daiwa | |
| | Reaction Tackle Braided Fishing Line Blue Camo 10LB 500yd | Reaction Tackle | |
| | RUNCL Braided Fishing Line, 8 Strand Abrasion Resistant Fishing Line Braid, Super Durable, Smooth Casting, Zero Stretch, Smaller Diameter, Hi Vis, 328-1093 Yards, 12-100LB(12LB,328yds) | RUNCL | |
| | Braided Fishing Line Abrasion Resistant Superline Zero Stretch&Low Memory Extra Thin Diameter Dark Gray 327Yds,4LB | RIKIMARU | |
| | Seaknight MANSTER W8 Braided Line 8 Strands Braided Fishing Line 328Yards/547Yards Super Smooth PE Braided Lines Multifilament Fishing Lines-Abrasion Resistant, Low Memory, Zero Stretch | Seaknight | |
1# KastKing SuperPower Braided Fishing Line – Best Pick Overall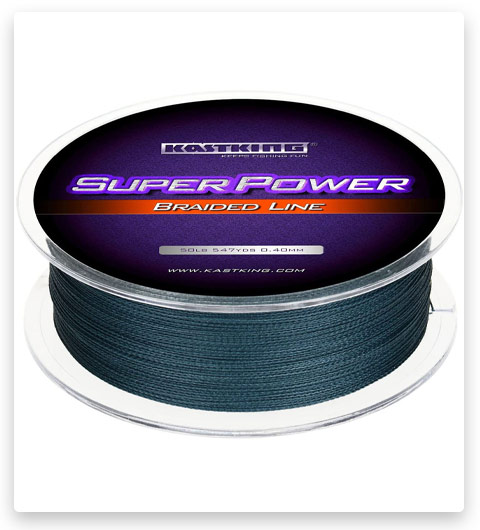 After all the tests, I decided to choose this line from KastKing as the winner. Despite the price, this line performs better than most of the expensive products on the market. KastKing has always high-quality things for little money, and this line is another testament to that. The good things start as soon as you put this line on your reel. Due to the built-in dynamic strands, the line allows you to tie it easily and firmly on the reel. Any knots like Uni or Double Clinch sit great on the reel and the hook.
The line has excellent abrasion resistance. It never gets loose or torn by friction, even when fighting a strong fighting fish. But the guides wear well, so take a harder rod. This has a very small diameter, which allows you to wind much more line on the reel and make longer and deeper casts. Plus, this line has zero stretch giving you superior sensitivity and bait contact. But this line has one drawback – it paints the hands very much when used and wound. The pigment that is applied to the surface of the line is very caustic and permeates everything: your hands, the spool of the reel, and the rod. It goes away after a while after use, but it's still not a very pleasant thing.
I have been using this braided line with a diameter of 0.18 mm for many years (sea fishing from the shore) and can confirm the following advantages and features of the product from KastKing:
Very tear-resistant – heavy-duty braid
The best selection of colors to suit all water conditions
Incredible abrasion resistance and knot strength
Round and sleek design increases throw distance – minimal friction
Very low torsional memory
Zero stretch
The convenience of casting the line and the quality of the fishing itself is at the highest level.
2# Power Pro Spectra Fiber Braided Fishing Line – Best Pick For Fresh & Saltwater
Power Pro is a fairly well-known brand in the production of fishing lines. She supplies an extensive line of high-quality braided lines in a variety of ranges and colors. This model is woven using 4 strands, each made of durable, unique Spectra fibers. Although flat strands are used here, in general, the line is rounded, which is very convenient when weaving knots. Each strand is coated to give the line a thinner and firmer profile.
But for a line with a thin profile, it does a great job of handling heavy fish in both fresh and seawater. The line also performed well on the water in terms of strength and abrasion. Compared to Mono, this model is less likely to cast, but it does it better than most braided lines nonetheless. Power Pro is very durable. You can even cut your hand on this line, the line quietly saws through the side of the wooden boat.
Besides, this line has the same disadvantage as the previous one – it leaves traces of paint on all things that it touches. Especially the first time of use. Otherwise, it is an excellent braided line for salt and fresh fishing.
🎦Video YouTube: PowerPro fishing line – why do all the pros use it?
3# SpiderWire Stealth Superline Braided Fishing Line – Best Budget Pick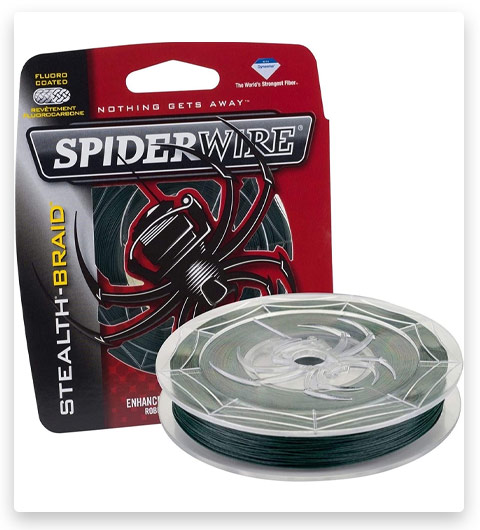 A great line from the SpiderWire brand. The line comes in several colors, including camouflage, translucent, and even glow-in-the-dark, which is great for night fishing. Thanks to this, you can choose a line for different conditions and types of water. The manufacturer uses durable Dyneema fibers for its lines. The same fibers are used in the manufacture of body armor for the police, so you are guaranteed strength and durability.
The number of strands differs depending on the model. 6 to 20 pounds – 4 strands, 30 pounds – 8. I think this is a great solution because the manufacturer uses the optimal amount of strands for each type of fish. You don't overpay for more strands if you don't need them.
Regardless of the number of strands, the line casts very smoothly and quietly. Extraction is always very fast, leaving no loops on the line. Due to its material, the line does not stretch. Absolutely. The sensitivity of this line is so great that many anglers have to get used to this line at first. On the other hand, you will feel even the smallest fish bites. Despite a large number of positive reviews from many fishermen, the most common complaint is the quality of production. Some people receive defective copies. Another disadvantage is the use of a fluoropolymer coating. Although this coating improves the performance of the line, it will fade over time.
4# Berkley NanoFil Uni-Filament Braided Fishing Line – Best High-Quality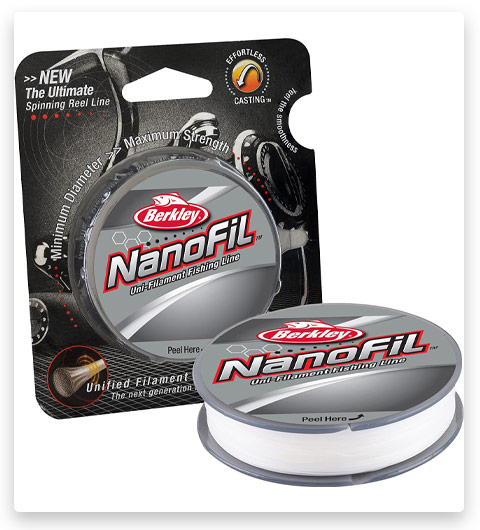 Berkley has introduced a new generation of fishing lines – Uni-Nanofil. This new and unique super line consists of several hundred polyethylene fibers, which are more durable and reliable than steel, bonded together at the molecular level, and processed using nanotechnology. Allows you to enjoy casting on longer distances with less effort.
Nanofil fishing line is the thinnest line on the market at the moment! Despite its immense strength, the line does not harm you or your fishing rod guides. It is completely safe and durable. This line has a minimum diameter, maximum strength, and casting accuracy. It performs better than any mono or braided line. Recommended using light or medium weight fishing tackle.
5# Power Pro Spectra Braided Fishing Line – Best Durable Pick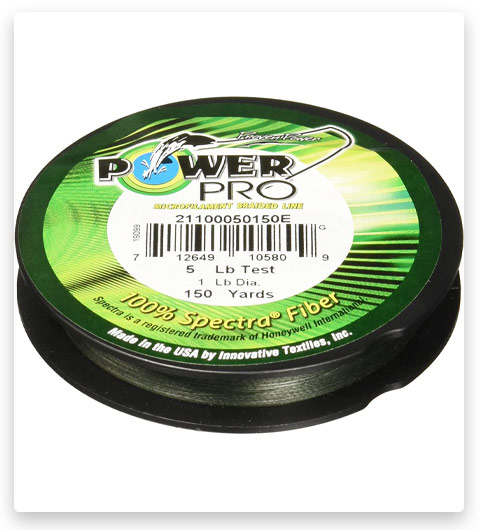 These braided lines are super strong, sits on the water well. Due to the high sensitivity, the line communicates with the angler about what's happening on the end of the line like no other super line you have ever used. The premium quality of materials will pleasantly surprise you. Braided lines are produced from the finest fibers of various high-strength materials. Power Pro fishing lines are made in the USA from 100% Spectra Fiber microfiber. The finest fiber, dense weave, and extra coating provide the highest strength at knots. This braided line is highly reliable in the most extreme conditions. Doesn't matter which fish you chose to catch, these fishing lines will enhance your experience incredibly.
6# Piscifun Onyx Braided Fishing Line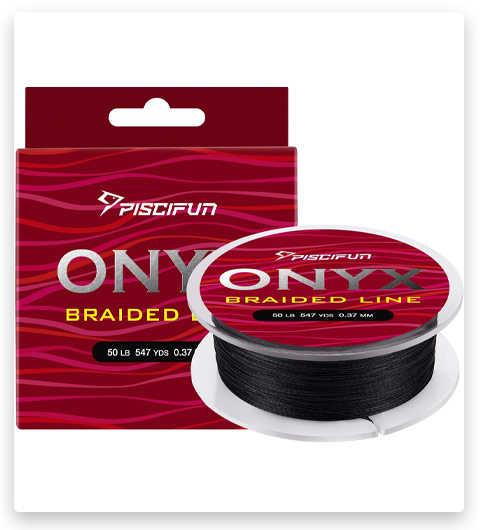 The Piscifun brand has proven itself quite well. They make reels, fishing lines, and other fishing accessories that are popular with many anglers. This company produces quite interesting products and monitors their quality. The ONYX series of cords replaces the earlier Piscifun BRAID series. The main difference from the old series is that the manufacturer added thinner diameters, which were not in the BRAID series. Apart from it, there were some other improvements like color lasting longer and the fishing line has a low stretchability. Piscifun ONYX is perfect for beginners to use in various conditions and at a low cost. The fishing line is quite enough for several seasons even with fairly active fishing.
7# Berkley Fireline Braided Fishing Line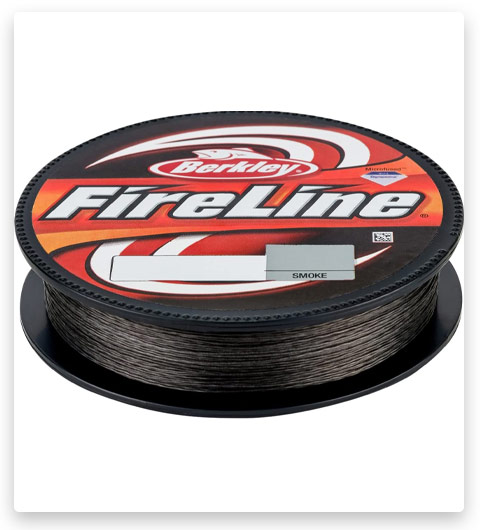 One of the first and finest of modern fused lines. BERKLEY FireLine Crystal made from Dyneema material with MicroFused technology. This manufacturing method involves sintering the top layer of PE fibers by heat treatment, which then forms a monolithic structure. The result is a tougher material with several advantages. Firstly, these are casts like a dream, secondly, excellent abrasion resistance, and thirdly, excellent sensitivity. Exceptional strength and knot integrity make this line a real durable. It is also worth adding that these super lines practically do not absorb moisture and cling to less debris during wiring. It has a different color indication, for every 5 meters of depth. The anglers who chose this line don't even think about trying any other brands.
8# Suffix 832 Advanced Braided Fishing Line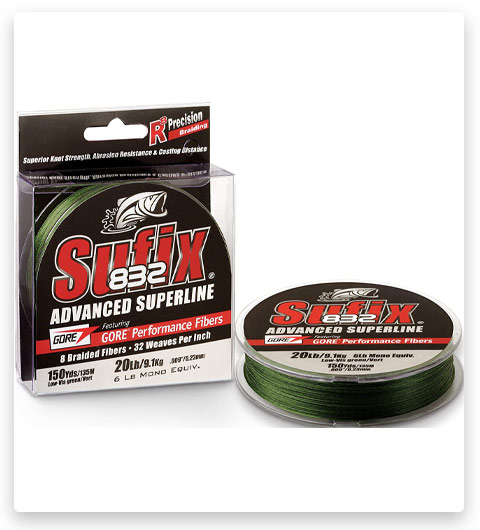 The Suffix 832 fishing line has a round cross-section and is highly durable. All thanks to R8 Precision weaving technology. The line consists of seven Dyneema fibers and one Gore-Tex, which gives this kind of line increased durability and a uniform diameter throughout the length. Premium fiber provides extra strength and sensitivity. Knots hold better than the other lines with less fraying near the bait from dragging over structures and grabby treble hooks. Excellent line, strong withstands rocky and weed waters, and has a small diameter with big test strength. Represents premium sector of fishing tackles and guarantees you an impressive fish catch any time you go out for fishing. Such a super line deserves to be in your tackle box.
9# Daiwa J-Braided Fishing Line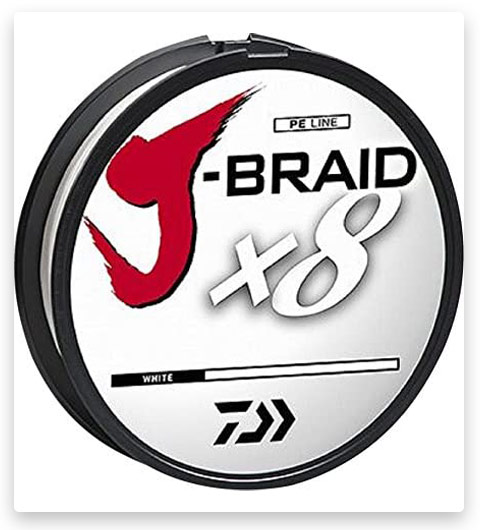 This is a new, eight-strand braided fishing line, all characteristics of which can surprise you! Firstly, unlike many inexpensive eight-core cords, J-BRAID is perfectly round in cross-section. It allows you to cast lures far and accurately and allows you to reduce the weight of the lures and increase tactile sensitivity. The bright-line color is clearly visible even in low light, making it easy to control bait.
Whether you are going to catch heavy marine predators such as trout and pollock or your target is perch or bass – with the new J-Braid, you will always ensure optimal contact with the fish. The J-Braid line is available in diameters to suit every fishing technique. It allows you to go fishing in the sea, river, or lake. This model slides along the guides smoothly and quietly, allowing you to cast longer distances, even with light fishing spoons.
10# Reaction Tackle High-Performance Braided Fishing Line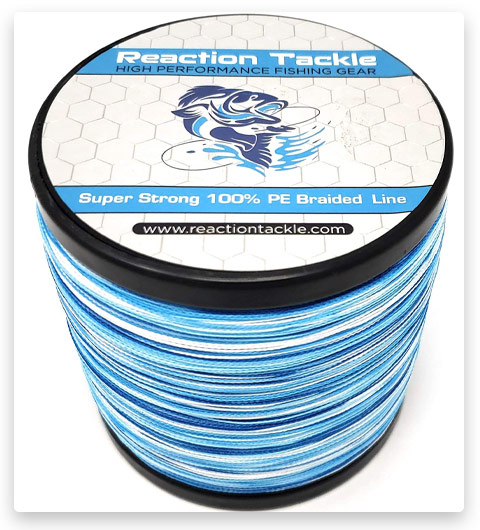 One of the most popular choices among anglers is the Reaction Tackle fishing line. It is super strong, slick, and very pliable. You can catch a wide range of fish with it: sea bass, red snapper, trout, pike, etc. This fishing line has a low diameter with almost no water absorption. This fantastic braid can be used in both fresh and saltwater and it is easy to tie knots with this model. The casting is smooth with this line that is a big plus for beginners. The braid produced with high-quality fiber and has a special coating to increase durability. Your fishing experience with the Reaction Tackle Super Line will be effortless and joyful. You will have a chance to focus more on the beauty of nature and have fun with friends without stressing yourself about fixing or adjusting your braid.
11# Runcl Braided Fishing Line 8-Strands Ultra Strong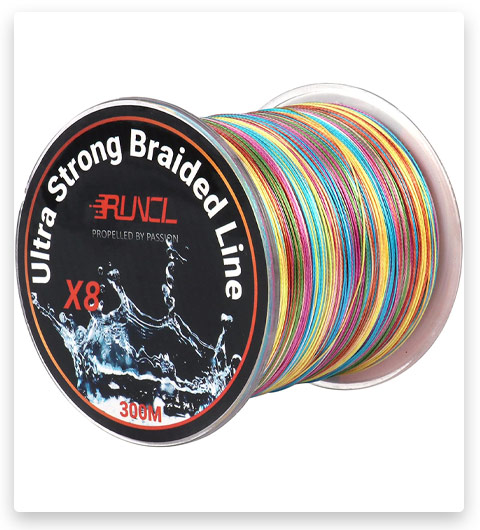 Great line. It is silky smooth and super strong. You can use this one for bass, both with leaders and straight braid. No slippage, no breaks. When you hook a decent fish you can be confident that the line won't let you down. It has 8 strands and very thin which works well for slow jig fishing. This fishing line doesn't have a lot of painty coating. Excellent quality and for such price. The most important feature with this line is the rainbow colors which helps to measure how deep is the water, with changing of color every 3 feet. Can be a great gift for experienced anglers.
12# Rikimaru Abrasion-Resistant Braided Fishing Line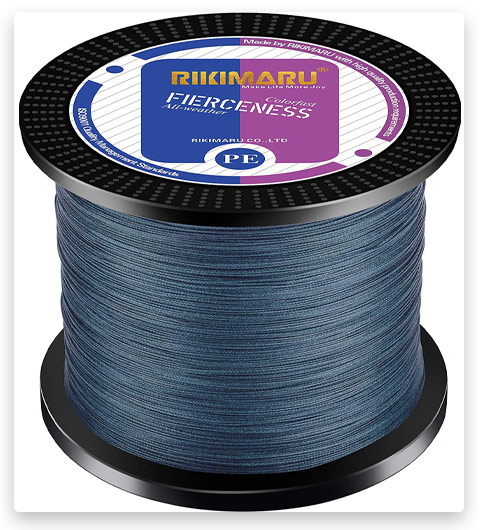 Rikimaru is a brand, which is famous for producing high-quality fishing tackles for 28 years. If you are looking for a line with castability and abrasion resistance then Rikimaru is a perfect one. In terms of durability, this line definitely outperforms Power Pro and similar brands. The line is strong and has extremely low memory. There is no limitation on where to use this tackle. Doesn't matter you choose a lake, river, sea, or ocean. Which season is the best for fishing with this model of line? You are free to use it the whole year, Rikimaru showing optimal performance even in ice fishing. Catch tuna, bass, trout, and many other varieties of species with fishing lines.
13# SeaKnight Monster W8 Braided Fishing Line Super Smooth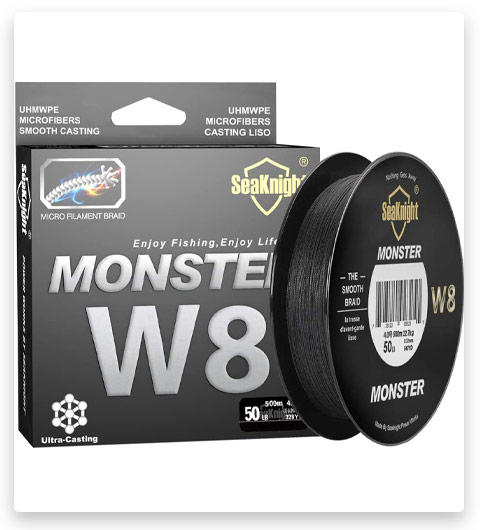 If you don't want to spend much on the fishing line and at the same time quality is important for you, then there is an optimal option. Seaknight line has good quality and has all features that much more expensive lines offer. The line is reliable and durable, you can use it continuously for a few seasons. This fishing line has a smooth surface and an innovative design. Manufacturers used such technology that this super line avoids twisting and fading. The 8 strands have a big advantage over the 4 strands, impressively smooth. You can feel every nock on the fishing line. This model is perfect for use in deep waters. Your experience will improve with this super line, and it certainly will help you catch trophy fish.
🔍 Understanding Braided Fishing Lines: From Construction to Casting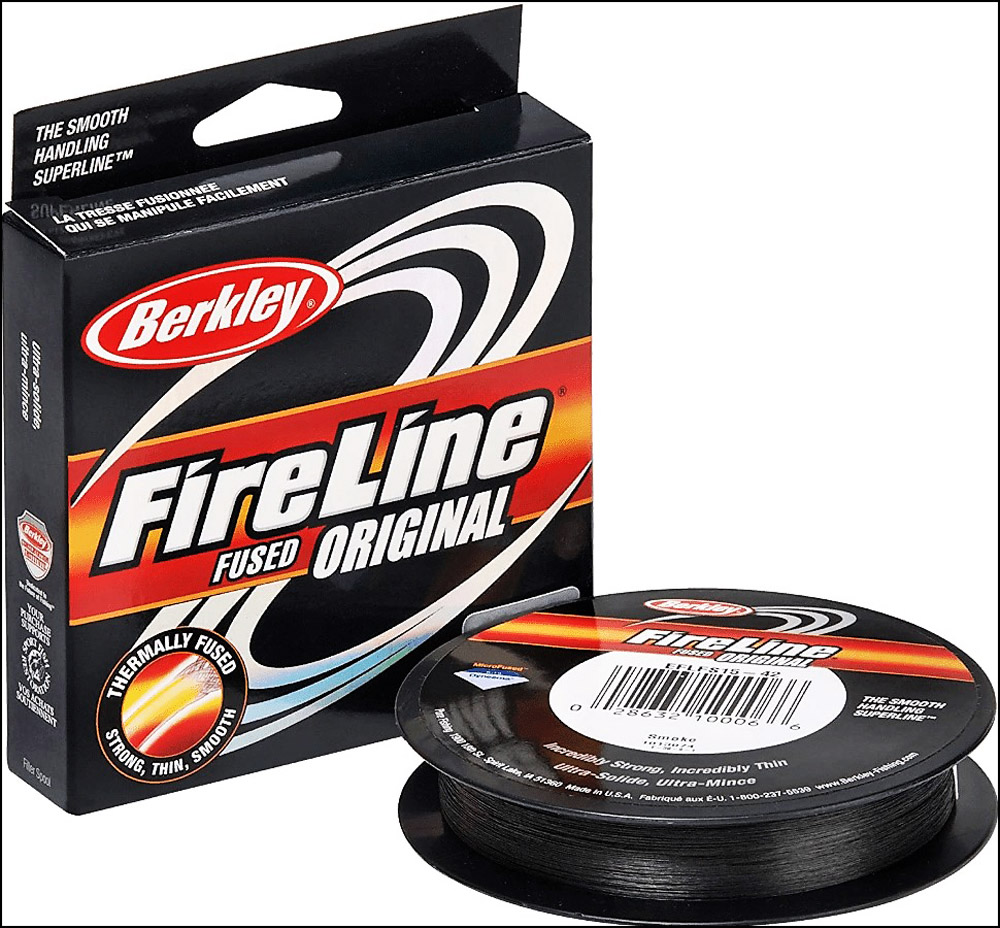 Defining Braided Fishing Lines: Material and Construction 🏗️
Braided fishing lines are a modern marvel in the world of angling. They are aptly named for their unique construction – multiple strands of polyethylene fibers, such as Dyneema or Spectra, intertwined together to form a single line. This intricate weave makes them exceptionally sturdy and resistant to wear and tear. Unlike their monofilament counterparts that stretch under tension, braided lines are almost stretch-free, which contributes to their high sensitivity and superior hook-setting power.
The Advantages of Going Braided: Strength, Sensitivity, and More 💪
Switching to a braided fishing line can be a game-changer for your angling experience. Here's why:
Superior Strength: With a high strength-to-diameter ratio, braided lines allow you to pack more line onto your reel. 💽
Enhanced Sensitivity: The near-zero stretch of braided lines offers high sensitivity, letting you feel even the slightest nibble. 🐠
Thinner Diameter: Braided lines have a thinner diameter than other lines of the same test, enabling longer casts and better lure action. 🎣
Durability: Braided lines resist UV rays and are highly abrasion-resistant, making them a long-lasting choice for the avid angler. ☀️
Braided Lines: Potential Drawbacks and Their Solutions 🧩
While braided lines offer undeniable advantages, they come with their own set of challenges:
Visibility: Due to their construction, braided lines can be more visible in the water than monofilament or fluorocarbon lines. To counter this, consider using a fluorocarbon leader, which will provide near-invisibility under water. 🌊
Knot Strength: Some anglers find that tying knots in braided lines can be tricky. Practicing a few reliable knots, such as the Palomar or the Double Uni knot, can solve this problem. 🔗
Price: Braided lines can be pricier than their monofilament counterparts. However, considering their durability and performance, they can be a worthwhile investment in the long run. 💰
🔶Navigating the world of braided fishing lines is a journey of understanding and adapting. Once you get the hang of it, you might just find it's an upgrade that hooks you for good! 🎯
How to Choose the Diameter of the Braided Line
What is the diameter of the braid to choose for the fishing rod? You can rant about this topic indefinitely, saying that not everything is so simple here, but we will try to be more specific.
The diameter of the braided line depends mainly on three parameters: the test of your rod, the weight of the baits used, and the size of the fish you are going to fish.
When it comes to choosing a braided line, it should be borne in mind that it is two or more times stronger than usual. Therefore, if you used monofilament with a diameter of 0.3 mm, you should choose a braid no more than 0.15 mm thick. You will be surprised at how far your bait flies.
To make it clearer, let's look at a specific fish. for example a pike. If you used to catch pikes up to 3-5 kg and monofilament with a diameter of 0.3 mm was enough for you, then such a weight can hold a braid with a thickness of 0.08 – 0.1 mm. A braid with a diameter of only 0.1 mm will definitely go for pike up to 5 kilograms.
A thicker braid will be able to withstand more, but the casting distance decreases with thickness and when it gets stuck it is very difficult to break it. Excessive thinning is also not worth getting carried away, since the thinner the braid, the faster it wears out and less serves. A compromise must be found here.
For pike fishing up to 5 kg, a braid with a diameter in a wide range is suitable – from 0.06 mm and thicker. For light lures and ultralight spinning rods we use up to 0.08 mm, for an average jig weight, braid up to 0.14 mm is suitable, for heavy jig spinning, choose from 0.14 to 0.18 mm. So we figured out what kind of braid is needed for pike.
Conclusion: the diameter of a suitable braided line for spinning is more tied not to the type and size of the fish, but the power of the rod and the weight of the lures used. It doesn't matter what you fish – perch, pike, or other fish, it is important that the braided line matches the power of the equipment as a whole (rod + reel + bait).
Braided lines from different manufacturers can differ significantly in breaking load for the same diameter, so this must also be taken into account.
🔶Each manufacturer has its own types of sizes. Usually, when buying online, this is always indicated in the table. There is a test, line length, and diameter. Alternatively, the diameter can be found in the size selection chart. When choosing a fishing line, the basic information about the diameter should be looked for there.
🎣 The Braided Line in Action: Experiences, Expert Opinions, and Exceptional Uses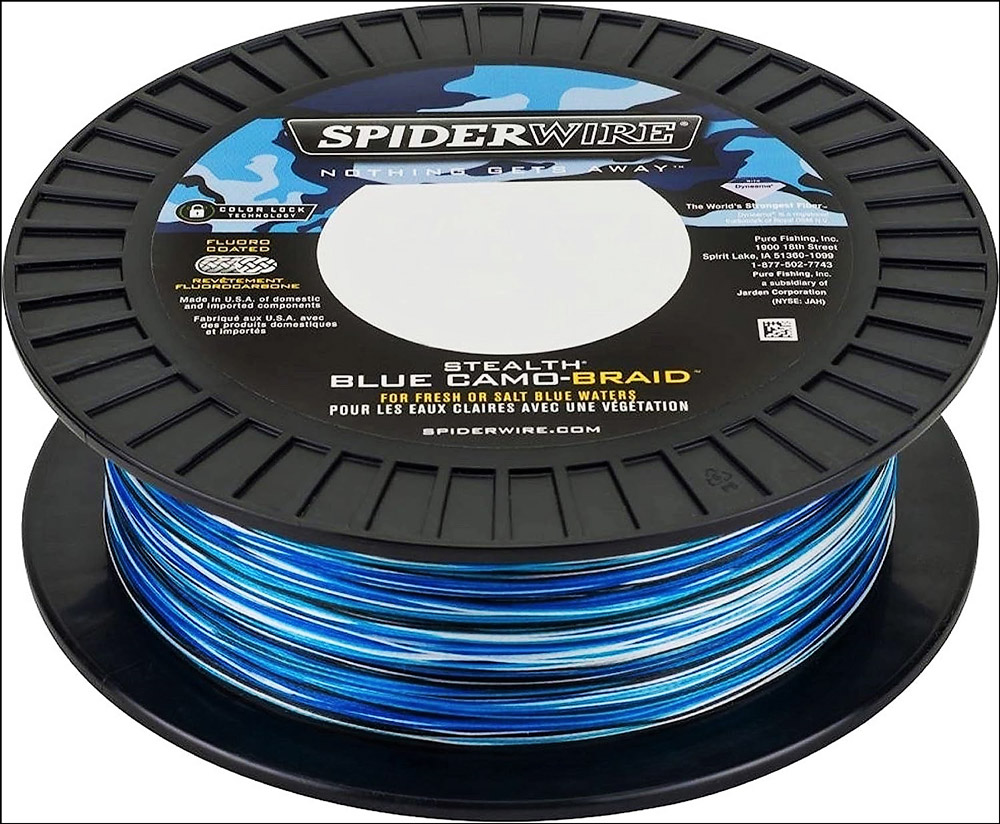 My Journey with Braided Lines: Tales from the Deep 🚣‍♂️
Over my years of fishing, I've had countless moments that highlighted the superiority of braided lines. One of my most memorable experiences took place in a rocky river, notorious for its challenging terrain. Traditional lines had previously left me with broken lines and lost catches. However, the day I switched to a braided line, the outcome was dramatically different. The line's strength and abrasion resistance worked wonders, helping me land a hefty pike – a feat previously thought impossible in those harsh conditions! 🏆
Casting with the Pros: Why Experts Choose Braided 🎤
Don't just take my word for it. Several professional anglers advocate for the use of braided lines. Here's what Jake Mathews, a renowned professional bass angler, has to say: "When I'm fishing in dense cover, there's no replacement for braided line. Its toughness gives me the confidence to cast without the fear of line breakage." Likewise, renowned angler Lisa Johnson insists, "The sensitivity of braided line is unmatched. It's like having a direct connection to your lure, feeling every rock, weed, and most importantly, every bite!"
Every Cast Counts: The Braided Line Advantage in Diverse Situations 🏞️
Braided fishing lines aren't just about strength and sensitivity; they shine brightly in many fishing scenarios:
Heavy Cover: When fishing in areas with dense vegetation or underwater structures, braided lines resist abrasion like no other. 🌿
Long Distance Casting: Thanks to its thinner diameter, braided line can achieve longer casts, perfect for situations where your target fish are farther away. 🎯
Deep Water Fishing: Braided lines have less drag, which makes them an excellent choice for deep water fishing. 🌊
Targeting Larger Species: For those trophy catches, braided lines provide the strength needed to handle larger, stronger fish. 🐟
🔶In the world of fishing, choosing the right line can make or break your day on the water. With braided fishing lines, the odds are tilted firmly in your favor. 🎣
🧭 Choosing the Right Braided Line: Factors to Consider and Top Recommendations
Choosing the perfect braided fishing line might seem overwhelming with so many options on the market. However, focusing on the following key criteria can guide you in making an informed choice.
Cast the Best: Considerations for Choosing Braided Lines 🤔
Diameter: While braided lines are known for their thin diameters, they can vary among brands and line tests. A thinner line allows for longer casting and more line on your spool. 🎣
Color: Braided lines come in a variety of colors, from low-visibility green to high-visibility yellow. The choice should depend on water clarity and your personal preference. 🌈
Test Strength: Consider your target species. Larger, more powerful fish will require a higher test line. 🐟
Brand: While numerous brands offer braided lines, not all are created equal. Look for trusted names known for their quality and performance. 🏷️
Highly Recommended: Top Brands and Models for Braided Lines 🏆
Over the years, a few brands have consistently proven their worth in the realm of braided fishing lines:
PowerPro Spectra Fiber Braided Fishing Line: Known for its ultra-strong braided Spectra Fiber, this line delivers high strength, durability, and a sensitive feel. 🌟
Berkley FireLine Superline: A favorite among professionals, this line offers incredible strength and smooth handling. Its thin diameter allows for exceptional lure action and casting distance. 🚀
Spiderwire Stealth Braid Fishing Line: Offering strength and smoothness, Spiderwire's braided lines are a solid choice for a range of fishing situations. Their color-lock coating technology ensures long-lasting color. 🎨
🔶Remember, there's no one-size-fits-all when it comes to fishing lines. Your choice should cater to your specific needs and fishing style. But rest assured, with a braided fishing line, you're making a choice that's bound to improve your angling adventure! 🎉
🛠️ Care and Maintenance for Braided Lines: Ensuring Longevity and Success
Even the toughest braided fishing lines benefit from proper care and maintenance, helping to extend their life and maintain optimal performance.
Caring for Your Catch: Tips to Ensure Longevity of Braided Lines 💡
Regular Inspection: Check your line regularly for signs of wear or damage, particularly before and after each fishing trip. Look out for fraying or discoloration. 🔍
Cleaning: After each use, especially in saltwater, rinse your braided line with fresh water to remove any debris or salt that could degrade the line over time. 💦
Storage: Avoid storing your reel with a braided line in direct sunlight or in extreme temperatures, both of which can degrade the line. Store your gear in a cool, dry place. ☀️❄️
Proper Winding: Ensure that your line is wound tightly on the reel to prevent digging, a common issue with braided lines. If you notice loose winds, take the time to rewind your line. 🌀
The Art of Maintenance: Why Proper Line Care Matters for Fishing Success 🏅
Just like any fishing gear, the condition of your fishing line can greatly affect your success rate. A well-maintained braided line can deliver its best – in terms of casting distance, sensitivity, and strength. It can help you detect more bites, make more accurate casts, and increase your chances of landing your target fish. Conversely, a poorly maintained line could result in missed opportunities or even lost gear. 🎣
🔶Remember, a little attention to line care can go a long way in ensuring a successful fishing adventure. Treat your braided line well, and it will undoubtedly return the favor! 🎉
❓ FAQ: The Rise of Braided Fishing Lines!
Braided line is not as simple a thing as it might seem at first glance. Therefore, we have collected your most frequently asked questions in this section. If you have not found an answer here to a question that interests you – ask it in the comments! Our experts will be happy to answer you.
🎣 Conclusion: My Undying Affection for the Braided Line
If you want to get the maximum benefit and pleasure from fishing, then the acquisition of a braided line is a very important condition for this. A braided line is a tool that can make your life much easier and make your fishing easier and more enjoyable.
We made this guide so that you can quickly understand all aspects of braided lines and choose a model with which you will hunt fish. In compiling the article, we relied on our experience and the experience of professional anglers. With this guide, you can now easily pick the best-braided line. So make your choice wisely, compare products, read reviews, pros and cons, and descriptions. We hope this article helped you understand what the braided line is and why you need it. If so, share it with your friends.
Personal Reflections: Why the Braided Line is My Go-To 🤔
From the moment I cast my first braided line into the water, my fishing experience was forever changed. The strength, the sensitivity, the casting distance – all these features made me fall head over heels for braided fishing lines. They've been a game changer, helping me brave the toughest terrains, catch the wiliest fish, and make unforgettable memories on the water. Simply put, braided lines have revolutionized the way I fish, transforming challenges into victories. 🏆
Dive In! Give Braided Lines a Try 🌊
To all my fellow anglers out there, I wholeheartedly encourage you to give braided lines a try. It doesn't matter if you're a seasoned pro or a novice starting your journey; braided lines have something to offer everyone. The durability, sensitivity, and versatility they provide are unmatched, and I believe they can enhance anyone's fishing experience. 🎣
🔶Remember, it's not just about catching fish; it's about enjoying the process. And believe me when I say that braided fishing lines can make your time on the water even more rewarding. So, go on, cast your line, feel the thrill, and embrace the braided revolution. You'll wonder how you ever fished without it! 🚀
🎣 Cast Your Thoughts: Your Experiences and Future Adventures
Share Your Stories: Braided Line Experiences 📣
Have you tried using a braided fishing line? I would love to hear your stories and experiences. Whether it's your biggest catch, a surprising moment, or simply the joy of casting with a braided line – your tales enrich our collective knowledge and inspire us all. So, reel in those memories and share them in the comment section below. Let's create a community of angling enthusiasts where we can learn from each other's experiences! 🎈
Keep Exploring: The Future of Your Fishing Journeys 🚀
To my fellow anglers, I encourage you to continue exploring and innovating in your fishing journeys. Don't be afraid to try new things, experiment with different lines, and tackle various fishing scenarios. As we've seen, the introduction of braided lines has revolutionized fishing, making it even more exciting and rewarding. Who knows what other innovations and discoveries lie on the horizon? 🌅
🔶Remember, the joy of fishing lies not only in the catch but also in the journey – the serene moments by the water, the thrill of the first bite, the triumph of reeling in a challenging catch. With braided lines by your side, every cast becomes an adventure. So, keep casting, keep exploring, and most importantly, keep enjoying your time on the water. The world of fishing is your oyster, make the most of it! 🌍🎣
Tags: #best braided fishing line for spinning reels / #best braided fishing line for baitcaster / #best braided fishing line knot / #best braided fishing line for catfish / #best braided fishing line color / #best braided fishing line cutter / #best braided fishing line saltwater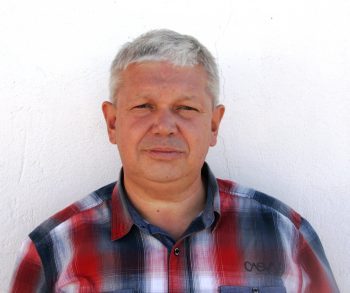 Sergio Smirnoff
Professional fisherman with 40+ years of experience.
Fishing and the ocean is a passion of my life. I am passionate about all kinds of sea fishing: fishing from the shore (spinning, float, baitcasting), from a boat, and spearfishing day and night.
I live in Tenerife (Canary Islands) for the last 10+ years and share my daily fishing experiences on my website. Many years of personal experience as a fisherman and the vast experience of my friends allow me to write professionally on any fishing topics (from choosing a flashlight and equipment to deep-sea fishing).
All of my advice is based on practical real-world experience and will be useful to both novice anglers and professionals.
Read more
about the author.
Affiliate Disclosure: FishReeler.com sometimes gets paid for listings, through sponsors or affiliate programs like Amazon, Ebay, Cabelas, Bass Pro Shop, Shimano, Daiwa, Rapala, Renn, Okuma, KastKing, etс. Clicking a link helps keep FishReeler.com free, at no extra cost to you!
About the author: Each article is verified by the fishing expert Sergio Smirnoff. The articles are written by professional and amateur fishermen with 20+ years of fishing experience.
Note: The views and opinions expressed in this article are those of the authors and do not necessarily reflect the official policy or position of any agency. The articles are for informational purposes only, share your opinions in the comments and join the fishing discussions, let's share our fishing experiences together!