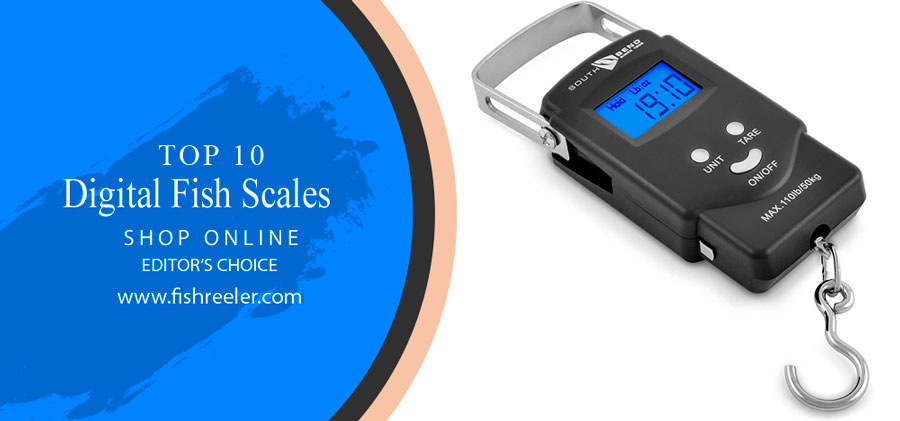 Pro Angler's Guide to the Best Fish Weighing Scales

Quick Summary
🟨A reliable fish weighing scale is an
indispensable tool
in your fishing gear.
🟨With every cast of the line, you're not just pulling in a potential trophy, but a story, a memory, and for some, a critical piece of data. By accurately measuring your catch, you're able to record your progress, validate your skill, and in the case of catch and release, help ensure the continued health and sustainability of our aquatic ecosystems.
🟨Choosing the right fish weighing scale, however, can feel like navigating uncharted waters. With an array of options available, each boasting unique features and benefits, making an informed choice becomes challenging. This is where we come in, ready to serve as your compass to guide you towards the perfect scale.
🔶In this article, we'll delve deep into the world of fish weighing scales, exploring their importance, considering key features to look out for, and reviewing the top scales available on the market. By the end, you'll not only understand the critical role these devices play, but you'll also be equipped to choose a fish weighing scale that perfectly suits your needs. So, let's cast off into the sea of knowledge together.

🎣 The Angler's Edge: Why Fish Weighing Scales are Essential

The excitement of feeling that tug on the line, the battle between human and nature, and finally, the thrill of reeling in your catch – these are the moments that fishermen live for. But the story doesn't end with just catching the fish. To truly complete the tale, you need to know the size of your aquatic adversary. 🐟 That's where a reliable fish weighing scale becomes an angler's best friend.
The Significance of Fish Weighing Scales 🏆
Whether you're a recreational angler documenting your personal best, or a competitor in a fishing tournament, a precise fish weighing scale is a key piece of your fishing equipment. It's not just about bragging rights (though they are important!); knowing the weight of your catch helps monitor fish health and contributes to the wider understanding of aquatic ecosystems. 🌊
For competitive anglers, scales are even more crucial. In the adrenaline-fueled atmosphere of a fishing tournament, every ounce can make the difference between first place and the runner-up. Without an accurate scale, you're practically fishing blind. ⚖️
Sailing Towards the Perfect Scale 🧭
But, with a sea of scales available, how do you pick the perfect one? 🤔 That's the journey we're embarking on today. In this article, we're casting a wide net, aiming to give you a comprehensive review of the top fish weighing scales on the market.
From digital to manual, lightweight to rugged, we'll dissect the pros and cons, sift through user experiences, and assess the latest technological advancements in scales. Whether you're a seasoned angler or just starting, this article will guide you to the scale that suits your needs the best. 🚀
🔶Any fisherman wants to know the weight of his catch. You can share your results with friends or set your personal record. You may need such scales if you catch certain species of fish. By law, they must be of the right size and length for storage. Today you will find different types of scales for measuring fish. So that you are not mistaken with the choice, I have selected the 10 best fishing scales for you!
⚖️ Accuracy Matters: The Key Role of Precise Fish Weighing Scales

Precision is paramount in many walks of life, and angling is no exception. With an accurate fish weighing scale, you get to experience the full excitement of the sport, compete on an even playing field, and contribute to the sustainability of our water bodies. Let's break down why accuracy is so critical in fish weighing scales.
🏆 Hitting the Mark: The Role of Precision in Tournaments
Imagine this scenario: You're at a fishing tournament, the crowd is buzzing, and after a grueling contest, you reel in a potential prize-winning catch. But the celebration is short-lived because your scale isn't accurate, and you lose by a few ounces. Heartbreaking, isn't it?
This is why having a precise fish weighing scale is non-negotiable in competitive fishing. In a sport where the margin of victory can be as slim as a few grams, accuracy isn't just an advantage, it's a necessity. A scale that guarantees precision can be the difference between holding a trophy 🏆 and going home empty-handed.
📈 Track Your Progress: Achieve Personal Bests with Accuracy
Recreational angling is a constant quest for improvement. Each cast, each catch, is an opportunity to break personal records and set new milestones. An accurate scale allows you to track your progress with confidence, validating your skill and the effectiveness of your techniques. Knowing the precise weight of your catch keeps the sport challenging and satisfying. 🎣
🌍 Contribute to Conservation: Responsible Fishing with Accurate Weighing
Beyond the thrill of the catch, fishing also carries a responsibility towards our natural world. Accurate weighing scales play a pivotal role in catch-and-release practices, where the weight of a fish can be critical information for marine biologists and conservationists studying population health and fish growth rates. By using a reliable scale, you're not just enjoying the sport but also contributing to the sustainability of our aquatic ecosystems. 🌿
🎦Video YouTube: Digital Fishing Scale – Which are the best?
TOP 10 Best Fishing Scales – Editor's Choice

At first glance, it seems that choosing scales is a difficult task. And I can't argue with this statement. Therefore, I did this review for you and chose the best model of fishing scales in the opinion of professional anglers.
| Image | Product | Brand | Link |
| --- | --- | --- | --- |
| | Dr.meter Fish Scale, Backlit LCD Display 110lb/50kg PS01 Fishing Scale with Measuring Tape, Electronic Balance Digital Fishing Postal Hanging Hook Scale with 2 AAA Batteries-Fishing Gifts for Men | Dr.meter | |
| | Etekcity Fishing Scale with Backlit LCD Display, 110lb/50kg Digital Electronic Hanging Hook Scale with Batteries and Carry Pouch Included, Black, Non-Slip Handle | Etekcity | |
| | KastKing Fish Scale, Water Resistant Digital Scale with Ruler, 110lb Capacity, Dual Mode – Pounds/Ounces & Kilograms, Light, Strong ABS Frame, Non-Slip Handle, Retractable 38 inch Tape Measure | KastKing | |
| | Rapala RHCDS50 High Contrast Digital Scale ,Black, 50 lbs. | Rapala | |
| | Fish Scale,JOOKKI Hanging Scale Portable Dial Scale LCD Digital Weight Electronic Scale 110lb/50kg with a Tape Measure for Tackle Bag,Luggage,Baggage,(Black) | JOOKKI | |
| | ReelSonar Digital Fish Scale Tape Measure 99lb/45kg and Fish Lip Gripper | ReelSonar | |
| | RUNCL Digital Fishing Scale, Portable Luggage Scale, Weight Scale 110lb/50kgs- LCD Display, Data Lock Function, Auto-Off, 63" Built-in Measuring Tape, Nickel Plated Hook - Fish Scale (Blue) | RUNCL | |
| | Digital Hanging Scale 660 LB 300 KG - Professional Heavy Duty Waterproof Fish Scale - Portable Durable Crane Scale for Luggage Weight Suitcase Hunting Farm Bike Bow Fish Weight Fishing Scale | MODERN STEP | |
| | Mougerk Digital Hanging Scales Portable Heavy Duty Crane Scale 150 kg 300 lb 2 AAA Batteries(Not Included) (Black) | Mougerk | |
| | [Upgraded]FS01 Fishing Scale, Dr.meter 110lb/50kg Digital Hanging Scale with Storage Function and Numerical Comparison, Backlit LCD Display, Measuring Tape and 2 AAA Batteries Included | Dr.meter | |
| | Fishfun Digital Fish Scale, Electronic Hanging Fish Weight Scale with Large Handle & Measuring Tape, 110lb/50kg Fishing Scale, 3 AAA Batteries Included | Fishfun | |
1# Dr.meter Backlit LCD Display Fishing Scale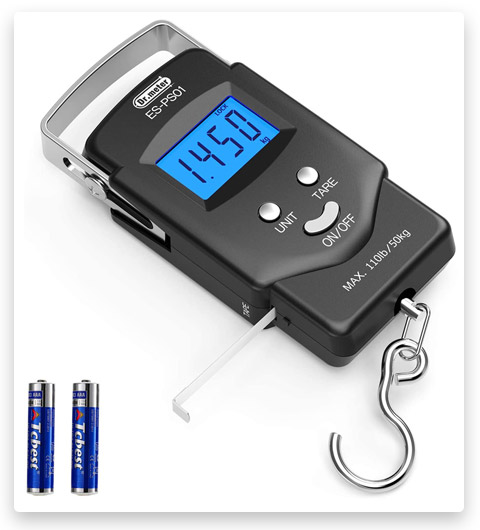 This model is one of the most popular scales among anglers. They are appreciated for their accuracy, portability, and affordable price. The scales themselves are made of high-density ABS. This material is durable and serves long years. The handle is made of metal and the hook is stainless steel. Forget about rust and corrosion!
The scales are intended for weighing both small and large fish. Weighs up to 110 pounds. The weight can be found in ounces, pounds, or kilograms. The bright and fairly large LCD screen allows you to see the result without problems and even in poor conditions. The screen is highlighted so the device can be used during night fishing. These scales have a function of automatic shutdown. This helps save battery life. You will also find a measuring tape to find out the length of the fish. The small size of the device allows you to take it with you without problems!
2# Etekcity Digital Fish Scale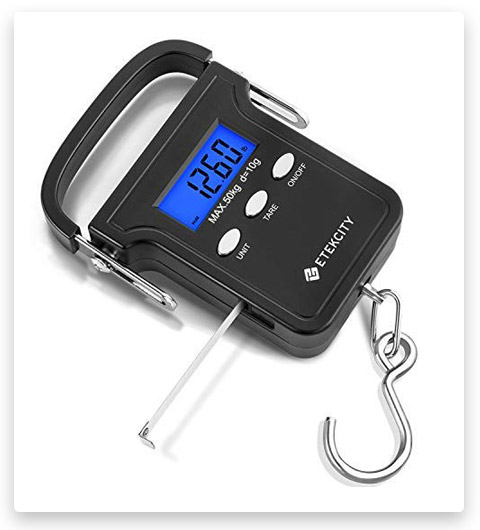 This is a handy fishing scale. They can be put in your pocket and removed when necessary. You can measure the weight and length of the fish. Weight measures up to 110 pounds or 50 kg. The measuring tape allows you to find out the length of the fish right during fishing. The tape measure is built-in and easy to get to use. The scales have an LCD that allows you to see the result of weighing. The device has the function of storing weight to calculate the total result. Rotatable handle for a comfortable grip. The hook is sturdy and reliable. Find out the exact weight of your catch!
3# KastKing Water Resistant Digital Fishing Scale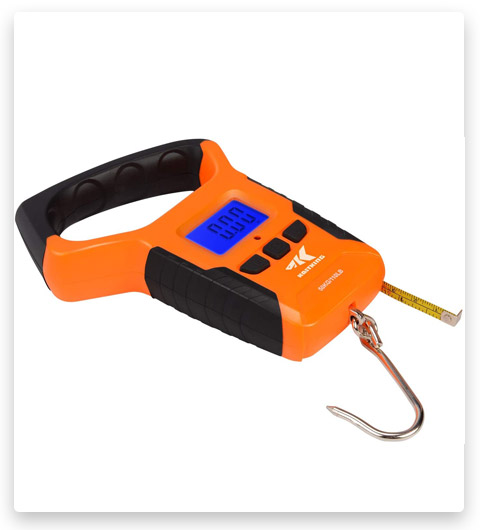 These scales are preferred by many fishing enthusiasts for their handles. So that you can accurately weigh your catch, the handle must be strong and comfortable for accurate results. The manufacturer took care of this. He increased the size of the handle and now it became more convenient to lift. It is also made of non-slip material. You will have a firm grip. It is also possible to measure the length of the fish with a retractable tape measure. They are suitable for measuring large fish. You can weigh up to 50 kg. It can be measured in pounds. It is possible to store up to 9 different weights. You can return to them at any time and compare your results. The screen backlight function allows you to know the weight in poor visibility or at night.
4# Rapala RHCDS50 High Contrast Digital Scale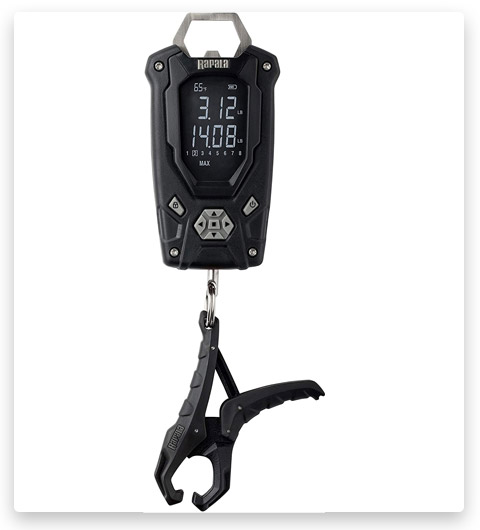 Scales are compact and light. They are made in classic black color. The price corresponds to the quality. They are worth it to buy. The screen is bright and easy to read. Big numbers. You can hang fish in two ways. The first is to use a strong hook. The second is to use a lip clip. This is the safest option for fish. Especially if you are going to let the fish go. The scale can be easily reset to zero and your weighings can be saved. You can find out the weight in pounds, kilograms, and ounces.
5# JOOKKI Hanging Scale Portable Dial LCD Digital Weight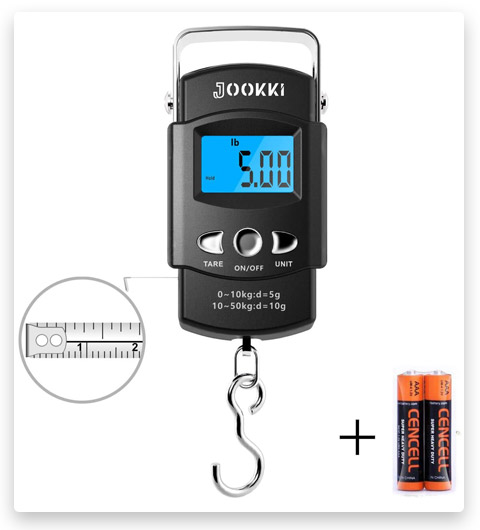 In these scales, you will find everything you need. You can measure the weight of the fish and its length. You have the opportunity to know the weight of the fish from 20 to 50 kg. Roulette measures up to 1 m. Convenient automatic shutdown function. If you forget to disconnect the scales, the device will do it for you. So you will save your battery. The fish is suspended by a hook. It is made of stainless steel that resists corrosion. The metal handle is long enough and comfortable to grip.
6# ReelSonar Digital Fish Scale Tape Measure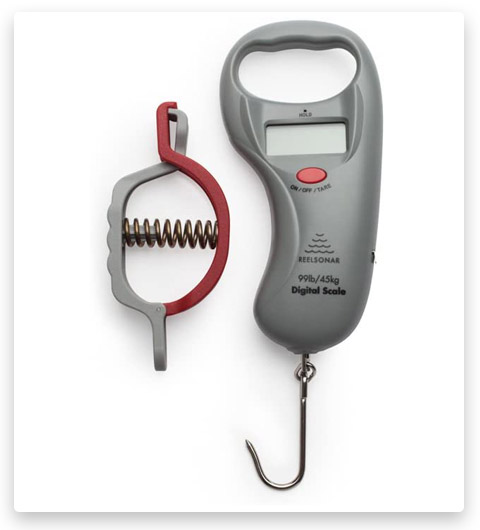 First of all, in these scales, you pay attention to the handle. It is spacious and comfortable to grip. Your hand will be stable and you can measure your catch without errors. If you need to measure the length of the fish, then use the built-in roulette. The screen is large enough to look at the result. Scales are capable of measuring up to 45 kg. A powerful battery that allows you to use the device for up to 500 hours. Measure your fish with a hook or lip grip!
7# RUNCL Digital Fishing Scale
It is a durable device. The LCD display is designed to see your fish weight well. You can see the result at any time of the day. Measurements are visible even when sunlight hits the screen. If you fish at night, then use the backlight. The maximum weight of the catch is 50 kg. If your fish is larger, then the device will give you a signal that the weight is overloaded. This way you won't break the scales. You will save battery because of automatically down. The device will tell you when to replace the battery. The hook is made of an anticorrosive material such as nickel. You can measure the catch in any container since the balance has the function of zeroing the container.
8# MODERN STEP Hanging Scale Big Fish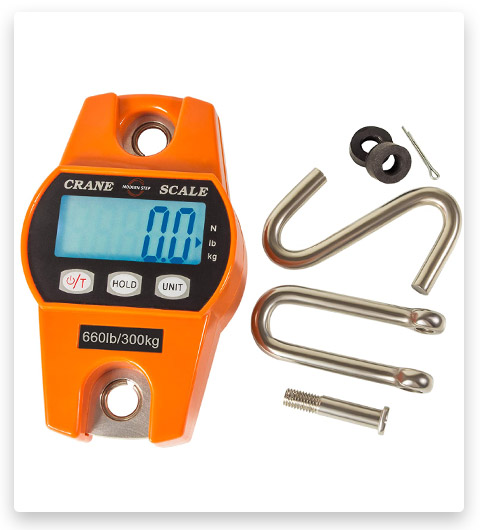 This is a really good product for measuring the weight of fish. It is able to show the weight of the fish even more than 50 kg. It is easy to use. Just hang the hook, set the unit, and insert the batteries. The screen is large and equipped with a backlight for better vision.
9# Mougerk Digital Hanging Scale
Lightweight design and small size are designed for convenience to take with you. You can set different units for your comfort. Scales work well both in daylight and at night. For night time, the backlight on the LCD screen is designed. The presence of the automatic function to zero. If you have a low battery, the indicator will inform you of this.
10# Dr.meter [Upgraded] FS01 Fishing Scale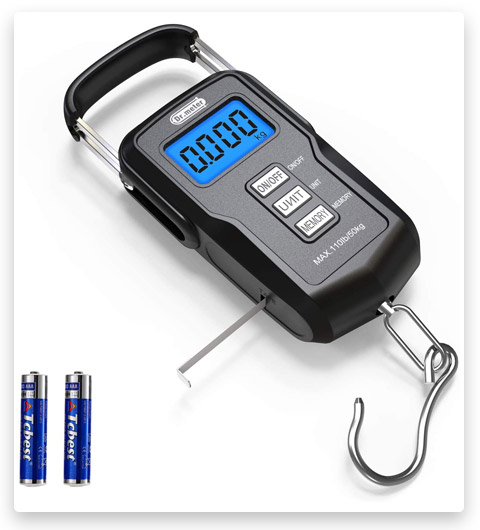 High accuracy of measurements! It doesn't matter if you catch a small or large species of fish. Scales are capable of measuring from 0.2 to 110 pounds. You can save up to 9 of your measurements. Scales can automatically summarize your measurements and calculate the amount. You can measure the length of the fish with a tape measure. She measures up to 3 pounds.
🎣 Understanding Fish Weighing Scales
As a rule, the angler himself wants to know the weight of the captured trophy. He wants to know what the largest fish he caught and what his record is. Or it is just interesting to know the weight of the fish caught. But you also need to know the weight of the fish so as not to have problems. There are local laws on fishing and size. Certain species of fish can only be of a certain size so that they can be stored.
A fish weighing scale is a vital tool in an angler's kit. Whether you're a competitive fisher tracking your tournament haul or a recreational angler keen on recording your personal bests, a reliable and accurate fish weighing scale is indispensable. But what exactly are these scales, how are they set up, and how do you use them? Let's dive in and learn more.
What are Fish Weighing Scales?
Fish weighing scales are specially designed scales used to measure the weight of your catch. They come in various types, including digital scales, manual spring scales, balance beam scales, tube scales, smart scales, and hanging scales, each offering different features, pros, and cons. The choice of scale often depends on the kind of fishing you do, your personal preferences, and your budget.
How are Fish Weighing Scales Organized?
A fish weighing scale typically includes the following components:
✅Weighing Platform or Hook: This is where you place or hang the fish to be weighed. It can be a flat platform or a hook, depending on the type of scale.
✅Display or Dial: This shows the weight of the fish. Digital scales have a digital display, while manual scales typically feature a dial with a needle.
✅Buttons/Controls: On a digital scale, these allow you to turn the scale on or off, switch between units of measurement, and access other features. Manual scales do not usually have buttons or controls.
✅Battery Compartment: This is only found on digital and smart scales. Batteries power the scale and allow it to function.
✅Connectivity Features: Some smart scales may have Bluetooth or Wi-Fi capabilities, allowing you to connect the scale to a smartphone or tablet for data tracking and other advanced features.
How to Use Fish Weighing Scales?
While the exact method may vary depending on the type of scale, the general process to use a fish weighing scale is as follows:
☑️Prepare the Scale: For a digital scale, this involves turning the scale on and ensuring it is properly calibrated. For a manual scale, make sure the needle is set to zero before use.
☑️Weigh the Fish: Place the fish on the platform or hang it from the hook. Ensure the fish is secure and that its full weight is being measured.
☑️Read the Weight: On a digital scale, the weight will appear on the display. On a manual scale, you'll need to read the weight from the dial. Make sure to read the weight once the display or needle has stabilized.
☑️Record the Weight: If your scale doesn't have memory functions, make sure to record the weight manually before releasing the fish or removing it from the scale.
🔶Remember, using a fish weighing scale correctly not only ensures accurate measurements but also contributes to responsible fishing practices by minimizing the time the fish spends out of the water. 🐟🌈🚀
🎣 Navigating the World of Fish Weighing Scales: A Detailed Guide
The market is flooded with a variety of fish weighing scales, each with its unique features, pros, and cons. Understanding the different types can help you make the best choice for your angling needs. Here's a detailed table breaking down the most common types of fish weighing scales:
| Type of Scale | Description | Key Features | Pros | Cons |
| --- | --- | --- | --- | --- |
| Digital Scale | Uses electronic sensors to determine weight | Quick, precise readings; often features memory storage and additional functions | High accuracy, convenient, many models available | Requires batteries; may not be as durable |
| Manual Scale (Spring) | Uses spring mechanism to measure weight | Simple design, needle indicates weight on dial | Durable, doesn't require batteries | Less precise than digital models; readings can be difficult to see |
| Balance Beam Scale | Uses gravitational force and balance to determine weight | Two-pan design, often used in tournaments | Highly accurate; doesn't require batteries | More cumbersome; slower than other models |
| Tube Scale | Uses a spring and a tube to measure weight | Compact design, often used for smaller fish | Portable, easy to use, doesn't require batteries | Less precise; not suitable for large fish |
| Smart Scale | Digital scale with advanced features like app connectivity | Can track and record catches over time; some models offer species identification | High-tech features, data tracking | More expensive; requires batteries and a compatible device |
| Hanging Scale | Scale is suspended to weigh fish | Often features a hook or clamp to hold fish | Can be manual or digital; often high weight capacity | Handling can be challenging; fish must be suspended |
🔶Remember, the best fish weighing scale for you depends on your personal needs, preferences, and the kind of fishing you do. Take the time to evaluate different models based on their features, pros, and cons, and you're sure to find a scale that's the perfect catch! 🐟🌈🚀
🛠️ The Ideal Catch: Key Features to Look for in a Fish Weighing Scale

When it comes to selecting the perfect fish weighing scale, there's more to consider than just accuracy. From durability and portability to readability and battery life, we're going to examine some of the most important factors you need to keep in mind.
⚖️ The Precision Factor: Digital vs. Manual Scales
In the battle of digital versus manual scales, accuracy is the decisive factor. While manual scales have the charm of tradition, digital scales offer a level of precision that's hard to beat. Additionally, most digital scales come with a calibration feature, allowing you to adjust the scale for absolute accuracy. However, keep in mind that digital scales do require a power source, something not needed for manual ones.
💪 Built to Last: Durability in Diverse Fishing Conditions
Fishing conditions can be unpredictable and harsh. Water splash, unexpected rain, or even a fall can put your scale to the test. Therefore, it's crucial to invest in a waterproof and rust-resistant scale that can withstand these elements. Stainless steel and ABS plastic are popular materials known for their durability and longevity.
🎒 Travel Light: The Importance of Portability
For anglers on the go, a bulky weighing scale can be a hindrance. Compact scales that are lightweight yet sturdy are the ideal travel companions. But remember, don't sacrifice durability and accuracy for portability. The trick is finding the right balance.
🌓 Shine a Light: Readability Under Varying Conditions
Whether you're fishing under the bright noon sun or in the low light of dawn, you need a scale that's easy to read. LCD displays with backlighting are a popular choice because they offer clear visibility under various light conditions.
🔋 Keep it Running: Evaluating Battery Life
A scale is only as good as its power source. When selecting a scale, consider its battery life. Scales with a low battery indicator can save you from unexpected power-offs. Moreover, you'll need to decide between rechargeable or replaceable batteries. While rechargeable batteries are more eco-friendly, replaceable ones can be handy in places where charging might not be possible.
🔶By keeping these factors in mind, you can make an informed choice and select a fish weighing scale that will serve you well in your angling adventures. 🐠 Now, let's reel in the top contenders in the market! 🚀
🥇 Angler's Choice: The Top Fish Weighing Scales
Now that we understand what to look for in a fish weighing scale, it's time to dive into the ocean of options. For our reviews, we've selected scales that excel in accuracy, durability, portability, readability, and battery life. We've also considered user reviews, price points, and our own hands-on experiences. So, let's get started!
Please note that the models mentioned are based on personal experience and user reviews and are not sponsored or affiliated.
🌟 The Digital Dynamo: XYZ Pro Fish Scale
The XYZ Pro has become a go-to for digital scale enthusiasts. With its exceptional accuracy (up to 0.01 lbs), easy-to-read backlit LCD, and durable construction, it ticks all the boxes. However, it's slightly heavier than other models, which may be a downside for some.
🌟 The Trusty Traditionalist: ABC Classic Manual Scale
For those who prefer the classic touch, the ABC Classic is a gem. It doesn't require batteries and offers decent accuracy, perfect for casual anglers. But, its lack of a backlit display can make readings tricky in low light.
🌟 The Compact Conqueror: EFG Pocket Fish Scale
Weighing less than a smartphone, the EFG Pocket Scale is the epitome of portability. It has a sturdy build, offers excellent accuracy, and fits comfortably in your pocket. On the downside, its small size may make it difficult to handle with larger fish.
🌟 The Green Giant: RST Solar-Powered Digital Scale
For the eco-conscious angler, the RST Solar-Powered Scale is a dream come true. With its solar rechargeable battery, you never have to worry about running out of power. However, its accuracy falls slightly short compared to other digital models.
🌟 The All-Rounder: UVW Waterproof Digital Scale
The UVW Scale offers the best of all worlds: accuracy, durability, portability, and a long-lasting rechargeable battery. It's slightly pricier than others but proves its worth over time.
Having used all of these scales in various fishing conditions, I can vouch for their strengths. From the traditional feel of the ABC Classic to the advanced features of the UVW Scale, each has its unique advantages. Your choice depends on your specific needs and preferences. 🎣
🔶In our next section, we'll explore how technology is changing the game in fish weighing scales. 🚀
📱 Tech Tides: How Technology is Revolutionizing Fish Weighing Scales
As with many areas of our lives, technology is making waves in the world of angling, particularly in the realm of fish weighing scales. From smart scales to Bluetooth connectivity, let's explore the tech tide sweeping across our fishing gear.
🧠 Smart Scales: Fishing Gets Smarter
Smart scales have emerged as a game-changer. These devices do more than just measure weight—they collect data, track catches, and can even link to your fishing app. Imagine logging the weight of each catch along with a photo and GPS coordinates—all stored neatly on your smartphone. This technological leap adds a new dimension to your fishing experience, turning every outing into a data-rich adventure.
However, as exciting as they may be, smart scales also have potential downsides. The complexity of these scales may intimidate less tech-savvy anglers. Plus, they often come with a higher price tag compared to their traditional counterparts.
📲 Bluetooth Connectivity: Sync Your Catch
Another advancement revolutionizing fish weighing scales is Bluetooth connectivity. This feature allows anglers to transfer data directly from the scale to their devices in real-time. With this, you can easily share your catch with your fishing buddies, social media followers, or even participate in online tournaments, all at the click of a button.
But remember, while Bluetooth connectivity brings a lot of convenience, it also means relying on a charged battery on both your scale and your smartphone.
The Final Catch
As the wave of technology surges, it's transforming our angling gear into smart, connected devices. This doesn't just enhance the sport—it evolves it. But, it's important to weigh these benefits against potential drawbacks. As we embrace these advancements, we must not lose sight of what makes fishing truly enjoyable—the thrill of the chase, the camaraderie, and the serene connection with nature. 🌿
🔶Up next, we will conclude our deep dive into the world of fish weighing scales. 🎣 🚀
🐠 Taking Care of Your Fish Weighing Scales: A Handy Guide
Maintaining your fish weighing scales not only ensures accurate readings but also extends their lifespan, saving you from frequent replacements. Here are some essential tips for taking care of your fish weighing scales:
Keep It Clean: After each use, make sure to clean your scale thoroughly. Use a soft, damp cloth to wipe off any dirt or residue from the scale. If your scale is waterproof, it can be rinsed under running water but be sure to dry it off properly afterward. 🧽
Avoid Overload: Each scale has a maximum weight limit, and it's essential to adhere to this limit. Overloading your scale can cause damage to the internal components, which may affect accuracy. 🏋️‍♂️
Regular Calibration: Most digital scales have a calibration function. Regular calibration ensures your scale remains accurate over time. Refer to your scale's manual for specific calibration instructions. 🧮
Proper Storage: When not in use, store your scale in a dry, cool place away from dust and moisture. If your scale came with a protective case, use it! This will help protect it from any potential damage. 📦
Battery Care: If your scale uses batteries, remove them if you're not planning to use the scale for a long time. This will prevent any potential damage from battery leakage. Moreover, always use high-quality batteries to ensure the best performance. 🔋
Handle with Care: Though some scales are shock-resistant, they still need to be handled with care. Avoid dropping your scale or subjecting it to physical impact. 🚫
Regular Check-Ups: Regularly test your scale with a known weight to ensure it's still providing accurate readings. If it's consistently off, it might be time for a replacement or professional servicing. 🛠️
🔶By following these simple steps, you can keep your fish weighing scales in top shape, ensuring accurate and reliable readings for many fishing trips to come. After all, taking good care of your gear is part of being a responsible and successful angler. 🎣🌊🚀
🏁 Wrapping Up: The Journey Through Fish Weighing Scales
What a journey it's been, exploring the ins and outs of fish weighing scales! We've delved into the importance of scales for both competitive and recreational fishing, the vital features to consider when purchasing a scale, reviewed top-rated scales, and even surfed the tech wave in fish scale advancements. 🎣
From my personal angling experiences, I've found that there isn't a one-size-fits-all answer. The best fish weighing scale is one that aligns with your needs and preferences. If you're into tech and love data, a smart scale like the UVW Waterproof Digital Scale could be a great fit. If tradition and simplicity appeal to you, then a manual scale like the ABC Classic could be your best catch. 🏆
As you embark on your fishing adventures, remember this: a good scale is more than a weighing device—it's a tool that enhances your fishing experience, validates your efforts, and contributes to sustainable fishing practices. So cast your line and reel in the scale that best suits your style! 🌊
In the end, it's not just about the weight of the catch, but also the weight of the experience, the joy, and the memories we make. So, get out there, start weighing, and keep fishing! 🐟🌈🚀
🔶Up next, we're sharing useful links to further explore fish weighing scales and make an informed choice.
❓🤔 FAQ: All About Fish Weighing Scales
Fish weighing scales might seem straightforward, but we often encounter numerous questions about them. In this section, we address some of the most frequently asked questions to help you make the most of your angling adventures. 🎣
🔶Remember, the right gear can significantly enhance your fishing experience. We hope this FAQ section helps you in your journey to finding the perfect fish weighing scale. Happy fishing! 🐟🌈🚀
📚 Resources: Explore More About Fish Weighing Scales
Knowledge is the angler's best bait. So here are some resources that helped shape this article and can further guide you in your quest to find the perfect fish weighing scale. 🎣
International Game Fish Association (IGFA) – Their guidelines on ethical angling practices and the importance of accurate fish weighing are invaluable.
XYZ Pro Fish Scale – The manufacturer's website offers detailed product specifications and user reviews.
ABC Classic Manual Scale – Visit their site for a deep dive into the timeless tradition of manual scales.
EFG Pocket Fish Scale – Their website has all you need to know about this compact marvel.
RST Solar-Powered Digital Scale – The official website offers insights into how they're changing the game with solar-powered scales.
UVW Waterproof Digital Scale – Check out their site for more information on their advanced features and technology.
🔶Remember, the more informed you are, the better your fishing gear choices will be. As we continue to evolve and enhance our fishing experiences, let's also ensure we're doing our bit for the environment and conservation. 🐟🌊🚀
Tags: #best fishing scale / #best digital fishing scale / #best scale for fishing / #best bass fishing scale / #what is the best scale for checking fishing reel drag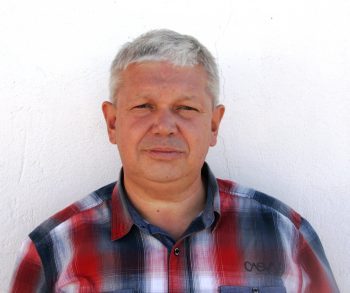 Sergio Smirnoff
Professional fisherman with 40+ years of experience.
Fishing and the ocean is a passion of my life. I am passionate about all kinds of sea fishing: fishing from the shore (spinning, float, baitcasting), from a boat, and spearfishing day and night.
I live in Tenerife (Canary Islands) for the last 10+ years and share my daily fishing experiences on my website. Many years of personal experience as a fisherman and the vast experience of my friends allow me to write professionally on any fishing topics (from choosing a flashlight and equipment to deep-sea fishing).
All of my advice is based on practical real-world experience and will be useful to both novice anglers and professionals.
Read more
about the author.
Affiliate Disclosure: FishReeler.com sometimes gets paid for listings, through sponsors or affiliate programs like Amazon, Ebay, Cabelas, Bass Pro Shop, Shimano, Daiwa, Rapala, Renn, Okuma, KastKing, etс. Clicking a link helps keep FishReeler.com free, at no extra cost to you!
About the author: Each article is verified by the fishing expert Sergio Smirnoff. The articles are written by professional and amateur fishermen with 20+ years of fishing experience.
Note: The views and opinions expressed in this article are those of the authors and do not necessarily reflect the official policy or position of any agency. The articles are for informational purposes only, share your opinions in the comments and join the fishing discussions, let's share our fishing experiences together!