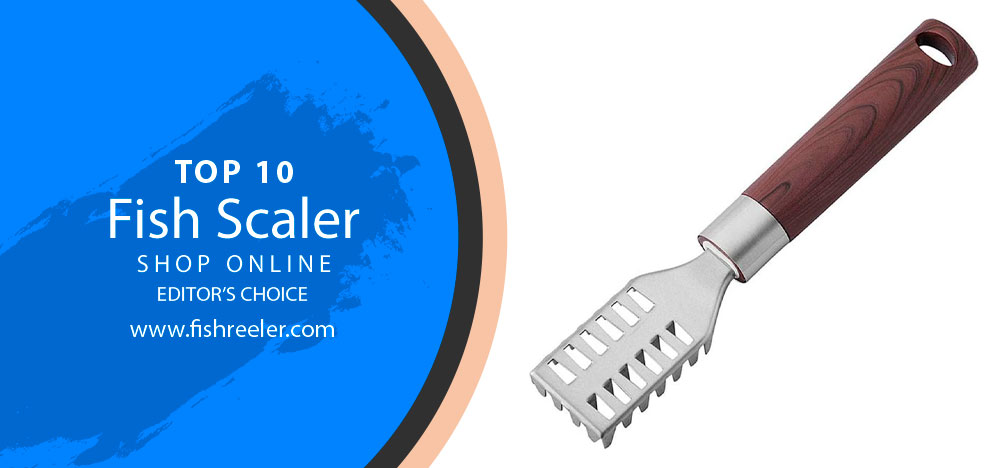 Best Fish Scalers – Reviews Guide
Do You Like Cooking and Eating Fish?

OK, then I have another question for you — do you like scaling it? As for me, I do like to go fishing and I don't mind cooking fish dishes. But it's not really a very pleasant thing to clean fish from scales. And also, not too easy. Sure we can do it using a plain knife or spoon, but it's much easier and quicker to do it using special tools like fish scalers.
| Image | Product | Brand | Link |
| --- | --- | --- | --- |
| | GiniHome Fish Scaler Brush,Fish Scaler Remover with Stainless Steel Sawtooth,Ergonomic Handle Design - Easily Remove Fish Scales-Cleaning Brush Scraper Kitchen Tool | GiniHomer | |
| | Fish Scale Remover, Amison Fish Scales Scraper with 304 Stainless Steel Sawtooth for Fast Scales Peeling, Silver | Amison | |
| | Tackle Factory Big Norm-Feets 88111 Magic Fish Scaler, White | Tackle Factory | |
| | Fish Scaler Brush Devised by a Japanese Fish Dealer | SAKAE SHOTEN | |
| | Stainless Steel Fish Scaler Scraper Remover,Wohouse Portable Seafood Knives Kitchen tool for Faster and Easier Fish Scales Skin Removing Peeling (Medium) | Wohouse | |
| | Fish Scaler, 2 Pieces Stainless Steel Fish Scale Scraper Remover Peeler Faster and Easier Fish Skin Removing Tool | ZOTOYI | |
| | Fish Scale Scraper, Sacow Practical Fish Scale Remover Scaler Scraper Cleaner Kitchen Tool Peeler (Green) | Sacow | |
| | Bicco Plastic Fish Scaler | Bicco | |
| | HURRICANE HUR-46A Fast' N Easy Fish Scaler | Hurricane | |
| | Kwizing Made in Japan [Extra Large] Fish Scaler Brush with Brass Serrated Sawtooth and Ergonomic Wooden Handle - Easily Remove Fish Scales Without Fuss Or Mess - Handcrafted by Japanese Artisans | Kwizing | |
What is Fish Scaling

Fish scales are small plates on the fishes' skin. Normally the fish have scales all over its body, belly, and back, stopping at the gills. Scales protect fish and serve as camouflage and provide some hydrodynamic advantages. Fish fillet normally is already free of scales. In some recipes, we use whole fish with scales, for example, if we bake it in salt. But most time we need to get rid of these firm plates. Some people ask if it is dangerous to eat fish scales. It is okay, but it is not tasty or useful for health. Anyway, it is advised to only use scales from large fish.
What is a Fish Scaler

A fish scaler is made to easily remove the scales of a fish that will be prepared and cooked whole. Fish Scalers are normally equipped with jagged stripping blades that lift the scales and then remove them off the fish skin. Fish Scalers are normally made of stainless steel which is easy to clean after use.
What is the Easiest Way to Remove Fish Scales?
You can do it with three easy steps:
Grasp the fish body by the tail and start to scrape away the scales with the fish scaler, moving from the end to the head.
Rinse the fish under flowing water to get rid of any remaining scales.
Turn the fish carcass over and repeat on the other side.
What Is The Best Fish Scaler?
To choose a good fish scaler, it's useful to focus on some important features.
There are a few of the essential ones:
Easy to Use. The fish scaler is to have a non-slip, and comfortable grip handle.
Easy to Clean. Every fish scaler leaves some waste, so it's good to find one with a debris collector.
Frequence of Use. The kind of fish scaler should be determined by the amount of fish and how often you clean it.

Top 10 Best Fish Scalers
1# GiniHome Remover Stainless Sawtooth Ergonomic, Fish Scaler Brush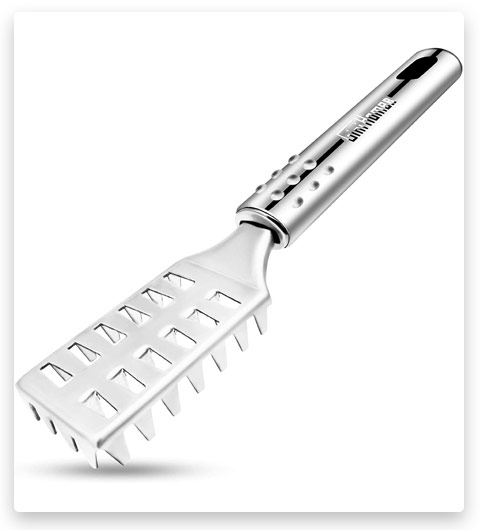 Eating fish gives you many health benefits, but removing scales can be quite difficult. This convenient fish scaler lets you easily remove scales without fuss unlike using a spoon or kitchen knife. This fish scaler is made of high-quality food-safe stainless steel. The non-slip ergonomic handle is designed in a sturdy shape for easy turning. It's absolutely safe to use. The scraper is the lightweight, anti-rust, long lifetime of use, and won't break or bend.
2# Amison Remover Fish Scraper Stainless Sawtooth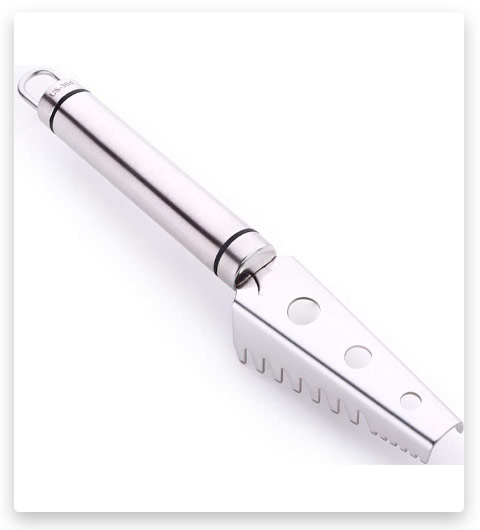 A perfect kitchen scraping fish scaler. Sawtooth fish scale remover makes scraping fish off easier and faster. Cleans scales off any part of the fish easily. This fish scaler is made of sturdy stainless steel for scaling fish easily and without cutting hands. Hook ring design makes it easy to store. Easy to clean, can be washed in a dishwasher. Great tool for making your favorite salmon.
3# Norm Feets 88111 Magic Fish Scaler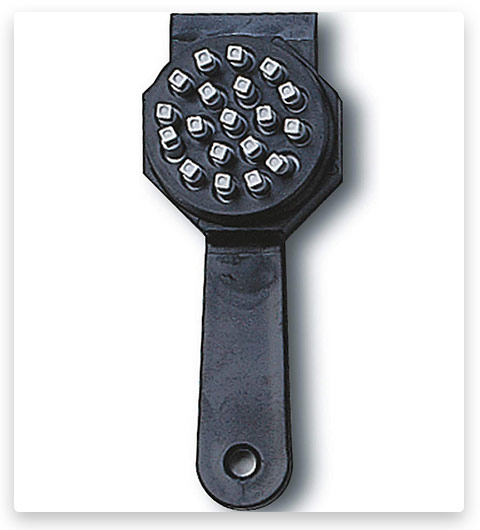 Designed with free-floating fingers that remove fish scales quickly and easily without any mess. Fish scales are held after by the scaler. It provides the easiest, cleanest way to clean fish. Improves the flavor of fish by only removing the scales, leaving the skin that keeps in the natural flavor you usually lose when filleting. It can be used for any size of fish.
4# Fish Scaler Brush Devised by a Japanese Fish Dealer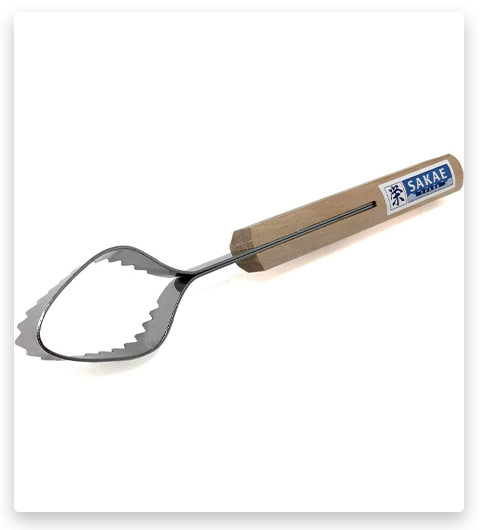 This tool is devised by a major Japanese fish dealer. It removes the fish scales quickly and cleanly without injuring the meat. The elliptical shape is convenient for cleaning the internal fish organs. The special tip makes it possible to carefully remove parts where the fish scales are difficult to remove. The scales can be removed without injuring the skin. The back of the blade can scoop off the scales that are stuck to the meat.
5# Wohouse Stainless Sawtooth Removing Fish Scaler Scraper Remover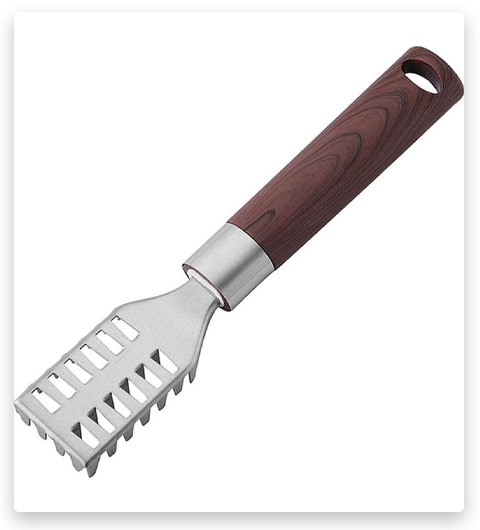 Are you sick and tired of wasting time in the kitchen descaling your catch? Fishing time is the most fun for avid anglers, but when it comes to cleaning, gutting, and descaling… ugh! It's not fun at all. But a good fish scaler makes life much easier. A fish scaler has ridged edges or sawtooth to remove the fish scales from the body and skin. You not only save time and effort when scraping fish scales, but there's no mess afterward. Just put your fish on a  work surface and hold it firmly. Use quick strokes to scrape the fish from the tail to the head. Finally, rinse the fish in cold flowing water.
6# Fish Scaler Stainless Scraper Remover Removing
This durable solid fish scaler is made of stainless steel,  non-toxic, and environmental-friendly. Serrated teeth remove scales much more easily and effectively than traditional fish scale knives. Easy to use and clean. You can hand wash it or put it into a dishwasher machine. This fish scale remover has a handle hook ring so you can easily hang it on your kitchen rack.
7# Scraper Sacow Practical Remover Cleaner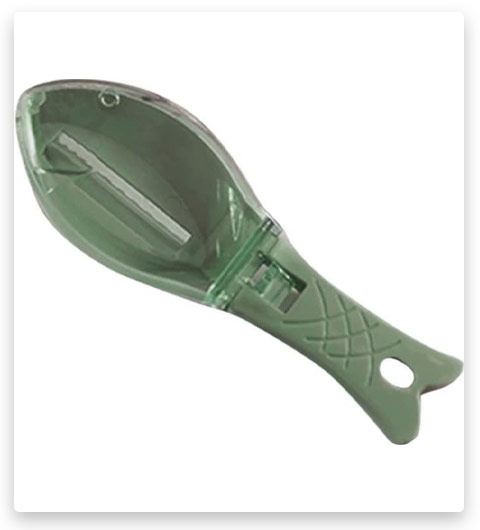 This new practical fish-shaped remover is made of stainless steel and ABS material, safe, and durable for use. Its blade scrapes fish scales off faster and more effectively. Equipped with ith a scale slot and a slicer for peeling the fish maw. A hole on the handle enables hanging it up on the wall. Available in various colors.
8# Bicco Plastic Fish Scaler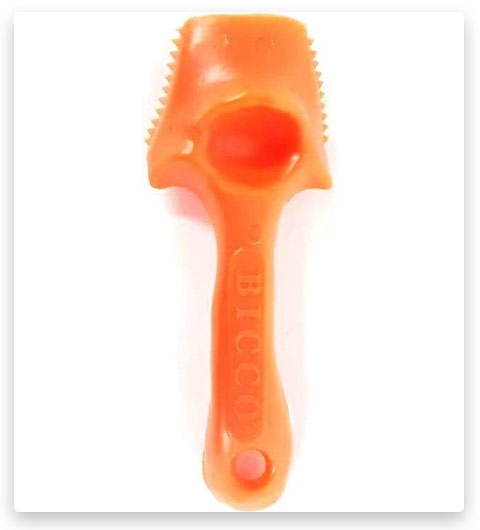 Do you think you can scale your fish within 8 seconds? Think again…
With this no-mess scaler, you can keep your kitchen and cooking surface completely free of fish scales. It's easy and safe to use, sharp enough on the fish scales but easy and safe for the hands. The compact design makes it perfect for tossing into your tackle box and carrying along with you during the fishing trip. It is lightweight and very handy. Cleaning the fish scaler is easy, just wash it with soap and water. You can clean fish all day without any effort. Try it once and you will never buy any other fish scaler.
9# Hurricane Fast'N Easy Fish Scaler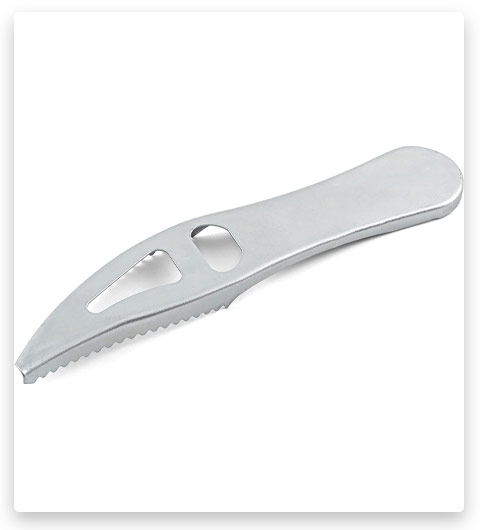 Durable serrated edge fish scaler, made of the highest quality materials and zinc plated. Appropriate for fishing processing scalars and skinners. Works great to remove scales from salmon so you can leave the skin on to fry it until it is crispy. Oh, yummy.
10# Kwizing Scaler Serrated Sawtooth Ergonomic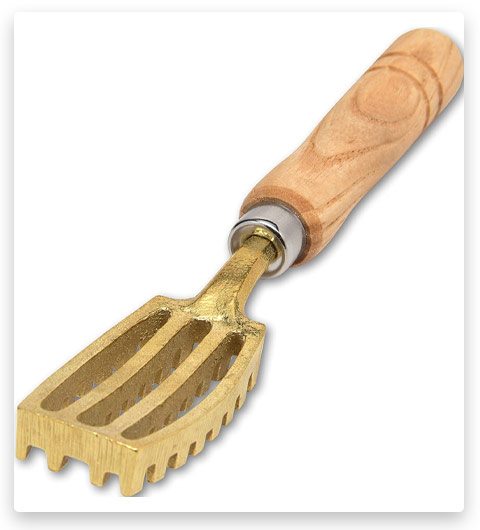 If you love cooking fish, you surely know there's nothing more boring and annoying than removing fish scales using a knife. That's why you definitely need this fish scaler that lets you quickly and easily remove fish scales without any effort and no mess in the kitchen. This professional tool is handcrafted in Japan. It has 32 brass serrated sawtooth for the greatest coverage area. Its ergonomic wooden handle is perfect for a comfortable slip-resistant grip.
The specially designed grooves will catch most scales so that all the mess stays in the sink, not all around the place. Easy to clean, highly durable, and with precise sawteeth letting you remove fish scales with ease, even in difficult-to-reach spots. You'll find that your fish delicious are far tastier when you don't have to chew into fish scales.
We hope this short review will help you to make the best choice and pick the most efficient and easy-to-use fish scaler. And the disgusting process of cleaning your catch will turn into an easy and pleasant action. I wish you to catch a really Big Fish and cook the most delicious meal out of it. Have a great time!
Tags: #best fish scaler / #best electric fish scaler / #what fish scaler best for scaling carps / #tumble drumm automatic fish scaler best price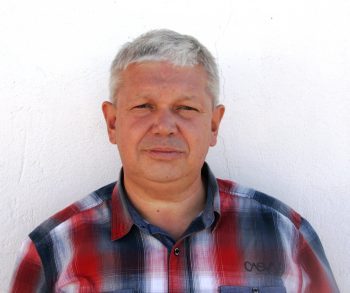 Sergio Smirnoff
Professional fisherman with 40+ years of experience.
Fishing and the ocean is a passion of my life. I am passionate about all kinds of sea fishing: fishing from the shore (spinning, float, baitcasting), from a boat, and spearfishing day and night.
I live in Tenerife (Canary Islands) for the last 10+ years and share my daily fishing experiences on my website. Many years of personal experience as a fisherman and the vast experience of my friends allow me to write professionally on any fishing topics (from choosing a flashlight and equipment to deep-sea fishing).
All of my advice is based on practical real-world experience and will be useful to both novice anglers and professionals.
Read more
about the author.
Affiliate Disclosure: FishReeler.com sometimes gets paid for listings, through sponsors or affiliate programs like Amazon, Ebay, Cabelas, Bass Pro Shop, Shimano, Daiwa, Rapala, Renn, Okuma, KastKing, etс. Clicking a link helps keep FishReeler.com free, at no extra cost to you!
About the author: Each article is verified by the fishing expert Sergio Smirnoff. The articles are written by professional and amateur fishermen with 20+ years of fishing experience.
Note: The views and opinions expressed in this article are those of the authors and do not necessarily reflect the official policy or position of any agency. The articles are for informational purposes only, share your opinions in the comments and join the fishing discussions, let's share our fishing experiences together!