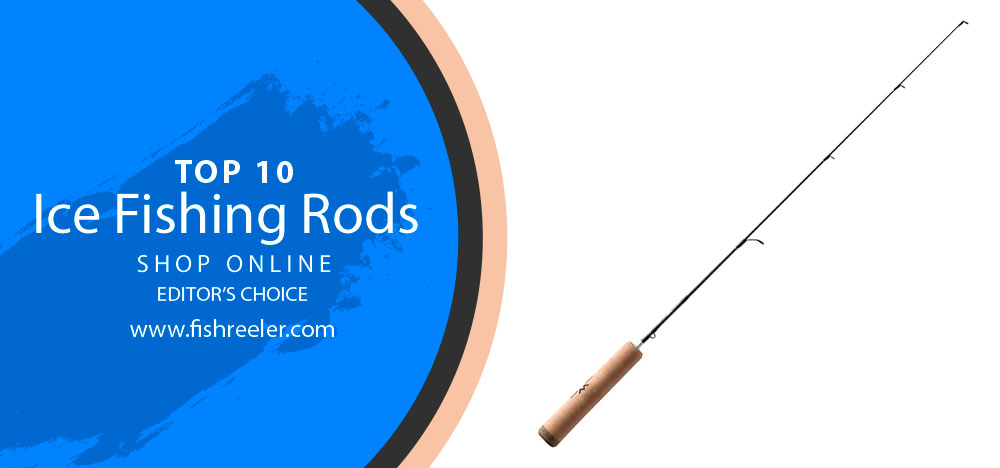 Fishing In Frost: A Comprehensive Guide to Ice Fishing Rods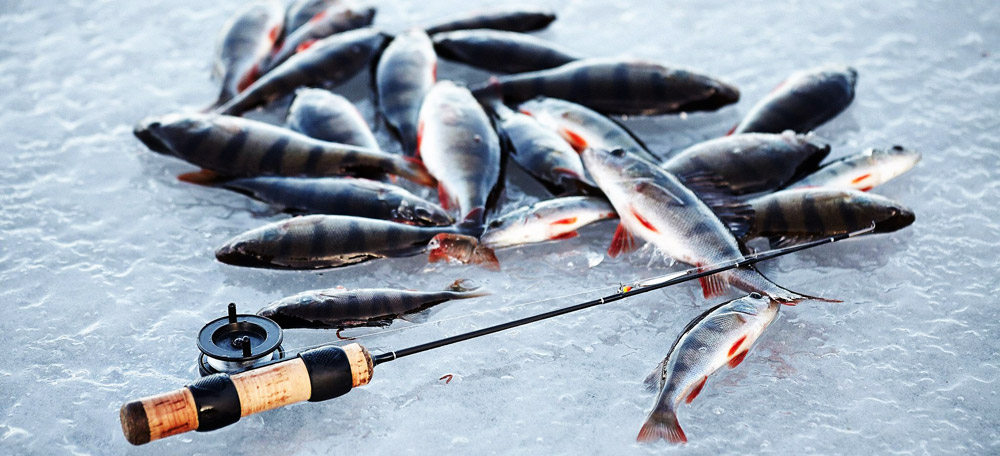 If there's one sport that truly defines the spirit of winter, it's ice fishing. It's not just an exercise in angling, but a true test of patience, resilience, and connection with nature at its frostiest. In the face of ice-cold winds and beneath the blanket of snow, ice fishing evolves into more than just a recreational activity—it becomes a unique experience that combines adventure, skill, and a bit of science.
Ice Fishing: A Winter Wonder and the Gear That Makes It Great
When you're out there, huddled against the cold, hoping for a tug on your line beneath the icy surface, it's crucial to have the right gear. Sure, you'll need suitable attire, proper bait and lure, chair, shelter, and a reliable ice auger, ice fishing Tip-Up, ice fishing rod case, bait bucket, ice fishing flasher, but the star of the show—the pivotal tool that can make or break your ice fishing experience—is your rod. In the realm of ice fishing, your rod isn't just a piece of equipment; it's an extension of you, a conduit between angler and icy depths.
Just like standard fishing, the rod plays a crucial role in ice fishing. Yet, it's not as simple as using any rod. Ice fishing rods are specifically designed to endure harsh winter conditions and are typically shorter with a more sensitive tip to detect those subtle bites in the frigid water. Selecting the right rod can greatly influence your success on the ice, from the weight it can handle to the responsiveness to bites, to the comfort of handling in the biting cold.
In the following sections, we will take a deep dive into the world of ice fishing rods, exploring their evolution, types, what to consider when choosing your ideal rod, the top rods currently on the market, and how to care for and make the most out of your ice fishing rod. Whether you're a seasoned ice angler or a novice looking to try out this exhilarating winter pastime, this guide aims to enhance your understanding and appreciation of the quintessential tool in ice fishing—the rod. So bundle up, grab a warm beverage, and let's journey into the frosty world of ice fishing.
History of Ice Fishing Rods
Casting Back: Tracing the Evolution of Ice Fishing Rods
The history of ice fishing rods is as fascinating as the sport itself, bearing testament to the ingenuity and adaptability of anglers over time. The early tools of ice fishing were far from the refined rods we see today. Traditional gear primarily consisted of simple, makeshift devices—sometimes just a stick with a line and a hook. This rudimentary gear, while functional, left a lot to be desired when it came to efficiency and comfort.
The transition from these basic tools to specialized ice fishing rods started with the need for more controlled and effective fishing. The first major evolution came in the form of shorter rods, as anglers realized that the lengthy freshwater rods were cumbersome and ineffective for the close-quarters fishing that ice angling entails.
In the 19th and early 20th centuries, ice fishing rods were often homemade, crafted from available materials such as wood or even metal. These rods were robust and reasonably effective but lacked the sensitivity needed to detect the often subtle bites of fish in icy waters.
From Primitive Tools to Professional Gear: The Ice Fishing Rod Journey
Fast forward to the mid-20th century, advancements in technology and manufacturing processes gave birth to a new era of ice fishing rods. The introduction of materials like fiberglass and, later, graphite revolutionized the rod's design. These materials made the rods lighter, more durable, and significantly more sensitive to bites.
Further improvements included the addition of guides along the rod, improving line control and enabling smoother retrieval. Reels also became a standard part of ice fishing rods, whereas early rods often simply had the line attached directly to the rod itself.
In recent years, the ice fishing rod has continued to evolve, with fine-tuned actions to match specific ice fishing techniques and species. Customizable features such as interchangeable spring bobbers, specialized ice fishing reels, and ergonomically designed handles have become the norm. These developments have improved angler comfort and efficiency, allowing for longer and more successful fishing sessions.
These changes in design have not only improved ice fishing but also democratized it. Today, ice fishing is more accessible than ever, with rods available for every skill level and budget. The evolution of ice fishing rods reflects our constant quest for better equipment, proving that even under a thick layer of ice, innovation continues to flourish.
Types of Ice Fishing Rods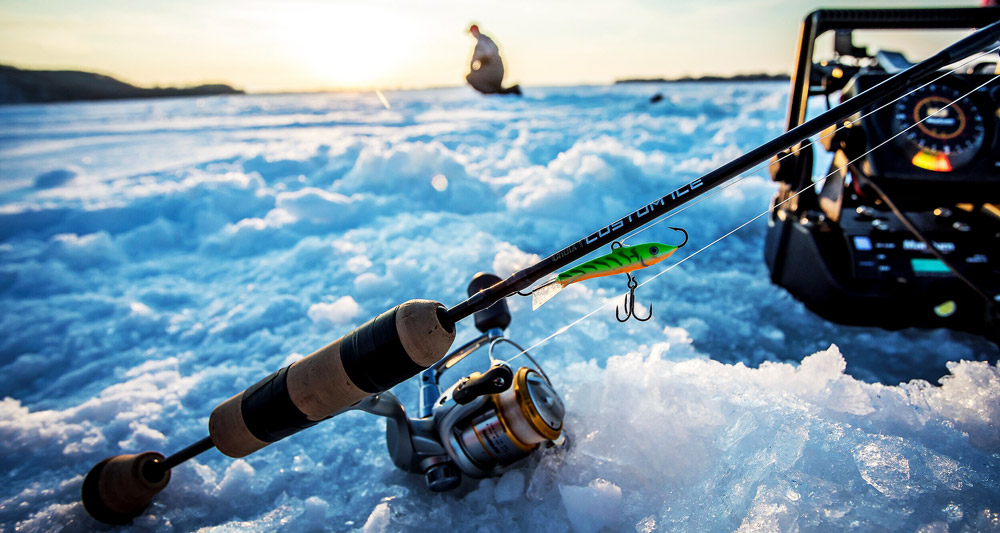 Exploring the Variety: The Different Rods for Your Ice Fishing Adventure
The beauty of ice fishing lies not only in the excitement of the catch but also in the plethora of gear options that anglers can choose from. When it comes to ice fishing rods, there are several types, each with its unique characteristics, benefits, and drawbacks. The main types include spinning rods, straight-line or inline rods, and baitcasting rods.
🌊Spinning Rods
Spinning rods are among the most popular options for ice fishing, especially for novice anglers. They're versatile, easy to use, and designed for a smooth casting and retrieval experience. These rods have a spinning reel that hangs beneath the rod with the line wrapped around a fixed spool. This design ensures fewer line twists, which can be crucial when dealing with delicate lines in cold conditions.
The advantage of spinning rods is their versatility—they can handle a wide variety of lure weights and line types. However, they might not be as sensitive as straight-line rods, making it harder to detect subtle bites.
🐟Straight-line or Inline Rods
Straight-line or inline rods are a specialized type of ice fishing rod, designed to provide optimal sensitivity and line control. They are called "straight-line" because the line comes straight off the spool, which reduces line twists and gives a more direct connection between the angler and the fish.
The advantage of straight-line rods is the increased bite detection—they're excellent for targeting finicky fish that give very subtle bites. However, they can be trickier to master and might not be as versatile as spinning rods when it comes to the range of lures and bait sizes they can effectively handle.
🐳Baitcasting Rods
Baitcasting rods are primarily used by experienced anglers targeting larger fish species. They feature a baitcasting reel that sits on top of the rod, which can handle heavier lines and provide more power for fighting big fish.
The advantage of baitcasting rods lies in their power and capacity for heavy lines—perfect for hauling large fish out of the ice hole. However, they can be challenging to use and may lead to line tangles, known as "bird's nests", if not handled properly.
Pros and Cons: Navigating the Ice Fishing Rod Landscape
Each type of rod has its place in ice fishing, and the best one for you depends on various factors, including your target species, fishing technique, experience level, and personal preference. For instance, if you're a beginner angler targeting small to medium-sized fish, a spinning rod might serve you well. Conversely, if you're an experienced angler aiming for big fish, a baitcasting rod could be your weapon of choice.
Remember, every angler's journey is unique, and so is their choice of gear. The important thing is to understand what each type of rod offers and how it aligns with your angling goals and style.
Video: Ice Fishing Combo Buyers Guide
Cracking the Ice: Top 10 Ice Fishing Rods to Transform Your Winter Angling
The ice fishing rod is different in size from the usual one. The ice fishing rod is incredibly small, so it will seem to you that it is not able to cope with such a task. The small size of the rod will allow you to fish from a small hole. In waters suitable for this type of fishing, you can experience an unrivaled natural silence that gives you peace of mind.
Such a rod has excellent sensitivity, therefore it transmits all the fish bites. All ice fishing rods presented in this article are durable, move the lures upright, and can pull even very large fish. They are equipped with a comfortable grip, work great in cold environments, and allow you to fish comfortably even with gloves. Let's take a look at 10 Best Ice Fishing Rods and Tip Ups that will let you enjoy the delights of ice fishing.
| Image | Product | Brand | Link |
| --- | --- | --- | --- |
| | St. Croix Rods Avid Glass Ice Fishing Rod | St. Croix Rods | |
| | Shakespeare USGXICE30MH Ugly Stik GX2 Ice Fishing Rod, 30 Inches, Medium Heavy | Shakespeare | |
| | Berkley Cherrywood HD Ultralite Spinning Ice Rod, 24" - 1323297 | Berkley | |
| | 13 FISHING - Widow Maker Ice Rod - 24" UL (Ultra Light) - Tennessee Handle - WMTH24UL | 13 FISHING | |
| | Convergence ICE | SHIMANO | |
| | Fiblink Graphite Ice Fishing Rod Pole Gear Equipment for Walleye Perch Crappie Pike Trout (24 Inches Medium Light Power) | Fiblink | |
| | fenwick ETICE27M Elite Tech Ice Spinning Rod | Fenwick | |
| | HT Enterprise IB-24 24 Ice Blue Super Flex Rod Ul Action | HT Enterprise | |
| | Schooleys 6224 CDR-30 Artic Blue Ice Rod | SCHOOLEY'S | |
| | Clam Jm Gen7 Elite Series Ice Combo 24'' Light (Ice) | CLAM | |
1# St. Croix Avid Glass Ice Fishing Rod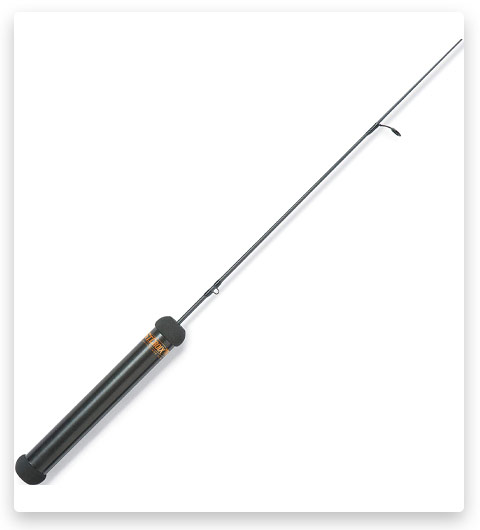 View on BassProShop View on Amazon
The St. Croix Avid Glass Ice Fishing Rod embodies the pinnacle of ice fishing technology, merging functionality, durability, and comfort into a single fishing tool. Its unique construction and specialized features are tailored specifically to the harsh conditions of ice fishing, making it a must-have for every enthusiast of this winter sport.
One of the standout features of the St. Croix Avid Glass Ice Fishing Rod is its full-glass construction. The entire rod is built from super-flexible glass fiber, providing the perfect blend of strength and sensitivity. This material ensures that the rod can withstand heavy loads while still allowing you to feel even the subtlest fish nibbles under the freezing water.
St. Croix has designed the Avid Glass Ice Fishing Rod with a focus on action and length. With a shorter overall length, the rod provides exceptional control and accuracy when fishing in confined spaces around an ice hole. Furthermore, the rod is equipped with a fast action, which enables you to set the hook quickly and firmly once a fish bites, increasing your chances of a successful catch.
Ergonomics also plays a significant role in the design of this rod. The Avid Glass Ice Fishing Rod features a high-visibility, comfortable handle that feels great in your hands even in chilly conditions. This handle design reduces hand fatigue and enables you to fish for extended periods comfortably.
The St. Croix Avid Glass Ice Fishing Rod also includes high-quality guides that ensure smooth line flow, reducing friction and enabling easier casting and retrieving. This makes the fishing experience more enjoyable and increases your chances of a good catch.
2# Shakespeare Ugly Stik Ice Fishing Spinning Rod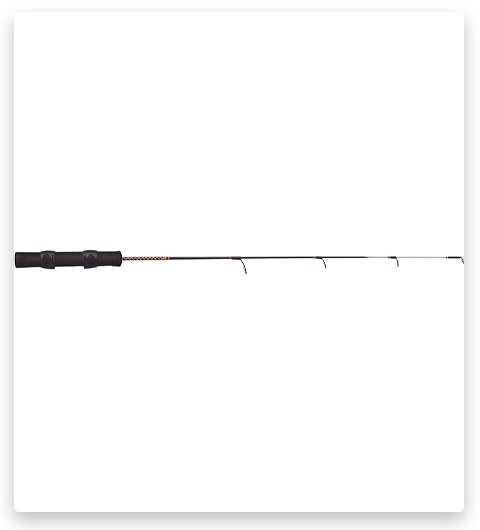 Ugly Stik rods are known for their durability and high performance. Since 1976 they have proven themselves to be the best on the market. Now there is a version for ice fishing and you can get it right now. I can say that this version is just as excellent as the original. I was delighted when I tried it in practice. It is of Ugly Tech construction. There you will find a combination of fiberglass and graphite.
This makes the rod lighter, more responsive, and incredibly strong at the same time. The Ugly Tuff guides have stainless steel guides. Now you won't think that inserts can pop out! The accessory's sensitivity is ensured by the Ugly Stik Clear Tip design. Believe me, I was convinced from my own experience that this is one of the best ice fishing rods that you can buy at an affordable price!
3# Berkley Cherrywood HD Ice Fishing Spinning Rod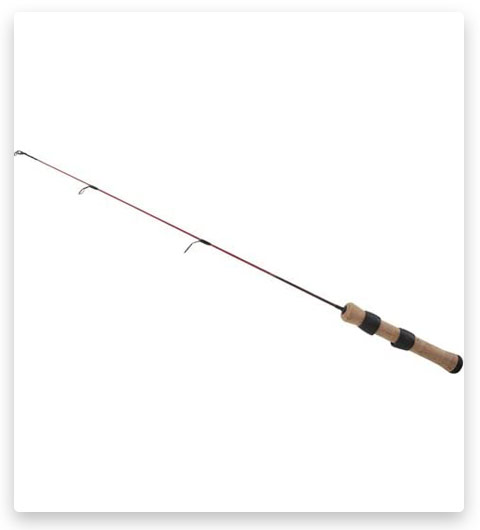 Berkley has created a truly popular line of ice angler spinning rods Cherrywood HD. They are distinguished by the excellent quality inherent in premium series spinning rods, and at the same time at a low price available to every fishing lover. Berkley Cherrywood HD rods have balanced, stiff, and strong blanks. The sonorous tip of the Cherrywood spinning rod is distinguished by excellent tactile information content and will not leave unnoticed even the smallest bites.
The rod has a decent holding capacity, which is especially important when hunting large predators. The rods are equipped with reliable fittings and guides with Sic inserts and have a comfortable cork handle. The structure of the rods allows you to use a wide variety of lures: large wobblers, oscillating spoons, jig lures of various weights. Cherrywood HD rods are well suited for those who just want to start ice fishing.
4# 13 Fishing Widow Maker Tennessee Handle Hardwater Ice Fishing Rod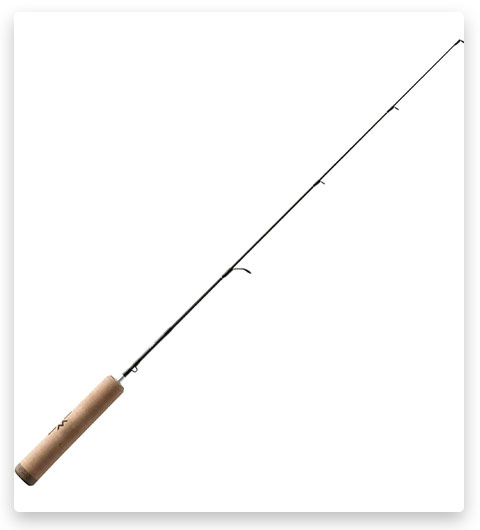 This rod meets all the requirements that the best ice fishing rod should have. The model has a solid graphite body and Portuguese cork handles. The rod is easy to use, lightweight and has excellent sensitivity to any fish bite. Graphite is an incredibly durable material that will allow you to easily stretch out large fish. The accessory is equipped with ALPS thin wire double diamond coated guides which provide not only strength but also precision.
5# Shimano Convergence Ice Spinning Fishing Rods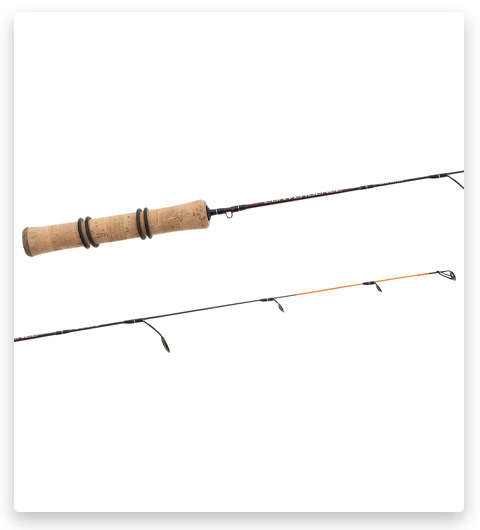 This model has held leading positions in sales for several years. They achieved their popularity due to the optimal price-quality ratio. The accessory has been designed to offer outstanding performance in all characteristics of ice fishing. Responsive letterheads work reliably. The model has a Sensitive carbon tip for quick bite detection. It has quite thin and light and extremely flexible blank. The guides are made of zirconium dioxide.
6# Fiblink Graphite Ice Fishing Rod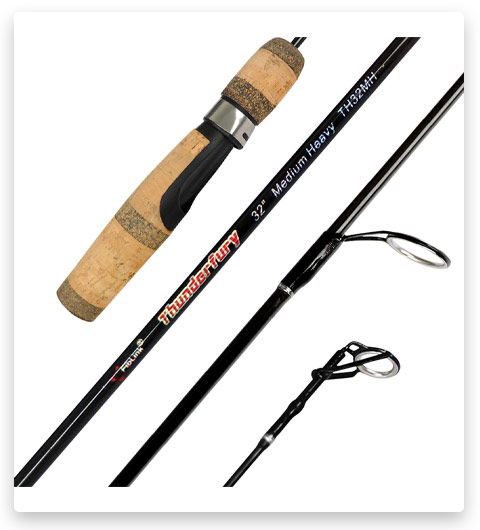 This rod can be described as one of the most sensitive, strong, and lightweight. It is ideal for fishing for perch, pike, trout, crappie, and more. The blank is incredibly strong and sensitive and also lightweight as it is made of graphite. They are available to you in sizes 24, 30, and 32 inches. Choose the length based on your fishing technique. Smooth line flow is ensured by the stainless steel guide with aluminum oxide inserts. Comfort and convenience are ensured thanks to the cork handle.
7# Fenwick Elite Tech Ice Fishing Spinning Rod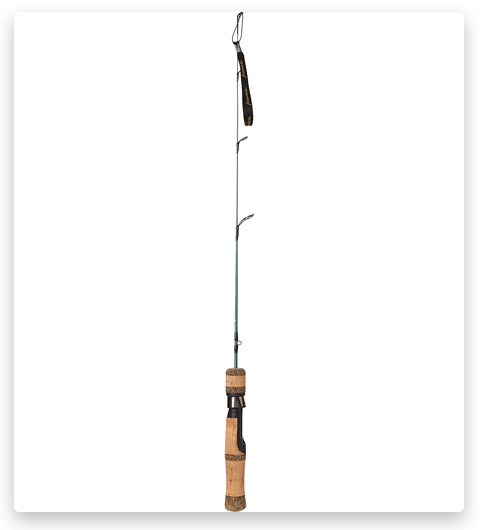 Ice fishing rods Elite Tech from the American company Fenwick are specially designed for ice fishing. The ergonomically comfortable cork handle with added TAC ™ material provides increased comfort and will always remain firmly in the fisherman's hands even in the most difficult weather conditions. This is an ultra-light spinning rod of the highest quality. The rods have a very sensitive blank that transmits all vibrations from the lure and allows you to feel even the most delicate bites. The new "hidden" TAC ™ reel seat delivers non-slip performance in a wet hand. The blank is made of high modulus carbon and the SiC guides have titanium rims, making the rod much lighter.
8# HT Ice Blue Rods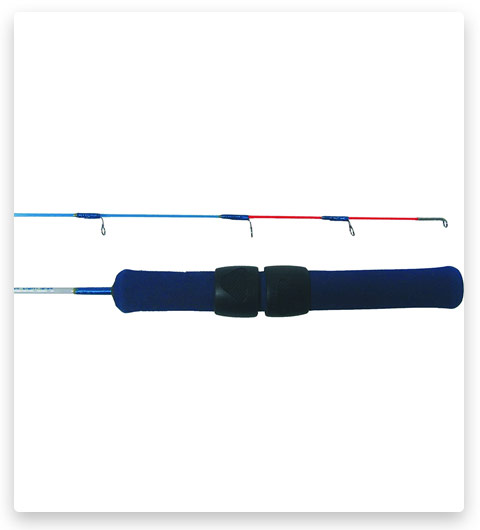 This rod is designed for use in cold environments. If you are looking for your first ice fishing rod, this is the perfect option for a great price. It has ultra-light action and is 24 inches long. This is an excellent length for this type of fishing. You will appreciate the high-visibility fluorescent orange tips.
9# Schooleys Artic Blue Ice Rod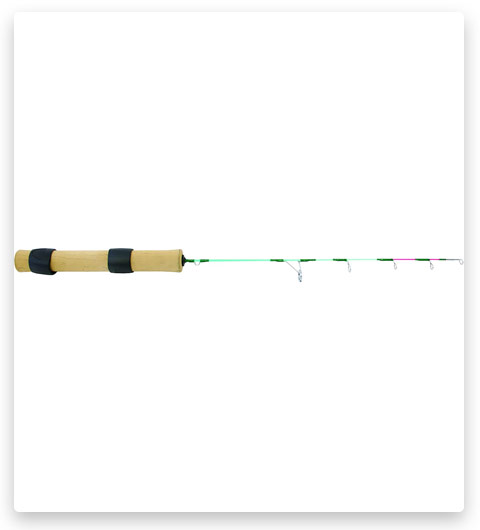 Multifunctional fishing rod, lightweight, reliable, comfortable, made of frost-resistant, and shock-resistant material. The firm pays special attention to the quality of the rod's tip, which has sufficient elasticity and the absence of permanent deformation during the strong bending of the rod. The reel rotates without friction and backlash. The friction clutch is reliable and provides a stable response when catching orbiting large fish. The handle is made of cork and therefore provides a secure grip even when wearing gloves.
10# Clam Jm Gen7 Elite Series Ice Combo 24" Light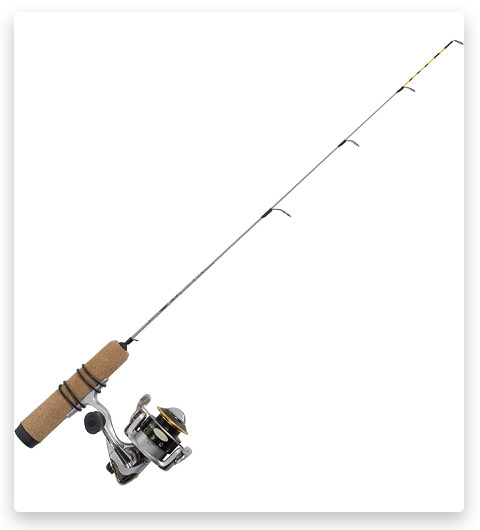 For over 30 years, Clam Outdoors has been the premier fishing tackle manufacturer. As a client of this company, I can confidently say that they produce reliable, durable products. This is important because no one wants to have equipment problems on the ice. Quality is Clam's top priority and it is reflected in everything. Quality and practical rod made of fiberglass with a comfortable cork handle. The model is equipped with a reliable reel with two ball bearings. Robust and practical model to use.
Mastering the Selection: What to Consider When Choosing Your Ice Fishing Rod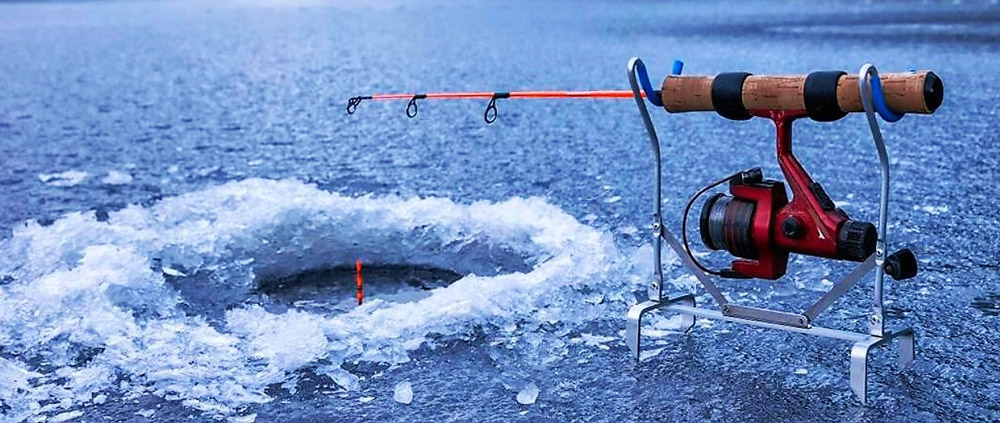 Selecting the perfect ice fishing rod is like choosing a dance partner—the right fit makes every move smoother, every turn easier, and every moment more enjoyable. To find your ideal rod, there are several key factors to consider, including material, length, action, power, and more.
Material
The rod's material significantly impacts its performance. Modern ice fishing rods are typically made from fiberglass or graphite, with some top-tier models using a blend of both. Fiberglass rods are durable and fairly flexible, making them a good choice for beginners or for heavy-duty fishing. Graphite rods, on the other hand, are lighter and more sensitive, excellent for detecting subtle bites but may require more careful handling.
Length
The length of your ice fishing rod affects both casting and control. Shorter rods (around 24-28 inches) offer better control for jigging and are great for fishing in close quarters like an ice shelter. Longer rods (up to 36 inches or more) can give a bit more casting distance and leverage when fighting a fish, which can be beneficial if you're targeting larger species.
Action
Action refers to where and how much a rod bends when pressure is applied. Fast action rods bend mostly near the tip, while moderate or slow action rods bend more evenly along the length. Fast action rods provide more sensitivity and quicker hooksets, making them ideal for aggressive fish or when using small jigs. Moderate or slow-action rods are more forgiving and better suited for lighter lines and more finicky fish.
Power
Rod power indicates the rod's resistance to bending. It ranges from ultra-light to heavy. Lighter power rods are more sensitive and better for smaller species, while heavier power rods can handle larger fish and heavier lures.
Personal Style and Target Catch: Picking the Perfect Ice Fishing Rod
Beyond these technical considerations, your personal fishing style and target species significantly impact your rod choice. If you're an active angler who likes to jig aggressively, a shorter, fast-action rod might serve you best. If you're more passive and prefer to wait for the fish to come to your bait, a longer, moderate-action rod could be a better choice.
Your target species also plays a vital role in your decision. Are you fishing for panfish like crappie or perch? An ultra-light or light power rod would be suitable. Targeting larger species like pike or lake trout? You might want to opt for a medium to heavy power rod.
Remember, there's no 'one size fits all' when it comes to ice fishing rods. It's about finding the right balance of features that best suits your style and needs. So, consider these factors, align them with your angling objectives, and you'll be well on your way to picking your perfect partner for your ice fishing adventures.
Rod Royalty: Highlighting the Top Ice Fishing Rods in the Industry

Choosing the right rod becomes easier when you know what the market offers. Let's take a look at some of the top ice fishing rods currently available, their unique features, and why they are highly rated by ice anglers.
St. Croix Mojo Series Ice Rod
St. Croix is a name synonymous with quality in the fishing world, and its Mojo Series Ice Rod continues to uphold this reputation. This rod is crafted from a precision-taper solid carbon blank, offering a perfect balance of sensitivity and strength. The split-grip cork/EVA handle ensures comfort during long ice fishing sessions. Customers praise the rod for its excellent bite detection and durable build, rating it as a reliable partner on the ice.
Fenwick Elite Tech Ice Rod
The Fenwick Elite Tech Ice Rod is designed with high-modulus graphite blanks, providing both sensitivity and strength. One of its standout features is the 'smoke stainless' guides with zirconium oxide inserts for smooth line flow. Customers love this rod for its lightweight feel and responsive action, making it a popular choice for targeting panfish.
13 Fishing Tickle Stick Ice Rod
Known for its innovative flat tip design, the 13 Fishing Tickle Stick Ice Rod provides superior bite detection. This feature allows the rod tip to 'tickle', hence the name, enabling you to notice even the most subtle nibbles. Made from high-quality PC2 (Parallel Composite Construction) linear fibers, this rod offers great durability. Anglers have rated this rod highly for its unique design and excellent sensitivity.
Ugly Stik GX2 Ice Fishing Rod
The Ugly Stik GX2 is a great entry-level rod that doesn't compromise on quality. Built with the Ugly Tech construction, it combines graphite and fiberglass to create a strong, yet sensitive rod. With its Ugly Tuff one-piece stainless steel guides, it ensures maximum durability. The GX2 is particularly well-reviewed by beginners due to its robust build and affordability.
Frabill Bro Series Ice Rod
Co-designed by renowned ice angler Brian "Bro" Brosdahl, the Frabill Bro Series Ice Rod boasts features like a solid graphite rod blank and stainless steel ice guides to reduce freeze-up. What sets this rod apart is its cork handle, equipped with a built-in reel seat, ensuring a comfortable grip. Anglers commend its well-balanced nature and sensitivity, making it an excellent choice for precision fishing.
Each of these rods stands out for its quality, design, and reliability on the ice. When choosing your rod, consider these top models as starting points, keeping in mind your specific requirements and preferences. Remember, the best rod for you is one that complements your style and enhances your ice fishing experience.
Proper Care and Maintenance

Guarding the Gear: Ensuring Longevity of Your Ice Fishing Rod
A quality ice fishing rod is an investment, and like any investment, it requires proper care and maintenance to yield long-term dividends—in this case, memorable fishing experiences and fruitful catches. Maintaining your ice fishing rod not only ensures its longevity but also optimizes its performance on the ice.
Importance of Maintenance
Ice fishing environments can be harsh on your gear. Cold temperatures, ice, and snow all pose potential threats to your rod's durability. Ice buildup can damage the guides, while abrupt temperature changes can cause the rod material to become brittle. Regular maintenance helps prevent these issues, allowing your rod to function optimally and last longer.
Tips and Tricks for Proper Care and Maintenance
Clean After Each Use: Salt, dirt, and grime can accumulate on your rod, which may damage it over time. Make sure to wipe down your rod with a clean, dry cloth after each use. Pay particular attention to the guides, where ice and dirt can easily build up:
| Maintenance Tips | Explanations |
| --- | --- |
| Check for Damage | Regularly inspect your rod for any signs of damage. This includes looking for cracks in the blank, loose or damaged guides, and wear on the handle or reel seat. Catching these issues early can prevent minor problems from becoming major ones. |
| Store Properly | When not in use, your rod should be stored in a dry, temperature-controlled environment. Drastic temperature changes can damage the rod's material. Using a rod sleeve or case can protect it from dust and accidental damage. |
| Avoid Forceful De-Icing | Ice can build up on your rod during fishing. Instead of knocking it off forcefully, which can cause damage, use a cloth or your hand to gently remove the ice. |
| Regularly Lubricate the Reel | Keeping your reel operating smoothly is important for the overall maintenance of your rod. This requires regular cleaning and lubrication. Make sure to consult your reel's manual for specific guidance, as different models may require different maintenance procedures. |
This table provides a clear and concise overview of essential maintenance tips for your ice fishing rod. Proper care not only prolongs the life of your rod but also ensures it continues to function optimally, enhancing your ice fishing experience.
The Pro Approach: Expert Tips for Optimizing Your Ice Fishing Rod Use
Whether you're a seasoned ice angler or stepping onto the ice for the first time, enhancing your understanding of how to use your rod effectively can make all the difference. Let's delve into some professional tips and techniques that can help you get the most out of your ice fishing rod.
Professional Tips and Techniques
Master the Jigging Technique: Ice fishing often involves a technique called jigging, where you move your rod tip up and down to make your bait look alive. Vary your jigging rhythm and speed—sometimes a slow, subtle jigging motion works best, while other times, an aggressive, rapid jig might attract more fish.
| Ice Fishing Tips | Explanations |
| --- | --- |
| Stay Alert to Bites | Fish bites can be subtle in cold water and might feel like a tiny weight or a slight tug on your line. It's important to keep your fingers on the line or maintain a firm grip on the rod handles to enhance your ability to detect these subtle bites. |
| Practice Hook Setting | Setting the hook is a critical part of ice fishing. Having a good rod with the correct power and action is important. A quick upward flick of your wrist should be sufficient to set the hook firmly in the fish's mouth. Practicing this technique will increase your chances of successfully catching fish. |
| Utilize Electronics | Devices like fish finders can greatly improve your ice fishing experience. These tools can help you locate fish under the ice and monitor your jigging on the screen, giving you a real-time insight into what's happening beneath the ice and increasing your chances of a successful catch. |
Adapting to Different Weather and Ice Conditions
Different weather and ice conditions may require different approaches to ice fishing.
| Weather and Ice Conditions | Tips and Explanations |
| --- | --- |
| Cold Weather | In extreme cold, watch out for ice buildup on your rod, especially around the guides. Gently remove any accumulated ice to prevent damage, as suggested in the maintenance section. |
| Warm Weather | On unusually warm days, slushy conditions on the ice can wet your line and potentially freeze your reel. Regularly wipe off excess water from your rod and reel to avoid these issues. |
| Thick Ice | When fishing on thick ice, a longer rod can be beneficial. It provides better control and leverage over your lure, which is particularly useful when fishing in deeper waters through thick ice. |
| Thin Ice | On thin ice, which is common early or late in the season, a shorter rod can be more manageable. You'll likely be kneeling or sitting closer to your hole, and a shorter rod makes it easier to control your line and detect bites. |
This table outlines how to adjust your ice fishing techniques based on weather and ice conditions. By adapting to these factors, you can improve your chances of a successful catch and enhance your overall ice fishing experience.
Remember, being versatile and adaptable is a key aspect of ice fishing. Conditions can change rapidly on the ice, and the more adept you are at adjusting your techniques, the more successful your outing is likely to be.
Join the Ice Fishing Community: Your Adventure Starts Here
Now that we've equipped you with the necessary knowledge about ice fishing rods, it's your turn to step onto the ice. We invite you to explore this captivating pastime and share your experiences with us. Whether it's the thrill of your first catch, the serene beauty of a frozen lake, or the satisfying feeling of having chosen the perfect rod, your stories are an invaluable part of the ice fishing community.
We always appreciate learning from our readers' adventures. So don't hesitate to share your ice fishing experiences, the rod you chose, and why it was the right fit for you. You never know, your insights might just be the guidance another reader needs!
To get started on your ice fishing journey, we recommend visiting your local outdoor equipment store, where experts can provide tailored advice based on your needs. Alternatively, numerous online platforms offer an extensive range of ice fishing rods, with customer reviews to assist in your decision-making process.
Remember, selecting the right rod is the first step to a fulfilling ice fishing experience. So get out there, explore your options, and let the world of ice fishing embrace you. And once you've found your perfect rod and experienced the unique charm of ice fishing, don't forget to share your journey with us. We're excited to hear about your icy adventures!
Here's to frosty mornings, the silent whisper of the wind, the crackling ice beneath your feet, and the exhilarating anticipation of a bite. Welcome to the wonderful world of ice fishing!
FAQ: Unravel the Mystery of Ice Fishing Rods
Conclusion: Casting Off: Wrapping Up the Ice Fishing Rod Conversation
If you've never tried ice fishing, then you are missing out on a lot. But now is the time to start! All you need is a high-quality, flexible, and reliable ice fishing rod! All these characteristics can be found in the St Croix Avid Glass Ice Fishing Rod.
We've journeyed through the frosty world of ice fishing rods, exploring their rich history, diverse types, and crucial factors to consider when choosing your ideal rod. We've highlighted some of the top models on the market, looked into their upkeep, and shared professional tips for effective use under varying conditions.
From the ancient, rudimentary rods used by indigenous communities to the high-tech, specialized gear available today, the evolution of ice fishing rods has been a fascinating one. This journey underscores not only the innovation in this space but also the enduring appeal of ice fishing as a pastime and sport.
Selecting the right rod, be it the St. Croix Mojo Series for its incredible balance, the 13 Fishing Tickle Stick for its unique flat tip design, or the Ugly Stik GX2 for its robust and affordable quality, can greatly enhance your experience on the ice. The right rod, after all, is more than a tool—it's an extension of the angler, a conduit for their skills and passion.
Maintenance is key in preserving your rod's longevity, with regular cleaning, damage checks, proper storage, gentle de-icing, and reel lubrication being crucial elements. Equipped with a well-maintained rod, and by adapting to changing weather and ice conditions, you can fully engage with the exhilarating art of ice fishing.
So, are you ready to venture onto the frozen waters, armed with a knowledge of what to look for in your ice fishing rod? There's an entire icy world waiting for you. May your catches be plentiful, your toes be warm, and your ice fishing rod be a reliable companion on many thrilling winter adventures to come.
Tags: #best ice fishing rods / #best ice fishing rods for walleye / #best ice fishing rods reviews / #best ice fishing rods field and stream mag / #best fishing rods / #ice fishing rods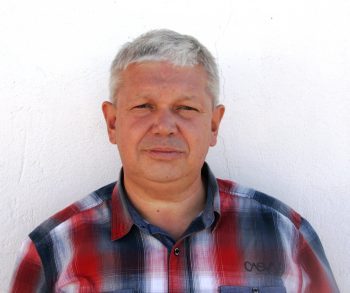 Sergio Smirnoff
Professional fisherman with 40+ years of experience.
Fishing and the ocean is a passion of my life. I am passionate about all kinds of sea fishing: fishing from the shore (spinning, float, baitcasting), from a boat, and spearfishing day and night.
I live in Tenerife (Canary Islands) for the last 10+ years and share my daily fishing experiences on my website. Many years of personal experience as a fisherman and the vast experience of my friends allow me to write professionally on any fishing topics (from choosing a flashlight and equipment to deep-sea fishing).
All of my advice is based on practical real-world experience and will be useful to both novice anglers and professionals.
Read more
about the author.
Affiliate Disclosure: FishReeler.com sometimes gets paid for listings, through sponsors or affiliate programs like Amazon, Ebay, Cabelas, Bass Pro Shop, Shimano, Daiwa, Rapala, Renn, Okuma, KastKing, etс. Clicking a link helps keep FishReeler.com free, at no extra cost to you!
About the author: Each article is verified by the fishing expert Sergio Smirnoff. The articles are written by professional and amateur fishermen with 20+ years of fishing experience.
Note: The views and opinions expressed in this article are those of the authors and do not necessarily reflect the official policy or position of any agency. The articles are for informational purposes only, share your opinions in the comments and join the fishing discussions, let's share our fishing experiences together!