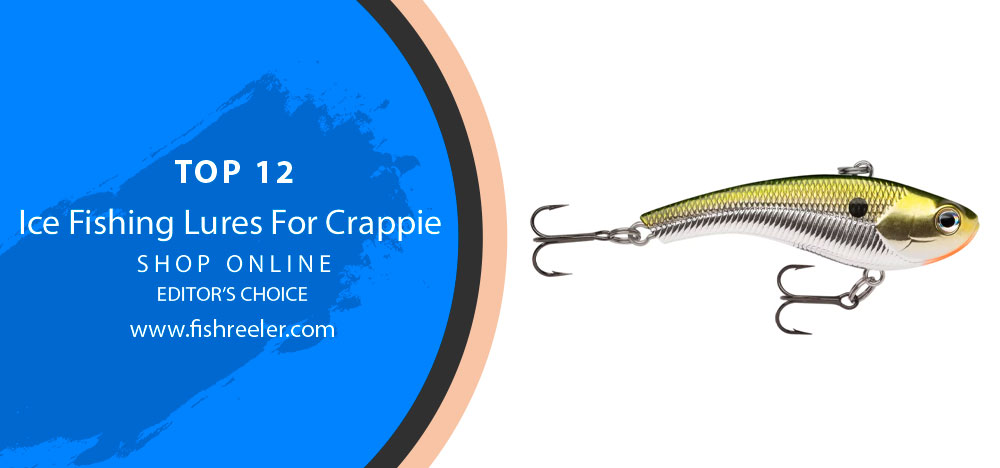 Ice Fishing Lures for Crappie: A Passionate Angler's Guide to Boosting Your Winter Catch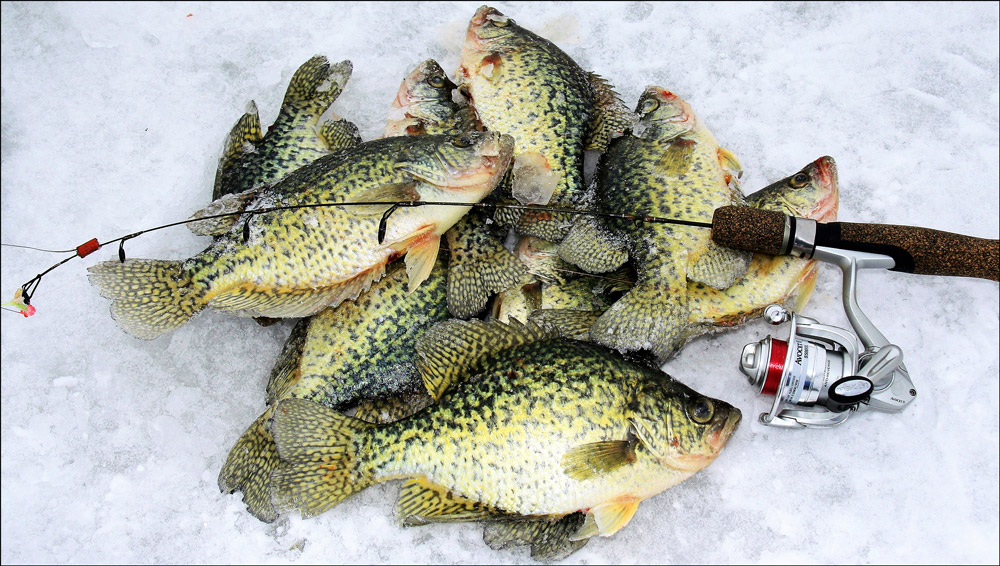 As a seasoned angler, there's an unmatched joy I feel every time I reel in a catch – the tug on the line, the anticipation, and the eventual triumph of seeing a gleaming fish finally break the water's surface. Yet, out of all the fishing adventures I've embarked on, nothing quite compares to the thrill of ice fishing for crappie. Every winter, the frosty stillness of a frozen lake becomes my ultimate testing ground, transforming an otherwise calm pastime into a captivating winter escapade.
From First Cast to Frozen Lakes: My Love Affair with Ice Fishing Crappie 🎣
My passion for fishing took a whole new turn when I discovered ice fishing. The sheer resilience it demands, the patience, and the unique tactics it requires add an extra layer of fascination to my enduring love for this hobby. In this chilly arena, the crappie – a worthy opponent hiding beneath the ice – is a challenge that keeps calling me back year after year.
Why crappie, you might ask? Well, they're not just a joy to catch but also a fantastic species to help novice ice anglers build their confidence. Their predictable winter patterns make them a reliable catch. Still, this doesn't mean the endeavor is a walk in the park. It's not enough to drill a hole and drop a line; the key lies in your choice of lures. 🪝
The art of selecting the right ice fishing lures for crappie is a skill honed through time, patience, and lots of trial and error. However, when you find that sweet spot – that perfect lure that drives the crappie wild, there's nothing quite as gratifying. That's what we'll explore today, a comprehensive look at the world of ice fishing lures for crappie, filtered through my own personal journey and experience.
Whether you're a seasoned ice angler or just beginning your journey in the icy wilderness, choosing the right lure can make all the difference. So, let's delve into the frosty world of crappie ice fishing and unravel the secrets of selecting the perfect lure! 🎣❄️🐟
The Mysteries of Winter Crappie Behavior Revealed ❄️🐟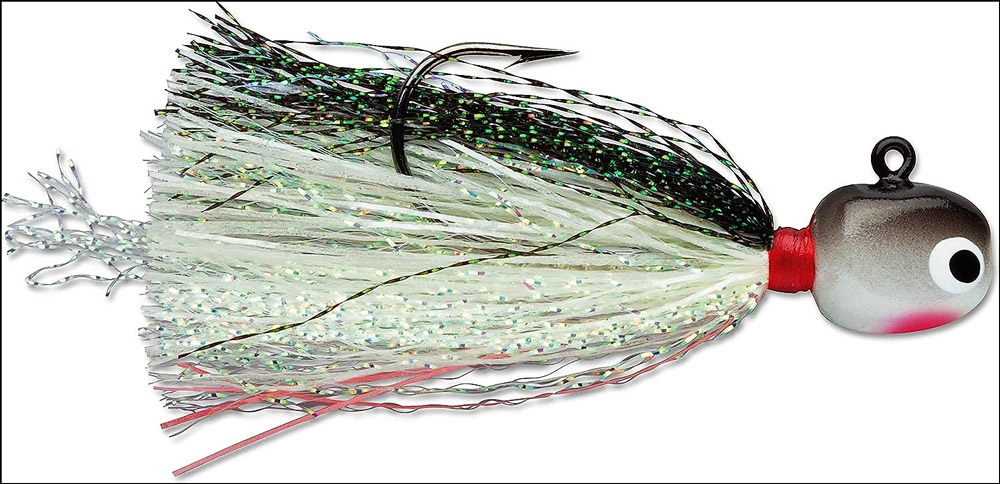 To truly excel in catching crappie under the ice, we must first seek to understand them. Crappie, both black and white varieties, have specific behaviors that significantly influence your choice of lure.
When winter sets in, and the lakes freeze over, crappie undergo a lifestyle shift. Unlike their warm-weather behavior, where they'd hang around submerged structures or grassy areas, winter sends crappie to deeper waters. Here, they often form large schools, making them a delightful target if you can locate them. 🎯
Crappie are also known to be rather less active during winter. The cold water temperatures slow down their metabolism, which in turn reduces their need to feed. However, this doesn't mean that they won't bite. Instead, it means the choice of lure and its presentation becomes even more critical to enticing them. 🪝🐠
Now, let's talk about the differences in fishing for black and white crappie. While they are similar in many aspects, understanding their subtle differences can improve your catch rate.
Black crappie are typically more structure-oriented, meaning that even in winter, they may stick closer to submerged objects like fallen trees or deep underwater ridges. White crappie, on the other hand, are more likely to roam the open water.
Also, while both types are generally less active in winter, black crappie have a slightly higher tolerance for cold water. This can make them more responsive to your lures in the chilly depths than their white counterparts.
By understanding these subtle nuances in crappie behavior and preferences, we can make better-informed decisions about our choice of lures and fishing strategies. 🧠🎣
🔶Stay tuned as we delve into the world of crappie lures, exploring the best options to tempt these finicky winter fish and enhance your ice fishing adventure!
Types of Lures for Ice Fishing Crappie: Lure Them In 🎣🦐

When it comes to catching crappie under the ice, not all lures are created equal. There's a veritable smorgasbord of options out there, but I'm here to help you navigate through it. Let's explore the top lures that have proven successful in my ice fishing pursuits and the advantages and potential drawbacks of each.
Jigs: These are among the most popular lures for ice fishing crappie. Jigs are great because of their versatility and the fact that they mimic the movements of crappie's favorite snacks. Small jig heads paired with soft plastic bodies or live minnows can be irresistible to crappie. However, the key lies in choosing the right size – often, a smaller jig (1/16 to 1/32 oz) does the trick. The possible downside? They might be too light for very windy days. 🎣💨
Spoons: These lures work wonders when crappie are hanging out in deeper waters. Their flashy and vibrant colors coupled with erratic movements attract crappie from a distance. Choose a spoon that's light enough to flutter down enticingly but heavy enough to feel its movement. While effective, spoons can sometimes be too big for crappie's mouth, making it harder for them to bite. 🥄🐟
Plastic Baits: Soft plastics that imitate small minnows or invertebrates are a fantastic choice. They're perfect for more sluggish crappie since they can be presented very slowly and still look appetizing. The downside? If you're in a region with lots of tiny bait stealers, they can whittle down your plastic bait pretty fast. 🦐
Minnow-imitating Lures: Small crankbaits or spinners that mimic a crappie's natural prey are fantastic for luring in bigger fish. These lures are especially useful during late winter when crappie start feeding more aggressively. The drawback could be their larger size, as crappie are known to prefer smaller prey. 🐠
My personal favorite? I've found the most success with small jigs. There's something incredibly effective about a tiny, brightly colored jig dangled in front of a curious crappie. My top tip is to experiment with different colors until you find the one that gets them biting – for me, it's often been a neon combination of green and orange. 🎣🔶💚
🔶Remember, the best lure is the one that works for you. Don't be afraid to experiment, mix and match, and find your magic combination for a successful crappie ice fishing adventure! 🏆🎣
🎦Video YouTube: "Secret Lure" CRUSHES Ice Fishing Crappies!
Best Ice Fishing Lures For Crappie Review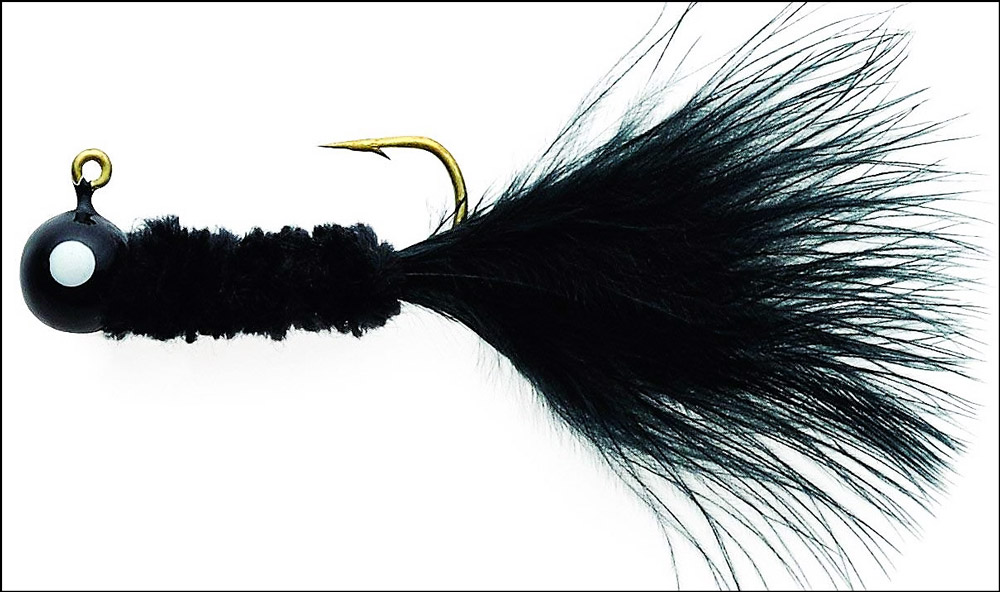 Anyone who loves to fish for crappie knows that ice fishing can be a great way to catch these tasty fish. In order to increase your chances of success, it's important to use the right lures. Here are some of the best ice fishing lures for crappie, based on expert reviews
If you are looking for the best ice fishing lures for crappie, look no further! We have compiled a list of the top-rated lures for this popular fish. Read on to learn more about each one and find the perfect lure for your next trip out on the ice!
1# Kalin's Crappie Scrub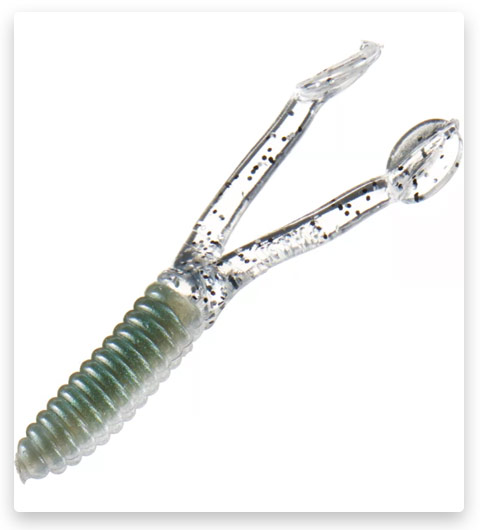 The Kalin's Crappie Scrub is the perfect bait for anglers who want to up their game. With twice the thump and tail action of any other paddle tail grub on the market, this 1-3/4" soft bait is guaranteed to attract fish. Whether you're using it as a jig or just casting it out, the Kalin's Crappie Scrub is sure to give you the results you're looking for. So if you're serious about fishing, don't go another day without the Kalin's Crappie Scrub in your tackle box.
2# Bobby Garland Crappie Shooter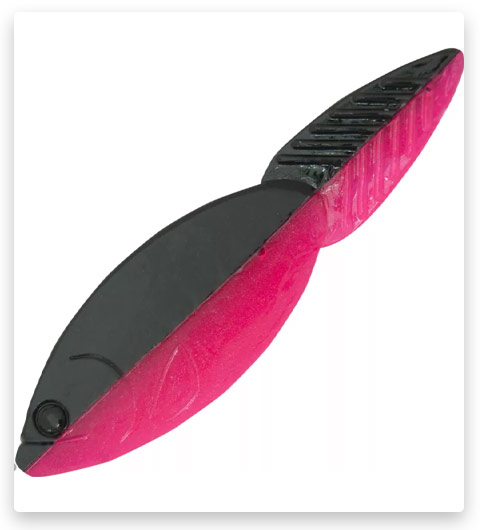 The Bobby Garland Crappie Shooter is the perfect lure for targeting crappie around docks and other structures. With its slim, Broad-bodied shad bait design, it easily gets into places other lures can't, and its unique horizontal fall creates a realistic fluttering, dying-baitfish motion that is sure to attract fish. It also features a flat back and "boat-hull" belly for an enhanced skipping action, as well as a spear-shaped tail for increased stability and aerodynamics. For easy rigging, simply align the centerline hook with the guide on the lure. Get ready to reel in some big crappie with the Bobby Garland Crappie Shooter!
3# Bass Pro Shops Tri-Color Crappie Grub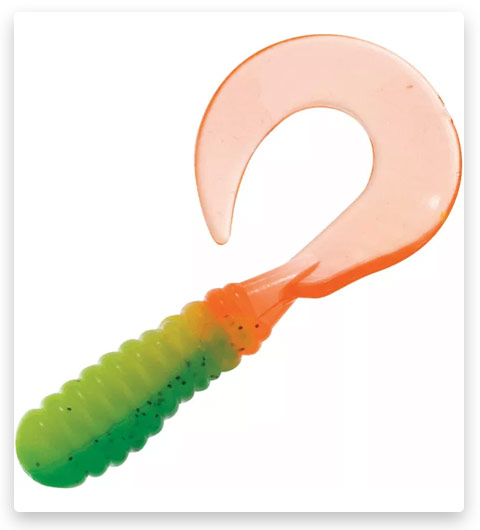 The Bass Pro Shops Tri-Color Crappie Grub is the perfect lure for panfish. With its three distinct colour laminations, it looks like a natural baitfish to crappie. The high-action tail provides the necessary trigger for strikes, and you'll be reeling in fish left and right!
4# Bobby Garland Baby Shad Swim'R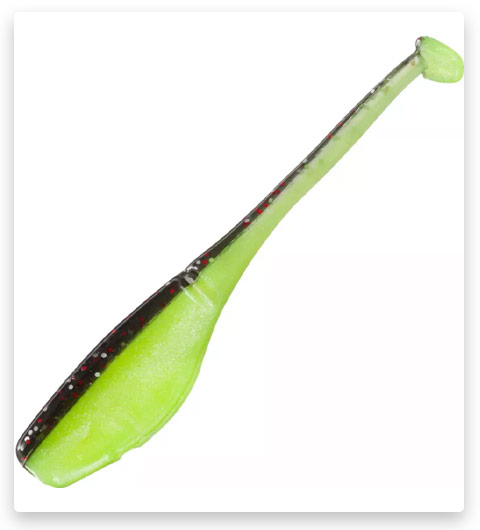 The Bobby Garland Baby Shad Swim'R is a top-of-the-line baitfish imitation that is sure to help you land the big one! Borrowing from the shape and size of its Baby Shad sibling, the Swim'R incorporates additional features for totally different action and allure. The Swim'R sports a jointed body and a unique swim tail that mimics the effortless movement of a real baitfish. It also has a scent channel in its belly that can be used for holding optional fish-attractant scents, should you choose to use them. Made in the USA, this high-quality lure is sure to provide you with hours of fishing fun!
5# Bobby Garland Itty Bit Slab Slay'R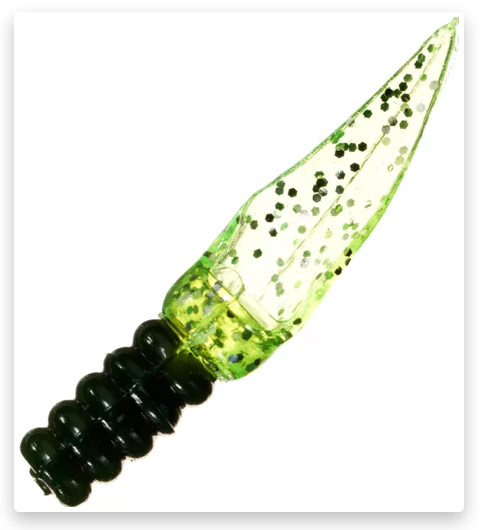 The Bobby Garland Itty Bit Slab Slay'R is a small bait that packs a powerful punch. Its solid ribbed body ensures easy rigging, while its thin, quivery spear-shaped tail provides just the right amount of movement to entice big crappies. Deadly on all panfish, this tiny bait is perfect for serious anglers looking to catch some serious fish.
6# VMC Tungsten Tubby Jig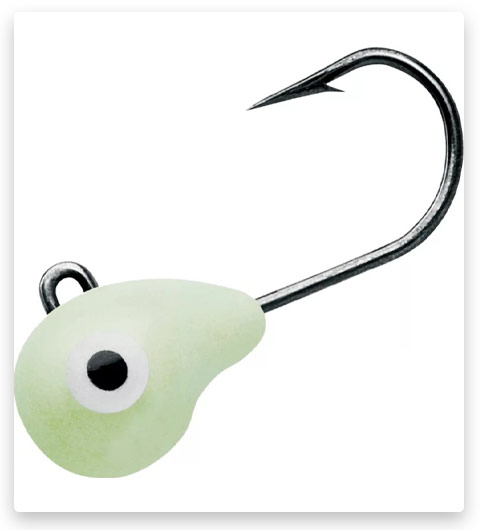 The VMC Tungsten Tubby Jig is one of the most productive soft plastic baits on the market. Engineered with a tungsten weight, it quickly falls to the bottom where the bass is waiting. And because it's paired with a VMC Power Gap hook, you're guaranteed a solid hookset. Glow colours retain their charge for up to 15 minutes so you can keep fishing even when the sun starts to set.
7# Bobby Garland Baby Shad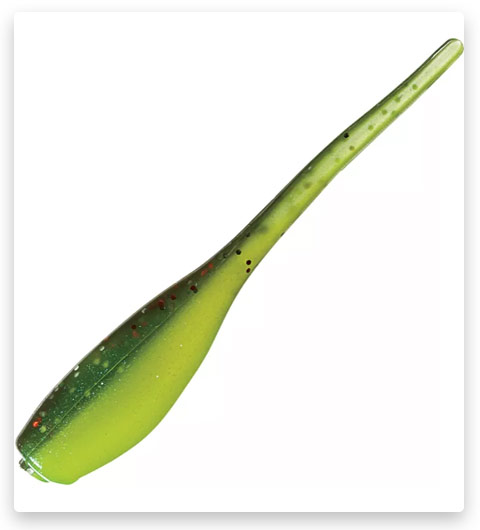 Looking to up your crappie game? Bobby Garland's Baby Shad is popular among tournament anglers for good reason – it's a reliable performer that can turn a slow day on the water into a successful one. This soft plastic bait features durable construction, plump body profile, and spear-shaped tail that create an enticing action that is sure to attract fish. Don't miss out on this legendary bait – give the Baby Shad a try on your next fishing adventure!
8# VMC Tungsten Probe Jig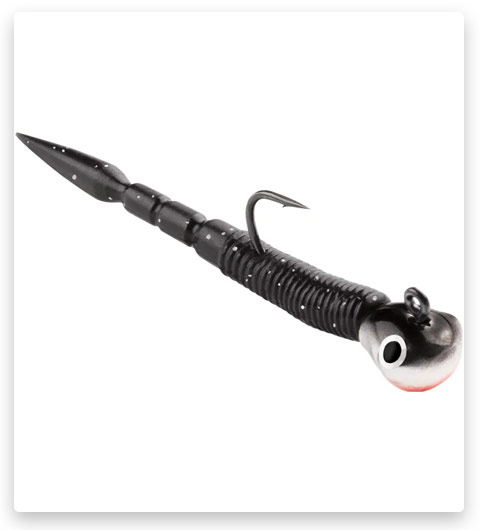 The VMC Tungsten Probe Jig is a great way to attract finicky fish. The pre-rigged Trigger X body provides subtle action that is sure to trigger bites. The Power Gap hook has a 5% wider gap than traditional jig hooks, making it easier to set the hook. The compact tungsten head gets your bait down fast, making it ideal for crappie and other panfish species.
9# Bobby Garland Pile Diver Grub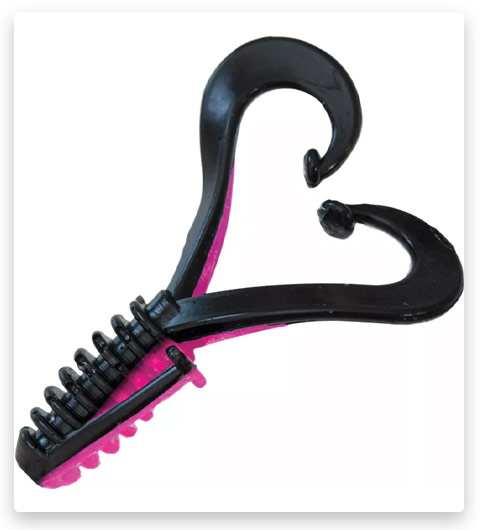 The Bobby Garland Pile Diver Grub is designed to take big crappies from the thick stuff. Its ribbed body vibrates in contact with limbs, and its knobbed arms create a constant quivering action that is irresistible to fish. Large streamer legs produce even more movement, making it effective whether you're moving or at rest. So if you're looking for an edge in your crappie fishing, tie on a Pile Diver Grub and hang on!
10# Rapala Slab Rap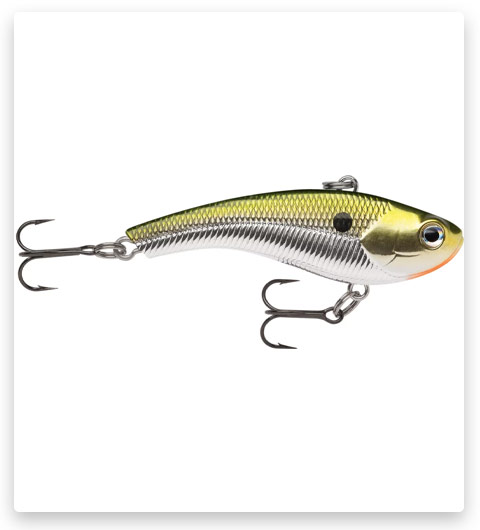 The Rapala Slab Rap is a deadly lipless slab bait that is great for all seasons. This bait is great for vertical jigging or casting and can be fished fast or slow, depending on the fish you are targeting. The Slab Rap is also great for all depths and all species. It is equipped with stealthy VMC trebles that will help you land more fish.
11# Rapala Jigging Rap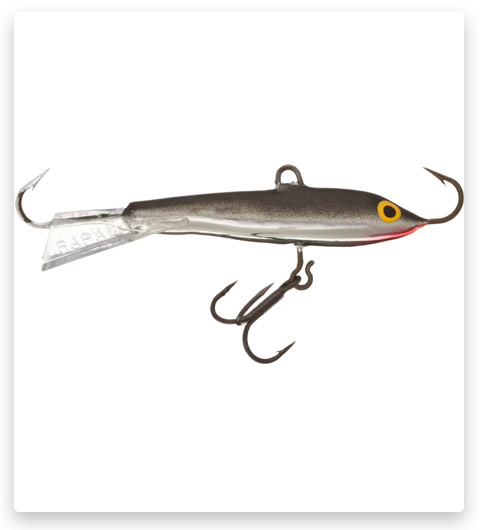 The Rapala Jigging Rap is a deadly jig for any time of year. Its minnow profile and balanced design provide an irresistible presentation, while the zinc weighted body ensures great casting distance. The single reversed hooks and centre treble hook ensure positive hookups, while the eyelet provides quick rigging.
12# VMC Tungsten Wingding Jigs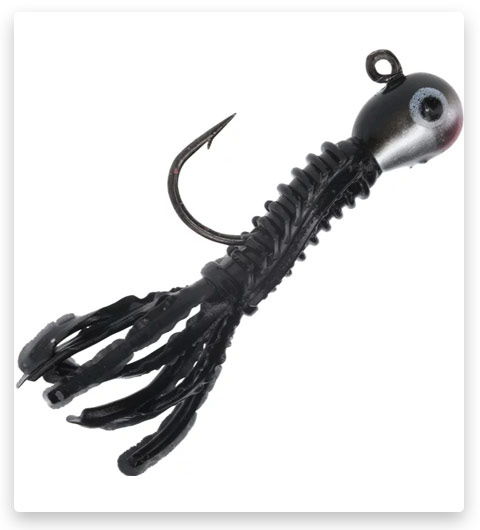 The VMC Tungsten Wingding Jig is a great option for anglers looking to target crappie and other panfish. The tungsten construction ensures that the jig will sink quickly, while the pre-rigged Trigger X body provides a realistic presentation that fish will find irresistible. The Sure-hooking Power Gap hook ensures positive hookups, even when bites are tentative. Whether you're a seasoned pro or just getting started in the sport, the VMC Tungsten Wingding Jig is a great option for a successful day on the water.
Key Factors in Choosing Crappie Lures: Selecting with Success 🎣🔍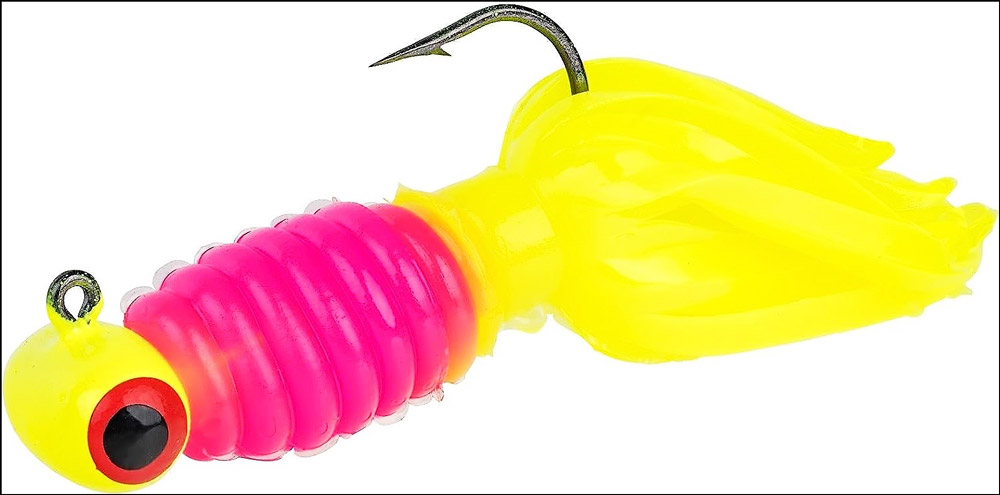 When choosing your perfect crappie lure, there's more to consider than just its type and appearance. Several environmental factors play a significant role in determining the effectiveness of your chosen lure. Let's explore these factors and how they can guide your lure selection:
Water Clarity: This can greatly affect a crappie's visibility and, consequently, how well they can spot your lure. In clear water, crappie can see well and might be attracted to more naturally colored, subtle lures. In murkier waters, however, it can pay off to use brightly colored or glow-in-the-dark lures that stand out. 💧🔮
Depth: Crappie tend to hang out in deeper water during winter, but the exact depth can vary. Lighter lures like small jigs are excellent for shallow to mid-depth waters. For deeper zones, you might need heavier spoons or jigs to reach the crappie and make sure they notice your bait. 🌊⬇️
Crappie Activity Level: Cold water can make crappie sluggish, so a slow-moving lure might be more appealing to them. Pay attention to how the crappie are reacting to your lure presentation. If they're active, they might respond to more aggressive jigging. If they're less responsive, try slowing down your presentation or switching to a smaller, more subtle lure. 🐟💤
Weather Conditions: Yes, you're under the ice, but the weather still matters! On bright, sunny days, crappie might be more attracted to shiny, reflective lures. On cloudier days, glow-in-the-dark or brightly colored lures can make the difference. ☀️☁️
🔶Navigating these factors and adapting your lure choice accordingly can greatly increase your success on the ice. But remember, flexibility is key. Don't be afraid to switch things up if something isn't working. Sometimes, a change in lure color, size, or presentation can reignite the crappie's interest and turn a slow day into a memorable fishing adventure! 🔄🎣🏆
Expert Techniques for Maximizing Your Crappie Lure's Potential 🏆🎣
Having the right lure is only part of the equation. Knowing how to use it effectively is the key to unlocking your catch's full potential. Let's dive into some pro tips on how to maximize each lure type's effectiveness, along with insights into choosing the right lure color.
Jigs: When it comes to jigging for crappie, subtlety is key. A slow, gentle twitch of your rod tip can make the jig dance enticingly, mimicking a small prey fish. Remember, winter crappie aren't as aggressive, so a slower presentation will often be more appealing.🕺🎣
Spoons: The beauty of a spoon is its erratic fluttering action as it sinks. To capitalize on this, let the spoon free-fall on a semi-slack line. Once it hits the bottom, lift it up a few feet and let it flutter down again. This action can be irresistible to deep-water crappie. 🥄🍂
Plastic Baits: The key with plastic baits is to make them look as natural as possible. A slow, steady retrieve with occasional pauses can make your bait look like an easy meal for a crappie. Don't hesitate to experiment with different retrieves to see what gets their attention. 🐛🐟
Minnow-imitating Lures: For these lures, mimic the movements of a scared minnow. A combination of steady retrieve with sudden, jerky motions can attract the attention of hungry crappie. Just remember to adjust your retrieve speed to the activity level of the fish. 🐠💨
As for colors, my experience has taught me that versatility and observation are key. Crappie aren't always picky about colors, but certain situations can make one color more effective than another. In clear water, I've found that more natural colors like silver, black, or brown can be effective. In stained or darker water, brighter colors like neon green, orange, or pink can be a game-changer.
🔶Remember, these are only guidelines. The beauty of fishing lies in its unpredictability and the joy of discovering what works best in your unique situation. Stay flexible, keep experimenting, and most importantly, have fun! 🌈🎣🥳
Key Gear to Enhance Your Ice Fishing Experience 🎣🧳

While your lure choice is undeniably important, it's not the only piece of gear that affects your ice fishing success. There are other essentials you need to ensure a smooth, safe, and productive crappie ice fishing trip. Let's unpack the ice fishing kit together:
Rod and Reel: A light to medium-light rod is usually sufficient for crappie, and a sensitive tip can help you detect those soft bites. Pair it with a smooth-operating reel designed for cold weather, and you're good to go! 🎣👌
Line: Low-stretch, thin-diameter fishing line is a good choice for ice fishing, as it provides better sensitivity to feel subtle crappie bites. Options range from monofilament, fluorocarbon to braided lines. 🧵
Heater: A portable heater can be a lifesaver on frigid days, helping to keep you warm and comfortable, ensuring you can fish for longer. Just be sure to use it safely! 🔥🥶
Ice Auger: To get to the crappie, you're going to need a hole in the ice. An efficient ice auger—manual or powered—is essential. ⛏️❄️
Portable Shelter: A good ice fishing shelter can protect you from the elements and make your fishing experience much more comfortable. Look for something sturdy, easy to set up, and portable. 🏕️
Fish Finder: This handy gadget can help you locate crappie beneath the ice, saving you time and increasing your chances of success. 🐟🔍
Now, let's touch on the all-important issue of safety. Ice fishing can be a thrilling adventure, but it also carries its share of risks. Here are some safety essentials:
Ice Safety Spikes: These can literally be a lifesaver if you fall through the ice. Wear them around your neck for easy access. ⛸️👍
Ice Cleats: These provide additional traction, preventing slips and falls on slick ice surfaces. 👟❄️
First Aid Kit: Accidents can happen. A well-stocked first aid kit is a must-have for any fishing trip. 🩹🩺
Floatation Device: Whether it's a special suit or a simple life vest, a flotation device is a crucial safety measure in case of thin ice. 🏊‍♀️⚓
🔶Remember, nothing puts a damper on a great day of fishing like being cold, wet, or – in the worst-case scenario – unsafe. Investing in quality gear and putting safety first is the best way to ensure that your ice fishing experience is as enjoyable as possible! 🎣👍🏆
The Joy of Crappie Ice Fishing: The Thrill of the Chill 🎣❄️🎉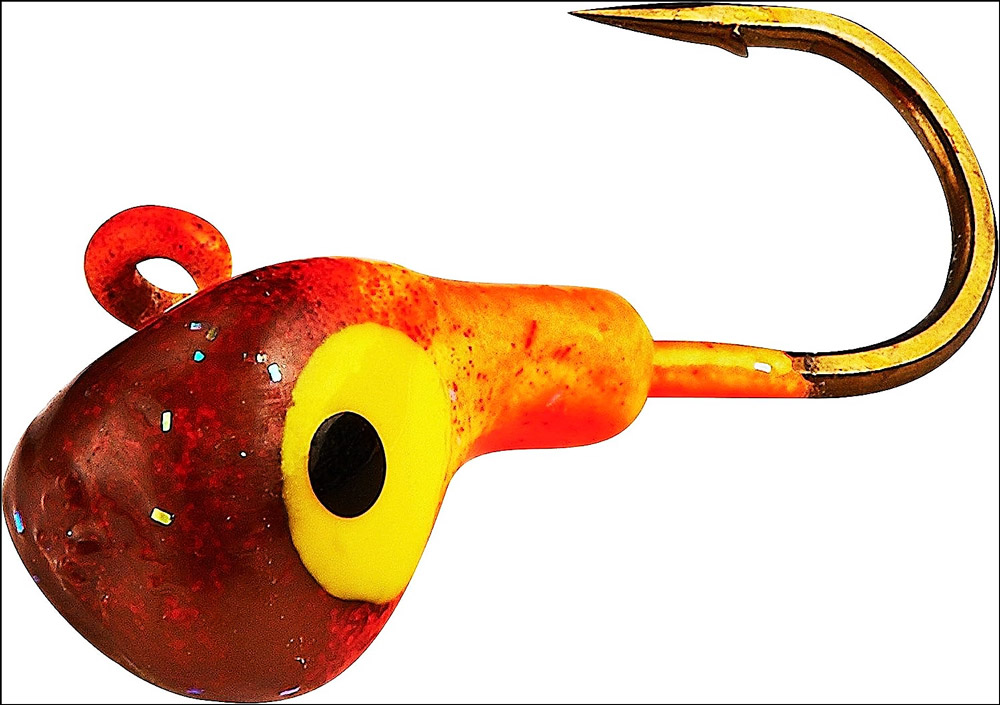 Ice fishing for crappie isn't just about the act of catching fish—it's a unique, exhilarating experience that goes beyond the thrill of the catch. It's about embracing the crisp winter air, listening to the crackle of the ice, and appreciating the tranquil solitude that only a frozen lake can offer. It's a test of skill and patience, but also a journey of discovery and connection with nature's frosty beauty. ☃️🏞️💖
Every moment spent on the ice can bring a different emotion—anticipation as you drill the hole, the suspense of waiting for a bite, and the thrill of feeling that subtle tug on your line. Then comes the heart-racing excitement as you battle to reel in the crappie, followed by the pure satisfaction and pride when you finally hold your catch. 🕳️🐟🏆
In all these moments, the role of the right lure is undeniable. It's not just a tool—it's your voice in the underwater world, your means of communicating with the crappie. The lure you choose, how you present it, and how you adapt based on the conditions can make the difference between a quiet day on the ice and an exhilarating fishing adventure. Your lure choice is an expression of your understanding and respect for the crappie, a testament to your skills as an angler, and your love for the sport. 🗣️🎣💘
🔶Whether you're a seasoned angler or new to ice fishing, remember this: every trip to the ice is an opportunity to learn and grow. Every decision you make, from choosing a lure to picking a spot on the ice, is part of your journey. Embrace it, enjoy it, and keep the love for ice fishing alive, because in the end, it's not just about the crappie you catch—it's about the memories you create and the joy you find along the way. 🚀🌌🎣🎉
❓ FAQ: Ice Fishing Lures for Crappie
Embracing Your Ice Fishing Journey 🎣📚🏁
Ice fishing can be a great way to catch crappie, and using the right lures is essential for success. In this article, we have reviewed some of the best ice fishing lures for crappie, based on expert opinions. We have also answered some common questions about how to fish for crappie using different lures. So, whether you are a beginner or experienced angler, these tips will help you catch more crappie through ice fishing.
We've cast our line into the icy depths of crappie fishing, exploring everything from understanding crappie behavior in winter to mastering the art of lure selection. We've also uncovered essential gear and expert tips to elevate your ice fishing experience and maximize your success on the ice. 🎣❄️📘
Remember, the choice of lure can make a significant difference. But the beauty of ice fishing is that there is no "one-size-fits-all" solution. Each angler has their own preferences and develops a unique understanding of crappie behavior, which is reflected in their choice of lures. It's this process of discovery and experimentation that adds a personal touch to every fishing trip. 🧩🔬👌
So, take this knowledge and apply it to your own fishing. Experiment with different lures, observe how the crappie respond, and refine your tactics. Each time you head out onto the ice, it's a new adventure—an opportunity to learn, to grow, and to feel the thrill of the catch. Remember, success in ice fishing isn't just measured by the number of crappie you catch, but by the experience and knowledge you gain. 🚀🎣🧠
In the end, it's the love for the sport that keeps us coming back, lure after lure, season after season. Ice fishing offers a unique blend of tranquility and excitement, a mix of patience and action. It's a sport that's as unpredictable as it is rewarding, and that's what makes it an adventure worth embarking on. Keep the passion alive, keep exploring, and keep enjoying the art of ice fishing. Remember, the journey is just as important as the catch. 🏞️💖🏆
🔶On this frosty note, I wish you many successful and joy-filled days on the ice. May your lines be tight and your catches plentiful! 🎣❄️🎉
Your Ice Fishing Stories Wanted! ❄️🎣📣
Now that we've shared our icy tale, it's your turn! Do you have a crappie ice fishing story that's too cool to keep to yourself? Perhaps you've discovered a lure that crappie just can't resist? Or maybe you've got a frosty fishing tip you're burning to share? Whatever it is, we want to hear from you! 🗣️🎣🔥
Our community thrives on shared experiences, so don't be shy—drop us a comment below! Let's celebrate our collective love for ice fishing, exchange ideas, and learn from each other. It's your unique stories and insights that make our ice fishing family warmer, richer, and more vibrant. 🎣❄️💖
Not only that, but your experiences can help others in their own ice fishing journeys. Your favorite lure might become someone else's go-to, or your techniques might help another angler land their biggest catch yet. So, why keep your wisdom under wraps when you can inspire others with your tales from the ice? 🎁🎣👥
Let's get the conversation started! Share your crappie ice fishing stories, ask questions, share your successes, your failures, and everything in between. Together, let's keep the passion for ice fishing alive and the lines of communication open. Because in our community, every voice counts, and every story adds another colorful fish to our collective catch. 🗨️🎣🌈
🔶Let's dive into the icy depths of discussion and see what we can catch together. Happy fishing and chatting, everyone! 💬🎣🎉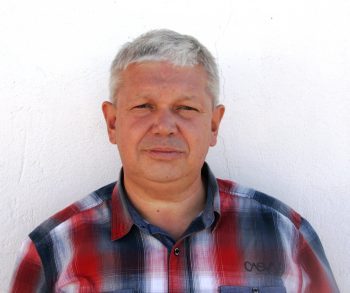 Sergio Smirnoff
Professional fisherman with 40+ years of experience.
Fishing and the ocean is a passion of my life. I am passionate about all kinds of sea fishing: fishing from the shore (spinning, float, baitcasting), from a boat, and spearfishing day and night.
I live in Tenerife (Canary Islands) for the last 10+ years and share my daily fishing experiences on my website. Many years of personal experience as a fisherman and the vast experience of my friends allow me to write professionally on any fishing topics (from choosing a flashlight and equipment to deep-sea fishing).
All of my advice is based on practical real-world experience and will be useful to both novice anglers and professionals.
Read more
about the author.
Affiliate Disclosure: FishReeler.com sometimes gets paid for listings, through sponsors or affiliate programs like Amazon, Ebay, Cabelas, Bass Pro Shop, Shimano, Daiwa, Rapala, Renn, Okuma, KastKing, etс. Clicking a link helps keep FishReeler.com free, at no extra cost to you!
About the author: Each article is verified by the fishing expert Sergio Smirnoff. The articles are written by professional and amateur fishermen with 20+ years of fishing experience.
Note: The views and opinions expressed in this article are those of the authors and do not necessarily reflect the official policy or position of any agency. The articles are for informational purposes only, share your opinions in the comments and join the fishing discussions, let's share our fishing experiences together!