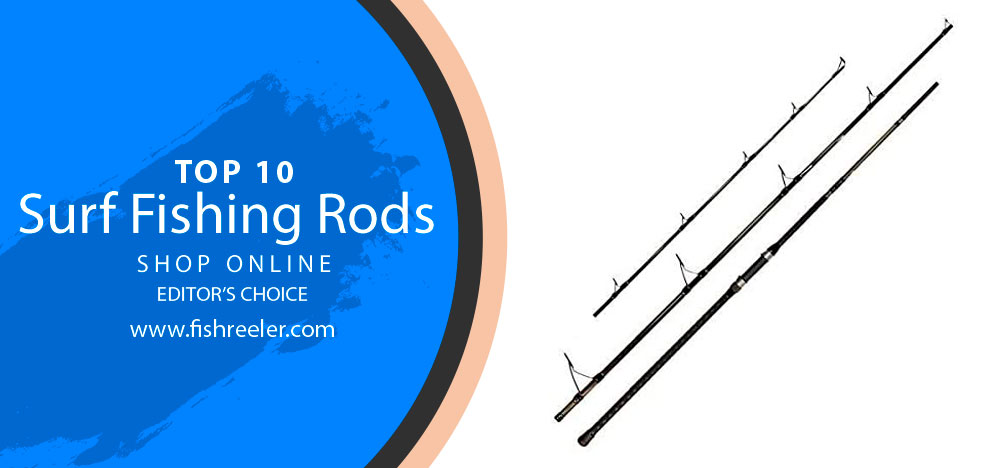 What Are the Best Surf Fishing Rods?
Today I present you with an article that will surely be a great help when buying a surf rod. While experience and technique are essential to a successful fishing day, it is also true that the right gear makes the task much easier. The first thing to take care of is the fishing rod. Indecision when choosing a rod is a common problem for all anglers. And that prompted me to write this article. It is very important to have the right rod for the type of fishing we want to do. However, the number of options that determine whether a rod is suitable for us or not is huge, and this complicates the decision somewhat.
Our Selection 10 Best Rods for Surf Fishing
| Image | Product | Brand | Link |
| --- | --- | --- | --- |
| | St. Croix TSRS90M4 Triumph Surf 4-Piece Graphite Spinning Fishing Rod with Cork Tape Handle, 9-feet | St. Croix Rods | |
| | UGSA12XH2S | TICA | |
| | St. Croix Rods Mojo Surf Spinning Rod | St. Croix Rods | |
| | Okuma Longitude Surf Graphite Rods (Large, Black/Blue/Silver), 72 inch | OKUMA | |
| | PENN® Battalion™ Surf Spinning | PENN | |
| | Tsunami Airwave Elite Spin Fishing Rod 2 Pc 11' 20-40 Lb TSAWESS-1102H | Tsunami | |
| | DBLUE 11'4" L (15-30 lbs) Surf Conventional Rod Featuring FUJI Seat Titanium Graphite Blank | DBlue | |
| | Fiblink Surf Spinning Fishing Rod 4-Piece Graphite Travel Fishing Rod (Length: 11') | Fiblink | |
| | Goture Surf Spinning Fishing Rod - 4 Piece Graphite Fishing Rod Portable Carbon Fiber Travel Surf Rod - 9ft Surf Rod | Goture | |
| | Ugly Stik Carbon Spinning Fishing Rod Red/Black, 7' Ultra Light - 2pc | Ugly Stik | |
To save your work and make your life easier, I analyzed the top-selling surf rod models and came up with a list of 10 that I think are the best. Rods with excellent performance, good wear resistance, and, of course, the best performance/price ratio.
1# St Croix Triumph Surf Spinning Rod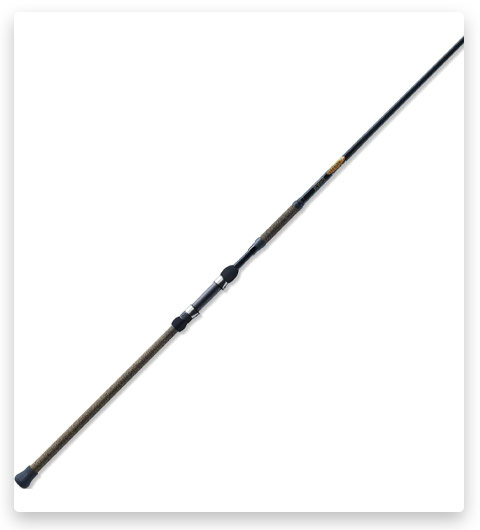 I want to say that this is the best rod for surf fishing. The rod is based on high-quality SC-II graphite, which is characterized by increased strength properties. This includes guides with an aluminum oxide insert in a black steel frame. The unique St. Croix Integrated Poly Curve (IPC) technology allows you to create optimal forms using unique cores. After many years of work, St. Croix specialists have created an advanced technology for the automated process of curvilinear cutting of blanks.
This technology is called Taper Enhancement Technology (TET). To further increase the strength and durability of blanks, St. Croix specialists have developed a modern technology for impregnating carbon fiber with resinous compounds, called Fortified Resin System (FRS). The use of FRS made it possible to prevent micro-foaming of impregnating compositions during curing and to increase the strength of blanks by 33% compared to traditional impregnation methods.
2# Tica UGSA Series Surf Spinning Fishing Rod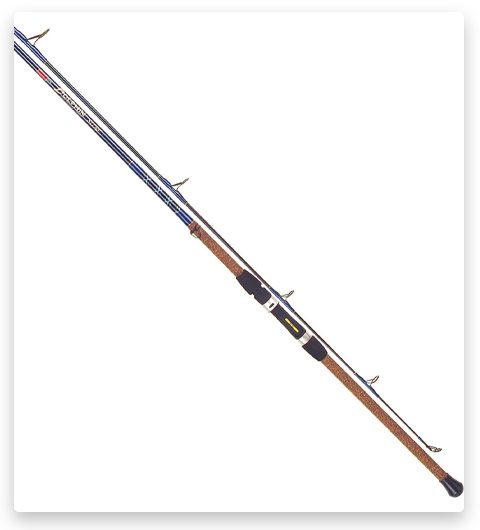 I decided to buy this rod after hearing positive feedback from a friend of mine. He thinks this is the best surf rod in its price range. The blank is incredibly durable, responsive thanks to its material. It is made from TC3 high modulus graphite. The line runs smoothly through the guides. Fuji Hardloy ring guides prevent line tangling. You will have complete control of your rod thanks to the comfortable cork handle. Available in lengths from 8 to 12 feet.
3# St. Croix Mojo Surf Graphite Saltwater Spinning Fishing Rod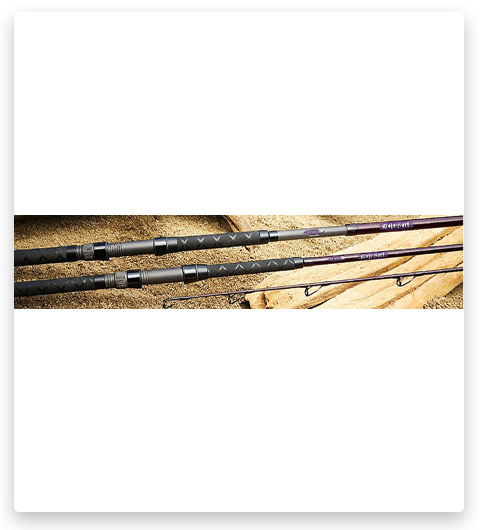 If you value the high performance of a product but do not want to spend a fortune on it, then I advise you to pay close attention to this model. You will feel a superior rod in your hands: light, strong, and responsive like no other rod tested before. This accessory is made from the most popular material such as graphite fiber. You will feel comfortable gripping the X-WRAP handle. Even while fighting a huge fish, you will feel the maximum comfort. The model is equipped with lightweight surf guides with zirconium rings and black frames.
4# Okuma Longitude Surf Graphite Rods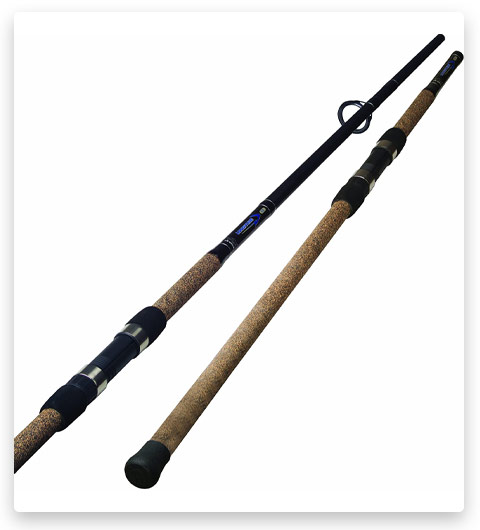 This rod is specially designed for surf lovers. This equipment is moderately priced, but it combines a number of high-quality elements that make it a very high-performance piece of equipment at a much more reasonable price. It has high strength and sensitivity due to the graphite composite billet. You will feel any bites, but you will be able to make long casts. The model is equipped with double guides made of stainless steel, which ensures the movement of the line without getting stuck!
5# PENN Battalion Surf Spinning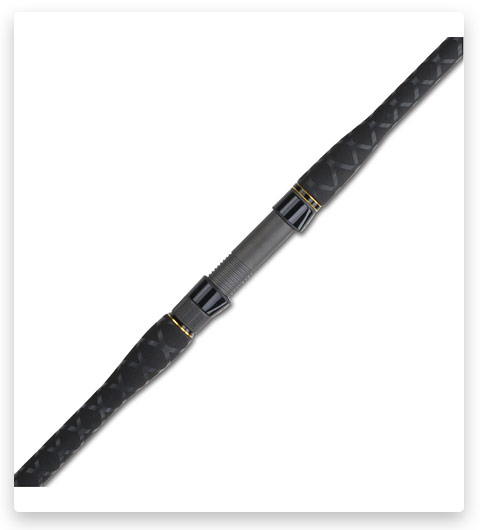 This is one of the most powerful inshore fishing rods available. The one-piece rod blank is made using high-quality carbon and composite materials, ideal for catching large marine fish such as tuna, cod. To make a tackle such as this surf rod, you had to have the highest qualifications in the coastal sea fishing profile. And therefore, the company actively uses the advice of famous fishing world champions.
A powerful, resilient blank will allow long-distance casting of a heavy sinker weighing 100-250 grams, often in a headwind or even worse rain. It has large LTS rings protected against corrosion. They will prolong the life of the braided lines and will not rust in the conditions of aggressive saltwater. It fits perfectly into the sophisticated American tackle design with a practical handle finished with durable EVA.
6# Tsunami Airwave Elite Spin Fishing Rod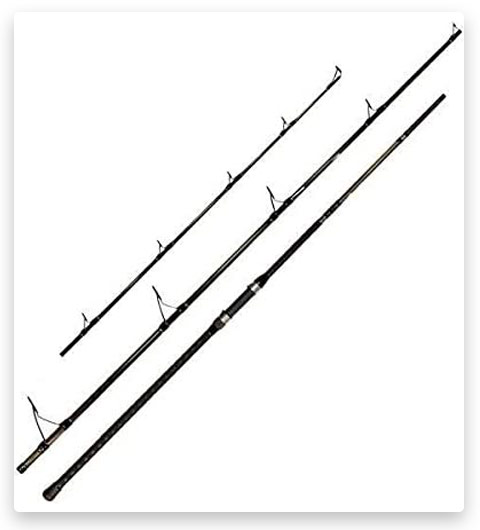 This model is universal for catching a predator on the shore. Thanks to this spinning rod, all kinds of ultralight lures can be used. It is made of high modulus Pro graphite. This model is characterized by lightness, elasticity, and the ability to withstand loads. The spinning rod has a super-fast action, the rod does not bend completely when attacking a predator. During the fight to play a large predator with an ultra-light rod, the tackle is loaded evenly, due to its balance. The set of this model includes wear-resistant and lightweight rings, a comfortable Fuji reel seat, an ergonomic handle made of dense microporous material.
7# DBLUE Surf Conventional Rod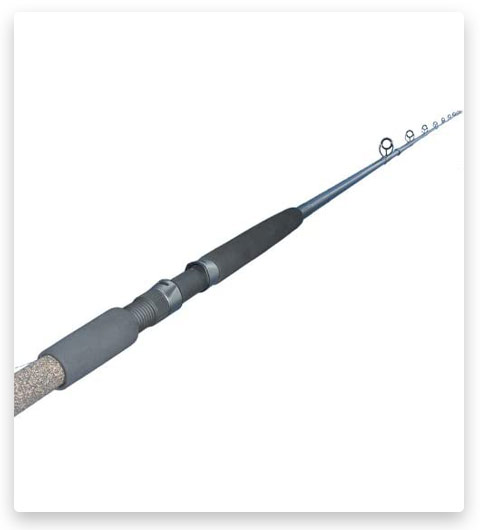 Surf rod, thanks to which you can make extremely long casts with heavy lures. With this rod, your fishing will be very pleasant. Thin, light, fast action, reinforced with winding, wonderful guides, and interesting styling create a very modern tackle. It is made from titanium graphite. The EVA upper and lower handles will keep you comfortable throughout your fishing!
8# Fiblink Surf Spinning Fishing Rod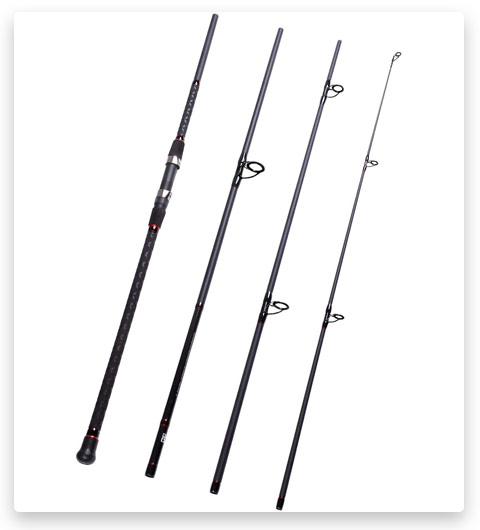 Combining power and lightness at a very competitive price. Low weight means, for example, throwing the line over long distances in an attempt to catch larger and valuable fish. Ideal for both beach and cliff fishing. Carbon fiber construction provides high sensitivity and durability. The guides are made from a mix of stainless steel and ceramic. This indicates their high quality, corrosion resistance. Plus, you'll save yourself the trouble of fishing line.
9# Goture Surf Spinning Fishing Rod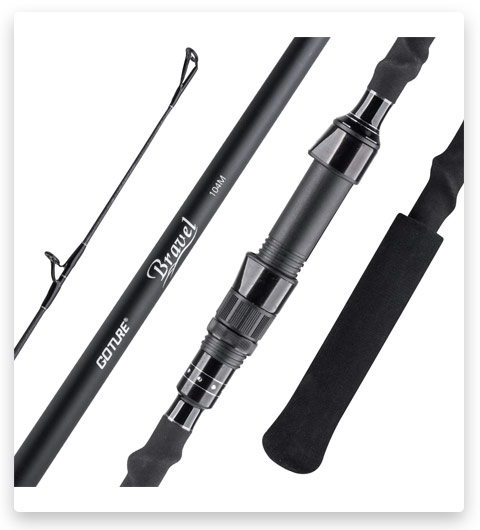 It is the ideal rod for advanced anglers. It achieves great launch distances due to its materials, but mostly if the right technique is applied. Thus, it is a product that gets all its characteristics in the hands of experts. With great resistance, power, and lightness. With the right presentation, you can even outperform your competitors by 25%. Always remember that adapting the rod to the person using it is the main benefit of getting the most out of it. The product is made from carbon fiber. It is equipped with a non-Slip rubber shrink tube handle for a comfortable pastime.
10# Ugly Stik Carbon Spinning Fishing Rod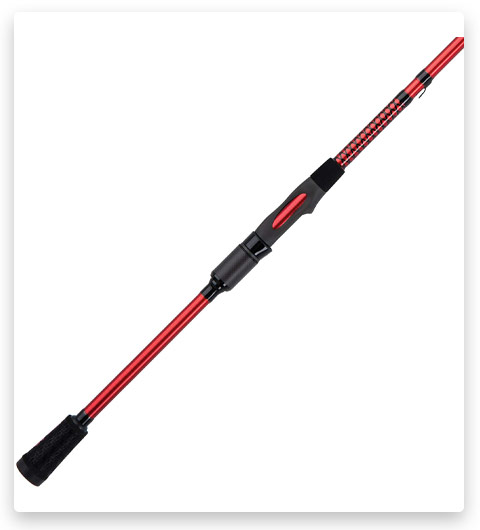 Due to its advantages, it more than meets the requirements of both beginners and more experienced fishermen. According to some users, the weight of the leads with which it responds best is in the range of 110 to 125 grams. The rod has a graphite tip that lets you know even the smallest fish bites. The guides are made of stainless steel. They can be used with any type of line.
What is Surf Fishing?
When I first asked my son what surf fishing is, I almost fell out of my chair laughing when I heard his answer. He replied that it was surfboard fishing. Agree that it looks very funny in your head. In fact, surf fishing usually boils down to one basic principle. Fishing takes place in sea conditions without the use of a boat and from the shore. Fishing without a boat can save you money, as many who love the sport spend a lot on a vehicle that needs to be stored and maintained somewhere else.
The ability to move at ease on the beach gives the angler more freedom to enjoy. For many anglers, getting the fish out of the water by wading through the impact of the waves can be more thrilling than catching from the comfort of the boat.
What is a Surf Fishing Rod?
Surf rods are specially designed for coastal fishing, which has a number of features. Firstly, these are unfavorable conditions: strong wind, strong current or no current at all, scorching sun, saltwater. Secondly, sea fish are very fond of the bottom location, where there is something to eat, especially in the surf. Therefore, a rod for such fishing should be powerful, capable of long or even ultra-long casts, and work with heavy lures. A surf rod meets these requirements. Moreover, experienced fishermen use it not only for sea fishing but also for fishing in water bodies with difficult conditions.
Which to Choose?
The most experienced anglers using this special fishing technique usually carry at least 3 rods of different lengths, ranging from 3.80 to 5 meters. Thus, they can travel long different distances.
Surf rods can be:
Telescopic: They range in length from 390 to 450 centimeters and can be parabolic, peak, or progressive. They are the best selling ones.
Connecting rods: sleeve or split, ideal for incredibly long casts. These are very strong and precise rods.
Mixed: half of the barrel is telescopic and the other half is fixed. This is a model that has enjoyed extraordinary success for several years now.
Surf Rod Accessories
Choosing a good rod means not only focusing on the material of the structure and its type. Accessories also play a fundamental role:
Surf rod reels: For this technique, you can use fixed spool reels (recommended for newcomers to this fishing technique) as well as spinning reels (more difficult to handle). Both must have certain technical characteristics: maximum speed when casting and lifting; adjustable and stable friction; a system for easy coil change.
Rod Holder: surf rods are quite heavy and cannot be held in your hand for long. For this reason, we recommend very comfortable legs for setting your rod on the shore. They provide great stability.
Guides: The best surf rods are equipped with very strong double bridge guides.
Factors to Consider When Buying
Material
Usually, you have to choose between fiberglass and carbon. Lightweight is one of the priority factors in this decision.
Carbon is clearly the winner in this regard and is also better suited for beach fishing. It also wins at the price. And it has other benefits like faster startup recovery. Its use is becoming more common. Also, one of the main characteristics of carbon rods, which began to be produced in the 70s, is that they are both tough and lightweight.
But an important practical tip: carbon attracts lightning, so it is strongly discouraged during a thunderstorm.
Fiberglass is a common material. The production of this component began in the 1950s. It is a flexible material, and while the price of carbon tends to be higher, there are fiber models that can come close to or even surpass them. Fiberglass is optimal for starting and some anglers prefer it for heavier species.
Length
Usually, the most suitable lengths for this method are in the range of 4 to 5 meters. The size is due to the need to keep the line above the waves. For beginners, it is advisable not to exceed 4.5 meters, since beyond this measure they need more advanced fishing techniques. Other important parameters should be considered, such as the growth of the fisherman, since the main thing is to feel comfortable with the product. The goal is for the rod to be an extension of the arm.
Rod Action
In short, the action of the rod marks the high point of its elasticity. This parameter is expressed in grams. The smaller the amount, the more flexibility.
There are three main actions:
Parabolic. Also called slow. The rod curves from tip to base depending on the weight of the bitten fish. It is most suitable for the heaviest objects.
Semi-parabolic. The rods designed for this action are the most versatile. It is most suitable for training in fishing as its elasticity is suitable for all types of users.
Fast-acting. The rod only bends at the tip. They are usually very thin and long and are designed for catching small fish.
The first two are best for surf fishing, as long and precise casts prevail.  It is important that the rod used in this fishing can be fully curved. There are models that try to offer more versatility: neither too stiff nor too elastic.
Flexibility and Sensitivity
You need a rod that can bend without breaking. If, for example, you are reeling large fish, you must believe in the flexibility of your equipment. Also, look for super-sensitive gear that will give your rod durability.
FAQ
Conclusion
Surf fishing is always a real pleasure for me. With patience, a relaxed spirit, you can catch coveted fish such as sea bass, sea bream, flounder, or halibut.  From my list, I want to highlight the St Croix Triumph Surf Spinning Rod, which is very suitable for beginners but also has features that will satisfy more experienced anglers. Everything at a fairly affordable price.
Tags: #best surf fishing rods / #best surf fishing rods and reels / #best rods for surf fishing / #best saltwater surf fishing rods / #best telescoping surf fishing rods / #what are the best surf fishing rods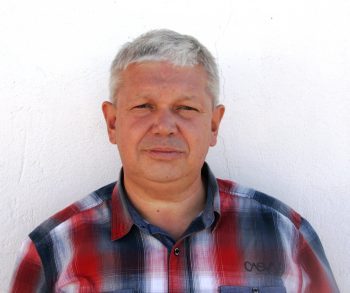 Sergio Smirnoff
Professional fisherman with 40+ years of experience.
Fishing and the ocean is a passion of my life. I am passionate about all kinds of sea fishing: fishing from the shore (spinning, float, baitcasting), from a boat, and spearfishing day and night.
I live in Tenerife (Canary Islands) for the last 10+ years and share my daily fishing experiences on my website. Many years of personal experience as a fisherman and the vast experience of my friends allow me to write professionally on any fishing topics (from choosing a flashlight and equipment to deep-sea fishing).
All of my advice is based on practical real-world experience and will be useful to both novice anglers and professionals.
Read more
about the author.
Affiliate Disclosure: FishReeler.com sometimes gets paid for listings, through sponsors or affiliate programs like Amazon, Ebay, Cabelas, Bass Pro Shop, Shimano, Daiwa, Rapala, Renn, Okuma, KastKing, etс. Clicking a link helps keep FishReeler.com free, at no extra cost to you!
About the author: Each article is verified by the fishing expert Sergio Smirnoff. The articles are written by professional and amateur fishermen with 20+ years of fishing experience.
Note: The views and opinions expressed in this article are those of the authors and do not necessarily reflect the official policy or position of any agency. The articles are for informational purposes only, share your opinions in the comments and join the fishing discussions, let's share our fishing experiences together!