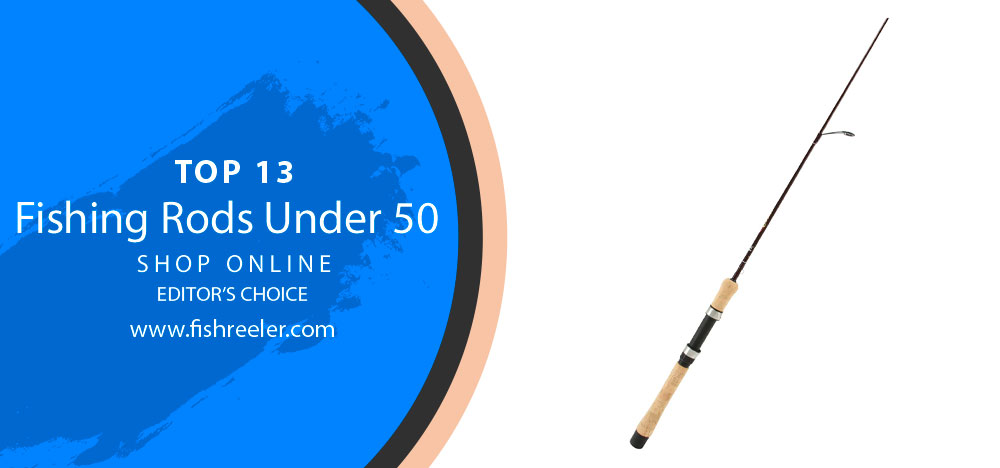 Why Start with a $50 Fishing Rod? 🎣🌊
When diving into the world of fishing, the sheer variety of gear can feel overwhelming, right? 😅 But here's the catch – you don't need to empty your pockets for that perfect start! 🚫💸
Quick Summary
Here's why a $50 fishing rod is your best bet:
✅ Cost-Effective 🤑: No need to spend a fortune on an expensive rod when starting out. Save money and still get a quality catch!
✅ Beginner-Friendly 🤗: Often, rods in this price range are designed with beginners in mind. They're more forgiving and easier to handle.
✅ Diverse Range 🌈: Believe it or not, the under $50 range offers an array of rods suitable for different types of fishing – from freshwater to saltwater!
✅ Low Commitment, High Reward 🏆: Unsure if fishing is for you? A $50 rod minimizes the investment while allowing you to test the waters.
🔶 Ready to dive deep into the world of affordable fishing gear? Let's reel in some top picks! 🐟🎣🚤
Fishing Rods Under $50 – A Pro's Perspective🎣
Every seasoned angler knows that a memorable fishing adventure begins with choosing the perfect rod. 🌊 It's not just about throwing a line into the water; it's about the thrill of the chase, the technique, and the satisfaction when you feel that tug. A fishing rod is an extension of the angler's arm, translating every nibble and tug into a dance of anticipation and excitement. The right rod becomes your partner, working with you to outwit the game beneath the surface.
Busting the Price Myth: Is More Expensive Always Better? 🤔
In the world of fishing, a high price tag often comes with a halo of superiority. It's easy to fall into the trap of thinking that a more expensive rod will always be the best rod. But here's the reel truth: cost doesn't always equate to quality.
Many factors influence the price of a fishing rod – branding, marketing, materials, and sometimes pure luxury appeal. While some high-end rods indeed offer advanced features that justify their cost, there are numerous budget-friendly rods that deliver excellent performance, especially for those just dipping their toes into the vast fishing waters. 🌊
Furthermore, a rod's value isn't solely determined by its price but by its fit to the angler's style and needs. A freshwater enthusiast might not benefit from a rod tailored for deep-sea fishing, no matter how pricey it is. Similarly, a beginner might find a top-tier rod more challenging to handle than a simpler, more intuitive model.
🔶 So, as you embark on your fishing journey, remember: it's not about the price of the rod, but the quality of the experience. 🐟🎣 And sometimes, the best experiences come from the most unexpected places
TOP 13 Best Fishing Rods Under 50

With the right fishing rod, you can catch your next dinner. And it is not at all necessary to buy an expensive option. I suggest you take a look at fishing rods under $50. Many people think that for that kind of money they will not get high-quality equipment. However, I was convinced from my own experience that expensive does not mean quality.
But I do not want to say that fishing rods under $ 50 will necessarily be of high quality. And at this price point, you can buy rods that fail quickly. It is for this reason that I wrote this review. I have collected the 13 best fishing rods under 50. You can safely choose these rods and be sure that they will serve you for a long time and will not let you down. Each model was personally tested and I guarantee the quality of each rod!
| Image | Product | Brand | Link |
| --- | --- | --- | --- |
| | KastKing Crixus Fishing Rods, Casting Rod 6ft 6in-Medium Heavy - Fast-2pcs | KastKing | |
| | Ugly Stik Elite Spinning Rod 5' - Ultra Light - 2pc | Ugly Stik | |
| | Fiblink Saltwater Offshore Trolling Fishing Rod Big Game Heavy Spinning Conventional Boat Fishing Roller Rod Pole with All Roller Guides (Heavy Power, 5-Feet 1-Inch, 30-50-Pound Test) | Fiblink | |
| | PLUSINNO Kids Fishing Pole - Kids Fishing Rod Reel Combo Starter Kit - with Tackle Box, Practice Plug, Beginner's Guide and Travel Bag for Boys, Girls and Youth | PLUSINNO | |
| | Sougayilang Telescopic Fishing Rod - 24 Ton Carbon Fiber Ultralight Fishing Pole with CNC Reel Seat, Portable Retractable Handle, Stainless Steel Guides for Bass Salmon Trout Fishing (2.1m/6.9ft) | Sougayilang | |
| | Berkley 8' Lightning Rod Trout Rod, Two Piece Trout Rod, 2-6lb Line Rating, Ultra Light Rod Power, Moderate Action, 1/32-1/4 oz. Lure Rating | Berkley | |
| | Shakespeare Micro Series Spinning Rod , Brown/Black, 7.6-Feet/Ultra-Light | Shakespeare | |
| | okuma Celilo Graphite Lightweight Ultra Light Trout Rods, CE-S-862ULa, Black, 8-Feet 6-Inch, Ultra Light | OKUMA | |
| | B'n'M Sam Heaton Super Sensitive 9-Feet 2 Piece IM6 Rod | B'n'M | |
| | Eagle Claw Pack-It Telescopic Spinning Rod, Yellow, 5-Feet 6-Inch | Eagle Claw | |
| | PLUSINNO Elite Hunter Two-Piece Spining Casting Fishing Rod, Graphite Medium Light Fast Action Bass Baitcasting Fishing Rods 7FT 2pc Freshwater Saltwater Fishing Rods-A | PLUSINNO | |
| | Entsport 2-Piece Casting Rod Graphite Portable Baitcast Rod Inshore Baitcasting Fishing Rod Freshwater Baitcaster Rod Baitcaster (8-20-Pound Test) 7' Medium Heavy | ENTSPORT | |
| | Sougayilang Fishing Rods Graphite Lightweight Ultra Light Trout Rods 2 Pieces Cork Handle Crappie Spinning Fishing Rod | Sougayilang | |
1# KastKing Crixus Fishing Rods – Best Casting Rod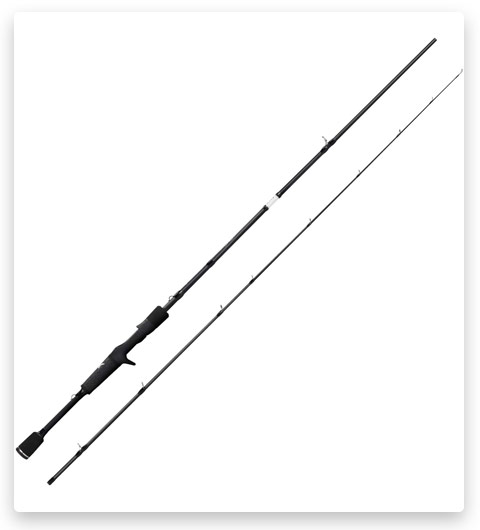 It is a high-quality spinning and casting rod. You get great performance for little money. This is one of my favorite rods in this price segment. The rod works great not only in freshwater but also in seawater. This is a graphite rod that has high power and excellent sensitivity. I really like the handle in this product, it is made of super polymer and has a non-slip coating. Therefore, you will be able to control the rod regardless of the weather conditions. The accessory is 7 feet long. The guides are made of stainless steel and have zirconium oxide inserts. This means that you will be able to cast smoothly at long distances without slipping off the line. You can easily store and transport your rod thanks to the 2-piece design.
2# Ugly Stik Elite Spinning Fishing Rod – Best Spinning Fishing Rod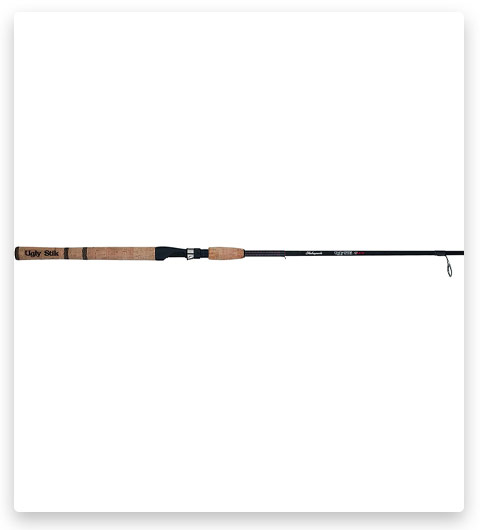 This is an elite spinning rod that costs no more than $ 50. It is made from a combination of fiberglass and graphite. This means that the product is ultralight and highly durable. Also, the rod has an ideal balance and optimal weight. The rod is endowed with such a distinctive feature as a transparent fiberglass tip. This provides extra strength where it is needed most. The Ugly Stik has excellent sensitivity to even the weakest bites. The spinning rod is designed for catching large fish and is perfect for jigging and boat fishing.
3# Fiblink Trolling Fishing Rod Saltwater Offshore Heavy – Best Boat Fishing Roller Rod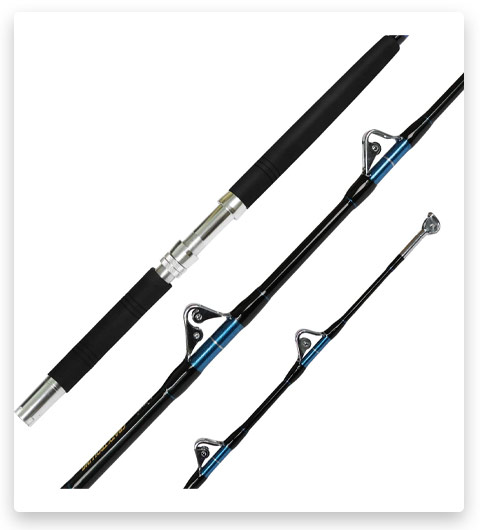 If you are looking for reliable trolling rods under 50, then this option is what you need. I can honestly tell you that I had products of a similar plan much more expensive, but they were many times worse than this model. This accessory is equipped with roller guides. They have increased strength and minimize stress on the line. This model has E-glass and graphite composite blanks. What surprised me most was the presence of a high-quality aluminum alloy reel seat. It holds the coil perfectly in place and does not corrode. The rod weighs only 18.3 ounces and has 5 stainless steel guides.
4# PLUSINNO Kids Fishing Pole – Best Kids Fishing Pole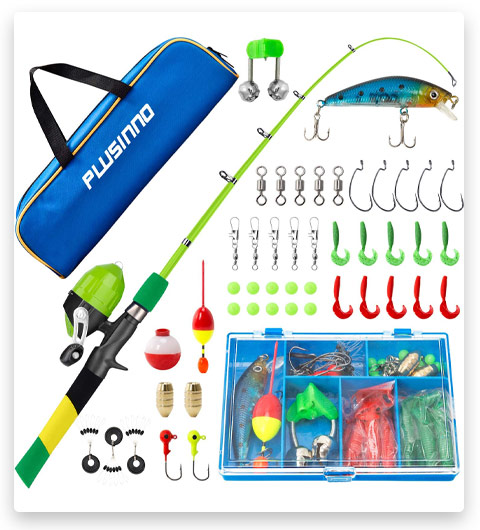 Agree that it is not worth buying an expensive telescopic fishing rod for a child. Especially if this is his first accessory. This is the perfect PLUSINNO rod for $ 31.99! For this money, you can give your child not only a durable rod but also a fishing line, a box of fishing tackle, which includes everything a beginner needs! My son was very happy when I gave him this set for his birthday. And I can say that it was worth the money. He has been using it for more than one year and even now, although I bought him a more expensive model. Your child will appreciate this accessory thanks to its bright and stylish design. It has stable epoxy construction with soft EVA and plastic. The model is available in 3 sizes so you can find the right one for your child. For younger children, choose a shorter model. For older children, a long rod is an excellent solution.
5# Sougayilang Telescopic Fishing Rod – Best Telescopic Fishing Rod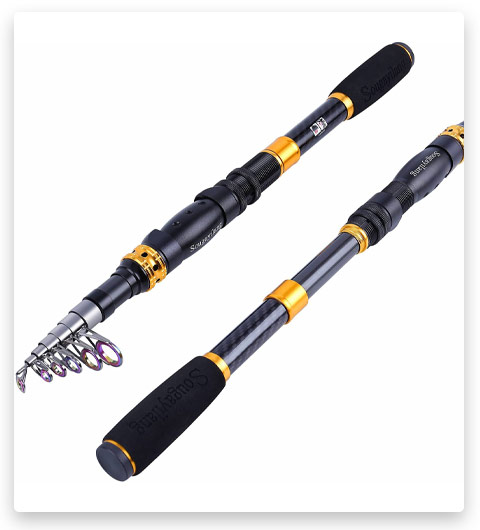 The previous telescopic model is designed for children. Now is the time to talk about a serious telescopic fishing rod for real fishermen. This model is available in various sizes. The longest one will not cost you more than $ 31.99. For this price, you get a truly durable rod that will last you for years. I had a lot of fun fishing with this accessory. It is made from 24-ton high-density carbon fiber and E-Glass composite. You will not get tired while fishing as this is one of the lightest models you can find and is ideal for traveling. It has a retractable handle and a closed length. The reel is securely fixed to the aluminum reel seat. The guides provide smooth casts and retrievals.
6# Berkley Lightning Rod Trout Rod – Best Lightning Rod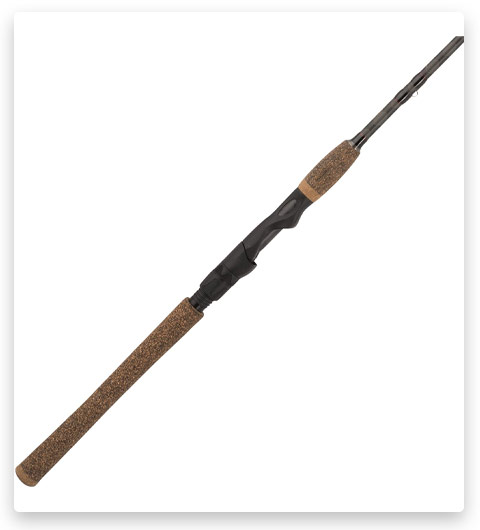 The lightning rod has built its reputation on a unique combination of strength and sensitivity. Today it is the fastest, strongest, and lightest spinning rod in its class. Choose this model and you will feel every light bite, and bump. The use of modern materials made it possible to reduce the weight of the rods without losing performance. It has multi-modulus carbon composite blank construction. The accessory is equipped with special rings made of polished aluminum oxide to create durability and reduce friction. This helps to reduce the likelihood of the formation of processes of entanglement and twisting the lines.
7# Shakespeare Micro Spinning Rod – Best Micro Spinning Rod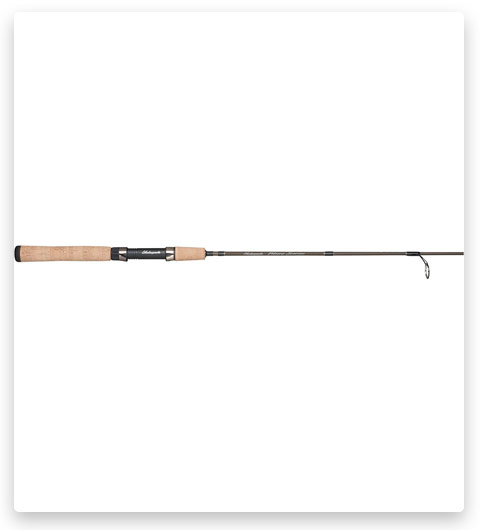 This spinning rod was created for lovers of fine and delicate fishing, primarily for trout fishing. These sleek and lightweight rods work great with any miniature lure and give you the ultimate pleasure of fighting a predator. This accessory is made of composite material and is equipped with Full cork handles. Excellent performance is provided by stainless steel guides with stainless steel inserts. I can guarantee you that this rod has been personally tested by me for ease of use.
8# OKUMA Celilo Graphite Lightweight Ultra Light Trout Rod – Best Ultra Light Trout Rod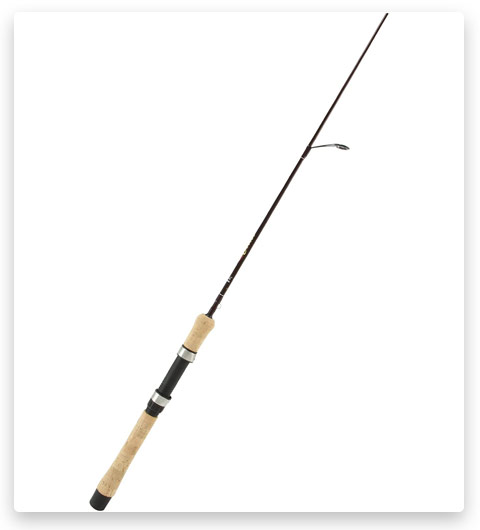 The Celilo rods are designed for all types of salmon and trout fishing. Blanks are made of graphite composite, ring inserts are made of aluminum oxide. The hook stock is made of stainless steel. This spinning model has sensitive blanks. The front and back bars are made of cork. This model has an ultra-light action and is equipped with stainless steel guides.
9# B'n'M Sam Heaton Super Sensitive Rod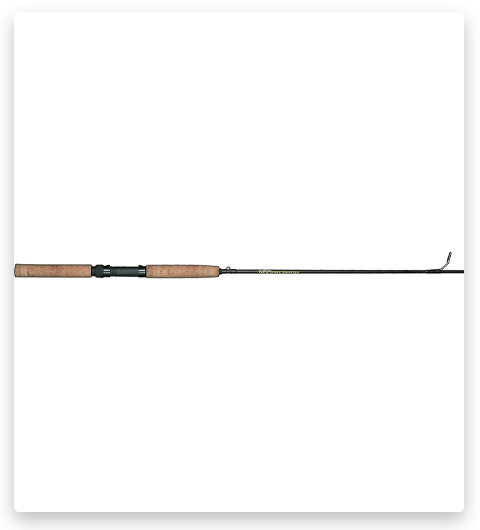 I can confidently say that this is the best sensitive rod I have ever seen in my life. Moreover, it costs so little! This is designed exclusively for crappie and panfish fishing. This is made from IM-6 graphite blanks. You will be amazed at how sensitive this model is. The accessory has brass-plated Aluminum oxide guides. This prevents the line from getting stuck and ensures the smoothest operation.
10# Eagle Claw Telescopic Spinning Rod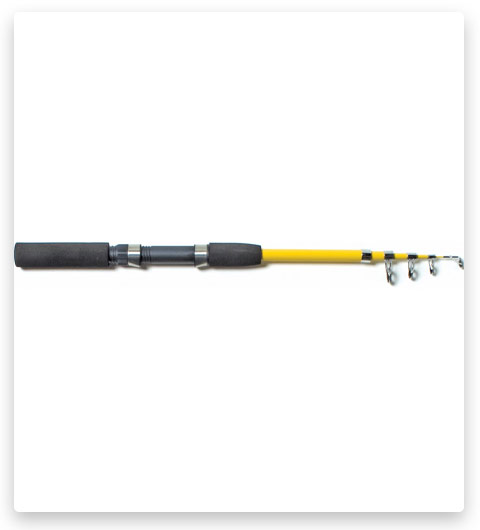 If you are a frequent traveler then this Telescopic Spinning Rod is a must. This model has a glass construction that withstands any test. Thanks to ceramic guides, the line does not get stuck or twisted. The robust real seat allows you to fit all types of reels. You will feel comfortable all day long fishing thanks to its lightweight and EVA foam handle.
11# PLUSINNO Elite Hunter Fishing Rod – Amazon's Choice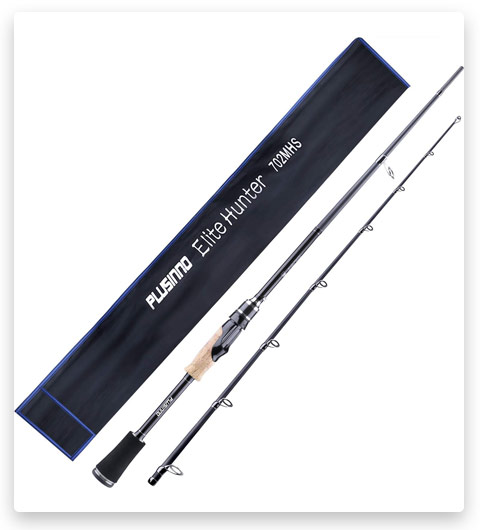 This series has spinning and casting rods in its arsenal. Models are made with IM6 Carbon matrix technology blanks. This indicates the high power and sensitivity of each rod. No more friction and no more line sticking in the guides! They are made of stainless steel with ceramic inserts so they are smooth. These rods are great for bass and trout fishing. The tip is designed so that the line does not twist. Your reel will be securely gripped thanks to the reel seat with a double locking structure.
12# Entsport E Series Casting Rod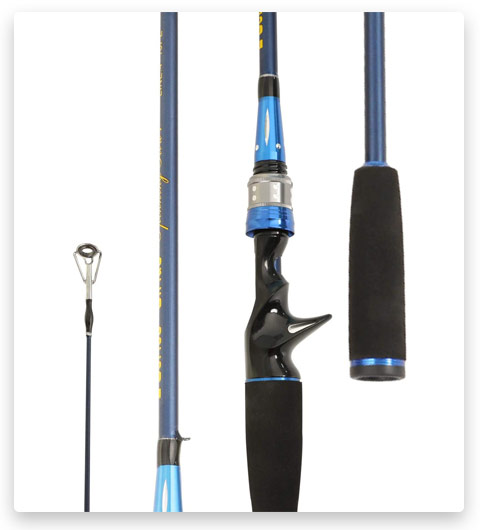 If you are looking for a baitcasting fishing rod that is suitable for fishing in freshwater waters then I advise you to check out this model. It is a durable and lightweight product thanks to its material at the same time. It is made from carbon blanks. I think you will love the reel seat of this accessory. Personally, I was in awe of it. First, it holds the reel securely and it always stays in place. Secondly, it is made of stainless steel and thus protected from corrosion. It is also equipped with 6 + 1 Stainless steel guides that transmit vibrations to the line.
13# Sougayilang Fishing Rods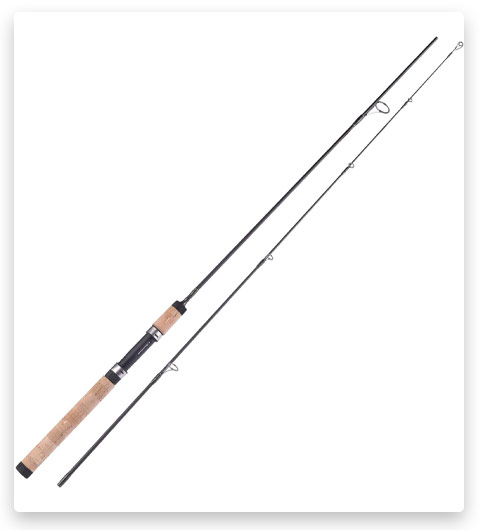 This spinning rod is available to you for $ 27.99! I can call this product hypersensitive for fish bites. It is made of graphite composite blanks. It is ideal for use not only by professionals but also by beginners. You will feel comfortable with the cork handle design. It does not slip even if your hands are wet. I think this is one of the best options for trout fishing!
The Surprising Value of a $50 Fishing Rod 🎣💰

Unlocking the Potential of Affordable Rods
In the vast ocean of fishing gear, there's a hidden gem that many overlook: the $50 fishing rod. At first glance, it might be easy to underestimate this price point. But delve a little deeper, and you'll discover a treasure trove of value. Here's why:
☑️ Material Mastery: Manufacturers have become adept at sourcing and crafting with high-quality, cost-effective materials. Whether it's resilient fiberglass or a composite blend, these rods can stand their ground against their pricier counterparts.
☑️ Targeted Design: Many $50 rods are crafted with a specific audience in mind, be it beginners looking for ease of use or seasoned anglers wanting a reliable backup. Their design caters to genuine needs without unnecessary frills.
☑️ Broad Market Competition: The demand for affordable fishing gear has led to a competitive market. Brands are continuously innovating to offer the best features in the $50 price range, leading to better products for consumers.
☑️ Sustainability: For those environmentally conscious, many affordable rods are now made with sustainable materials and practices, proving that eco-friendliness isn't just a luxury feature.
Breaking the Price-Quality Myth 🕵️‍♂️
There's a prevailing misconception in many markets: "You get what you pay for." And while there's some truth to this adage, it's not a universal law.
The fishing rod market is rife with examples that challenge this notion. Price often reflects branding, marketing strategies, and target audiences more than the intrinsic quality of the product. A well-known brand might release a rod with a hefty price tag, but a lesser-known brand could offer a rod with similar, if not superior, features for a fraction of the cost.
🔶 It's essential to look beyond price tags and flashy branding. Research, user reviews, and hands-on testing can reveal the true value of a product. And often, you'll find that a $50 fishing rod can offer an experience that rivals rods twice or even thrice its price. 🌟🐟🌊
Understanding the Basics: Crafting the Perfect Fishing Rod 🎣🔍

Material Matters: A Deep Dive into Rod Construction
When embarking on the quest for the ideal fishing rod, understanding the materials used in its construction can be a game-changer. Let's explore the primary contenders:
Fiberglass Rods 🌌:
Carbon Fiber Rods (Graphite) 🖤:
Composite Rods (Blend of Fiberglass and Carbon Fiber) 💎:
Length and Power: Tailoring Your Rod to Your Fishing Style
Your choice of fishing environment and target species plays a vital role in determining the ideal rod length and power.
Length 📏:
Shorter Rods (under 7 feet): Best suited for short casts, often used in tight spaces like streams. Also, great for lightweight lures and baits.
Longer Rods (over 7 feet): Ideal for longer casts, especially in open water. They can handle heavier lures and cover more water surface.
Power 💪:
Ultralight to Medium: Perfect for smaller species like panfish or trout. Offers more bend and flexibility.
Medium-Heavy to Heavy: Tailored for larger species like bass, catfish, or saltwater fish. These rods have more backbone and can handle the fight of bigger fish.
The Action Factor: Mastery in Casting and Lures
Action defines where and how a rod bends, and it plays a pivotal role in casting and handling lures.
Slow Action 🐢: Bends closer to the base and is ideal for lighter lures and longer casting distances. It offers a deeper bend, which can be forgiving, especially for beginners.
Medium Action 🚶: Bends around the middle, offering a balance between flexibility and stiffness. It's versatile, suitable for a variety of lures and fishing environments.
Fast Action 🚀: Bends near the tip, providing a quick, sharp action. It's great for heavier lures and allows for more precision in casting.
🔶 When you factor in the type of lure and fishing technique, the rod's action can greatly influence success. For example, fast action rods excel in techniques that require a quick hook set.
Navigating the $50 Rod Spectrum: Quality, Versatility, and Endurance 🎣💵

Brands & Reputation: Trust in the Name
The $50 range for fishing rods, while budget-friendly, isn't void of reputable brands that have carved a niche for themselves in the angling community. Here's what you can anticipate:
🟪 Legacy Brands: Some established names in fishing gear often have entry-level rods that cater to beginners or those on a budget. While these might not boast the top-tier features of their pricier counterparts, they benefit from years of brand expertise.
🟪 Up-and-Coming Brands: The fishing market has seen a surge of newer brands that focus exclusively on the budget segment. They bring innovation and competitive features to the table, often at the expense of large marketing budgets.
🟪 Community Endorsements: User reviews, forum discussions, and local fishing communities can be gold mines of information. Brands like Shakespeare, Ugly Stik, and Berkley often come up as favorites in the $50 segment.
Versatility: A Multi-Faceted Fishing Experience
One of the standout features of rods in the $50 range is their versatility:
🟫 Adaptable Designs: Many of these rods are designed to be 'all-rounders', capable of handling different fishing types, from freshwater lakes to brackish waters.
🟫 Interchangeable Features: Some rods come with features that allow for customization based on the fishing type, such as adjustable reel seats or multiple tip sections for varying actions.
🟫 Broad Spectrum of Targets: Whether you're aiming for a light trout or a feisty bass, the $50 range has rods that can cater to both ends of the spectrum, and everything in between.
Durability: Robustness on a Budget
A common misconception is that affordability means compromise on durability. However, the resilience of many $50 rods might surprise you:
🟩 Tough Materials: While they might not always use top-of-the-line materials, many budget rods incorporate robust and long-lasting components, such as reinforced fiberglass or composite blends.
🟩 Protective Features: Features like corrosion-resistant reel seats, protective coatings, or lined guides are not uncommon in this price bracket. These additions enhance the rod's longevity, especially when exposed to harsh conditions.
🟩 Maintenance Ease: Many rods in this category are designed with simplicity in mind. This not only makes them user-friendly but also easier to maintain and clean, further boosting their lifespan.
Top Picks: The Best Fishing Rods Under $50 🎣✨
Navigating through the sea of fishing rods can be daunting, especially with a budget in mind. But fear not, we've done the heavy lifting for you! Here's a curated list of top 5 fishing rods that won't break the bank, yet offer an unparalleled fishing experience.
Shakespeare Ugly Stik GX2
A legendary rod in the fishing community, the Ugly Stik GX2 combines durability with sensitivity, making it a favorite for many anglers, from novices to seasoned pros.
Best Use Scenario: Freshwater fishing, especially for bass and trout.
Berkley Lightning Rod
This rod is renowned for its fast action, making it perfect for those precise, long casts. It's a blend of modern design with trusted Berkley technology.
Best Use Scenario: Freshwater lakes and river fishing.
Lew's American Hero
True to its name, this rod stands tall in performance and reliability. It's designed keeping in mind the needs of the modern angler, offering a balanced experience.
Best Use Scenario: Freshwater fishing, especially for medium-sized fish.
Okuma Cedros CJ-65S
If you're venturing into saltwater territories, the Okuma Cedros is your reliable companion. Built for resilience, it can tackle the aggressive pulls of saltwater species.
Best Use Scenario: Saltwater fishing, ideal for pier and beach fishing.
Piscifun Sword Graphite Fly Fishing Rod
For those wanting to delve into the art of fly fishing, Piscifun offers a beautifully crafted rod that's both functional and stylish.
Best Use Scenario: Fly fishing in both freshwater streams and saltwater flats.
Unleashing the Full Potential of Your $50 Rod 🎣🌟
While snagging a quality fishing rod under $50 is a great feat, ensuring its longevity and optimizing its performance is equally crucial. Let's dive deep into how you can maximize the potential of your budget-friendly rod.
Maintenance Mantras: Keeping Your Rod Shipshape 🧽🔧
🔲 Regular Cleaning: After each use, especially in saltwater, wipe your rod down with a soft, damp cloth to remove dirt, sand, and salt. This prevents corrosion and keeps your rod looking fresh.
🔲 Store Properly: Always store your rod in a cool, dry place. Using rod sleeves or cases can prevent scratches and damages.
🔲 Check the Guides: Before and after each fishing trip, ensure that the rod guides are not bent or have any rough spots, which could damage your fishing line.
🔲 Handle with Care: Though this might sound obvious, always handle your rod with care. Avoid high-impact actions, like tapping the rod tip on hard surfaces.
Affordable Accessories to Amplify Your Experience 🎣🌿
Lines:
Berkley Trilene: A versatile monofilament line suitable for various conditions.
SpiderWire Stealth: A braided line known for its strength and sensitivity.
Reels:
Shimano Sienna FG: An affordable spinning reel with a smooth drag system.
Lew's American Hero Speed Spool: A budget-friendly baitcasting reel for those wanting more precision.
Lures:
Yamamoto Senko Bait: Perfect for bass fishing, this soft plastic bait is a must-have.
Rapala Original Floating Minnow: A versatile lure that attracts various fish species.
Techniques & Tricks Tailored for Your Rod 🌀🐟
🔳 Use the Rod's Flex: Budget rods, especially those made of fiberglass, often have more flex. Use this to your advantage for casting techniques that require a deeper bend.
🔳 Master the Basics: Before diving into advanced techniques, ensure you've nailed the basic casts and retrieves. These rods are generally forgiving, making them perfect for honing skills.
🔳 Experiment with Lures: Given the versatility of $50 rods, try different lures and techniques. From jigs to spinners, see which one works best for you and the specific rod's action.
🔳 Stay Alert: These rods might not be as sensitive as their high-end counterparts. So, always stay attentive to subtle movements or changes in line tension.
Wrapping Up: The Power of the $50 Rod 🎣💡
As we cast our line across the vast spectrum of fishing gear, it becomes evident that a great fishing experience doesn't necessarily hinge on the weight of one's wallet. The realm of $50 rods has showcased its undeniable prowess and potential. 🌊✨
Recalling the Rod's Merits:
Performance on a Budget: From our deep dive, it's clear that a $50 rod can stand shoulder-to-shoulder with pricier alternatives in many scenarios. With the right choice and care, you're set to enjoy durability, versatility, and, most importantly, an optimal fishing experience.
Versatility at its Best: These rods, often designed as 'all-rounders', empower anglers to venture into diverse fishing waters, be it a serene freshwater lake or the challenging terrains of saltwater shores.
Charting Your Own Course 🌟🛶
Begin with a Vision, Not a Fortune: Fishing isn't just about the equipment; it's an art, an adventure, a personal journey. And every journey begins with a single step. A $50 rod can be that confident first stride into the world of angling.
Discover & Define: Before one can master the waters, one must master oneself. Use this affordable entry point to experiment, understand, and refine your own unique fishing style. Whether you're into laid-back, patient waiting or the thrill of fly fishing, there's no better way to discover your preference than by diving right in.
🔶 To all budding anglers and even the seasoned ones considering a budget-friendly addition to their collection – remember, the magic doesn't solely lie in the gear. It's in the hands that wield it, the spirit that drives it, and the passion that fuels it. So, cast your doubts aside, dive into the waters of discovery, and may every fishing expedition be a story worth telling! 🐟🌌🎣
❓ Frequently Asked Questions: Budget Fishing Rods Unraveled 🎣❓
Tags: #best fishing rods for $50 / #best fly fishing rods under 50 / #best ice fishing rods under 50 / #best fishing rods around $50 / #best bass fishing rod under $50 / #best fishing pole under 50 dollars / #fishing rods under 50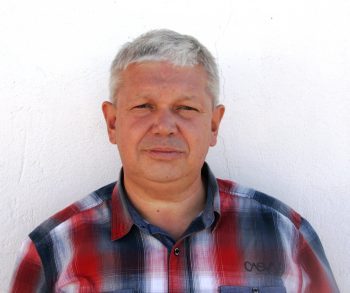 Sergio Smirnoff
Professional fisherman with 40+ years of experience.
Fishing and the ocean is a passion of my life. I am passionate about all kinds of sea fishing: fishing from the shore (spinning, float, baitcasting), from a boat, and spearfishing day and night.
I live in Tenerife (Canary Islands) for the last 10+ years and share my daily fishing experiences on my website. Many years of personal experience as a fisherman and the vast experience of my friends allow me to write professionally on any fishing topics (from choosing a flashlight and equipment to deep-sea fishing).
All of my advice is based on practical real-world experience and will be useful to both novice anglers and professionals.
Read more
about the author.
Affiliate Disclosure: FishReeler.com sometimes gets paid for listings, through sponsors or affiliate programs like Amazon, Ebay, Cabelas, Bass Pro Shop, Shimano, Daiwa, Rapala, Renn, Okuma, KastKing, etс. Clicking a link helps keep FishReeler.com free, at no extra cost to you!
About the author: Each article is verified by the fishing expert Sergio Smirnoff. The articles are written by professional and amateur fishermen with 20+ years of fishing experience.
Note: The views and opinions expressed in this article are those of the authors and do not necessarily reflect the official policy or position of any agency. The articles are for informational purposes only, share your opinions in the comments and join the fishing discussions, let's share our fishing experiences together!