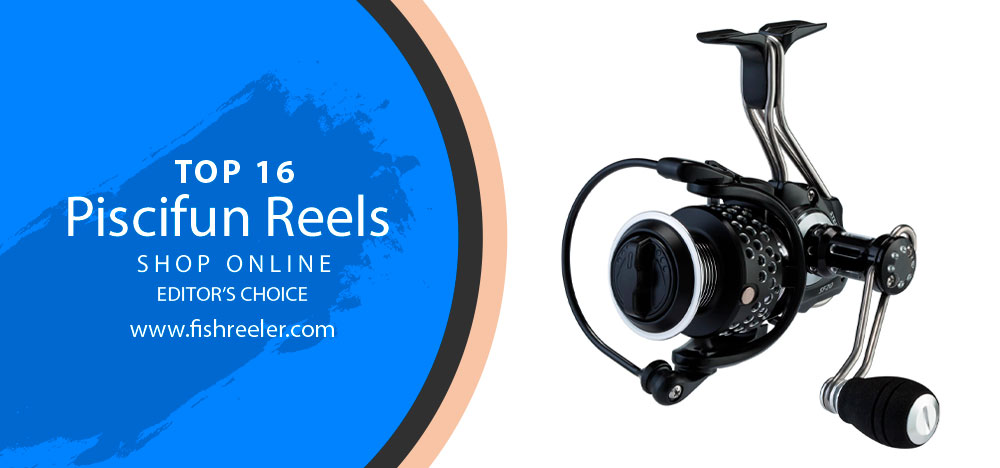 Piscifun Brand – Casting | Spinning | Fly | Ice Fishing Reel | Casting Combos | Spinning Combos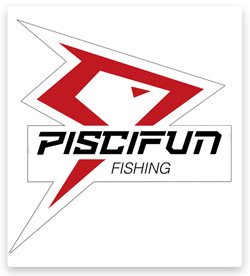 About Piscifun
Piscifun was founded in 2013 by Ben and Peter; the two close friends have always had a passion for fishing and family. This passion leads to the company slogan: "Fish with Family". As a fishing brand dedicated to offering high-quality, affordable fishing gear, Piscifun strives to cut down circulation costs. With this strategy, customers across the globe can equip themselves with high-quality fishing gear that will not break the bank.
Piscifun (Pee-cee-fun) – "What does it mean?"
"PISCI" means fish in Latin. Piscifun means Fishing is Fun. We want customers to know that Piscifun is here to make fishing fun and affordable again so that the average angler can afford the high-quality gear.
Brand Background
Ben is the owner of a fishing product manufacturing facility. Having been dedicated to manufacturing fishing gear for over 20 years, the manufacturer not only supplies quality products to other well-known brands but also fosters its own original design capabilities. Ben's friend Peter is an avid angler who has traveled to and fished many amazing fishing destinations, such as New Zealand, Malaysia, Florida, etc. Together, they bring you Piscifun. 
Our Advantages
Our success is based on continuous devotion to our customers' needs. We are extremely focused on designing and developing what our customers want and need. We are dedicated to bringing you the best and most cost-effective reels on the market today. In order to create great products, we work with Pro Fishermen all over the world to gain knowledge and insight on what anglers want. This design process ensures that you are receiving a top-notch product.

We are dedicated to producing the highest quality products, we will not settle for poor craftsmanship, we will not settle for less. Responding quickly to the needs of our customers is important to us. Speed and responsiveness are critical aspects of our business. Our manufacturers have always been front-runners. We take pride in being able to bring our customers the high quality they desire in a quick and efficient manner. Contact us: [email protected]

Top 16 Most Popular Piscifun Reels | Reviews & Buyer's Guide
Finally, we got to one of the most revolutionary brands of reels – Piscifun. The company has been on the market not so long ago, but in just 7 years of work, they're already on a par with companies of the "first echelon", such as Shimano or Daiwa.
Their ideas for the production of equipment were adopted by many other reel-making companies, and the innovations they brought to the fishing industry changed fishing forever. The fishing reels this company produces are of excellent quality, low price, and high-tech features. In this review, we'll look at the 16 best reels from Piscifun, and if you've never encountered reels of this brand, then it's time to start. Let's go!
1# Piscifun Phantom X Baitcasting Reel  – Editor's Choice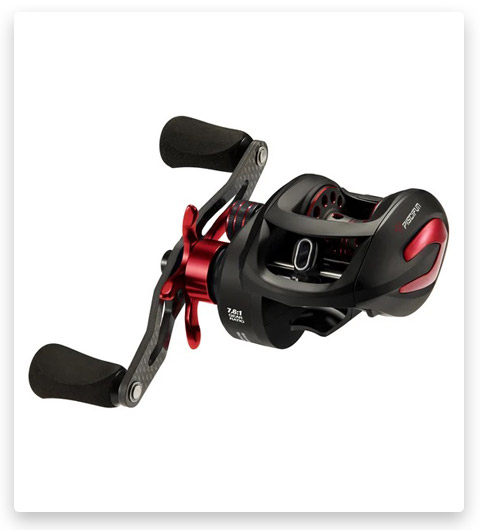 Piscifun Phantom X is one of the best baitcasting reels in the Phantom and Phantom X line. It weighs just 5.8 ounces due to its carbon frame and side panels, as well as its aluminum spool and carbon handles. It's also equipped with durable aluminum gears, an 18 lbs. drag system, and 7 ball bearings. Although the reel is carbon, you'll be amazed at how smoothly it works. The reel provides you with long and smooth throws, a sturdy thumb panel, and a smooth retrieve.
The reel is very quiet and accurate, it copes well both in shallow ponds and when throwing heavy baits into deep waters. I've been using this reel for over a year now and have caught fairly large fish with 3/4 and 1/2 ounce baits. There are two braking systems – magnetic and centrifugal, each of which is very precisely regulated thanks to the dial and knob. Of all the details, Phantom X has only 1 drawback – problems with getting the reel dialed in. Otherwise, it works great. The Phantom X costs just $56 and is available with gear ratios of 5.3:1, 6.3:1, or 7.6:1.
2# Piscifun Torrent Baitcasting Reel – Best Budget Reel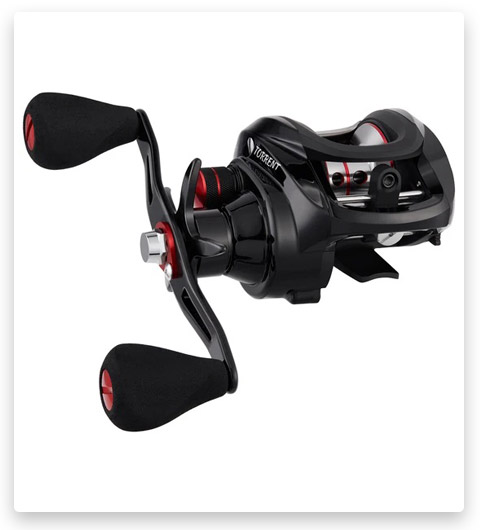 A great reel for only $40, with a fast line retrieval and the ability to slow down retrieval with a fast spool. The ease of use of the device is complemented by excellent backlash control. And the supplemented shafts and the tension knob of the spool will increase the durability and prevent the line from twisting.
The reel has an excellent gear ratio of 7.1:1 and a CNC mechanism that provides strength and durability to the drag system. A unique feature of this reel is the oil port. To lubricate it, you don't need to disassemble the entire reel, just pour oil into the hole. A great solution for beginners. It's a pity that there's no oil in the kit.
You can fish this reel anywhere – in salt and freshwater. You are almost unlimited in size of the bait or line, and this reel will be able to cope with almost any fish without effort. And its low cost allows you to take this reel without breaking the bank.
3# Piscifun Sword II Fly Fishing Reel – Best Fly Reel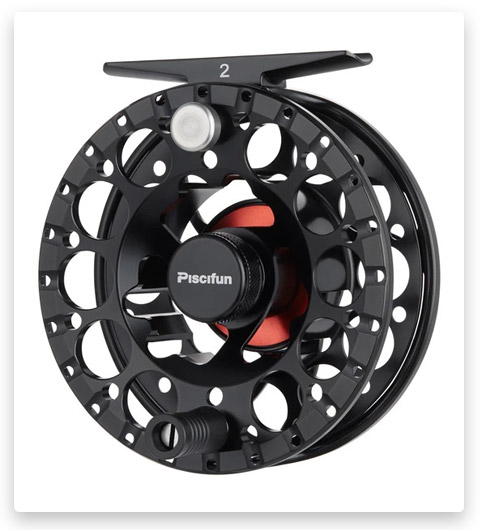 This reel has been specially designed to eliminate many of the problems that water can bring you. Most anglers, even the most experienced ones, may have difficulty catching big fish, but with the Sword II, you can forget about it. The reel has an excellent CNC aluminum alloy body. The design is quite solid, but nonetheless very light and compact. Given that the fisherman has to work with this reel in difficult conditions, the manufacturer equipped it with corrosion resistance.
Just looking at the anodized coating, you will immediately realize that neither weather nor saltwater will harm this reel! Besides, the reel has an excellent large handle, a combined arbor, and a large line capacity. The only thing users complain about is the complicated setup of the drag system. Also, it's quite difficult to clean. But I don't think that this is a very big problem.
4# Piscifun Crest Fly Fishing Reel – Best For Beginners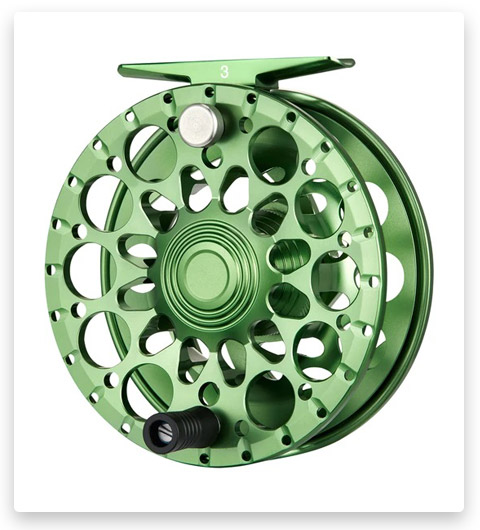 The reel is as simple and convenient as possible for beginners. But even if you're an experienced angler, with this reel you will feel great on the water. Piscifun uses here an average arbor, which has a higher throughput than a large arbor. The reel is also quite lightweight and you don't have to worry about being difficult to control. The most unique here is the concave spool, which facilitates the process of fighting fish. With it, you spend much less energy getting fish. Besides, the spool further enhances throughput. Instead of a disc drag system, which wouldn't be suitable for saltwater and would be too complex, the manufacturer put a click-drag here. This is another plus of this reel.
5# Piscifun PLATTE Fly Fishing Reel – Best Durable Reel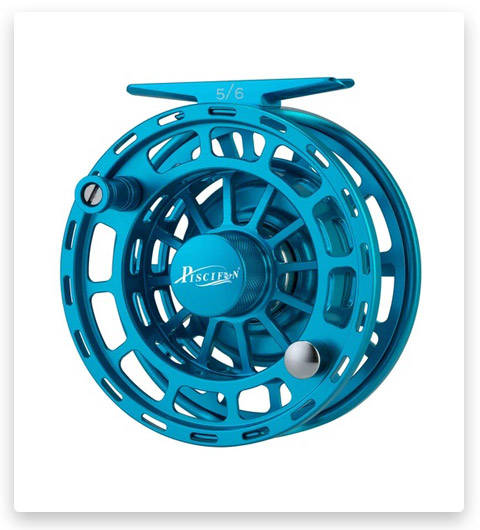 When it comes to durability, reliability, and high performance, Piscifun Platte immediately comes to my mind. This model was made for maximum comfort and convenience for all anglers. Unlike most cast aluminum reels, Platte uses the highest quality CNC aluminum alloy. And the anodized design provides the highest reliability and corrosion resistance. Besides, the CNC machined spool ensures that this reel will run smoothly for years. A fairly accurate multi-disc drag and a large arbor with high throughput are installed here. In real conditions, the reel resists weather, dirt, and other influences thanks to its carbon and stainless steel construction. Due to the large and comfortable handle, Piscifun Platte won't slip out of your hands.
6# Piscifun Flame Spinning Reel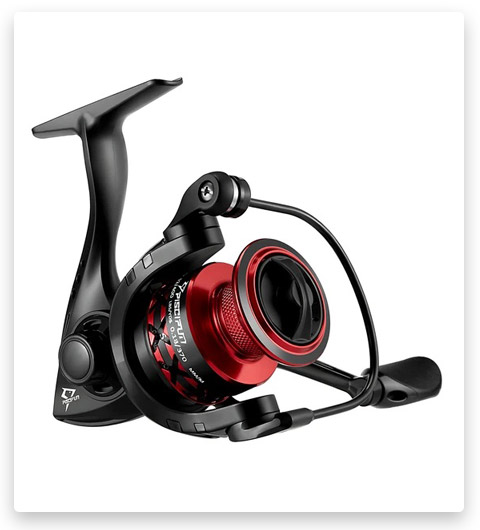 This spinning reel is the cheapest and most affordable in the Piscifun line. It's great for anyone looking for an affordable and ultralight reel. The model has equipped with an excellent black and red matte case and a spherical design thanks to the graphite of which the reel is made. A large number of ball bearings ensures smooth cast and line retrieval. Despite the low price, the reel has a very high drag of almost 20 pounds. It's also equipped with many flagship qualities: reinforced shaft, brass gear, and triple drag. This allows you to fight with both small fish and large without effort. If you're looking for an adequate, reliable, and lightweight reel with minimal investment, then Piscifun Flame is what you need.
7# Piscifun Stone Spinning Reel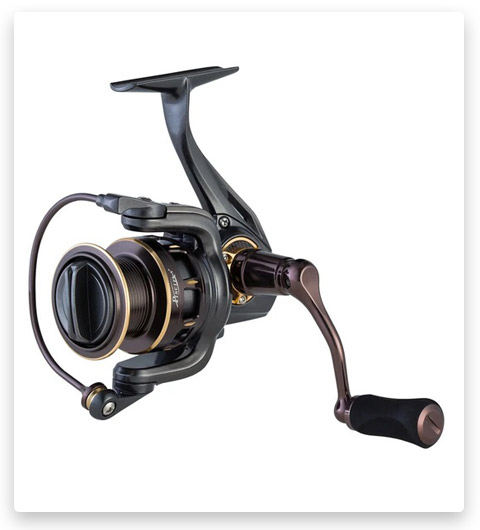 At first glance, the reel has a very impressive appearance. And in the hands, it sits perfectly. The reel body has excellent balance and weight. The long and strong handle with EVA foam feels good in the hand. The retrieval of the line is felt very easily, even with heavy fish you won't have problems. The drag adjustment is very smooth, only a small effort is required to change the resistance. A unique feature of this reel is that when you open the bail, a deep grove and a clicker appear that keep the bail open. Great body, smooth feeling, and good performance – this is what the Piscifun Stone reel is famous for.
8# Piscifun Steel Feeling Spinning Reel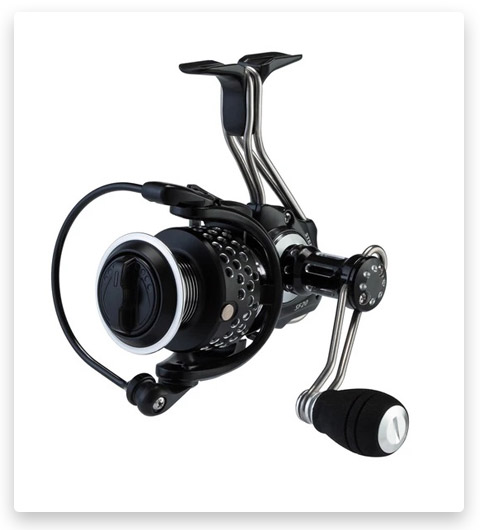 Steel Feeling reel comes with a stainless steel handle, which increases power and makes the reel more efficient. In addition to the handle, the body and side panels are also made of stainless steel. With this you are not afraid of corrosion, you can fish in any water. Besides, the reel has brass gear that provides the fastest possible winding. The drive gear with two bearings prevents twisting of the fishing line and skew of the shaft, which eliminates backlash and trembling when fighting a strong fish. The carbon drag system provides uniform and smooth resistance pressure over the entire range. The aluminum spool and high-quality braid allow you to firmly set the line to the reel.
9# Piscifun Carbon X Spinning Reel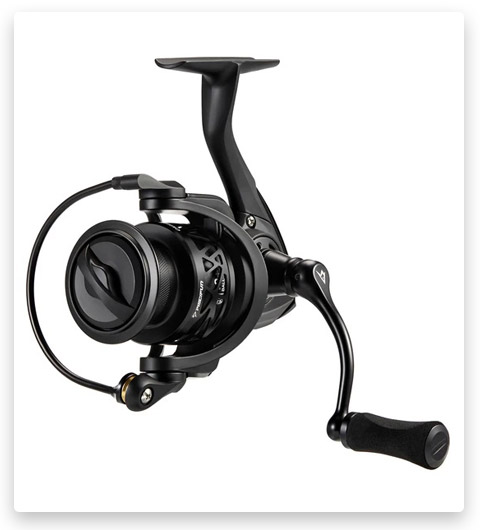 The first thing that comes to mind when you see a good workhorse for less than $ 70 is the feeling that it's a cheap fake. But not when it comes to this reel. Despite its low price, it has an incredibly smooth and oil-smooth performance. This is achieved thanks to shielded 10 + 1 stainless steel ball bearings.
Regardless of whether you prefer salt or freshwater, this reel works great everywhere. Corrosion is not the thing that will harm this reel. Almost 70% of the reel is made of steel, but surprisingly it's very light. My scales showed a weight of only 7.6 ounces without a reeled line. In addition to a good body, the reel has an excellent fast gear ratio and a strong drag system that can reach up to 33 pounds. This model has very impressive features at such a low price. You will lose a lot of potentials if you miss this.
10# Piscifun Chaos XS Round Baitcasting Reel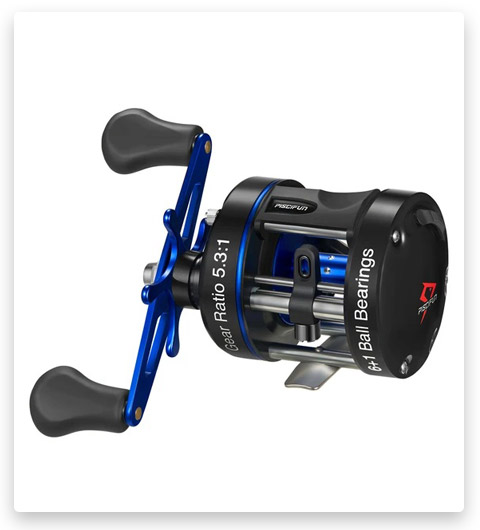 Piscifun releases this reel in three sizes – two standard and one with a more powerful handle. The reel works great on swimbaits for bass, catfishing, and small fish. The smooth operation of the reel is ensured by 6 + 1 ball bearings, and the drag system reaches up to 20 pounds. The reel design is made of durable aluminum and resists hits and drops. The extended handle gives you additional torque and power to help you handle even big fish. A fast gear ratio and durable gears inside provide you with speed and reliability.
11# Piscifun Alijoz Size 300Low Profile Baitcasting Reel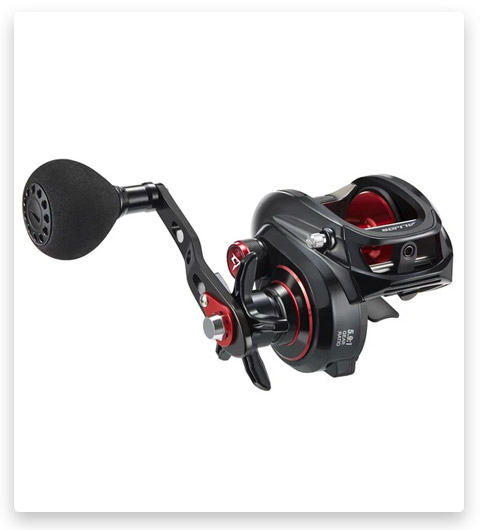 Piscifun Alijos is designed for heavy jerks and trophy fishing. In the hands, this reel seems very large and powerful. The reel made of cold, strong metal, it's clear that it's intended for fighting trophy fish. The spool of the reel is quite deep, able to withstand a dense and thick braid. But it'll also cope with the monofilament fishing line. The reel capacity is also quite large. The handle is simply huge, made of metal. The length between the knobs is 100 mm. This means that the handle creates high torque and is able to withstand heavy loads. With all this, the handle doesn't slip out of hands and sits quite firmly thanks to the EVA knobs.
Although the reel is very powerful and weighty, the line retrieval is very smooth as silk. Very easy rotation and the start of the handle. The magnetic brake system is very precise and accurately adjusted. After a couple of minutes of tuning, you'll already know which brake position you need. For $99, it'll be difficult for you to find an attractive reel for heavy fishing, which will have such characteristics. Alijos is a great choice for any angler.
12# Piscifun Sails X Trolling Reel Conventional Level Wind Reel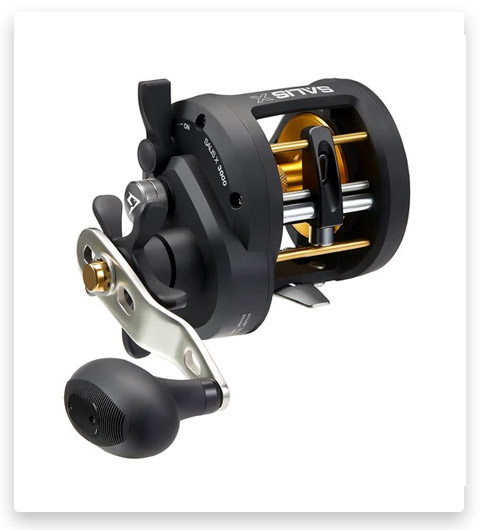 In trolling fishing, Sails X has some of the best features. It offers you great performance, durability, and power. The sturdy graphite frame and side panels made this reel incredibly light. But under the onslaught of heavy fish, it won't bend due to the metal handle. Sails X is available in two versions, both of which perfectly cope with the task of catching large fish. A gear ratio of 6.2:1 is fast enough to pull many fighters out of the water. A precise gear system ensures performance even months after use.
Depending on the model, the reel has dragged off up to 37 or 26 pounds thanks to its durable carbon washers. At the same time, the weight of the reel is not so big – 35 and 26 ounces. The most unique thing here is the line retrieval speed. The reel extracts 50 inches of line per turn! And her aluminum spool is ready for any fishing line, braid, or mono. Perhaps there are reels on the market with some of the characteristics of Sails X. But you are unlikely to find a reel that has all of them at once.
13# Piscifun Honor XT Spinning Reel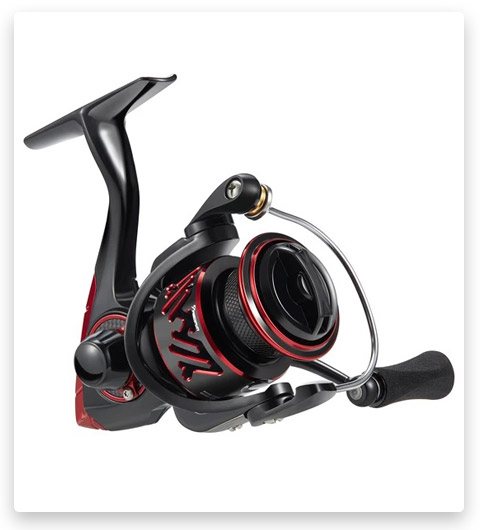 Budget reel with a smooth cast and low weight. Able to work with any cord and has good performance. Externally, the reel doesn't look very bad, and, moreover, there are no critical backlashes and gaps. Assembled very dignified and beautiful. Matte body and carbon fiber material. The spool is aluminum and deep. The knob is also warm, like the body, and is made of EVA. As for the weight of the reel, it is almost the same as indicated on the package – 9 ounces. The performance of the reel is really very smooth and quiet. The spool with the line works very clearly and with a good fixation without any hint of self-reset. The brake works nicely with a small adjustment step (you have to get used to it, but it seems to me that it's convenient). To summarize, we can say that the performance of the reel is not very bad and it's very pleasant to work with it on the water.
14# Piscifun Viper II Spinning Reel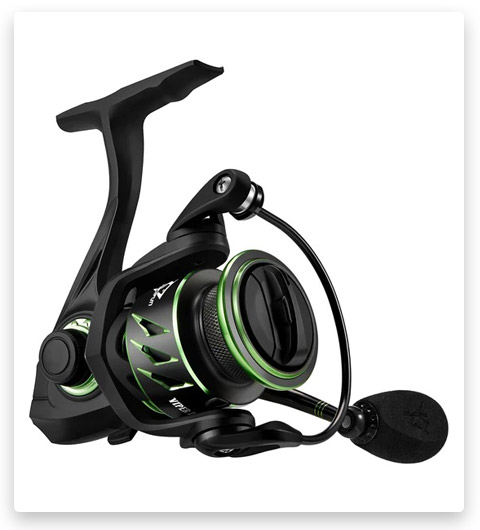 This reel has already managed to show itself on the good side both when fishing for predatory and peaceful fish. I really liked the package here – in addition to the reel itself, extra brake disks are included. The characteristics of this model are very attractive at a relatively low price. Gear ratio 6.2:1 with bearings 10 + 1. Thanks to this, the feeling of feeling is very smooth and can be greatly accelerated. The reel keeps impulse very well.
The reel works very quietly if you don't consider the buzzing of the rotor at high speed. The reel weighs about 10 ounces, has high wind speed, and a capacious spool. The braking force is very precisely adjusted using friction and magnetic control. And the maximum drag is 26 lbs. The case is made of high-quality carbon fiber, so the reel looks impressive, but it's very durable. The handle is made of steel. As a result, we have a maximum of efficiency and reliability at a relatively low cost of the product.
15# Piscifun ICX 5 Ice Fishing Reel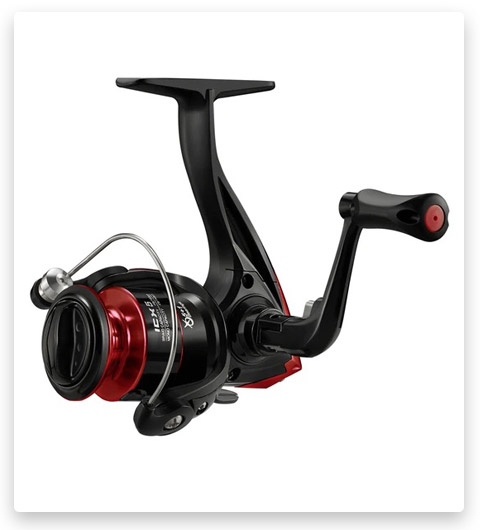 When you come across high-quality ball bearings and endless anti-reverse, you expect the reel price to be appropriate. But ICX 5 has a very low cost and all these features. A sturdy graphite frame and side plates make this reel durable and reliable. This reel is also very convenient to transport thanks to a folding handle.
You can safely fish in freshwater due to its sealed ball bearings and strong internal components. Also, you get excellent performance thanks to the anti-reverse and increased spool. The reel works very smoothly and stably, it sits quite comfortably in the hands, there's no backlash and rattle. The handle gives a fairly large torque and has a fairly soft and free play. Besides, this model is equipped with a durable waterproof spool and zinc drive, which makes it even more reliable.
16# Piscifun Perseus Baitcasting Reel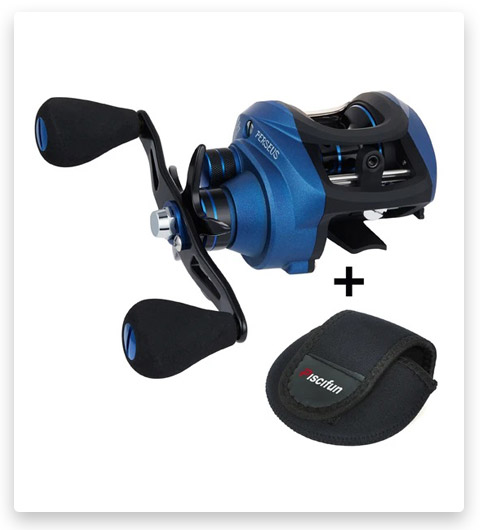 Perseus is a fairly powerful and durable reel. As soon as you take the reel in your hands, you'll immediately understand this. A unique feature of this reel is two lines of winding shafts. The gear ratio of this reel is medium-high – 6.3:1. Nevertheless, Perseus copes with any lures, jigs, and rigs perfectly. The combination of magnetic and centrifugal brakes makes the reel very easy to adjust. The reel is very smooth and runs on 6 ball bearings.
There is corrosion protection, which is provided by shielded bearings and a corrosion-resistant body. The reel design is made in a rather attractive blue color with a large and comfortable handle. In terms of performance, the cast of this reel is pretty accurate, and the cast control is very simple. During the fight with fish, the reel doesn't twitch or tremble, which is a plus. I also like that this model has an oil hole and you don't need to disassemble it to lubricate. A great option for the money.
Why Is The Brand Piscifun Good?
This company is already not a year, and not two, it has been in the market of fishing reels for quite a long time – since 2013. I like the way this company serves the user. When I had any problems with their reels, they replaced me with a new one almost instantly or they sent details. Consistent and polite customer feedback is what the vast majority of companies today boast.
Secondly, this company produces a full line of fishing reels and equipment. it doesn't matter what you need – fly, spinning, or baitcasting reel, rod, bait, or something else – Piscifun will always find what you can offer for an attractive price. Besides, many reel models from this manufacturer are known among many professional and sport fishers. Of course, this is not Shimano, which sets world records, but despite this, Piscifun reels are always there at the world and local sportfishing tournaments.
Many fishermen complain that Chinese reels can only be used for six months or a year. Then begin incredible problems with the maintenance and use of the reel. Piscifun is not one of those. Almost all reels of this brand are of excellent quality. For example, my Piscifun Torrent has been working for the third year without any glitches. There was a problem with the breakdown of the gear inside, but it was my fault that I didn't replace it in time. Now everything is all right.
In general, among budget reels, Piscifun is definitely among the top three brands producing fishing equipment. Four words can describe the advantages of this brand: Lightness, Comfort, Persistence, Beauty.
Most FAQ About Piscifun Reels
If you still have any questions about Piscifun products – in this section our experts will answer all the most common questions about this.
Final Words
So, now you have figured out almost all the reels of the Piscifun brand. Now you know what the best reels are made by this company, and why you should choose them. The inscription Piscifun on equipment is a guarantee that your fishing equipment will serve you for a long time, efficiently, and with maximum comfort for you. Their reels are not very expensive, but at the same time, they have excellent quality and good grades about professional fishers around the world. The same applies to other equipment like fishing rods, gear, etc.
We analyzed every fishing reel on this list and decided to choose the best in terms of price and quality. For us, it has become Piscifun Phantom X. It has excellent characteristics and at the same time has a fairly low price. This is the reel that will bring you a huge catch on the water. If you have any questions, feel free to ask them in the comments. I will also attach a couple of useful videos about Piscifun reels so that you finally decide on the choice of the needed reel. Have good fishing!
Piscifun – Useful Official Video
Tags: #piscifun reel / #piscifun spinning reel / #piscifun fly reel review / #piscifun sword fly fishing reel / #piscifun fly reels / #where are piscifun reels made / #piscifun spinning reels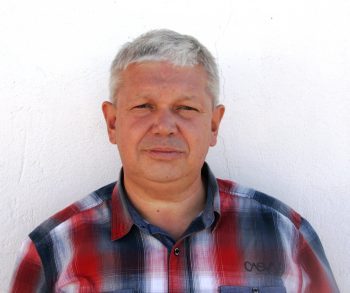 Sergio Smirnoff
Professional fisherman with 40+ years of experience.
Fishing and the ocean is a passion of my life. I am passionate about all kinds of sea fishing: fishing from the shore (spinning, float, baitcasting), from a boat, and spearfishing day and night.
I live in Tenerife (Canary Islands) for the last 10+ years and share my daily fishing experiences on my website. Many years of personal experience as a fisherman and the vast experience of my friends allow me to write professionally on any fishing topics (from choosing a flashlight and equipment to deep-sea fishing).
All of my advice is based on practical real-world experience and will be useful to both novice anglers and professionals.
Read more
about the author.
Affiliate Disclosure: FishReeler.com sometimes gets paid for listings, through sponsors or affiliate programs like Amazon, Ebay, Cabelas, Bass Pro Shop, Shimano, Daiwa, Rapala, Renn, Okuma, KastKing, etс. Clicking a link helps keep FishReeler.com free, at no extra cost to you!
About the author: Each article is verified by the fishing expert Sergio Smirnoff. The articles are written by professional and amateur fishermen with 20+ years of fishing experience.
Note: The views and opinions expressed in this article are those of the authors and do not necessarily reflect the official policy or position of any agency. The articles are for informational purposes only, share your opinions in the comments and join the fishing discussions, let's share our fishing experiences together!