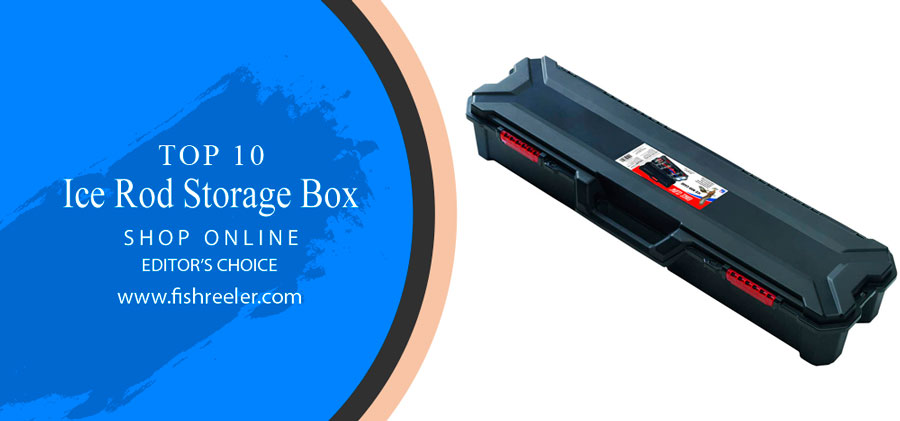 Best Ice Fishing Rod Case – Ice Fishing Tip Ups Kits
Must Read Buying Guide & Reviews & Comparison
We all love ice fishing. Of course, this is one of the most traditional, calm, and pleasant types of fishing. But almost always ice fishing means working at very low temperatures. The equipment that the angler carries with him isn't always resistant to cold. At low temperatures, the reels begin to work worse, the bait sticks to the container because of frost, but the worst thing is if your fishing rod cracks or breaks in the cold.
That's why it's very important to protect your fishing rod from exposure to cold. To do this, there are many cases for fishing rods, completely different shapes, materials, and types. This is what this article will be devoted to. If you want to figure out which case best protects your fishing rod – let's go into our article!

Best Fishing Rod Cases Review & Buyer's Guide
First, we'll look at the 10 best cases for ice fishing rods, which in my opinion provide the best protection for your equipment. Then we will figure out what qualities a good and high-quality case for your fishing rod should have. Let's go!
| Image | Product | Brand | Link |
| --- | --- | --- | --- |
| | Allen Company Cottonwood Fly Fishing Rod & Gear Bag Case, Hold up to 4 Fishing Rods, Heavy-Duty Honeycomb Frame, Olive | Allen Company | |
| | 228600 Rapala Soft-Sided 30 Rod Bag | Rapala | |
| | Celsius CEL-DELRC Deluxe Ice Rod Case, Multi, One Size | Celsius | |
| | StrikerICE Transporter, Ice Fishing Rod Case, Portable and Protective Fishing Equipment Case, Holds up to Five 36-Inch Ice Rods, Black | Striker | |
| | MTM IFB-1-30 Ice Fishing Rod Box (Red) | MTM | |
| | Vexan Ice Fishing Rod & Tackle Bag 36" Soft Case (Blue) | Vexan | |
| | Frabill Rod Case | Large Capacity Blow-Molded Hard Case with Foam Padding | Capacity: Holds Up to Eight Rods and Reel Combos , 36 x 10 x 3-Inch | FRABILL | |
| | Eagle Claw Ice Rod/Accessory Case Ice Fishing Rod & Reel Combos, 43" | Eagle Claw | |
| | Lakco 208029 6 ice combo case/2 pockets | Lakco | |
| | Otter 609142029094 Sportsman's Rod Case (Roto-Molded) | OTTER | |
| | LiteXim Waterproof Fishing Bag Large Capacity Triple Layer Fishing Rod Tackle Bag (47 inches) | LiteXim | |
| | Celsius Basic Ice Rod CEL-BASRC Storage Case Holdsup to 30" | Celsius | |
#1 Best Case Overall – Allen Company Cottonwood Case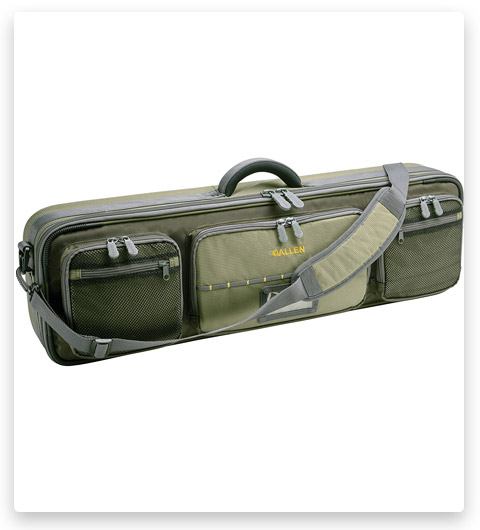 This fishing case can accommodate all your gear, even if you're the same avid angler who has more fishing rods than necessary, like me. To begin with, this case is made of cotton-wood fabric with a soft lining, which means that all your fishing rods won't break the first time you drop this case.
Secondly, this case has a huge capacity. When I used it, I was able to put here six 4-piece rods 9 feet long, three 6-foot rods, 5 fly boxes, and other items (reels, tongs, flashlights, hats, scarves). At the same time, the case still had 3 free pockets, and the bag fastened without problems.
This case perfectly protects your equipment. I specially put various fragile things here and the bag always passed the drop test. Besides, it's equipped with internal transparent pockets, a quality zipper, a convenient carrying handle, and a removable strap. The disadvantage is that the case has dimensions of 1.5-2 inches smaller than stated by the manufacturer. Highly recommended for purchase.
#2 Best Budget Case – Rapala Soft-Sided Fishing Case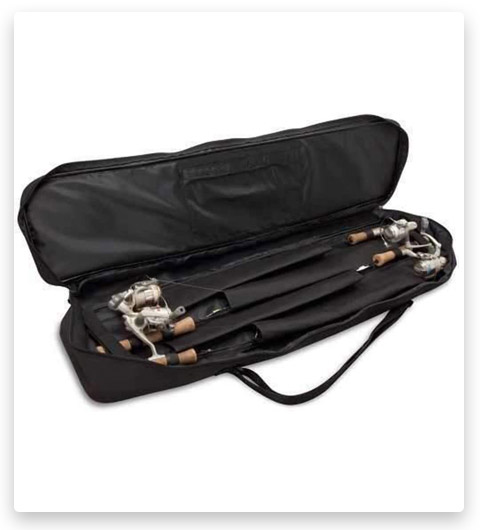 If you don't want to spend a lot of money on buying an expensive case, then you can protect your fishing rod with the help of a budget case from Rapala. It has excellent dimensions, this case will fit about 6 7-8 ft. rods plus 2-3 fly reels and a couple of baitcasting reels. This is enough for almost any kind of fishing. This case is made of high-quality material, but the problem is that this material is synthetic, which means it doesn't retain heat well and easily passes cold. So, I wouldn't recommend leaving this case for a long time in the cold. Also, this case doesn't have additional pockets inside and out, which is also a minus.
#3 Best Value For Money Case – Celsius Deluxe Ice Fishing Case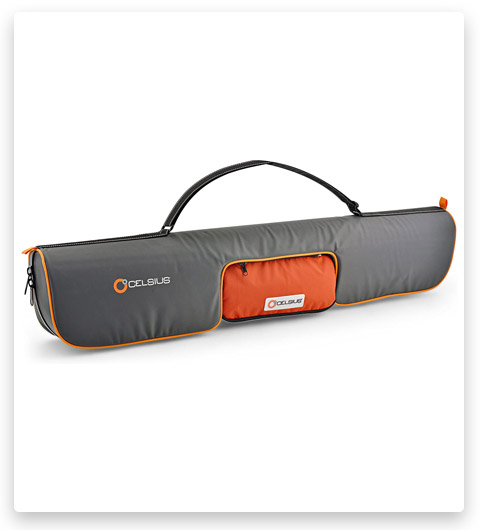 You can notice that this case has a very outstanding and attractive design. But it's good not only in its striking design. You provide yourself with maximum safety with this case because it's equipped with a hard inner protective liner.
I tested it for falls and not one of my rods was damaged. But with strong shaking, the rods can pile together and that's a minus. Also, the case has several additional internal and external pockets in which you can fold your reels or lures.
You can put any of your rods up to 38 inches long here. This is not very much, but for medium-large fishing rods is enough. The case has a large carry handle, but you can't put it on your shoulder. But the zippers on the case are quite durable and don't break.
#4 Best Capacious Case – Striker Transporter Ice Fishing Case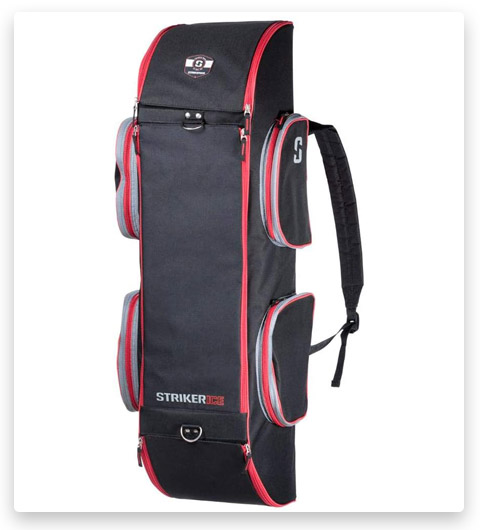 This is the most spacious fishing case of all reviewed here. It's strong enough to withstand all typical bumps and falls. You'll like the compartments of this case are very large and you can store all the equipment in one package. In addition to the fishing rods themselves, inside there are compartments for storing your reels and lures. Outside for additional things you can use 4 external compartments. The disadvantages are plastic, not metal rings for belts, and the inability to store things inside for more than two weeks because the case creates pressure on the rods and bends them. 
#5 Best Plastic Case – MTM Ice Fishing Case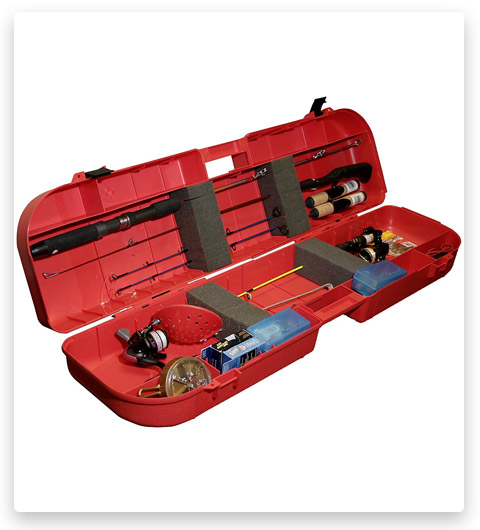 The plastic case is a good and durable case for storing your rods. Inside there's enough space for four rods with attached reels and other equipment. This is a very high-quality case, you can customize the foam cushions to suit your needs. Plus a great feature is that you can use 2 shutters to protect your fishing rods.
The thickness of the plastic makes this case extremely durable and reliable. Also, the extra space is convenient for your boxes with baits and other gear. I found a couple of drawbacks in the fact that if your rods are too heavy, then their weight can tear off parts of the foam. Also, the plastic retains heat much worse than fabric, but a foam pad compensates for this.
#6 Best Versatile Case – Vexan Ice Fishing Rod Case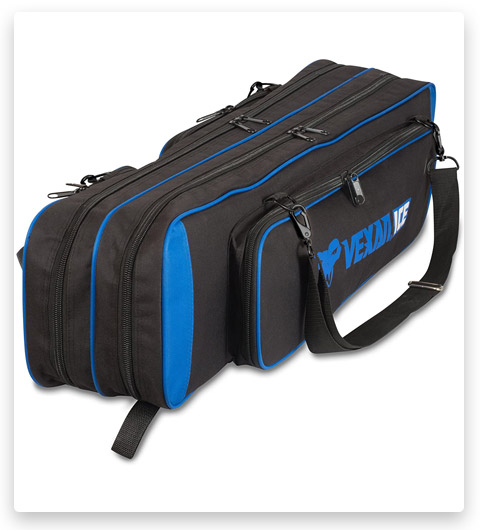 Even if you don't have ice on lakes and rivers, this bag is perfect for any angler. In it, you can place 8 rods up to 36" and reels on one side and up to 5 tip-ups on the other side. And even with this, you'll still have a place in the side compartments for storing boxes with baits, flashlights, and other equipment. The bag is made of excellent quality cotton, has a belt with great metal loops. The belt is even can be removed if necessary. Of course, we'll consider the cons. This bag feels quite durable and can withstand even small drops or bumps. But there's no foam or gasket for greater safety.
#7 Best Strong Case – Frabill ice Fishing Rod Safe Case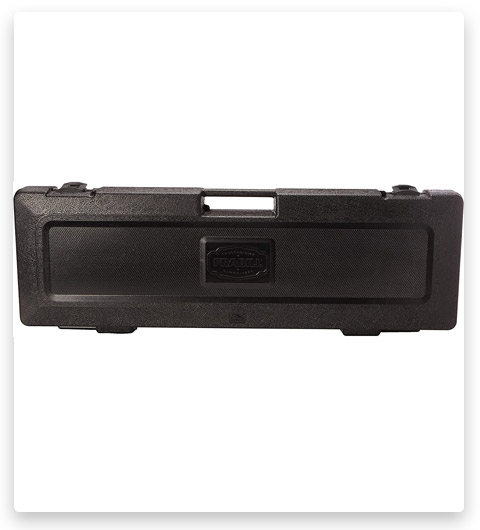 For the $38 case, it has just space durability. The case is made of black plastic of the highest class, which even in severe frosts doesn't crack and doesn't break. This model accommodates up to 8 combo rods and reels. Also, there's additional space for lures and other things, though not much. The lightweight case allows you to easily transport it without much strain on the hands. The only problem is that it doesn't fit inside inline reels. 
#8 Best Case By User Choice – Eagle Claw Fishing Rod Case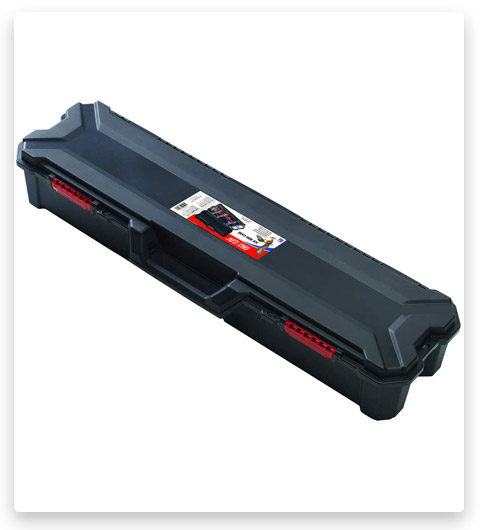 The most popular cases among users, which have excellent characteristics. The case is made of durable thick-walled plastic. It has two strong and wide latches that will prevent the case from opening even when it falls. Inside, the case is equipped with rubber liners to secure your rods in place. The capacity is large too – up to 6 combo rods. Besides, you'll have room for boxes with hooks, lures, and jigs.
You can put this in the trunk of your SUV or tie it to the back of the ATV – this model will withstand a lot of bouncing and pits. This case has everything that an experienced angler needs – an easy organization, a solid body, and thousands of positive user ratings. But it's worth talking about the cons, although there are not many of them here. The disadvantages are the lack of a rubber liner on the top lid and the small loops.
#9 Best Compact Case – Lakco Ice Combo Case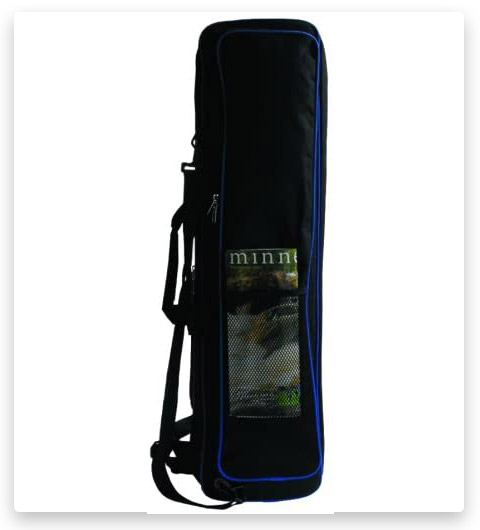 The bag is very small in size, but it holds quite a lot. This is enough to fully accommodate 4 rods. For 6, there will also be enough space, but then you won't have any space left for the reel, for other equipment other than fishing rods. Side pockets help with the storage of boxes and lures. You can always clean and put your things back without confusion. Of course, the best quality of this case is lightness and compactness. Disadvantages include rather tight zippers. 
#10 Best Warm Keeping Case – Otter Sportsman's Rod Case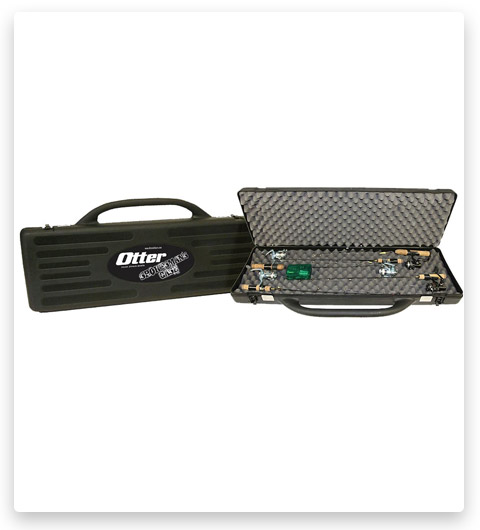 For anglers fishing at very low temperatures, this case will be the best solution. It's equipped with a thick rubber gasket on the side of the upper and lower lids, which allows heat to remain inside for a very long time. The case has a large and thick carrying handle and two strong locks. But there are no loops for tying, this is a minus. The internal organization is good, fits up to 6 and more rods with reels and other boxes. This model will protect your equipment during transport and on the ice at 100%, so it's definitely worth the investment.
How to Choose The Best Ice Fishing Rod Case

Before answering this question, first, determine – what do you require from the fishing rod case? Do you want it to keep warm for a long time? Or to be durable? Maybe you need more space in the case or compact?
As I said, the fishing case for fishing rods comes in different shapes, sizes, and specifications. Ask yourself all the questions and determine what you want from the case. Then your choice will be much easier.
Case Types
All cases are divided into 2 types: soft and hard. Soft ones are most often made of fabric and don't have a filler inside, the hard ones are made of plastic and have a foam pad inside or a filler. Regardless of the type, the case should be made of high-quality material that won't tear and burst. If you're 100% sure that you will fish at low temperatures, then the case should retain heat for a long time and have some kind of filler inside.
Case Capacity
The second most important factor is the capacity of the case. It should contain all the rods that you take with you. Usually, if I don't know which fishing rod I will need, I put in my case a 3-4 combo fishing rod-reel. Most often, cases carry rods up to 20″. Cases for rods of more than 30″ are designed for rods and reels. Compartments and pockets do not play a big role; they just give you more options to put all your charges in one bag. In total, first, decide how many places you need before making a purchase. 
Case Mobility
Portability is also worth paying attention to. The case may be large, but it must have accessories so that it can be easily carried with you. A handle or belt is a great tool for this. The handle should be wide and strong to withstand heavyweight and not press on the hand. If your case is with a belt, then make sure that the loops on which it is attached are also strong. I always recommend replacing plastic hinges with metal ones because they are more durable and will never burst in the cold.
Case Locks
If you don't want all your fishing rods to fall out on the road halfway, then make sure that the case has strong locks. Plastic cases should have strong plastic locks, preferably if there are two or more of them. Fabric cases use either zipper or Velcro. The zipper is preferable because it can't be opened under the pressure of your rods, reels, etc. like Velcro. But be careful, the zipper may break up, so every time checks the locks for serviceability before exiting.
Case Internal Organization
Rods should not be piled up when you transport them. To ensure this, inside the case there should be liners and fasteners for fishing rods, wall pockets for equipment and lures. Thanks to this, fishing rods will always be securely fixed, and lures will never crumble and will not mix inside. If the shaft is loose, it may bend or even break. So this is an important point when choosing.
FAQ Fishing Rod Cases
If you have any questions about fishing rod cases, then this section will answer all your questions about it. And if not, then ask your questions in the comments!
Final Words
There's no better way to protect your equipment than using a case. Many fishermen spend a lot of money to buy the most modern reels and rods but are not ready to spend a couple of tens of dollars to protect their equipment well. Your fishing rod can be very strong and pull out the strongest and heaviest species from the depths of the sea. But don't forget that even the strongest fishing rod after a couple of hours in the cold becomes fragile.
Take care of your equipment and protect your rods. The models discussed in this article have very different characteristics, so you can definitely find something for yourself. They provide you with the best protection you can find on the market. Remember that it's better to have less money in a good cause than to lose a good fishing rod and spend a fortune on a new one. Take care of your fishing equipment and… Have good fishing!
Tags: #best ice fishing rod and reel case / #ice fishing rod storage / #ice fishing rod case / #ice fishing rod hard case / #ice fishing rod carrying case / #hard-sided ice fishing rod case / #eagle claw ice fishing rod case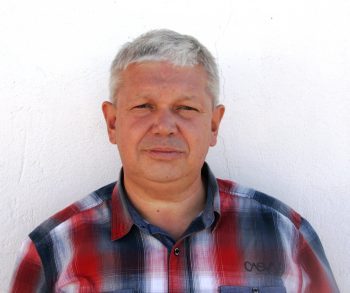 Sergio Smirnoff
Professional fisherman with 40+ years of experience.
Fishing and the ocean is a passion of my life. I am passionate about all kinds of sea fishing: fishing from the shore (spinning, float, baitcasting), from a boat, and spearfishing day and night.
I live in Tenerife (Canary Islands) for the last 10+ years and share my daily fishing experiences on my website. Many years of personal experience as a fisherman and the vast experience of my friends allow me to write professionally on any fishing topics (from choosing a flashlight and equipment to deep-sea fishing).
All of my advice is based on practical real-world experience and will be useful to both novice anglers and professionals.
Read more
about the author.
Affiliate Disclosure: FishReeler.com sometimes gets paid for listings, through sponsors or affiliate programs like Amazon, Ebay, Cabelas, Bass Pro Shop, Shimano, Daiwa, Rapala, Renn, Okuma, KastKing, etс. Clicking a link helps keep FishReeler.com free, at no extra cost to you!
About the author: Each article is verified by the fishing expert Sergio Smirnoff. The articles are written by professional and amateur fishermen with 20+ years of fishing experience.
Note: The views and opinions expressed in this article are those of the authors and do not necessarily reflect the official policy or position of any agency. The articles are for informational purposes only, share your opinions in the comments and join the fishing discussions, let's share our fishing experiences together!