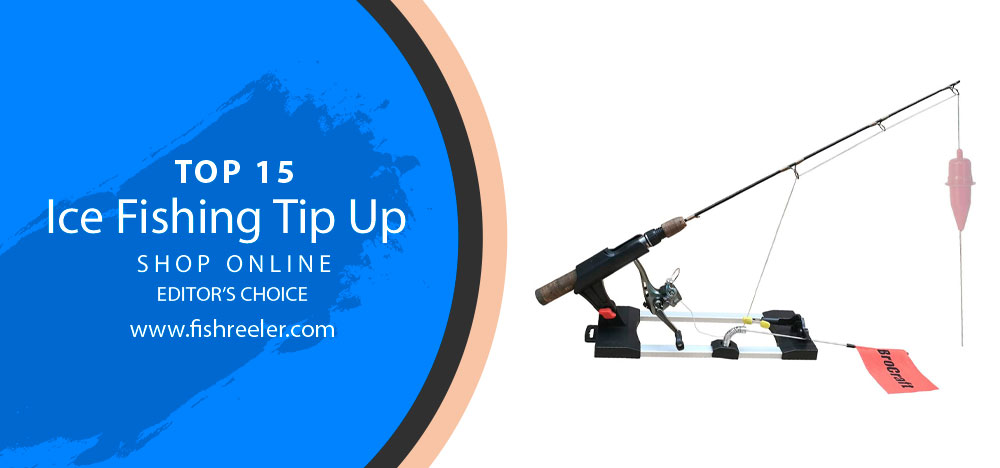 Although tip-up fishing used to be considered quite lazy, now tip-up is an extremely useful tool for every angler. If you want to try several depths, lures, and catch a fairly large number of fish, then the tip-up is a tool that will definitely come in handy. In this article, we'll talk about the best tip-ups you can find on the market.
Top 15 Best Tip-Up Lights For Ice Fishing Reviews
| Image | Product | Brand | Link |
| --- | --- | --- | --- |
| | Beaver Dam Ice Fishing Rail Tip-Up in Original Clear Wood Finish - Legendary Ice Fishing Tip-Up Built to Last a Lifetime (BDTP-CL) | Beaver Dam Ice Fishing | |
| | Frabill 1664 Classic Tip-Up Wooden Boxed | FRABILL | |
| | Frabill Pro Thermal Original Tip-Up, Multi, One Size (1660) | FRABILL | |
| | Jaw Jacker Automatic Ice Fishing Hook Setter and Rod Holder | Jaw Jacker | |
| | HT Enterprise PPT-500 Predator Pro Thermal Hole Cover Tip Up Hi-Viz Green W/500 Ft Spool and Built in Tackle Box, Multicolor, One Size | HT Enterprise | |
| | Beaver Dam Rail Tip-Up Jolly Roger Pirate-Themed Fishing - Legendary Ice Fishing Tip-Up Built to Last a Lifetime (BDTP-JR) | Beaver Dam Ice Fishing | |
| | BroCraft Ice Fishing Tip-Ups / Ice Fishing Rod Holder / Ice Fishing Tip Down / Ice Fishing Rigger | Brocraft | |
| | Eagle Claw Economy Plastic Tip-Up, Orange | Eagle Claw | |
| | HT Enterprise Polar Tip-Up with 200 Yard Spool | HT Enterprise | |
| | Big RED Ice Fishing Tip Down-Tip Up- Sensitive to The Slightest Fish Bites- Used for Both Larger Reels and Heavier Line as Well as Smaller Reels and Lighter Line. | Bullnose Products | |
| | SF Ice Fishing Tip-Up 1 Pack | SF | |
| | Krazywolf Auto Strike Kickback Ice Fishing Hook Setter and Rod Holder Tip Up | Krazywolf | |
| | Celsius Easy to Clip/10 CE-UT-2PK Up-Tip Integrated Hole-Cover/2 Pack | Celsius | |
| | Innovative Tip Down - Your Next All-in-One Ice Fishing Set Up - Ice Fishing Rod, Pole, Reel, Combo, Case, Line, Gear, Lures, Kit, Tackle, Pack, Hole, Sled, Shelter, Shanty, Tool, Bait, Grubs, Boots | Innovative Tip Down | |
| | CLAM 8840 Arctic Warrior Tip Up | CLAM | |
Let's take a look at 15 of the best ice fishing tip-ups we've found for you!
1# Beaver Dam Ice Fishing Rail Tip-Up Clear Wood – Editor's Choice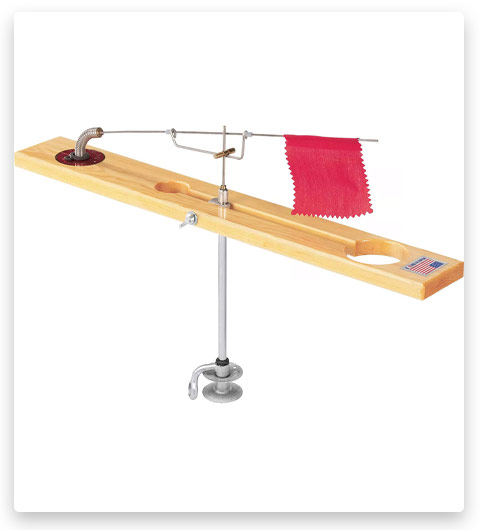 Beaver Dam is a legendary series of tip-ups that you can be 100% sure of. Unsurprisingly, they ranked #1 on our list. Even now, you can find anglers who have been fishing with this tip-up since the '80s and '90s! This tip-up has a 23-inch diameter pine base, aluminum bearings, and a stainless steel cylinder. They are well sealed and will serve you for many years. Beaver Dam says the tip-up has a capacity of 150 feet but doesn't say which test or line type they mean. But in general, after the tests carried out, we can say that there is more than enough space for any ice line.
This model has a very smooth, downward-facing spool. They are soldered, but this is not a huge drawback as you do not need to remove them for additional lubrication. Excellent quality flag rises to a height of 17.5 inches. If we talk about shortcomings, then here we have only 2 complaints. The first is a trip bar that has only 1 set. While experienced users know that it can be rotated, beginners may have problems with it. The second is a bait clip, which has a structure that is difficult to work with when the tackle is attached to the line.
2# Frabill Ice Fishing Wood Tip-Up – Easy To Use Pick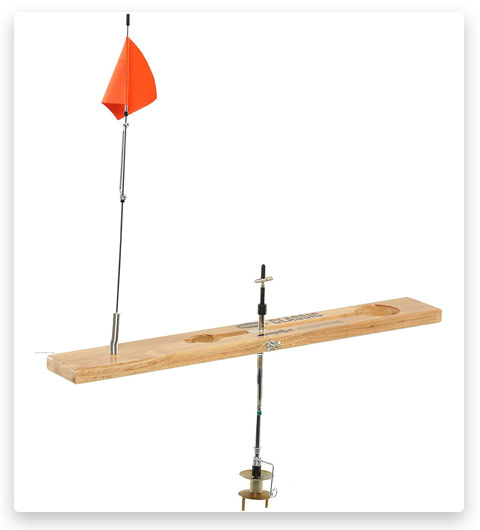 Frabill, like Beaver Dam, is also made of pine. You don't have to worry about accidentally breaking the plastic base. But remember that it will weigh much more than its plastic counterparts. However, because it is made of excellent materials and performs well on ice, it is a great alternative to expensive competitors. The spool in this model is very painful and smooth. The clamp is very easy to work with and the double setting makes it easy to adjust the trip bar. Although the quality advantage goes to Beaver Dam, the Frabill model stays close. A 17.5-inch flag is also installed here. It may not be as durable as the Beaver Dam model, but it is much cheaper and easier to use.
3# Frabill Pro Thermal Tip-Up – Best Freeze-Proof Pick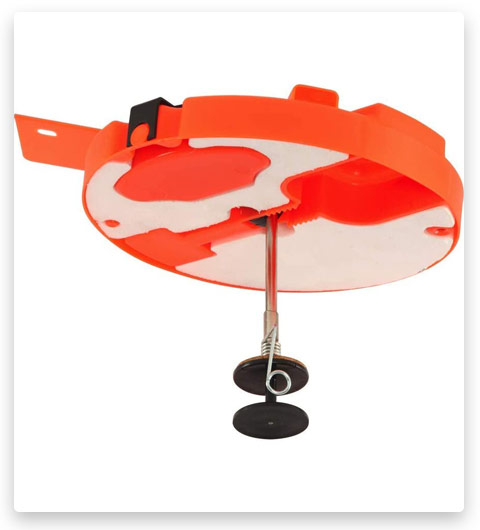 Frabill Pro solves the problem of water freezing even in the most severe frost. With around a 10" base, this tip-up with an insulated thick layer of expanded polystyrene protects the water in the hole from freezing no matter how low the temperature. Besides, this tip-up has a compartment at the top so that you can put small things like bobbers, hooks, etc. Although the winding is not as smooth as the previous two models, you can rest assured that the Frabill Pro can operate in conditions that could freeze the water and ruin your fishing. With a double trigger bar, you can customize this model for both large and small fish. Also in this model, it is very easy to work with a bait clip.
4# Jaw Jacker Automatic Ice Fishing Hook & Rod Holder – Best Rod Tip-Up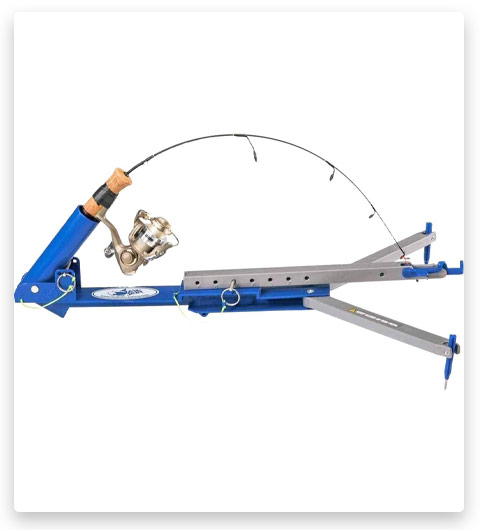 This tip-up uses your daughter to fish. The Jaw Jacker adjusts based on the length of your rod and how much you want to pull the hook. This model quite easily catches fish bites and works almost immediately. Alternatively, you can adjust the hook tension by turning the nut. The Jaw Jacker is made of durable plastic and can be folded. So you won't have any problems with heavyweight or transportation. There are more than 10 of these in a 5-gallon bucket. The only drawback that we can point out is that the included loops are quite rigid, which your line can catch. We recommend that you put your loops on for more convenience.
5# HT Predator Pro Thermal Tip-Up No Freeze – Best Durable Pick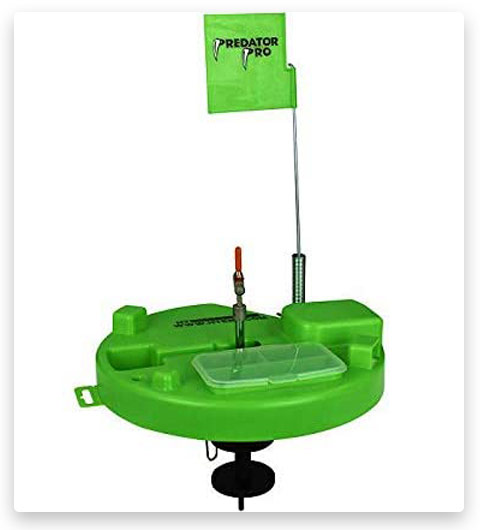 If you're worried about freezing your holes while fishing, the HT Predator Pro is worth a look. These isolated tip-ups are designed so that you can go fishing regardless of weather conditions. The plastic base is 12 "in diameter and will handle any hole up to 10" very well. Of course, this tip-up is capable of more, but then it can accidentally fall into the water and freeze on the sides. Built into the upper part is a small box for tackle, hooks, and leaders. Besides, a light stick holder is installed here, which provides an additional indication at night. HT took care of storage and transportation too. The flag rod is telescopic and snaps into place on the base. This allows you to stack up to a half dozen tips in a 5-gallon bucket.
6# Beaver Dam Rail Tip-Up Jolly Roger Pirate Tip-Up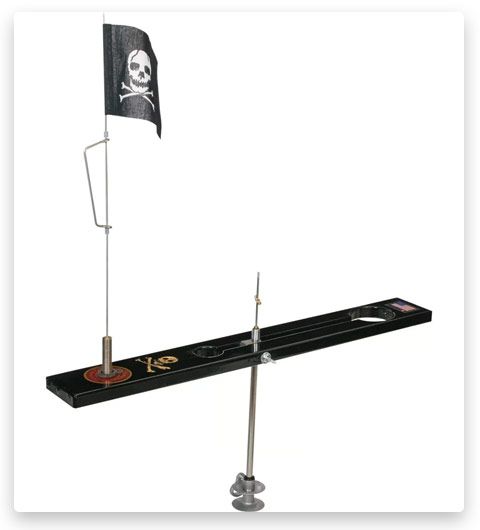 Few can beat Beaver Dam in the quality of the tip-ups they produce. This model is distinguished not only by excellent quality but also by a stylish design in a pirate style. Beaver Dam has a reliable trigger and flag trip mechanism, which allows it to work for a very long time and efficiently even at very low temperatures. The installed spool is very smooth and has a simple loop for quick setup. Each Beaver Dam model is handmade. Therefore, the construction of this tip-up is very durable and reliable, but a little expensive.
7# Brocraft Ice Fishing Tip-Up Rod Holder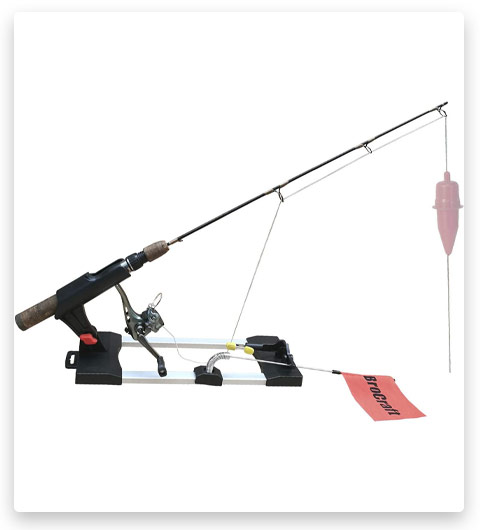 A great tip-up and rod holder that will turn your ice combo into a trap. This unit is quite versatile and allows you to fish with multiple rod and reel combinations at the same time. The manufacturer tried to make this tip-up as compact and efficient as possible. With a foldable flag and handy base, you can carry up to half a dozen of these in a 5-gallon bucket.
8# Eagle Claw Economy Plastic Orange Tip-Up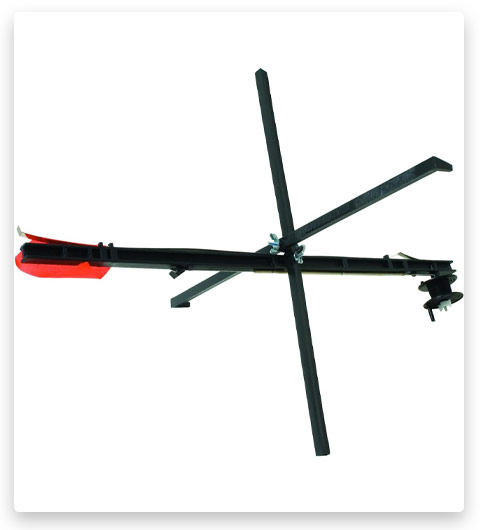 Eagle Claw makes not only great reels and rods but also tip-ups to make your fishing much more comfortable. Constructions such as this are much more popular on the east coast because they are designed to handle larger fish and heavier snow. The extensions are made of durable plastic. Of course, they will not serve you as long as brass or copper, but with a heavy load they cope quite well and they will be enough for 1-2 seasons.
Where the Eagle Claw really wins is visibility. The flag is raised 16 inches and the bright orange color will allow you to see it even in a heavy snowstorm. Eagle Claw offers you a drag that can withstand many heavy predators. It is also wind-resistant. But big dimensions come with great stability. Generally speaking, this model has two drawbacks – plastic construction and large dimensions, which are inconvenient to transport. Otherwise, it is a great choice for winter fishing.
9# HT Enterprise Polar Tip-Up 200' Spool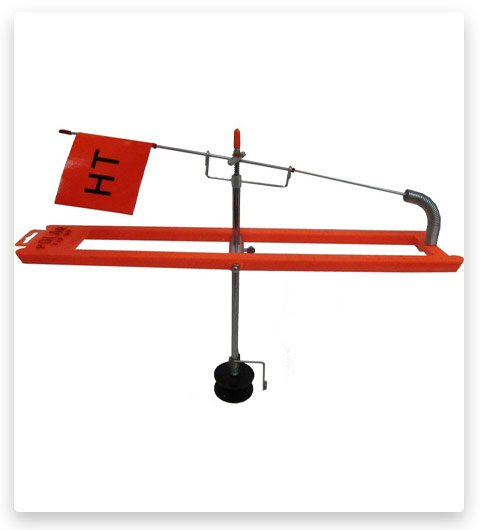 Of all the plastic-based nibs, the HT Enterprise is arguably one of the best. Built on a 17.5-inch base, it is one of the lightest new generation tip-ups. Its success is also attributed to its very smooth, high-capacity spool. HT offers two variants of spools with huge capacities – 200 and 500 yards. For this tip-up, 75 yards of 50lb line won't be a problem and you rarely need more. The two-position trip bar provides easy and convenient adjustment, just like the bait clip. It doesn't matter if you are catching a pliable perch or a tough pike, you will not be disappointed with this tip-up.
10# Big Red Ice Fishing Tip-Up Sensitive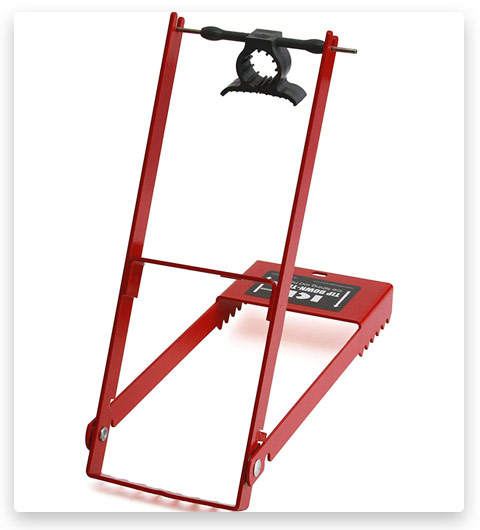 The tip-up is of a rather non-standard shape, but with excellent characteristics. This model is sensitive to even the smallest fish bites. Of all the tip-ups on our list, this one is the most sensitive. You can put on this tip-up both a heavy reel and line for heavy and persistent predators, or a light combo of reel and line.
11# SF Tip-Up For Ice Fishing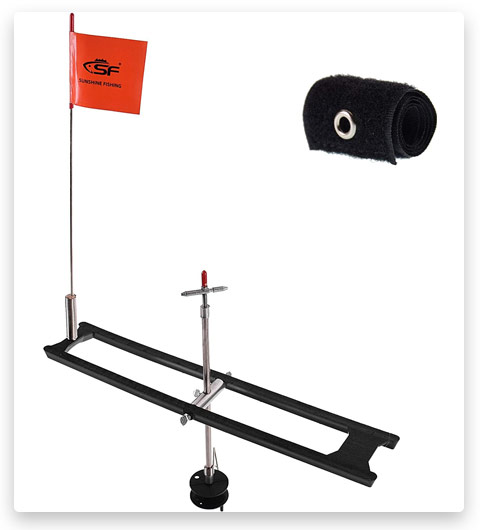 Original tip-up made of high-quality handmade plastic. Despite the material, the quality and strength make it easy to trust this tip-up. The SF is completely protected from cold and wind and can meet all the needs of the winter angler. Smooth line feed, easy flag installation and adjustment, and durability make the SF a great choice.
12# Krazywolf Auto Strike Kickback Ice Fishing Tip-Up & Rod Holder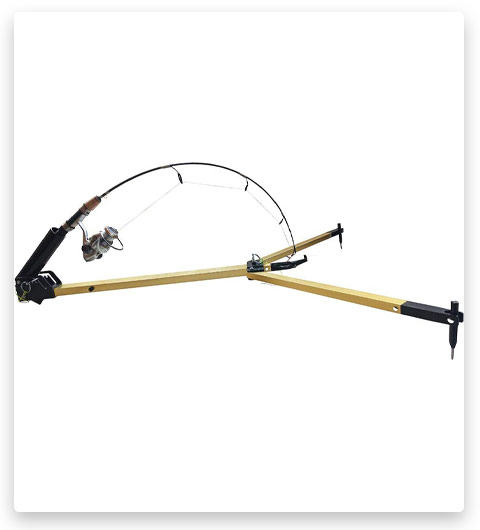 Krazywolf Auto Strike is another great tip with a rod holder. It is made from solid wood with extra coating for durability. Convenient and easy adjustment allows you to service both light rods with reels and heavy ones. All seating surfaces are specially lubricated for very low temperatures.
13# Celsius CE-UT-2PK Ice Fishing Tip-Up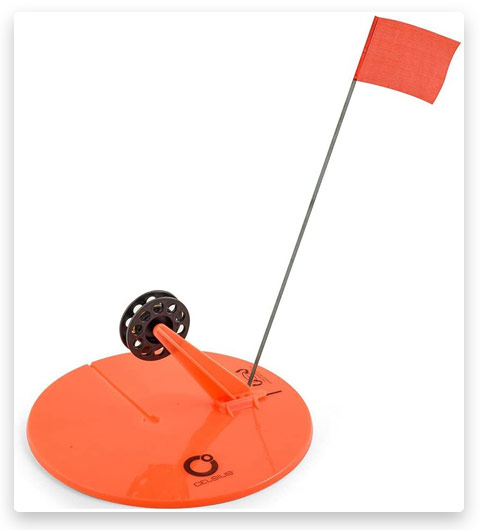 This wide, narrow design has many fans. It is very often cited as the best foundation on the market and it really has something to surprise you with. The installed reel is of high quality and very smooth operation, although it is not among the best models we reviewed. The reel is removable for cleaning and additional lubrication and holds up to 50 yards of 20 lb line, which is more than enough. Some users are having problems with the quality of the checkbox. Since the adhesive is quite weak, it can come loose in strong winds. Despite this problem, this tip-up is still a great buy for ice fishing.
14# Innovative Tip Down All-In-One Ice Fishing Tip-Up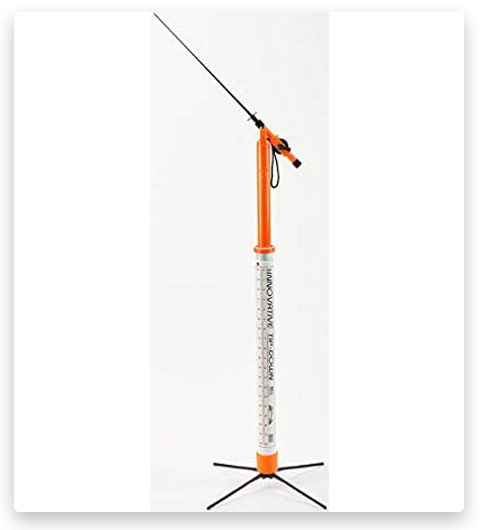 This combo already includes a 3-piece ice fishing system. It includes a storage tube, rod, base for it, reel, and four rotating legs. The installation is very easy to adjust, easily slides up and down, but never slips. The included spool is capable of holding up to 100 feet of line, which will be enough for even the most demanding angler. You will have no problems with the storage and transportation of this unit, as the legs fold easily and allow you to place the unit in the tube.
15# Clam Corporation 8840 Arctic Warrior Ice Tip-Up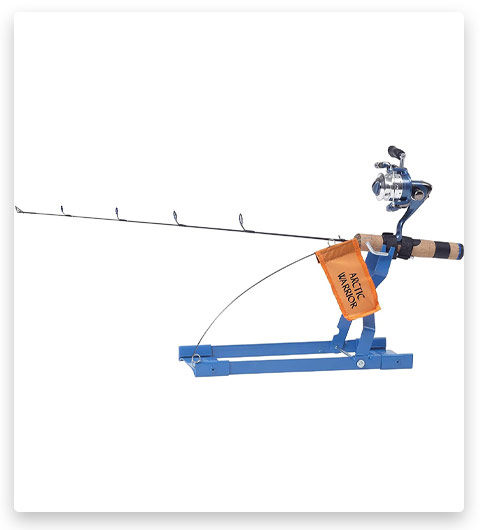 Like other models, Clam Corporation offers its own tip-up model with the same quality as others. You can insert any reel and rod combo into this tip-up, it is quite versatile and will suit any angler. The trigger bar has 2 settings, which greatly simplifies the adjustment. The only problem is the flag's rather dull color. In heavy snow, it will be very difficult to spot it. Nevertheless, this is a very high-quality model at an attractive price!
What Qualities Should a Quality Tip-Up Have?
When choosing a tip-up, you need to pay attention to many characteristics that will allow your device to serve for a long time and efficiently. We have selected the most important ones for you:
Trip Bar. It is a simple mechanism to adjust the tip-up for heavy or light travel. The difference in trip bar setting allows the angler to tune the drop to light fish so that smaller species can easily activate the flag and anticipate the angler. Heavy settings are used to search for heavy predators or in conditions of strong wind, which can cause false triggering of the flag.
Wide, stable base. The tip-up base is also a very important factor that many people forget about. The wider it is, the more stable your tip-up will be. The longer, the more secure the tip-up will be over the hole and the snow.
Flag locker. The flag locker is another important tool for folding the flag and making your tip-up more compact and preventing line damage and tangles.
Hook holder. The hook holder, as you might have guessed by the name, keeps hooks and other attachments safe so they don't get tangled or snagged with other gear during storage.
Bait Clip. The bait clip holds the line in one place under the tip-up so that the weight or movement of large lures does not cause false positives. It must be large and strong enough to hold the line effectively.
High-quality spool. The spool is one of the most important characteristics of a tip-up. It holds the line, hook, bait, and all your fishing in general. Quality plastic or stainless steel coils are always a good choice. The large spool size allows you to spool more lines and backing, so pay attention to the size too.
Fishing Types of Tip-Ups
Pro-Thermal Tip-up. These tip-ups cover your hole the entire diameter and prevent water from freezing, no matter how cold the temperature is. This form of tip-ups is a relatively recent invention that has already gained popularity. In addition to keeping your ice hole from freezing, this type of tip-up also blocks unpleasant sunlight that can scare the fish your baits are attracted to. Another feature of Pro-Thermal tip-ups is their compactness and lightness. The design allows these types to be cleaved in the form of discs. This allows many pieces to fit horizontally in a 5-gallon bucket.
Auto-Jigging Tip-Up. Until recently, all tip-ups were a "set and forget" system that kept your bait in the area where fish might accumulate. Auto-Jigging tip-up looks much more advantageous against the background of old systems. It allows you to actively raise and lower the line for hours. And it is powered by only two D-type batteries. Smart jigging activates the bait in the water, which attracts fish and mimics the movement of the bait.
Windlass Tip-Up. This is one of the most unique types of tip-ups in ice fishing. This design uses a small paddle that catches the wind and actively moves the bait up and down in the water. Even if the weather is calm, the windlass can provide excellent bait performance and attract a lot of fish. The V-frame fitted to these models makes them easy to remove from the ice. Also, these tip-ups have a folding design, which facilitates transportation.
Classic Hardwood Tip-Up. You are probably already familiar with this type. This is the most popular type of tip-up and has been in use for the last 50 years. The hardwood tip-up has everything you need to provide you with a catch, from a firm sole and a bright flag to a smooth and large spool that can sink many yards down.
Rod Tip-up. In fact, this is not even a completely separate type of tip-up, rather more a jig rod holder that holds the rod in a stable position right above the hole. These types are great for catching small, agile fish that bite very easily. It is always helpful to have multiple rod tip-ups because when it gets cold enough that you can't handle the rod, this type of tip-up will save you.
10 Tips For Successful Tip-Up Fishing
To have a good catch when using tip-ups, there are simple rules to follow. We have written some of them for you:
Find the best fish spots and spread out.
Drill holes in the spots you find.
Put a good and solid line on the spool.
Measure the depth.
Choose the most suitable bait.
Adjust trigger sensitivity.
Always takes care of flags.
Move as fast as possible when you spot a flag standing.
Make sure the fish are still on the bait.
Set the hook slowly and pull the fish.
Conclusion
You can use tip-ups in different ways. Your fishing is not limited to just a few types of fish. You can catch almost any fish with a tip-up. Let's take another look at the best ones:
Ice fishing is a great way to have a good time outdoors with friends or family, and tip-ups will make your fishing much more fun, successful and better. Have a nice fishing!
Tags: #best tip up for ice fishing / #ice fishing tip-up / #ice fishing tip-up parts / #ice fishing tip up line / #ice fishing rail tip-up / #tip up lights for ice fishing / #legendary ice-fishing tip-up built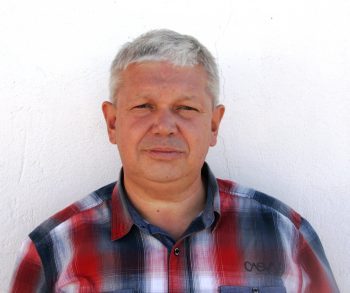 Sergio Smirnoff
Professional fisherman with 40+ years of experience.
Fishing and the ocean is a passion of my life. I am passionate about all kinds of sea fishing: fishing from the shore (spinning, float, baitcasting), from a boat, and spearfishing day and night.
I live in Tenerife (Canary Islands) for the last 10+ years and share my daily fishing experiences on my website. Many years of personal experience as a fisherman and the vast experience of my friends allow me to write professionally on any fishing topics (from choosing a flashlight and equipment to deep-sea fishing).
All of my advice is based on practical real-world experience and will be useful to both novice anglers and professionals.
Read more
about the author.
Affiliate Disclosure: FishReeler.com sometimes gets paid for listings, through sponsors or affiliate programs like Amazon, Ebay, Cabelas, Bass Pro Shop, Shimano, Daiwa, Rapala, Renn, Okuma, KastKing, etс. Clicking a link helps keep FishReeler.com free, at no extra cost to you!
About the author: Each article is verified by the fishing expert Sergio Smirnoff. The articles are written by professional and amateur fishermen with 20+ years of fishing experience.
Note: The views and opinions expressed in this article are those of the authors and do not necessarily reflect the official policy or position of any agency. The articles are for informational purposes only, share your opinions in the comments and join the fishing discussions, let's share our fishing experiences together!