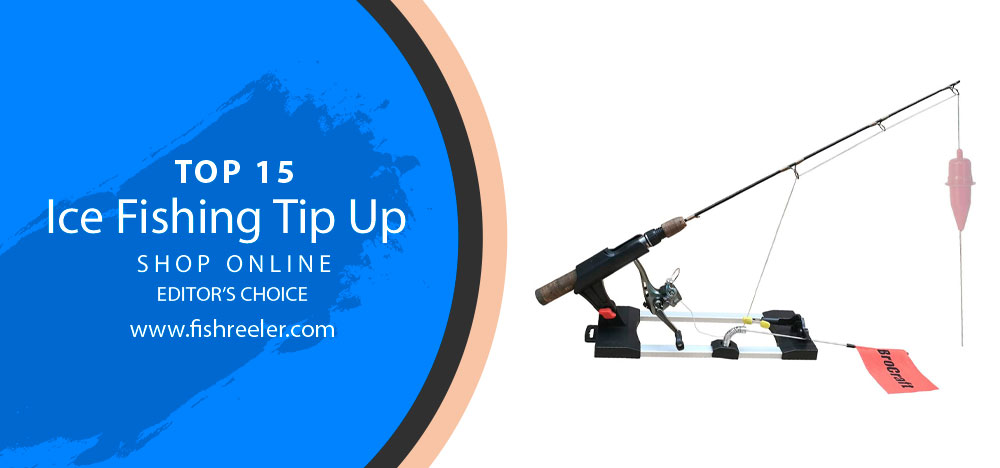 🎣 The Ultimate Ice Fishing Companion: Why You Need a Tip-Up Now!
Quick Summary
✅
Designed to sit on top of the ice and hold your baited line beneath the freezing waters
, a tip-up plays a vital role in your ice fishing exploits. It uses a flag system to alert you when a fish has taken your bait –
no need to stare at a hole in the ice for hours on end
. It transforms the passive act of waiting into an exciting game of anticipation!
✅What makes the tip-up stand out among other fishing gear? It's the multi-tasker of the ice fishing world. With tip-ups, you can cover several holes at once, increasing your chances of reeling in that dream catch. Imagine setting up multiple fishing lines, each with its own tip-up sentinel, and you being able to kick back with a hot drink, waiting for the flags to pop up. It's efficient and downright exciting! 🚩🎣
✅But that's not all. Ice fishing tip-ups are crafted to withstand the harsh winter conditions. Whether it's freezing temperatures, icy winds, or heavy snowfall, your tip-up is built to endure and serve you season after season.
🔶So why should you definitely buy an ice fishing tip-up? Simply because it takes your ice fishing game to the next level. It not only amplifies the thrill and anticipation of the catch but also makes your fishing expeditions more efficient and productive. 🙌❄️🐟

Ice Fishing Tip Ups: The Definitive Guide From a Pro

Welcome to the fascinating world of ice fishing, where endurance meets excitement, all set against the backdrop of nature's harshest yet most beautiful season – winter. The crown jewel of this unique sport? The quintessential ice fishing tip-up.
🎣 Breaking the Ice: My First Encounter with Tip-Ups
Ice fishing tip-ups, for the uninitiated, are devices used to signal the bite of a fish beneath the frozen surface. Essentially acting as your "ice fishing butler," they alert you when it's time to act, freeing you from constant monitoring and allowing you to fish multiple holes simultaneously. Just imagine, even in bone-chilling temperatures, you can keep your hands warm in your pockets, whilst your loyal tip-up keeps a steady vigil on the icy waters. 🥶👍
Let me take you back to my first encounter with ice fishing tip-ups. It was on a bitterly cold morning, my breath fogging up in the crisp air, as I stepped onto the ice, drilled my first hole, and set up my first tip-up. The flag on the tip-up was a bold, fiery red – a stark contrast to the white wilderness around me. I watched it with bated breath, waiting for a movement, a sign. And then, it happened. The flag sprung up, sending a jolt of adrenaline through my system! 🎣🚩
It wasn't a large catch that day, but the experience was priceless – the excitement of the alert, the rush of reeling in, and the satisfaction of the catch. It was then I realized the real value of the tip-up. Beyond its functional role, it amplified the thrill of the sport, transforming the act of waiting into an adventure of anticipation.
🔶In this guide, I'm excited to share with you the knowledge gathered over years of ice fishing experiences, centering on the tip-up – the unsung hero of this winter sport. Here's to ice fishing adventures filled with many 'tip-up' moments! 🎉
🧩 Decoding the Device: The Intricacies of Ice Fishing Tip-Ups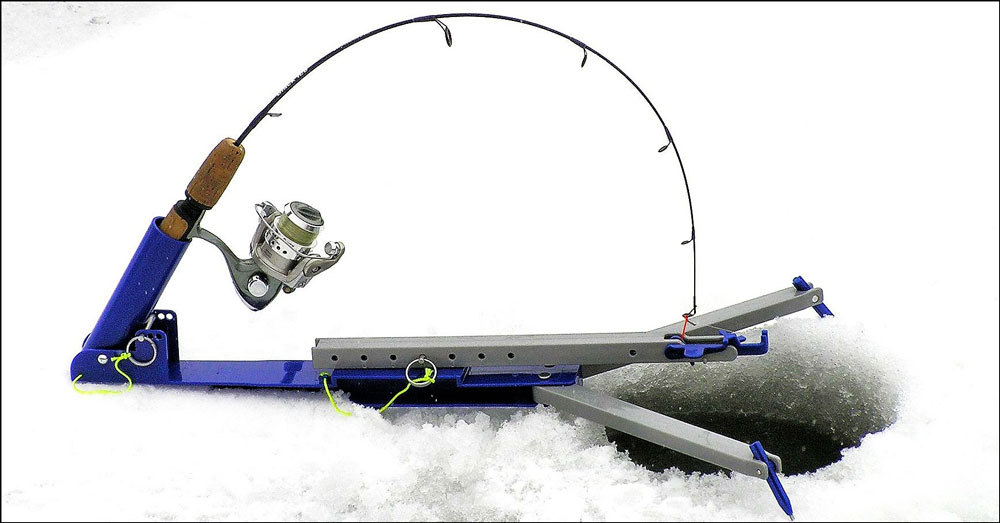 Ice fishing tip-ups are much more than a simple piece of gear. Their design is rooted in a perfect balance of function and form, making them the ultimate companion for every ice fishing enthusiast. But what are the key elements of a tip-up? Let's delve into its anatomy and unveil its purpose.
The Ice Fishing Tip-Up Blueprint 📝
At a glance, a tip-up might look like a simple contraption. But don't be fooled – every component has a role in ensuring you don't miss that crucial bite. Here's a breakdown of its main parts:
Base or Frame 🪵: The base, usually made from wood or plastic, lies across the ice hole to keep the device stable. Some frames are designed to cover the hole entirely, helping prevent it from freezing over.
Spool and Line 🧵: Attached to the base is a spool, wound with a fishing line that goes underwater. This line is where you attach your baited hook. The spool's size determines how much and what kind of line you can use, directly influencing what type of fish you can target.
Trip Shaft and Flag 🚩: The trip shaft is a mechanism connected to the spool. When a fish bites, it pulls the line, turning the spool, which triggers the trip shaft and causes the attached flag to spring up. This flag is your visual alert that a fish has taken the bait.
Line Guide 🎯: Some tip-ups come with line guides that help ensure smooth line release and retrieval, thus preventing tangles when a fish is on.
So, why are these components and their roles important to understand? Knowing your gear inside out enhances your ability to use it effectively. It empowers you to troubleshoot issues, make informed choices about your equipment, and ultimately, become a more successful angler.🎣💪
🔶Tip-ups offer a unique advantage over traditional rod fishing by allowing you to fish multiple holes simultaneously. Their signal flags provide a clear, visual cue for a bite, meaning you can be more efficient and cover a larger area. By fully understanding what ice fishing tip-ups are and how they function, you can truly tap into the potential of this winter fishing technique.
Illuminate Your Catch: Top Ice Fishing Tip-Up Lights Review
Planning a frosty fishing trip? An ice fishing tip-up should be the first item on your checklist! What makes it so essential? This clever piece of fishing gear is more than just an accessory – it's a trusted companion in your icy fishing adventures, boosting your probability of landing a catch while letting you soak in the winter vista without the need to incessantly check your line.
While some might have previously viewed tip-up fishing as a laid-back, hands-off style, the modern angler recognizes the indispensable utility of a good tip-up. If you're keen to explore different depths, experiment with various lures, and increase your catch quota, then a tip-up is a must-have tool. In this section, we're going to delve into the crème de la crème of tip-ups available in the market.
Get ready as we unveil our top 15 ice fishing tip-ups that are bound to light up your fishing experience!
| Image | Product | Brand | Link |
| --- | --- | --- | --- |
| | Beaver Dam Ice Fishing Rail Tip-Up in Original Clear Wood Finish - Legendary Ice Fishing Tip-Up Built to Last a Lifetime (BDTP-CL) | Beaver Dam Ice Fishing | |
| | Frabill 1664 Classic Tip-Up Wooden Boxed | FRABILL | |
| | Frabill Pro Thermal Original Tip-Up, Multi, One Size (1660) | FRABILL | |
| | Jaw Jacker Automatic Ice Fishing Hook Setter and Rod Holder | Jaw Jacker | |
| | HT Enterprise PPT-500 Predator Pro Thermal Hole Cover Tip Up Hi-Viz Green W/500 Ft Spool and Built in Tackle Box, Multicolor, One Size | HT Enterprise | |
| | Beaver Dam Rail Tip-Up Jolly Roger Pirate-Themed Fishing - Legendary Ice Fishing Tip-Up Built to Last a Lifetime (BDTP-JR) | Beaver Dam Ice Fishing | |
| | BroCraft Ice Fishing Tip-Ups / Ice Fishing Rod Holder / Ice Fishing Tip Down / Ice Fishing Rigger | Brocraft | |
| | Eagle Claw Economy Plastic Tip-Up, Orange | Eagle Claw | |
| | HT Enterprise Polar Tip-Up with 200 Yard Spool | HT Enterprise | |
| | Big RED Ice Fishing Tip Down-Tip Up- Sensitive to The Slightest Fish Bites- Used for Both Larger Reels and Heavier Line as Well as Smaller Reels and Lighter Line. | Bullnose Products | |
| | SF Ice Fishing Tip-Up 1 Pack | SF | |
| | Krazywolf Auto Strike Kickback Ice Fishing Hook Setter and Rod Holder Tip Up | Krazywolf | |
| | Celsius Easy to Clip/10 CE-UT-2PK Up-Tip Integrated Hole-Cover/2 Pack | Celsius | |
| | Innovative Tip Down - Your Next All-in-One Ice Fishing Set Up - Ice Fishing Rod, Pole, Reel, Combo, Case, Line, Gear, Lures, Kit, Tackle, Pack, Hole, Sled, Shelter, Shanty, Tool, Bait, Grubs, Boots | Innovative Tip Down | |
| | CLAM 8840 Arctic Warrior Tip Up, Blue | CLAM | |
1# Beaver Dam Ice Fishing Rail Tip-Up Clear Wood – Editor's Choice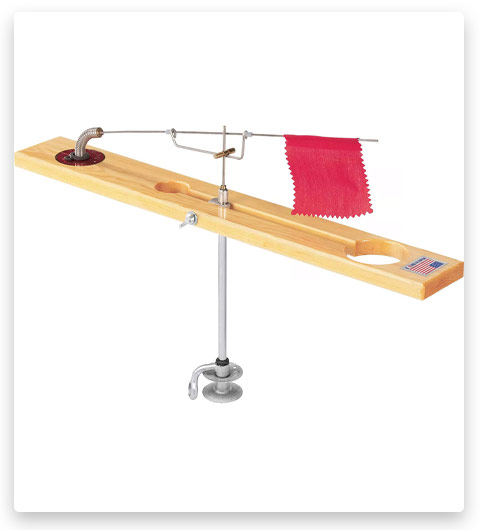 Beaver Dam is a legendary series of tip-ups that you can be 100% sure of. Unsurprisingly, they ranked #1 on our list. Even now, you can find anglers who have been fishing with this tip-up since the '80s and '90s! This tip-up has a 23-inch diameter pine base, aluminum bearings, and a stainless steel cylinder. They are well sealed and will serve you for many years. Beaver Dam says the tip-up has a capacity of 150 feet but doesn't say which test or line type they mean. But in general, after the tests carried out, we can say that there is more than enough space for any ice line.
This model has a very smooth, downward-facing spool. They are soldered, but this is not a huge drawback as you do not need to remove them for additional lubrication. Excellent quality flag rises to a height of 17.5 inches. If we talk about shortcomings, then here we have only 2 complaints. The first is a trip bar that has only 1 set. While experienced users know that it can be rotated, beginners may have problems with it. The second is a bait clip, which has a structure that is difficult to work with when the tackle is attached to the line.
2# Frabill Ice Fishing Wood Tip-Up – Easy To Use Pick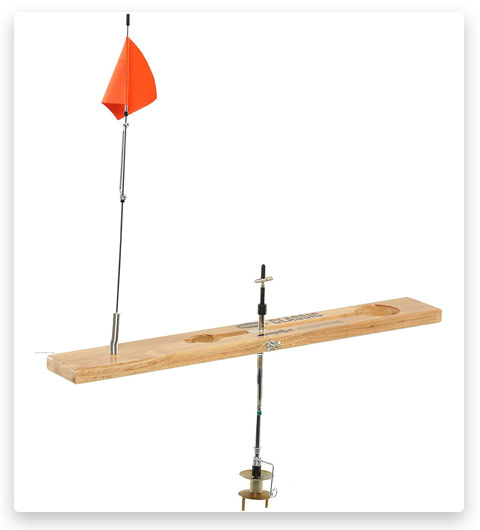 Frabill, like Beaver Dam, is also made of pine. You don't have to worry about accidentally breaking the plastic base. But remember that it will weigh much more than its plastic counterparts. However, because it is made of excellent materials and performs well on ice, it is a great alternative to expensive competitors. The spool in this model is very painful and smooth. The clamp is very easy to work with and the double setting makes it easy to adjust the trip bar. Although the quality advantage goes to Beaver Dam, the Frabill model stays close. A 17.5-inch flag is also installed here. It may not be as durable as the Beaver Dam model, but it is much cheaper and easier to use.
3# Frabill Pro Thermal Tip-Up – Best Freeze-Proof Pick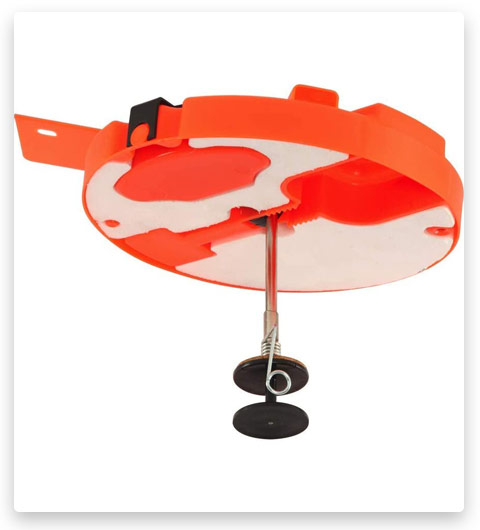 Frabill Pro solves the problem of water freezing even in the most severe frost. With around a 10" base, this tip-up with an insulated thick layer of expanded polystyrene protects the water in the hole from freezing no matter how low the temperature. Besides, this tip-up has a compartment at the top so that you can put small things like bobbers, hooks, etc. Although the winding is not as smooth as the previous two models, you can rest assured that the Frabill Pro can operate in conditions that could freeze the water and ruin your fishing. With a double trigger bar, you can customize this model for both large and small fish. Also in this model, it is very easy to work with a bait clip.
4# Jaw Jacker Automatic Ice Fishing Hook & Rod Holder – Best Rod Tip-Up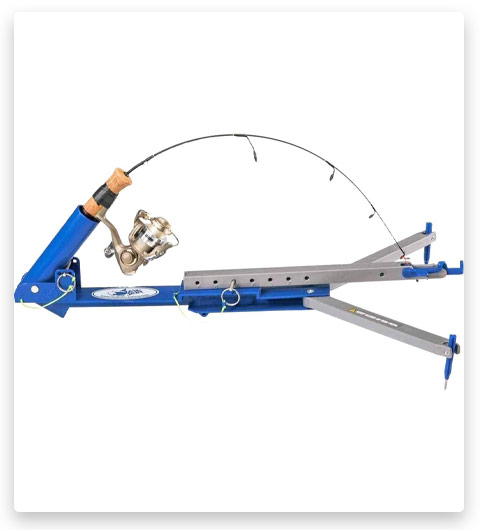 This tip-up uses your daughter to fish. The Jaw Jacker adjusts based on the length of your rod and how much you want to pull the hook. This model quite easily catches fish bites and works almost immediately. Alternatively, you can adjust the hook tension by turning the nut. The Jaw Jacker is made of durable plastic and can be folded. So you won't have any problems with heavyweight or transportation. There are more than 10 of these in a 5-gallon bucket. The only drawback that we can point out is that the included loops are quite rigid, which your line can catch. We recommend that you put your loops on for more convenience.
5# HT Predator Pro Thermal Tip-Up No Freeze – Best Durable Pick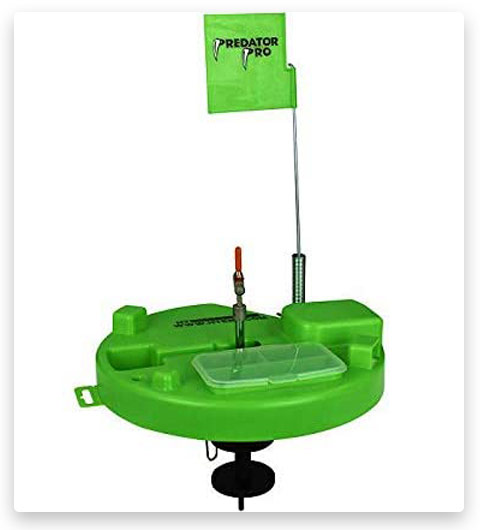 If you're worried about freezing your holes while fishing, the HT Predator Pro is worth a look. These isolated tip-ups are designed so that you can go fishing regardless of weather conditions. The plastic base is 12 "in diameter and will handle any hole up to 10" very well. Of course, this tip-up is capable of more, but then it can accidentally fall into the water and freeze on the sides. Built into the upper part is a small box for tackle, hooks, and leaders. Besides, a light stick holder is installed here, which provides an additional indication at night. HT took care of storage and transportation too. The flag rod is telescopic and snaps into place on the base. This allows you to stack up to a half dozen tips in a 5-gallon bucket.
6# Beaver Dam Rail Tip-Up Jolly Roger Pirate Tip-Up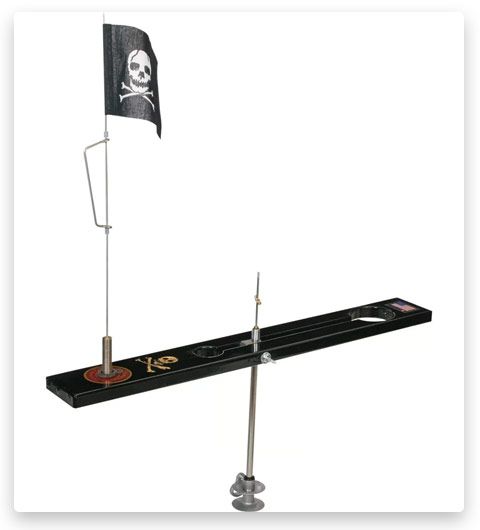 Few can beat Beaver Dam in the quality of the tip-ups they produce. This model is distinguished not only by excellent quality but also by a stylish design in a pirate style. Beaver Dam has a reliable trigger and flag trip mechanism, which allows it to work for a very long time and efficiently even at very low temperatures. The installed spool is very smooth and has a simple loop for quick setup. Each Beaver Dam model is handmade. Therefore, the construction of this tip-up is very durable and reliable, but a little expensive.
7# Brocraft Ice Fishing Tip-Up Rod Holder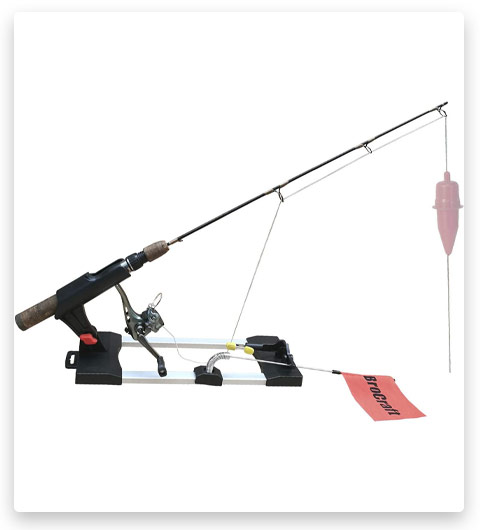 A great tip-up and rod holder that will turn your ice combo into a trap. This unit is quite versatile and allows you to fish with multiple rod and reel combinations at the same time. The manufacturer tried to make this tip-up as compact and efficient as possible. With a foldable flag and handy base, you can carry up to half a dozen of these in a 5-gallon bucket.
8# Eagle Claw Economy Plastic Orange Tip-Up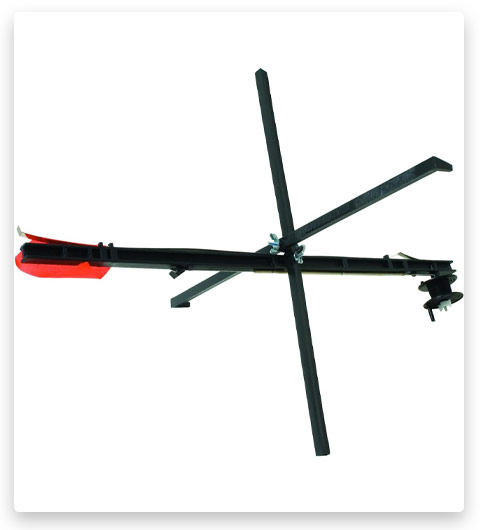 Eagle Claw makes not only great reels and rods but also tip-ups to make your fishing much more comfortable. Constructions such as this are much more popular on the east coast because they are designed to handle larger fish and heavier snow. The extensions are made of durable plastic. Of course, they will not serve you as long as brass or copper, but with a heavy load they cope quite well and they will be enough for 1-2 seasons.
Where the Eagle Claw really wins is visibility. The flag is raised 16 inches and the bright orange color will allow you to see it even in a heavy snowstorm. Eagle Claw offers you a drag that can withstand many heavy predators. It is also wind-resistant. But big dimensions come with great stability. Generally speaking, this model has two drawbacks – plastic construction and large dimensions, which are inconvenient to transport. Otherwise, it is a great choice for winter fishing.
9# HT Enterprise Polar Tip-Up 200' Spool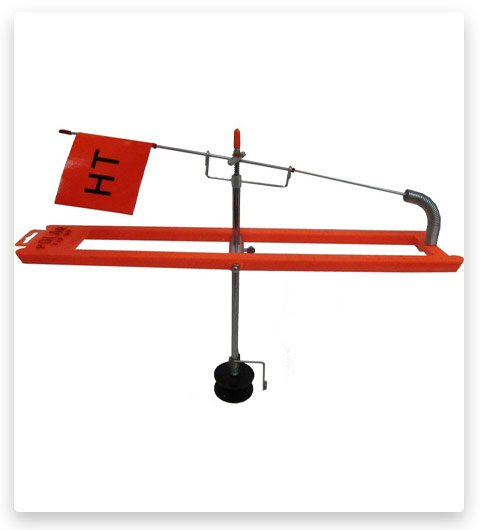 Of all the plastic-based nibs, the HT Enterprise is arguably one of the best. Built on a 17.5-inch base, it is one of the lightest new generation tip-ups. Its success is also attributed to its very smooth, high-capacity spool. HT offers two variants of spools with huge capacities – 200 and 500 yards. For this tip-up, 75 yards of 50lb line won't be a problem and you rarely need more. The two-position trip bar provides easy and convenient adjustment, just like the bait clip. It doesn't matter if you are catching a pliable perch or a tough pike, you will not be disappointed with this tip-up.
10# Big Red Ice Fishing Tip-Up Sensitive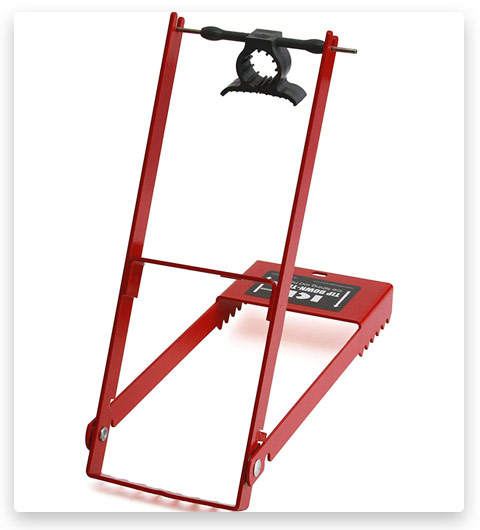 The tip-up is of a rather non-standard shape, but with excellent characteristics. This model is sensitive to even the smallest fish bites. Of all the tip-ups on our list, this one is the most sensitive. You can put on this tip-up both a heavy reel and line for heavy and persistent predators, or a light combo of reel and line.
11# SF Tip-Up For Ice Fishing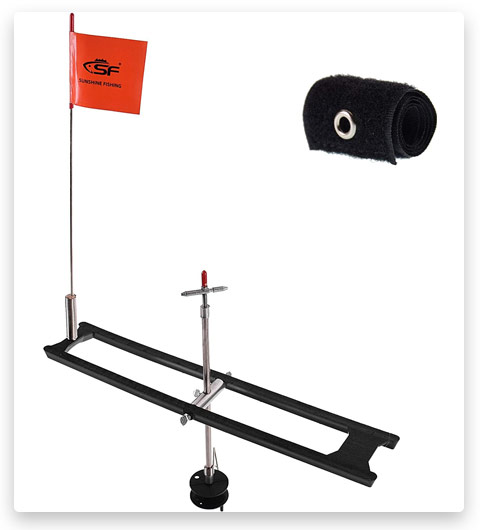 Original tip-up made of high-quality handmade plastic. Despite the material, the quality and strength make it easy to trust this tip-up. The SF is completely protected from cold and wind and can meet all the needs of the winter angler. Smooth line feed, easy flag installation and adjustment, and durability make the SF a great choice.
12# Krazywolf Auto Strike Kickback Ice Fishing Tip-Up & Rod Holder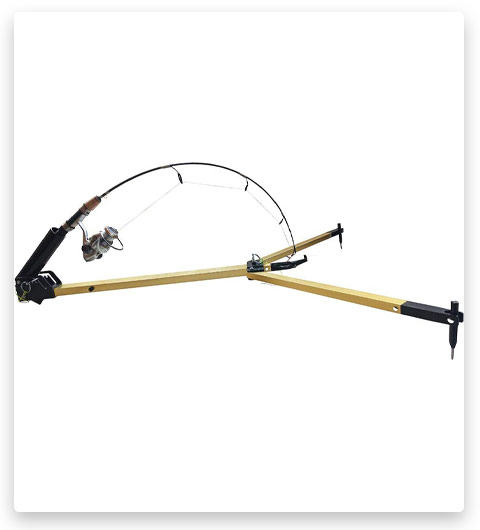 Krazywolf Auto Strike is another great tip with a rod holder. It is made from solid wood with extra coating for durability. Convenient and easy adjustment allows you to service both light rods with reels and heavy ones. All seating surfaces are specially lubricated for very low temperatures.
13# Celsius CE-UT-2PK Ice Fishing Tip-Up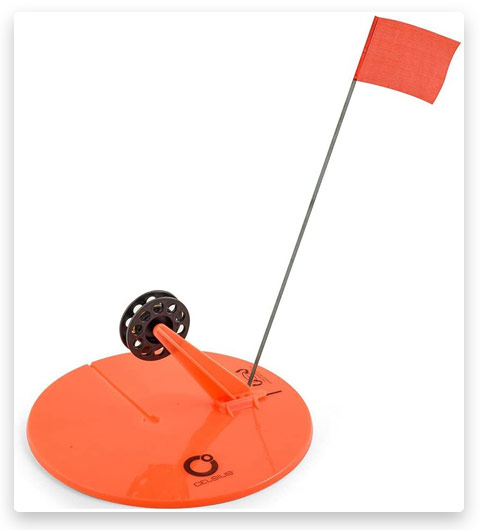 This wide, narrow design has many fans. It is very often cited as the best foundation on the market and it really has something to surprise you with. The installed reel is of high quality and very smooth operation, although it is not among the best models we reviewed. The reel is removable for cleaning and additional lubrication and holds up to 50 yards of 20 lb line, which is more than enough. Some users are having problems with the quality of the checkbox. Since the adhesive is quite weak, it can come loose in strong winds. Despite this problem, this tip-up is still a great buy for ice fishing.
14# Innovative Tip Down All-In-One Ice Fishing Tip-Up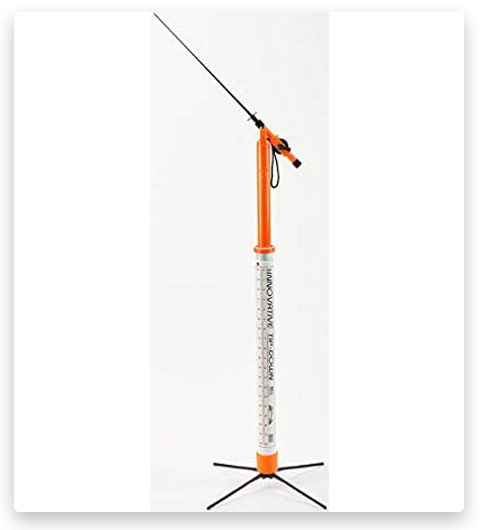 This combo already includes a 3-piece ice fishing system. It includes a storage tube, rod, base for it, reel, and four rotating legs. The installation is very easy to adjust, easily slides up and down, but never slips. The included spool is capable of holding up to 100 feet of line, which will be enough for even the most demanding angler. You will have no problems with the storage and transportation of this unit, as the legs fold easily and allow you to place the unit in the tube.
15# Clam Corporation 8840 Arctic Warrior Ice Tip-Up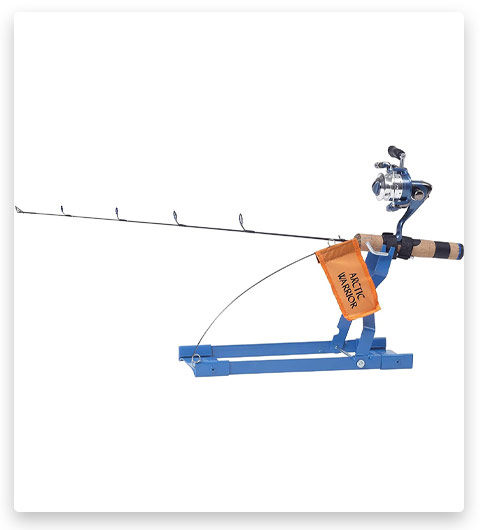 Like other models, Clam Corporation offers its own tip-up model with the same quality as others. You can insert any reel and rod combo into this tip-up, it is quite versatile and will suit any angler. The trigger bar has 2 settings, which greatly simplifies the adjustment. The only problem is the flag's rather dull color. In heavy snow, it will be very difficult to spot it. Nevertheless, this is a very high-quality model at an attractive price!
🛍️ Variety on Ice: Exploring the Different Types of Ice Fishing Tip-Ups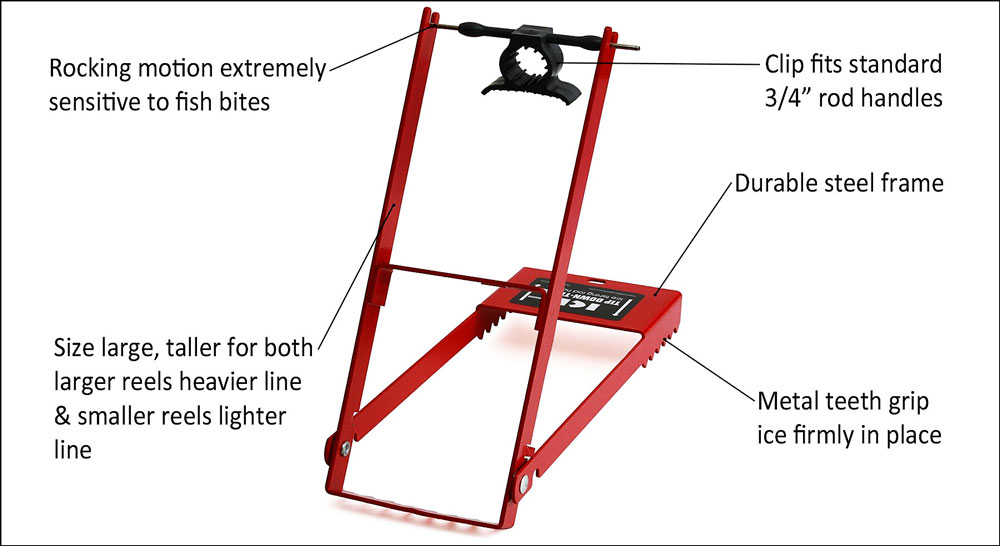 There's no one-size-fits-all in the world of ice fishing tip-ups. These devices come in different shapes and sizes, each with its own unique advantages and applications. Let's dive into the diverse options available in the market and understand their strengths and weaknesses.
Classic Wooden Tip-Ups 🪵
Classic wooden tip-ups are, as the name suggests, traditionally crafted from wood, often hardwood or birch. They're known for their durability and excellent resistance to cold temperatures.
Best Use: Ideal for fishermen who frequent extremely cold locations and value equipment longevity.
Plastic or Thermal Tip-Ups 🧊
Plastic or thermal tip-ups have a plastic, round base designed to cover the entire hole. This design helps insulate the hole, preventing it from freezing over quickly.
Best Use: Perfect for anglers who wish to maintain their fishing hole for extended periods without freezing, and those looking for lighter travel options.
Windlass or Wind Tip-Ups 🌬️
Windlass or wind tip-ups harness the power of the wind to jig your bait. The wind action triggers the spool to bob your bait, making it more attractive to passing fish.
Best Use: Suitable for fishing enthusiasts who want to add an active element to their fishing bait and who often fish in windy conditions.
🔶Choosing the right type of tip-up for your needs enhances your ice fishing experience. Whether it's the classic wooden tip-up, the practical plastic tip-up, or the lively windlass tip-up, each offers unique advantages that can cater to your specific fishing style. By understanding their pros and cons, you can make a well-informed decision and increase your chances of reeling in that prized catch. 🎣🏆
Unmasking the Diverse World of Tip-Ups
Pro-Thermal Tip-Ups: These state-of-the-art tip-ups promise an entire cover-up of your fishing hole, preventing water from freezing, irrespective of how chilling the temperatures drop. A relatively recent innovation, the Pro-Thermal Tip-Ups have quickly soared in popularity. Not only do they keep your ice hole from freezing, but they also ward off any potential sunlight that could deter your prospective fishy targets. Adding to their appeal is their compact and lightweight design, shaped much like disks, allowing you to stack multiple units horizontally in a 5-gallon bucket with ease.
Auto-Jigging Tip-Ups: Shattering the notion of tip-ups being just a "set and forget" system, Auto-Jigging Tip-Ups elevate your ice fishing game. Powered merely by two D-type batteries, these tip-ups continually lift and lower your line, effectively bringing your bait to life in the water, imitating natural movements that are irresistible to fish.
Windlass Tip-Ups: Truly unique in the realm of ice fishing, Windlass Tip-Ups incorporate a small paddle that harnesses the power of the wind, making your bait bob up and down in the water, an action that proves extremely enticing for fish. Even in calm weather, the Windlass assures optimum bait performance. Fitted with a V-frame, these tip-ups are easy to remove from ice and their folding design simplifies transportation.
Classic Hardwood Tip-Ups: A timeless choice, Classic Hardwood Tip-Ups have been trusted by anglers for the past 50 years. Equipped with all essential features – from a sturdy base and conspicuous flag to a large, smooth spool capable of reaching significant depths – these tip-ups are a testament to the adage, "Old is gold."
Rod Tip-Ups: While not a separate type per se, more a jig rod holder, Rod Tip-Ups serve to secure your rod in a stable position over the hole. They work particularly well when targeting smaller, skittish fish that are quick to bite. Having a few of these in your kit can be a real game-changer, especially in freezing conditions when handling the rod becomes challenging.
🧐 Spotting the Non-negotiables: Key Features to Consider in an Ice Fishing Tip-Up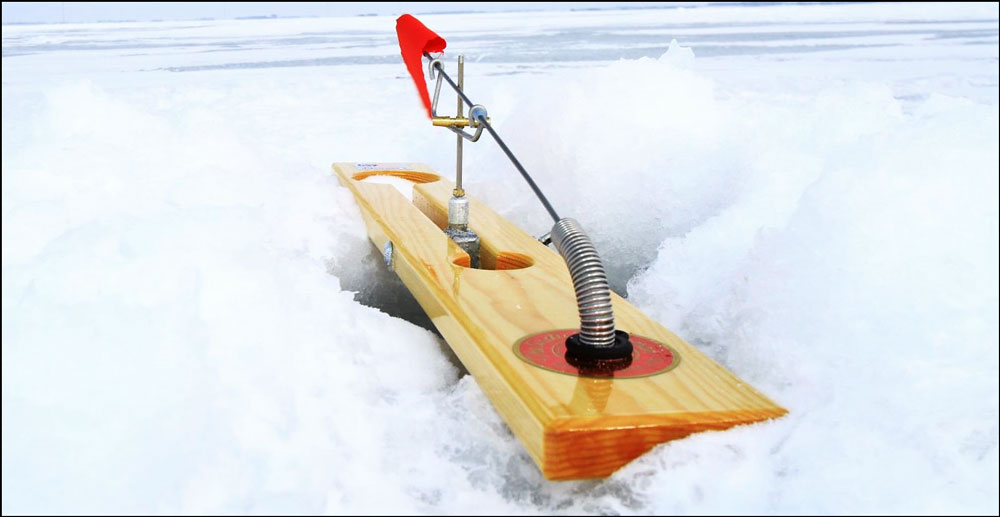 Selecting a tip-up isn't simply about picking the first one you see. You need to focus on essential features that can significantly impact your ice fishing success. Let's dissect these attributes and understand why they are pivotal for your tip-up choice.
Material Quality 🧱
The tip-up's material can dictate its longevity and performance in harsh winter conditions. Opt for tip-ups with a robust and resilient construction. Remember, wooden tip-ups provide excellent durability, while plastic models offer lightweight convenience.
Flag Visibility 🚩
The flag is your indicator of a fish bite – it has to be easily noticeable. Look for tip-ups with bright, contrasting colors that stand out against the snowy landscape. The flag should be large enough and mounted high enough to be visible from a distance.
Spool Size and Type 🎣
The size and type of the spool determine what kind of fishing line you can use and how much of it can be accommodated. Larger spools are ideal for fishing in deeper waters or targeting larger species, while smaller ones are sufficient for shallow waters and smaller fish.
Trip Mechanism Sensitivity ⚙️
A sensitive trip mechanism can differentiate between a light nibble and a strong bite, preventing false alarms. Look for a tip-up with an adjustable trip bar to customize the trigger sensitivity based on the species you're targeting.
Ease of Use 🙌
The tip-up should be user-friendly. It should be easy to set up, adjust, and pack away. The last thing you want is to fumble with your equipment in the freezing cold.
Hole Covering Capability ❄️
If you're fishing in extremely cold temperatures, consider a tip-up with a design that covers the hole entirely, like a thermal tip-up. This feature helps insulate the hole and slow down its freezing rate.
Each of these features plays a crucial role in the overall effectiveness of a tip-up. The right material ensures durability, a visible flag provides a clear bite indication, the correct spool size allows flexibility in fishing techniques, a sensitive trip mechanism minimizes false alarms, ease of use ensures a smooth fishing experience, and hole covering capability extends your fishing time in icy conditions.
🔶When it comes to ice fishing, it's the details that can make or break your fishing adventure. Therefore, investing time in choosing a tip-up with the right features is not just advisable, it's absolutely essential. 🎯🐟
🎦Video YouTube: Ice Fishing With TIP UPS (Tips And Tricks)
🎯 Spotlight on Quality: Essential Features of a Top-Notch Tip-Up
When it comes to choosing a quality tip-up for your ice fishing adventures, several critical characteristics can make the difference between a good day on the ice and an exceptional one. Here are the key features to consider when shopping for your next ice fishing companion:
Adjustable Trip Bar 🎚️
The trip bar is a crucial aspect of any tip-up as it allows for fine-tuning based on your target fish and the day's conditions. A flexible trip bar means you can adjust the sensitivity, enabling small species to trip the flag without difficulty, or set it heavier to avoid false alarms in windy conditions or when pursuing larger predators.
Broad and Stable Base 📏
Don't underestimate the importance of the tip-up base. Its dimensions contribute significantly to the stability of your setup. A broad and longer base ensures your tip-up stays firmly in place over the fishing hole, regardless of the snow condition.
Efficient Flag Locker 🚩
A flag locker adds convenience by allowing you to fold down the flag, rendering the tip-up more compact. This feature also helps to prevent tangles and line damage when the tip-up is not in use.
Secure Hook Holder 🪝
The hook holder does precisely what its name implies—it safely stows away hooks and other attachments. This handy feature ensures your gear doesn't become entangled or snagged, especially during transport or storage.
Robust Bait Clip 🖇️
The bait clip plays a key role in maintaining the line's position under the tip-up. It keeps the weight or movements of hefty lures from triggering false positives. Always opt for a bait clip that's large and sturdy enough to hold the line securely.
High-Quality Spool 🧵
The heart of your tip-up, the spool, houses the line, hook, and bait—it's essentially the crux of your fishing venture. Spools made from high-grade plastic or stainless steel are often excellent choices. Also, a larger spool lets you wind more line, so it's advisable to take note of its size.
🔶Remember, choosing a quality tip-up is an investment in your ice fishing future. The right features will not only enhance your chances of success but also ensure a smooth and enjoyable experience on the ice. 🎣💪
🛠️ Tip-Up Set Up 101: Your Step-by-Step Guide

Setting up your ice fishing tip-up can seem daunting at first, but with the right steps, you'll have your line in the water in no time. So, let's break it down step-by-step.
Step 1: Drill the Hole 🕳️
Start by drilling a hole in the ice using an ice auger. The hole size should correspond to the size of your tip-up. Remember to clear away any ice debris from the hole with an ice scoop.
Step 2: Assemble Your Tip-Up 🔧
Unfold and assemble your tip-up according to the manufacturer's instructions. Ensure the flag is in the down position and the trip mechanism is set to prevent the spool from unwinding.
Step 3: Attach the Line and Bait 🐟
Spool the fishing line onto the tip-up, making sure it's sufficiently tight. Attach your chosen bait to the hook. It's a good idea to use live bait such as minnows, as their movement attracts fish.
Step 4: Lower the Baited Hook 🎣
Lower the baited hook into the hole until it reaches your desired depth. You can use a depth finder or a weight to help determine the depth.
Step 5: Set the Flag 🚩
Once your line is at the right depth, engage the trip mechanism. This will set the flag so that it springs up when a fish strikes.
Step 6: Place the Tip-Up 📍
Lastly, place the tip-up over the hole with the flag end facing into the wind. This helps prevent the wind from accidentally tripping the flag.
Pro Tip: Choosing Your Depth 🌊
The depth at which you set your line depends on the species you're targeting. As a general rule, walleye and perch are found close to the bottom, while pike and trout may be found at mid-depths. Research the preferred depth of your targeted species for best results.
🔶Setting up your tip-up is a fundamental part of ice fishing. By following these steps, you'll ensure that your gear is properly assembled, baited, and ready for action. Now all that's left is waiting for that flag to pop! 🏁🎣
👀 Eyes on the Prize: Monitoring Your Ice Fishing Tip-Ups

Monitoring your tip-ups efficiently is a key factor to success on the ice. Understanding the flag signals and managing multiple lines can increase your catch rate dramatically. Let's decode these crucial aspects of ice fishing.
Flag Signals and What They Mean 🚩
Recognizing the different flag movements can help you interpret what's happening underwater.
Quick Flag Pop: A sudden and quick rise of the flag is typically a sign of a fish biting aggressively. Grab your gloves and get ready to reel in your catch!
Slow Flag Raise: A slow or gradual flag raise can mean a fish is inspecting or lightly nibbling your bait. Patience is key here. Wait for a few moments before approaching the hole to avoid scaring off your potential catch.
Fluttering Flag: A fluttering or trembling flag suggests that your bait is being moved. This could be the result of smaller fish playing with your bait or your bait itself struggling on the hook.
Techniques for Managing Multiple Tip-Ups 🎣🎣
Ice fishing regulations often allow the use of multiple tip-ups. However, keeping track of several lines can be challenging. Here are some tips to handle multiple tip-ups:
Space Them Out: Space your tip-ups appropriately, ensuring they're within sight but not so close that they interfere with each other.
Flag Colors: Consider using tip-ups with different colored flags. This can help quickly identify which line has a bite.
Prioritize: When multiple flags spring up simultaneously, check the one that popped up first. Fish may be moving through the area, and you don't want to lose your first bite.
Use a System: Establish a checking system for your lines. Regularly inspect each tip-up in a systematic order to ensure none are missed.
🔶Mastering the art of monitoring your tip-ups can significantly enhance your ice fishing experience. Understanding flag signals provides you an underwater insight, and effective management of multiple tip-ups can multiply your chances of a fruitful catch. All it takes is some observant eyes and strategic planning. 👀🕹️
🎣 Pro's Playbook: Best Practices and Pro Tips for Using Tip-Ups
Ice fishing with tip-ups can be an exciting and productive venture, especially when you're armed with some expert advice. Let's delve into the do's and don'ts, along with some professional tips to up your ice fishing game.
Do's of Ice Fishing with Tip-Ups ✔️
Do Check the Laws: Before you set up your tip-ups, make sure you're familiar with local fishing regulations. These may dictate the number of lines you can use and the type of bait allowed.
Do Experiment with Bait and Depth: Different fish prefer different baits and depths. Don't be afraid to switch things up if you're not getting bites.
Do Regular Line Maintenance: Check your lines regularly for ice build-up and ensure they're not tangled or caught on anything.
Don'ts of Ice Fishing with Tip-Ups ❌
Don't Neglect Your Gear: Always clean and dry your tip-ups after each use to prevent rust and keep them in top shape.
Don't Leave Your Tip-Ups Unattended: Always keep an eye on your tip-ups. Unattended lines can result in lost fish or worse, lost gear.
Don't Ignore the Weather: Weather conditions can significantly impact ice safety and fish activity. Always check the forecast before heading out.
Pro Tips for Successful Ice Fishing 🎓
Flag Position: Set your flag to face the most common wind direction. This can prevent the wind from falsely tripping it.
Line Markers: Use line markers or buttons to mark the depth on your line. This allows you to quickly reset your bait after a catch.
Light and Dark: Consider using lighter line for clear water and darker line for murky water to make your line less visible to fish.
🔶These guidelines and tips are not just advice but an arsenal of tools that you can use to conquer the icy waters. Ice fishing is not just about luck; it's about strategy, skill, and most importantly, understanding your gear. So gear up, head out, and make the ice your stage. 🥇🐟
🧭 A Pro's Playbook: Mastering the Art of Tip-Up Ice Fishing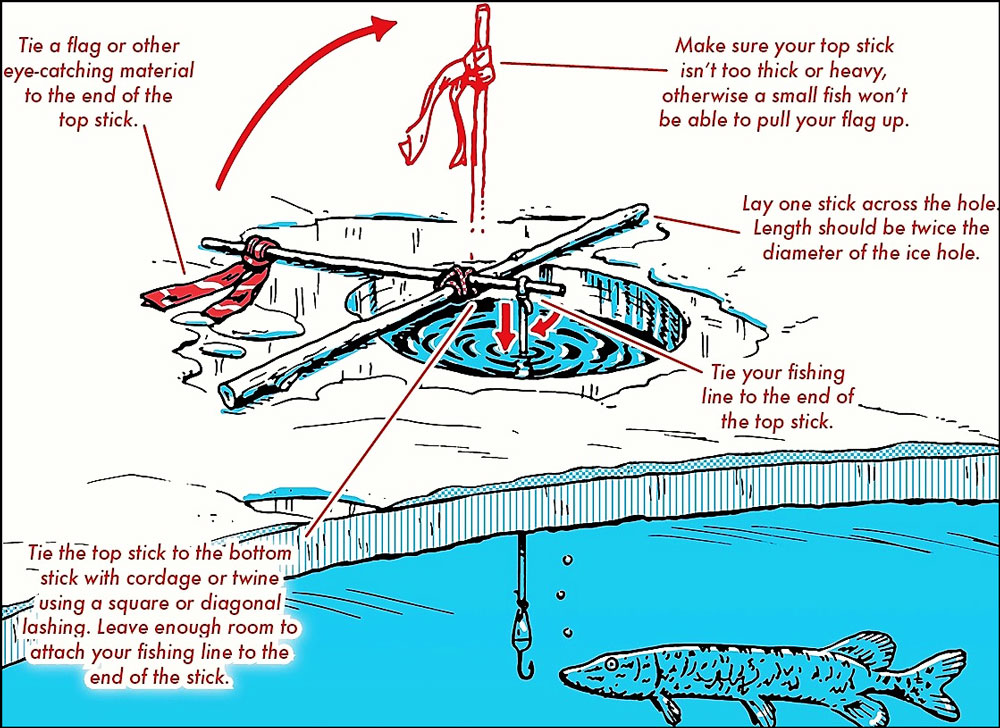 Tip-up fishing is an exciting winter sport, but success isn't only about dropping your lines into the icy water. To ensure a rewarding catch, a strategic approach is a must. Here are some game-changing tactics that can level up your tip-up fishing expedition:
Scouting Your Territory 🗺️
Identifying the most promising fishing spots is the first step. Once you've zeroed in on these locations, spread your tip-ups to cover a broad area and increase your chances of success.
Piercing the Ice ❄️
Use a reliable ice auger to drill holes in your selected spots. It's essential to ensure that the holes are wide enough for your tip-ups and the species you're aiming to catch.
Spooling it Right 🧵
Loading a durable and robust line onto your tip-up's spool is crucial. A quality line resists fraying and withstands the biting cold, enhancing your chances of a successful reel-in.
Getting the Depth Right 📏
Properly measure the water depth to make sure your bait is positioned attractively for the fish. Use a depth sounder or marked line to get accurate readings.
Choosing the Right Bait 🐟
The bait can make all the difference. Tailor your selection based on the species you're targeting to make it impossible for them to resist.
Tuning the Trigger Sensitivity 🎚️
Fine-tuning the sensitivity of your tip-up's trigger is a key aspect. Make the necessary adjustments based on the species you're targeting and the day's wind conditions.
Flag Vigilance 🚩
Always keep an eye on your flags. Prompt detection of a standing flag is half the battle won.
Quick on Your Feet 👣
Once you spot a standing flag, speed is of the essence. Reach the hole as quickly and safely as possible.
Confirming the Catch 🎣
Before setting the hook, make sure the fish is still on the bait. Feel for resistance or movement in the line.
The Final Reel-In 🏁
Slow and steady wins the race here. Set the hook with a smooth, firm pull and reel in your catch patiently.
Remember, mastering tip-up ice fishing takes practice and patience. With these expert tips in your arsenal, you're well on your way to becoming a pro. Good luck and tight lines!
🏅 Recommended Gear: Top Picks for Ice Fishing Tip-Ups
Choosing the right gear is paramount for a successful ice fishing trip. Here are some top-rated tip-ups that have proven reliable and effective on the ice.
Frabill Pro Thermal Tip-Up 🥇
The Frabill Pro Thermal Tip-Up is a favorite among many ice anglers due to its innovative design. The insulated base prevents the hole from freezing, allowing for longer fishing periods. Its round shape covers the entire hole, blocking out light that can deter wary fish. The bright orange flag is highly visible, ensuring you never miss a strike.
HT Enterprises Polar Tip-Up 🥈
Built with durability in mind, the HT Enterprises Polar Tip-Up boasts a plastic base that resists freezing to the ice. Its adjustable flag wire is windproof, reducing false alarms on windy days. The large capacity spool can hold ample line, making it suitable for deep water and big fish.
Beaver Dam Original Tip-Up 🥉
For those who appreciate a classic design, the Beaver Dam Original Tip-Up is a great choice. Handcrafted from high-quality wood, this tip-up features a smooth spool for easy line release and retrieval. The flag on this model is bright red, offering excellent visibility against the white snow.
🔶Each of these models provides a unique set of features that cater to different fishing styles and conditions. Your choice ultimately depends on your personal preferences, the species you're targeting, and the environmental conditions you'll be facing. Whichever you choose, rest assured that these tip-ups have earned their stripes in the ice fishing community. 🎣🏆🧊
🎣 The Last Cast: Wrapping Up Ice Fishing Tip-Ups
As we reel in our exploration of ice fishing tip-ups, it's clear that they're an indispensable tool for any angler braving the winter waters. We've tackled everything from what they are, the various types available, their key features, to the art of setting them up. We've also delved into the crucial task of monitoring these devices and shared some best practices, tips, and recommended gear to enhance your icy expeditions. 🏔️📚
Mastering tip-ups is like learning a new language—the language of the fish under the ice. It allows you to communicate with the watery world beneath your feet and convert those silent signals into a successful catch.
In essence, a tip-up is more than just a piece of gear; it's a lifeline between you and the potential catch of a lifetime lurking in the depths. So, whether you're a seasoned ice angler or a novice eager to break the ice, a sound understanding of tip-ups and how to use them effectively can significantly elevate your ice fishing game. ❄️🐟🏆
🔶Remember, ice fishing is about more than just catching fish. It's about embracing the challenge, appreciating nature, and making memorable experiences on the ice. So gear up, stay safe, and may your flags always be flying! 🎣🌬️🎏
❓🤔 FAQ: Ice Fishing Tip-Ups
🔶Remember, if you have any further questions, don't hesitate to reach out. Ice fishing is a community, and there are plenty of experienced anglers willing to share their knowledge. 🎣❄️
Tags: #best tip up for ice fishing / #ice fishing tip-up / #ice fishing tip-up parts / #ice fishing tip up line / #ice fishing rail tip-up / #tip up lights for ice fishing / #legendary ice-fishing tip-up built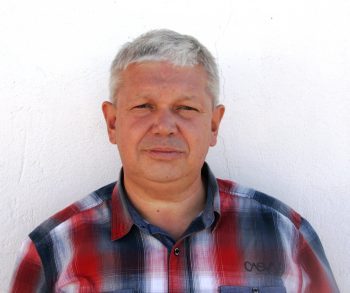 Sergio Smirnoff
Professional fisherman with 40+ years of experience.
Fishing and the ocean is a passion of my life. I am passionate about all kinds of sea fishing: fishing from the shore (spinning, float, baitcasting), from a boat, and spearfishing day and night.
I live in Tenerife (Canary Islands) for the last 10+ years and share my daily fishing experiences on my website. Many years of personal experience as a fisherman and the vast experience of my friends allow me to write professionally on any fishing topics (from choosing a flashlight and equipment to deep-sea fishing).
All of my advice is based on practical real-world experience and will be useful to both novice anglers and professionals.
Read more
about the author.
Affiliate Disclosure: FishReeler.com sometimes gets paid for listings, through sponsors or affiliate programs like Amazon, Ebay, Cabelas, Bass Pro Shop, Shimano, Daiwa, Rapala, Renn, Okuma, KastKing, etс. Clicking a link helps keep FishReeler.com free, at no extra cost to you!
About the author: Each article is verified by the fishing expert Sergio Smirnoff. The articles are written by professional and amateur fishermen with 20+ years of fishing experience.
Note: The views and opinions expressed in this article are those of the authors and do not necessarily reflect the official policy or position of any agency. The articles are for informational purposes only, share your opinions in the comments and join the fishing discussions, let's share our fishing experiences together!