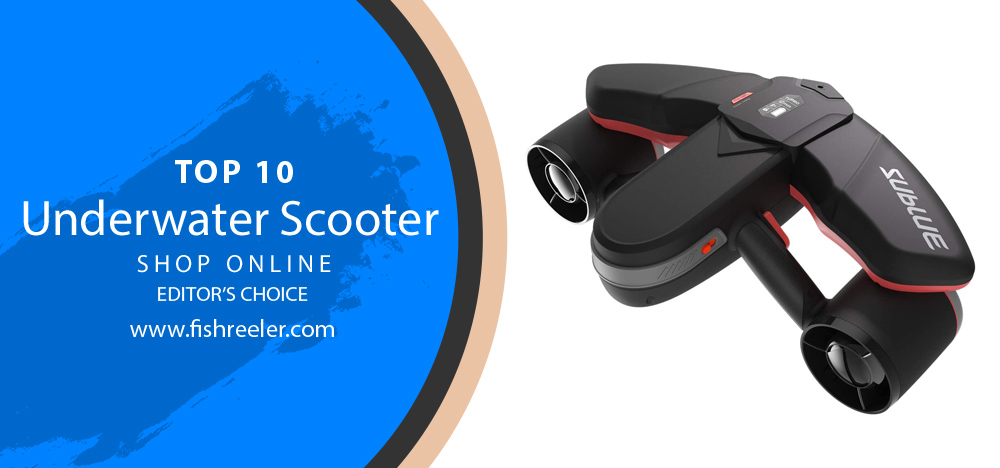 Catch the Big One: The Benefits of Underwater Scooters for Fishing Enthusiasts
Are you ready to take your underwater adventures to the next level? Imagine gliding effortlessly through the crystal-clear waters, surrounded by colorful marine life and stunning coral reefs. With the help of an underwater scooter, you can explore the depths of the ocean with ease and experience a whole new world of wonder.
Whether you're a seasoned diver or a curious beginner, this guide will take you through everything you need to know about underwater scooters and how to choose the best one for your needs. Let's dive in!
What is Underwater Scooters?
Underwater scooters are the latest technological devices that allow us to easily move around in the water. They can be used as additional equipment in spearfishing or just for entertainment both in the sea and in the pool. Such a device will help you quickly and comfortably move along the coast during spearfishing or take the catch ashore. It is also a great way to have even more fun when you are in the water.
An underwater scooter, also known as a sea scooter or diver propulsion vehicle (DPV), is a device that allows you to move effortlessly through the water while diving or snorkeling. It works by propelling you forward with a motorized propeller, which is controlled by a hand-held trigger.
With an underwater scooter, you can cover more ground, conserve energy, and get closer to marine life than ever before. Whether you're looking to catch a big fish or simply explore the ocean depths, an underwater scooter can help you do it in style. So, grab your gear and get ready for an unforgettable underwater adventure!
What Will Underwater Scooters Be Used for?
Obviously, underwater scooters are designed to take you on the surface or underwater, but what use can you give the device? Such a device is one of the most popular among anglers. Those who prefer spearfishing have found great use for underwater scooters and have eased their position. A fisherman can move along the shore quickly and without any effort. Once you get the catch, your partner can easily take him ashore using such a device.
Underwater scooters are also used for recreation and entertainment in the water. This is an exciting activity to ride underwater and explore the underwater world. If you intend to leave far from the coast, that are things that need to be taken into account, for example, you must make sure that you have enough battery life to return to the coast or to your boat. Some of these scooters can also be useful for relaxing on the lake or in the large pool.
What Factors Should be Considered When Choosing?
Depth. The maximum depth that a scooter can reach can be important depending on the type of activity for which you want to use it. If you are not a professional diver, you don't need to dive too deep into the water. 30 feet of diving is more than enough for most people, and this is the depth you'll find on most devices. You should take this item seriously if you want to choose the perfect device for you. There are professional models that can go much further that can dive to distances of up to 100 feet. This is a long-distance down, and it will allow you to have almost all types of use of an underwater scooter.
Power and battery life. As with most technologies, the more power you have, the less time you work. It seems like most of our time is now spent on checking how many batteries we have. However, when using an underwater scooter, it is important to know how long you use the device since as a rule, you will not have a percentage scale showing how much you used. If you are planning to dive away from the coast or in an inflatable boat, you will need a scooter with a battery of up to 2 hours, but in most cases, 1.5 hours should be more than enough for a good day, as this is the total time of work, and not the time spent in the water with the device, because it will not work at full power all the time. If you use a scooter for spearfishing and ride mainly along the coast, you don't have to worry too much about time, and in such situations, you may have enough hours of work.
Buoyancy. Buoyancy is quite difficult to achieve on a device such as an underwater scooter. However, you don't want the device to sink like a stone if you drop it. You also don't want it to be too buoyant, because it would be too difficult to handle underwater. It is also advisable to think about whether you will use this in salt or freshwater. Most scooters cope with this problem without additional controls. But most of the premium models will allow you to change the buoyancy, making your trip more comfortable. Most of these underwater scooters are designed for use in saltwater, as salt provides a different level of buoyancy than freshwater. A freshwater scooter may not be as buoyant in salt water, although it can be used in both. More expensive models that can dive further are more likely to have buoyancy.
Consider the speed: Different underwater scooters have different maximum speeds, so consider how fast you want to go and choose an option that can keep up with you.
Weight. The weight of your scooter can be an important aspect because if it is too heavy, you can't easily transfer it to and from the water. There is no big difference in water since the pressure of the water and the buoyancy of the scooter facilitate its movement. As a rule, the model will be more advanced, it will be easier. Therefore, if you buy an entry-level scooter for your children, most likely they will be very easy to carry.
Price. Due to the nature of the device, since they are immersed in water, they are not very cheap, which makes it even more important to choose the best underwater scooter for you. Models used by divers are even more expensive and cost thousands of dollars. Entry-level scooters, however, will cost you only a few hundred dollars, which is a good investment when you think about how long the device will work and how much fun you will get from it. This can be a fantastic swimming tool to help you reach a depth that is usually breathtaking. The most expensive models can cost more than $ 500, and for this extra money, you will get additional depth, speed, and time. Although these scooters are not the cheapest water equipment you get, it is better than choosing a cheap model and you want to make sure that your scooter doesn't let you down when you are in the water or easily discharged.
Consider additional features: Some underwater scooters come with additional features, such as built-in cameras or LED lights. Consider which features are important to you and choose an option that meets those needs.
By taking these factors into consideration, you can choose an underwater scooter that is perfect for your needs and will help you take your underwater adventures to the next level.
Effortlessly Glide Through the Ocean: A Beginner's Guide to Using Underwater Scooters
If you're new to using underwater scooters, there are a few things you should know to ensure a safe and enjoyable experience. Here are some tips for using underwater scooters as a beginner:
Get familiar with the equipment: Before you take your underwater scooter for a spin, make sure you're familiar with all of its features and how to operate it. Read the user manual and practice using it in shallow water before venturing deeper.
Use the right gear: When using an underwater scooter, you'll want to wear a wetsuit, fins, and a dive mask to protect your body and improve your mobility in the water.
Follow safety protocols: Always follow basic safety protocols when using an underwater scooter, such as never diving alone, staying within your limits, and monitoring your air supply.
Adjust your buoyancy: When using an underwater scooter, you'll want to adjust your buoyancy to ensure that you don't sink or float too much. This will help you move more efficiently through the water.
Use it responsibly: Remember to use your underwater scooter responsibly and not disturb marine life or damage the underwater environment.
With these tips in mind, you can use an underwater scooter safely and effectively as a beginner. So, grab your gear and get ready to explore the depths of the ocean like never before!
Essential Gear for Underwater Fishing with a Scooter
Absolutely! Here is a table outlining the basic equipment you'll need to start underwater fishing with a scooter:
| Equipment | Description |
| --- | --- |
| Underwater scooter | A motorized device that propels you through the water. Choose one with sufficient power, battery life, and depth rating for your needs. |
| Wetsuit | A suit designed to keep you warm and protect your skin while in the water. Choose a suit that fits snugly but allows for comfortable movement. |
| Fins | Flippers that attach to your feet and help you move through the water more efficiently. Choose fins that fit well and match your skill level. |
| Dive mask | A mask that covers your eyes and nose and allows you to see clearly underwater. Choose a mask that fits comfortably and provides a good seal. |
| Snorkel | A tube that allows you to breathe while your face is submerged in the water. Choose a snorkel that fits comfortably and has a good mouthpiece. |
| Weight belt | A belt that helps you achieve neutral buoyancy and control your depth while diving. Choose a belt that fits well and has enough weight to keep you submerged. |
| Dive computer | A device that monitors your depth, time underwater, and other vital information to help you stay safe while diving. Choose a computer that fits your needs and skill level. |
| Underwater camera | A camera that allows you to capture photos and videos of the marine life and underwater scenery. Choose a camera that fits your needs and is waterproof. |
By having these basic pieces of equipment, you can start underwater fishing with a scooter safely and effectively. Always remember to follow basic safety protocols, such as diving with a buddy, staying within your limits, and monitoring your air supply. Happy diving!
Our Top List 10 Best Underwater Scooter
They can ride you under the waves at speeds you have never experienced. However, what is the best underwater scooter on the market? Here I have selected the 10 best underwater scooters to see which one stands out.
| Image | Product | Brand | Link |
| --- | --- | --- | --- |
| | sublue WhiteShark Mix Underwater Scooter Dual Motors, Action Camera Compatible, Water Sports Swimming Pool Scuba Diving for Kids & Adults | sublue | |
| | G GENEINNO Underwater Scooter Dual Propellers with 2-Speed Compatible with GoPro (Orange) | G GENEINNO | |
| | Yamaha Seascooters Recreational Series, Seal | Yamaha Seascooter | |
| | Yamaha Seascooter RDS300 with Camera Mount Recreational Dive Series Underwater Scooter , Black / Red, Large | YAMAHA | |
| | WINDEK SUBLUE WhiteShark Mix Underwater Scooter with Action Camera Mount Dual Motor 40M Waterproof for Water Sports Swimming Pool & Diving & Snorkeling & Sea Adventures | WINDEK | |
| | TUSA SAV-7 Underwater Scooter | TUSA | |
| | WINDEK SUBLUE Navbow Smart Underwater Scooter with Action Camera Mount OLED Display 40M Waterproof for Water Sports Swimming Pool & Diving & Snorkeling & Sea Adventures | WINDEK | |
| | Youcan Robot Underwater Drone BW Space ROV with 1080P/ 4K Video Capture and 12MP Camera (100m/328feet-cable) (4K-Focus Mirror) | Youcan Robot | |
| | JASSCOL Seascooter 164ft 4mph Underwater Scooter 2 Speed Snorkeling Scuba Diving Go Pro Compatible | JASSCOL | |
| | Asiwo Underwater Scooter with Action Camera Mount - Dual Motor Sea Scooter OLED Display Waterproof for Diving Swimming Snorkeling Adventures and Chasing Fish | Asiwo | |
1# Sublue WhiteShark Mix Underwater Scooter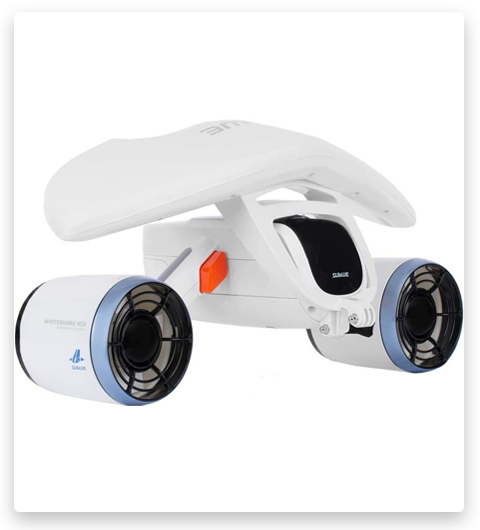 You can't even imagine how convenient this device is during spearfishing. This will be faster and more effective for you. And when you don't use it, your children can use it for entertainment in the water. This allows you not only to experience incredible emotions but also to capture them on camera. The device interface is compatible with many sports cameras. It will not be difficult to take with you due to its portability.
The device weighs only 3.5 kg. And it doesn't take up much space in your car during transportation. The battery is able to work for 30 minutes of continuous operation. The maximum deep is 40 meters and at the same time, the maximum speed is 3.35 mph. You can not worry that water will get into the battery. It is waterproof. There is nothing complicated to use, therefore everyone has a chance to see a beautiful underwater world!
2# G GENEINNO Underwater Scooter Dual Propellers 2-Speed Compatible GoPro Orange
The electric underwater scooter amazed me pleasantly. But before introducing you to some of its most important features, I want to say that it costs a lot of money. However, it costs that kind of money. It is very easy to use, there is no instruction using.
Firstly you are immersed in water and then start moving: two screws and an engine will take care of pushing you. If the battery runs out, although this should not happen due to the fact that the device is equipped with a battery level indicator, it is floating and it allows you to get to the shore yourself.
3# YAMAHA Seascooter with Camera Mount Recreational Series Underwater Scooter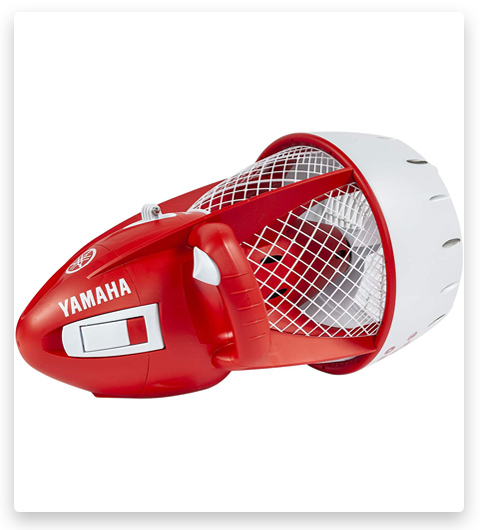 This underwater scooter is available in two colors: red and blue. Therefore, if you are looking for it for your child, then you can choose the model both for the boy and the girl.
In general, this device is suitable for all family members and for different purposes. This can be used as entertainment, exploring the underwater world, or spearfishing. The device has excellent buoyancy and a weight of 12 pounds. The scooter has a mount for the camera so you can capture the best moments.
4# Yamaha RDS300 Seascooter Series Underwater Scooter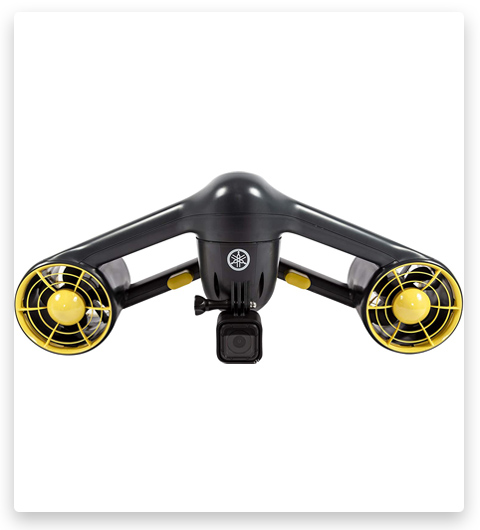 An underwater scooter is available for you at an average price, which is equipped with the necessary functions. First, you can use it for 45 minutes. Secondly, you will always know when the battery will run out due to the indicator. You will always be safe thanks to the excellent buoyancy of the device. Embed your camera to capture amazing moments forever.
5# WINDEK SUBLUE WhiteShark Mix Underwater Scooter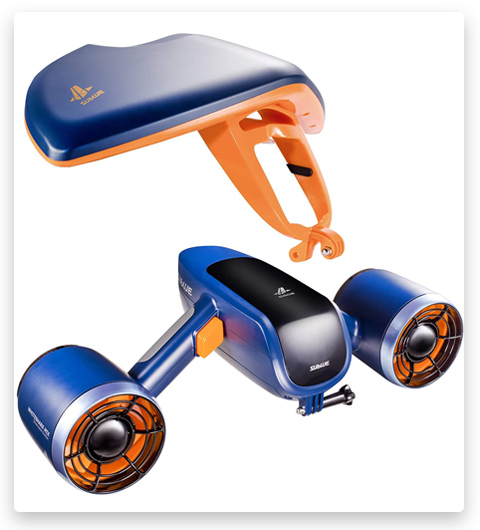 A wonderful device for your entertainment. Each family member will be able to use it for a different underwater purpose. Its battery allows you to use the device for 30 minutes. It has a speed of up to 1.5 m/s. Immerse yourself in deep of 40 meters to see all the beauty. Lightweight carrying due to small weight. High security is guaranteed. Propellers have a protective grid so that you don't hurt your fingers.
6# TUSA SAV-7 Underwater Scooter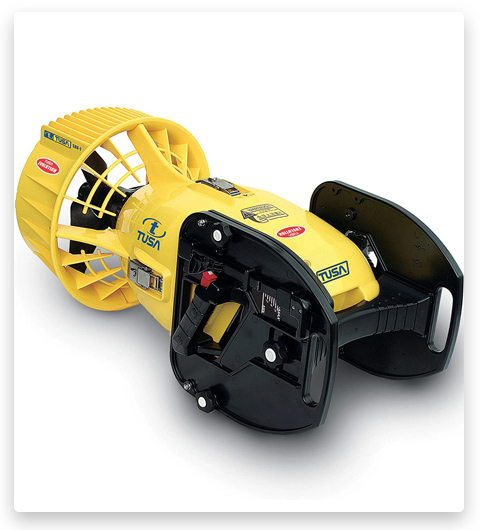 This device allows you to dive at 230 pounds. This is what you need for diving, spearfishing. You can switch speed on the go. The battery indicator will let you know when the device is running low. It is also highlighted for better vision.
7# WINDEK SUBLUE Seabow Smart Underwater Scooter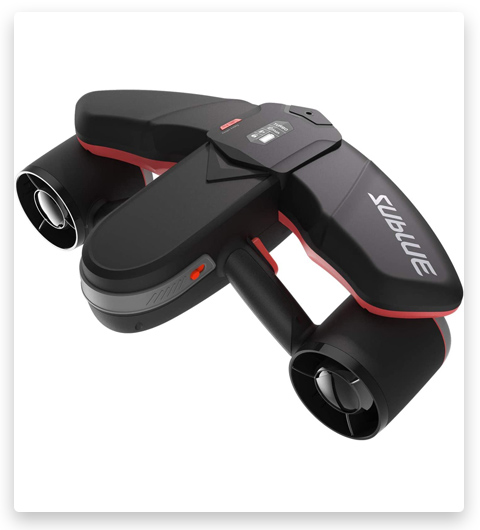 This is an affordable scooter that can work for 1 hour. It has a top speed of 4.47 mph and plunges 40 meters. You can control it with one hand thanks to the DTC dial. The device's interface allows you to fix any camera and take pictures of what is happening underwater.
8# Youcan Robot Underwater Drone BW Space ROV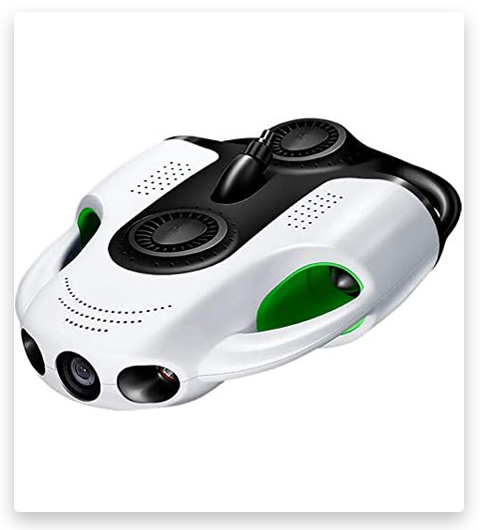 An innovative device that will interest everyone with its unique design and useful features. The device is equipped with a built-in camera, lighting settings to get cool shots underwater. You will also find the autopilot mode. You can dive 100 meters and the scooter runs up to 7 hours. It is easy to take with you thanks to convenient handles.
9# JASSCOL Seascooter 164ft 4mph Underwater Scooter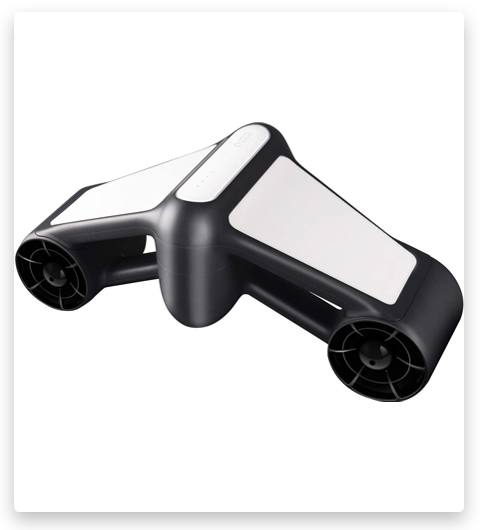 Classic black and white design if you want to get something simple and not bright. This device is what you need for spearfishing, shallow diving, snorkeling, or ordinary entertainment in the sea or pool. This works for 45 minutes and thanks to the battery indicator, you can understand how long the device will be discharged.
10# Asiwo Underwater Scooter with Action Camera Mount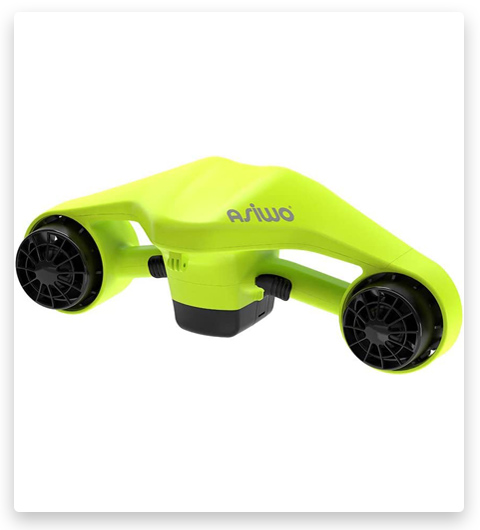 Bright colors to enhance your mood and choice. While using the device, it doesn't make a sound and doesn't interfere with other people near you. You can dive to a maximum of 30 meters in depth. Use approximately 35 minutes of continuous use. Use the understandable instruction to start using the scooter.
FAQ
Conclusion
Buying an underwater scooter online is absolutely safe! In fact, it can be even safer than buying them at a local store, as you don't need to leave your home. In addition, if you receive a defective item, you can always get a refund or replacement. I hope that I could help you find the best underwater scooter that is ideal for use during spearfishing.
Tags: #underwater scooter / #sublue whiteshark mix underwater scooter / #underwater sea scooter / #trident underwater scooter / #underwater scooter hawaii / #best underwater scooter / #best recreational underwater scooter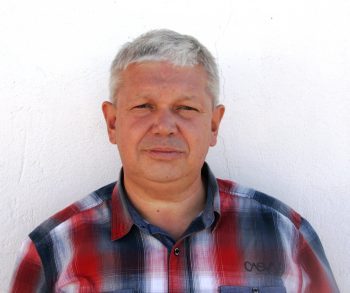 Sergio Smirnoff
Professional fisherman with 40+ years of experience.
Fishing and the ocean is a passion of my life. I am passionate about all kinds of sea fishing: fishing from the shore (spinning, float, baitcasting), from a boat, and spearfishing day and night.
I live in Tenerife (Canary Islands) for the last 10+ years and share my daily fishing experiences on my website. Many years of personal experience as a fisherman and the vast experience of my friends allow me to write professionally on any fishing topics (from choosing a flashlight and equipment to deep-sea fishing).
All of my advice is based on practical real-world experience and will be useful to both novice anglers and professionals.
Read more
about the author.
Affiliate Disclosure: FishReeler.com sometimes gets paid for listings, through sponsors or affiliate programs like Amazon, Ebay, Cabelas, Bass Pro Shop, Shimano, Daiwa, Rapala, Renn, Okuma, KastKing, etс. Clicking a link helps keep FishReeler.com free, at no extra cost to you!
About the author: Each article is verified by the fishing expert Sergio Smirnoff. The articles are written by professional and amateur fishermen with 20+ years of fishing experience.
Note: The views and opinions expressed in this article are those of the authors and do not necessarily reflect the official policy or position of any agency. The articles are for informational purposes only, share your opinions in the comments and join the fishing discussions, let's share our fishing experiences together!