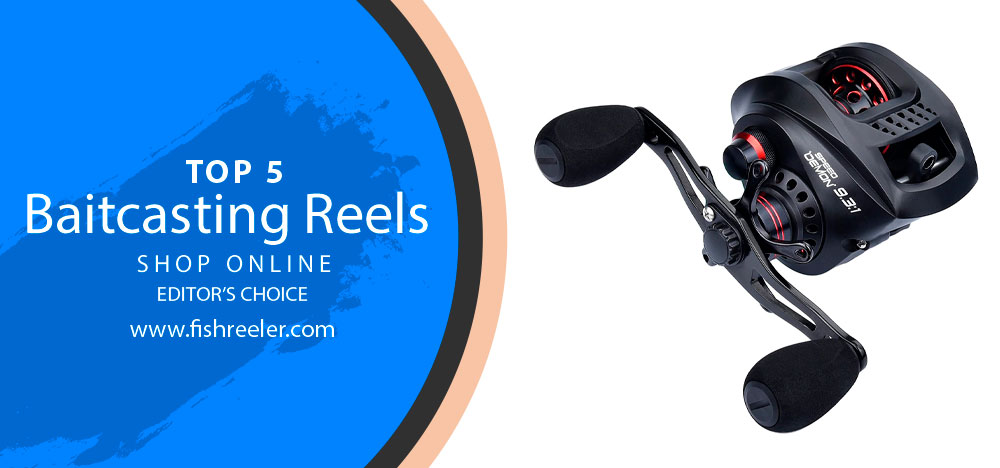 🎣 Why Every Angler Needs a Baitcasting Fishing Reel 🎣
Attention fishing enthusiasts! 🚨 If you're looking to take your angling game to the next level, the baitcasting reel is your ticket to success. But why is it a must-have for every serious fisherman?
Quick Summary
🚀 Unmatched Precision: With a baitcasting reel, you can place your lure exactly where you want it, every single time. Gone are the days of inaccurate casting!
🐟 Power & Control: Dealing with a big catch? These reels give you the torque and control needed to reel in those heavy hitters with ease.
🌊 Versatility: From freshwater lakes to saltwater coasts, baitcasting reels are adaptable and perfect for a wide range of fishing environments.
🔄 Improved Line Management: Say goodbye to tangles! The unique design of baitcasting reels offers smoother line lay and retrieval.
The Baitcasting Difference 🌟
Unlike spinning reels, where the line is thrown off the reel, baitcasting reels operate with a revolving spool, ensuring more accuracy and control. It might take a bit of practice to master, but the rewards are unparalleled.
In summary, for precision, power, and an elevated fishing experience, baitcasting reels are the way to go. So, why wait? Dive into the world of baitcasting and see the difference for yourself! 🎉🐠
🎣 The Evolution of Fishing Reels: From Simplicity to Sophistication 🎣

Fishing, a pastime as ancient as civilization itself, has seen its tools and techniques transform over millennia. Among the myriad of tools fashioned by anglers, one standout innovation has taken the modern fishing world by storm: the baitcasting reel.
📜 A Glimpse into the History of Fishing Reels
Before diving deep into the world of baitcasting, it's crucial to understand the historical tapestry from which it emerged.
The origins of the fishing reel trace back to ancient civilizations like the Chinese and Egyptians. Early illustrations from around 1195 AD showcase Chinese fishermen using reels, albeit rudimentary ones, to manage their lines. Meanwhile, the earliest English literature reference to a reel comes from a 1651 book titled "The Compleat Angler." In it, fishing was depicted more as a form of recreation than a means of sustenance, marking a significant transition.
The initial reels were merely storage mechanisms, designed to hold excess line. As the centuries rolled on, these simple devices evolved in tandem with technological advancements. Materials shifted from wood and bone to brass and, eventually, to modern alloys and polymers.
🌟 The Rise of the Baitcasting Reel
The baitcasting reel's genesis is rooted in the desire for greater accuracy and control. As anglers sought to conquer bigger prey in more challenging environments, the need for a reel that provided precision became paramount.
Enter the baitcaster: a reel designed with a revolving spool that allowed for a level of accuracy previously unattained with older reel models. Its unique mechanics, coupled with the capability to handle heavier lines and lures, made it an instant favorite among sportfishers and tournament anglers.
Its popularity surged in the 20th century, especially in North America, where anglers embraced its benefits for bass fishing. The baitcasting reel's unique design, which reduced line friction and provided a direct line of pull, offered anglers a competitive edge.
A Dive into the Mechanics of Baitcasting Reels 🎣🛠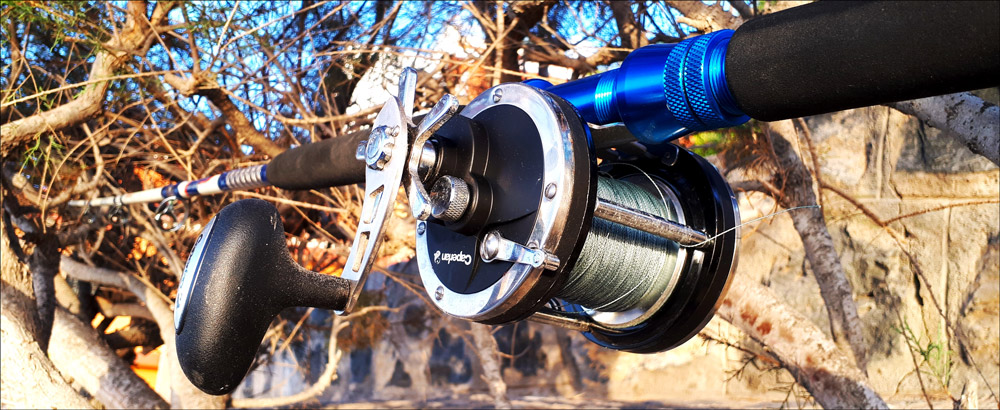 Fishing may be a time-honored pastime, but the tools we use have undergone a sea change, evolving with each wave of technological innovation. Among the most significant developments in the angling world is the baitcasting reel. But what sets it apart? The secret lies in its intricate mechanics.
🌀 Understanding How Baitcasting Reels Function
✅ Revolving Spool Design: Unlike the fixed spool in spinning reels, the spool in a baitcaster revolves as you cast. This design allows for greater control over the distance and placement of your cast. The revolving mechanism provides direct contact with the line, granting anglers the precision they yearn for.
✅ Brake and Tension System: One of the most crucial aspects of a baitcasting reel is its brake and tension system. This system prevents the dreaded "bird's nest" – the tangling of the line which can occur if the spool spins faster than the line is released. By adjusting the brake, anglers can manage the speed of the spool, ensuring a smooth cast. The tension knob, on the other hand, gives additional control over the spool's speed, allowing for fine-tuning based on lure weight and casting technique.
🔧 Key Components of Baitcasting Reels and Their Roles
☑️ Reel Handle: The reel handle is more than just a grip; it's the lever that translates your effort into action. Baitcasters often come with larger and more ergonomic handles than their spinning counterparts, offering better leverage, especially when reeling in bigger fish.
☑️ Drag System: Essential for controlling the line's resistance when a fish is on, the drag system in baitcasting reels is highly adjustable. A smooth drag is crucial for preventing line breakages during those intense moments when a big catch decides to make a run.
☑️ Level Wind: This is a game-changer. The level wind is a mechanism that evenly distributes the line as it's wound back onto the spool, preventing tangles and ensuring a consistent line lay. It's like having an assistant ensuring your line is always perfectly organized.
☑️ Bearing System: Quality baitcasting reels often boast about their bearing count and quality. Bearings reduce friction between the moving parts, ensuring a smoother operation. The higher the quality and number of bearings, the smoother the reel's performance.
☑️ Frame and Body: Typically made from high-grade metals or durable polymers, the frame houses the reel's components. A sturdy frame ensures alignment of all parts, which is vital for the reel's overall performance.
Advantages of Using Baitcasting Reels: Mastering the Waters with Superior Gear 🎣💡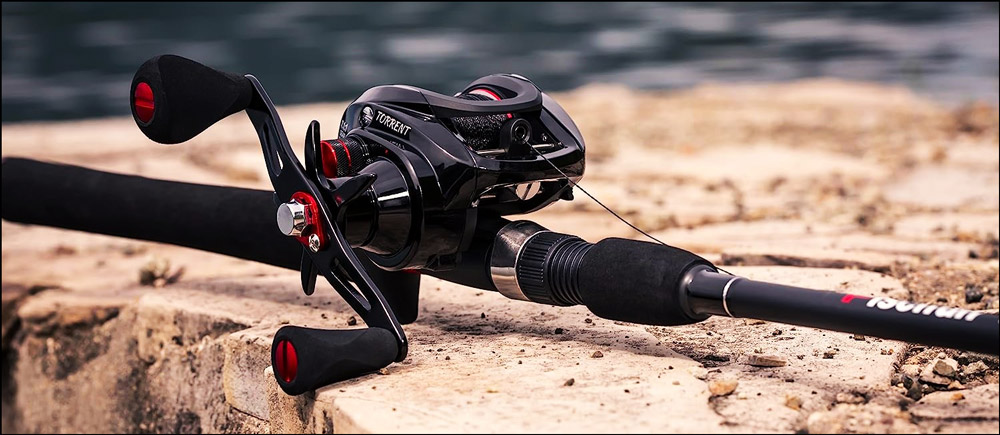 While the baitcasting reel's intricate mechanics make it a marvel of angling innovation, its real value shines when we delve into its practical benefits. From offering unparalleled precision to ensuring you've got the power to tackle those prized catches, the advantages of baitcasting reels are numerous.
🎯 Precision and Accuracy
No angler wants to recount tales of the one that got away due to a misplaced cast. Baitcasting reels provide the solution:
🟨 Pinpoint Lure Placement: The revolving spool design grants anglers a direct line of pull, ensuring that the lure lands exactly where intended. Whether it's a narrow spot amidst underwater structures or a specific pocket in a school of fish, baitcasters allow for precise targeting.
🟨 Controlled Casting: The combination of the brake and tension system means that anglers can adjust the spool's rotation speed. This enables consistent and accurate casting, irrespective of the lure's weight or wind conditions.
💪 Power and Torque
Big fish demand big power, and here's how baitcasting reels rise to the challenge:
🟫 Direct Line Pull: With no turning bail or roller to navigate, the line is pulled directly off the spool, giving anglers a straight, powerful pull.
🟫 Sturdy Build: Baitcasting reels are typically constructed with robust materials, ensuring they can withstand the strain of larger, more powerful fish.
🟫 Enhanced Leverage: The reel's design, especially its handle, provides added leverage, making it easier to battle and reel in those trophy catches.
🌍 Versatility
A tool for every challenge:
🟪 Adaptable Gear Ratios: Baitcasters come in various gear ratios, allowing anglers to choose the perfect speed for their specific technique, whether it's quick retrievals or slower, methodical presentations.
🟪 Multi-Environment Suitability: From freshwater lakes to brackish estuaries and even saltwater adventures, the baitcasting reel's design ensures peak performance.
🧵 Advanced Line Management
No more line woes:
🔳 Reduced Line Twists: Unlike spinning reels, baitcasting reels experience minimal line twists, ensuring a longer line lifespan and fewer frustrating moments on the water.
🔳 Consistent Line Lay: Thanks to the level wind mechanism, line is evenly distributed across the spool during retrieval, minimizing tangles and optimizing casting performance.
When and Where to Use Baitcasting Reels for the Right Waters 🌍🎣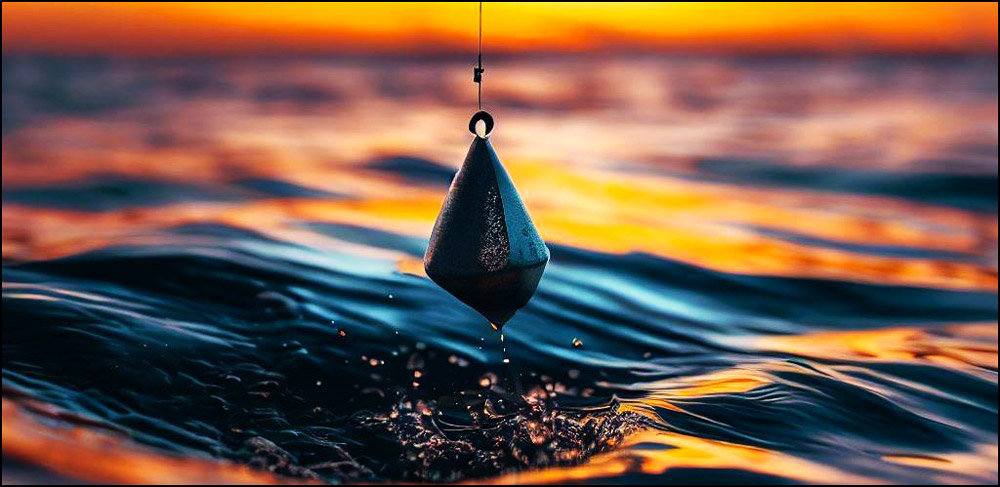 The allure of the baitcasting reel extends far beyond its sleek design and intricate mechanics. Understanding its applications in various fishing scenarios is the key to harnessing its full potential. Whether you're navigating freshwater lakes, battling saltwater giants, or employing specialty techniques, the baitcasting reel has a role to play.
🏞 Freshwater Finesse
Diverse freshwater scenarios call for versatile gear:
Bass Fishing: A staple among bass anglers, baitcasting reels are perfect for handling larger lures and targeting this spirited fish. Whether you're casting into tight cover or open water, the precision and control of baitcasters make them an invaluable tool for bass enthusiasts.
Pike and Musky: These aggressive predators require tackle that can withstand their fierce strikes. Baitcasting reels, with their robust build and power, are ideally suited for the task, allowing anglers to use heavier lines and lures to target these freshwater giants.
🌊 Saltwater Success
Venturing into the vast blue requires equipment that matches the challenge:
Inshore Fishing: For species like redfish and snook that often lurk around structures such as docks, mangroves, and bridges, the accuracy of a baitcasting reel is paramount. Its ability to place lures with precision, combined with its strength to manage these powerful fighters, makes it an inshore favorite.
🎨 Mastering Specialty Techniques
Beyond standard casting, baitcasting reels shine in specialized techniques:
Flipping and Pitching: These close-range techniques, often used in heavily vegetated waters, demand accurate, controlled casts. The baitcasting reel's design allows anglers to release line in a controlled manner, making it the go-to choice for flipping and pitching.
Crankbait Casting: The slow, steady retrieve needed for crankbait fishing pairs wonderfully with the baitcaster's ability to handle resistance. The steady line pull and the reel's power make it easier to manage the consistent, diving action of crankbaits.
Common Misconceptions about Baitcasting Reels 🎣🤔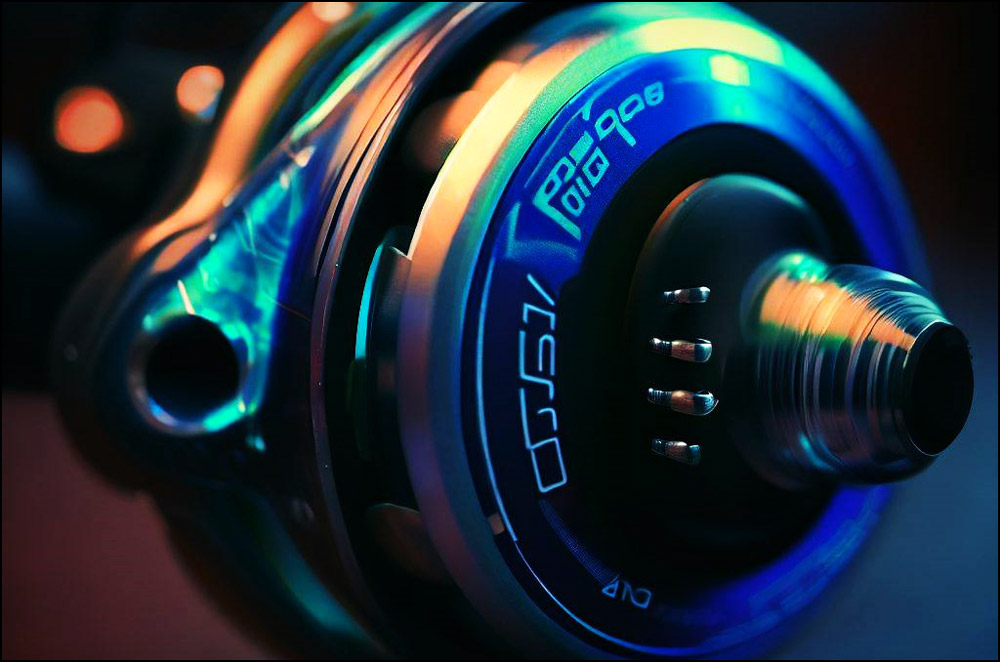 Every innovation, especially in the world of angling, is accompanied by its share of myths and misconceptions. Baitcasting reels, with their intricate designs and unique functionalities, have not been spared. Let's dive into some common misunderstandings and offer clarity for both novice and seasoned anglers.
🤯 "Baitcasters are too complicated"
The complexity associated with baitcasting reels can be intimidating, but in reality:
Demystifying the Learning Curve: Just like mastering any new skill, getting proficient with a baitcaster requires practice. Begin by practicing short casts in an open area, gradually getting the feel of the reel.
Guided Learning: Numerous tutorials, both online and offline, guide users through the basics, making the learning journey smoother.
🐦 Backlash Fears
The dreaded bird's nest – a tangle of fishing line – is a concern, but it's manageable:
Understanding the Brake and Tension: The key to preventing backlashes lies in understanding and adjusting the reel's brake and tension systems. These controls help manage the spool's speed, ensuring a smoother cast.
Practice Makes Perfect: Regularly practicing casting will help you develop a feel for releasing the line, reducing the chances of overruns.
Choosing the Right Line: Using a thicker line when starting can help reduce backlashes as it's less prone to tangling.
🧐 "Only for Professionals"
This is a misconception that can deter many:
Making the Case for Beginners: While baitcasters offer functionalities that professionals love, they aren't exclusively for experts. In fact, starting early allows beginners to harness the reel's benefits as they grow in their angling journey.
Broadening Horizons: By limiting oneself to spinning reels, beginners may miss out on specific techniques and challenges that baitcasters are uniquely equipped to handle. 🐟🌊🏅
Tips for Selecting the Perfect Baitcasting Reel 🎣🔍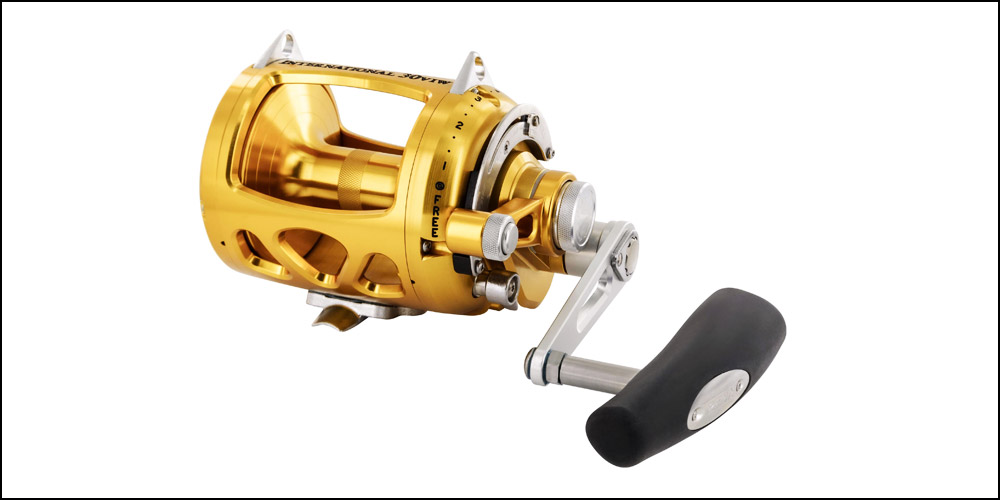 With a sea of options available, choosing the ideal baitcasting reel can be a daunting task. However, with the right knowledge and a clear understanding of your needs, this decision can be streamlined. Let's dive into the essential factors to consider, ensuring you're equipped with the best gear for your adventures.
⚙️ Understanding Gear Ratios: The Speed Factor
Gear ratio determines how quickly the line is retrieved:
High-speed Reels (7:1 and above): Ideal for techniques that require quick line retrieval, like burning spinnerbaits or buzzbaits. They allow for faster action and quick reactions.
Low-speed Reels (5:1 to 6:1): Suited for deep cranking, big swimbaits, or other applications that benefit from a slower, more powerful retrieve.
🛠 Material and Build: The Backbone of Your Reel
The reel's construction is paramount for durability and performance:
Quality Frame: A sturdy frame, often made of aluminum or high-grade graphite, ensures that the reel remains stable, especially under the stress of a big catch.
Spool Quality: Look for machined aluminum spools. They're lightweight and durable, ensuring smooth casts and retrievals.
🤲 Right vs. Left Hand Retrieve: A Matter of Comfort
This choice is about personal preference and ease:
Right Hand Retrieve: Traditionally favored, especially among those who cast with their right hand and then switch the rod to their left for retrieval.
Left Hand Retrieve: Growing in popularity, especially for those who prefer not to switch hands after casting. It's essential to choose what feels natural and comfortable for you.
🧵 Line Capacity and Type: Tailoring to Your Needs
Ensuring your reel matches your fishing endeavors:
Line Capacity: If targeting larger species or fishing in deep waters where more line might be let out, opt for reels with higher line capacity.
Line Type Compatibility: Ensure the reel is compatible with the type of line you intend to use, whether it's monofilament, braided, or fluorocarbon. Some baitcasters are specifically designed to handle the unique characteristics of particular line types. 🌊🐟🥇
TOP 5 Best Cheap High-End Baitcasting Reels on the Market

Baitcasting reels are one of the most popular types of fishing reels used by anglers. They are versatile, accurate, and powerful, making them ideal for catching large fish in both freshwater and saltwater environments.
Unlike spinning reels, baitcasting reels require a bit more skill and practice to use effectively, but once mastered, they can provide an incredibly satisfying and rewarding fishing experience.
It might be time to switch to a baitcasting reel. Baitcasting reels offer a level of accuracy and power that spinning reels just can't match.
So we got to the fishing reels, which are increasingly gaining popularity among fishermen. In skillful hands, this type of reel is capable of pulling the most resistant and heavy types of fish from great depths. The control level and the smooth operation of these reels are some of the best in fishing. Yes, in this article we'll talk about baitcasting reels.
Baitcasting reels are a type of fishing reel that is designed to provide precision and accuracy in casting. They are commonly used for catching larger fish species, such as bass, pike, and muskie. Baitcasting reels use a spool of fishing line that is attached to a revolving spool, which is turned by a handle. The spool is located on top of the reel, and the line is guided onto the spool by a level wind mechanism.
One of the main advantages of using a baitcasting reel is that it provides a high level of control and accuracy when casting. This is because the spool is free to spin, allowing the angler to adjust the speed and direction of the cast as needed.
Additionally, baitcasting reels are typically more powerful than other types of reels, allowing anglers to catch larger fish with greater ease. However, they can also be more difficult to use than other types of reels, as they require a certain level of skill and technique to master.
| Image | Product | Brand | Link |
| --- | --- | --- | --- |
| | KastKing Royale Legend High Speed Low Profile Baitcasting Fishing Reel | KastKing | |
| | Piscifun Torrent Baitcaster Fishing Reel, 18LB Carbon Fiber Drag, Magnetic Braking System Baitcasting Reel, 7.1:1 Gear Ratio Innovative Low Profile Casting Reel, Right Handed | Piscifun | |
| | KastKing Speed Demon 9.3:1 Baitcasting Reel,Left Handed Reel | KastKing | |
| | Abu Garcia 1365366 Black Max Low Profile Reel, 6.4: 1 Gear Ratio, 5 Bearings, 26" Retrieve Rate, 18Lb Max Drag, RH, Boxed | Abu Garcia | |
| | Shimano Cardiff 300A, Round Baitcast Fishing Reel Righthand, CDF300A | SHIMANO | |
| | Daiwa CLTW200HS Coastal TWS Reel, 7.3: 1 Gear Ratio, 7CRBB, 1RB, 15.40 lb Max Drag, Right Hand | Daiwa | |
| | Lews TS1SHMB Fishing, Tournament MB Baitcast Reel | Lew's | |
| | Pflueger Echelon Low Profile Baitcast Reel | Pflueger | |
| | Abu Garcia Ambassadeur C4 Conventional Reel, Size 5600 (1292714), 4 Stainless Steel Ball Bearings + 1 Roller Bearing, Carbon Fiber Star Drag, Max of 15lb | 6.8kg,Blue | Abu Garcia | |
| | Daiwa Millionaire-S Baitcast Reel | Daiwa | |
| | 13 Fishing - Concept C - 7.3:1 Gear Ratio - Left Hand Baitcast Fishing Reel (Gen 1) | 13 FISHING | |
1# KastKing Royale Legend Whitemax Low Profile Baitcasting Fishing Reel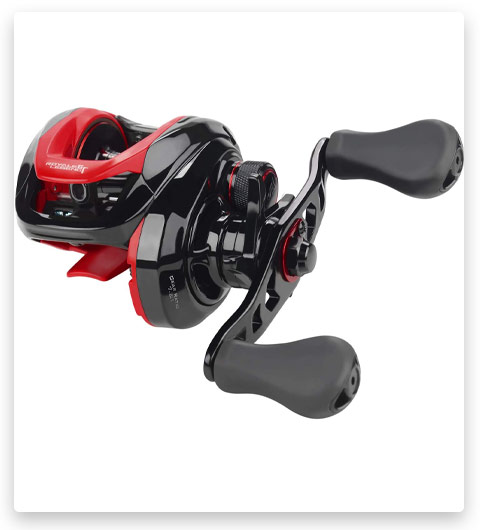 Let's start with the best representative on this list – KastKing Royale Legend. For its price of $40, it's just brilliant. From elegant black packaging to a superbly adjustable drag system that almost never goes astray. But first things first. As I said, this reel comes to you in an elegant black box with a case, instructions, and everything adjacent. In addition, you get a $10 voucher for your next purchase from KastKing. The reel itself is low profile and durable. Made of graphite and resistant to saltwater. Therefore, it weighs so little – only 10 ounces. Even with a braided line inside, your hands won't feel heavy.
On the side is a non-slip EVA handle that feels nice in the hands. Inside, there are 11+1 shielded corrosion-resistant bearings that provide the reel with a smooth and durable operation. Also, a dual brake system of a centrifuge and magnetic brake is installed in the reel. The gear ratio of 7.0:1 is quite fast, but even heavy fish you can control well. The drag system is made of carbon fiber. The maximum power it can achieve is 17.6 pounds. The reel comes with 3 levels of drag settings so you can tune the reel before casting and don't worry about it.
In general, this is a very good option, which has been liked by thousands of users for its design and performance.
2# Piscifun Torrent Baitcasting Reel 18LB Carbon Fiber Drag Low Profile Tournament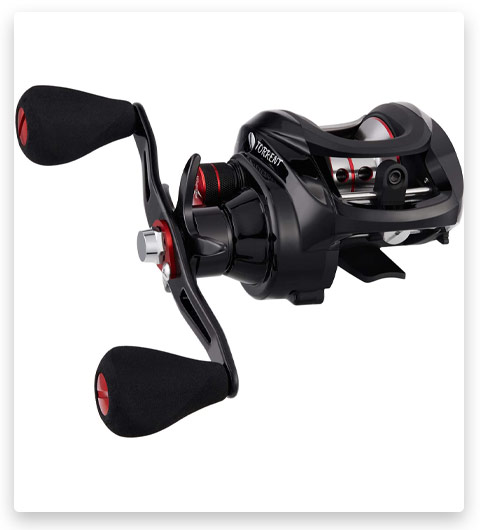 There are many things in the Piscifun Torrent that you may like. And the first point is the price. For a price tag of less than $40, you get a very productive and reliable fishing reel. The manufacturer has focused on the gears. So, they are not only waterproof now, but also the brass gear train with CNC has high precision and performance. Protection set not only on gears but also on bearings. The shields protect them from water, dust, saltwater, and more.
So you can not worry when using the reel in saltwater. Also, the Torrent is equipped with a magnetic brake and an aluminum spool, which gives the fisherman excellent accuracy and control. The reel comes with a spool tensioner. This avoids the formation of bird nests. The gear ratio is 7.1:1, which is pretty fast and at the same time enough to deal with large fish with good control. The drag system inside the reel is made of carbon fiber and can reach power up to 18 lbs.
Like the previous unit, this reel is very effective for a very low price.
3# KastKing Speed Demon 9.3:1 Baitcasting Fishing Reel Carbon Fiber Drag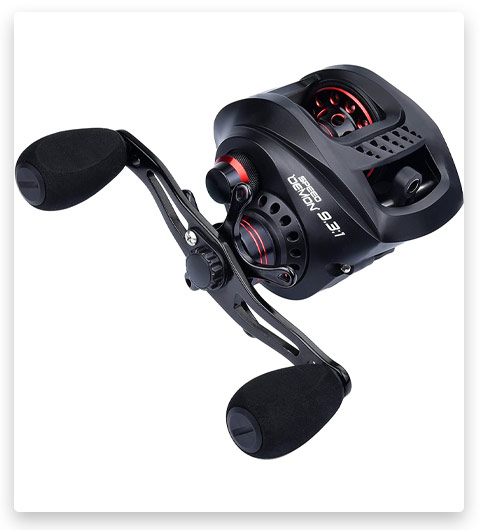 Very interesting name and no less interesting features. In general, sometimes I don't understand what the manufacturer is guided by when choosing a name for his product. But let's not talk about that. Speed Demon is one of the fastest reels at KastKing. Moreover, it's one of the fastest reels in the world. It is equipped with a gear ratio of 9.3:1, which makes the retrieval of the line incredibly fast. And so that this quick retrieval doesn't feel so sharp, the manufacturer put here a 12 + 1 shielded ball bearing.
You can don't worry about fighting with big fish – a three-disc drag system made of carbon fiber is installed here. The maximum drag is 13.2 lbs. On the side are the EVA handles, which are very comfortable in the hands. You can choose an option for the right or left hand. Also, in the Speed Demon, there is a three-sided magnetic brake, which is very easily adjustable, and an aluminum spool. The main shaft is made of stainless steel and is very durable. Although the spool should eliminate the backlash, if the reel is not tuned, then the backlash will still occur. Also, if the reel often suffers from sand, then over time the paint will be erased.
4# KastKing Rover Round Baitcasting Reel Reinforced Metal Body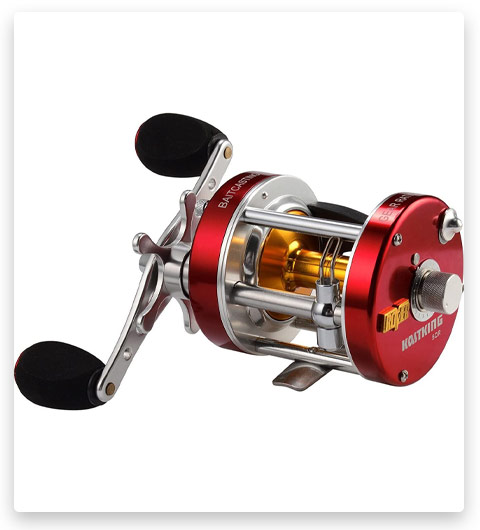 But if you need more control over the bait and fish, and the previous reels were really quick for you, then we also have a solution for this. This is KastKing Rover Round Reel. Rover has a reinforced aluminum body, six shielded aluminum ball bearings, corrosion-resistant, and a gear ratio of 5.3:1. The gear ratio is not too small and not too large. Just right for any type of fish and good bait control. Side plates and spool are made of anodized aluminum resistant to corrosion.
Therefore, the reel is a bit heavy. But it's bulletproof and very durable, so the weight is compensated by the strength. The drag system is quite interesting, and it can withstand loads of up to 19.8 pounds, which is much more than most representatives of baitcasting reels. The reel has a simple and practical design. It is very easy to use and there is no inconvenience. For its price, this product is a pretty good workhorse. The only thing it does poorly with is big baits. Otherwise, it's a very good reel.
5# Piscifun Perseus Low Profile Baitcasting Reel Double Brakes 18.5LB Carbon Fiber Drag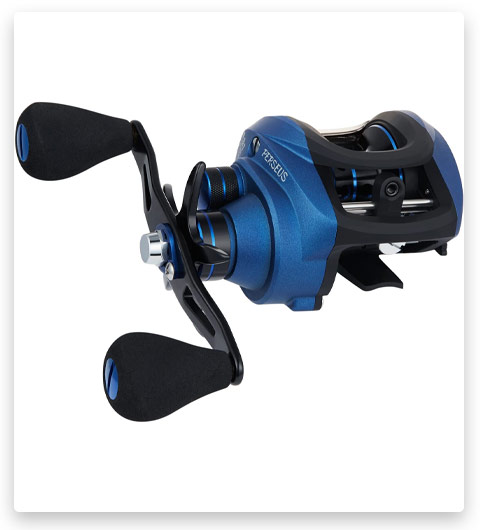 Perseus is also a very strong and powerful reel and is in no way inferior in characteristics to the others. The reel has a brass gear system with a gear ratio of 6.3:1. This value is suitable for almost any spinners and jigs. The maximum drag force is 18.5 lbs. Perseus has a dual braking system. One of which is a 6-pin centrifugal brake. And with a second magnetic, you can easily control casting.
The reel can hold 120 yards of a line weighing 10 pounds. It operates on 6 bearings, which provide it with sufficient smoothness. The bearings are fully shielded and protected against corrosion. At the same time, the reel doesn't weigh so much – only 8 ounces. On the side are very comfortable rubber handles that don't slip even in wet weather conditions. On the side plates, there is a lubrication hole that facilitates the lubrication of the reel. You don't need to open the plates every time you want to lubricate the reel, unlike other reels.
Why Choose Baitcasting Reels? Weighing the Benefits
Baitcasting and spinning reels each present their unique merits, and avid anglers often incorporate both types into their arsenal. However, if you're contemplating the distinct advantages of baitcasting reels, here's a comprehensive rundown:
| Advantage | Elaboration |
| --- | --- |
| Heavier Line Capacity | Baitcasting reels, thanks to their design where the reel's rotation axis is perpendicular to the rod guides, facilitate straight line passage through rod guides. This design quirk lets anglers use a sturdier line, typically between 10 to 20 pounds, accommodating heavier lures and casting baits as light as 0.25 ounces. |
| Minimal Line Twist | A known downside with spinning reels is the persistent line twist. Baitcasting reels, on the other hand, exhibit minimal line twisting, primarily associated with specific lures like soft plastics. For most other baits, line twist is virtually nonexistent. |
| Extended & Precise Casts | Baitcasting reels are lauded for their prowess in enabling long, pinpoint accurate casts. With the right rod and technique, the line projects straight from the rod guides rather than spiraling from a spinning spool. |
| Enhanced Power | Baitcasting reels pack a punch in terms of power. Their design ensures that the handle, spool, and bearings align perfectly, delivering unparalleled torque. Plus, with handles affixed directly to the reel frame, there's zero chance of bending during fish retrieval. |
| Superior Control | Last but not least, baitcasting reels offer precision control, allowing anglers to govern casting distances and lure positioning with their thumb. This tactile control, often absent in spinning reels, grants expert anglers the capability to place lures exactly where the fish are expected to be. |
When you weigh these benefits, it's evident why many seasoned anglers have a soft spot for baitcasting reels in their fishing toolkit.
Decoding the Key Features of Baitcasting Reels
Before diving deep into your next baitcasting reel purchase, it's essential to understand the vital features that can significantly impact your fishing experience. Here's a breakdown of these key characteristics:
| Feature | Description & Considerations |
| --- | --- |
| Gear Ratio | The gear ratio represents the number of rotations the spool makes with a single turn of the handle. A higher ratio equates to a swifter line retrieval. Seek ratios around 5.3:1 for more control, and ratios of 6 or above for speedier retrieves. |
| Spool Size | A determinant for line capacity. Larger spools are ideal for thinner, longer lines, offering better management. Conversely, compact spools are suitable for techniques requiring shorter lines, such as pitching. |
| Handle Size | Baitcasting reels usually feature shorter handles. However, handle size directly influences torque. A longer handle generates greater torque, aiding in extracting fish from deep covers. Note: They may not be the best choice for techniques like swimbaits. |
| Brakes & Tension | Vital for controlling line during casting. Tension plays its part at cast onset, while brakes manage the line's end. A quality system ensures efficient casting, particularly in windy conditions where bait speed discrepancies arise. |
| Bearings & Materials | Opt for stainless steel or ceramic bearings for durability and rust resistance. A higher bearing count often implies smoother reel operations, though exceptions like certain Shimano models exist. For reel material, prioritize magnesium or aluminum for longevity and performance. |
Use this guide to navigate the myriad of options available, ensuring you land the perfect baitcasting reel tailored to your needs.
Exploring the Varieties of Baitcasting Reels

As you venture into the realm of baitcasting, it's pivotal to understand the reel types available and their unique offerings. Let's delve into the two primary categories:
Round Reels: Notoriously challenging to master, round reels boast an impressive line capacity. Crafted primarily from corrosion-resistant aluminum, these reels withstand the rigors of saltwater environments with ease. Their robust build makes them the go-to choice for landing hefty catches, be it a feisty salmon or a powerful pike.
Low Profile (Teardrop Design): Lightness is the hallmark of these reels, thanks in part to their blend of aluminum and graphite components. Though they might not match the durability of their round counterparts, what they lack in ruggedness, they make up for in ergonomic design. The contoured shape ensures anglers enjoy a fatigue-free experience, especially during prolonged usage. They're particularly favored for freshwater expeditions.
Selecting the right baitcasting reel type hinges on your fishing environment and the species you aim to capture. Choose wisely and amplify your fishing prowess!
Understanding Drag Systems in Baitcasting Reels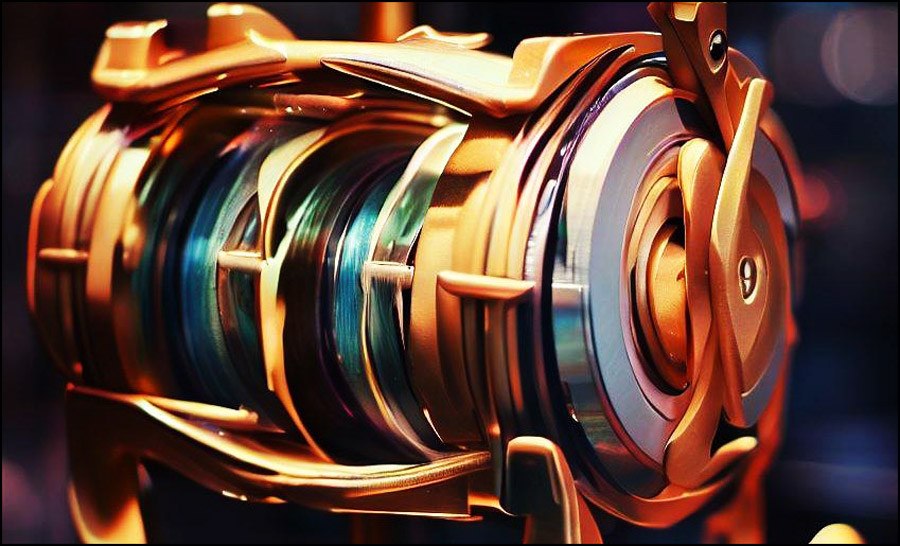 Dive into the world of baitcasting reels, and you'll quickly realize the importance of a robust drag system. But with various types available, which one is right for you? Let's explore:
Star Drag: A favorite among many anglers, this system is conveniently positioned between the reel and its handle. Its intuitive design makes it a top pick for novices. Especially suited for activities like jigging, the Star Drag efficiently handles fish weighing up to 40 pounds.
Lever Drag: Seeking a drag system that offers nuanced control? The Lever Drag might just be your answer. Although its installation can be a tad more intricate, the adjustment is located atop the reel/handle junction. Its standout feature is the capability to predefine the maximum drag, ensuring precision like no other. If you're targeting fish that tip the scales beyond 40 pounds, this system is indispensable.
The right drag system can significantly influence your fishing success, so choose wisely based on your needs and the challenges you intend to tackle.
Tips for Properly Cleaning and Caring for Your Baitcasting Reel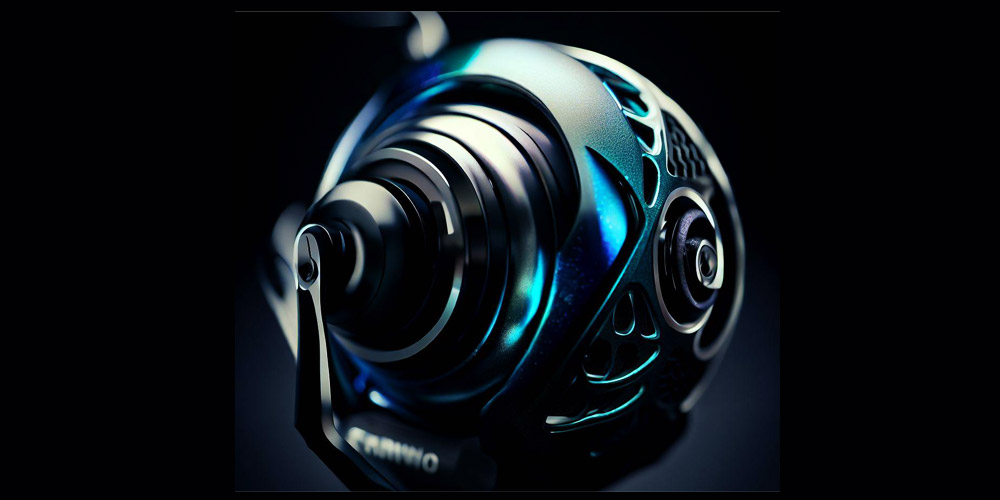 Before cleaning the reel, collect everything you need for this. Take a bucket of hot water, a cleaner, oil for reels, and a little liquid (Ronsonol Lighter Fluid is great). Remove or at least fasten the line before disassembling the reel. Remove the side cover to begin disassembling the reel. Put all the parts so that none of them accidentally rolls anywhere and gets lost. I always lay them on a rubber mat.
If you're not sure that you'll assemble the reel back correctly, it's better to number the details or write down the order of disassembly of the reel. When you take out the springs or clamps, it is better to use tweezers so as not to lose them. Wash the parts in a bucket and then clean them with a cleaner applied to the brush. Wash bearings with lighter fluid and make sure they rotate. Lubricate them with a toothpick and oil. At the very end, complete assembly and wipe with cleaning fluid.
Mastering the Baitcasting Reel: A Step-by-Step Guide
Navigating the nuances of a baitcasting reel may seem daunting initially. However, by breaking down its operation into manageable steps, you'll find that mastering this tool is a rewarding experience. Here's how:
| Step | Explanation |
| --- | --- |
| Preparation for Casting | Ensure your lure or bait is positioned 6-12 inches (15-30 cm) from the rod's tip. This also applies to equipment like sinkers or bobbers. |
| Assume the Correct Grip | Place your thumb securely on the spool while holding the handle. Adjust the drag setting to permit a smooth line release when tugged. |
| Setting the Spool Tension | Modify the spool's tension to strike a balance between smooth casting and preventing slack. Engage brakes before making adjustments with your thumb off the spool. |
| Reel Positioning | The reel's handles should be oriented upwards. If casting with your non-dominant hand, the handles should point downward. |
| Commence the Cast | Activate the spool release to ready your bait for casting. |
| The Casting Motion | With a swift forward motion, align the fishing rod with your line of sight, releasing your thumb to let the bait guide the line's direction. |
| Precision Stop | As the bait approaches the desired location, press down on the spool with your thumb, ensuring pinpoint accuracy in bait placement. |
With these steps, you're well on your way to becoming proficient with the baitcasting reel. Remember, like any skill, consistency and practice are the keys to mastery.
❓ FAQ ❓

Conclusion: Reeling It All In 🎣🌟
In the vast expanse of fishing's history and evolution, few tools have marked their presence as definitively as the baitcasting reel. Through the ebb and flow of time, this unique reel has solidified its role, proving indispensable for the modern angler.
🌌 A Stellar Legacy in Modern Fishing
From the finesse of freshwater pursuits to the tenacity required in saltwater battles, the baitcasting reel's versatility shines through. Its intricate mechanics, coupled with the sheer power it offers, makes it a beacon for precision, strength, and adaptability. Whether you're aiming for pinpoint accuracy or seeking the torque to subdue a mighty adversary, this reel stands as a reliable ally.
🚀 Elevating the Angling Journey
For those who've yet to acquaint themselves with its allure, the baitcasting reel isn't just another piece of equipment – it's a transformative experience. It beckons both novices and seasoned pros to immerse themselves, offering:
Enhanced Control: Overcome the challenges of casting distances and lure placements.
Diverse Techniques: Explore everything from flipping to deep cranking with finesse.
Endless Possibilities: Unleash your potential in various aquatic terrains and challenges.
Embracing the baitcasting reel is akin to unlocking a new realm in fishing. The journey of mastering its functionalities enriches every expedition, turning ordinary trips into tales of triumph.
Tags: #baitcasting reel / #best baitcasting reel / #baitcasting reel review / #how to put fishing line on a baitcasting reel / #best baitcasting reel under 100 / #best line for baitcasting reel / #best budget baitcasting reel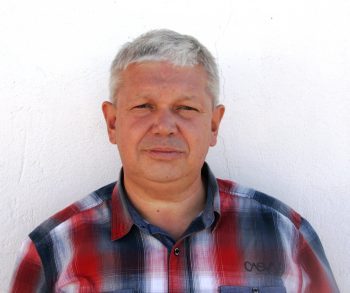 Sergio Smirnoff
Professional fisherman with 40+ years of experience.
Fishing and the ocean is a passion of my life. I am passionate about all kinds of sea fishing: fishing from the shore (spinning, float, baitcasting), from a boat, and spearfishing day and night.
I live in Tenerife (Canary Islands) for the last 10+ years and share my daily fishing experiences on my website. Many years of personal experience as a fisherman and the vast experience of my friends allow me to write professionally on any fishing topics (from choosing a flashlight and equipment to deep-sea fishing).
All of my advice is based on practical real-world experience and will be useful to both novice anglers and professionals.
Read more
about the author.
Affiliate Disclosure: FishReeler.com sometimes gets paid for listings, through sponsors or affiliate programs like Amazon, Ebay, Cabelas, Bass Pro Shop, Shimano, Daiwa, Rapala, Renn, Okuma, KastKing, etс. Clicking a link helps keep FishReeler.com free, at no extra cost to you!
About the author: Each article is verified by the fishing expert Sergio Smirnoff. The articles are written by professional and amateur fishermen with 20+ years of fishing experience.
Note: The views and opinions expressed in this article are those of the authors and do not necessarily reflect the official policy or position of any agency. The articles are for informational purposes only, share your opinions in the comments and join the fishing discussions, let's share our fishing experiences together!