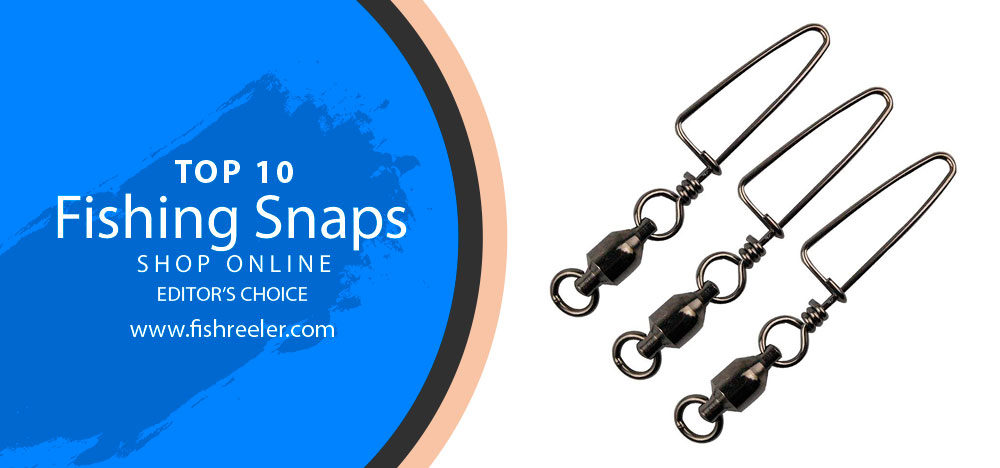 🎣 Why You Need Fishing Snaps & Swivels in Your Tackle Box Today! 🎣
Quick Summary
✅ No matter your level of expertise, there's one crucial piece of gear you can't overlook – fishing snaps and swivels. These might seem like small components, but trust me, they pack a big punch in enhancing your fishing experience. Let's take a moment to understand why these tools are an absolute must-have. 🧰
⚡ The Power of Convenience ⚡
✅ The primary benefit of using snaps and swivels? Convenience! These little tools make changing your lures or hooks fast and easy. Imagine a scenario where you're out in the water, the fish are biting, but they're not interested in your lure. With a snap, you can switch your lure in seconds, without the need to cut and retie your line. It's a real game-changer!
🔄 No More Twisted Lines 🔄
✅ Another superpower of the swivel? Preventing twisted and tangled fishing lines. Whether you're trolling or casting and retrieving, your lure tends to spin, which can twist your line. Over time, this can weaken your line and even cause it to break. Swivels rotate, preventing the twist from traveling up your line, thus prolonging the life of your line and enhancing your overall fishing experience.
🔎 Size and Strength Versatility 🔎
✅ Fishing snaps and swivels come in a variety of sizes and strengths, suitable for different fishing scenarios. Whether you're aiming for a delicate trout in a serene lake or wrestling a feisty marlin in the open sea, there's a snap and swivel combo that'll meet your needs.
🌐 Universal Compatibility 🌐
✅ Snaps and swivels are universally compatible with nearly all types of fishing, whether you're into fly fishing, saltwater fishing, freshwater fishing, or ice fishing. They're true all-rounders in the world of angling!
🔶So, why wait? Boost your fishing success with these simple yet effective tools. Invest in fishing snaps and swivels today and experience the difference. Get ready to reel in your next big catch! 🐟🏆

Fishing Snaps & Swivels: Essential Tools for Every Angler's Tackle Box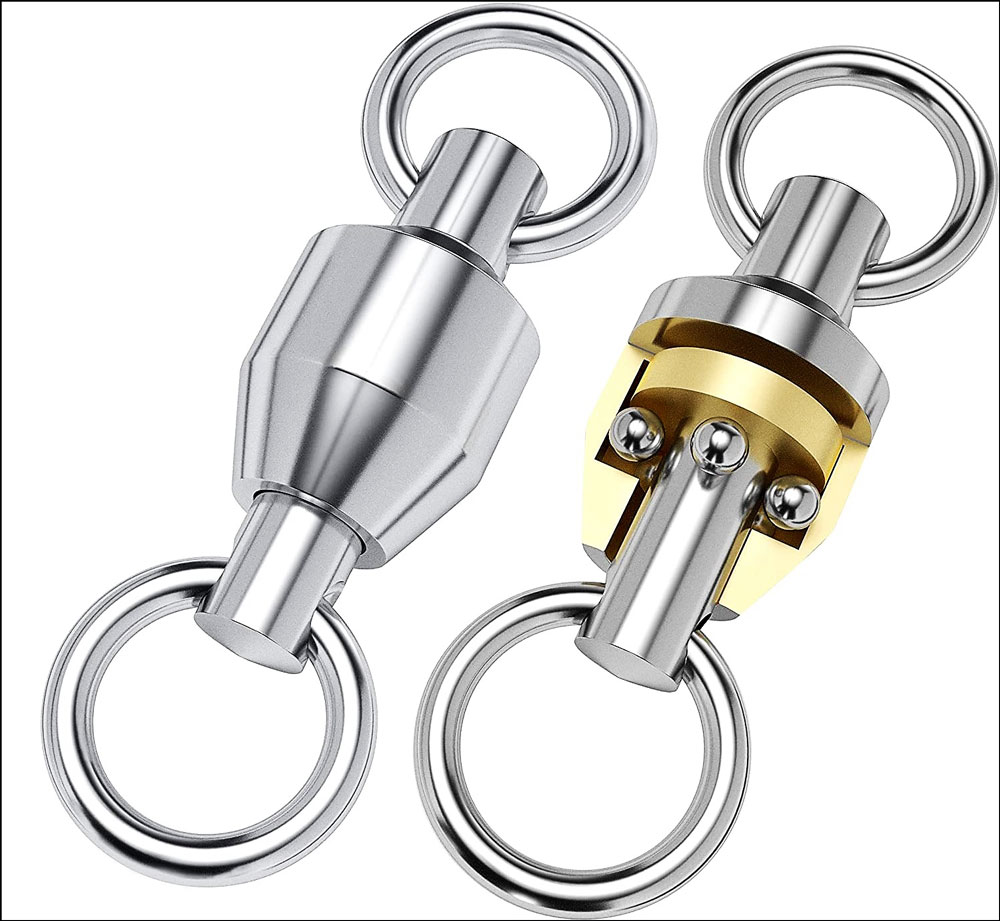 🎣 Welcome to the World of Fishing Snaps & Swivels 🎣
As an angler, you're well aware that fishing is more than just rods, reels, and baits. It's about precision, strategy, and having the right tools in your tackle box to help you succeed. Today, we're going to delve into the often overlooked but incredibly essential world of fishing snaps and swivels.
Fishing snaps and swivels might not grab headlines like an innovative lure or a high-tech rod, but ask any seasoned angler, and they'll tell you—these tiny tools can significantly impact your fishing game. They not only streamline the process of changing rigs or lures but also prevent line twists, ensuring your line stays strong and ready for that dream catch.
Now, let me share a bit of my own story.
📖 My First Encounter with Snaps & Swivels 📖
I still remember my first big fishing trip. I was armed with the most cutting-edge rod, the best-recommended line, and an assortment of attractive lures. However, I spent more time wrestling with my line and swapping lures than actually fishing. My excitement quickly turned into frustration. It wasn't until a kind-hearted, experienced angler nearby introduced me to the game-changing tools: fishing snaps and swivels.
The introduction of snaps and swivels to my fishing setup was a revelation. Suddenly, changing lures became a breeze, and my line maintained its integrity, no matter how much my bait danced in the water. I spent less time managing my gear and more time enjoying the tranquility of fishing, watching the sunset over the water, waiting for the thrilling tug on my line.
That day, I learned a valuable lesson: Success in fishing isn't just about the big, flashy elements—it's also about the small, practical tools that make everything work smoothly together. That's the magic of fishing snaps and swivels. 🌟
🔶In this article, we'll journey together into the details of these indispensable tools, exploring their varieties, uses, and how you can incorporate them into your own fishing practice. So, let's dive in! 🌊🐟
🔎 Unraveling the World of Fishing Snaps & Swivels 🔍

What are Fishing Snaps & Swivels?
Fishing snaps and swivels are small but integral parts of your fishing gear setup. But what exactly are they, and what do they do? Let's break it down.
A fishing snap is a small device that connects your fishing line to your lure. The primary purpose of a snap is to facilitate quick and easy changes of lures or rigs without having to cut and retie your line each time.
On the other hand, a fishing swivel is a small device that allows the line to twirl or "swivel," hence the name. This twirling action helps prevent your line from getting twisted and tangled due to the spinning motion of the lure or the caught fish.
In essence, the duo of snaps and swivels is like the unsung heroes of your fishing adventure, ensuring a smooth and enjoyable experience on the water.
Snaps & Swivels: A Dynamic Duo
Now that we know what these tools are let's dive into how they work in tandem. 🤝
Snaps and swivels often come as a combo, attached to each other, creating a powerful tool that offers the benefits of both. The snap part allows you to easily clip and unclip your lures, hooks, or other tackle. Meanwhile, the swivel portion keeps the line from twisting as it spins with the movement of your bait or the fighting fish.
This combination lets you change lures swiftly and keeps your line tangle-free, allowing you to focus on the fishing instead of wrestling with your equipment. A definite win-win!
Visualizing Snaps & Swivels
To truly grasp how these handy tools work, let's visualize their application. 🖼️
Imagine casting your line with a shiny spinner lure attached to your snap-swivel combo. As the spinner rotates in the water, imitating a tasty snack for the fish, the swivel part of the combo also spins. This spinning action ensures that the twirling motion of the lure doesn't travel up your line, preventing it from becoming twisted and potentially weakened.
Meanwhile, suppose you decide to try a different lure to tempt the fish. With a snap in place, you simply unclip the old lure and clip on the new one—no hassle of cutting and retying your line. It's as easy as a snap! 😉
🔶In the world of angling, where patience, strategy, and quick action often go hand in hand, snaps and swivels are truly the silent game-changers. So, let's appreciate these modest tools as we continue to unravel their varieties, usage, and importance in the sections to come! 🎣
Our Top List 10 Fishing Snaps For Bass, Crankbaits, Ice Fishing
Many people underestimate fishing snaps, although this equipment plays an important role in fishing success. It is not surprising, because, without them, fishing lines and equipment on the water will work exactly half.
Honestly, small pieces of curved wire not only save us a lot of work but, above all, valuable time, which I also prefer to spend on fishing. Thanks to modern production processes, we can now choose from many different types. Here we look at the best fishing snaps for successful fishing.
Now I will tell you about the 10 best fishing swivel snap that you can find on the market. This review presents only quality models and which have been tested in practice.
| Image | Product | Brand | Link |
| --- | --- | --- | --- |
| | Dr.Fish 50 Pack Fishing Barrel Swivel Snaps, Safety Snap Interlock Snaps Stainless Steel Black Nickel Corrosion Resistant Swivel Rolling Crane Swivels Trotline Decoy Downrigger Clips (Size 1,95Lb,) | Dr.Fish | |
| | ReeMoo 200PCS Fishing Rolling Ball Bearing Barrel Swivel with Safety Snap Connector Fishing Accessories #2#4#6#8#10 | ReeMoo | |
| | TACTICAL ANGLER'S Power Clips | Tactical Anglers | |
| | Sougayilang 100pcs Strong Nice Swivels Lock Snaps for Fishing Freshwater Saltwater Rings Fishing Connector (#2-55lbs) | Sougayilang | |
| | Easy Catch 10, 30 Pack High-Strength Fishing Ball Bearing Swivel with Coastlock Snap, Strong Welded Ring for Saltwater Fishing-18Lb to 350Lb (100% Copper+Stainless Steel) (Size 0+0 (18lb) 30Pack) | Easy Catch | |
| | Riptail Barrel Swivels with Interlock Snap – Size 1/0, 80lb, 25 Pack | Riptail | |
| | OKVYN 10/ Packs Fishing Line Sinker Slide with Duo Lock Snap Heavy Duty Sinker Sliders Size 8# Length:2.28INCH | OKVYN | |
| | Easy Catch 100 Count Pack Duo Lock Snaps Size 0#-8# Black Nice Snap Swivel Slid Rings Stainless Steel USA Fishing Tackle Kit - Test: 26LB-220LB (0#-26LB- 100PCS) (1#-40LB-100PCS) | Shaddock Fishing | |
| | Sougayilang Fishing Rolling Swivel with Coast Lock Snap Stainless Steel Black Nickel Fish Swivels (#1/0-test:100lbs-30pcs) | Sougayilang | |
| | Dr.Fish 20 Pack Ball Bearing Swivels Coastlock Snaps Freshwater Snap Swivels Stainless Swivels Terminal Tackles Leader Spinnerbait Swivels Connector Clips 26LB | Dr.Fish | |
1# Dr.Fish Fishing Barrel Swivel with Safety Snap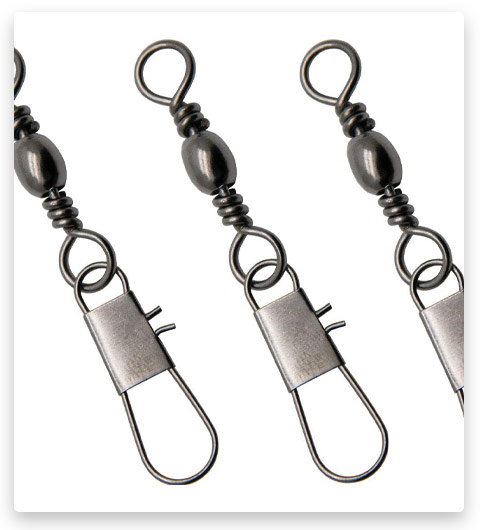 This is one of the most durable and reliable products. Its durability lies in the material. It is made of copper and stainless steel. These materials are able to withstand heavy loads and are resistant to corrosion. You can use swivel snap in saltwater and in harsh conditions thanks to the nickel-plated protective coating. This helps the equipment not to wear out and thereby prolongs its use. Smooth rotation for you thanks to the Barrel swivel. You save your time with this design. Replace lures, fishing line, and leader in a couple of seconds thanks to fishing-swivel-snap.
2# ReeMoo Fishing Rolling Ball Bearing Barrel Swivel with Safety Snap – Amazon's Choice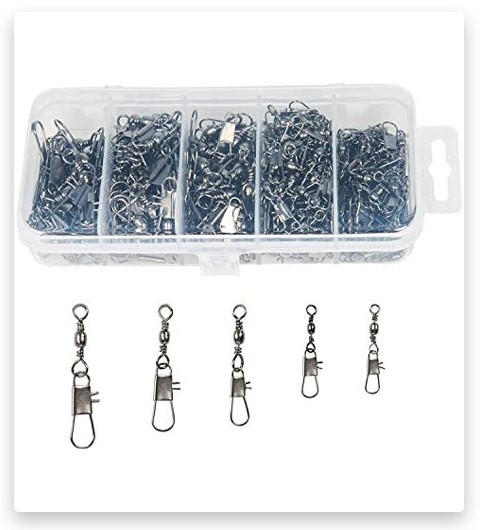 I can call this swivel with snap equipment that can work perfectly in any condition, even in harsh. The rugged and reliable design ensures long-term use. For a great price, you will get 200 pieces of the rolling ball bearing barrel swivel with safety snap are available. Its use does not require serious skills, so this is what you need for beginners!
3# TACTICAL ANGLER'S Power Clips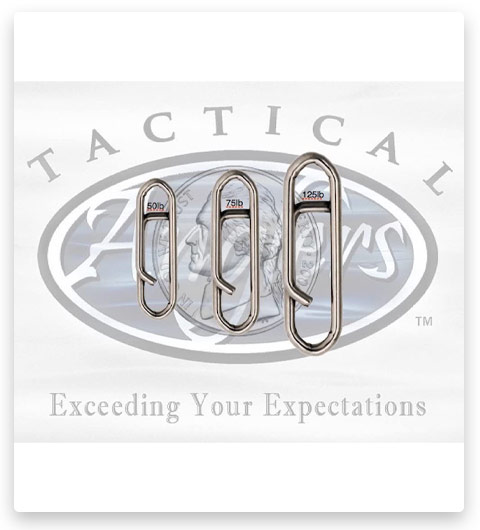 Choose this item to use for light fishing tackle. This works with many lures. Its violin shape is easy to use. Stainless steel makes the equipment durable and allows you to use it for a long time. There is no wear and tear. You will have no difficulty putting it on the line.
4# Sougayilang Strong Nice Swivels Lock Snaps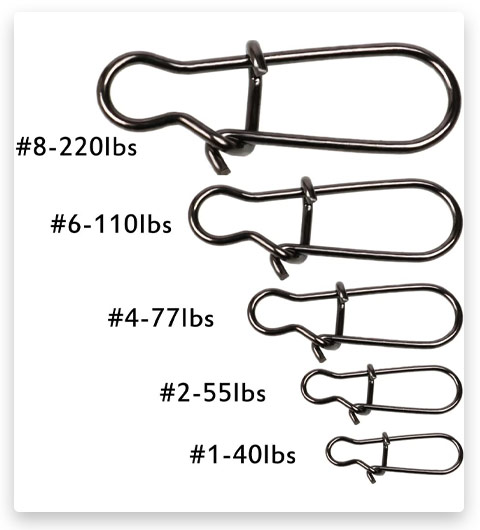 You can increase your catch thanks to this equipment. Now you do not need to correct your fishing line. You will get smooth action without obfuscating the line. The snap is made of stainless steel and coated with black nickel for protection in harsh environments. Use in salt and freshwater.
5# Easy Catch 10 High-Strength Fishing Ball Bearing Swivel with Coastlock Snap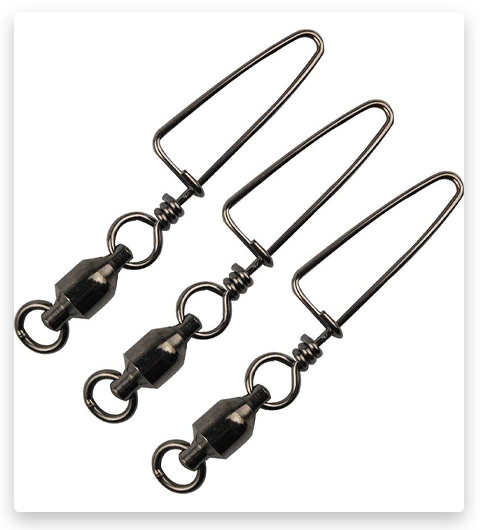 This is one of the most sought models on the market due to its robust construction. It is easy to use and the availability of different sizes are designed for use in various fishing situations. You will get 10 pieces that are finished with a corrosion-resistant coating.
6# Riptail Barrel Swivels with Interlock Snap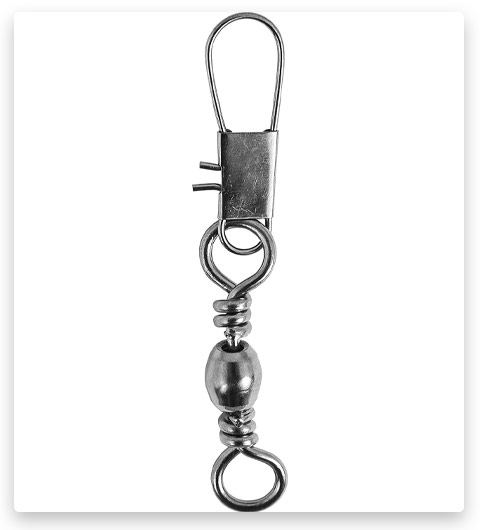 You have the opportunity to purchase barrel swivel with an interlock snap. You can quickly turn fishing snaps on and off. The design does not wear out and is resistant to abrasion thanks to stainless steel with a black protective finish. Barrel swivel prevents line twisting. Ideal for catching perch, trout, pikeperch, and more.
7# Zenrick Fishing Line Sinker Slide with Duo Lock Snap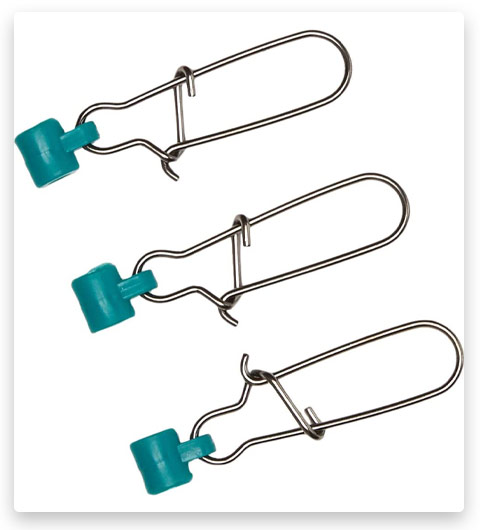 These things will last you many years. The only reason for not using them is only if you lose them. It works great with big fish and can be used in any water. Great for creating a 3-way slip rig. It is made of stainless steel and has a plastic head.
8# JL Sport Duo Lock Snaps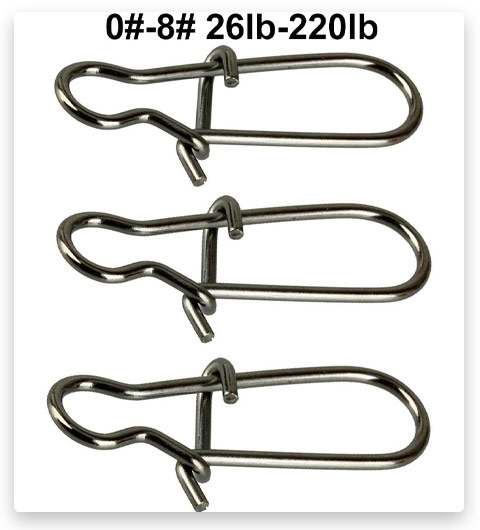 Every fisherman should have this product in his tackle box. You will get 100 durable duo-lock snaps that are available in various sizes: 0 #, 1 #, 2 #, 3 #, 4 #, 5 #, 6 #, 7 #, 8 #. You can place them on drilling rigs. They are also great for hosting on spreaders. These snaps allow you to act freely and keep your fishing line from twisting.
9# Sougayilang Fishing Rolling Swivel with Coast Lock Snap – Amazon's Choice
The manufacturer offers you a look at rolling swivel with coast lock snap. You will receive 30 pieces of different sizes. They are available from small to large. You will receive sizes of 30 lbs, 50 lbs, 80 lbs, 100 lbs, and 120 lbs. You can use them in both freshwater and saltwater. Ideal for sea fishing, trolling and jigging. The snap is made of stainless steel and coated with black nickel for greater protection.
10# Dr.Fish Fishing Ball Bearing Swivel with Coastlock Snap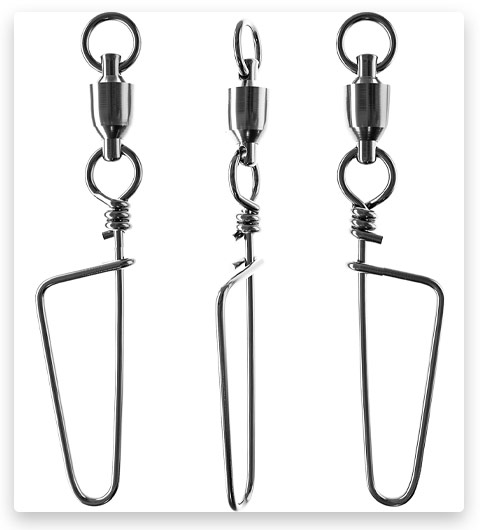 This fishing equipment provides easy use for any user. You can change your bait very quickly and not only. The snap is made of stainless steel and the swivel is made of quality copper. The strength of the product gives not only the material but also a black nickel coating. This allows the snap not to wear out and resist corrosion.
🔄 Diving Into the Different Types of Fishing Snaps & Swivels 🎣

Just like there's a lure for every type of fish, there's a snap and swivel for every angling need. Let's explore some of the most common types, their specific uses, and the pros and cons of each.
🔗 Understanding Fishing Snaps
Fishing snaps come in different shapes and styles, each designed for a specific need or preference. Here are three of the most common types:
Interlock Snap: An interlock snap, as the name suggests, features a design where the end of the snap locks back onto itself. This locking action creates a strong and secure connection that's less likely to come undone, even when battling a strong fish. The downside is that it can be a bit more challenging to open and close than other snap types.
Duo-Lock Snap: Duo-lock snaps are widely loved for their simplicity and strength. The design allows for easy attachment and detachment of lures, while maintaining a strong connection. The only con to consider is that their simplicity might not provide enough security for heavy-duty saltwater fishing.
Cross-Lock Snap: The cross-lock snap is designed like a safety pin, ensuring a secure connection that's less likely to accidentally open. The downside is that this snap can be a bit trickier to operate, especially with cold or wet hands.
🎦Video YouTube: Should you use snap swivels with fishing lures?
Swiveling Through Types of Fishing Swivels
Much like snaps, there are also various types of swivels to suit different fishing conditions and techniques:
Barrel Swivel: The barrel swivel is the most common type. It consists of two rings connected by a barrel-shaped center that rotates, preventing line twists. The con of this type is that it may not be the best for situations that require a heavy load or high-speed rotation.
Ball Bearing Swivel: Ball bearing swivels are the heavy-duty version of the barrel swivel. They include a ball-bearing inside that allows for smooth rotation under high tension – perfect for trolling or when using large lures. The downside is that they're generally more expensive than other types.
Snap Swivel: A snap swivel combines the best of both worlds. It features a swivel with a snap attached, allowing for easy lure changes while also preventing line twists. The only con is that the added bulk of the snap might not be suitable for all types of fishing, especially those requiring a more stealthy approach.
🔶Understanding the different types of snaps and swivels allows you to select the best one for your specific fishing needs. Remember, the right choice can make a huge difference in your fishing experience. 🐟
👓 How to Choose the Right Fishing Snaps & Swivels for Your Needs 🎣

Choosing the right fishing snaps and swivels can seem like a daunting task with the array of options available. But don't fret! It becomes a lot easier once you know the key factors to consider.
🤔 Factors to Consider When Selecting Snaps & Swivels
There are several factors to consider when choosing your snaps and swivels:
Type of Fishing: The kind of fishing you're planning plays a significant role in the type of snap and swivel you should choose. For example, if you're trolling or going for big game fishing, a ball bearing swivel might be your best bet due to its ability to handle heavy loads and high-speed rotations.
Bait or Lure Used: The type of bait or lure you plan to use can also influence your choice. For instance, if you're frequently changing lures, a snap swivel can save you time and hassle.
Target Species: The species you're targeting also matters. If you're going for a fish known to put up a strong fight, you might want to opt for a more robust snap like the cross-lock or interlock snap.
📏 Matching Snap & Swivel Size to the Fishing Line and Bait
The size of the snap and swivel should be proportionate to your fishing line and bait. Here are some tips to help you:
For Light Lines and Small Lures: If you're using a light line (under 10 lbs) and small lures, go for smaller snaps and swivels. Using a large snap or swivel might overwhelm your lure, affecting its movement and visibility.
For Heavy Lines and Big Lures: Conversely, if you're using a heavier line and bigger lures, opt for larger snaps and swivels that can withstand the weight and pressure.
🔶Remember, the goal is to choose a snap and swivel combo that won't compromise the movement of your lure or the strength of your line.
Now that you know how to select the right fishing snaps and swivels, the next step is understanding how to use them effectively. Stay tuned as we dive into that in the upcoming section! 🎣
📖 A Step-by-Step Guide to Using Fishing Snaps & Swivels 🎣

Once you've chosen your ideal snap and swivel, it's time to put them to use. Here's a step-by-step guide to help you do it right.
💡 How to Attach Fishing Snaps & Swivels
Slide the Line Through the Eye: First, slide the end of your fishing line through the eye of the swivel. Ensure the swivel is free to move and isn't too tight on the line.
Tie a Knot: Next, tie a secure knot. A popular choice is the Improved Clinch Knot. To do this, twist the line around itself 5-7 times. Then, thread the end of the line through the loop nearest to the eye of the swivel, before passing it through the bigger loop you just created. Pull it tight to secure.
Attach the Snap: Now, attach your chosen lure or hook to the snap, and close it securely. Remember, each type of snap opens and closes differently, so refer to the specific instructions for your snap type.
Check Your Setup: Lastly, always double-check your setup before casting. Ensure the knot is tight, and the snap is correctly closed.
🚫 Common Mistakes to Avoid When Using Snaps & Swivels
Everyone makes mistakes, especially when trying something new. Here are some common pitfalls to avoid when using snaps and swivels:
Ignoring the Size Ratio: As mentioned earlier, the size of your snap and swivel should match your line and lure. Using a snap and swivel that's too large or too small can lead to issues like a weakened line or ineffective lure movement.
Not Checking for Damage: Always check your snaps and swivels for any signs of damage or corrosion before use. A weakened snap or swivel might fail when you have that trophy catch on the line!
Not Securing the Knot: Make sure your knot is tightly secured to the swivel. A loose knot can unravel under pressure, resulting in lost lures and disappointed anglers.
🔶Remember, practice makes perfect, so don't be discouraged if it takes a few tries to get it right. Soon enough, you'll be a pro at using fishing snaps and swivels, making your angling experience more efficient and enjoyable. 🐟
💼 The A-Z of Caring for Your Fishing Snaps & Swivels 🎣

The lifespan and performance of your fishing snaps and swivels largely depend on how well you care for them. Proper maintenance not only ensures that your gear lasts longer but also that it functions optimally when you need it to.
🛠️ The Importance of Maintaining Your Fishing Gear
Maintenance is a crucial part of fishing. Just like how a well-tuned engine performs better, well-maintained fishing gear increases your chances of a successful catch. Plus, it helps you save money in the long run by avoiding the need for frequent replacements.
✨ Practical Tips for Cleaning and Storing Snaps & Swivels
Follow these practical tips to keep your snaps and swivels in top shape:
Clean After Every Use: 🧽 After every fishing trip, make it a habit to clean your snaps and swivels. Simply rinse them under fresh water to remove any salt, dirt, or debris. This is particularly important for saltwater fishing, as salt can lead to corrosion.
Dry Before Storing: 💨 Always ensure your snaps and swivels are thoroughly dry before storing them. Any moisture left can cause rust, significantly shortening their lifespan.
Regular Checks: 🔍 Regularly inspect your snaps and swivels for any signs of wear and tear or damage. Look out for any deformation, corrosion, or anything that might compromise their functionality.
Proper Storage: 📦 Store your snaps and swivels in a dry, cool place. You can use a small tackle box or even a pill organizer for this. Organizing them by type and size makes it easier to find what you need on your next fishing adventure.
🎯 Expert Tips and Tricks: Maximizing the Use of Fishing Snaps & Swivels 🎣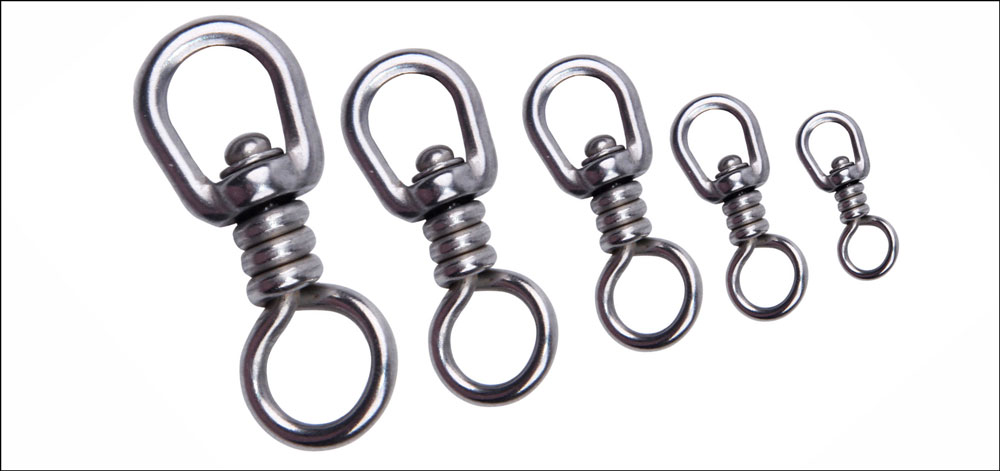 From the many hours spent waiting patiently by the water to the excitement of a sudden tug on the line, every angler has a unique bag of tricks that enhances their fishing experience. Here, I'll share some of my personal tips, tricks, and anecdotes, all about fishing snaps and swivels.
📘 Expert Advice & Personal Tips
Over the years, I've gathered a few strategies that have made my angling endeavors more efficient and enjoyable. Here are some that might help you too:
Rotate Your Stock: 🔀 To ensure your snaps and swivels wear out evenly, try rotating your stock. This way, each piece gets used, cleaned, and rested in turn.
Carry a Variety: 🎒 No two fishing trips are the same, so it's always a good idea to carry a variety of snaps and swivels. Having different types and sizes at hand lets you adapt quickly to changing situations.
Patience is Key: 🕰️ Snaps and swivels are designed to make your fishing more efficient. But, like any other skill, mastering their use takes time. So, be patient and keep practicing.
🐟 Stories from the Deep: Snaps & Swivels in Action
The beauty of fishing lies in its unpredictability. And the right snap or swivel can often make a world of difference. Here are a couple of my favorite fishing stories:
The Quick Change: One sunny afternoon, I was struggling to get any bites with my usual lure. Remembering I had a snap swivel on, I quickly swapped to a different lure without having to re-rig. Sure enough, I started getting bites almost immediately. A quick change was all it took!
The Big Catch: On a memorable offshore trip, I hooked a heavy, hard-fighting fish. As the line spun out, the swivel prevented it from twisting and potentially breaking. That day, I landed a trophy catch, all thanks to the trusty swivel.
🔶Fishing snaps and swivels, small as they are, can have a massive impact on your fishing adventure. So, respect their utility, learn their usage, care for them, and they'll repay you with unforgettable fishing experiences. 🎣
🏁 Conclusion: Unlocking Your Fishing Potential with Snaps & Swivels 🎣
As we reach the end of our deep dive into the world of fishing snaps and swivels, it's clear that these tiny tools are both incredibly vital and often overlooked. They not only make your fishing endeavors more efficient but also open up a world of possibilities for trying out different lures and tactics.
Remember, the key is in understanding how each type of snap and swivel works and using that knowledge to your advantage. Don't be afraid to experiment with different types and sizes 🔄, as different situations might call for different solutions. This flexibility is one of the fantastic perks of using snaps and swivels.
In my experience, the right snap and swivel have often been the unsung heroes of successful fishing trips 🏆. They've enabled quick changes in strategy, saved my line from snapping, and ultimately, made my time on the water more enjoyable. I'm confident that with the insights you've gained from this guide, you'll discover their utility too.
🔶Remember, good things come to those who bait. So equip your tackle box with a variety of snaps and swivels, and get ready to take your angling game to the next level. May your lines be tight, and your snaps and swivels always be just right! 🐟
❓📚 FAQ: Fishing Snaps & Swivels
🔶For a more in-depth look at each of these points, refer to the main body of the article above. 🎣
Tags: #best fishing snaps / #best snaps for fishing / #best speed snaps for ice fishing / #best snaps for bass fishing / #best fishing snaps for crankbaits / #which quick fishing snaps work the best forum / #which fishing snaps are the best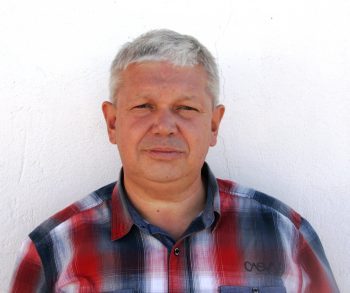 Sergio Smirnoff
Professional fisherman with 40+ years of experience.
Fishing and the ocean is a passion of my life. I am passionate about all kinds of sea fishing: fishing from the shore (spinning, float, baitcasting), from a boat, and spearfishing day and night.
I live in Tenerife (Canary Islands) for the last 10+ years and share my daily fishing experiences on my website. Many years of personal experience as a fisherman and the vast experience of my friends allow me to write professionally on any fishing topics (from choosing a flashlight and equipment to deep-sea fishing).
All of my advice is based on practical real-world experience and will be useful to both novice anglers and professionals.
Read more
about the author.
Affiliate Disclosure: FishReeler.com sometimes gets paid for listings, through sponsors or affiliate programs like Amazon, Ebay, Cabelas, Bass Pro Shop, Shimano, Daiwa, Rapala, Renn, Okuma, KastKing, etс. Clicking a link helps keep FishReeler.com free, at no extra cost to you!
About the author: Each article is verified by the fishing expert Sergio Smirnoff. The articles are written by professional and amateur fishermen with 20+ years of fishing experience.
Note: The views and opinions expressed in this article are those of the authors and do not necessarily reflect the official policy or position of any agency. The articles are for informational purposes only, share your opinions in the comments and join the fishing discussions, let's share our fishing experiences together!