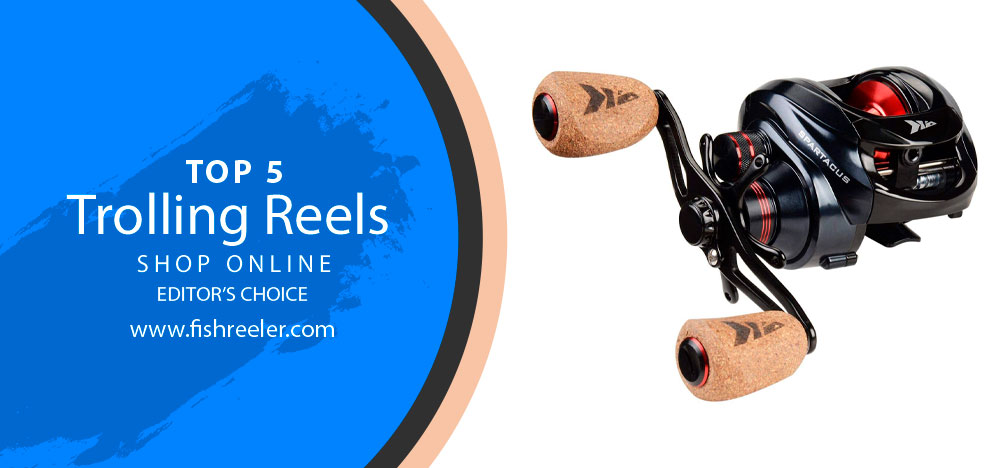 Top 5 Best Trolling Reels Comprehensive & Unbiased List

If you like fishing from a moving boat, then spinning and baitcasting reels don't always match your desires. Trolling reels are one of the most convenient in this case. Trolling means dragging a fishing line standing on a moving boat (maybe with several baits), thus covering a large area of water. In any form of fishing you need good equipment, and trolling is no exception. In this article, we will talk about how to choose a good trolling reel, what to look for when buying, and consider some good samples.
Best Trolling Reels Comparison Chart
| Image | Product | Brand | Link |
| --- | --- | --- | --- |
| | PENN Fishing SQL20LW Squall LevelWind , Black, 315yd/20Lb | PENN | |
| | Okuma Magda Pro Line Counter Levelwind Trolling Reel, Small, Black/Silver, MA-30DX | OKUMA | |
| | Okuma Cold Water Linecounter Trolling Reel CW-453D | OKUMA | |
| | KastKing Spartacus Plus Baitcasting Fishing Reel,Rubber Cork Version,Right Handed Reel | KastKing | |
| | Penn 641-1366185 Warfare Level Wind, 15 | PENN | |
| | Shimano Tekota 300 Conventional Saltwater Star Drag Reel | SHIMANO | |
| | Abu Garcia C3-7000 Ambassadeur Catfish Special Round Baitcast Fishing Reel | Abu Garcia | |
| | Daiwa Sealine SG-3B 4.2:1 Line Counter Right Hand Reel w/ Counter Balanced Handle- SG47LC3B,black | Daiwa | |
| | Shakespeare ATS Trolling Reel , Black, 30 | Shakespeare | |
How is a Trolling Reel Different From Other Reels?
Trolling reels are designed to catch deep-sea fish in salt or freshwater from a moving vessel. They are not designed to be used as a traditional reel. Trolling reels have a more rounded shape and contain more lines than other reels.
They are somewhat similar to baitcasting reels because they are installed on top of the rod. But they are distinguished by the fact that trolling contains much more line. This is necessary to facilitate the heavy fishing line that is used in trolling. All trolling reels are combined by three functions: star drag, line out the alarm and release lever. Depending on the fish, various fishing lines can be used on trolling reels. In this regard, they are universal. Trolling is one of the most productive types of fishing because with it you can cover a lot of water and use several types of lures.
Trolling reels can fish at a much greater distance from the shore than other reels. These reels have increased drag and capacity, and many of these reels have reel counter capabilities to assist with releasing a set amount of line when trolling for fish in open waters. But the trolling reels have some drawbacks. Usually, they are more expensive than other types of reels and more difficult to use.

Quick Take – TOP 3 Best Trolling Reels
These are our recommendations for the best trolling reels:
The 5 Best Trolling Reels Reviews
There are a huge number of trolling reels on the market, so choosing a good reel can be difficult. Fortunately, we have selected for you the best reels on the market. Now let's look at their features and differences.
1#

Penn SQL50LW Squall LevelWind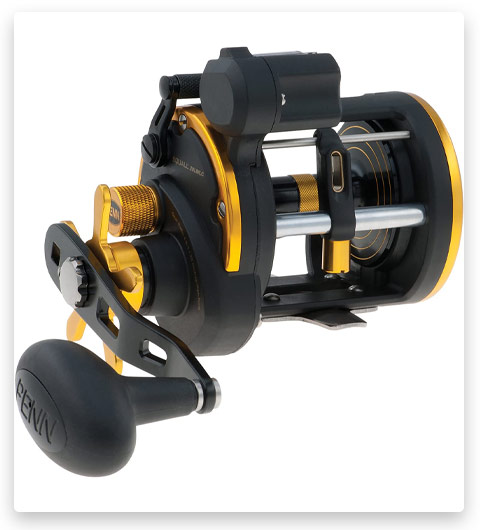 Penn SQL50LW with a durable graphite frame, body, and side plates is well-suited not only for trolling, but also for sharking, drifting, and chunking. There is no twitching or shaky drag because the gears are made of bronze and stainless steel. The drag system is quite smooth and flexible, it copes well with heavy, game fish. Versa adjustable handle is installed on the reel, so you can adjust the length you need.
If you hunt salmon, halibut, or other deep-sea fish, then Penn Squall LevelWind will do well with these tasks and save your budget.
2#

Okuma Magda MA-30DX Pro Line Counter Levelwind Trolling Reel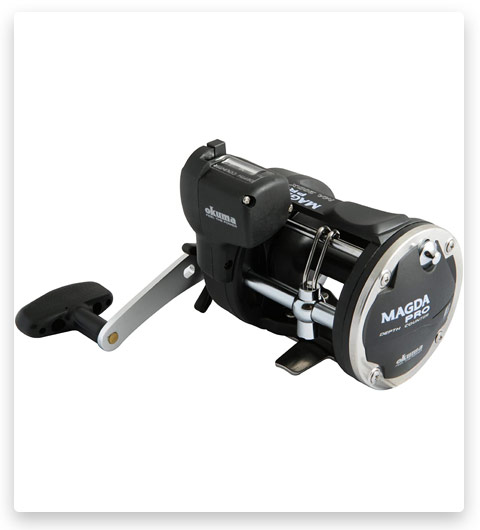 Saltwater won't damage this reel due to its excellent lightweight construction and corrosion resistance. A line counter is installed here that measures distance only in feet. So be careful if you need meters or something else. Inside is a self-lubricating gear, carbon fiber drag systems, and brass gears. The side plates and body are fully protected against corrosion. You can don't worry about the fact that over time it'll become covered with rust and the components inside it will stop working because of this. The reel comes to you already assembled and you get a year warranty on it. But sometimes this model starts lashing out and it may happen that the line counter becomes sticky or the drag setting is reset. This happens very rarely, but it happens.
This is a great trolling reel with fast drag adjusting and an accurate counter. The only thing that will cause difficulty for the first time is that the turning is too much and you need to get used to it so as not to lose the fish.
3#

Okuma Cold Water Linecounter Trolling Reel CW-303D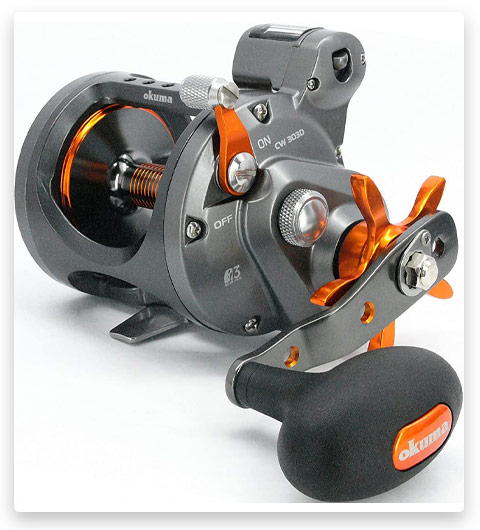 This is one of the lightest but most reliable trolling reels on this list. In addition to lightweight, the reel design and side plates are corrosion-resistant. If we look inside the reel, we'll see here a star drag, a dual anti-reverse system, and a carbon drag system. Mechanical stabilization perfectly aligns shafts and gears so that the reel feels smooth and soft during operation. The line counter can be installed on the left or right. So no matter what your working hand, you can set it the way you like. The manufacturer gives a year warranty on this reel. But despite the high quality of the internal components, sometimes the drag in this reel is quite sharp. Especially when working with heavy fish.
Smooth, uniform motion, and an accurate line counter that never fogs up and can be installed on either side, make this reel a good trolling option. Most often I use it for striped bass, but it also works well with other types of fish.
4#

KastKing Spartacus Plus Baitcasting Fishing Reel Ultra Smooth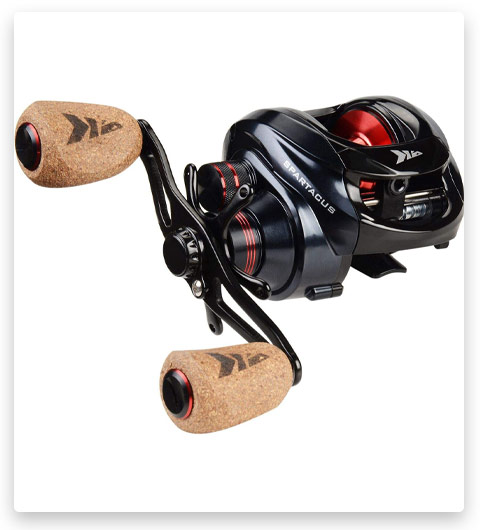 With this reel, you get 18 pounds of carbon fiber drag, which is backed by micro-casting with a dual magnetic brake system. In addition, the reel is equipped with high-quality cork or rubber handles (depending on the design) and 11 + 1 shield stainless steel bearings. The ceramic guide is specially reinforced for a braided fishing line, and the reel itself has a double break and anti-reverse. Also, KastKing installed brass gears, an aluminum spool with SNS, and a gear ratio of 6.3: 1 here. Options for the right and left hand are available, but there are a couple of cons. Bearings may fail over time, so after some time you will need to replace them.
The KastKing reel will be a great addition to your fishing equipment due to its high drag power and gear ratio. A high-quality body and handles will not cause discomfort during the operation.
5#

Penn 641-1366185 Warfare Level Wind Conventional Fishing Reel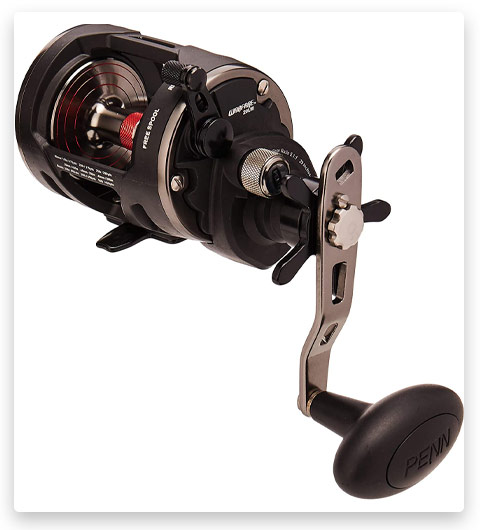 Penn has an excellent graphite frame, and it's quite light. The side plates are made of another material – forged aluminum. Inside, there are HT-100 carbon washers, a brass gearbox, and anti-reverse bearings. The kit comes with a clip for convenient fixation on the rod, and a loud clicker is also installed here. You can choose a drag from 15 to 30 lbs and design for the left or right hand. Of the minuses, it's worth noting that the alarm button works intermittently and in free spool mode, full rotation is needed for installation and blocking.
Penn has excellent casting speed and drags power. Even an inexperienced fisherman will be able to control this reel well. With high-quality handles and a sturdy case, you can fight fish even more than 20 pounds.
Features to Consider When Choosing

As I said, trolling reels differ in three main parameters: star drag, release lever, and line out an alarm. But besides these, there are several more features that you need to consider when choosing a trolling reel. Let's talk about them.
Drag System
When you struggle with large fish, the reel and the rod are very loaded. The better the drag system in the reel, the easier and more convenient it will be for you to control the fish. Multi-disc drags can achieve very smooth control of fish. The adjustment of the star drag near the handle is very conveniently located and greatly helps in this.
The Clicker
The clicker is needed to notify you when the line ends. Therefore, it should be quite loud, so that you can hear it through the noise of the boat motor, waves, voices, etc.
Line Capacity
The line capacity should be large enough, especially if you are fishing in saltwater. But even in freshwater, there are situations when you spend a lot of fishing line. So make sure your reel holds as many lines as you need.
Materials
Basically, trolling reels are made of two materials – graphite and processed aluminum. Graphite is much cheaper and weighs less, but inferior to aluminum in durability. Here I can't recommend one thing, everyone chooses the material that is convenient for him. But I like aluminum more, it's much more durable and can withstand corrosion in saltwater, although it's quite heavy.
How to Clean a Trolling Reel?
Any reel becomes dirty over time. And if you fish in the open sea, and leaves and branches do not fall on the reel, this doesn't mean that it'll always stay clean. Before cleaning, prepare everything you need: a bucket of hot or warm water, a cleaner (preferably biodegradable), oil for reels, and a little fluid.
First, remove the side cover and disassemble the reel. If you are not sure that you remember the order of disassembly and assembly of parts, then it's better to write it somewhere or take a video. I often did this with my first reels. When working with springs and clamps, use tweezers or pliers so as not to lose parts.
And yes, you didn't forget to remove the line before disassembling, do you?
Immerse all parts in warm water and clean them with a cleaner and brush.
Using a toothpick or a small brush, apply grease to the bottom of the teeth.
Remove and dry the parts. Don't rush to assembly the reel back.
First, clean the bearings with fluid, assemble them and lubricate. They should rotate without creaking and rattle.
In the end, assemble the reel, you can lubricate the moving parts, and the stationary ones can simply be cleaned with fluid.
How to Use a Trolling Reel?

Trolling reels are not as easy to use as conventional spinning reels or others. If you simply threw a line on standard reels, then here you have to drag it from a moving boat or ship.
Here are tips to help you avoid losing your fish or line:
Follow the counter to set the bait to the necessary depth
The bait and boat should be between 20-150 pounds. No more and no less. In the first case, the fish simply won't swim so close to the boat. In the second, it'll be difficult for you to pull it out.
If you have been standing still for a long time without results, then change the bait. Often, it helps to get fish. It'll also be useful to change the place a little. The more lures – the more fish you can catch. Always experiment – try to place different lures at different depths and distances from the boat. Then you will definitely get the desired result.
Summing Up
Trolling reels are a very interesting and effective type of fishing reels. If you want to succeed in trolling fishing, then you need a good fishing rod, bait, and most importantly, a good trolling reel. No one angler has ever caught a hundred pounds of fish for the first time. Here, as in any kind of fishing, you first need to gain experience and practice. But as soon as you 'feel the ground under feet', you will see, how efficiently trolling reels work.
I chose some good reels specifically so that you don't spend time searching the Internet. But if you still don't like my list, then you can always use the tips on choosing the right reel. If you liked this article, then share it on social networks. Have good fishing!
Tags: #trolling reels / #best trolling reels / #trolling reels with line counter / #okuma trolling reels / #saltwater trolling reels /#best offshore trolling reels / #best trolling reels for walleye / #best trolling reels for tuna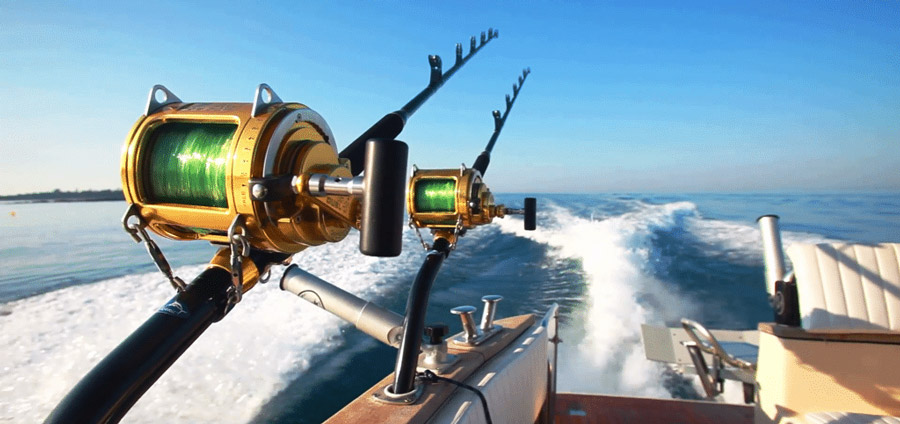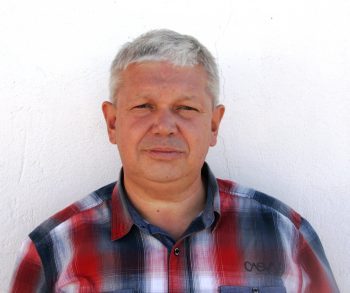 Sergio Smirnoff
Professional fisherman with 40+ years of experience.
Fishing and the ocean is a passion of my life. I am passionate about all kinds of sea fishing: fishing from the shore (spinning, float, baitcasting), from a boat, and spearfishing day and night.
I live in Tenerife (Canary Islands) for the last 10+ years and share my daily fishing experiences on my website. Many years of personal experience as a fisherman and the vast experience of my friends allow me to write professionally on any fishing topics (from choosing a flashlight and equipment to deep-sea fishing).
All of my advice is based on practical real-world experience and will be useful to both novice anglers and professionals.
Read more
about the author.
Affiliate Disclosure: FishReeler.com sometimes gets paid for listings, through sponsors or affiliate programs like Amazon, Ebay, Cabelas, Bass Pro Shop, Shimano, Daiwa, Rapala, Renn, Okuma, KastKing, etс. Clicking a link helps keep FishReeler.com free, at no extra cost to you!
About the author: Each article is verified by the fishing expert Sergio Smirnoff. The articles are written by professional and amateur fishermen with 20+ years of fishing experience.
Note: The views and opinions expressed in this article are those of the authors and do not necessarily reflect the official policy or position of any agency. The articles are for informational purposes only, share your opinions in the comments and join the fishing discussions, let's share our fishing experiences together!