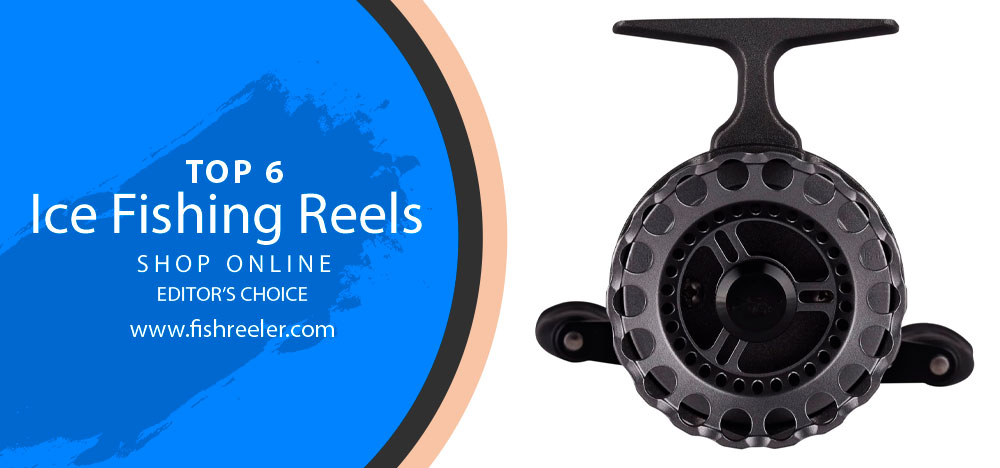 Top Inline and Spinning Ice Fishing Reels
In the northern regions, ice fishing is very popular. And here, as in any sport, it's important to have good equipment. In addition to a pair of warm boots and gloves, you will need a high-quality ice reel. In this article, we'll just talk about such.
What's Best Ice Fishing Reel?
The best ice reel provides you with performance even at low temperatures. Conventional reels don't feel the line in the cold well. Ice fishing reels are slightly smaller than conventional spinning reels. Most reels are small and inexpensive. For example, Inline reels, which are made specifically for ice fishing. They are smooth, lightweight, and easy to use. Let's take a look at these reels!
Comparison Chart of the Best Inline Ice Fishing Reels
| Image | Product | Brand | Link |
| --- | --- | --- | --- |
| | Eagle Claw In Line Ice Reel | Eagle Claw | |
| | Fiblink Inline Ice Fishing Reel Right/Left Handed Fishing Raft Wheel Ice Reels (Left Handed) | Fiblink | |
| | BERRYPRO Inline Ice Fishing Reel Right Handed Fishing Raft Wheel Ice Reels with 4+1BB Ball Bearings (Red(Al Spool with Extra Graphite Spool)) | BERRYPRO | |
| | Inline Ice Fishing Reel Right/Left in Line Ice Reel with 8+1 Ball Bearings (Right) | Ellen Archery | |
| | Shakespeare USGXICE30MHCBO Ugly Stik GX2 Ice Combo, 30-Feet, Medium-Heavy, Black | Shakespeare | |
| | 13 FISHING Black Betty 6061 Hardwater Inline Ice Fishing Reel | 13 FISHING | |
Quick Take – The Best Ice Fishing Reels
Review of the Best Inline Ice Fishing Reels
1# Eagle Claw In-Line Ice Reel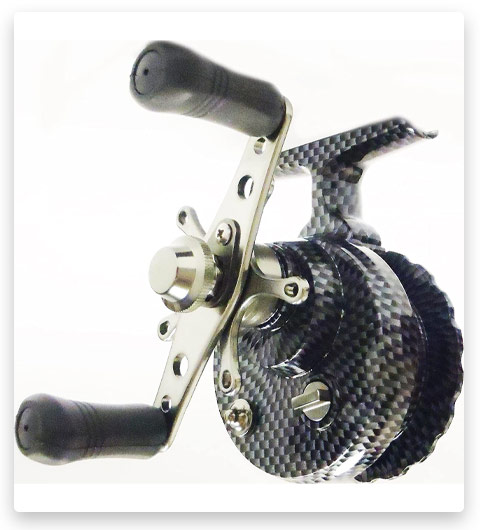 The Eagle Claw stands out for its characteristics. This is a simple but very effective reel for ice fishing. In addition, its price is not very high. The reel is made of durable and lightweight nylon. Thanks to this, you get not only a reduced reel weight but also a more pleasant appearance. Traditionally, this reel has a spool release button. This allows the line to quickly drop to the required depth. Also, the reel has the function of adjusting the spool tension. This function allows you to adjust the speed of descent of the line depending on the bait and its weight. The reel has 4 + 1 ball bearings, which operate quite smoothly and stably. Smoothness enhances the gear ratio of 2.6:1. The drag system is not disk, but Teflon, so you won't have interruptions in the operation of the drag system in the cold.
2# Fiblink Inline Fishing Bearings New Left Ice Fishing Reel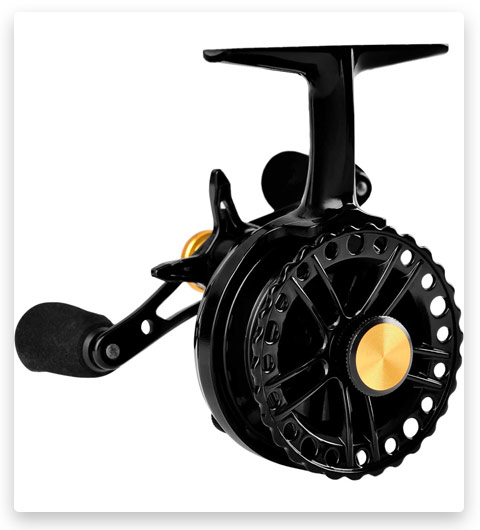 The Fiblink reel is also a great option for economical anglers. It's a very light, easy to use, and functional reel. With the quick spool release function, you can quickly and easily lower the bait to a depth. There is also a knob that adjusts the tension of the spool. Moreover, right during the battle with the fish, you can adjust the drag thanks to the star drag controls. Attractive and comfortable black or orange design will give you a feeling of comfort on the ice. The reel has 4 very smooth bearings +1 one anti-reverse. And the gear ratio is 2.6:1.
3# BERRYPRO Inline Fishing Handed Bearings Ice Fishing Reel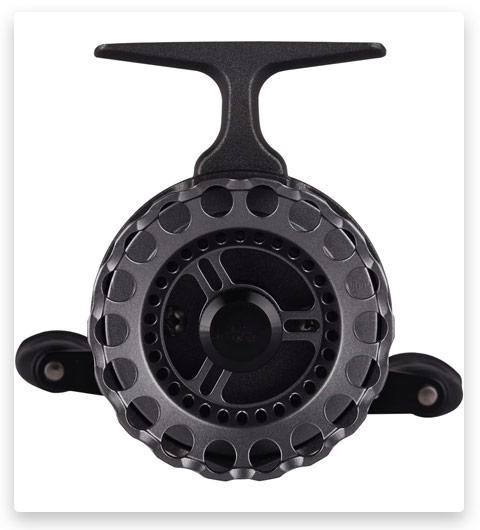 Beryypro has a slightly higher line retrieval speed and a gear ratio of 3.6:1 instead of the standard 2.6:1. It is useful for deeper use in water. The reel design is made entirely of aluminum with a non-slip black rubber coating. The coating makes the reel softer to the touch and gives it a smoother and more aesthetic appearance. But the number of bearings remains the same – there are 4 bearings and 1 for the anti-reverse function. They work quite smoothly and stably. The spool is made of graphite, the steel here is only a shaft that's resistant to corrosion. Although this is a fairly inexpensive model, a bag for the reel is included in the package. But the manufacturer saved on the function of adjusting the tension of the spool. And if in the previous two models there was a handle or button for this, then here this function is not installed. Also, another minus that users note is that the drag system could be smoother.
4# Ellen Archery Inline Ice Fishing Reel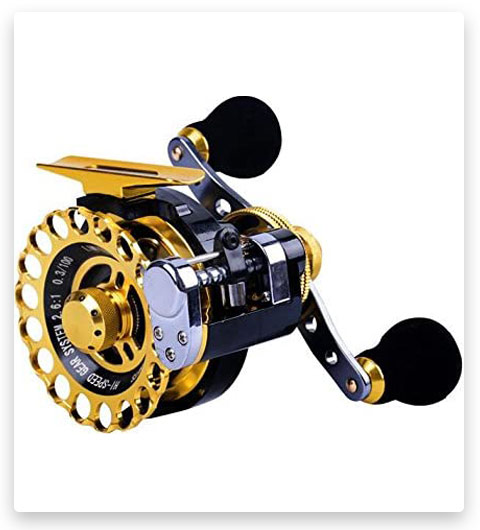 This reel has a very bright golden design and is immediately noticeable among other reels. And it's not only beautiful but also high-quality. The special aluminum design with CNC makes the reel lighter and protects against corrosion. Moreover, internal components are also protected against corrosion and saltwater. A unique feature that is in this reel is the bait clicker function. Also, there are many more bearings and much smoother sensations when working with a reel – 8 + 1 ball bearings. With a gear ratio of 2.6:1, this is a chic performance. Despite its aluminum construction, this reel is quite lightweight. The manufacturer uses an imported high-quality brake system for better braking of the line. The reel is available in left and right-hand options. But there are some disadvantages. There's no spool tension function, which is set in most ice reels. And a minor flaw is that the reel doesn't have detailed instructions and is available in only 1 color.
5# Ugly Stik GX2 Ice Fishing Rod and Reel Combo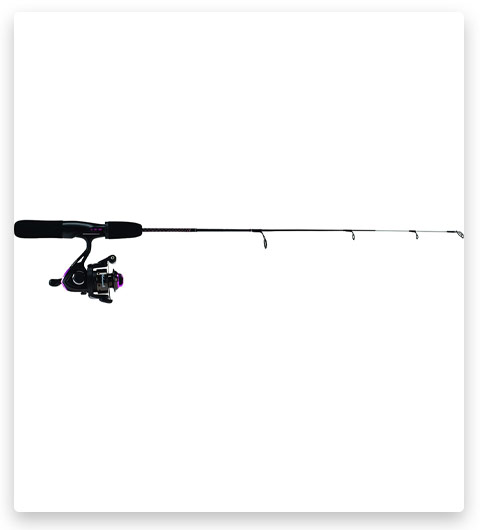 If you don't know which rod to choose for a conventional reel, then I recommend that you consider combos from the reel and the rod. For example, this Ugly Stik GX 2. This combination is already assembled and ready to work. It uses a standard fishing rod and a spinning reel. But it's very convenient for ice fishing because of the short and lightweight rod. Moreover, this rod and reel are durable and can handle careless handling, cold, and low-temperature operation. This can be a great choice for fighting heavy fish in deep water, given a gear ratio of 4.4:1. But remember that the reel is spinning, which means that it includes more turns in the line.
6# 13 Fishing Black Betty Inline Trigger System Ice Fishing Reel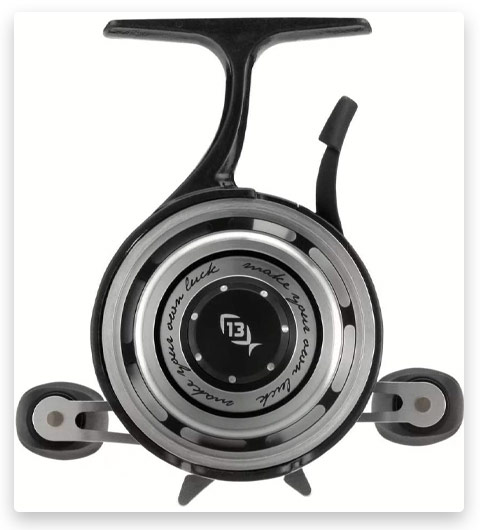 You can drop the bait at an absolutely different speed because the Black Betty is equipped with a built-in regulator that allows you to control the speed of the bait dropping. This increases your chances of catching fish without even reaching your preferred depth. Moreover, this chance increases the instant hookup function. It stops the free spool when the fish detects and catches a line. The reel design is completely closed. It looks modern and beautiful. Instead of an aluminum frame, the manufacturer decided to install a solid graphite frame here. If you want to try a new style in fishing, Black Betty can be a great choice for you. A gear ratio of 2.5:1 makes the reel a universal ice hunter.
Is It Necessary To Purchase A Special Reel For Ice Fishing?

As in any sport, in fishing, there are different equipment for various purposes. Not a single fisherman (except beginners) uses only one reel model or only one rod for all types of fishing. Because it's just not effective.
Yes, many reels cope with their work even on ice in low-temperature conditions. But this harms them and they are not as effective as inline reels, which are designed especially for this.
Besides, inline reels have several advantages over other reels:
Inline reels prevent line twist. Like fly reels, inline reels wind a line along a straight path. Unlike spinning reels, which twist the line a little while winding on the spool. In ice fishing, this is very important because the direct winding of the line provides better sensitivity with the bait and the line itself.
Inline reels retain the strength of the fishing line. When the line twists when spooling, it begins to weaken. Yes, for heavier lines this is a minor loss, but when you use ultralight lines in ice fishing, it can become critical.
Inline reels are much more suitable for light fish. If you're going to catch trout or pike, then it's better for you to choose just such a reel. Inline reels are more difficult to cope with heavier fish, but in ice fishing, it's very rare to find such ones.
Inline reels are more resistant to the weather conditions of ice fishing. When you fish in the cold, you can dress warmly so as not to freeze. The reel can't do this. And all the water that enters and freezes on it, snow, and frost very much harm the reel construction. Inline reels are designed so that the internal components practically don't suffer from the cold, and the material from which they are made can be in the cold for a long time.
Reel or Rod & Reel Combo?
You noticed that in our selection there were both reels and combos from reels and rods. So what to do? Don't bother and just buy a combo from a reel and fishing rod or carefully study the problem and buy two components separately? Most combinations of rods and reels are selected to work with each other as efficiently as possible. The reel and the rod are designed for the line and lures of the same weight. If you know what weight and size you are looking for, you are definitely not mistaken with the choice of combo reel/fishing rod.
On the other hand, by buying both components separately, you get more choice and performance. If you're looking for a special type of reel for ice fishing or you have your own style in this, then it's unlikely that a standard combo of a reel and fishing rod will satisfy your needs. But remember that by buying separately, you take great responsibility. Unlike buying a combo, which is hard to make a mistake, buying a reel that doesn't work well with a fishing rod can affect your fishing experience in general.
Guide to Choosing the Best Reel for Ice Fishing

You can never choose something without understanding the basics. Especially when it comes to fishing reels, which are not so cheap. So let's talk about what specifications you need to know before choosing an ice reel.
Before making your purchase, be sure to consider the following key aspects
Material and Durability
You are going to fish in the cold, which means you need a reel that resists weather conditions well. Spinning and baitcasting fishing reels don't withstand low temperatures well and wear out quite quickly and stop working normally. Ice fishing reels are made of a much more frost-resistant material than the rest of the reels. Such materials are aluminum and graphite. In some cases, you can find nylon, which also resists the cold pretty well (Eagle Claw Inline Ice Reel as an example).
These materials not only withstand severe cold but also cope well with falls, the effects of water, snow, etc. Some of them are even resistant to corrosion and rust but cost a little more. Metals are best suited for this type of fishing, but I prefer graphite or nylon. Because they are lighter and cheaper, but not so durable. Moreover, when you touch the aluminum reel with warm and wet hands, sometimes your fingers can stick to it, and this is not a very pleasant feeling. The same goes for the rod. It must be resistant to cold, abrasion, and corrosion so as not to crack in cold conditions.
Spool
Ice fishing is not as demanding on the spool as other types of fishing. Here you don't cast for which you need some special design of the spool. The main thing you need to monitor here is that the spool doesn't twist the line during the drop. Also, your spool should be capacious enough. Because in ice fishing much more line is used for lowering to a greater depth.
Handle
You will almost always fish in thick warm gloves. The standard handle isn't so well felt and it's not very convenient to operate. Manufacturers of ice reels understand this, so they created enlarged handles in their products so that you don't lose control during the time of fighting with fish. Larger handles also increase torque due to the larger diameter, so you get more power.
Bearings
In any type of reel, you must make sure that there's the required number of bearings. Because bearings are what provide the reel with smooth operation. In the ice reels, on average, there are 4 bearings, but there may be more. Usually, the more bearings are in the reel, the smoother it will work. But quantity is not the most important component. Always ensure that bearings are made of quality materials. If they are made of poor material or there are too few bearings, the line will catch on winding due to the high pressure on it. This may cause your fish to run away or you may even break the line.
Drag System
Drag is an equally important component in the reel, which is worth paying attention to in all types of fishing. Dragging is directly involved in pulling the fish out of the water, adjusting the degree of line tension, and determining the size of the fish that you can pull out. Power drag is measured in pounds (lbs), less often in kilograms (kg). You can consider a reel with an adjustable drag. This will give you more flexibility and the ability to catch many more types of fish with different lures.
Anti-Ice System
This also applies to materials, but I decided to attribute this parameter to a separate group. This specification suggests that the material the reel is made of must withstand cold so that internal components don't jam from freezing. This is very important because you will often work in conditions below zero. Inline reels do a great job of this. But if your reel is not resistant to frost, then make sure that you have antifreeze on hand so that your equipment functions correctly in the cold.
Weight
In cold weather, fishermen often carry a lot of heavy equipment. Therefore, for fishing, it's better to purchase a light reel. In general, this is a general rule for all types of reels, not justice ones. A light reel is always better than a heavy one, isn't it? A lightweight reel doesn't load your hand and wrist so much, which is especially convenient when wearing heavy and thick gloves.
The Setting of the Inline Ice Reel
If you are an experienced angler, then you should have no problem installing an inline reel. It's no different from installing spinning reels. The reel is mounted on the underside of the rod. As in fly reels, the line enters the reel from the bottom side, from the pole. Inline reels often have a spool-free function. This allows the line to quickly and accurately drop to the required depth. Some reels have a function to adjust the tension of the spool, which allows you to speed up or slow down the bait to a depth. Moreover, you can even fish while the bait is dropping down.
Also, inline reels can have a clicker installed. It just gives a click when winding the line. Useful, but not required. Drag in inline reels is a bit like a baitcasting drag. A star drag is installed here, which you can adjust with your thumb even during a fight. The functionality of inline reels is not particularly difficult. Drop the bait to the depth that you want, adjusting the descent, and then retrieve the line, adjusting the drag. Even for beginner fishermen, this is a very simple type of reel.
Conclusions
Now you have an accurate idea of what inline ice reels are. You know how and where they are used and in what situations you need them. These reels are suitable not only for ice fishing but also for vertical fishing in open water. Inline reels are very easy to use and they are not that expensive. Use a good fishing rod when working with them and you will be fully prepared for fishing on the ice. Share this article on social networks if you like it. Have good fishing!
Tags: #best ice fishing reel / #best inline ice fishing reel / #best ice fishing rod and reel combo / #best ice fishing rod and reel / #best inline reel for ice fishing / #what is the best inline ice fishing reel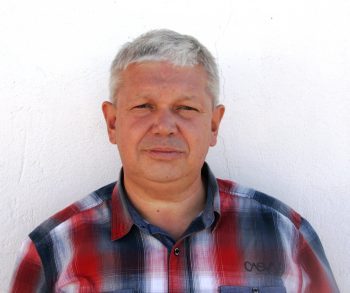 Sergio Smirnoff
Professional fisherman with 40+ years of experience.
Fishing and the ocean is a passion of my life. I am passionate about all kinds of sea fishing: fishing from the shore (spinning, float, baitcasting), from a boat, and spearfishing day and night.
I live in Tenerife (Canary Islands) for the last 10+ years and share my daily fishing experiences on my website. Many years of personal experience as a fisherman and the vast experience of my friends allow me to write professionally on any fishing topics (from choosing a flashlight and equipment to deep-sea fishing).
All of my advice is based on practical real-world experience and will be useful to both novice anglers and professionals.
Read more
about the author.
Affiliate Disclosure: FishReeler.com sometimes gets paid for listings, through sponsors or affiliate programs like Amazon, Ebay, Cabelas, Bass Pro Shop, Shimano, Daiwa, Rapala, Renn, Okuma, KastKing, etс. Clicking a link helps keep FishReeler.com free, at no extra cost to you!
About the author: Each article is verified by the fishing expert Sergio Smirnoff. The articles are written by professional and amateur fishermen with 20+ years of fishing experience.
Note: The views and opinions expressed in this article are those of the authors and do not necessarily reflect the official policy or position of any agency. The articles are for informational purposes only, share your opinions in the comments and join the fishing discussions, let's share our fishing experiences together!