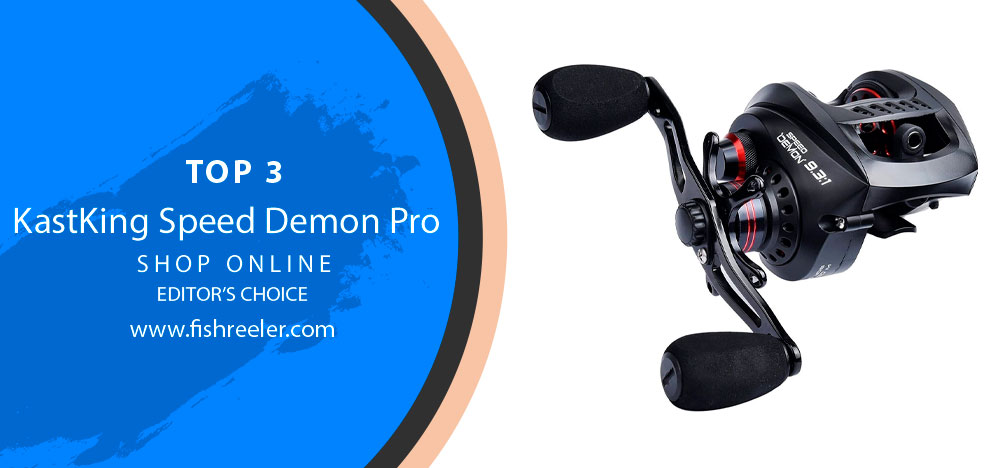 KastKing Speed Demon Pro – Baitcasting Fishing Reel Full Review
I think many fishermen love KastKing. And this is understandable because their fishing reels are very convenient, easy to use, have good material and performance, and most importantly – they are inexpensive. This is one of those companies that's trying to attract people to fishing.
I, and you probably too, have heard many times about how KastKing is good and that they really do good things. But I never had a chance to try their products in practice. And recently, the KastKing Speed Demon Pro fell into my hands.
I tested and disassembled this reel and I want to tell you that it's definitely worth your attention on this model. In this article, I'll tell you about what KastKing Speed Demon Pro is, what can be expected from it, and what results in it shows on the water. Let's go!

What Is The KastKing?
In fact, there's not much information about KastKing. This is probably because it exists on the market relatively recently. The KastKing company was founded in 2013. Its official name is EPoseidon. KastKing is just a brand and a division in EPoseidon.
It was founded by two enthusiastic students who simply wanted to "make fishing equipment that would be affordable to everyone." They still adhere to this principle and despite the fact that the manufacturer has already become quite popular, they try to keep their prices at an affordable level.
In just 7 years, the company has achieved tremendous success in the production of fishing gear. These guys are engaged in production not only the fishing reels. They also make fishing rods, fishing lines, accessories, fishing lures, and electronics.
It's very nice that KastKing makes its equipment based on customer feedback. "Made by anglers for anglers." In other words, this manufacturer does what anglers need. That's why their products are so successful.
2015 was a breakthrough year for EPoseidon. It was the year that they won many international competitions and became known as a brand. In the same year, the company began to supply its products to more than 150 countries around the world and began to work at many large sites. In general, the guys have something to brag about.

KastKing Speed Demon Line
Before we move on to the review, I want to note that the KastKing Speed Demon line includes 2 models. This is the KastKing Speed Demon Pro and the KastKing Speed Demon. We'll talk about a more improved and expensive model, KastKing Speed Demon Elite Pro 9.3:1 Baitcasting Reel. But I'll also say a few words about the second. So, if the Demon Pro is not suitable for you, then you can always look at another model from the same product line.
KastKing Speed Demon Pro – Detailed Casting Reel Review
Packaging
Our reel comes in a black matte box, the packaging of which is made quite high-quality and good. But it carries no information load – there's practically no information on what's inside of the box. Just a warning on the backside. After opening the lid, I saw that everything inside is also good and solid. Budget manufacturers have recently begun to pay very much attention to the packaging.
Abu Garcia and KastKing do very beautiful things in design. Although a couple of years ago they didn't even bother with packing budget models at all. The manufacturer could put the reel simply in a piece of cardboard. Now they're working closely on the style and appearance before the release of the model. I think this is a pretty big plus. The reel itself is in a small neckline so that it doesn't dangle. Again, everything looks very elegant and presentable. Under the cardboard base, are detailed instructions and a user manual.  Now let's move on to the design of the reel itself.
Reel's Body
Speed Demon Pro is made in matte black and orange. By the way, such a matte finish prevents scratches and rashes, so the reel will retain its aesthetic appearance for a long time. The material of the frame and side panels is pure carbon. It's not the sharpest tool in the shed, but you can be sure that you won't have rust with this reel. On the reel itself, there are also inscriptions about gear ratio, brake system, company name, number of bearings, and fishing line capacity. I think everyone will initially be interested in the weight of this reel. It weighs 6.35 oz. or exactly 180 g. This is a fairly good indicator of weight for such a cheap reel because this reel is positioned for some big fish and for more or less serious loads.
Handles
Looking at the handle, we can definitely say that this reel was made for large baits and large fish. On the side, we have enlarged EVA handles. The handle is not made from ordinary carbon fiber, like most reels but from a durable carbon alloy. The section has a triangular shape to enhance the strength of the handle. Knobs are also quite serious, again we see that they are made to catch some serious trophy. They are quite pleasant to the touch and never slip out even if you have wet or mucous hands. Knobs are very durable and even after six months of constant use, the design remains solid.
Brake System
The brake system is traditionally represented by two brakes – an axial and magnetic brake system. The magnetic brake adjuster is mounted on the side panel. The adjustment of the brake system is available in values ​​from 1 to 10. The brake works extremely efficiently – in two extreme positions (min/max) the speed of the spool differs very significantly. Under the side panel is the brake itself, in which 9 magnets are installed. Such a system is called a Trilateral Magnetic Brake System. Magnets work very well, in a wide range. Settings aren't reset even under heavyweights. So you can always adjust the brakes for yourself and do it when you want. The axial brake, unlike a star, doesn't have a micro-click. It's arranged and works very standardly, without any problems.
Spool
The spool is one of the best things in this reel. Despite the fact that this is a budget model, the manufacturer made a reel with a short light shaft. The shaft material is lightweight anodized aluminum. Other reel fragments have the same anodized coating. So this reel can be safely used in saltwater. Corrosion doesn't threaten Speed ​​Demon Pro at all. The spool rotates on two ball bearings. One is located on the shaft itself, the second is installed in the side panel. The spool is as light as possible, has a very serious lateral perforation. The weight of the spool is 0.35 ounces with the bearing. This is an amazing result for KastKing. Therefore, we conclude that this reel can work both with small weights from 4-5 g, and with heavy lures up to 25-30 g.

Gear Ratio
Some argue that "this is the fastest bait-caster in the world" because of its gear ratio. Indeed, it's quite large and amounts to as much as 9.3:1. So it's a pretty high-speed reel with brass gears. With this gear ratio, the Speed ​​Demon has an excellent casting distance. Moreover, I specifically used several of my heavy wobblers in order to see what maximum this reel could make the most of itself. I was very surprised that even with strong winds the casting distance is very large and I always reach the right points on the water. This reel processes lightweight baits with even greater ease and accuracy in casting.
Bearings & Drag System
As I said, the internal components are made of quality material and bearings are no exception. Inside we have 12 ball bearings + 1 roller. All are made of stainless steel and are corrosion-resistant. The feeling of their work is very smooth, there's no backlash or sharpness in the work. All bearings have double-screen protection, so this is another one advantage. KastKing put in a Speed ​​Demon Pro triple carbon fiber disk drag system. The drag star has a micro-click, but it's quite noisy, so fans of quiet fishing reels may not like this. The power of drag is 13.2 pounds or 6 kg, but I caught a lot more prey and this reel did a great job of it.
My Experience with This Reel
On the rod, this reel feels a bit lighter than other bait-casters. But a little getting used to it, you feel it pretty well in your hand. A good cast with this reel starts with a weight of lures from 5 g. I specially set my heavy wobblers and spinnerbaits in order to check whether this reel with heavy weights is good. And you know, this model shows itself just great with any weight. I could cast almost anywhere in small ponds. On large lakes, Speed Demon also feels good. I used this rather long time and never felt reel backlash or poor performance.
The brakes and drag settings are pretty accurate. I set the magnetic brake to approximately position 4-5 and it never oscillated even under heavy loads. But I also tested it at the min/max position and the difference is very noticeable. So any angler can absolutely precisely configure the system for himself. I gave this reel to my friend so that he could test it in saltwater in bad weather conditions. He didn't run into the rain, but he managed to go fishing with a strong wind. Despite the strong fluctuations of the line, the castes practically don't suffer from this and you cast exactly as you want.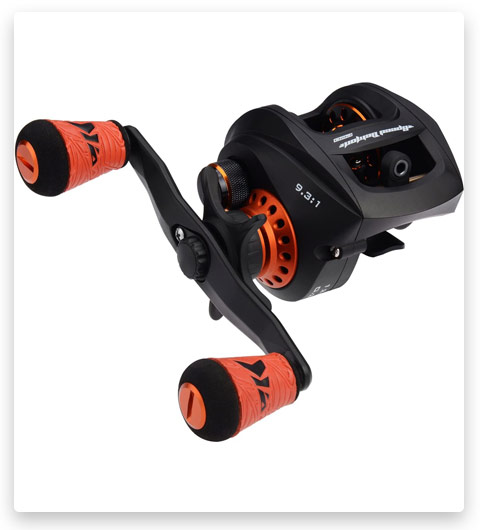 Speed ​​Demon Pro perfectly distributes the line. The monoline and the braided line are always well distributed on the spool and there are no "bird nests" or lumps. I immediately started making good throws without much getting used to the reel. I think you'll also appreciate the reel warranty. KastKing gives you a year of 100% guarantee, so you can contact the manufacturer in case of problems. They'll change your reel or fully reimburse the cost of it.
KastKing Speed Demon Pro Main Features:
A gear ratio of 9.3:1
Double brake system
9-magnet magnetic brake system
Star drag with micro-click
6.35 oz. weight
Dimensions: 1.79 x 3.15 inch
EVA-knobs
Lightweight aluminum perforated spool
Double-shielded 12+1 bearings
Triple Disc Carbon Fiber Drag
Monoline capacity: 12/160 14/140
Braided line capacity: 50/160 65/125
Split the main shaft
Corrosion-resistant
Graphite body and side plates
Max drag – 13.2 lbs./6kg
Analogs From KastKing
But no matter how good this reel is, absolutely everyone can't like it. Therefore, I've collected for you several alternatives to KastKing Speed Demon Pro so that you can find the good reel anyway.
1# KastKing Royal Legend II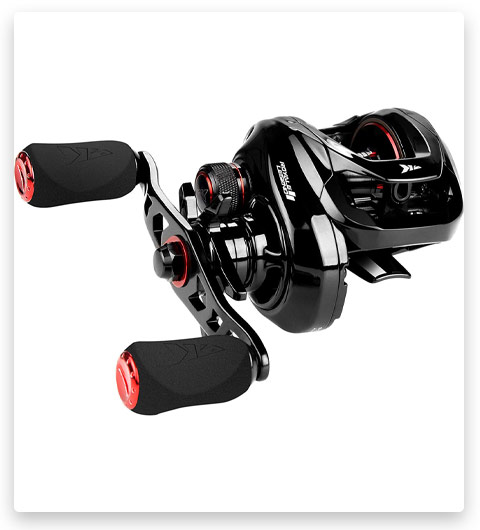 This is an option if you really want something similar to Speed ​​Demon Pro, but you have a very limited budget. Royal Legend II costs only about $ 40, but you get a great reel for the money. It's clear that you'll get a lower gear ratio because the fastest gear ratio among all KastKing reels has exactly Speed ​​Demon Pro. Here it's set to 5.4:1 or 7.2:1, depending on your choice. Also, the reel is made in glossy black-red color. But the Royal Legend has several features that are very close to Speed ​​Demon. This is a similar magnetic brake of 8 magnets inside, gears, bearings, and a spool from stainless steel, and a robust graphite design. The drag star also has a micro-click, and the maximum drag power is 17.6 lbs.
2# KastKing Speed Demon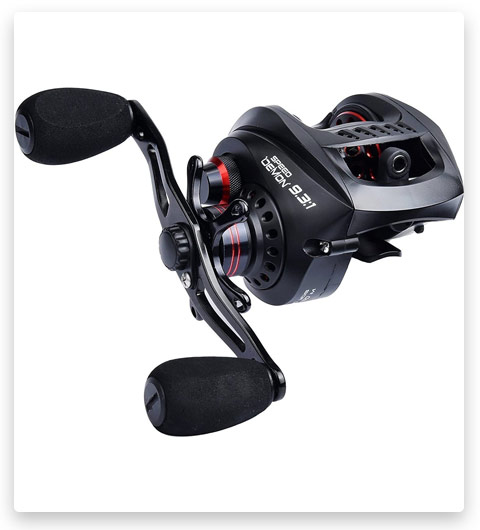 Of course, the previous version of KastKing Speed ​​Demon Pro – KastKing Speed ​​Demon will also be on this list. Almost all the parameters for these reels are similar, but this Speed ​​Demon has some differences.
Firstly, it's made in red-black color, unlike the black and orange PRO version.
Secondly, it weighs 2 oz. more due to the fact that the spool and main axis are not lightweight.
Thirdly, there are also EVA handles, but they aren't as durable and large as those of the PRO version.
Fourth, adjusting the magnetic brake is not so neat and accurate.
Fifthly, the internal components of this reel are not completely made from stainless steel, some gears are made of bronze or a simple aluminum alloy. But otherwise, these are two completely identical reels. And this Speed Demon version costs almost 2 times cheaper.
3# KastKing MegaJaws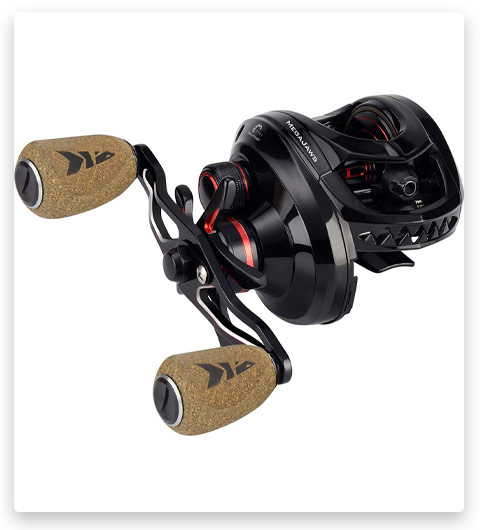 And the last alternative to Speed ​​Demon Pro is KastKing MegaJaws. This reel has the greatest variability for the user. It has a huge color variation – from classic white to bright red. Also, you can choose one of four gear ratios: 5.4:1, 6.5:1, 7.2:1, or the fastest 9.1:1. Here we have 1 less bearing – 11 ball + 1 roller. But this has almost no effect on smoothness and performance. And in the end, you have 17.6 pounds of star drag, a CNC machined spool, a disk braking system, and still a graphite body. Yes, KastKing rarely makes steel structures for its reels. This reel costs about $70 and it's very good for the money.
FAQ About KastKing Speed Demon Pro
Final Words
The Chinese are increasingly striving to make fishing reels, which in quality won't be inferior to popular brands. I think many fishermen will like KastKing Speed ​​Demon Pro. This is inexpensive and at the same time very high-quality, smooth, and easy-to-use baitcasting reel. Moreover, as we have found out, many of the components inside are simply of excellent quality, such as a spool and main shaft or handles. KastKing really tries to please its users, and on the water, this reel is not inferior to many more expensive Baitcasters. This is really a good option for those who want to get more efficiency while fishing without spending a fortune on it. If you liked this article, share it on social networks. Have good fishing!
Tags: #kastking speed demon / #kastking speed demon pro / #kastking speed demon rod / #kastking speed demon elite / #kastking speed demon reel review / #what happened to kastking speed demon casting reel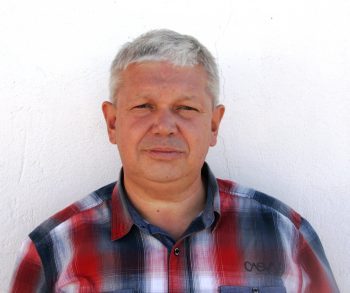 Sergio Smirnoff
Professional fisherman with 40+ years of experience.
Fishing and the ocean is a passion of my life. I am passionate about all kinds of sea fishing: fishing from the shore (spinning, float, baitcasting), from a boat, and spearfishing day and night.
I live in Tenerife (Canary Islands) for the last 10+ years and share my daily fishing experiences on my website. Many years of personal experience as a fisherman and the vast experience of my friends allow me to write professionally on any fishing topics (from choosing a flashlight and equipment to deep-sea fishing).
All of my advice is based on practical real-world experience and will be useful to both novice anglers and professionals.
Read more
about the author.
Affiliate Disclosure: FishReeler.com sometimes gets paid for listings, through sponsors or affiliate programs like Amazon, Ebay, Cabelas, Bass Pro Shop, Shimano, Daiwa, Rapala, Renn, Okuma, KastKing, etс. Clicking a link helps keep FishReeler.com free, at no extra cost to you!
About the author: Each article is verified by the fishing expert Sergio Smirnoff. The articles are written by professional and amateur fishermen with 20+ years of fishing experience.
Note: The views and opinions expressed in this article are those of the authors and do not necessarily reflect the official policy or position of any agency. The articles are for informational purposes only, share your opinions in the comments and join the fishing discussions, let's share our fishing experiences together!