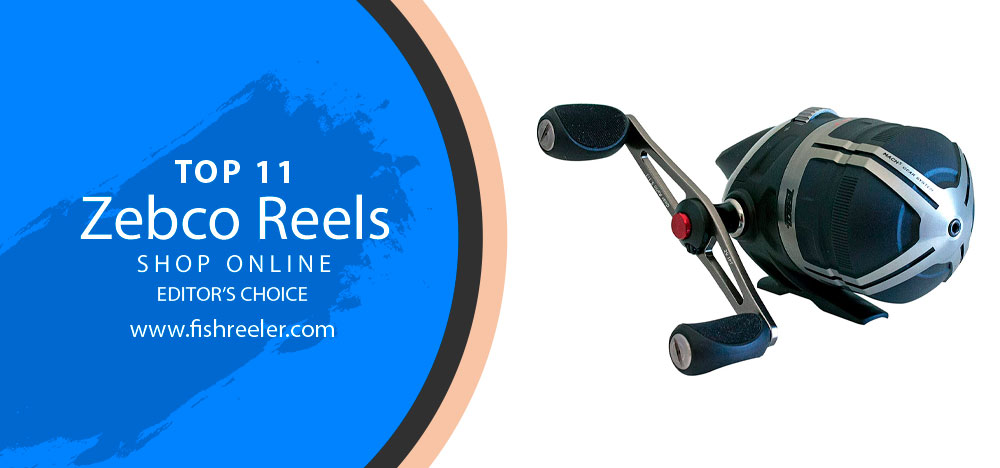 🎣 The Art and Allure of Zebco Reels: A Legacy of Innovation 🚀

Any fisherman sooner or later comes across the fact that he needs a fishing reel. In order for this fishing device not to fail at the right time and to serve for many years, you should give preference to brands that have won the trust of the market. One of these brands is Zebco. The brand's outstanding success is achieved through a continuous effort to produce high-quality reels to meet the growing needs of anglers. Supported by experienced anglers from different countries, product managers strive to develop new ideas and create new products that are fully verified by the company's consultants.
Reeling in the History: An Introduction to Zebco and Its Significance
Diving into the rich and intricate world of fishing reels, one name stands as a shining beacon – Zebco. As a pioneer and powerhouse in the fishing industry, Zebco has been a true game-changer, reeling in a legacy of innovation and influence since its inception.
🕰️ A Brief History of Zebco
The Zebco journey began in the heartland of America, Tulsa, Oklahoma, in 1949. Born out of the inventive genius of R.D. Hull, the company revolutionized fishing with the invention of the first spin-cast fishing reel. Zebco, initially known as the Zero Hour Bomb Company, made a significant shift from manufacturing electric time bombs for oil drilling to creating fishing reels. This decision has echoed through the decades, leaving a remarkable impact on the global fishing world.
Today, the brand stands synonymous with fun, accessible, and hassle-free fishing. From beginners trying to catch their first sunfish to seasoned anglers targeting trophy largemouth bass, Zebco's reels have transformed the way the world fishes.
🎯 Purpose of the Article
The crux of this article is not merely to chronicle the success story of Zebco. We aim to deep dive into the intricate design, groundbreaking technology, and distinctive features that make Zebco reels stand head and shoulders above the competition.
Through this exploration, we'll peel back the layers on why Zebco's user-friendly reels, known for their reliable performance and innovative design, continue to be a staple for both professional and amateur anglers worldwide. We'll decipher the science and engineering behind these legendary reels, and ultimately, understand the secret to their enduring appeal.
🔶Let's embark on this exciting journey together, casting our line into the vast and thrilling sea of Zebco's unparalleled innovation. Buckle up, and get ready to discover the magic of fishing with Zebco reels! 🚀🎣
🎣Unraveling the Legacy: Zebco's Impact on the Fishing Industry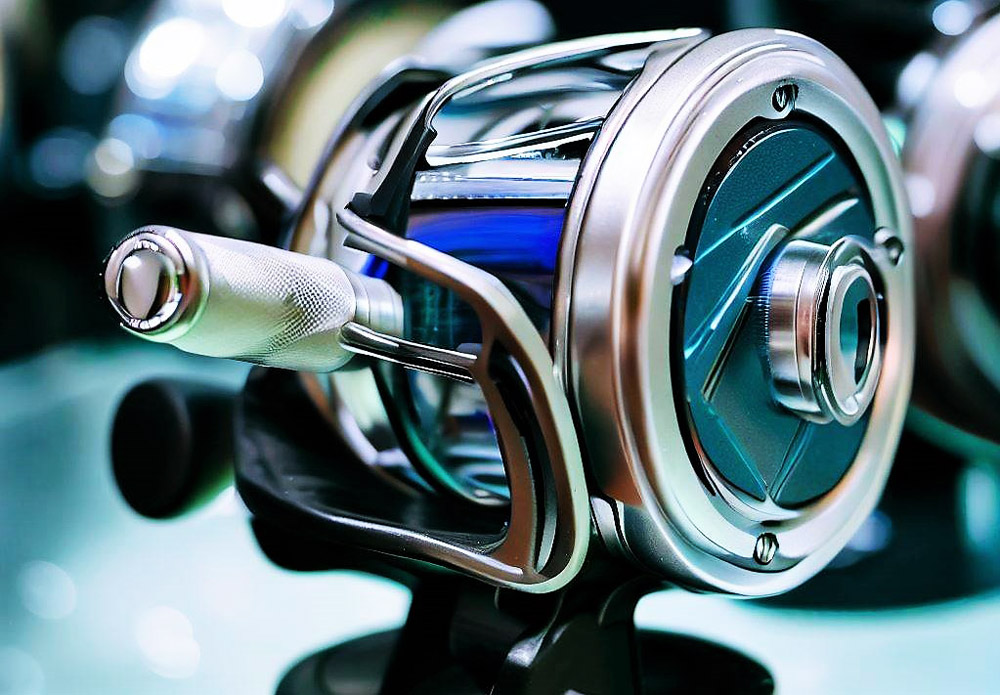 Zebco's legacy isn't simply a tale of success; it's an epic saga that encapsulates innovation, revolution, and perseverance. Zebco's brand story is as dynamic as the waters where their reels are cast, with its roots entwined in the fishing industry's evolutionary fabric.
🧭 The Genesis of Zebco
Zebco's founding is as unique as the reels it produces. The company was initially involved in manufacturing timed bombs for oil drilling, a far cry from the tranquil art of fishing. But the visionary R.D. Hull changed the course when he saw potential in making fishing more accessible and fun. This marked the birth of Zebco as we know it today.
The company's core mission was simple: to eliminate the common frustrations of fishing and make it enjoyable for all. Driven by this ethos, Zebco revolutionized the concept of a fishing reel. This vision continues to guide the company, transforming fishing from a laborious task to a beloved pastime. 🎣
💡 Zebco: Shaping the Fishing Industry
From introducing the world's first spincast reel to continue setting the bar for fishing gear, Zebco has been a trailblazer in the industry. They've made fishing less daunting for beginners, and more thrilling for seasoned anglers, and turned it into a universally cherished hobby.
Zebco's commitment to simplifying the fishing experience has empowered countless anglers to enjoy the sport without worrying about tangled lines or complicated gear. The ripple effect of this transformative approach has shaped the industry's trajectory, pushing other manufacturers to follow suit.
🔬 Innovations That Stand Out
Zebco has never shied away from pushing the boundaries of reel technology. Their first claim to fame was the patent for the spincast reel, a game-changer in the fishing industry. This innovation made fishing accessible to the masses, thereby breaking down barriers and democratizing the sport.
The spin-cast reel wasn't their only invention that rocked the boat. Zebco has consistently introduced features like the Selectable Anti-Reverse, Changeable Right or Left-Hand Retrieve, and the All-Metal Gear system. These innovations not only enhance performance but also stand testament to Zebco's commitment to serving anglers of all levels and ages.
🔶Today, we'll delve into these innovations, appreciating their design and impact. So, let's cast our lines a little further, shall we? 🚀
Redefining Fishing: An In-depth Look at Zebco Reels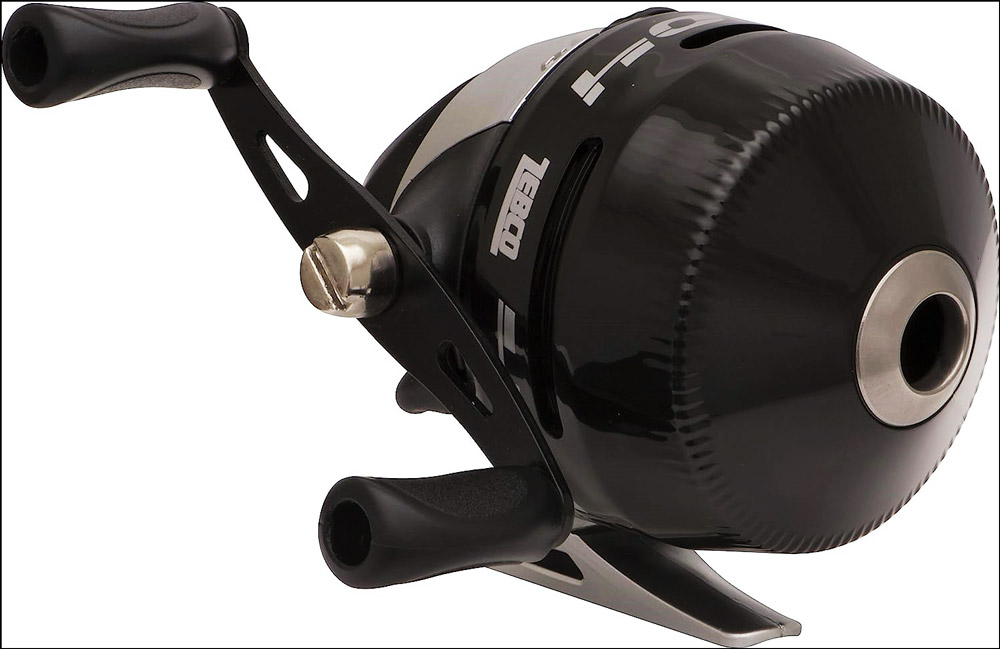 The fishing industry has evolved over the years, thanks to continuous innovation and the dedication of some remarkable brands. Among them, Zebco stands tall, renowned for its unyielding commitment to making fishing accessible, enjoyable, and fruitful. By consistently pushing the envelope of reel technology, Zebco has woven its legacy into the very fabric of the global fishing scene, effectively redefining the angler's experience.
This blog post takes you on a deep-sea expedition, exploring the depths of Zebco's revolutionary reel technology. We'll navigate the intriguing history of Zebco, highlight the brand's groundbreaking innovations, and demonstrate how these extraordinary reels have shaped the fishing industry. If you've ever cast a line or are just about to embark on your angling journey, you're in for a fascinating exploration of how Zebco reels have transformed the world of fishing. Get ready to reel in some captivating insights!
| Image | Product | Brand | Link |
| --- | --- | --- | --- |
| | Zebco 33 Spincast Fishing Reel, QuickSet Anti-Reverse with Bite Alert, Smooth Dial-Adjustable Drag, Powerful All-Metal Gears with a Lightweight Graphite Frame | Zebco | |
| | Zebco Omega Spincast Fishing Reel, Size 30 Reel, Changeable Right or Left-Hand Retrieve, Pre-Spooled with 10-Pound Zebco Fishing Line, Aluminum and Double Anodized Front Cover, Silver | Zebco | |
| | Zebco 202KBK CP 202 2.8:1 Prespooled Clam Spincast Reel, 10 lb | Zebco | |
| | Zebco 888 Spincast Reel with Switchable Bait Alert | Zebco | |
| | Zebco / Quantum, Roam Spincast Reel, 3.6:1 Gear Ratio, 19" Retrieve Rate, 3 Bearings, Ambidextrous, Clam Package, Black (ROAM3BK.CP3) | Zebco | |
| | Zebco 33 Spincast Fishing Reel, Quickset Anti-Reverse with Bite Alert, Smooth Dial-Adjustable Drag, Powerful All-Metal Gears with a Lightweight Graphite Frame | Zebco | |
| | Zebco Bullet Spincast Fishing Reel, Size 30 Reel, Fast 29.6 Inches Per Turn, GripEm All-Weather Handle Knobs, Pre-Spooled with 10-Pound Zebco Fishing Line, Black (2017) | Zebco | |
| | Zebco Big Cat XT Spincast Reel with 25 lb Line, Multi, One Size (BCXTSC-25-CP3) | Zebco | |
| | Zebco 404 Spincast Fishing Reel, Size 40 Reel, Right-Hand Retrieve, Built-in Bite Alert, Durable All-Metal Gears, Stainless Steel Pick-up Pin, Pre-Spooled with 15-Pound Zebco Fishing Line, Black | Zebco | |
| | Zebco Rhino Spincast Reel (RSC2-CP) | Zebco | |
| | Zebco Roam 30SZ Black Spinning Reel 10LB Zebco Cajun Line (ROAMBK30.BX3) | Zebco | |
#1 Zebco 33MTKA 04C – Amazon's Choice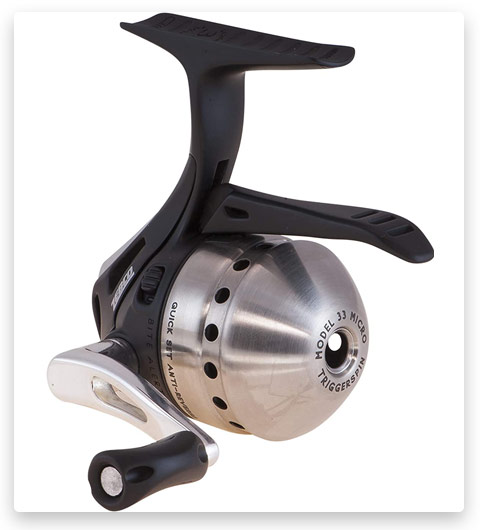 This is a high-quality reel at an incredibly low price. It offers high performance and a patented no-tangle design. This reel is finished in black and silver and has a left and right hand retrieves. You will get it pre-spooled by 4 lbs. The reel has a lightweight graphite frame. It has stainless steel covers that do not rust due to use in seawater. The reel has a 4.3: 1 gear ratio and 1 bearing. Mono capacity is 90/4.
#2 Zebco ZO3 BX3 Omega Spincast Reel – Amazon's Choice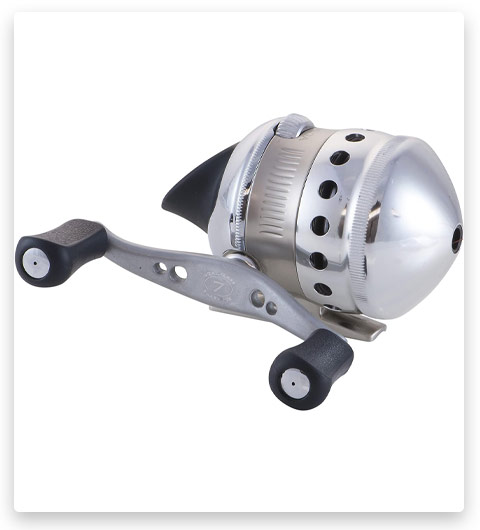 This is the spin cast reel that will keep you fishing productive. It features sturdy construction with forged aluminum and a double anodized front cover. The reel has 7 bearings and all-metal gears. You can choose both rights and left retrieve. The reel is characterized by its no-tangle design. The gear ratio is 2.9: 1 and the reel also come pre-wound with 10 lbs. The silver color looks stylish and attractive.
#3 Zebco 202 Spincast Reel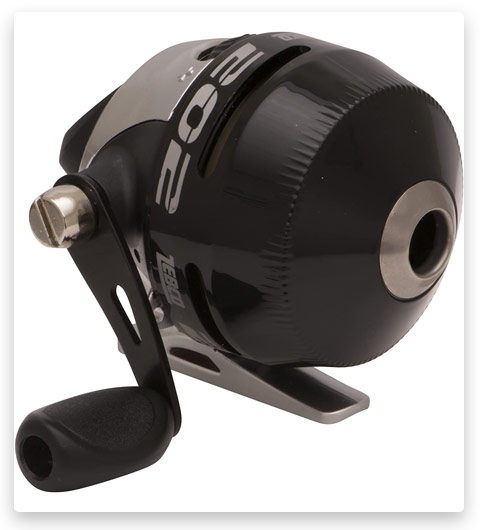 Go fishing next time with this new spincast Zebco reel. It comes in black and is 10lb pre-spooled. It is a lightweight reel weighing 6.2 oz. You will be able to be fishing for a long time and your hands will not get tired of the heavyweight. The reel has a built-in hook keeper as well as a dial-adjustable drag. High-quality material resists corrosion and rust.
#4 Zebco 888 Spincast Reel with Switchable Bait Alert – Amazon's Choice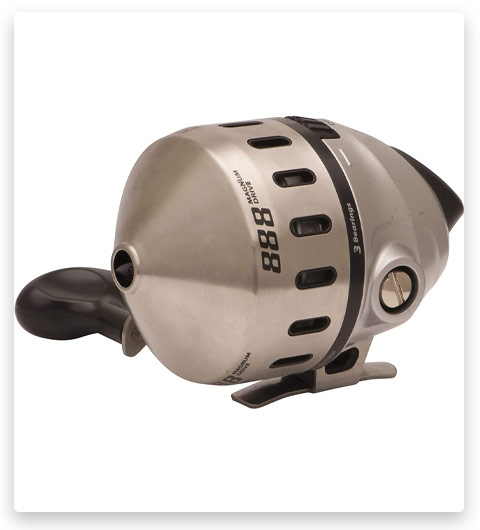 It is difficult to find a quality fishing reel on the market today at a good price. However, this Zebco fishing reel meets all of the above requirements. Thanks to the stainless steel front cover, the reel can be used in any water and resist corrosion. It comes pre-spooled with 25lb. The reel features an Instant anti-reverse clutch and a built-in bite alert. It also has 3 bearings and a 2.6: 1 gear ratio.
#5 Zebco Roam Spincast Reel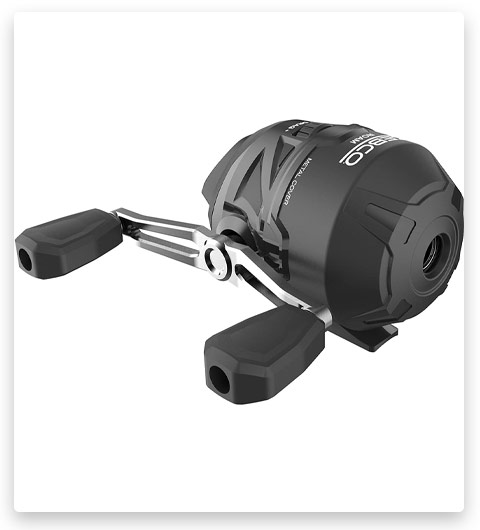 Fish easier and without loss with the ROAM series from Zebco. This reel features a 3D design and offers smooth casting and retrieval thanks to three bearings. You will feel as comfortable as possible while fishing thanks to the lightweight of the reel (8.7 oz), as well as thanks to the thumb button and soft grip. It is also pre-spooled with 10lb. The reel has left and right-hand retrieve.
#6 Zebco 33 Purple Authentic Spincast Reel – Amazon's Choice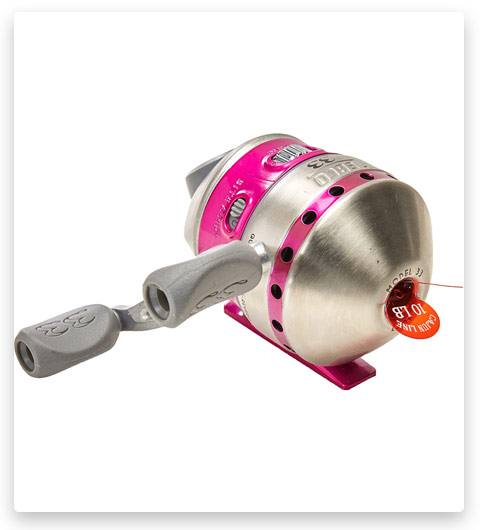 You will receive a high-quality Zebco 33 Spincast reel spooled with a 10-lb Cajun line. It has a lightweight graphite frame as well as rubber knobs and a metal handle. The reel is also equipped with right or left-hand retrieve. It has a 3.6: 1 gear ratio and a quick set anti-reverse.
#7 Zebco ZB310BX3 Bullet Spincast Reel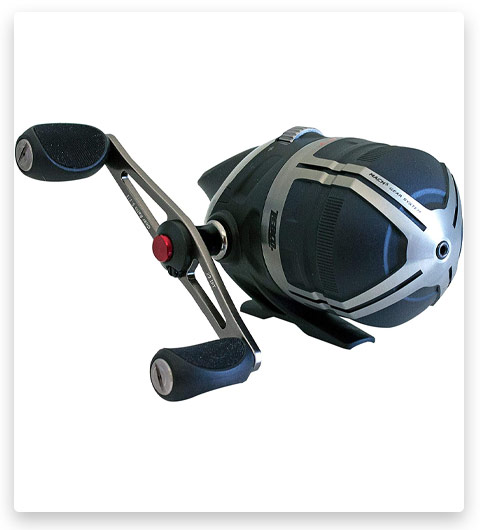 This is a heavy-duty reel that has 9 bearings and a 5.1: 1 gear ratio. The reel differs from others in its triple-cam dial-adjustable disk drag and revolutionary ZeroFriction dual-bearing supported pick-up pin design. It also features a soft-touch thumb-button design and an anodized aluminum spinner head. The reel is equipped with a changeable right- or left-hand retrieve.
#8 Zebco Big CAT XT SC Reel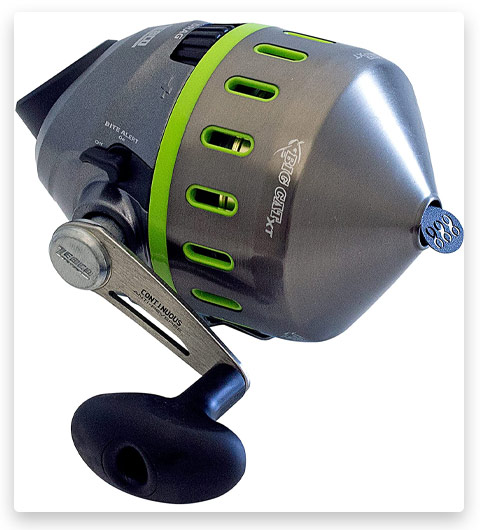 If you love fishing with catfish, then this reel is what you need. It is designed for catching this type of fish. This gear ratio is 2.6: 1 and 4 bearings. The reel is distinguished by its durable titanium-nitride plated spinner head. This has a changeable right- or left-hand retrieve and Instant anti-reverse clutch.
#9 Zebco 404 Freshwater Spincast Reel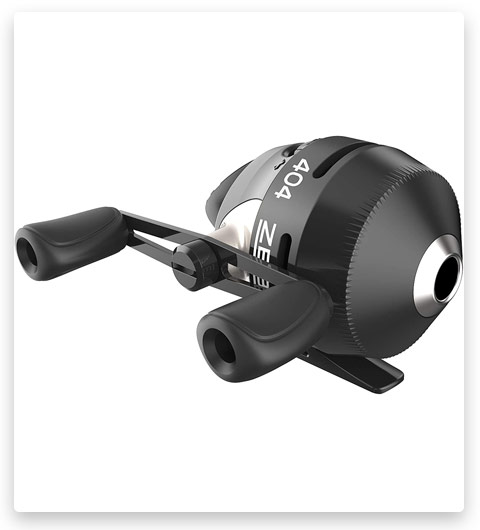 Catch big fish with the Zebco 404 Spincast reel. It has a built-in bite alert and built-in hook keeper. The reel is pre-spooled with 15lb and has a mono capacity of 90/15. The reel comes in black and is lightweight (9 oz). It also has a patented no-tangle design and all-metal gears.
#10 Zebco Rhino Spincast Reel RSC2-CP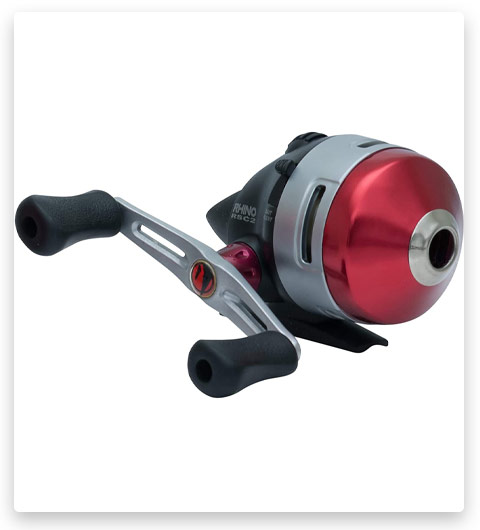 You will be able to go fishing immediately with this reel. It will be delivered immediately pre-spooled with the Cajun line (8-pound). It also has a soft-touch thumb button. It has 3 bearings for smooth extraction. This is a versatile reel for many types of fish. Ideal for trout, perch, and zander.
#11 Zebco Roam 30SZ Black Spinning Reel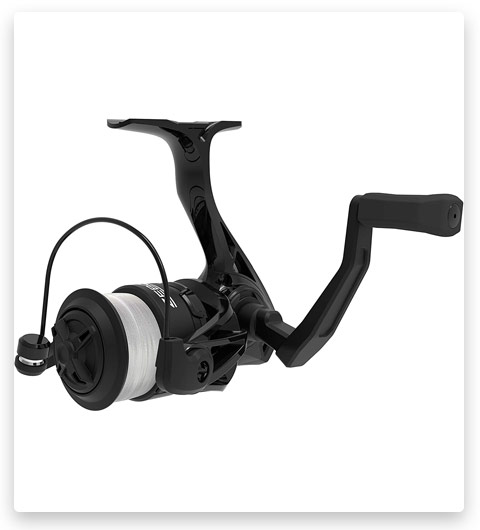 This Zebco fishing reel features a design that is suitable for all types of fish and is easy to use for anglers of all skill levels. It's also pre-wound with the Zebco Cajun line (10 lb). The reel has 5 bearings that ensure smooth and reliable operation. It also has a 5.2: 1 gear ratio. The reel is equipped with all-metal gears and a soft handle knob.
🎣 Mastering the Art of Reel: Unpacking the Technology Behind Fishing Reels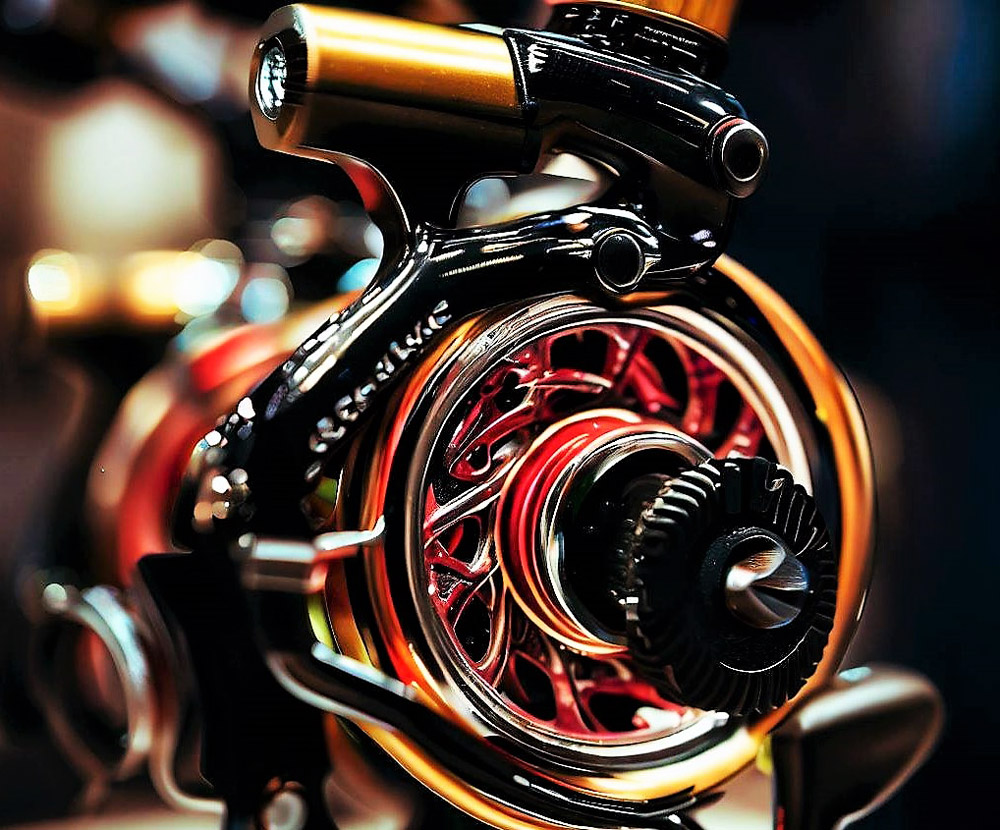 Fishing reel technology is as complex as it is fascinating, having evolved significantly over the years. Here, we'll reel in the understanding of this technology, shedding light on Zebco's unique contributions.
🔄 Reeling in the Basics: The Evolution of Reel Technology
The primary function of a fishing reel is to cast out and retrieve the line, allowing the angler to hook and reel in fish effectively. Over time, reel technology has dramatically evolved, making fishing more efficient and enjoyable.
The earliest fishing reels, simple spools wound with fishing lines, were merely storage systems. As technology advanced, new features were introduced, like drag systems to control line tension and gear systems to enhance retrieval speed. These innovations transformed reels into dynamic fishing tools, amplifying an angler's prowess and precision. 🎣
🔬 Zebco's Spin on Reel Technology
Zebco's reel technology stands out due to its simplicity and user-friendliness, without compromising performance. Their groundbreaking spincast reel design, the first of its kind, made fishing accessible to the masses. It used a simple push-button system to eliminate common problems like backlash and snarled lines, which were typical with the then-popular baitcasting reels.
🔶Zebco continues to innovate, ensuring their reels offer smooth casting, reliable retrieval, and resistance to line tangling. They integrate features like adjustable drag systems, anti-reverse handles, and multi-stop anti-reverse technology, reinforcing their commitment to enhancing the fishing experience.
🎯 Zebco's Stars: A Look at Notable Reel Models
Zebco's reel catalog is as diverse as the species one might fish. For instance, the Zebco 33, one of their most popular models, is a testament to the brand's user-friendly design ethos. It's easy to use, durable, and versatile, making it an excellent choice for both beginners and seasoned anglers.
The Zebco Omega Pro, another standout, takes spin-casting to a new level with its 7-bearing system, providing incredibly smooth performance. Meanwhile, the Zebco Bullet is known as the fastest spincast reel, boasting a gear ratio of 5.1:1 for quick retrievals.
🔶Each Zebco reel model showcases a unique blend of the brand's innovative spirit, marrying form, function, and fishing mastery. As we delve deeper into the world of Zebco, the ingenious design and technology behind their reels become evident, affirming their status as an industry leader. 🚀
🎣 The Zebco Experience: Reeling in the Reviews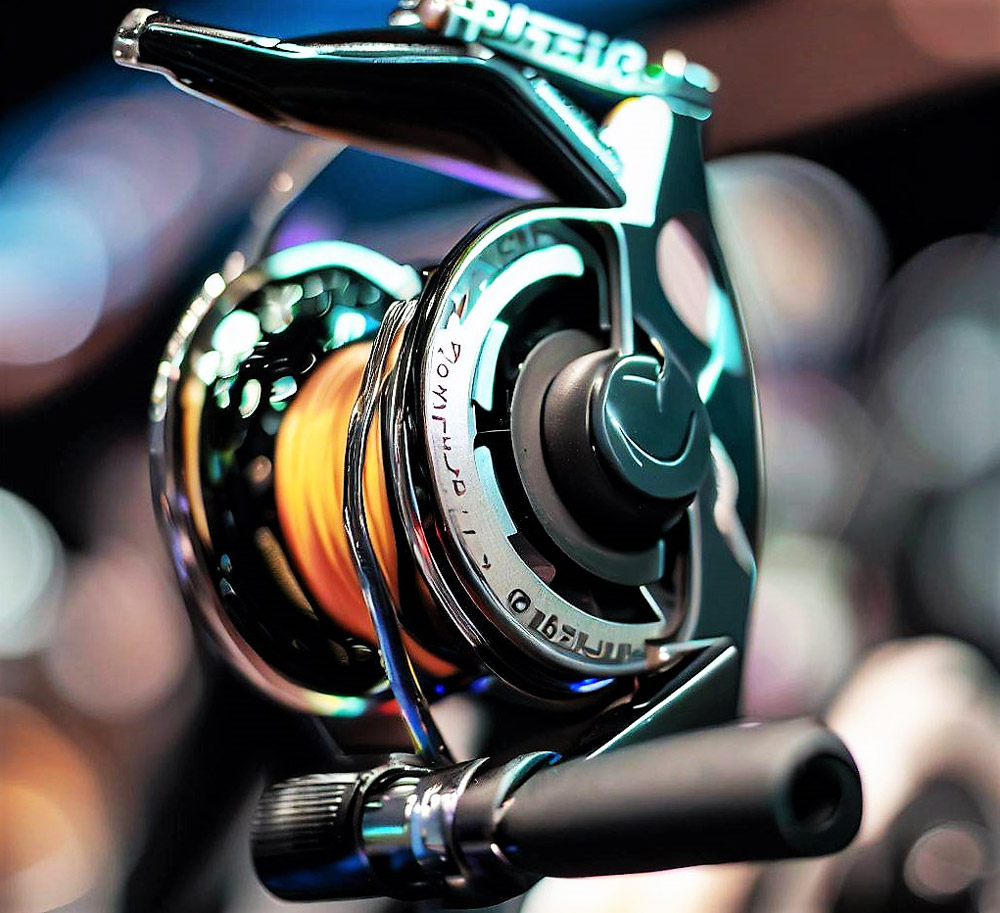 Nothing speaks louder about the quality and performance of a product than the voices of those who use it. In this section, we'll immerse ourselves in the world of anglers who trust Zebco reels, exploring their experiences, perspectives, and testimonials.
📣 Casting the Line: User Testimonials and Reviews
Anglers worldwide have shared their experiences with Zebco reels, and the reviews are overwhelmingly positive. A recurring theme in these testimonials is the user-friendly nature of Zebco's reels.
John, an amateur angler from Michigan, enthused, "Zebco's reels have made fishing a joy for me. No more tangled lines or complex gear mechanisms to worry about!"
Professionals have also vouched for Zebco. Vanessa, a competitive angler, attested to the brand's performance in high-stakes scenarios: "I've used the Zebco Bullet in several competitions. Its speed and reliability give me the edge I need."
👐 The Feel and Efficiency of Zebco Reels
The simplicity and smoothness of Zebco reels resonate with users. The brand's iconic push-button casting system makes the fishing process easy and efficient. Anglers also praise the comfortable grip and the substantial yet balanced feel of the reels.
The efficiency of Zebco's reels shines across diverse fishing scenarios. Whether you're casting for small panfish in a calm pond or tackling a fighting bass in rough waters, Zebco reels are praised for their consistent performance.
🐠 Pro and Amateur Anglers: Perspectives on Zebco's Impact
Zebco reels have had a significant impact on the fishing experiences of both professional and amateur anglers. Pros value Zebco's reliability and performance-enhancing features, like high-speed retrieval and adjustable drag systems. For them, a Zebco reel isn't just a tool—it's a trusted companion that holds up under pressure.
For amateur anglers, Zebco reels have made fishing more accessible and enjoyable. The simplicity of the reels has helped eliminate the intimidation factor often associated with the sport.
🔶From all perspectives, Zebco reels have indeed redefined the art of fishing. As we continue our journey, let's see how Zebco compares to other brands in the market. Get ready for some interesting insights! 🚀
🎣 Zebco Versus The World: A Comparative Analysis of Fishing Reels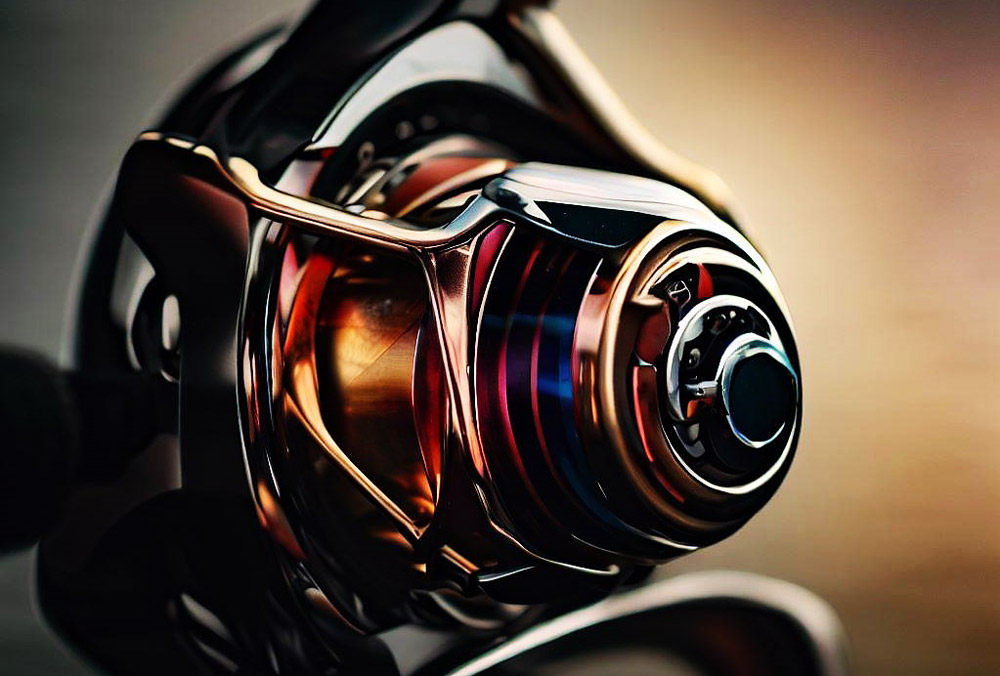 To truly understand the strength and uniqueness of Zebco reels, it's essential to compare them to other major brands in the fishing industry. In this section, we'll evaluate Zebco reels based on durability, ease of use, technology, and price, and see how they perform under diverse fishing conditions and for various species.
🔍 Reel Rivalry: Zebco vs. Other Brands
When comparing Zebco to other prominent brands like Shimano and Penn, several distinguishing factors emerge. The key difference lies in Zebco's unwavering commitment to accessibility. While Shimano and Penn produce high-quality reels, their focus tends to lean towards advanced and professional anglers, often incorporating complex mechanisms in their designs.
On the contrary, Zebco caters to both novices and pros, ensuring their reels are easy to handle. The brand's patented spincast design and push-button casting system, for instance, greatly reduce the learning curve for beginners.
💪 Durability, Ease of Use, and Technology
In terms of durability, Zebco reels hold their own. They're designed to withstand harsh conditions and offer long-lasting performance. Users frequently praise their robust construction and dependable mechanisms, a testament to Zebco's commitment to quality.
As we've already discussed, ease of use is a forte for Zebco. While other brands might offer more advanced features, they can also come with a steeper learning curve. Zebco strikes a balance by offering innovative technology without overwhelming the user.
Speaking of technology, Zebco may not always pack the latest or most advanced features like digitally controlled braking systems found in some top-tier reels. However, their technology is practical, user-friendly, and effective. Zebco's offerings reflect an understanding of what anglers truly need: reliable, straightforward, and efficient reels.
💰 Pricing: Value for Money
Zebco reels are competitively priced. While they might not be the cheapest on the market, they offer excellent value for money considering their quality, performance, and ease of use. When compared to other brands, you're likely to find that a Zebco reel gives you more bang for your buck.
🌊 A Versatile Performer
Whether you're fishing in freshwater or saltwater, going after small panfish, or hefty bass, Zebco reels perform consistently across conditions and species. Their range includes versatile reels suitable for all kinds of anglers and their specific needs.
🔶In conclusion, while other brands offer their unique advantages, Zebco stands out for its balance of ease, efficiency, reliability, and affordability. As we progress, we'll help you choose the right Zebco reel for your needs. Stay hooked! 🚀
🎣 Finding Your Perfect Catch: A Guide to Choosing the Right Zebco Reel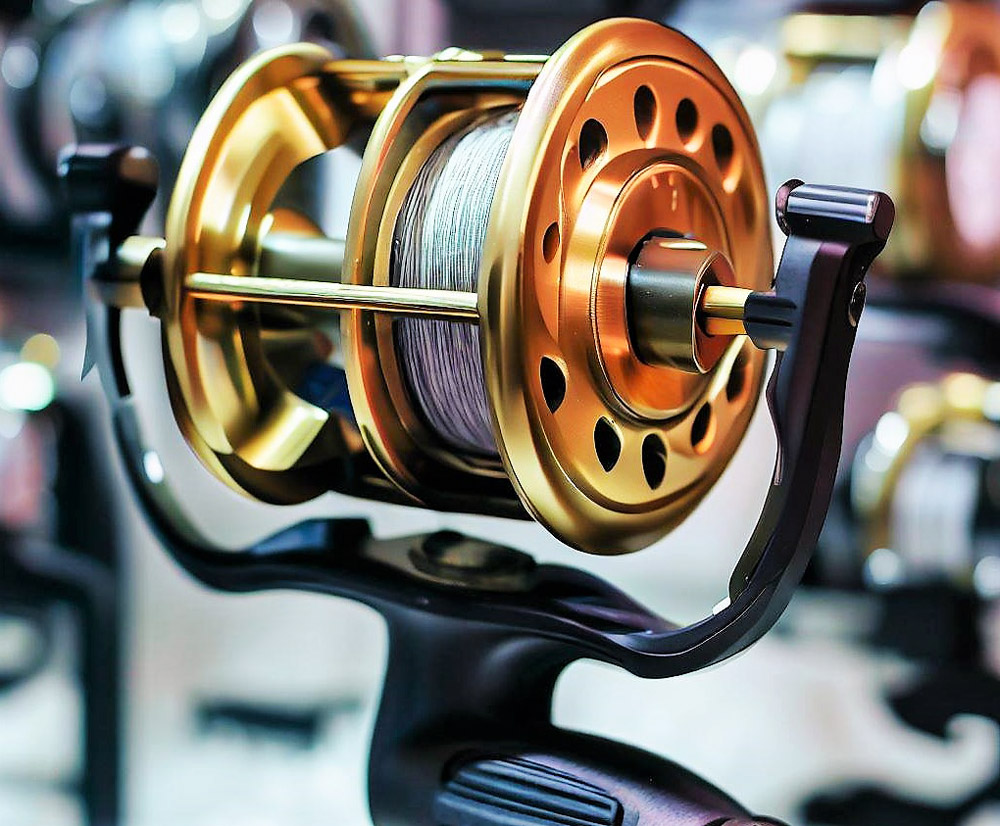 Every angler has unique needs and preferences when it comes to fishing gear. With Zebco's diverse reel selection, you're sure to find a reel that perfectly fits your fishing style, target species, and skill level. In this section, we'll guide you through the process of selecting the right Zebco reel.
📝 Factors to Consider When Investing in a Zebco Reel
When choosing a Zebco reel, consider your fishing style and target species. Are you a casual angler who enjoys fishing at a relaxed pace, or do you prefer the thrill of competitive fishing? Do you typically fish for smaller species or do you aim for larger, more challenging catches?
Here are some key features to consider:
Gear Ratio: This determines the speed of line retrieval. If you target fast-swimming species, choose a reel with a higher gear ratio like the Zebco Bullet.
Spool Capacity: If you fish in large bodies of water or target species that make long runs, opt for reels with larger spool capacity.
Drag System: This controls the amount of resistance a fish feels when it pulls on the line. If you're after big, powerful fish, choose a reel with a strong and smooth drag system, like the Zebco Omega Pro.
🔎 Zebco Models and Their Ideal Users
Zebco offers a wide range of reel models, each designed with specific anglers in mind:
Zebco 33: This all-around reel is perfect for beginners and casual anglers. It's simple to use, durable, and versatile, providing a stress-free fishing experience.
Zebco Omega Pro: An excellent choice for more seasoned anglers, the Omega Pro offers a smooth performance with its 7-bearing system and strong drag, making it suitable for larger species.
Zebco Bullet: If speed is what you're after, the Bullet is your go-to. Its high gear ratio makes it the fastest Zebco reel, ideal for competitive fishing or fast-swimming species.
The right reel can elevate your fishing experience, making it more efficient and enjoyable. With Zebco's wide range of reliable and user-friendly reels, you're one step closer to finding your perfect fishing companion. Up next, let's ensure your Zebco reel stays in top shape with our guide on care and maintenance. 🚀
🎣 Keep Your Reels Rolling: Care and Maintenance of Zebco Reels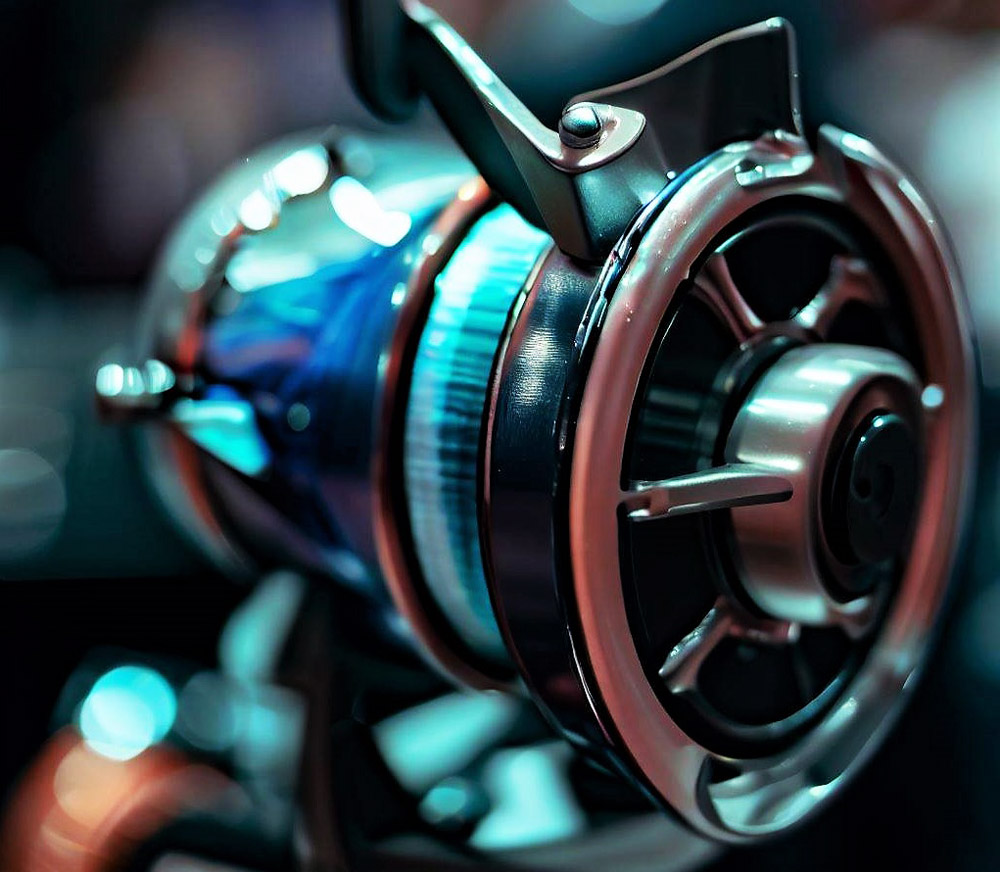 A well-maintained reel will provide reliable performance for years to come. In this section, we'll discuss how to properly care for and maintain your Zebco reel, ensuring its longevity and optimum performance. Plus, we'll share some expert tips for troubleshooting common issues.
💧 Proper Care for Longevity
Caring for your Zebco reel starts with basic cleaning after each use. Always rinse your reel with fresh water to remove any salt, dirt, or grime. Remember, it's best to avoid immersing the reel completely – a gentle spray will do the trick.
Dry your reel thoroughly after cleaning. A soft cloth works best, but make sure you reach all the nooks and crannies. Once dry, apply a light reel oil to moving parts for lubrication.
Store your reel in a cool, dry place to prevent rust or corrosion. Always loosen the drag before storage to relieve pressure on the internal components.
🔧 Maintenance Guide
Perform regular maintenance based on your usage. If you're an avid angler, consider a complete cleaning and lubrication process every few months. Zebco reels are designed for easy disassembly and reassembly, so don't worry about a complex procedure.
Remember to clean and lubricate the gear system, bail assembly, and spool. Always use oil and grease designed specifically for fishing reels for optimal performance.
👨‍🔧 Troubleshooting Common Issues
Encountering issues with your reel? Here are some quick fixes for common problems:
Line Tangles: If you're dealing with line tangles or bird's nests, check your line for twists. Often, this can be resolved by simply re-spooling your reel.
Difficulty Casting: This could be due to dirt build-up or insufficient lubrication. A quick cleaning and oiling can resolve this issue.
Drag Slippage: If your drag isn't functioning correctly, it might be due to dirt or wear on the drag washers. Regular maintenance should prevent this.
🔶In conclusion, keeping your Zebco reel clean and well-lubricated can extend its life and ensure a smoother fishing experience. Up next, we take a glimpse into Zebco's future. 🚀
🎣 Zebco's Voyage Ahead: Current Trends and Future Innovations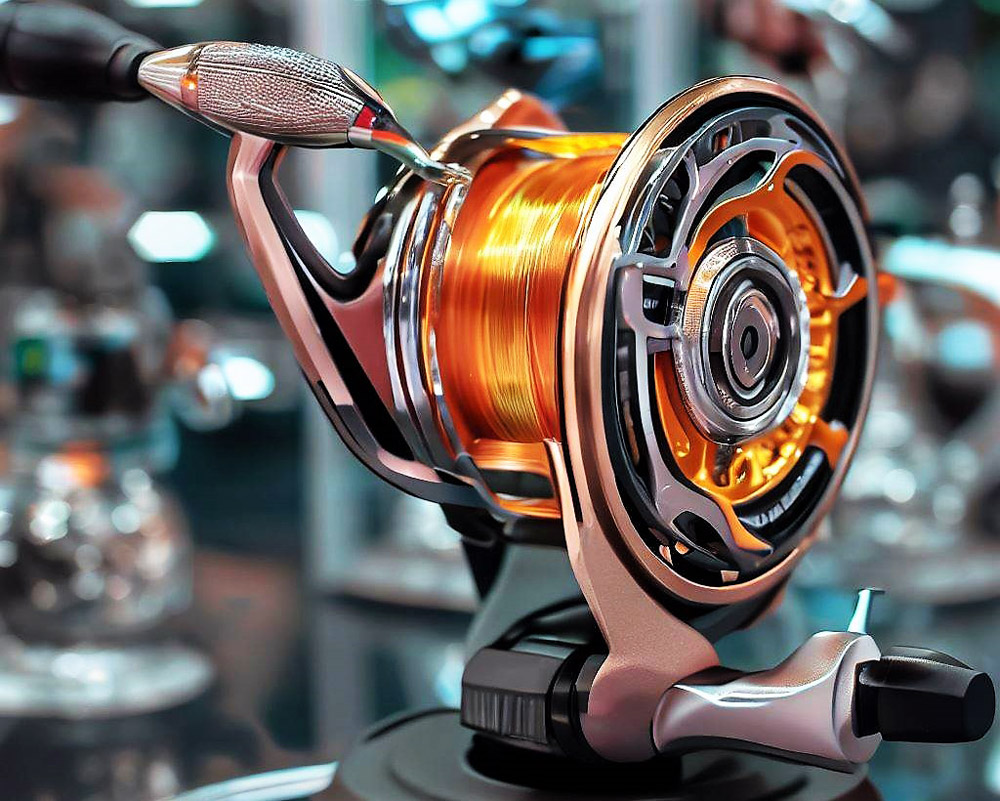 The world of fishing is continuously evolving, and Zebco is right there at the forefront, reeling in the future. With current trends pointing towards more user-friendly and sustainable fishing gear, let's explore how Zebco is positioned and what we can expect from this innovative brand in terms of future reel technology.
🌊 Navigating Current Trends and Future Innovations
The fishing gear industry is seeing a major shift towards sustainability, user-friendly design, and digital integration. Brands are being challenged to create products that not only perform exceptionally well but also reduce their environmental footprint.
Zebco, with its history of innovation and focus on simplicity, is well-positioned to ride this wave. We can expect to see the brand continuing to refine its existing models while also exploring new technology and materials that align with these trends.
⚙️ Expectations for Future Reel Technology and Zebco's Role
While it's hard to predict exactly what the future holds for reel technology, there are a few trends we can anticipate:
Eco-friendly Materials: As sustainability becomes more critical, we may see Zebco adopting new materials that are more environmentally friendly without compromising on performance or durability.
Advanced Casting Mechanisms: Zebco is known for making casting easy, and we can expect this to continue with even smoother and more efficient casting mechanisms.
Digital Integration: With the rise of smart technology, future Zebco reels may offer advanced features such as digital drag systems or connectivity for tracking fishing data.
Zebco has always been a pioneer in the fishing industry, and as technology advances, we can trust that it will continue to lead and innovate. The future looks exciting, and we're eager to see where Zebco's journey takes them – and us.
🔶In the next and final section, we will wrap up our comprehensive review of Zebco reels. Stay with us as we reel in our final thoughts! 🚀
❓ FAQ: A Dive into the World of Zebco Reels
🎣 Reeling It In: Concluding Our Deep Dive into Zebco Reels
You need to choose a fishing reel wisely and clearly understand where and what you will fish. This is a rather expensive device, so you should trust only the best when choosing. Zebco is a worldwide brand that has won the trust of fishermen from all over the world. By choosing Zebco Reels, you will not regret your decision!
We've embarked on quite a journey, exploring the legacy, design, and innovation that sets Zebco reels apart in the world of fishing. From their deep-rooted history to their commitment to user-friendly design and industry-leading technology, Zebco reels truly stand out as some of the best fishing gear available on the market.
🏆 The Uniqueness of Zebco Reels: A Recap
Zebco reels are renowned for their simplicity and reliability, making them an excellent choice for both beginners and seasoned anglers. Their unique attributes such as the patented no-tangle design, high-quality materials, smooth casting and retrieval systems, and diverse range tailored to various fishing styles and species are what sets them apart.
What's more, Zebco's commitment to innovation and adaptability allows them to keep up with trends and continuously offer products that meet the evolving needs of modern anglers.
🚀 Final Thoughts: Experience the Zebco Legacy
In conclusion, whether you're a weekend angler seeking a stress-free fishing experience or a competitive fisher looking for high-performance gear, there's a Zebco reel that's just right for you. We encourage you to experience the Zebco legacy and find your perfect fishing partner in one of their diverse, well-crafted reels.
🔶As we cast off, we're excited about the future of Zebco and eagerly anticipate the innovations they'll reel in next. Here's to many successful fishing adventures with your Zebco reel! 🎣
📚 Hooks, Lines, and Thinkers: References and Additional Resources
This article was drawn from a wealth of knowledge and resources about Zebco and fishing reel technology. If you're interested in diving deeper into the world of fishing, here are the resources and references we've used, along with some suggestions for further reading and places to purchase Zebco reels.
📖 Referenced Material
Zebco: The First 50 Years, John Fox, Zebco
The Total Fishing Manual, Joe Cermele, and the Editors of Field & Stream
The Complete Guide to Fishing Skills, Tony Whieldon
🔍 Further Reading
Zebco website: www.zebco.com – For the most up-to-date information on Zebco products and news.
Bassmaster: www.bassmaster.com – For general fishing tips, tricks, and news.
Sport Fishing Magazine: www.sportfishingmag.com – For in-depth articles and reviews on fishing gear and techniques.
🛍️ Where to Buy Zebco Reels
Zebco's official website: www.zebco.com/shop
Amazon: www.amazon.com
Bass Pro Shops: www.basspro.com
Cabela's: www.cabelas.com
🔶As we wrap up, remember that the joy of fishing comes from not only the thrill of the catch but also from the knowledge you gain and the connections you make with fellow anglers and nature itself. Here's to your next fishing adventure with Zebco! 🎣🚀
Tags: #zebco reels / #zebco fishing reels / #vintage zebco reels / #zebco spincast reels / #zebco baitcasting reels / #where are zebco reels made / #how to date zebco reels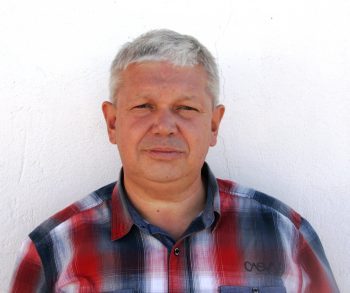 Sergio Smirnoff
Professional fisherman with 40+ years of experience.
Fishing and the ocean is a passion of my life. I am passionate about all kinds of sea fishing: fishing from the shore (spinning, float, baitcasting), from a boat, and spearfishing day and night.
I live in Tenerife (Canary Islands) for the last 10+ years and share my daily fishing experiences on my website. Many years of personal experience as a fisherman and the vast experience of my friends allow me to write professionally on any fishing topics (from choosing a flashlight and equipment to deep-sea fishing).
All of my advice is based on practical real-world experience and will be useful to both novice anglers and professionals.
Read more
about the author.
Affiliate Disclosure: FishReeler.com sometimes gets paid for listings, through sponsors or affiliate programs like Amazon, Ebay, Cabelas, Bass Pro Shop, Shimano, Daiwa, Rapala, Renn, Okuma, KastKing, etс. Clicking a link helps keep FishReeler.com free, at no extra cost to you!
About the author: Each article is verified by the fishing expert Sergio Smirnoff. The articles are written by professional and amateur fishermen with 20+ years of fishing experience.
Note: The views and opinions expressed in this article are those of the authors and do not necessarily reflect the official policy or position of any agency. The articles are for informational purposes only, share your opinions in the comments and join the fishing discussions, let's share our fishing experiences together!