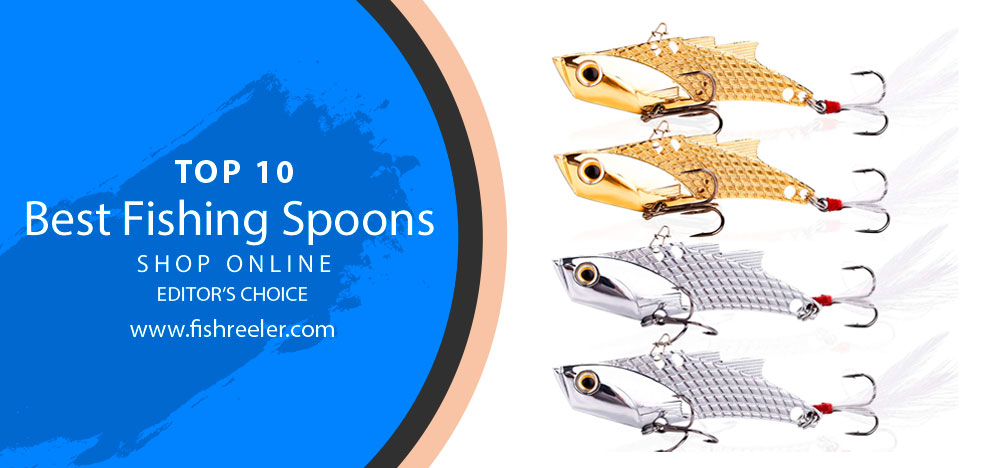 The Magic of Fishing Spoons: An Angler's Ultimate Guide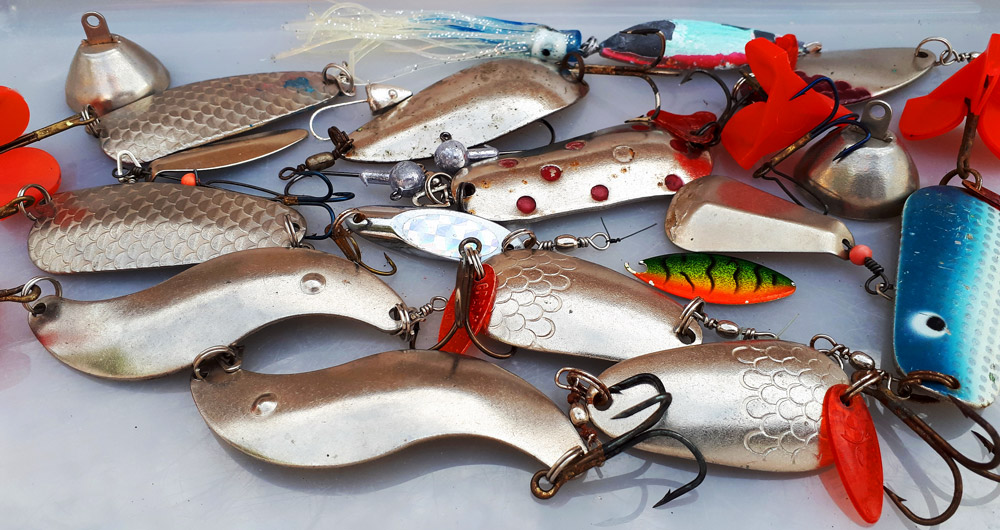 Everyone has a fish tale. Mine begins on a crisp morning by the lake, fog rolling in over the glassy water, with nothing but my old man's tackle box and a sense of adventure. Nestled among the array of baits and hooks, I found a lustrous, oddly-shaped item – a fishing spoon. Little did I know, this simple piece of curved metal would become my greatest asset in my angling adventures. 🌅
🎣 Reeling in Success: The Intriguing World of Fishing Spoons
Fishing spoons, for those new to the term, are a type of fishing lure. They are designed to mimic the erratic movement of injured baitfish, making them an irresistible meal for larger predatory fish. Made from a thin, concave metal (or sometimes plastic), they "spoon" through the water when reeled in, hence the name 'fishing spoons.'🥄🐟
But the humble fishing spoon is more than just bait. It's an angler's secret weapon, an unwavering ally that holds its ground against the test of time and the unpredictability of the water. Regardless of whether you're a seasoned angler or a newbie testing the waters, fishing spoons can be a game-changer in your fishing experience.
In this article, we're going to dive deeper into the world of fishing spoons. We'll explore their intriguing history, the different types available, and the science that makes them so effective. We'll also offer tips on using them correctly and even share a few stories from successful anglers who swear by their spoons. So, whether you're a curious beginner or an expert looking for a fresh perspective, stay hooked as we unfold the magic of fishing spoons! 🚀📘
🕰️ From Humble Beginnings: The Evolution of Fishing Spoons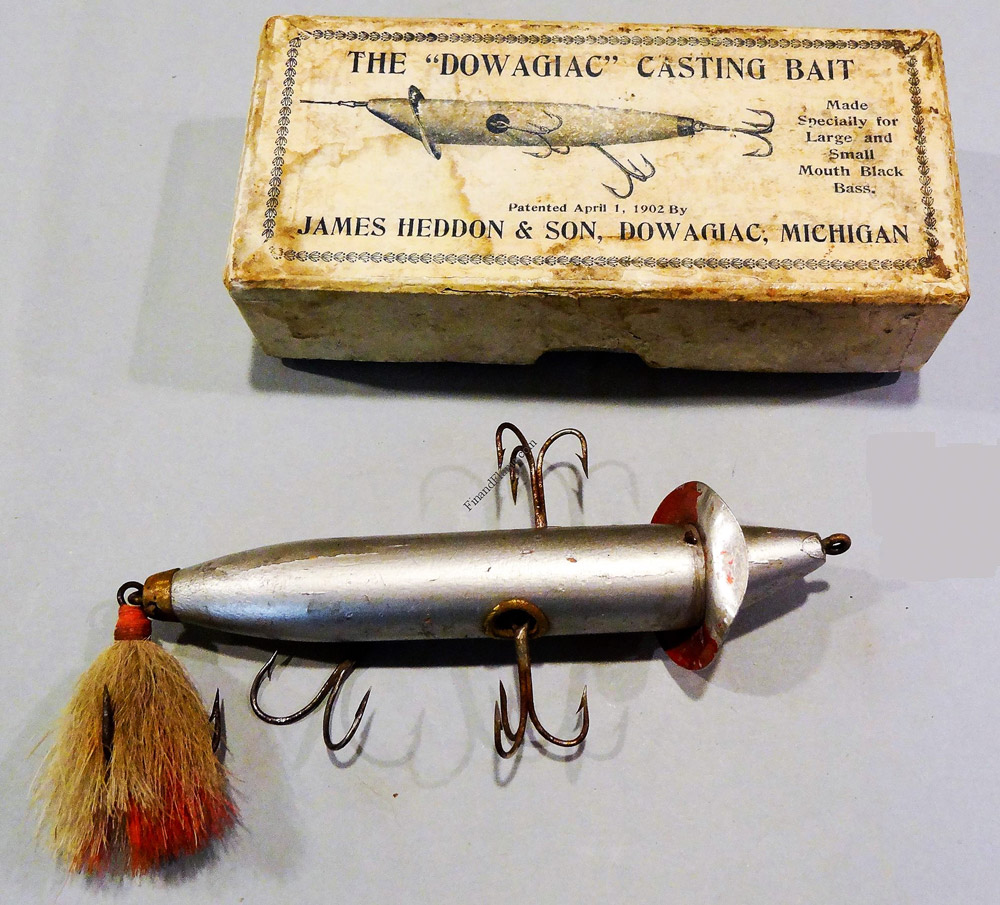 Did you know that the history of fishing spoons dates back to ancient times? The story goes that the first fishing spoon was, quite literally, a spoon. Legend has it that an angler, in a fit of desperation to catch fish, took off a silver spoon from his utensil kit and threw it into the water. The result? Fish couldn't resist the flashing, fluttering piece of cutlery!🍴🐠
Although this tale may be more of an angling myth, the evolution of fishing spoons from humble kitchen cutlery to the sophisticated tackle we know today is an exciting journey. The principle remains the same: a spoon-shaped lure that, when tugged through the water, mimics the movements of injured baitfish.
The earliest known use of fishing spoons can be traced back to Native Americans, who crafted lures from shells and bones. The true modern fishing spoon, however, emerged in the mid-19th century. Julio T. Buel is often credited as the first to patent a fishing spoon design in 1852 in the United States. It was made of sterling silver or other metals, often in a shell or oval shape.📜✨
With the industrial revolution came advances in metallurgy, allowing for a wider variety of materials and finishes to be used in creating fishing spoons. This progress also allowed for variations in shape, size, and color, tailoring spoons to a wider variety of fish species and water conditions.
Today, fishing spoons come in a myriad of designs, materials, and finishes. Some traditional designs are still in use, like the 'Dardevle Spoon,' a timeless red and white pattern known to any angler. Modern versions, like the 'Weedless Spoon,' have evolved to tackle specific challenges like fishing in heavy cover.💫🎣
Whether it's the holographic finish of a 'Northern King Spoon' or the natural minnow imitations by 'ProKing,' fishing spoons have truly come a long way from their origins. By combining historical knowledge with modern technology, fishing spoons are a testament to the evolution of angling itself.
Join us as we continue to explore the variety of fishing spoons, understand the science behind their magic, and share tips and techniques for their best use. 🌟
🎣 Spoons Galore: Diving into the Varieties of Fishing Spoons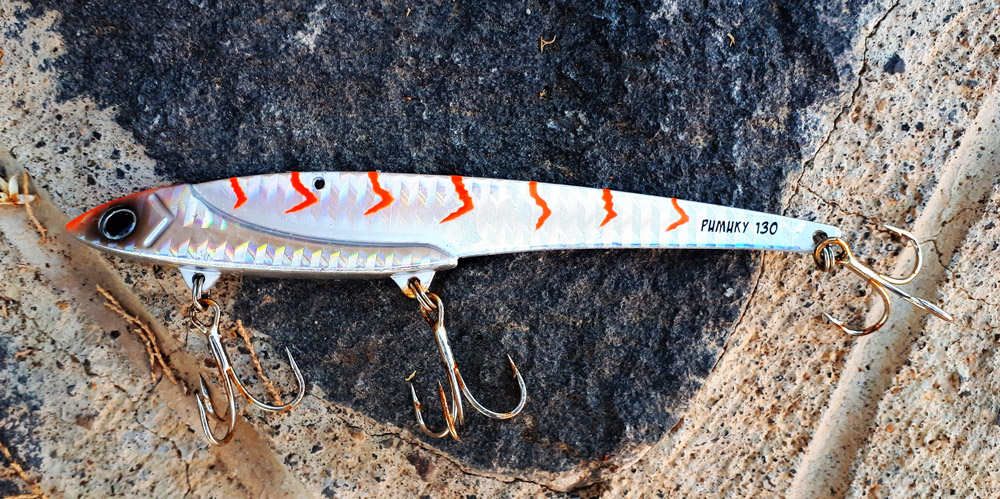 Fishing spoons are as diverse as the fish they lure. Understanding their variety is key to mastering their use. Here, we delve into some of the common types of fishing spoons and what sets each one apart.🔍
1️⃣ Trolling Spoons
Trolling spoons are designed to be dragged behind a moving boat. They are typically thin and lightweight, allowing them to flutter and dance in the water, effectively mimicking a struggling baitfish. Some popular examples include the 'Dreamweaver Super Slim' and 'Northern King 4D.' Ideal for salmon, trout, and other big game fish, these spoons can turn a day on the water into a feast!🚤🐟
2️⃣ Casting Spoons
Thicker and heavier than their trolling counterparts, casting spoons are designed to be cast out and reeled in. The weight allows them to be cast long distances, making them perfect for covering large areas of water. They come in various sizes and colors, like the classic 'Eppinger Dardevle' or the 'Acme Kastmaster.' They're a top choice when targeting fish such as bass, pike, and even saltwater species like striped bass.🏞️🎯
3️⃣ Weedless Spoons
These ingenious spoons, like the 'Johnson Silver Minnow,' are designed with a single hook that points toward the spoon body, making them resistant to snags. This makes them perfect for fishing in heavily vegetated or rocky areas where fish love to hide. You can cast these into the thick of it without fear of losing your lure!🌿🐠
4️⃣ Jigging Spoons
Heavy and compact, jigging spoons like the 'Hopkins No=Eql' sink rapidly, making them perfect for targeting fish in deeper waters. Their rapid sinking and darting action is irresistible to predatory fish such as walleyes, lake trout, or bass lurking in the depths.🌊🔝
When choosing the right spoon, consider the fishing environment and the species you're targeting. Pay attention to the color and size of your lure as well; these factors can significantly influence your catch rate. For example, in murky water, bright or glow-in-the-dark spoons can be more effective, while in clear water, more natural, subdued colors can work better. Similarly, larger spoons typically attract larger fish.
Stay tuned as we delve into the scientific principles that make fishing spoons so effective, and share expert tips on using them right. 📚
🎦Video YouTube: Types of Spoon Fishing Lures and How They Work Underwater
The 10 Best Fishing Spoons – Editor's Choice
| Image | Product | Brand | Link |
| --- | --- | --- | --- |
| | Sougayilang Jigs Fishing Lures Sinking Metal Spoons Micro Jigging Bait with Treble Hook for Saltwater Freshwater Fishing-A-2.56in/1.16oz-5PCS with Box | Sougayilang | |
| | Rapala RMSR8-RFSH Spoon Rattlin Mino Spoon 3.1 inches (8 cm), 0.6 oz (16 g), Redfin Shiner | Rapala | |
| | PROBEROS Fishing Spoons Lures Bass Baits Jigging Bait Tackle with Treble Hooks Hard Metal Spoon Fishing Lure Weight Pick 10 Pcs/Pack 0.1oz Gold | PROBEROS | |
| | Berkley Johnson Silver Minnow Silver 2 3/4in - 3/4 oz | Berkley | |
| | Sougayilang Spinner Spoon Blade Swimbait Freshwater Saltwater Fishing Tackle Lures and Baits-4pcs | Sougayilang | |
| | South Bend Kastaway Trophy Spoons, 1/8-Ounce with South Bend Kastaway Trophy Spoons, 1/4-Ounce | SouthBend | |
| | Luhr-Jensen 4.0 Coyote Spoon, Live Image/Neon Blue Side Stripe | Luhr Jensen | |
| | Fishing Lures Spoon Bait 35Pcs Set Metal Lure Kit Artificias Lure Hard Bait Freshwater with Treble Hooks Tackle Salmon Bass | SMTZOD | |
| | YONGZHI Fishing Lures Metal VIB Hard Spinner Blade Baits with Feathers Treble Hooks for Bass Walleyes Trout Fishing Spoons (Silver and Gold) | YONGZHI | |
| | 1oz Crocodile Spoons – 12 Pcs | | |
Okay, with the types of spoons now everything is clear. It's time to look at specific examples and figure out which spoons can be called good and which are bad. Let's take a look at the 10 best fishing spoons!
1# Sougayilang Jigs Fishing Spoons – Best Jigging Spoons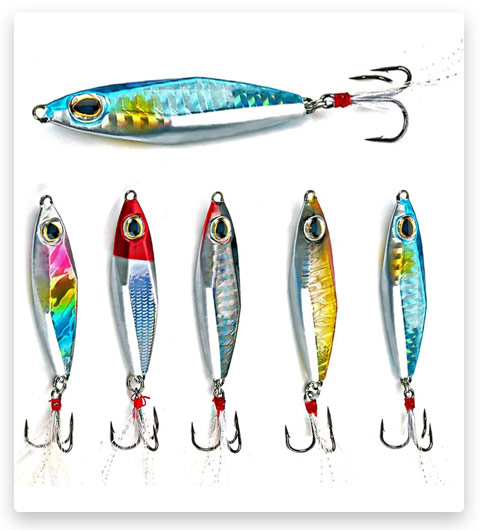 The best jig baits for the price. First, they deserve it thanks to their coloring. One package contains 5 lures, each of which has its own unique color. But the main thing is that these colors are very different, and there are both dull and inconspicuous colors, as well as bright acid ones. This allows you to fish with these lures in different waters and different predators.
Moreover, the fish is attracted by the realistic effect. These lures are very similar to small minnows, especially the eyes. Having recognized the prey, the predators immediately rush into the attack.
Usually, Chinese manufacturers make an attractive look but save on rings and hooks. Well, the rings here are made of pretty high quality, I can't bend them even by pressing hard with my hands. They never came off the line and were welded quite efficiently.
But the hooks here are frankly weak. Once you come across fish heavier than 10 feet, they will most likely bend. Although on 3 out of 5 models in the box, the hooks were quite sturdy and I still use them. But it is better for you to replace the hooks with more durable ones if you go for large fish.
2# Rapala Rattlin' Minnow Spoon – Best Quality Spoon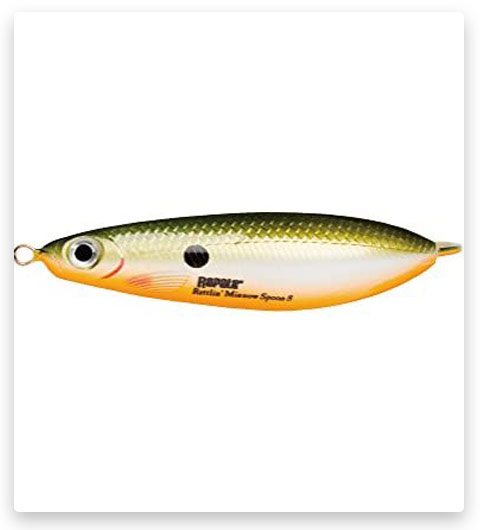 This spoon has no problems with rings and hooks. But instead, you only have 1 color and 1 lure in the set. Outwardly, this bait resembles a minnow. Made in yellow-orange color, it has a bright belly and a dull back. A rattle chamber is installed inside to create a large vibration and quickly attract fish. As I said, every component is very durable here: body paint, line hooks, and most importantly, the hook. You can safely fish 12 and 16 pounds with this spoon. The only downside is that you pay quite a lot for just 1 copy. Plus, this lure does not perform well in dull and warm water.
3# Proberos Fishing Spoons Lures – Best Budget Spoons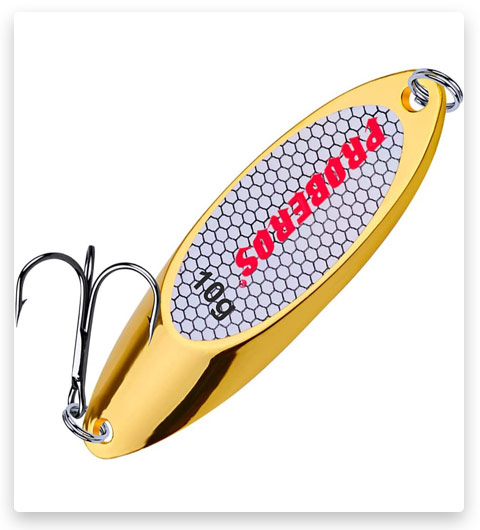 Outwardly, this spoon doesn't seem to look like any live bait, but it still works excellently. It's all about the shape and vibrations that the bait emits. The spoons are made of special zinc alloy, which is durable and doesn't rust. Therefore, the bait is suitable for both fresh and saltwater. The quality of the hooks is also excellent. Super sharp and made of anti-corrosive steel, they do their job well. You don't even have to change them for more durable ones after purchase. You can choose from 13 sizes and two colors – gold and silver. In principle, there's no difference, both work well in any water and weather.
4# Berkley Johnson Silver Minnow Silver – Best Durable Spoons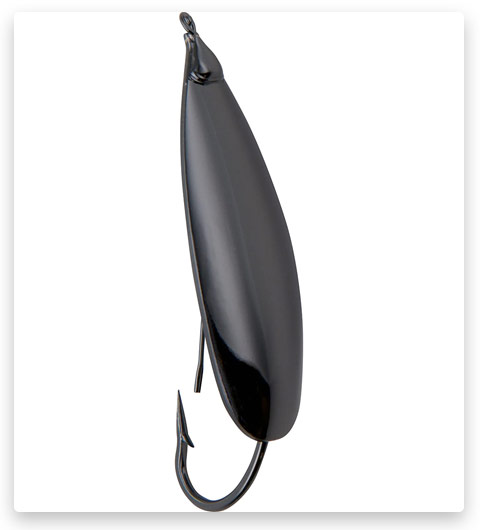 This tackle is manufactured by the Berkley Johnson Silver Minnow Silver – the brand with a perfect reputation. Fishermen all around the world can enjoy jigging and trolling with this beautifully designed fishing spoon. The versatile tackle doesn't snag in heavy plants and can be used in ponds and sea. Silver minnow spoon shows distinctive action when you reel it. When you retrieve the spoon, it won't twist the line. The lure shows excellent performance while catching bass, redfish, and perch. The value for money is great and you can use it for a long time.
5# Sougayilang Spinner Spoon Spinnerbait – Best Value For Money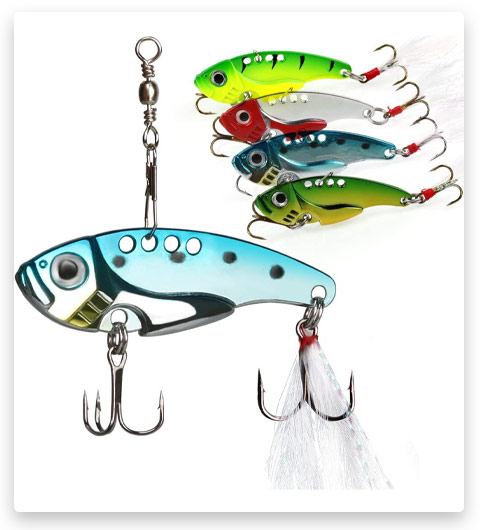 Metal lure with detailed pattern design comes in various colors: yellow, red, green, blue. A good fishing spoon for those who just doing first steps in fishing, because it's convenient and simple. The vibrations work when the water isn't very clear, or when it's fairly dark outside. But they're small and catch small or medium fish only. These fishing spoons hold up and move through the water well and has sharp hooks. And, of course, suitable for fishing in all types of waters. You can adjust the lure for use in different depths. A small piece of advice: check O rings before start using, sometimes they become too wide and it might cause losing the fish from the hook. Such a fishing spoon would be a great addition to tackle collection for fishermen of any level and experience.
6# South Band Kastaway Metal Trophy Spoons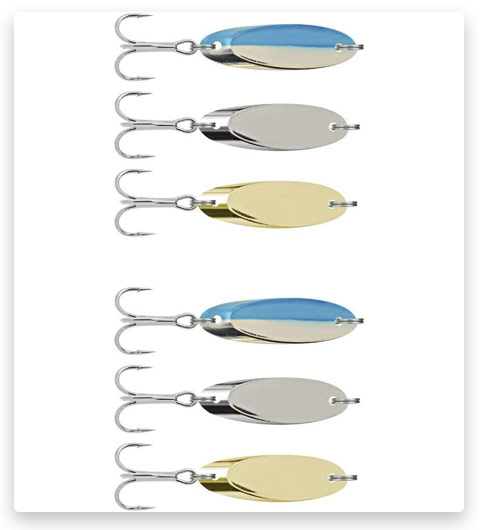 This lure is heavy enough for a long and accurate cast on a windy day. Be careful to not let it sink, they like to get snagged. The action in the water is good and fast enough. Kastaway Trophy spoons are worth having in any tackle box because it is cheap and strong. Perfectly fit for trout, white bass, wipers, and stripers. A great gift for yourself and for any friend who is fond of fishing.
7# Luhr Jensen 4.0 Coyote Fishing Spoon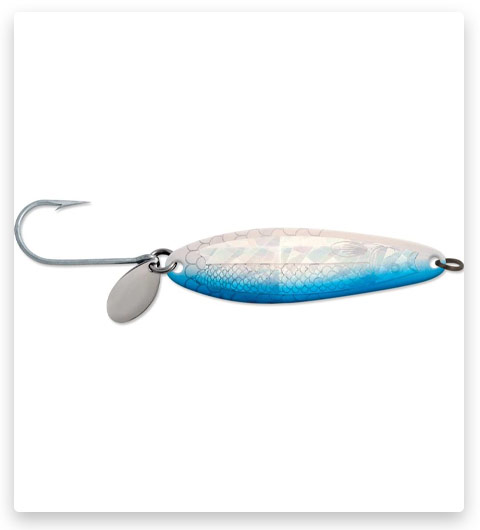 Premium fishing spoon with a stylish cover and corrosion resistance. Exceptionally good for salmon fishing in the ocean. An important detail is that these spoons made of thin material, create a very active action and vibrations in the water, and the fish immediately rush to the prey. These lures are also effective for catching small species. For example, herring, anchovies, and candlefish. The hook is made of durable metal that prevents the fish from jumping. This lure can increase your catches and make your fishing experience more enjoyable. You just relax and prepare your camera for a shot with a trophy fish.
8# Top Concept Fishing Spoons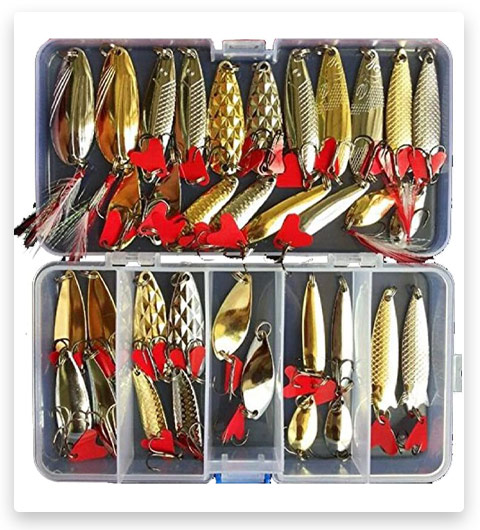 Time-tested metal fishing spoon. This is one of the most popular lures from the Top Concept brand. Versatile and applicable for various fishing conditions. These lures have been created to make your fishing experience brighter and more fun. The most important feature of a spoon is its reflection of light and movement. Good for lakes, rivers, sea, and ocean. You can use this for numerous species: trout, bass, and perch. With this bait, you can fish in any place with hard-to-reach bottom relief. Extra sharp triple hooks prevent the bait from falling on rocks or aquatic vegetation.
9# Youngzhi Metal Fishing Spoons Spinner Blade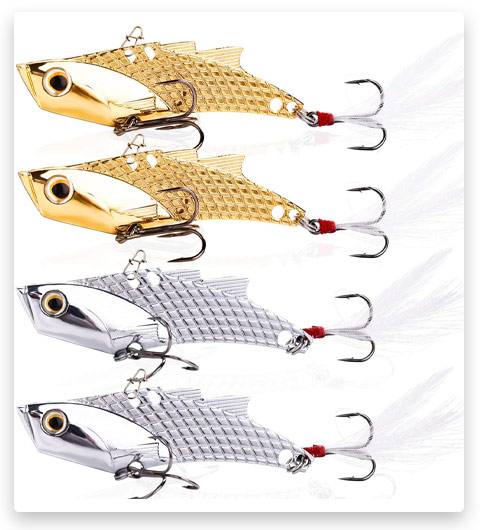 These lures use modern design solutions that provide reliable and stable play and make them very attractive to any predatory fish. These fishing spoons are an extremely good choice for snapper and bream angler. They have great action when they work, but have some issues. The treble hooks tend to get caught on the line, and it happens very often. These fishing spoons are great for vertical jigging. Once you try this fishing tackle, you'll notice that the fish loves it.
10# Arcadia Tackle Crocodile Spoons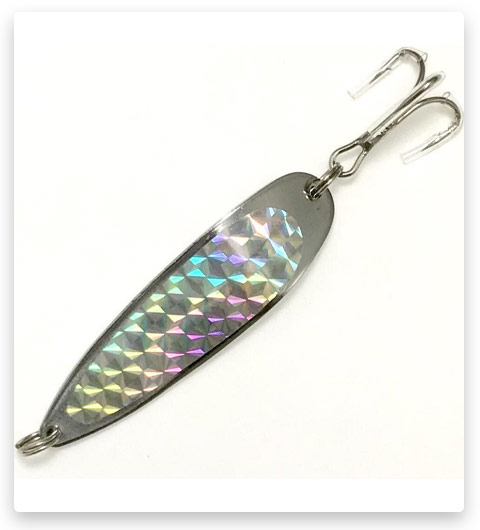 This fishing spoon is well suited for catching perch, bluefish, and barracuda. The weight of the lure allows you to make good long casts using a long rod. This spoon flies great when casting and wiggles a lot when guiding. It can be successfully used for spinning at both slow and high speeds. The bodies are silver plated and the hooks are extremely sharp and durable. It's a quality spoon at a low price. The spoon gives off a distinctive effect and the fish is attracted to it. You can catch many kilos of different species with this lure and use it on the coast to fish for mackerel, and trout, and red drum.
🔬 The Allure of the Spoon: Unraveling the Science of Attraction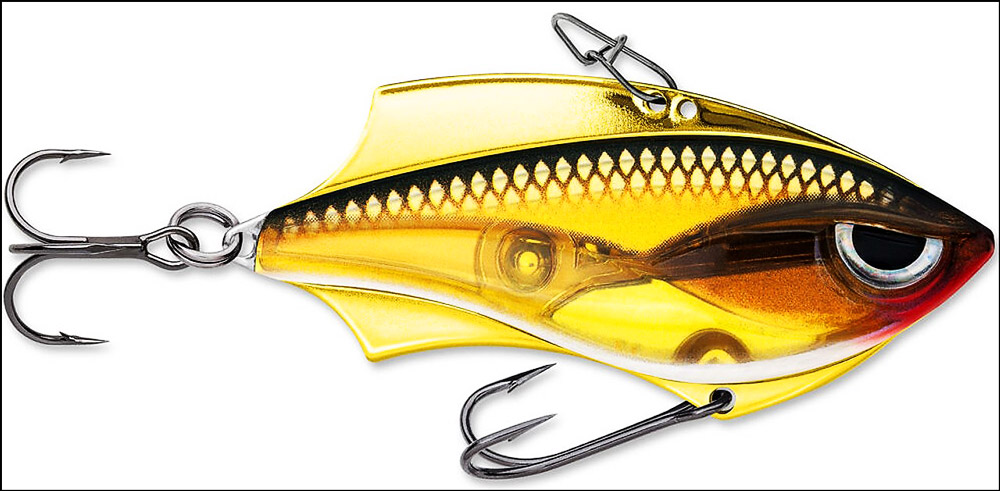 Have you ever wondered why the simple design of a fishing spoon is so irresistible to fish? The secret lies in the blend of physical attributes and fish behavior. Let's dive into the science behind fishing spoons to better understand their allure. 🧪🐠
1️⃣ Shape & Movement
The concave shape of a fishing spoon enables it to wobble and dart through the water, closely mimicking the erratic movement of injured or frightened baitfish. This movement triggers predatory fish's instinct to chase and catch easy prey. It's the "wounded fish" signal that makes spoons such effective lures. 🥄🐟
2️⃣ Color & Reflection
Fish have excellent color vision. A spoon's vibrant colors and shiny metallic surfaces create flashes of light underwater, catching the attention of nearby fish. Depending on the clarity of the water and the light conditions, different colors can be more effective. For instance, in murky water or low-light conditions, bright colors like orange, yellow, or even glow-in-the-dark spoons can be highly effective. 🌈✨
3️⃣ Vibration & Sound
Research has shown that fish are highly sensitive to vibrations in the water. As a fishing spoon wobbles through the water, it creates vibrations that fish can detect through their lateral lines (a system of tactile sense organs located in the head and along both sides of the body). These vibrations can attract fish from a distance and trigger their predatory instincts. 🌊🎵
Understanding the science behind the effectiveness of fishing spoons can greatly improve your success as an angler. By considering factors like water clarity, light conditions, and the type of fish you're targeting, you can make more informed decisions about which fishing spoon to use.
Stay tuned as we delve into practical techniques and tips for using fishing spoons. 💡
🎯 Mastering the Spoon: Techniques and Insider Tips for Fishing Success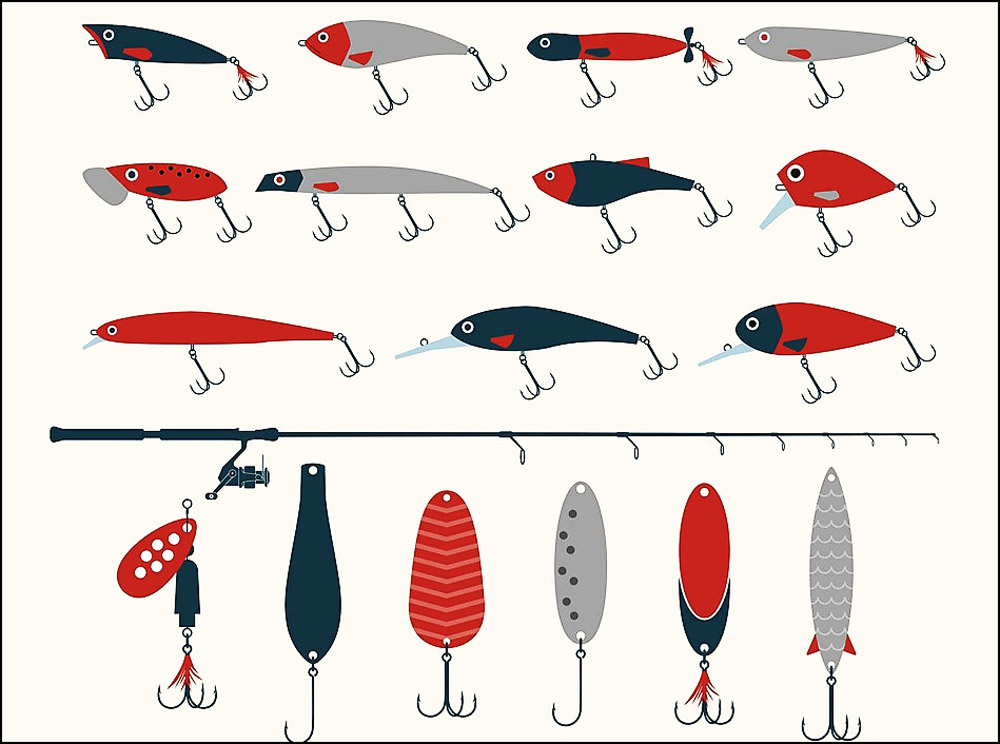 Now that we understand the science behind fishing spoons, let's get practical. Using a fishing spoon involves more than just casting it into the water. Here's how you can maximize the effectiveness of your spoon and avoid common angling pitfalls. 🎣📚
1️⃣ Casting Spoons
Casting a spoon is fairly straightforward, but the key lies in the retrieval. Cast out your spoon, let it sink to the desired depth, and then start reeling it in. The speed of your retrieve can greatly impact the spoon's movement and, consequently, its attractiveness to fish. A medium to fast retrieve typically gives the best action. Remember, the goal is to mimic a fleeing or injured baitfish. 🚀🐟
2️⃣ Trolling Spoons
Unlike casting, trolling involves pulling your spoon behind a boat. The speed of the boat dictates the action of the spoon. Too slow, and your spoon might not wobble; too fast, and it may spin uncontrollably. A speed of 2 to 3.5 mph is typically ideal for most trolling spoons. 🚤💨
3️⃣ Jigging Spoons
Jigging involves dropping your spoon vertically into the water and jerking it up and down to create an enticing motion. The key to jigging is in the rhythm of the 'jig.' A common mistake is overdoing it; too much action can scare fish away rather than attract them. Less is often more when it comes to jigging spoons.🎵🎣
🎩 Expert Tips
Change it up: If you're not getting bites, don't be afraid to switch things up. Try changing the color or size of your spoon, or even your retrieval speed. Variety can sometimes trigger bites.
Use a swivel: Spoons tend to spin, which can twist your line. Using a swivel can help prevent line twists.
Maintain your spoons: Keep your spoons clean and shiny to maintain their flash and appeal. A dull spoon may not attract as many fish.
By using these techniques and tips, you can turn your fishing spoons into irresistible lures. Stay hooked as we share stories from successful anglers and guide you through buying the perfect fishing spoons. 🥇
🔦 Tales of Triumph: Successful Anglers Share Their Spoon Fishing Secrets
Nothing beats learning from the best. In this section, we're spotlighting successful anglers who've mastered the art of spoon fishing. Get ready for tales of triumph, favorite spoons, and the techniques that have led them to success. 🌟🎣
1️⃣ Meet Jason Mitchell: The King of Trolling Spoons
Known for his legendary catches, Jason Mitchell has been a figurehead in the angling community for years. His weapon of choice? The 'Northern King 4D' trolling spoon. With this, he's reeled in some of the biggest lake trout in the Northern lakes. His secret is simple – patience and the perfect trolling speed. Jason emphasizes that "finding the right speed that makes your spoon dance but not spin is the key to successful trolling." 🚤🐟
2️⃣ Emma Rodrigues: Queen of the Casting Spoon
Emma Rodrigues is a bass angler who swears by her trusty 'Acme Kastmaster.' With it, she's out-fished her peers in multiple tournaments. "The Kastmaster has the perfect heft and wobble," she says. "I cast it out, let it sink a bit, then reel it in with an erratic retrieve." According to Emma, it's the erratic movement that often triggers aggressive strikes from predatory bass. 🏞️🏆
3️⃣ Dave Sinclair: The Jigging Spoon Maestro
Dave Sinclair, an ice fishing enthusiast, has set records with his catches using the 'Hopkins No=Eql' jigging spoon. The spoon's heavy weight and unique design make it perfect for vertical jigging through a hole in the ice. "It's all in the jigging rhythm," says Dave. "A slow lift and a fast drop, that's the key. You're trying to imitate a wounded baitfish." ❄️🕳️
These stories illustrate the variety of ways fishing spoons can be used to land impressive catches. It's not just about the type of spoon, but also how you use it. We hope these tales inspire you to make your own memorable catches.
Stay tuned for our comprehensive guide to buying the best fishing spoons and tips for their care and maintenance. Here's to your future fishing successes! 📖🥂
🔍 Selecting the Perfect Spoon: Your Comprehensive Buying Guide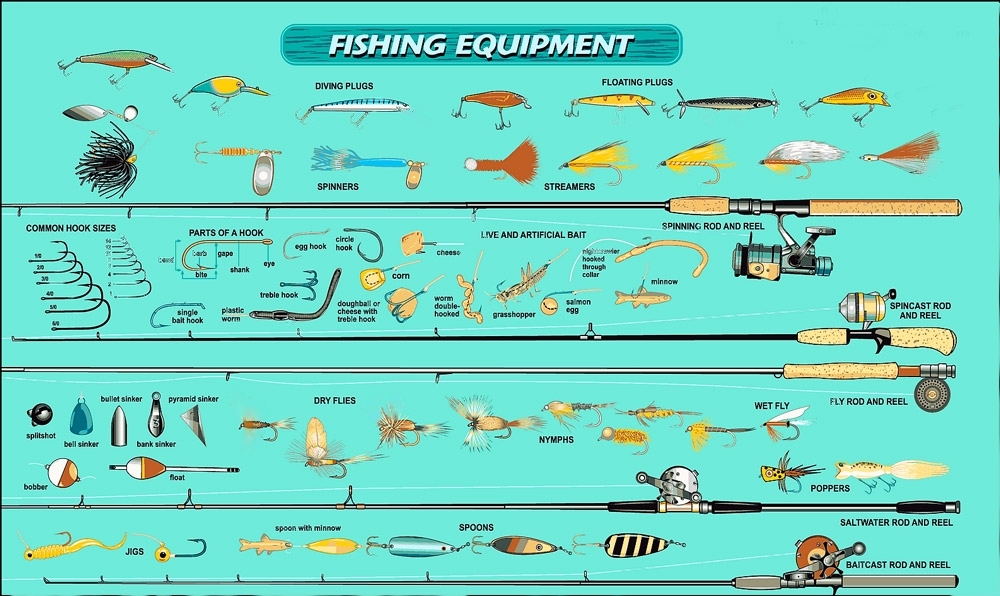 Fishing spoons are a dime a dozen in the market, but not all spoons are created equal. Selecting the right spoon can make a world of difference in your fishing experience. This section is a comprehensive guide to help you navigate the ocean of options and select the best fishing spoons for your needs. 🛍️🎣
1️⃣ Factors to Consider When Buying Fishing Spoons
Material: High-quality spoons are usually made from brass or steel, then plated with silver, gold, or painted in various colors. Brass spoons are heavier, making them suitable for deep-water fishing or strong currents. Steel spoons are lighter and work well in shallow water or slower currents. 🧲⚖️
Durability: The spoon should withstand the rigors of fishing. It should have a strong and reliable hook, and the color or plating should not easily chip or fade. Durability often comes down to the brand's reputation for quality. 🔨💪
Size and Weight: The size and weight of the spoon should match the type of fish you're targeting. Larger, heavier spoons are best for big fish like pike or musky, while smaller spoons work well for bass or panfish. Remember, the weight of the spoon affects its sinking speed and the depth it reaches. 🐟⚖️
P

rice

: While high-end spoons can offer better quality and durability, there are plenty of affordable options that work just as well. Don't let price be the sole determinant of your choice. Balance it with other factors to get the best value. 💰💎
2️⃣ Reliable Brands and Stores
Acme: Famous for their Kastmaster, Acme offers a variety of spoons for all types of fishing.
Northern King: An excellent choice for trolling spoons. Their 4D series is especially popular.
Hopkins: If you're into jigging, Hopkins has a range of spoons that excel in this technique.
Amazon: As one of the world's largest online retailers, Amazon offers a vast range of fishing spoons from numerous brands.

Bass Pro Shops

: With both physical stores and an online shop, Bass Pro Shops offers a wide variety of spoons from many reputable brands.
Remember, a fishing spoon is more than just a piece of metal. It's a tool that, when chosen correctly, can make your fishing trips more successful and enjoyable. Next up, we'll share tips on how to care for your spoons to ensure they keep attracting fish trip after trip. Tight lines! 🥄🐠
💖 Long-lasting Lures: Maintenance and Care for Your Fishing Spoons
You've invested time and money in your fishing spoons. Now, let's ensure they continue to perform at their best for many fishing trips to come. Proper care and maintenance not only increase the lifespan of your fishing spoons but also ensure they remain effective fish attractors. Here's how to keep your spoons in top shape. 🎣🔧
1️⃣ Cleaning Your Spoons:
Regular cleaning is essential to keep your fishing spoons shiny and appealing to fish. Follow these simple steps:
Rinse each spoon in fresh water after use, especially after saltwater fishing, to remove any salt or dirt.
For deep cleaning, use warm water and a mild detergent. Use a soft brush or cloth to gently clean the spoon. Avoid abrasive materials that can scratch the spoon's surface.
Dry the spoons thoroughly after cleaning to prevent rust.
If your spoons lose their shine over time, you can use a metal polish to restore their brightness. Remember, a shiny spoon is an attractive spoon! 💦🌟
2️⃣ Storing Your Spoons:
Proper storage is equally important to prevent damage to your spoons:
Store your spoons in a dry place. Humidity can cause your spoons, especially those made from steel, to rust.
Use a tackle box with individual compartments or spoon boxes for storage. This prevents the spoons from scratching against each other, keeping them shiny and free from damage.
Keep your spoons separated by type and size for easy access when you're on the water. The organization is key! 🗃️🔐
Remember, a well-cared-for fishing spoon is more likely to attract fish and last longer. Let's keep those spoons sparkling, and they will reward us with great catches! 🏆
❓ FAQ: How Fishing Spoons Can Boost Your Catch!
Keep these questions in mind as you venture into your fishing journeys with spoons. We're here to ensure you're armed with the right knowledge and tools for a successful fishing experience! 🎣🛠️🧠
🏁 Reeling It In: A Recap of The Magic of Fishing Spoons
Our journey through the wonderful world of fishing spoons has taken us through many exciting chapters. We've dipped our toes in the waters of their rich history 🕰️, learned about the variety of types and their unique designs 🎨, and dove deep into the science behind their irresistible allure to our aquatic targets 🧪🐟.
We've also gleaned precious techniques and tips from successful anglers who've ridden the wave of success thanks to these versatile lures 🏆. Navigating the sea of options in the marketplace, we've learned how to make wise choices when purchasing fishing spoons, taking into account factors such as brand, material, durability, and price 💰.
Finally, we've discussed how to ensure our shiny new friends live a long and useful life by implementing proper care and maintenance practices 💖🔧.
Fishing spoons are more than just pieces of curved metal; they're a testament to human ingenuity in the endless quest to understand and engage with nature. They bring a unique blend of science and art to fishing, a mix that can add immeasurable value to your angling adventures 🚣‍♂️🌟.
Whether you're just starting out on your angling journey or you're a seasoned pro, fishing spoons offer countless benefits and can significantly increase your success on the water. We hope this guide has shed light on their magic and sparked a desire to try them out on your next fishing trip 🎣🔥.
So, why not give fishing spoons a try? Unleash their magic on the water and let the tales of thrilling catches begin. After all, the next "big one" is just a castaway! 🌊🌟
📚 A Deep Dive Into The Sources
In the course of our journey through the world of fishing spoons, we drew upon the wisdom of various experts, scientific studies, and reputable sources to ensure you get the most accurate and up-to-date information. Here are the sources that have informed this comprehensive guide:
1️⃣ "The Art of Angling" by Dr. Ken Schultz. A comprehensive guide to fishing that includes useful insights into the use of fishing spoons. [Schultz, K. (2020). The Art of Angling. Wiley-Blackwell.]
2️⃣ "Fishing Lures in America" by Karl F. White. This book provided valuable insights into the history of fishing spoons. [White, K.F. (2017). Fishing Lures in America. Castaway Publications.]
3️⃣ "Behaviour of Teleost Fishes" by Tony J. Pitcher. This study offered us a deep understanding of fish behavior that explains why fishing spoons are effective. [Pitcher, T.J. (2019). The behavior of Teleost Fishes. Springer.]
4️⃣ "The Complete Book of Striped Bass Fishing" by Nick Karas. Here we found inspiring stories of successful anglers using spoons. [Karas, N. (2016). The Complete Book of Striped Bass Fishing. Skyhorse Publishing.]
5️⃣ The websites of Acme, Northern King, and Hopkins also provided valuable information on various types of fishing spoons. [www.acmetackle.com, www.northernkinglures.com, www.hopkinslures.com]
6️⃣ And Finally, the blog posts and articles on [www.basspro.com] and [www.amazon.com] helped us compile the buying guide section.
We're grateful to all these sources for helping us weave this comprehensive guide. Remember, understanding is the key to success in fishing, and knowledge is the bait that gets you there. 🎣📖🔍
Tags: #best fishing spoons / #fishing spoons / #ice fishing spoons / #saltwater fishing spoons / #salmon fishing spoons / #bass fishing spoons / #best saltwater fishing spoons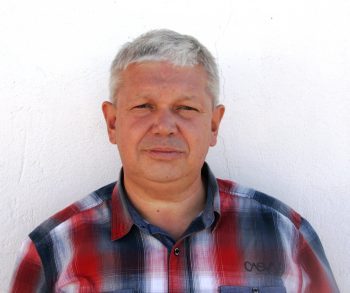 Sergio Smirnoff
Professional fisherman with 40+ years of experience.
Fishing and the ocean is a passion of my life. I am passionate about all kinds of sea fishing: fishing from the shore (spinning, float, baitcasting), from a boat, and spearfishing day and night.
I live in Tenerife (Canary Islands) for the last 10+ years and share my daily fishing experiences on my website. Many years of personal experience as a fisherman and the vast experience of my friends allow me to write professionally on any fishing topics (from choosing a flashlight and equipment to deep-sea fishing).
All of my advice is based on practical real-world experience and will be useful to both novice anglers and professionals.
Read more
about the author.
Affiliate Disclosure: FishReeler.com sometimes gets paid for listings, through sponsors or affiliate programs like Amazon, Ebay, Cabelas, Bass Pro Shop, Shimano, Daiwa, Rapala, Renn, Okuma, KastKing, etс. Clicking a link helps keep FishReeler.com free, at no extra cost to you!
About the author: Each article is verified by the fishing expert Sergio Smirnoff. The articles are written by professional and amateur fishermen with 20+ years of fishing experience.
Note: The views and opinions expressed in this article are those of the authors and do not necessarily reflect the official policy or position of any agency. The articles are for informational purposes only, share your opinions in the comments and join the fishing discussions, let's share our fishing experiences together!