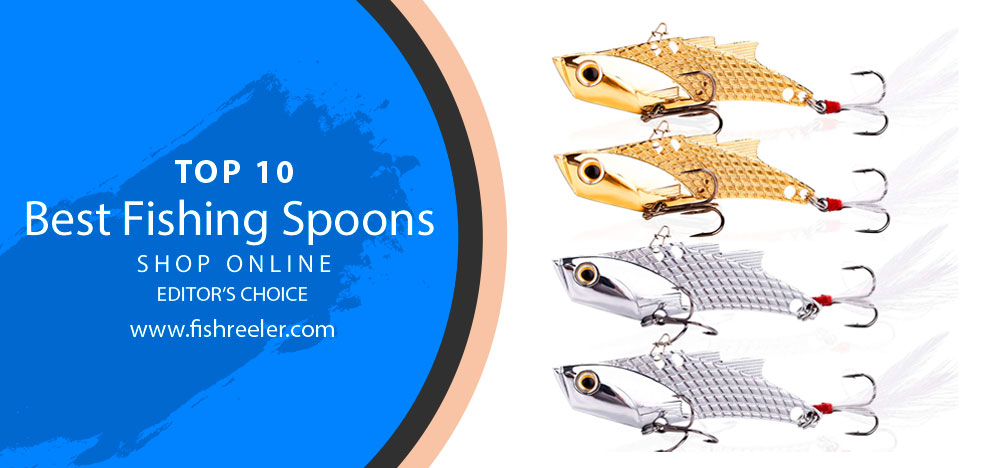 Top Fishing Spoons For Fishing
There is a great variety of fishing lures: soft lures, jigs, spinnerbaits, frogs, jerks, and others. In this article, we'll talk about some of the most popular but most effective lures – fishing spoons.
What is Fishing Spoon?
How are they different from other lures? Spoons are curved metal baits. They got the name because they were originally just spoons with cut-off handles. The spoons have holes at different ends – one for attaching to a hook, the other for attaching to a fishing line. Sometimes bass fishermen retrofit spoon hooks and only buy the body. Otherwise, the hooks are always included.
Which Fishermen Should Use Spoons?
Because of their weight, spoons are very easy to play, you don't need a lot of experience or the ability to accurately cast the bait. Therefore, they're great for novice anglers without experience.
When and Under What Conditions Are Spoons Best Used?
Spoons work best when the fish are in tight, confined spaces or when there's a lot of fish and they are literally stacked on top of each other in the water. Spoons work best in cold water at the start of the fishing season. Also, spoons are much more effective at depth than in shallow water.
Types of Fishing Spoons
Despite the fact that spoons themselves are a type of bait, they're classified into several types. Especially spoons differ in bass fishing.
Casting Spoons. The simplest type of spoons. To attract the attention of the bass, you need to make very small movements – and the fish is already swimming towards the bait. Basically, this type is designed for open water operation, in which there are few shelters for fish. Great for first-time spoon anglers. Casting spoons vary in thickness. Thicker spoons work better in dirty, warm water because they generate more vibration and are more attractive to fish. Thin spoons, on the other hand, perform well in cold and clear water. They provide more flash and less vibration, thus mimicking the bait more naturally.
Jigging Spoons. Jig spoons have very sharp hooks, many colors, and a striking, unique designs. They work great against bottom fish such as perch or bass. The way jig spoons work is very simple: you cast into a target area and pause briefly before raising the rod a couple of feet. Then pause again, lift it up a little. And so on until the end. Therefore, this type of spoon got its name, due to the similarity with jigs.
Trolling Spoons. From the name you might have guessed that trolling spoons are used for trolling. The spoon is thrown during the movement of the boat and takes effect already when you start to extract. Most often they are used in the summer, on open bodies of water such as lakes or seas. Although this type of spoon requires more sophisticated tools, the principle of operation is the same as with conventional spoons. The only thing that makes them different is the wide variety of colors.
Surface Spoons. Surface spoons are used for fishing near the surface, not at the bottom. Spoons of this type differ in that the hook is soldered to the lower body of the bait and is directed upward from the body to the water. Therefore, these baits work well when you throw the line into areas of thickets and algae. Surface spoons have a stricter size than other types of spoons. Therefore, they are used for some specific cases and reservoirs. This requires a little experience in using spoons, so it will be quite difficult for beginners to cope with them.
Weedless Spoons. Weedless spoons are spoons that almost never cling to various driftwood, thickets, algae, etc. either this is achieved thanks to the special shape of the hooks, or thanks to the protectors that prevent the spoons from catching.
Basically, all the types of spoons I have listed above can be classified as weedless spoons if they have such attachments.
The 10 Best Fishing Spoons – Editor's Choice
| Image | Product | Brand | Link |
| --- | --- | --- | --- |
| | Sougayilang Jigs Fishing Lures Sinking Metal Spoons Micro Jigging Bait with Treble Hook for Saltwater Freshwater Fishing-A-2.56in/1.16oz-5PCS with Box | Sougayilang | |
| | Rapala RMSR8-RFSH Spoon Rattlin Mino Spoon 3.1 inches (8 cm), 0.6 oz (16 g), Redfin Shiner | Rapala | |
| | PROBEROS Fishing Spoons Lures Bass Baits Jigging Bait Tackle with Treble Hooks Hard Metal Spoon Fishing Lure Weight Pick 10 Pcs/Pack 0.1oz Gold | PROBEROS | |
| | | | |
| | Sougayilang Spinner Spoon Blade Swimbait Freshwater Saltwater Fishing Tackle Lures and Baits-4pcs | Sougayilang | |
| | South Bend Kastaway Trophy Spoons, 1/8-Ounce with South Bend Kastaway Trophy Spoons, 1/4-Ounce | SouthBend | |
| | Luhr-Jensen 4.0 Coyote Spoon, Live Image/Neon Blue Side Stripe | Luhr Jensen | |
| | Fishing Lures Spoon Bait 35Pcs Set Metal Lure Kit Artificias Lure Hard Bait Freshwater with Treble Hooks Tackle Salmon Bass | SMTZOD | |
| | YONGZHI Fishing Lures Metal VIB Hard Spinner Blade Baits with Feathers Treble Hooks for Bass Walleyes Trout Fishing Spoons (Silver and Gold) | YONGZHI | |
| | 1oz Crocodile Spoons – 12 Pcs | | |
Okay, with the types of spoons now everything is clear. It's time to look at specific examples and figure out which spoons can be called good and which are bad. Let's take a look at the 10 best fishing spoons!
1# Sougayilang Jigs Fishing Spoons – Best Jigging Spoons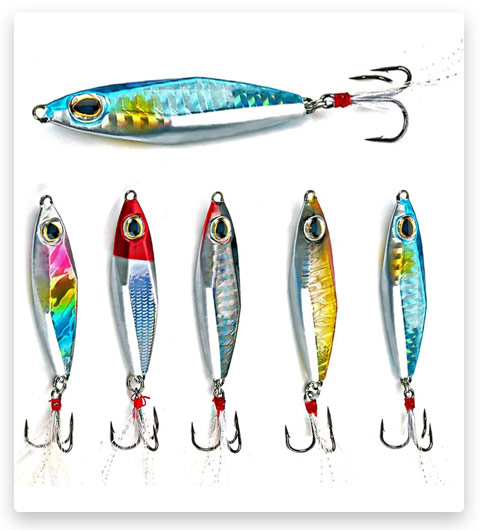 The best jig baits for the price. First, they deserve it thanks to their coloring. One package contains 5 lures, each of which has its own unique color. But the main thing is that these colors are very different, and there are both dull and inconspicuous colors, as well as bright acid ones. This allows you to fish with these lures in different waters and different predators.
Moreover, the fish is attracted by the realistic effect. These lures are very similar to small minnows, especially the eyes. Having recognized the prey, the predators immediately rush into the attack.
Usually, Chinese manufacturers make an attractive look but save on rings and hooks. Well, the rings here are made of pretty high quality, I can't bend them even by pressing hard with my hands. They never came off the line and were welded quite efficiently.
But the hooks here are frankly weak. Once you come across fish heavier than 10 feet, they will most likely bend. Although on 3 out of 5 models in the box, the hooks were quite sturdy and I still use them. But it is better for you to replace the hooks with more durable ones if you go for large fish.
2# Rapala Rattlin' Minnow Spoon – Best Quality Spoon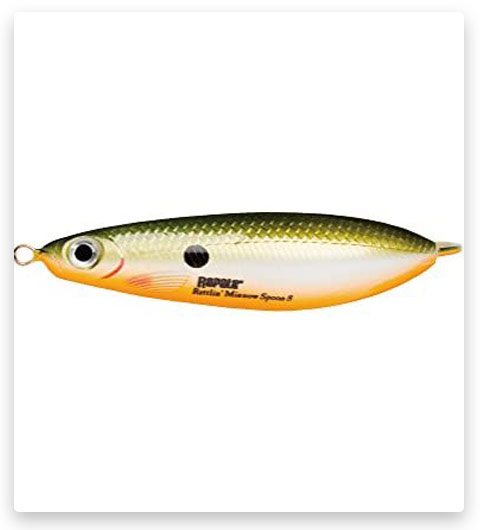 This spoon has no problems with rings and hooks. But instead, you only have 1 color and 1 lure in the set. Outwardly, this bait resembles a minnow. Made in yellow-orange color, it has a bright belly and a dull back. A rattle chamber is installed inside to create a large vibration and quickly attract fish. As I said, every component is very durable here: body paint, line hooks, and most importantly, the hook. You can safely fish 12 and 16 pounds with this spoon. The only downside is that you pay quite a lot for just 1 copy. Plus, this lure does not perform well in dull and warm water.
3# Proberos Fishing Spoons Lures – Best Budget Spoons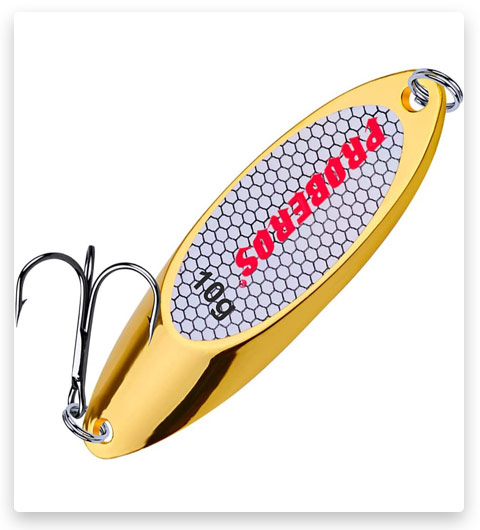 Outwardly, this spoon doesn't seem to look like any live bait, but it still works excellently. It's all about the shape and vibrations that the bait emits. The spoons are made of special zinc alloy, which is durable and doesn't rust. Therefore, the bait is suitable for both fresh and saltwater. The quality of the hooks is also excellent. Super sharp and made of anti-corrosive steel, they do their job well. You don't even have to change them for more durable ones after purchase. You can choose from 13 sizes and two colors – gold and silver. In principle, there's no difference, both work well in any water and weather.
4# Johnson Silver Monnow Fishing Spoon – Best Durable Spoons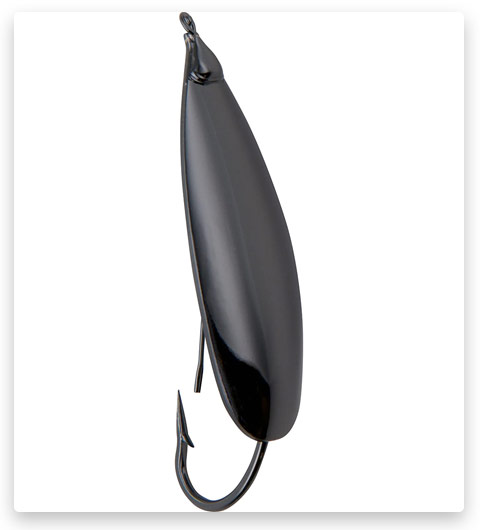 This tackle is manufactured by the Johnson Silver Minnow – the brand with a perfect reputation. Fishermen all around the world can enjoy jigging and trolling with this beautifully designed fishing spoon. The versatile tackle doesn't snag in heavy plants and can be used in ponds and sea. Silver minnow spoon shows distinctive action when you reel it. When you retrieve the spoon, it won't twist the line. The lure shows excellent performance while catching bass, redfish, and perch. The value for money is great and you can use it for a long time.
5# Sougayilang Spinner Spoon Spinnerbait – Best Value For Money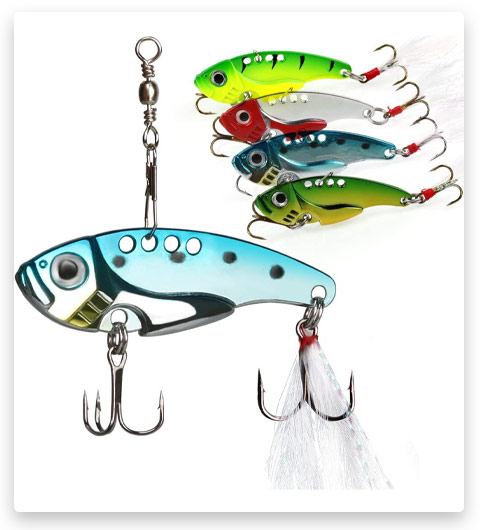 Metal lure with detailed pattern design comes in various colors: yellow, red, green, blue. A good fishing spoon for those who just doing first steps in fishing, because it's convenient and simple. The vibrations work when the water isn't very clear, or when it's fairly dark outside. But they're small and catch small or medium fish only. These fishing spoons hold up and move through the water well and has sharp hooks. And, of course, suitable for fishing in all types of waters. You can adjust the lure for use in different depths. A small piece of advice: check O rings before start using, sometimes they become too wide and it might cause losing the fish from the hook. Such a fishing spoon would be a great addition to tackle collection for fishermen of any level and experience.
6# South Band Kastaway Metal Trophy Spoons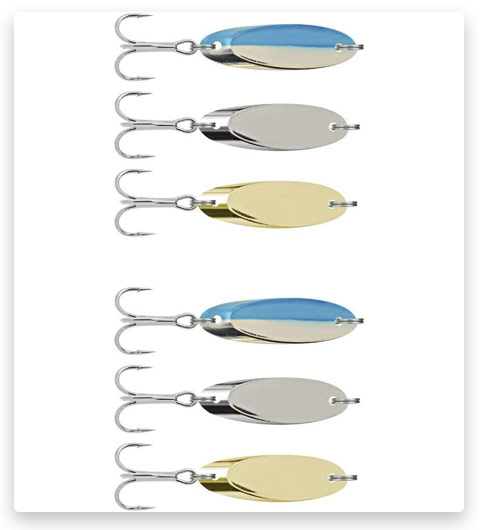 This lure is heavy enough for a long and accurate cast on a windy day. Be careful to not let it sink, they like to get snagged. The action in the water is good and fast enough. Kastaway Trophy spoons are worth having in any tackle box because it is cheap and strong. Perfectly fit for trout, white bass, wipers, and stripers. A great gift for yourself and for any friend who is fond of fishing.
7# Luhr Jensen 4.0 Coyote Fishing Spoon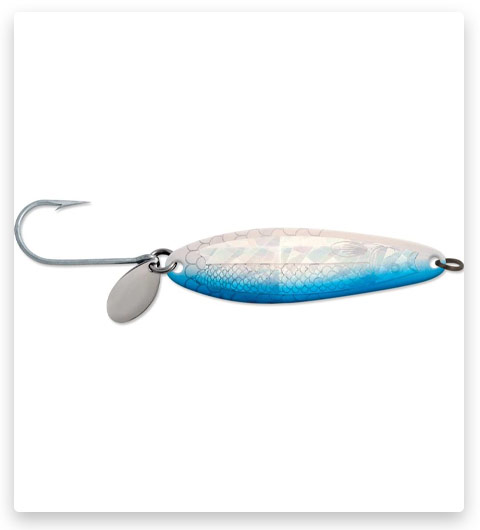 Premium fishing spoon with a stylish cover and corrosion resistance. Exceptionally good for salmon fishing in the ocean. An important detail is that these spoons made of thin material, create a very active action and vibrations in the water, and the fish immediately rush to the prey. These lures are also effective for catching small species. For example, herring, anchovies, and candlefish. The hook is made of durable metal that prevents the fish from jumping. This lure can increase your catches and make your fishing experience more enjoyable. You just relax and prepare your camera for a shot with a trophy fish.
8# Top Concept Fishing Spoons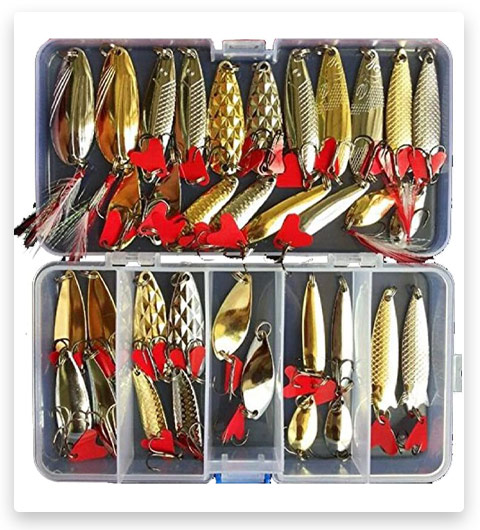 Time-tested metal fishing spoon. This is one of the most popular lures from the Top Concept brand. Versatile and applicable for various fishing conditions. These lures have been created to make your fishing experience brighter and more fun. The most important feature of a spoon is its reflection of light and movement. Good for lakes, rivers, sea, and ocean. You can use this for numerous species: trout, bass, and perch. With this bait, you can fish in any place with hard-to-reach bottom relief. Extra sharp triple hooks prevent the bait from falling on rocks or aquatic vegetation.
9# Youngzhi Metal Fishing Spoons Spinner Blade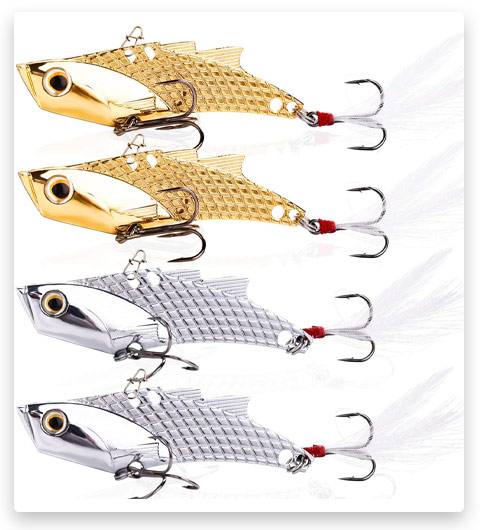 These lures use modern design solutions that provide reliable and stable play and make them very attractive to any predatory fish. These fishing spoons are an extremely good choice for snapper and bream angler. They have great action when they work, but have some issues. The treble hooks tend to get caught on the line, and it happens very often. These fishing spoons are great for vertical jigging. Once you try this fishing tackle, you'll notice that the fish loves it.
10# Arcadia Tackle Crocodile Spoons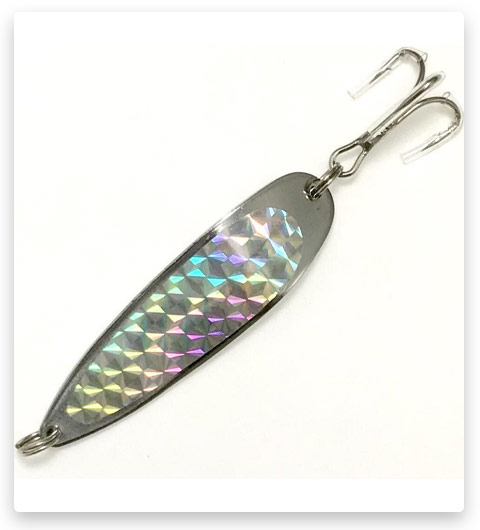 This fishing spoon is well suited for catching perch, bluefish, and barracuda. The weight of the lure allows you to make good long casts using a long rod. This spoon flies great when casting and wiggles a lot when guiding. It can be successfully used for spinning at both slow and high speeds. The bodies are silver plated and the hooks are extremely sharp and durable. It's a quality spoon at a low price. The spoon gives off a distinctive effect and the fish is attracted to it. You can catch many kilos of different species with this lure and use it on the coast to fish for mackerel, and trout, and red drum.
What to Combine Spoons With?
Okay, let's say you've decided on the spoon you need to use. The next step is to match it with the right rod and reel:
Rod. Since spoons are used mainly for bass and perch (you can use them for other predatory fish, the choice of rod is still unlikely to change from this), then you will need a spinning or baitcasting rod. Baitcasting will give you more precision and control, but they are quite difficult to manage. For beginners, spinning rods are much better suited. Casting spoons are unpretentious. The catch depends only on how successfully you throw them into the water and pull them back. On the other hand, shallow spoons require more skill and control. Therefore, if you want to take the simplest possible combo, take a spinning rod and a casting spoon. If you are fairly successful at casting and controlling your lure, a surface spoon + baitcasting rod is a great combination.
Reel. You can choose the reel more personally. Because spoons are not very dependent on the speed of the reel and its characteristics. The only advice I can give you is to use reels with a high gear ratio. 5.9:1, 6.1:1 would be a great option.
Line. The choice of the line is also not very important. You can use both braided and mono. From my own experience, bass and bass react best when you use a fluorocarbon line. It is almost transparent and hides in the water column.
Some spoons will prevent the line from twisting themselves, but it's best to take care of the safety of your line, hook, and spoon. Install a swivel about a pound from the spoon. This not only saves the line from twisting and tearing but also gives the spoon more freedom of movement.
Tags: #best fishing spoons / #fishing spoons / #ice fishing spoons / #saltwater fishing spoons / #salmon fishing spoons / #bass fishing spoons / #best saltwater fishing spoons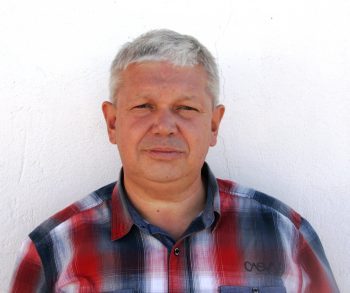 Sergio Smirnoff
Professional fisherman with 40+ years of experience.
Fishing and the ocean is a passion of my life. I am passionate about all kinds of sea fishing: fishing from the shore (spinning, float, baitcasting), from a boat, and spearfishing day and night.
I live in Tenerife (Canary Islands) for the last 10+ years and share my daily fishing experiences on my website. Many years of personal experience as a fisherman and the vast experience of my friends allow me to write professionally on any fishing topics (from choosing a flashlight and equipment to deep-sea fishing).
All of my advice is based on practical real-world experience and will be useful to both novice anglers and professionals.
Read more
about the author.
Affiliate Disclosure: FishReeler.com sometimes gets paid for listings, through sponsors or affiliate programs like Amazon, Ebay, Cabelas, Bass Pro Shop, Shimano, Daiwa, Rapala, Renn, Okuma, KastKing, etс. Clicking a link helps keep FishReeler.com free, at no extra cost to you!
About the author: Each article is verified by the fishing expert Sergio Smirnoff. The articles are written by professional and amateur fishermen with 20+ years of fishing experience.
Note: The views and opinions expressed in this article are those of the authors and do not necessarily reflect the official policy or position of any agency. The articles are for informational purposes only, share your opinions in the comments and join the fishing discussions, let's share our fishing experiences together!