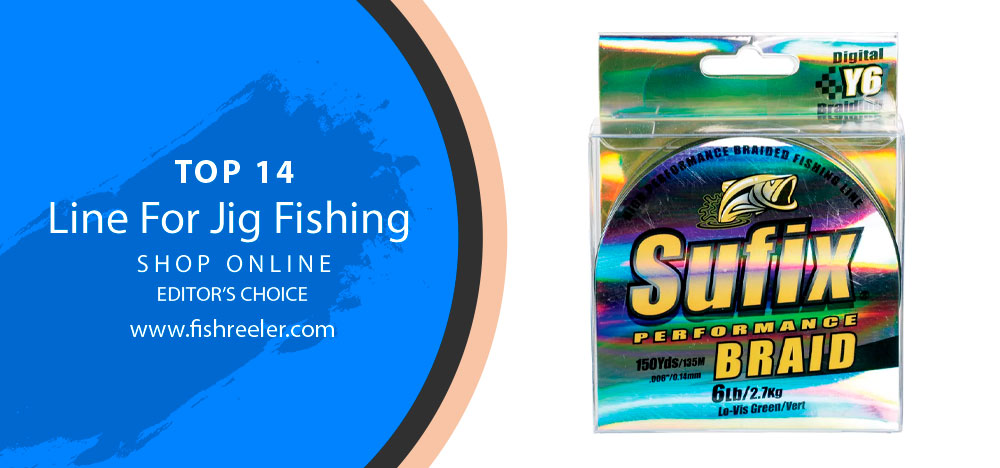 Mastering the Line for Jig Fishing: A Pro's Guide to Maximizing Your Catch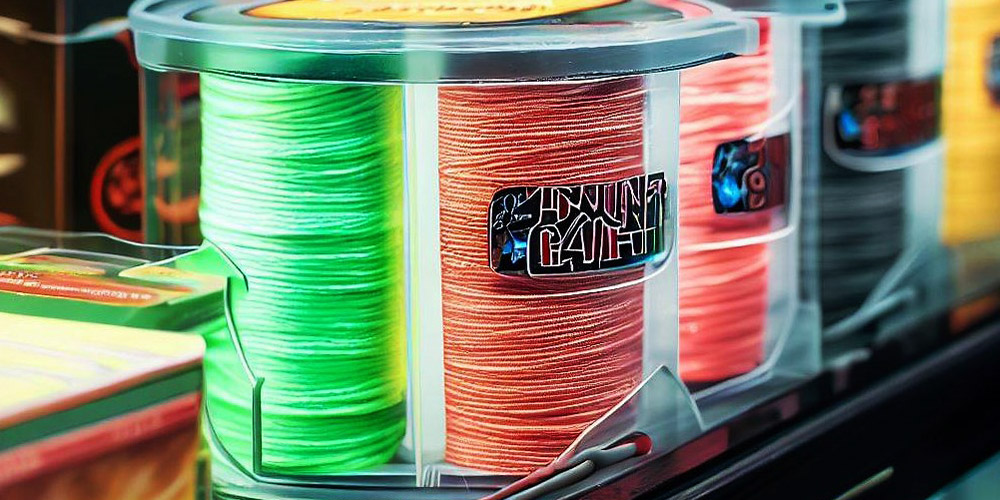 Reeling You In: The Exciting World of Jig Fishing
As dawn breaks over the calm waters, there's a dance set to commence beneath the rippling surface – the jig's dance. It's a rhythmic ballet as old as fishing itself, a timeless technique that has captured the hearts of anglers worldwide. Welcome to the exhilarating world of jig fishing, where the rhythm of the jig and the thrill of the catch intertwine to create an experience like no other.
First Cast: An Overview of Jig Fishing
Jig fishing, at its core, is a method of angling that uses a jig—a type of fishing lure designed to create a jerky, vertical motion, contrasting with the horizontal sweep of a spinner bait or the straightforward pull of a plug. This dance-like movement in the water mimics the erratic action of an injured baitfish, captivating the predatory instincts of our underwater counterparts, and making jig fishing an incredibly effective way to reel in a wide variety of fish species.
Why the Line Matters: The Key to Successful Jig Fishing
However, the success of jig fishing doesn't solely lie in the lure or the angler's deft dance moves; the line's role is equally crucial. Your line is the connection between you and the aquatic world beneath the surface. The right fishing line can enhance the jig's performance, provide a better feel and sensitivity, withstand the weight of the catch, and ultimately, turn a good day of fishing into an unforgettable one. The significance of choosing the correct line for jig fishing cannot be overstated.
What to Expect: Navigating This Comprehensive Guide
In this comprehensive guide, we'll delve deep into the art of jig fishing. We'll start with the fundamentals of jig fishing and an exploration of the types of fishing lines available. Then, we'll help you select the ideal line for jig fishing, based on a variety of factors and personal recommendations from experienced professionals. We'll also guide you through setting up your line for jig fishing, share advanced techniques, and highlight common mistakes to avoid. By the end, you'll be well-prepared for your next jig fishing adventure, armed with the knowledge to make the most of your line and maximize your catch. Let's embark on this exciting journey together!
The Basics of Jig Fishing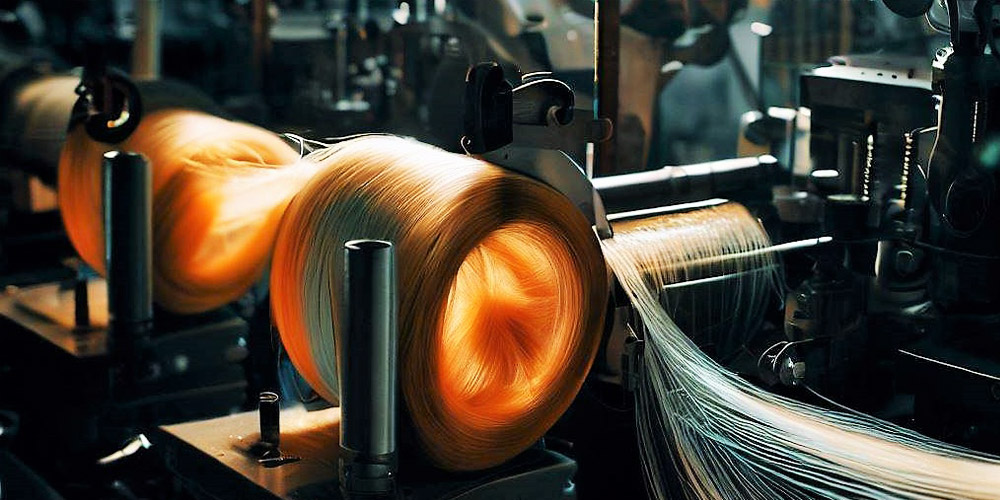 Plunging into the Depths: The Fundamentals of Jig Fishing
Jig fishing is a highly effective and versatile method of angling that employs a specialized type of lure known as a jig. The jig, which consists of a lead sinker with a hook molded into it, is often covered by a soft body to attract fish. The key distinguishing feature of jig fishing is the unique motion of the jig, often described as 'jigging'. When the jig is cast into the water, it sinks, and the angler then retrieves it in a series of lifts and falls, imitating the erratic movements of an injured baitfish. This movement, along with the vivid colors and shapes of the jig, can be incredibly enticing to a broad range of fish species.
Target Acquired: Identifying Fish Species for Jig Fishing
While jig fishing can be used to catch an extensive array of fish species, its effectiveness often varies depending on the targeted species and their behaviors. Some of the most commonly targeted fish using jigs include bass (both largemouth and smallmouth), walleye, and crappie. Saltwater species such as snapper, grouper, and even big game fish like tuna and marlin can also be enticed with a well-placed jig. It's worth noting that different styles and sizes of jigs might be used depending on the fish species you're targeting and the water conditions.
Perfecting Your Cast: The Role of Technique in Jig Fishing
Mastering the art of jig fishing goes beyond simply choosing the right lure; the technique and skill involved play a vital role in your success. The "jigging" action requires a specific rhythm of rod tip movement—lift, drop, pause—imitating a wounded prey, which can trigger an attack response from predatory fish. The skill lies in accurately reading the water conditions, understanding the behavior of the targeted fish, and manipulating the jig in such a way that it becomes an irresistible target. More importantly, feeling the subtle bites, often no more than a slight "tick" on the line, demands a heightened sense of touch and quick reaction to set the hook. As with any fishing method, practice and patience are key to perfecting these skills and achieving consistent success with jig fishing.
The 14 Best Line For Jig Fishing Review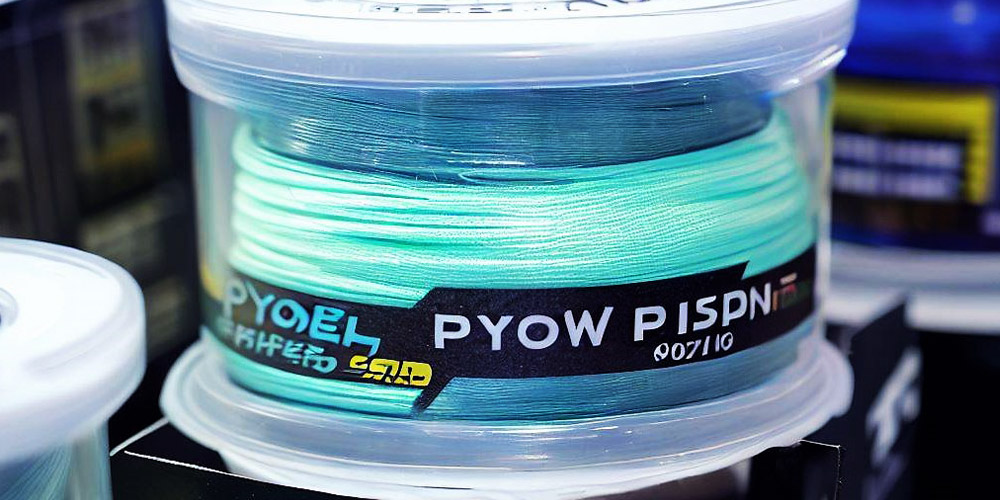 When it comes to jig fishing, there are a lot of different opinions on what the best line is. In this blog post, we'll take a look at some of the top-rated lines for jig fishing and see how they compare. Whether you're a beginner or a pro, this information will help you choose the right line for your needs. So, let's get started!
There are a lot of factors to consider when choosing the best line for jig fishing. Some people prefer monofilament lines, while others swear by fluorocarbon lines. There are also various brands and thicknesses to choose from. With so many options available, it can be tough to know which one is right for you.
1# Yo-Zuri H.D. Carbon Fluorocarbon Leader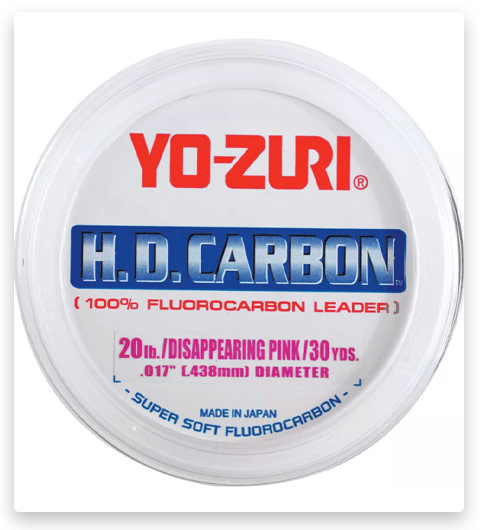 Looking for a fluorocarbon leader that offers the ultimate in abrasion resistance, sensitivity, and knot strength? Look no further than Yo-Zuri H.D. Carbon Fluorocarbon Leader. This leader is made from 100% fluorocarbon, which means it's virtually invisible underwater. Fluorocarbon is also very popular on the professional fishing circuit because it's so soft and supple. If you're serious about fishing, then you need Yo-Zuri H.D. Carbon Fluorocarbon Leader in your tackle box.
2# PowerPro Braided Spectra Fiber Microfilament Line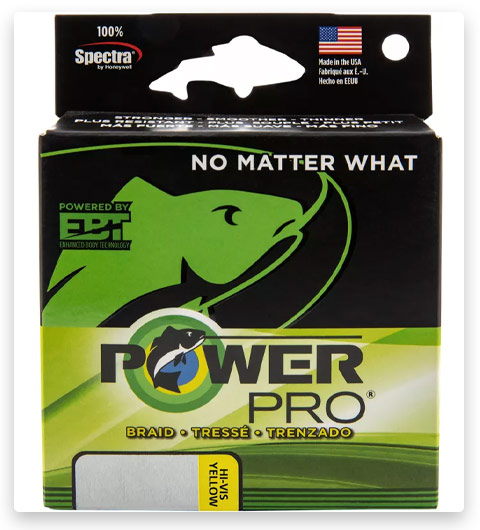 PowerPro Braided Spectra Fiber Microfilament Line is designed for high-performance fishing. Its Enhanced Body Technology delivers a compact, abrasion-resistant line that handles like mono with minimal stretch for ultra-sensitive strike detection. PowerPro's Spectra fibre construction provides one of the highest strength-to-diameter ratios available, meaning you can count on this line to stand up to the biggest fish out there. So whether you're fishing for fun or competition, put your trust in PowerPro Braided Spectra Fiber Microfilament Line.
3# Stren Original Monofilament Fishing Line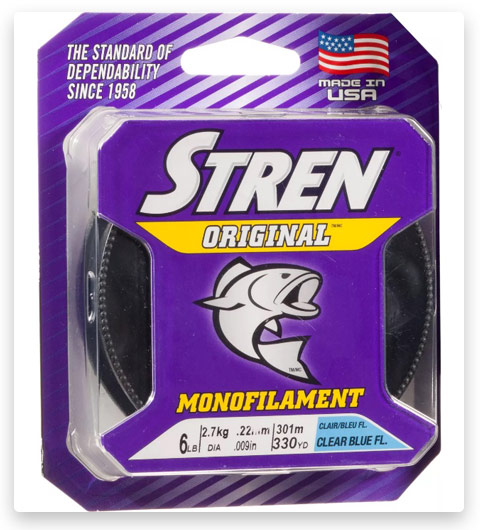 If you're looking for a monofilament fishing line that can handle just about anything, look no further than Stren Original. This tough little line has been put to the test by some of the biggest fish in the world and come out victorious every time. Boasting superior knot, shock, and tensile strength, as well as exceptional abrasion resistance, there's nothing this line can't handle. Plus, it's nice and limp for easy casting and has just the right amount of stretch for a controlled presentation. Made in the USA.
4# Berkley NanoFil Uni-Filament Fishing Line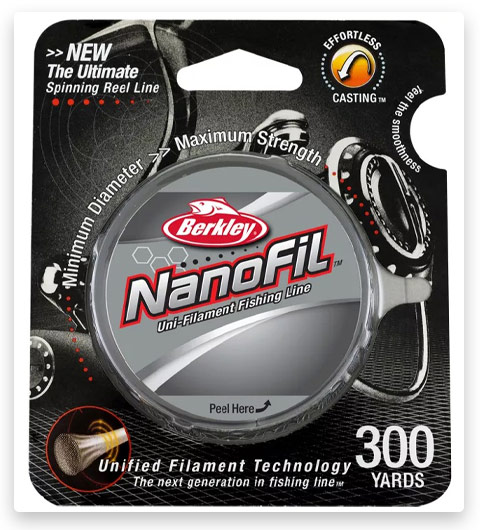 NanoFil is the next generation of fishing line. It's not mono. It's not braided. And it's not like any other line you've used before. NanoFil unified filament technology offers the ultimate in spinning reel performance. Effortless casting, superb sensitivity, and a minimum diameter with maximum strength make NanoFil the perfect choice for serious anglers. So don't miss out on the latest and greatest in fishing line technology. Try Berkley NanoFil today!
5# Spiderwire Stealth Braid Fishing Line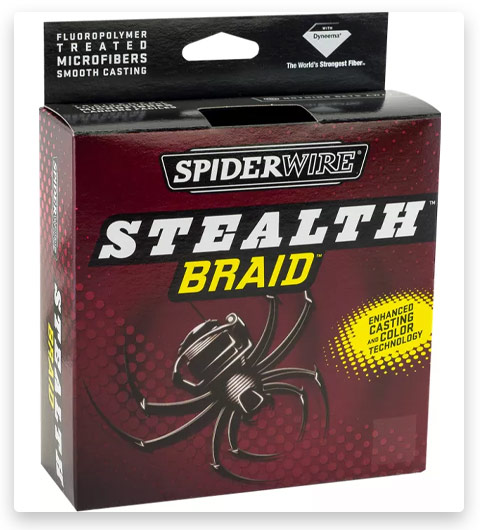 The Spiderwire Stealth Braid Fishing Line is perfect for anglers who demand the best in terms of performance and durability. Made from 100% Dyneema PE microfibers, this fishing line is ultra-thin yet very strong, making it perfect for a variety of fishing conditions. The low stretch and high sensitivity of the line make it ideal for feeling even the lightest bites, while the fluoro coating provides smooth, quiet casting. This versatile line is made in the USA and can handle whatever you throw at it, making it a great choice for serious anglers.
6# Berkley Trilene XL Smooth Casting Line Filler Spool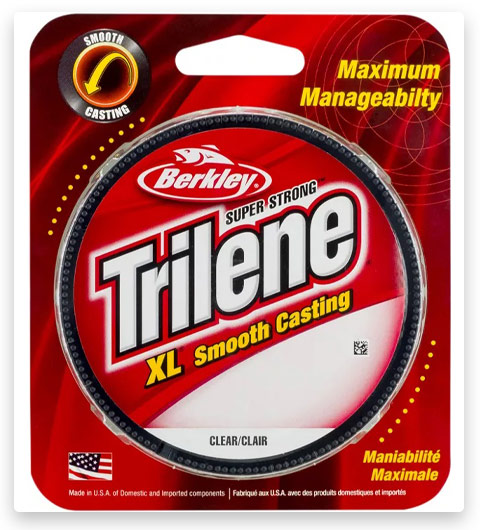 Looking to cast farther and minimize line twists? Look no further than Berkley's Trilene XL Smooth Casting Line. This line is super limp, making it easy to cast, and has low memory for smooth handling. It also features incredible strength and abrasion resistance, so you can confidently fish with a wide variety of baits and techniques.
7# P-Line Floroclear Fishing Line 260-300 Yards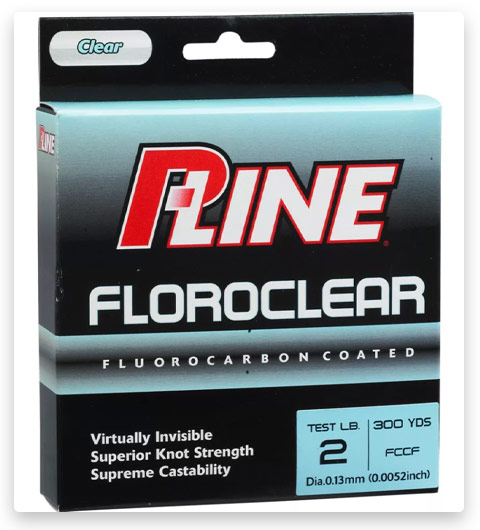 Welcome to P-Line Floroclear Fishing Line, the best of both worlds in fishing line technology! Our high-tech fluorocarbon coating ensures that our line is virtually invisible underwater, for effective stealth presentations. And with our special copolymer construction, Floroclear has little memory and casts easily, yet remains amazingly durable with unbeatable knot strength. No matter what your fishing goals are, Floroclear is the perfect line for the job. Thanks for choosing P-Line!
8# Sufix Elite Fishing Line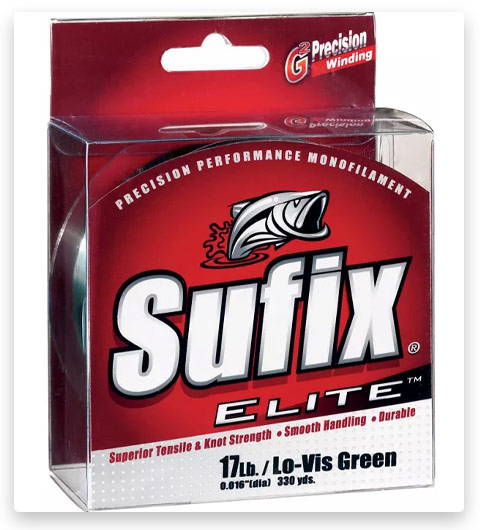 Sufix Elite Fishing Line is perfect for serious anglers who demand the best performance. This high-performing monofilament features advanced J7 Micro Resin Technology and G2 Precision Winding, which virtually eliminates line memory. The result is uncompromising knot strength and control, without sacrificing tensile strength in the clutch. With superior tensile and knot strength, Sufix Elite Fishing Line provides the ultimate in fishability and dependability. So if you're looking to up your game, look no further than Sufix Elite Fishing Line.
9# Berkley Vanish Fluorocarbon Fishing Line 250 Yards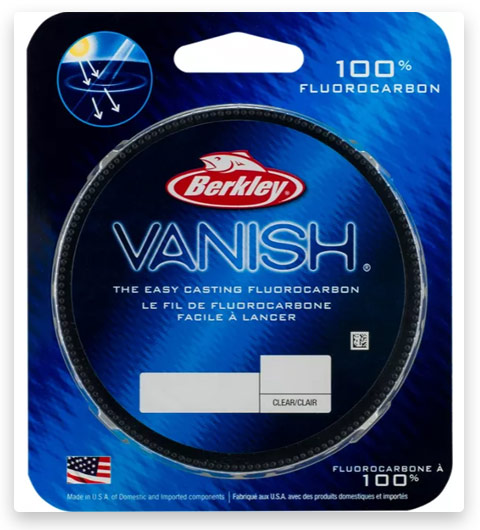 If you're looking for a fishing line that is virtually invisible and proven not to spook fish, then Berkley's Vanish Fluorocarbon Fishing Line is the perfect choice for you. Made from a material that refracts light just like water, this fishing line "disappears" in the water, making it difficult for fish to see. Additionally, Vanish Fluorocarbon maintains its strength when wet (unlike other lines), casts well and is sensitive enough to detect the softest bites. Plus, it offers excellent shock absorbency when you set the hook. So if you're serious about fishing, don't go another day without using Vanish Fluorocarbon Fishing Line!
10# Seaguar Red Label Fluorocarbon Fishing Line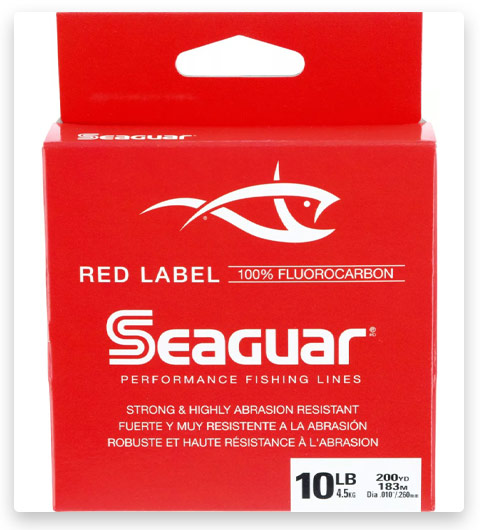 The Seaguar Red Label Fluorocarbon Fishing Line is 100% fluorocarbon line is ideal for freshwater fishing, thanks to its superior knot and tensile strength. Plus, it's nearly invisible underwater, making it a great choice for anglers who want to give themselves a stealth advantage. Order today and see the results for yourself!
11# Stren Magnathin Fishing Lines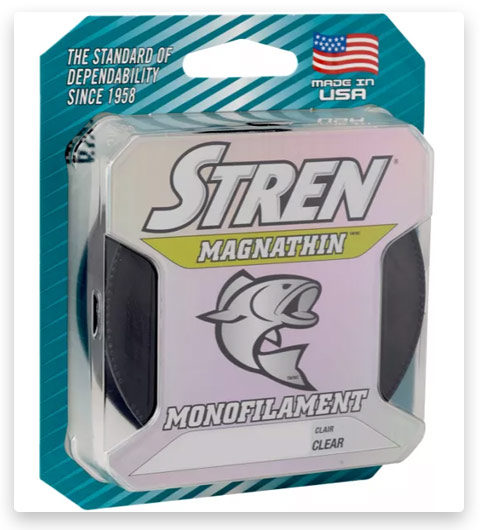 Stren Magnathin Fishing Line is perfect for targeting line-wary fish. With an extremely thin diameter, this line allows you to spool up to 50% more line on your reel – giving you the advantage when it comes time to pull in that big one! Plus, our advanced casting formula ensures smooth, accurate casts every time. So grab some Magnathin Fishing Line and get ready for some serious angling!
12# Sufix Performance 150 Yard Spool Braid Fishing Line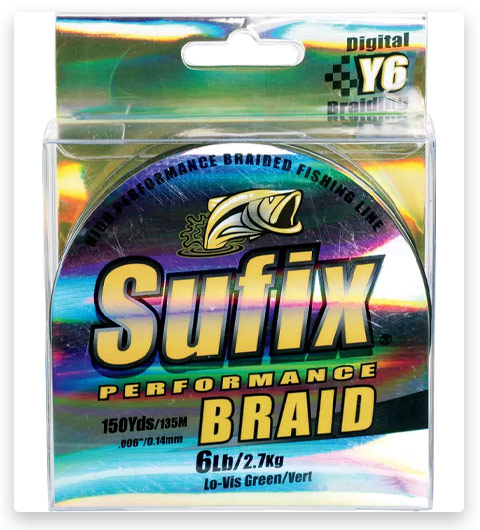 Introducing Sufix Performance 150 Yard Spool Braid Fishing Line. This tough, durable line is designed to withstand the perils of structure that damage ordinary lines. The ultra-thin diameter leaves the spool smooth and straight for long accurate casts. And thanks to its small diameter and superior strength, Performance Braid is perfect for spinning reels. With virtually zero stretches, you'll feel every bit of energy in your fishing rod as it's transmitted directly to the lure – resulting in fewer missed fish.
13# Western Filament Tuf Line XP 300 Yards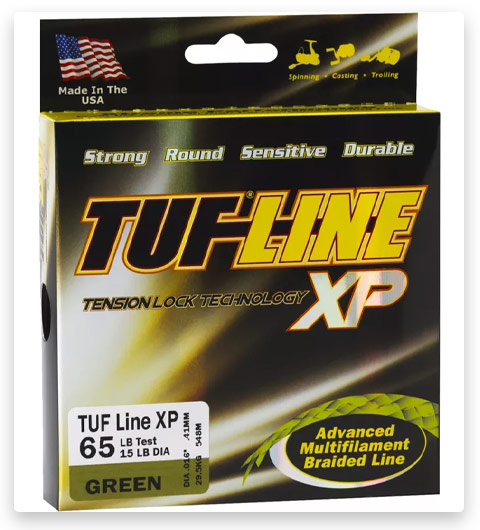 The advanced finishing process on Western Filament Tuf Line XP produces a line that boasts higher abrasion resistance, near-zero stretch, and excellent knot performance. The rounder profile than competitive lines lays evenly on the spool and is naturally waterproof. With near-zero stretch, this line is totally U.V. resistant for long-lasting use in the sun.
14# Maxima Ultragreen One Shot Fishing Line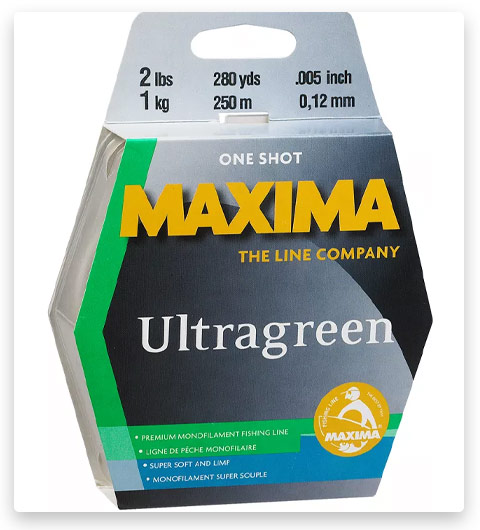 Maxima Ultragreen One Shot Fishing Line is world-renowned for its consistent diameter and knot strength. This line is also extremely abrasion-resistant and durable, making it invisible to fish. Whether you're a professional angler or just looking to catch dinner, this line is sure to help you achieve success!
Understanding Fishing Lines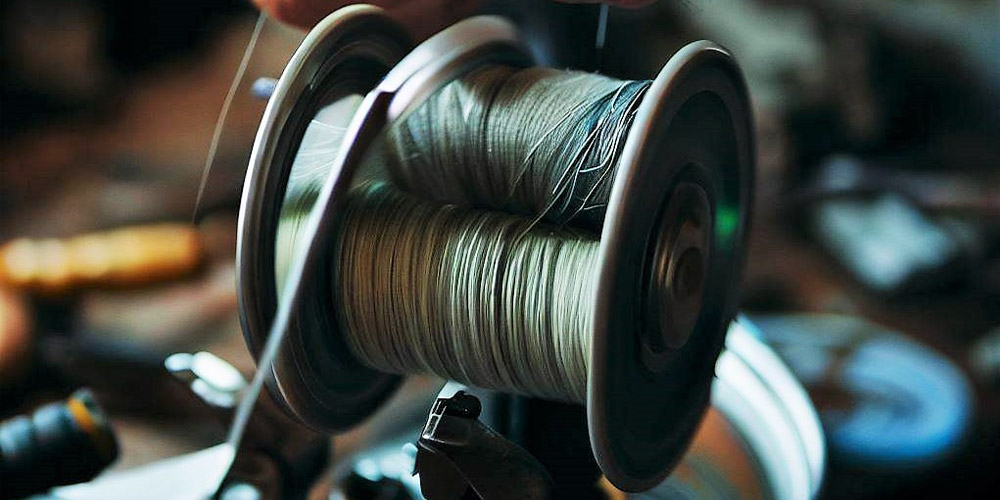 Unraveling the Line: An Introduction to Different Types of Fishing Lines
Just as an artist uses different brushes to create varying strokes, an angler has a selection of fishing lines to accomplish different goals. Broadly, fishing lines are categorized into three types – monofilament, fluorocarbon, and braided lines. Each of these types brings unique attributes to the table, which can significantly affect their performance in different fishing scenarios, including jig fishing.
Every Line Tells a Story: Key Features of Fishing Lines
♊Monofilament: As the name suggests, monofilament lines are composed of a single strand of material, usually nylon. They're popular due to their versatility, easy handling, and cost-effectiveness. Monofilament lines are known for their flexibility and stretchability, which can act as a shock absorber when a fish bites or fights. However, they have more line memory (tendency to retain coil shape) and less abrasion resistance compared to other line types.
♊Fluorocarbon: Fluorocarbon lines are denser and more durable than their monofilament counterparts. Their most distinctive feature is their near invisibility underwater, thanks to their light refraction properties similar to water. This can make a big difference when fishing in clear water or targeting line-shy fish. Fluorocarbon lines also have less stretch, offering better sensitivity to detect bites.
♊Braided Lines: Braided lines, made of multiple strands woven together, are praised for their high strength-to-diameter ratio and excellent abrasion resistance. They have virtually no stretch, providing superb sensitivity to feel even the slightest nibble. However, their visibility in water can be a downside in clear water conditions.
Choosing Your Line: The First Step Towards Successful Jig Fishing
Choosing the right fishing line is crucial to your jig fishing success. Each type of line has its strengths and weaknesses, and understanding these can help you make an informed decision based on your specific needs. For instance, if you're fishing in clear water and targeting line-shy fish, a fluorocarbon line with its near invisibility could be a perfect choice. Conversely, if you're fishing in heavy cover or need to feel every bite, a strong, highly sensitive braided line could serve you well. Thus, the right fishing line not only enhances your jig's performance but also improves your chances of a successful catch.
Selecting the Ideal Line for Jig Fishing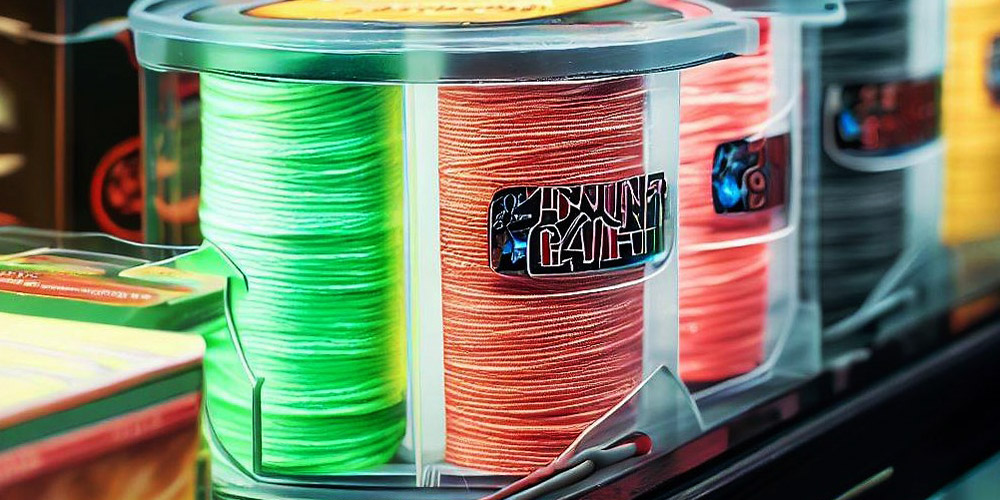 Making the Right Choice: Factors Influencing Line Selection
When selecting the ideal line for jig fishing, several factors come into play. The depth at which you're fishing is a key consideration; denser lines like fluorocarbon sink faster and are therefore suited to deeper water jigging. The type of fish you're targeting is also essential. For instance, line-shy fish may require a virtually invisible fluorocarbon line, while larger, aggressive fish might necessitate the strength and abrasion resistance of a braided line.
Water conditions are another vital factor. In clear waters, a low-visibility line like fluorocarbon might be the best option. In contrast, murky waters or heavy cover conditions might call for the strength and durability of a braided line.
Weighing Your Options: Comparing Monofilament, Fluorocarbon, and Braided Lines for Jig Fishing
🟨Monofilament: Monofilament lines are excellent for topwater jig fishing due to their buoyancy. Their stretchability can also be an advantage, providing a buffer during a strong fish fight. However, their higher line memory can lead to more frequent line twists and coils.
🟨Fluorocarbon: The near invisibility of fluorocarbon lines makes them perfect for clear water conditions or line-shy fish. They're also denser and sink faster, making them suitable for deeper water jigging. However, they tend to be more expensive and less shock resistant compared to monofilament lines.
🟨Braided Lines: With their high strength and excellent sensitivity, braided lines can be the ideal choice for heavy cover conditions or when you need to feel every bite. However, their visibility can be a drawback in clear waters, and without any stretch, the hook could potentially rip out of the fish's mouth if the angler pulls too hard.
Learn from the Pros: Real-Life Line Selection Experiences and Recommendations
Over years of jig fishing, I've found that there is no one-size-fits-all line. However, based on personal experience, I often lean towards fluorocarbon lines for jig fishing. Their near invisibility in water and faster-sinking properties are significant advantages. Plus, their enhanced sensitivity over monofilament lines helps in detecting subtle bites.
That said, I've also seen success with braided lines, especially in heavy cover conditions or when targeting larger species due to their strength and superior sensitivity. I would recommend experimenting with different types of lines in various scenarios to find what works best for you. After all, every angler, like every fish, is unique.
How to Set Up Your Line for Jig Fishing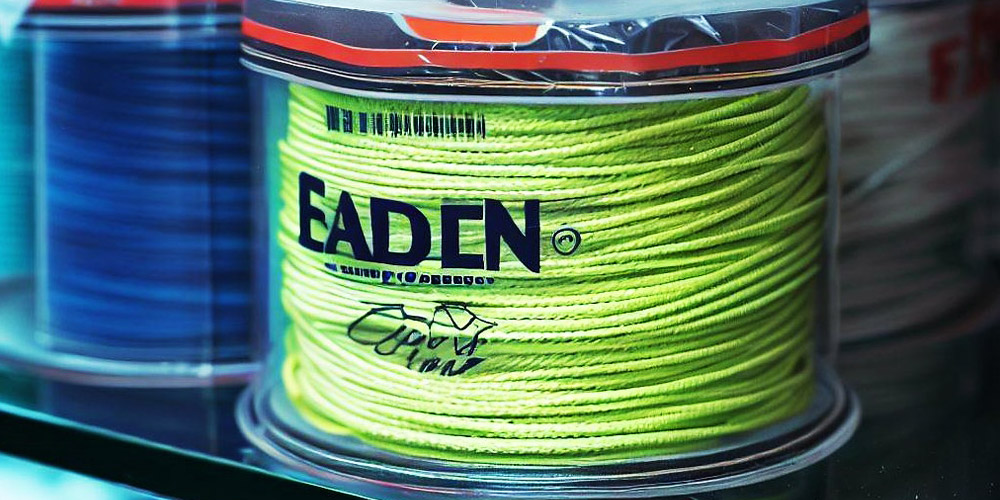 Step-by-Step to Success: Setting Up Your Jig Fishing Line
Select your line and jig: Based on the factors discussed earlier, choose the appropriate line and jig for the fishing conditions and targeted species.
🟫Spool your reel: Start by threading the line through the guides on your rod. Open the bail of the reel, tie the line to the reel using an arbor knot, and close the bail. Turn the handle to start spooling the line, maintaining slight tension with your fingers to ensure the line is wound tightly and evenly.
🟫Tie your jig: Cut the line to the desired length and tie the jig to the end of the line. A popular and reliable knot for this purpose is the Palomar knot. Remember to moisten the knot before pulling it tight to reduce friction and ensure it secures well.
Gearing Up: Essential Equipment and Techniques for Jig Fishing
The key equipment for setting up your line for jig fishing includes your fishing rod, reel, chosen line, and jig. It's essential to select a rod and reel suitable for the type of line and size of jig you're using. For instance, heavier jigs and stronger lines might require a heavier rod and a larger reel with a higher line capacity.
When it comes to technique, pay attention to how you spool the line onto the reel. The line should be wound evenly and tightly to prevent issues like line twists or tangles. When tying the jig to the line, ensure that the knot is secure and the jig hangs straight.
Securing Success: Tips for Effectively Tying Your Jig
Securing the jig to your line effectively can be the difference between landing your catch and telling the story of the one that got away. Here are a few tips:
✅Use the right knot: While there are many knots to choose from, the Palomar knot is highly recommended for its strength and simplicity.
✅Check your knot: After you've tied your jig, give it a good tug to ensure the knot is secure. The last thing you want is your knot unraveling mid-catch.
✅Position the knot: Ideally, the knot should be positioned at the top of the eyelet of the jig, ensuring the jig hangs straight and performs its intended action in the water.
🔶Remember, like any skill, setting up your line for jig fishing improves with practice, so don't be discouraged if it takes a few tries to get it right.
Advanced Jig Fishing Techniques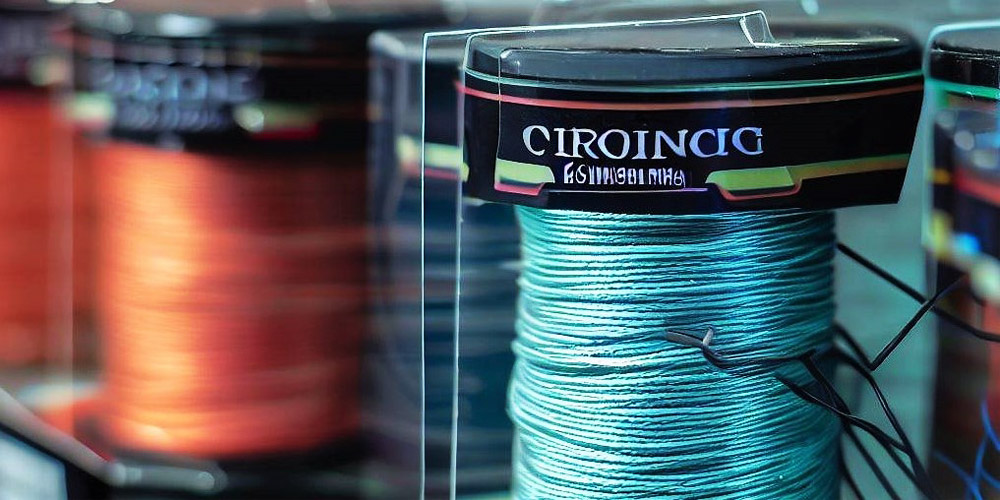 Taking It to the Next Level: Advanced Jig Fishing Strategies
While the basics of jig fishing are relatively straightforward, mastering the advanced techniques, particularly in line handling, is where the true art lies.
⬜Feel the Bite: Jig bites can be incredibly subtle, sometimes no more than a light tick or sudden slack in the line. Keeping your line semi-taut and developing the sensitivity to notice these changes is crucial.
⬜The Art of Jigging: The most effective jigging involves a rhythmic lift and fall of the rod tip, allowing the jig to mimic an injured baitfish. Experiment with different speeds and lengths of the jigging motion to find what attracts the fish.
⬜Line Watching: In certain scenarios, especially in clear water, visually tracking your line can alert you to a bite before you feel it. Any unnatural movement, like the line moving sideways, can indicate a fish has taken the jig.
Pro Secrets Unveiled: Optimizing Your Fishing Line in Various Scenarios
Here are some professional tips to maximize the performance of your fishing line:
☑️Adjust Your Line: If you're not getting bites with your jigging technique, try letting out more lines to fish deeper or reeling in some lines to fish shallower.
☑️Match the Hatch: Use a jig and line that mimic the local prey in size, color, and action. This can significantly improve your chances of attracting a bite.
☑️Feel the Bottom: Occasionally allowing your jig to contact the bottom can give you crucial information about the underwater terrain and potentially stir up sediment to attract fish.
Common Mistakes and How to Avoid Them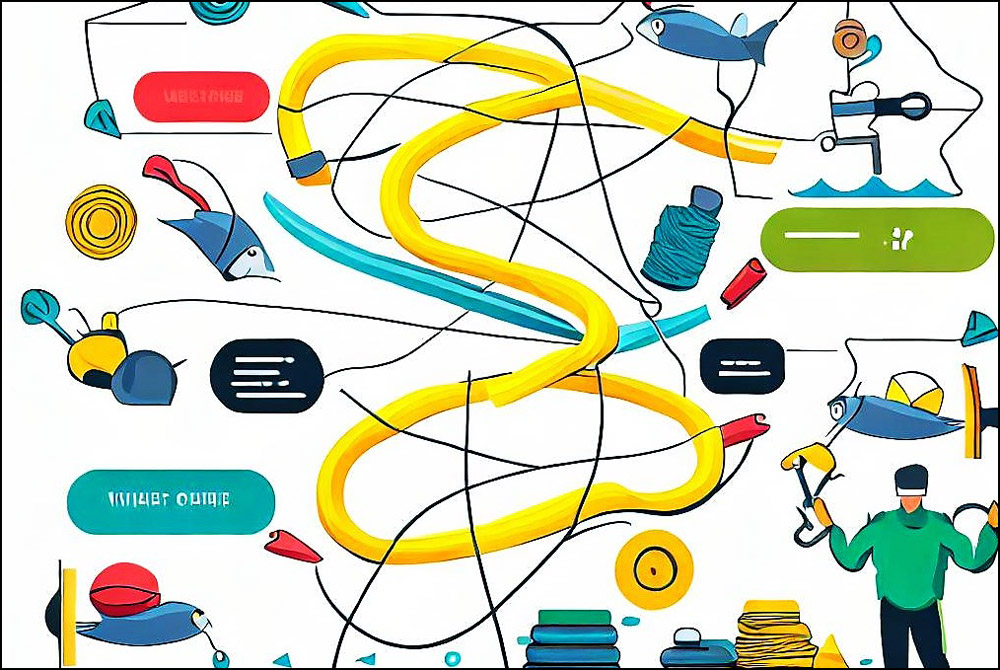 Avoiding The Snags: Common Pitfalls in Jig Fishing
💢Incorrect Line Choice: One common mistake is using the wrong type of line for the given situation. For instance, using a highly visible braided line in clear water could deter line-shy fish.
💢Poor Knot Tying: Another common pitfall is poorly tied or weak knots. This can lead to losing not just the jig, but also a potential catch.
💢Inadequate Line Maintenance: Many anglers overlook the importance of line maintenance. Lines, especially monofilament and fluorocarbon, can become damaged or weakened over time, which could lead to breakages during a fish fight.
💢Ignoring Line Twists and Tangles: Ignoring line twists and tangles is another common mistake. If not addressed promptly, they can worsen and lead to a frustrating fishing experience.
Finding Solutions: Overcoming Line-Related Challenges in Jig Fishing
🆘Correct Line Choice: Choose the line based on factors such as water clarity, the targeted fish species, and fishing conditions. Don't hesitate to change your line if the situation calls for it.
🆘Proper Knot Tying: Learn to tie a strong, reliable knot like the Palomar knot. Always test your knot before casting, and ensure that it's tied correctly and securely.
🆘Regular Line Maintenance: Regularly check your line for any signs of wear and tear such as fraying or discoloration, and replace it when necessary.
🆘Address Line Twists and Tangles: Be vigilant about any line twists or tangles. If you notice any, take the time to address them immediately. Using line conditioners or practicing proper spooling techniques can also help prevent these issues.
🔶In summary, a successful jig fishing experience requires a solid understanding of your fishing line. By avoiding these common mistakes, you can significantly improve your chances of landing that big catch.
The Art of Adaptation: Adjusting Your Techniques to Changing Conditions
Adaptability is a key attribute of successful jig fishermen. Conditions on the water can change rapidly due to factors like weather, time of day, and fishing pressure. Adapting your line choice, jig selection, and fishing techniques to these changing conditions can greatly improve your success rate. This could mean switching to a lighter line and smaller jig in clear water, or opting for a stronger line and larger, more colorful jig in murky water or heavy cover. The best jig fishermen are always observant, flexible, and willing to change their tactics as needed.
FAQ: Enhance Your Jigging Experience
Conclusion: Find Your Perfect Match in Jigging Lines!
Casting Off: Wrapping Up the Jig Fishing Journey
In this comprehensive guide, we've journeyed from the basics of jig fishing to advanced techniques and common pitfalls. We've discussed the importance of understanding different types of fishing lines and the factors that influence the ideal line choice for jig fishing, including depth, type of fish, and water conditions. We've explored how to set up your line for jig fishing, from tying the right knot to ensuring the jig hangs correctly. Furthermore, we've shared some pro secrets for maximizing the effectiveness of your line in different scenarios and emphasized the importance of adaptability to changing conditions.
The Line to Victory: How the Right Line Translates to Jig Fishing Success
The thread connecting all these elements is the line – your direct link to the underwater world. The right line for jig fishing is paramount for success, impacting everything from how you present your jig, to detecting bites, to landing your catch. Every decision regarding your line, from its type and strength to its maintenance, can make the difference between a fruitful day on the water and a frustrating one.
Applying Your Knowledge: Your Next Jig Fishing Adventure Awaits
As you can see, while there's a lot to consider when it comes to jig fishing lines, it's a fascinating and rewarding journey. Armed with this knowledge, I encourage you to head out and apply these principles on your next jig-fishing adventure. Remember, fishing is a continuous learning process, and every experience on the water brings new lessons and insights. So go forth, experiment, learn, and most importantly, enjoy the incredible sport of jig fishing!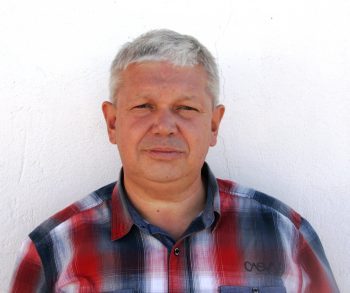 Sergio Smirnoff
Professional fisherman with 40+ years of experience.
Fishing and the ocean is a passion of my life. I am passionate about all kinds of sea fishing: fishing from the shore (spinning, float, baitcasting), from a boat, and spearfishing day and night.
I live in Tenerife (Canary Islands) for the last 10+ years and share my daily fishing experiences on my website. Many years of personal experience as a fisherman and the vast experience of my friends allow me to write professionally on any fishing topics (from choosing a flashlight and equipment to deep-sea fishing).
All of my advice is based on practical real-world experience and will be useful to both novice anglers and professionals.
Read more
about the author.
Affiliate Disclosure: FishReeler.com sometimes gets paid for listings, through sponsors or affiliate programs like Amazon, Ebay, Cabelas, Bass Pro Shop, Shimano, Daiwa, Rapala, Renn, Okuma, KastKing, etс. Clicking a link helps keep FishReeler.com free, at no extra cost to you!
About the author: Each article is verified by the fishing expert Sergio Smirnoff. The articles are written by professional and amateur fishermen with 20+ years of fishing experience.
Note: The views and opinions expressed in this article are those of the authors and do not necessarily reflect the official policy or position of any agency. The articles are for informational purposes only, share your opinions in the comments and join the fishing discussions, let's share our fishing experiences together!