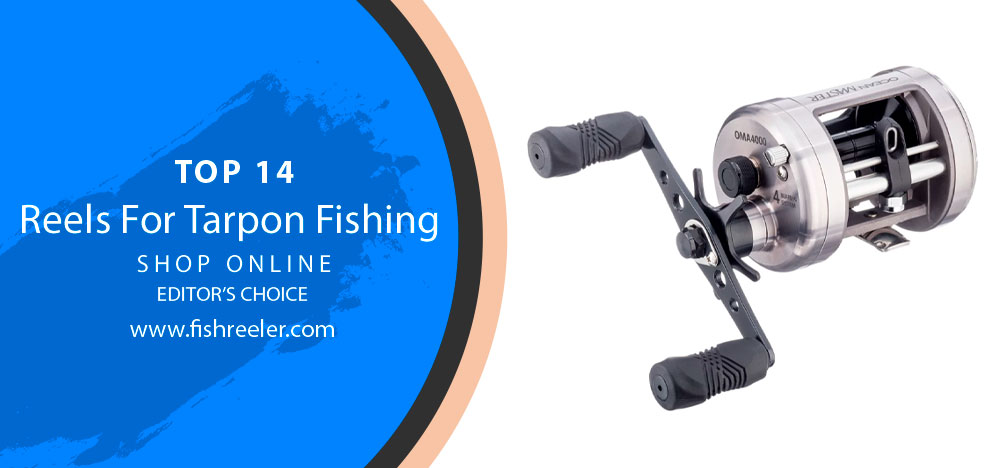 Setting the Stage: Tarpon Fishing and Choosing the Perfect Reel
Hooked on Tarpon: An Exciting Fishing Adventure
Tarpon fishing is an exhilarating and popular sport among anglers worldwide, as it provides a thrilling challenge and a sense of accomplishment. Known as the "Silver King," tarpon are large, powerful fish that inhabit both saltwater and freshwater environments. They can grow up to 8 feet in length and weigh over 200 pounds, making them a formidable adversary for even the most experienced anglers.
The allure of tarpon fishing lies in the fish's unique behavior, aerial acrobatics, and unparalleled strength, which make them a highly sought-after game fish. Anglers flock to locations such as Florida, Mexico, and the Caribbean to pursue these magnificent creatures, while local economies benefit from the tourism generated by tarpon fishing enthusiasts.
Reeling in Success: The Importance of Choosing the Right Reel
When it comes to tarpon fishing, having the right gear is essential to ensuring a successful and enjoyable experience. The reel, in particular, plays a crucial role in managing the line and applying the correct amount of pressure to tire out the fish. A well-suited reel for tarpon fishing will have a combination of durability, power, and smoothness to withstand the prolonged battles that tarpon is famous for.
Choosing the wrong reel can lead to a host of problems, such as line breaks, difficulty controlling the fish, and premature wear and tear on your equipment. As a result, investing time and effort into selecting the right reel for tarpon fishing will greatly enhance your chances of success and the overall enjoyment of your angling adventures.
Navigating Our Tarpon Fishing Guide
In this article, we will explore various aspects of tarpon fishing reels, including the factors to consider when making your choice and the different types of reels available. We will also provide recommendations for top-performing tarpon fishing reels in each category, as well as tips on maintaining your reel for optimal performance. By the end of this guide, you'll have a comprehensive understanding of tarpon fishing reels and be well-equipped to make an informed decision that will help maximize your chances of success on the water.
Best Reels For Tarpon Fishing Review
No matter what time of year it is, there's nothing quite like a day spent fishing for tarpon. These massive fish are a real challenge to reel in, and they can put up one heck of a fight. If you're looking to go tarpon fishing, you need the right gear – and that starts with the best reels for tarpon fishing.
In this blog post, we'll take a look at some of the best reels for tarpon fishing. We'll also provide a few tips on how to choose the right reel for your needs. So, whether you're a beginner or an experienced fisherman, read on for the best tips and advice on tarpon fishing reels!
1# RUNCL Titan II Spinning Reel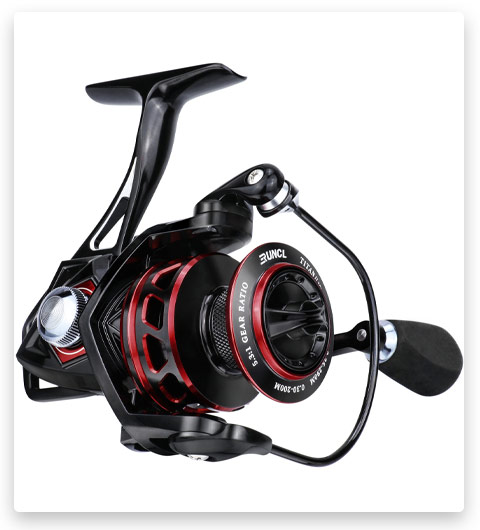 Looking for a high-quality spinning reel that can handle anything you throw at it? Meet the RUNCL Titan II Spinning Reel. This reel is built with a full metal body and precision-machined single-piece frames for unbeatable durability and strength. It also features a sealed drag system with premium multi-disc carbon fibre washers for reliable stopping power. And if you're worried about saltwater corrosion, don't be – the Titan II has undergone a 168-hour Salt Mist Test to ensure it can withstand even the harshest conditions. So whether you're an experienced angler or just getting started, the RUNCL Titan II Spinning Reel is sure to give you the smooth, reliable performance you need to land a fish.
2# PENN Battle III Spinning Reel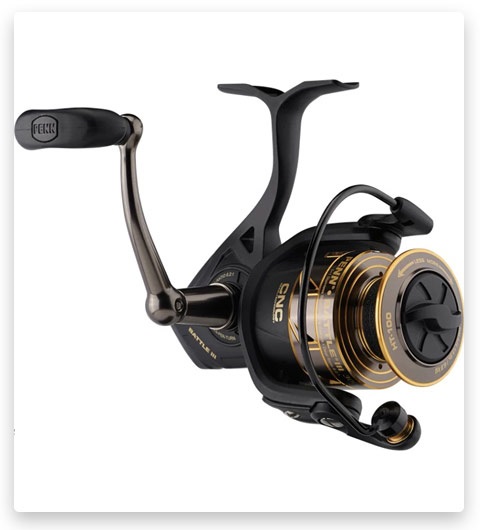 The PENN Battle III is up to the challenge, with a full metal body and side plate, braid-ready super line spool with line capacity rings, and power-driven CNC gear technology. The 5+1 sealed stainless steel ball-bearing system keeps performance reliable, while PENN's legendary HT-100 carbon fibre drag washers apply smooth, relentless pressure at all settings. So when you're ready for battle, this is the reel you want by your side.
3# Okuma Tesoro Casting Reel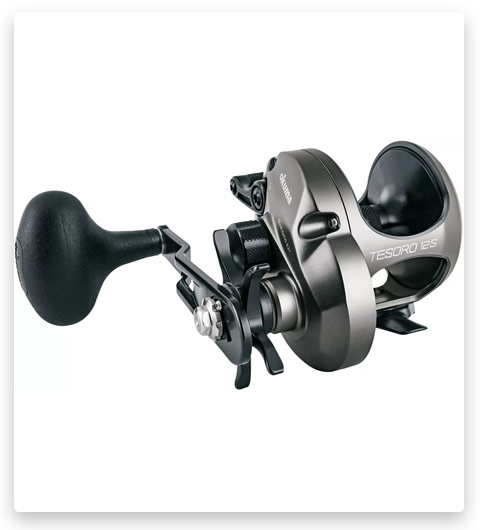 If you're looking for a top-of-the-line casting reel that can handle big fish, the Okuma Tesoro is your perfect choice. With its self-lubricating gear system and XL gearing design, this reel has the power and durability to take on any fish out there. The Mechanical Stabilizing System (MSS) ensures that all the major components are securely in place, making this one of the most reliable reels on the market. And for added peace of mind, the Tesoro comes with a 1-year limited warranty. So go ahead and chase your sunken treasure – with the Okuma Tesoro Casting Reel, you'll have the power and performance to bring in anything you hook.
4# PENN Squall Lever Drag Reel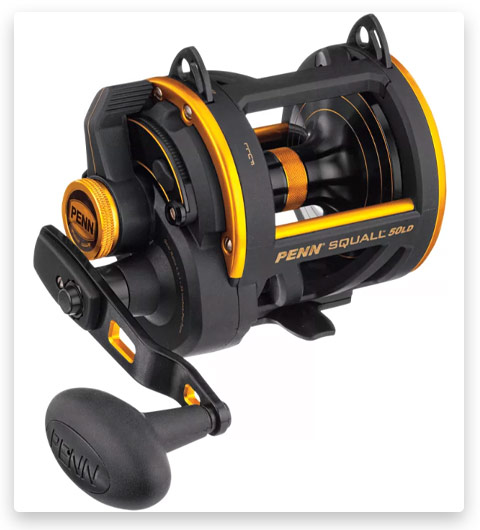 Check out the PENN Squall Lever Drag Reel. This reel features the Versa-Handle system for increased comfort and efficiency, while the frame-flush ratcheting lever drag provides precision control. Additionally, the line capacity rings let you know how much line you have left, while the DuraDrag® washers ensure smooth operation. Finally, the forged and the machined aluminium spool is built to last, and the high-strength bronze main/pinion gears provide years of dependable use.
5# Shimano Stella SW Spinning Reel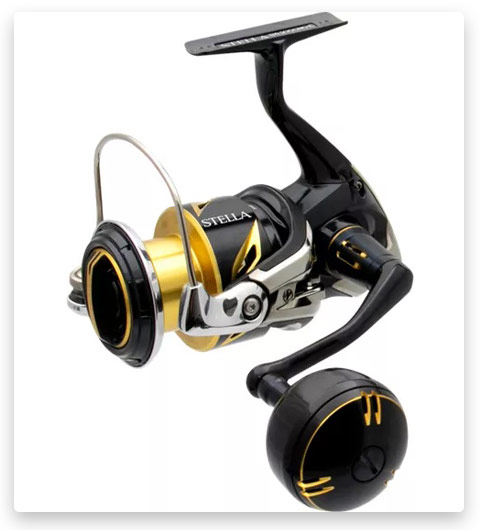 Welcome to the Shimano Stella SW Spinning Reel. This is the toughest, smoothest, and most durable spinning reel in saltwater. It features an IPX8-rated waterproof body and a rigid, all-metal HAGANE Body. The inertia-reducing X-Rigid Rotor design provides smooth and reliable operation. The X-Rigid 1-Piece Bail ensures durability and longevity. The X-Protect water-resistant roller protection system keeps your reel working like new. The X-Shield water-resistant roller bearing protection system protects your bearings from saltwater damage. The Propulsion Line Management system ensures smooth and precise casting.
6# Shimano Talica II Two-Speed Lever Drag Saltwater Reel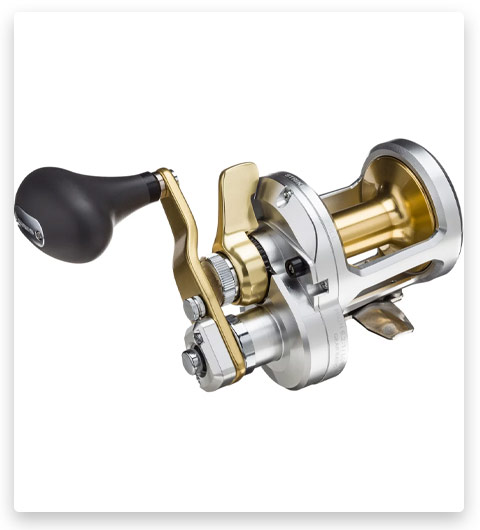 The Shimano Talica II Two-Speed Lever Drag Saltwater Reel was built for those who want to catch the biggest fish that swim. This reel is compact and packed with high-tech features that include a steep drag curve, high-efficiency gearing, greaseless spool bearings, and a machined-aluminium frame. The surface treatment on this reel is designed to resist corrosion, and it comes with six ball bearings and oversized drag washers for smooth operation. The power handle on this reel is ergonomic and the ratcheting drag lever lets you make quick adjustments on the fly. When you're ready to tackle the big ones, the Shimano Talica II Two-Speed Lever Drag Saltwater Reel will help you.
7# Accurate Valiant Slow Pitch Jigging Conventional Reel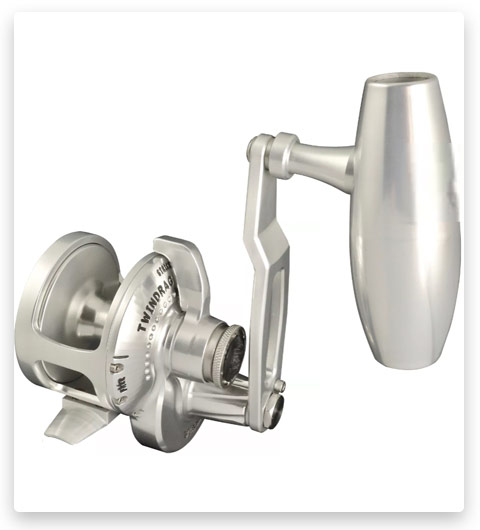 The Accurate Valiant Slow Pitch Jigging Conventional Reel is the perfect choice for anglers who want the perfect blend of strength and lightweight construction. The Aircraft aluminium construction and CVX technology make this reel 25% lighter than other similar models on the market, while still providing unbeatable strength and durability. The 17-4 heat-treated stainless steel gears and shaft can take on any fish imaginable, while the oversized gear shaft ensures high torquing power. The 7 stainless steel anti-rust bearings keep everything moving smoothly, even in the most challenging conditions. And finally, the patented TwinDrag system provides unrivalled power and precision when it counts most. So whether you're jigging for bass or going after a monster, the Accurate Valiant Slow Pitch Jigging Conventional Reel is a great choice.
8# Offshore Angler Ocean Master 4000 Baitcast Reel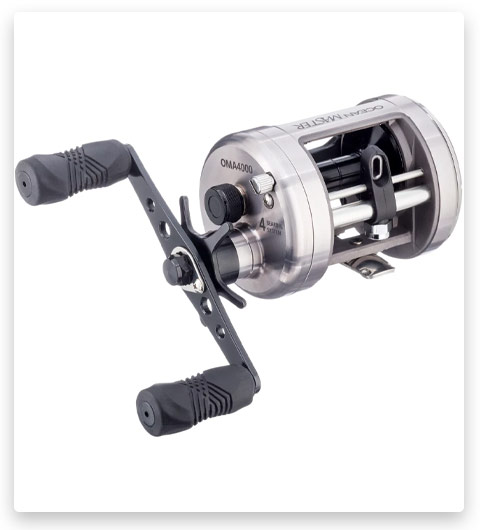 Looking for a top-of-the-line baitcasting reel that can stand up to the challenges of saltwater fishing? Offshore Angler has you covered with the Ocean Master 4000. This tough reel features an aluminium frame and side covers, 3 double-shielded corrosion-resistant stainless steel ball bearings, and a power lock instant anti-reverse for smooth operation. The externally adjustable magnetic braking system ensures pinpoint accuracy when casting, while the 6-disc drag slows down the hardest runs. The deep anodized forged-aluminium spool provides added strength, and the ceramic line guide protects your line from wear and tear.
9# PENN International VIS Gold Two-Speed Lever Drag Reel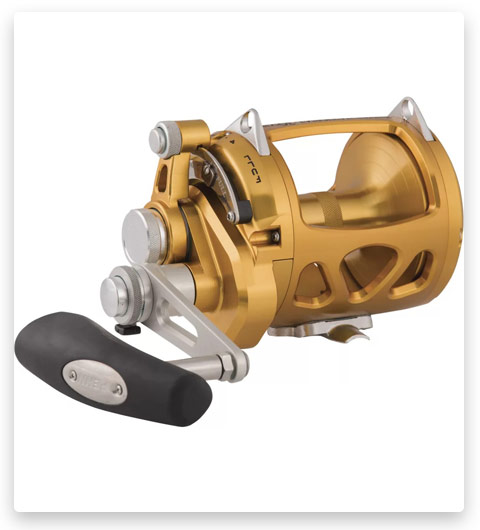 When it comes to trophy saltwater fishing, anglers know that the PENN International VIS Gold Two-Speed Lever Drag Reel is the reel of choice. This reel is built to perform flawlessly, with a hesitation-free Dura-Drag system and an advanced Line Shedding Lug design that prevents line snap-offs. With a Quick-Shift II 2-speed system, machined and anodized aluminium body and side plates, braid-ready spool with line capacity rings, and stainless steel main and pinion gears, this reel can handle anything you throw at it.
10# Shimano Tiagra Conventional Two-Speed Saltwater Reel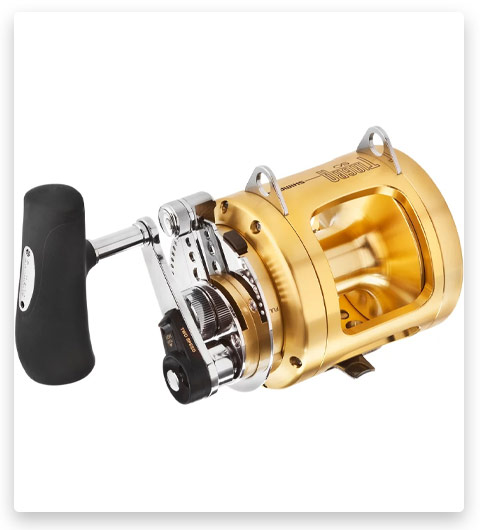 Whether you're casting for big game fish offshore or trolling for stripers inshore, the Shimano Tiagra Conventional Two-Speed Saltwater Reel can handle it all. This reel is built to last with specially treated A-RB Anti-Rust Bearings that are 10 times more corrosion resistant than standard stainless steel bearings. The metal frames keep all the moving parts in precise alignment for maximum efficiency and durability. The PermaLube lubrication provides effortless free spooling and long-term protection against corrosion. And the ratcheting drag lever eliminates play due to boat vibration.
11# PENN Squall II Line Counter Levelwind Reel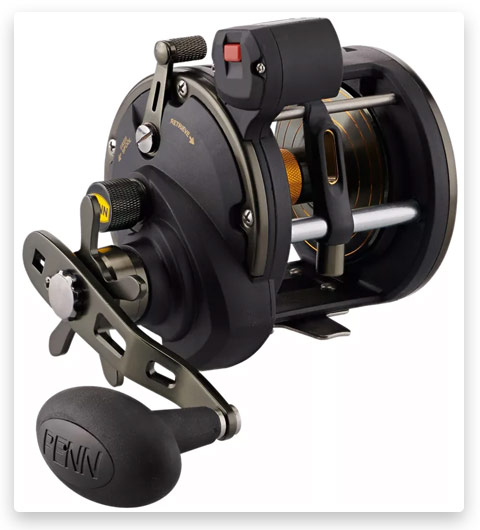 Check out the PENN Squall II Line Counter Levelwind Reel! Made with a lightweight graphite frame and side plates, this reel is built for durability and easy handling. The Fast Gear Access Sideplate lets you quickly make adjustments on the go, while the forged and machined aluminium spool provides smooth performance. The line capacity rings let you keep track of your line, and the analogue line counter ensures accurate readings. The high-strength marine grade bronze alloy main gear and stainless steel pinion gear provide smooth operation, while the HT-100 carbon fibre drag washers offer superior drag performance.
12# Burning Shark Trolling Reel Saltwater Level Wind Reel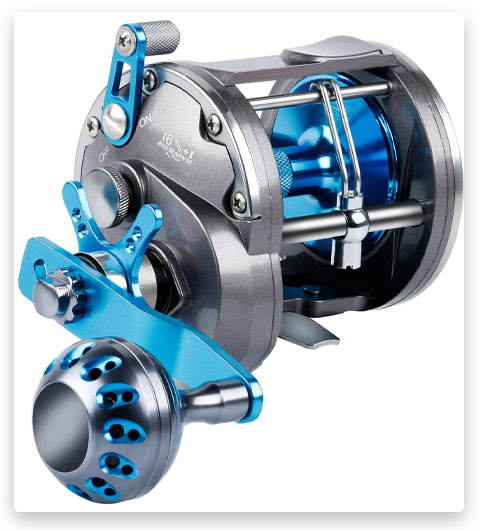 With Burning Shark Trolling Reels, you get high-quality, durable construction and powerful performance to help you land the big one. These level wind reels are built tough with a machined aluminium spool, backlight side plates, and stainless steel gears. They're also comfortable to use, with a smooth fishing reel seat and spherical handle. With a max drag of 40 pounds and a 4.1:1 gear ratio, these reels can handle any fish imaginable. So whether you're an experienced angler or just getting started, Burning Shark has the reel for you.
13# KastKing Summer and Centron Spinning Reel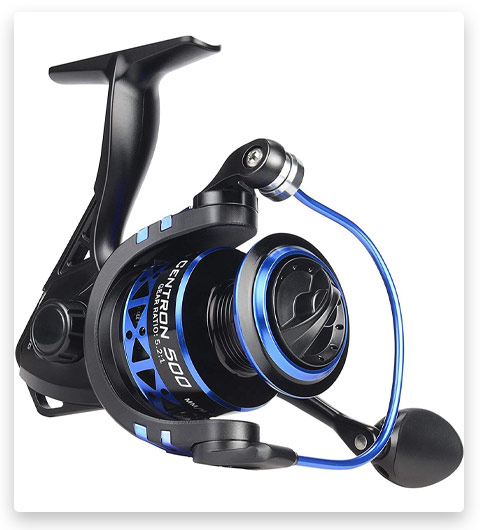 Introduce the KastKing Summer and Centron Spinning Reels! These great value reels are loaded with features, yet low on price, making them the perfect choice for anglers of all levels. The KastKing Summer Fishing Reel is incredibly lightweight, thanks to its narrow graphite frame design and computer balancing system. It's also the perfect size for ice fishing, making it a great gift for any fishing enthusiast. Plus, the Superior Drag System offers incredible stopping power up to 17.5lbs, so you can tackle even the biggest fish with ease.
14# Piscifun Alijoz Size 300 Low Profile Baitcasting Reel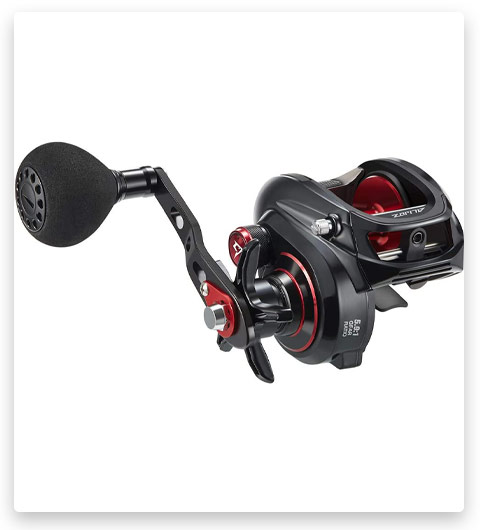 The Piscifun Alijoz is one of the most durable baitcasting reels on the market, designed to handle big fish with ease. The 33lbs of drag and huge Hamai cut hardened brass gearing make this reel a powerhouse, capable of saltwater fishing and inshore tournament fishing. This reel is also loaded with high-end components, including 8 double-shielded stainless steel bearings and one instant anti-reverse paired with Hamai cut hardened brass main gear and pinion gear. This reel is built for durability, low noise, and smooth operation – perfect for the professional angler.
Understanding Tarpon Fishing
Meet the Mighty Tarpon: Nature's Silver King
Tarpons (Megalops Atlanticus) are large, prehistoric-looking fish known for their distinctive silver scales and unique ability to gulp air from the surface, which helps them survive in low-oxygen environments. Adult tarpon can grow up to 8 feet in length and weigh over 200 pounds, making them an imposing presence in the water. Their preferred habitats include estuaries, mangroves, and coastal waters, but they are also known to venture into freshwater systems such as rivers and lagoons.
Tarpons exhibit curious behavior and are highly opportunistic feeders. Their diet mainly consists of smaller fish, crabs, and shrimp. These powerful fish are notorious for their aerial acrobatics when hooked, often leaping high into the air and shaking their bodies vigorously in an attempt to throw the hook.
Hotspots for Tarpon Fishing: Where to Cast Your Lines
🙆Tarpon fishing is popular in various locations around the world, with some of the most well-known hotspots including:
| Location | Description |
| --- | --- |
| Florida, United States | The Sunshine State is arguably the most famous tarpon fishing destination, with renowned locations such as Boca Grande Pass, the Florida Keys, and Tampa Bay attracting anglers from all over the world. |
| Mexico | The Yucatan Peninsula, particularly Isla Holbox and Ascension Bay, is a prime location for tarpon fishing, offering both resident and migratory tarpon populations. |
| Caribbean | Many islands throughout the Caribbean, such as Puerto Rico, the Bahamas, and Cuba, offer excellent opportunities for tarpon fishing in crystal-clear waters and stunning surroundings. |
| Central and South America | Countries such as Costa Rica, Panama, and Venezuela provide exciting tarpon fishing experiences, with lush rainforests and diverse ecosystems adding to the adventure. |
Mastering the Techniques: Different Ways to Catch Tarpon
🙆There are several techniques anglers employ to catch tarpon, and each has its unique challenges and rewards:
| Technique | Description |
| --- | --- |
| Fly Fishing | A visually stunning and highly technical method that involves presenting a hand-tied fly to the tarpon using a fly rod and specialized line. Anglers need to be precise with their casts and have an understanding of tarpon behavior to be successful with this technique. |
| Live Bait | An effective method that uses live bait, such as mullet, crabs, or shrimp, to entice tarpon. Bait can be presented using a float or free-lined, depending on the fishing conditions and tarpon behavior. |
| Artificial Lures | This technique uses soft plastic swimbaits, jerkbaits, and topwater plugs to target tarpon. The key is to use realistic and natural presentations to provoke strikes from the fish. |
| Sight Fishing | A method employed in clear water conditions, where anglers can often spot tarpon cruising or rolling on the surface. This technique involves stalking the fish and making accurate casts to present the bait or lure to the tarpon. |
Conservation Matters: The Importance of Catch and Release
Catch and release is a critical practice in tarpon fishing to ensure the long-term sustainability of the species. Tarpons are slow-growing and can live for over 50 years, making them particularly vulnerable to overfishing. By practicing catch and release, anglers can help conserve tarpon populations and maintain the health of the ecosystems they inhabit.
Responsible catch and release techniques include using circle hooks to reduce deep hooking, minimizing the handling of the fish, and using specialized landing and release tools such as lip gaffs or fish grips. Additionally, reviving the fish by gently moving it back and forth in the water before release can help increase its chances of survival.
Factors to Consider When Choosing a Tarpon Fishing Reel
Balancing Act: Reel Size and Weight
When selecting a reel for tarpon fishing, it's essential to consider the size and weight of the reel. A well-balanced reel that complements the rod's size and strength will provide a more comfortable and efficient fishing experience. An overly heavy reel can lead to fatigue during long days on the water, while a reel that is too small might lack the power and durability required to handle powerful tarpon.
Line Capacity: The Key to Landing Your Tarpon
Line capacity is crucial when it comes to tarpon fishing, as these strong fish are known for their long, blistering runs. A reel with an adequate line capacity can hold sufficient amounts of line, allowing you to keep the pressure on the fish without the risk of being spooled. For tarpon fishing, reels should hold at least 200 yards of line, with a preference for braided line due to its strength-to-diameter ratio and minimal stretch.
Speed and Strength: Gear Ratios and Retrieval Speed
The gear ratio and retrieval speed of a reel dictate how quickly you can retrieve the line. A higher gear ratio means that more line is retrieved with each turn of the handle. For tarpon fishing, a reel with a fast retrieval speed is beneficial as it enables you to quickly regain line after a long run or keep up with the fish's sudden changes in direction. Gear ratios in the range of 6:1 to 7:1 are generally considered suitable for tarpon fishing.
Holding Tight: Drag Systems Explained
The drag system of a reel is responsible for applying pressure to the fish during the fight, helping to tire it out and prevent it from taking too much line. A smooth and reliable drag system is essential for tarpon fishing, as it must withstand the fish's powerful runs and sudden bursts of energy. Look for a reel with a strong, smooth, and adjustable drag system, typically in the range of 20-30 pounds of maximum drag force.
Built to Last: Material and Construction Considerations
The material and construction of a reel play a vital role in its durability and performance. Tarpon reels need to be built with high-quality materials that can withstand the harsh saltwater environment and the stress that these powerful fish can place on your gear. Aluminum and stainless steel are common materials used in tarpon reels due to their strength and corrosion resistance. Sealed bearings and corrosion-resistant coatings also contribute to the reel's longevity and performance.
Price vs. Performance: Setting a Budget
Budget is always a factor to consider when purchasing fishing gear. Tarpon fishing reels can range from affordable to high-end, with price points reflecting the quality of materials, construction, and performance features. It's essential to strike a balance between affordability and quality, as investing in a well-made reel can save you money in the long run by reducing the need for repairs or replacements. Do your research, read reviews, and find a reel that offers the best combination of features and performance within your budget.
Types of Reels for Tarpon Fishing
Spinning Reels: Lightweight Contenders
⭐Pros and Cons: Spinning Reels Uncovered
⭐Spin to Win: Tips for Tarpon Fishing with Spinning Reels
Choose a reel specifically designed for saltwater use, with corrosion-resistant materials and a sealed drag system
Use a braided line for its strength-to-diameter ratio and minimal stretch, which increases sensitivity and hook-setting power
Maintain a steady, smooth retrieve during the fight to keep constant pressure on the fish
Use a rod with a suitable power rating and action for tarpon fishing to ensure the best performance
Baitcasting Reels: The Power Players
➤Pros and Cons: The Baitcasting Reel Debate
➤Baitcasting Brilliance: Tarpon Fishing with Baitcasters
Select a high-quality reel with a strong, smooth drag system and sufficient line capacity
Utilize a rod with a suitable power rating and action for tarpon fishing to optimize performance
Practice proper thumb control during the cast to minimize the risk of backlash
Keep a steady, smooth retrieve during the fight to maintain constant pressure on the fish
Conventional Reels: Offshore Heavyweights
🐟Pros and Cons: Weighing the Options
🐟Conventional Wisdom: Using Conventional Reels for Tarpon Fishing
Choose a high-quality reel specifically designed for saltwater use and tarpon fishing
Match the reel with a suitable rod to optimize performance and maintain balance
Use a strong, low-stretch line such as a braided line to maximize sensitivity and hook-setting power
Keep a steady, smooth retrieve during the fight to maintain constant pressure on the fish
Fly Reels: Featherweight Champions
✨Pros and Cons: Fly Reels in Focus
✨Fly Fishing for Tarpon: A Rewarding Challenge
Select a high-quality, saltwater-specific fly reel with a strong, smooth drag system
Use a fly rod and line appropriate for tarpon fishing, typically a 10-12 weight setup
Match your fly line and leader to the reel, rod, and tarpon fishing conditions
Practice various casting techniques, such as the double-haul cast, to improve accuracy and distance
Use flies that mimic natural prey items in the area, such as baitfish patterns and crustacean imitations
Learn how to "strip set" the hook, which involves a long, steady pull on the line rather than a sharp upward motion, to ensure a secure hook-up
Keep a low rod angle and constant pressure during the fight to maintain control over the fish
Be prepared to "bow" to the tarpon when it jumps by lowering the rod tip, which can help prevent the fish from throwing the hook during its aerial acrobatics
Focus on line management during the fight, as excess slack or tangles can lead to lost fish or damaged gear
When fishing for tarpon in shallow water, use a stealthy approach to avoid spooking the fish; this may involve using a push pole or electric trolling motor for quiet movement
Pay attention to the weather and tidal conditions, as they can significantly impact tarpon behavior and feeding patterns, ultimately influencing your fly fishing success
Keep an eye on tarpon movements and feeding habits to adjust your strategy accordingly; for example, when tarpon are rolling at the surface, use a floating fly line and topwater flies to target them
Be patient and persistent, as fly fishing for tarpon can be challenging but ultimately rewarding for those who put in the effort to refine their skills and knowledge
Remember the importance of catch and release when targeting tarpon, using appropriate tools and techniques to ensure the fish's survival and promote the long-term sustainability of the species
Educate yourself on local tarpon fishing regulations and adhere to them, ensuring that you are fishing legally and ethically
Practice good etiquette on the water, respecting other anglers and giving them ample space to fish without interference
If possible, enlist the help of a knowledgeable guide or experienced angler to learn from their expertise and improve your tarpon fly fishing skills
Stay updated on the latest tarpon fishing trends and research, as new insights can inform your tactics and help you become a more successful angler
Take care of your fly fishing gear by rinsing it with fresh water after each use, regularly cleaning and lubricating the reel, and inspecting your equipment for wear or damage
Document your tarpon fishing experiences, including successful catches, strategies, and conditions, as this information can serve as a valuable reference for future outings
Share your passion for tarpon fly fishing with others by participating in online forums, attending seminars or workshops, or joining a local fishing club; these connections can lead to friendships, networking opportunities, and the exchange of valuable knowledge among fellow anglers
Finally, remember that fly fishing for tarpon is a journey of learning and improvement, and every outing offers an opportunity to grow as an angler; embrace the challenges and celebrate your successes as you continue to hone your skills in pursuit of the mighty tarpon.
Recommended Tarpon Fishing Reels
Spin to Win: Top Spinning Reels for Tarpon Fishing
✨Standout Spinning Reels: Features, Prices, and Ratings
Product name, features, and price: Penn Slammer III
Full metal body and side plate construction
Sealed IPX6 design for water resistance
CNC gear technology
Sealed Dura-Drag system
Price range: $250-$350 (depending on size)
✨Pros and Cons: Spinning Reels Reviewed
Power Performers: Top Baitcasting Reels for Tarpon Fishing
🎡Baitcasting Beauties: Features, Prices, and Ratings
Product name, features, and price: Shimano Tranx 500
X-Ship technology for improved gear durability
High-Efficiency Gearing (HEG) system
Variable Brake System (VBS) for enhanced casting control
Price range: $500-$600
🎡Pros and Cons: Baitcasting Reels Reviewed
Offshore Champions: Top Conventional Reels for Tarpon Fishing
💎Heavyweight Heroes: Features, Prices, and Ratings
Product name, features, and price: Avet HX 5/2 Raptor
Lever drag system for precise drag adjustments
Strong one-piece aluminum frame
2-speed retrieve system
Price range: $450-$550
💎Pros and Cons: Conventional Reels Reviewed
Featherweight Stars: Top Fly Reels for Tarpon Fishing
🐬Fly Reels on the Fly: Features, Prices, and Ratings
Product name, features, and price: Hatch Finatic Gen 2 11 Plus
Fully machined aluminum construction
Type 2 anodized finish for corrosion resistance
The sealed disc drag system
Large arbor design for quick line retrieval
Price range: $800-$900
🐬Pros and Cons: Fly Reels Reviewed
Additional Recommendations for Tarpon Fishing Reels
Product name, features, and price: Daiwa BG Saltwater Spinning Reel
Rigid aluminum body and side cover
Air Rotor and Air Bail design for reduced weight and increased sensitivity
Dynamic Cut Aluminum ABS spool
Price range: $100-$150 (depending on size)
💫Pros and cons
Honorable Mention for Tarpon Baitcasting Reels
Product name, features, and price: Abu Garcia Revo Toro Beast
X2-Craftic alloy frame for corrosion resistance
Power Stack Carbon Matrix Drag System
Duragear Heavy Duty gear system
Price range: $400-$450
💫Pros and cons
Additional Recommendation for Conventional Reels
Product name, features, and price: Penn International VIS 2-Speed
Full metal body and side plates
Dura-Drag system for smooth drag performance
Quick-Shift 2-speed system for versatility in retrieval rates
Price range: $500-$700 (depending on size)
💫Pros and cons
Honorable Mention for Fly Reels
Product name, features, and price: Tibor Everglades
Machined aluminum construction with a corrosion-resistant finish
Quick-change spool system
Sealed disc drag system for smooth performance
Price range: $600-$700
💫Pros and cons
Tips for Maintaining Your Tarpon Fishing Reel
Keep it Clean: Caring for Your Reel
Rinse your reel with fresh water after each use to remove salt, sand, and debris, ensuring that the drag system is loosened and the spool is removed for a thorough cleaning.
Dry the reel completely with a soft cloth before applying lubricant to the moving parts, such as the bearings, gears, and drag system. Use a high-quality fishing reel oil and grease recommended by the manufacturer.
Disassemble the reel periodically for deep cleaning, but be sure to follow the manufacturer's instructions to avoid damaging the reel or voiding the warranty.
Storing Your Reel: The Key to Longevity
Store your tarpon fishing reel in a cool, dry place away from direct sunlight, heat sources, and humidity, which can cause corrosion and damage to the reel.
Use a reel cover or bag to protect your reel from dust, dirt, and moisture during storage.
Detach the reel from the rod and loosen the drag system when storing for extended periods to prevent damage to the drag washers and internal components.
Line Management: Avoiding Tangles and Maintaining Performance
Regularly check your fishing line for signs of wear, such as fraying, nicks, or weakened spots, and replace it as needed to ensure optimal performance and prevent break-offs during a fight with a tarpon.
Ensure that your line is wound onto the spool evenly and tightly, which can prevent issues with casting, retrieval, and line twist.
Store extra spools of line in a cool, dark place to prolong their lifespan and prevent deterioration from exposure to sunlight and temperature fluctuations.
Keep an Eye Out: Inspecting Your Reel for Wear and Damage
Inspect your tarpon fishing reel before each use, checking for signs of wear or damage on the spool, frame, bearings, and other components.
Test the functionality of the drag system, ensuring that it engages smoothly and consistently throughout its range, and address any issues promptly to avoid losing fish or causing further damage to the reel.
Pay attention to any unusual sounds, such as grinding or clicking, during use, as this may indicate a problem that requires maintenance or repair. Consult the reel's user manual or contact the manufacturer for guidance on troubleshooting and repairs, if needed.
FAQ: Exploring Reels for Tarpon Fishing
Conclusion: Key Factors for Tarpon Fishing Success
The Winning Catch: Choosing the Perfect Tarpon Fishing Reel
Throughout this comprehensive guide, we have emphasized the significance of selecting the ideal reel for tarpon fishing. The right reel can make a substantial difference in your ability to effectively target and catch tarpon, contributing to a more enjoyable and successful experience on the water. From understanding the factors to consider when choosing a tarpon fishing reel to examine the various types of reels and their respective advantages and disadvantages, this guide serves as a valuable resource for anglers of all skill levels.
Invest in Success: Why Quality Matters
While budget considerations are essential for any angler, it is crucial to invest in a high-quality tarpon fishing reel that will provide reliable performance, durability, and longevity. A well-maintained reel can last for years, making it a worthwhile investment that can enhance your overall tarpon fishing experience. As you embark on your tarpon fishing journey, consider the recommended reels and maintenance tips shared in this guide to ensure you are well-equipped for success.
Here's to Your Tarpon Triumphs: Happy Fishing!
As you continue your pursuit of the mighty tarpon, we hope that this comprehensive guide proves helpful in making informed decisions regarding your choice of the reel and caring for your fishing equipment. We wish you many successful tarpon fishing adventures, memorable experiences on the water, and the excitement of reeling in these magnificent fish. Tight lines, and happy fishing!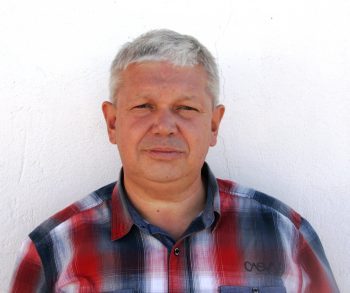 Sergio Smirnoff
Professional fisherman with 40+ years of experience.
Fishing and the ocean is a passion of my life. I am passionate about all kinds of sea fishing: fishing from the shore (spinning, float, baitcasting), from a boat, and spearfishing day and night.
I live in Tenerife (Canary Islands) for the last 10+ years and share my daily fishing experiences on my website. Many years of personal experience as a fisherman and the vast experience of my friends allow me to write professionally on any fishing topics (from choosing a flashlight and equipment to deep-sea fishing).
All of my advice is based on practical real-world experience and will be useful to both novice anglers and professionals.
Read more
about the author.
Affiliate Disclosure: FishReeler.com sometimes gets paid for listings, through sponsors or affiliate programs like Amazon, Ebay, Cabelas, Bass Pro Shop, Shimano, Daiwa, Rapala, Renn, Okuma, KastKing, etс. Clicking a link helps keep FishReeler.com free, at no extra cost to you!
About the author: Each article is verified by the fishing expert Sergio Smirnoff. The articles are written by professional and amateur fishermen with 20+ years of fishing experience.
Note: The views and opinions expressed in this article are those of the authors and do not necessarily reflect the official policy or position of any agency. The articles are for informational purposes only, share your opinions in the comments and join the fishing discussions, let's share our fishing experiences together!