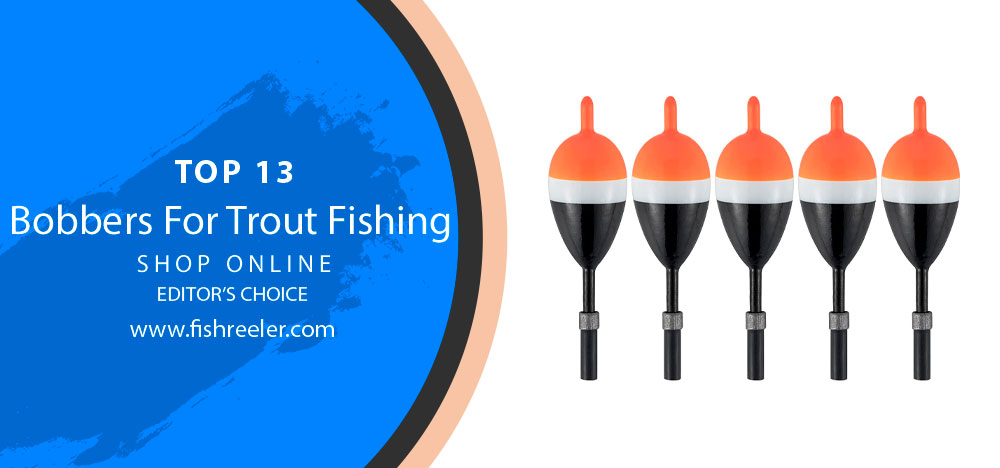 Hook, Line, and Sinker: A Deep Dive into Bobbers for Trout Fishing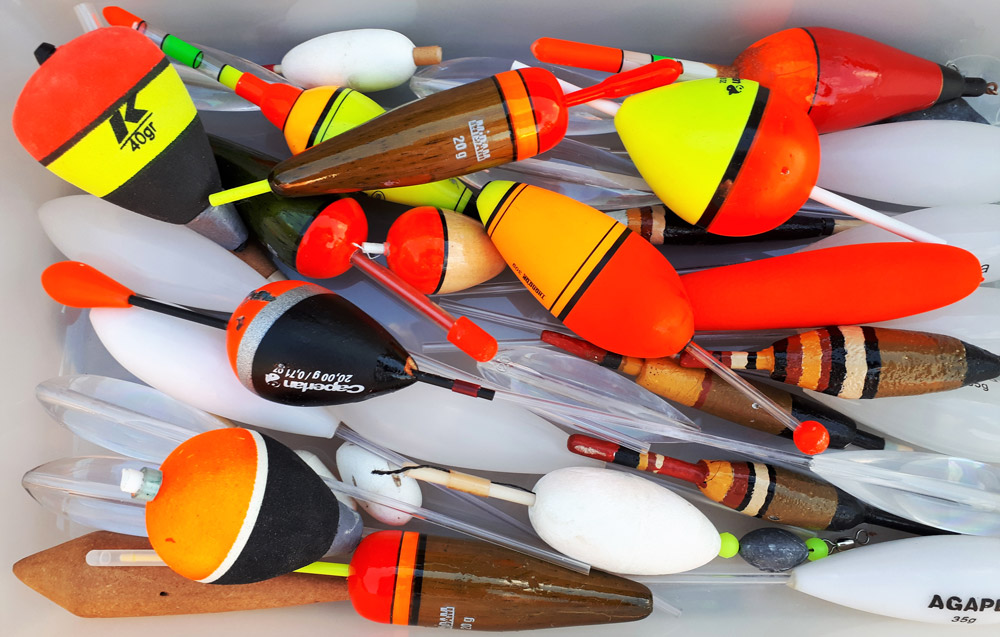 There's a special kind of magic that happens the moment you cast your line, the thrill of anticipation buzzing in your veins. My first fishing rod was a simple bamboo pole, gifted by my grandpa on my 8th birthday 🎣. He introduced me to the tranquillity of lakes and the patience that angling demands. From that day forward, I've been enamored with fishing, feeling most at peace when I'm by the water.
A Love Letter to Fishing
In the decades since, fishing has become more than just a hobby for me – it's a passion, an obsession, a meditative practice that connects me to nature in a way few other activities can. Every tug on the line, every ripple in the water, brings a sense of excitement that is both familiar and brand new. Each outing tells a different story, from calm, serene afternoons to challenging battles against the elements. But the real hook, line, and sinker for me? The community. The shared anticipation, the collective silence followed by stories of 'the one that got away' or the pride of a successful catch. There's a camaraderie in fishing that's hard to beat. 🏞️
The Role of Bobbers in Trout Fishing
When it comes to trout fishing, there's one tool that often goes overlooked, despite it being a game-changer – the bobber. Why are bobbers so important? Simply put, they're your eyes on the water. 🌊
Indicator: The bobber acts as an indicator of a fish's bite. When a trout takes your bait, the bobber dips under the water, signaling that it's time to set the hook.
Depth Control: Bobbers also help control the depth at which your bait is presented. Different fishing conditions require different depths, and bobbers are the simplest way to achieve that.
Bait Protection: Bobbers keep your bait off the bottom, protecting it from snags, vegetation, and non-target species.
🔶Having the right bobber can mean the difference between a good fishing day and a fantastic one. They are an integral part of the fishing experience, creating a visual thrill that adds to the suspense and excitement of the sport. So let's dive in deeper and uncover the secrets of bobbers in the wonderful world of trout fishing. 🎈🐟
The Science Behind Bobbers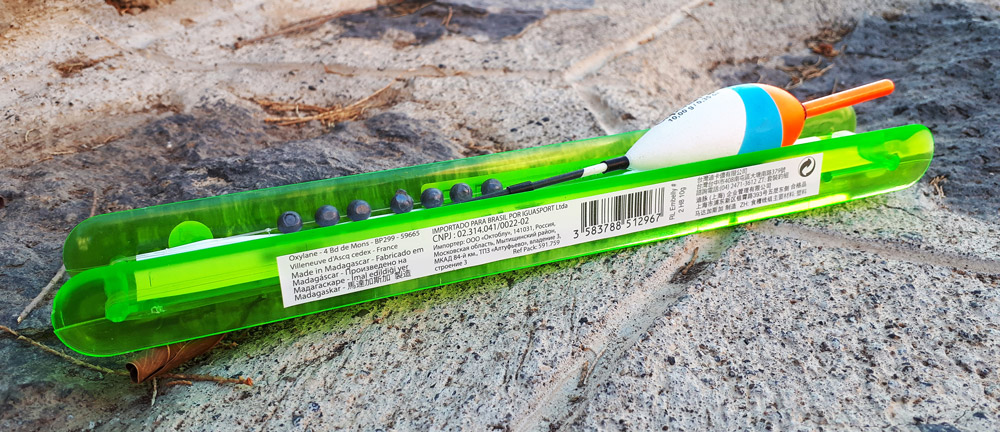 Let's dive right into it! Understanding how bobbers work not only enhances your fishing technique but also deepens the appreciation for the delicate balance between science and nature at play. 🧪🐟
How Bobbers Work
Bobbers – or floats, as they're also called – are a study in buoyancy. They're designed to float on the surface of the water while carrying the weight of your bait and sinker below. The concept is simple: when a fish bites and pulls the bait down, the bobber follows, alerting the angler of the action happening underwater. 🎈
The bobber's buoyancy comes from the materials it's made of, typically light, water-resistant substances like plastic or cork. When the bobber is perfectly balanced with the weight of the bait and sinker, it sits upright in the water. When a fish takes the bait, this equilibrium is disrupted, and the bobber tips or sinks, signaling the angler to reel in.
Why Bobbers Are Essential for Trout Fishing
Bobbers are like the Swiss army knife of fishing tools; they perform multiple roles simultaneously. 🗺️🛠️
Detecting Bites: As mentioned earlier, bobbers signal when a fish has taken the bait. This is particularly crucial for trout fishing as trout can be subtle biters.
Adjusting Depth: By adjusting the position of your bobber along the fishing line, you can control how deep your bait is in the water. This is essential because trout feed at different depths depending on factors like time of day, temperature, and food availability.
Casting Aid: A bobber adds weight to your fishing line, helping you cast further.
Hooked by a Bobber: A Personal Anecdote
The first time I used a bobber, I was about ten years old. I had been fishing with my grandpa, and he introduced this small, red-and-white plastic thing that he attached to my line. I was skeptical. Could this tiny gadget really help me catch more fish? 🎣👀
As I cast my line, the bobber sat proudly on the surface of the water, its red top visible even from a distance. After what felt like an eternity, the bobber suddenly disappeared below the surface! My heart pounded as I reeled in, and there, gleaming in the sunlight, was a beautiful rainbow trout.
🔶That was the day I realized the value of a bobber. It was not just about helping to catch a fish; it was about experiencing the thrill of the bite visually and not just through the line's tug. That day turned me into a lifelong advocate for the humble bobber. 🌈🐟
🎦Video YouTube: Top 5 Trout Fishing Bobbers Tips & Reviews
Best Bobbers For Trout Fishing Review
Trout fishermen use bobbers for a variety of reasons, but the main one is to help them detect bites from trout. In this blog post, we will cover some of the best bobbers for trout fishing so that you can get the most out of your next trip. Whether you are using live bait or artificial lures, these bobbers will get the job done. So, without further ado, let's take a look at some of the best options on the market!
In this article, we'll take a look at some of the best bobbers for trout fishing. We'll also provide some tips on how to use them effectively. So, whether you're just getting started or are looking for an upgrade, read on for helpful information!
1# Trout Magnet EZ Trout Floats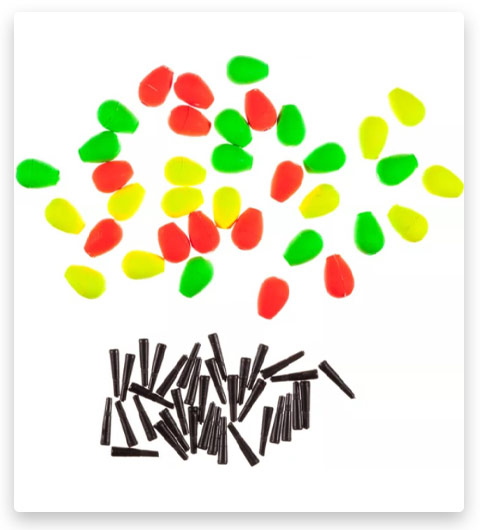 Looking to fish with a jig or lure but don't want to hinder the natural action? Look no further than Trout Magnet® EZ Trout Floats. These strike indicators are designed not to cut into your line, so you can easily install or remove them without having to re-tie. Plus, they allow for easy depth adjustment in seconds, so you can dial in on the perfect spot for trout. Time to change up your fishing game – get yourself some Trout Magnet® EZ Trout Floats today!
2# Bass Pro Shops Weighted Slip Float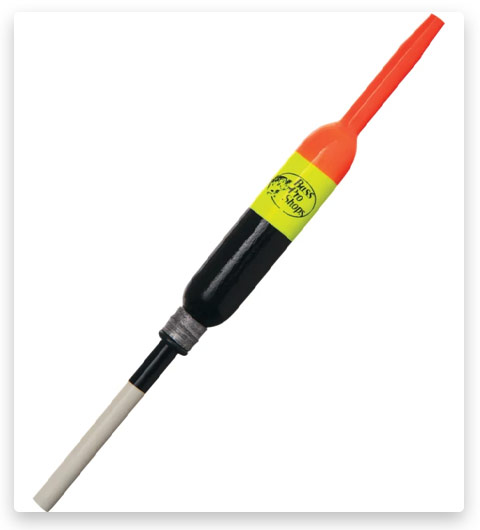 The Bass Pro Shops Weighted Slip Float is made of premium balsa wood for a precise and responsive presentation. Its weighted design enables longer casts and allows you to set it lower in the water for less resistance to a biting fish. Easily adjustable to any depth, this float is also extremely durable and won't crack like plastic floats often do.
3# Bass Pro Shops Weighted Oval Slip Float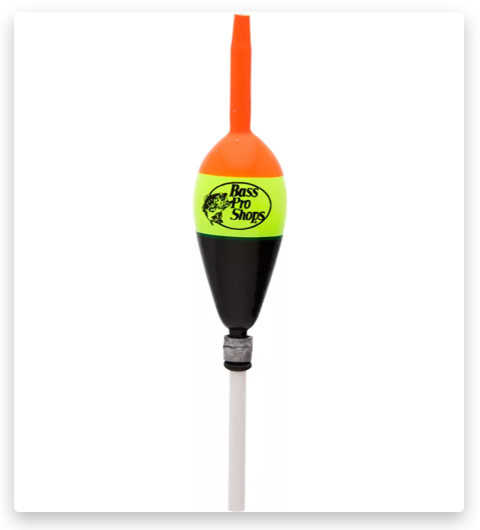 Our Bass Pro Shops® Weighted Oval Slip Float is perfect for precise and responsive presentations. The weighted design enables longer casts and allows you to set it lower in the water for less resistance to a biting fish. This float is extremely durable and will not crack, as plastic floats often do.
4# Beau Mac Weighted EVA Casting Float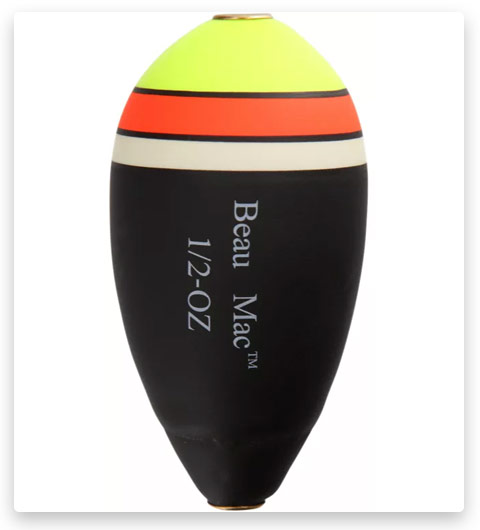 Check out the Beau Mac Weighted EVA Casting Float. This stable foam float is perfect for slow currents and provides an easy way to transfer the action to your bait or lure below. A brass grommet on the bottom protects against braided line wear, while a fluorescent top makes it easy to see on the water. The Beau Mac Weighted EVA Casting Float can be rigged with a bobber stop or pegged in place. So ditch those flimsy floats and upgrade to one that can take on whatever you throw it's way.
5# Bass Pro Shops Weighted Oval Spring Float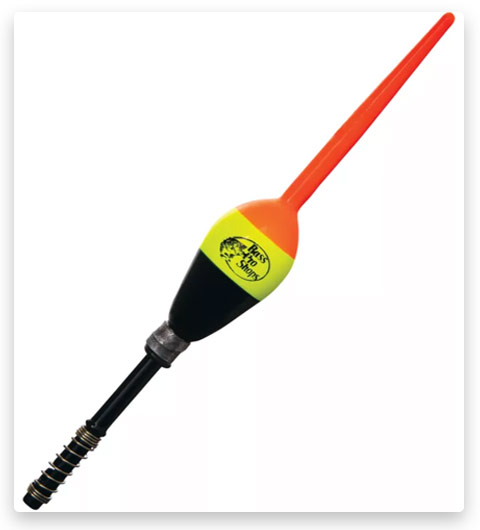 The Bass Pro Shops Weighted Oval Spring Float gives you the ability to make precise presentations with responsive balsa wood. The weighted design allows for longer casts and a lower set, providing less resistance to a biting fish. This float is extremely durable and crack-resistant, perfect for serious anglers.
6# Bass Pro Shops Oval Spring Float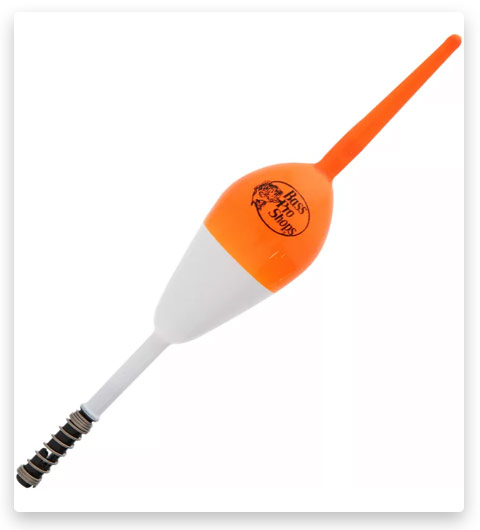 The Bass Pro Shops Oval Spring Float is made of premium balsa wood, ensuring your gentle presentations and smooth drifts will be driftin' in style. Balsa floats are incredibly durable and won't crack like plastic bobbers often do.
7# Bass Pro Shops Pencil Spring Float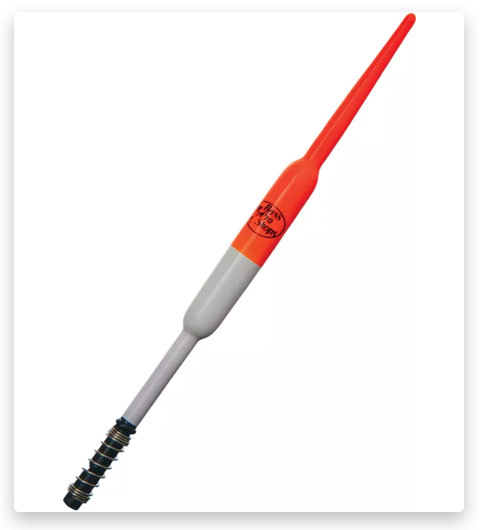 Looking for a high-quality float that can help you make smooth, gentle presentations? Look no further than our Bass Pro Shops Pencil Spring Float. This float is made of premium balsa wood, which is durable and crack-resistant. Plus, it's easy to use – just attach it to your line and you're good to go!
8# Bass Pro Shops Weighted Pencil Spring Float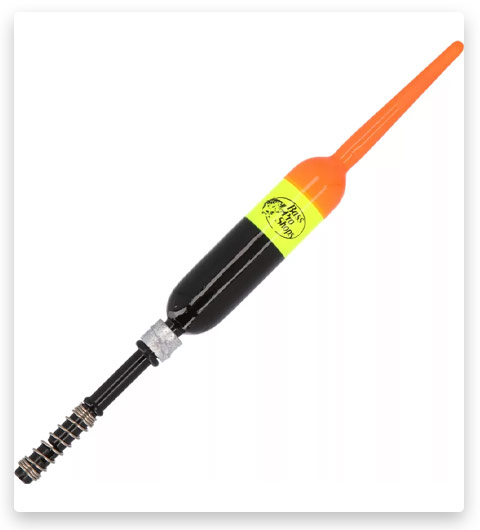 Check out our Bass Pro Shops Weighted Pencil Spring Float! Made of premium balsa wood, it's precise and responsive, giving you the perfect presentation every time. The weighted design enables longer casts and allows you to set it lower in the water for less resistance to a biting fish. Plus, it's extremely durable – it won't crack as some plastic floats do. So don't wait – get our Weighted Pencil Spring Float today and see the difference it makes!
9# Leland's Lures Trout Magnet E-Z Trout Float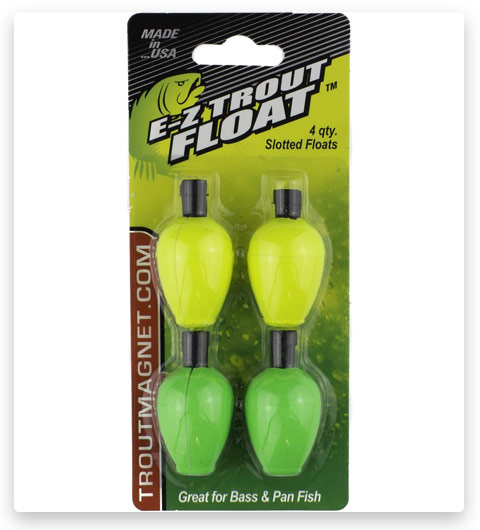 Leland's Lures Trout Magnet E-Z Trout Float is the perfect solution for anglers who want an easy on and off float without having to remove their lure or cut their line. The small size is perfect for drift fishing with small lures or bait, and the easily adjustable depth settings make it a versatile option for all species of fish. The float's unique design also makes it highly sensitive to small hits, meaning you won't miss a strike!
10# Gourami Trout Float Fly Fishing Bobber Strike Indicators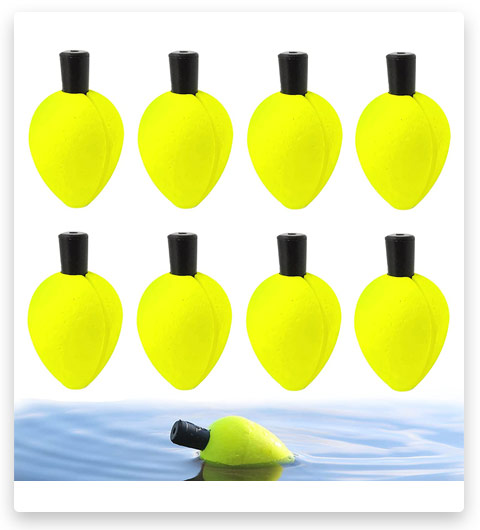 Are you looking for an easy and convenient way to fish? Look no further than the Gourami Trout Float Fly Fishing Bobber Strike Indicators! These floats are designed for easy on and easy off, so you don't have to remove your lure or cut your line. They're also great for adjusting the depth, so you can fish in all types of conditions and terrain. Plus, the small size is perfect for drifting small lures or bait. So whether you're fishing for trout or any other type of fish, the Gourami Trout Float is a perfect choice!
11# Dr.Fish Steelhead Floats for Trout Crappie Panfish Walleyes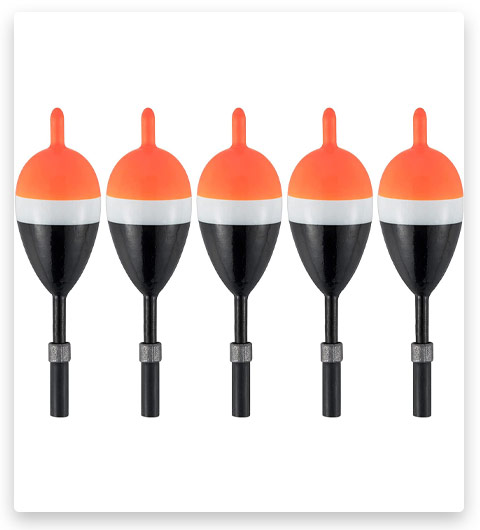 These floats are made of high-quality balsa wood which makes them incredibly buoyant and stable. Plus, their surface is brightly painted in eye-catching colours so you can easily spot when a fish takes your bait. To top it all off, they come with a weighted clip that improves your casting performance. And if that wasn't enough, they also come with a latex sleeve that allows for quick and easy adjustments. So don't wait any longer, get yourself a set of Dr Fish 5 Pack Steelhead Floats today!
12# Fairhope Rattle Popping Cork Float for Speckled Trout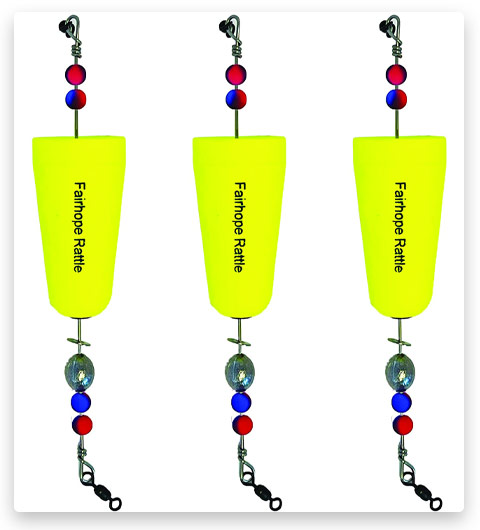 For the serious fisherman, we offer our Fairhope Rattles Popping Cork Floats. These handmade popping corks are constructed with only the finest materials, ensuring top quality and durability. Whether you're targeting redfish or other game fish, these corks are sure to bring in the catch of the day.
13# JSHANMEI Slip Bobbers Fishing Floats for Trout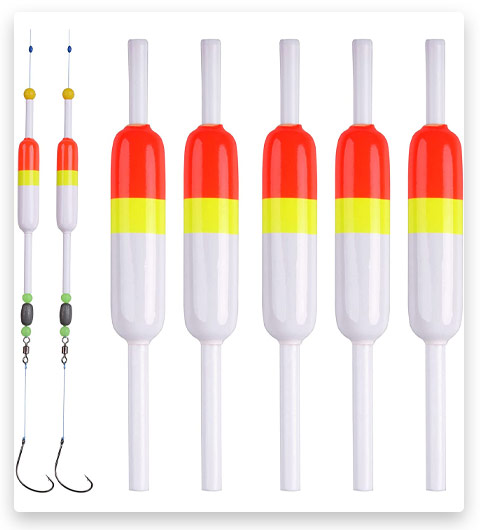 The JSHANMEI Slip Bobbers Fishing Floats Bobbers are made of high-quality fir wood with a tough, durable, crack and chip-resistant finish. These slip bobbers are light and sensitive, making them very responsive when the fish takes the bait. The high visibility fluorescent paint makes it easier to see when the fish take the bait. The slip bobbers slide freely up and down your fishing line, making them great for fishing in a variety of situations and depths.
Types of Bobbers for Trout Fishing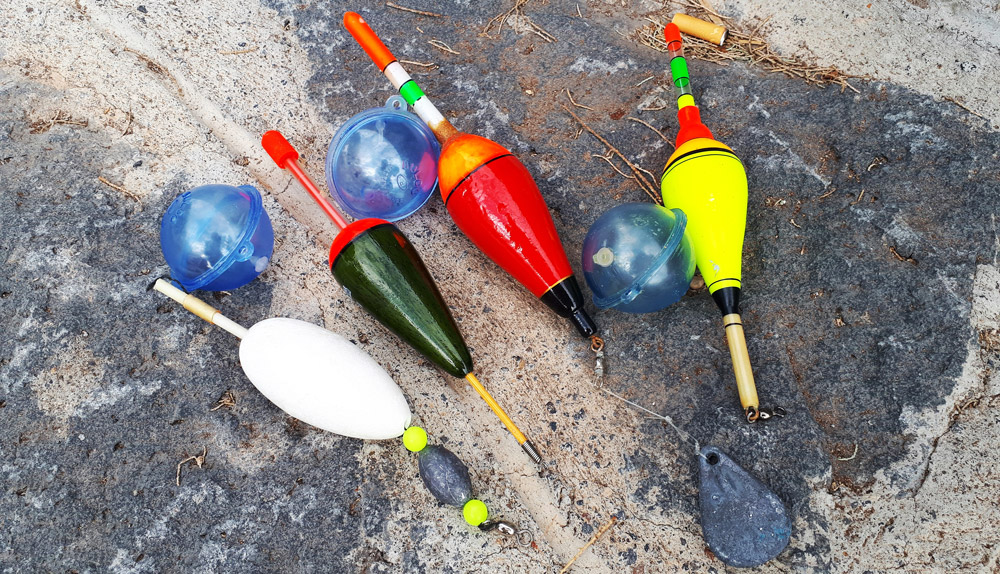 There's a bobber for every situation, and understanding their unique features can help you master the art of trout fishing. Let's explore two of the most popular bobbers used in trout fishing – fixed bobbers and slip bobbers. 🪝🌊
Overview of Bobber Types
Fixed Bobbers: The classic red-and-white fixed bobber is probably the first image that pops into your head when you think of a fishing bobber. Fixed bobbers attach directly to the line at a specific depth. They're easy to use and perfect for beginners or shallow water fishing.
Slip Bobbers: Slip bobbers, on the other hand, have a hole through the middle and can slide up and down the line. They use a stop knot to set the depth at which you want your bait to hang. Slip bobbers are the go-to option for deep water fishing or when casting long distances.
Weighing the Pros and Cons
Fixed Bobbers
Slip Bobbers
Recommendations Based on Fishing Conditions
Fishing is an art that responds to nature's cues. Here's when to consider each type of bobber:
Fixed Bobbers: Perfect for shallow waters or when fishing with kids. It's great for small ponds or streams where trout are feeding close to the surface. 🏞️
Slip Bobbers: Ideal when fishing in deeper waters or conditions where trout are holding far off the bottom. A slip bobber lets you present your bait at the perfect depth without limiting how far you can cast. Perfect for large lakes or rivers. 🌊
🔶Remember, the right bobber can turn a slow fishing day into a memory-packed adventure. It's all about understanding the conditions, knowing your tools, and then making them work for you. 🎣🐟
Selecting the Perfect Bobber for Trout Fishing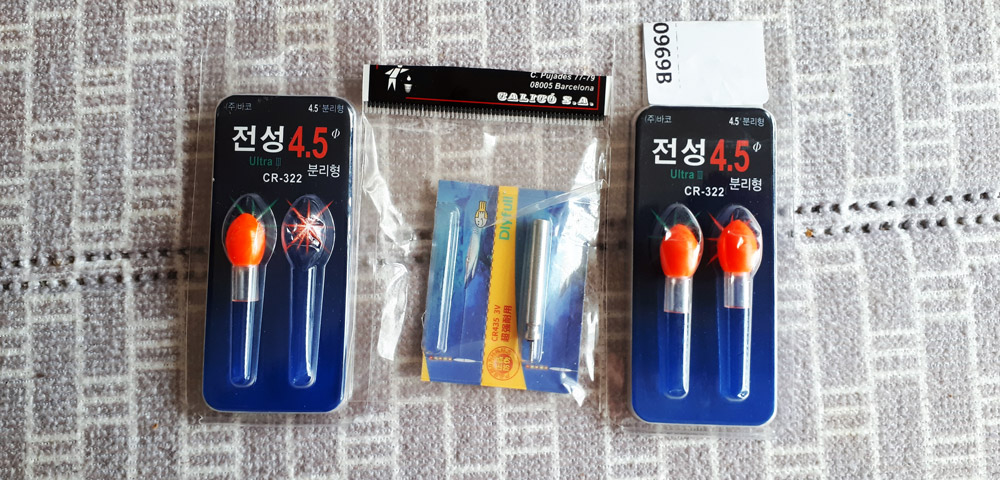 Fishing is an art, and like all artists, anglers too need the right tools. The bobber is one such indispensable tool, and choosing the right one can significantly improve your fishing experience. Here are some factors to consider and a few personal tips from my years of trout fishing. 🎨🎣
Considerations for Choosing the Perfect Bobber
Size: When it comes to bobbers, size matters. A bobber too big can scare off the trout, while one too small might not float. The rule of thumb is to use the smallest bobber that can still float with the weight of your bait and sinker. The less a trout has to fight the bobber, the more likely it is to bite. 📏
Material: Bobbers come in various materials, including plastic, balsa wood, and cork. Each has its merits. Plastic bobbers are durable and inexpensive. Balsa wood bobbers are delicate but provide excellent sensitivity. Cork bobbers, while less common, offer good visibility and floatation. Choose a material based on your fishing conditions and personal preference. 🧱
Visibility: Ensure your bobber is easy to see. Bright colors like red and yellow are popular. Some bobbers also come with in-built lights for night fishing. The idea is to quickly spot when the bobber moves or goes underwater, signaling a bite. 👀
Personal Tips for Bobber Selection
Adjust to Conditions: Always carry a variety of bobbers and adjust according to the day's conditions. For example, in windy conditions, a larger, heavier bobber can offer better stability. 🌬️
Stealth Approach: When trout are being particularly skittish, try using a clear plastic bobber. It's less likely to scare the fish but can be harder to see, so stay sharp! 👻
Test and Learn: Don't be afraid to switch things up if a particular bobber isn't working. Sometimes, the trout just want something a little different, and adjusting your bobber can make all the difference. 🔄
🔶Remember, the 'perfect' bobber doesn't exist. It's about finding the right bobber for the right situation. And, of course, the one that brings you the most joy when you're out on the water. 🎣🐟
Mastering the Art of Using Bobbers
Using a bobber might seem straightforward, but there's an art to it that can take your trout fishing to the next level. Let's walk through the steps to correctly use a bobber and explore techniques to increase your chances of a memorable catch! 🖼️🎣
Step-by-Step Guide to Using a Bobber
Choose Your Bobber: Depending on the fishing conditions and your personal preference, choose between a fixed or slip bobber. Remember, a fixed bobber is best for shallow waters, while a slip bobber works great in deeper areas. 🔄
Attach the Bobber: For a fixed bobber, pinch or twist the top and bottom hooks to your fishing line at your desired depth. If you're using a slip bobber, thread your line through the bobber, tie a stop knot at your desired depth, and add a small bead below the knot. 🎈
Add Weight if Needed: Sometimes, adding a small weight or sinker 6-12 inches above your hook helps keep your bait at the right depth and allows the bobber to float upright. ⚖️
Cast Your Line: Aim for the area you believe the trout are hanging out, cast your line, and watch your bobber keenly for any movements. 🚀
Techniques to Increase Chances of a Catch
Adjust Your Depth: Trout are known to change their depth according to food availability and water temperature. Don't hesitate to adjust your bobber depth if you're not getting any bites. 🔎
Try Different Areas: If a spot is not getting you any bites, move around. Trout are often on the move and can be found in both slow and fast-moving waters. 🌊
Be Patient: Trout can be tricky. Sometimes they'll nibble on the bait, causing the bobber to twitch. Wait until the bobber fully submerges before setting your hook. 🕰️
The Unforgettable Bobber Catch
One unforgettable moment was on a late summer afternoon. The sun was setting, casting long shadows over the tranquil lake. I cast my line with a slip bobber setup, letting the live worm sink to the depths where the bigger trout liked to hide.
Suddenly, the bobber disappeared under the water with a surprising force. I pulled the rod up to set the hook, and a tough fight ensued. I could feel the powerful pulls, the wild, desperate movements of a significant catch. After a thrilling tug-of-war, I pulled a majestic, 20-inch brown trout from the water. A trophy catch, made possible by the right bobber use! 🏆🐟
🔶Using a bobber can truly turn a good fishing day into a great one. So, gear up, cast your line, and let the bobbers lead you to your next big trout!
Innovative Bobbers in the Market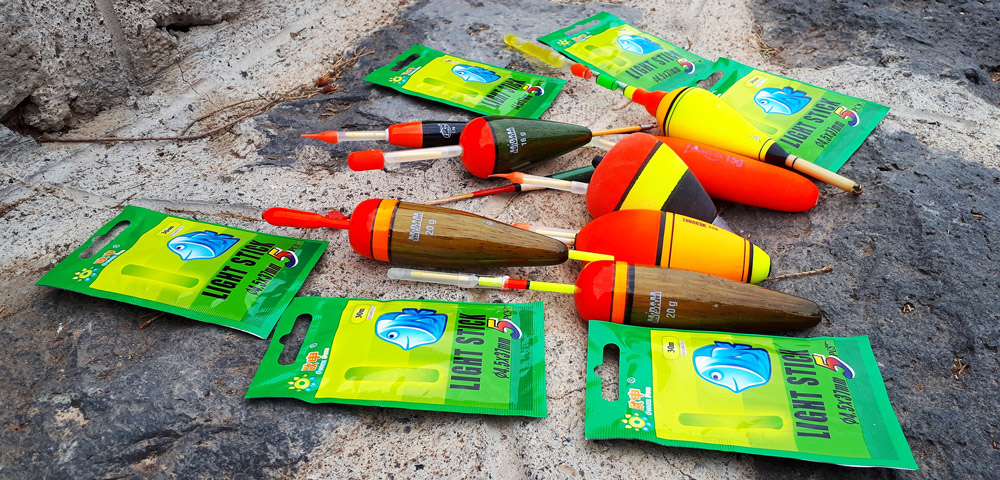 Technology and innovation have touched every facet of our lives, and fishing is no exception. Even the humble bobber has seen some exciting advancements that can elevate your fishing game to new levels. Let's dive into the latest bobber technologies and review a few innovative options.🔬🎣
Latest Bobber Technologies and Innovations
The world of bobbers is ever-evolving, keeping pace with the needs of modern anglers:
Lighted Bobbers: Night fishing is a different ball game altogether, and lighted bobbers have made it more accessible. These bobbers come with built-in LED lights, making them easy to spot even in the darkest conditions. 🌌
Electronic Bobbers: The world is going smart, so why should bobbers lag? Smart bobbers can sync with your smartphone, providing real-time information about water temperature, depth, and even fish presence. Talk about fishing in the digital age! 📲
Biodegradable Bobbers: With the increasing focus on sustainability, biodegradable bobbers have become a choice for eco-conscious anglers. These bobbers are made from materials that can break down naturally, reducing pollution caused by lost or discarded fishing gear. 🌍
Reviews of Cutting-edge Bobbers
SmartBobber by FishEyes: I recently tried the FishEyes SmartBobber, and it was like having a personal fishing assistant. It connects to a mobile app and provides real-time data on water conditions and fish presence. This bobber certainly made it easier to decide when and where to cast the line. An absolute game-changer for any tech-savvy angler. 🏆
Lighted Slip Bobber by Thill: The Thill Lighted Slip Bobber has made my night fishing experiences unforgettable. The bobber's bright light makes it easy to spot, and the slip design allows for deep water fishing. It's durable and, most importantly, very effective. If you're into night fishing, this is a must-try. 🌙
EcoBobber by BioBait: My go-to bobber for most of my fishing trips has been the EcoBobber by BioBait. It's environmentally friendly, durable, and works just as well as non-biodegradable alternatives. Plus, there's a sense of satisfaction in knowing you're reducing your ecological footprint. 🌿
🔶Whether you're a traditionalist or an early adopter of new tech, there's a bobber out there for you. Remember, fishing isn't just about the catch – it's about connecting with nature, making memories, and, of course, having fun while you're at it! 🎣🐟
❓ FAQ: Real Results with These Bobbers for Trout Fishing
🔶Have more questions about bobbers for trout fishing? Feel free to drop them in the comments below! We're here to make your fishing trips more fruitful. 🐟
Conclusion: Superior Bobbers for Winning at Trout Fishing
In this blog post, we have covered some of the best bobbers for trout fishing. These bobbers are perfect for suspending your bait in the water column and keeping it in the strike zone for longer. They are also easy to use, so even beginners can benefit from using them. So, if you're looking to up your trout fishing game, be sure to check out these top-rated bobbers!
As we reel in the end of our journey through the world of bobbers, it's clear that these little floating tools are more than just fishing gear. They are silent companions that add a new dimension to our fishing adventures, making each outing more fruitful and enjoyable.🎣🌅
Reflecting on the Role of Bobbers
Bobbers are the unsung heroes of fishing. They serve as our eyes on the water, signaling the moment a trout takes our bait. They add a dash of color to our fishing line and bring a burst of excitement when they disappear beneath the water's surface. Most importantly, bobbers make fishing accessible to everyone, from the greenest novice to the seasoned angler. They truly are a testament to the beauty of simplicity in our often complex fishing expeditions. 💭💙
Embracing the Bobber Experiment
There's a whole world of bobbers out there, each with its unique charm and advantage. I encourage you, fellow anglers, to experiment with different bobbers, whether it's trying out a smart bobber or opting for an eco-friendly one. Remember, it's not always about getting the biggest catch. Sometimes, it's about the thrill of trying something new and the lessons learned along the way. 🧪🌐
Share Your Bobber Stories
I'd love to hear your bobber stories! Have you had a memorable catch thanks to a specific bobber? Or maybe a funny incident involving a bobber? Share your experiences and tips in the comments below. After all, fishing is as much about the community as it is about the catch. Together, let's make our community richer with our stories. 📚👥
🔶As I pack my tackle box for my next fishing trip, a selection of bobbers – each with its own tale – finds its place among the hooks, lines, and sinkers. Here's to the humble bobber, enhancing our fishing journeys, one cast at a time. 🎣🏞️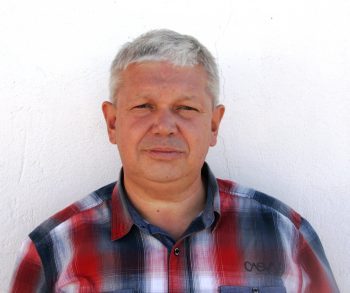 Sergio Smirnoff
Professional fisherman with 40+ years of experience.
Fishing and the ocean is a passion of my life. I am passionate about all kinds of sea fishing: fishing from the shore (spinning, float, baitcasting), from a boat, and spearfishing day and night.
I live in Tenerife (Canary Islands) for the last 10+ years and share my daily fishing experiences on my website. Many years of personal experience as a fisherman and the vast experience of my friends allow me to write professionally on any fishing topics (from choosing a flashlight and equipment to deep-sea fishing).
All of my advice is based on practical real-world experience and will be useful to both novice anglers and professionals.
Read more
about the author.
Affiliate Disclosure: FishReeler.com sometimes gets paid for listings, through sponsors or affiliate programs like Amazon, Ebay, Cabelas, Bass Pro Shop, Shimano, Daiwa, Rapala, Renn, Okuma, KastKing, etс. Clicking a link helps keep FishReeler.com free, at no extra cost to you!
About the author: Each article is verified by the fishing expert Sergio Smirnoff. The articles are written by professional and amateur fishermen with 20+ years of fishing experience.
Note: The views and opinions expressed in this article are those of the authors and do not necessarily reflect the official policy or position of any agency. The articles are for informational purposes only, share your opinions in the comments and join the fishing discussions, let's share our fishing experiences together!