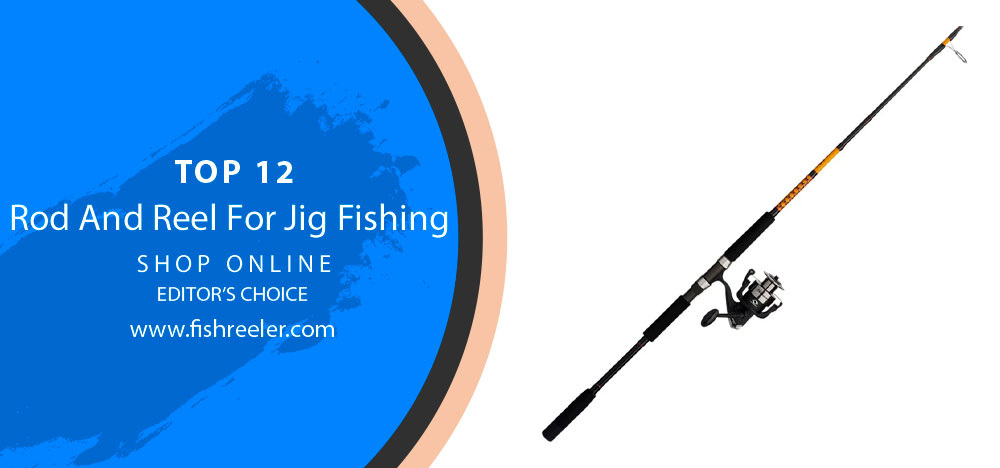 Diving Into the World of Jig Fishing: An Exciting Adventure Awaits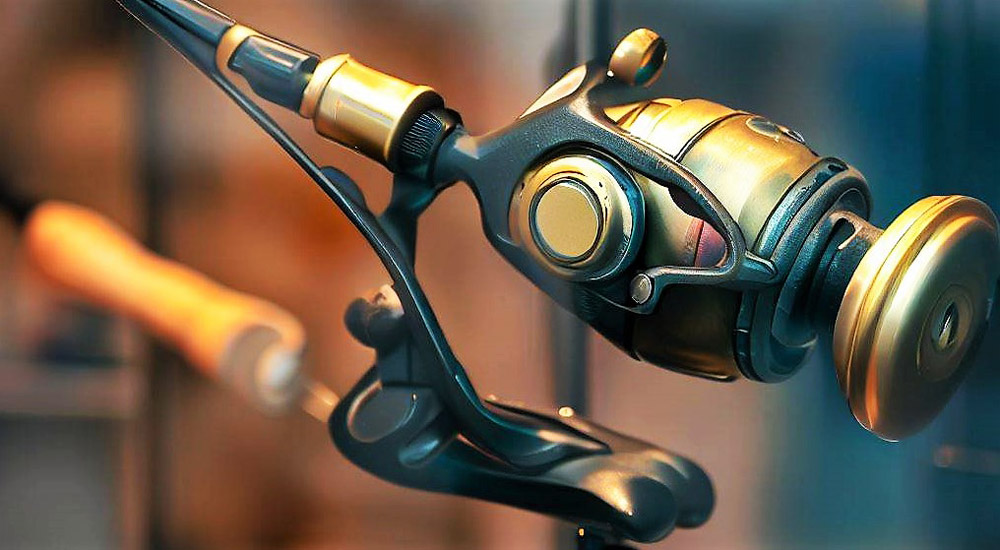 Welcome to the thrilling world of jig fishing, a technique that has captured the hearts of anglers around the globe and has cemented its place in the annals of fishing folklore. Jig fishing, in essence, involves the use of a jig, a type of fishing lure, which is designed to create an irresistible motion underwater, mimicking the movements of prey to attract fish. But what makes jig fishing so popular?
A large part of its appeal lies in its versatility. Jig fishing can be employed in both fresh and saltwater environments, from the smallest streams to the largest oceans. This method is effective against a wide variety of species, making it a favored technique for both the leisure angler and the trophy hunter.
Moreover, the art of jigging offers an engaging, hands-on experience. Every twitch, jerk, or pause of the rod can have a direct impact on your success rate, giving you an intimate connection with the process. It's no wonder that this method, which combines skill, patience, and sometimes sheer luck, has won so much acclaim within the fishing community.
Yet, like any craft, mastery of jig fishing demands more than just understanding the basic concept. It calls for the right equipment. And that's where the central focus of our discussion lies: rods and reels. This article aims to guide you through the process of choosing the perfect rod and reel for jig fishing, ensuring you're well-equipped to tackle whatever challenge comes your way. By understanding the nuances of jig fishing gear, you'll be one step closer to achieving your angling goals. So, let's dive in, and embark on this exciting journey together.
The Art and Science of Jig Fishing: A Detailed Exploration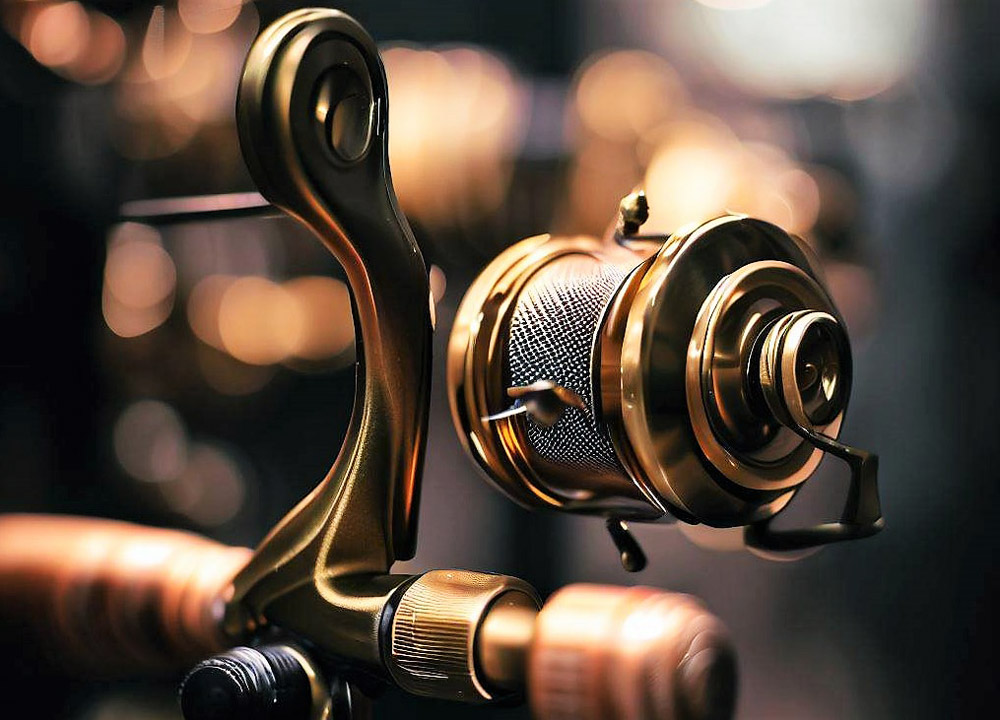 Jig fishing, at its core, is a method of angling that utilizes a type of lure known as a jig. This specific lure is typically made of a lead sinker with a hook molded into it, and usually covered by a soft body to attract fish. However, the true power of the jig lies not merely in its appearance but in its movement. With its unique design, a jig can be maneuvered in the water to mimic the erratic movements of various prey species, thereby attracting the predatory fish we seek to catch.
In action, jig fishing is a dance between the angler and the potential catch. It involves a series of calculated rod movements – lifts, falls, and snaps – that are transferred to the jig. This active style of fishing allows for a high level of control and adaptability, enabling the angler to respond to changes in the water, weather, or the behavior of the fish.
Jig fishing has proven effective in luring a broad spectrum of species. In freshwater, you can use jig fishing to target species such as bass, crappie, and walleye. In saltwater environments, the list expands to include fish like snapper, grouper, and even larger game fish like tuna or halibut. This versatility further adds to the popularity of jig fishing as it allows anglers to switch targets without needing to drastically change their fishing style or gear.
Moreover, the effectiveness of jig fishing is not limited by the environment. From the crystal-clear waters of mountain streams to the murky depths of coastal waters, and from quiet lake corners to tumultuous ocean currents, jig fishing can deliver promising results. It's adaptable to various water depths and can be used from a stationary position, such as from the shore or a pier, or from a moving platform like a boat.
🚩In summary, understanding jig fishing means acknowledging its flexibility, the skill it requires, and the broad range of environments and species it can conquer. Armed with this knowledge, we can now delve into the main components that enable this fascinating technique: the rod and reel.
Best Rod And Reel For Jig Fishing Review
Jigging is one of the most effective ways to catch fish. In order to make the most of your jig fishing trips, you need the best rod and reel for the job.
🎥In this video, I show a typical jig fishing technique.
In this blog post, we will review some of the top-rated rods and reels on the market today specifically designed for jig fishing. We'll provide a buyer's guide to help you choose the right setup for your next trip out on the water. So, whether you're a beginner or experienced fisherman, read on to find out more about the best rod and reel combos for jig fishing!
1# PENN Spinfisher VI 6500 Spinning Rod and Reel Jigging Combo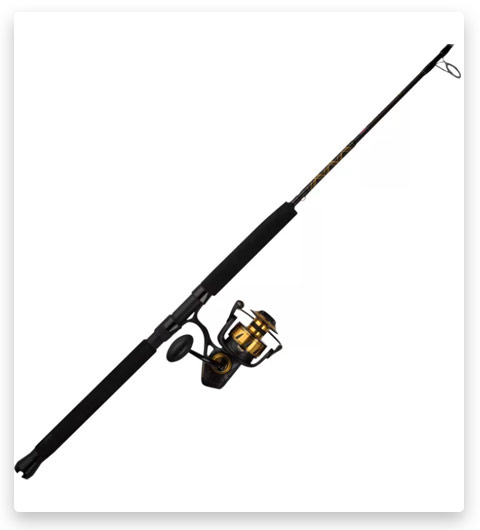 Looking for a powerful and durable spinning combo that can take on big fish? Look no further than the Penn Spinfisher VI 6500! This reel is built with a full metal body and side plates, as well as CNC Gear technology, to ensure smooth and consistent performance.
The sealed drag system prevents water and debris from getting in, while the HT-100 carbon fibre drag washers provide serious stopping power. And thanks to the line capacity rings, you'll always know how many lines you have left. The rod is equally tough, with a rugged graphite composite blank and insert-free stainless steel Dura-Guides. It also features lightweight EVA handle grips for easy handling, even when wet.
2# PENN Battle III/Offshore Angler Inshore Extreme Spinning Combo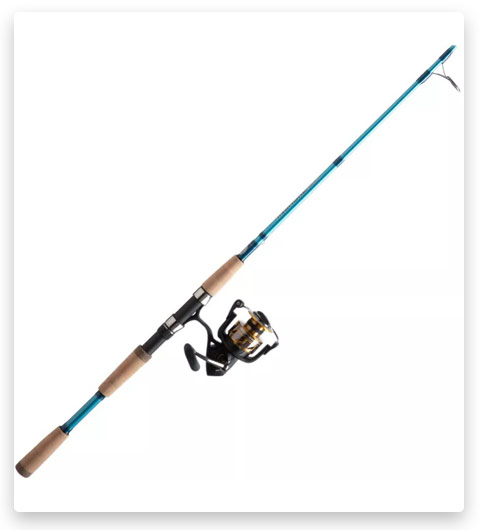 This reel is packed full of amazing features, like a Full Metal Body and side plate, Superline Spool with line capacity rings, CNC Gear™ Technology, and 5+1 sealed stainless steel ball-bearing system. The HT-100™ carbon fibre drag washers provide incredible stopping power when you need it most. The graphite/fibreglass hybrid blank on the rod provides great sensitivity so you can feel every bite, while the Shok Flex Technology ensures that your rod will never break or buckle when fighting a fish!
3# Offshore Angler Salt Striker Spinning Combo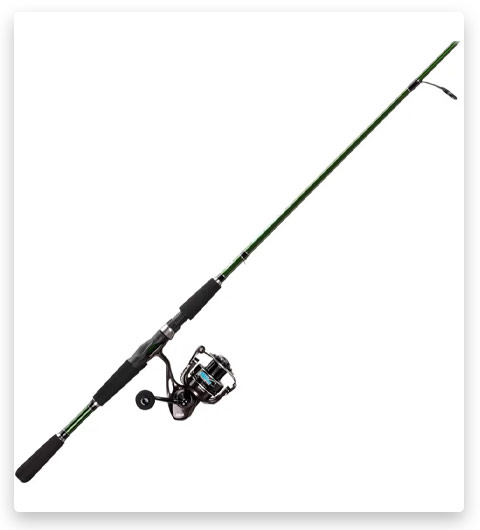 If you love spending time fishing out on the open water, you need a dependable and tough spinning combo like the Offshore Angler Salt Striker. This reel features a robust nylon composite frame and rotor, double anodized aluminium spool, and stainless steel bail for lasting performance.
The zinc alloy main gear and stainless steel main shaft work together for smooth operation, while the 4+1 system with double-shielded stainless steel bearings ensures power and precision. And if you ever need to reverse quickly, the PowerLock instant anti-reverse has got your back. Plus, the smooth carbon fibre and PTFE drag system provide reliable stopping power. For comfortable use, the Offshore Angler Salt Striker features an aluminium handle.
4# Shimano Saragosa SW/Offshore Angler Ocean Master Boat Spinning Combo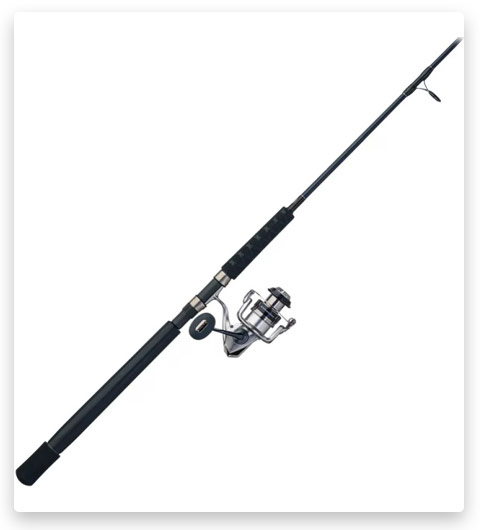 The Shimano Saragosa SW/Offshore Angler Ocean Master Boat Spinning Combo is perfect for anglers who demand the very best. This reel features a waterproof Hagane body, X-Protect, and X-Shield to keep your gears in top condition while you battle with the big ones. The propulsion line management system ensures every inch of line is put to good use, while the stainless steel One-Piece Bail and gasketed drag provide smooth operation no matter how much pressure you're putting on.
5# PENN Battle III Inshore Spinning Combo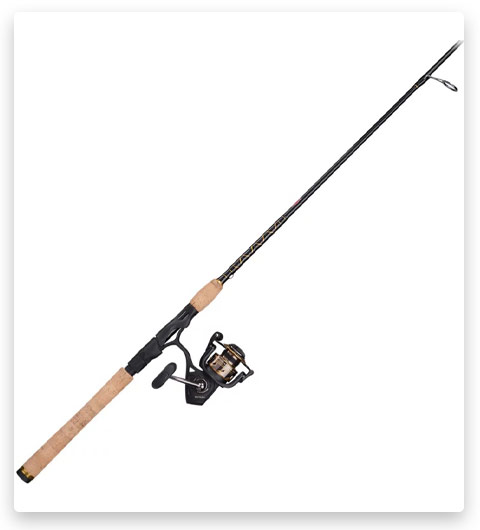 This combo is made with a tough, sensitive graphite composite blank and comes with 1-piece stainless steel Dura-Guides – making it perfect for long days on the water. The reel also features a full metal body and side plates, CNC Gear Technology, 5+1 sealed stainless steel ball bearings, and a HT-100 Carbon Fiber Drag System – ensuring smooth performance every time. And don't forget about the comfortable cork handle on the rod! So if you're looking for an affordable, reliable option for your next fishing trip, be sure to check this combo.
6# Penn Fierce III Spinning Combo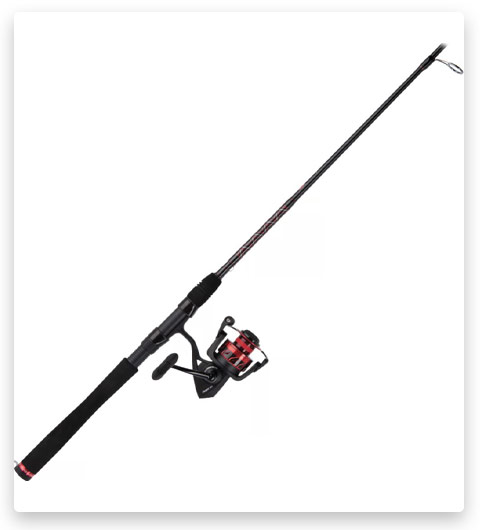 Introducing the Penn Fierce III Spinning Combo – perfect for anglers who demand quality and performance. This reel is built with a full metal body and sideplates, ensuring durability and strength. The techno-balanced graphite rotor ensures smooth operation, while the heavy-duty aluminum bail wire can handle any fishing situation.
The braid-ready spool allows you to use any type of fishing line, while the four stainless steel bearings provide smooth reeling. And don't forget about the HT-100 carbon fiber drag washers – they provide extreme stopping power when battling those big fish. The rod is also top notch, featuring a powerful graphite composite blank and one-piece stainless steel Dura-Guides.
7# Tsunami Shield Boat Spinning Combo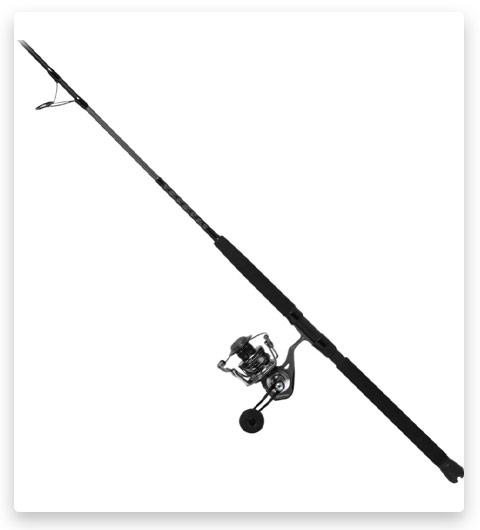 Take your fishing game to the next level with Tsunami Shield Boat Spinning Combos. These combos are built tough and designed to resist saltwater intrusion, so you can spend more time on the water without worrying about your gear. Featuring a hybrid, machined and anodized aluminum body, heavy-duty rotor and brake-assisted bail, machined aluminum spool and braid arbor band, 4+1 system with instant anti-reverse, sealed stainless steel ball bearings and CF3 carbon fiber drag system, Tsunami Shield Boat Spinning Combos are perfect for anglers who demand the best in performance and durability.
8# Ugly Stik Bigwater Spinning Rod and Reel Combo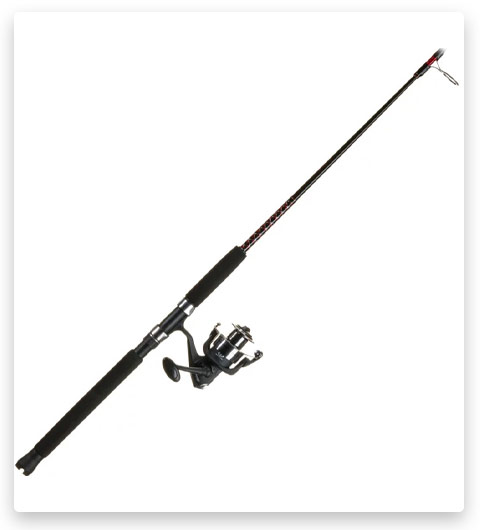 Why settle for an ordinary fishing rod and reel when you can get the Ugly StikBigwater Spinning Rod and Reel Combo? This reel is made with a full graphite body, aluminum spool, and 2-bearing system – making it strong yet sensitive. Plus, the oversized handle knob ensures a comfortable grip while you're reeling in your big catch. The rod is also designed with Ugly Tech graphite and glass construction, making it both strong and sensitive. And don't forget about the Clear Tip design – which gives you extra power when fighting those big fish. Finally, both the rod and reel come equipped with Ugly Tuff stainless steel guides and EVA grips, ensuring a smooth experience from start to finish.
9# Shimano Spheros Spinning Combo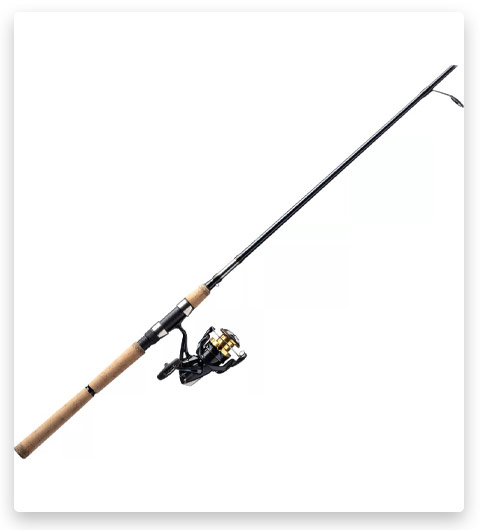 Shimano's Spheros Spinning Combo is perfect for anglers who demand the best. The reel features Coreprotect water repulsion technology to help keep your line dry, while the Super-hard Hagane gearing ensures smooth, consistent performance every time. The rod is constructed from durable graphite composite and has aluminum oxide guides for a smooth, responsive feel.
10# Ugly Stik Bigwater Surf Spinning Combo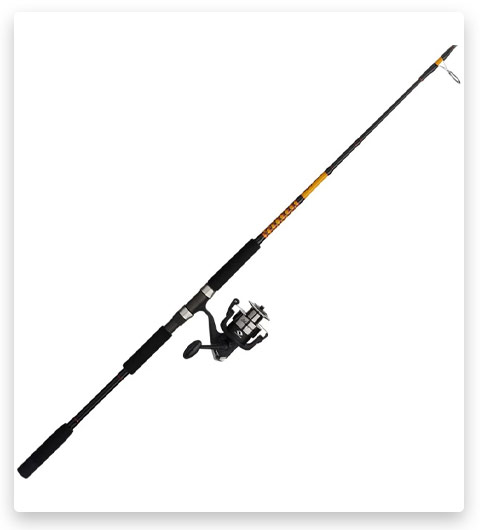 The Ugly StikBigwater Surf Spinning Combo is great for anglers who want the ultimate in performance and durability. The reel features a full graphite body, aluminum spool, and 2-bearing system for smooth operation. TheInstant anti-reverse feature ensures safety and the oversized handle knob provides extra comfort. The rod features an Ugly Tech graphite-fiberglass blank that is incredibly strong and sensitive. The Ugly Stik Clear Tip provides even more sensitivity, while the Ugly Tuff 1-piece stainless steel guides are durable and can stand up to the elements. The Fuji reel seat is comfortable and secure, while the EVA grips provide additional comfort. This combo is perfect for anglers who demand the best!
11# Daiwa BG Surf Spinning Combo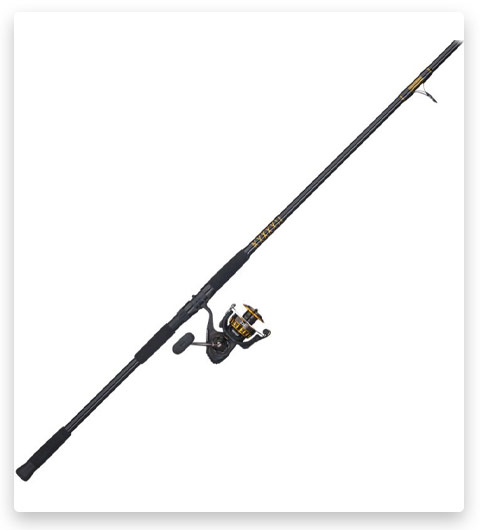 The Daiwa BG Surf Spinning Combo is perfect for anglers looking for a durable, high-performing setup. Featuring a HardBodyZ aluminum body and side cover, Digigear technology, and a 7-bearing system (6 ball bearings + 1 roller bearing), this reel delivers ultra-smooth retrieves every time. The Surf BG Spinning Rod is built on a powerful 1-piece graphite composite blank with cut-proof aluminum oxide guides and EVA handles, making it the ideal choice for anyone looking to tackle big waves and strong currents.
12# Bait Stik Inline Spinning Combo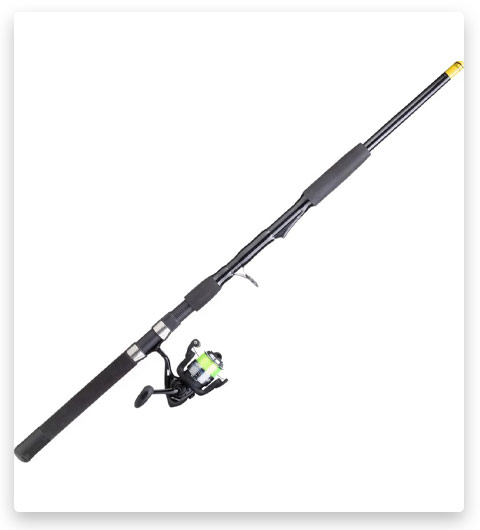 The Bait Stik Inline Spinning Combo is the perfect tool for anyone looking to easily and efficiently catch bait. The specially designed rod makes it quick and easy to grab the bait, while the included Sabiki rig with 3-oz. weight ensures that your bait stays in place. With a comfortable EVA grip, this combo provides everything you need to get started fishing for bait.
Rods and Reels Decoded: Grasping the Fundamentals of Fishing Gear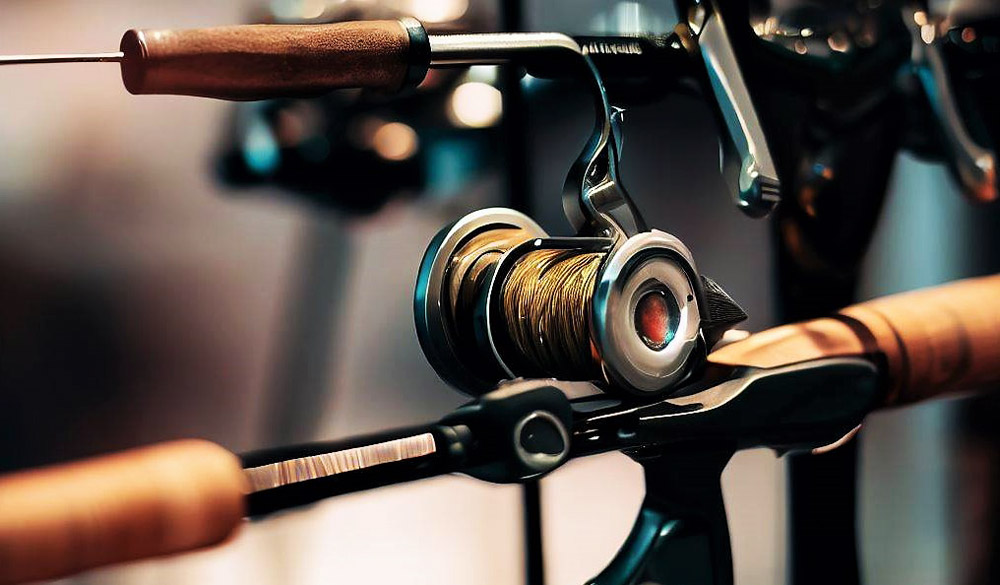 Before embarking on the journey of selecting the ideal rod and reel for jig fishing, it's essential to understand the basics of these fishing gear components.
Starting with the fishing rod, it's more than just a stick to which a line is attached. It's a carefully designed tool that provides leverage, accuracy, and control when casting and retrieving a line. Key components of a fishing rod include the handle (or grip), the reel seat (where the reel is mounted), the rod blank (the main, longest part of the rod), and the guides (rings that guide the line along the rod).
🟨The specifications of a fishing rod include length, power, action, and material:
🔷Length: The length of a fishing rod is measured from the tip to the end of the handle. It impacts casting distance and accuracy. Shorter rods provide better control and are suited for short casts, while longer rods allow for longer casts and are better for surf fishing or when casting over long distances.
🔷Power: Often referred to as the "weight" of the rod, power refers to how much force it takes to bend the rod. Options range from ultra-light to heavy. Lighter power rods are suited for smaller species, while heavier power rods can handle larger fish.
🔷Action: The action of a rod describes where it bends when pressure is applied. Fast action rods bend at the top third or less, medium action rods bend at the top half, and slow action rods bend starting in the lower third of the rod. Fast-action rods provide a high level of sensitivity and are good for single-hook lures, while slower-action rods are good for multi-hook lures.
🔷Material: Most rods are made from graphite, fiberglass, or a composite. Graphite rods are lighter and more sensitive but also more brittle. Fiberglass rods are heavier but more robust and flexible. Composite rods offer a balance between the two.
Moving onto the fishing reel, serves as a pulley-like mechanism that stores, releases, and retrieves the fishing line. The main types of fishing reels are spinning reels, baitcasting reels, and spin-cast reels. Each has its specific advantages and applications.
🟨Important specifications for fishing reels include gear ratio, line capacity, and drag system:
🔶Gear Ratio: This refers to how many times the bail spins around the spool with a single turn of the reel handle. A high gear ratio retrieves a line faster but has less power, while a lower gear ratio retrieves slower but provides more power.
🔶Line Capacity: This indicates how much fishing line the reel can hold. It's crucial to consider the type of fishing you'll be doing and the size of the fish you're targeting.
🔶Drag System: The drag system applies a certain amount of resistance to the line when a fish bites. A good drag system allows the line to be pulled out smoothly without breaking when a large fish is on the line.
🚩Understanding these terms and concepts is key to making an informed decision when selecting a rod and reel for jig fishing. Up next, we'll delve into what specifically you should look for in these components when preparing for jig fishing.
The Perfect Rod for Your Jig: Unraveling Key Selection Factors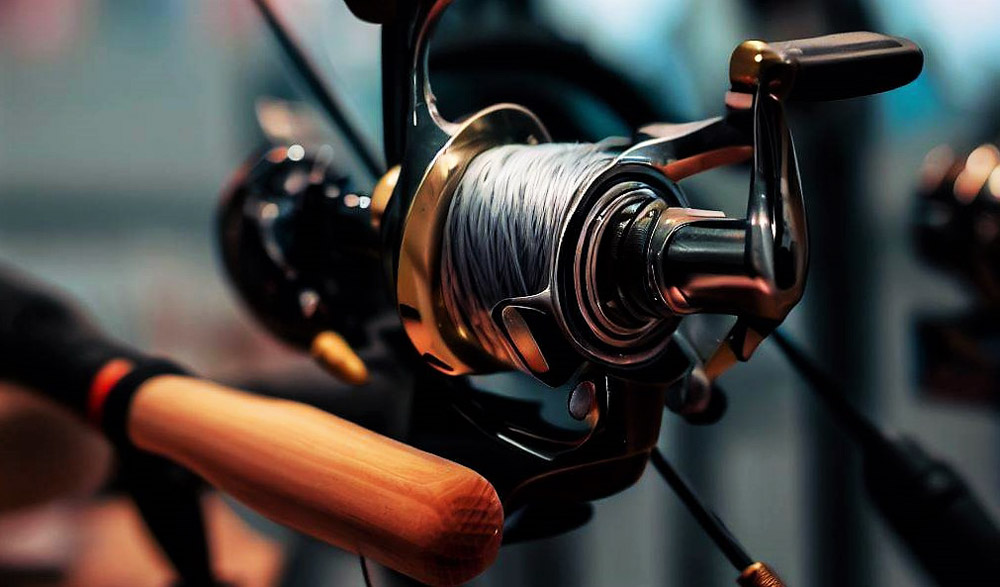 🟨Choosing the right rod for jig fishing goes beyond picking one off the shelf. To find the optimal jig fishing rod, we must delve into the specifics: power, action, length, and material.
☑️Let's start with power. When jig fishing, you might often find yourself trying to tempt fish hiding in heavy cover or the depths of the water. Consequently, you will need a rod with medium-heavy to heavy power. This power will give you the backbone needed to set the hook effectively, especially when using heavier jigs, and control the fish through obstructions.
☑️The action of your rod plays a crucial role too. Fast action rods, which bend more towards the tip, are generally the best for jig fishing. These rods are sensitive to nibbles and bites, enabling you to feel even the slightest interest from a fish. Moreover, they provide the quick, powerful hook set necessary when jig fishing.
☑️Next is the length of the rod. While the perfect length can depend on personal preference and specific fishing conditions, a good starting point for a jig fishing rod is generally between 6.5 to 7.5 feet. This range balances the ability to make long, accurate casts and the maneuverability to work your jig effectively. Longer rods can offer further casting and deeper water exploration, while shorter rods might be better for precise, shorter-distance casting or when fishing in tight areas.
☑️Finally, the material of your rod can significantly impact your jig fishing experience. Graphite rods, due to their sensitivity and lightweight, are generally preferred for jig fishing. Their sensitivity allows you to feel the jig as it moves through the water and detect when a fish strikes. However, if durability is a major concern, especially when fishing in heavy cover or targeting larger species, a composite rod that balances sensitivity and durability might be the way to go.
🚩In summary, selecting a rod for jig fishing is about finding a tool that will best complement the jig's movements and manage the challenges of your specific fishing environment. Whether it's feeling the faintest nibble, firmly setting the hook, or controlling a powerful fish, the right rod will significantly enhance your jig fishing experience and success. With a firm understanding of the ideal jig fishing rod, we can now shift our focus to its trusty companion, the reel.
Reeling Them In: How to Choose the Ideal Jig Fishing Reel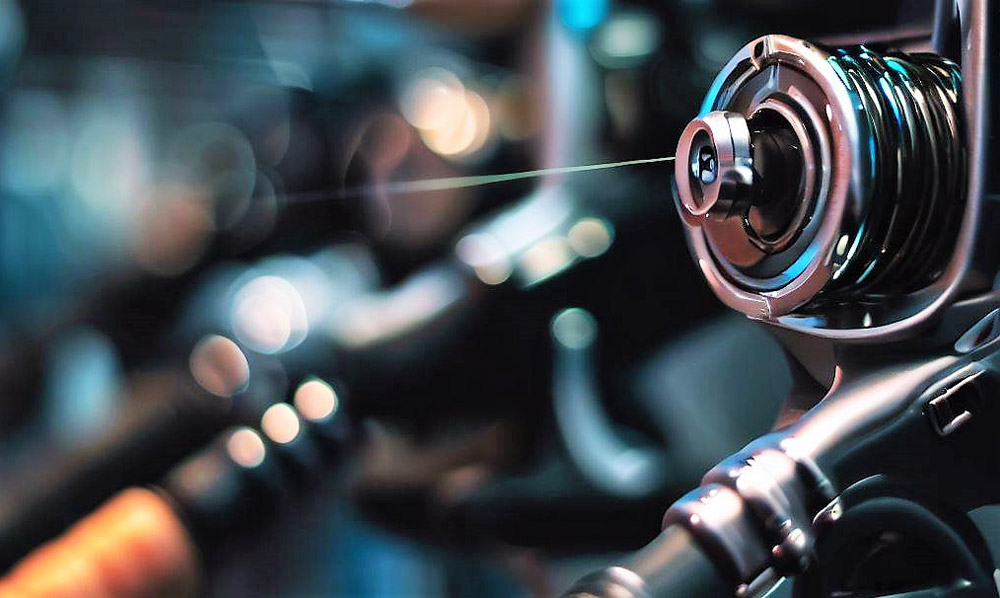 When it comes to jig fishing, the selection of the right reel is just as critical as that of the rod. There are two primary types of reels that anglers often employ for jig fishing: spinning reels and baitcasting reels.
Spinning reels are generally user-friendly and versatile, making them a good choice for those new to jig fishing or those targeting smaller fish. They allow for a broad range of line capacities, and the drag system is typically smooth, which is essential when playing a hooked fish.
On the other hand, baitcasting reels offer increased casting control and typically have higher line capacities. These reels can handle heavier lines and are known for their strength and durability, making them ideal for targeting larger fish in heavy cover or deep water.
🟨When choosing a reel for jig fishing, several specific features should be taken into account: gear ratio, line capacity, and the drag system.
🟫Gear Ratio: In the context of jig fishing, a reel with a higher gear ratio can be beneficial. This is because a higher ratio enables faster line retrieval, which can be essential when you're working a jig in deep water or need to quickly retrieve a slack line after a strike. However, if you're jigging in shallower water or prefer a slower presentation, a reel with a lower gear ratio might be sufficient.
🟫Line Capacity: The line capacity required for your reel will largely depend on the fishing conditions. If you're fishing in deep water, heavier cover, or targeting larger fish, you'll need a reel that can accommodate a heavier and longer line. For most jig fishing situations, however, a medium line capacity should suffice.
🟫Drag System: A high-quality, smooth drag system is vital for jig fishing. When a fish strikes and runs, the drag system allows the line to be pulled from the reel under tension. This prevents the line from breaking while maintaining enough pressure to tire the fish. For jig fishing, you'll want a reel with a smooth, adjustable drag system that can handle the weight of the fish you're targeting.
🚩In conclusion, the ideal reel for jig fishing will allow you to cast accurately, retrieve your jig at the right speed, and handle a fighting fish effectively. Once you've chosen your ideal rod and reel, you'll be well on your way to mastering the art of jig fishing. In the next section, we'll discuss some recommended combinations of these crucial pieces of gear.
The Winning Combos: Unveiling Top Rod and Reel Pairs for Jig Fishing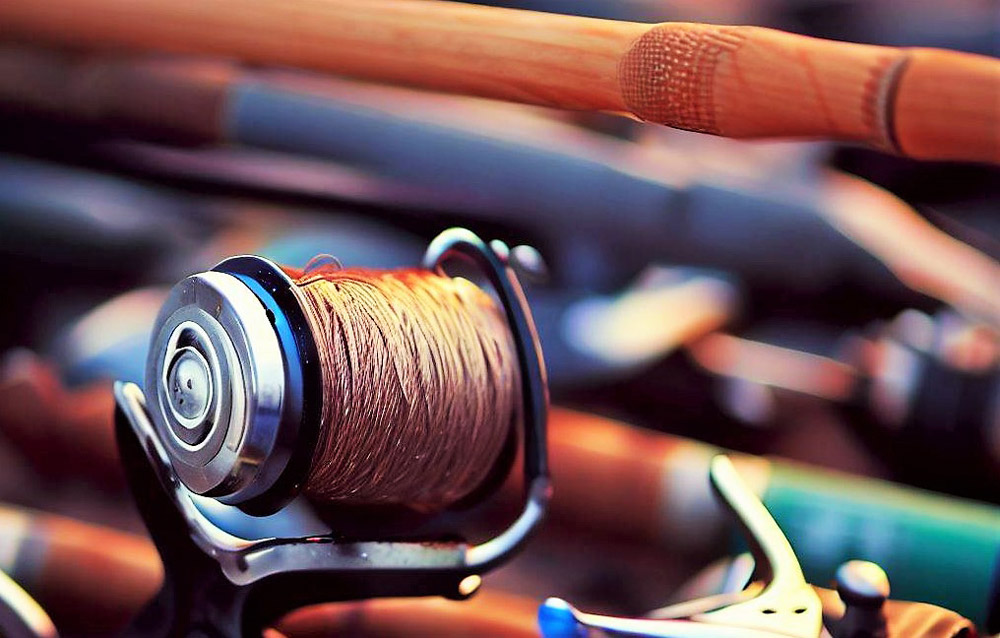 🟨To unlock your full potential in jig fishing, pairing the right rod with the right reel is paramount. Here are a few combinations that have been proven to work exceptionally well in different jig-fishing scenarios:
♊The Bass Specialist: For freshwater jig fishing, especially when targeting bass, a popular combo is the 7-foot, medium-heavy, fast-action graphite rod paired with a high-speed (7.1:1 gear ratio) baitcasting reel. This combination offers great sensitivity to detect bites, enough power to haul bass out of dense cover, and fast line retrieval to maintain control.
♊The All-Rounder: For more general jig fishing applications, a 7-foot, medium-power, fast-action graphite rod with a spinning reel featuring a 5.2:1 gear ratio can be a great combination. This setup provides a balanced blend of sensitivity and strength, suitable for a variety of fish species and jigging techniques.
♊The Deep Sea Giant: For saltwater jig fishing in deep waters, targeting larger species like grouper or amberjack, consider a heavy power, fast-action rod of around 6-7 feet paired with a high-capacity baitcasting reel with a moderate gear ratio (around 4.1:1). This combo offers the strength to battle large fish and the capacity to hold enough heavy line for deep water exploration.
♊The Crappie Catcher: If you're into crappie jig fishing, a 6-foot light power, fast-action graphite rod combined with a light spinning reel (4.1:1 gear ratio) would be a perfect fit. This combo is light, allowing for delicate jig presentation and plenty of sensitivity to detect the light bite of crappie.
The key to choosing the right rod and reel combination for jig fishing lies in matching your gear to your targeted fish species, the environment you're fishing in, and your personal jigging style. The right combination should provide a balance of sensitivity, power, and line capacity, enabling you to present your jig effectively and handle your catch efficiently.
🚩Remember, though, these are recommendations, not rigid rules. Feel free to experiment with different combinations until you find the one that suits your needs and preferences best. Once you've chosen your perfect rod and reel pair, the next thing to keep in mind is their proper care and maintenance, which we'll explore in the following section.
Keep Your Gear Prime: Essential Care and Maintenance Tips for Your Jig Fishing Equipment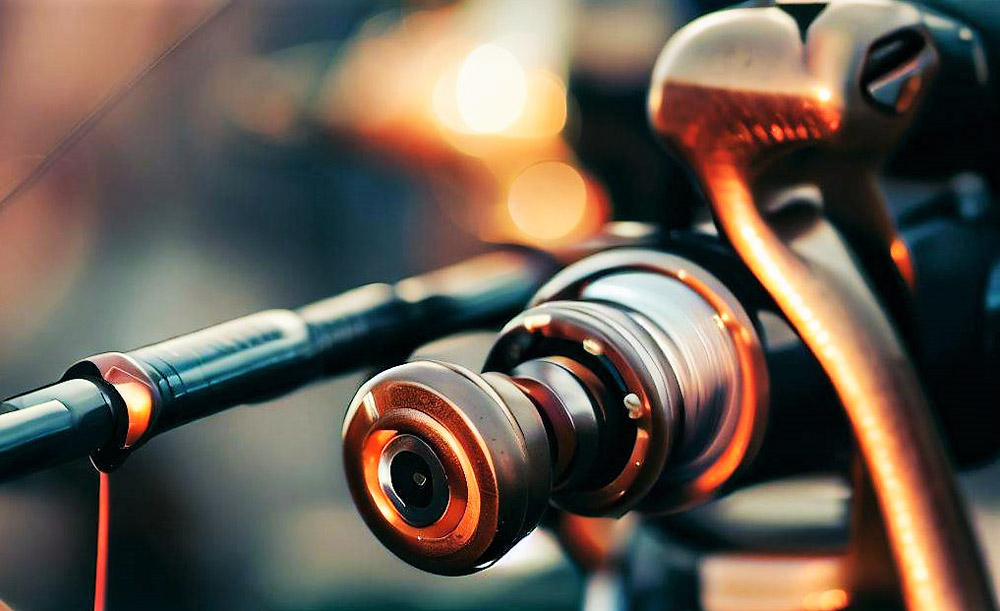 While selecting the right jig fishing rod and reel is crucial, maintaining them is equally important. Good maintenance not only extends the life of your equipment but also ensures its peak performance when you're out on the water.
Regular cleaning and proper storage can prevent damage from elements such as salt, dirt, and moisture, which can degrade your gear over time. This holds true for all fishing equipment, particularly for rods and reels used in jig fishing, which often experience demanding conditions.
🟨Here are some essential care and maintenance tips to keep your jig fishing gear in top shape:
⬜Cleaning Your Rod and Reel: After each fishing trip, take a few minutes to clean your rod and reel. Use warm soapy water and a soft cloth or sponge to gently wipe down the rod, paying special attention to the guides. Rinse the reel with fresh water and dry it thoroughly to prevent corrosion, particularly if you've been fishing in saltwater. For a deep clean of your reel, consider disassembling it according to the manufacturer's instructions and applying a fishing reel-specific lubricant to the moving parts.
⬜Proper Storage: When not in use, store your rod and reel in a cool, dry place out of direct sunlight. UV rays can damage the rod's finish and weaken the line. If possible, store your rod vertically to avoid warping, and ensure your reel's drag is loosened to reduce tension on the internal components.
⬜Regular Line Replacement: The fishing line can often be overlooked, but it's a critical part of your jig fishing setup. Regularly check your line for signs of wear, such as fraying or discoloration, and replace it as needed. This is especially important for jig fishing, where the line often encounters abrasive underwater structures.
⬜Inspect Your Gear: Before and after each fishing trip, take a moment to inspect your rod and reel. Check the rod for any cracks or damage, particularly around the guides, and ensure the reel operates smoothly. Regular inspections can help you spot and address minor issues before they become major problems.
🚩In conclusion, proper care and maintenance of your jig fishing gear are key to its longevity and performance. With these tips, you can ensure that your rod and reel remain in optimal condition, ready to assist you in landing your next big catch. Now, let's conclude our journey into the world of jig fishing with some practical tips for using your well-chosen and well-maintained gear.
Jig Fishing Like a Pro: Expert Strategies for Exceptional Results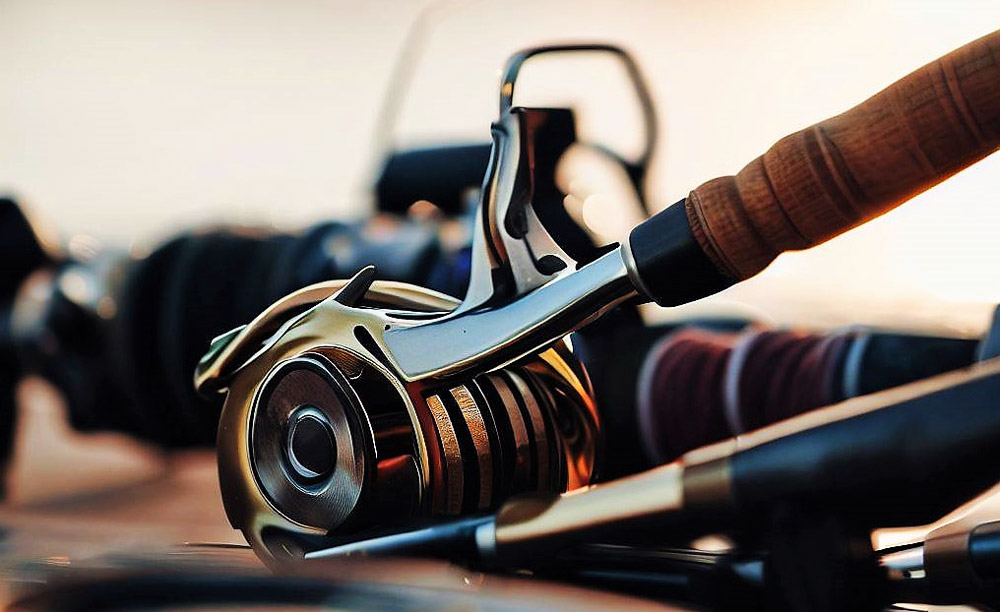 Now that you've chosen and maintained your perfect rod and reel for jig fishing, it's time to put them to work.
🟨Here are some expert tips and tricks to help you get the most out of your gear and improve your overall jig-fishing technique:
🆘Perfect Your Casting: Good casting can make a significant difference in your success with jig fishing. Practice your casting to ensure you can place your jig accurately. Remember, with jig fishing, it's often about getting your lure into those hard-to-reach places where big fish are hiding. Whether you're using a spinning or baitcasting reel, make sure you're comfortable with casting it accurately.
🆘Master Jigging Techniques: Jig fishing is an active style of fishing, meaning you will often need to manipulate the lure to make it attractive to the fish. This can involve twitching, hopping, or dragging the jig along the bottom. The right technique can vary depending on the type of fish and the conditions, so be prepared to switch it up and see what works.
🆘Choose the Right Lure: The type of jig you use can be critical. Be sure to match your jig size, color, and style to the conditions and the type of fish you're targeting. Remember, the aim is to mimic the prey of the fish you're trying to catch. For example, in murky water, brighter-colored jigs may be more visible to fish, while in clear water, more natural colors could be effective.
🆘Set the Hook Properly: When a fish strikes, a quick and firm hook set is crucial in jig fishing. This requires a solid upward jerk of the rod, which your fast-action rod should excel at. Remember to keep a tight line as much as possible when jigging, as any slack could make it harder to feel a bite or set the hook.
🆘Fight Smart, Not Hard: When you hook a fish, the fight is on. Use the power of your rod and the drag system of your reel to tire the fish out, rather than trying to muscle it in. This is where a good understanding of your rod's power and action, and your reel's drag system comes into play.
🚩Remember, fishing is a blend of skill, knowledge, and patience, and it often takes time and practice to master. But with the right equipment in your hands and these tips in your mind, you're well-equipped to make the most of your jig fishing experience. In the next section, we'll wrap up our comprehensive guide to selecting and using a rod and reel for jig fishing.
FAQ: Demystifying Rod and Reel Choices
🚩Remember, the answers provided here are general advice. Always take into account your specific fishing situation and conditions.
Conclusion: Essential Tips for Picking Your Rod and Reel
When it comes to finding the best rod and reel for jig fishing, there is no one-size-fits-all answer. Different anglers prefer different setups, and what works well in one situation may not be ideal in another. That said, there are a few things to keep in mind when choosing gear for jig fishing. In this article, we've outlined some of the most important factors to consider and shared reviews of some of the top-rated rods and reels for jigging. So whether you're just getting started or you're looking to upgrade your current setup, we hope this guide will help you choose the right gear for your next trip out on the water.
Casting Off: Your New Journey with Jig Fishing Begins Now
As we conclude this comprehensive guide to selecting and using a rod and reel for jig fishing, let's take a moment to revisit the key points we've covered:
Jig fishing is a versatile and effective technique for a variety of environments and species, making it a valuable addition to any angler's repertoire.
The right rod and reel for jig fishing can make a significant difference in your success. Consider the power, action, length, and material of the rod and the gear ratio, line capacity, and drag system of the reel when making your selection.
Proper care and maintenance extend the lifespan and performance of your fishing equipment. Regular cleaning, proper storage, and inspection can keep your rod and reel in optimal condition.
Mastering jig fishing techniques and understanding how to make the best use of your gear will help you catch more and bigger fish. This involves perfecting your casting, choosing the right lure, and learning how to handle a catch.
Your journey into the world of jig fishing is just beginning. With your newfound knowledge and the right equipment, you're ready to head out to the water and start exploring this exciting method of fishing. Keep in mind that every fishing trip is an opportunity to learn and improve your skills. Experiment with different techniques, try new jig styles, and above all, enjoy your time on the water.
🚩Remember, the joy of fishing comes not only from the catch but also from the connection with nature, the thrill of the chase, and the satisfaction of mastering a skill. So grab your rod and reel, tie on your favorite jig, and let the world of jig fishing unfold before you.
Credible Knowledge: Validating Information through Trusted Sources
Our exploration into the world of jig fishing, particularly focusing on selecting the right rod and reel, has been informed by numerous trusted sources. Consulting these resources and others like them can be an excellent way to broaden your fishing knowledge and stay up to date with the latest techniques, gear advancements, and fishing trends.
🟨Here are the key references that have contributed to this comprehensive guide:
"The Complete Guide to Jig Fishing" by Robert J. Sampson. A comprehensive handbook on jig fishing that covers everything from basic techniques to advanced strategies. (Sampson, R.J., 2022)
"The Science of Rods and Reels" from the International Game Fish Association (IGFA). This online resource provides an in-depth understanding of the mechanics behind fishing rods and reels. (IGFA, 2023)
"Fishing Rods: A Practical Guide to Rod Material, Action, and Power" by Douglas Peterson. This book provides a deep dive into the specifics of fishing rods. (Peterson, D., 2021)
"Reel Selection Made Easy" on Fisherman's Toolbox. This online article is an excellent guide to understanding the features of different types of fishing reels. (Fisherman's Toolbox, 2023)
"How to Care for Your Fishing Gear" by Clean Ocean Action. This resource provides detailed tips on maintaining your fishing equipment to prolong its life and efficiency. (Clean Ocean Action, 2023)
In crafting this article, we've also drawn on countless personal experiences and stories from seasoned anglers, who offer a wealth of practical knowledge and wisdom born from years spent on the water. We've aimed to include engaging visuals and helpful diagrams throughout the article to make the information as accessible and understandable as possible.
Fishing is a lifelong learning journey filled with continual discoveries, surprising joys, and occasional challenges. So, keep on reading, learning, and casting. The world of jig fishing awaits you, and we're confident you'll find it as rewarding as we do.
Happy fishing, and remember: every day on the water is a good day.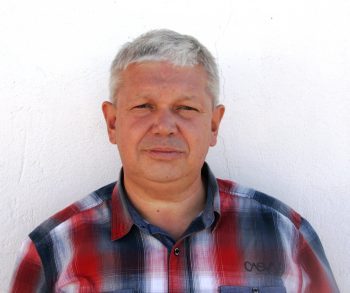 Sergio Smirnoff
Professional fisherman with 40+ years of experience.
Fishing and the ocean is a passion of my life. I am passionate about all kinds of sea fishing: fishing from the shore (spinning, float, baitcasting), from a boat, and spearfishing day and night.
I live in Tenerife (Canary Islands) for the last 10+ years and share my daily fishing experiences on my website. Many years of personal experience as a fisherman and the vast experience of my friends allow me to write professionally on any fishing topics (from choosing a flashlight and equipment to deep-sea fishing).
All of my advice is based on practical real-world experience and will be useful to both novice anglers and professionals.
Read more
about the author.
Affiliate Disclosure: FishReeler.com sometimes gets paid for listings, through sponsors or affiliate programs like Amazon, Ebay, Cabelas, Bass Pro Shop, Shimano, Daiwa, Rapala, Renn, Okuma, KastKing, etс. Clicking a link helps keep FishReeler.com free, at no extra cost to you!
About the author: Each article is verified by the fishing expert Sergio Smirnoff. The articles are written by professional and amateur fishermen with 20+ years of fishing experience.
Note: The views and opinions expressed in this article are those of the authors and do not necessarily reflect the official policy or position of any agency. The articles are for informational purposes only, share your opinions in the comments and join the fishing discussions, let's share our fishing experiences together!