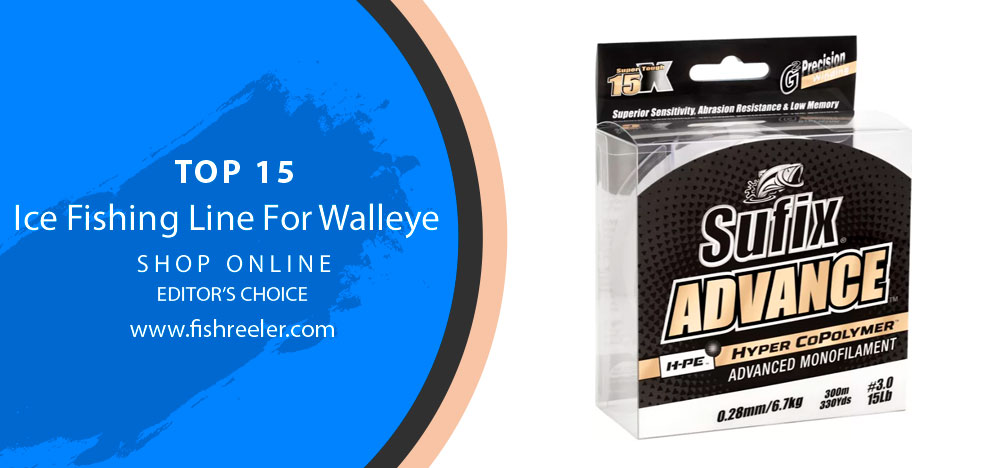 Ice Fishing Line for Walleye: A Winter Love Story Between Angler and Fish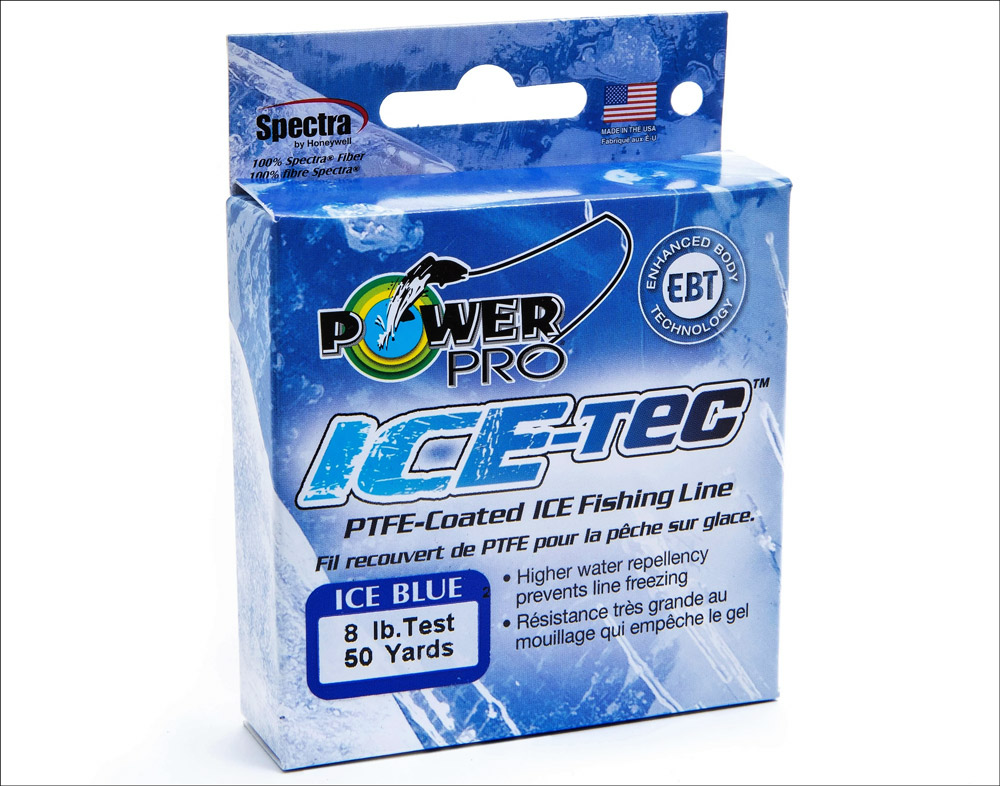 🎣 The Frosty Encounter: My First Dance with Walleye
As the winter sun cast long shadows over the icy lake, I drilled my first hole, set up my rod with nervous anticipation, and waited. It wasn't long before I felt a gentle tug. With bated breath, I set the hook, and the battle commenced.
The line zinged, the reel hummed, my heart pounded – I was in the middle of an icy waltz with my first Walleye. After a heart-racing tussle, the golden-green beauty appeared from the icy depth, its mesmerizing marble eyes reflecting my awe and joy. The experience was more exhilarating than any I'd ever had – a mix of adrenaline, serenity, and connection with nature. I was hooked! 🐟
🎣 Hook, Line, and Sinker: How I Fell for Ice Fishing
I've always been passionate about fishing, but that winter day, my love story with ice fishing for Walleye truly began. The chill in the air, the tranquil isolation of the frozen lake, the suspenseful wait for a tug on the line – all these elements blended together into an experience that spoke to my soul.
Ice fishing for Walleye became more than a hobby. It was a way of embracing the harsh beauty of winter, a lesson in patience and finesse, and an avenue to discover and appreciate a fascinating species – the Walleye. This arduous yet fulfilling journey is not just about landing the biggest fish; it's about connecting with the natural world, accepting its challenges, and cherishing the rewards it offers.
🔶Through this article, I want to take you on a journey beneath the ice. A journey filled with love, understanding, and passion for the beautiful game that is ice fishing for Walleye. 🚀🌨️🧡
Understanding Walleye

🐟 Under the Ice: The Winter Wonderland of the Walleye
The Walleye (Sander vitreus) is a freshwater fish famed for its marble-like eyes that give it superior night vision. This unique adaptation makes it a skilled hunter, especially under the cover of darkness or the icy shield of a winter lake. 🌙
Walleyes adapt to the changing seasons. As water temperatures drop, they migrate from their summer homes in deep waters to shallow areas, hunting for food and preparing for the spawn that comes with spring's warmth. Winter is their time of plenty, making it an exciting time for anglers.
While their elusive nature can make them a challenge to catch, it's this very characteristic that makes Walleye a rewarding pursuit for ice anglers. Their impressive fight and the taste of victory when you finally draw them out of the icy depths are what ice fishing dreams are made of! 💪❄️🏆
🐟 In Pursuit of Gold: Why Walleye Won My Heart
I have fished for many species, but Walleye has a special place in my heart. Their elusive behavior adds an exciting challenge to the sport, making each catch feel like a genuine achievement. Their marble eyes, reflecting the wintry sun as they break the surface, create a sight to behold, truly a "gold" trophy in the ice angler's world. 🏅🌞
The game of patience and strategy you play while trying to outwit a Walleye keeps you engaged, and when you succeed, it's not just a triumph over the Walleye but also the harsh winter elements.
Moreover, Walleye are known for their delicious, tender meat, making them a double reward – a challenging catch and a delightful meal. Catching a Walleye feels like nature's own way of patting you on the back, acknowledging your patience, resilience, and respect for the sport. 🎣🍽️👏
🔶Through ice fishing for Walleye, I've found a way to embrace winter, to respect and connect with a magnificent species, and to challenge and refine my angling skills. It's an experience I wouldn't trade for anything.
The Importance of Choosing the Right Line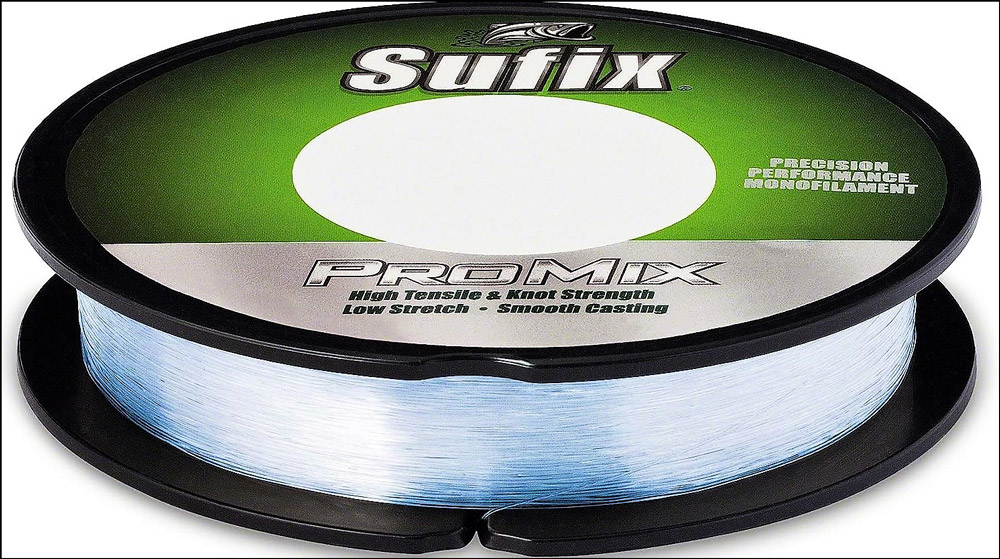 🎣 The Invisible Connection: The Lifeline between Angler and Walleye
The fishing line may seem like just another part of your fishing gear, but in reality, it's the crucial link connecting you to the Walleye beneath the ice. It's your feeler, your messenger, and your lifeline. 🔄🐟
An appropriate fishing line enhances sensitivity, enabling you to detect even the faintest nibbles, and ensures your hook sets are successful. It withstands the Walleye's notorious fight and the harsh, icy conditions. Choosing the right line, therefore, can make a significant difference between an enjoyable successful day and a frustrating experience on the ice.
🎣 A Tale of Triumph & Loss: When My Line Decided the Outcome
A few winters ago, I embarked on a weekend ice fishing expedition. Equipped with my trusty rod and a new line I hadn't tried before, I was ready for a day of Walleye wrestling.
Early on, I got a promising tug. With heart racing, I set the hook and felt the line zing with the resistance of a Walleye on the other end. The battle was intense, and just as I thought I was about to see the golden-green prize, my line snapped. The quiet that followed was deafening – my icy dance partner had escaped. 💔🕳️
That day, I learned that not all lines are made equal. I realized the importance of a line that could withstand a Walleye's fight and the winter's bite. The right line not only enhances your angling experience but also respects the fish, providing a fair fight. 🥊🧊
🔶Since then, I've made it my mission to find the best fishing lines for Walleye, ensuring my icy escapades are a mix of challenge, respect for the catch, and triumphant joy. 🎉
🎦Video YouTube: What Ice Fishing Line to Choose?
Best Ice Fishing Line For Walleye Review
When it comes to ice fishing for walleye, you need to use a line that is specifically designed for this type of fish. There are many different types of ice fishing lines on the market, but not all of them will work well for walleye. In this article, we will take a look at the best ice fishing line for walleye and recommend some of the top-rated options available. So, if you are looking to catch more walleye this winter, read on!
1# Yo-Zuri H.D. Carbon Fluorocarbon Leader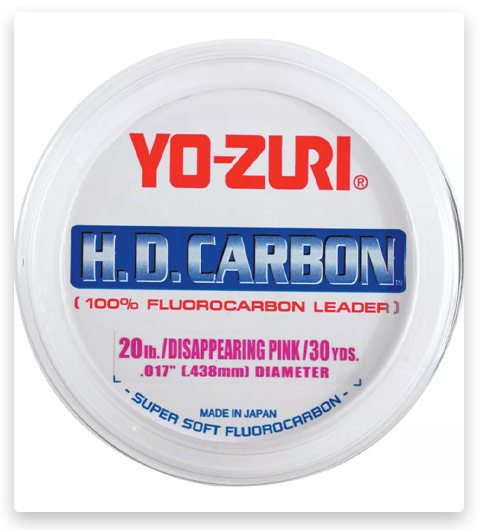 If you're looking for a fluorocarbon leader that gives you the ultimate abrasion resistance, sensitivity, and knot strength, then you need Yo-Zuri H.D. Carbon Fluorocarbon Leader. This professional-grade leader is made from 100% fluorocarbon, so it virtually disappears underwater for a stealthy approach to your prey.
It's also super soft and supple, making it easy to work with and giving you great action on your line. Whether you're fishing for bass, trout, or any other fish, Yo-Zuri H.D. Carbon Fluorocarbon Leader is the perfect choice for the serious angler.
2# Yo-Zuri TopKnot Fluorocarbon Line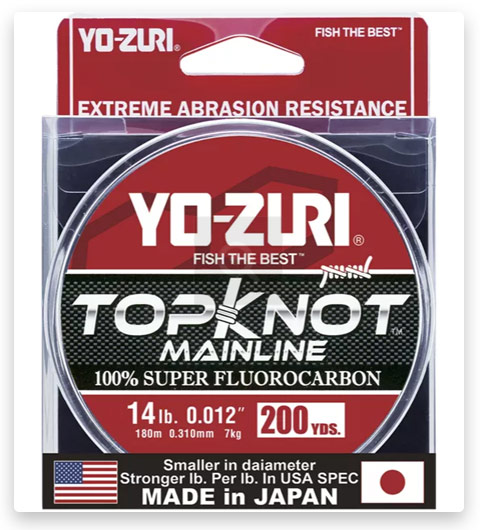 Yo-ZuriTopKnotFluoro mainline is an excellent choice for anglers who demand the best in quality and performance. This line features a high break strength, low memory, and outstanding strength-to-diameter ratio. It's also abrasion resistant and durable, making it perfect for use with any bait or lure.
3# TrikFish Saltwater Fluorocarbon Leader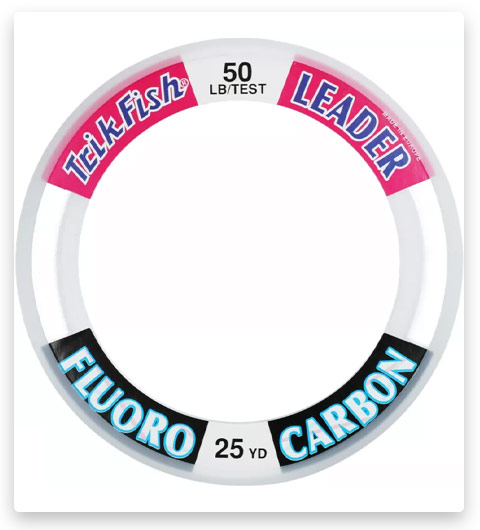 Looking for a dependable fluorocarbon leader that can stand up to anything the ocean throws at it? Look no further than TrikFish Saltwater Fluorocarbon Leader. With its low stretch and high abrasion resistance, this leader material is ideal for stealthy presentations that need to stand up to some serious punishment. Plus, the convenient wrist spool makes it easy to keep this essential piece of tackle close at hand.
So whether you're targeting big game fish offshore or inshore predators in the surf, TrikFish Saltwater Fluorocarbon Leader is up to the task. Get it today and see for yourself why this is such a popular choice among saltwater anglers.
4# Ande Premium Monofilament Line 1/2 lb. Spool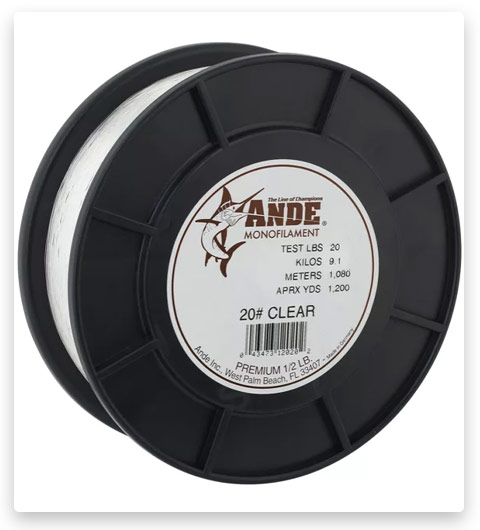 For the serious angler who demands the best, Ande Premium Monofilament Line is the only choice. With over 1,300 IGFA world records, it's widely recognized as the gold standard for both fresh and saltwater fishing.
Made from low-memory monofilament, it's designed for longer, smoother casts with less drag. It also features a smaller diameter that gives you an advantage when trolling or fighting a fish.Available in a variety of easily visible colors, Ande Premium Monofilament Line is the smart choice for any serious fisherman.
5# P-Line CXX X-tra Strong Copolymer – 260-300 Yards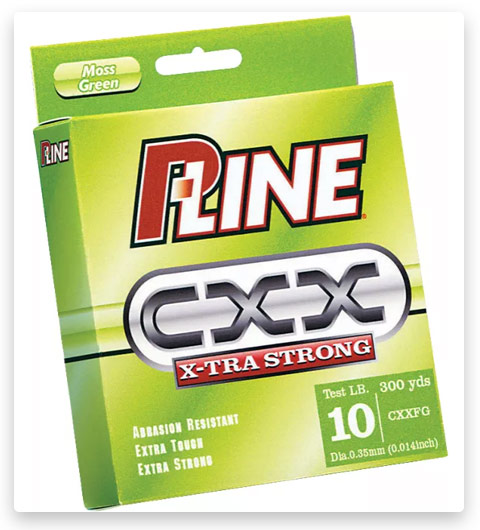 The P-Line CXX X-Tra Strong Copolymer is built with a superior abrasion-resistant coating and an extremely high breaking strength, making it the perfect choice for anglers who demand the best. Plus, it comes in three great colors – Hi-Vis Fluorescent, Crystal Clear, and Moss Green – so you can always find the right line for your needs.
6# Sufix Advance Monofilament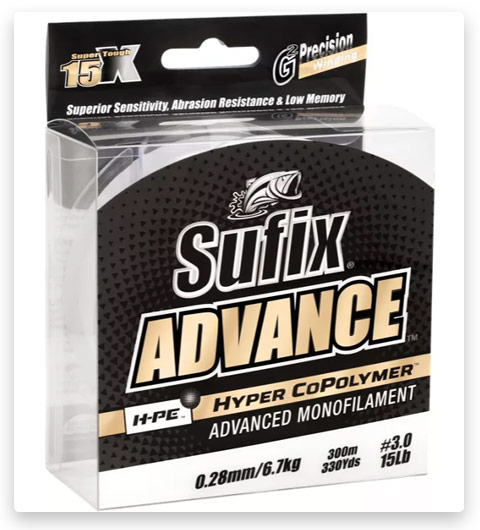 Check out Sufix Advance Monofilament. This high-performance fishing line is 50% lower in stretch than standard mono, meaning you'll have superior sensitivity and less risk of losing your catch. It's also 50% less likely to absorb UV rays, so it'll stay strong and visible for longer. And thanks to its low memory, it'll cast smoothly and effortlessly.
Made with HMPE and Hyper Copolymer, this tough yet flexible line can stand up to the rigors of fishing while remaining virtually memory-free. So don't let anything come between you and a successful day on the water – try Sufix Advance Monofilament today!
7# Berkley Vanish Fluorocarbon Fishing Line 250 Yards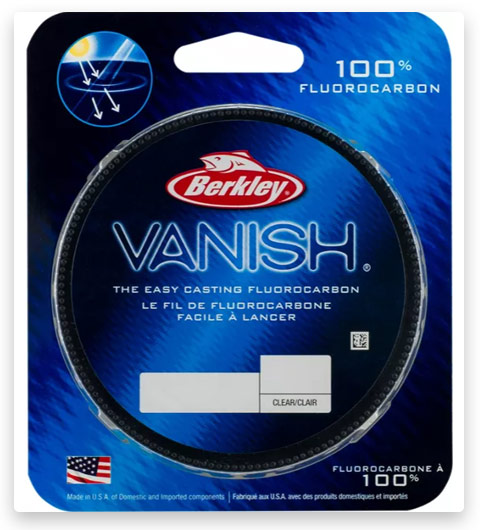 Berkley Vanish Fluorocarbon Fishing Line is designed to be virtually invisible and undetectable to fish, while also offering excellent shock absorbency. This line is perfect for anglers who want the best possible chance of landing a fish without spooking them.
8# P-Line Salmon & Steelhead Fluorocarbon Leader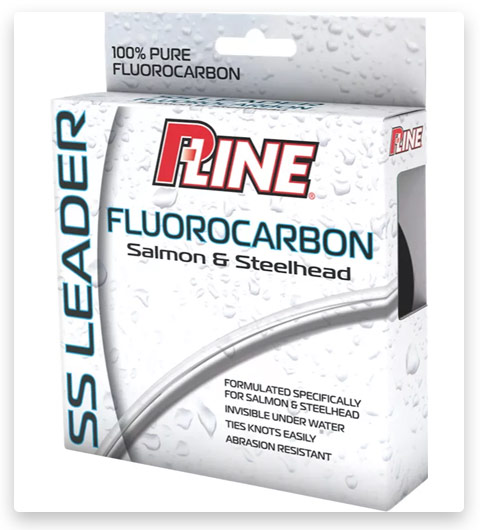 If you're looking for a top-of-the-line fluorocarbon leader for salmon and steelhead fishing, look no further than the P-Line Salmon & Steelhead Fluorocarbon Leader. This leader is developed specifically for fishing these tough fish, and it boasts incredible invisibility and abrasion resistance.
You'll also appreciate the extreme flexibility of this leader – it won't inhibit the action of your lures at all. And with superior knot strength, you can rest assured that your line will hold up against even the strongest fish. So don't settle for anything less than the best – choose the P-Line Salmon & Steelhead Fluorocarbon Leader.
9# Bass Pro Shops XPS KVD Signature Series Fluorocarbon Fishing Line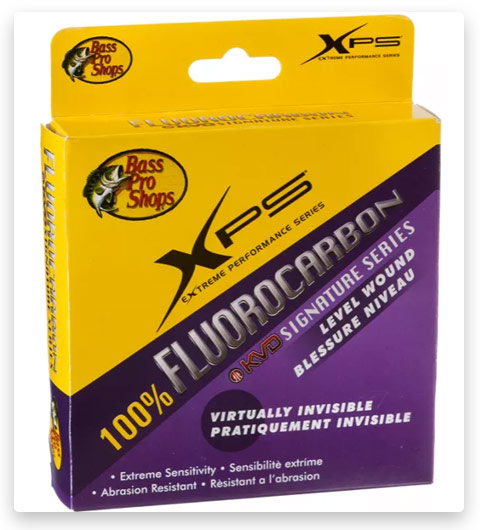 Bass Pro Shops XPS KVD Signature Series 100% Fluorocarbon Fishing Line is the perfect choice for freshwater spinning and baitcasting. It features unparalleled abrasion resistance, making it ideal for tackling those big fish. Plus, with its invisible underwater finish, you'll be able to get closer to your prey than ever before!
10# Berkley Trilene XL Smooth Casting Line 1000 Yards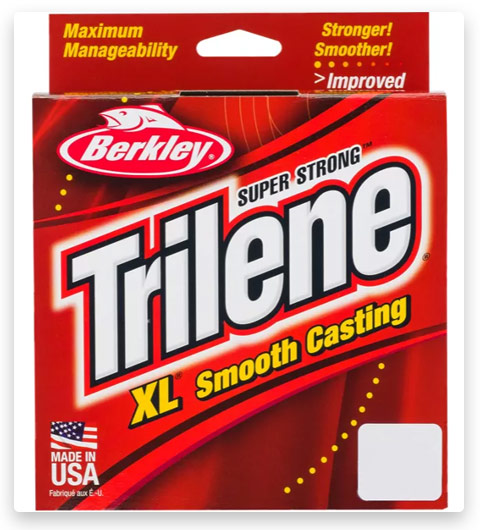 The Berkley Trilene XL Smooth Casting Line 1000 Yards is famous for its super limpness, low memory, smooth handling and toughness. This easy casting Trilene XL Line's unique formula also ensures less line twisting, fewer kinks, minimal backlashes and superior abrasion resistance.
11# Stren Magnathin Fishing Line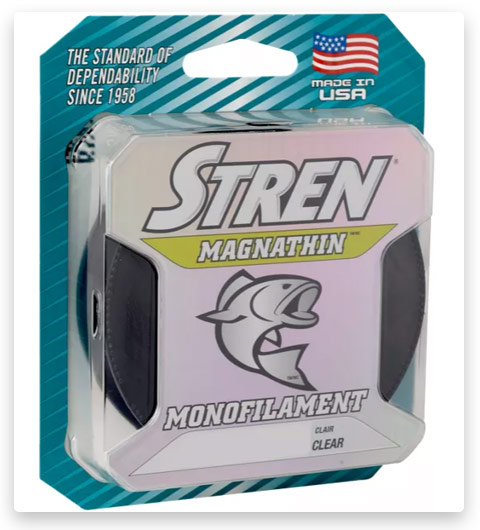 If you're serious about fishing, you need a line that can give you the advantage. StrenMagnathin Fishing Line is designed for anglers who demand the best. With a small diameter and exceptional strength-to-diameter ratio, this line is perfect for targeting line-wary fish. The advanced casting formula promotes natural lure action, while the low-visibility design makes it easier to fool fish. Plus, you can spool up to 50% more line on your reel thanks to the thin diameter. When you're looking for a versatile, durable fishing line, reach for StrenMagnathin.
12# Sunline Assassin FC Fluorocarbon Fishing Line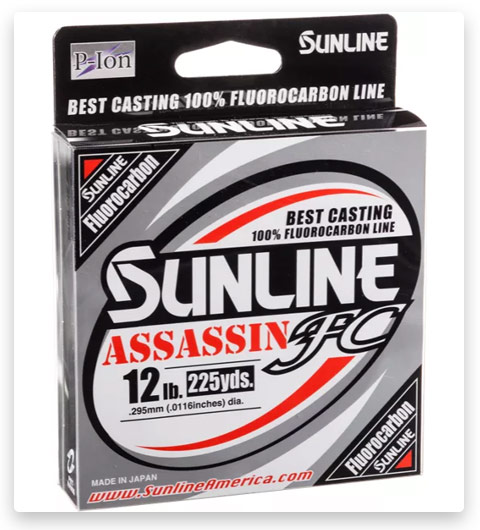 Sunline Assassin FC fluorocarbon fishing line is a top-of-the-line product that's perfect for experienced anglers. Made with 100% fluorocarbon construction, this line is extremely strong and durable. It also features P-Ion processing, which makes it incredibly slick and resistant to abrasion. Whether you're fighting a big fish or just want the peace of mind that comes with knowing your line can handle any situation, Sunline Assassin FC is the right choice.
13# Seaguar STS Trout/Steelhead Fluorocarbon Leader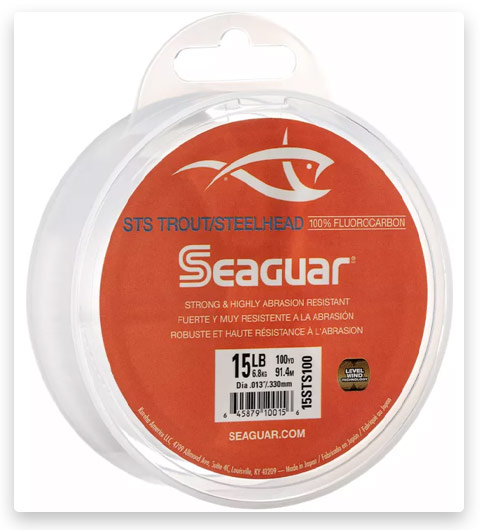 The Seaguar STS Trout/Steelhead Fluorocarbon Leader is a top-of-the-line fluorocarbon leader material that is extremely stealthy and strong, yet still highly abrasion-resistant. This leader material sinks quickly, making it great for fishing in current. It also comes through rocks, laydowns, and brush more reliably than monofilament, making it the perfect choice for anglers who want the best of both worlds.
14# Yo-Zuri Hybrid Line 600 Yard Spool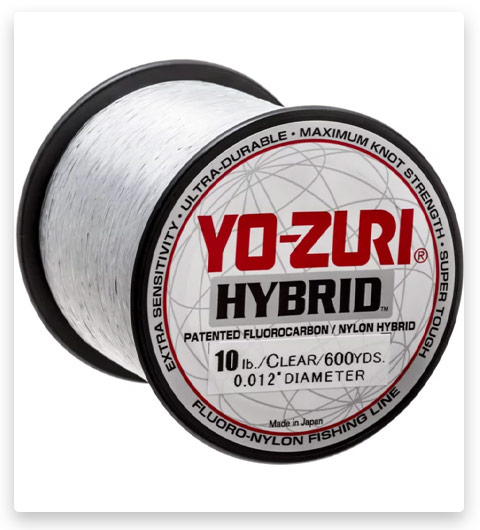 If you're looking for the best of both worlds, look no further than Yo-Zuri Hybrid Line. This line is a 50/50 blend of fluorocarbon and nylon, offering the stealthiness and sensitivity of fluorocarbon with the flexibility and low memory of nylon. It's also abrasion resistant and sensitive, making it perfect for all species and presentations. Plus, it's 100% waterproof and UV-resistant, ensuring that your line will perform flawlessly in any condition.
15# Bass Pro Shops Excel Fluorocarbon Fishing Line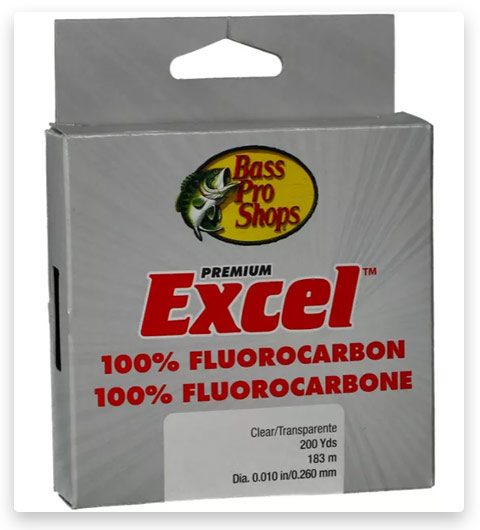 Bass Pro Shops Excel Fluorocarbon Fishing Line offers the strength and invisibility you need to land that trophy fish. Made with 100% fluorocarbon, this line is virtually invisible underwater and has an extremely low stretch for accurate casting. With high abrasion resistance and superior knot and tensile strength, Bass Pro Shops Excel Fluorocarbon Fishing Line can handle even the most challenging fishing conditions.
Key Factors to Consider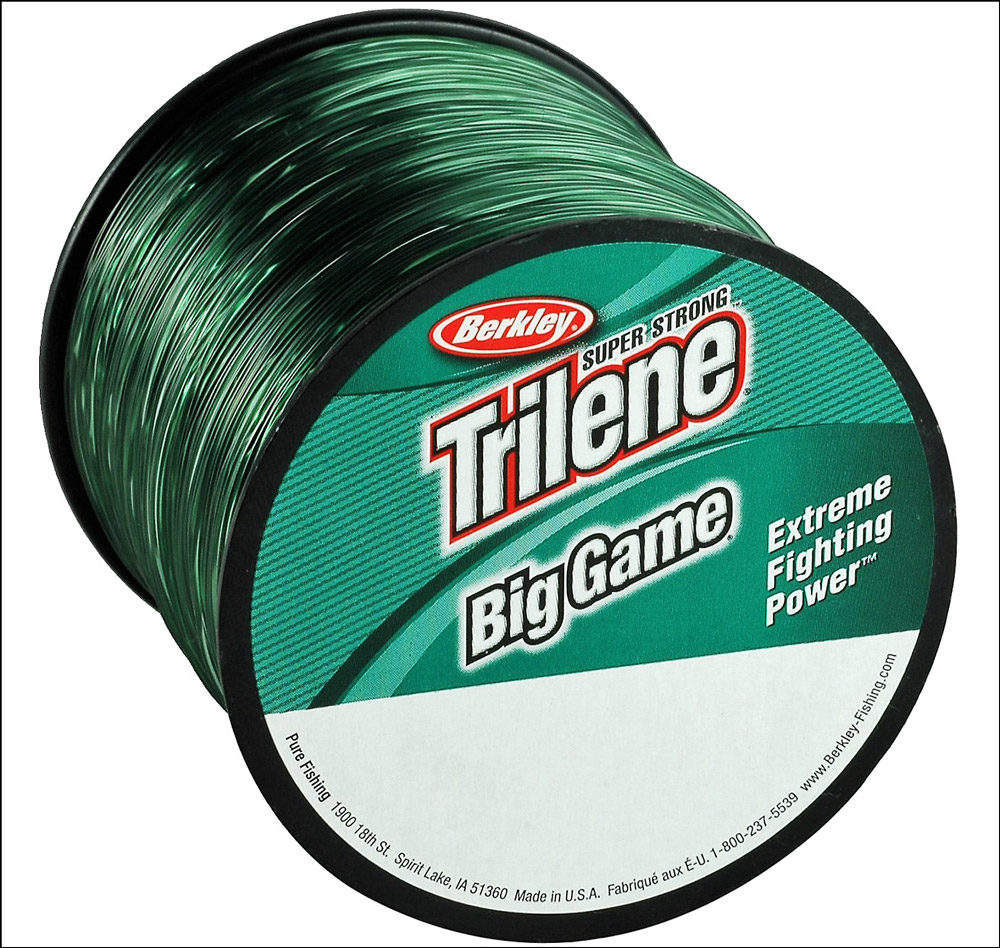 🎣 Choosing Your Weapon: The Art of Selecting the Perfect Line
When it comes to choosing the perfect fishing line for Walleye, there are several key factors to consider. These not only improve your chances of landing that trophy fish but also enhance your overall ice fishing experience.🧭👍
Line Strength: Walleye are known for their fight. To withstand their pull, you need a line with suitable strength. Typically, a 4-8 lb test line does the trick, but larger Walleye might require up to 10 lbs. Always consider the size of the fish you're targeting. 🏋️‍♂️
Material: Monofilament, fluorocarbon, and braided lines each have their pros and cons. Monofilament is versatile and affordable, while fluorocarbon is nearly invisible underwater and resistant to abrasion. Braided lines are incredibly strong and offer excellent sensitivity but lack in invisibility. Your choice depends on your style and the water clarity.🧶
Visibility: Walleye are wary creatures. Using a low-visibility line can make a significant difference in your success rate. Fluorocarbon is often the go-to for its low visibility under water. 🐠

Resistance to Freezing

: It's crucial to choose a line that won't freeze or stiffen in the icy conditions, as this could affect its strength and sensitivity. Certain lines are designed specifically for cold weather and are worth considering. ❄️
🎣 Lines of Destiny: How the Right Line Makes All the Difference
Once, while using a high-visibility braided line on a clear winter day, I noticed my bites dwindling. I suspected the wary Walleye might be line-shy in the clear water. Switching to a low-visibility fluorocarbon line, my bites picked up almost immediately. That day, the visibility factor turned my luck around. 🍀🔄
Another time, I was battling a hefty Walleye with a line not designed for cold weather. As the line began to stiffen and ice over, my control and sensitivity drastically reduced. Thankfully, I landed the Walleye, but I learned a vital lesson: the importance of a line resistant to freezing. Since then, I've always opted for lines specially designed for the cold, and my winter catches have been all the better for it. 🏆🌡️
🔶Choosing the right line is an art – one that can significantly transform your ice fishing experience and success. Get it right, and every Walleye adventure can be a masterpiece. 🖼️🎨
Top Ice Fishing Lines for Walleye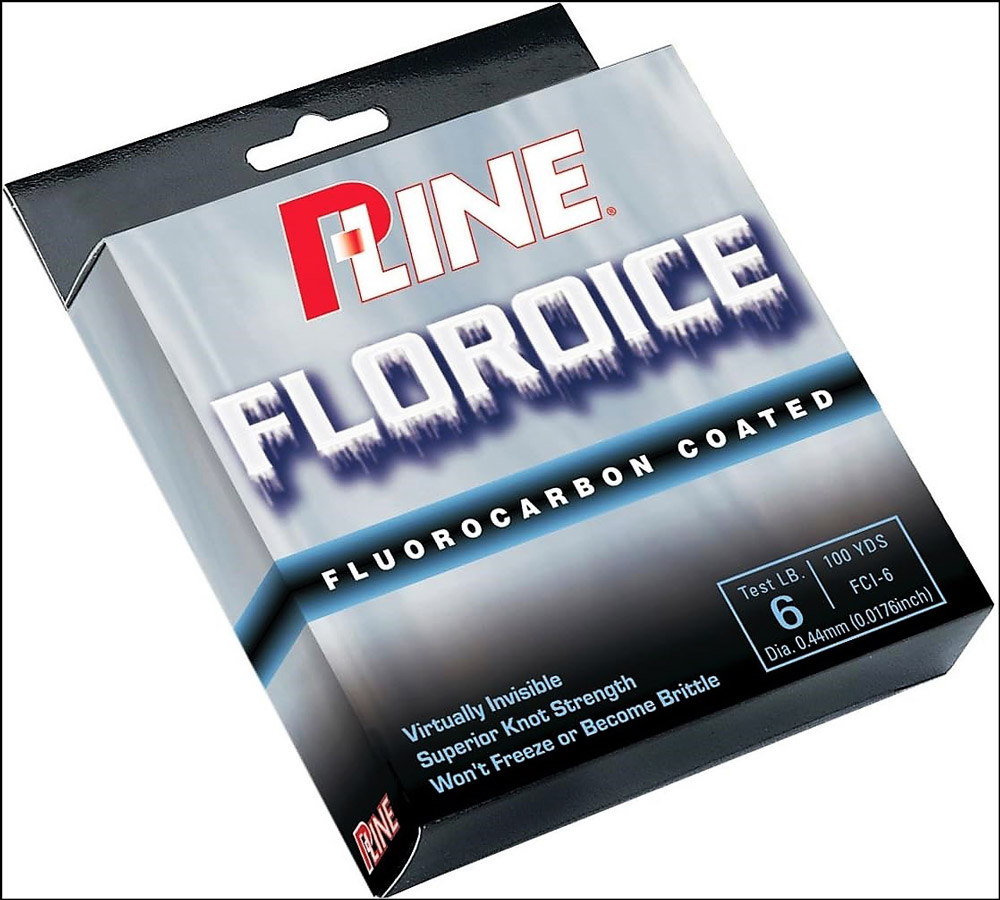 🎣 Taming the Ice: My Trusted Companions for Walleye Fishing
Over the years, I've tried various fishing lines for my winter Walleye pursuits. Here, I'll share my personal favorites, each a champion in its own right. While preferences can vary among anglers, these lines have consistently delivered great results for me. ❄️🥇
Berkley Trilene Micro Ice Monofilament Line: This line stands out for its exceptional strength-per-diameter and low stretch, making it perfect for detecting light bites. It's designed specifically for ice fishing, so it manages well in the cold. Plus, it's pocket-friendly. 💪🧊
Sufix Ice Magic Monofilament Line: Another ice-specific line, the Ice Magic is excellent at resisting freezing. It's also quite sensitive, ensuring you don't miss those subtle Walleye nibbles. Definitely one of my go-to lines for colder days. 🎯❄️
P-Line Floroice Clear Fishing Line: This fluorocarbon line is almost invisible underwater, making it perfect for clear water and wary Walleye. It's also quite resistant to freezing and abrasion, providing a good balance of strength and stealth. 🕵️‍♂️🛡️
Power Pro Ice-Tec Braided Line: When strength and sensitivity are top priorities, this braided line is a good choice. It's not as invisible as others, but in darker waters, it performs brilliantly. Its high sensitivity allows you to feel even the smallest nibble, an attribute I find invaluable. 💼🔍
🎣 Cold Comfort: Line Brands that Have Never Let Me Down
The Berkley Trilene Micro Ice Monofilament Line saved the day when I was fishing in an area known for trophy-sized Walleye. The line's strength didn't let me down, even with a 10-pounder tugging at the end! 🎖️🏋️‍♀️
On the other hand, I have a vivid memory of ice fishing on a particularly clear and calm day with the P-Line Floroice Clear Fishing Line. The Walleye were cautious, and bites were hard to come by. Thanks to the near invisibility of this line, I managed to outsmart those elusive Walleyes, making the day a success. 🏆👀
🔶Choosing the right line truly makes a difference in your ice fishing endeavors. Based on your needs and conditions, one of these lines might just become your next best companion on the ice!
Tips and Techniques for Ice Fishing Walleye
🎣 Conquering the Cold: Strategies for Successful Walleye Ice Fishing
Over time, I've learned that Walleye ice fishing is as much an art as it is a science. Here, I'd like to share some of my favorite techniques and a few secret tips that have brought me luck and memorable catches on the ice. ⛸️🌟
Jigging: This active technique involves moving your lure up and down in the water column to attract Walleye. My tip is to start with larger movements and gradually make them smaller, mimicking a wounded baitfish. It's a trick that once landed me a handsome 8-pounder. 🎣🐟
Dead-Sticking: A more passive method, dead-sticking involves leaving your bait still, letting its scent and the water currents attract the Walleye. I often combine this with jigging, using two lines for a versatile approach. I can't count how many times this one-two punch has resulted in a great catch. 💼🕰️
Lure Choice: Brightly colored lures can be highly effective in cloudy water or low light conditions. I've had great success with glow-in-the-dark lures during early morning and evening fishing when Walleye are most active.🔦🌈
The Right Spot: Walleye often congregate around structure – underwater humps, points, and drop-offs. Locating these areas with a good fish finder has consistently improved my catch rate. 📍🗺️
🎣 Cold Wisdom: Lessons Learned on the Ice
One winter, I was jigging without success, while the angler nearby seemed to have the magic touch. That's when I learned about the importance of lure size – he was using a smaller lure that the Walleye were more inclined to bite in their lethargic winter state. Ever since, I've made sure to carry a variety of lure sizes, and it's been a game-changer. 📏🔍
🔶Remember, patience and observation are your best tools when ice fishing for Walleye. Keep refining your techniques, don't shy away from experimenting, and above all, enjoy the journey. The shivers, the anticipation, and finally, the triumph of landing a Walleye – that's what makes ice fishing truly exhilarating. 🌟💙
❓ FAQ: Find the Best Fishing Line for Walleye Today
🎣 A Frozen Ballet: The Poetry of Ice Fishing for Walleye
As the winter sun sets and casts long shadows on the frozen lake, the last tug on the line brings a smile to your face. This is more than just fishing; it's a dance between you, the Walleye, and the winter elements. ❄️💃
Ice fishing for Walleye is an experience that paints a beautiful canvas of memories – the crisp air, the crunch of snow beneath your boots, the line cutting through the icy surface, and the anticipation that makes your heart race each time the line tugs. It's a love affair with nature, punctuated by the thrill of the catch. 🌨️👣
The line, that thin strand connecting you and the Walleye, is so much more than just a piece of gear. It's a lifeline, a thread weaving a story of patience, anticipation, and exhilaration. Choosing the right line for the occasion is akin to selecting the perfect words for a poem, contributing to the overall harmony of the experience. 📖🧵
To all who love fishing, I encourage you to embrace ice fishing for Walleye. Whether you're a seasoned angler or a curious newcomer, the winter waters hold a world of excitement and wonder. I invite you to experience the thrill of the bite, the beauty of the winter landscape, and the joy of pulling a Walleye through the ice. It's a testament to the resilience of nature and the human spirit. 🌍💗
🔶May your lines always be tight, your lures be attractive, and may the Walleye below the ice be ever in your favor. Here's to the mesmerizing allure of ice fishing for Walleye! Cheers! 🎣🍻🎉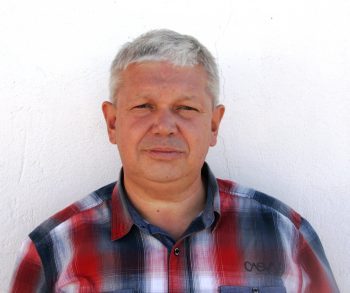 Sergio Smirnoff
Professional fisherman with 40+ years of experience.
Fishing and the ocean is a passion of my life. I am passionate about all kinds of sea fishing: fishing from the shore (spinning, float, baitcasting), from a boat, and spearfishing day and night.
I live in Tenerife (Canary Islands) for the last 10+ years and share my daily fishing experiences on my website. Many years of personal experience as a fisherman and the vast experience of my friends allow me to write professionally on any fishing topics (from choosing a flashlight and equipment to deep-sea fishing).
All of my advice is based on practical real-world experience and will be useful to both novice anglers and professionals.
Read more
about the author.
Affiliate Disclosure: FishReeler.com sometimes gets paid for listings, through sponsors or affiliate programs like Amazon, Ebay, Cabelas, Bass Pro Shop, Shimano, Daiwa, Rapala, Renn, Okuma, KastKing, etс. Clicking a link helps keep FishReeler.com free, at no extra cost to you!
About the author: Each article is verified by the fishing expert Sergio Smirnoff. The articles are written by professional and amateur fishermen with 20+ years of fishing experience.
Note: The views and opinions expressed in this article are those of the authors and do not necessarily reflect the official policy or position of any agency. The articles are for informational purposes only, share your opinions in the comments and join the fishing discussions, let's share our fishing experiences together!