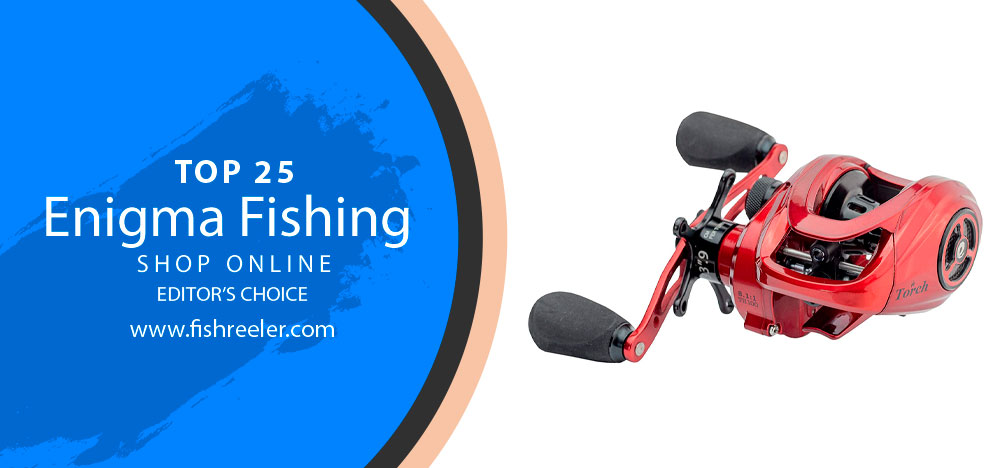 All about Enigma Fishing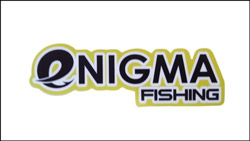 Enigma Fishing was born out of the desire to take the next step, jump the next hurdle and take fishing to another — higher — level while advancing the cause of the angler and creating opportunities for those who want to use their passion to find a place in the fishing industry.
If you want a better fishing rod at a reasonable price, we have that. If you want a path into the fishing industry and a meaningful sponsorship, you'll find it here. If you want to be a part of something special and truly different, Enigma is your new home.
There are lots of great fishing products on the market, but not enough opportunities — lots of great anglers, but not enough money to help them take the next step in their fishing careers — lots of great people, but not enough companies investing in them. Worse yet, there's no meaningful correlation between the work a pro staff angler does and the reward he receives.
That changes here … with Enigma Fishing. Enigma is a company of anglers creating products and opportunities for anglers. Are you ready to take the next step in your fishing or fishing career? Enigma is here to help.
Lifetime Rod and Reel Replacement Program
It doesn't matter what happened. You broke your rod or reel and need a new one. Accidents happen and this program is designed to get a new rod or reel back in your hands A.S.A.P.!
Accidents happen. Car doors, hatches, ceiling fans, even products run over in the driveway. We think you deserve a reward for being a loyal customer and we have a program to replace your broken rod or reel. We know most breaks aren't defects, and we believe you should have an option to replace your favorite Enigma Fishing rod or reel at a reasonable charge.
Provided that you registered your rod or reel when you purchased it, and you are the original owner we will happily send you a new rod or reel for the reasonable replacement fee of 39.97 (shipping fees not included):
For warranty questions and assistance, please fill out one of the forms below. Include your name, phone number, and a brief description of your issue. If you would like to register a product (must have been purchased in the last 30 days.
If you would like to submit a warranty claim for a damaged product that you previously registered with us. DO NOT SEND THE PRODUCT TO THE ADDRESS BELOW.
Checks and money orders can be sent to Enigma Fishing, 10524 Moss Park Road Suite 204-225, Orlando FL, 32832, Enigma Fishing LLC, twitter.com/enigmafishing, instagram.com/enigmafishing, facebook.com/EnigmaFishing
Enigma Fishing – Best Enigma Fishing Equipment
If someone offers me to name one of the best companies that are promising in the fishing market – I will answer Enigma without hesitation. This is one of the few companies that supply excellent fishing equipment at the level with many large brands. At these guys, you can find almost anything the angler needs. Whether it's a reel, rod, fishing accessories, or clothes. Enigma products are made in the USA, have excellent quality, ongoing user support, and not very expensive prices. Besides, they have a great discount for US military personnel. So let's look at the best products of this brand!
#1 Enigma Rods
Let's start with the things that no fisherman can do without. Fishing rods. I won't say that they have excellent quality and price, just look at the reviews and you will understand this.
1# Atomic 29 Cranking Series – Best of The Best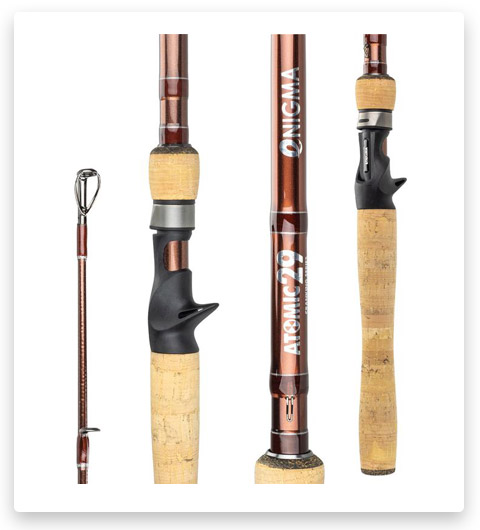 Atomic 29 is a classic short rod that allows you to control your shots and line on the water as much as possible. Often very strong rods are heavy enough and difficult to control. But taking this model in your hands, you will understand that, despite the robust body, the rod is light as a feather and is easy to operate.
The patented production technology increases the casting distance and practically doesn't limit you in the possibilities of managing the line. And soft and comfortable handles balance the rod perfectly. After all the tests, I can say that this rod really casts far. The hand wrapped guides in combination with the construction of the fishing rod guide the line very far.
2# Flats Master Inshore Series – Runner Up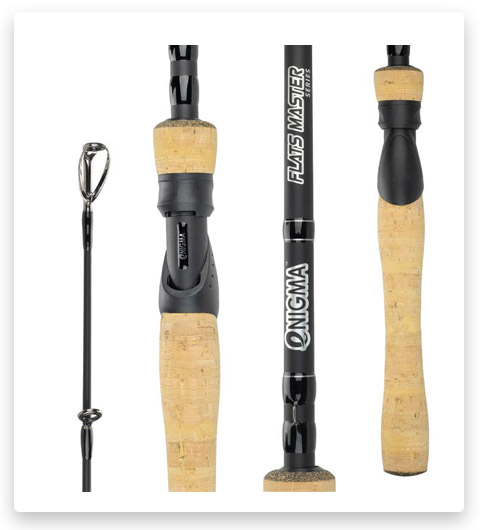 Excellent universal rod with the ability to change the length. Flats Master is suitable for different fishing conditions, regardless of the style and type of fishing. When folded, the fishing rod takes up a very small place and fits in any of your backpack or case. The rod is extremely light and productive. Flats Master is made of durable composite material, some models have gimbal butt. The access rings are made of stainless steel, which keeps their surface in a smooth state after repeated fishing with a braid. The handle is very soft and comfortable.
3# High-Performance Titanium Gen2 Series – Casting – Best Value For Money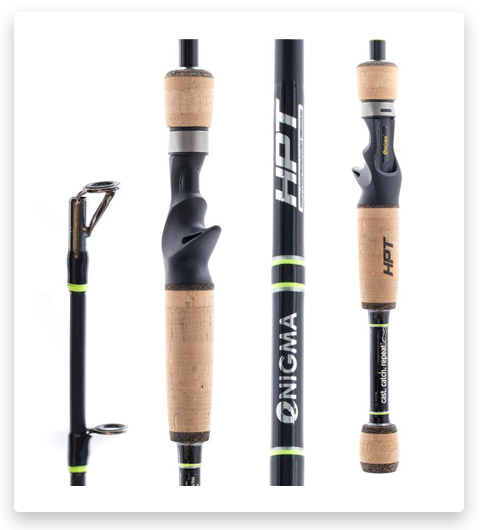 Available in 16 sizes, this professional fishing rod is designed for fishing in small standing waters and fast currents. The model is very compact and in the transport position the fishing rod takes up very little space. If you are a fan of heavy baits, then the reel will not even feel any jigs and heavy jerks. The rod is made of high-carbon fiber, the handle with reel seats provides maximum sensitivity.
The rings of the line have durable inserts and are made of durable material. The rod is characterized by high maneuverability and exceptional accuracy when casting. The best American-made fishing rod for small ponds. 
4# IPPON Series – Casting – Best Balanced Rod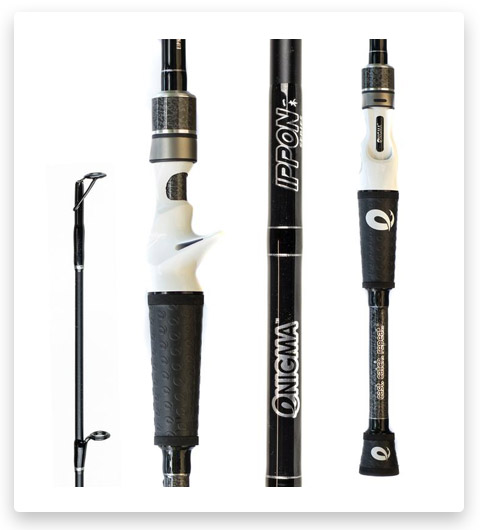 IPPON Series – Casting is best for fishing from a boat. This model optimally combines lightness and necessary rigidity. The model is made of durable and high-quality material, and the working length can reach 7'6″.
Thanks to the solid body, you can choose a variety of baits, both when fishing in calm weather and when fishing in strong winds. The use of graphite allowed the manufacturer to create a very powerful fishing rod at the same time with low weight. The ultra-light fishing rod comes with a manufacturer's warranty so you won't lose your investment. An excellent fishing rod that works on any reservoir and with any type of fishing line/bait.
5# IPPON Series – Spinning – Best Durable Reel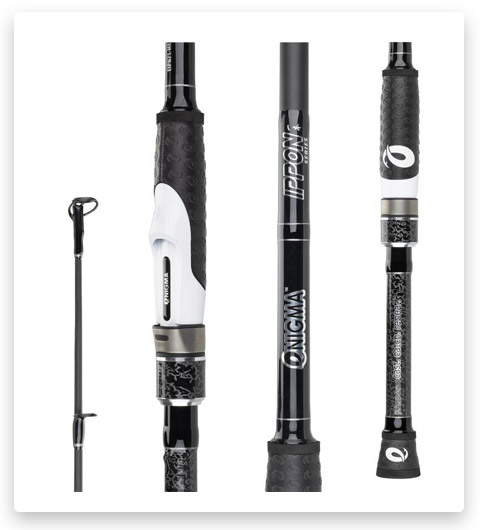 For novice fishing enthusiasts, a rod of a domestic manufacturer with excellent characteristics is perfect. Thanks to the use of modern materials, the fishing rod has a small weight. A beginner can fish with such a rod without getting tired for a long time.
Each model is made of quality materials. The fishing rod has line rings that perfectly let the line through and are smooth enough not to scratch it. In addition to the fishing rod itself, you get a great cover as a gift and a guarantee from the seller. This fishing rod is definitely worth a look at it.
6# Jetty Master 9′ Spinning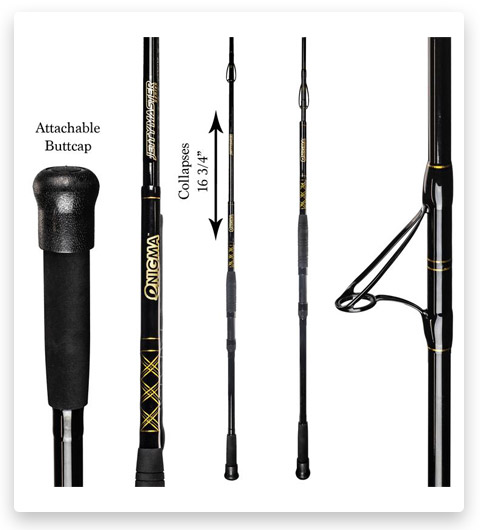 A 9'spinning rod is best suited for fishing on a slow river or lake from a boat. The model uses the latest advances in design and technology to ensure maximum performance. The material provides the perfect combination of lightness and power. The transport length of the product is only 12 inches. Due to its lightweight, the first steps in fishing are very easy to do. The fisherman's attention is drawn to the elegant design of the rod. When fishing for large fish, the model extinguishes jerks, simplifying the task for the angler. Included with the fishing rod is a protective cover. Great inexpensive spinning rod.
7# Phenom Titanium Gen2 Series – Spinning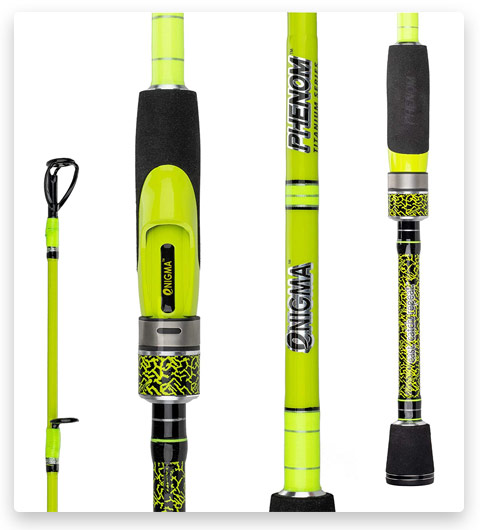 The easiest way to get a rich catch is with the inexpensive Phenom Titanium Gen2 Series fishing rod. This telescopic spinning rod is made of strong and durable carbon material. Thanks to this, the tackle can withstand serious loads and forgives mistakes to novice anglers. The manufacturer also took care of the convenience of fishing, the handle is very comfortable and does not slip out of the hands. With a working length of 6 'to 7', the rod folds up to a size of 12-13 inches. A fairly wide selection is provided in bait – from 1/4 to 1 ounce. In the hands of the model feels very easy and balanced. The caste distance is impressive. Unfortunately, the rod is only available in green.
8# Saltwater Performance Series® 9′ Spinning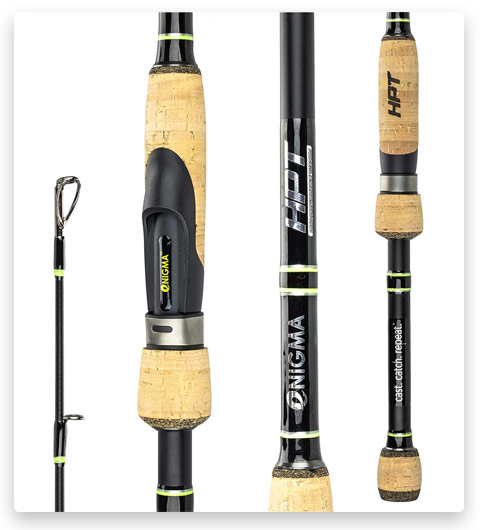 One of the best in our rating premium spinning rod. The Saltwater Performance Series 9′ Spinning Rod is highly durable. Enigma specialists managed to achieve this result through the use of innovative construction material. In the working position, the fishing rod has a length of 9′ when folded, it takes 12 inches. It is equipped with durable line rings and a quality holder. For the manufacture of the handle, the manufacturer used the bark of balsa wood. The ultimate test fishing load is limited to 4-ounce baits.
#2 Enigma Reels
An equally important addition to the rod is a fishing reel. It is the element that is responsible for the process of fighting fish and how successful it will be.
9# IPPON Series IP100 Baitcasting Reel – Best Reel Overall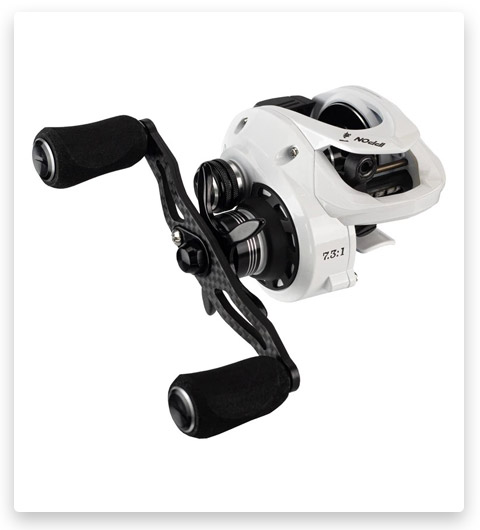 As you may have noticed, Enigma produces a wide variety of fishing reels, including baitcasting. Perhaps the best of these is the IPPON Series IP100. The cost is not very large, but the reel has excellent characteristics. Its price tag is due not only to compactness but also to incredible lightness.
The American manufacturer decided to use aluminum alloy to create the body. He also finely honed the spool. A fishing rod paired with such a reel can be held in your hands for an arbitrarily long time, you won't get tired. It may seem that such a light reel is extremely unreliable. But in fact, the accessory can withstand both bad weather conditions and a serious load without any problems.
However, you should not think that the brake applied here can hold the fishing line when catching a shark or some other large fish. The maximum drag is 18 pounds. But this is quite enough in most cases, whatever fishing you are involved in. Such a reel couldn't do without a huge number of bearings. Here, one roller is supplemented by 11 ball bearings, which ensures maximum smoothness of rotation.
Even more, someone will be surprised by a gear ratio of 7.3:1 and 6.6:1. This once again testifies that the product is not intended for very heavy fish – it is imprisoned for an incredibly fast reeling of the fishing line when the trophy does not resist too much.
Alas, the minimum size of the spool could not but lead to one serious drawback. As you may have guessed, it consists of insufficient line intensity. Even if the cord turns out to be quite thin, you won't be able to wind so much.
10# E-CAST EC-150 Series Baitcasting Reel – Best Baitcasting Reel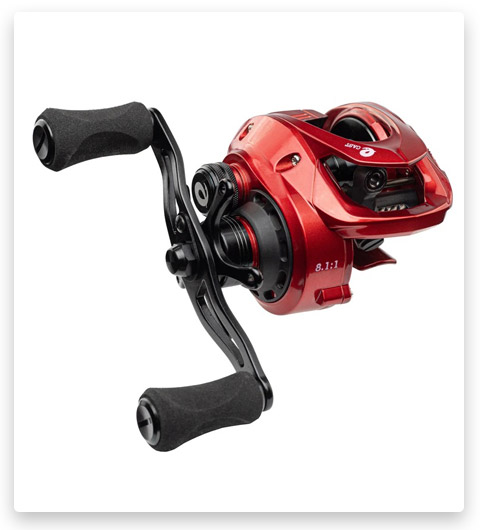 This is a very cheap but incredibly fast reel. At the same time, the appearance of the product inspires respect. It can be seen that the manufacturer tried very hard on the design. It uses a well-thought-out design, which includes one roller and ten ball bearings. They all have corrosion protection, so you can fish even in saltwater.
However, some people regularly use it when fishing in a lake or river. In this case, you can even fight with a resisting pike. The fish is pulled in the blink of an eye because the reel has a gear ratio of 8.1:1, 6.6:1, or 7.3:1. A few turns of the handle, and the trophy is already getting out of the water!
In this case, the rotation of the handle occurs as smoothly as possible, in this regard, there are no complaints about the spool! Bearings do their job. The main feature of the E-CAST EC-150 is not the speed of rotation of the spool. Drag – that's why some anglers agree to give so much money for this reel. The fact is that it is 18 pounds! This option allows you to get any fish, up to huge specimens of trout.
Be sure that you are limited not by the brake capabilities of this accessory, but by the fishing line used. Of course, when catching large fish, it makes no sense to use a very thin fishing line. That is why the manufacturer allows you to wrap a thick cord. Such a supply of fishing line is enough for long casting and underwater fishing from a boat. Perhaps this is one of the best baitcasting reels. You can only find fault with weight. And even then it will seem acceptable to many. Although it is impossible not to admit that this model could become even easier.
11# IPPON Gen 2 Series Spinning Reel – Best Spinning Reel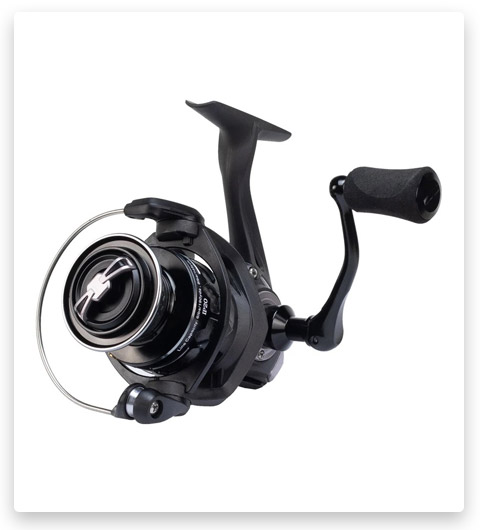 If you are fishing regularly, then you should agree to spend about $ 100 per reel. That's what IPPON Gen 2 costs. This is a wonderful spinning reel equipped with a front brake. It has a great appearance. And practice shows that it persists for many years. This model uses an aluminum spool. The use of such material allowed the manufacturer to reduce the weight of the reel. This is important because you'll hold a fishing rod with a reel in your hands for a long time.
This reel cannot be called particularly large. However, it can accommodate a decent supply of fishing line. It is enough even if you are going to throw the bait as far as possible along the river. And certainly, you won't complain when fishing from a boat. The accessory includes 1 roller and 8 ball bearings. This model has a gear ratio of 5.6:1. This makes it universal. It is better not to go to a shark with such a reel, but the product will tighten the perch without any problems.
12# Valkyrie Series Spinning Reel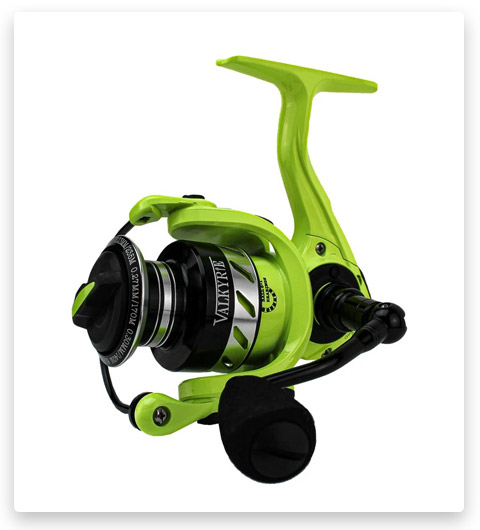 Usually, fishing reels are painted black, because this is the color that many spinning rods have. But there are exceptions to the rule. For example, the Valkyrie Series Spinning Reel has a poisonous green body color. In this case, the reel does not shine in the sun, the fish should not notice you. The main advantage of this model is the ease of use.
Good news for those who are going to spend a lot of time with a rod in their hands. With the purchase of the Valkyrie Series Spinning Reel, you will forever forget about the "bird nests" when you have to cut a dead knot with a knife. Also, the reel is characterized by reliable operation and the complete absence of backlash.
This model has a front friction brake. The spool and the whole body are made of aluminum as a whole. The composition of the product included 8 ball bearings. It is thanks to them that unsurpassed smoothness of rotation is realized here. Surprisingly, such a number of them did not affect the cost – the Valkyrie Series Spinning Reel can be bought for $ 50, which can not be called a big price tag. This reel has a roller bearing.
As for the gear ratio, it is 5.5:1. This says that a very large amount of fishing line is wound in one turn of the handle, quickly bringing your trophy closer to you. At the same time, this suggests that the reel is not a power one, it does not need to be used to catch especially large ocean fish.
13# Pesca Series Spinning Reel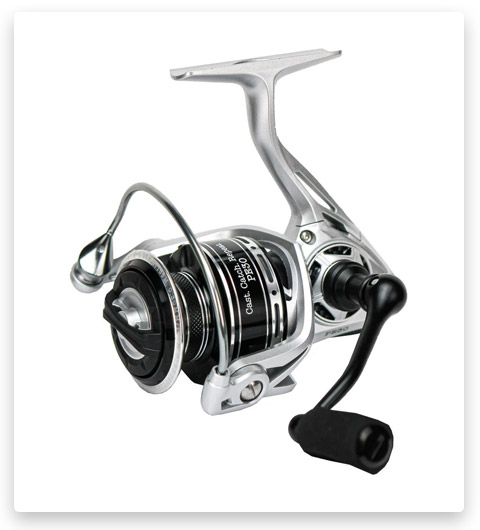 Another spinning reel, available in several sizes. Interestingly, even the largest specimens have quite acceptable weight. As you might guess, most of the structure is made of aluminum. In particular, such is the spool. Amazingly, such a model can withstand huge loads. The manufacturer claims that in theory, his creation can cope even with a 22-pound drag effort!
This model has a stylish black and white case. The product includes not only the front brake but also 8 bearings. The smooth operation of the mechanism and provides a perfectly fitted gear. Unlike the models discussed above, this one has a slightly increased gear ratio. It's at 6.2:1. This allows you to quickly attract the caught fish, especially if it almost does not resist. This also suggests that it is unlikely that the reel will suit people resting on boats and seeking to catch especially large sea fish.
Unfortunately, this product has one unpleasant drawback. The reel has a backlash handle. Barely noticeable, but sometimes very annoying. At least one of the buyers complained about him. This may be a defect of several instances, but we could not fail to note this fact. You can solve the problem with an additional nut. Otherwise, the angler is unlikely to encounter any problems. This model has an excellent brake, which fulfills strong jerks of carp and other rather large fish well.
14# Torch TH-100 Baitcasting reel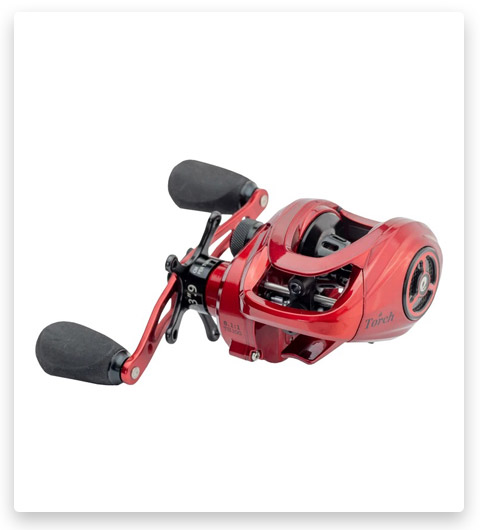 This baitcasting reel exists in one version. This reel is intended for those people who prefer to throw bait as far as possible. The fishing line here reels up almost instantly. The reel has a gear ratio of 8.1:1. If the fish almost does not resist, it can be pulled out of the water in a few seconds!
The problem can happen if some trout pecked. Alas, this model is not intended for easy fishing of such large fish. But this does not mean that the reel does not cope with this matter at all. The drag can withstand a 17-pound load, and this is very decent. Despite its tiny size, the accessory includes 1 roller and 12 ball bearings. They allow the spool and handle to rotate as smoothly as possible.
If you get a light rod, you can hold it in your hands for an arbitrarily long time! Surprisingly, no carbon was used to create the reel – a minimum weight was achieved even with aluminum. A decent casting distance is facilitated by the aforementioned bearings. The creators of the Torch TH-100 Baitcasting reel declare that their product is recommended for jig and twitch fishing. In this case, the fisherman can be even on the shore, even in the boat.
15# Pesca Baitcasting Reel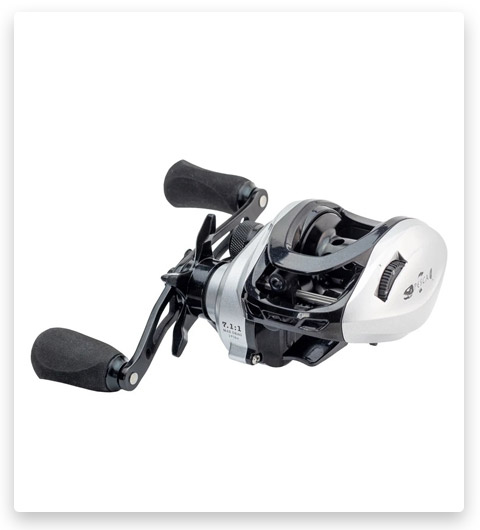 Traditionally, our rating closes one of the most inexpensive baitcasting reels. It costs only $70. This model is distinguished by endurance and durability. The reel is made of light alloy, which is not harmed by either fresh or saltwater. As for the gear ratio, 7.1:1 says that the reel allows you to wind the fishing line in some crazy fast-moving terms. This will appeal to everyone who doesn't want to fight fish for too long.
Not all inexpensive baitcasting reels can provide the most smooth progress when retrieving the fishing line. Here, fortunately, there are no problems with this. Interestingly, a large number of bearings did not affect weight. It turns out that Pesca is one of the lightest casters of our review. Of course, this reel has no problems with the evenness of the winding line. In a word, this is an excellent reel, in which both the spool and the body are made of nylon and aluminum.
You can only find fault with the very minimum thickness of this material. Because of this, the handle seems rather weak – under certain conditions, it starts to bend. However, it doesn't reach a break, so you don't have to worry.
#3 Enigma Accessories
Well, we examined the most important components without which fishing would not have been possible – a fishing rod and reel. But to simplify the fishing process, you will need other fishing accessories.
16# Portable Line Spooler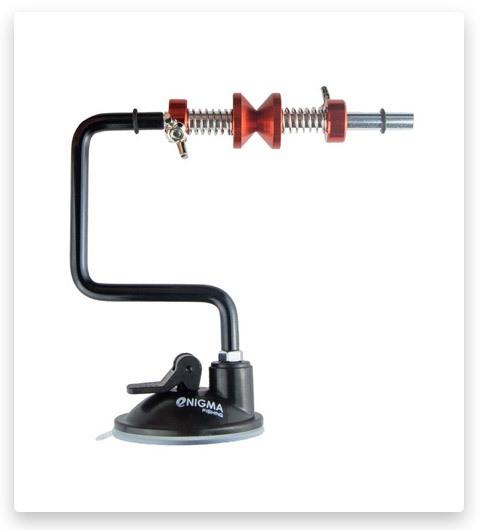 Spooling a reel by hand is a very long, boring, and time-consuming process. It is much faster to do this if you have a spooler. You can install this model at home or take it with you on fishing and mount it on the shore or directly on board your boat. Thanks to the suction cup at the bottom of the spooler, it is attached very securely and tightly.
This puller is best suited for 1/4 pound reels, as the manufacturer withers. It has adjustable tension, so you can adjust it so that the line wound evenly and tightly. If you drop it in saltwater or leave it in the rain, there will be nothing for the spooler; it will continue to work thanks to anti-corrosive materials. Besides, this model does not need assembly, so you just install and use it.
17# Wacky Hack Tool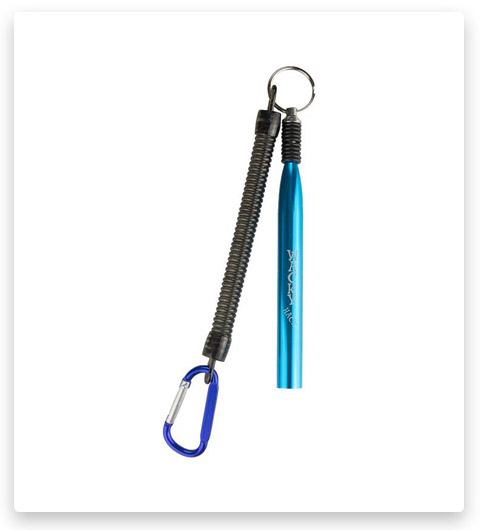 With this tool, the process of putting the bait on the hook will be much easier. Also, the Wacky Hack Tool will significantly extend the life of your plastic. The tool is made of plastic and is available in two colors. It is perfect for use with worms from 5 to 8 inches. It is very easy to use – you just need to install the o-ring, grab the hook, and install it between the ring and the plastic bait. If you are looking for a reliable and convenient way to rig wacky-style worms, then the Wacky Tool is what you need.
18# Braid Sheers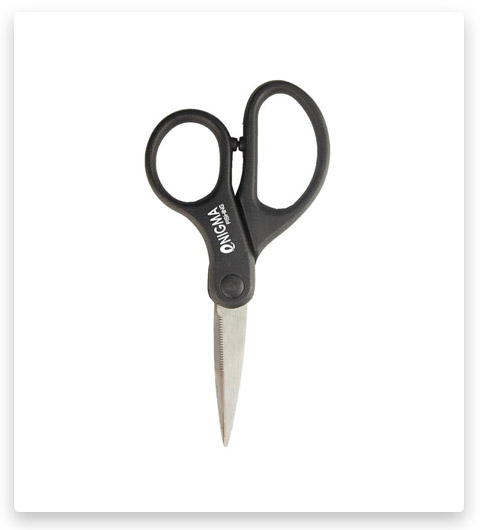 Very often it happens when you need to cut off a tangled line, or a line caught in a tree or bush. In this case, you should always have compact and light scissors at hand to help you with this. Braid Sheers is a great model that cuts through the toughest and most durable lines and the most intricate knots. For your safety, it has a blunt tip. The scissors are made of stainless steel and easily resist saltwater, this is the tool that greatly facilitates fishing.
19# Riptide Fishing Pliers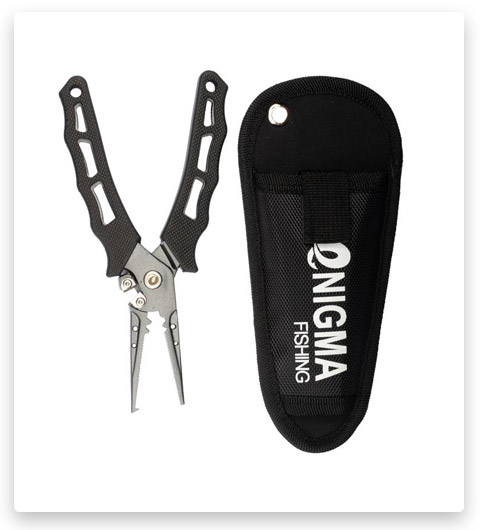 The pliers are made of stainless steel and perfectly resist rain, fresh and saltwater. Additionally, a titanium coating is applied on top for even greater strength and durability. These mites are almost 2 times stronger than their aluminum counterparts and 3 times more flexible. Super strong tungsten cutters easily cut fluorocarbon, mono, and braid without any problems. You will never lose it thanks to the spring, with the help of which they are attached by a tick to a holster. A thin profile and spring-loaded cams allow you to work with ticks using only one of your hands. A very convenient and useful tool for the fisherman.
#4 Enigma Apparel
Any fisherman needs apparel and equipment. Enigma is engaged in the manufacture of including this. Therefore, if you are missing something in your fishing equipment, you can see it below.
20# New HPT Logo Long Sleeve Shirt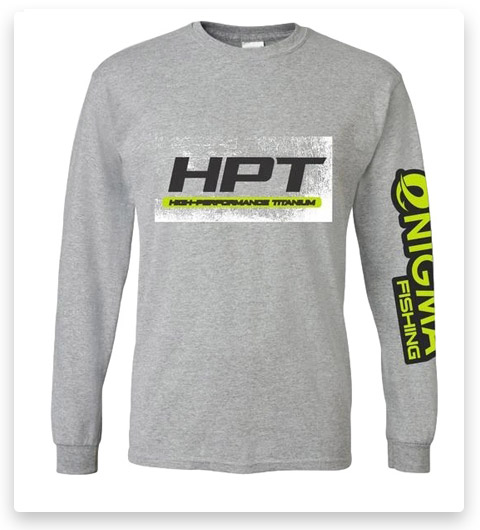 A great sweater that will warm you and protect you from any weather conditions. Available in black and white, the shirt perfectly fits the body and is well ventilated. With this, you will always be protected from the sun, rain, or wind – this is an element of clothing with which you will always be warm.
21# Enigma Buffs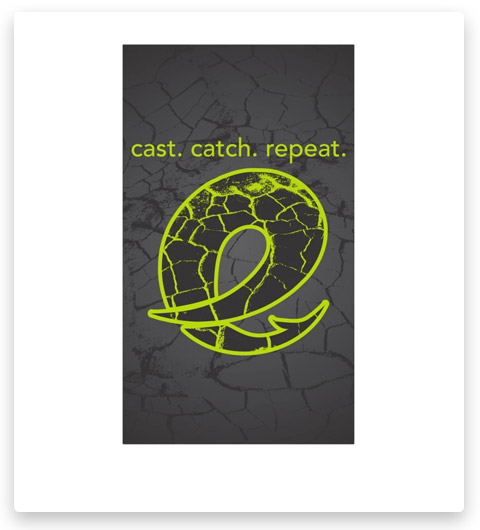 Enigma Buff – this is the thing that saves you from sunlight in the summer, saving you from the heat, and perfectly retains heat in the winter. The sun protector is made of 100% polyester and can turn into 12 universal hats in a matter of seconds. Enigma Buff is designed for repeated use and can be washed. If you intend to spend long hours on ponds – take a look at this.
22# Enigma Green Flex Hat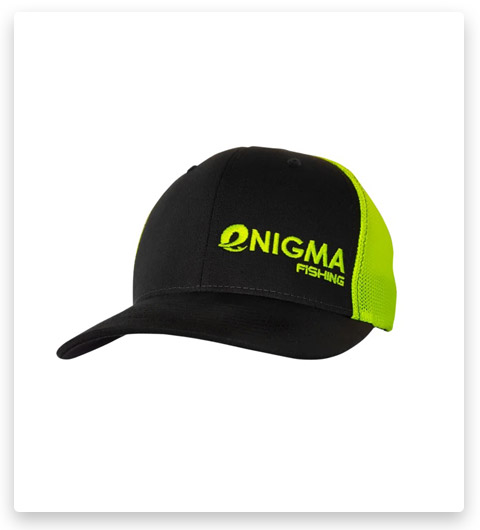 On a hot sunny day, it is very important to protect your head from overheating. If you get sunstroke – it will not be very nice. An enigma baseball cap is great for protecting your head from the sun and wind. You will not be hot in this because the model has a ventilation net at the back. On the other hand, mosquitoes can bite through this net. The baseball cap has a rather large and wide visor, so the sun will never blind you.
23# Enigma Gray Long Sleeve Shirt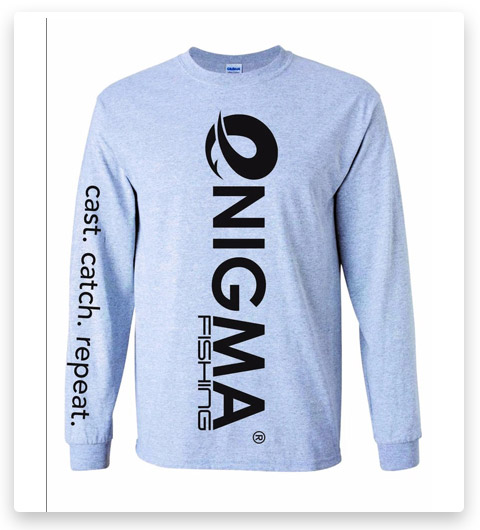 Another great enigma shirt. Sweatshirt with a rather loose silhouette made of soft material with a slightly lowered shoulder line. Embossed knitted elastic on the neck, bottom of the sleeves, and the bottom edge. Softback with fleece.
24# Pesca High-Performance Sunglasses By Enigma Sunglasses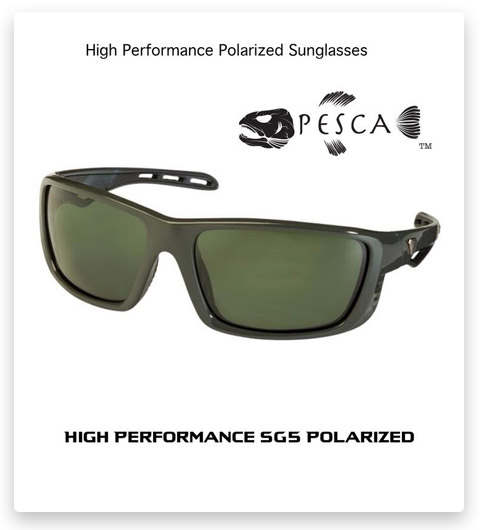 Protecting the eyes from the sun is no less important than the head. Besides, these sunglasses are 2-3 times cheaper than in stores. This is a high-quality model that eliminates the glare of the sun and at the same time provides the maximum viewing range. Lightweight, durable and comfortable frames will not make your ears hurt after long wear. Strong frames allow glasses to remain in front of your eyes even if you shake your head hard. A reliable plastic will keep the glasses intact if you drop them.
25# Enigma Fishing Gift Card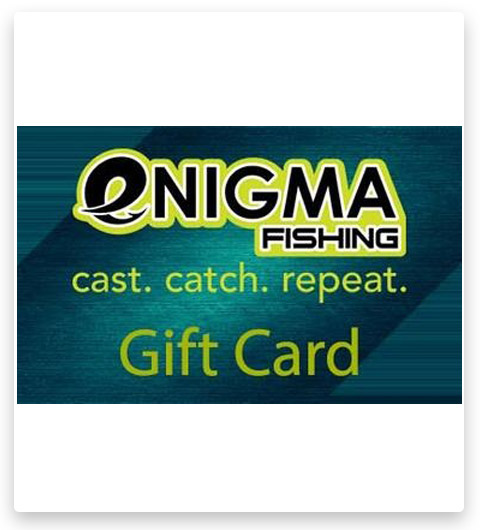 The best gift for a fisherman would be a gift card from Enigma Fishing. This item gives a discount on any product from Enigma. Please yourself or your friends with this card.
Conclusion
Enigma is certainly a great brand for those who want to take their fishing to a new level. There are many excellent products on the market, but their prices are so high that not every angler can afford them. Enigma removes the price barrier between the fisherman and the equipment. If you want a quality fishing rod or reel – then Enigma can give you this. Enigma can become your new fishing haven in which you will find the best and cheap equipment. Above, we reviewed the 25 best products that the company currently has on sale. We are sure that you definitely liked some of them and you will definitely want to get some of this. Buy only quality equipment. And we will tell you where to get it. Have good fishing!
Useful Video About Enigma Fishing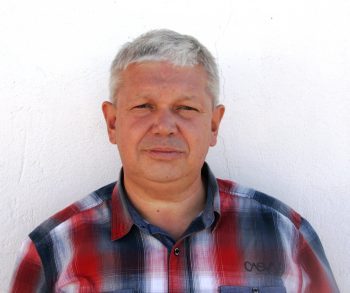 Sergio Smirnoff
Professional fisherman with 40+ years of experience.
Fishing and the ocean is a passion of my life. I am passionate about all kinds of sea fishing: fishing from the shore (spinning, float, baitcasting), from a boat, and spearfishing day and night.
I live in Tenerife (Canary Islands) for the last 10+ years and share my daily fishing experiences on my website. Many years of personal experience as a fisherman and the vast experience of my friends allow me to write professionally on any fishing topics (from choosing a flashlight and equipment to deep-sea fishing).
All of my advice is based on practical real-world experience and will be useful to both novice anglers and professionals.
Read more
about the author.
Affiliate Disclosure: FishReeler.com sometimes gets paid for listings, through sponsors or affiliate programs like Amazon, Ebay, Cabelas, Bass Pro Shop, Shimano, Daiwa, Rapala, Renn, Okuma, KastKing, etс. Clicking a link helps keep FishReeler.com free, at no extra cost to you!
About the author: Each article is verified by the fishing expert Sergio Smirnoff. The articles are written by professional and amateur fishermen with 20+ years of fishing experience.
Note: The views and opinions expressed in this article are those of the authors and do not necessarily reflect the official policy or position of any agency. The articles are for informational purposes only, share your opinions in the comments and join the fishing discussions, let's share our fishing experiences together!