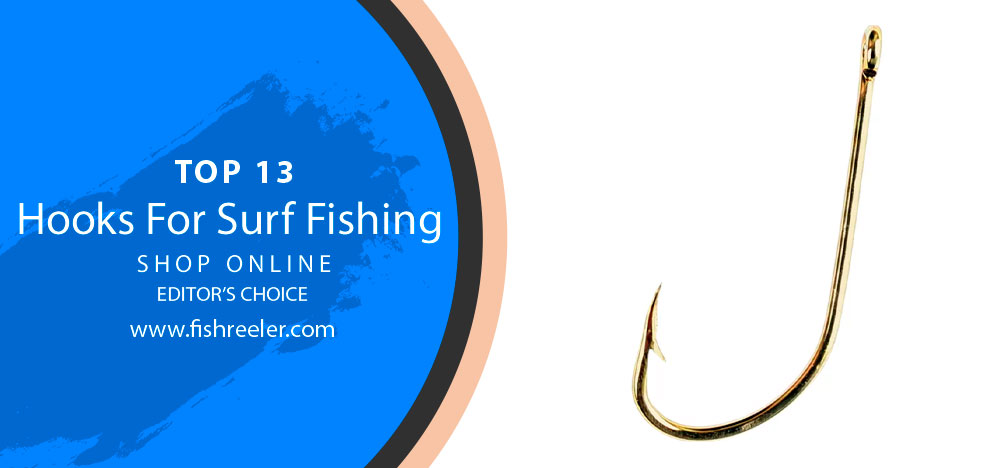 🎣 Mastering the Art of Surf Fishing: The Perfect Hooks for Your Catch 👋
Picture this: The sun is rising, casting an orange-pink hue across the vast expanse of the ocean. You're standing at the shoreline, the salty sea breeze in your hair, and the rhythmic lull of crashing waves in your ears. This is the allure of surf fishing, a pastime beloved by many and a mystery to others. It's more than just casting your line into the surf; it's a unique blend of patience, timing, and, of course, the right equipment. 🌊
In the world of surf fishing, one element often takes a backseat despite being crucial to your success rate – the humble fishing hook. Yes, the pole, reel, line, and lure are important, but the hook you choose can be the deciding factor between an exhilarating catch and a tale of 'the one that got away.'🎣
🔶In this article, we delve into the intricacies of choosing and using the right hooks for surf fishing. We'll demystify the process, equip you with knowledge, and highlight why the right hook matters more than you might think. It's not just about hooking the fish; it's about ensuring a successful catch and release. By the end of this guide, we aim to turn your surf fishing from good to great. So let's dive in! 🌟
🌊 The Wave Rider's Game – What is Surf Fishing?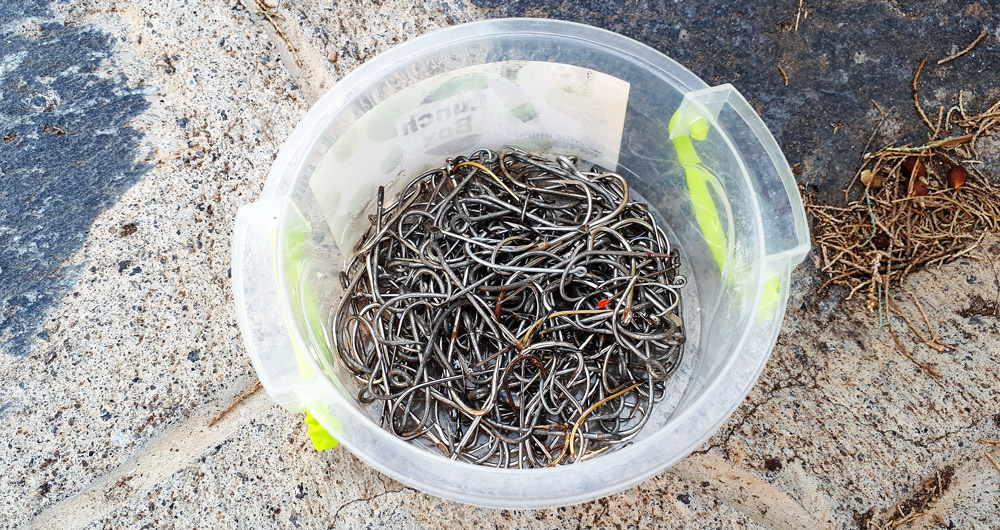 Surf fishing is an adventure like no other. Picture standing on the edge of the world, casting your line into the mighty ocean, and battling the waves for a chance at a rewarding catch. Unlike the tranquil ambiance of lake fishing or the exciting boat rides of deep-sea fishing, surf fishing is its unique beast. 🎣
The environment for surf fishing can vary from serene sandy beaches to rugged rocky shorelines, each providing a unique experience and set of challenges. Fishers primarily target species that ride the waves into the shallows like Striped Bass, Redfish, and Flounder, but the list can vary dramatically depending on your location. 🐠🐟
Now, you might think, isn't fishing just fishing? The answer is a resounding 'No'. The unique challenges of surf fishing are many: contending with the tide, mastering the art of long-distance casting, understanding the feeding habits of surf-riding fish, and navigating through seaweed, among others.
However, with all these elements to consider, one factor remains consistent: the essentiality of selecting the right tackle, particularly the hook. Why? The size, type, and shape of your hook can dramatically affect your catch rate. Too big, and you might scare off your catch; too small, and the fish might escape or, worse, your hook could cause unnecessary harm. Remember, every piece of equipment matters in surf fishing, but the hook is where the battle is won.🏆
🔶In the upcoming sections, we'll deep dive into how to choose the perfect hook for your surf fishing exploits. Stay tuned! 🎣👀
🎦Video YouTube: Best Hooks For Surf Fishing With Recommendations
Best Hooks For Surf Fishing Review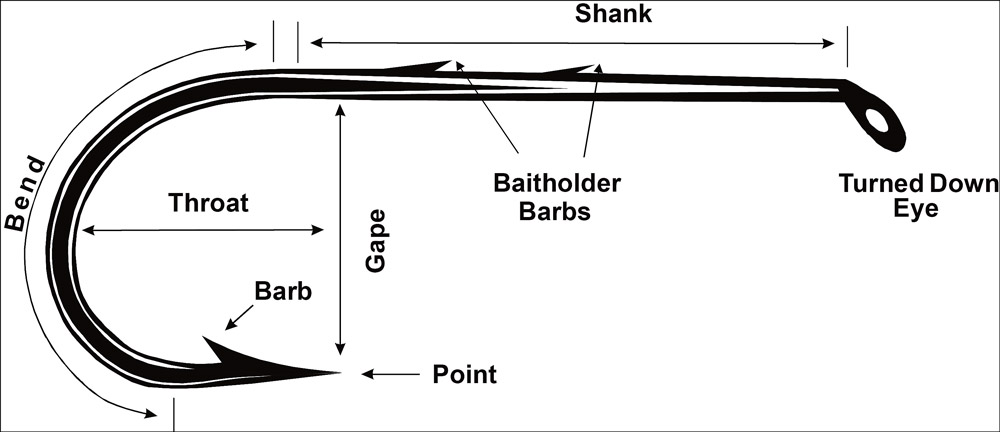 Surf fishing is a favourite pastime of many fishermen. While there are many ways to go about it, using the right hooks is essential for success. In this post, we'll share our top picks for the best hooks for surf fishing. We'll take a look at some of the best hooks for surf fishing. We'll also discuss how to choose the right hook for your needs. So, whether you're a novice fisherman or an experienced angler, read on for some helpful tips!
1# Mustad UltraPoint Model 39951NP-BN Demon Circle In-line Hook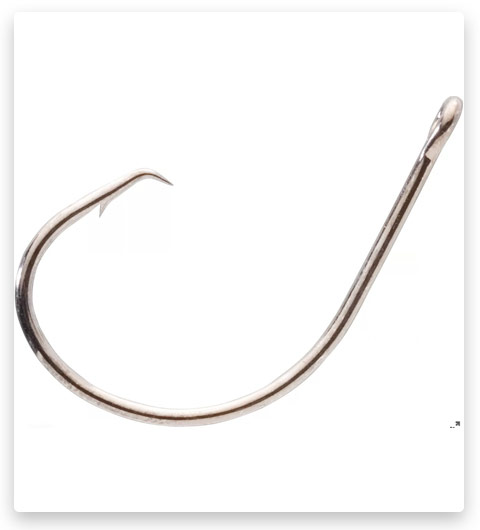 When you're looking for an outstanding general-purpose live-bait hook, the Mustad UltraPoint Model 39951NP-BN Demon Circle In-line Hook is tough to beat. It features an extra-wide bend, chemically sharpened Opti-Angle Needle Point, and Nor-tempered fine-wire construction, making it up to 30% stronger than competing hooks. The in-line point with the ringed eye is tournament approved and perfect for your next fishing excursion.
2# Eagle Claw Lazer Sharp L197 Circle Sea Offset Circle Hook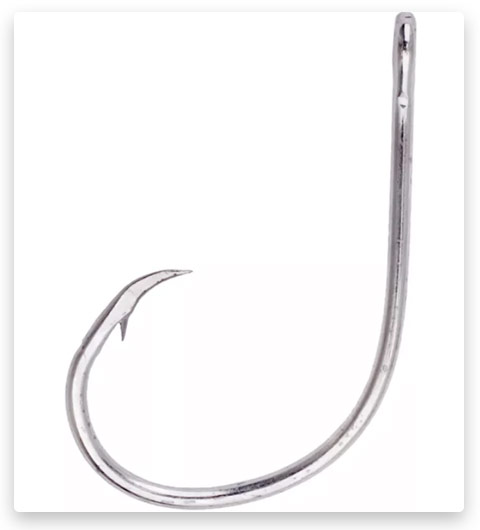 Eagle Claw's Lazer Sharp L197 Circle Sea Offset Circle Hook is perfect for live bait rigs and trotlines! This light wire needlepoint hook has a large ringed eye for easy bait attachment, and its offset design provides greater holding power. The durable Sea Guard finish helps reduce fish mortality, while the light wire construction makes it easy to set the hook.
3# Eagle Claw 254 O'Shaughnessy Hooks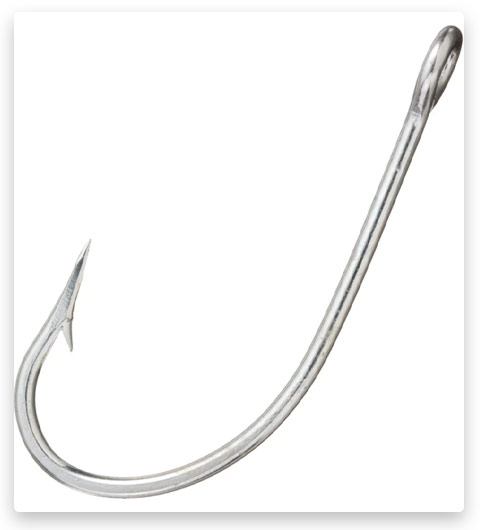 Looking for a hook that can handle anything you throw its way? Look no further than the Eagle Claw 254 O'Shaughnessy Hook. This tough little hook is perfect for trotlines or as a spinnerbait trailer hook, and it's made right here in the USA. The sharp points and consistent construction make this hook a must-have in any tackle box. So don't wait – grab a few Eagle Claw 254 O'Shaughnessy Hooks today and see what all the fuss is about!
4# Gamakatsu Round Bend Worm Hooks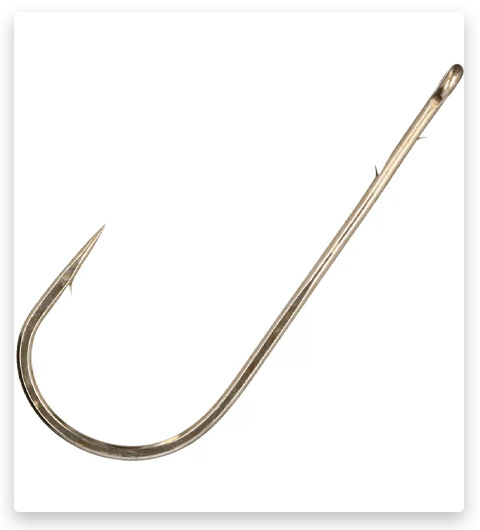 Look at the Gamakatsu Round Bend Worm Hooks. The sliced shank design holds plastics securely in place, while the tempered bronze construction provides strength and durability. Plus, the low-profile design ensures a wide bite. Whether you're fishing for bass, walleye or catfish, these hooks are sure to help you land the big one.
5# Gamakatsu Circle Octopus Hooks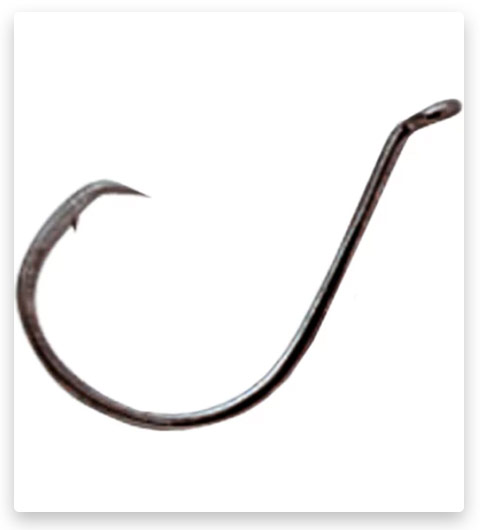 Gamakatsu Circle Octopus Hooks are forged from high carbon steel and tempered for superior strength, durability, and quality. These hooks are super-sharp with a conically honed needlepoint, making them great for live bait fishing in both fresh- and saltwater.
6# Offshore Angler Light Wire Circle Hooks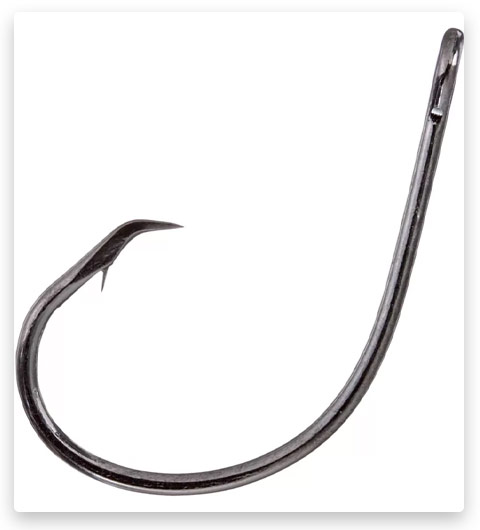 When you need a hook that can handle any fish, you need an Offshore Angler™ Light Wire Circle Hook. These hooks are precision-crafted with light wire and needle-sharp points to puncture any lip. So when the bite is on, you can be sure your hook will hold fast.
7# VMC Tournament Circle B-Lok Hook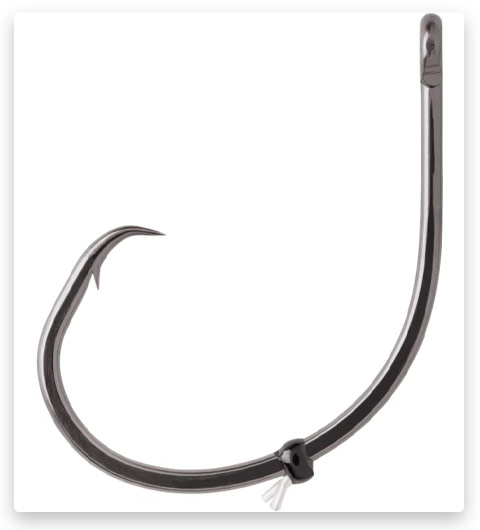 With the VMC Tournament Circle B-Lok Hook, you can keep your bait in the perfect spot for hookups! This strong and durable hook is made of forged Vanadium steel and has a needlepoint point for easy penetration. The extra-wide gap ensures a solid hookset, while the inline design keeps the bait from moving up or down the shank.
8# Gamakatsu Octopus Hooks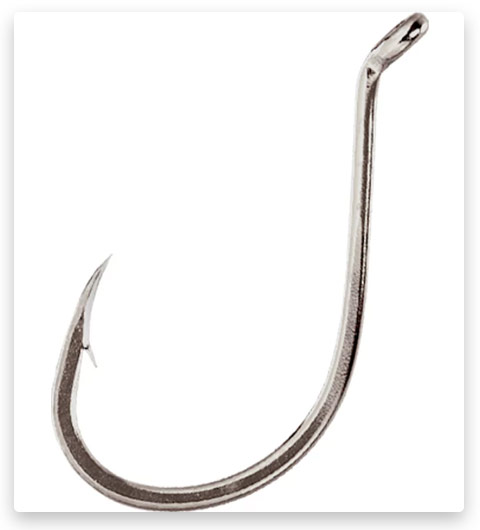 Gamakatsu Octopus Hooks are the perfect choice for anglers who demand the best in terms of strength and versatility. These hooks are constructed from high-quality materials for outstanding durability and feature an offset bend and extremely sharp point for quick jaw penetration. Whether you're targeting inshore or offshore species, Gamakatsu Octopus Hooks are up to the task. Choose from a variety of sizes to match your preferred technique and fishing conditions.
9# Mustad Worm Hook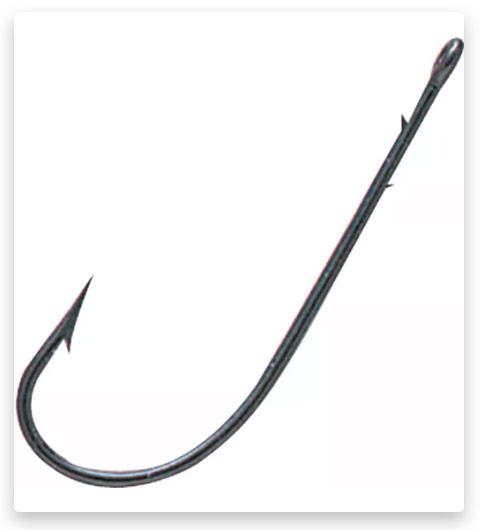 The Mustad Worm Hook is the perfect choice for anglers who want a reliable and effective hook for their fishing needs. This hook features 2 slices in the shank, which ensures that your worms stay firmly in place. The ringed eye also helps to keep your line securely in place, so you can focus on landing your next big catch. With its sharp point and durable construction, the Mustad Worm Hook is sure to help you reel in plenty of fish.
10# Tru-Turn Freshwater Hooks 722BL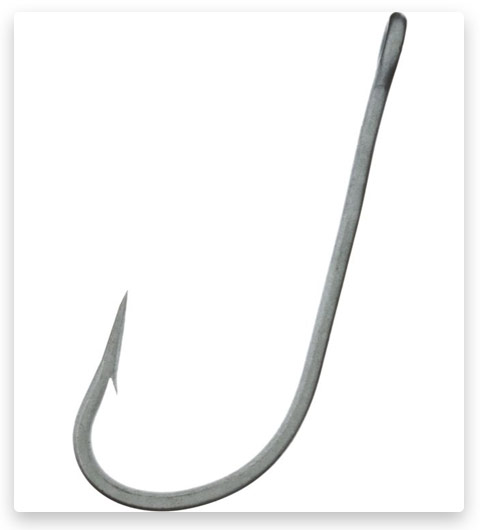 Looking for a top-quality catfish hook that can withstand the elements? Look no further than the Tru-Turn Freshwater Hook. This hook is forged from super-strong steel and features a medium-large eye. It's also been finished with PermaSteel, an earth-friendly finish that is extremely resistant to corrosion. So whether you're fishing in fresh or saltwater, you can be confident that your Tru-Turn Freshwater Hook will perform beautifully.
11# Eagle Claw 084/089 Plain Shank Hooks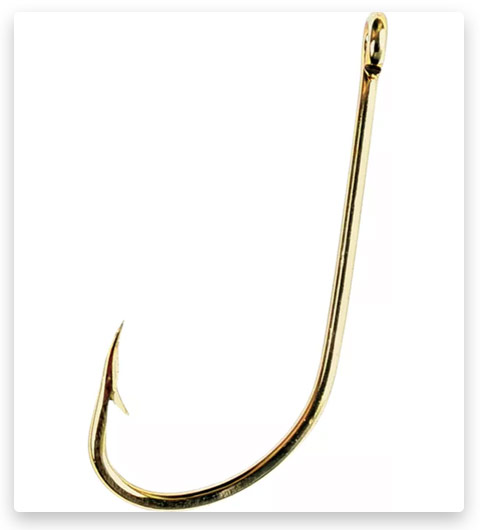 The Eagle Claw 084/089 Plain Shank Hook has a perfect combination of strength, design, and performance, this hook is ideal for a variety of live bait applications. Featuring an ultrasharp point and consistent construction, the Eagle Claw 084/089 Plain Shank Hook will help you land that big catch!
12# Eagle Claw Lazer Sharp Down Eye Baitholder Hooks L181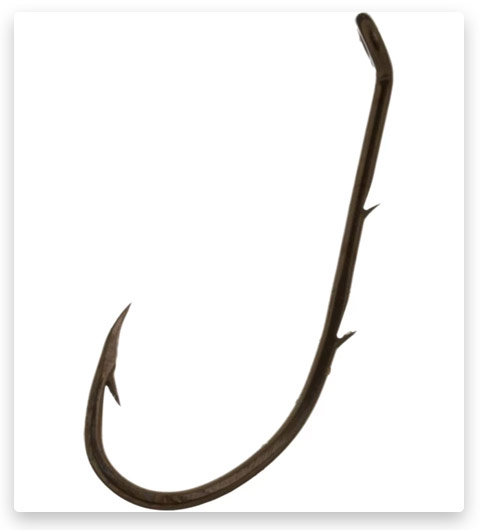 The Eagle Claw Lazer Sharp Down Eye Baitholder Hooks are the perfect choice for a wide variety of plastic worm applications. With their ultra-sharp points and consistent construction, these hooks offer the perfect combination of strength, design, and performance. Additionally, the offset design and forged construction make them ideal for a variety of worm techniques. Lastly, the bronze finish gives them a professional look that is sure to please.
13# Offshore Angler Octopus Beak Hooks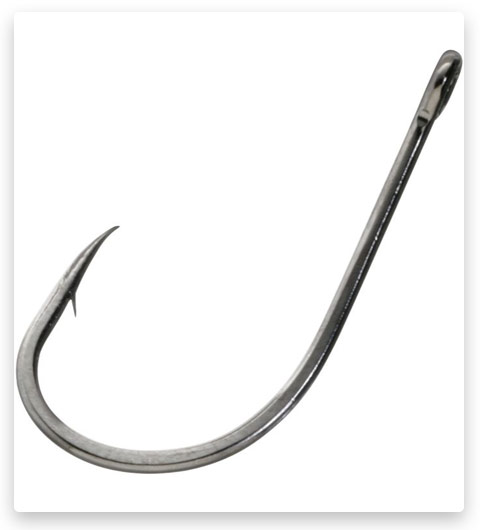 Looking for an edge in your next offshore fishing expedition? Then you need to try out Offshore Angler's™ Octopus Beak Hooks. These precision-crafted hooks are needle-sharp, making them perfect for live bait. And with their black nickel finish, they'll be sure to blend in with the surrounding environment. Best of all, these hooks come in a 25 pack, so you're never caught short when it comes time to reel in that big one!
🎦Video YouTube: Surf Fishing Hooks 101
🔍 More Than Just a Piece of Metal – The Importance of Choosing the Right Hook
The role of the hook in surf fishing, or any type of fishing for that matter, cannot be overstated. As the crucial link between your line and the fish, the hook plays a starring role in determining your success rate. 🎣💯
Choosing the wrong hook could be the difference between a satisfying catch and a disappointing day on the beach. Not only is there the risk of the fish escaping but there's also the potential of causing harm to the fish, especially if you're practicing catch-and-release. 🐟🔄
When selecting a hook for surf fishing, several factors come into play:
Fish Species: The size and species of fish you're targeting will influence your hook choice. Larger fish will generally require larger hooks, while smaller species will need smaller hooks.
Bait Type: Your bait also dictates the type of hook you should use. Some hooks work better with live bait, while others are designed for artificial bait.
Surf Conditions: Conditions such as wave height, current strength, and the presence of underwater vegetation can all affect which hook is best.
It's essential to understand that there isn't a "one-size-fits-all" hook for surf fishing. The right hook for you depends on the combination of the above factors. This might seem complex, but fear not! As we journey deeper into the world of surf fishing hooks, we'll provide you with all the knowledge you need to make the right choice.
🔶Remember, success in surf fishing isn't just about casting your line; it's about understanding the nuances that start with your hook selection. Stay hooked! 🌊
🎣 Navigating the Sea of Choices – Types of Hooks for Surf Fishing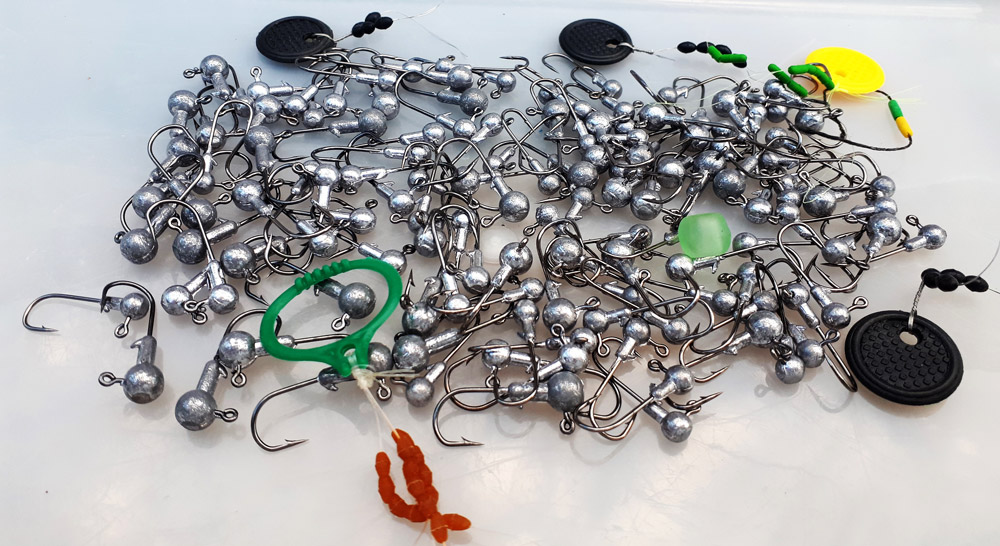 With the countless hook options available, it's easy to feel overwhelmed. Let's dive in and simplify the most common types of hooks you'll encounter in surf fishing: J-hooks, Circle hooks, and Treble hooks.
J-Hooks: Shaped like the letter 'J', these hooks are versatile and effective. Their shape is ideal for secure hook-setting. However, they do require more skill to set correctly and run a higher risk of gut-hooking, especially if the fish swallows the bait. 🅹
Circle Hooks: Circle hooks, with their unique design, automatically hook the fish in the corner of the mouth as they swim away, reducing the risk of gut hooking. They're excellent for catch-and-release as they cause less harm to the fish. However, they don't work as well with artificial bait. ⭕
Treble Hooks: Treble hooks feature three points on a single shaft and are typically used with artificial baits and lures. While they have a high hook-up rate, they can be challenging to remove and can cause more damage to the fish. 🪝🪝🪝
Each of these hooks has its place in surf fishing. J-hooks can be highly effective when used by experienced anglers who know how to set them. Circle hooks are a popular choice for their ethical benefits and their ease of use for beginners. Treble hooks can be deadly effective when paired with the right lure.
🔶But remember, the best hook largely depends on the fish species, bait, and surf conditions. Understanding the advantages and disadvantages of each hook type can help you tailor your setup for maximum effectiveness. The best anglers adapt their approach based on the situation – and choosing the right hook is a big part of that! Keep reading to discover how to match your hook with the perfect bait and fish species. 🌊🐟🦀
🔗 The Perfect Union – Matching Hooks with Bait and Fish Species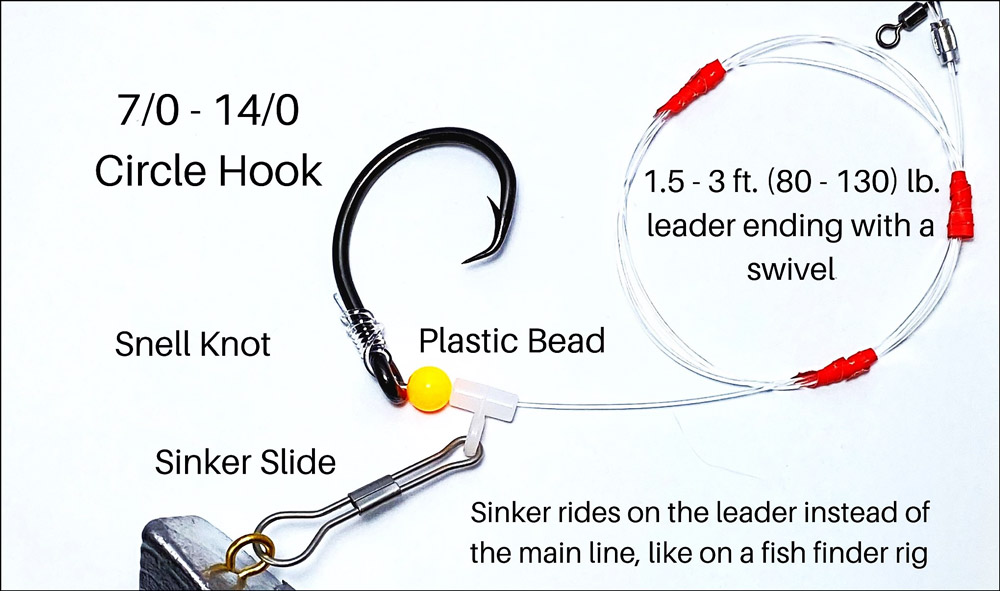 The interplay between your chosen hook, the bait you use, and the fish species you're targeting is a dance that requires balance and understanding. The right combination can significantly boost your success in surf fishing. 🎣💃🕺
Let's break down some successful hook, bait, and species combinations to give you a taste of the strategy involved:
Circle Hooks, Live Shrimp, and Redfish: This is a classic combination for targeting Redfish. The live shrimp attracts the fish, and the circle hook ensures a clean hook in the mouth, perfect for catch-and-release.🍤🐟
J-Hooks, Cut Bait, and Striped Bass: The scent of cut bait can be irresistible to a hungry Striped Bass. Paired with a J-hook, you're in a prime position to secure a solid hook set.🥩🎣
Treble Hooks, Artificial Lures, and Bluefish: Treble hooks work well with artificial lures, making them ideal when targeting aggressive species like Bluefish. Remember to handle fish hooked with treble hooks carefully to avoid injury. 🧲🐠
While we're here, let's share some tips on how to hook both live and artificial baits for maximum effectiveness:
Live Bait: The goal is to keep the bait alive and moving naturally for as long as possible. For most small live baits like shrimp or worms, hook them through the tail or head, avoiding vital areas. For larger baits like mullet, hook them through the back or nostrils. 🐛
Artificial Bait: With artificial baits, presentation is everything. The hook should be positioned so the bait moves naturally in the water. For soft plastics, the 'weedless' setup is popular – where the hook point is buried in the bait to prevent snags. 🧶
🔶Remember, there is no definitive right or wrong in these combinations. It's about observing, learning, and adapting to what the fish are responding to on any given day. So go out there, experiment, and find what works best for you! 🧪🌊🐟
⚖️ More Than Just a Catch – Legal and Ethical Considerations in Surf Fishing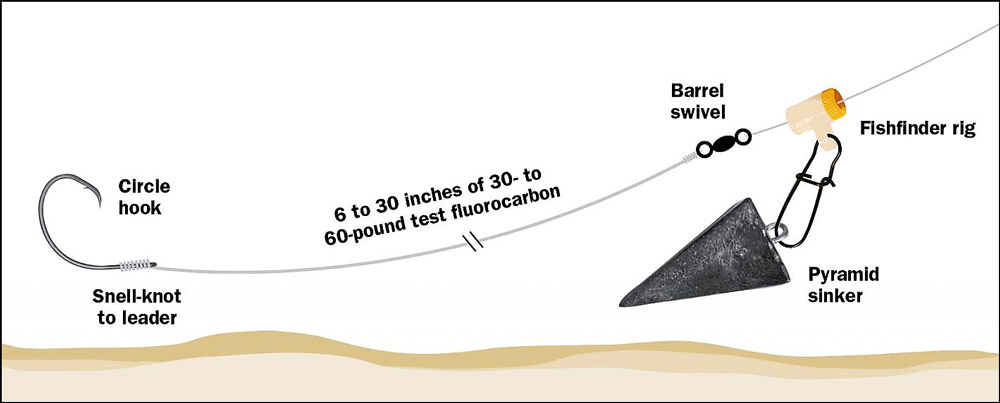 Fishing is more than just a leisurely pursuit or a means of gathering food; it is also about maintaining balance in our natural ecosystems. With that in mind, it's essential to be aware of the legal and ethical considerations that come with the territory. 🌍
Firstly, different regions have specific laws or regulations regarding fishing, including the use of certain types of hooks. For instance, some areas prohibit the use of treble hooks or mandate the use of circle hooks for certain species to promote sustainable fishing. It's essential to research and understand these regulations in your fishing area. Ignorance of the law is no excuse, and penalties can be steep. 📜🚫
Ethical considerations are equally critical. When it comes to surf fishing, our actions can have a lasting impact on fish populations:
Minimize Harm: Opt for hooks that reduce harm to the fish. For example, circle hooks typically hook fish in the mouth, making them an ethical choice for catch-and-release fishing.
Catch and Release: If you practice catch-and-release, ensure you handle the fish with wet hands and keep it out of water for as little time as possible. If the fish swallows the hook, it's often better to cut the line close to the mouth rather than trying to remove it.
Respect Size and Bag Limits: These regulations exist to protect fish populations from overfishing. Always abide by the size and bag limits in your area.
🔶In conclusion, while it's important to enjoy the art of surf fishing, it's equally essential to remember our responsibilities. After all, fishing is not just about us – it's about the respect and care we show towards our natural world. Be a responsible angler; our oceans will thank you! 🎣💚🌊
❓ FAQ: Understand and Choose the Best Hooks
🏁 In Conclusion: The Power of the Hook in Surf Fishing
Surf fishing can be a great way to spend a day by the water, and it's especially fun when you have the right gear. In this article, we've shared our picks for the best hooks for surf fishing. We've also included some tips on how to use them so that you can start catching fish right away. Thanks for reading, and good luck in the surf!
And so, we come to the end of our journey through the fascinating world of surf fishing hooks. From understanding what surf fishing is 🌊, to recognizing the importance of the humble hook 🎣, we've explored the broad spectrum of hook types and how to match them with various bait and fish species.
The key takeaway? There's more to surf fishing than meets the eye, and the hook you choose can have a profound impact on your success. Each hook type, be it a J-hook, Circle hook, or Treble hook, comes with its own strengths and weaknesses, and there's no "one-size-fits-all" solution. 🔄
Furthermore, matching your hook to your bait and target species is an art that can make or break your fishing experience. Add to this the legal and ethical considerations to ensure we're fishing sustainably, and it's clear that every choice we make along the way matters. 💼
The importance of investing time in choosing the right hook for surf fishing cannot be overstated. The right hook can turn a frustrating day on the water into a thrilling battle with a prize catch. 🏆
🔶So, go out there, arm yourself with your newfound knowledge, and experiment with different hooks to find what works best for you. Remember, every day on the water is an opportunity to learn, grow, and refine your craft. Keep casting, keep learning, and most importantly, keep enjoying the beautiful sport of surf fishing. Tight lines! 🌊🎣🐠👍
📢 Your Turn: Join the Surf Fishing Conversation!
As we reel in this in-depth look at surf fishing hooks, now it's your turn to jump in! We'd love to hear your tales from the surf. Have you tried any of these hooks? Have a particularly successful hook and bait combo you swear by? Or maybe a memorable catch that the right hook helped land? 🎣🐟
Your experiences and insights can help make our fishing community even stronger. So drop us a comment below and let us know your thoughts. Sharing your stories can provide invaluable insights for fellow anglers.
🔶And remember, there are no silly questions in fishing, only lessons to be learned. If there's something you didn't quite understand or if you have more questions about surf fishing hooks, don't hesitate to ask. We're here to help each other become better anglers, one hook at a time! 🤝
So, what are you waiting for? Dive into the comments section and let's keep this wave of surf fishing knowledge rolling. Happy fishing! 🌊👍🎣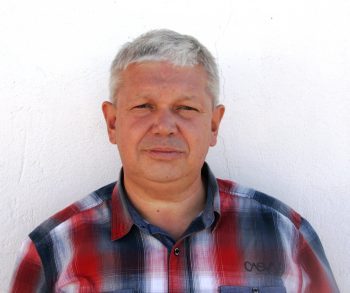 Sergio Smirnoff
Professional fisherman with 40+ years of experience.
Fishing and the ocean is a passion of my life. I am passionate about all kinds of sea fishing: fishing from the shore (spinning, float, baitcasting), from a boat, and spearfishing day and night.
I live in Tenerife (Canary Islands) for the last 10+ years and share my daily fishing experiences on my website. Many years of personal experience as a fisherman and the vast experience of my friends allow me to write professionally on any fishing topics (from choosing a flashlight and equipment to deep-sea fishing).
All of my advice is based on practical real-world experience and will be useful to both novice anglers and professionals.
Read more
about the author.
Affiliate Disclosure: FishReeler.com sometimes gets paid for listings, through sponsors or affiliate programs like Amazon, Ebay, Cabelas, Bass Pro Shop, Shimano, Daiwa, Rapala, Renn, Okuma, KastKing, etс. Clicking a link helps keep FishReeler.com free, at no extra cost to you!
About the author: Each article is verified by the fishing expert Sergio Smirnoff. The articles are written by professional and amateur fishermen with 20+ years of fishing experience.
Note: The views and opinions expressed in this article are those of the authors and do not necessarily reflect the official policy or position of any agency. The articles are for informational purposes only, share your opinions in the comments and join the fishing discussions, let's share our fishing experiences together!