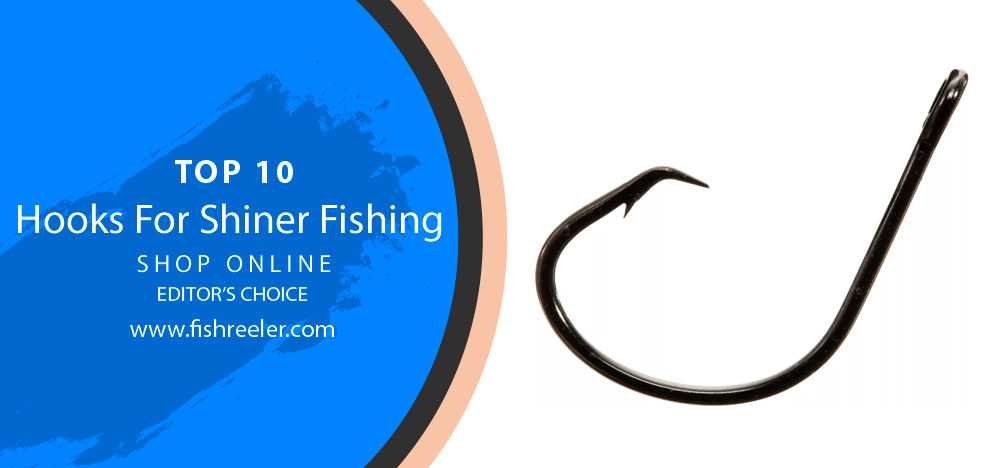 Unlock the Secrets of Shiner Fishing: Your Comprehensive Guide to Choosing the Best Hooks
Fishing is more than just a pastime; it's a fine art and a journey of continuous learning. Shiner fishing, specifically, offers its own unique challenges and rewards. One of the most crucial elements to master in this fishing art form is the use of the right hook. 🪝
🎣 Welcome to the Exciting World of Shiner Fishing! 🎣
Shiner fishing is a popular activity among both recreational and professional anglers. These lively fish provide an engaging fight, making the pursuit all the more exciting. 🐟 But without the correct hook, you may find yourself struggling to catch anything at all.
Selecting the right hook for shiner fishing doesn't just increase your chances of hooking a fish; it also ensures a humane catch and release. The hook size, type, and material can significantly impact your fishing experience. From improving your catch rate to ensuring the fish's survival upon release, the importance of choosing the right hook cannot be overstated.
Throughout this guide, we'll be diving deeper into the secrets of shiner fishing and the importance of using the right hook. So whether you're a seasoned angler or a beginner just dipping your toes in the water, buckle up! This is your ticket to mastering shiner fishing. 🚀🌊
🔶Let's cast our lines and get started!
🐠 Diving into the World of Shiner Fishing 🐠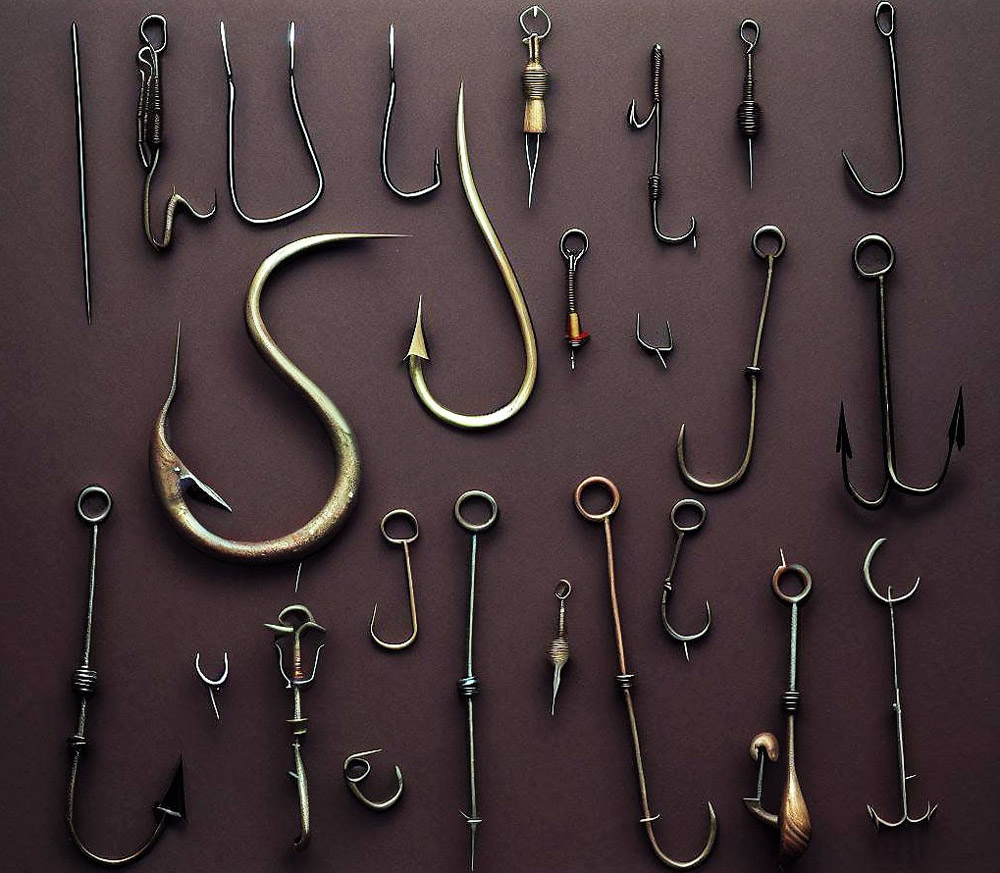 Shiner fishing is a fascinating subset of angling that captivates fishing enthusiasts worldwide. But before we plunge into the nitty-gritty of shiner fishing techniques, let's pause and explore the very subject of our interest – the shiners themselves!
🌍 Shiners: The Stars of Freshwater Fishing 🌍
Shiners belong to the Cyprinidae family, the largest fish family globally, boasting over 2,400 species. These fish are usually small, silver-scaled, and predominantly found in freshwater environments like rivers, lakes, and ponds.
Shiners range in size from small species just a few inches long to larger varieties reaching up to a foot. One trait all shiners share is their love for a hearty meal, making them a popular target among anglers. 🍽️
🍎 The Apple of Shiners' Eye: Their Preferred Bait 🍎
Shiners are omnivorous and have a wide-ranging diet. They are primarily insectivores, with a soft spot for small crustaceans, worms, and a variety of insects. But, they also won't shy away from plant material, giving anglers a broad spectrum of bait options.
Live bait, particularly worms and small minnows, often works wonders when fishing for shiners. Artificial baits, such as small spinners and jigs, can also be effective. However, keep in mind that the choice of bait might change based on the shiner species you're trying to catch. 🎣
💦 Habitat: Where Do Shiners Shine the Most? 💦
Most shiner species prefer slow-moving or still waters. You'll often find them in the calm sections of rivers, serene lakes, or peaceful ponds. Some species of shiners, however, can be found in brackish waters along the coastlines. They usually like warmer waters, but again, this can vary depending on the species.
🔶As we progress in our shiner fishing adventure, we'll delve deeper into the importance of hook choice and how it directly affects your catch rate. So, tighten your lines, and let's keep the reels turning! 🔄🌊
🪝 Hook, Line, and Shiner – The Significance of Hook Choice in Shiner Fishing 🪝
Casting your line into the water and waiting for a nibble is just part of the fishing equation. A critical factor that often dictates success in shiner fishing – and indeed, all fishing – is the choice of your hook. Let's dive deeper into this pivotal aspect.
🎯 How Hook Type Impacts Your Shiner Fishing Success 🎯
The hook you choose plays a vital role in whether you land that coveted shiner or watch it slip away. Different hook types serve different purposes, and understanding this can significantly boost your catch rate.
J-hooks, for instance, are traditionally used and require the angler to set the hook by swiftly pulling the line on feeling a bite. 🐠 On the other hand, circle hooks are designed to hook the fish in the corner of the mouth as it swims away, reducing the chance of gut-hooking and promoting a healthier release.
The shape and type of your hook can impact hook-up rates, fight times, and the survival rate of the fish upon release. Thus, it's important to consider the type of hook you'll use for shiner fishing.
📏 The Relationship Between Hook Size and Fish Size 📏
The size of your hook can also greatly influence your fishing success. An oversized hook might discourage a shiner from biting, while a hook that's too small might not secure the fish effectively. So, how do you strike the perfect balance?
The general rule of thumb is to match the hook size with the size of the fish you're targeting. For most shiner species, a small to medium-sized hook works well. But remember, this can vary depending on the size and species of shiner you're after. 🎣
The "gap" (distance between the shank and the point) and the "bite" (distance from the point to the bend) of the hook should be large enough to effectively hook the shiner, but not so large as to overburden or harm the fish.
🔶Remember, in fishing, as in life, it's often the small details that make a big difference. In our next section, we'll explore various hook types in detail, helping you choose the perfect hook for your next shiner fishing adventure. Get ready to reel in success! 🏆🌊
🎦Video YouTube: How to double hook a shiner minnow
Shiner Fishing Mastery: The 10 Best Hooks for Success
Want to catch more shiners? Check out our list of the best hooks for shiner fishing! We've tested and reviewed some of the most popular hooks on the market, so you can pick the right one for your next trip. Whether you're using a bobber or jigging for these little baitfish, we've got you covered. So read on to learn more about the top-rated hooks for shiner fishing!
Looking to up your game while fishing for shiners? Check out our roundup of the best hooks on the market today! From classic treble hooks to innovative designs, we've got you covered with this comprehensive guide. We have done the research so that you can spend less time shopping and more time fishing! So, read on to learn more about the top-rated hooks for shiner fishing.
1# Gamakatsu Shiner Hook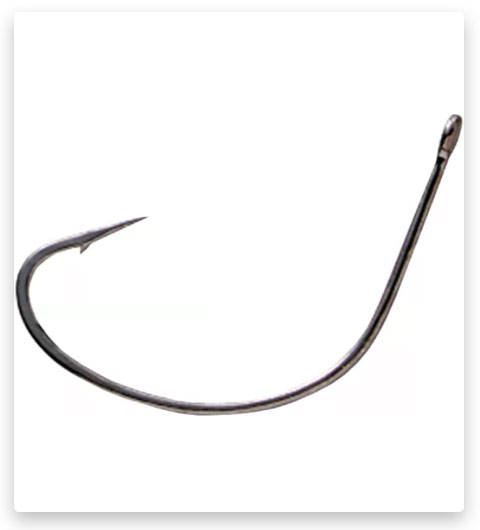 Looking for a fish hook that can help you land big catches? Check out the Gamakatsu Shiner Hook! This hook is designed specifically for targeting shiners, making it perfect for those who want to up their fishing game. The black colour ensures that it will be invisible to fish, giving you the element of surprise. And the sharp point and strong construction mean that this hook can handle even the biggest catches. So if you're looking to take your fishing to the next level, make sure to give the Gamakatsu Shiner Hook a try.
2# VMC TechSet Siwash Open-Eye Hook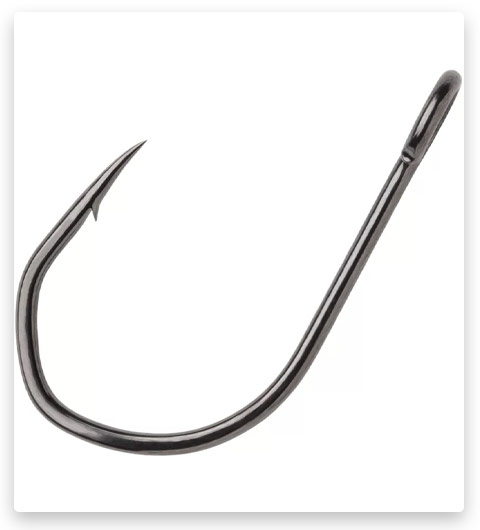 The VMC TechSet Siwash Open-Eye Hook is perfect for hard baits that don't have split rings. The open eye design makes it easy to attach to your lure, and the offset needlepoint ensures a good, secure hold on your fish. Made of high-carbon steel, this 2X Strong hook is built to last, giving you years of trouble-free fishing enjoyment.
3# Gamakatsu Circle Octopus Hooks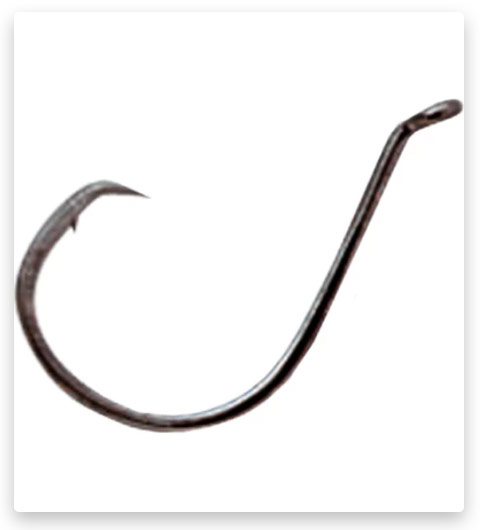 Gamakatsu Circle Octopus Hooks are forged from high carbon steel and tempered for superior strength, durability, and quality. They feature a super-sharp, conically honed needlepoint that is great for live bait in both fresh- and saltwater.
4# Berkley Fusion19 Drop Shot Hooks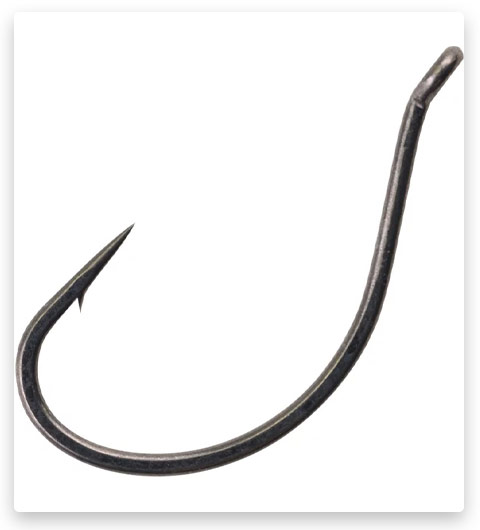 The Berkley Fusion19 Drop Shot Hooks are the perfect choice for suspended drop shot presentations. They feature a special eyelet design, needlepoint, and SlickSet Coating for easier penetration. The stamped bend and smoke satin finish add strength and durability, while the versatile design makes them perfect for a variety of applications.
5# Eagle Claw Lazer Sharp L1 Salmon/Steelhead Octopus Hook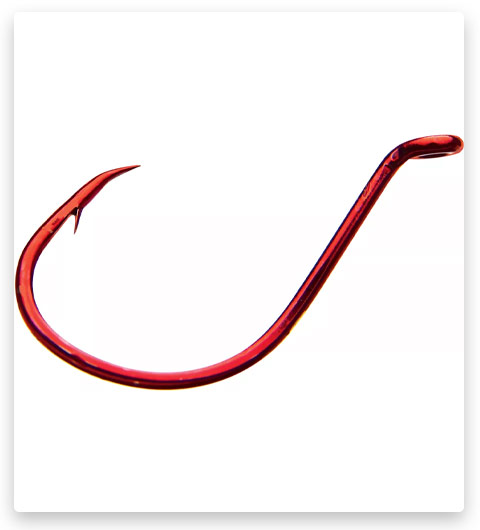 The Eagle Claw Lazer Sharp L1 Octopus Hook is just the tool you need to target salmon and steelhead on your next drop-shot rig. Offset up eye and Lazer Sharp needlepoint makes for quick and easy penetration, meaning you'll be able to set the hook and reel in your catch in no time.
6# Eagle Claw Model 038 Classic Salmon Egg Hook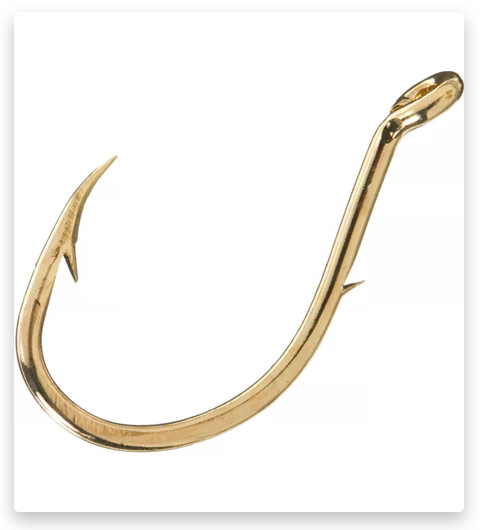 The Eagle Claw® Classic Salmon Egg Hook is designed specifically for salmon eggs and baitholder rigs. Its offset point makes it easy to set the hook, while its up eye ensures good bait presentation.
7# Mustad Classic 1X Strong Offset Circle Hook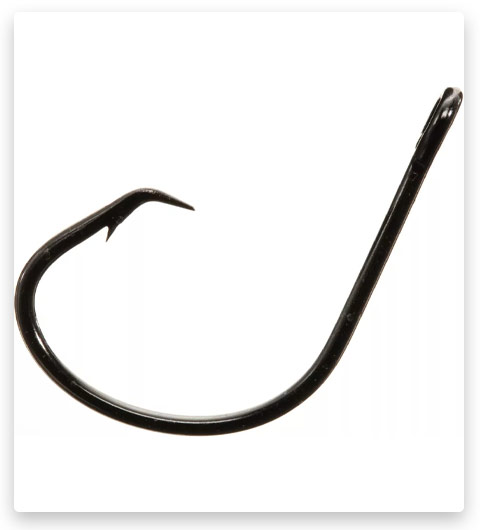 If you're looking for an all-purpose, heavy-duty offset circle hook, look no further than Mustad's Classic 1X Strong. Its wide gap and extra-long shank make it perfect for baiting up large chunks of meat or live bait, while the large ring eye makes it ideal for use with trotlines and heavy leaders. Whether you're fishing in fresh or saltwater, the Classic 1X Strong is a must-have in your tackle box.
8# Eagle Claw Lazer Sharp L038 Hooks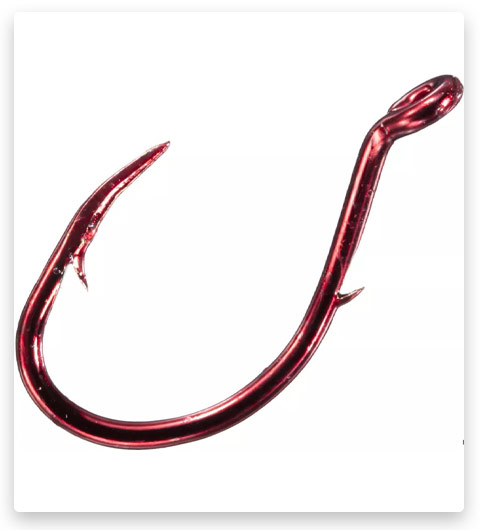 These Eagle Claw Lazer Sharp L038 Hooks are a great choice for any fisherman or woman. The offset and up eye design allow for a great hook that can be used for salmon eggs or as a baitholder. These hooks are made of high-quality materials and are sure to last you many fishing trips. Order your set today and be ready for your next fishing adventure.
9# Gamakatsu G Finesse Nano Coat Drop Shot Hook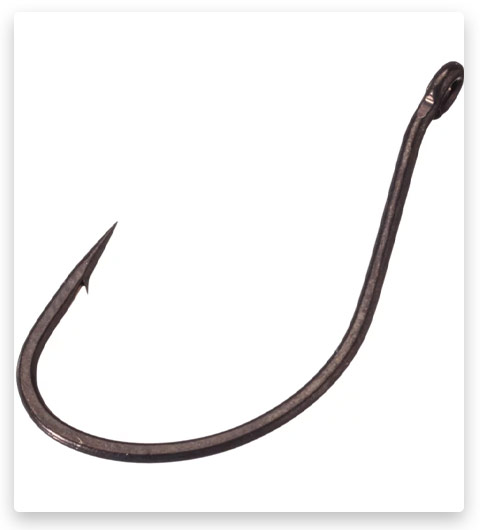 Introducing the Gamakatsu G Finesse Nano Coat Drop Shot Hook – an outstanding drop shot hook designed to provide superior hook penetration and deliver stealth presentations. Featuring an ultra-sharp tournament grade wire, this hook also features a nano smooth coat finish that ensures good bait presentation and prevents the bait from slipping off the hook.
10# Eagle Claw Trokar Curved Point Octopus Hook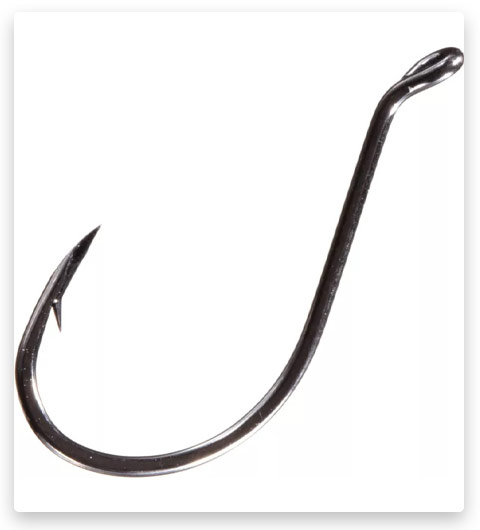 When you need to sink the hook deeply, rely on Eagle Claw's Trokar TK2 Octopus Hook. This surgically sharpened and cold-forged hook is precision engineered for a perfect bite, with a low-profile barb that won't snag your line. The extended shank and up-ringed eye provide extra leverage when you need it most, while the curved point slices through the water for a quick catch.
🎣 Understanding Your Tools – Different Types of Hooks and Their Uses 🎣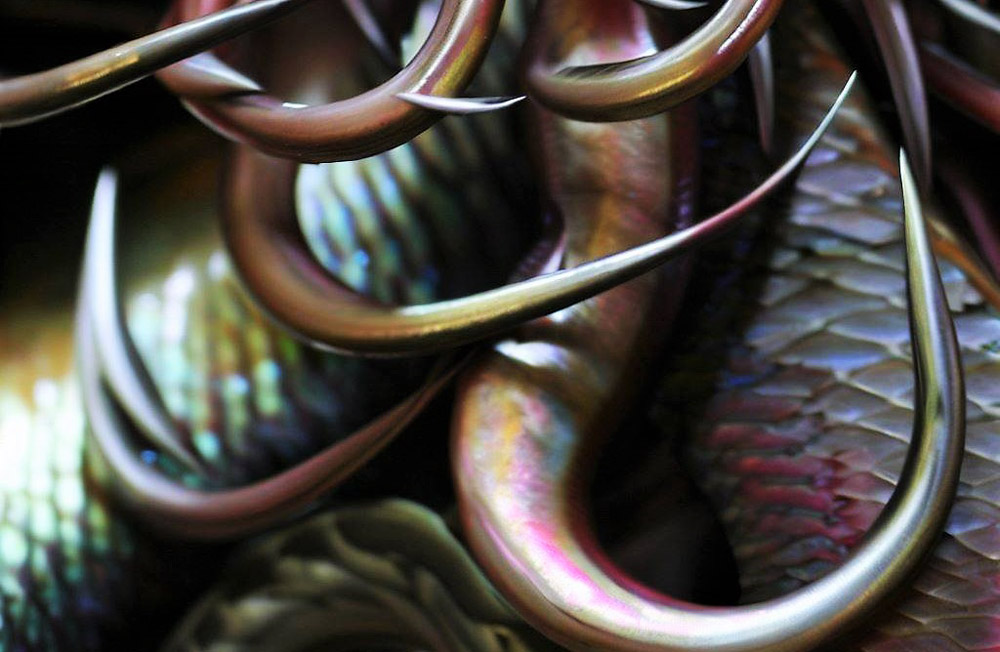 Fishing hooks come in a myriad of shapes and sizes, each designed for specific conditions and species. By understanding the variety of hooks available and their appropriate uses, you can significantly boost your shiner fishing success. Let's get to know some popular hook types.
1️⃣ J-Hooks: The Traditional Choice 1️⃣
Named for their resemblance to the letter 'J', these hooks have been the go-to for anglers for centuries. They are versatile and work well for a variety of fishing styles and species, including shiners.
2️⃣ Circle Hooks: The Conservationist's Friend 2️⃣
Unlike J-hooks, circle hooks are designed to hook the fish in the corner of the mouth as it swims away. The unique design reduces gut hooking and is more suitable for catch and release.
3️⃣ Treble Hooks: Three Times the Catch 3️⃣
Treble hooks feature three points coming out from a single shank, providing multiple catch points. They are often used with artificial baits and lures.
🔶Understanding the pros and cons of these hook types can guide your choice based on your fishing style, the bait you're using, and the size of the shiner you're targeting. But choosing the right hook doesn't stop at type and size – the material and corrosion resistance are equally crucial, as we'll explore in the next section. Keep those lines tight! 🚀🌊
🪝 Hook, Line, and Shiner – Selecting the Ideal Hook for Shiner Fishing 🪝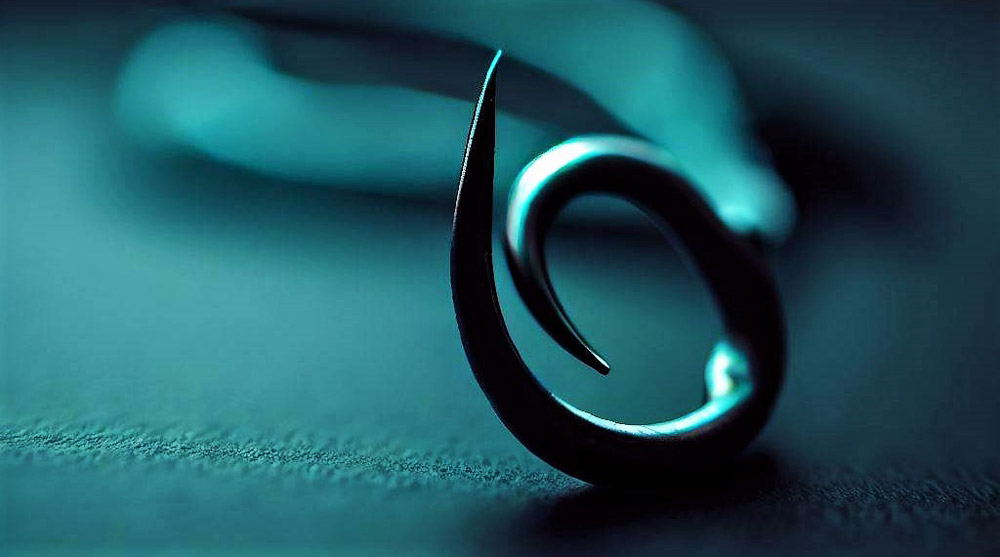 Choosing the right hook can be the difference between a fruitful day of shiner fishing and going home empty-handed. However, the choice isn't always straightforward. It depends on several factors, including the size of the shiner, the bait type, and even the fishing environment. Let's dive into these considerations.
🐟 Shiner Size and Hook Selection 🐟
As we touched on earlier, the size of the shiner you're targeting plays a significant role in your hook selection. Small to medium-sized hooks usually work well for most shiner species. However, for larger shiners, you may need to scale up your hook size. The goal is to choose a hook that's large enough to effectively secure the fish but not too large to deter a bite.
🍎 Bait Type and Hook Choice 🍎
The type of bait you use also influences your hook choice. J-hooks can be effective with both live and artificial bait, while circle hooks are typically used with live bait. If you're using artificial lures, treble hooks could be your best bet.
🌍 Hook Selection Based on Fishing Environment 🌍
The environment where you fish can also guide your hook selection. For instance, if you're fishing in an area with a lot of covers, you might prefer a weedless hook design to avoid getting snagged.
⚙️ Material and Corrosion Resistance: The Unsung Heroes ⚙️
Lastly, don't forget to consider the hook material and its resistance to corrosion. Most fishing hooks are made from high-carbon steel, but they can differ in their coatings – from nickel or gold to tin or Teflon.
Hooks used in freshwater fishing usually have a thin layer of rust-resistant material. However, if you're fishing for coastal shiner species in brackish water, consider using hooks with higher corrosion resistance.
🔶Choosing the right hook isn't just about size and type; it's about understanding how these elements interact with the fish species, bait type, and the fishing environment. Up next, we'll share some pro tips for shiner fishing that'll help you boost your catch rate. Stay tuned, and let's keep those reels turning! 🔄🌊
🎣 Reeling in Success – Top Tips and Tricks for Shiner Fishing 🎣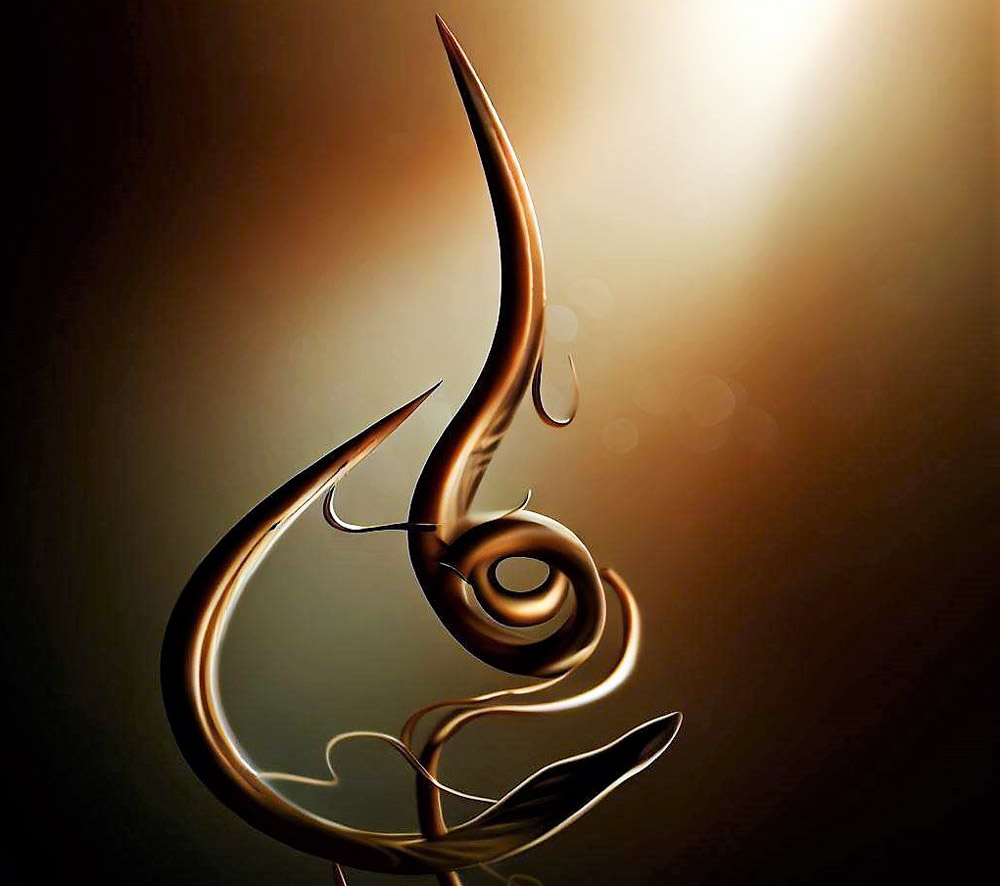 Shiner fishing, like all fishing, is an art. And as with any art, having a few tricks up your sleeve can make a world of difference. So, let's explore some expert advice that'll help you hook those shiny shiners more effectively.
💡 Shiner Hooking 101: Where and How to Hook 💡
To maximize your shiner-catching success, it's crucial to hook your bait effectively. When using live bait like worms, you can thread the worm onto the hook, ensuring multiple points of contact. For small minnows or shiners used as bait, hooking them through the lips or dorsal area allows them to swim naturally, attracting predator shiners.
🕐 Timing is Everything: When to Fish for Shiners 🕐
Shiners are usually most active during dawn and dusk, often referred to as the 'golden hours' by anglers. During these periods, shiners come to shallow water areas to feed, making them easier to catch.
📍 Location, Location, Location: Where to Find Shiners 📍
Look for shiners in slow-moving or still waters like lakes, ponds, or calm river sections. They're also found near aquatic plants, under cover like submerged logs, or around structures where they can hide and find food.
🍽️ The Bait Game: Best Bait for Shiners 🍽️
As mentioned earlier, shiners are primarily insectivores and are attracted to a wide variety of live baits. Worms, small minnows, and even grasshoppers can work well. For artificial bait, small jigs, spinners, and flies can be effective.
🎯 The Power of Patience 🎯
Fishing requires patience, and shiner fishing is no different. Some days, the shiners may bite immediately, while on others, it might take time. Remain patient and enjoy the fishing experience.
🔶With these tips and your newly acquired knowledge of hooks, you're well on your way to becoming a shiner fishing pro. Next up, let's explore other essential equipment that'll aid your shiner fishing adventure. Get ready to cast away! 🚀🌊
🎣 Gear Up – Essential Equipment for Shiner Fishing (Beyond Hooks) 🎣
While the right hook is crucial for successful shiner fishing, other pieces of equipment are just as important. Here's an overview of the additional gear you'll need, along with a recommendation for setting up a comprehensive shiner fishing kit.
🎣 Fishing Rod and Reel for Shiner Fishing 🎣
For shiner fishing, you generally want a light to medium-light rod, typically in the 6 to 7-foot range. This allows for sensitive bite detection and the ability to make accurate casts to specific spots.
As for reels, a light spinning reel is usually sufficient for most shiner fishing scenarios. Ensure the reel is smooth and reliable, capable of handling the line and lure weights you'll be using.
🧵 Fishing Line for Shiners 🧵
A 4-8 lb test monofilament or fluorocarbon line works well for shiner fishing. Monofilament is a good all-around choice, while fluorocarbon is nearly invisible underwater, making it a great option if shiners are being particularly wary.
💼 Shiner Fishing Kit: All You Need in One Place 💼
Here's a suggested list for a comprehensive shiner fishing kit:
Rod and Reel: A light to medium-light rod paired with a reliable spinning reel.
Fishing Line: 4-8 lb test monofilament or fluorocarbon line.
Hooks: An assortment of J-hooks, circle hooks, and treble hooks in various sizes.
Bait: Live bait like worms, minnows, or an assortment of artificial lures.
Bobbers: To monitor bites visually.
Sinkers: To keep your bait at the desired depth.
Needle Nose Pliers: For removing hooks safely.
Line Cutter: For trimming excess lines.
Tackle Box: To keep your gear organized and ready.
🔶Having the right gear on hand can make your shiner fishing trip both successful and enjoyable. We've talked a lot about the tools of the trade and the best practices for shiner fishing. Up next is a recap of all this invaluable info. Keep your fishing hat on! 🧢🌊
📚 FAQ: Unlocking the Secrets of Shiner Fishingg 📚
Conclusion: Optimal Hooks for Shiner Fishing Revealed
Shiner fishing can be a lot of fun, but it's important to use the right gear if you want to be successful. In this article, we've recommended our top three hooks for shiner fishing. We've also included some tips on how to use these hooks effectively. So, whether you're just getting started with shiner fishing or you're looking for an upgrade, these hooks will help you catch more fish.
🏁 Reeling in Knowledge – Mastering the Art of Shiner Fishing 🏁
That brings us to the end of our deep dive into the art and science of shiner fishing, with a special focus on the crucial role of the right hook. 🪝
We've learned that there's no one-size-fits-all answer in choosing the perfect hook – it's a game of factors, including the shiner size, bait type, and fishing environment. From the classic J-hooks to the more specialized circle and treble hooks, each type comes with its unique advantages and scenarios where it shines. 🌟
Fishing, like any journey, is a process of discovery. It's about experimenting and finding what works best for you. So don't be afraid to switch things up – try different hooks, baits, and locations. With time and experience, you'll find your sweet spot. 🎯
Remember, choosing the right hook is just part of the equation. Your rod, reel, line, and even your patience and passion for the sport also play huge roles in your success.
So equip yourself with the right gear, arm yourself with these tips, and step into the world of shiner fishing. Adventure awaits, so let's cast away! 🎣🌊
🔶Stay tuned for more insights and tips on your fishing journey. Until next time, tight lines and happy fishing! 🐟🌅
📣 Call to Action: Share Your Shiner Fishing Stories 📣
We hope you've found this guide valuable and are excited to put your newfound knowledge to the test. Whether you're a seasoned angler or a budding fishing enthusiast, we'd love to hear about your shiner fishing escapades. 📖🐟
Share your tales from the waterside, and let us know what worked for you, and what didn't. Your experiences can help others navigate the thrilling world of shiner fishing. After all, every fishing story adds to the ocean of knowledge out there. 🌊🎣
Use the tips and tricks in this guide, and don't forget to experiment with different hooks and techniques. Remember, there's always a bigger fish out there waiting for you. So gear up, cast your line, and let the adventures begin! 🚀
We can't wait to hear from you. Drop your stories in the comment section below, or share them on social media with the hashtag #ShinerFishingStories.
📚 References and Further Reading 📚
This guide wouldn't be possible without the wealth of information available about shiner fishing. For those who wish to delve deeper into the subject, here are a few resources that might interest you:
"The Complete Guide to Freshwater Fishing" by The Editors of Creative Publishing
"The Little Red Book of Fly Fishing" by Kirk Deeter and Charlie Meyers
🔶Until next time, tight lines, and good luck on your shiner fishing journey! 🌅🐟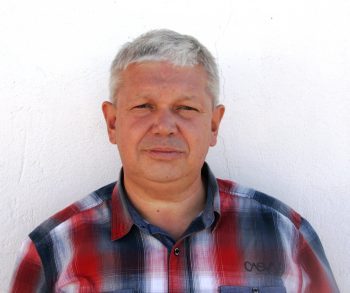 Sergio Smirnoff
Professional fisherman with 40+ years of experience.
Fishing and the ocean is a passion of my life. I am passionate about all kinds of sea fishing: fishing from the shore (spinning, float, baitcasting), from a boat, and spearfishing day and night.
I live in Tenerife (Canary Islands) for the last 10+ years and share my daily fishing experiences on my website. Many years of personal experience as a fisherman and the vast experience of my friends allow me to write professionally on any fishing topics (from choosing a flashlight and equipment to deep-sea fishing).
All of my advice is based on practical real-world experience and will be useful to both novice anglers and professionals.
Read more
about the author.
Affiliate Disclosure: FishReeler.com sometimes gets paid for listings, through sponsors or affiliate programs like Amazon, Ebay, Cabelas, Bass Pro Shop, Shimano, Daiwa, Rapala, Renn, Okuma, KastKing, etс. Clicking a link helps keep FishReeler.com free, at no extra cost to you!
About the author: Each article is verified by the fishing expert Sergio Smirnoff. The articles are written by professional and amateur fishermen with 20+ years of fishing experience.
Note: The views and opinions expressed in this article are those of the authors and do not necessarily reflect the official policy or position of any agency. The articles are for informational purposes only, share your opinions in the comments and join the fishing discussions, let's share our fishing experiences together!