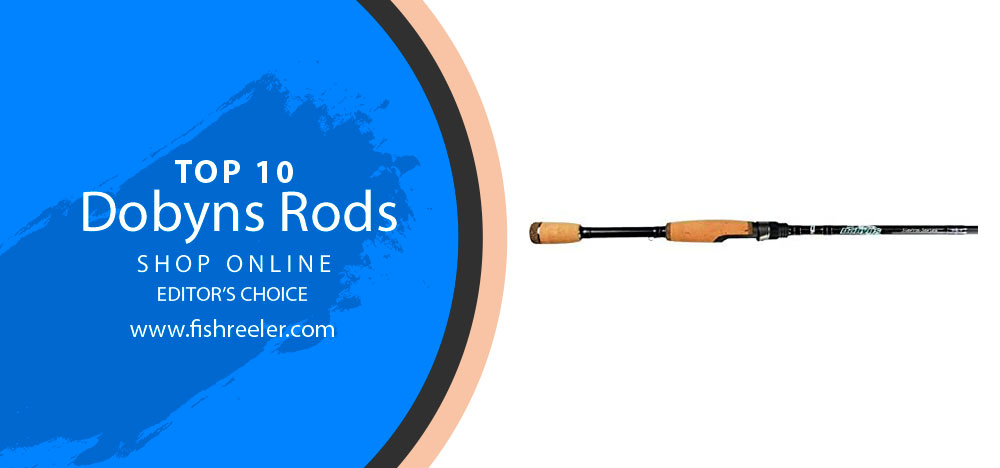 🎣 Why Dobyns Rods are a Must-Have for Every Angler! 🎣
Quick Summary
Looking for the ultimate edge in your fishing game? Enter Dobyns rods – the epitome of angling excellence! Here's why every fishing enthusiast, whether novice or pro, should consider making the switch:
🔥 Top 5 Dobyns Rods Advantages: 🔥
🚀 Unmatched Craftsmanship: Every Dobyns rod is meticulously crafted, ensuring it's not just another fishing rod, but a piece of art.
💡 Innovative Design: With a focus on ergonomic grip and balance, Dobyns rods offer an unparalleled fishing experience.
🌊 Versatility: Perfect for various fishing environments – from tranquil lakes to roaring oceans.
🏆 Pro-Approved: Many top anglers swear by Dobyns, and for a good reason! Experience firsthand the difference it brings to each cast.
🌟 Durability: Built to last, these rods are designed to withstand the test of time, ensuring season after season of reliable use.
🔶 So, if you're seeking a rod that elevates your fishing game, promises durability, and delivers unmatched performance, it's time to experience the Dobyns difference! 🎣✨
Who is Dobyns?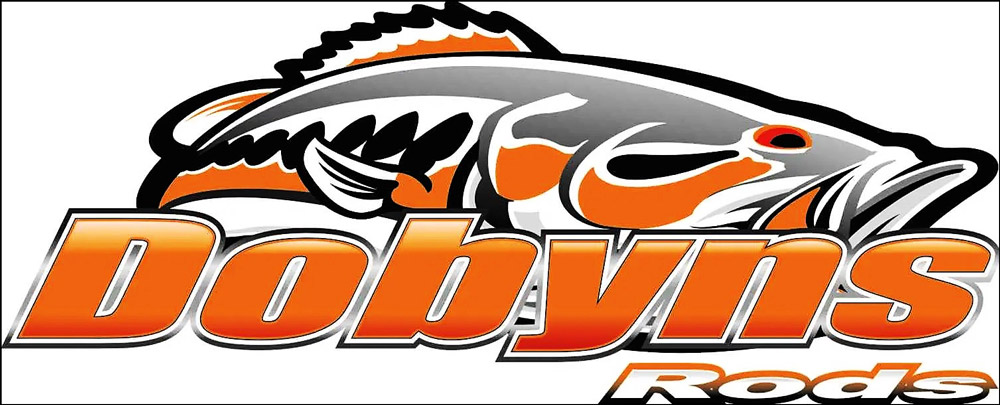 Dobyns is a company named after famous angler Gary Dobyns. After ten years in tournament fishing and achieving over 100 tournament victories, Gary realized that what the fishing companies are offering today is not enough. And he decided to build his own brand that would take into account all the desires and needs of fishermen. Gary has put all his years of experience into making rods and made a really high-quality product.
Dobyns offers a complete line of six-rod series. Starting from the cheap and affordable "Colt" series and ending with the most expensive and ultra-precise "XTasy". Each line comes in a variety of rod lengths and weights so you can use different fishing techniques. Each rod is perfectly balanced to get every last drop out of your fishing. All rods are in a different price range, so you can always choose the model that suits you. With Dobyns fishing rods you can take your fishing to the next level.
Dobyns Rods – Top 10 Fishing Rods Reviewed & Tested
Dobyns is a brand created by anglers for anglers. Unlike many popular companies, this one sells you rods and other equipment based on the experience of major competitions and the opinion of professional fishermen. In this article, we will take a look at the 10 best Dobyns rods, highlight their best and worst moments, and pick the best rod in our opinion.
| Image | Product | Brand | Link |
| --- | --- | --- | --- |
| | Dobyns Rods Fury Series 7'0" Spinning Fishing Rod | FR703SF | Medium Fast Action Rod | Modulus Graphite Blank with Kevlar Wrapping | Fuji Reel Seats and Alconite Guides | Line 8-17lb Lure 3/16 -⅝ oz., Black/Green (FR 703SF) | Dobyns Rods | |
| | Dobyns Rods Fury Series 7'3" Casting Fishing Rod | FR734C | Med-Heavy Fast Action | Modulus Graphite Blank with Kevlar Wrapping | Fuji Reel Seats | Baitcasting Rod | Line 10-20lb Lure ¼-1 oz., Black/Green | Dobyns Rods | |
| | Dobyns Rods Fury Series 7'3" Casting Fishing Rod | FR733C | Med-Heavy Fast Action | Modulus Graphite Blank with Kevlar Wrapping | Fuji Reel Seats | Baitcasting Rod | Line 10-17lb Lure ¼-¾ oz | Dobyns Rods | |
| | Dobyns Rods Fury Series 7'0" Spinning Fishing Rod | FR702SF | Med-Light Fast Action Rod | Modulus Graphite Blank with Kevlar Wrapping | Fuji Reel Seats and Alconite Guides | Line 6-12lb Lure ⅛ -½ oz., Black/Green | Dobyns Rods | |
| | Dobyns Rods Champion XP Series 7'6'' Casting Bass Fishing Rod DC766FLIP Heavy Flip Fast Action | Modulus Graphite Blank w/Kevlar Wrapping | Baitcasting | Flipping | Line 14-30lb Lure ⅜-2½oz | Dobyns Rods | |
| | Dobyns Rods Sierra Series 6'9" Spinning Bass Fishing Rod | SA692SF | Med-Light Fast Action | Modulus Graphite Blank with Kevlar Wrapping | Fuji Reel Seat and Alconite Guides | Line 6-12lb Lure ⅛-½ oz | Dobyns Rods | |
| | Dobyns Rods Champion Series 7'6" Casting Bass Fishing Rod DC764C Heavy Fast Action | Modulus Graphite Blank w/Kevlar Wrapping | Fuji Reel Seat | Baitcasting | Line 10-20lb Lure ¼ -1 ½oz | Dobyns Rods | |
| | Dobyns Rods Sierra Micro Series 7'0" Spinning Bass Fishing Rod | SSM702SF | Med-Lt Fast Action | Modulus Graphite Blank w/Kevlar Wrapping | Fuji Reel Seat & Alconite Guides | Line 6-12lb Lure ⅛ -½ oz, Black/Sage Green (SSM 702SF) | Dobyns Rods | |
| | Dobyns Rods Fury Series 7'0" Casting Fishing Rod | FR703C | Med-Heavy Fast Action | Modulus Graphite Blank with Kevlar Wrapping | Fuji Reel Seats | Baitcasting Rod | Line 10-17lb Lure ¼-¾ oz, Black/Green (FR 703C) | Dobyns Rods | |
| | Dobyns Rods Champion XP Series 6'8" Spinning Bass Fishing Rod | DC683SF | Med Fast Action | Modulus Graphite Blank w/Kevlar Wrapping | Fuji Reel Seats & Alconite Guides | Line 8-17lb Lure 3/16-⅝oz | Dobyns Rods | |
Well, now let's move on to the rods themselves and see what they have to offer.
1# Dobyns Rods Fury Series FR703SF Spinning Rod – Best Spinning Rod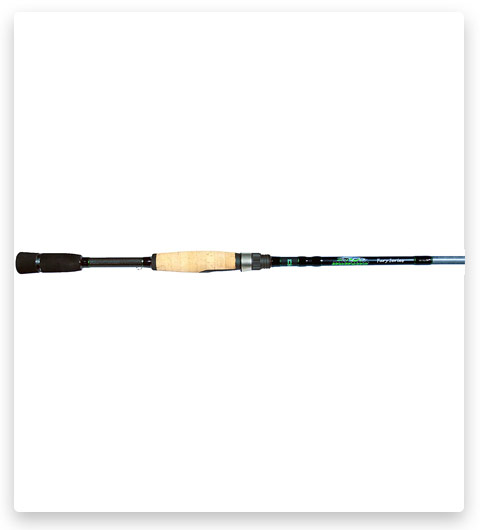 Let's start with a very affordable but high-quality rod from the Fury series. We chose it best because it's ideal in terms of price and quality. The rod is made of durable lightweight graphite and is 7 feet long. To reduce the abrasion of the line, the blank is equipped with smooth line guides. They are quite abrasion-resistant, because even when using braid, no defects arise. But despite this resistance, if they're roughly handled or dropped, they can break, be careful.
The handle is made of cork wood, it sits very comfortably and pleasantly in the hand. The handle is quite dense and soft. The rod has a built-in Fuji reel seat. Its only problem is that the reel seat and handle are not on the same level. But overall, this is a great rod for a very attractive price.
2# Dobyns Rods Fury Series FR734C Casting Rod – Best Casting Rod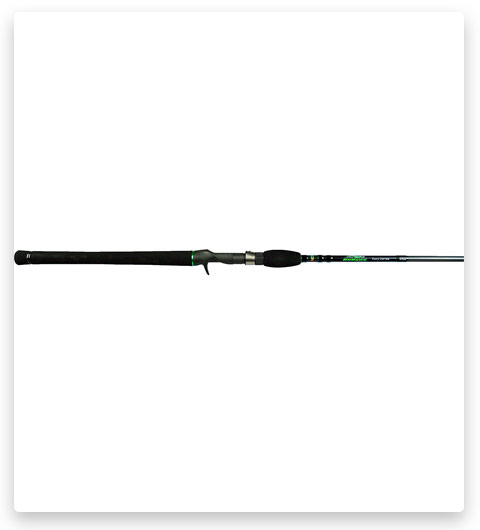 This rod is from the same Fury series but intended for anglers who like casting fishing more than spinning. It's made of sensitive graphite with durable inserts so that the rod won't break under heavy loads. The blank is fully prepared for combat conditions and heavy fish. The guide rings are equipped with a Kevlar coating, which increases the durability of the rings and prevents them from rubbing off the line.
Despite their appearance, the grips are made from premium balsa wood but have Hypalon grips. Hypalon is quickly erased, but the cork here is of high quality. Like the previous one, this rod has a Fuji reel seat. But unlike the Fury spinning rod, this one has a more convenient reel seat position. Another disadvantage of this rod is the rather cheap paint, which quickly becomes covered with scratches and chips. Although maybe this is from our careless handling.
3# Dobyns Rods Fury FR733C Medium Heavy Casting Rod – Best High-Quality Casting Rod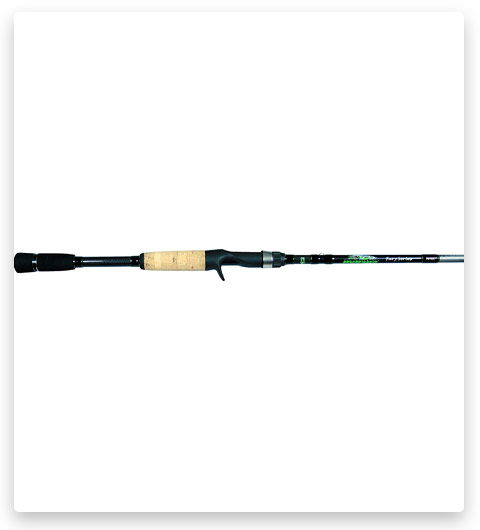 This rod has a slightly higher price tag than the rest, but if you're ready to invest, then that'll definitely be the best quality you'll get. The rod itself looks very nice and has a solid-looking construction. It's very comfortable to hold with the reel in hand, with graphite reels it'll be very lightweight. For casting light lures over long distances, this rod has a very sensitive tip. And for heavy jigs, it works quite well too. With a well-lubricated reel, the rod will shoot many feet away from you. The rod has a comfortable cork handle and it's really comfortable and doesn't slip out of your hands. Also, the handle has a built-in reel seat. Its only drawback is the very short thread.
Plus, the butt of the rod seemed very short to someone, but it seems to us that it has a very acceptable size.
4# Dobyns Rods Fury Series FR702SF Medium/Light Fast Action Spinning Rod – Best Sensitive Rod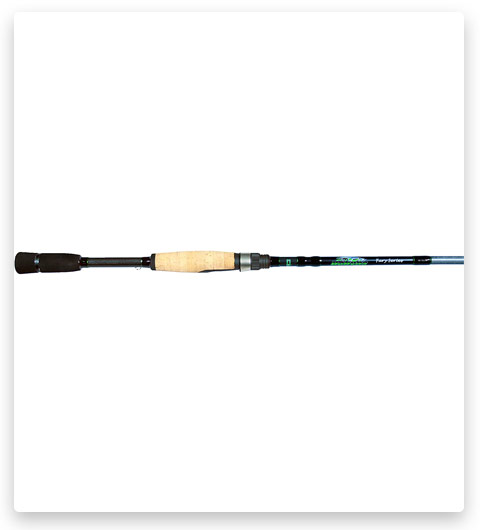 The FR702SF casting rod has the most sensitive tip on this list. Regardless of the bait and reel, we could always feel the bait and fish perfectly with this rod. The rod itself is made of tough yet flexible graphite with a rather attractive and striking design. The graphite here is really high-quality and in terms of durability, it surpasses many models from Shimano or Loomis. In addition to the body, this model has a built-in reel seat and strong line guides. In combination with the reel, the rod casts quite smoothly and far. The rod works best when dropping a rig or jig. But it doesn't work as well with light baits.
5# Dobyns Rods 766 Flip Champion Series Heavy 7'6" – Best Heavy Rod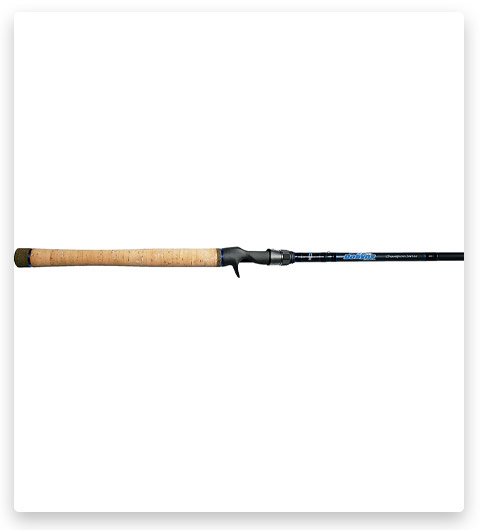 Of all the heavy rods, this definitely wins. It's 7'6″ long and performs excellently in terms of balance, durability, and performance. The rod blank is made of high modulus graphite. This allows it to flex strongly without the risk of breaking or cracking. Built-in Keegan guides are designed so that your line won't twist or break as it often happens. In addition, when using braids, they'll hardly wear out. This heavyweight flip rod is designed for all lures up to 1/2 oz. and works well in both open and narrow waters.
6# Dobyns Rods Sierra Series 692SF Medium/Light
This series of rods is distinguished by its lightness and strength. This rod is one of the lightest but very durable in the Dobyns line. Like most rods, this one is also made of graphite. But here, not standard, but high-modulus graphite is used, so it can handle higher loads and is more durable. The guides and reel seat here is Fuji models. The guides are Kevlar coated to prevent abrasion. They also save your line, be it braided or mono, from twisting. The reel seat is also good here, but it has a rather short thread, so the reel is located in an unusual position.
7# Dobyns Rods 764C Champion Series Heavy Fast Casting Rod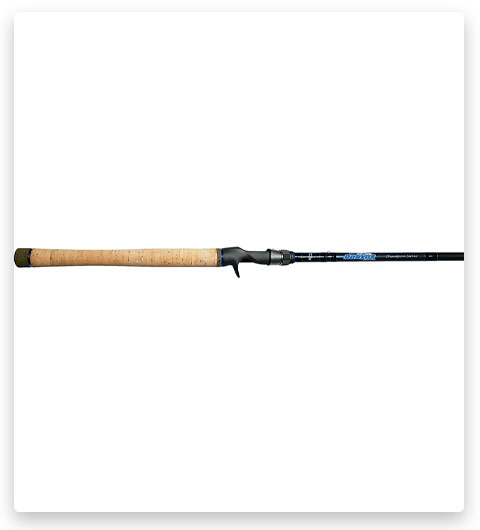 An expensive but very high-quality Champion series rod. Like all the previous ones, it's made of high modulus graphite, but it has a couple of differences. The graphite in this rod is highly compacted where the line guides are. These are the places that are most exposed to load when fighting with large fish. The manufacturer also reinforced the tip with a special coating, but without loss of sensitivity.
The handle is large and dense, made of soft cork wood. The rod is very comfortable to hold. The only drawback of the handle is that after a while it begins to peel off. The line guides are supported by two supports and are specially coated to prevent abrasion from the line. The rod is also equipped with a reel seat, which is very comfortable by the way. The seat design is very comfortable and the reel is easy to operate in any position.
8# Dobyns Rods SSM702SF Sierra Micro Series Light Spinning Rod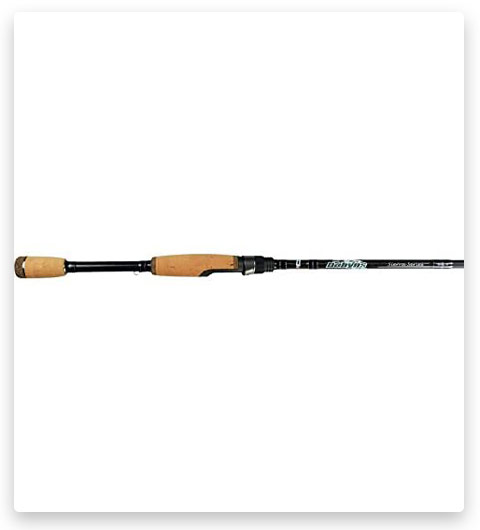 This series is distinguished by its compactness, lightness, and low price. Despite this, all rods in the series are very powerful and durable. The blank of this model is made of high modulus graphite, like all other rods in the series. This gives the rod more flexibility and strength. The cork handle is not one piece but is divided into 2 parts for different hands. It's quite comfortable, especially the upper part, but the stock seemed a little short to us. Anglers with big hands are unlikely to be comfortable with this rod. The rod guides are quite fast and strong. Even with a fairly stiff braid, we didn't notice any traces of friction.
9# Dobyns Rods Fury Series FR 703C Medium/Heavy Casting Rod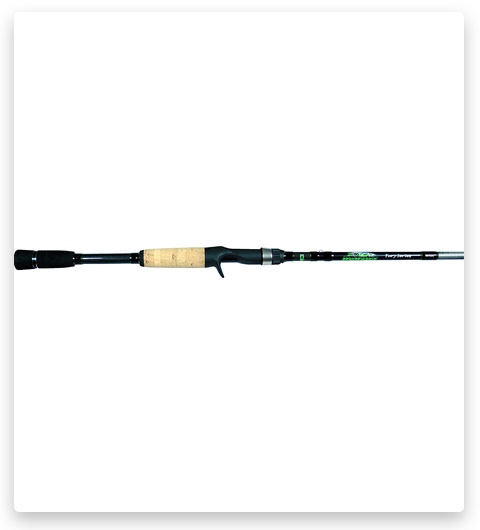 It looks like the Fury series will dominate our list. But there's a reason for this, rods in this series are quite cheap, but they have excellent performance. Including model 703C. This rod, made from high modulus graphite, has excellent performance, is very lightweight and comfortable. The most interesting quality here is the combination handle. The upper part is made of balsa wood and the lower part is made of non-slip EVA rubber. Traditionally, this rod has a quality reel seat. Although we had to tinker a bit with the setup, at the end the reel was comfortable and we could do long and smooth casts.
10# Dobyns Champion Series Spinning Fishing Rod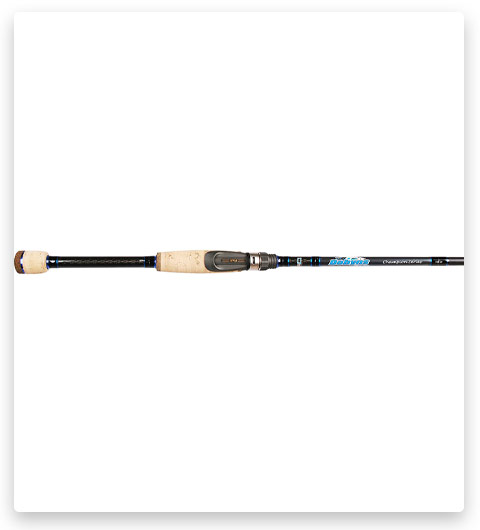 And last but not least is the Champion spinning rod. It has a rather interesting solution in terms of the implementation of the handle. The reel seat is built into the handle. On the one hand, this makes the rod more compact. But on the other hand, you lose some of the handle areas and it becomes inconvenient to control the rod. Therefore, this is a rather controversial decision. The material from which the rod is made is high-modulus graphite. Overall, it is quite strong and flexible, so the durability of the blank is good. The fishing rods are very smooth and durable, you don't have to change them every few months. The butt is also well implemented here, it is quite wide and large. Overall, this is a good workhorse for all styles and types of fishing.
🐟 The Day Dobyns Changed My Game 🐟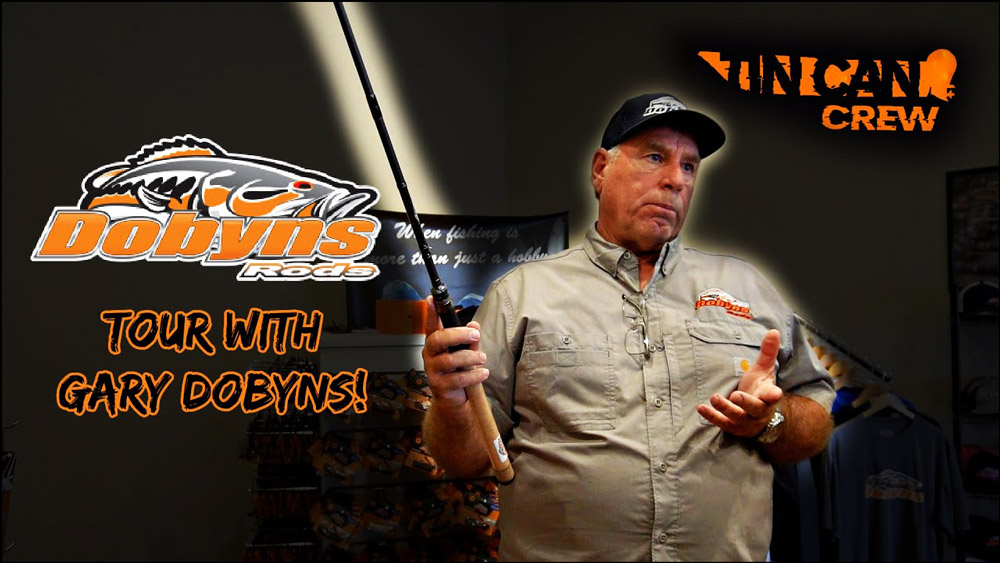 The sun was already dipping low, casting a golden hue over the tranquil waters of Lake Baikal. I'd been out since dawn, my trusty old rod in hand, but the fish simply weren't biting. Frustration was building when a fellow angler, noticing my plight, handed me a sleek, beautifully-crafted rod – a Dobyns.
With a skeptical nod, I cast the line. Within minutes, I felt a powerful tug. The fight was on! And what a fight it was. That day, not only did I land the biggest bass of my life, but I also discovered the game-changing potential of the right fishing rod.
🎣 It's More Than Just a Rod, It's an Experience 🎣
Imagine heading to the golf course with misfit clubs, or to a Formula 1 race with an everyday sedan. It just wouldn't add up, would it? Similarly, in the world of angling, the tool you choose can make or break your experience.
🔷 Precision Casting: A quality rod, like Dobyns, ensures that your cast lands exactly where you intend it to. It's not just about throwing the line, but directing it with accuracy.
🔷 Sensitivity: The right rod can almost act as an extension of your arm. You can feel the slightest nibble, ensuring you never miss an opportunity for a catch.
🔷 Durability: There's nothing worse than a rod that snaps mid-fight. Investing in quality means you have a reliable partner in every fishing adventure.
🔷 Balance & Comfort: Hours by the water should be a pleasure, not a pain. Ergonomically designed rods ensure less fatigue and more joy in every cast.
📜 The Legendary Legacy of Dobyns Rods 📜

🎣 Beginnings: The Man Behind the Magic
Every legendary product starts with a visionary, and Dobyns Rods is no exception. Gary Dobyns, a passionate angler with more than 100 tournament wins to his name, founded Dobyns Rods. After years in competitive fishing, Gary felt there was a gap in the market: a need for a rod that combined both precision and durability. Unsatisfied with the existing options, he embarked on a mission to craft a rod that would meet the demands of professional anglers like himself.
💡 Evolution Over Time: From Dream to Domination
As with all great products, Dobyns Rods didn't become a sensation overnight. Here's a snapshot of their transformative journey:
💠 The Prototype Era: The earliest Dobyns rods were experiments – rigorous testing, feedback, and iterations ensured only the best features were retained.
💠 Incorporating Technology: As technological advancements made their way into the fishing industry, Dobyns Rods were at the forefront. By incorporating state-of-the-art materials and design techniques, the rods became synonymous with innovation.
💠 Expanding the Arsenal: Recognizing the diverse needs of anglers, the brand introduced a variety of series – each tailored for specific fishing conditions, from serene lakes to turbulent oceans.
💠 Sustainability Shift: In more recent years, Dobyns took on an eco-friendly approach. By ensuring sustainable production processes and materials, they not only catered to the needs of the anglers but also to the environment.
💠 Global Recognition: Today, Dobyns isn't just a brand. It's a global community of passionate anglers, sharing stories, techniques, and memories – all centered around their trusty Dobyns rod.
🔶 From one man's vision to an internationally revered brand, Dobyns Rods exemplifies how dedication to craft and continuous innovation can create a legacy that stands the test of time. For many anglers, it's not just about the catch; it's about the experience. And with a Dobyns rod in hand, that experience is nothing short of extraordinary.
🔬 The Craftsmanship of Dobyns Rods: Science Meets Skill 🔬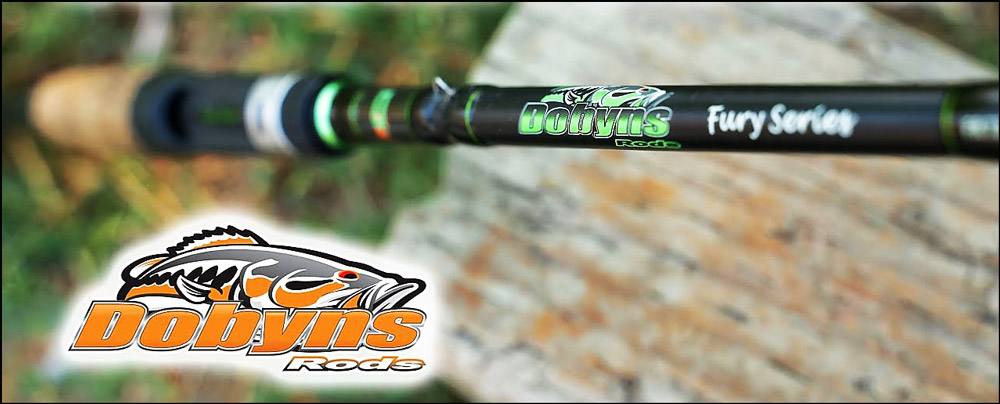 🌟 Materials & Construction: More than Just a Rod
Fishing, for many, is more than a hobby—it's a passion and a science. This ethos resonates deeply with the construction of Dobyns rods.
🐧 Unparalleled Material Quality: At the heart of every Dobyns rod lies a meticulous selection of materials. From high-tensile strength carbon fibers to premium quality graphite, each component is chosen to ensure optimal performance and longevity. This isn't your run-of-the-mill fishing rod; it's a piece of engineered art.
🐧 Balancing Act: Ever wondered what gives a Dobyns rod its characteristic balance? Cutting-edge technology plays a pivotal role. By evenly distributing weight along the length of the rod, anglers are blessed with an unparalleled balance, ensuring precision with every cast.
🐧 Strength to Withstand: The fusion of quality materials and advanced manufacturing techniques culminates in a rod of exceptional strength. Whether you're battling a feisty trout or a heavyweight catfish, you can trust a Dobyns rod to withstand the challenge.
🛠 Design Innovation: Molding the Future of Fishing
A rod's design isn't just about aesthetics; it's about optimizing the angler's experience from the first cast to the final catch.
🦖 Ergonomics at the Forefront: Long hours by the water can be taxing, but Dobyns has revolutionized the game with its ergonomic designs. The contouring of the handle, the placement of the reel seat, and the overall rod structure are meticulously designed to reduce strain on the angler's hands and back. The result? More fishing, less fatigue.
🦖 Tip Technology: Sensitivity is paramount in angling. The evolution of the Dobyns rod tip embodies this principle. Over the years, innovations have led to tips that not only detect the faintest of nibbles but also enhance casting accuracy. This combination of sensitivity and precision gives anglers an edge like no other.
🔶 In the world of fishing, where every detail can impact the outcome, Dobyns Rods showcases what's possible when science and craftsmanship intertwine. For those in search of the best, understanding the innovation behind each rod offers a glimpse into why Dobyns stands unparalleled in the angling community.
🎣 The Spectrum of Excellence: Navigating Dobyns Rod Varieties 🎣
Fishing, much like any art, requires tools tailored for specific conditions and challenges. Dobyns, understanding this nuanced world, has crafted a line of rods designed to elevate each fishing experience. Let's dive into the types and the science behind their uniqueness.
🌊 Freshwater vs. Saltwater: Designed for Distinct Domains
When you switch environments, you're not just changing your backdrop; you're introducing your rod to a whole new set of challenges.
🐋 Freshwater Finesse: Freshwater rods are constructed keeping in mind the diverse range of species – from delicate trout to spirited bass. With a lighter construction, they prioritize sensitivity, ensuring that even the subtlest bite doesn't go unnoticed.
🐋 Saltwater Strength: The vast open seas demand durability. Dobyns' saltwater rods are built with corrosion-resistant materials to withstand the aggressive saline environment. Plus, they boast a reinforced construction, ready to tackle the powerful marine species.
🎯 Specialty Rods: Because Precision Matters
Not all fish are created equal. From the swift-moving salmon to the elusive walleye, each species demands a distinct strategy. Dobyns' specialty rods are the answer.
🐟 Species-Specific Design: Be it the taper, the action, or the length, every element of these rods is optimized for a specific species, ensuring higher catch rates and a more enjoyable fishing experience.
🐟 The Why Factor: Imagine using a broad brush for intricate painting details; it wouldn't work, right? Similarly, using a general rod for a specific fish can be limiting. Targeting means efficiency and increased success.
🌦 Seasonal Sensations: Harnessing Nature's Rhythm
Nature, in its endless cycle, influences aquatic life behaviors. Recognizing this, Dobyns introduced seasonal rods.
🐬 Spring Surge: Spring rods are designed to cater to spawning patterns, ensuring anglers can capitalize on this bustling fish activity.
🐬 Summer Sensitivity: With fish becoming more active but also more elusive in summer, Dobyns' summer rods prioritize sensitivity and versatility.
🐬 Autumn Adaptability & Winter Warriors: As temperatures drop, fish behaviors change. Dobyns ensures anglers are equipped with rods that can adapt to these shifts, be it the slowing metabolism of fish in autumn or their deep-water retreats during winter.
🔶 Dobyns Rods is not just about fishing; it's about the perfect synthesis of science, nature, and sport. By providing anglers with tools tailored for every scenario, they ensure that every fishing trip is not just productive, but also memorable.
🏆 Dobyns Rods vs. The Rest: The Clear Choice for Anglers 🏆
When weighing options in the world of fishing rods, discerning anglers often find themselves pondering: Why Dobyns? The answer lies in its distinguished features and the vocal advocacy of its user community. Below, we've structured this comparison in a table format to visually and informatively highlight how Dobyns stands tall amidst the competition.
Aspect
Dobyns Rods
Other Leading Brands
Unique Selling Points

Superior material quality
Tailored rods for specific conditions
Seasonal adaptability

Often general-purpose rods
May lack specialized seasonal variants

User Feedback
John Doe, Pro Angler: "Switching to Dobyns transformed my fishing experience. The precision and adaptability are unmatched!"

Jane Smith, Tournament Winner: "My Dobyns rod has become an extension of me. It's redefined reliability."

Feedback varies, with some users noting the need for more specialized rods or improved durability.
Brand Heritage
Established by a fishing legend with over 100 tournament wins, ensuring deep-rooted expertise.
Varied backgrounds, with some brands lacking a strong fishing lineage.
Innovation & Technology
Consistently at the forefront of technological integration, ensuring rods of the future, today.
Some brands may have periodic innovations but might not be as consistent in technological advancements.
Environmental Commitment
Strong emphasis on sustainable materials and eco-friendly production processes.
Varies by brand, with not all prioritizing environmental sustainability.
🔶 Dobyns, with its rich heritage, unwavering commitment to quality, and the ringing endorsements of its users, cements its position as a market leader. The above comparison isn't just about specs—it's about the tangible difference anglers feel when they choose Dobyns.
🛠 Ensuring a Lifelong Bond: The Care and Maintenance of Your Dobyns Rod 🛠
A high-quality fishing rod is a treasured possession for any angler. Much like any precious instrument, a Dobyns rod, with its elite craftsmanship, deserves the utmost care. Dive into this guide and discover how to ensure your rod remains in pristine condition for years to come.
🌊 Keeping It Clean: A Ritual After Every Expedition
The lifeblood of any rod is its cleanliness. Salt, dirt, and fish residues can compromise its performance and longevity. Here's a step-by-step post-fishing ritual:
Light Rinse: Gently hose down the rod with freshwater. This simple step removes surface debris and prevents salt buildup.
Mild Soapy Solution: Prepare a lukewarm solution with mild soap. Using a soft cloth, wipe down the rod to break down any stubborn residues.
Dry Thoroughly: Never store a damp rod. Ensure it's air-dried completely, especially the handle and reel seat.
🏠 Safe Storage: A Sanctuary for Your Rod
The way you store your Dobyns rod can make all the difference in its longevity:
Vertical is Vital: Store your rod vertically to prevent it from warping over time.
Away from Elements: Choose a cool, dry place, away from direct sunlight or heat sources. Extreme temperatures can compromise the materials.
Use Rod Racks or Tubes: These provide extra protection and ensure the rod retains its shape.
🚗 On the Move: Transporting with Tender Loving Care
Whether you're heading to a local lake or an overseas fishing adventure, how you transport your rod matters:
Use a Rod Tube: These hard cases offer optimal protection from physical damage.
Avoid Overloading: When packing, ensure your rod isn't squashed under heavy equipment. A simple bump can damage its integrity.
Assembled vs. Disassembled: While short trips might not require you to disassemble your rod, longer journeys or flights might. Always ensure each segment is securely protected.
🔶 Your Dobyns rod isn't just a tool—it's a companion in every fishing adventure. By following these maintenance and care steps, you ensure that this relationship stands the test of time, and every fishing session is as magical as the first.
🌿 Dobyns Rods: Where Passion Meets Sustainability 🌿

In the modern world, embracing sustainability is not just a trend but a necessity. Dobyns Rods has recognized this, merging their dedication to exceptional fishing gear with a heartfelt commitment to the environment. Let's delve deeper into how Dobyns is setting a green benchmark in the angling industry.
🐟 Pioneering Sustainable Fishing Practices
Dobyns isn't just about crafting top-tier fishing rods—it's about ensuring that future generations can enjoy the thrill of a catch. Here's how they champion sustainable fishing:
Catch & Release Advocacy: Dobyns actively promotes catch and release, ensuring fish populations thrive and ecosystems remain balanced.
Educative Initiatives: Through seminars, workshops, and digital platforms, Dobyns enlightens the angling community on responsible fishing methods.
Partnerships with Conservation Bodies: By collaborating with marine conservation organizations, Dobyns supports research and initiatives aimed at preserving aquatic habitats.
🌱 An Eco-Conscious Production Cycle
From the drawing board to the angler's hand, every Dobyns rod embodies environmental responsibility:
Material Matters: Dobyns sources high-quality, eco-friendly materials, ensuring minimal impact on ecosystems. They prioritize suppliers who share their vision of sustainability.
Waste Reduction: Through innovative manufacturing processes, Dobyns has significantly reduced waste, ensuring efficient use of resources and minimizing landfill contributions.
Green Energy: Embracing renewable energy sources for their production, Dobyns ensures a reduced carbon footprint, championing a cleaner, greener planet.
🔶 By choosing Dobyns, anglers are not just investing in superior fishing gear but also supporting a brighter, sustainable future for our planet. In every cast, in every catch, and in every moment on the water, Dobyns Rods embodies a promise: to cherish and protect the environment we all share.
New Product-Limited Availibity

🎣 An Angler's Epilogue: Why Dobyns Rods Reign Supreme 🎣
As the sun sets on our deep dive into the world of Dobyns rods, one conclusion becomes unmistakably clear: These rods are more than just tools. They're an extension of an angler's passion, dedication, and commitment to excellence.
🥇 Unwavering Excellence in Every Cast
It's one thing to claim superiority, but Dobyns rods genuinely stand in a league of their own. Their unique combination of craftsmanship, innovation, and sustainability ensures an unmatched fishing experience:
✅ Precision: From the minutest nibble to the mightiest tug, Dobyns ensures you feel every moment.
✅ Durability: Built to withstand challenges, be it battling a heavy catch or braving the elements.
✅ Eco-Conscious: In a world striving for sustainability, Dobyns emerges as a brand prioritizing the planet as much as performance.
✍️ A Personal Testimony: From One Angler to Another
As someone who has navigated numerous waters, experimented with myriad rods, and chased countless catches, embracing Dobyns has been transformative. The difference was palpable from the very first cast. The balance, the grip, the intuitive design—each element testified to a rod that wasn't just crafted, but meticulously engineered.
With a Dobyns rod in hand, it felt like both an extension of my arm and an amplification of my senses. The once elusive catches became more accessible, the challenging terrains less daunting, and the entire fishing experience, infinitely more enriching.
🔶 In the realm of angling, where the bond between the fisher and the rod is sacred, Dobyns rods have redefined this relationship. They are not just an investment in equipment but an investment in unparalleled fishing experiences. And as any true angler would attest, that's an investment beyond measure.
❓🎣 Dobyns Rods: Frequently Asked Questions 🎣
Tags: #dobyns rods / #dobyns fury rods / #dobyns rods reviews / #dobyns rods warranty / #where are dobyns rods made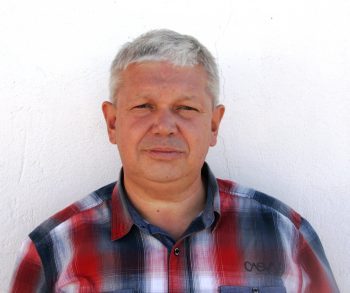 Sergio Smirnoff
Professional fisherman with 40+ years of experience.
Fishing and the ocean is a passion of my life. I am passionate about all kinds of sea fishing: fishing from the shore (spinning, float, baitcasting), from a boat, and spearfishing day and night.
I live in Tenerife (Canary Islands) for the last 10+ years and share my daily fishing experiences on my website. Many years of personal experience as a fisherman and the vast experience of my friends allow me to write professionally on any fishing topics (from choosing a flashlight and equipment to deep-sea fishing).
All of my advice is based on practical real-world experience and will be useful to both novice anglers and professionals.
Read more
about the author.
Affiliate Disclosure: FishReeler.com sometimes gets paid for listings, through sponsors or affiliate programs like Amazon, Ebay, Cabelas, Bass Pro Shop, Shimano, Daiwa, Rapala, Renn, Okuma, KastKing, etс. Clicking a link helps keep FishReeler.com free, at no extra cost to you!
About the author: Each article is verified by the fishing expert Sergio Smirnoff. The articles are written by professional and amateur fishermen with 20+ years of fishing experience.
Note: The views and opinions expressed in this article are those of the authors and do not necessarily reflect the official policy or position of any agency. The articles are for informational purposes only, share your opinions in the comments and join the fishing discussions, let's share our fishing experiences together!