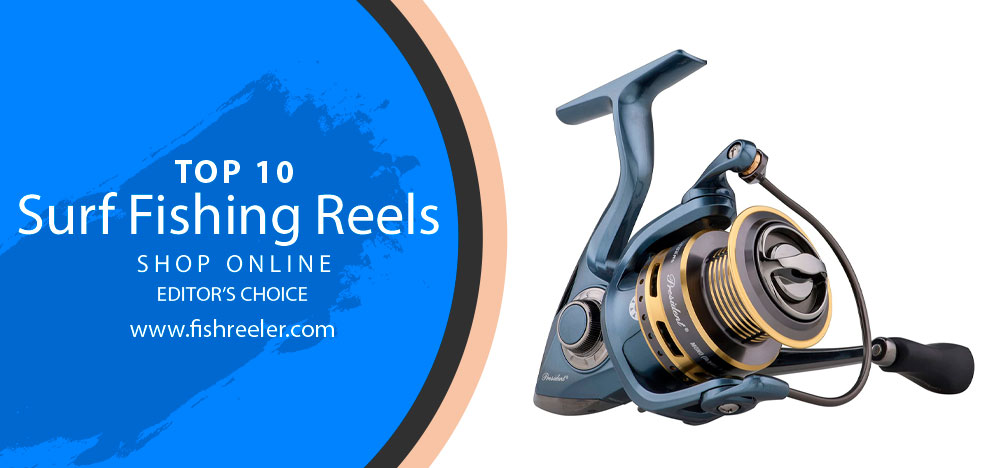 🌊 Dive into the World of Surf Fishing: The Spinning Reel Revolution 🎣
Hey there, passionate angler! 🐟 Ever found yourself standing at the shoreline, dreaming of that perfect catch, but feeling like you're just not equipped with the right gear? Let's change that narrative, and let's do it with style. Enter the spinning reel designed specifically for surf fishing. Here's why it's a game-changer for you:
Quick Summary
🚀 Top Advantages of Using a Surf Fishing Spinning Reel
✅ Casting Distance: 🚀 With a surf fishing spinning reel, you can achieve longer casting distances, ensuring your bait reaches where the fish are biting.
✅ Versatility: 🔄 From light lures to heavy sinkers, these reels are crafted to handle a wide range of tackle, giving you the edge in any surf fishing scenario.
✅ Durability: 🛡️ Built to resist the corrosive effects of saltwater, these reels are rugged champs that promise longevity, even with regular exposure to the ocean's harsh environment.
✅ Smooth Drag System: 🌌 The hallmark of a good spinning reel is its drag system. Expect smoother fights with the fish and reduced line breakages.
🔍 Spinning Reel vs. The Rest
☑️ User-Friendly: 😊 Especially for beginners, spinning reels are more intuitive and easier to handle compared to conventional reels.
☑️ Fewer Backlashes: 😎 Say goodbye to those frustrating bird's nests which are common with baitcasting reels. Surf spinning reels are designed to minimize backlashes.
☑️ Adaptability: 🌦️ Whether you're fishing on a calm day or during a windy afternoon, spinning reels adapt splendidly, ensuring consistent performance. 🌊
🌊 Surf Fishing: Nature's Grand Fishing Stage
There's a unique rhythm to surf fishing, a dance between angler and nature. Standing at the water's edge, with waves crashing around and the horizon stretching endlessly, it's more than just a hobby—it's a deep, enriching experience. Surf fishing captivates not just because of the potential for the catch, but because of its setting amidst nature's vast oceanic theater. 🌅
Yet, as enthralling as this scene might be, the difference between a rewarding outing and a frustrating one often boils down to equipment. And in the realm of surf fishing, one piece of gear stands out in its significance: the spinning reel.
🔶 Choosing the right surf fishing spinning reel is akin to a musician selecting the perfect instrument. 🎻 It complements your skills, enhances your performance, and ensures that every cast, every reel-in, resonates with precision and purpose. With the right reel, the vast ocean becomes less intimidating and more inviting, promising a blend of challenge and opportunity for every angler, novice or pro. 🎣🌊
🕰️ The Spinning Reel: A Journey Through Time
The spinning reel, a marvel of fishing innovation, hasn't always been as sleek and efficient as we know it today. Its journey is a testament to human ingenuity, evolving with the times and the demands of anglers around the world. 🌍
From Humble Beginnings
The origins of the spinning reel can be traced back to Europe in the late 19th century. Initially, these reels were far from the optimized tools we have today. They were larger, heavier, and made predominantly of brass or iron. While their design was groundbreaking for the era, allowing for smoother casting and retrieval than ever before, they had limitations. The earliest spinning reels often suffered from line twist and lacked the drag systems we consider essential today.
Mid-20th Century: The Game Changer
Fast forward to the 1950s, and the spinning reel underwent some of its most significant transformations. 🔄 Manufacturers began to incorporate new materials like aluminum and plastic, resulting in lighter, more durable reels. The introduction of the fixed-spool system was revolutionary, minimizing line twists and making the reel more user-friendly.
Answering the Call of the Surf
The allure of surf fishing, with its unique challenges, demanded further refinements in reel design. The salty ocean environment, the need for longer casts, and the pursuit of larger fish species meant that the standard spinning reel needed an upgrade.
And thus, the specialized surf fishing spinning reel was born. 🌊
Corrosion-Resistant Materials: To withstand the harshness of saltwater and its corrosive effects, reels started featuring materials like anodized aluminum and stainless steel.
Enhanced Drag Systems: Given that surf fishing often pits anglers against larger species, a robust and smooth drag system became vital. This ensured that the reels could handle the powerful runs of big fish without snapping the line.
Larger Spool Designs: This allowed for more line storage and facilitated longer casts, crucial for reaching fish that were farther offshore.
A quality reel can help you cast farther, fight harder, and land more fish, while a poorly designed or unreliable one can turn your fishing trip into a frustrating and disappointing experience. In this blog post, we'll take a deep dive into the world of surf fishing reels, exploring the key features and factors to consider when choosing the best one for your next coastal adventure.
🔶 We'll also take a look at some of the top brands and models on the market, so you can find the perfect reel to suit your needs and level of expertise.
What Is Surf Fishing?
Surf fishing is a popular type of angling that involves casting your line into the ocean from the shoreline. The fish you're targeting could be anything from striped bass to bluefish, redfish, flounder, or even sharks. Since surf fishing requires casting your line out into the ocean, you need a specialized type of fishing reel known as a surf fishing reel.
Surf fishing reels are designed to withstand the harsh conditions of saltwater fishing and have features that make them suitable for casting long distances. These reels are typically larger and more robust than other types of fishing reels and have a higher line capacity, which is essential for dealing with the big fish that you might encounter while surf fishing. Additionally, surf fishing reels usually have a slower gear ratio than other reels, which provides more power and torque when fighting big fish. The main types of lures that are used here are forks, spoons, and jigs.
The 3 Surf Fishing Reels for Beginners: Making Your First Catch
A good reel can work for a long time, bearing the heavyweight of fish and bait. Constant saltwater exposure, banging against rocks, being dropped in wet gravel, or blasted by wind-blown sand are all in day's work for a surfcasting reel.
✅ Our best winners for quick selection:
Surf fishing is an exciting activity for anglers but very abusive on fishing gear especially reels. One of the most important properties in a reel for surf fishing is strength and toughness. The best surf fishing reels are built strong and corrosion-resistant to be able to withstand the abuse by strong fish, pounding waves, jagged rocks, salt-water corrosion, and wind-blown sand present in a marine environment and last long without losing their efficiency.
They are also equipped with powerful and smooth drag systems, larger line capacities, and quality bearings allowing to cast long distances and easily handle large fish that put up a big fight. Once you find the right surfcasting or surf spinning reel for you, pair it with a strong fishing rod so you have a well-balanced outfit and are ready to hit the surf for the exciting part!
TOP 10 Long-Casting Surf Fishing Reels for Serious Anglers
Surf fishing is one of the most amazing types of fishing, if not the most. It is picturesque and you can never predict whether you will hook a bluefish, a redfish, or a shark. One of the essentials to having a great experience is having the proper gear and a reel is one of the most important pieces of equipment. On surf fishing, you need a reel that can cope with large and strong sea fish.
If you're looking for the best saltwater surf fishing reel, your search just got easier. We analyzed hundreds of spinning and baitcasting reels and selected the ones best suited for surf fishing. They have all the features to cast long distances and handle the large and strong inshore species. Due to their durable construction, they hold up the constant exposure of saltwater and have a high rating in surf fishing. Check them out below.
| Image | Product | Brand | Link |
| --- | --- | --- | --- |
| | PENN 1338215 Battle II 1000 Spinning Fishing Reel | PENN | |
| | SHIMANO Stradic CI4 2500FB HG Freshwater Spinning Reel | SHIMANO | |
| | Daiwa BG6500 BG Saltwater Spinning Reel | Daiwa | |
| | SeaKnight Rapid II Saltwater Spinning Reel, 4.7:1,6.2:1 High Speed, Max Drag 33Lbs, Smooth Fresh and Saltwater Fishing Reel | Seaknight | |
| | Spinning Reel Saltwater Fishing Reels for Inshore Beach Surf Casting Saltwater Spinning Reel, Offshore Boat Jigging Saltwater Reels or Sea Kayak Bass Fishing Reel - Heavy Duty Surf Fishing Reels 9000 | HAIBO | |
| | Pflueger President Spinning Reel, Size 30 Fishing Reel, Right/Left Handle Position, Graphite Body and Rotor, Corrosion-Resistant, Aluminum Spool, Front drag System | Pflueger | |
| | Okuma HP 6+1BB 5.8:1 Azores Spinning Reel, 270/8, Multicolor | OKUMA | |
| | Quantum Cabo Saltwater Spinning Fishing Reel, Size 60 Reel, Changeable Right- or Left-Hand Retrieve, Magnum CSC Drag System, SCR Aluminum Body and Side Cover, Silver/Blue | Quantum | |
| | Fin-Nor LT60 Lethal Spinning Reel, 240-Yards, 14-Pound Mono Line Capacity, 30-Pound Maximum Drag, Gray and Black Finish | Fin Nor | |
| | Abu Garcia Ambassadeur C4 Conventional Reel, Size 6600 (1292716), 4 Stainless Steel Ball Bearings + 1 Roller Bearing, Carbon Fiber Star Drag, Max of 15lb | 6.8kg | Abu Garcia | |
1#
Penn Battle II & III Spinning Fishing Reel –

Our Top Pick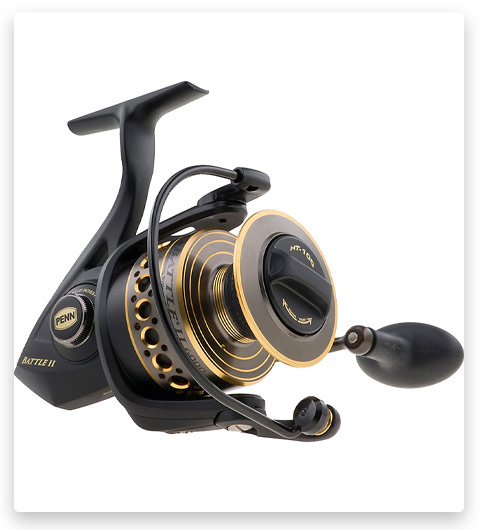 We chose Penn Battle II as the best reel for surf fishing, as there are so many features in it that distinguish it from the other reels. Penn Battle II – this is the reel that is perfectly designed for surf fishing. It's in great demand among fishermen, and the brand has long been on the market. The body, side panel, rotor, and bracket are made of corrosion-resistant aluminum and will withstand the effects of saltwater. To fight especially large species, the reel is equipped with the HT-100 drag system, which works very smoothly and easily. Also for this, 5 stainless bearings and 1 anti-reverse bearing are installed. The reel has a large line capacity. You can use a braided fishing line without using mono backing. at 4000, the gear ratio is 6.2:1. But there are also large sizes (5000, 6000, 8000) with a correspondingly large gear ratio and line capacity.
2# Shimano Stradic Ci4+ 4000 XG FB Spinning Fishing Reel – Editors Choice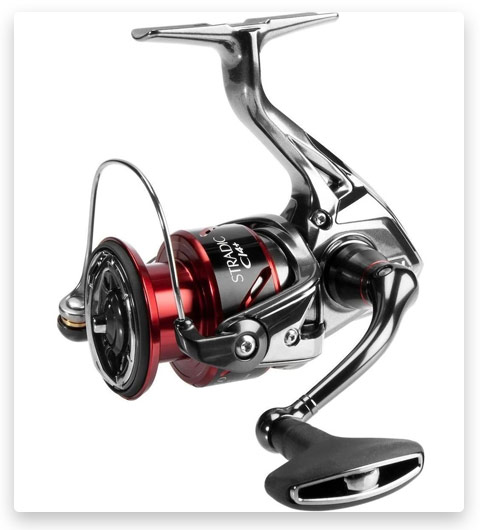 Shimano is known for making excellent reels. And surf fishing reels are no exception. This is one of the most innovative models of surfing reels. It is equipped with a Dyna-Balance rotor, a Fluidrive II system, and Propulsion Line Management System, which provides maximum casting and smooth control. Hagane gearing and body and X-Ship technology provide the reel with sufficient strength and strength to fight the heaviest and largest. Carbon construction and rotor lighten the reel and reduce its weight. The reel is equipped with 6 bearings and 1 roller bearing for smooth retrieval and casting. The maximum drag in the reel is 20 pounds, which feels balanced and not tight. The reel copes well with intensive use in seawater. Depending on your preference, you can choose 1 of 4 models.
3# Daiwa BG Spinning Surf Fishing Reel – Best Value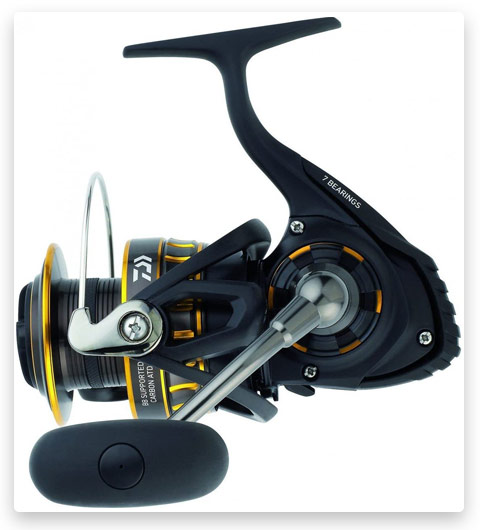 Daiwa BG is perfect for those who are looking for a high-quality surfing reel at an affordable price. In terms of price and quality, this is the best choice. The reel is projected for durability and uses in an aggressive saltwater environment. The sizes that you can get are from 1500 to 8000. Larger sizes are equipped to deal with more serious saltwater fish. Stable and powerful drag, 6 bearings, and double anti-reverse systems provide the reel by all means for successful surf fishing. Despite the heavy, corrosion-resistant aluminum housing, the air rotor gives the reel lightness and reduces its weight. The drag system is waterproof, and the handle eliminates the possibility of backlash.
4# SeaKnight Rapid Saltwater Spinning Surf Fishing Reel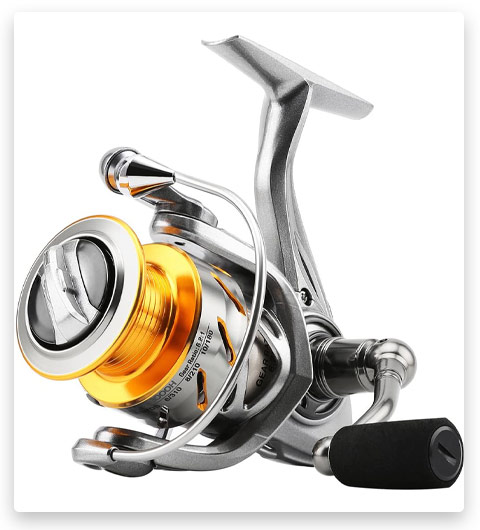 Another budget option if you need a surf reel, but you don't have much money to buy it. Even with its low price, Rapid is smooth, powerful, durable, and corrosion-resistant. At an affordable price, it has pretty good features. An aluminum spool and a dynamic rotor are installed in the reel, which is hermetically protected from external influences. For the same purpose, bearings are shielded so that saltwater, sand, or dust doesn't damage them. The lightweight design and EVA handle gives your hands a pleasant feel. If we talk about the fight with fish, then this reel copes quite well with coastal species and some large fish. The maximum drag power in the reel is 33 lbs. Here are installed 10 + 1 stainless steel bearings with a gear ratio of 6.2:1.
5# HaiBo Saltwater Spinning Surf Fishing Reel Corrosion Resistant Conquering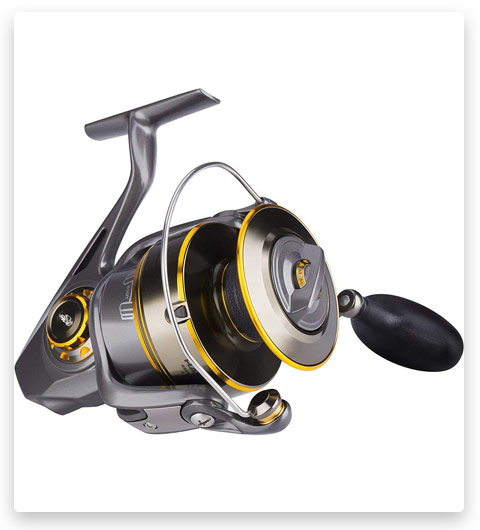 The reel with one of the most powerful drags – 61.7 pounds with tremendous performance and smoothness. The HaiBo design is made of anti-corrosion aluminum with carbon washers and CH-50 inside. Also inside are 6 stainless bearings and an instant anti-reverse system to prevent backlash. The reel design is completely made of metal. A machined gear train, heavy-duty bracket and spool, and a sealed bearing system and drag allow this reel to fight even the largest fish species.
6# Pflueger President XT Low Profile Baitcast Surf Fishing Reel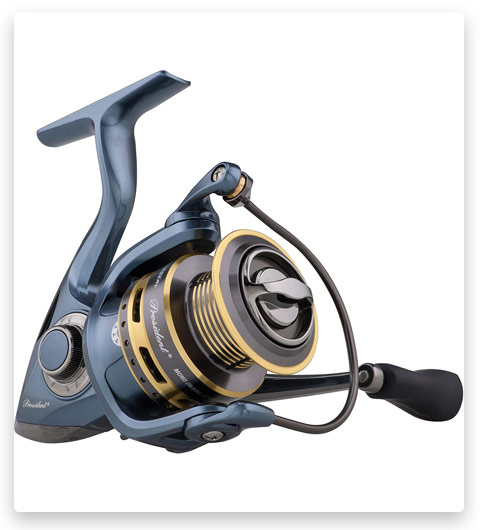 If you are a fan of baitcasting reels that give you much more control over your fish while surfing, then Pflueger President is what you need. The reel is one of the best surf reels not because it has a very famous brand. It has a very great demand among fishermen around the world and has repeatedly proved its effectiveness in water. For smooth operation, the Pflueger is equipped with a powerful but smooth drag system, 9 bearings + 1 anti-reverse, and a magnetic brake. If you stumble upon a fast swimmer, the gear ratio 7.3:1 won't allow him to swim away from you. The reel is available in three sizes and can accommodate quite a lot of mono or braided lines. The low profile design and lightweight side panels with an aluminum soft-touch handle are very well felt in the hand. The anti-corrosion bearing system provides the reel with great durability and the ability to withstand saltwater. The only drawback in this reel is the not very large drag power and cast range.
7# Okuma Azores Saltwater Spinning Surf Fishing Reel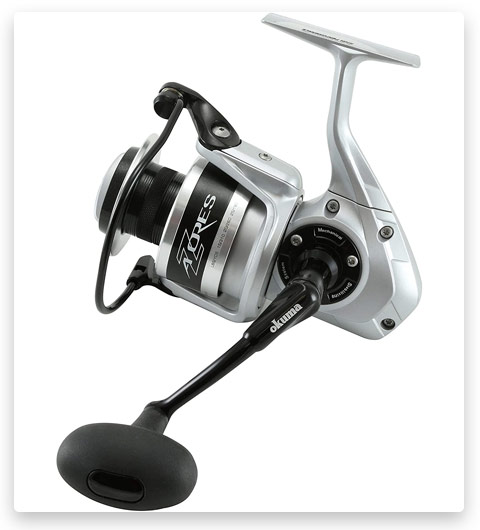 The first thing that attracts attention in this reel is the surprisingly smooth drag that is created by the double force drag system. The reel is made for use in saltwater and has a structure that resists corrosion and seawater. But the reel isn't completely waterproof. Inside the reel are 6 bearings and 1 anti-reverse roller bearing with a ratchet retrieve system. Okuma has an excellent gear ratio of 5.8:1 with a maximum retrieve speed of up to 46 inches per 1 turn of the handle. Many anglers change the felt washers in the reel to carbonite to create even smoother drag and increase durability, and it really works. If you don't hunt heavy fish more than 40 pounds, then this reel will be an excellent tool for constant use in your fishing arsenal.
8# Quantum Cabo PT Spin Surf Fishing Reel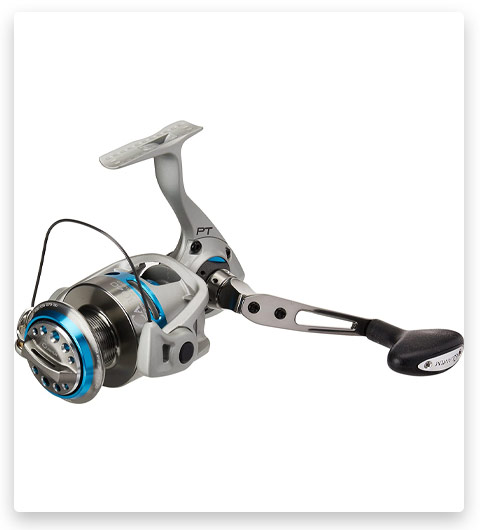 Since 2015, the design and construction of the reel have been completely redesigned. They added a lot of nice features and made a more comfortable handle. For fishing in salt-heavy water, massive drag is set here, corrosion protection in several layers, and the thing that the manufacturer calls Performance Tuning. This is where the name PT comes from. Depending on the size of the fish you going to catch, there are models with gear ratios of 5.3:1 for small sizes up to 4.9:1 for larger species. Line capacity starts at 270 yards for 30 pounds of line and ends at 400 yards per 100 pounds of line. Regardless of whether you fish from a boat or the beach, the reel has enough drag corrosion resistance and hybrid bearings so you can do it effectively in any case. In general, this reel will feel great in saltwater conditions and fight well with large sea species without any problems.
9# Fin-Nor Offshore Spin Surf Fishing Reel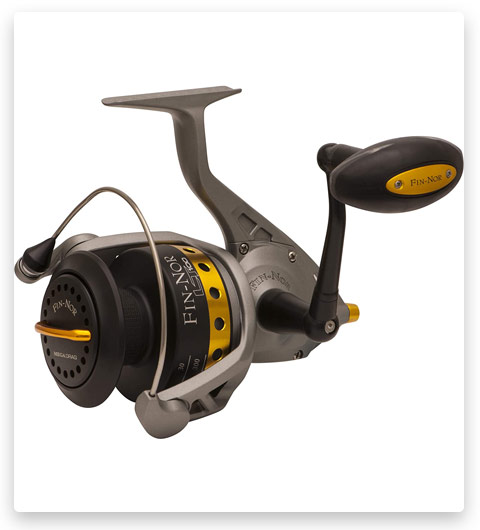 Yes, drag is not the most basic parameter in the reel, but I think you'll be pleasantly surprised that the maximum drag here is as much as 60 pounds. This will be enough to pull out most of the large marine fish species. In general, this reel is intended for this. A gear ratio of 4.4:1 and a casting range of 540 yards of a 20 lb. a monoline can easily get any heavy bass or king salmon. Inside the reel, there are 4 bearings + 1 anti-reverse. The washers inside are made of stainless steel and carbon fiber. The construction material is stainless steel, so the reel is quite heavy. Almost 40 ounces excluding the line. This is a reel for those who want to hunt for more difficult species, but do not want to spend most of the budget on it.
10# Abu Garcia Ambassadeur Blue Yonder Surf Fishing Reel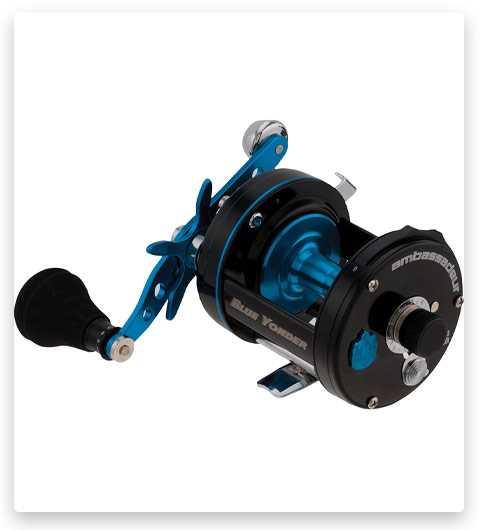 For saltwater fishers, it's extremely important that the reel at the same time can fight large species of fish (catfish, carp) well and catch small but fast runners. Abu Garcia is one of those. The entire reel is made of stainless steel to ensure durability and long life in heavy saltwater conditions. A carbon matrix drag system will constantly create drag pressure and increase its range. In addition to an excellent drag system, other equally high-quality parts of this reel are a handle, stainless steel bearings, and a brake system. In the hands of an experienced fisherman, this reel is able to do a lot and pull almost any fish out of the water.
🔍 Anatomy of a Surf Fishing Spinning Reel: An Inside Look

Every angler knows the value of understanding their gear. Just as a car enthusiast appreciates the intricate workings under the hood, a fishing aficionado should recognize the nuances of their reel. In surf fishing, this knowledge becomes even more critical due to the unique challenges presented by the marine environment. Let's dive deep into the critical components of the surf fishing spinning reel. 🌊🎣
The Spool: Designed for Distance 📏
At first glance, the spool of a surf fishing spinning reel might seem like any other. However, its design nuances are intentional:
Deeper and Wider: This allows for greater line capacity, ensuring that you can cast further out into the waves, reaching those elusive fish lurking just beyond the breakers.
Tapered Design: This ensures that the line releases smoothly during a cast, maximizing distance and reducing friction.
The Bail: Guardian of the Line 🛡️
The bail plays a seemingly simple, yet critical role:
Guiding the Line: As you reel in, the bail ensures that the line wraps neatly around the spool.
Preventing Tangles: A well-functioning bail reduces the risk of line tangles and knots, ensuring smooth casts and retrievals.
The Drag System: The Art of Resistance 💪
Every angler knows the adrenaline rush when a fish strikes. The drag system determines how this showdown unfolds:
Adjustable Resistance: By fine-tuning the drag, you can decide how much resistance a fish feels, letting you play bigger catches without the risk of snapping the line.
Smooth Operation: Premium reels offer a buttery-smooth drag, ensuring consistent pressure and preventing sudden jerks.
Body and Housing: Built to Battle the Brine 🌌
The marine environment is beautiful but brutal. The reel's body and housing are its first line of defense:
Corrosion-Resistant Materials: Aluminum, stainless steel, and specially treated plastics are commonly used. These materials can withstand the salty onslaught, ensuring longevity.
Sealed Components: Some high-end reels offer sealed bearings and drag systems, preventing salt and sand infiltration.
Gear Ratios: Speed in Every Turn 🌀
Understanding gear ratios can significantly impact your fishing experience:
Definition: The gear ratio tells you how many times the spool turns for each rotation of the handle. For example, a 5:1 ratio means the spool turns five times for one handle turn.
Surf Reel Specifics: Higher gear ratios (like 6:1 or 7:1) offer faster retrievals, beneficial when reeling in swiftly or targeting fast-swimming species. However, a moderate gear ratio (like 4:1) provides more power for battling bigger catches.
🌟 The Edge of Spinning Reels in Surf Fishing: Unspoken Champions

The vast world of surf fishing reels offers an array of choices. From conventional reels to baitcasters, the options might seem overwhelming. But amongst the sea of choices, spinning reels emerge as the top contenders for many surf anglers. Why? Let's unravel the attributes that set them apart in the surf fishing realm. 🎣🌊
Versatility: A Chameleon on the Shore 🎨
The true charm of a spinning reel lies in its adaptability:
Lure Spectrum: Whether you're tossing a lightweight lure or a chunky bait, spinning reels handle a broad range of sizes and weights with finesse.
Switching Game: Transitioning between bait types is a breeze. One moment you could be casting a soft plastic bait, and the next, you could switch to live bait. The reel doesn't flinch.
Usability: The Friendly First-Timer's Choice 👶
For those just starting their surf fishing journey, the spinning reel is a welcoming ally:
Intuitive Design: Its straightforward mechanism means there's less room for error. Cast, retrieve, and adjust drag without a steep learning curve.
Fewer Backlashes: Unlike baitcasting reels, which can be notorious for bird's nests (especially in rookie hands), spinning reels are more forgiving with casting mistakes.
Distance: Casting Beyond the Horizon 🚀
When fishing from the shore, distance can be the difference between a bite and a blank:
Smooth Line Release: The design of the spool and the very nature of how line peels off a spinning reel allow for uninhibited, longer casts.
Larger Spools: Many surf spinning reels come with larger spools, which not only hold more line but also facilitate longer casts due to the increased line lay per rotation.
Reduced Line Twist: The Unsung Hero 🌀➡️🔗
Line twists can be the bane of any angler's existence, leading to knots, snags, and weakened lines:
Consistent Line Lay: The mechanism of the spinning reel, particularly with a well-functioning bail, ensures that the line is laid back onto the spool consistently, reducing twists.
Twist-Reducing Features: Many modern spinning reels come equipped with features explicitly designed to minimize line twist, like roller bearings.
🔧 Pro Insights: Getting the Most Out of Your Surf Fishing Spinning Reel
Your spinning reel is an investment—a tool that, with the right care and techniques, can amplify your surf fishing experiences tenfold. Dive into these expert-endorsed recommendations, fine-tuning your reel's performance and ensuring it remains a loyal companion on countless beachfront adventures. 🎣🌅
Post-Saltwater Shield: Keeping Your Reel Shipshape 🌊➡️🛡️
The ocean is both a playground and a potential peril for your gear:
Rinse Regularly: After each session, give your reel a gentle rinse with freshwater to wash off salt and sand. Avoid high-pressure streams, as they can push salt and debris into the reel.
Dry and Store: Ensure your reel is thoroughly dry before storage. Use a soft cloth to wipe it down, and store in a cool, dry place away from direct sunlight.
Lubricate Periodically: A few drops of reel-specific oil on the moving parts, post-cleaning, can work wonders for smooth operation.
Line Loyalties: Making the Right Choice 🧵
The line you pair with your reel can significantly influence your success:
Monofilament: Stretchier and more forgiving, monofilament is ideal for beginners. It's also less visible underwater, making it a good choice when fish are line-shy.
Braided Line: Offering greater sensitivity and a thinner diameter for its strength, braided line is excellent for detecting subtle bites and achieving longer casts. However, it's more visible, so consider using a fluorocarbon leader.
Cast Like a Champion: Harnessing Techniques for Terrific Throws 🚀
Casting in surf fishing is an art and science combined:
Pendulum Cast: This technique involves swinging the bait or lure in a pendulum motion before release, allowing for added momentum and distance. With practice, this method can significantly enhance your casting range.
Overhead Thump: A straightforward technique where the angler uses a direct overhead motion to cast the bait or lure. It's all about timing and rod whip to achieve maximum distance.
Dialing the Drag: Striking the Balance ⚖️
The right drag setting can be the difference between landing a fish and losing it:
Test and Adjust: Before your session, pull the line with your hand to feel the drag. It should offer resistance but not too much. Adjust accordingly.
Species-Specific: For powerful fish known for their long runs, a slightly looser drag can be beneficial. For species that don't run as hard, a tighter setting can be advantageous.
🔍 Setting the Record Straight: Surf Fishing Spinning Reels Mythbusters
Misinformation can sometimes weave its way into the angling community, creating myths that deter many from optimizing their fishing arsenal. When it comes to surf fishing spinning reels, there's no shortage of misconceptions. Let's wade through the waters of misinformation and fish out the facts. 🌊🕵️
"Spinning Reels Can't Handle Big Fish" 🐟❌
The Reality:
Strength in Design: Modern spinning reels, especially those designed for surf fishing, are engineered to handle significant drag pressures and can undoubtedly tangle with the heavyweights of the ocean.
Drag System Mastery: The drag systems in quality spinning reels are finely adjustable, allowing anglers to play and land powerful fish effectively without risking equipment damage or line breakage.
"Spinning Reels are Just for Beginners" 🎓❌
The Reality:
User-Friendly, Not Limited: While spinning reels are undeniably user-friendly, making them ideal for newcomers, this doesn't mean they're reserved solely for the novice. Many seasoned anglers, professionals included, swear by their spinning setups for surf fishing.
Versatile Applications: From casting light lures to bait fishing for larger species, spinning reels cater to a variety of surf fishing techniques that can be appreciated by both beginners and experts.
"Spinning Reels Lack Casting Distance" 🚀❌
The Reality:
Distance Achievers: Thanks to advancements in reel design and the aerodynamics of spools, modern spinning reels can achieve impressive casting distances, rivaling other reel types.
Technique Matters: With proper casting techniques, such as the pendulum cast, spinning reels can facilitate casts that reach far beyond the breakers.
"Braided Line and Spinning Reels Don't Mix" 🧵❌
The Reality:
Braid-Friendly: Many of today's spinning reels are designed to be braid-compatible. The key lies in using the right kind of braid and ensuring proper spooling to prevent line dig-in.
Leverage Line Benefits: Using braided line on spinning reels allows anglers to capitalize on its low stretch, sensitivity, and increased capacity due to its thin diameter.
Penn vs Shimano: Which Surf Fishing Reel Comes Out on Top?
Penn and Shimano are two of the most popular brands when it comes to surf fishing reels, and choosing between them can be a tough decision. Both offer a range of high-quality reels that are built to withstand the harsh conditions of surf fishing. So, which brand comes out on top?
When it comes to surf fishing, Penn reels are often the go-to choice for many anglers. The Penn Slammer and Penn Spinfisher series, in particular, are known for their durability and reliability. These reels are built tough and can handle big fish and heavy surf with ease. The Slammer series, in particular, has a reputation for being virtually indestructible.
On the other hand, Shimano reels are known for their smoothness and precision. The Shimano Saragosa and Shimano Stradic series are both popular choices among surf anglers. These reels are known for their excellent drag systems, which allow anglers to easily adjust the drag to match the conditions they are fishing in. Additionally, Shimano reels are generally lighter than Penn reels, which can be an advantage when casting for long periods.
🔶 So, which brand comes out on top? It really comes down to personal preference and what you prioritize in a surf fishing reel.
🌟 Finding Your Perfect Match: Selecting the Ideal Surf Fishing Spinning Reel

The vast expanse of the ocean beckons, and to answer its call, you need the right equipment in hand. The spinning reel is a pivotal part of that toolkit. Yet, with myriad options flooding the market, how do you choose the one that aligns seamlessly with your needs? Dive into this guide and reel in your perfect match. 🎣🌊
Deciphering Reel Sizes: Think Fish, Think Fit 📏🐟
The world of reel sizes can be intricate, but breaking it down makes it simpler:
Smaller Reels (1000-3500): Ideal for targeting smaller species like whiting or small pompano. These are lightweight, making them suitable for prolonged casting without fatigue.
Medium Reels (4000-5500): These versatile reels cater to a broader range of species, from drum to medium-sized snook. They balance power and weight admirably.
Larger Reels (6000 and above): When you're after the heavy hitters like tarpon or sharks, these powerhouses come into play. They have the line capacity and drag strength to handle long runs and hefty battles.
Material Mastery: Build for the Beach 🌊🔩
The environment dictates the build:
Corrosion Resistance: Saltwater is unforgiving. Opt for reels with anti-corrosive coatings or those made from materials like anodized aluminum or stainless steel to ensure longevity.
Sealed Components: Reels with sealed drag systems and bearings offer an extra layer of protection against sand and salt intrusion.
Balancing Weight: While durability is paramount, a reel that's overly heavy can hamper your casting efficiency. Look for reels that offer a good balance between sturdiness and lightweight design.
The Delicate Dance of Budget vs. Value: Cost-effective Catching 💰⚖️
Money matters, but value reigns supreme:
Research Reels: Start by identifying reputable brands and reading user reviews. Sometimes, mid-range reels offer performance on par with higher-end models, giving you value for money.
Lifetime Value: Spending a bit more on a reel that lasts longer and performs consistently can be more cost-effective in the long run than constantly replacing cheaper models.
Warranty and Support: Brands that stand by their products with solid warranties and customer support can be worth the extra investment. They not only guarantee product quality but also provide peace of mind.
🎖️ Elite Choices: Top 3 Surf Fishing Spinning Reels
To ensure you're equipped with the best, we've sifted through the market's offerings and selected the top three contenders. Here's a concise dive into what sets these reels apart. 🌊🎣
OceanMaster ProCast 5000
A marriage of durability and finesse, the OceanMaster ProCast 5000 boasts a blend of premium materials and advanced engineering.
WaveHunter Elite Surf 4000
Designed for the modern angler, the WaveHunter Elite Surf 4000 marries sleek design with impeccable functionality.
TidalForce XTS Surf Series
A reel that's built to tackle the unknowns of the surf with precision and power.
🔶 Remember, the best reel isn't just about specs—it's about how those specs translate to your personal surf fishing experience. May the waves be in your favor and your reel always up to the task! 🌊🎖️
❓ FAQ ❓
🌅 Wrapping Up: The Symphony of Surf Fishing 🌊🎣
As the sun dips below the horizon, painting the sky in hues of gold and purple, the symphony of waves crashing upon the shore becomes the heartbeat of every surf angler. It's a passion, an addiction, a dance between man, nature, and the mysteries beneath the waves.
Surf fishing isn't just a pastime—it's an embrace of the raw power and serene beauty of the ocean. Every cast is a story, every tug a promise, and every catch a testament to the angler's skill and patience.
Yet, as any seasoned surf angler will profess, it's not just about intuition and technique. The tools you arm yourself with—the precision of your rod, the resilience of your line, and, most critically, the reliability of your reel—play a paramount role. 🎯
In our deep dive into surf fishing spinning reels, we've unraveled the intricacies, debunked the myths, and spotlighted the champions. With this knowledge in your arsenal, you're not just preparing for a fishing session; you're gearing up for an experience. An experience where every element, from the gentle whisper of the foam to the reel's seamless mechanics, converges to create moments of sheer exhilaration.
As the tides change and beckon anew, remember: with the right gear in hand and the ocean's vast expanse before you, every cast holds the potential of legend. The waves are calling, the horizon beckons, and the adventure of surf fishing awaits. Equip yourself wisely, embrace the ocean's challenges, and may your reels always sing the songs of triumphant catches. 🌊🏆
🔶 Tight lines and endless horizons to you, dear angler. 🎣🌅
📚 Dive Deeper: Additional Resources & Further Reading 🌊🔍
Empowering yourself with knowledge is key to becoming a master angler. While our comprehensive guide offers a strong foundation, the world of surf fishing spinning reels is vast, with nuances and subtleties best explored through a variety of sources. To further enhance your understanding and skills, consider delving into the following resources:
Detailed Reviews 📝
ReelTalk: An extensive platform with user reviews and ratings on the latest surf fishing spinning reels. Find it at www.reeltalk.com
SurfCasters Journal: A dedicated space that not only covers reel reviews but also dives into the intricacies of surf fishing. Dive in at www.surfcastersjournal.com
Tutorials & How-Tos 🎥
SurfCast Pro: A YouTube channel filled with hands-on tutorials, from setting up your reel to mastering advanced casting techniques. Check it out at SurfCast Pro Channel
ReelMastery: A website that offers step-by-step guides on reel maintenance, optimal setups, and more. Discover the insights at www.reelmastery.com
Dedicated Forums & Communities 🌐
SurfAnglers Hub: A thriving community where seasoned anglers and novices come together to share stories, tips, and seek advice. Join the conversation at www.surfanglershub.com
ReelTalk Forums: An extension of the ReelTalk platform, their forums cover everything from reel recommendations to troubleshooting common issues. Dive into discussions at forums.reeltalk.com 🌊🎣📘
Tags: #best surf fishing spinning reels / #best surf fishing reels / #best saltwater surf fishing reels / #best surf fishing reel for the money / #best surf fishing rod and reel / #best surf fishing rods and reels / #best surf fishing spinning reel for the money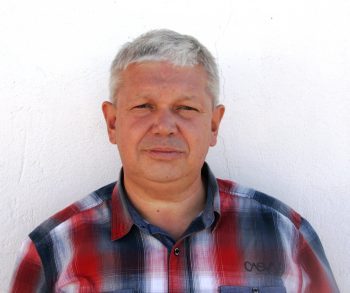 Sergio Smirnoff
Professional fisherman with 40+ years of experience.
Fishing and the ocean is a passion of my life. I am passionate about all kinds of sea fishing: fishing from the shore (spinning, float, baitcasting), from a boat, and spearfishing day and night.
I live in Tenerife (Canary Islands) for the last 10+ years and share my daily fishing experiences on my website. Many years of personal experience as a fisherman and the vast experience of my friends allow me to write professionally on any fishing topics (from choosing a flashlight and equipment to deep-sea fishing).
All of my advice is based on practical real-world experience and will be useful to both novice anglers and professionals.
Read more
about the author.
Affiliate Disclosure: FishReeler.com sometimes gets paid for listings, through sponsors or affiliate programs like Amazon, Ebay, Cabelas, Bass Pro Shop, Shimano, Daiwa, Rapala, Renn, Okuma, KastKing, etс. Clicking a link helps keep FishReeler.com free, at no extra cost to you!
About the author: Each article is verified by the fishing expert Sergio Smirnoff. The articles are written by professional and amateur fishermen with 20+ years of fishing experience.
Note: The views and opinions expressed in this article are those of the authors and do not necessarily reflect the official policy or position of any agency. The articles are for informational purposes only, share your opinions in the comments and join the fishing discussions, let's share our fishing experiences together!