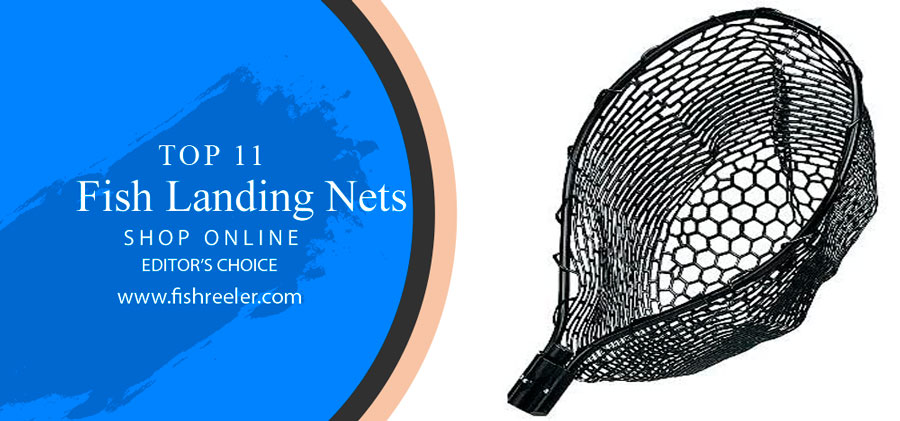 The Ultimate Guide to Landing Nets for Fishing: Ensuring a Successful Catch Every Time

Laying the Groundwork: The Undeniable Role of Landing Nets in Fishing
The act of fishing, whether as a hobby or a profession, is a delicate dance between the angler, their equipment, and the water's inhabitants. One vital component of this ensemble, often overlooked, is the landing net. This humble piece of equipment serves as the final crucial step in the angler's journey from cast to catch. It not only increases the angler's chance of securing their catch successfully but also ensures the fish is handled humanely, minimizing harm and stress.
An angler might have the sharpest hooks, the finest fishing rods, and the most precise reels, but without a reliable landing net, the journey from the water to the bank can be filled with uncertainty. The landing net, therefore, plays an indispensable role in the fishing process, ensuring that all the hard work does not go in vain at the very last moment.
Navigating the Nets: A Comprehensive Guide for Anglers of All Levels
This article aims to provide a comprehensive overview of landing nets for every angler – whether you're a novice looking to venture into the world of fishing or an experienced professional seeking to upgrade your existing gear. We will navigate through the types of landing nets, delve into the crucial factors when choosing a landing net, and highlight some of the best brands in the market.
We'll explore how to properly maintain your net to ensure its longevity and discuss the importance of environmentally conscious and ethical fishing practices. Also included are personal stories from fellow anglers to inspire and inform, along with case studies demonstrating the importance of quality landing nets. By the end of this guide, you'll be well-equipped with the knowledge and confidence to choose the right landing net for your next fishing adventure.
🌊Fishing is as much about preparation as it is about patience. With this guide, you'll be prepared to make every catch count, respecting the craft and the creatures that make it possible. So let's cast off into the depth of knowledge about landing nets and ensure that your next catch is a successful one. Welcome to your comprehensive guide to landing nets for fishing.
Understanding Landing Nets

Getting to Grips: The Anatomy of Landing Nets
Landing nets are specialized tools designed for fishing that serve a pivotal role in the journey from hooking a fish to landing it. At its most basic, a landing net consists of a handle, a hoop, and a mesh bag. But there's more to this simple design than meets the eye.
The handle, often made from materials like aluminum, fiberglass, or composite materials, is designed to be sturdy and lightweight. Its length can vary depending on the type of fishing being done – a shorter handle for close-range fishing like fly fishing, and a longer one for fishing from a boat or high bank.
The hoop, or the frame, typically matches the handle's material and is designed to withstand the weight of the fish. It also determines the size of the fish you can catch, with larger hoops suitable for bigger fish.
🐬The mesh bag is attached to the hoop and is the actual 'net' part of the landing net. The mesh can vary in size and material, with smaller holes designed to be gentler on the fish, aiding in catch-and-release fishing. The materials can range from nylon and rubber to knotless cotton or polyester, each with its own pros and cons.
Necessary Nets: Why Quality Makes All the Difference
A quality landing net is more than just a luxury – it's a necessity for any serious angler. Without a reliable net, an angler risks losing their catch at the final hurdle. A sturdy handle and strong hoop ensure that the net can handle the weight and struggle of the fish. The right mesh not only minimizes damage to the fish but also reduces the chance of your catch escaping.
Furthermore, a quality net is designed to last, withstand the elements, and endure the rough and tumble of fishing expeditions. Therefore, investing in a good landing net increases the chance of a successful fishing trip, prolongs the lifespan of your gear, and ensures more humane treatment of the fish you catch. In the world of angling, these factors often make the difference between a frustrating fishing trip and a fruitful one.
🐟Understanding the design and function of landing nets is the first step toward ensuring every catch counts. Knowing what you're dealing with helps make informed decisions when purchasing, using, and maintaining your net, contributing to a more successful and enjoyable fishing experience.
Types of Landing Nets

Casting the Net Wide: Exploring the Different Types of Landing Nets
The world of landing nets is diverse, catering to a range of fishing styles, environments, and species. Here, we'll focus on three common types: scoop nets, gye nets, and hand nets.
🐳Scoop Nets: Also known as dip nets, scoop nets are often used from a boat or when fishing in a river or stream with a strong current. They are designed with a long handle and a wide, deep hoop to allow the angler to "scoop" the fish out of the water quickly.
🐳Gye Nets: Gye nets are typically used for salmon or sea trout fishing. They feature a long handle for extended reach and a large, round hoop with a deep mesh bag. A distinct feature of game nets is their detachable heads, which can be unclipped from the handle once the fish is netted, making handling and unhooking easier.
🐳Hand Nets: Hand nets are compact nets with short handles, perfect for fly fishing or other types of close-range fishing. Their small size makes them easy to handle, maneuver, and carry.
Each type of net has its pros and cons, and choosing the right one depends on the type of fishing you plan on doing. Scoop nets, with their long reach, are perfect for boat or high-bank fishing but can be cumbersome for close-range scenarios. Gye nets offer excellent reach and secure catching ability, especially for larger fish species, but their size can make them less practical for smaller catches. Hand nets are highly portable and practical for close-range fishing, but their short reach may limit their use in deep water or boat fishing.
Material Matters: The Impact of Net Composition on Your Catch and the Ecosystem
When choosing a landing net, the material of the net bag – or mesh – is an essential factor to consider. The choice of material can significantly impact both the fish and the environment. Commonly used materials include nylon, rubber, and knotless cotton or polyester.
🎆Nylon meshes are inexpensive and durable but can potentially damage the fish's scales, fins, and slime coat, particularly important in catch-and-release fishing.
✨Rubber meshes, though typically more expensive, are considered fish-friendly. They reduce the chance of tangling and injuring the fish and are resistant to hook snags, making them an excellent choice for catch-and-release anglers.
🌟Knotless cotton or polyester meshes also reduce damage to the fish, though they may not be as durable or snag-resistant as rubber meshes.
🚩Considering the environmental impact, rubber, and knotless meshes are generally preferable due to their reduced potential to harm the fish. As always, responsible fishing practices go hand in hand with the gear we choose, and each angler can make a difference by considering these factors when selecting their landing net.
Best Fish Landing Net on the Market Today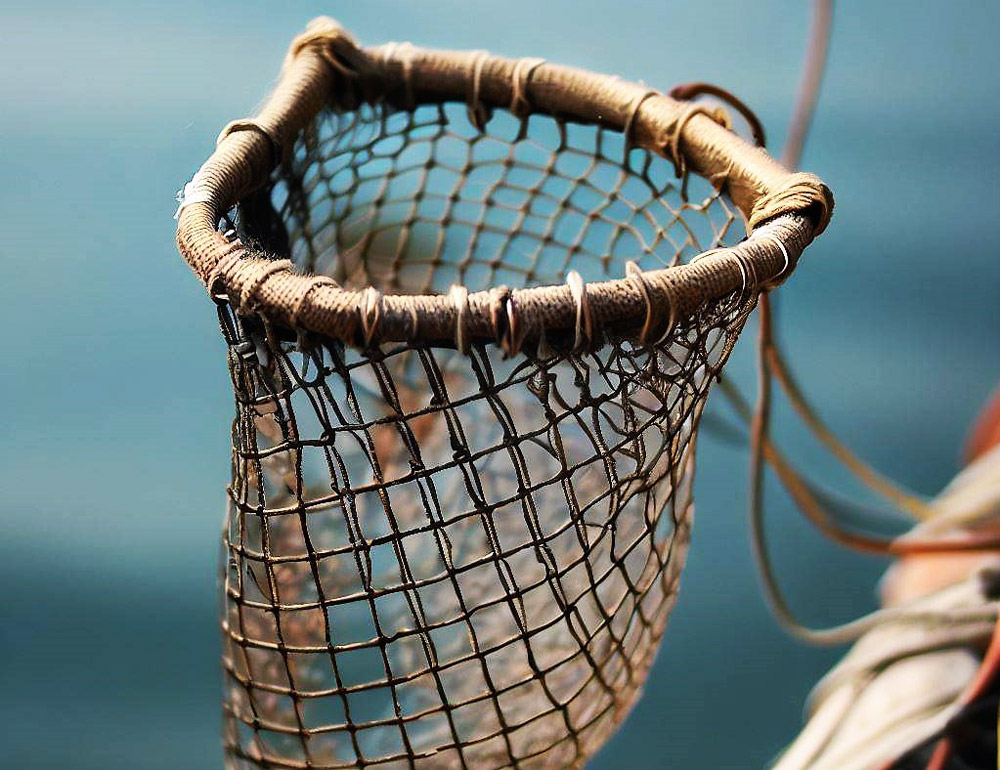 A real fisherman must have a fish landing net. If you don't want to return home without your catch, then next time go fishing with this tool. Very often it happens that the fish disappear right before your eyes while being on the edge of the boat. The landing net for catching fish will help to avoid such situations thanks to its well-thought-out design. Also, the net doesn't harm the fish and helps you to catch it safely or release it back into the water. Here you will find out how to choose such fishing equipment and find the 11 best fishing landing nets in the opinion of many avid anglers.
Top 11 Best Fish Landing Nets – Editor's Choice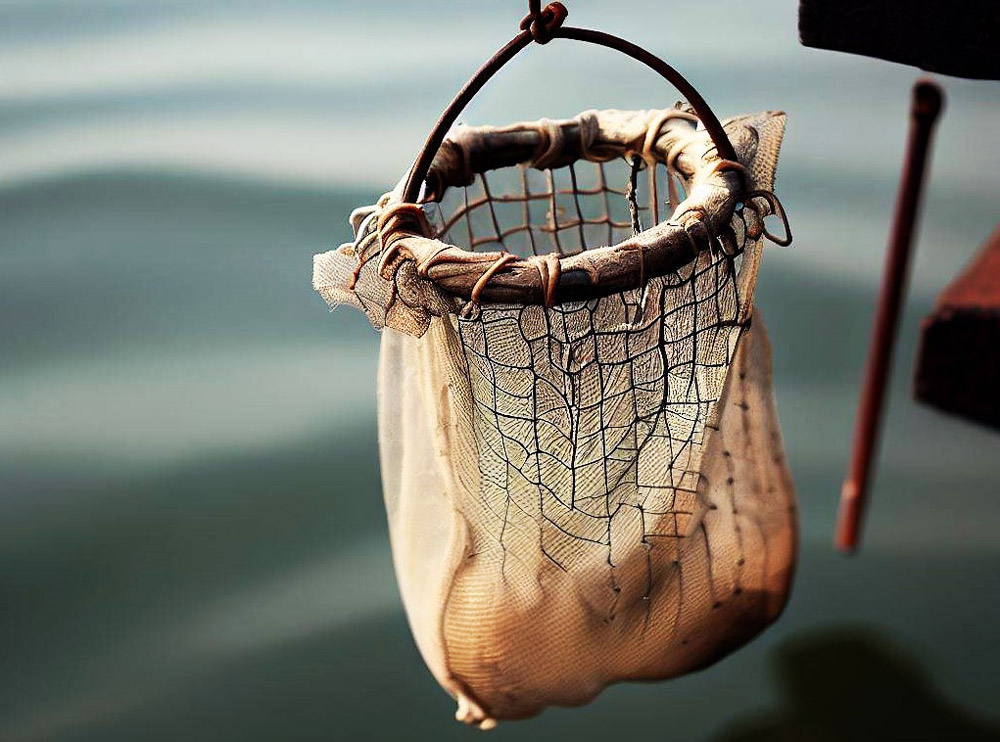 As any seasoned angler will attest, a reliable fish landing net is an invaluable tool in their tackle box. From securing a wriggling trout, scooping up a floundering catfish, or even ensuring a smooth catch and release, the right landing net can make all the difference. It's the unsung hero of the fishing world, bringing precision, finesse, and the assurance that your trophy catch won't wriggle away at the last second. No fishing trip is quite complete without this vital accessory.
In this post, we're spotlighting the top 11 best fish landing nets on the market right now. With a myriad of styles, designs, and materials available, it's not always easy to choose the one that suits your needs best. However, whether you're a weekend hobbyist, a fly fishing enthusiast, or a hardcore offshore angler, we've got you covered. Our picks span a broad range of budgets, fishing types, and styles, so you're sure to find the perfect net for your next fishing adventure.
🔶Let's take a look at the 11 best fish landing nets for fishing in my opinion. I have found their pros and cons so you can compare them and make a choice!
| Image | Product | Brand | Link |
| --- | --- | --- | --- |
| | KastKing MadBite Improved Fishing Landing Net, 20 inch Hoop Size(Improved Telescopic Handle) | KastKing | |
| | PLUSINNO Fishing Net Fish Landing Net, Foldable Collapsible Telescopic Pole Handle, Durable Nylon Material Mesh, Safe Fish Catching or Releasing (16") | PLUSINNO | |
| | RESTCLOUD Fishing Landing Net with Telescoping Pole Fishing Net Freshwater Fishing Net for Pond, Handle Full Extended to 50 Inches | RESTCLOUD | |
| | Frabill Conservation Series Landing Net with Camlock Reinforced Handle, 20 X 23-Inch, Premium Landing Net, Multi (9510) | FRABILL | |
| | Ego S One Slider Fishing Net, Ultimate Fishermen's Tool Fixed Handle, Replaceable Head, Salt & Freshwater, 2 Year Warranty, 17x19 Inch Hoop | Ego | |
| | Ed Cumings Inc B-135 Ed Cumings Fish Saver Landing Net (Black, 14-Inch x 11-Inch Bow x 19 1/2-Inch Overall Length x 12-Inch Depth) | Ed Cumings Inc | |
| | Collapsible Fishing Net - 56-Inch Retractable Landing Net with Telescopic Pole - Fishing Equipment for Catch-and-Release by Wakeman (Gold) | Wakeman | |
| | SAN LIKE Fishing Net Fish Landing Nets Rubber Coated Net Collapsible Telescopic Pole Handle for Saltwater Freshwater Extending to 43inches | SAN LIKE | |
| | Foreverlast Inc. Generation 2 Non-Snag Floating Fishing Landing Net for Wade Fishing and Fly Fishing, Standard Net, One Size | ForEverlast | |
| | YVLEEN Folding Fishing Net - Foldable Fish Landing Net Robust Aluminum Telescopic Pole Handle and Nylon Mesh 16inch Hoop Size | YVLEEN | |
| | ODDSPRO Fishing Net Fish Landing Net, Foldable Collapsible Telescopic Pole Handle, Durable Nylon Material Mesh, Safe Fish Catching or Releasing (39'' Extended Length) | ODDSPRO | |
1# KastKing Fishing Net Folding Landing Net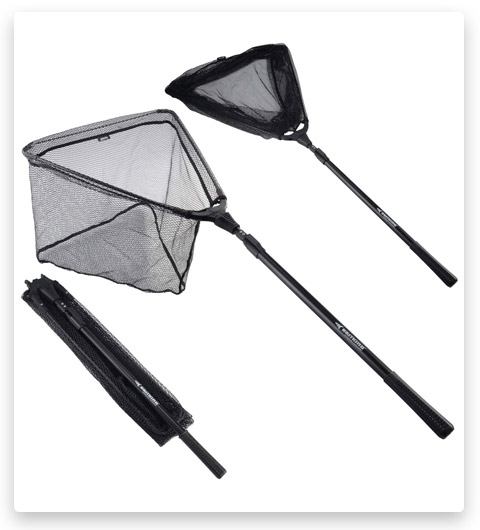 This is the same mesh that can really be called durable. It is suitable for catching both small and large fish. The mesh is made of a material that doesn't cling to hooks and therefore doesn't wear out over time. Fishing with this net will not harm the fish. You can release it safely back into the water. The mesh will not be heavy from water and it will be easy for you to work with it. The handle and the hoop are made of fiberglass. This material doesn't bend under heavyweight. You don't need to think about how to carry a net. This is easy to do thanks to the ability to fold it.
2# PLUSINNO Fishing Landing Net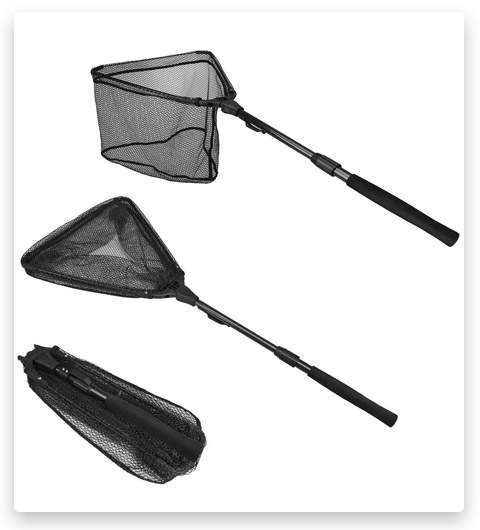 You can choose the size of the net according to the type of fish you want to catch. This net is very comfortable to hold in your hand thanks to the material of the handle. It is made of EVA. The handle will not slip and also has a good length. The mesh is made of nylon and doesn't allow water to pass through. This means that it will not become heavy while fishing. The landing net folds in two stages. Fold and take with you. It doesn't take up much space in the car. It also allows you to conveniently store at home or in the garage. It's a portable folding fishing net.
3# RESTCLOUD Fishing Landing Net – Amazon's Choice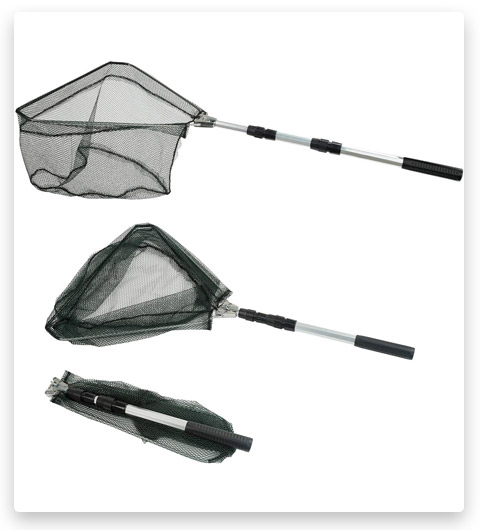 You will like the telescopic handle of this net. Its peculiarity is that you can use the length that you need depending on your position. It has a length of 18 to 36. The handle is made of aluminum. This material allows you to use this equipment for many years. Such material doesn't wear out and doesn't rust. As for the net, it is made of a soft material that is safe for fish. It is easy to use, so it is perfect for beginners. Fold and put away in a distant place for storage!
4# Frabill Conservation Series Landing Net – Amazon's Choice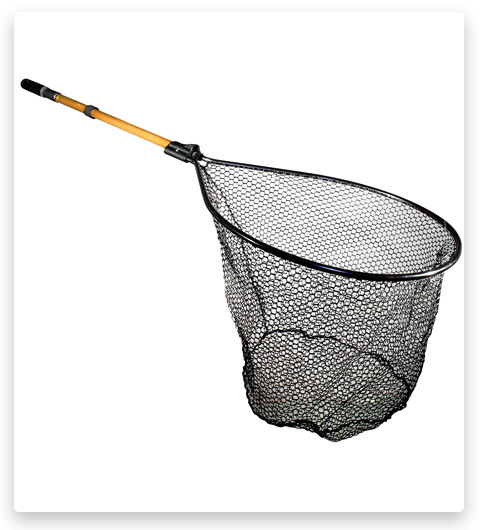 Hooks will no longer get into the network and spoil it. The net is large enough and therefore works great for large fish. The mucous membrane of the fish will not be damaged if you use this particular net. You will find the handle extension fantastic. It is telescopic. The net is made of rubber and it is a good enough material. The fish sits well thanks to the flat bottom. You can not worry, this material is safe for releasing fish.
5# EGO S1 Genesis Floating Fishing Net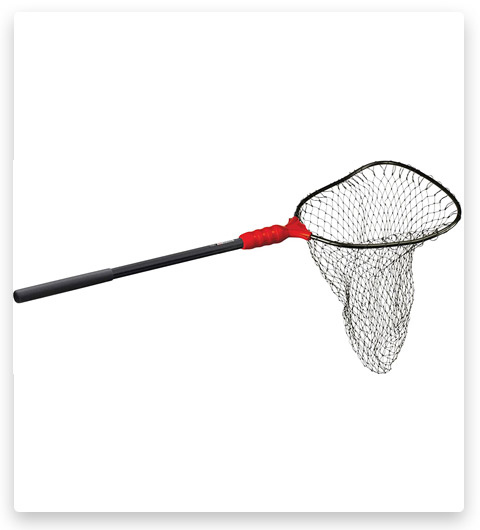 Forget the amount of headache you experienced unraveling the hooks from the net. This net has a mesh that doesn't get tangled. Such a net can be used anywhere. You can do this by boat, canoe, kayak, and so on. It can be used in both salt and freshwater. The landing net feels good on the water and doesn't sink. The handle is made in such a way that you feel comfortable. It will not slide in your hand. This is durable fishing equipment that will make your fishing even more fun!
6# Ed Cumings Inc B-135 Ed Cumings Fish Saver Landing Net – Amazon's Choice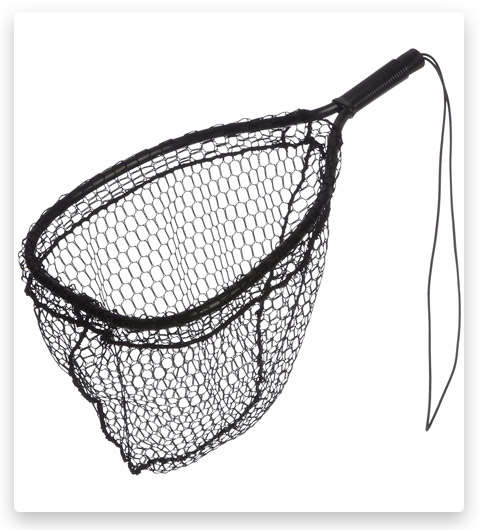 I'm sure you will become a fan of this fishing net. It is small enough to be easily taken with you or stored. But despite its size, the net is deep and wide, so it's convenient for them to catch any fish. The landing net has large holes and isn't able to get tangled. The handle is durable and will feel good in your hand.
7# Wakeman Collapsible and Foldable with Corrosion Resistant Handle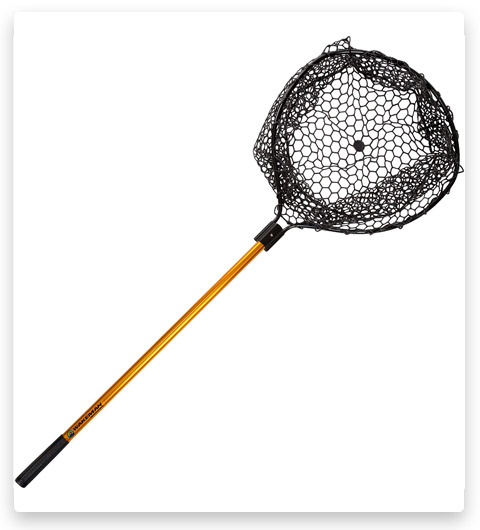 You will definitely return home with the catch. This reliable and strong mesh perfectly copes with its task. And at the same time, it is a durable product. The handle of the net is made of aluminum. This is one of the few materials that can be used in saltwater and which resists rust. The handle can be extended up to a length of 56 inches. The net has a flat bottom that can hold any fish.
8# SAN LIKE Fishing Landing Net – Amazon's Choice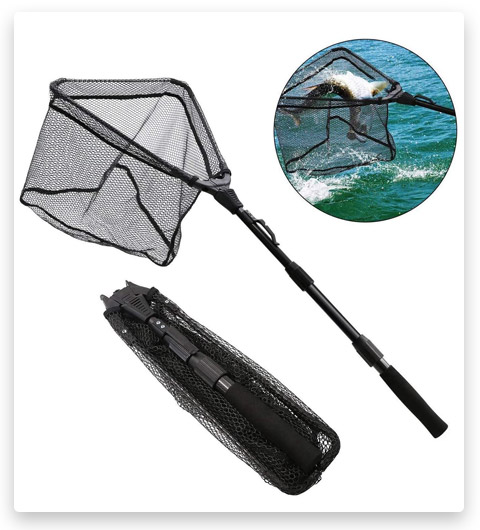 You will find this rubber net soft and safe for fish. Catch and release fish without harming them. This net is great for fishing from a boat or kayak. It feels great in salt and freshwater. You can fold this device for easy carrying! It's a portable fishing landing net.
9# Foreverlast Inc Generation 2 Non-Snag Floating Fishing Landing Net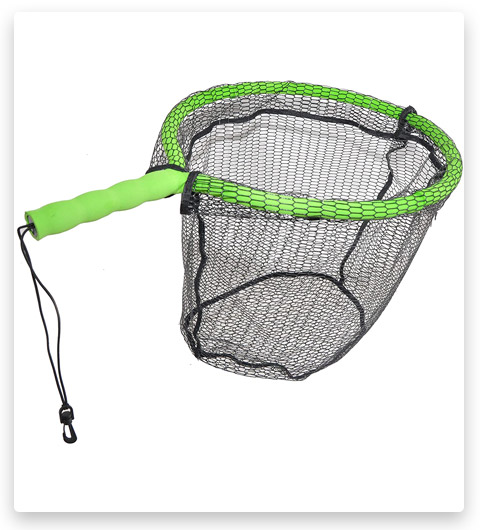 This landing net has a long handle that helps you fish better. The net has a rubber coating that is good for fish. You can use this equipment in any water and under any conditions! It is suitable for catching any fish: big and small!
10# YVLEEN Folding Fishing Net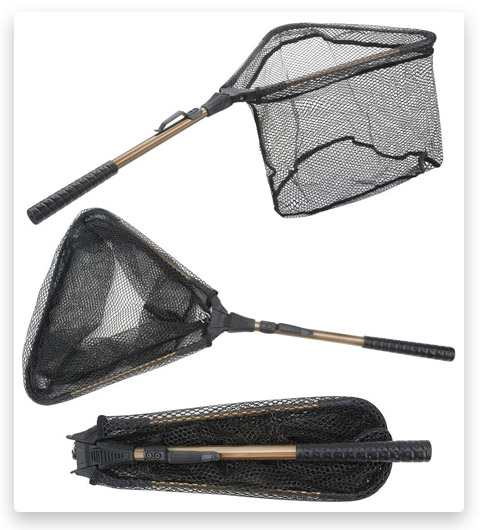 The manufacturer uses aluminum for the handle. Such material is durable, resistant to corrosion, and doesn't crack. This net will not take up much space in your home during storage. You can fold it and place it anywhere. The net will not become heavy as it doesn't absorb water. Make yourself a gift like such a landing net!
11# ODDSPRO Foldable Fish Landing Net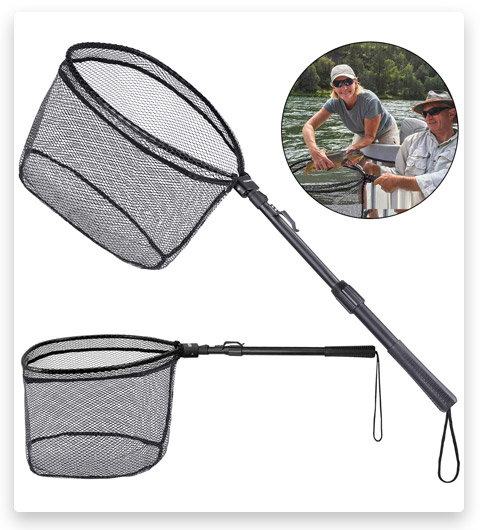 The net itself is lightweight thanks to the hoop and handle. They are made of carbon fiber and fiberglass so these parts are durable. The mesh is made of nylon and doesn't get wet. Also, such a mesh isn't tangled and dries quickly. The equipment is folding. It's a durable nylon mesh fish-catching net!
Choosing the Right Landing Net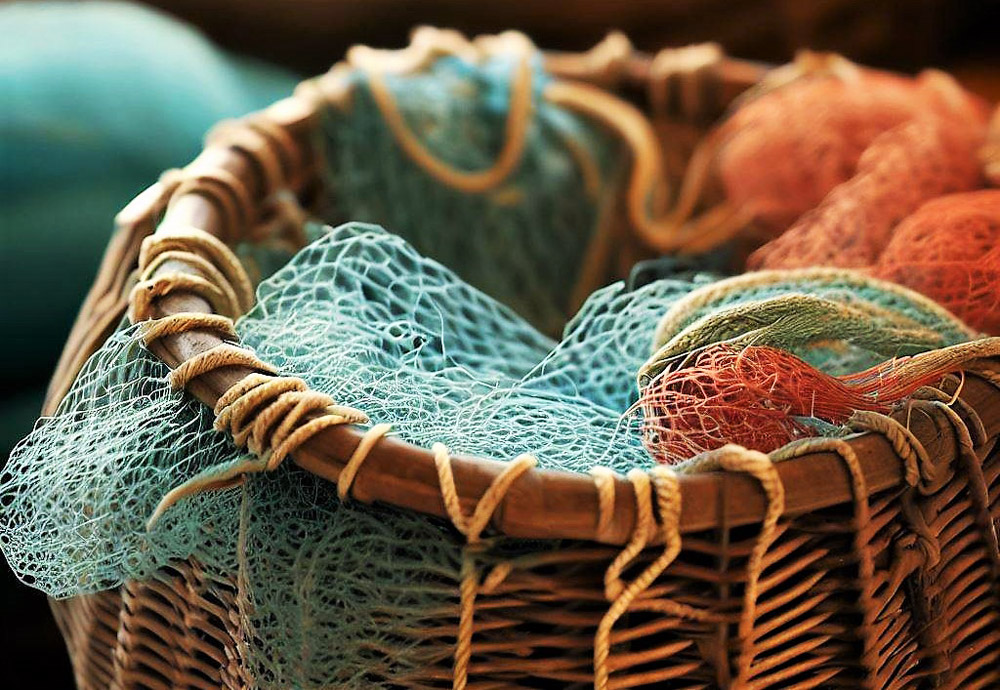 One Size Doesn't Fit All: Choosing the Right Net for Your Fishing Goals
Selecting the appropriate landing net can greatly enhance your angling experience. However, the 'right' net can differ greatly depending on a variety of factors:
💦Size of the Fish Targeted: If you're after larger species like salmon or carp, you'll need a landing net with a large hoop and deep mesh. Smaller species like trout or bass can be handled with smaller nets.
💦Type of Fishing: Different fishing styles call for different nets. A fly fisher might opt for a hand net with a short handle, while a boat angler might need a long-handled scoop net to reach fish in deeper waters.
💦Environment: Consider the environment you'll be fishing in. If you're fishing in tight, narrow spaces, a compact net with a short handle might be best. For wide, open waters, a net with a long handle and wide hoop might be more suitable.
More Than Just a Handle: Understanding the Nuances of Net Design
The size of the mesh in your landing net is another crucial factor. Smaller mesh sizes are generally gentler on fish, especially for catch-and-release fishing, as they reduce the likelihood of causing harm to the fish's scales and fins. However, smaller mesh sizes also create more water resistance, which could make netting fish a bit harder.
Larger mesh sizes offer less water resistance, making it easier to move the net through the water, but they might not be as gentle on the fish. It's a balance, and the ideal choice depends on your specific needs and ethical considerations.
Handle with Care: Finding the Right Handle Length
The length of your landing net's handle should be determined by your fishing style and the environment you're fishing in. For boat fishing or fishing from a high bank, a long handle can help you reach the fish in the water. However, if you're wading in a stream or fly fishing, a shorter handle would provide better control and maneuverability.
In some cases, a telescopic or collapsible handle might be the best choice, offering both long reach when you need it and compact storage when you don't.
🚩Remember, choosing the right landing net is an essential part of the preparation process for any fishing trip. By considering your fishing goals, environment, and target species, you can select a landing net that enhances your chances of a successful catch while respecting the well-being of the fish.
Tips On Choosing Fishing Landing Net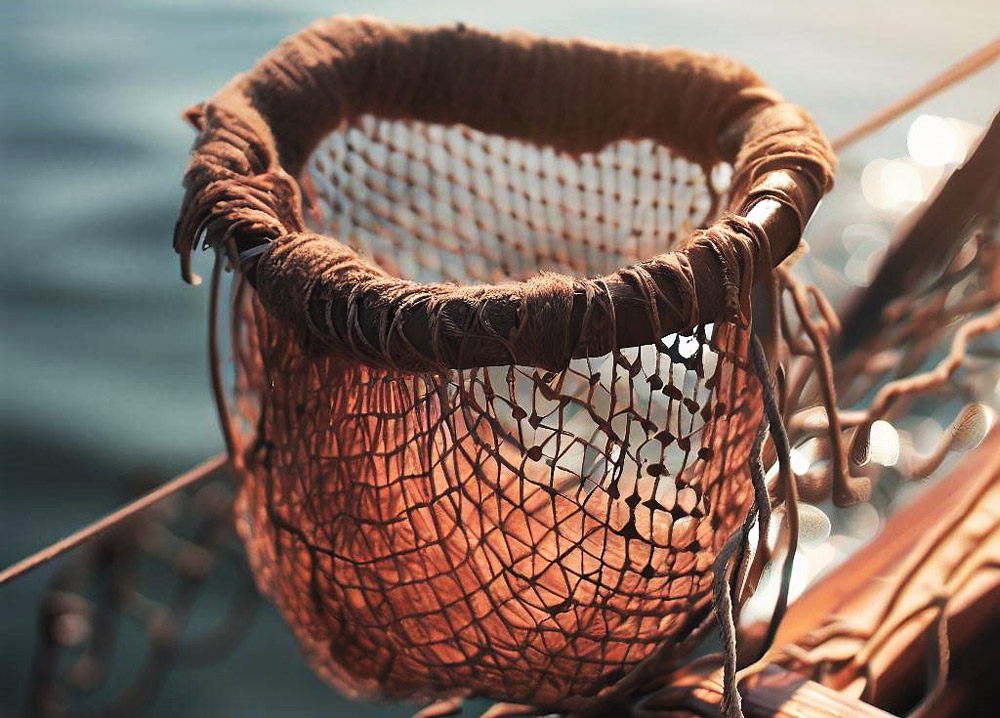 As with any purchase, we doubt the right choice. In order for you to be confident in your choice, I have collected the most important points that you need to look at in order to make the right choice.
Mesh
This is an important point on which the success of your fishing will depend. Choose a mesh with soft material but very durable. Lightweight material feels great in water, and durability ensures that the mesh will withstand various conditions.
On the market you will find three types of mesh:
🧿

Nylon mesh

. It isn't suitable for professional fishing, but it will work well for those for whom fishing is a hobby and a good pastime. This is the most affordable mesh. But its cons is that it can cling to the hooks.
🧿

Knotless mesh

. If you fish in the river, then such a net will work well for your purposes. Quite an expensive choice, but it will almost not cling to hooks.
🧿

Rubber mesh

. If you fish for the sake of the process itself, and not only for the catch, then this is what you need. Such a net has a soft material so there is no harm to the fish when you catch it and then release it. But at the same time, this type of mesh is less durable than the previous ones and quickly becomes unsuitable for use.
In addition to the material, it is worth considering another point when choosing a mesh: the size of the mesh and its holes. If your aim is to catch small fish, then choose a small net with small holes. If you want to catch large fish, it is better to buy a heavy large net.
Hoop
I advise you to choose a hoop with a scoop at the end. This will allow you to fish much easier and faster. Also, when choosing, focus on what kind of fish you want to catch. If your goal is a big fish, then the hoop should be big enough. If you want to catch both large and small fish, it is best not to spare money and buy 2 landing nets with a large hoop and a small one. Aluminum alloy works great as a material for the hoop. It works well in water, resists corrosion and rust. Therefore, the net can serve you for many years and help you catch a huge amount of catch.
Handle
Of course, I didn't forget about the handle. If you choose not strong and inconvenient handle, it is unlikely that such a fish landing net will be a good purchase for you. The first thing I want to draw your attention to is the material. Here you have a choice: fiberglass, wood, aluminum. They all work well because the materials are durable and lightweight. Therefore, choose what attracts you more. And the second point when choosing a handle is its size. They are long and short. The short one moves well on water, and the long one is suitable for fishing in a hectic river or sea. And the handle should be comfortable in the hand. A good non-slip material is EVA foam.
Durability
All the landing nets from my review are durable and work well under various conditions. You will be able to use them for many years. It doesn't matter whether you use them regularly or not, they will work as needed without loss of quality.
Netting the Best: Top Brands in the Landing Net Market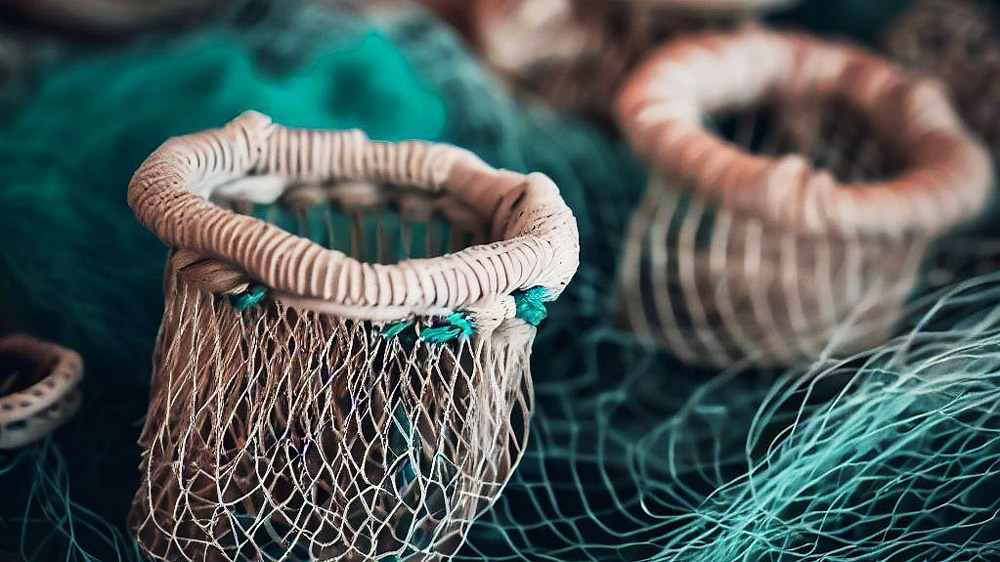 The market for landing nets is diverse, filled with brands offering a range of nets suited to different styles of fishing. Here, we'll highlight some of the best brands known for their quality landing nets.
🙆Frabill: Frabill is well-known in the fishing world for its range of durable and innovative landing nets. One standout product is the Frabill Conservation Series Landing Net. This net is designed with a flat bottom to reduce stress on fish, making it an excellent choice for catch-and-release anglers. The hoop is sturdy, and the handle is extendable for extra reach. Although it's a bit pricier than some alternatives, it's build quality and fish-friendly design make it a worthwhile investment.
👾Ranger Nets: Ranger Nets offers a variety of high-quality nets with a focus on durability and performance. Their Ranger Nets Knotless Flat Bottom Rubberized Landing Net is a standout product, with a rubberized, knotless net that's easy on fish and resists snagging. The handle is made of anodized aluminum for durability, and the hoop is large enough for substantial catches. It offers excellent value for its price, making it a popular choice among anglers.
🔮EGO Fishing: EGO Fishing is another brand that's earned a solid reputation for its landing nets. Their EGO S2 Slider Landing Net is particularly notable for its innovative handle design, which can be extended with a simple pull or push. The net is interchangeable, allowing anglers to switch between different net types depending on their needs. Though slightly more expensive, the versatility and convenience offered by the S2 Slider make it worth considering.
🚣McLean Angling: Known for their high-quality, durable landing nets, McLean Angling is a favorite among serious anglers. The McLean Sea Trout and Specimen Net are particularly notable. Designed with a sturdy, yet lightweight frame and a rubberized net, this product is perfect for larger catches. The added feature of a built-in weighing scale in the handle makes it unique, though it does come with a higher price tag.
🚩Each of these brands offers a unique take on the landing net, with variations in design, materials, and price points. Your choice should ultimately align with your fishing style, the type of fish you're after, and your budget. Remember that a quality landing net is a long-term investment in your fishing success and enjoyment.
Video: How To Make Your Own Fishing Net
Longevity of the Landing Net: Keeping Your Tool in Top Shape
A landing net is an investment. Therefore, proper care and maintenance are crucial to ensure it lasts and performs at its best for as long as possible.
🔱Cleaning: After each fishing trip, rinse your landing net thoroughly with fresh water. This step is especially important if you've been fishing in saltwater, which can corrode metal parts over time. Pay special attention to the handle and hoop, ensuring no debris is left on the net.
🔱Drying: Before storage, make sure your net is fully dry to prevent mildew or mold. Leave it out in a well-ventilated area, away from direct sunlight that could degrade the mesh material over time.
🔱Inspection and Repairs: Regularly inspect your net for any signs of damage. If the mesh has holes, most can be mended using a knotting method or with a fishing line. Should the damage be extensive, consider getting a replacement bag. For nets with telescoping handles, ensure the machine is well-lubricated and free of sand or debris.
🔱Storage: Store your net in a cool, dry place away from direct sunlight. UV rays can degrade the mesh material, leading to brittleness and breakage over time. If the net is foldable or has a telescopic handle, make sure it's folded or retracted to prevent accidental damage.
🚩Taking care of your landing net is not a time-consuming task, but it's an essential one. A well-maintained net not only lasts longer but also performs better, ensuring that when the moment comes, your net won't let you – or your catch – down. Just a few simple steps of cleaning, drying, inspecting, and proper storage can make all the difference in the lifespan of your landing net.
Environment and Ethical Considerations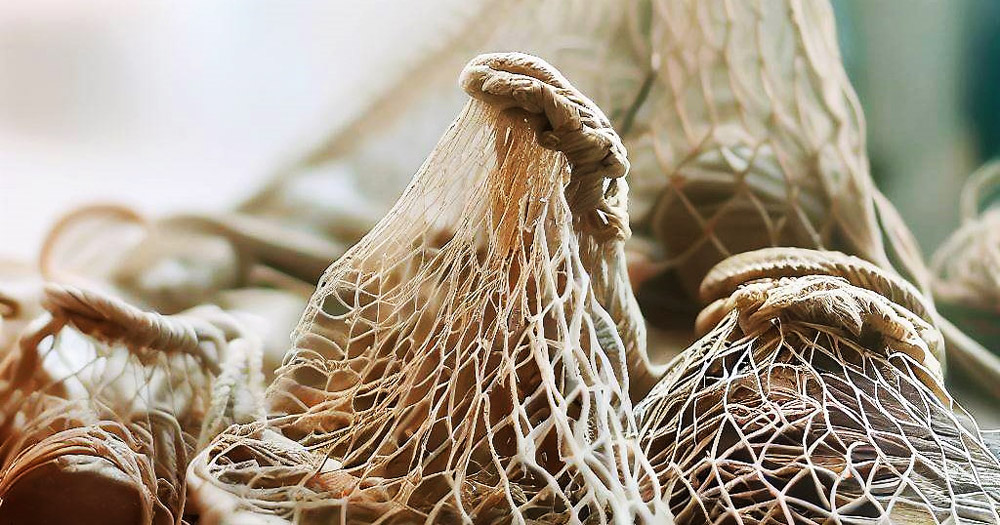 Catch-and-Release: A Critical Practice for Sustainable Fishing
Catch-and-release fishing is an increasingly vital practice in the face of dwindling fish populations and environmental changes. The principle is simple – enjoy the thrill of the catch, but let the fish live another day by returning it safely to the water.
The right landing net can make a significant difference in ensuring the fish's survival after release. Soft, knotless, or rubberized mesh is less likely to harm the fish's protective slime coat or scales. Flat-bottom nets are also recommended, as they provide a less stressful environment for the fish before release.
Eco-friendly Gear: Choosing Products That Support Sustainable Practices
Beyond the catch-and-release practice, the choice of fishing gear, including landing nets, can have significant environmental impacts. Some brands and products prioritize eco-friendliness in their design and manufacturing processes.
For instance, EGO Fishing offers landing nets with environmentally friendly, non-tangle, PVC-free mesh. Similarly, the Ranger Nets Flat Bottom Rubberized Landing Net is made with a rubberized, knotless net that minimizes harm to the fish while being resistant to wear and tear.
Choosing these types of products not only ensures a more ethical fishing experience but also supports brands that prioritize sustainability. It's a simple action that, when multiplied by the global angling community, can have a significant positive impact on our planet's aquatic ecosystems.
🚩Fishing is not merely a sport or a pastime—it's an interaction with nature. As such, it comes with a responsibility to respect and protect the environment we so greatly enjoy. The choice of landing nets and adherence to catch-and-release practices are ways anglers can contribute to the sustainability of this cherished activity.
Personal Stories/Case Studies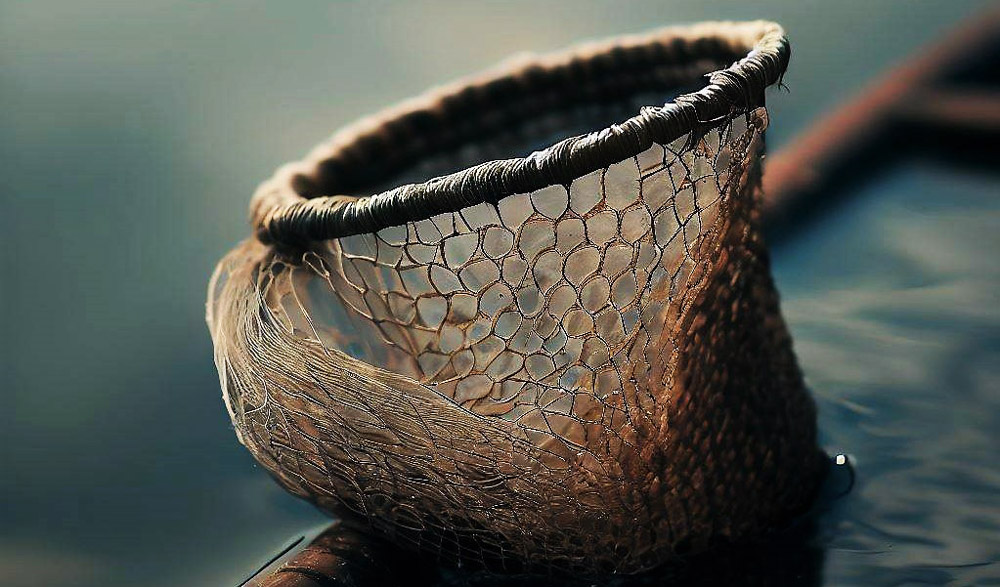 The Net Effect: Personal Experiences with Landing Nets
As a seasoned angler, I've seen firsthand how the right landing net can significantly influence the outcome of a fishing trip.
Once, while fishing for salmon in Alaska, I was using a net with a shallow mesh. When I hooked a particularly feisty fish, I struggled to keep it in the net, and it ultimately escaped before I could secure it. It was a tough lesson in the importance of choosing a net with a sufficiently deep mesh for larger fish.
I also recall a time when I was fishing for trout in a narrow stream. I was using a large landing net with a long handle – a cumbersome choice in such a confined space. The experience made me realize the value of matching the net size and handle length to the fishing environment.
Case Studies: The Impact of Landing Nets on Catch Rate
Case studies from various fisheries also underscore the importance of choosing the right landing net. For instance, a study by the Department of Natural Resources found a correlation between the type of landing net used and the survival rate of released fish.
The study indicated that landing nets with rubber or knotless nylon mesh resulted in lower scale loss and fewer injuries, leading to higher survival rates post-release compared to traditional knotted nylon nets. Such findings echo the catch-and-release ethos and show how our gear choices can affect not just our success but also the well-being of the fish.
Another study conducted by a fishing club compared the catch rates of members using different types of nets. It found that those using larger, deeper nets generally had higher catch rates for larger species, demonstrating how the right net can increase your chances of successfully landing and securing a big catch.
🚩These stories and studies underline the practical and ethical implications of our landing net choices. Making informed decisions about our gear not only enhances our success as anglers but also promotes ethical, sustainable fishing practices.
FAQ: Essential Tools for the Successful Angler
Conclusion: The Fishing Companion You Can't Ignore
In this article, you have found out what fish landing nets are and how they work. It remains only to choose your net. My recommendation is KastKing Fishing Folding Landing Net. If you use it for its intended purpose, then you will be glad that you chose it!
Reeling It In The Critical Role of Landing Nets in Fishing Success
In this article, we've traversed the vast waters of understanding, choosing, and caring for landing nets. We've learned that a landing net is more than a mere accessory—it's an indispensable tool in the angler's arsenal, playing a critical role in fishing success.
Whether it's about landing that hard-fought catch, minimizing harm to the fish for catch-and-release, or ensuring the longevity of your net through proper care and maintenance, each factor intertwines to create a comprehensive and ethical fishing experience.
In a world where fishing resources are finite, we also emphasized the ethical considerations linked to our fishing practices. Using the right net, particularly those designed to minimize harm, contributes significantly to the sustainability of the sport we love.
Invest in Success: Why a Quality Landing Net is a Fishing Essential
At the end of the day, the investment in a quality landing net, one suited to your specific needs and fishing style, will pay dividends in terms of improved catch rates, less harm to fish, and long-lasting durability.
So, to both novice anglers gearing up for their first expedition and seasoned pros looking to improve their catch rate, consider your landing net choice carefully. Make it a standard part of your fishing gear, a trusted companion that aids your success and upholds the ethos of responsible, respectful angling.
🚩Remember, in the world of fishing, the thrill is in the catch, but the pride is in the release!
Netting Knowledge: Further Reading and Resources on Landing Nets
🎦To deepen your understanding of landing nets and stay informed about the latest trends, tools, and techniques in fishing, refer to the following resources:
Studies on Landing Nets:
"The Effects of Landing Net Mesh Type on the Injury and Mortality of Angled Brook Trout" by R.A. Curry, et al., North American Journal of Fisheries Management (Link to Study)
"Influence of Landing Net Mesh Type on Handling Time and Escape of Steelhead Trout" by B.H. Letcher, et al., Fisheries Research (Link to Study)
Fishing Gear Review Sites:
FishTalk Magazine
Salt Strong
Outdoor Life
Online Stores:
Bass Pro Shops
Cabela's
Tackle Direct
Fishing Forums:
Bass Resource
Stripers Online
The Fly Fishing Forum
🚩These resources provide a wealth of knowledge and opinions from fellow fishing enthusiasts. Remember, part of the joy of fishing is sharing knowledge and experiences with a community of like-minded individuals. So, join the conversation, ask questions, and contribute your insights.
Tags: #fish landing net / #best fish landing net / #telescoping fish landing net / #landing fish net / #large fish landing net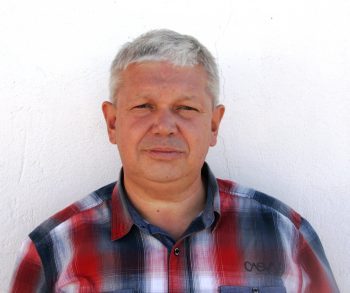 Sergio Smirnoff
Professional fisherman with 40+ years of experience.
Fishing and the ocean is a passion of my life. I am passionate about all kinds of sea fishing: fishing from the shore (spinning, float, baitcasting), from a boat, and spearfishing day and night.
I live in Tenerife (Canary Islands) for the last 10+ years and share my daily fishing experiences on my website. Many years of personal experience as a fisherman and the vast experience of my friends allow me to write professionally on any fishing topics (from choosing a flashlight and equipment to deep-sea fishing).
All of my advice is based on practical real-world experience and will be useful to both novice anglers and professionals.
Read more
about the author.
Affiliate Disclosure: FishReeler.com sometimes gets paid for listings, through sponsors or affiliate programs like Amazon, Ebay, Cabelas, Bass Pro Shop, Shimano, Daiwa, Rapala, Renn, Okuma, KastKing, etс. Clicking a link helps keep FishReeler.com free, at no extra cost to you!
About the author: Each article is verified by the fishing expert Sergio Smirnoff. The articles are written by professional and amateur fishermen with 20+ years of fishing experience.
Note: The views and opinions expressed in this article are those of the authors and do not necessarily reflect the official policy or position of any agency. The articles are for informational purposes only, share your opinions in the comments and join the fishing discussions, let's share our fishing experiences together!