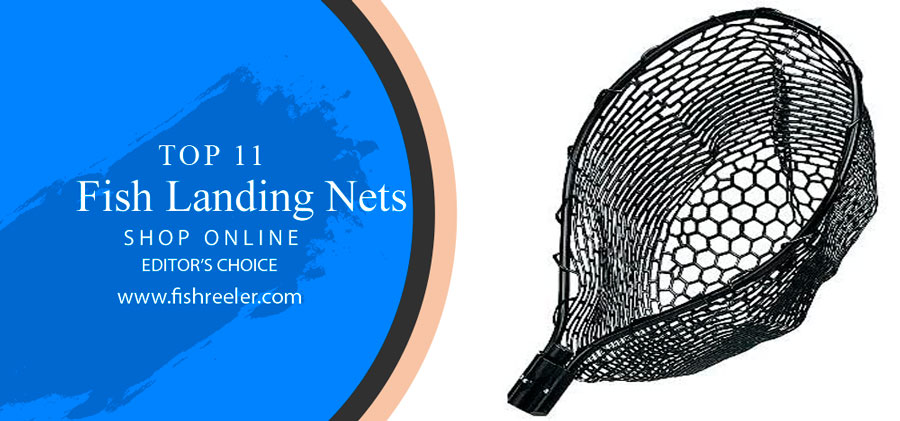 Best Fish Landing Net on the Market Today
A real fisherman must have a fish landing net. If you don't want to return home without your catch, then next time go fishing with this tool. Very often it happens that the fish disappear right before your eyes while being on the edge of the boat. The landing net for catching fish will help to avoid such situations thanks to its well-thought-out design. Also, the net doesn't harm the fish and helps you to catch it safely or release it back into the water. Here you will find out how to choose such fishing equipment and find the 11 best fishing landing nets in the opinion of many avid anglers.

Top 11 Best Fish Landing Nets – Editor's Choice
Let's take a look at the 11 best fish landing nets for fishing in my opinion. I have found their pros and cons so you can compare them and make a choice!
| Image | Product | Brand | Link |
| --- | --- | --- | --- |
| | KastKing MadBite Improved Fishing Landing Net, 20 inch Hoop Size(Improved Telescopic Handle) | KastKing | |
| | PLUSINNO Fishing Net Fish Landing Net, Foldable Collapsible Telescopic Pole Handle, Durable Nylon Material Mesh, Safe Fish Catching or Releasing (16") | PLUSINNO | |
| | RESTCLOUD Fishing Landing Net with Telescoping Pole Fishing Net Freshwater Fishing Net for Pond, Handle Full Extended to 50 Inches | RESTCLOUD | |
| | Frabill Conservation Series Landing Net with Camlock Reinforced Handle, 20 X 23-Inch, Premium Landing Net, Multi (9510) | FRABILL | |
| | Ego S1 Slider Fishing Net, Ultimate Fishermen's Tool Fixed Handle, Replaceable Head, Salt & Freshwater, 2 Year Warranty, 17x19 Inch Hoop | EGO | |
| | Ed Cumings Inc B-135 Ed Cumings Fish Saver Landing Net (Black, 14-Inch x 11-Inch Bow x 19 1/2-Inch Overall Length x 12-Inch Depth) | Ed Cumings Inc | |
| | Collapsible Fishing Net - 56-Inch Retractable Landing Net with Telescopic Pole - Fishing Equipment for Catch-and-Release by Wakeman (Gold) | Wakeman | |
| | SAN LIKE Fishing Net Fish Landing Nets Rubber Coated Net Collapsible Telescopic Pole Handle for Saltwater Freshwater Extending to 43inches | SAN LIKE | |
| | ForEverlast Inc. Generation 2 Non-Snag Floating Fishing Landing Net for Wade Fishing, Fly Fishing, Kayak Fishing, G2 Pro Net, Green | Foreverlast Inc. | |
| | YVLEEN Folding Fishing Net - Foldable Fish Landing Net Robust Aluminum Telescopic Pole Handle and Nylon Mesh 16inch Hoop Size | YVLEEN | |
| | ODDSPRO Fishing Net Fish Landing Net, Foldable Collapsible Telescopic Pole Handle, Durable Nylon Material Mesh, Safe Fish Catching or Releasing (39'' Extended Length) | ODDSPRO | |

1# KastKing Fishing Net Folding Landing Net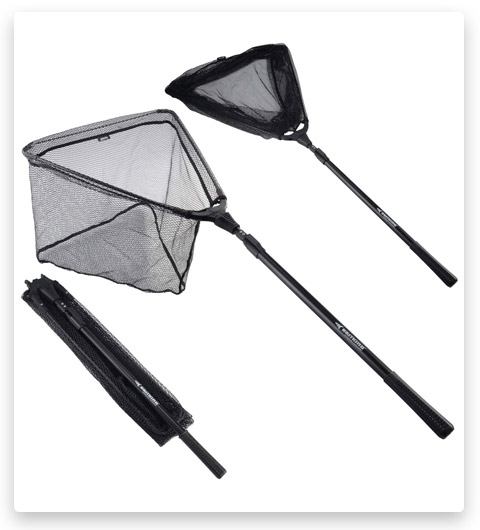 This is the same mesh that can really be called durable. It is suitable for catching both small and large fish. The mesh is made of a material that doesn't cling to hooks and therefore doesn't wear out over time. Fishing with this net will not harm the fish. You can release it safely back into the water. The mesh will not be heavy from water and it will be easy for you to work with it. The handle and the hoop are made of fiberglass. This material doesn't bend under heavyweight. You don't need to think about how to carry a net. This is easy to do thanks to the ability to fold it.
2# PLUSINNO Fishing Landing Net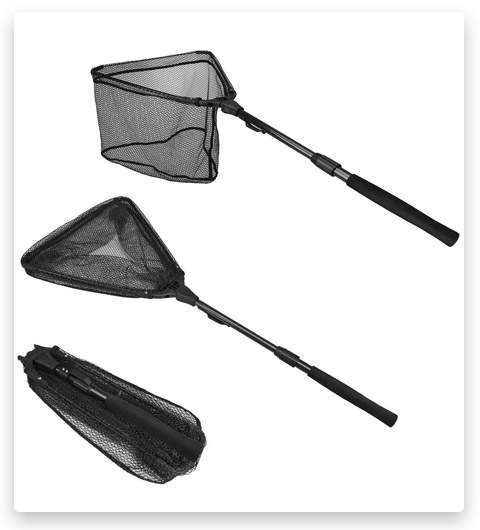 You can choose the size of the net according to the type of fish you want to catch. This net is very comfortable to hold in your hand thanks to the material of the handle. It is made of EVA. The handle will not slip and also has a good length. The mesh is made of nylon and doesn't allow water to pass through. This means that it will not become heavy while fishing. The landing net folds in two stages. Fold and take with you. It doesn't take up much space in the car. It also allows you to conveniently store at home or in the garage. It's a portable folding fishing net.
3# RESTCLOUD Fishing Landing Net – Amazon's Choice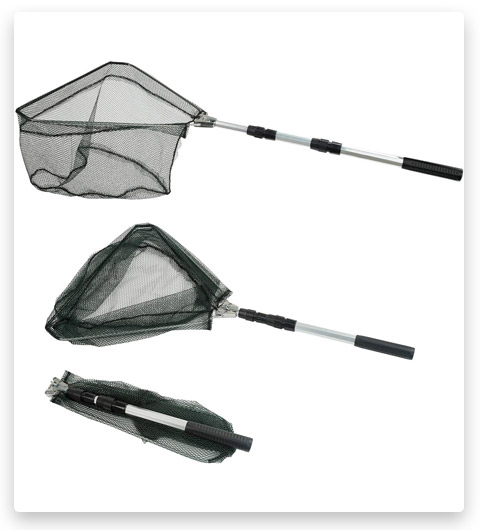 You will like the telescopic handle of this net. Its peculiarity is that you can use the length that you need depending on your position. It has a length of 18 to 36. The handle is made of aluminum. This material allows you to use this equipment for many years. Such material doesn't wear out and doesn't rust. As for the net, it is made of a soft material that is safe for fish. It is easy to use, so it is perfect for beginners. Fold and put away in a distant place for storage!
4# Frabill Conservation Series Landing Net – Amazon's Choice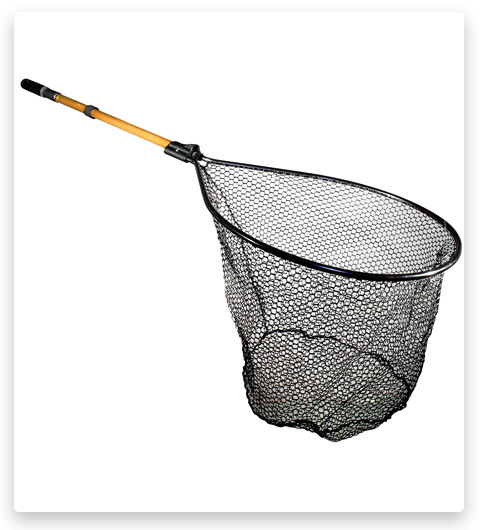 Hooks will no longer get into the network and spoil it. The net is large enough and therefore works great for large fish. The mucous membrane of the fish will not be damaged if you use this particular net. You will find the handle extension fantastic. It is telescopic. The net is made of rubber and it is a good enough material. The fish sits well thanks to the flat bottom. You can not worry, this material is safe for releasing fish.
5# EGO S1 Genesis Floating Fishing Net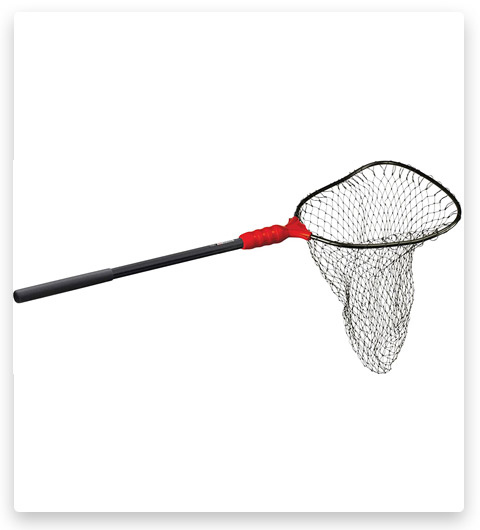 Forget the amount of headache you experienced unraveling the hooks from the net. This net has a mesh that doesn't get tangled. Such a net can be used anywhere. You can do this by boat, canoe, kayak, and so on. It can be used in both salt and freshwater. The landing net feels good on the water and doesn't sink. The handle is made in such a way that you feel comfortable. It will not slide in your hand. This is durable fishing equipment that will make your fishing even more fun!
6# Ed Cumings Inc B-135 Ed Cumings Fish Saver Landing Net – Amazon's Choice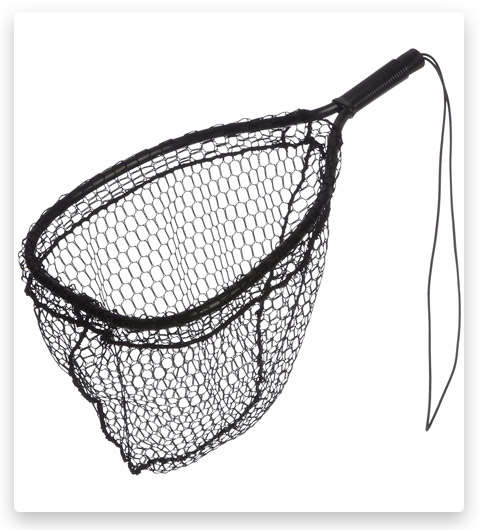 I'm sure you will become a fan of this fishing net. It is small enough to be easily taken with you or stored. But despite its size, the net is deep and wide, so it's convenient for them to catch any fish. The landing net has large holes and isn't able to get tangled. The handle is durable and will feel good in your hand.
7# Wakeman Collapsible and Foldable with Corrosion Resistant Handle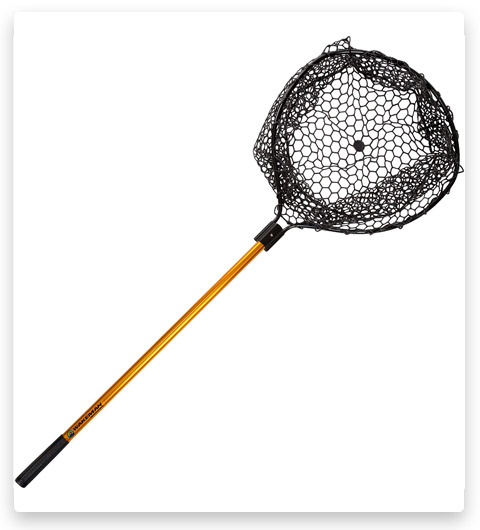 You will definitely return home with the catch. This reliable and strong mesh perfectly copes with its task. And at the same time, it is a durable product. The handle of the net is made of aluminum. This is one of the few materials that can be used in saltwater and which resists rust. The handle can be extended up to a length of 56 inches. The net has a flat bottom that can hold any fish.
8# SAN LIKE Fishing Landing Net – Amazon's Choice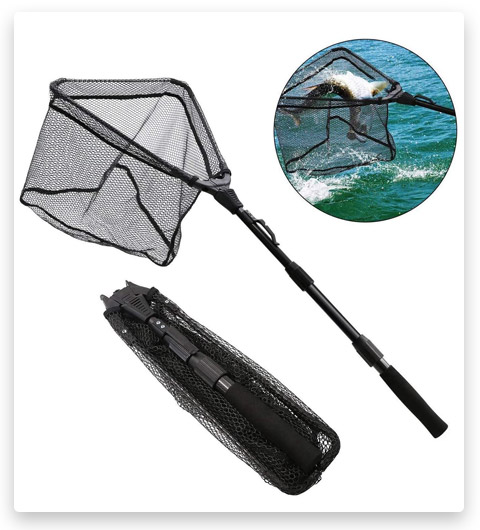 You will find this rubber net soft and safe for fish. Catch and release fish without harming them. This net is great for fishing from a boat or kayak. It feels great in salt and freshwater. You can fold this device for easy carrying! It's a portable fishing landing net.
9# Foreverlast Inc Generation 2 Non-Snag Floating Fishing Landing Net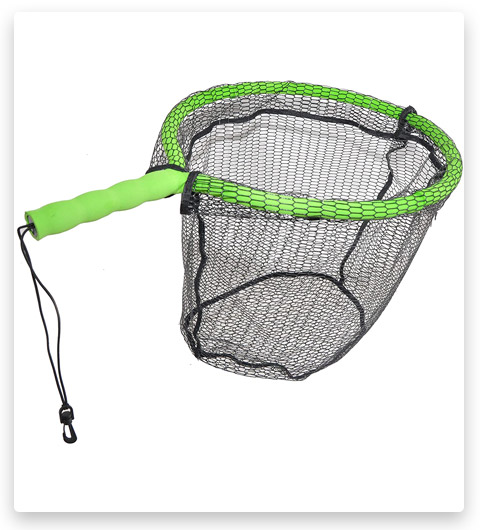 This landing net has a long handle that helps you fish better. The net has a rubber coating that is good for fish. You can use this equipment in any water and under any conditions! It is suitable for catching any fish: big and small!
10# YVLEEN Folding Fishing Net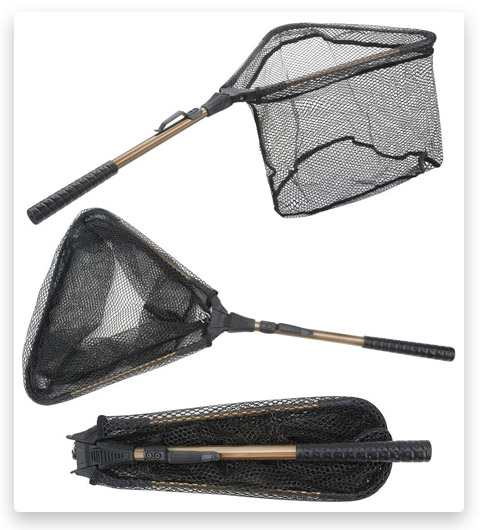 The manufacturer uses aluminum for the handle. Such material is durable, resistant to corrosion, and doesn't crack. This net will not take up much space in your home during storage. You can fold it and place it anywhere. The net will not become heavy as it doesn't absorb water. Make yourself a gift like such a landing net!
11# ODDSPRO Foldable Fish Landing Net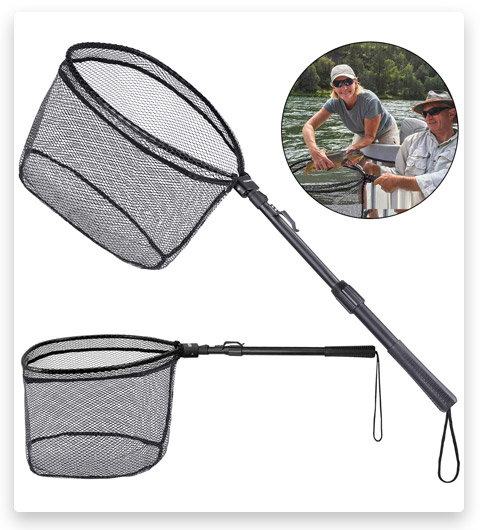 The net itself is lightweight thanks to the hoop and handle. They are made of carbon fiber and fiberglass so these parts are durable. The mesh is made of nylon and doesn't get wet. Also, such a mesh isn't tangled and dries quickly. The equipment is folding. It's a durable nylon mesh fish-catching net!
Tips On Choosing Fishing Landing Net

As with any purchase, we doubt the right choice. In order for you to be confident in your choice, I have collected the most important points that you need to look at in order to make the right choice.
Mesh
This is an important point on which the success of your fishing will depend. Choose a mesh with soft material but very durable. Lightweight material feels great in water, and durability ensures that the mesh will withstand various conditions.
On the market you will find three types of mesh:
Nylon mesh. It isn't suitable for professional fishing, but it will work well for those for whom fishing is a hobby and a good pastime. This is the most affordable mesh. But its cons is that it can cling to the hooks.
Knotless mesh. If you fish in the river, then such a net will work well for your purposes. Quite an expensive choice, but it will almost not cling to hooks.
Rubber mesh. If you fish for the sake of the process itself, and not only for the catch, then this is what you need. Such a net has a soft material so there is no harm to the fish when you catch it and then release it. But at the same time, this type of mesh is less durable than the previous ones and quickly becomes unsuitable for use.
In addition to the material, it is worth considering another point when choosing a mesh: the size of the mesh and its holes. If your aim is to catch small fish, then choose a small net with small holes. If you want to catch large fish, it is better to buy a heavy large net.
Hoop
I advise you to choose a hoop with a scoop at the end. This will allow you to fish much easier and faster. Also, when choosing, focus on what kind of fish you want to catch. If your goal is a big fish, then the hoop should be big enough. If you want to catch both large and small fish, it is best not to spare money and buy 2 landing nets with a large hoop and a small one. Aluminum alloy works great as a material for the hoop. It works well in water, resists corrosion and rust. Therefore, the net can serve you for many years and help you catch a huge amount of catch.
Handle
Of course, I didn't forget about the handle. If you choose not strong and inconvenient handle, it is unlikely that such a fish landing net will be a good purchase for you. The first thing I want to draw your attention to is the material. Here you have a choice: fiberglass, wood, aluminum. They all work well because the materials are durable and lightweight. Therefore, choose what attracts you more. And the second point when choosing a handle is its size. They are long and short. The short one moves well on water, and the long one is suitable for fishing in a hectic river or sea. And the handle should be comfortable in the hand. A good non-slip material is EVA foam.
Durability
All the landing nets from my review are durable and work well under various conditions. You will be able to use them for many years. It doesn't matter whether you use them regularly or not, they will work as needed without loss of quality.
Conclusion
In this article, you have found out what fish landing nets are and how they work. It remains only to choose your net. My recommendation is KastKing Fishing Folding Landing Net. If you use it for its intended purpose, then you will be glad that you chose it!
Tags: #fish landing net / #best fish landing net / #telescoping fish landing net / #landing fish net / #large fish landing net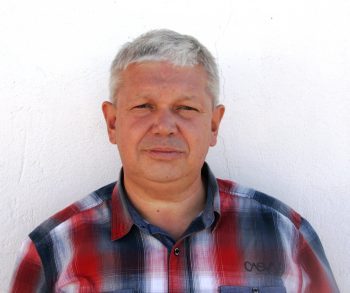 Sergio Smirnoff
Professional fisherman with 40+ years of experience.
Fishing and the ocean is a passion of my life. I am passionate about all kinds of sea fishing: fishing from the shore (spinning, float, baitcasting), from a boat, and spearfishing day and night.
I live in Tenerife (Canary Islands) for the last 10+ years and share my daily fishing experiences on my website. Many years of personal experience as a fisherman and the vast experience of my friends allow me to write professionally on any fishing topics (from choosing a flashlight and equipment to deep-sea fishing).
All of my advice is based on practical real-world experience and will be useful to both novice anglers and professionals.
Read more
about the author.
Affiliate Disclosure: FishReeler.com sometimes gets paid for listings, through sponsors or affiliate programs like Amazon, Ebay, Cabelas, Bass Pro Shop, Shimano, Daiwa, Rapala, Renn, Okuma, KastKing, etс. Clicking a link helps keep FishReeler.com free, at no extra cost to you!
About the author: Each article is verified by the fishing expert Sergio Smirnoff. The articles are written by professional and amateur fishermen with 20+ years of fishing experience.
Note: The views and opinions expressed in this article are those of the authors and do not necessarily reflect the official policy or position of any agency. The articles are for informational purposes only, share your opinions in the comments and join the fishing discussions, let's share our fishing experiences together!