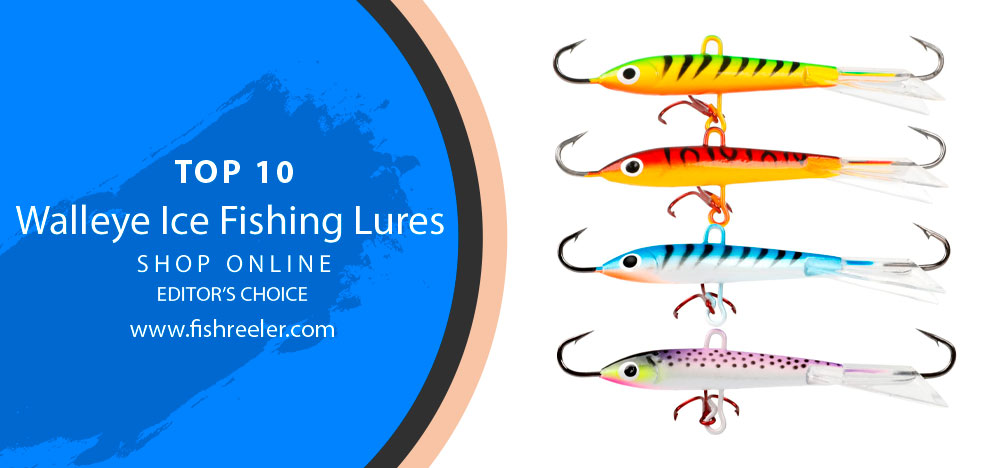 Unleashing the Chill: A Comprehensive Guide to Walleye Ice Fishing Lures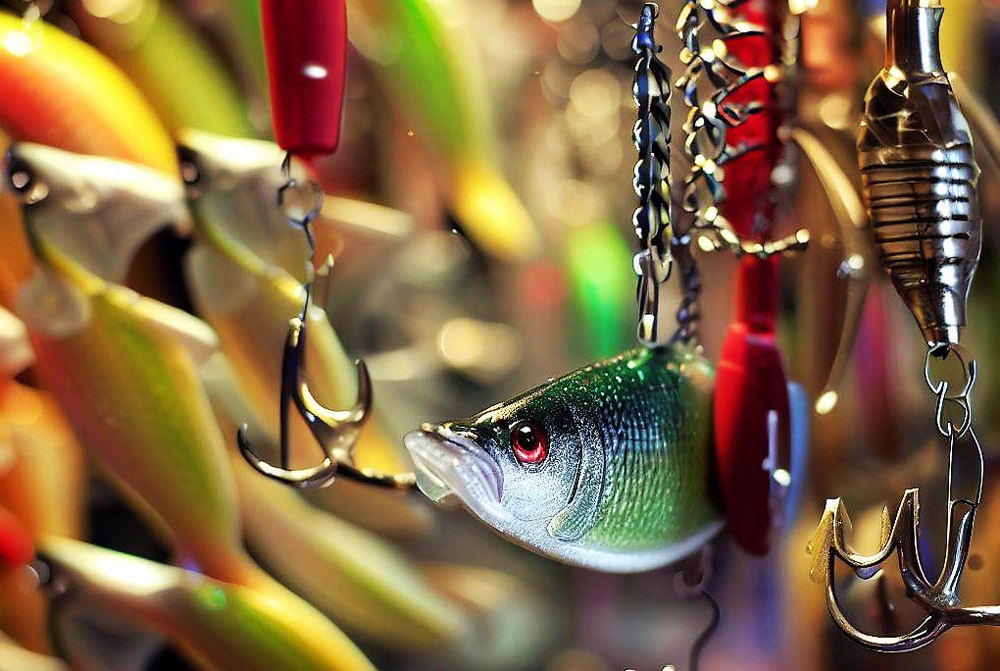 As winter rolls around and a thick sheet of ice forms atop the lakes, a certain thrill stirs in the hearts of fishing enthusiasts. Ice fishing 🎣 is not just a pastime, but a celebration of patience, skill, and a unique bond with nature. The calming hush of a snowy landscape, the exhilaration of the first tug on the line – it's an experience that's truly unforgettable!
🎣 Embracing the Ice: An Exciting Intro to Walleye Ice Fishing
In the world of ice fishing, having the right equipment can be the difference between a successful outing and a day spent simply chilling on the ice. A sturdy ice auger, a warm shelter, a comfortable seat, the perfect fishing rod, and of course, an assortment of reliable fishing lures are the backbone of this chilly adventure.
In this article, we shine a spotlight on the walleye – a popular, elusive catch that drives ice anglers to the frozen landscapes each winter. Known for their keen vision and picky eating habits, walleyes present a unique challenge that, with the right tools, can turn into a rewarding experience. And when it comes to tools, few are as crucial in your walleye conquest as the right lure.
🔶So, strap on your boots, put on your gloves, and join us as we delve into the icy depths of walleye ice fishing. We're about to embark on a frosty fishing journey to understand, select, and effectively use the best walleye lures for an ultimate ice-fishing adventure! ❄️🐟
🔎 Decoding the Winter Walleye: Insights into Seasonal Behavior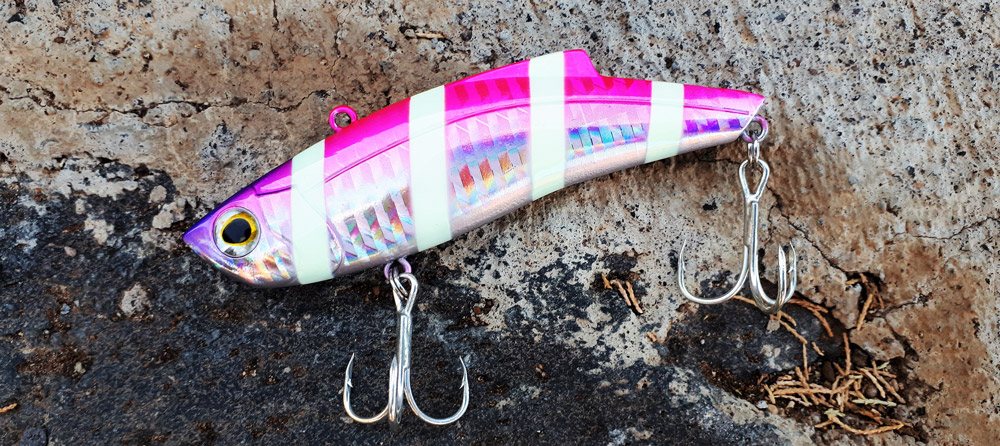 When the mercury dips and the lakes freeze over, a transformation takes place beneath the ice, changing the game for anglers seeking the elusive walleye. Understanding these shifts in behavior is paramount to selecting the right lures and making the most of your ice fishing trips.
Winter Walleye: The Under-ice Behavior 🐟❄️
Walleyes are known for their light-sensitive eyes which make them excellent hunters in low-light conditions. When winter comes around, the ice and snow decrease the overall light penetration into the water, leading to an extended period of "low-light" conditions. This can cause walleyes to become more active during the day compared to other seasons when they primarily feed during dawn and dusk.
Additionally, the drop in temperature prompts walleyes to seek deeper waters where the temperature is relatively stable. Their food sources, primarily smaller fish, also tend to gather in these deeper areas, drawing walleyes to congregating spots.
Effects of Cold Weather and Ice on Walleye Patterns 🌡️🌊
The icy covering and cold weather don't just affect where walleyes hang out; they also influence the fish's energy levels and feeding patterns. Walleyes become less aggressive in the winter, conserving energy due to the colder temperatures. This behavior impacts how they react to lures, often preferring slower, easy-to-catch prey.
Why Understanding Winter Walleye Matters 🔍🎣
Understanding these behavioral shifts is the first step in leveling up your ice fishing game. Recognizing that walleyes are now more likely to be found in deeper water, and knowing they're less aggressive and more opportunistic, guides your selection of lures. The right lure mimics the natural prey of the walleye in the current conditions, both in appearance and movement.
🔶Stay tuned as we delve into the basics of ice fishing lures next, where we'll discuss the different types and their uses, helping you become a more effective and successful winter walleye angler! 🏆
🎣 Mastering the Basics: Your Essential Guide to Ice Fishing Lures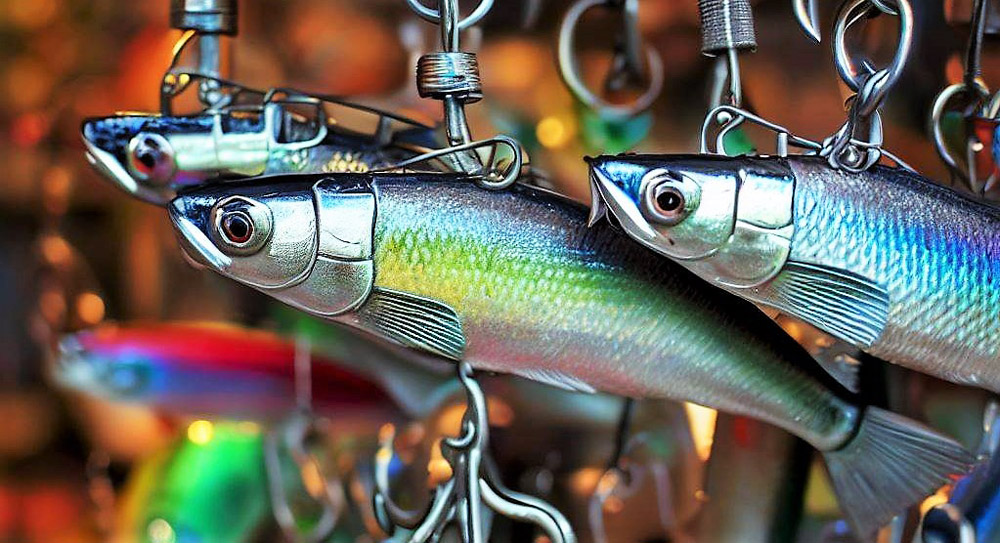 Just as a painter needs the right brushes to create a masterpiece, an angler needs the right lures to reel in a prize catch. By understanding the fundamental types of ice fishing lures and how they work, you can tailor your approach to the conditions of the day, the species you're after, and in this case, the behavior of winter walleye.
Your Ice Fishing Lure Arsenal: Jigs, Spoons, and Swimbait, Oh My! 🪝
At a glance, the array of lures available can seem overwhelming, but they can generally be grouped into a few primary categories:
Jigs: These small, weighted lures are a staple in the ice fisher's toolbox. They can be tipped with live bait or used alone. Their movement mimics the behavior of small, struggling fish, a tempting snack for a walleye.
Spoons: Spoons are metallic, often shiny, and designed to imitate small baitfish in the water. Their unique, oscillating movement and reflective properties can catch the light-sensitive eyes of the walleye, even in deeper or murkier water.
Swimbaits: These lures are designed to look and swim like a real fish when reeled in, attracting predator fish like walleye. Their realistic movement can sometimes be the deciding factor in enticing a walleye to bite.
The Right Lure for the Right Time and Fish 🕐🐠
The effectiveness of a lure can depend on various factors, including the time of day, water clarity, and the species you're targeting. For example, a shiny spoon that works wonders in the low-light conditions of a winter morning might not be as effective on a sunny afternoon when a more subtly colored jig could be the better choice. It's all about understanding your target – in our case, the walleye – and adapting to the conditions.
Size, Color, and Motion: The Holy Trinity of Lure Selection 🌈💃
When it comes to attracting walleye, lure size, color, and motion are of utmost importance. Walleye in winter are looking for an easy meal, so smaller lures that mimic their natural prey can be particularly effective. Colors that stand out in the current water conditions can catch a walleye's attention, and the lure's motion should imitate a tempting, easy-to-catch meal.
🔶Remember, there's no one-size-fits-all lure for walleye ice fishing. It's a combination of the right lure, used in the right way, at the right time. Stay tuned as we take a closer look at some of the top-rated lures specifically for walleye ice fishing in the next section! 🥇🎣
Best Walleye Ice Fishing Lures Review
As the days grow shorter and the weather turns colder, many anglers take to the ice in pursuit of walleye. While any lure can work at times, certain lures are better than others for attracting these fish. In this blog post, we'll take a look at some of the top-rated walleye ice fishing lures on the market. We'll also provide tips on how to use these lures to catch more walleye. So, if you're ready to start catching more walleye, keep reading!
1# Walleye Nation Rip-N-Glide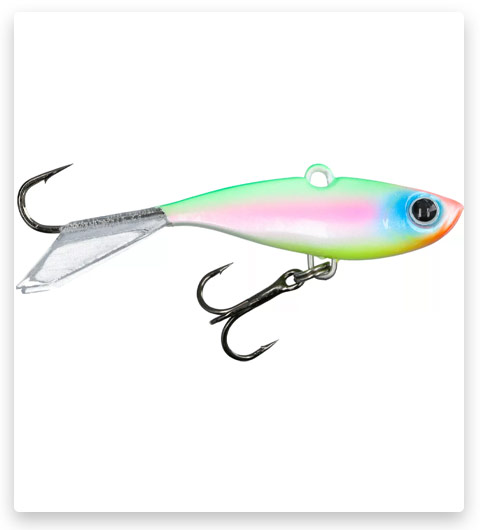 The Walleye Nation Rip-N-Glide is a high-impact plastic lure that is perfect for ice fishing or open water jigging. With its strong lip and hooks, this lure will withstand the punishment of even the most aggressive fish. And with its smooth glide on the downstroke, you'll be able to cover lots of water and find the fish that are biting!
2# Cabela's Charter Series Walleye Runner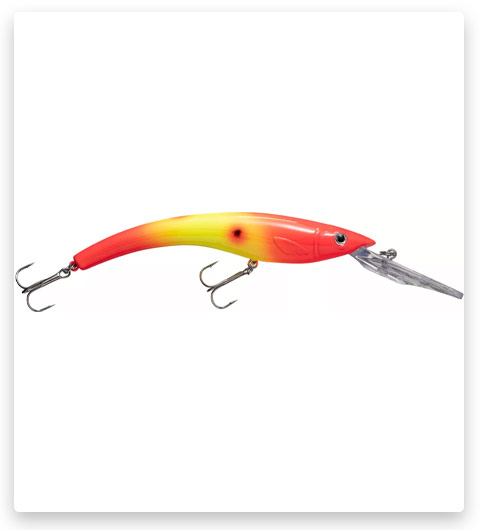 Strike fear into the heart of walleyes with our Charter Series Walleye Runner! This lure is designed to mimic a wounded baitfish, and its slow, tantalizing wobble appeals to even the fussiest fish. It's perfect for targeting walleyes in gin-clear waters and comes rigged with quality hooks.
3# Acme Kastmaster Rattlemaster UV Baitfish Glow Spoon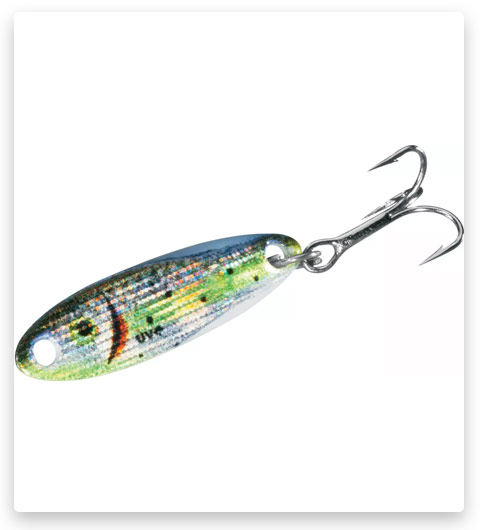 Glow in the dark with the Acme Kastmaster Rattlemaster UV Baitfish Glow Spoon. This versatile spoon can be fished in saltwater or freshwater, and even though the ice. It features a highly visible UV finish that will make it nearly impossible for fish to resist and an extra-loud rattle chamber that will attract them from far and wide. The realistic baitfish appearance and lifelike wobble are sure to entice even the most finicky fish, while the durable construction means this spoon will stand up to any fishing conditions. Whether you're an experienced angler or just getting started, the Acme Kastmaster Rattlemaster UV Baitfish Glow Spoon is a must-have addition for you!
4# XFISHMAN Round Jig Heads for Fishing Walleye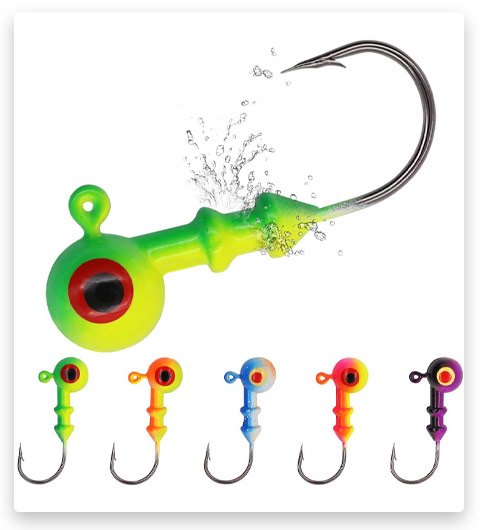 Looking for a versatile and easy-to-use jig head that will help you catch a variety of predator fish? Look no further than the XFISHMAN Round Jig Head. This jig head features a unique 2-colour paint job with black nickel sharp hooks, as well as a baitholder to keep your favourite soft bait from sliding down. The optimized design also features a big bright eye that is sure to catch the attention of fish anywhere they are. Additionally, the XFISHMAN Round Jig Head is great for anglers of all levels of experience and is available in 1/8, 3/16,1/4, and 3/8 oz sizes for bass and walleye.
5# BASSDASH Ice Fishing Lure Kit Glowing Jigs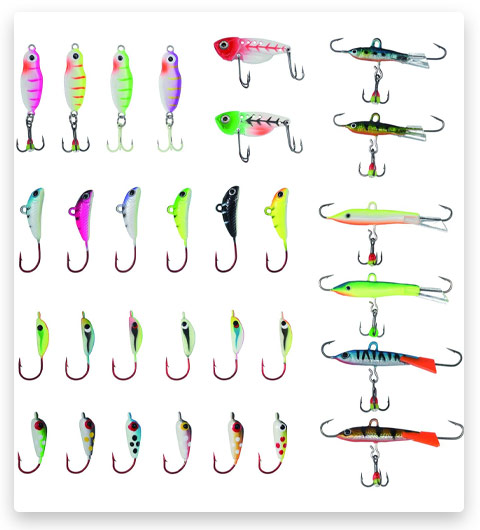 The BASSDASH Ice Fishing Lure Kit is the perfect set for ice fishing enthusiasts. The kit comes with 24 luminous jigs in a variety of shapes and sizes, perfect for catching a variety of fish. The lead bodies on these jigs fall quickly and provide an ultra-sharp hook to make sure your prey doesn't get away.
6# Sougayilang Ice Fishing Lures for Bass Walleye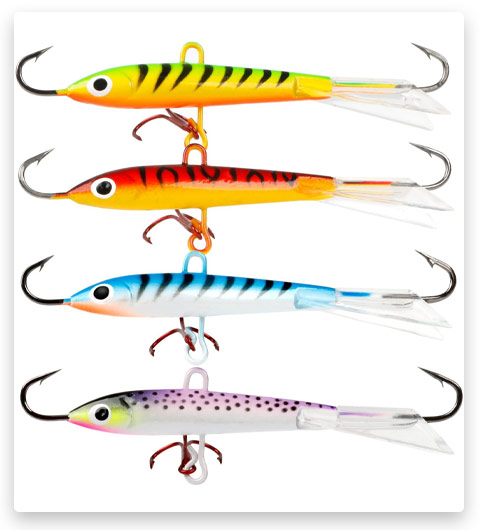 Check out Sougayilang ice fishing lures. These lures are designed to imitate baitfish, and their bright colours are sure to attract the attention of any nearby fish. The new design features hooks on both the head and tail, making it difficult for fish to escape once they bite. Made of lead for durability, these lures are sure to provide long-lasting performance. Each package includes 4 lures, each weighing in at 20g.
7# ZWMING Ice Fishing Jigs Kit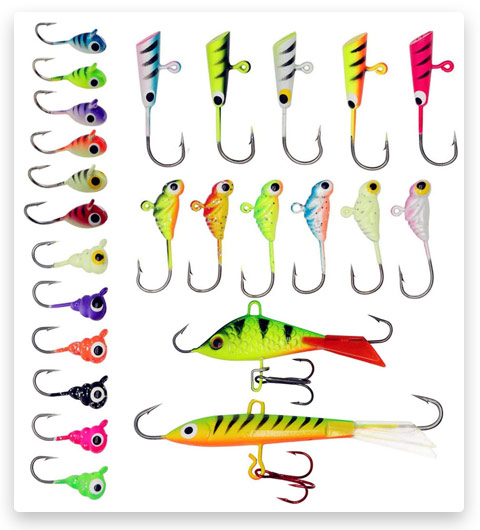 Wintertime is the perfect time to go ice fishing, and you'll have great success with our ZWMING Ice Fishing Jigs. There are 6 different shapes of jigs to choose from, all designed to attract a variety of fish. The lead body is coated with a realistic fish pattern that will reflect light from all angles, making it irresistible to the fish. The hooks are made of high-quality carbon steel for durability and sharpness, so you'll be sure to catch plenty of fish. These lures also have a lifelike swimming action that is effective in both fresh and saltwater.
8# Sougayilang Ice Fishing Jigs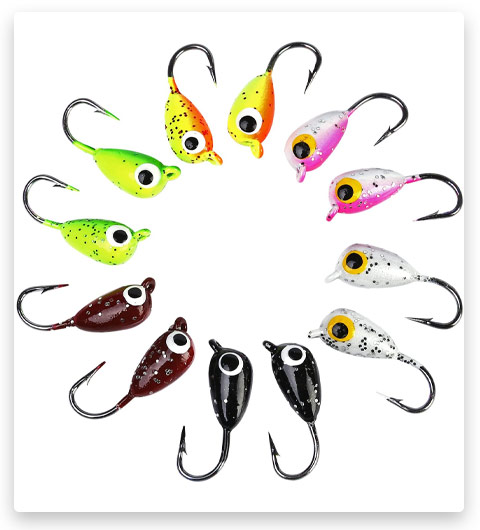 Introducing the Sougayilang Ice Fishing Jigs with Treble Hook. These high-quality jigs are perfect for ice fishing, with a length of 1.8cm/0.7in and a weight of 2.3g/0.08oz. They come equipped with 8# fishing hooks, and 12 lures are included in each pack. The diamond head design reflects light to attract fish, while the chemically sharpened barbed hook point ensures better penetration and improved hook-up ratios. The premium solid and durable body design is built to last, making these jigs a perfect choice for any fisherman looking for reliability and satisfaction.
9# Sougayilang Fishing Spoons Lure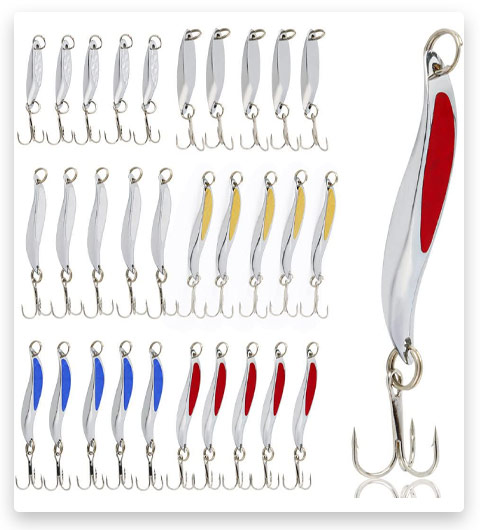 The Sougayilang Fishing Spoons Lure is a perfect choice for those looking for a high-quality and durable lure. With a narrow profile and compact design, it's perfect for getting the attention of fish, and the individually wrapped design makes it easy to store and transport. The five colours are specifically chosen to attract fish, and the lightweight and sharp hook make it easy to use. Whether you're fishing for bass, pike, or other fish, this lure is a great option, and the thirty available colours give you plenty of choices to find the perfect one for your needs.
10# ATREELURE Glowing Paint Flat Hook Walleye Ice Fishing Lure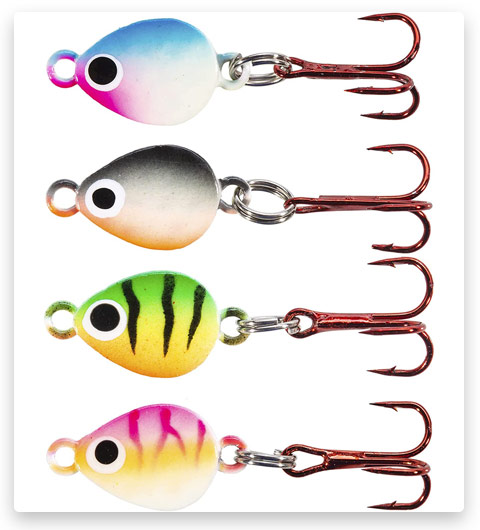 Looking to add an extra level of excitement to your ice fishing trips? ATREELURE's Glowing Paint Flat Hook Ice Fishing Lure is just what you need! This lure features a sharp, durable hook and bright white noctilucent paint that will light up under any conditions. Use it during the day or at night for a truly unique fishing experience.
🎦Video YouTube: The 7 Ice Fishing Lures You Need
🎖️ Cream of the Crop: The Best Lures for Walleye Ice Fishing
Navigating through the sea of available lures can be a challenge. To make your life easier, we've compiled a list of top-rated lures that have proven to be successful in reeling in the winter walleye. We'll walk you through different categories of lures, their unique features, and some pro tips for using them.
A Cut Above: Best Jigs for Walleye Ice Fishing 🪝
The Lindy Techni-Glo Frostee Jig: This jig has a glowing, bright color palette that's perfect for attracting walleye under the ice. It's designed to be visible even in the murkiest of waters and lower light conditions. Pro tip: Try pairing it with a minnow or a piece of nightcrawler for added attraction.
The Northland Buck-Shot Flutter Spoon: Don't let the name fool you – it's a jigging spoon! This lure combines the best of both worlds: the weight and depth control of a jig with the appealing flutter of a spoon. Its rattle chamber emits sound waves that can attract walleye from a distance. Pro tip: Experiment with a variety of jigging cadences to mimic a wounded baitfish.
The Silver Lining: Best Spoons for Walleye Ice Fishing 🥄
The Swedish Pimple: A classic choice, the Swedish Pimple's flutter action and flashy appearance are a walleye's kryptonite. The added bonus of a red "flipper" and a small bait eye makes it irresistible. Pro tip: A slow, rhythmic jigging motion can stimulate a walleye's predatory instincts.
The Acme Kastmaster: This spoon's balanced design gives it a wild action without twisting your line. It's great for deeper water and can be used for jigging or trolling. Pro tip: Try the gold or silver versions for the best light reflection.
Real as it Gets: Best Swimbaits for Walleye Ice Fishing 🐠
The Storm WildEye Swim Shad: With its lifelike swimming action and holographic flash, this swimbait is a winner for walleye. The built-in weight system ensures optimal swimming action. Pro tip: Reel it in at varying speeds to simulate a disoriented baitfish.
🔶Remember, these recommendations are a good starting point, but the conditions on the day and the specific behavior of the walleyes you're fishing will guide your final choice. In our next section, we'll dive deeper into the factors that should influence your lure selection! 🎯🎣
🤔 Making the Right Call: Factors to Consider When Choosing Your Walleye Lure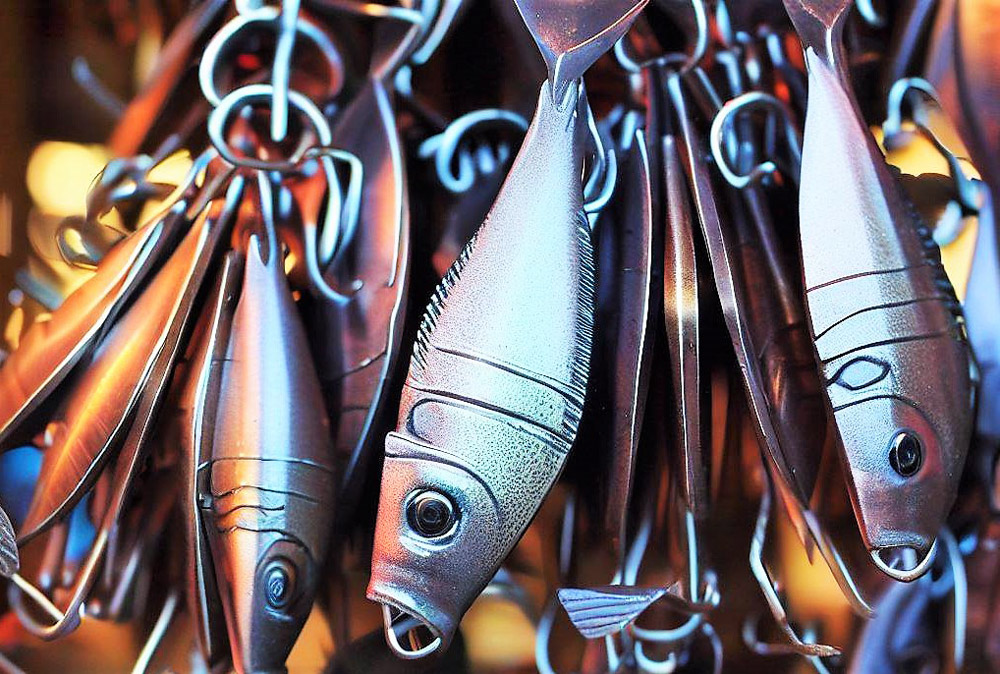 Choosing the right lure is akin to selecting the perfect outfit. It depends on various factors – the weather, the occasion, and what you're comfortable with. Let's delve into the essential factors that should influence your lure selection and help you "dress" for success on your ice fishing trips!
Water Clarity: The Lens Through Which Fish See Your Lure 🌊👓
Water clarity plays a significant role in lure selection. In clear water, walleyes can see your lure from a greater distance. Brightly colored or shiny lures can be particularly effective in these conditions. However, in murky water, walleyes rely more on their lateral line to detect vibrations. Thus, lures that produce sound or strong vibrations can be a better choice.
Depth: Finding Where the Fish Are 🌊⬇️
Walleyes tend to inhabit deeper waters during winter, so your lure must be able to reach these depths. Heavier jigs and spoons can get down quickly and stay in the strike zone. On the flip side, swimbaits might be a better choice for shallower waters or when walleyes are suspended.
Water Temperature: A Measure of Fish Activity 🌡️🐟
Walleyes, like most fish, are cold-blooded, meaning their body temperature and activity level are influenced by the surrounding water temperature. During colder conditions, walleyes may be less aggressive and more attracted to slow-moving lures. As the water temperature rises, they may become more active and willing to chase a fast-moving lure.
Size of the Fish: Match the Hatch 🎣📏
If you're after trophy-sized walleyes, larger lures that imitate substantial prey might be the key to success. However, if you're in a region populated by smaller walleyes, downsizing your lures can lead to more bites.
Behavior of the Fish: The Daily Mood of Walleye 🐟💭
Just like us, fish have "moods." Some days, they might be aggressive, attacking any lure that ventures into their territory. On other days, they might be more lethargic, only going after lures that present an easy meal. Observing the behavior of the fish on a particular day can help you adapt your lure choice and presentation.
🔶Remember, these are just guiding principles. The magic of fishing lies in understanding that it's as much an art as it is a science. The best way to learn is to get out there, experiment with different lures, and take notes on what works. Up next, we'll provide you with some valuable tips and techniques for using your lures most effectively. Stay tuned! 🎣📝
💡 The Art of the Lure: Top Tips and Techniques for Ice Fishing Walleye

Selecting the right lure is just half the battle won; knowing how to use it effectively is the other half. Whether it's the rhythm of your jig or the addition of live bait, small changes can make a big difference in your fishing success. Let's delve into some best practices and tips for using lures in ice fishing.
The Jig's Up: Mastering the Art of Jigging 🎣💃
Jigging is an essential skill in ice fishing. The goal is to make your lure imitate a distressed baitfish, which is irresistible to a hungry walleye. Here's how to get it right:
Start with a slow lift of your rod, about a foot, and then let it drop back down.
Every so often, add a quick, sharp jerk upwards. This can mimic a darting baitfish and can trigger a strike from a following walleye.
Experiment with the rhythm and speed of your jigging. Walleye can be fussy, and sometimes a slight variation can turn a follower into a catcher.
Bait and Switch: Using Live Bait with Lures 🦐🪝
Adding live bait to your lure can be the key to tempting a hesitant walleye. Consider these points:
Tip your jig with a minnow, worm, or maggot. The smell and movement can make your lure even more enticing.
Don't forget to check your bait regularly. Walleye can be sneaky, and they might steal your bait without you noticing.
Impersonating Dinner: Mimic the Natural Prey of Walleye 🍽️🐟
Walleye are predatory fish and will usually go after smaller fish or insects. Here's how you can mimic their natural prey:
Study the local ecosystem. Know what the walleye are feeding on and try to match your lure and presentation to that prey.
Adjust the size of your lure to the size of the prey. If walleye are feeding on small shiners, for example, a large lure might look out of place.
It's Not All About the Catch: Watch and Learn 🧐🎣
Lastly, always pay attention to the walleye's response to your lure. Are they following but not biting? Are they striking aggressively or cautiously? The more you can learn about their behavior, the better you can adjust your approach.
🔶Remember, there's no substitute for experience when it comes to fishing. Each day on the ice is a chance to learn something new and hone your skills. So keep experimenting, keep learning, and most importantly, keep fishing. In the next section, we'll share some additional resources to take your ice fishing to the next level. Stay tuned! 🚀🎣
❓ FAQ: Expert Insights on the Best Walleye Fishing Lures
Conclusion: A Deep Dive into Walleye Ice Fishing Lures
Ice fishing for walleye can be a blast, and using the right lures is essential to success. In this article, we've highlighted some of the best walleye ice fishing lures on the market today. We've also included buyer's tips to help you choose the right lure for your next trip out onto the ice. What are you waiting for? Get out there and start catching fish!
🎣 The Final Reel: Wrapping Up Your Ice Fishing Journey
Our foray into the world of walleye ice fishing lures has been an exciting one. We've navigated through the intricacies of walleye behavior in winter, explored the wide variety of lures available, and learned the art of selecting the right lure for the conditions at hand. We've also shared some top-rated lures for walleye ice fishing and enlightened you on how to use them effectively to mimic natural prey.
Remember, while we've equipped you with the knowledge to get started, the real magic happens out there on the ice. 🏔️❄️ There's no one-size-fits-all when it comes to fishing, and what works best often comes down to personal preference and experience. So don't be afraid to experiment with different types of lures, jigging techniques, and bait combinations.
Whether it's the thrill of feeling a walleye strike your lure, the peaceful solitude of a winter day on the ice, or the joy of sharing the experience with friends, ice fishing is a sport full of rewarding moments. And with the right lures in your tackle box, you're well on your way to creating some memorable fishing stories.
So, fellow anglers, it's time to bundle up, hit the ice, and drop a line. You never know what the day might bring – today could be the day you reel in the big one! 🎣🐟 Happy fishing, and here's to tight lines and full ice chests! 🥂💫
🔶Stay tuned for our additional resources section where we will share some valuable links to further refine your skills and buy the recommended lures! 📚🔗
🔗 Hooked on Learning: Additional Resources for Ice Fishing Enthusiasts
Fishing is a lifelong journey of learning and discovery, and we're here to make sure you're well-equipped for the adventure. In this section, we've compiled a list of resources to help you keep learning and to get your hands on the best ice fishing gear.
Shopping for Success: Where to Buy Recommended Lures 🛍️🎣
Get the right lures to amp up your ice fishing game. Here are a few trustworthy online stores where you can find our recommended lures:
Remember, it's not just about buying the most expensive lure. It's about finding what works best for you and the specific conditions you fish in.
Further Reading: Expanding Your Ice Fishing Knowledge 📚🧠
Understanding the art of ice fishing can significantly improve your success rate. Here are some recommended reading materials and tutorials to expand your knowledge:
Join the Community: Learn from Fellow Anglers 👥🗣️
There's a vast community of ice fishers out there who are eager to share their experiences and knowledge:
🔶Fishing is more than a hobby—it's a community, a science, and an art. The more you learn and practice, the more rewarding it becomes. So, dive into these resources, equip yourself with the right tools and knowledge, and let the world of ice fishing unfold before you. Happy learning, and tighter lines! 🎣📘🔍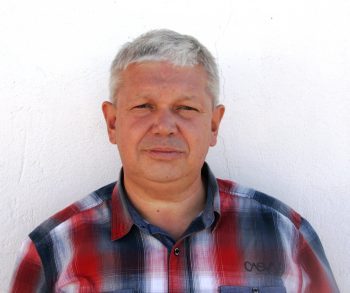 Sergio Smirnoff
Professional fisherman with 40+ years of experience.
Fishing and the ocean is a passion of my life. I am passionate about all kinds of sea fishing: fishing from the shore (spinning, float, baitcasting), from a boat, and spearfishing day and night.
I live in Tenerife (Canary Islands) for the last 10+ years and share my daily fishing experiences on my website. Many years of personal experience as a fisherman and the vast experience of my friends allow me to write professionally on any fishing topics (from choosing a flashlight and equipment to deep-sea fishing).
All of my advice is based on practical real-world experience and will be useful to both novice anglers and professionals.
Read more
about the author.
Affiliate Disclosure: FishReeler.com sometimes gets paid for listings, through sponsors or affiliate programs like Amazon, Ebay, Cabelas, Bass Pro Shop, Shimano, Daiwa, Rapala, Renn, Okuma, KastKing, etс. Clicking a link helps keep FishReeler.com free, at no extra cost to you!
About the author: Each article is verified by the fishing expert Sergio Smirnoff. The articles are written by professional and amateur fishermen with 20+ years of fishing experience.
Note: The views and opinions expressed in this article are those of the authors and do not necessarily reflect the official policy or position of any agency. The articles are for informational purposes only, share your opinions in the comments and join the fishing discussions, let's share our fishing experiences together!