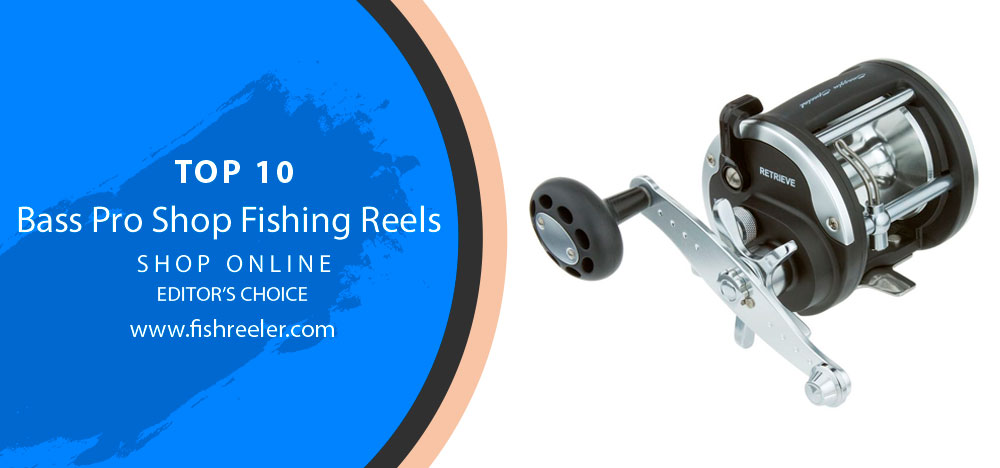 Reeling in Trust: Introducing Bass Pro Shop's Fishing Gear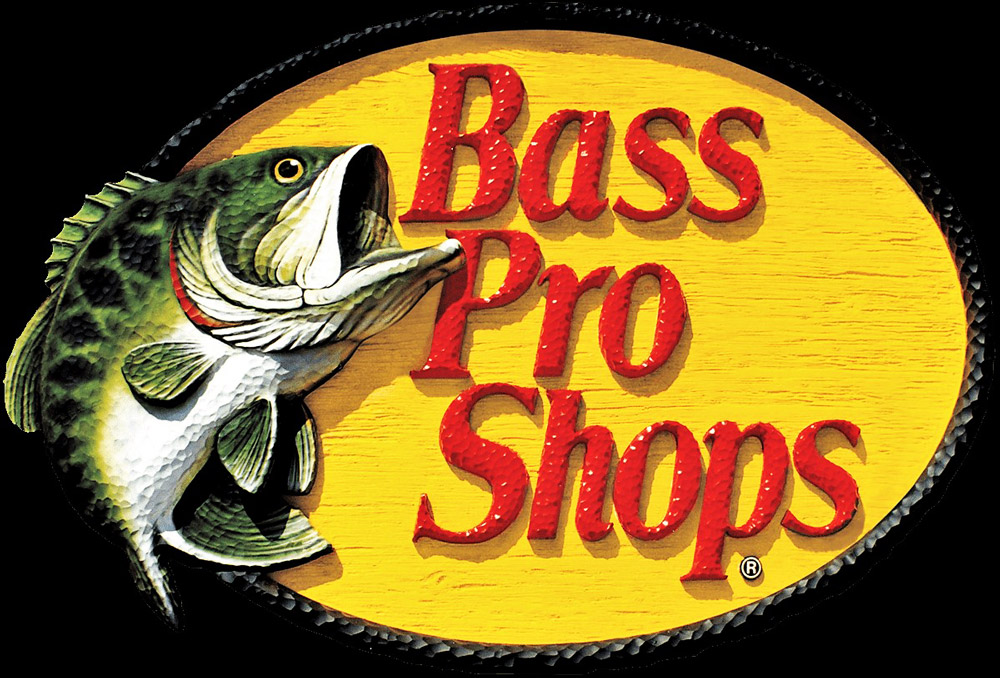 Every seasoned angler knows that a fishing trip's success doesn't just hinge on the skill, luck, or the abundance of fish in the water. The equipment one uses, especially the fishing reel, plays a pivotal role in the overall fishing experience. Selecting the right reel is akin to choosing a trusty sidekick for your angling adventures – it can make the difference between a rewarding catch and a day of missed opportunities.
The importance of the fishing reel in the angling equation cannot be understated. From casting the line to reeling in the catch, the fishing reel is integral in every step of the process. It enables anglers to cast their bait far and wide, maintain control of the fishing line, and finally, wrestle with the fish during the catch. The wrong reel could lead to a poor casting distance, tangles, and even lost fish. Hence, opting for a reliable, high-performing fishing reel is not just a matter of choice; it's a matter of necessity.
This brings us to Bass Pro Shop – a retailer that has earned a sterling reputation among fishing enthusiasts for its extensive range of quality fishing gear. Bass Pro Shop has become synonymous with reliability, innovation, and performance in the world of fishing. The store's selection of fishing reels is particularly noteworthy, featuring an array of options that cater to all types of fishing styles and preferences.
From spinning and baitcasting reels to fly fishing reels and more, Bass Pro Shop offers an impressive portfolio that promises both variety and quality.
Stay with us as we delve deeper into the world of Bass Pro Shop's fishing reels, exploring their features, models, and why they might just be the perfect addition to your fishing gear.
Bass Pro Shops: The Iconic Destination for Outdoor Enthusiasts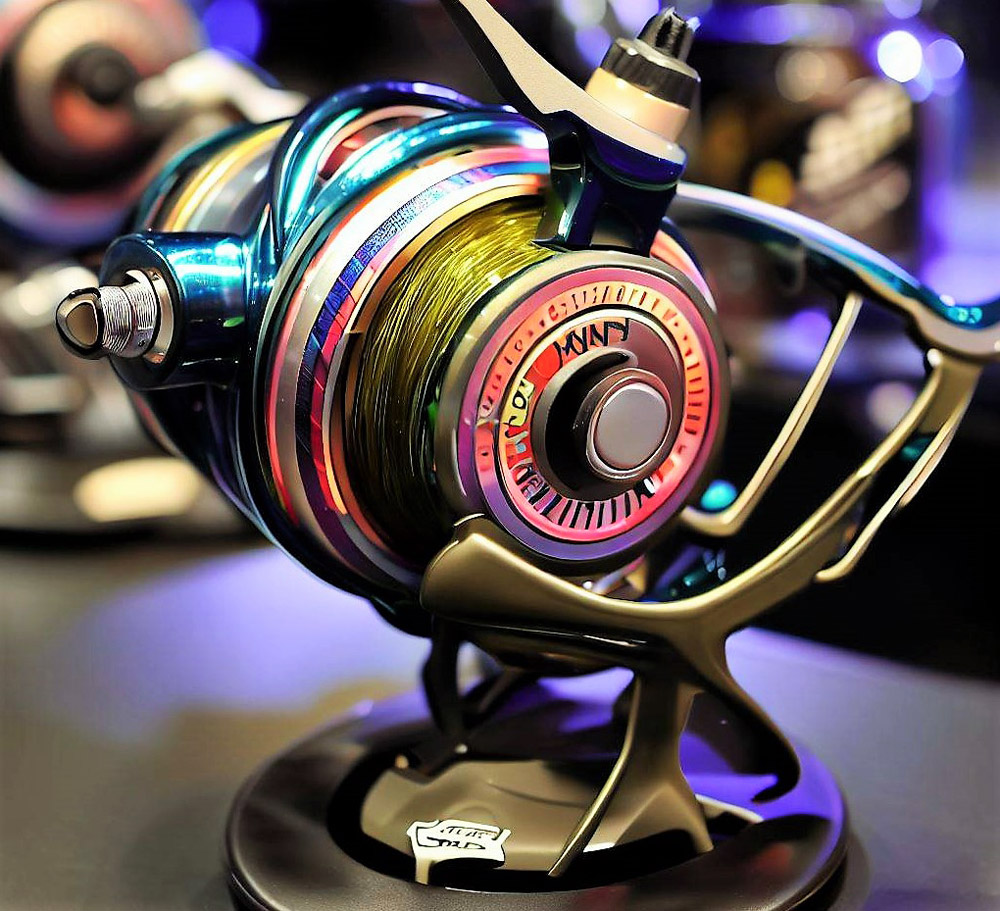 Why Bass Pro Shop Reels are an Angler's Best Friend?
Bass Pro Shops is a leading retailer of outdoor recreational products, including boating, fishing, and hunting gear, as well as outdoor cooking equipment and outdoor footwear and apparel. The company was founded in 1972 by John Morris. It began in the back of a liquor store in Springfield, Missouri, USA, with Morris selling fishing tackle.
Today, Bass Pro Shops has become one of the most prominent outdoor retailers in the US and Canada, with over 200 retail stores and marine centers. The stores are known for their large size and visually impressive design elements, often including large indoor aquariums with native fish species, extensive taxidermy displays, and elaborate outdoor scenes.
The company also owns and operates several brands, including Cabela's, a direct competitor they acquired in 2017, and White River Marine Group, the largest manufacturer of boats in the world by volume. Bass Pro Shops also hosts education workshops, seasonal events, and conservation efforts, enhancing its reputation as not just a retailer but a hub for the outdoor community.
Hooked on Knowledge: The Fundamental Role of Fishing Reels
When you think of fishing, you might first envision a serene lake, a fishing rod in hand, and the soothing sound of water gently lapping against the shore. Yet, what often goes unnoticed in this picturesque scene is the unsung hero of the fishing experience – the fishing reel. This piece of equipment serves as the control center of your fishing setup. It allows you to cast your line, maintain a steady tension, and ultimately retrieve the fish you've successfully hooked.
A fishing reel, at its core, is a spool mounted on an axle that stores, releases, and collects the fishing line. Depending on the type, it can be manually or mechanically operated. While its basic role seems simple, the type of fishing reel you use can significantly influence the distance and accuracy of your cast, the type of lure or bait you can use, and how you handle a fish once it's on the line.
Reel Diversity: Spinning, Baitcasting, and Fly Fishing Reels Uncovered
There are primarily three types of fishing reels: spinning reels, baitcasting reels, and fly fishing reels. Each of them brings different strengths to the table and is best suited to particular fishing styles and species:
Spinning Reels: Perhaps the most common type of fishing reel, spinning reels, are incredibly user-friendly and versatile. They are ideal for beginners due to their ease of use and work well with lighter lures and baits. Their design allows for long, accurate casts and has a smooth drag system to deal with fighting fish.
Baitcasting Reels: These are the heavy-duty workhorses of the reel world. Baitcasting reels offer greater accuracy and control but come with a steeper learning curve. They are suited for experienced anglers who target larger, stronger species of fish and wish to use heavier lines and lures.
Fly Fishing Reels: These reels are specialized tools used for fly fishing. They are used to cast lightweight artificial 'flies' and require a unique casting technique. Fly fishing reels offer smooth line control and are excellent for catching fish species in both saltwater and freshwater environments, particularly in rivers or streams.
Remember, the right reel can greatly enhance your fishing experience and significantly increase your success rate on the water. Choose wisely and according to your specific needs. Bass Pro Shop's extensive range of fishing reels caters to all of these needs, ensuring every angler has the perfect tool for their unique fishing journey.
Video YouTube Bass Pro Shop Fishing Reels Official Channel: Tips for Fishing Bucktail Jigs
Our Selection 10 Bass Pro Shop Fishing Reels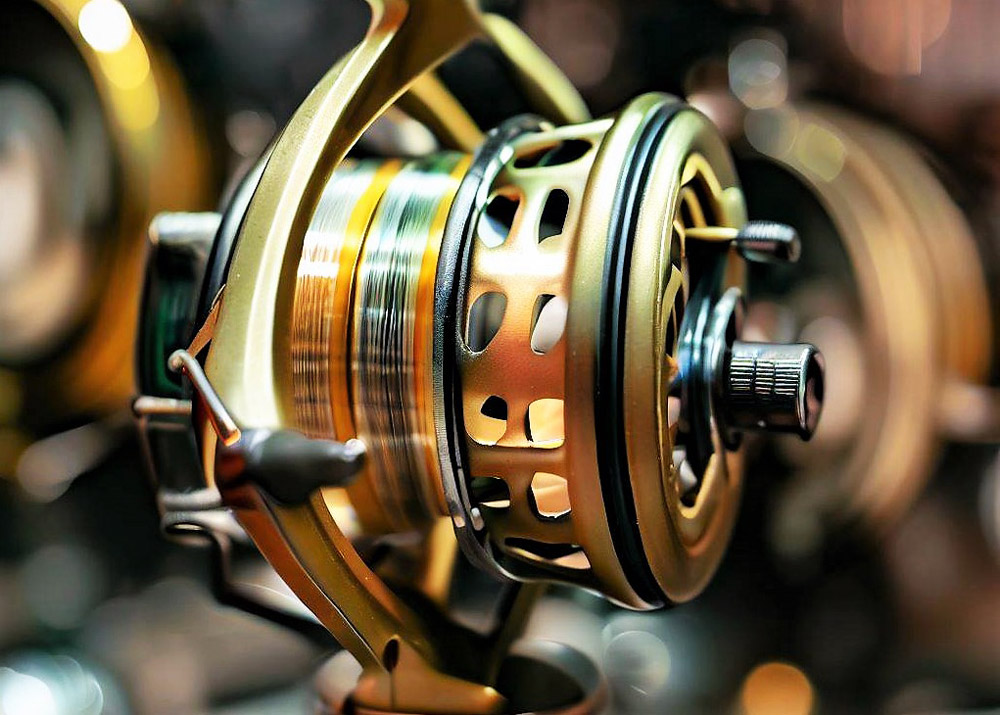 In this article, we're going to talk about the 10 best fishing reels from Bass Pro Shop, a company that can make your fishing fun and efficient. We'll present you with quality and useful information about the products of this store, fishing gear that has been created for the enthusiast angler who respects quality tackle, and powerful and durable equipment. Stay tuned to find out about Bass Pro Shop and their best reels!
There are a myriad of options on the market right now, so it can be difficult to find a reel that's right for your needs. We've looked at some of the best reels from Bass Pro Shop to help you with this solution, as well as their pros and cons. Get down below to find out!
1# Bass Pro Shop Johnny Morris Carbonite Baitcasting Reel – Best Overall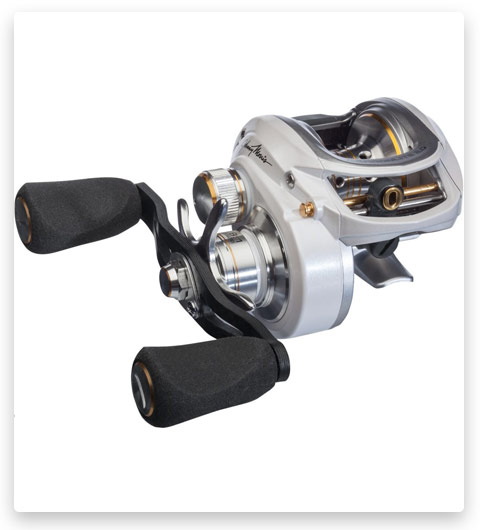 This device attracts fishing enthusiasts with its power and smooth operation. A high gear ratio up to 8.3:1 allows you not to miss the moment and catch the prey. The reel body is also of high quality. The sturdy side covers are made of carbon fiber and are connected by a rigid aluminum frame. This design allows the reel to maintain internal balance under very heavy loads.
Smooth operation is provided by a 10-bearing system, which contains double ball bearings made of stainless steel. Also noteworthy is the dual braking system, in which centrifugal and magnetic braking complement each other. This increases the effectiveness of each throw. EVA handle makes the use of the reel comfortable. It prevents slipping and can provide a very strong grip. It is made of carbon fiber and turns extremely smoothly, without extra effort.
The device is suitable for fishing in both fresh and seawater. And this versatility increases its value. The reel is quite inexpensive, but it is a good investment in long-lasting impeccable performance. Also, this reel can be the perfect gift for your friend who loves real men's fishing.
2# Bass Pro Shop Pro Qualifier 2 Spinning Fishing Reel – Runner-Up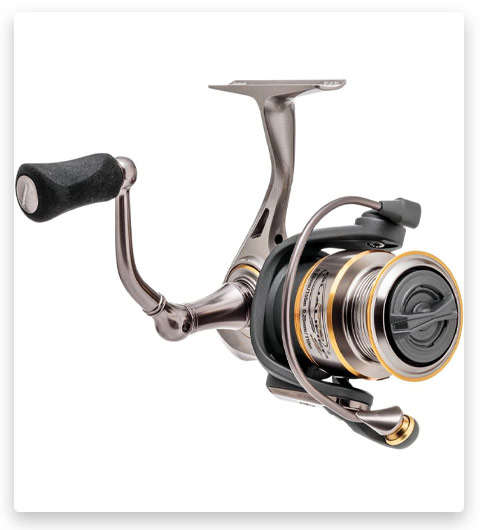 This reel pleases customers not only with its performance but also with its excellent design. It is made in a minimalistic style, nothing superfluous, but it looks very expensive. It has lightweight due to its aluminum body. The spinning reel is reinforced with the main shaft made of stainless steel. This material is resistant to corrosion, which ensures durability. The inside of the reel is powerful, although slightly inferior to more expensive models.
The 8-bearing system consists of 7 shielded bearings made of stainless steel. And one anti-reverse bearing power lock device provides a special smooth operation of the entire system. The reel has the full functionality necessary for good fishing. It is equipped with a rigid roller with a titanium coating. For easy fishing, it has an EVA handle, which provides an easy grip. The metal part is made of aluminum and has good strength. This model will be a great addition to your collection of fishing gear.
3# Bass Pro Shop Megacast Round Baitcasting Reel – Best For The Money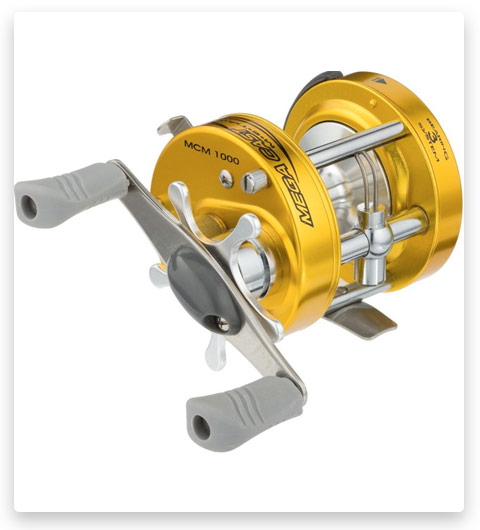 If you are a beginner and do not want to spend a lot of money on buying an expensive sports reel, then you should consider this model. This device is extremely versatile and adapts to almost any type of fishing. With it, you can enjoy fishing in both salt and freshwater. The frame is made of durable solid metal. It includes 2 ball bearings with 1 instant anti-reverse. The reel is equipped with a switch that allows you to turn on and off the clicker, as well as easily adjust the star drag. For all its advantages, the reel has a non-outstanding design. Largely because of the color, it looks cheap. As a result, this reel wins over many models for its versatility. This is an ideal option if you are afraid to take risks and buy more professional reels.
4# Bass Pro Shop CatMax CMX3000B Baitcasting Fishing Reel – Best Bass Pro Baitcasting Reel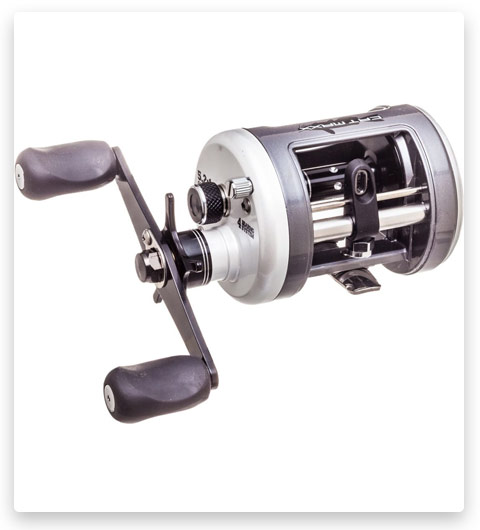 This is a super-powerful reel that will overpower any fish, even if it is a shark or sailfish. The device can hold a huge catfish even in a fast current. In a rigid aluminum frame is a forged reel of large volume. The durability of the reel ensures its reliable device, as it is twice anodized. The side panels are light, which allows you not to overload the device with excess weight. At the same time, they contain a brass transmission with high strength.
Also on the side panels, there are 4 bearings with instant anti-reverse. The magnetic brake system is quickly adjusted by an external dial. This allows you to make long casts. The drag system consists of 3 carbon fiber disks. These materials ensure smooth and powerful operation. With this reel, you will not miss your catch, because you will always know what is moving with the bait since the device is equipped with a switcher.
5# Bass Pro Shop Shaggin Levelwind Baitcasting Reel – Best Durable Reel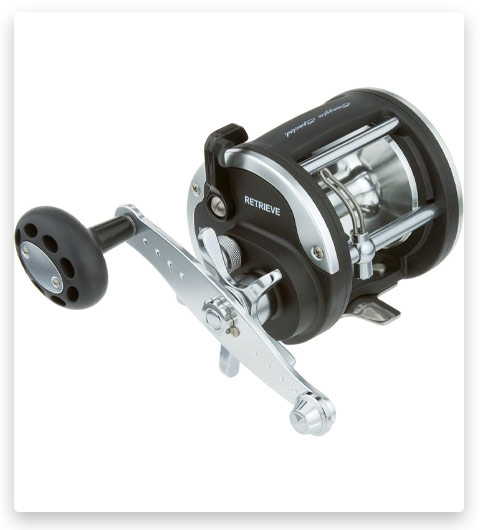 This reel wins many competitors with its ability to fight. It has been specially manufactured to withstand severe and harsh conditions of fish resistance. The reel is very portable because it's very small. At the same time, the device is not afraid of falls or corrosion, because the frame is made of light and durable graphite. You will not be able to miss the fish, because the bait clicker will warn you that it starts to pull out the line. The drag-and-drop system gives you leverage to deal with any size of fish.
Due to the large disks, it ensures the flow of the fishing line without any jerks. The system of ball bearings in many ways loses to more expensive models because it has only 2 bearings. However, they are made of stainless steel, which ensures smooth operation for a long time. This model is suitable for both beginners who do not want to spend a lot of money on a reel, and for amateurs who have been fishing for many years and want to expand their set of gear.
6# Bass Pro Shop Tiny Lite Trigger Spinning Reel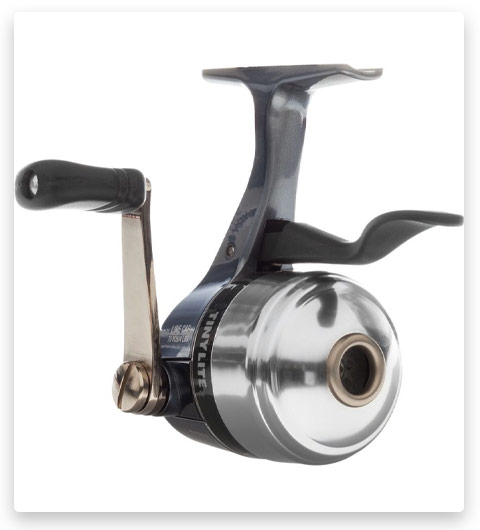 This is probably the most inexpensive reel you can find. Despite its small price, it is really good. Especially well this reel is suitable for river fishing, for example, with it you can easily catch trout. The reel frame is made of hard nylon and has a polished cone made of stainless steel. Such materials give the device additional strength. The reel has a convenient dial that allows you to adjust the tension parameters to your needs. It is worth mentioning the smooth bearing system, which is based on anti-reverse. This option is worth considering if you don't need a super-powerful expensive device. With this reel, you will get the minimum you need to enjoy fishing.
7# Bass Pro Shop Tiny Lite Spincast Fishing Reel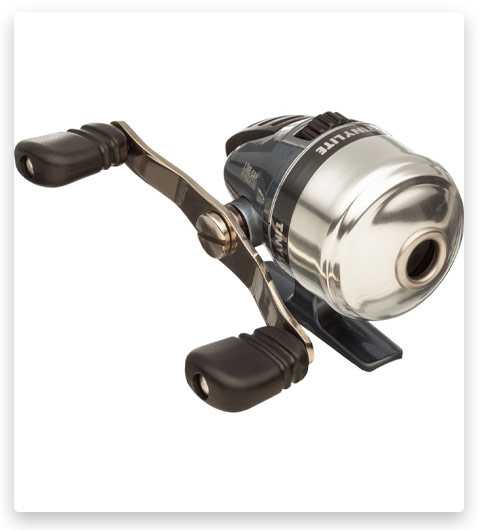 This model also has a very low price, but not bad parameters. The device will bring you a lot of fun from fishing because you do not have to carry heavy gear. The weight of the reel is 4.8 ounces, which makes it one of the lightest models on the market. The durability of the reel is also provided by a strong body. It is made of lightweight but reliable material – nylon. And the nose cone is covered with stainless steel. The maximum drag is not so large and will not allow you to catch a fish twice as big as you. However, if you are catching medium-sized prey, then a maximum drag of 5.5 pounds will be enough for you. At the same time, it is adjusted with a single touch.
8# Bass Pro Shop Formula Metal Spinning Reel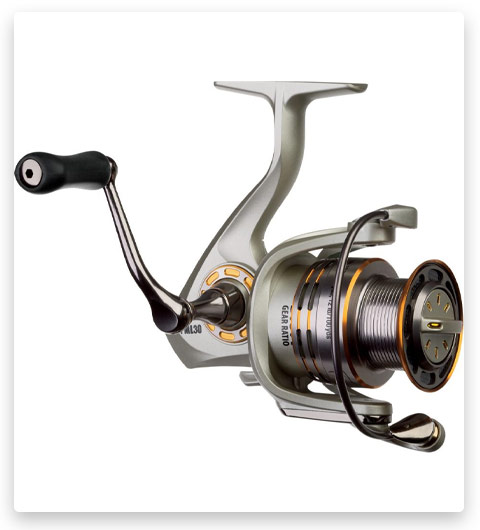 If you want to buy a reel that will serve you with an excellent smooth performance at a small price, then consider this option. The body of the spinning reel is made of graphite and reinforced with a stainless steel shaft. This ensures an extremely long service life. This reel also boasts its 10-bearing system. It includes 9 ball bearings made of stainless steel, and one anti-reverse bearing, which is responsible for smooth operation.
This is a really powerful system, especially for such a small price of the reel. The reel has a tight line roller with a titanium coating. Special comfort in use is achieved due to the soft-touch handle, which provides an easy grip. To be honest, this reel stands out in the market for its functionality and price. It copes wonderfully in both fresh and saltwater. Indeed, it will turn you into a real professional in fishing, because with it you can have a great catch.
9# Bass Pro Shop Crappie Max Baitcasting Reel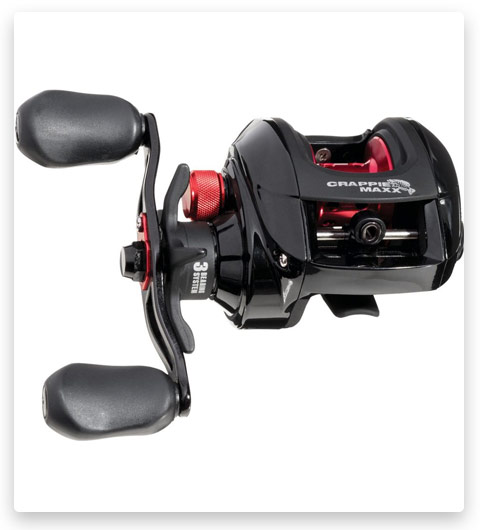 The device stands out for its expensive design and reliability, which many fishermen have already appreciated. This model is ideal for deep-water fishing because the gear ratio is very powerful – 6.3:1. Fishing with this device does not cause discomfort, because the weight of the reel, although not the smallest, don't exhaust your hands. This is achieved by a frame made of graphite, but the reel itself is made of light but durable aluminum. The system has 3 bearings with instant anti-reverse. Bearings make the operation of the reel smooth and fast. The device uses an external magnetic brake. It is suitable for aerodynamic lures such as spinners and jigs.
10# Bass Pro Shop Johnny Morris Platinum Signature Spinning Fishing Reel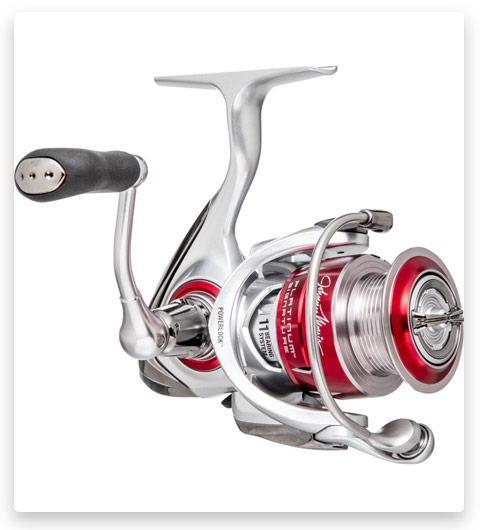 This is an inexpensive device for real professionals and fishing enthusiasts. It is really of good quality and competes with many and more expensive reels. The robust frame made of aluminum keeps the gear torque in perfect alignment. This does not allow you to waste performance, because due to this, all other systems work flawlessly. The rotor also deserves special attention. It is equipped with a hollow bail made of stainless steel and a roller.
The rotor perfectly distributes the voltage and provides a smooth oscillation during extraction. The bearing system consists of 10 paired bearings and one roller bearing that supports instant anti-reverse. The drag system consists of 6 water-resistant aluminum discs. The maximum drag is 8.8 pounds. In general, the drag is not afraid of even strong pressure, because it ensures smooth operation in all conditions.
Exploring Bass Pro Shop Fishing Reels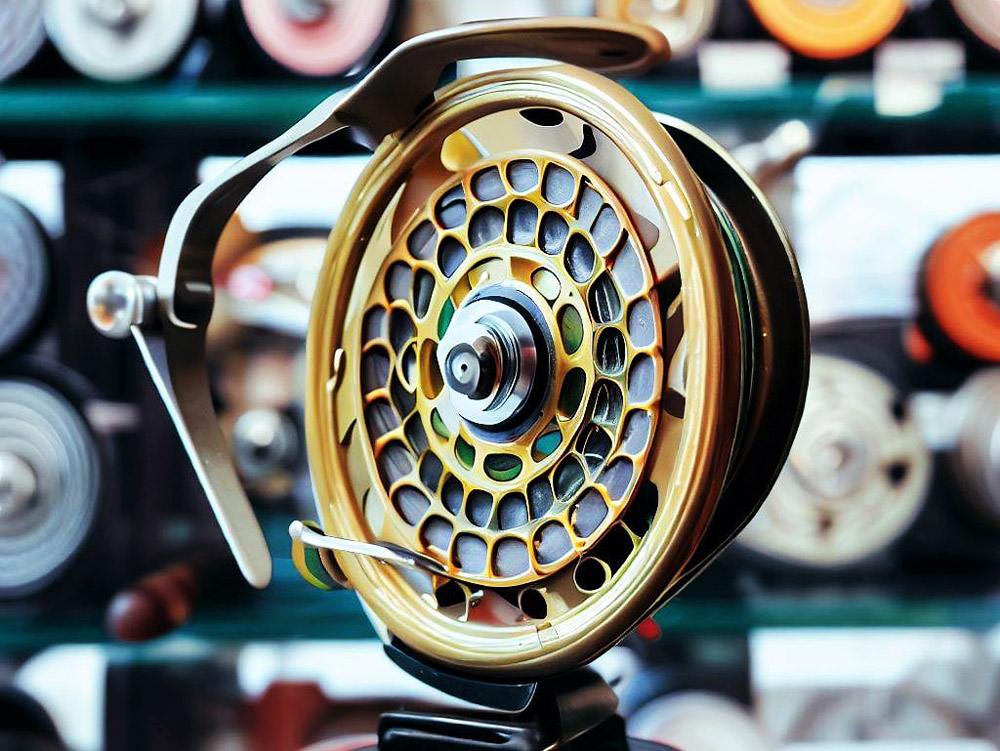 Stepping into the world of Bass Pro Shop fishing reels is like being a child in a candy store but for anglers. The array of choices is impressive, boasting an extensive selection that spans different types, models, and price ranges. From the versatile spinning reels to the precision-based baitcasting reels and the specialized fly fishing reels, Bass Pro Shop offers options for every angler – novice and experienced alike.
Casting a Wider Net: The Broad Selection at Bass Pro Shop
Beyond the sheer variety, the Bass Pro Shop fishing reels impress with their notable features. These are designed with an understanding of what an angler needs for a successful and enjoyable fishing experience:
✅Build Quality: Bass Pro Shop reels are known for their robust build quality. These reels are built to last and endure even the harshest of fishing conditions. They incorporate materials like high-strength aluminum, corrosion-resistant graphite, and stainless steel, ensuring the reel's body, handle, and spool can withstand the pressure exerted by a struggling fish.
✅Line Capacity: With Bass Pro Shop reels, you will never have to worry about running out of line on a long cast or a big fight. The spools are designed to hold plenty of fishing lines, ensuring you're well-equipped to handle anything from a calm lake fishing trip to an intense offshore angling adventure.
✅Gear Ratio: The gear ratio of a reel is essential as it determines how quickly you can retrieve a line. Bass Pro Shop offers a range of gear ratios to suit different fishing techniques and target species. Whether you need a high-speed reel for fast-moving lures or a low-speed reel for big-game fishing, Bass Pro Shop has got you covered.
✅Drag System: One of the standout features of Bass Pro Shop reels is the smooth and adjustable drag system. The drag allows you to set how much resistance a fish feels when it pulls on the line. A well-functioning drag system can be the difference between landing a catch and losing it. The reels at Bass Pro Shop feature either front or rear drag systems that provide smooth, consistent pressure, and are easy to adjust even during a fight.
Quality You Can Feel: The Noteworthy Features of Bass Pro Shop Reels
To sum it up, Bass Pro Shop fishing reels are more than just line holders. They are a combination of efficient design, reliable performance, and innovative features that align with an angler's needs. Whether you're targeting a freshwater bass or a saltwater marlin, there's a Bass Pro Shop reel waiting to enhance your fishing experience.
Roll Call: The Standout Reel Models from Bass Pro Shop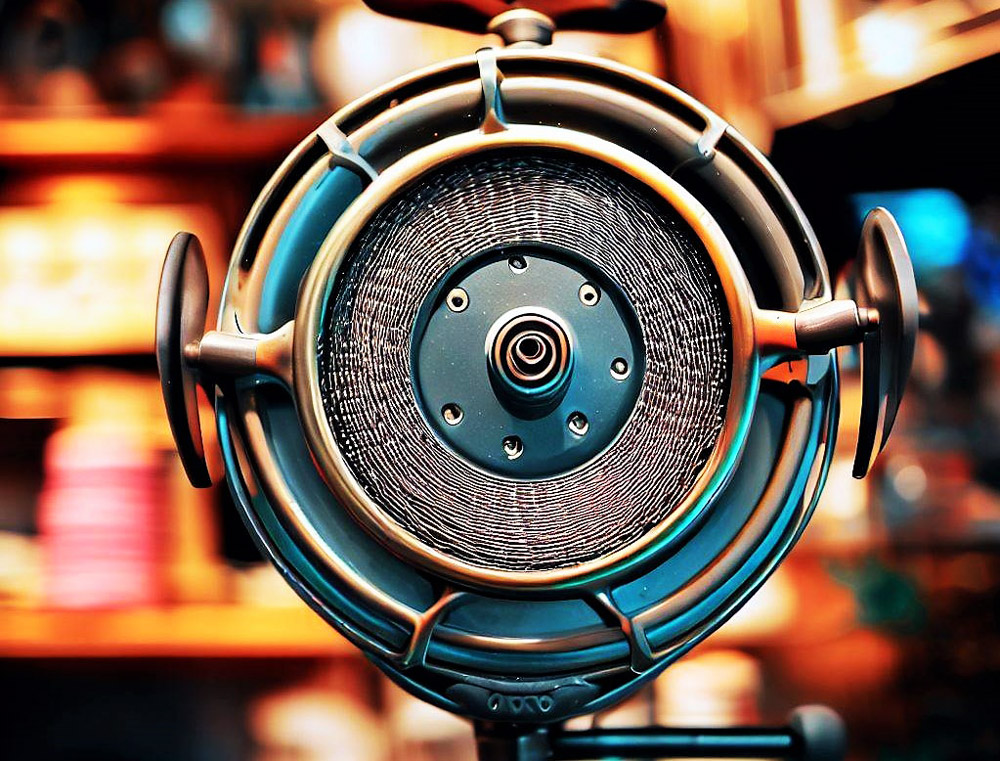 Bass Pro Shop offers a multitude of fishing reel models, each with its unique features and specifications to cater to various angling scenarios and species. Let's dive into a few of their most popular and noteworthy models:
🌟Bass Pro Shop Johnny Morris CarbonLite Spinning Reel: The Johnny Morris CarbonLite Spinning Reel is a top-of-the-line model known for its lightweight, yet durable, carbon body and rotor. Its distinctive features include a high-strength aluminum spool, an ultra-smooth 11-bearing system, and a powerful carbon fiber drag system. Ideal for freshwater fishing scenarios, this reel shines when used for casting light to medium lures for bass, walleye, and other similar species. Its superior line control and smooth drag make it perfect for both beginners and seasoned anglers.
🌟Bass Pro Shop Pro Qualifier 2 Baitcast Reel: This reel is an excellent pick for experienced anglers seeking precision and power. The Pro Qualifier 2 Baitcast Reel has a one-piece aluminum frame and boasts an impressive 7-bearing system for smooth operation. Its dual braking system offers excellent cast control, especially when using heavier lures. If you're targeting larger freshwater species like pike or muskie, or even smaller saltwater species, this reel's power and control will serve you well.
🌟Bass Pro Shop White River Fly Shop Dogwood Canyon Fly Reel: The Dogwood Canyon Fly Reel is a top choice for fly fishing enthusiasts. With its large-arbor design and adjustable drag, it offers fast line retrieval and precise line control – crucial elements for effective fly fishing. This reel is a great match for trout fishing in rivers and streams, providing the light touch and quick response necessary to successfully land these agile fish.
🌟Offshore Angler Ocean Master Lever Drag Reel: The Ocean Master Lever Drag Reel is built for big-game fishing. With its solid one-piece graphite frame, stainless steel gears, and multi-washer drag system, this reel can withstand the challenges of deep-sea fishing. Its high line capacity and powerful drag system make it suitable for battling hard-fighting saltwater species like marlin, tuna, and sailfish.
Each of these Bass Pro Shop fishing reel models offers a unique blend of features designed for different types of fishing. By understanding your angling needs and matching them to the right reel, you can optimize your performance on the water and maximize your chances of landing a memorable catch.
Reel Rivals: Comparing Bass Pro Shop Reels with Other Market Leaders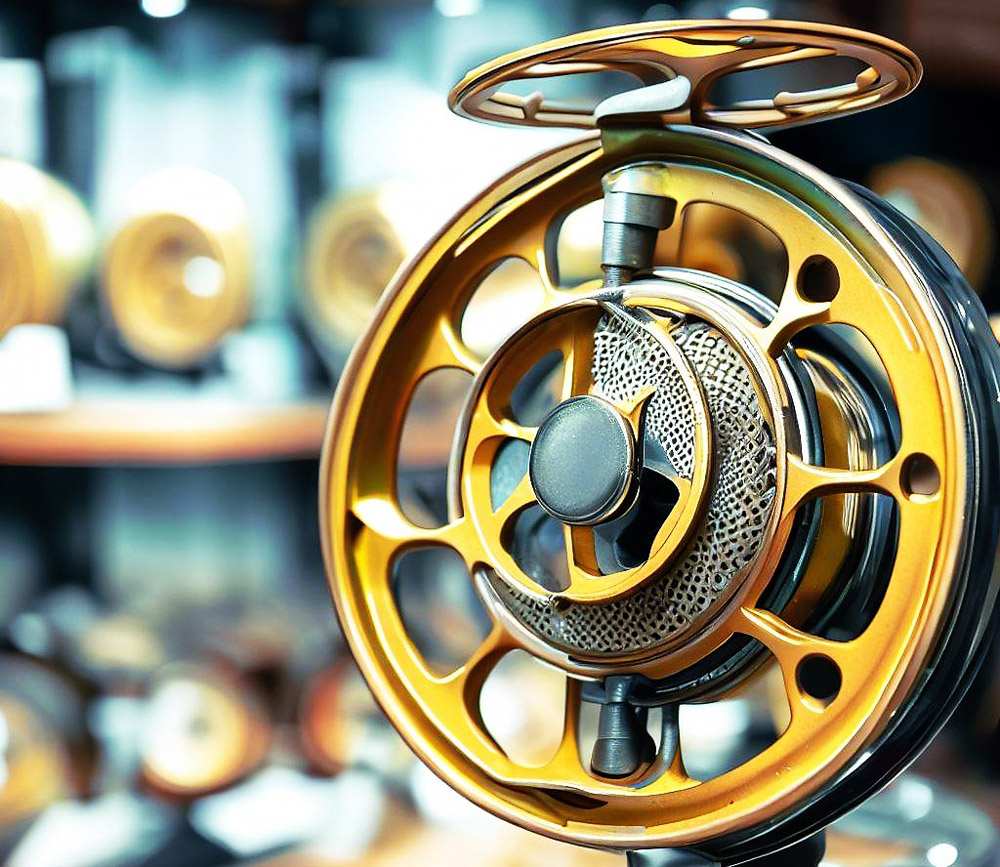 When comparing Bass Pro Shop fishing reels with other leading brands in the market such as Shimano, Daiwa, and Penn, a few distinctive features become evident:
🟨Quality and Performance: Bass Pro Shop reels are generally on par with these industry leaders when it comes to building quality and performance. They all utilize high-grade materials for durability and longevity, offer a variety of gear ratios to suit different fishing styles and feature smooth and adjustable drag systems. However, some anglers have found that brands like Shimano and Penn may offer a slightly smoother operation in their higher-end models compared to Bass Pro Shop.
🟨Range and Versatility: Bass Pro Shop shines in its range of options and versatility. It offers an extensive selection across all types of reels (spinning, baitcasting, fly fishing), catering to all levels of experience and virtually all fishing conditions. Other brands may specialize more in a specific type of reel. For instance, Penn is renowned for its saltwater reels, while Shimano is often praised for its high-performing spinning and baitcasting reels.
🟨Price and Value: In terms of price, Bass Pro Shop offers a competitive range that spans from budget-friendly options to more expensive, high-end models. While they might not always be the cheapest on the market, the value they offer for the price is excellent, often matching or surpassing that of other leading brands. Bass Pro Shop reels often come packed with features and build quality that you'd expect in more expensive models from other brands.
🟨Customer Service and Warranty: One area where Bass Pro Shop really stands out is its customer service and warranty. Many customers have praised their efficient and helpful service, and their warranties offer a level of security that is sometimes lacking from other brands.
In conclusion, Bass Pro Shop fishing reels hold their ground firmly when compared to other industry-leading brands. While there might be minor areas of improvement, the overall quality, performance, range, and excellent customer service make Bass Pro Shop reels a worthy investment for anglers of all levels. Their value-for-money proposition is solid, making them a reliable and cost-effective choice for your fishing adventures.
Smooth Sailing: Ease of Use, Maintenance, and More with Bass Pro Shop Reels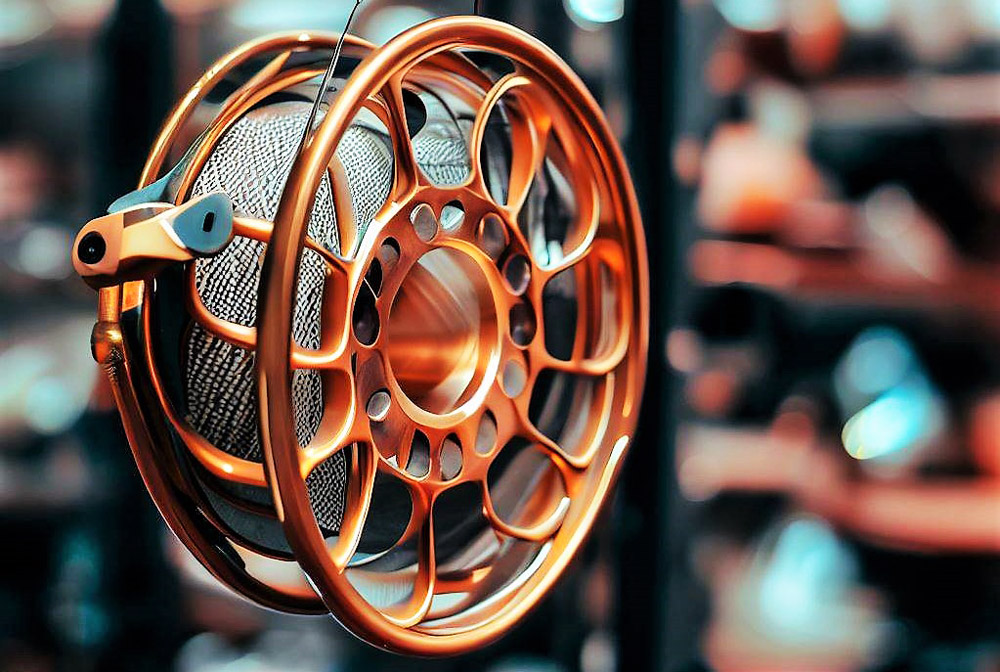 As an artificial intelligence, I don't have personal experiences or emotions, and I haven't used a fishing reel. However, I can share insights and experiences reported by others.
Many anglers who have used Bass Pro Shop fishing reels appreciate their durability, performance, and reliability. They've reported that these reels can withstand repeated use and harsh fishing conditions without significant wear and tear.
In terms of performance, many users have complimented the smooth casting and retrieval of Bass Pro Shop reels. The drag systems are also often praised for their reliability during intense fish fights.
For beginner anglers, the user-friendly design of Bass Pro Shop spinning reels has been especially appreciated. Experienced anglers also have high regard for the precision and control offered by their baitcasting reels and the specialized performance of their fly fishing reels.
When it comes to maintenance, most users have found these reels relatively easy to clean and service, with accessible components and clear instructions.
As for customer service, Bass Pro Shop generally receives positive feedback. Customers appreciate their helpful and responsive service team, who are often able to resolve any issues efficiently and satisfactorily. The warranty coverage provided by Bass Pro Shop is also highly regarded, giving anglers added confidence in their purchase.
Overall, the consensus among users seems to be that Bass Pro Shop fishing reels are a worthwhile investment for any angler, delivering solid performance, reliability, and excellent customer service.
Maximize Your Catch: Top Tips for Using Bass Pro Shop Fishing Reels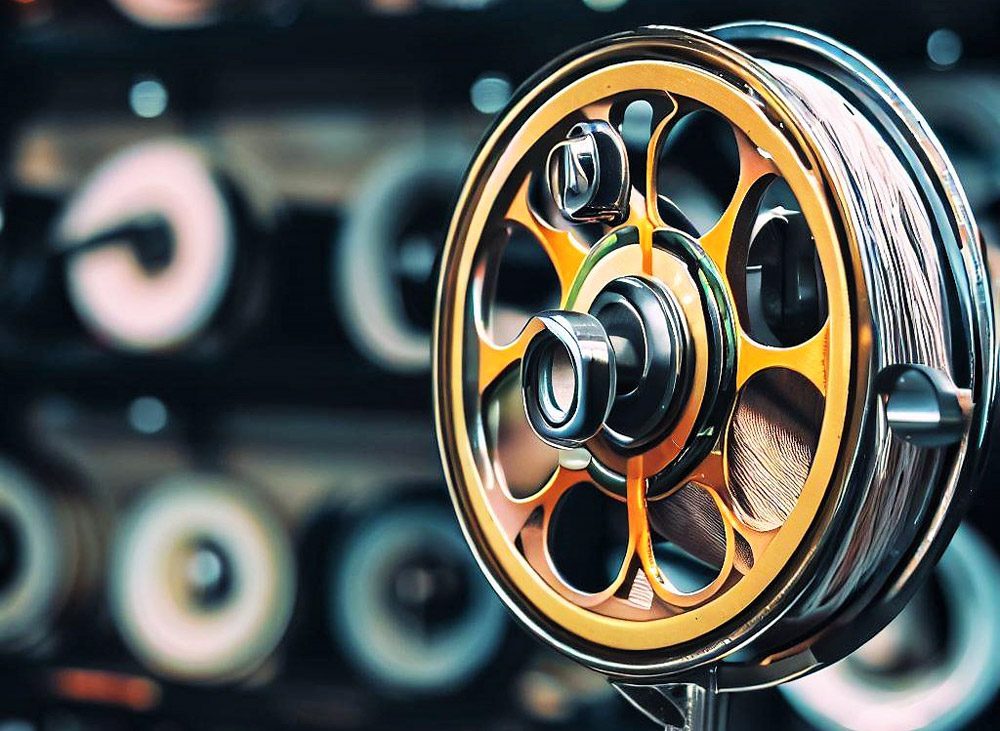 Bass Pro Shop's extensive array of fishing reels caters to a broad audience, from first-time anglers to seasoned fishing professionals.
▶️For Beginners: If you're a novice angler or just getting into fishing, the Bass Pro Shop has a range of beginner-friendly spinning reels that are easy to operate and maintain. The Johnny Morris CarbonLite Spinning Reel, for example, is lightweight, easy to use, and provides a smooth fishing experience that can help boost the confidence of a beginner.
▶️For Experienced Anglers: More seasoned anglers will appreciate the high-performance baitcasting and fly fishing reels offered by Bass Pro Shop. The Pro Qualifier 2 Baitcast Reel and the White River Fly Shop Dogwood Canyon Fly Reel, with their precision and adjustability, can help experienced fishermen fine-tune their angling skills and techniques.
▶️For Big Game Fishers: For those who enjoy the thrill of offshore or big game fishing, Bass Pro Shop's Offshore Angler Ocean Master Lever Drag Reel is designed to handle the demands of battling large, strong fish.
To maximize the potential of Bass Pro Shop's fishing reels, here are a few tips:
| Maintenance Tip | Explanation |
| --- | --- |
| Regular Cleaning and Maintenance | Cleaning your reel with fresh water, especially after saltwater outings, and oiling the moving parts as per the manufacturer's instructions will ensure its longevity and optimal performance. |
| Understand Your Reel | It's crucial to understand the features of your specific reel model. Knowledge about its drag system, gear ratio, and line capacity will allow you to make the most of its capabilities and adapt to different fishing conditions. |
| Pair with Suitable Gear | To maximize your reel's potential, pair it with the right rod, line, and bait for your target species and fishing conditions. A well-matched rod and reel combo will enhance your casting and retrieval, providing a balanced and efficient fishing system. |
| Practice | Regular practice of casting and retrieval techniques will make you more proficient in operating your reel. The more you use your reel, the better you'll get at handling it, thereby fully exploiting its potential. |
Remember, the key to great fishing lies not only in the quality of your gear but also in your understanding and skill in using it. Bass Pro Shop's fishing reels, when used correctly and taken care of, can be a great asset to your fishing arsenal.
FAQ: Exploring the Best Reels from Bass Pro Shop
Conclusion: Trust Bass Pro Shop's Top-Rated Fishing Reels
Now you have a complete picture of who Bass Pro Shop is and how high quality they provide equipment. If you haven't decided on a reel yet, you can listen to our opinion. The Bass Pro Shop Johnny Morris Carbonite was chosen as the best baitcasting reel. Among all spinning rods, Bass Pro Shop Pro Qualifier 2 Spinning Fishing Reel. If you need a reel from a different category or with different characteristics, you can choose any model from our list and it will still be a great solution. We've carefully researched each reel to select only the best for you.
☑️More than Just a Hobby: The Joy of Fishing with the Right Equipment
Over the course of this review, we've delved deep into the world of Bass Pro Shop fishing reels, exploring their key features, range of models, competitive positioning, and user experiences. Bass Pro Shop, with its expansive and versatile reel selection, caters to anglers of all skill levels and fishing styles. Whether you're a novice testing the waters or a seasoned pro looking for a reel with precision and power, Bass Pro Shop likely has a reel that will meet your needs.
Their reels stand strong in terms of quality, durability, and performance, comparable to other leading brands in the market. They are built to withstand various fishing conditions, whether it's freshwater or saltwater, casual angling, or big game fishing. Despite their affordable price range, Bass Pro Shop reels do not compromise on the essential features that make for a successful fishing expedition: smooth operation, reliable drag systems, and strong build quality.
What really sets Bass Pro Shop apart is its excellent customer service and warranty protection, giving anglers an added layer of security with their purchase. Their fishing reels are not just tools; they are investments that will likely yield many years of rewarding fishing experiences.
As we wrap up this review, it's worth reminding ourselves of the joy and excitement that fishing can bring, whether as a hobby or a profession. There's a unique thrill in casting your line, waiting for that tug, and reeling in a catch – and it's even more enjoyable when you have the right equipment by your side. Bass Pro Shop fishing reels, with their impressive combination of quality, performance, and value, can undoubtedly enhance this experience, making each fishing trip even more memorable.
So, whether you're setting out on your first fishing trip or your hundredth, consider Bass Pro Shop fishing reels for your angling adventures.
Fishing for Facts: Resources for Further Reading
For the most accurate and up-to-date information about Bass Pro Shop fishing reels (https://www.youtube.com/BassProshops), I recommend visiting the official Bass Pro Shop website – https://www.basspro.com/c/fishing-reels or contacting Bass Pro Shop customer service – https://www.basspro.com/shop/en/bass-pro-shops-customer-service.
Other reputable fishing and outdoor gear websites, forums, and blogs can also be useful for further insights and reviews.
When using information about Bass Pro Shop fishing reels from any source, it's essential to ensure that the source is trustworthy and that the information is up-to-date, as product specifications, features, and prices can change over time.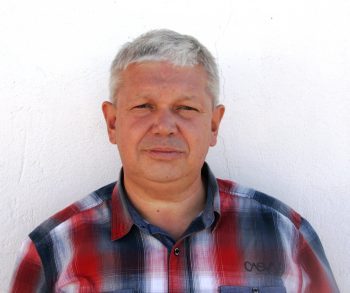 Sergio Smirnoff
Professional fisherman with 40+ years of experience.
Fishing and the ocean is a passion of my life. I am passionate about all kinds of sea fishing: fishing from the shore (spinning, float, baitcasting), from a boat, and spearfishing day and night.
I live in Tenerife (Canary Islands) for the last 10+ years and share my daily fishing experiences on my website. Many years of personal experience as a fisherman and the vast experience of my friends allow me to write professionally on any fishing topics (from choosing a flashlight and equipment to deep-sea fishing).
All of my advice is based on practical real-world experience and will be useful to both novice anglers and professionals.
Read more
about the author.
Affiliate Disclosure: FishReeler.com sometimes gets paid for listings, through sponsors or affiliate programs like Amazon, Ebay, Cabelas, Bass Pro Shop, Shimano, Daiwa, Rapala, Renn, Okuma, KastKing, etс. Clicking a link helps keep FishReeler.com free, at no extra cost to you!
About the author: Each article is verified by the fishing expert Sergio Smirnoff. The articles are written by professional and amateur fishermen with 20+ years of fishing experience.
Note: The views and opinions expressed in this article are those of the authors and do not necessarily reflect the official policy or position of any agency. The articles are for informational purposes only, share your opinions in the comments and join the fishing discussions, let's share our fishing experiences together!